Need to patch or replace drywall with skip trowel texture? Learn all the in's and out's how to create a skip towel finish with drywall mud.
Six years ago when we became first time homeowners of this fixer upper, one of the first tasks (and it was HUGE one) was to skim coat the super thick texture on the walls. It was such a monumental task that it took us months to complete. Somewhere along the way, Logan got pretty dang good at handling texture on drywall.
Luckily when we moved into this house, the walls had a light skip trowel texture that we didn't need to skim coat or redo any texture. But as we've renovated this home, there have been several times where we have needed to patch or replace the drywall. After new drywall is patched in, you, of course, have to match the texture of the surrounding walls, so Logan has had more practice with drywall texture.
In this post we're going to show you how to patch or replace drywall and add that skip trowel texture over the top to match your surrounding walls so you can't even tell where the new drywall was added.
First of all, let's start with some basics…
Drywall Texture FAQs
What is skip trowel texture?
Skip trowel is more of a method that can have varying texture results. When you apply texture using the skip trowel method, the trowel "skips" when spreading the mud. That is what creates unique texture.
How do you mix mud for skip trowel texture?
We typically buy the premade mud, but you can also buy the powder version where you'll need to add your own water. For the texture, you are going for creamy peanut butter that holds its shape. This allows you to focus on spreading the texture vs pushing it on.

Pro tip – We like to add about a tablespoon of dish soap in our drywall mud before putting it on the walls, this helps gets reduce the amount of air bubbles / pinholes / imperfections in the finish on the texture and makes it a little easier to work with.
How do you skip trowel a wall?
Skip trowel is a technique of applying drywall mud to a wall with texture. It is a technique that may take some time and practice to develop. Be prepared to be frustrated but if you stick with it, it is a rewarding skill to have.

In order to skip trowel, you must load up a small line of mud on the edge of your trowel and drag that mud at an angle with the right pressure that allows the trowel to 'skip' resulting in texture on the wall.
Can textured walls be smoothed?
Yes, textured walls can be smoothed. You apply a skim coat (of drywall mud) until the wall is flat and level. Depending how have heavy your current texture is you may need to scrap your walls first. You may need multiple layers of skim coating and sanding before your walls are smoothed.
Can I use all purpose joint compound for texture?
Yes. They make topping compound which is a bit lighter and easier to work. All purpose is a little bit harder to work with but the texture seems more durable.
What is the point of textured walls?
Textured walls are a way to personalize your home to make it more aesthetically pleasing. The other purpose of textured walls is to hide imperfections.
Do I need to use tape when patching drywall?
Typically no, you can just patch your drywall with drywall mud. When you have a long linear patch it's a good idea to use tape to prevent the crack from reappearing.
Is there a difference between knockdown texture and skip trowel?
Yes although technically speaking skip trowel is a type of knockdown texture. They are different techniques that produce varying results that are classified together.
Do you need to prime over drywall patches before painting?
Although it is not absolutely necessary, we recommend adding primer over drywall patches before you paint. By adding drywall primer to any areas that have been patched, you'll be preventing "flashing", which is when the paint sheen is a little different over the drywall mud. This makes it stand out like a sore thumb, so always a good idea to prime first (even if you're using a paint + primer). The drywall primer helps the texture soak in moisture and fill in so your new paint will need less coats and have a more even finish.
Before pictures
The two areas that we were focused on in the video tutorial were in pretty rough shape!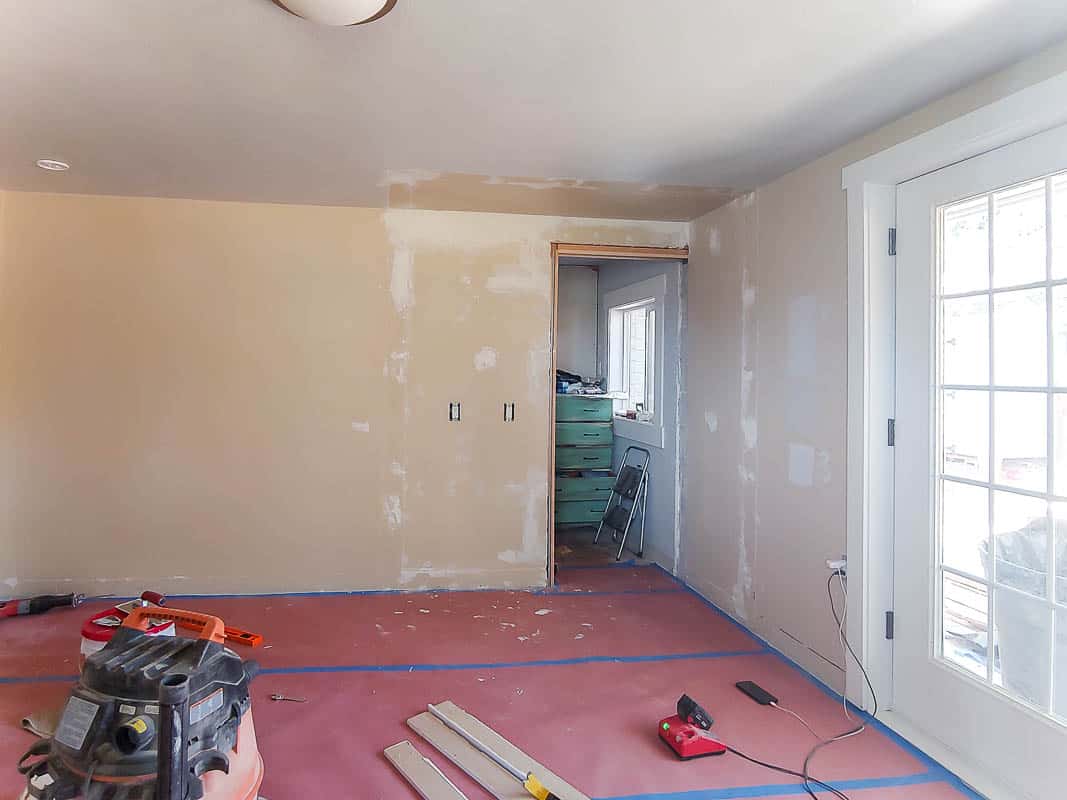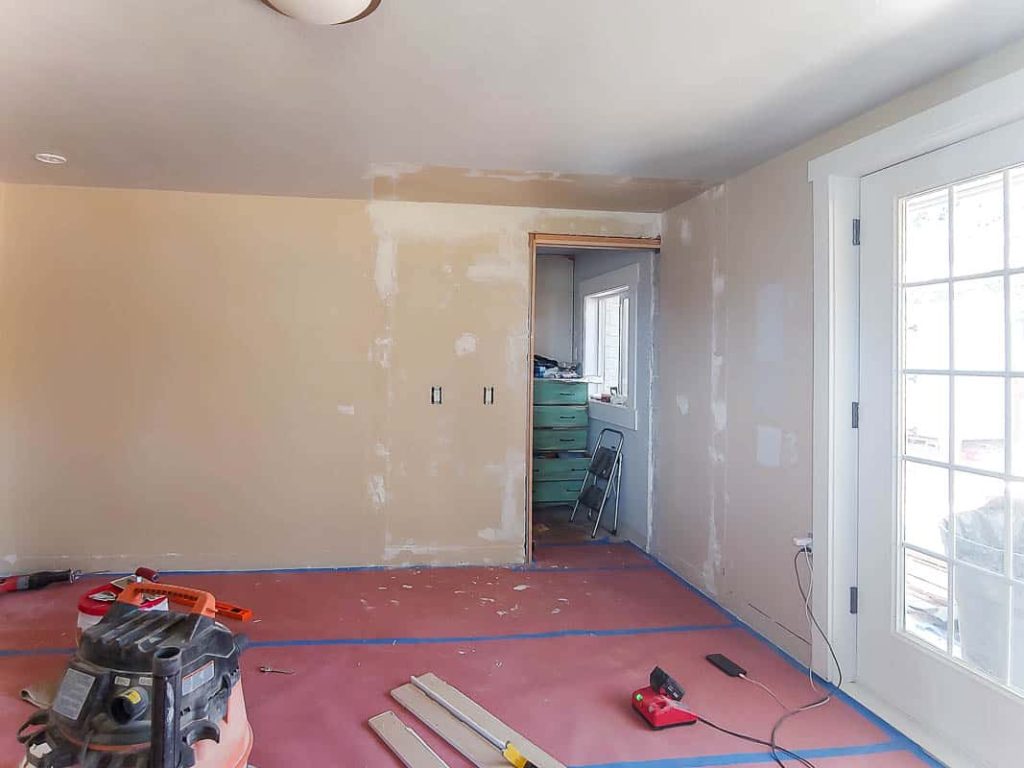 Patching Drywall with Skip Trowel Finish Video Tutorial
If you love DIY videos, be sure to subscribe to YouTube channel for more.
This skip trowel tutorial contains affiliate links, but nothing that I wouldn't recommend wholeheartedly. Read my full disclosure here.
Supplies for skip trowel finish:
Drywall for patching (if needed)
Patch (if needed)
Putty knife
Paint
Step 1. Select tools to apply texture
Before you begin applying your texture, it is important to consider what tools you'll be using. The two most used options are a mud pan with knife and the hawk and trowel.
For beginners and smaller projects I'd recommend using a mud pan with a knife. This combo is much easier to use and can be picked up quickly.
A hawk and trowel is a great skill to have but takes a lot of practice and can be much faster than a mud pan and knife. Don't pick up a hawk and trowel unless you plan on do a large project or a lot of drywall projects.
Step 2. Patch and prep
Before you can start applying your skip trowel finish, first you need to patch and fill any holes there may be. Small nail holes and screw holes can be patched with mud.
The bigger holes may require you to add a drywall patch and mud over. Alternatively, you may need to cut out damaged drywall and add in new drywall and screw into place.
The final step before putting on skip trowel texture is scraping or knocking down any high spots that may be on the wall you are trying to texture. You can use either a putty knife or sanding block for this.
If you have a long linear patch, it is ideal to add some joint tape to prevent the crack from reappearing. We did this for the top corner above the closet door.
Step 3. Sand and wash
After you patch you'll likely need to lightly sand and/or wash your walls to remove any grim or big chunks in your patch.
Depending on how heavy you are going to apply your skip trowel texture having the flattest surface you can is best.
What we like to do is lightly sand any rough patch spots and then take a wet rag and wash off any dust. You'll see that Logan sometimes will use a rag to "sand" down nail holes and high spots. This just helps get that flat surface to start texturing from.
Step 4. Selecting and blending your texture
There are so many types of skip trowel texture and personal preferences that go into texture that teaching you just one method here isn't appropriate.
The general rule is if you want a heavy texture put a lot of mud on and for a light skip trowel texture keep the mud to a minimum while still hiding your holes and imperfections.
You also need to consider the consistency of the texture surrounding the patched drywall. We usually try to match the texture as close as we can to blend in our patched areas. Adding a thin coat of new texture over the old stuff will also help blend the patch better with the existing texture.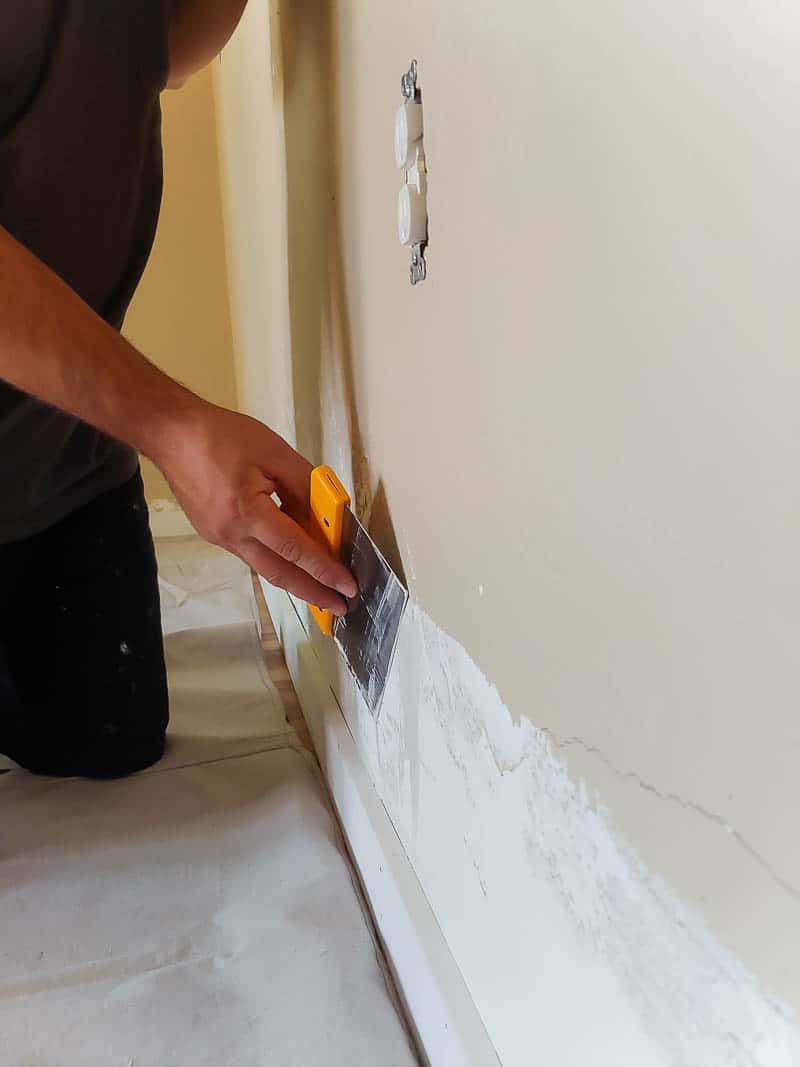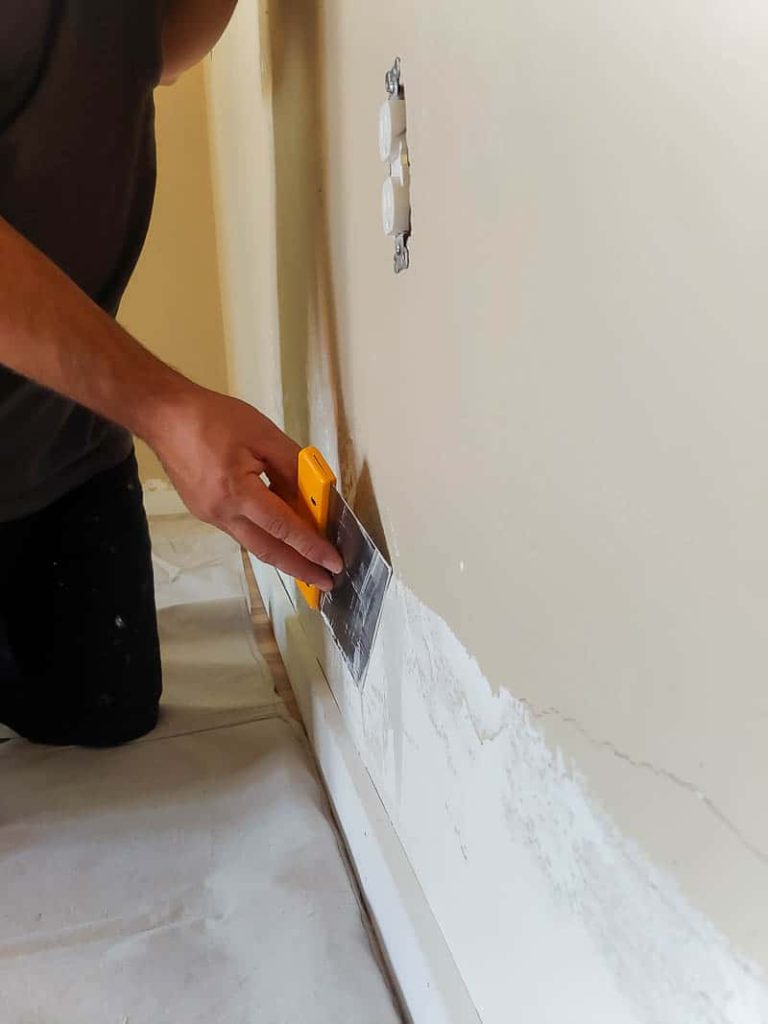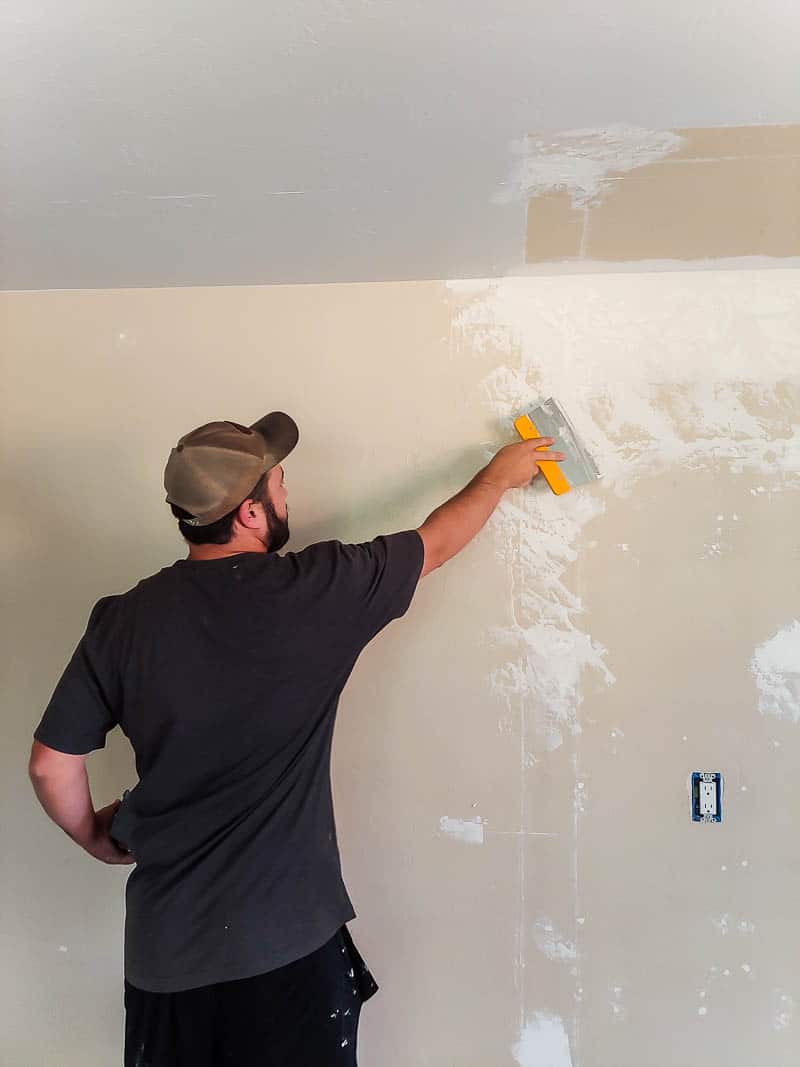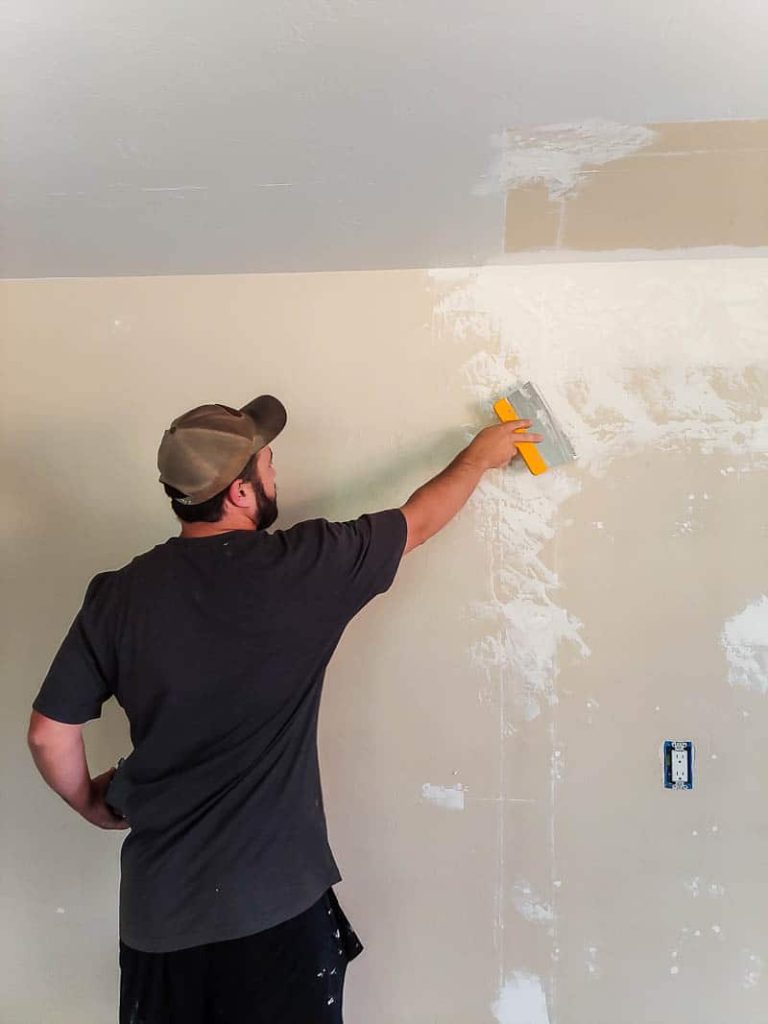 Step 5. Apply your skip trowel texture
There are tons of different looks to skip trowel finish so the very first thing you need to do is try and find some videos and photos of skip trowel texture being applied that you personally like the finished result.
Once you have selected a type of texture that you like, then you'll need to practice applying that texture on some scrap drywall or wood until you get it how you like it. This practice run is well worth the extra cost of supplies before you experiment on your walls.
We have our video available here, but we find that it helps to watch a few different videos so you can see some different techniques. Ultimately, you'll have to just get some practice and figure out what works best for you.
After some practice, you can move on to your walls and start applying your drywall texture directly to your walls. One tip here is don't overwork your texture to try and get it "perfect." The randomness of the texture is why it works and just trust me. Once you get the whole wall done you'll notice those little imperfections repeat and really tie in the skip trowel texture as a whole.
Step 6. Knockdown and sand
Depending on the style of texture you chose you may have to come back to your wall after it has dried and finish it up.
There is actually a subset of skip trowel texture called 'knockdown' and it requires you to come back with your trowel/knife and knockdown the high points of your texture.
You may also find that there are some spots in your texture that don't quite blend well and you can sand some of them down. Again this is really all personal preference and I would encourage you to have fun and don't "overwork" your skip trowel texture.
Step 7. Prime and paint
Now that your drywall texture is the way you like it all that needs to be done is to paint your wall.
Be sure to get a drywall primer on first then move on to your paint color. The drywall primer helps the texture soak in moisture and fill in so your new paint will need less coats and have a more even finish.
By adding drywall primer to any areas that have been patched, you'll also be preventing "flashing", which is when the paint sheen is a little different over the drywall mud. This makes it stand out like a sore thumb, so always a good idea to prime first (even if you're using a paint + primer).
There you have it! You can totally patch and repair drywall damage in your home and give it a skip trowel finish with a small investment of tools and supplies combined with some practice get the technique down.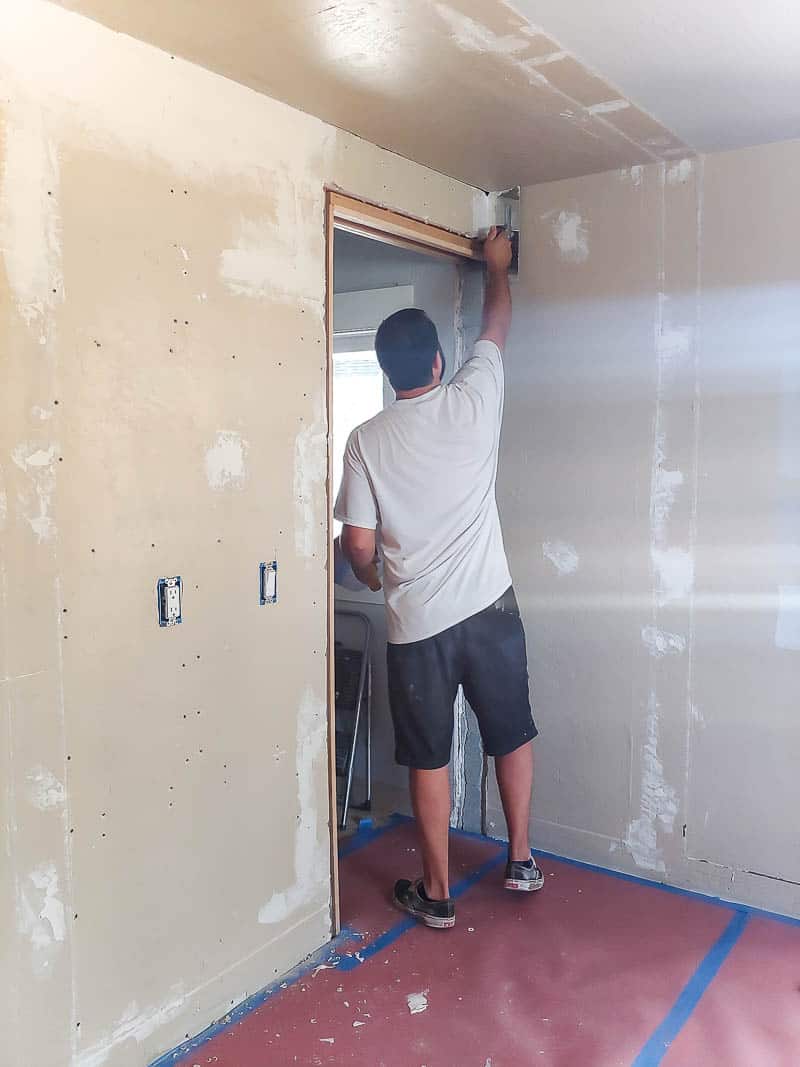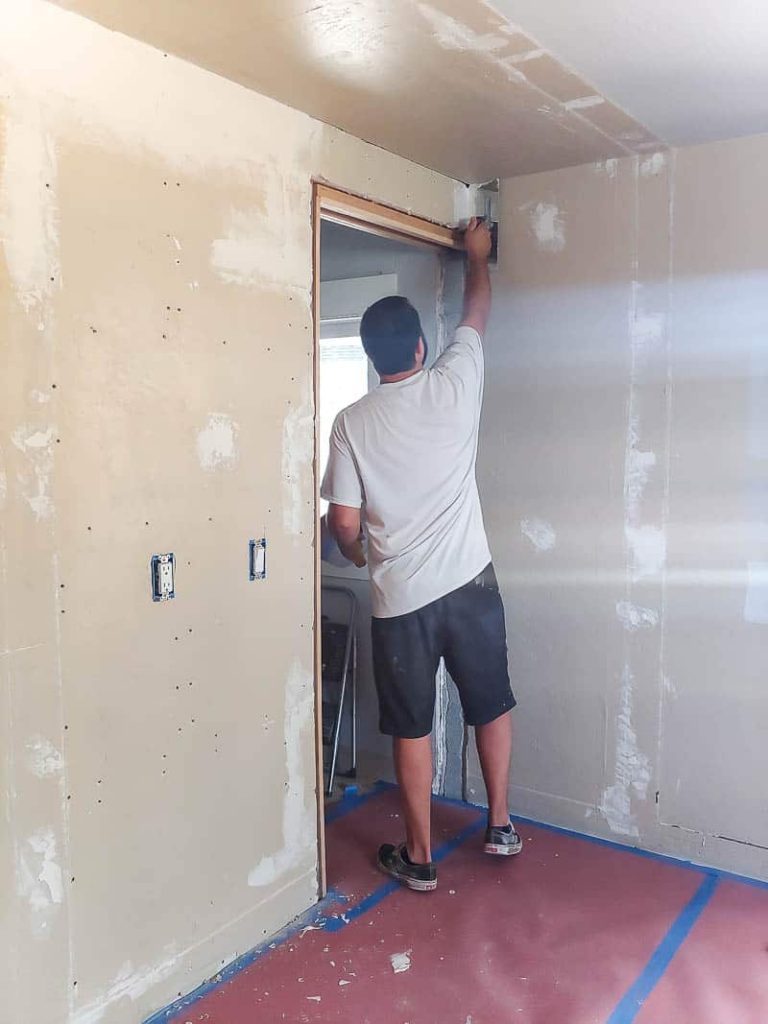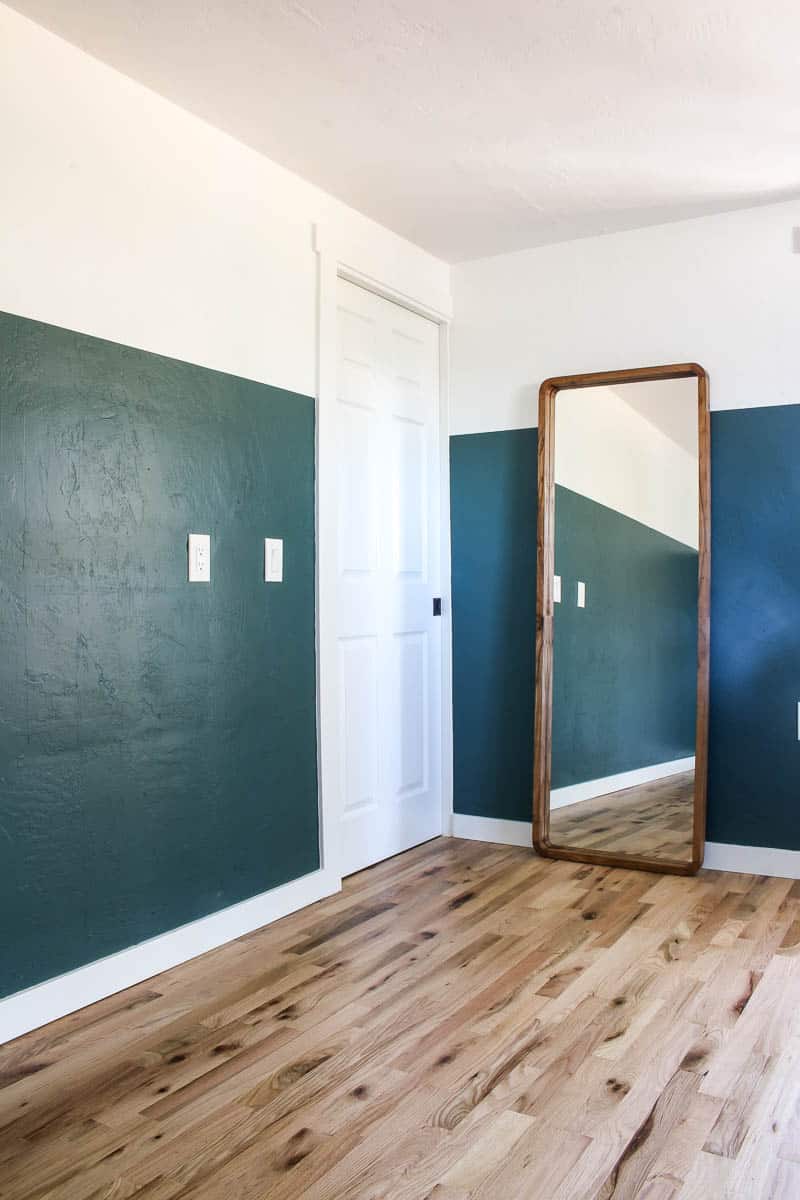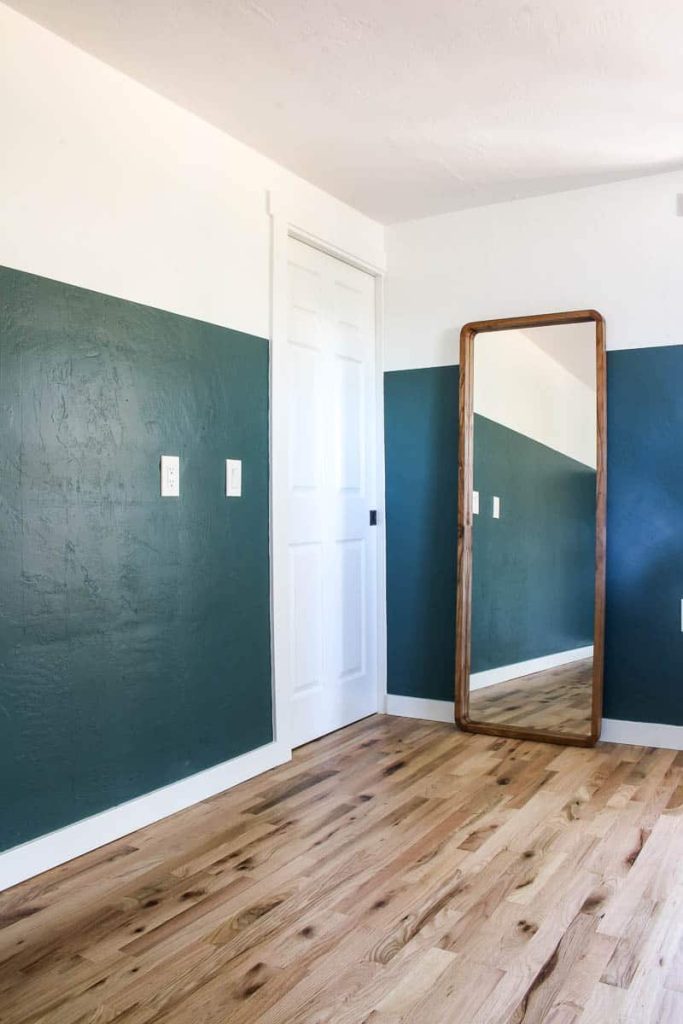 What kind of texture do you have in your house?
Let us know in the comments below!