For any major paint project, painter's tape is an absolute must! It makes a huge difference in end result and is such a simple solution that will save you a lot of time a heartache while painting. For the best painting job, make sure you follow these painter's tape tips for sharp lines and crisp, clean edges every time!
Sometimes, the simplest things can make DIY projects so much easier. For us, the painter's tape wins every time! I wouldn't recommend starting a paint project without it.
There's a lot to learn about painting rooms in general (things like what paint sheen to use and what order to paint a room), but one of the secret to a beautifully finished job is the tape! Just like with other projects, it's important you choose the right option for your project.
This painter's tape tips article contains affiliate links, but nothing that I wouldn't recommend wholeheartedly. Read my full disclosure here.
There are a few different painter's tape options to choose from:
Each of these options comes in a variety of widths so you can use it in small and large spaces.
Painter's Tape vs Masking Tape
Even though tape for painting and regular masking tape look alike, they are not interchangeable. While painters' tapes are more durable, masking tape is more prone to tearing, damaging the underneath surface when removed and allowing the paint to seep through.
You may be tempted to tape off all of your trim, baseboards, ceilings and more when painting a room. But we would argue that it is better to learn how to cut in with a steady hand and paint brush. We think it's best to avoid using painter's tape for those tasks because it's so time consuming. We have a whole tutorial all about how to cut in paint coming soon, so stay tuned!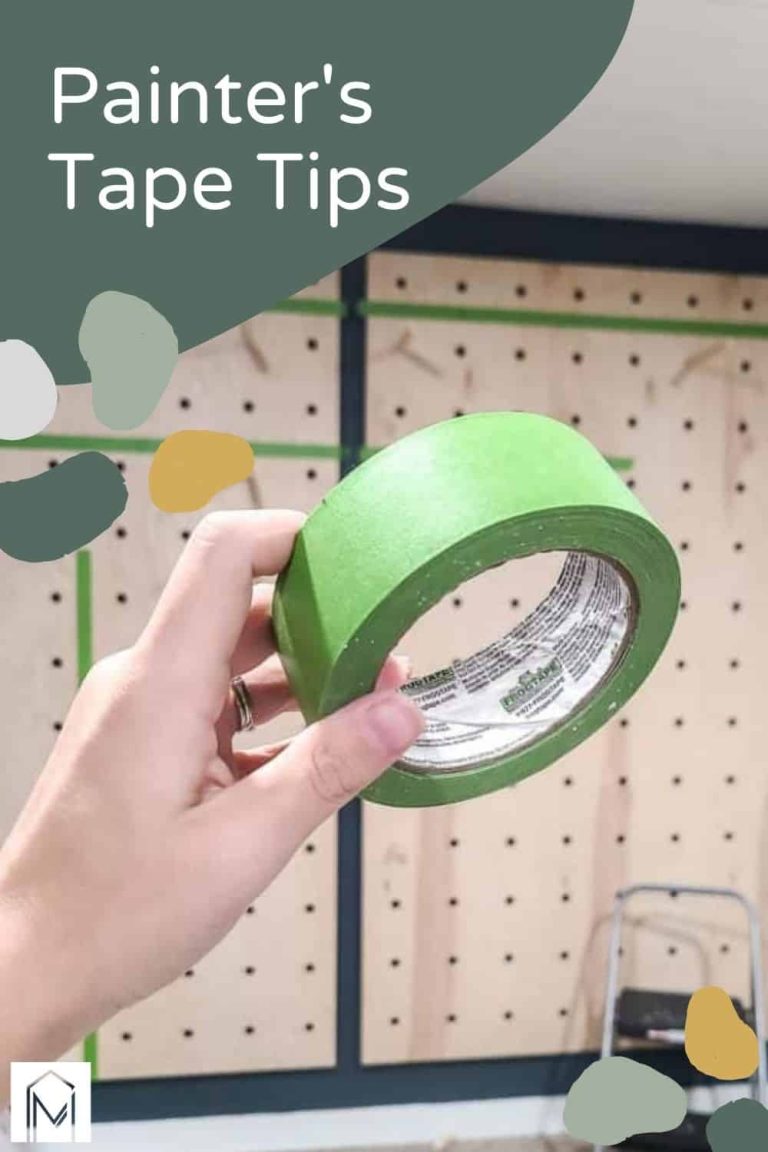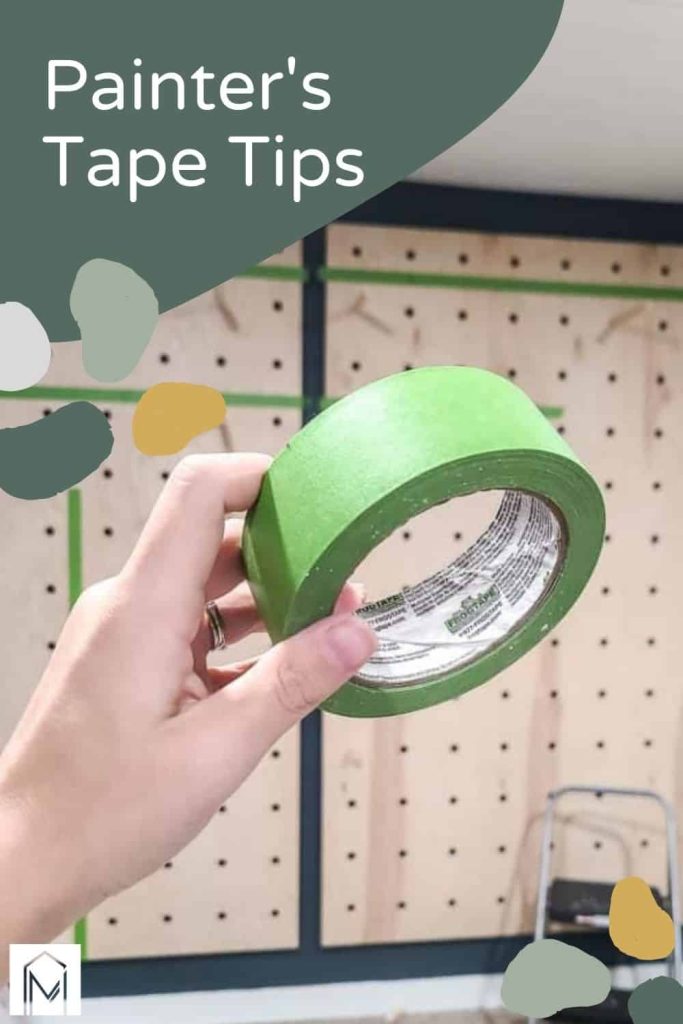 5 Genius Painter's Tape Tips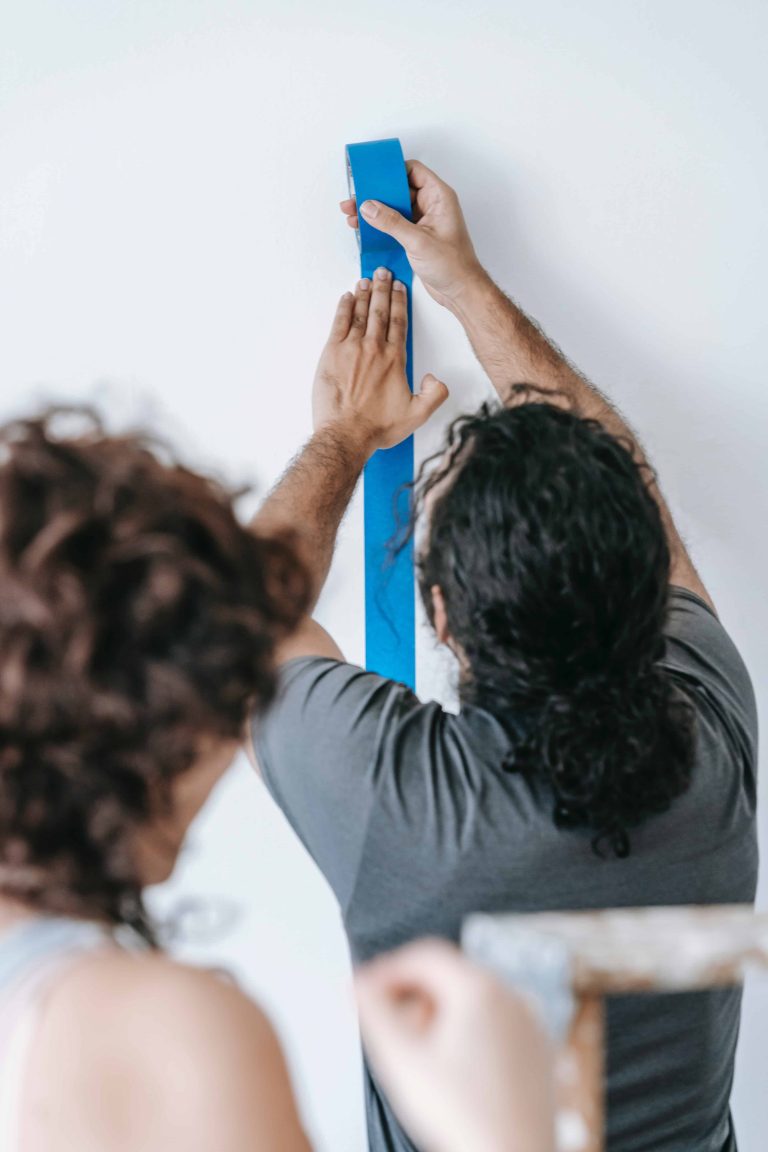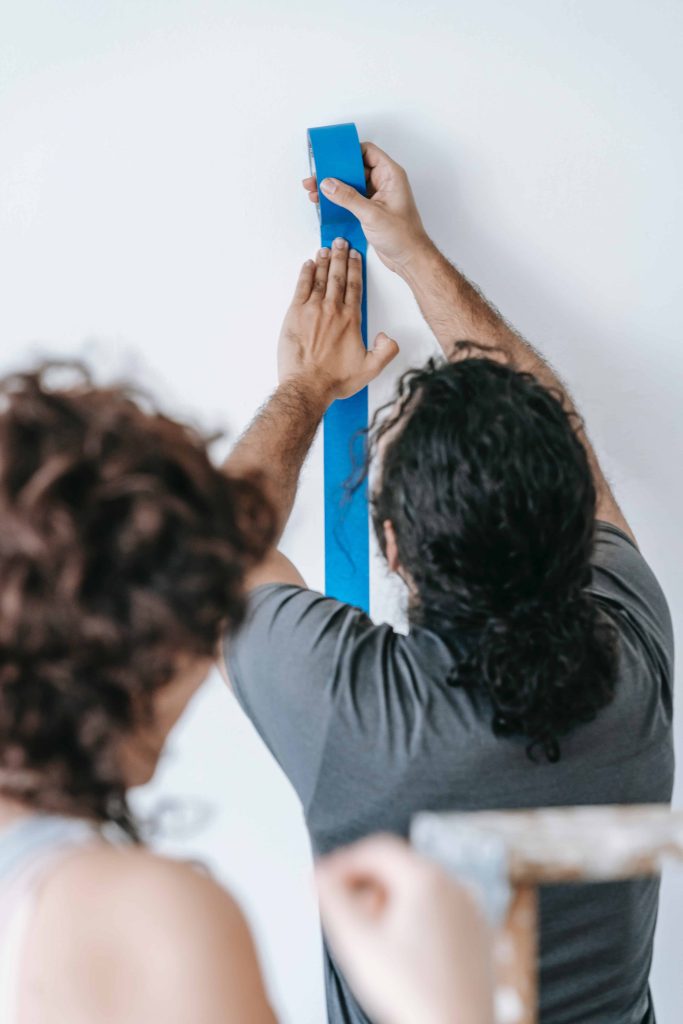 #1: Work with a clean and dry surface
As with everything, preparation is key, so make sure that you have a clean and dry surface. This will help the tape adhere better and avoid any gaps, which will cause an uneven line when painting.
If you are working with a wood surface that was recently sanded, be sure to remove any sanding dust before taping.
Also, if the surface that you are putting the tape on is freshly painted, be sure that the paint is dry and cured (check your can of paint for the recommended curing time). Otherwise, you risk ruining the finish. I've made this mistake before and it ruined my whole accent wall, so it definitely pays to be patient.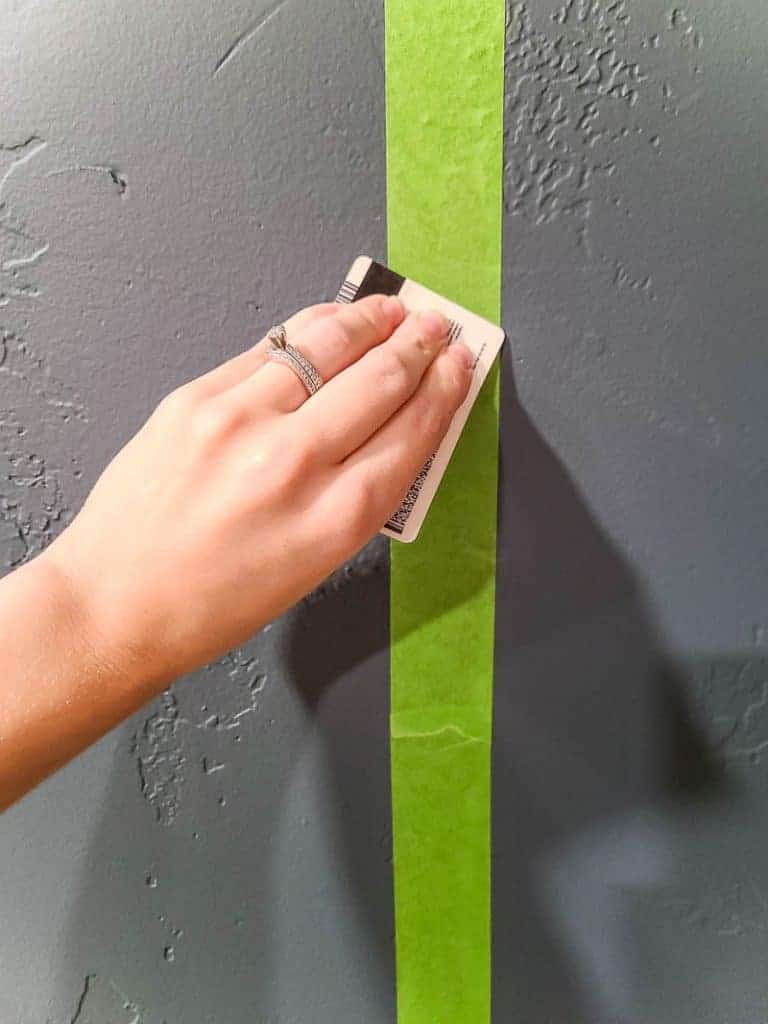 #2: Seal the tape well
After you place the tape on the surface, run a credit card, putty knife (or something hard) along the edge of the tape that you'll be painting against. You want to do this before painting to smooth out air bubbles and gaps. This process is called "burnishing" the tape edge.
If you are taping over fresh paint, be sure the paint is fully cured. Otherwise, use delicate surface tape like we did when we painted two-toned walls in our bedroom.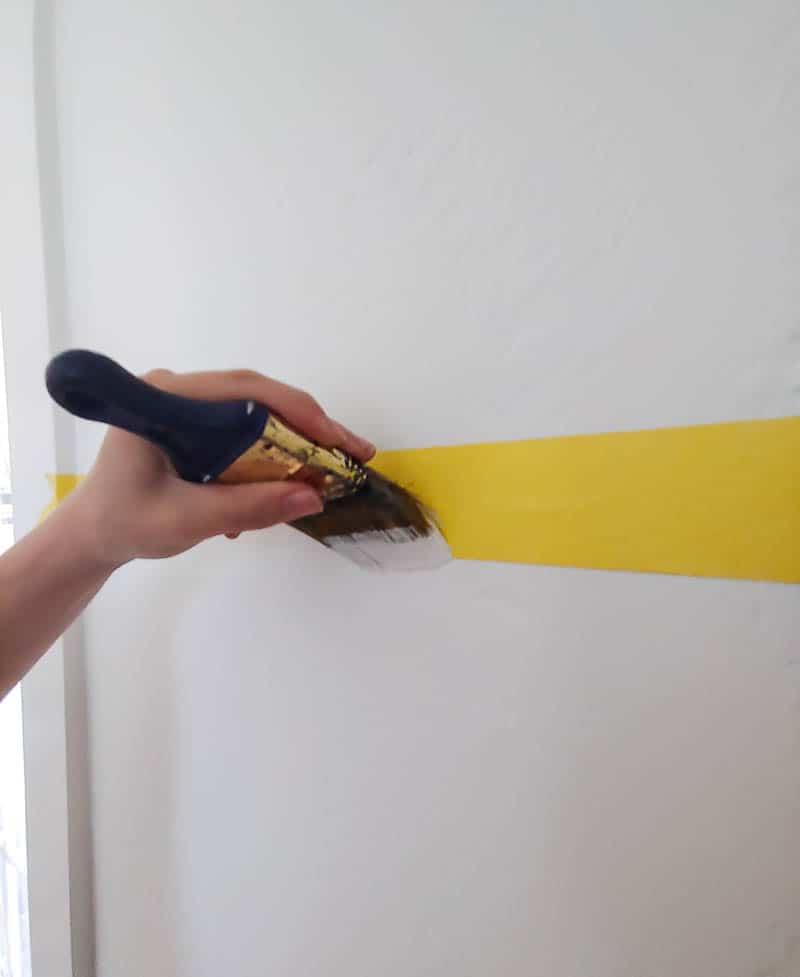 #3: Prevent paint bleeds
To avoid paint bleeding or seeping under the tape, brush the paint over the edge of the seal (towards the area that you are painting), but away from the tape. This prevents the paint from being brushed into the tape and drying in globs underneath.
Another way to prevent paint bleeds under the tape is to brush on the underneath paint color on the edge of the tape to seal the edge. That way any paint that does bleed under the edge of the tape is the same color so you can't see it! Then, once that paint is dry you can follow up with your 2nd paint color on top! We explained that process more in detail here.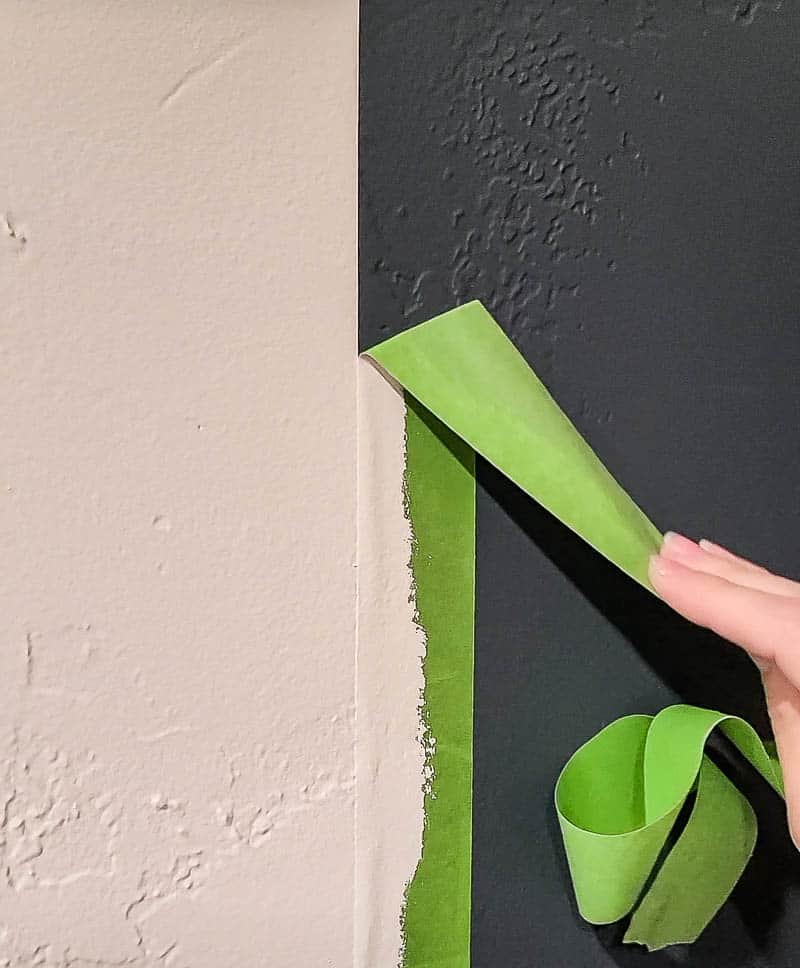 #4: Remove the tape ASAP
Generally speaking, painter's tape isn't supposed to leave any residue behind or ruin surfaces. But you should remove the tape as soon as it's no longer needed for a smooth straight line (even when the paint is still wet!)
Otherwise, the paint will dry underneath the tape, resulting in a jagged, uneven line. Plus, if the tape is left behind too long, a sticky residue could remain on walls or trim and ruin delicate surfaces.
The packaging will note a "clean removal" timeframe, which means the tape will not leave sticky residue behind before that time is up; however, you risk "pulling up" paint if you allow the paint to dry completely before removing the tape.
If you happen to let the paint dry before removing the tape, loosen the paint from the tape by running a razor or utility knife along the edge of the tape before removing it.
Always remove the tape by pulling it away from the surface at a 45-degree angle.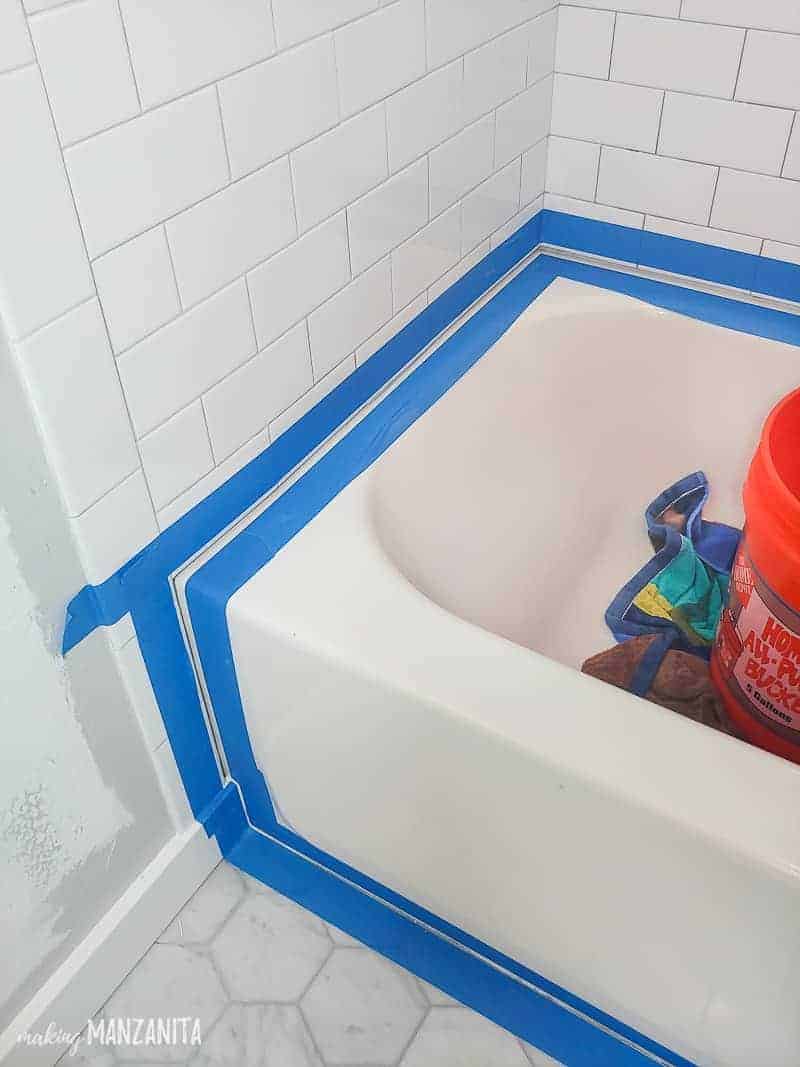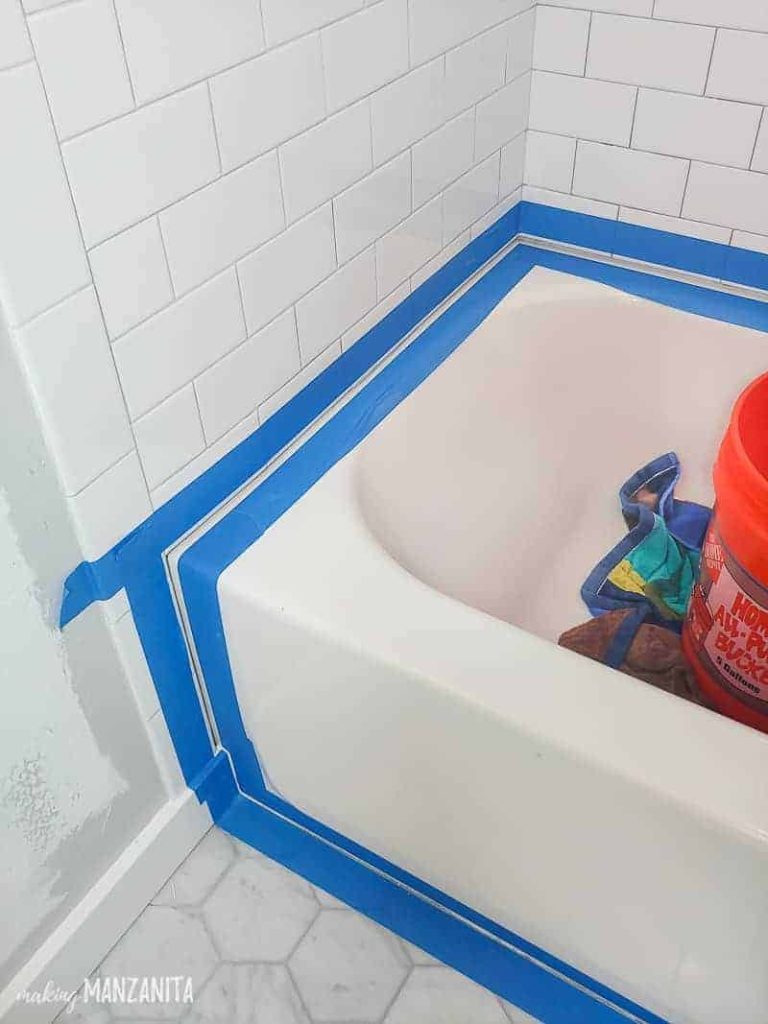 #5: Use for straight caulk lines
Another great use for painters' tape is caulking, which will give you a straight line and improve the final appearance on caulking projects – like your backsplash or bathtub.
As with painting, the tape should be removed quickly, while the caulk is still wet and fresh.
Painter's Tape FAQs
What's the difference between masking tape and painter's tape?
Painter's tape is used to block off sections of a wall or other material for painting. It stays adhered to surfaces and leaves a clean paint line, while leaving no residue or damage to the surface. Masking tape is made with a rubber adhesive, which could leave behind residue or cause paint to bleed. Masking tape is not recommended for painting or use on walls.
Can you leave painter's tape on overnight?
It's recommended that painter's tape be removed as soon as you are done painting. Otherwise, the tape may pull off paint as it is removed, leaving behind a jagged, uneven line.
Why is my painter's tape pulling off paint?
An uneven surface or one with bumps or holes may cause the tape to gap, creating pockets for paint to fill which are pulled up as the tape is removed. To prevent this, make sure the painter's tape is smoothly applied to the surface and the tape is removed immediately after painting at a 45 degree angle.
How and when to use painter's tape doesn't have to be overwhelming. By using these simple painter's tape tips and tricks, you'll be on your way to creating beautiful spaces in your home. You can also be confident with the products and techniques that you're using.
Which of these painter's tape tips is your favorite?
Let us know in the comments below!