After you remove carpet from a room, you're left with carpet tack strips that need to be removed before installing new flooring. Here are the two easiest ways for how to remove carpet tack strips.
Removing carpet from a room can expose a lot of beautiful things, like original hardwood flooring that needs refinishing, vintage laminate…and tack strips.
Carpet tack strips are narrow lengths of wood that secure the carpet into the subflooring of the room.
Typically, these are nailed into the subfloor material around the perimeter of the room, then the carpet padding is placed over the tack strips, then the carpet is placed on top of that.
The tack strips and their nails act as a grip, holding the subfloor, carpet padding, and the carpet together. Without tack strips, you would have a lumpy carpet that appeared "loose" and could roll up around the walls.
Table of Contents
Removing Carpet Tack Strips FAQs
Before we jump into the step by step guide and video tutorial, let's go over some basics.
What is the best way to rip up old carpet?
First, grab a corner piece of the carpet with pliers and pull up. Continue pulling with your hands, or use a utility knife if the carpet does not give easily. You may need to remove the carpet into smaller pieces by cutting it with a utility knife.
What is a carpet tack strip?
Carpet tack strips are narrow lengths of wood that secure the carpet into the subflooring of the room.
How long does carpet last?
Depending on the quality and foot traffic, carpet can last anywhere from 5 to 15 years.
Can you rip up carpet yourself?
Yes, you can easily remove carpet using pliers, utility knives, and other basic tools.

What tools do I need to remove carpet?
To remove carpet, you will need pliers and a utility knife.
How do I get rid of old carpet?
Carpet can be thrown into the garbage with regular waste. Depending on your pickup service, they may not accept old carpet in large quantities. In that case, you may be expected to bring the old carpet to a designated drop-off location or wait for bulk pickup day.
Can you reuse carpet grippers?
We recommend using new carpet grippers or carpet tacks with every new install. This is because the tacks lose their sharpness and will not be as effective at keeping the carpet in place.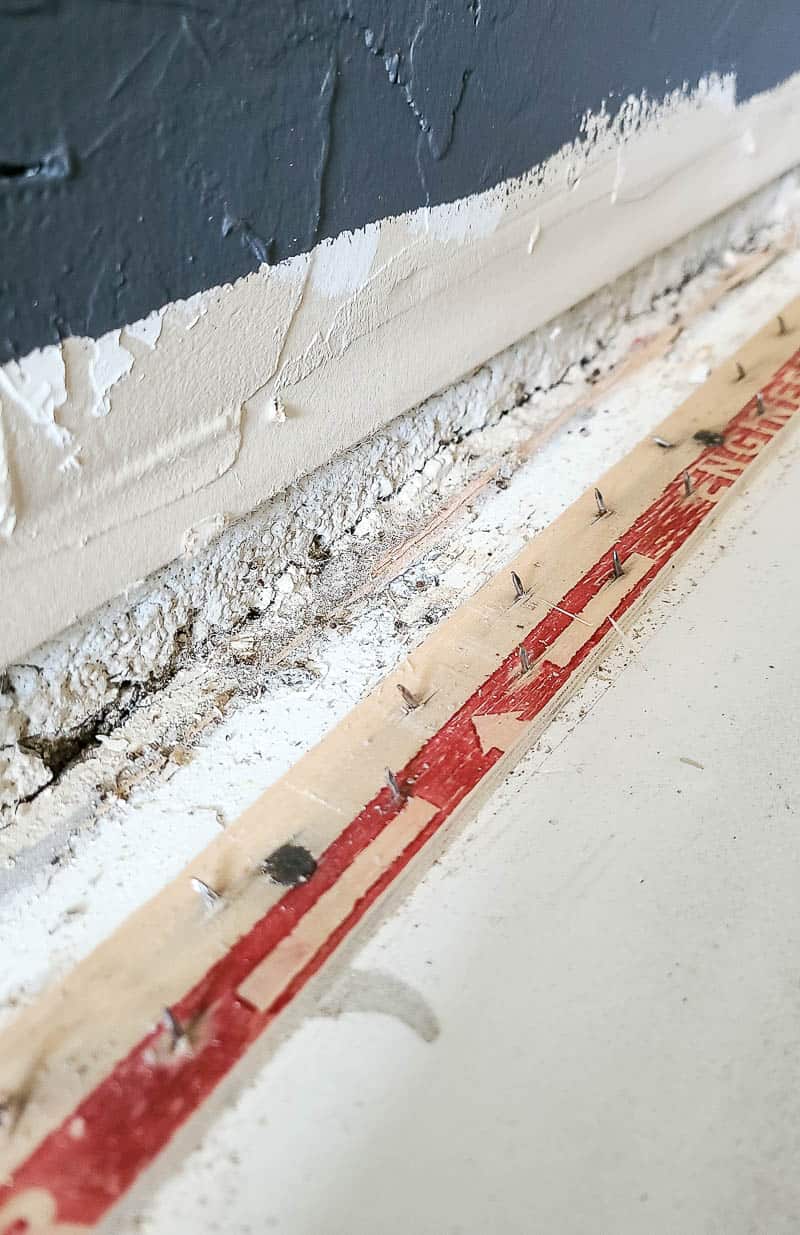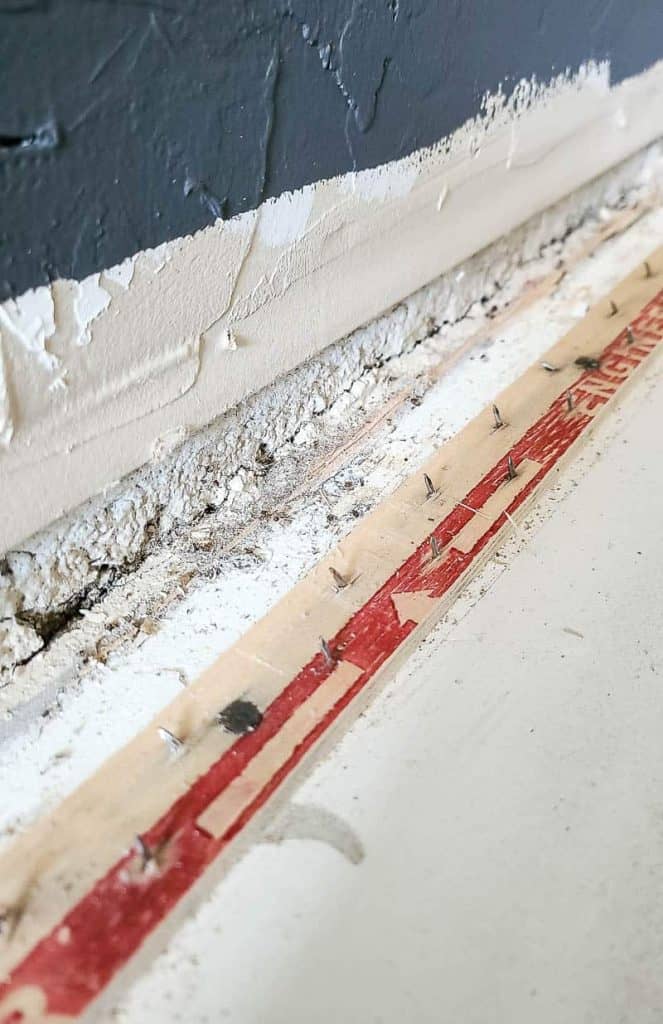 How to Remove Tack Strips – Video Tutorial
Carpet tack strips are a real pain to deal with (literally), but it's important that they are removed properly and safely, so the new flooring goes easily!
Removing these strips is one of the most tedious parts of carpet removal, but it can be accomplished with a few tools you probably already have in your toolbox.
This post contains affiliate links, but nothing that I wouldn't wholeheartedly recommend anyway! Read my full disclosure here.
Supplies for removing carpet tack strips:
Knee Pads
Utility Knife
Pliers
Whether you are removing these strips from wood or concrete subflooring, the process is same:
Before you begin, make sure kids and pets are out of the room. Tack strips are incredibly sharp and can really hurt if they aren't handled properly.
Start by removing the carpet and the carpet pad with a utility knife. You may notice that some parts of the padding are glued to the subfloor around the edges, so try to get it as clean as you can. You can always come back with a scraper to remove any leftover padding.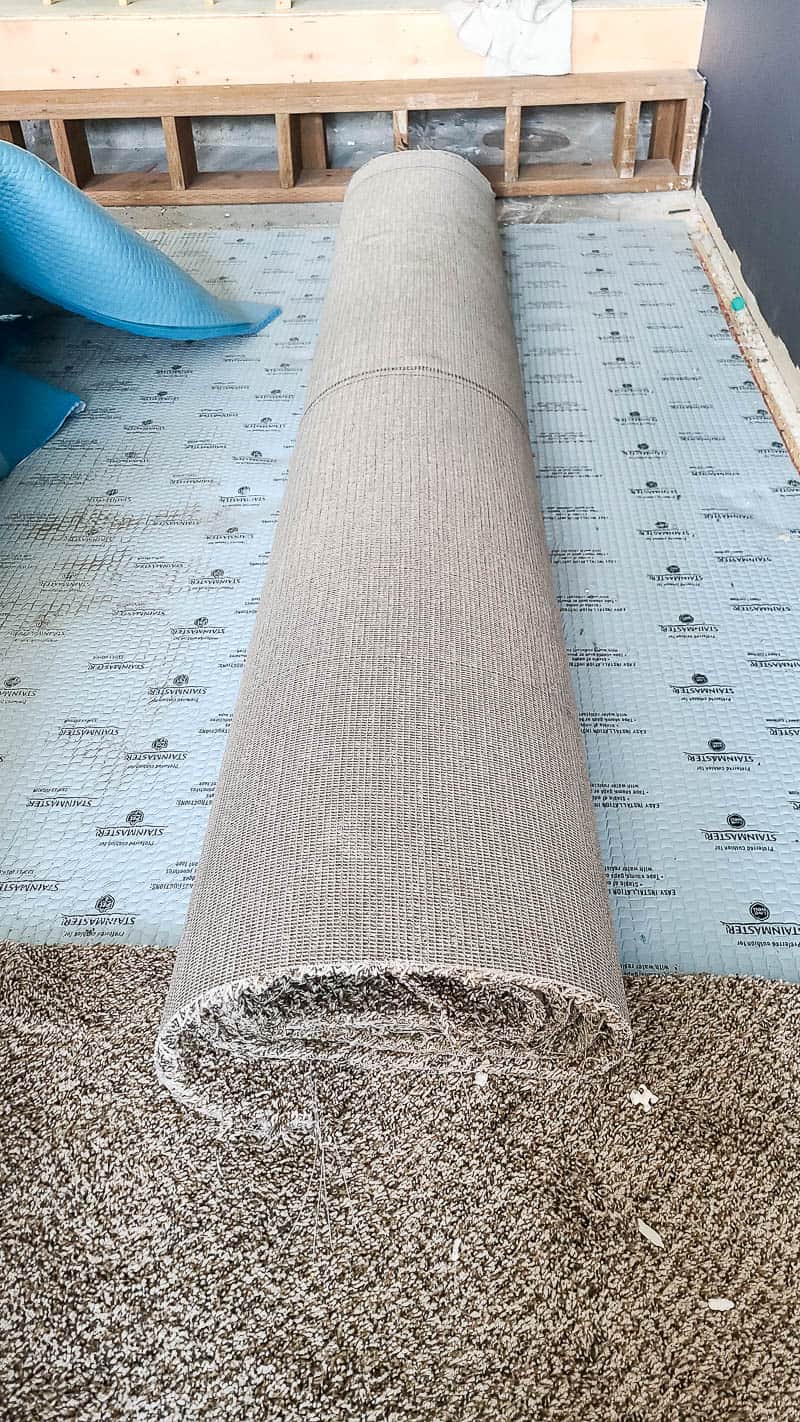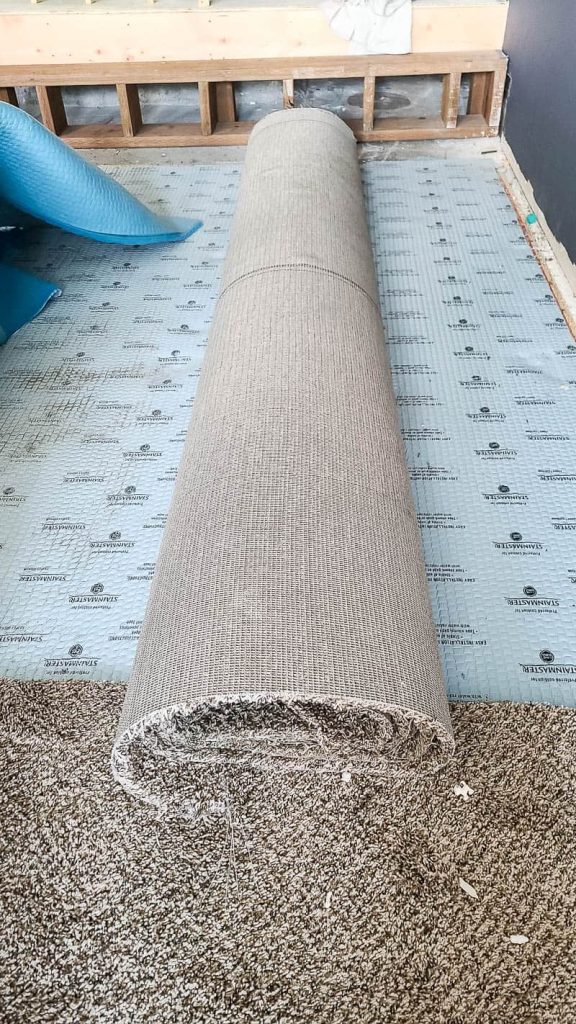 Now that the tack strips are exposed, you can proceed with removing them with a pry bar or a floor scraper.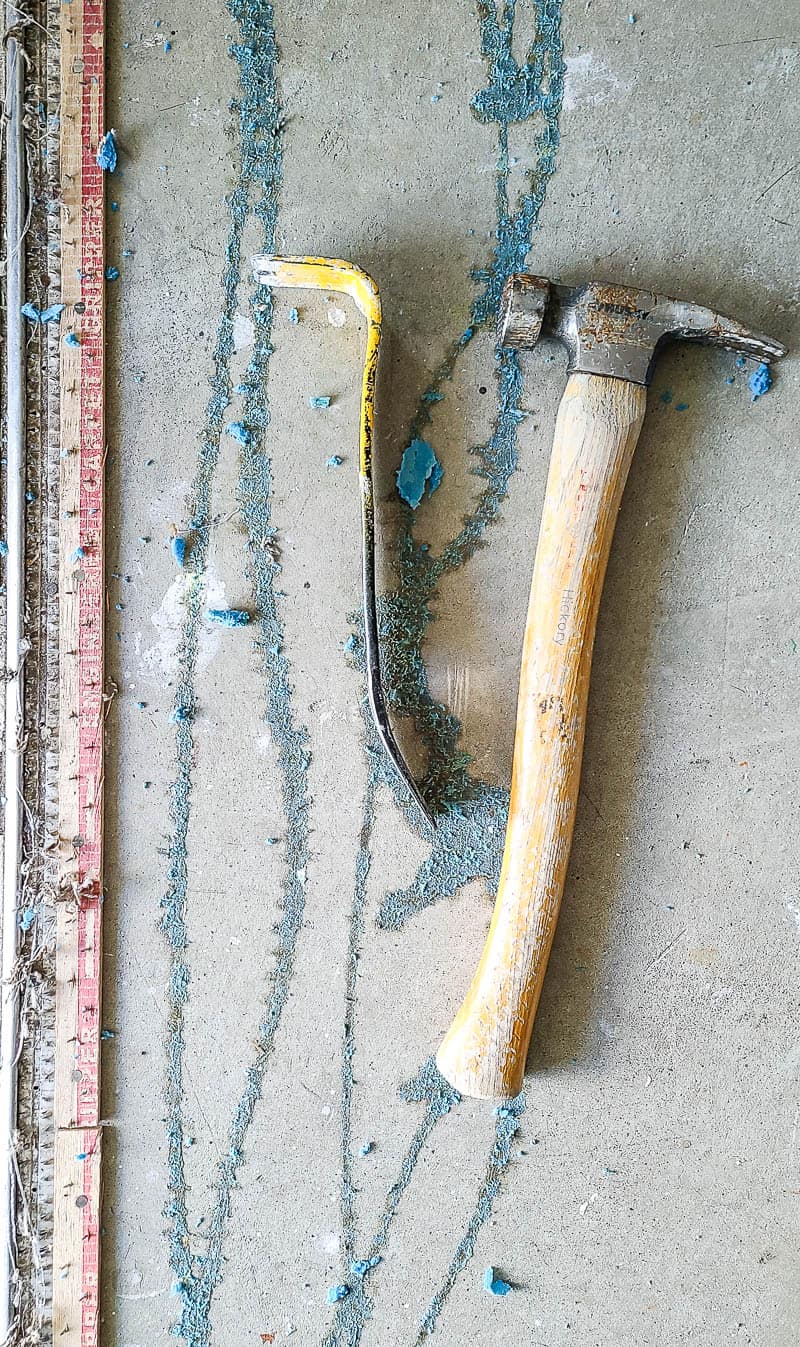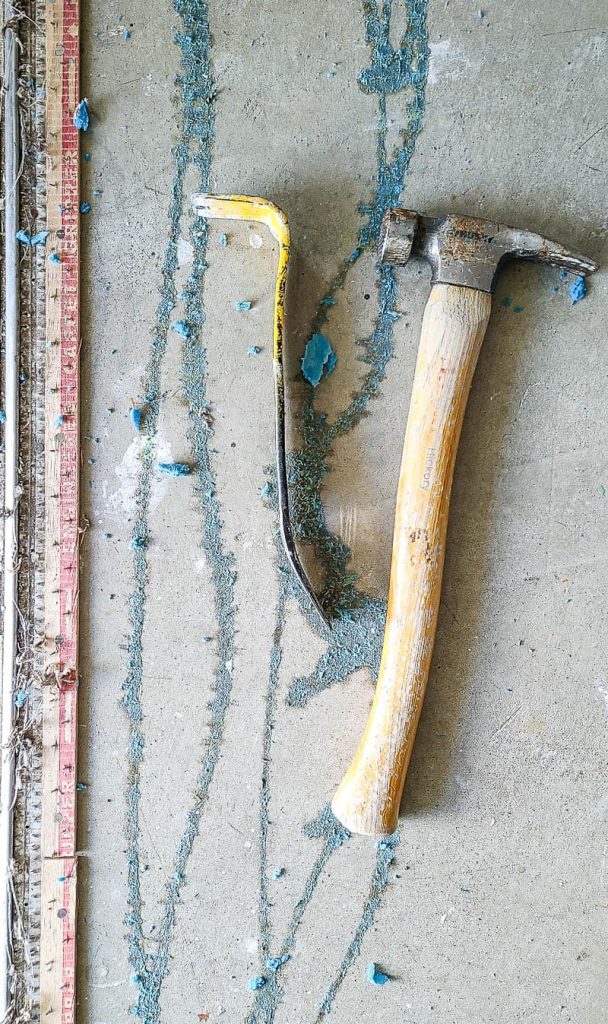 Method 1: Removing Carpet Tack Strips with a Pry Bar
Your first option to remove the tack strips is by using a pry bar (also known as a wonder bar) and a hammer. This is the most popular way as many DIY'ers already have these tools in their toolbox.
While this way is definitely the cheaper route, it's much harder on your body as there is a lot of bending over, crouching down, and hammering along the tack strips.
For this method, align the short edge of the pry bar where the nails are. Then, use the hammer to wedge the pry bar underneath the tack strip and then force the strip up and out with the pry bar.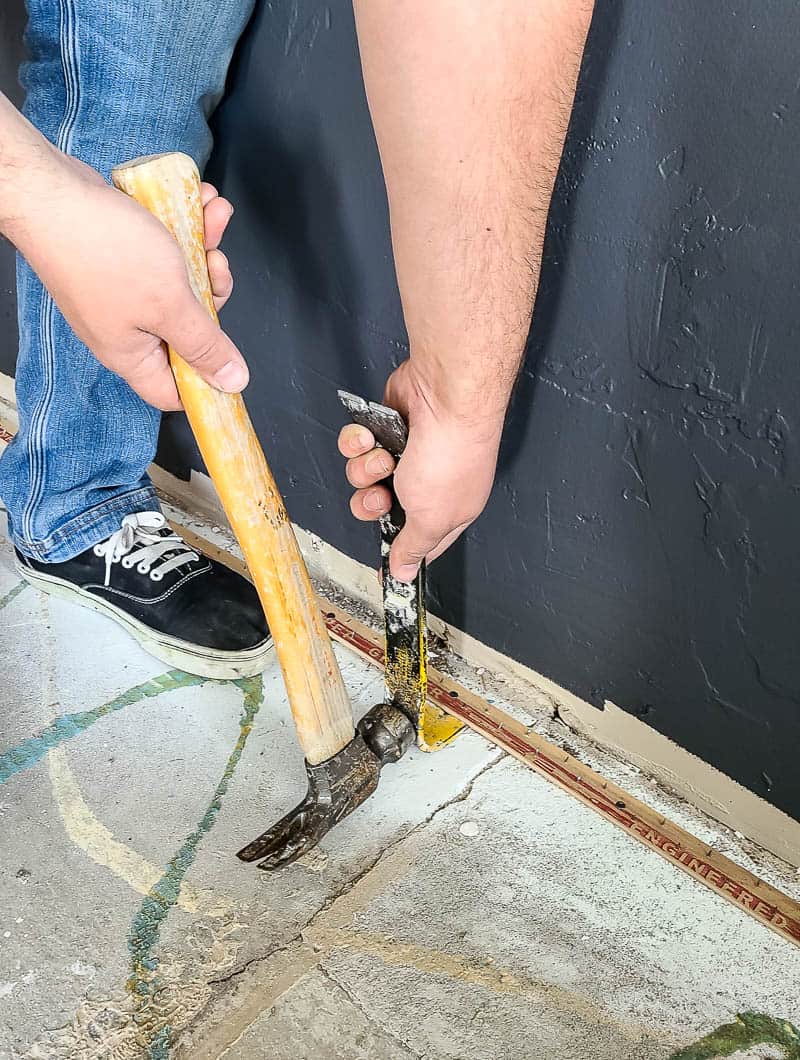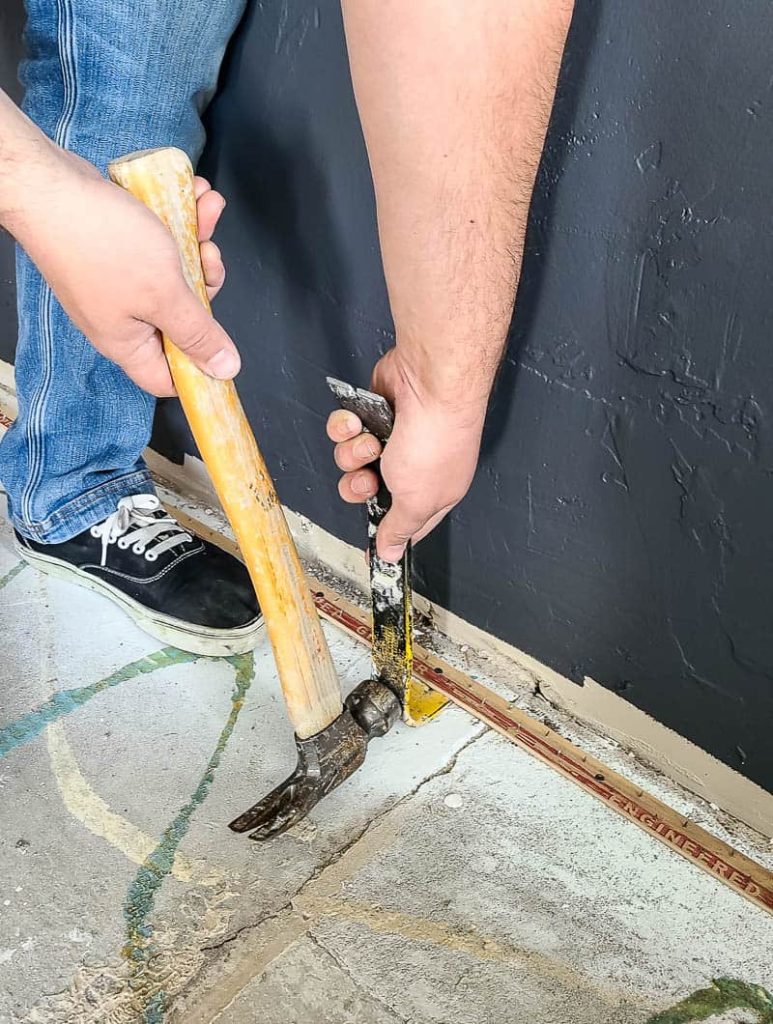 Don't stress about any small holes as they will be covered with new flooring.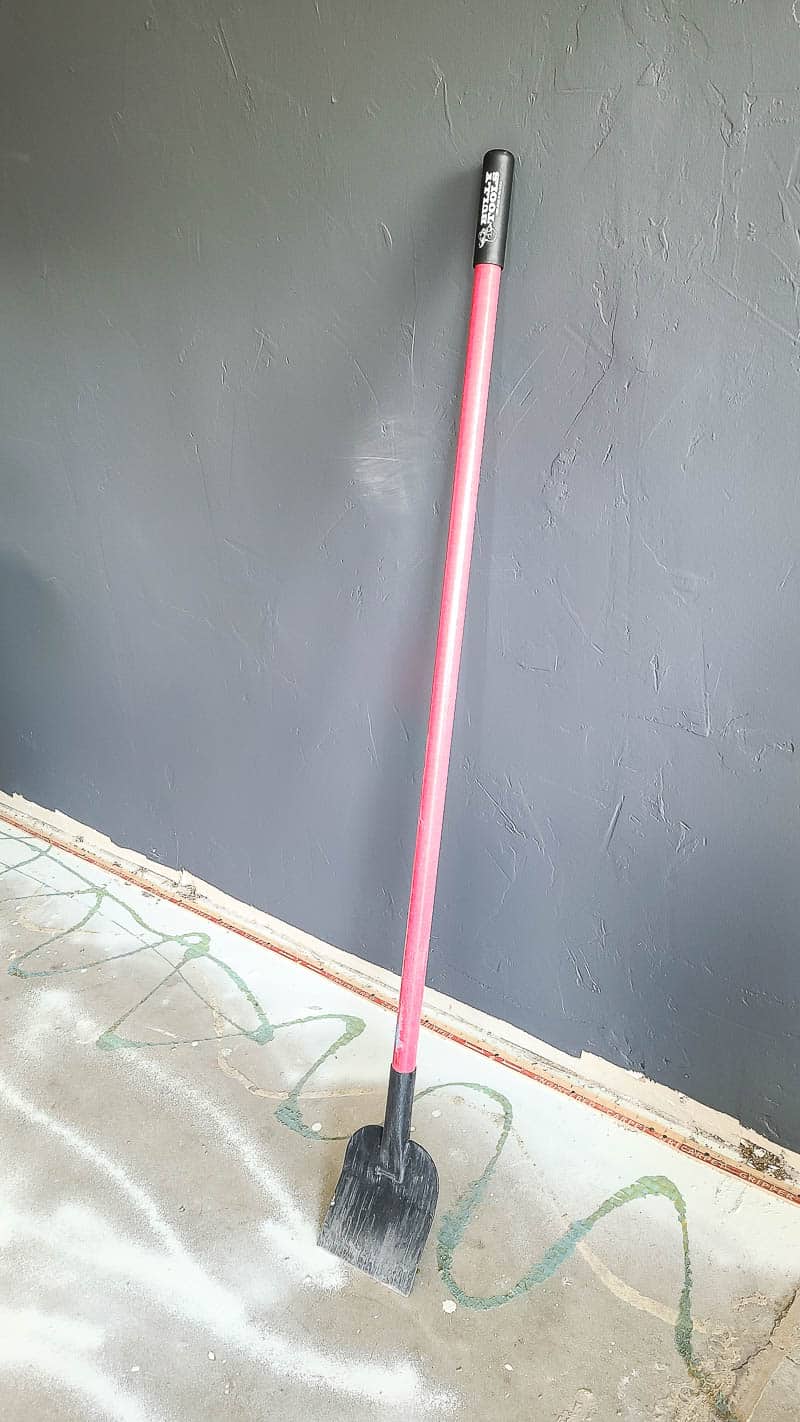 Method 2: Removing Carpet Tack Strips with a Floor Scraper
Using a floor scraper is definitely the easier option! We use a Floor Bully with a long handle that gives your back and knees a break from bending and crouching.
The great thing about a floor scraper is that it gives you way more leverage than the pry bar, so you can move faster and more efficiently. If you are removing a lot of carpet, we highly recommend this option.
All you have to do is slide the scraper underneath the tack strip and pop the strips right off!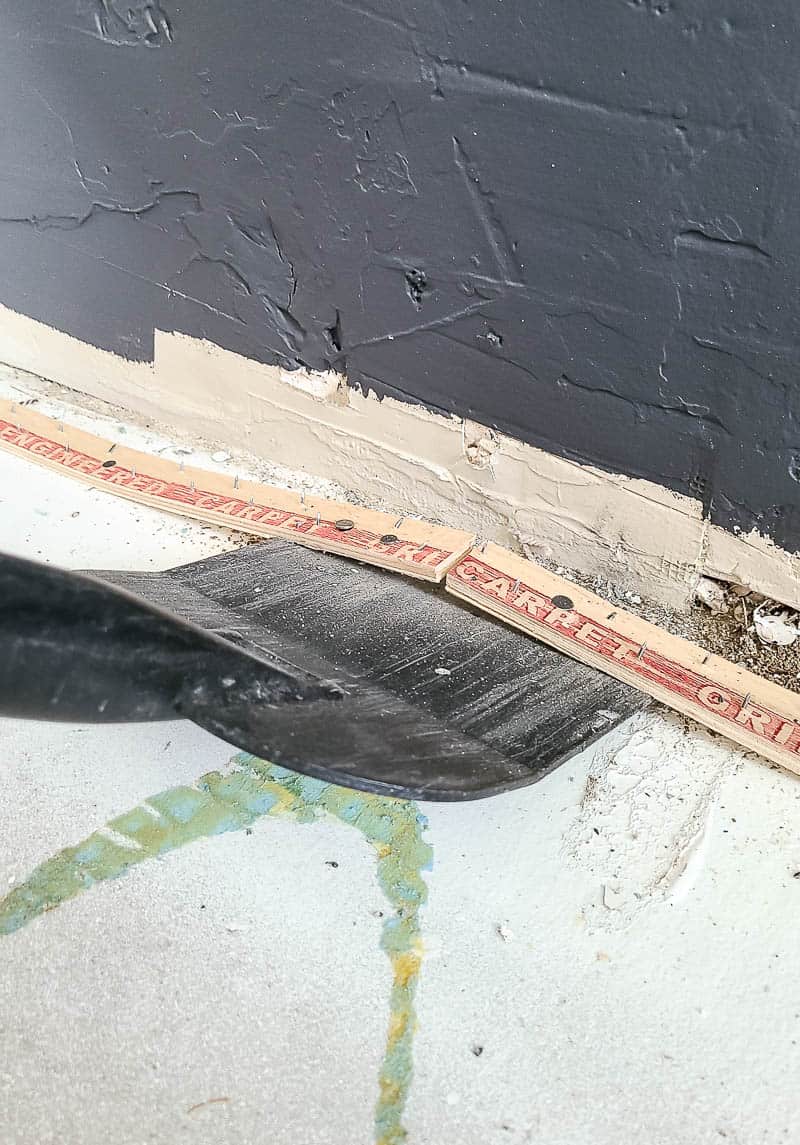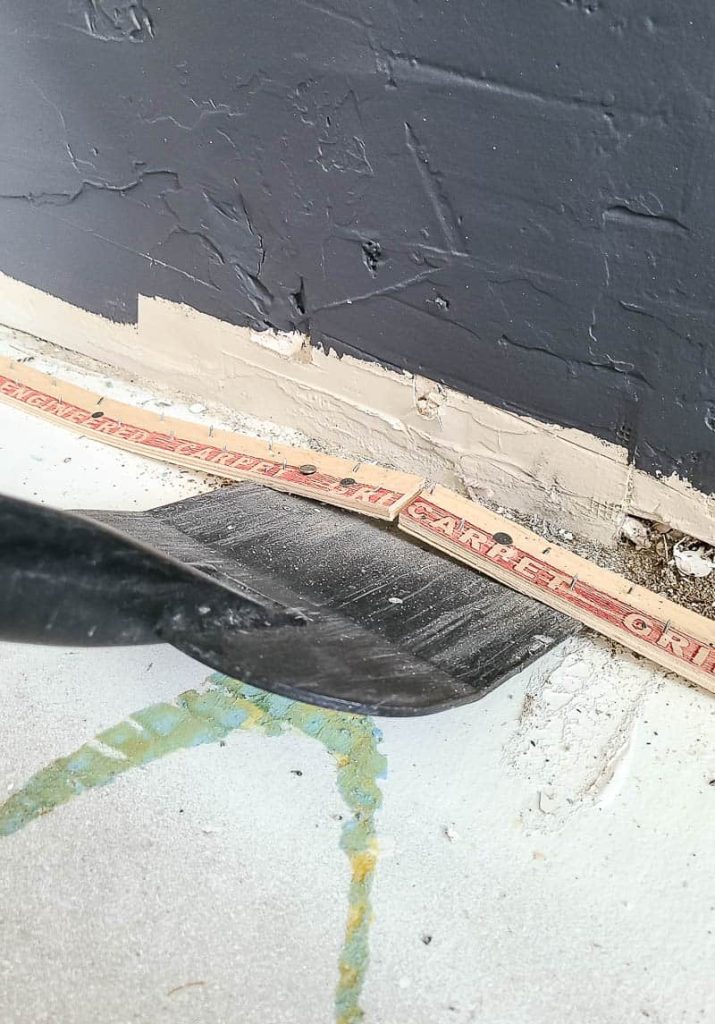 Disposing of Carpet Tack Strips
The safest way to dispose of the tack strips is to slide them into the center of the old carpet rolls. This prevents them from poking through plastic garbage bags or ending up under someone's foot.
Before you begin this project, make sure you check with your area's waste management service to see when bulk pickup day is or where you should drop off the old materials.
After all of the old materials are disposed of, make sure you vacuum the area well with a ShopVac before installing the new flooring.
Which method will you use for your next flooring project?
Let me know in the comments below!!