Our next renovation has started! We are transforming our big boring space into a modern bohemian living room. Today we're sharing our living room mood board and talking more about how we're arranging the furniture with our rectangle living room layout plans.
Hard to believe that we have been living in this house for over three years now! We've been hard at work with everything from bathroom renovations, bedroom makeovers, redoing our entire backyard, lots of painting, and even things like DIY wall decor and woodworking projects to add to our home.
But one thing we haven't yet done is renovate the room that we spend the most time in – our living room! The time has finally come to renovate our living room, and we're giving it a new look from top to bottom.
Over the next several weeks, we will transform this big boring room into a dark and moody modern bohemian living room.
Today we're sharing our design plans with you – complete with a living room mood board, floor plans, and renderings to show our rectangle living room layout!
This living room mood board article contains affiliate links, but nothing that I wouldn't recommend wholeheartedly. Read my full disclosure here.
Want to see more of our living room renovation?
Living Room Makeover: Before Pictures
Let's take WAY back, shall we? Here's what the living room looked like when we moved into this house over three years ago.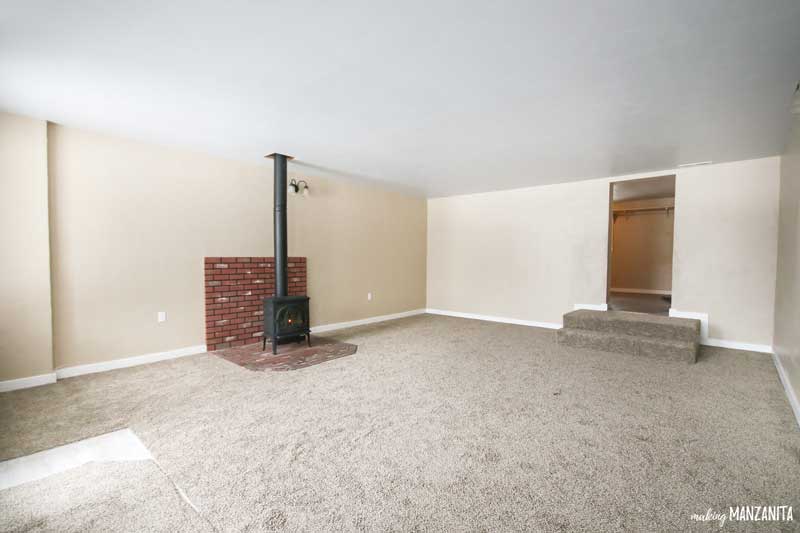 Tan walls, light blue ceiling, whew. The one thing you can definitely tell from this photo is how massive this room is. It's roughly 18′ x 23′. Which is great, but also makes it tricky to layout and decorate.
Add to that, it's also our entryway and the primary path from the front door to the rest of the house.
Last but not least, there's also that fireplace that is kinda smack dab in the middle of the room, so you've gotta figure out how to work that into your layout (more on our new rectangle living room layout below).
We've been SUPER busy with renovating the other rooms in our house; literally, the only thing we've done in here since we moved in was repainted the walls with this color and called it a day.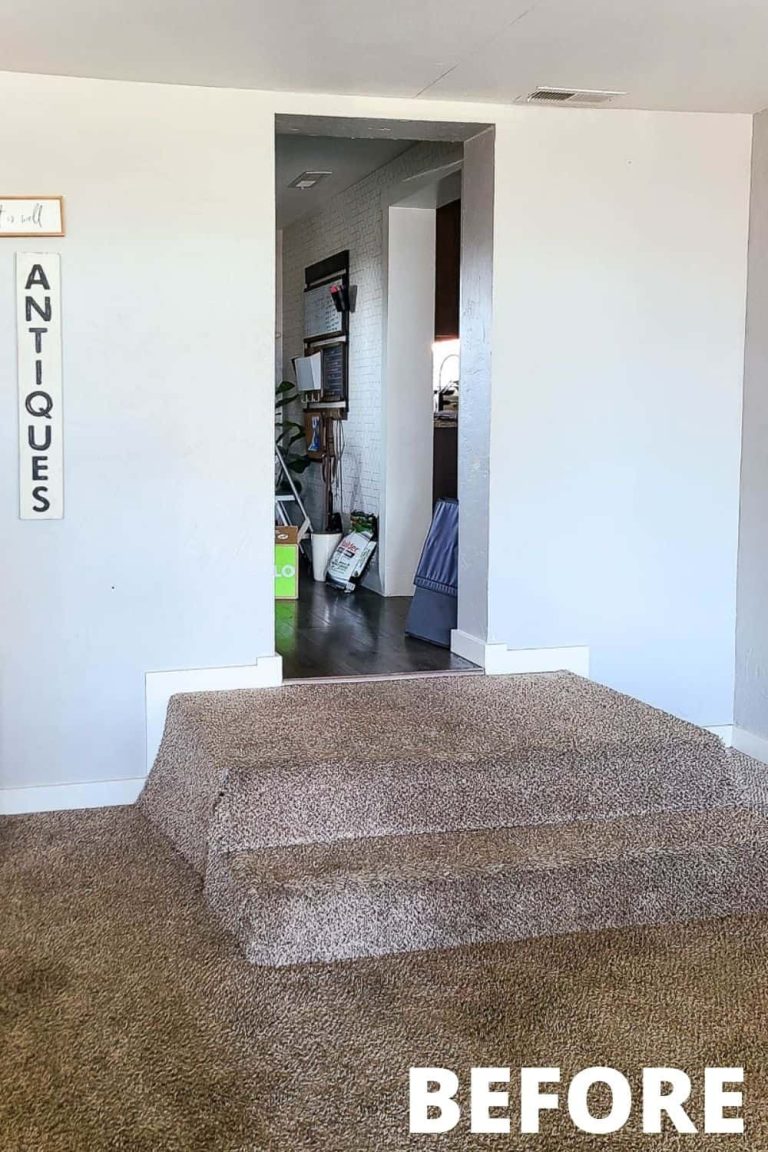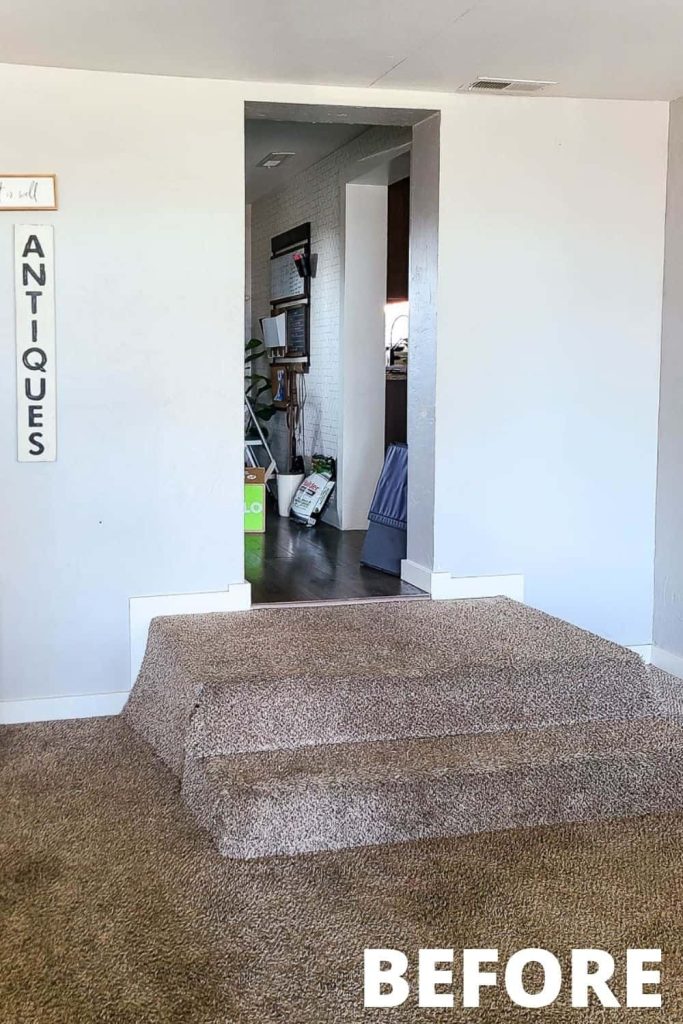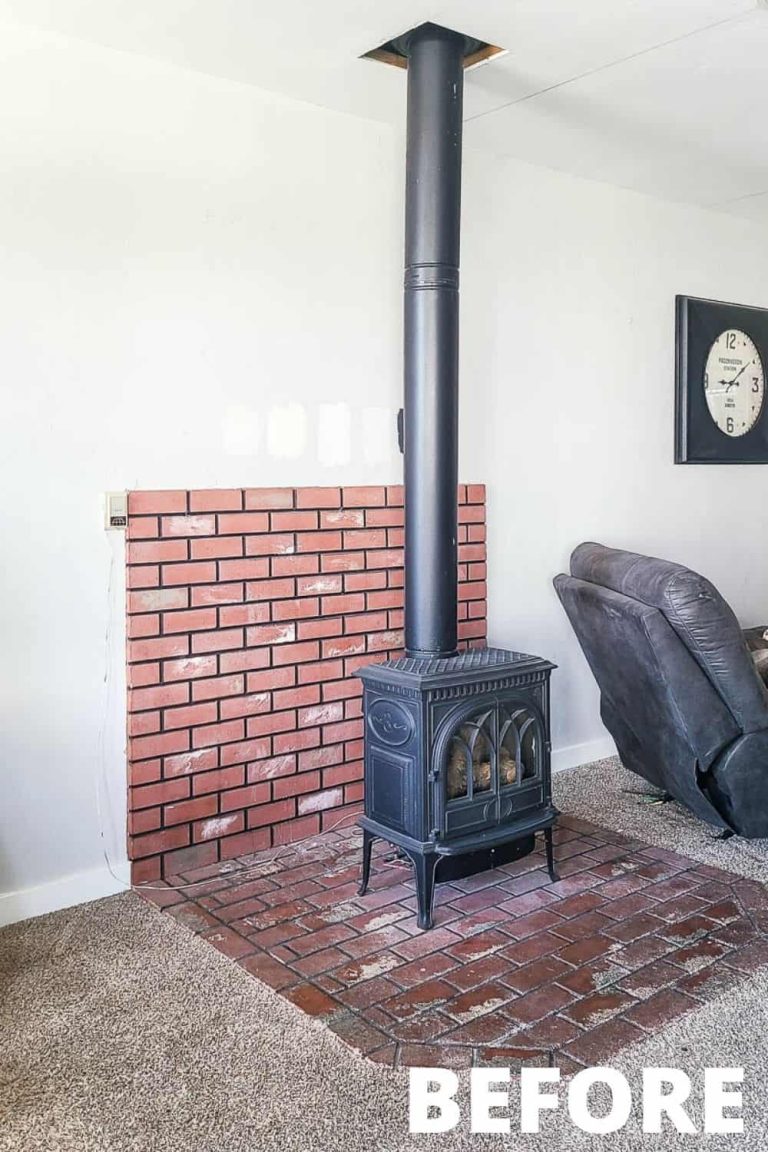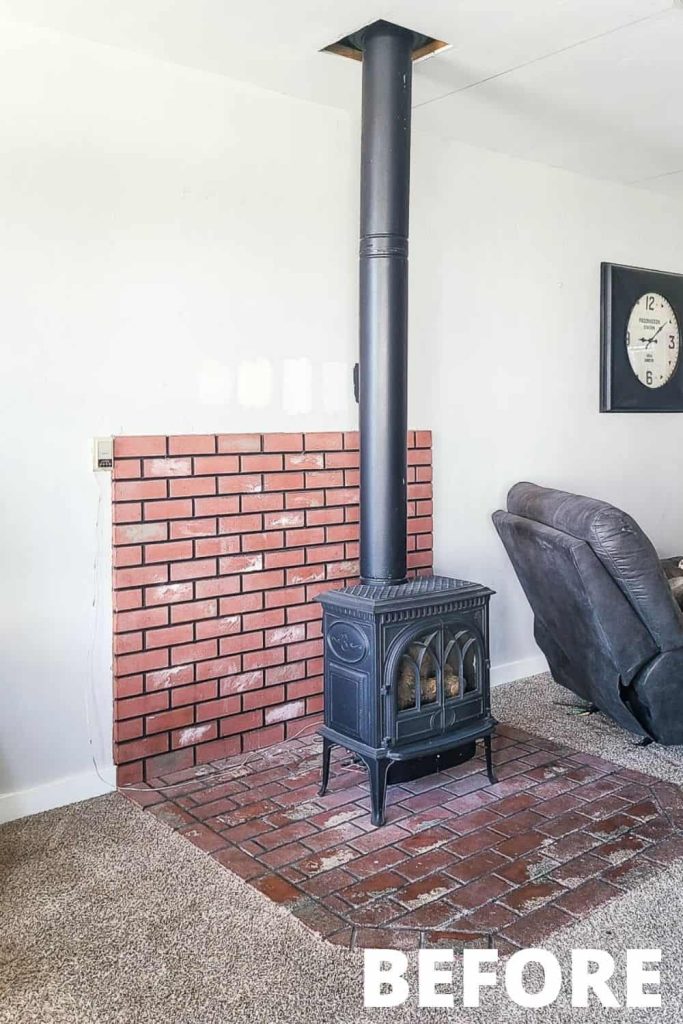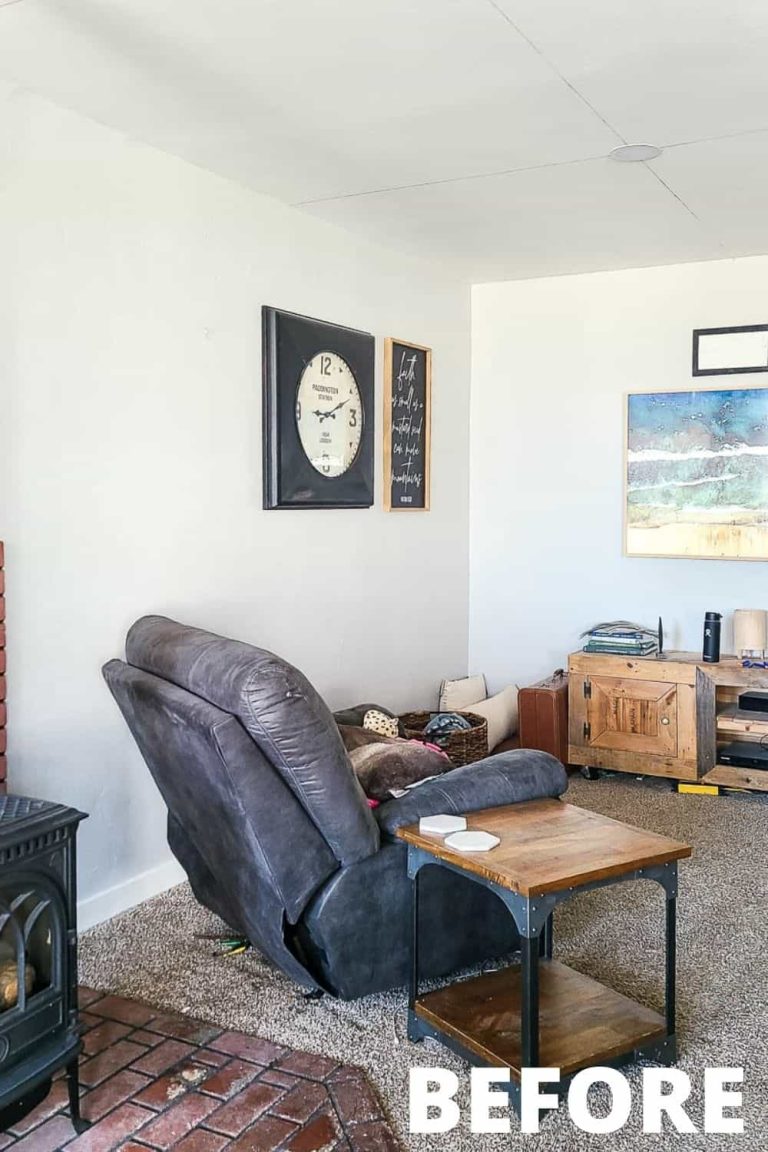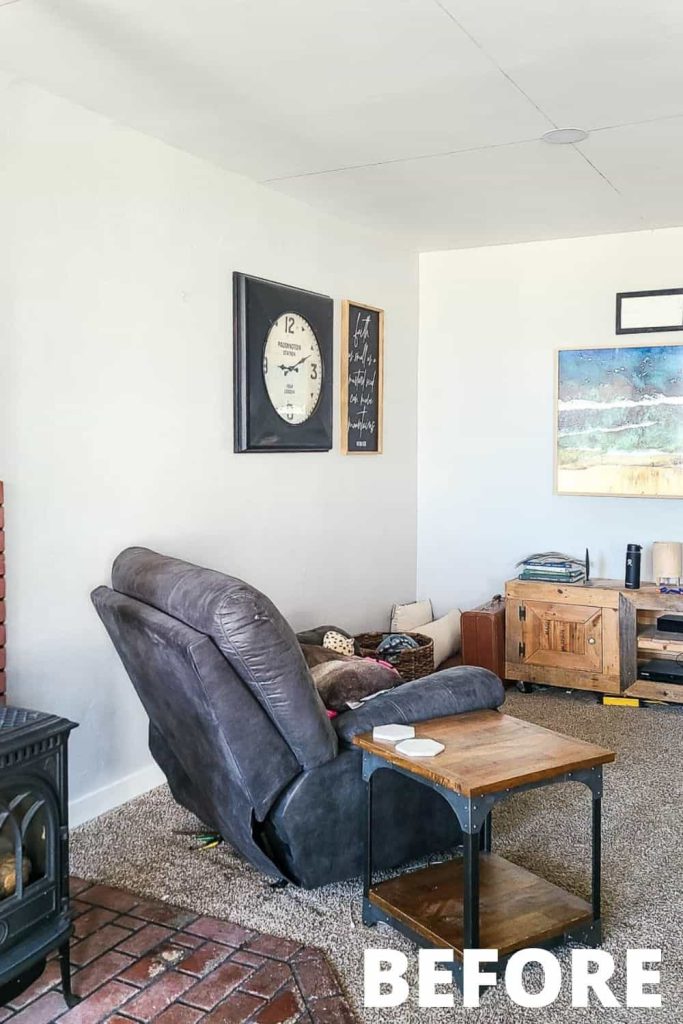 Rectangular Living Room Layout Plans
Having a long rectangular living room layout is tough. I never realized just how tough until I struggled with the layout in this long and skinny living room – for OVER THREE YEARS! We've tried several different layouts and have never been 100% happy with them.
The hardest thing about the rectangle living room layout is working the fireplace into the furniture arrangement.
The fireplace is right in the middle of the room and freestanding from the wall, so you can't mount a TV above it like a normal fireplace, which means that it is hard to make it the focal point.
This room is our primary (and only) TV-watching room, so it makes the most sense for us to have the furniture all facing the TV.
For years I've really struggled with how to arrange the furniture so that there's not a back of a chair or couch facing the fireplace, and I think we've finally figured out how to make it work!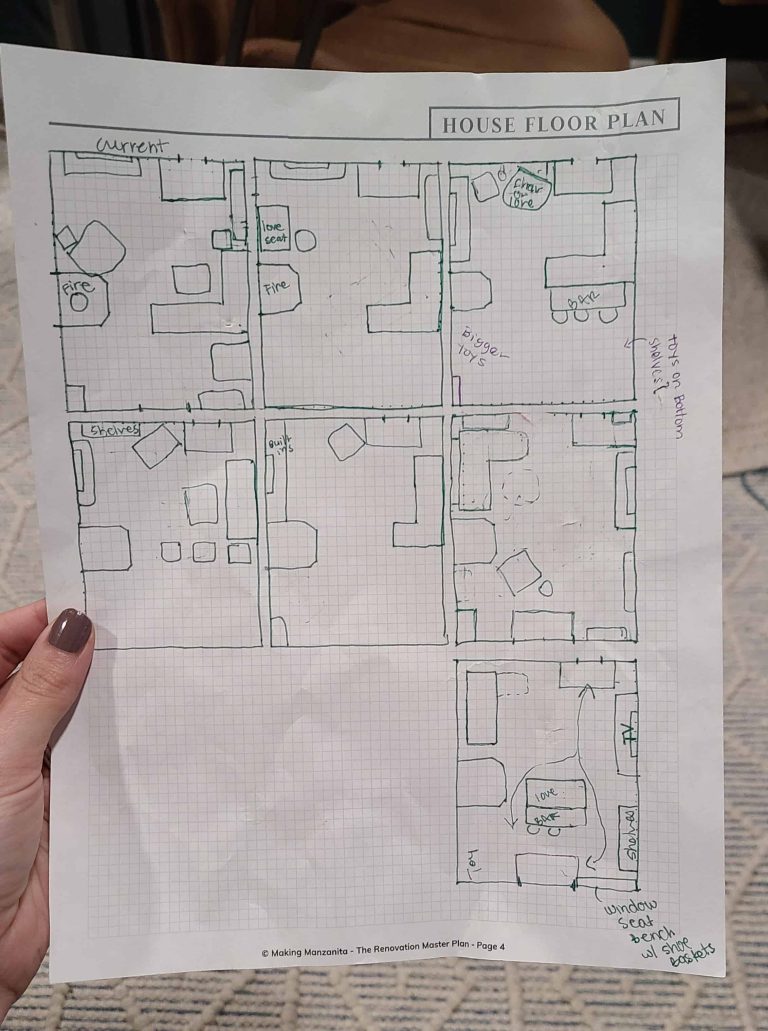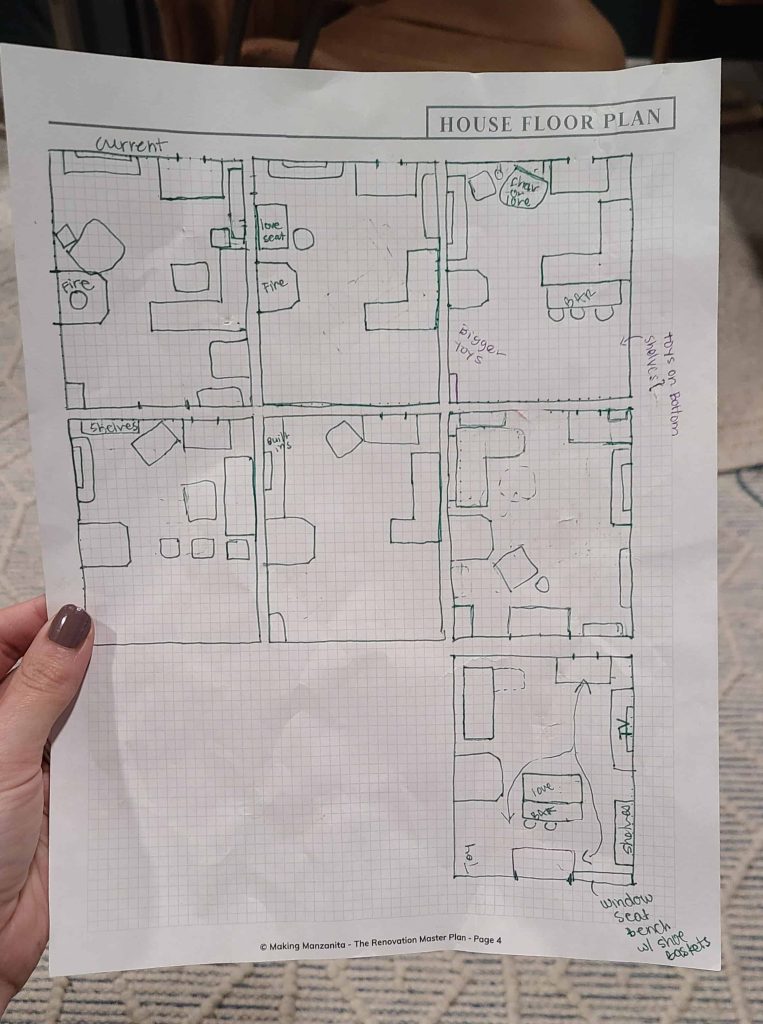 How to Evaluate and Plan Your Rectangular Living Room Layout
I started by measuring the room and all of the existing furniture we planned to keep.
Next, I drew out several to-scale rooms on graph paper, which we provide in our Renovation Planner! I made sure to make notes on the plans of where the structural things in the room were (like the fireplace, stairs, doors, etc.).
Once I started furniture shopping, I began sketching out different room layouts on graph paper, contemplating the furniture sizes we were looking at (see the image above for some other options).
I looked at Pinterest for more ideas and saved some of my favorites.
Next, I took things one step further and created a floor plan and 3D renderings in an online program called DesignFiles. Check out the cool renderings I made below!
After I had several different options, I took a good look at all of them and thought about the flow of traffic, storage for toys (which we keep in this room), scale and balance, and then discussed the options with Logan.
Once we finalized the living room layout, I ordered the furniture we needed.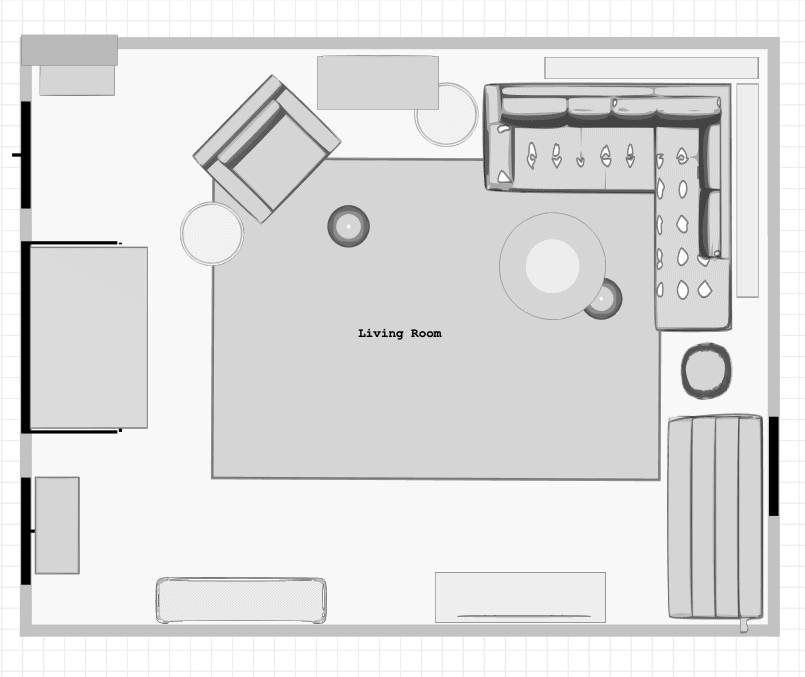 Aren't those renderings so cool? It was so fun (and EASY!) to play around with different layouts and furniture arrangements in DesignFiles. However, one thing to note is that the exact furniture colors and design aren't necessarily accurate on those renderings.
You are limited to the 3D furniture that is preloaded into DesignFiles, so I tried to choose things that were close to the furniture that we were buying, but it isn't an exact match. I was, however, able to manually adjust the size of the preloaded furniture so I could get an accurate representation of the scale.
Modern Bohemian Living Room Mood Board
Now, are you ready for the fun stuff?? Here's the modern bohemian living room mood board that we came up with. This pulls together the color scheme, furniture design, and decor ideas! Learn how to make your own interior design mood board (for free) here!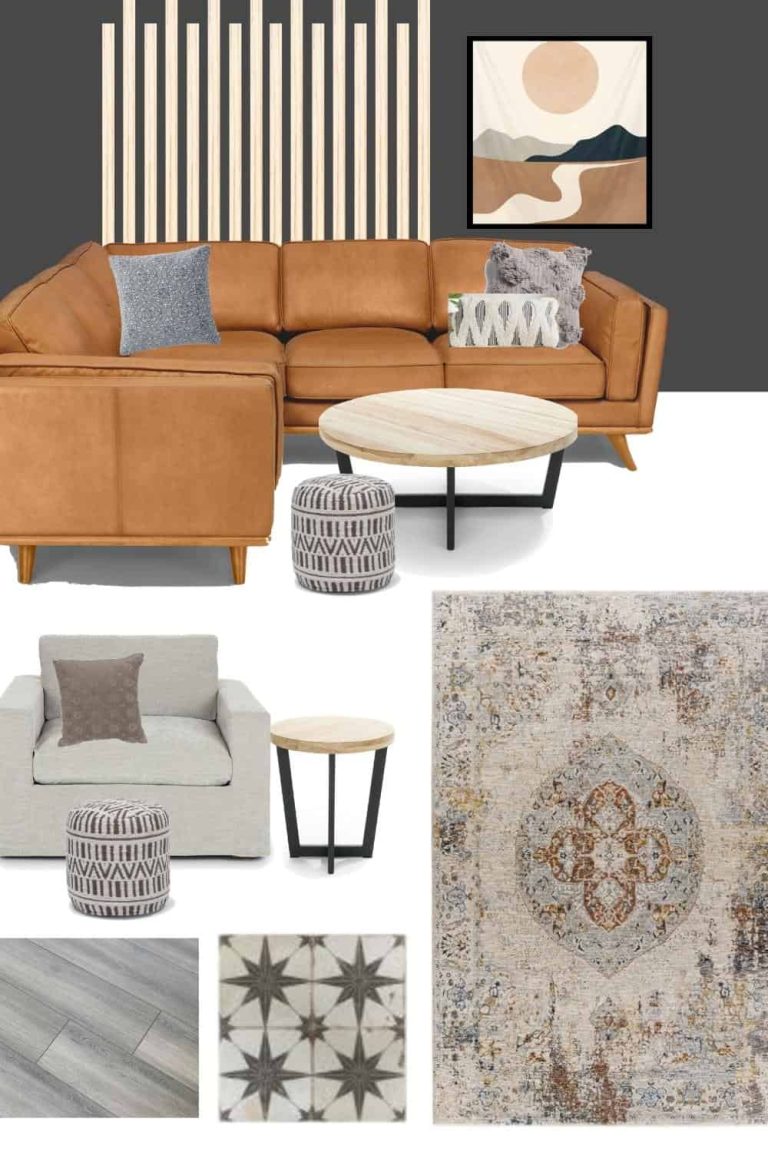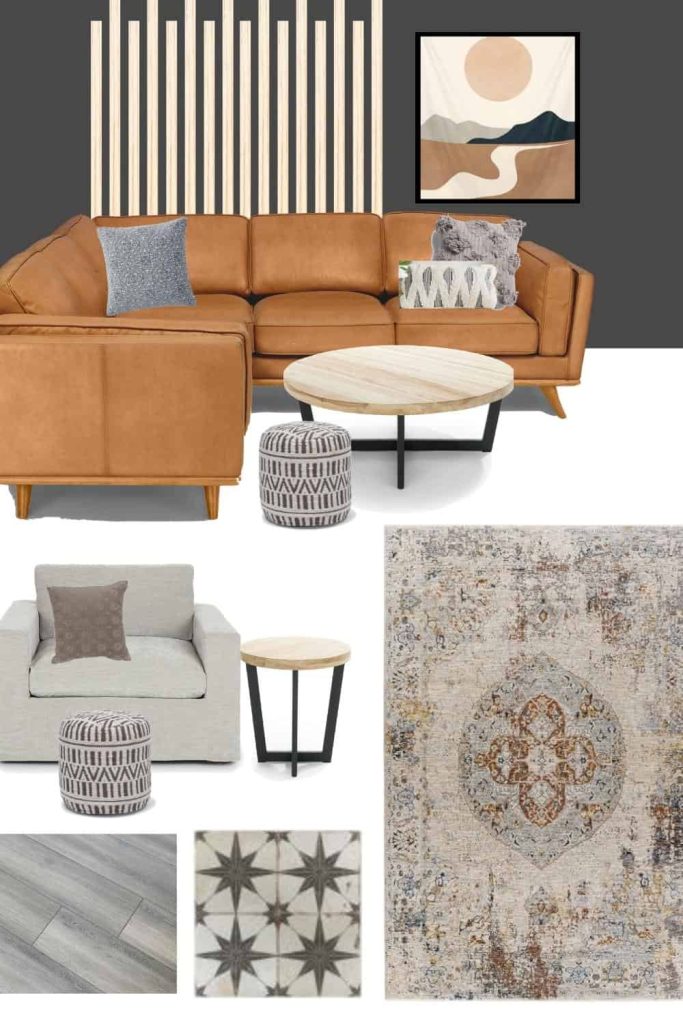 Modern boho living room mood board sources:
Want to Make Your Own Home Renovation Mood Board?
A mood board is a visual guide for your room makeover. It is sort of like a one-stop shop for all of the decor, furniture, and colors you're bringing into the room.
A mood board is an easy-to-follow design plan so you can see how everything in the room fits together in one place to make sure everything looks cohesive before you make big purchases.
You don't need to hire an interior designer to make your own mood board! In this article, I teach my entire easy process for creating an interior mood board for free using Pinterest and Canva!
Living Room Makeover To-Do List
We're so excited about the BIG transformation that is going to take place in our living room and we have some really fun and unique projects planned, as well as some simple step-by-step tutorials for renovations that will help beginners!
Here's what we have planned:
Who's excited?!?! We've already started sharing the progress and behind the scenes over on our Instagram account – so be sure to follow along! We also have all the IG Stories saved in this highlight on our profile called Living Room Reno, so you can catch up at any time!
What's your favorite part of our living room mood board?
Let us know in the comments below!