If you've ever painted a room, you're probably wondering what is the best order of painting a room? Well, you're in luck because today we're answering that question and lots more of your painting questions with all of these interior painting tips!
Thank you to Behr for sponsoring this post! All opinions are entirely my own. This post also contains affiliate links, but nothing that I wouldn't recommend wholeheartedly. Read my full disclosure here.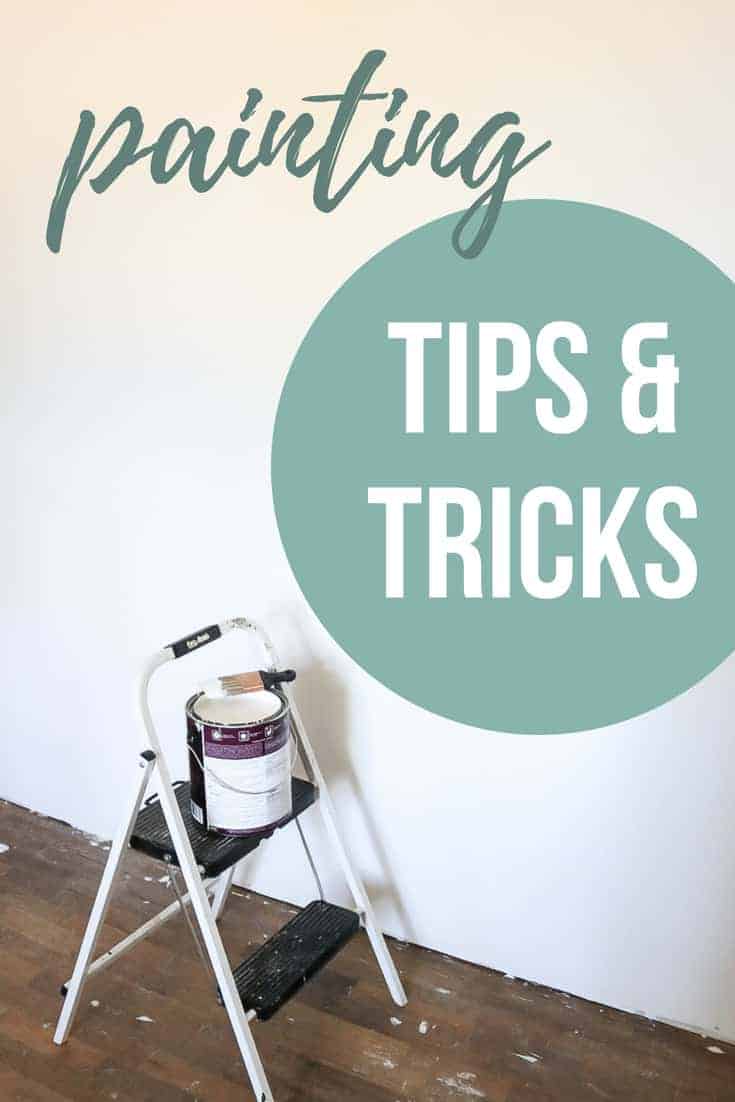 Even if you're not full-on renovating like we are, there's definitely time when a room is calling for paint. I definitely believe that paint is single-handedly the best and easiest way to update a room. Painting interiors is totally a doable DIY, even for a beginner! But if you've never painted before, you probably have some questions and hesitations, right? Before you start painting, you definitely want to get all your painting questions answered – like what is the best order of painting a room and what is the best room paint to use… Well, today you're in luck. We're answering all of your painting questions and spilling all of our interior painting tips!
What's the best order of painting a room?
The best order of painting a room is top to bottom. Always start with your ceiling because the wall and trim colors can't drip up onto the ceiling. By working down you assure you can fix any drips that may get on your surfaces that you haven't painting yet.
This is the order of painting a room we use every time we paint:
Roll paint on ceilings
Paint trim
Cut in paint on walls with paint brush
Roll walls with paint roller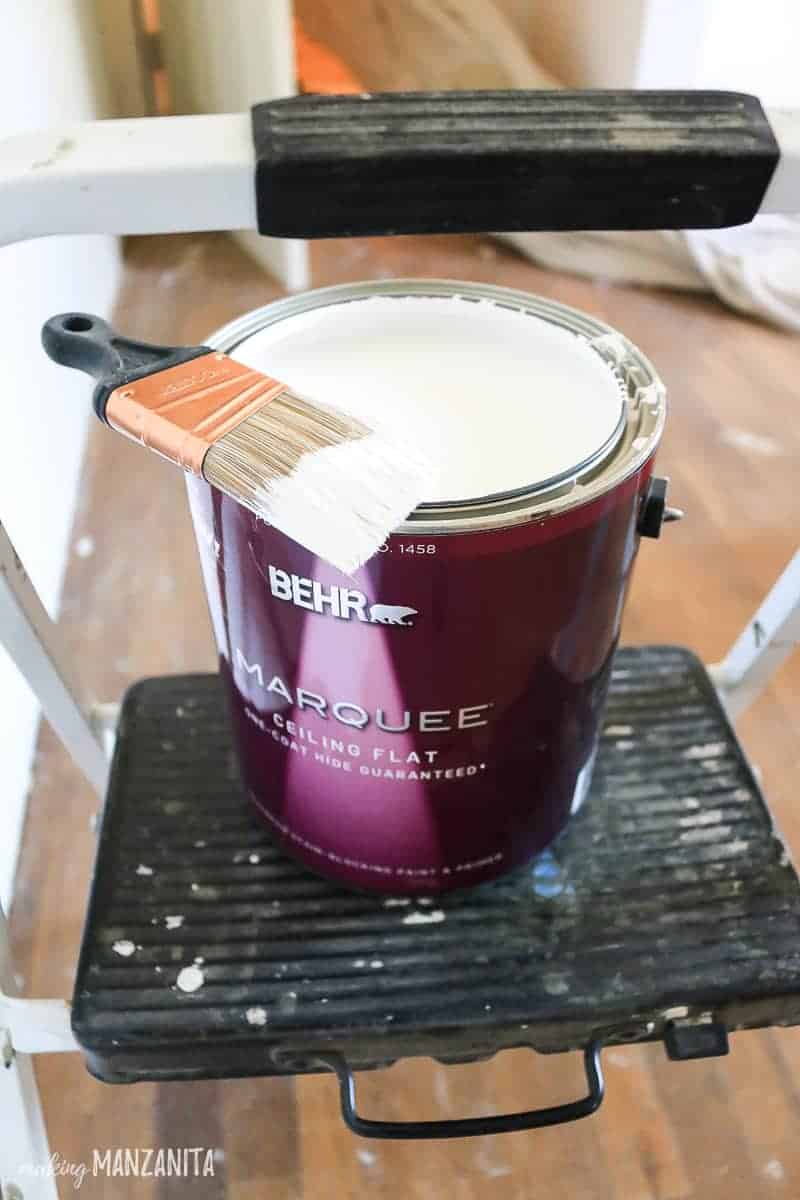 What is the best room paint to use?
Ten different people will give you ten different answers on what is the best interior house paint to use. Let's face it, you may already have a "best" interior house paint that you already love and would never switch from. For instance, Logan always uses Behr paint from Home Depot for painting interiors. He just won't entertain anything else.
The simple answer is the best room paint to use is always the highest quality paint you can buy. With Behr's Marquee line (which is their highest quality) we never have a problem putting the paint on and it is always one coat coverage. This saves a lot of time not having to double or triple coat, especially if its a big paint job.
Further Reading – Are you thinking about painting your exterior? You've gotta read these exterior painting tips.
What should you use for interior trim paint?
Again, we recommend the highest quality of interior trim paint you can afford. By using a high quality paint with great coverage, it can really be a life saver if the paint you are using is a light color going over something dark. If you want your interior trim paint to be white but you have to go over something like a dark brown, a high quality paint can save you from having to apply multiple coats.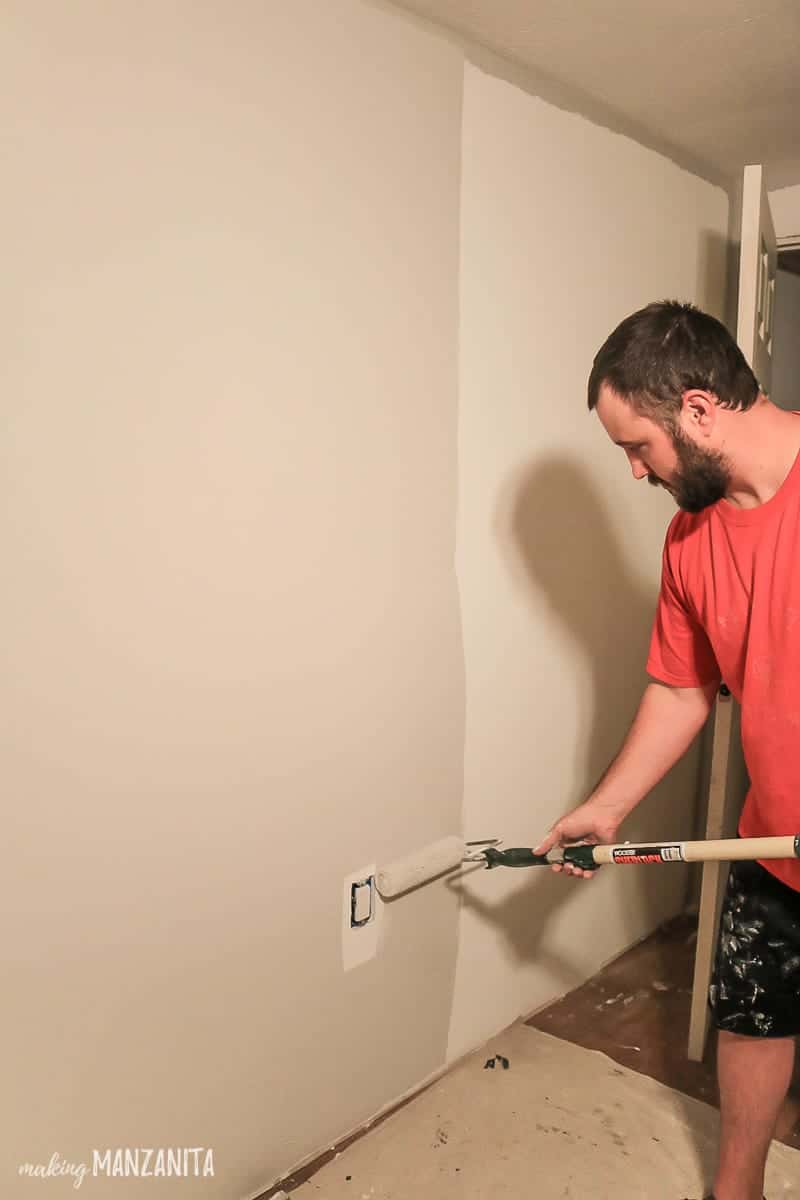 How do you determine what sheen of paint to use?
The basic rule of thumb for paint sheen is eggshell for walls, semi gloss for trim, and flat/matte for ceilings. However, sheen really depends on your own particular style and how shiny and durable you want your paint to be.
There are pros and cons to both ends of the spectrum on paint sheens. Gloss paint is very durable, but you can just about see yourself in it and it's just not my style. The downside to all that durability and shine of the gloss sheen is the amount of imperfections it will highlight in your walls and trim. If you have a lot of nail holes, patches, and general wear and tear, you would want to get closer to a matte sheen as it will hide these imperfections. The downside of matte sheens is that it is less durable and your wall won't be as easy to clean.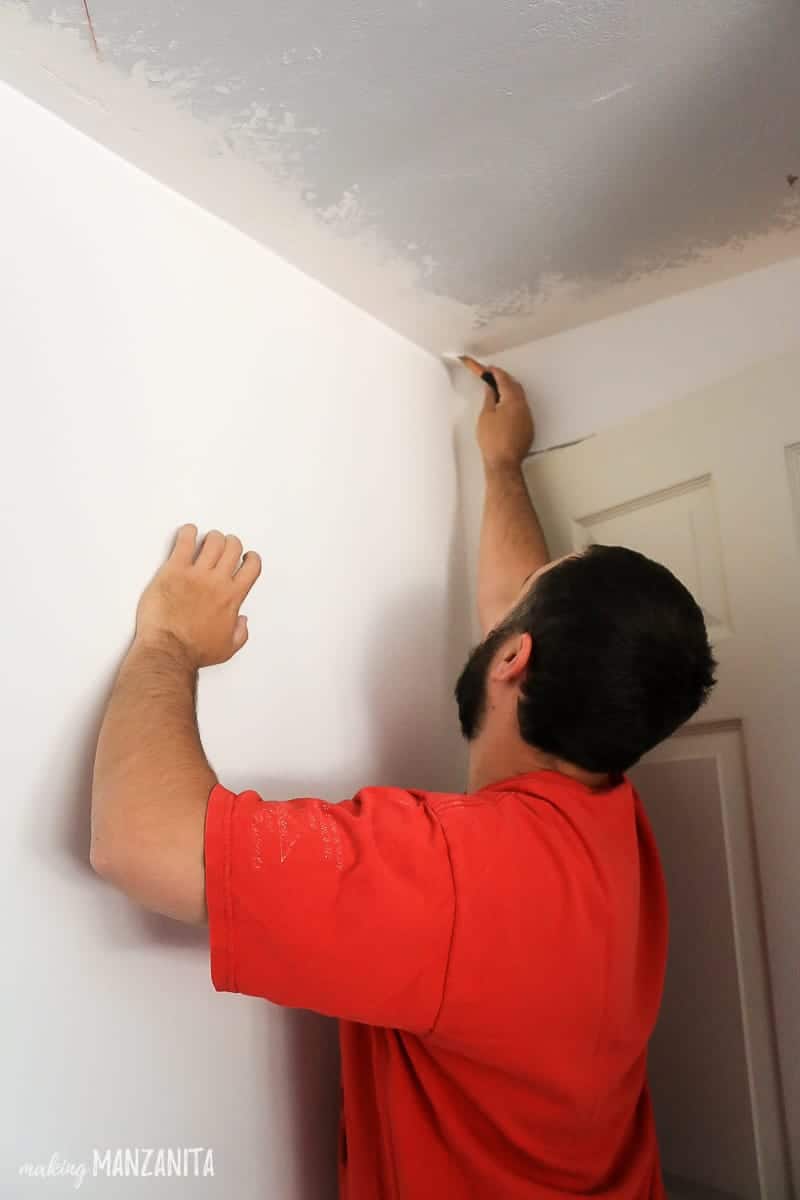 How do you determine interior paint cost?
One of the best ways to determine interior paint costs is to use Behr's Paint and Stain Calculator. You can enter the size of your room, number of doors and windows and it will give you a good estimate to how many gallons of each paint that you need to buy. Then you can quick do the math of the paint costs. Don't forget to factor in the supplies you may need to buy to paint a room (like paint rollers, brushes, painter's tape and drop cloths).
It's also important to adjust the amount of interior paint needed based on what paint color you are covering. If you are going over dark colors with lighter then you may want buy an extra can based on the size of the project.
Lastly, if we know that we going to need 4 gallons we always spend a little more money for the 5 gallon bucket, which is just a little more. By the time you buy 4 gallons, you are only a few bucks short of a 5 gallon bucket. You don't want to run through 4 gallons and need a 5th because then you will have to spent more money than you had to. Let's face it, there will be touch ups to do and extra paint is handy for that.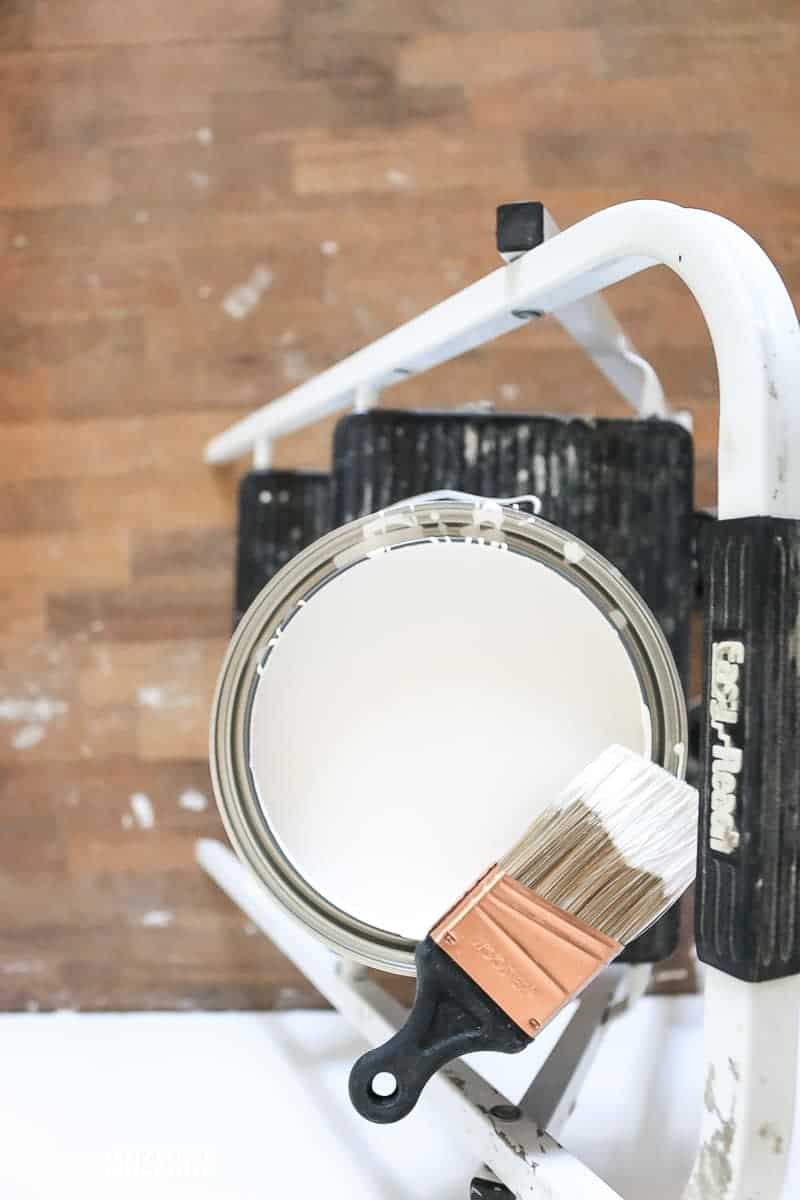 How do you DIY high quality painting that looks professional?
There are three simple rules if you're looking make your DIY painting look professional:
Don't be in a hurry.
Be honest with yourself about your skill level.
Spend the extra money on the right tools.
When you are doing DIY wall painting most people think "I'll just slap a coat of paint on…how hard can it be?" But slapping is the LAST thing you should be doing. Painter's tape really gets a bad rep because people don't prep correctly. Remember rule number one is don't be in a hurry!
If you just take 10 minutes and clean the areas where your tape will be applied, the paint will do its job better. Remember that the trim in your house takes a beating and despite how clean we try to be there is a layer of dust and grime on there. Painter's tape doesn't like attaching to dust and grime which is why tape bleeds.
If you don't have TSP, get some. TSP will get your surfaces very clean, which is important for the life of your interior paint job. The cleaner the surfaces are, the longer your paint will last and the cleaner your paint lines will be.
Speaking of clean paint lines, don't try to cut in with a brush if you can't or if you've never tried it before (more on cutting in paint on the next question). Remember rule number two is to be honest with yourself about your skill level. When you do DIY wall painting, you will see the mistakes you make and they don't go away by themselves. Use that painter's tape.
Last, buy the high quality rollers and brushes. Rule number three is spend the extra money on the right tools. If you want your DIY wall painting to look professional, buy the professional tools not the cheap crap. The last thing you want while painting is for the rollers to shed and the bristles to fall off the brush into your paint job.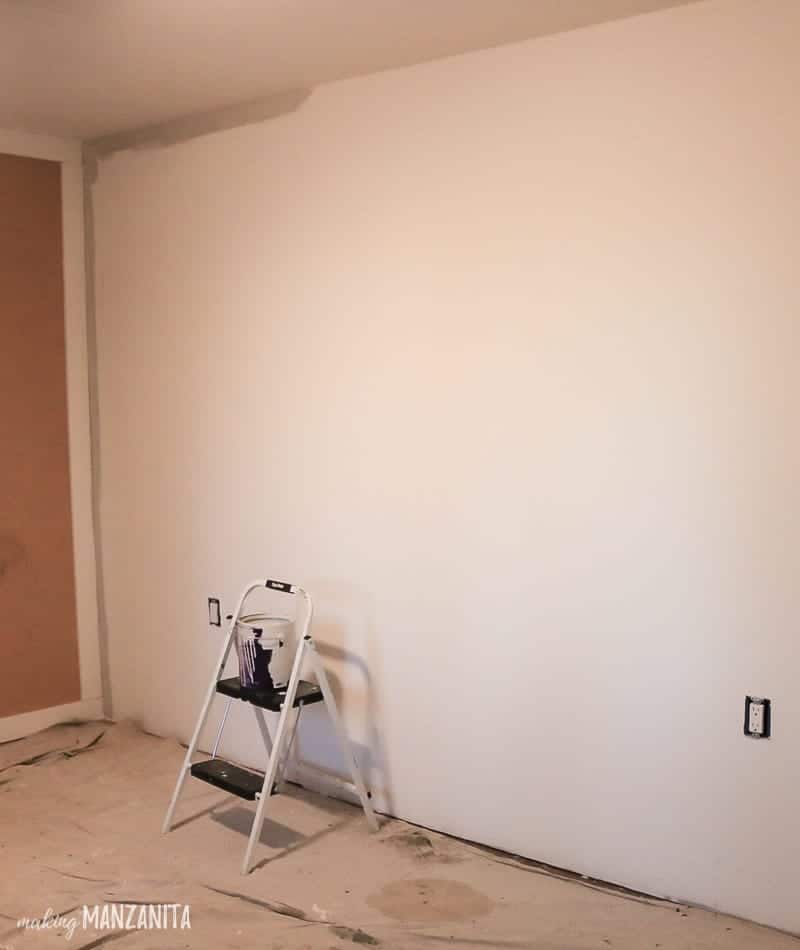 How do you handle cutting in paint?
Well, the truth is….years of practice. I swear if you give Logan a pencil and ask him to draw a straight line, it can't be done! But for some reason though, he can cut a straight line with a paint brush so I'm not complaining. However, he has painted 100's of homes, walls, etc in his past jobs.
If this is your first shot painting your interior or even your 10th try, then clean the areas where you need to cut in. Carefully tape the areas after they are dry with the wide painter's tape (not the thin stuff). After you apply tape, take the tip of your thumb and run it along the edge of the tape and press firmly. Do these areas first with a paint brush before you roll. Be sure to not have too much paint on the brush though. Wipe both sides of the brush on the can before you apply to the wall. Another reason for painter's tape bleeds is globs of paint sitting on the tape when a whole lot less paint would have been sufficient to cover.
You can remove the painter's tape from your edges as soon as the paint is dry to the touch. Don't let the tape sit there all night long because the paint will start to cure and when the tape is removed, you may pull some of that paint up too, which you definitely don't want to do.
What are the best gray paint colors?
If you've ever been over to my house or ever talked to me about paint colors, you know that I love me some gray! If you're wondering what the best gray paint colors are, here are a few that I've used in our homes and I loved them all for different reasons.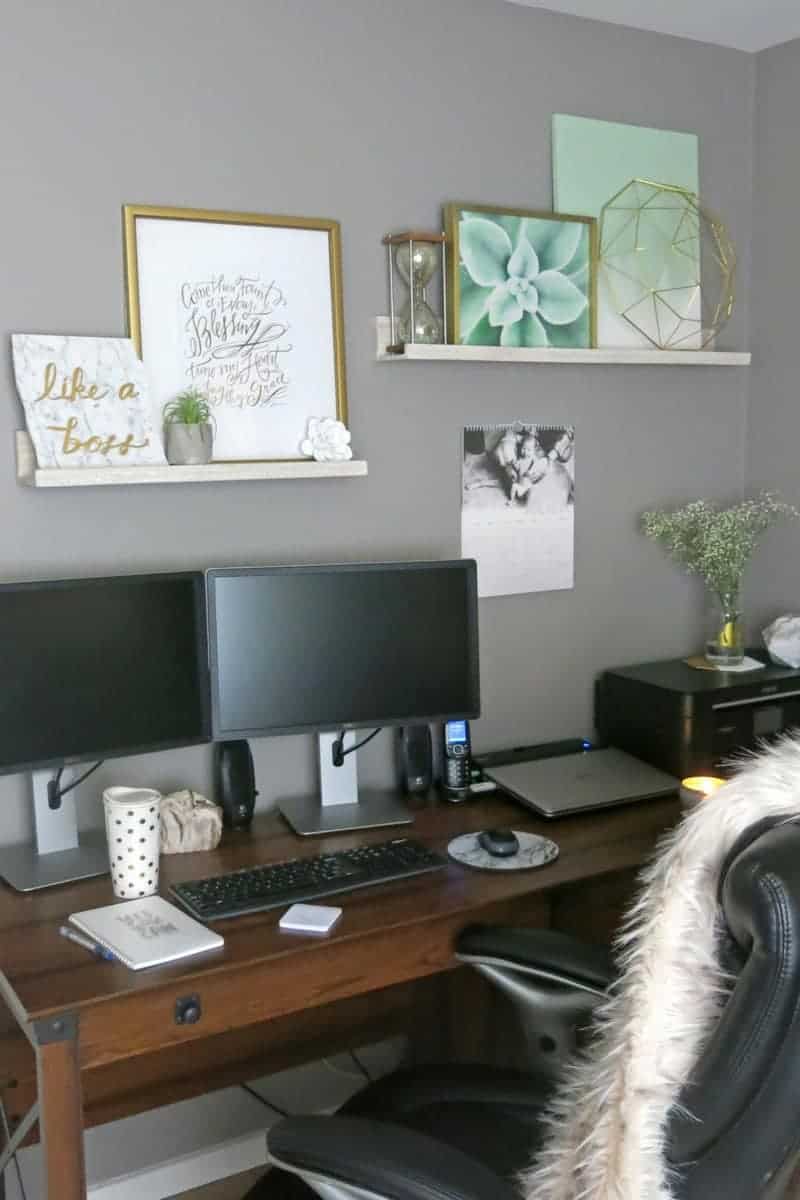 I love this gray color! We put it on the walls in almost every room in our old house. Read more about this marble and gold office.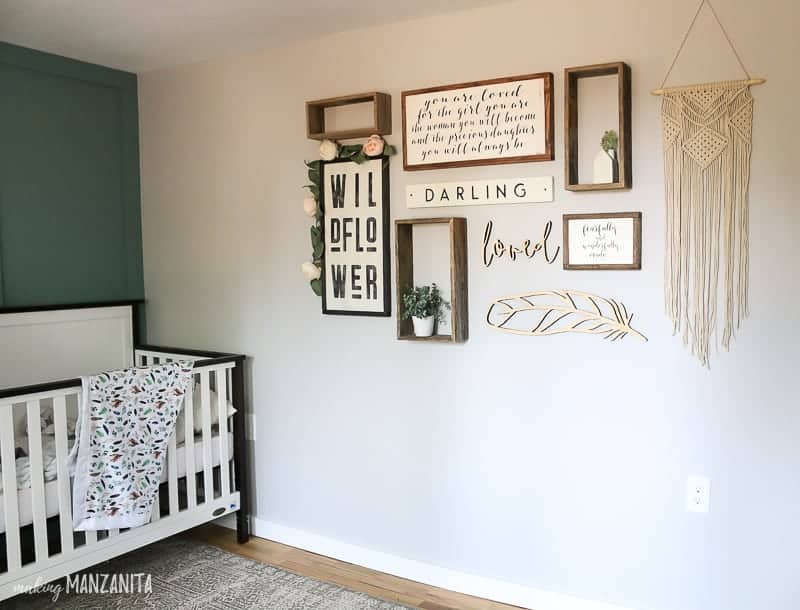 This gray paint color is much lighter than the Fashion Gray, definitely works to make small spaces feel larger since it is a light grey paint. Read more about this gallery wall in our nursery.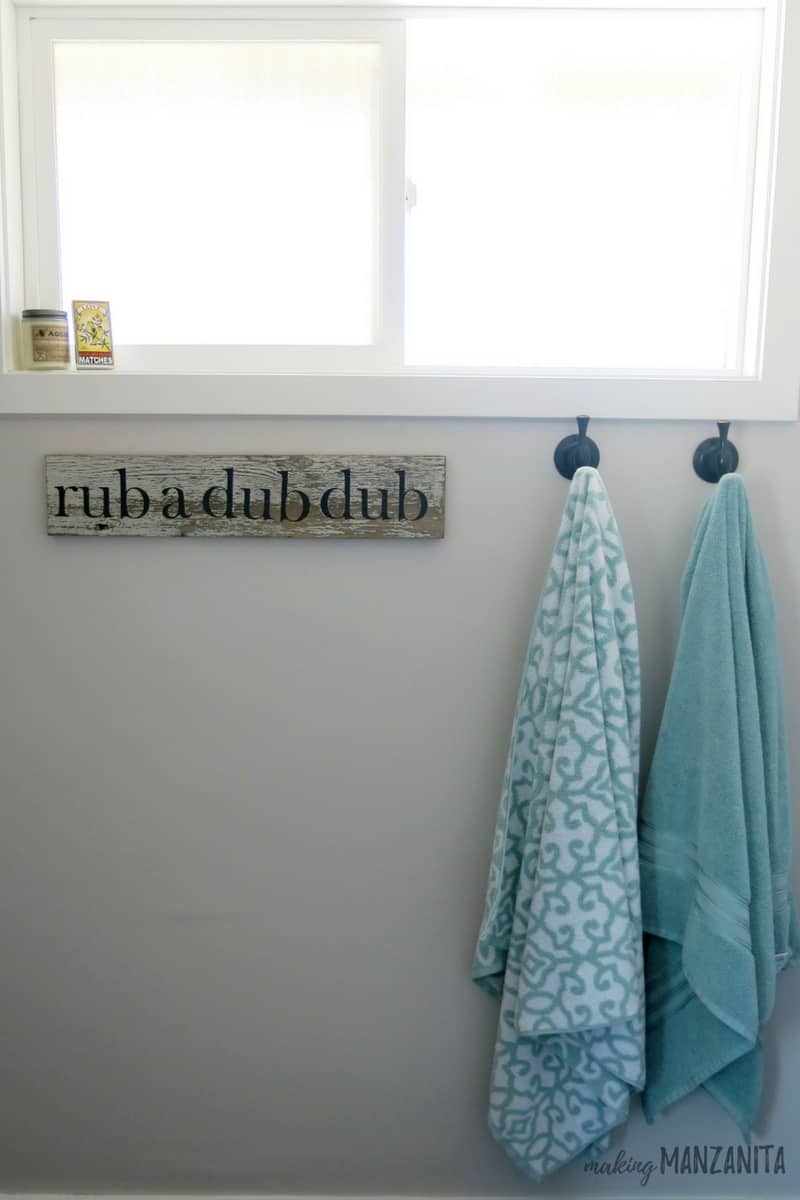 This is a great light grey paint with warmer tones. Read more about this farmhouse bathroom renovation.
If you're thinking about painting your own interiors, I'm here to tell you – you can do it, girl! You'll be shocked with the immediate gratification that you get from changing a paint color in a room! Before you grab a paint brush and start painting, you definitely want to do your research – like figure out what's the best order of painting a room ! Hopefully all of these answers to your painting questions helped get you a little more educated about painting!
Do you have any other painting questions??
Let me know in the comments below!
---
Want to see more of our modern farmhouse nursery??