If you've been saying " I need to paint my house exterior " this post is for you! I'm answering all of your burning questions about painting your own house like what is the price to a paint house? and what is the best house paint?
Last summer we decided to take on the big job of painting our house exterior….ourselves! It was LONG overdue and we had been putting it off for a couple of years now. We decided it couldn't wait any longer and we got to work!
Photos: Before We Painted the House Exterior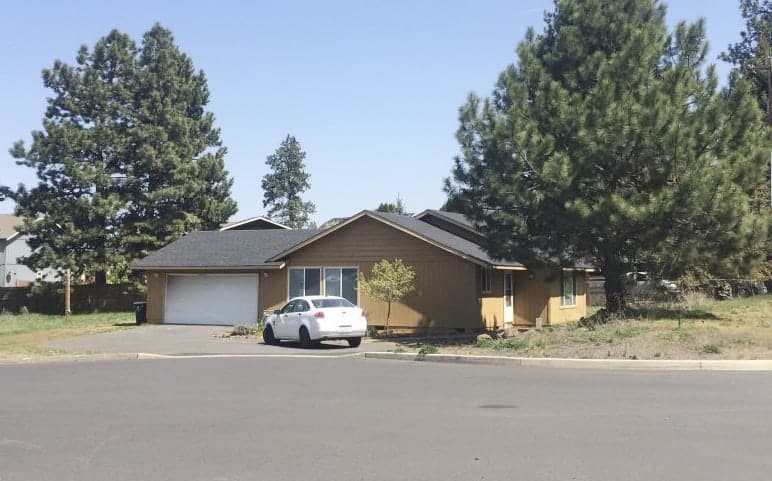 This paint my house exterior post contains affiliate links, but nothing that I wouldn't wholeheartedly recommend anyway! Read my full disclosure here.
Related – Other Posts About How To Paint Your Own House:
Prep Work Needed to Paint My House Exterior
Once we decided on the exterior paint color or trim color, it was ALL about the prep work. In fact, prep work is the most important aspect of painting your own house.
If you don't prep the house correctly, no matter what kind of paint you use or how well you paint it….it's not going to last long.
We summed up all of the things you need to do before you paint your home's exterior in this post. You don't want to skip a step here.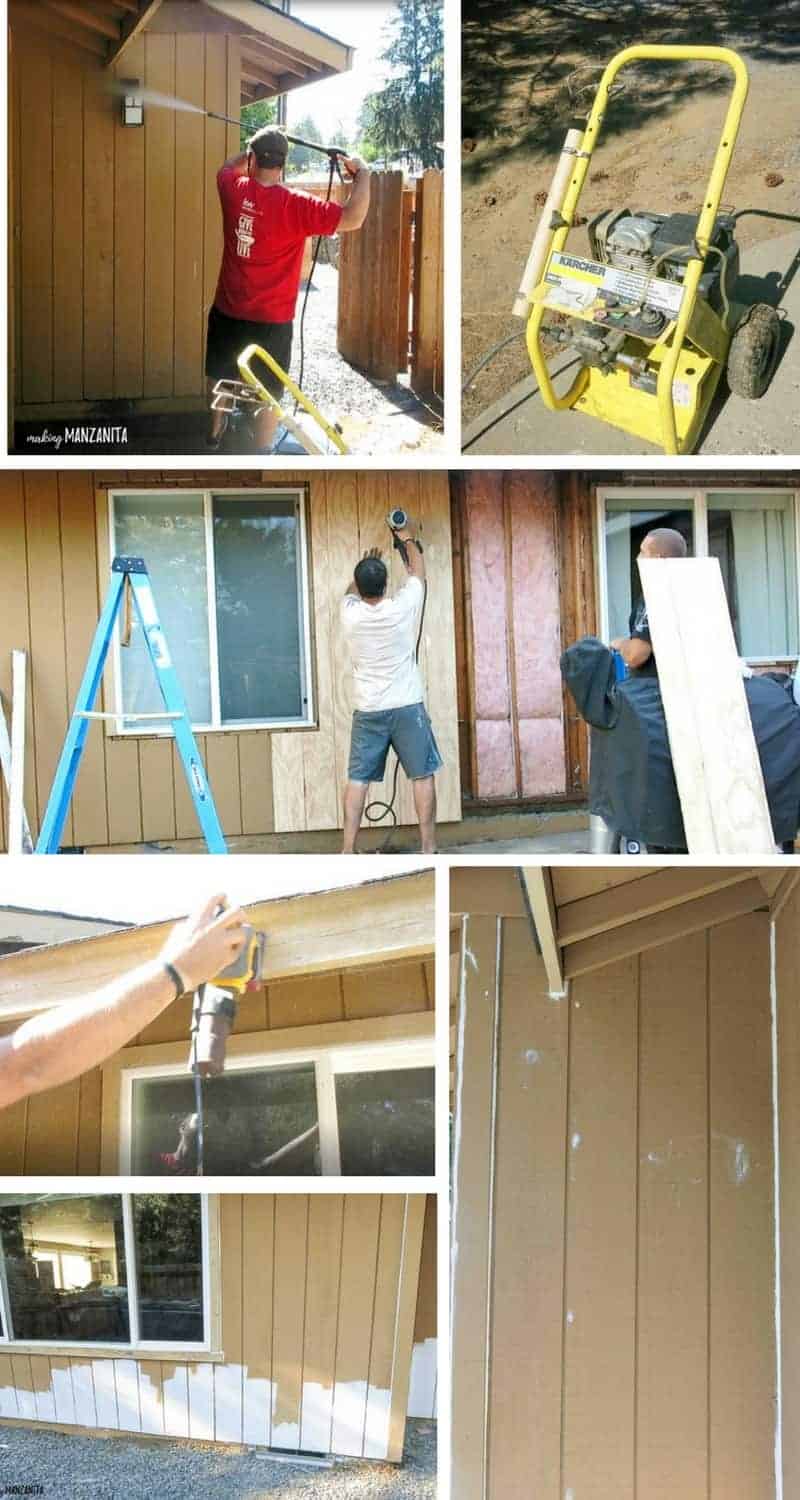 We were able to save thousands of dollars by painting the exterior ourselves and I'm so glad we did. We've never been afraid of a little bit (…ok A LOTTA BIT) or hard work.
But, DIYing the paint job is not for everyone. You may be wondering if you should do it yourself…and I'm going to answer that question below. Along with all the rest of your burning DIY exterior paint questions.
So grab a cup of coffee and a paintbrush and let's dig in!
Here are all the answers to your burning questions about painting your own exterior!
How do I know if I need to paint my house exterior?
You should be able to tell if you need to paint your exterior by a visual inspection.
Here are some signs that it is time to paint your exterior:
Paint is peeling or chipping
Color is beginning to fade (or is already faded)
How long do exterior painting jobs last?
This is a hard question to answer because it really depends on many factors.
The most important aspects of how long your exterior paint job is expected to last are the type of paint that is used and how well your home is prepped before painting.
Typically high-quality exterior paint jobs will last 5-10 years.
What is the best house paint?
Contractors and homeowners alike have their favorite brands and paint types. Always choose the highest quality paint type and brand that your budget can allow.
If you're going to paint your own house, you'll be able to have more room in your budget to allow for a higher quality paint, since you won't be paying all of the labor costs to hire it out.
We are big Behr fans over here, so we decided to go with the Behr Marquee exterior paint line, which is their "top of the line" paint. I recommend using high-quality exterior paint, like the Behr Marquee line, which required only one coat of paint for us.
A high-quality paint will also be more resistant to fading and stains. We also didn't need to use a primer because the Marquee line is a paint + primer.
If you're going to go with Behr, here's a great breakdown of their different lines so you can compare what works best for your project.
How do I choose exterior paint colors?
Choosing your exterior paint color is the fun part…or for some, maybe it's the overwhelming part.
Long before we started thinking about when we were going to paint the exterior, we were thinking about exterior paint colors.
Here are some tips if you're stuck trying to choose your exterior paint colors:
Pinterest and Houzz are both great places to look for exterior paint color inspiration.
Behr's Color Smart tool allows you to try out different color combinations.
Take a walk around your neighborhood to get a feel for the colors typically for the area and to check out different color ideas.
Before you buy your paint, grab a couple of samples and try them out on different walls of your home's exterior. Take a look at how they look at different times of the day.
It's important to consider how your exterior paint colors will work with your interior as well – so consider creating a whole house color scheme.
P.S. If you're wondering about exterior paint colors, we used Behr's Black Bamboo (read more about our review of Behr Black Bamboo here) and Palais White for the trim.
What is the price to paint a house?
If your exterior needs painting, you're probably wondering about the exterior painting cost.
If you were to hire a professional painter to paint your house exterior, it would likely range anywhere from $1,700 to $4,300, according to HomeAdvisor, for an average-sized home.
The cost to paint the exterior of a house ranges so much based on location, siding material, size of the home, amount of prep work, ease of access, number of stories, architectural style, and detail, among other factors.
Labor for the professional painter makes up approximately 75% of the total costs, which means…
You can save thousands of dollars by painting your home's exterior yourself!
I need to paint my house exterior! Should I DIY it?
If you're thinking " I need to paint my house exterior ", keep in mind that it is a BIG JOB.
Painting your exterior is more than a 'lil weekend project. It is very laborious, time-consuming, and tasking (specifically on your body). Logan actually got an inflamed rotator cuff by the end of our painting job.
We only had an average-sized (1,250 SF + 2 car garage one story house) and it still took us weeks to prep and paint the house, while we worked our full-time jobs.
Since the exterior painting was long overdue, we needed to do more prep work than probably common. We had to replace several rotted fascia boards and even replaced a whole section of siding that was warped.
If you are comfortable with your own painting skills, you have the time to commit to the project, and you're in healthy shape…you can save thousands of dollars by painting your home's exterior yourself.
In fact, you'll be able to buy a much better quality of paint with the same budget. Remember the prep work is the most important part of painting the house yourself, so don't rush that part!
Ready to see the dramatic before and after photos from painting our home exterior?
Remember where we started?? That horrible tan color was faded and chipped.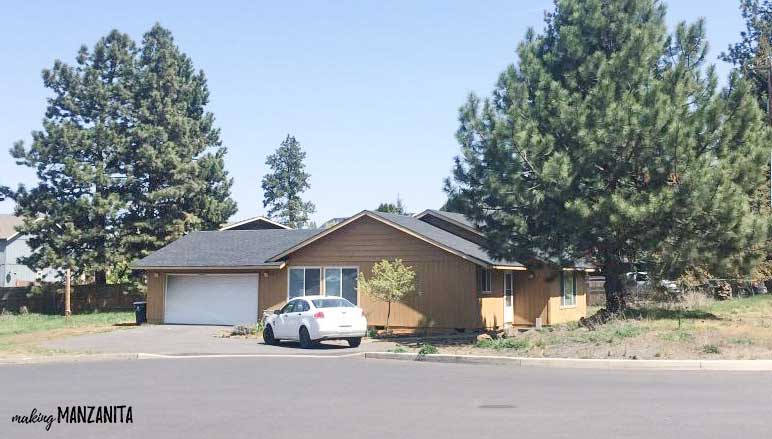 And now….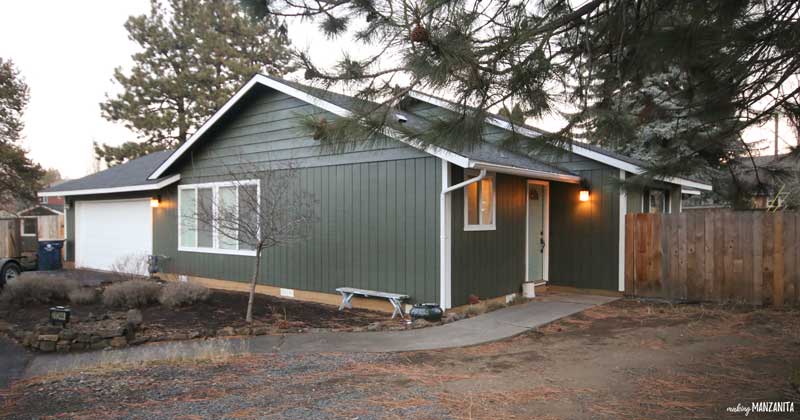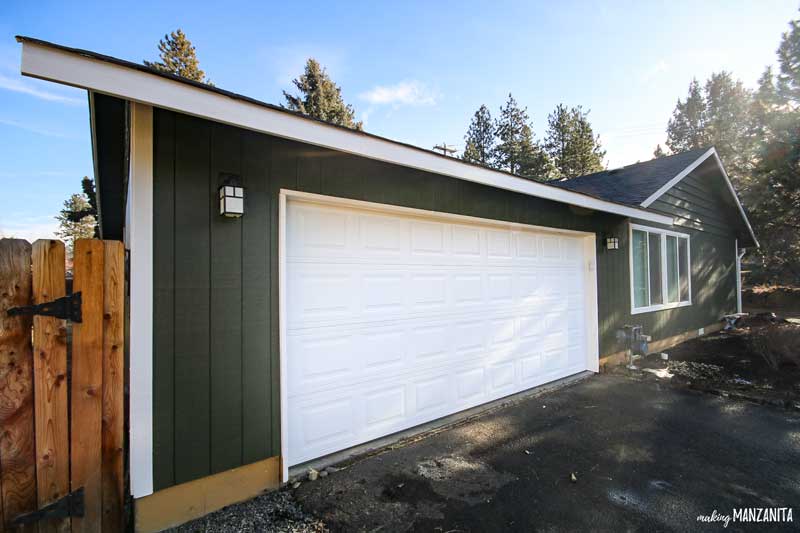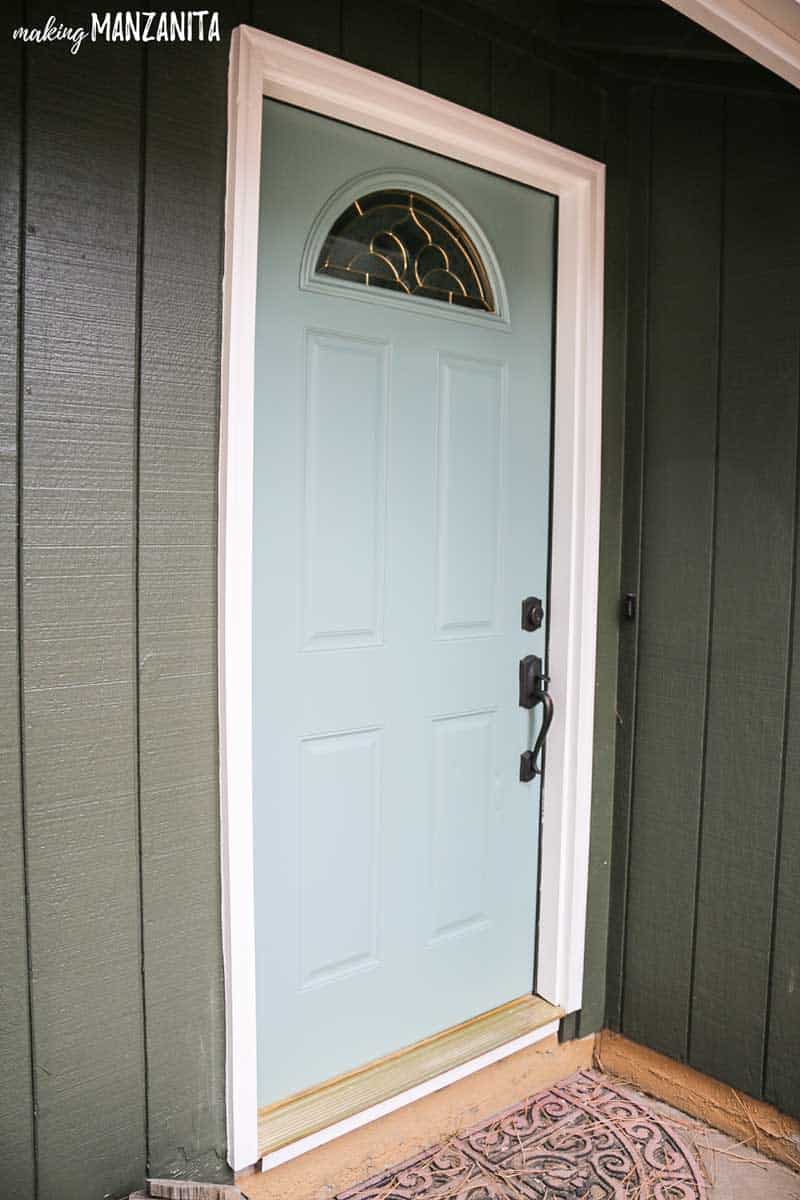 We finally have a home that looks good on the outside! I love how the colors are more natural, fit in with the neighborhood, and have a modern craftsman color scheme.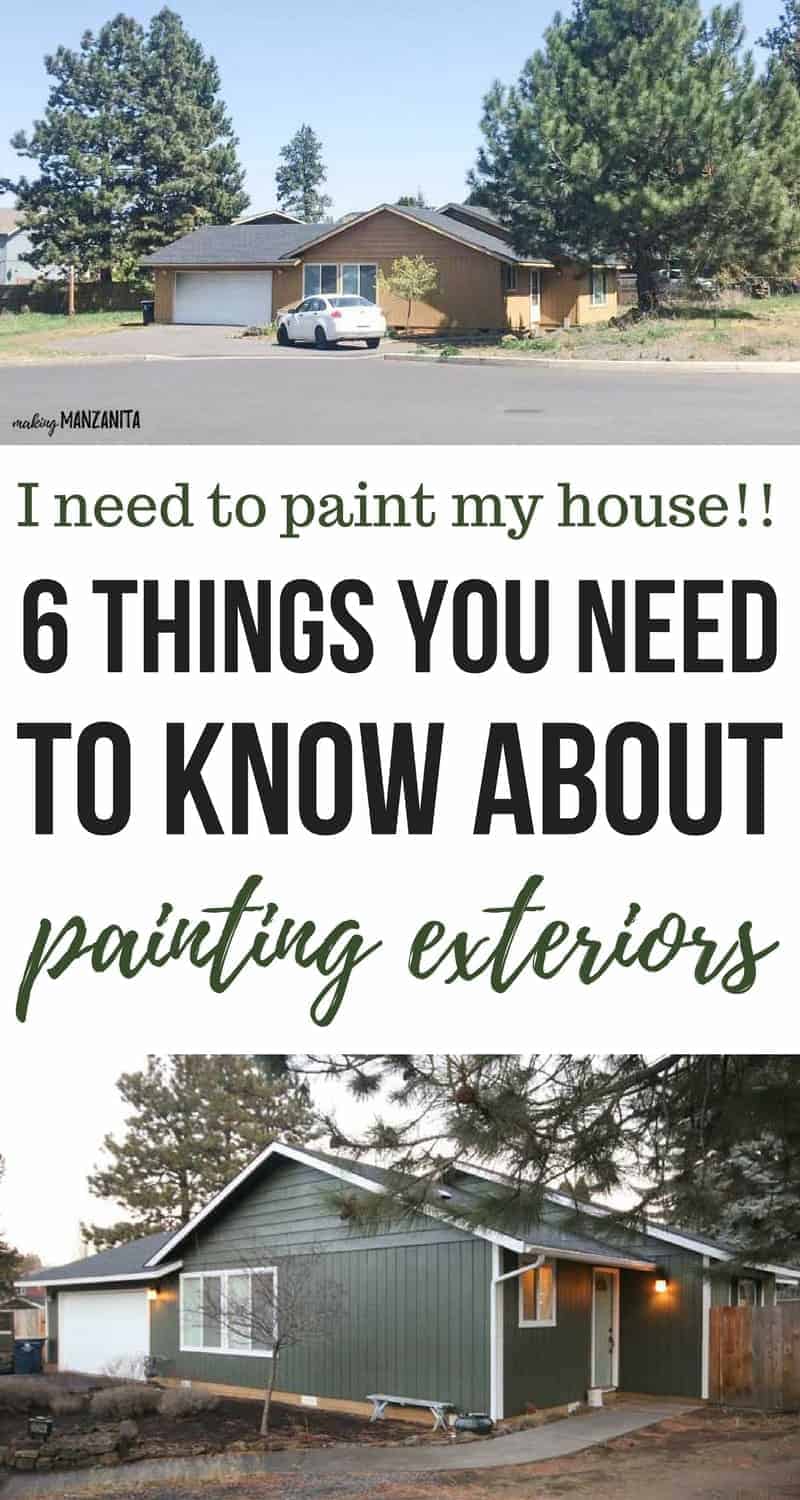 If you're thinking " I need to paint my house exterior ", do you have any more burning questions about how to paint your own house??
Let me know in the comments below!!