If you love the look of rustic chandeliers with a touch of that farmhouse style decor, these 10 farmhouse chandeliers under $200 are perfect for your home decor! These are all so cute that you're going to have a hard time choosing your favorite farmhouse chandelier.
For many people, the first thing that they notice about a room is the lighting.  Their eyes automatically go up to the ceiling (bonus point if it's a shiplap ceiling, you know how I feel about shiplap 😉 ).
Most people notice in the light fixture that initially caught their attention.  Do you have a bright and light focal point in your home that reflects your home decor style?
If you don't have a farmhouse chandelier hanging from your ceiling, you are seriously missing out! They add such a "wow" factor and are a great focal piece to change the ambiance of any room.
If you're shopping for lighting, it can really add up fast. So today I'm keeping these rustic light fixtures budget friendly (specifically just chandeliers under $200)…because that's what I know you guys love (me too!) – you're always on the look out for how to decorate a house for little to no money!
Here are 10 rustic chandeliers under $200 that you need to consider adding to your living room.
This chandeliers under $200 round up contains affiliate links, but nothing that I wouldn't wholeheartedly recommend anyway! Read my full disclosure here.
Related – If you love the farmhouse style, check out these posts:
Are you ready to see these farmhouse chandelier ideas under $200?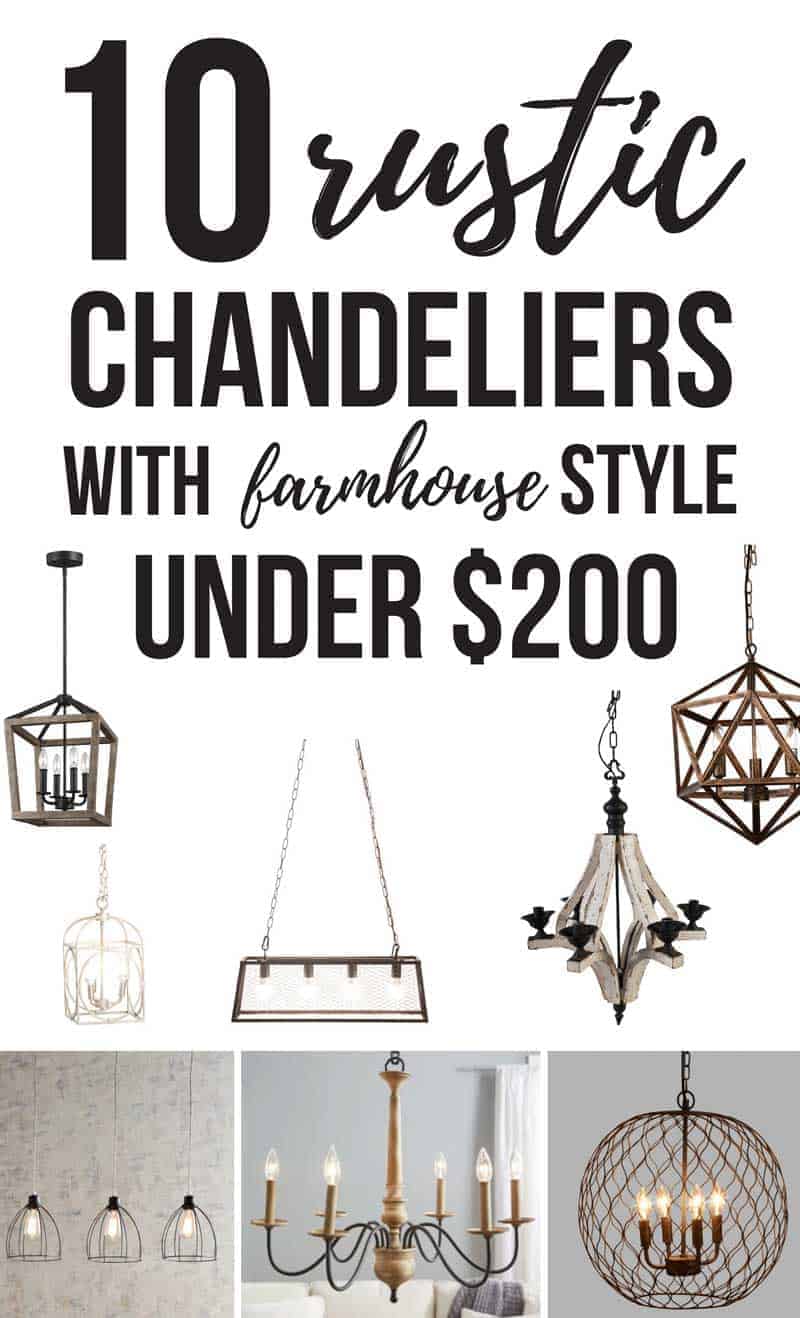 Harper Antique White Chandelier
This distressed antique white farmhouse chandelier screams farmhouse style.  I just love the rustic, antiqued looking finish. It would make a beautiful addition to any room in your home!
The Harper One-Light Chandelier delivers lavish style with its antique white finish and ornate curves.
Hang above a farmhouse kitchen tabletop, inside a garden sunroom, or in the master bathroom for classic style. Talk about the perfect look at the perfect price!
Wood Beam Chandelier
If you are looking for a wood beam chandelier that is sure to be a show stopper, this is the one for you. It is unique combination of wood and steel, there is no place that this light can't be used.
The distressed wood beam you see in the picture has been worn down and stained. Each wood beam is the same size but all are distressed differently and each one is unique.
This light is designed for an easy install and the 6′ of pendant cord each light comes with allows you to wrap the cord around the wood beam and hang them as high or low as you want.
This light is already wired for you and all you have to do is the fun part of adjusting the cords to your needs. Give your room the upgrade that it is looking for with this stunning farmhouse wood beam chandelier.
5 Light Distressed Black Chandelier
I love the simplicity of this 5 light black distressed light fixture.  Simple can be quite stunning!  Let the chandelier do the talking for itself. Inspired by nautical accents, the open frame is popular in a variety of today's home designs.
It has a gorgeous distressed black finish. Coordinating pendants are available in three sizes.
I think this one would look awesome above a dining room table or kitchen island!
Modern 6 Light Chandelier
This modern 6 light chandelier combines modern and farmhouse perfectly!  Would look stunning in any size room. 
One of the biggest factors in achieving the modern farmhouse look is mixing textures and finishes. This 6-light chandelier encompasses all that is farmhouse chic with its classic shape, rustic bronze finish, and branching arms.
Add the light above a solid wood table or a cozy living room with a neutral color palette for a stunning look – the options are endless!
A very versatile addition that would complement multiple decor options throughout your home.
Cage 5 Light Chandelier
Bring fashion and style to your dining room with this rustic farmhouse chandelier!  It was made to make a statement! This unique cage chandelier is made of antique brass and matte black stitched together, and the metal on the surface of the fixture is treated with a unique process, which is smooth and highly resistant to corrosion.
The product shape is simple and cool, the purpose of the design is to let you find beauty at any time once you turn on the lights.
The chandelier's farmhouse-inspired design is ideal for any dining room, modern farmhouse entryway, great room, or kitchen in farmhouse, rustic, and vintage eclectic interiors. Be bold and welcome this beauty into your home!
Vintage Brass Light Fixture
Say hello to the beauty of this awesome vintage brass farmhouse chandelier!  A fun and fresh five-light pendant inspired by industrial accents. The open frame and vintage brass finish are popular.
Smaller pendant lighting lights can be used in lieu of big chandeliers in smaller spaces. They can be displayed individually or paired in groupings over kitchen islands, dining room tables, and in foyers.
3 Light Industrial Barn Light Fixture
This one is guaranteed to be a beautiful addition to any room in your home! Hanging down from a straight-lined bar, the hand-brushed gray finish shades create an industrial glow effect that is so cozy.
This industrial barn light chandelier brings the classic warehouse lighting into a neat package that is perfect to hang above a dining table or kitchen island to provide plenty of task lighting as you get food ready or enjoy a cup of coffee from a home coffee station.
Perfect for any industrial or modern kitchen or eating area, the modern farmhouse chandelier is sure to bring a sense of style to your kitchen.
Mini Chandelier with Bronze Finish
This mini rustic chandelier packs a big punch and is a huge addition to any space with its old bronze finish (also comes in a brushed nickel finish for a more contemporary look)! 
This farmhouse chandelier may appear small but it is mighty in style!
Black Metal Chandelier
Who can deny the beautiful design of this metal chandelier?  Would make a perfect addition to an entryway or dining room. It had a definite farmhouse style with rustic, industrial appeal.
Enhance your entryway, kitchen, or dining room with the classic styling of this six-light chandelier. Highlighted by a contemporary metal birdcage design and dark bronze finish, this fixture adds a warm glow to a variety of indoor spaces.
The open caged shade exposes the candelabra style bulbs for a classic look, perfect for providing ample task lighting.
This adjustable chandelier is mounted with a matching ceiling canopy and includes 5 feet of chain for a customizable suspension height.
French Country Chandelier with Wood Beads
Crafted from metal with french country wood beads, its frame strikes a classic simple candle-style silhouette. Light up your cozy home with a sense of French country flair with this chandelier.
Finished in a rustic farmhouse way, this rustic beaded chandelier is great for entryway chandelier lighting, dining room farmhouse light, living room light fixture, or bedroom beaded chandelier. I love that it is compatible with flat, sloped, slanted, or vaulted ceilings.
Choosing the perfect rustic lighting doesn't have to be hard.  There are ways to decide what style works best for you and your home.  Take a look at the room if you are wanting to add one of these rustic chandeliers, and make note of the style. 
If your entire decor is in farmhouse style, then focus on that and buy the most appropriate chandelier that fits the room for scale and complements the other decor in the room.
Any one of the suggested rustic chandeliers under $200 above would make a great addition to your farmhouse decor in your home! 
What are you waiting for?  Make your home shine brightly with the addition of one of these beautiful farmhouse chandeliers above!
Which one of these rustic chandeliers under $200 is your favorite??
Let me know in the comments below!!