Good lighting makes your home and any room look great. If you're looking for awesome floor lamps to light and style your home on a budget, these modern farmhouse floor lamp options are perfect for you!
I love the dramatic and moody look at that a good floor lamp adds to a room. By incorporating floor lamps in your room, you add not only lighting, but all some major style points.
One of the tried and true ways to make a space feel more cozy is to add multiple sources of lighting for your room (like floor lamps and table lamps). Lighting definitely plays a big role in how a room feels.
As you know, I love the modern farmhouse style. When I was designing our little one's modern farmhouse baby girl nursery, I knew I wanted to add a fun floor lamp to the nursery.
Not only to add character and style to the space, but I need a good lamp that I could easily turn on in the middle of the night for those long rocking sessions and one we could use for bedtime stories. I went searching for something with style, but also budget friendly.
Looking for something a little permanent to bring in extra farmhouse style in your home? Try one of these farmhouse chandeliers or modern farmhouse light fixtures!
I decided to round up some of my favorites that I found while I was looking at modern farmhouse floor lamp ideas. These farmhouse lamps are all under $100 and they are incredibly beautiful. They are really quite a good deal so I would love to share them with you!
First, are you looking for ways to style a floor lamp in your home? You'll love these ideas:
Are you ready to see these farmhouse floor lamp ideas??
This post contains affiliate links, but nothing that I wouldn't wholeheartedly recommend anyway! Read my full disclosure here.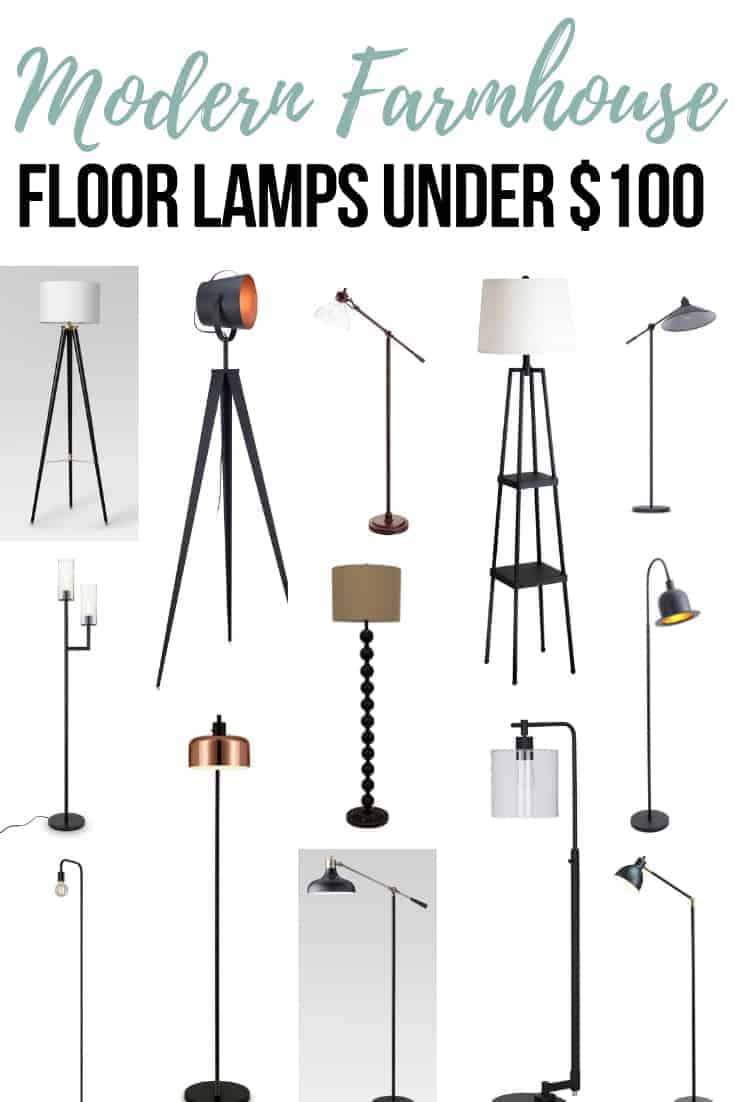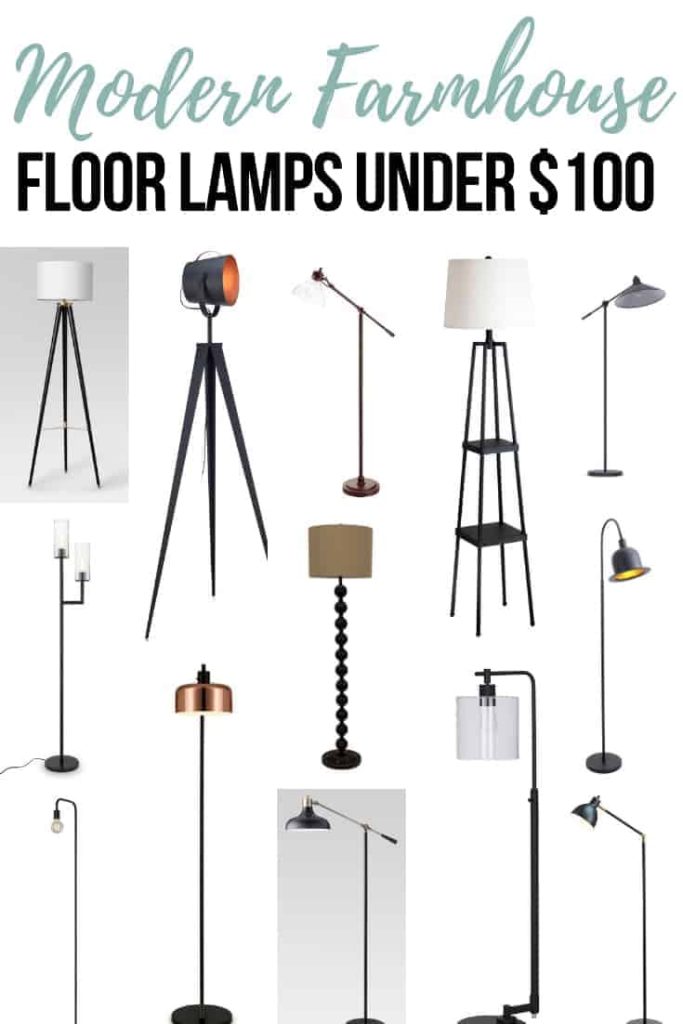 ---
This sleek, modern farmhouse floor lamp will give an organic feel to your home. The light will glow throughout your space because of the glass shade, so you may want to think about adding a cool edison light bulb like this. It can easily complement the modern and classic home style.
Copper is so in right now in the interior design world. It's a great metallic to add to a space for creating some warmth, all while looking modern and chic. Here's a fabulous floor lamp with a fun copper shade and bronze post. Let this lamp's appealing blend of curves and angles illuminate your space in style.
Love this articulating antique brass and black metal floor lamp because it is perfect for a classic and modern home style. ** This is the one we ended up getting for our nursery!! **
You'll never go wrong with this black shade and gold post floor lamp. It is adjustable too, so it is so convenient to use. Bring a touch of modern elegance to your living room or bedroom with this eye-catching minimalist floor lamp.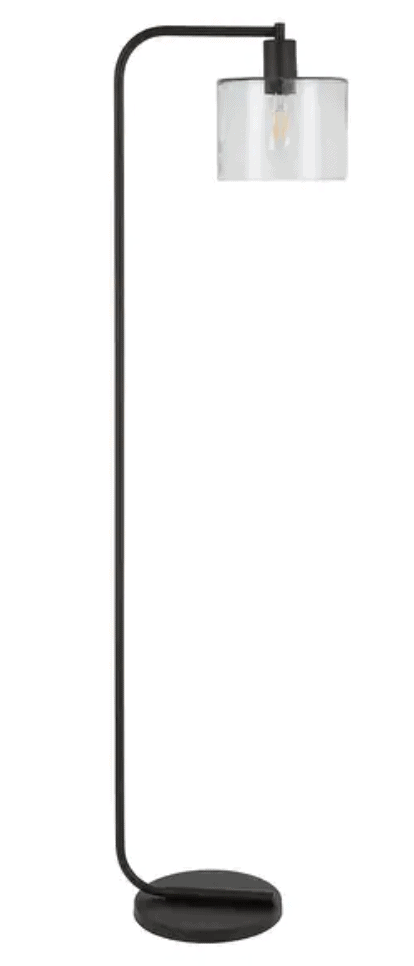 Get this glass shade with metal post floor lamp to add both modern and industrial look to your space. It is crafted from steel and is a great addition to any home looking for an industrial-inspired illumination. This is reflected in the five shade options, polished copper, brass, clear glass, milk glass, and seeded glass. Let this lamp's appealing blend of curves and angles illuminate your space in style.
This three-legged floor lamp topped with white drum shade will add elegance to your space. This black and gold tripod floor lamp will add class and elegance to whichever room in your house you add it to. It's perfect for the living room, den, home office or bedroom. Given the tripod aspect this lamp is sturdy and won't tip over.
This unique floor lamp with wooden tripod stand will surely be the center of attention of the visitors when they see it. The shade, a cylindrical drum, is offered in a warm cream white or a cool black. Both these shade options blend and mesh beautifully and seamlessly with the tripod's oak finished legs.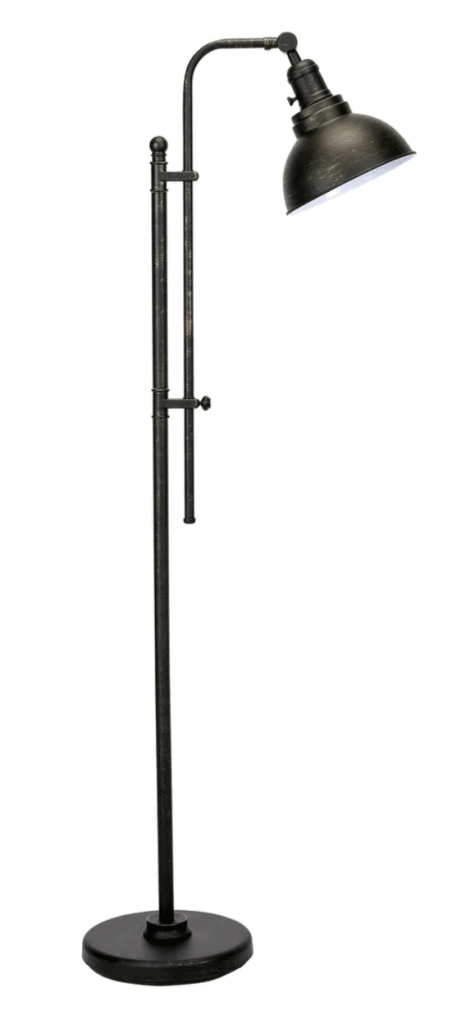 This antique-inspired floor lamp with aged bronze will give you the right glow and perfect for modern farmhouse style. Space-conscious and lightweight, while still delivering on-trend style and illumination, it's hard not to fall in love with this vintage floor lamp. Inspired by the good old times, every detail of this lamp is consistent with its overall style, from the lamp shade to the base, delivering a rustic and vintage vibe. Made entirely of metal before being slightly distressed and finished in aged bronze with gold highlights hand-painted by experienced artisans, this lamp is for both elegance and durability.
This multi-functional farmhouse style floor lamp is made for efficiency and even has spaces to be used as a shelf! This stylish Etagere Floor Lamp, boasting a distressed iron finish with a two-shelf body and ivory linen shade, is perfect for your your home!. I love that it has a 3-way rotary switch (low, medium, high) to generously add warmth to a room.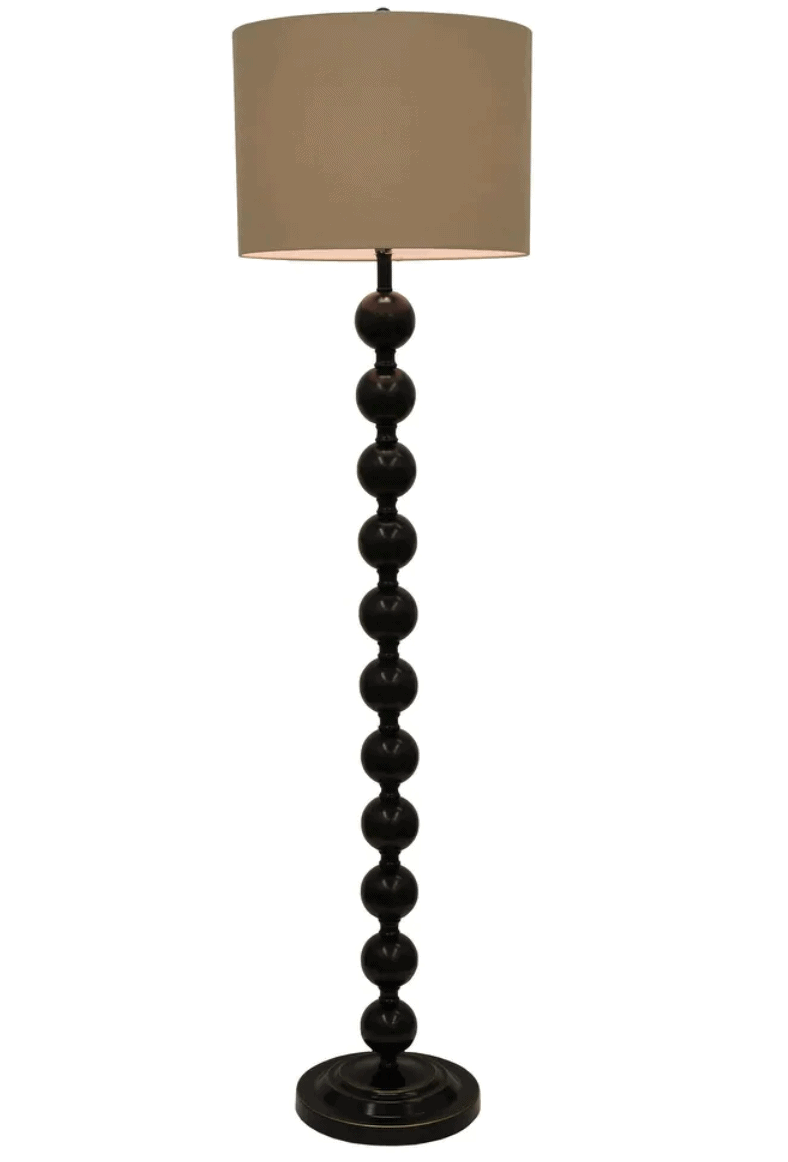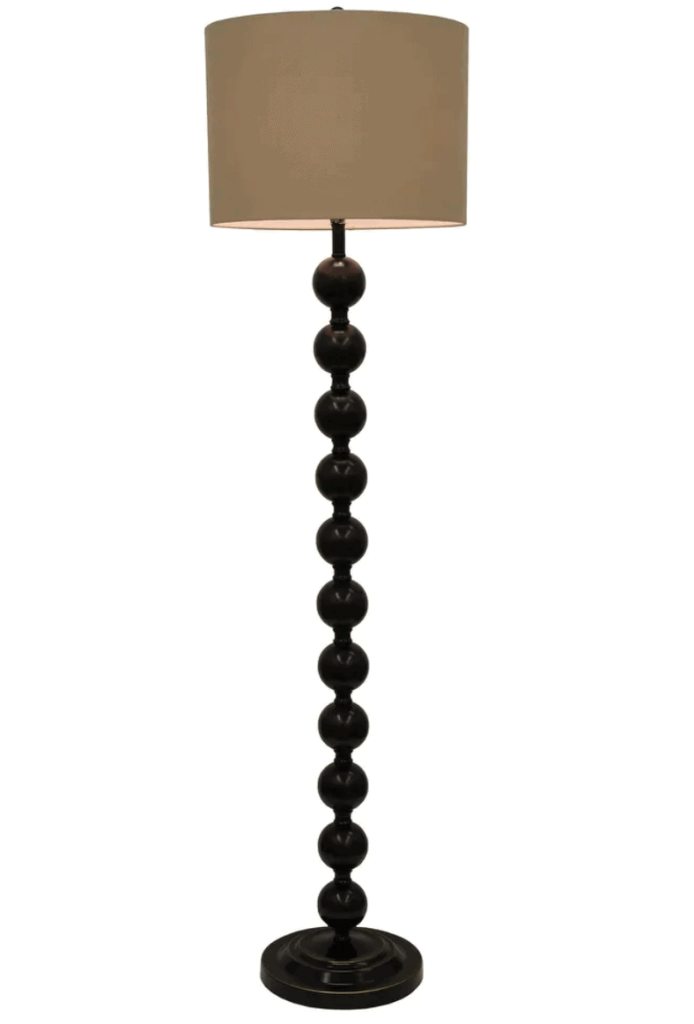 Are you into unique home decor? Function meets style. This stacked ball base in bronze finish topped with round faux silk shade floor lamp is for you! Ideal for creating a pop of localized light, this piece is perfect for your bedroom, living room, guest room, or office.

This simple black modern farmhouse floor lamp will complement any decor in any room. The arc of the lamp leads to a glass globe shade that adds sophistication and warm lines to the design of your home. A perfect choice next to your favorite reading chair or sofa, this floor lamp will easily become the focal point in any room such as the living room, bedroom, or home office.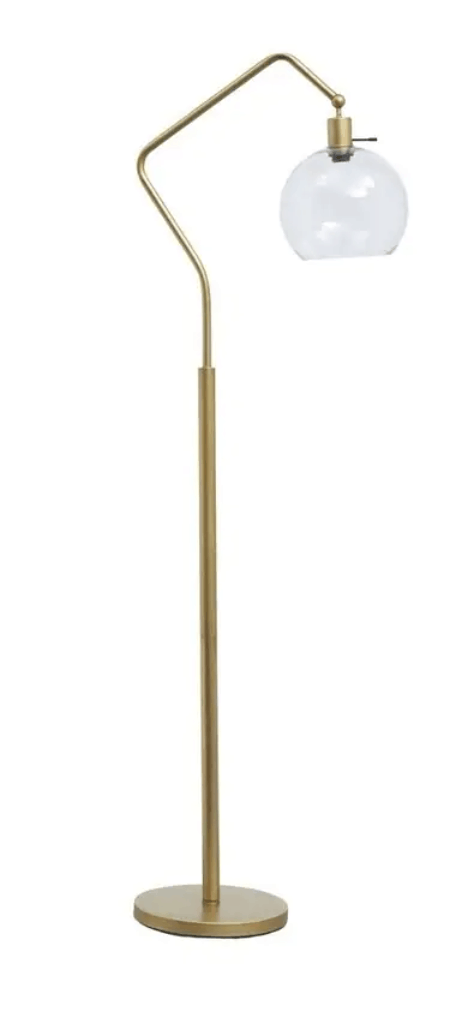 Update your task lighting with this awesome brass modern farmhouse floor lamp with a round glass shade. The antique brass finish enriches the angular arm and round base to complement the mid-century modern style of your space, while the spherical glass shade holds one bulb to enliven your room with a stunning glow.
If you want an extra lighting in your home the stylish way, then these 12 modern farmhouse floor lamps are all great options. Floor lamps provide extra lighting and and, of course, extra style to your home decor.
Here's how our modern farmhouse floor lamp looks in the nursery!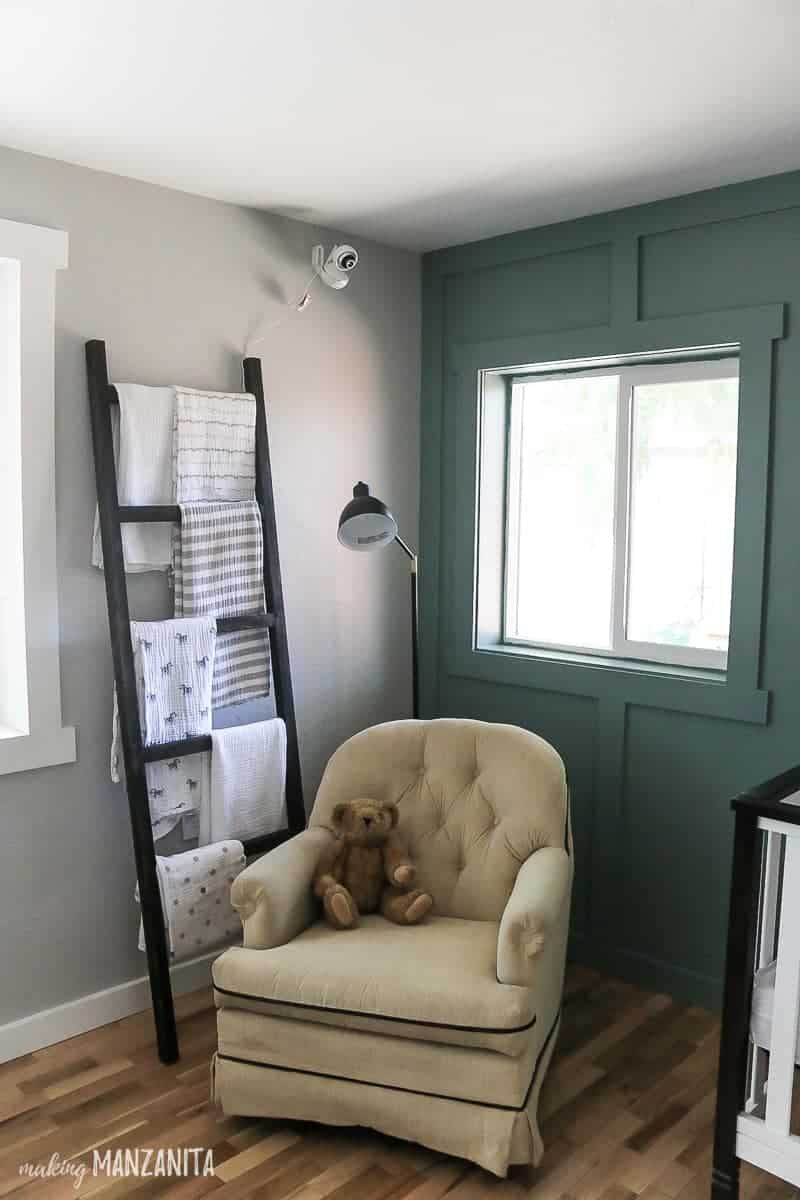 Which of these farmhouse floor lamp ideas are your favorite?
Let me know in the comments below!!
---
WANT TO SEE MORE OF OUR MODERN FARMHOUSE NURSERY??
Modern Farmhouse Floor Lamps Under $100 – you are here!