Although it may take some practice and probably a whole weekend of your time (if not more!), hardwood floor refinishing is totally a doable DIY project! This post walks you through the entire process. Most of the work is in sanding wood floors before you apply the floor finish. Once you're ready to put the hardwood floor sealer on, your flooring really comes back to life!
I still remember the moment we started ripping up all that laminate flooring as we were beginning to renovate and build a nursery for our little girl.
We had a feeling there were original hardwood floors underneath, but we had no idea what kind of shape they were in.
We were fully set on installing carpet (to match the rest of the bedrooms in the house). In fact, we already had it purchased!
UPDATE: We ended up saving this laminate flooring by removing it very carefully and reinstalling it in our living room when we renovated that room. Learn more about how to install laminate flooring here!)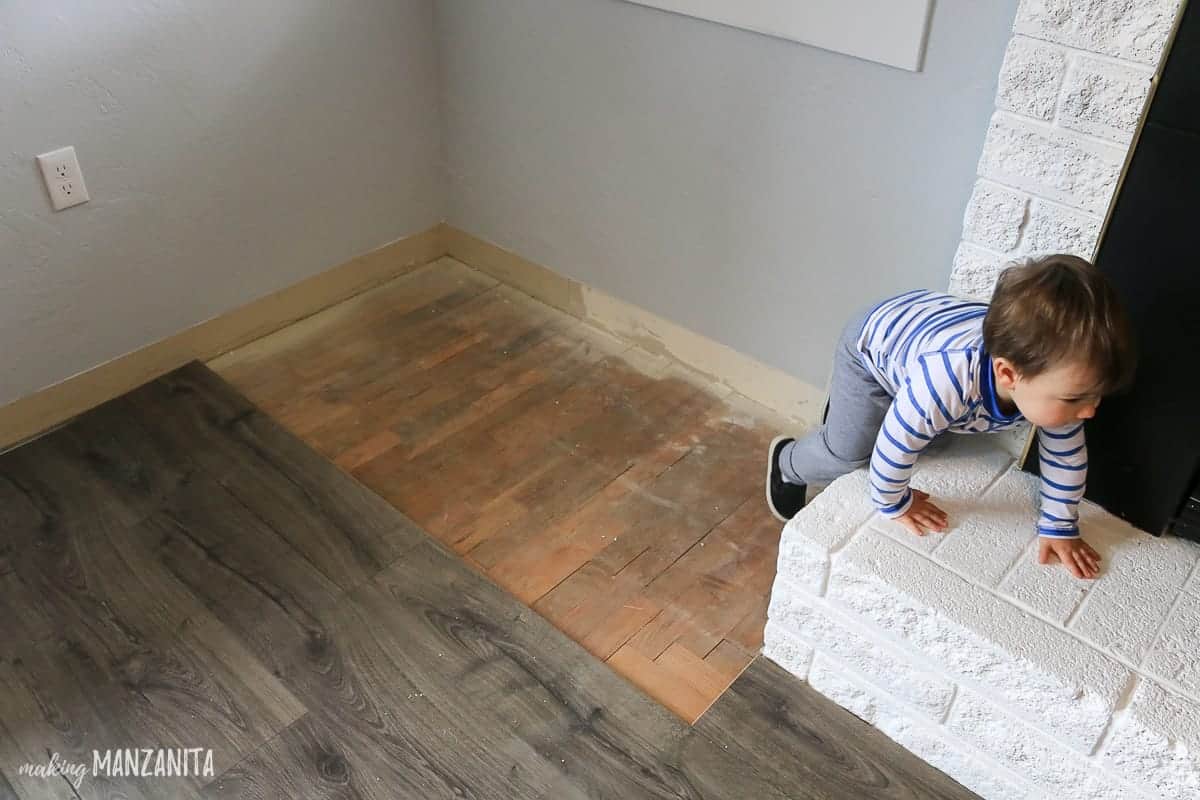 But the moment we pulled back that first bit of laminate, we both looked at each other and said….maybe we should think about doing some hardwood floor refinishing!!
There was no way I could cover up the beautiful hardwood floors with carpet. It just didn't feel right.
So we started looking into more info on hardwood floor refinishing, floor finish, and sanding wood floors!
We learned so much going through the process of restoring our original hardwood floors. I can't wait to share it with you!
Once we got all the laminate flooring off, this is how our hardwood floors looked.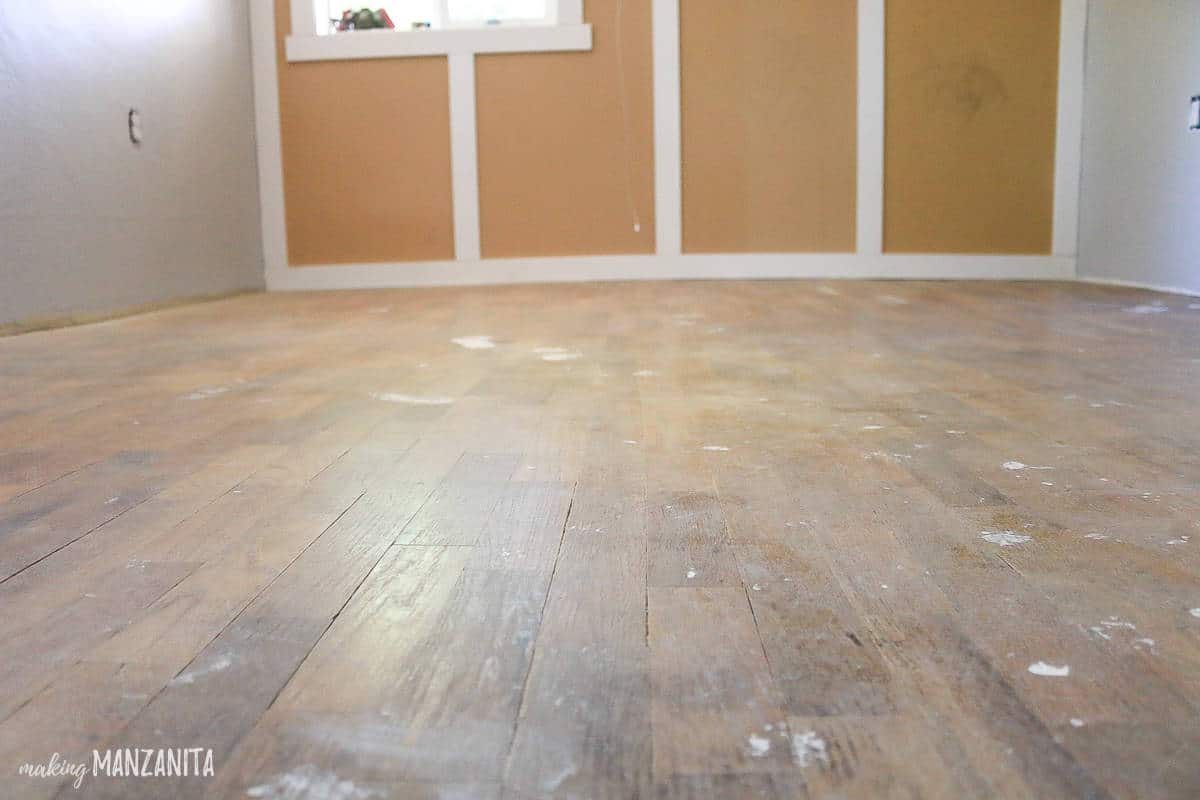 This post contains affiliate links, but nothing that I wouldn't wholeheartedly recommend anyway! Read my full disclosure here.
Frequently Asked Questions About DIY Hardwood Floor Refinishing
What type of equipment do you need for sanding wood floors?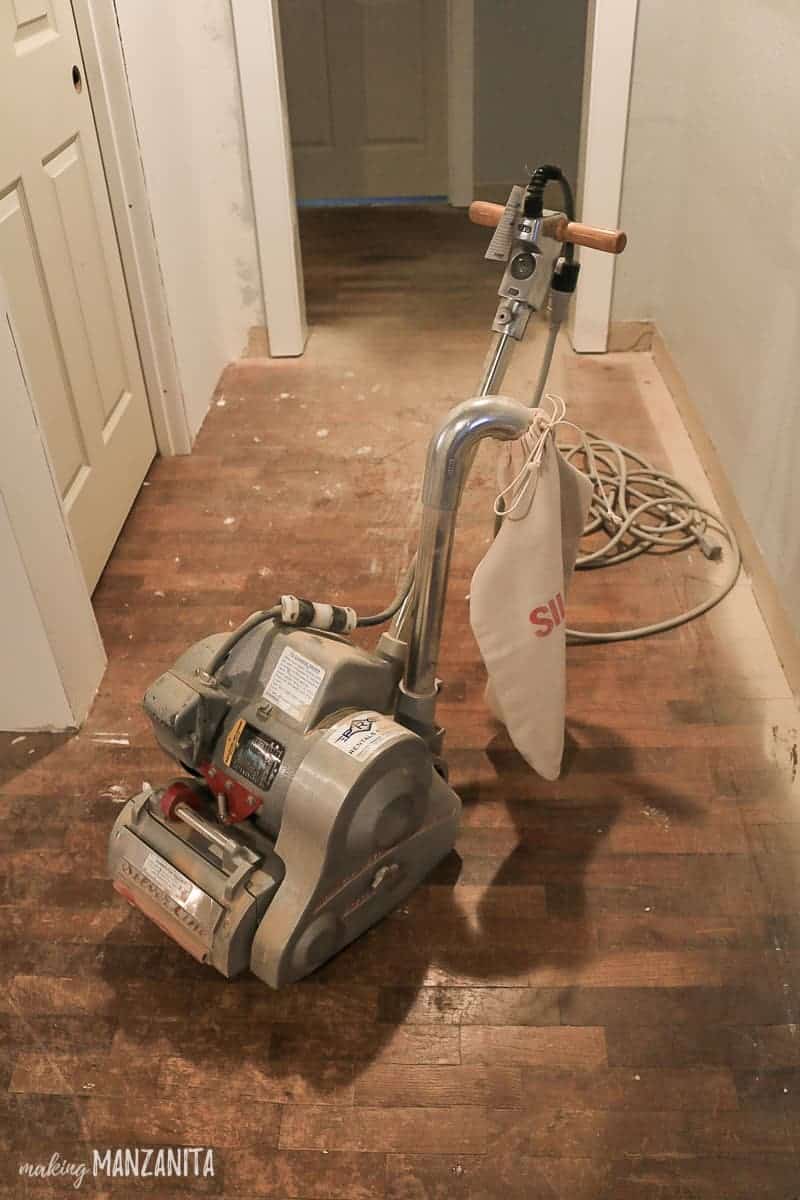 First up, let's talk about the equipment you will need for sanding wood floors.
It will require two big, heavy-duty, EXPENSIVE pieces of equipment – a drum floor sander and a floor edger.
Unless you plan on starting a hardwood floor refinishing company, you're going to want to rent these from a tool rental shop near you.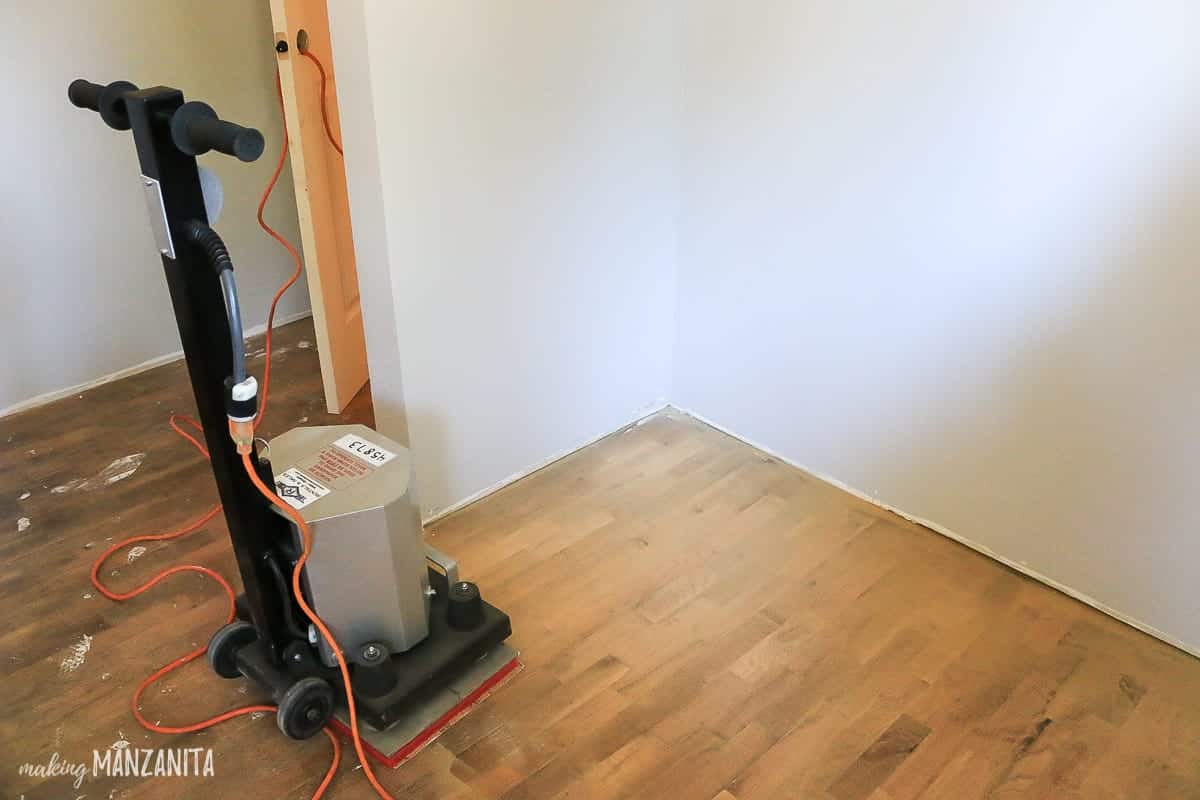 If you follow along on my Instagram stories, you know that we originally rented what is called a square buff sander to refinish our hardwood floors.
The guys at the rental shop told us that it was easier to use….well, lo and behold! It did not work at all.
It was definitely not powerful enough and what we really needed was a drum floor sander.
But since we were stuck with it for the weekend while the rental shop was closed, we decided to use it out on our wood deck and it worked like charm to restore our wood deck!
So moral of the story is that square buff sanders have their place, but don't try to use a square buff sander for hardwood floor refinishing.
What grit sandpaper should be used when sanding wood floors?
I mention in this hardwood floor refinishing tutorial that we used 35, 60, and 80 grit sandpaper.
However, if you have really old, painted or stained many times, or really beat up hardwood floors, you may need to start with more coarse sandpaper, like 20.
It is important to determine what kind of sanding you'll need to do before starting your hardwood floor refinishing.
You can do this by using a chisel in the corner of the room to see how many layers you need to sand through. If the floors were painted and the home is older than 1978, you'll want to test the paint for lead before starting.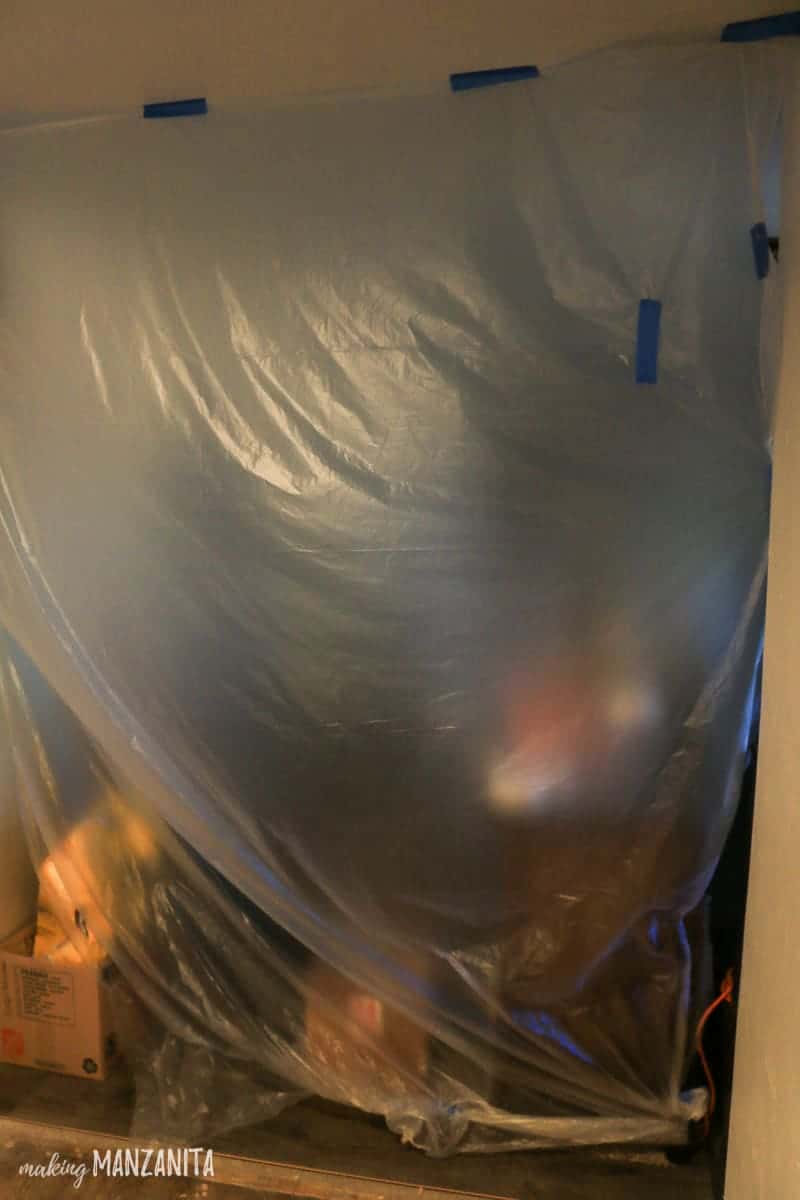 How do you keep your house clean while sanding wood floors?
This can be tricky…and really frustrating too.
If you're renovating like we are, you definitely know what it is like to clean the entire house to have it dirty and dusty again so quickly from sanding dust and the like.
This is one of the best ways we've found to keep your house clean while sanding wood floors – hanging a plastic drop cloth.
You can get this by the roll and you just cut off the amount you need and use painter's tape to attach it to the openings or doorways.
This really helps keep sanding dust contained so your house is a little cleaner while sanding wood floors!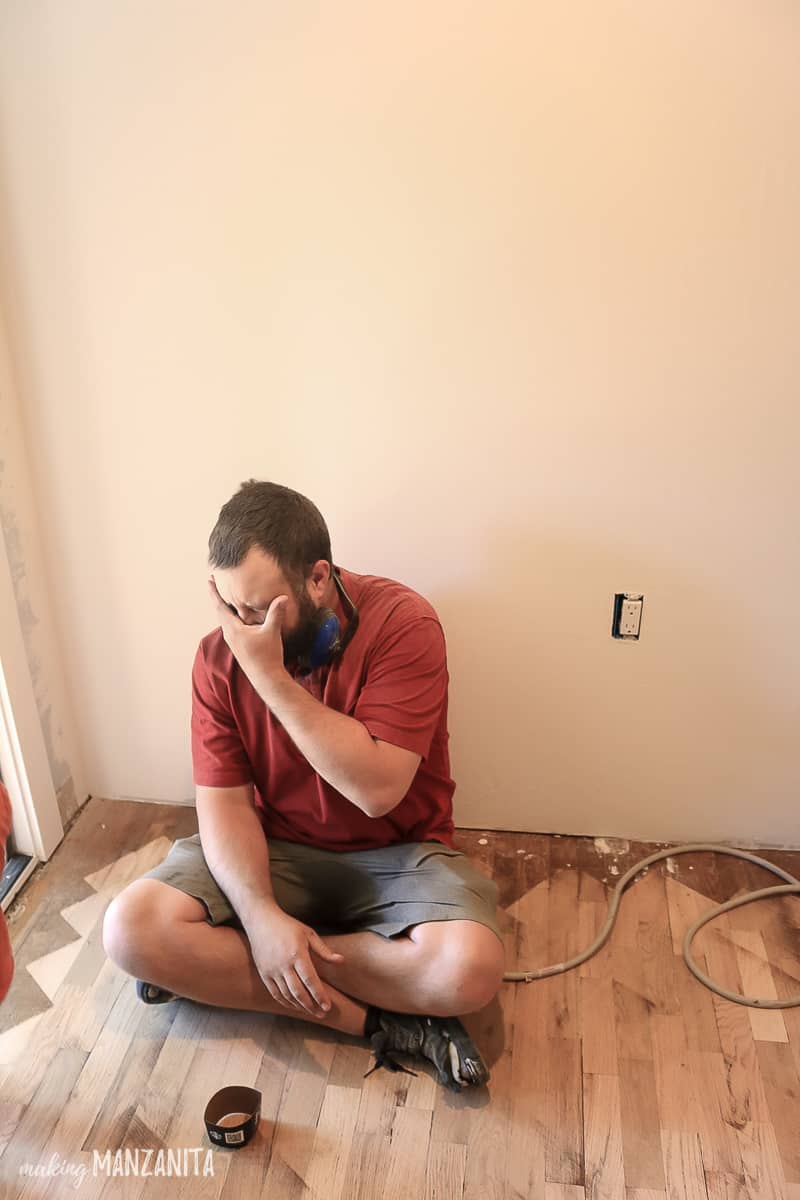 Is DIY hardwood floor refinishing a long time commitment project?
When sanding wood floors if your floors have any buckling, high spots, warping, or waves, you definitely want to sand those completely flat with a hand sander or belt sander before you can even start using a drum floor sander.
Depending on how bad it is, you may decide that refinishing your hardwood floors is just not worth it.
We had one spot of flooring that we had patched where the fireplace was. Once the flooring had been feathered, there were some definite high spots.
Logan was down on hands and knees with the belt sander working hard for a couple of hours to get this evened out before starting on the rest of the hardwood floor refinishing.
So consider yourself warned…refinishing your original hardwood floors is a big commitment and can be hard work!
But, let's face it….renovating a home IS hard work, right?! That is why they call it "sweat equity" after all! Are you ready to jump in and learn how to refinish hardwood flooring?! Let's go.
Supplies for DIY hardwood floor refinishing:
Step 1. Clear and clean hardwood floors.
Remove any staples or nails from the flooring.
If your hardwood floors have been painted, you may want to strip the paint before sanding. However, if there is only one coat of paint you may be able to go straight to sanding wood floors instead.
If you do decide to strip the paint, be sure to check the chemicals of the paint stripper won't damage the wood.
And remember if the floors were painted and the home is older than 1978, you'll want to test the paint for lead before starting.
Take a look at your floors and see if anything needs to be fixed.
If there are cracks or gouges, fix those first before sanding wood floors.
As we mentioned above, you can create a "filler paste" for this by mixing wood glue and sawdust. Read more about how to create that wood filler paste here.
Step 2. Remove baseboards.
If you have a shoe on your baseboards, which is essentially a trim on your baseboards of quarter round, you can remove it without having to remove your entire baseboards.
Next, you need to remove your baseboards.
We find that the best way to do this is to run a utility knife on the top of the baseboard and then use a small crowbar to pull the baseboard away from the wall.
We, obviously, did this while our laminate floors were still in.
Be sure to label the back of your baseboards so they are easy to reinstall later!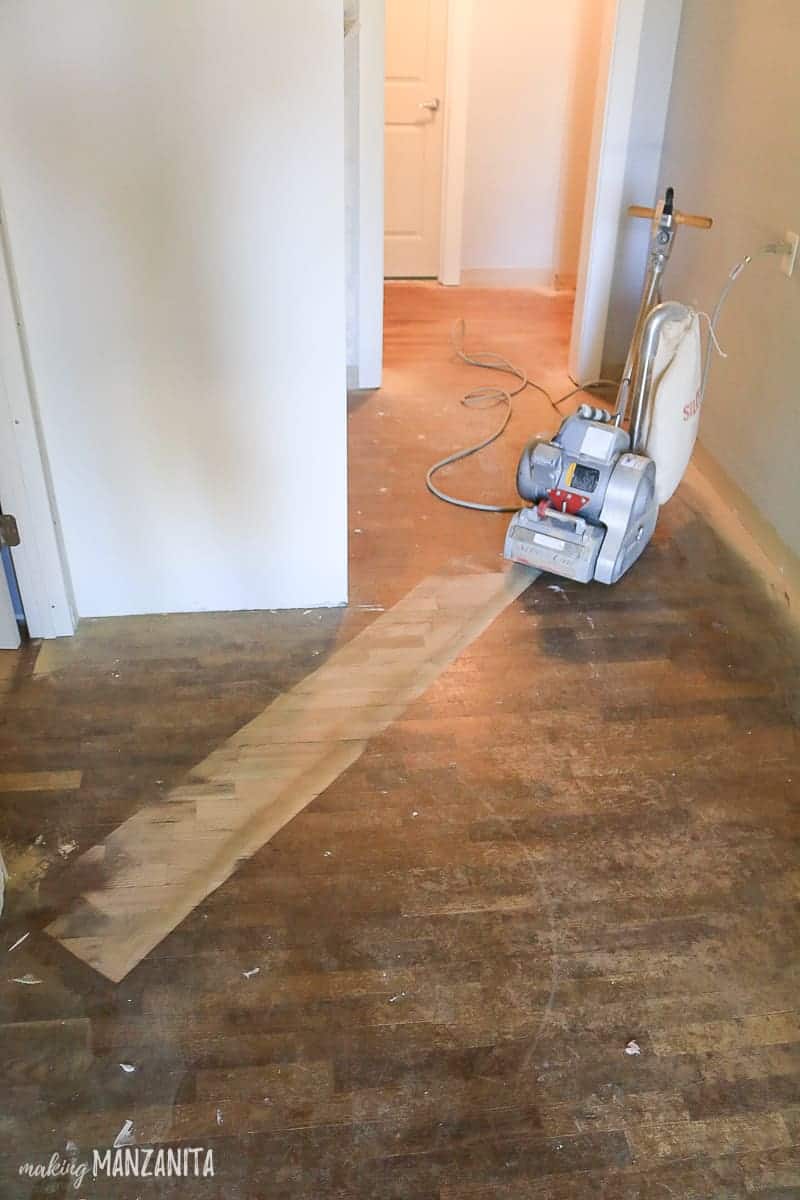 Step 3. Start sanding wood floors diagonally.
Now you can start sanding wood floors with 36 grit sandpaper.
Start by moving the floor sander in diagonal lines first. This helps even out the floors and takes off the most finish.
You want a majority of the finish (at least 90%-95%) to be removed before you move on.
If you are still seeing stains, keep on sanding wood floors with 36 grit.
It is important to overlap your sanding runs by at least 50% so it remains even.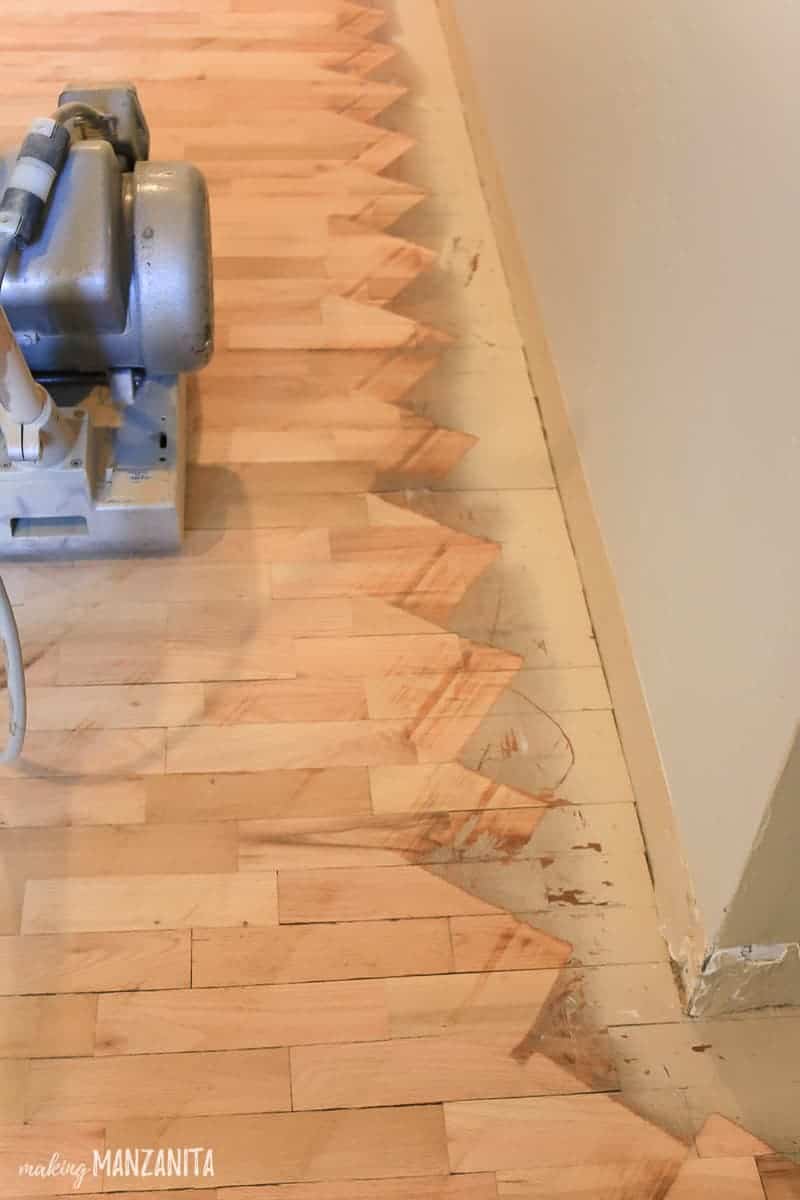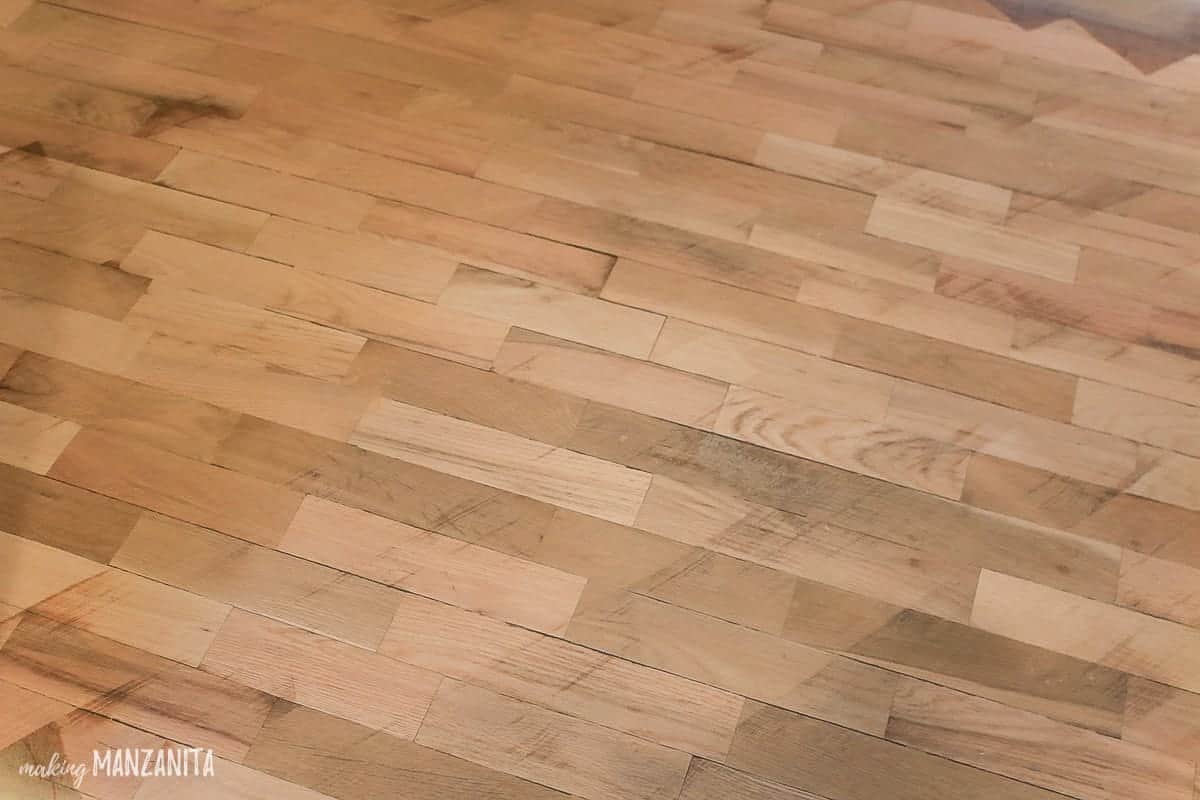 Once you start to see bare wood, that's good news.
You can move on to sanding with the wood grain.
We only needed to do one pass diagonally with the 36 grit before we started sanding wood floors with the grain.
Keep an eye on your sandpaper and replace it as needed.
If your floors are already level and don't have many coats of finish, you may be able to skip this and start sanding immediately with the grain.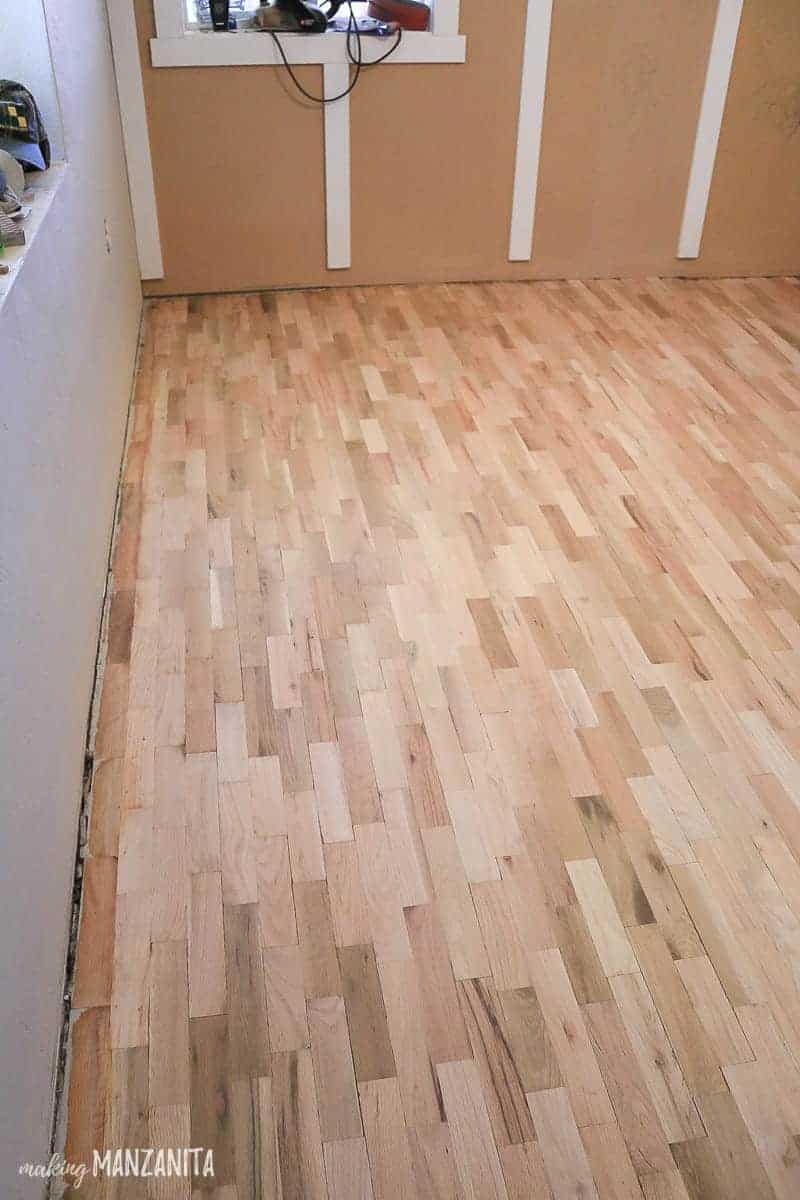 Step 4. Sand hardwood flooring with the grain.
Sticking with the 36 grit sandpaper, you can start moving the floor sander with the grain as you continue sanding wood floors.
Don't be tempted to move up to the 60 or 80 grit sandpaper just because you're ready to start moving with the grain.
When you were sanding diagonally, you were essentially cutting into the wood.
Now you need to smooth those cuts out by using the same kind of sandpaper. A 60 grit sandpaper can't smooth out the 36 grit diagonal cuts.
While you are sanding with the grain don't forget to be sure you are overlapping your runs while sanding to keep things even.
Even though the sander has a dust collection system, it's important to sweep up sawdust in between passes.
Keeping the floors clean will help so the dust doesn't form a layer in between the floor and the sandpaper because then you're just wasting your time by sanding dust.
I know sweeping doesn't sound like fun, but you don't want to use a Shop-Vac with wheels at this point because it will damage the nice pretty floors.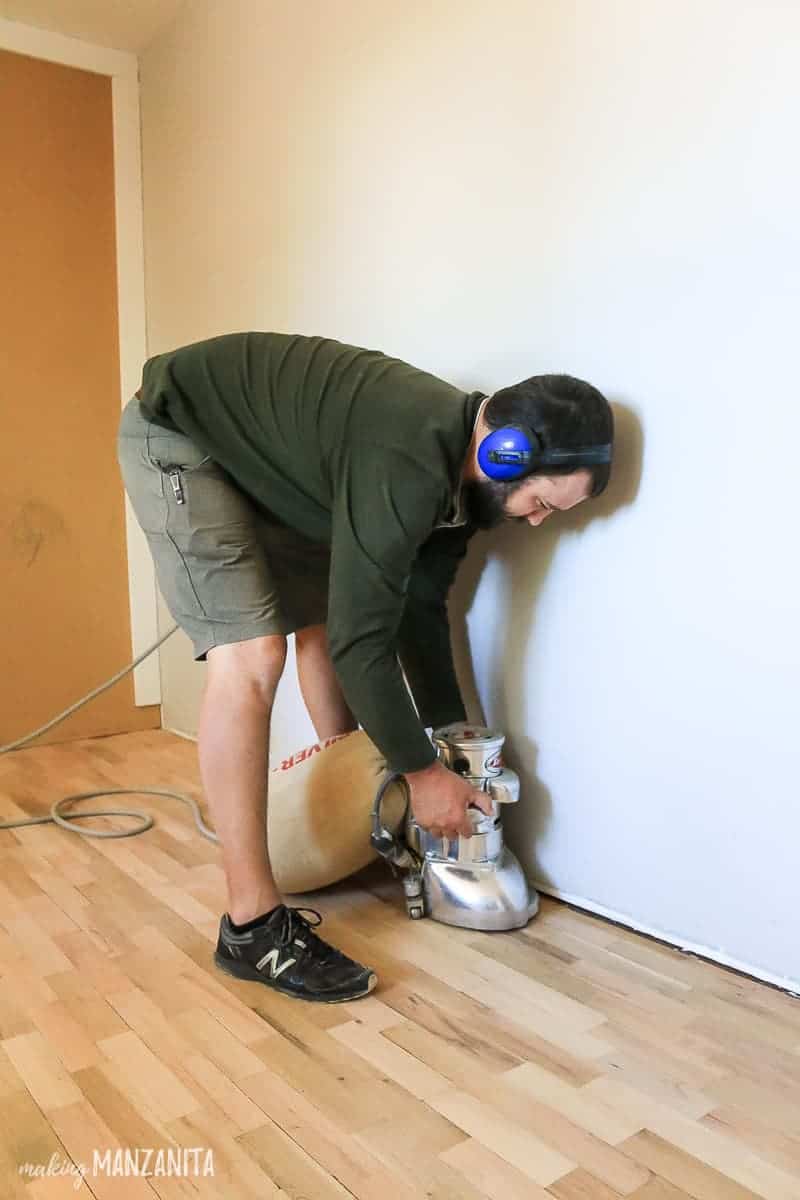 Step 5. Use floor edger to continue sanding wood floors.
Now it's time to get those edges. The floor edger is designed to get into the edges of your room where the drum sander doesn't reach.
Put on the 36 grit paper and position the floor edger where the drum sanding marks end.
You want to move the edger towards the wall and swivel it back and forth many times while overlapping. It is kind of like turning the steering wheel of a car with a mind of its own.
It is best to work in small sections and not overextend your back (remember you are hunched over this whole time!).
It can take some getting used to, so it's best to start in a closet while you're getting the hang of it.
Step 6. Move up to finer grit sandpaper.
Once you've done at least one pass with the 36 grit paper with the drum sander on the floor and the floor edger on the edges of the room, then you can repeat this process with the 60 grit sandpaper (except no more diagonals).
Just run the drum sander with the grain on the 60 grit and then get those edges with the 60 grit on the floor edger. Sweep up and let's move on!
Now things are starting to get pretty, right? Repeat once more with the 80 grit for a smooth finish.
Note, if you are going to stain the floors you can skip the 80 and go straight to 100 grit.
Ready to see a crazy before/after that we caught while we were sanding the wood floors? We started in the nursery before moving on to the hallway…just look at this line where the doorway was!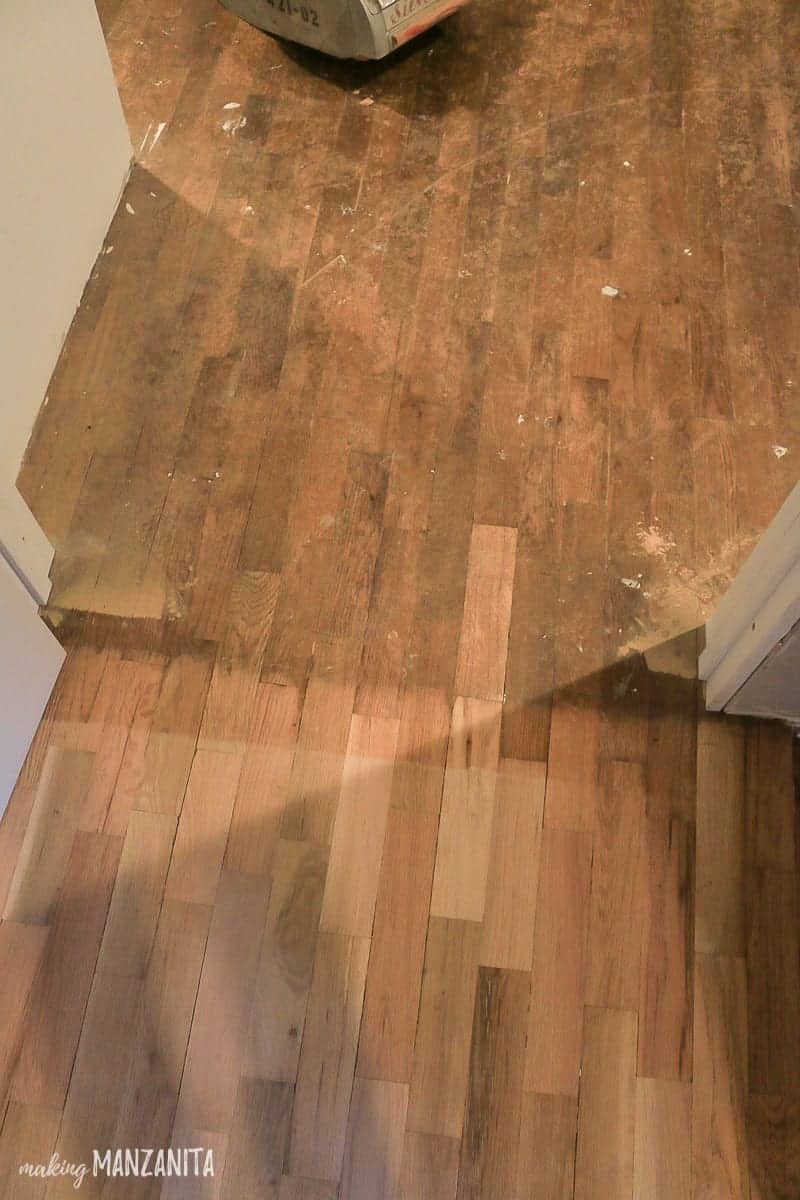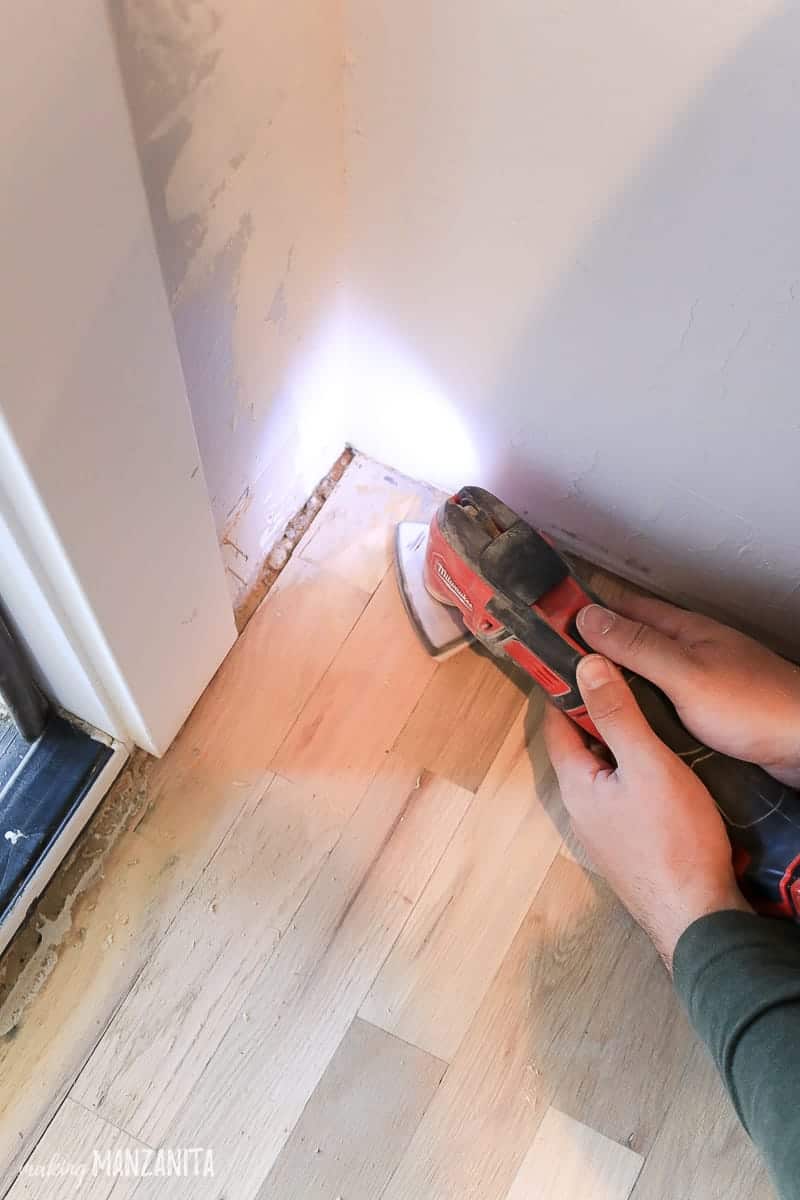 Step 7. Sand corners.
The drum sander and floor edger are great, but they still don't reach the corners of your room – which is super important when you are sanding wood floors.
This is where you will use a detail sander. You could also use a multi-tool with a sanding pad as we did.
We were able to just use 80 grit paper on the corners and just spent a little more time to make sure it was nice and even and blended in with the rest of the flooring.
Step 8. Touch up hardwood floors.
Sweep the floors and then it's time to touch up. Let's face it. If this was your first time refinishing floors, it may not be perfect.
To find imperfections, you can shine a flashlight horizontally on the floor and bend down near the floor to look at the details to see any cuts.
If you find any, mark them with blue painter's tape.
Then come back with an oscillating sander with 80 grit sandpaper and very lightly sand out the imperfections.
Do not press hard on the sander or it will just make things worse.
Touch-up is extra important if you are staining the floors.
Stain tends to accentuate cuts and imperfections because they absorb the stain more, so they really show up.
If you are just sealing the floors with a clear coat of floor finish, this will hide some of the imperfections, but you still want to try to get them as best as you can.
Step 9. Clean the hardwood floors.
Now's the time to clean it up. You're going to want to get allllll the sawdust before even thinking about getting out the hardwood floor sealer.
Start by sweeping. Next, you can very carefully vacuum the floors with a ShopVac, but it is really important to not let the wheels of the vacuum roll on the floors. You can prevent this by putting the ShopVac on a blanket.
Lastly, you can attach tack cloths to a Swiffer to grab the last of the dust before you apply the hardwood floor finish.


Step 10. Apply hardwood floor finish.
Now it's time to apply that hardwood floor finish! Woohoo…you're almost all done.
We used a floor finish woodblock applicator.
This part was really pretty simple, you just pour the floor finish into a paint tray and spread it out evenly with the applicator.
Be sure to start in a corner of the room that you're not going to have to step over and work your way out of the room towards the door.
We did three coats of hardwood floor finish, which is what the package instructions said.
We used 220 grit sandpaper to sand in between coats. Don't forget to lightly sand and clean up ALL sanding dust in between your coats.
A damp towel (or tack cloth) attached to a Swiffer works really well for cleaning.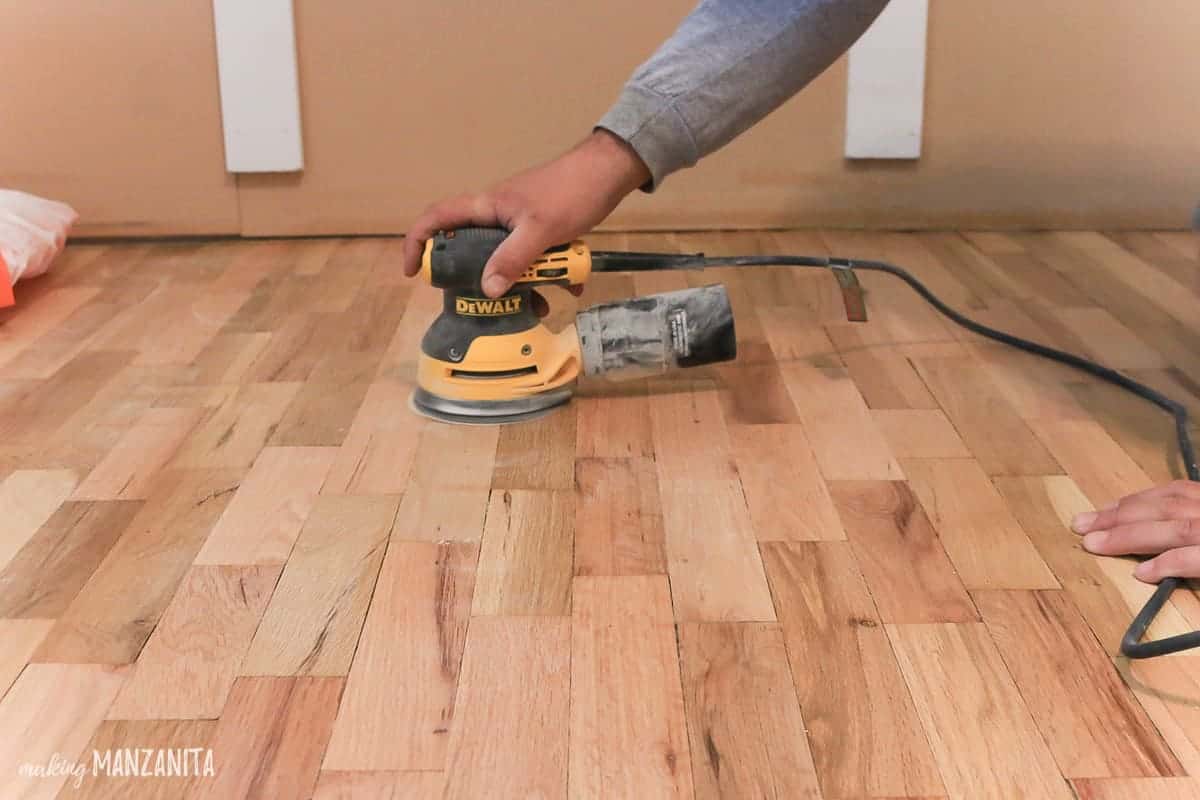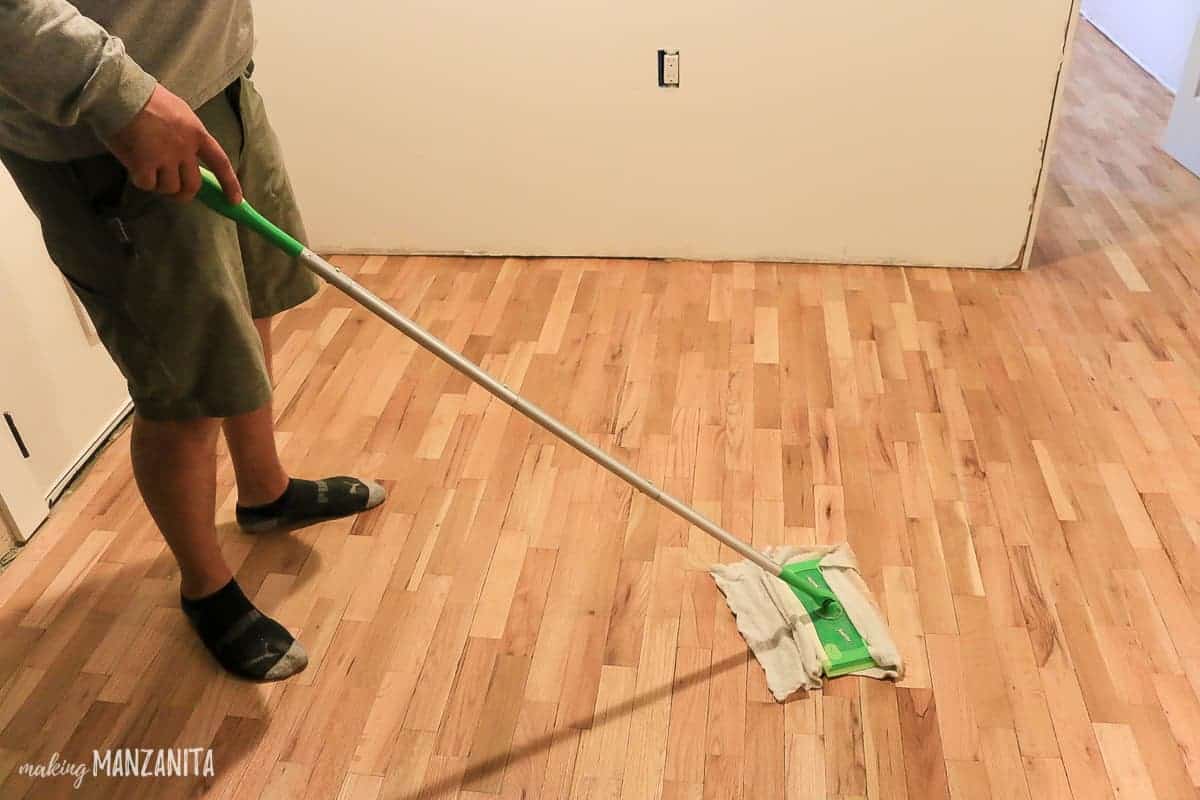 There you have it! After all of that sanding wood floors, the floor finish really brings the floors back to life!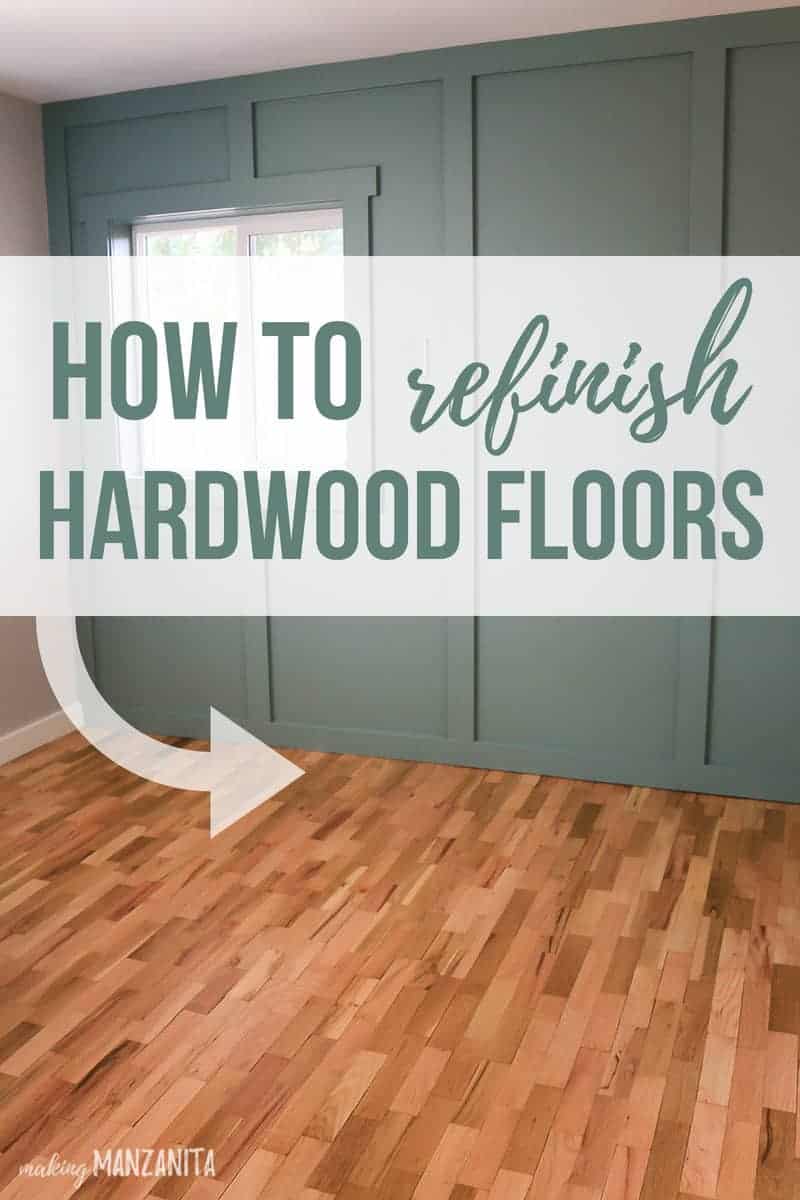 Hardwood floor refinishing is definitely not a quick DIY home project, but it definitely is rewarding when you are all done. Just look at this before and after!!!
I'm in love with our refinished hardwood floors. Now I just wish we had them throughout the house! 🙁 Sadly they don't run into the kitchen area or the other bedrooms.
Eventually, we will put in new tile flooring in the kitchen and probably try to match these original hardwoods in the other bedrooms. (UPDATE: We added new hardwood in the master bedroom and matched it to this by using utility grade cheap hardwood flooring, learn more in our tutorial!)
Although it may take some practice and probably a whole weekend of your time (if not more!), hardwood floor refinishing is totally a doable DIY project!
Are you going to try out hardwood floor refinishing in your home??
Let me know in the comments below!!
---
Want to see more of our modern farmhouse nursery??
Hardwood Floor Refinishing – you are here!!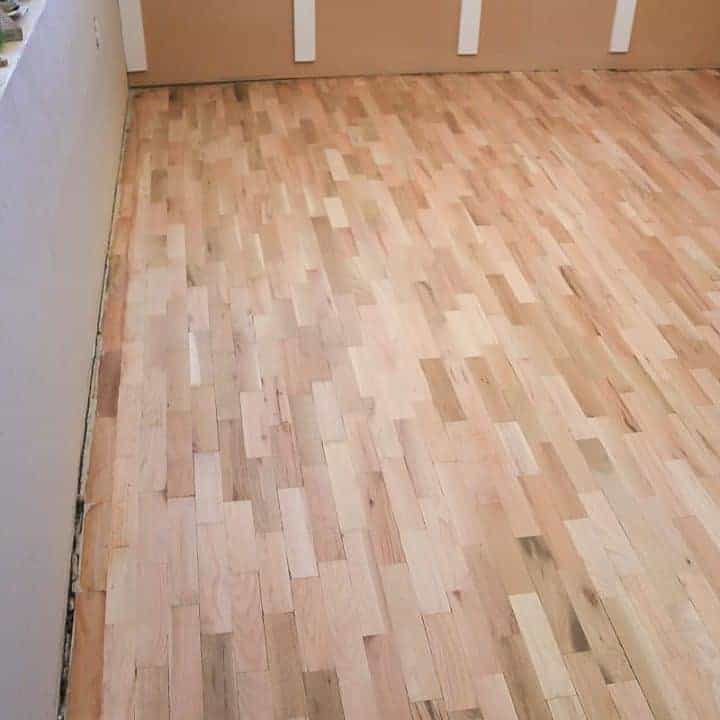 How To Refinish Your Hardwood Floors
Want to revive your old hardwood floors? Here's how to refinish hardwood floors DIY style, with tips on the best tools for the job, frequently asked questions, and more.
Materials
Sandpaper (we used 36, 60, 80 grits)
Tools
Oscillating sander
Broom
Filler paste (wood glue mixed with sawdust)
Instructions
Clear and clean hardwood floors.
Start sanding wood floors diagonally.
Sand hardwood flooring with the grain.
Use floor edger to continue sanding wood floors.
Move up to finer grit sandpaper.
Sand corners.
Touch up hardwood floors.
Clean the hardwood floors.
Apply floor finish.