Interested in installing cheap hardwood flooring? You definitely want to read this post first! Learn about types of hardwood flooring, what utility grade flooring means, the pros and cons of working with cheap hardwood flooring and pick up some tips and tricks for installing cheap hardwood flooring! There's also a video tutorial that walks you through the entire process!
Well, it all started with the paint.
We were going to FINALLY repaint the master bedroom. See, we've been staring at the paint swatches that we put on the walls a year a half ago when we moved in.
But, if we were going to paint the walls in the master bedroom – we should also probably address floors while we're at it – right?
Because….ugh….carpet. I hate it.
I mean, we knew that we wanted to someday, eventually, update the flooring in here (ideally installing cheap hardwood flooring to closely match the original hardwood floors in the rest of our house).
And if we painted without replacing the flooring first, we would have to repaint everything once we got around to the floors – which is a pretty big hassle. The reason we would have to repaint is because the baseboards are installed at a different height with the different flooring thickness. So, the baseboards will be lower when floors are hardwoods, instead of carpet.
So, you see my problem, right? ew
That's what happens when you renovate. Small projects morph into big projects, which sometimes uncover even bigger projects.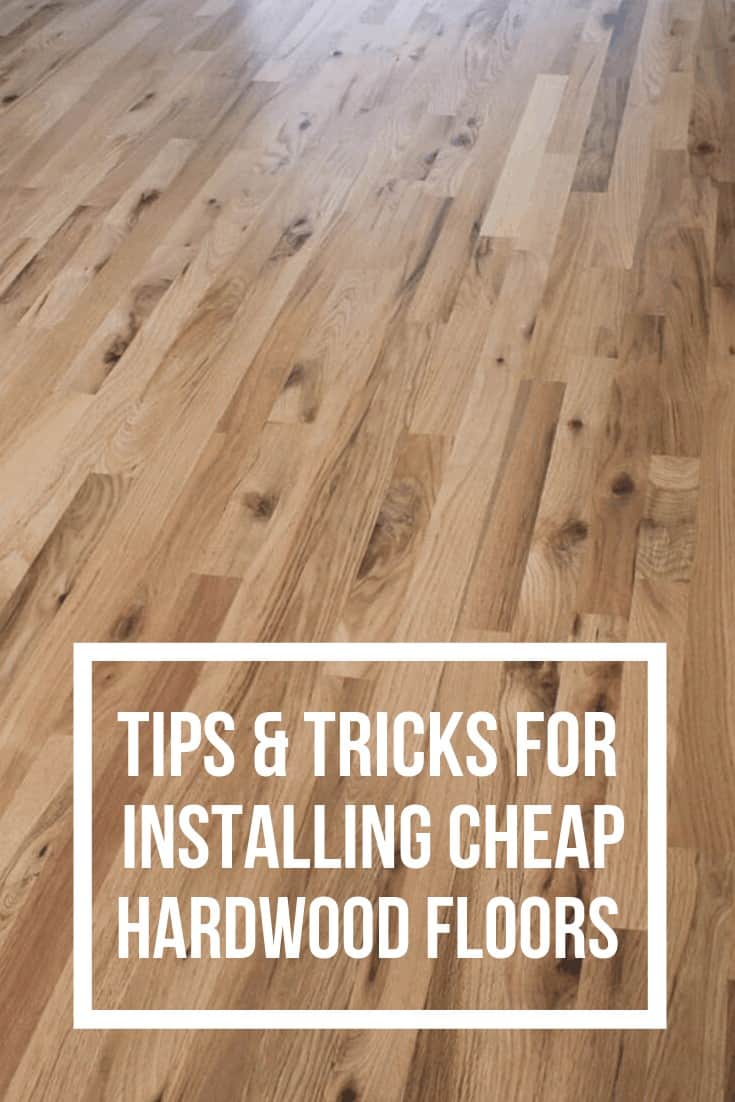 Before we jump into all the tips and tricks for installing cheap hardwood flooring, let's take a look at what we were starting with….
Shield your eyes….these pictures are pretty rough, but this is what we were starting with in our master bedroom.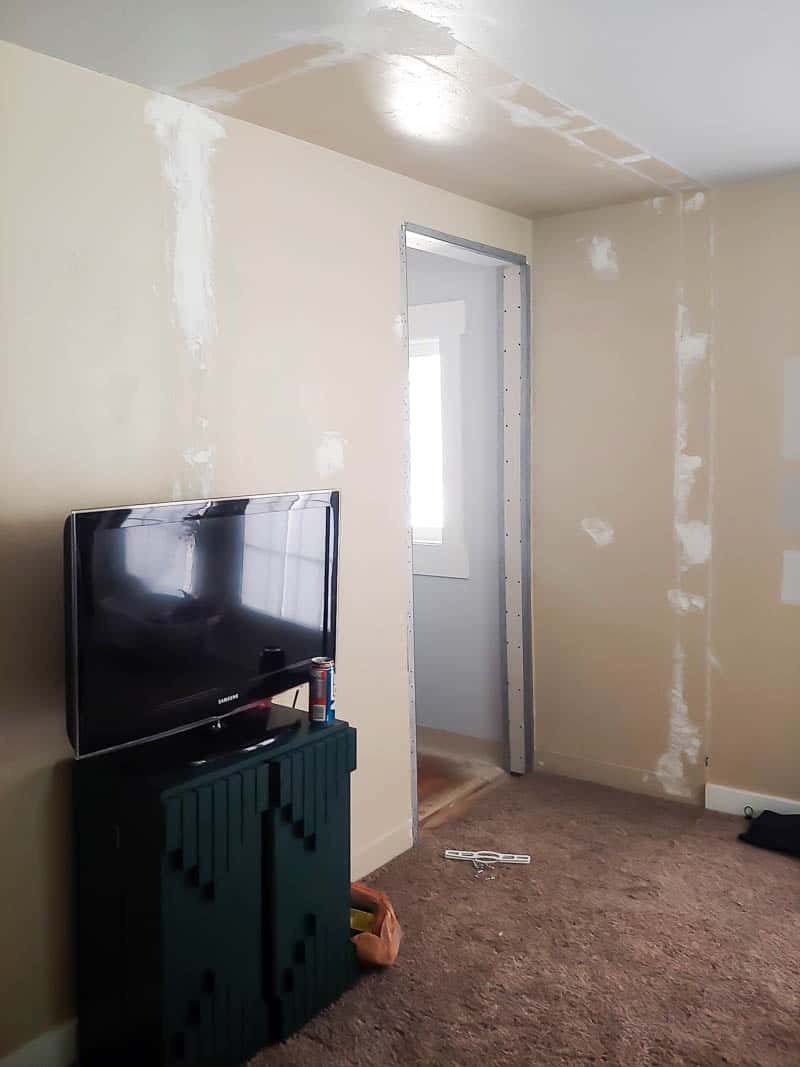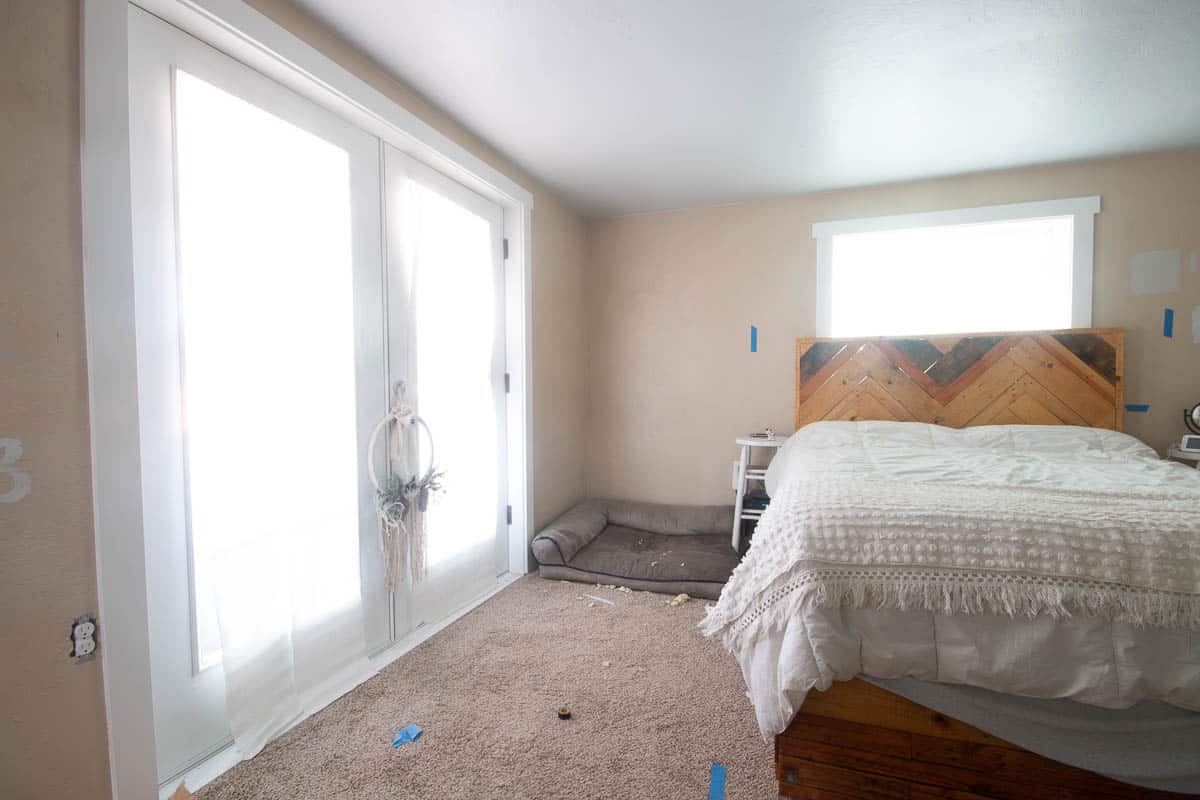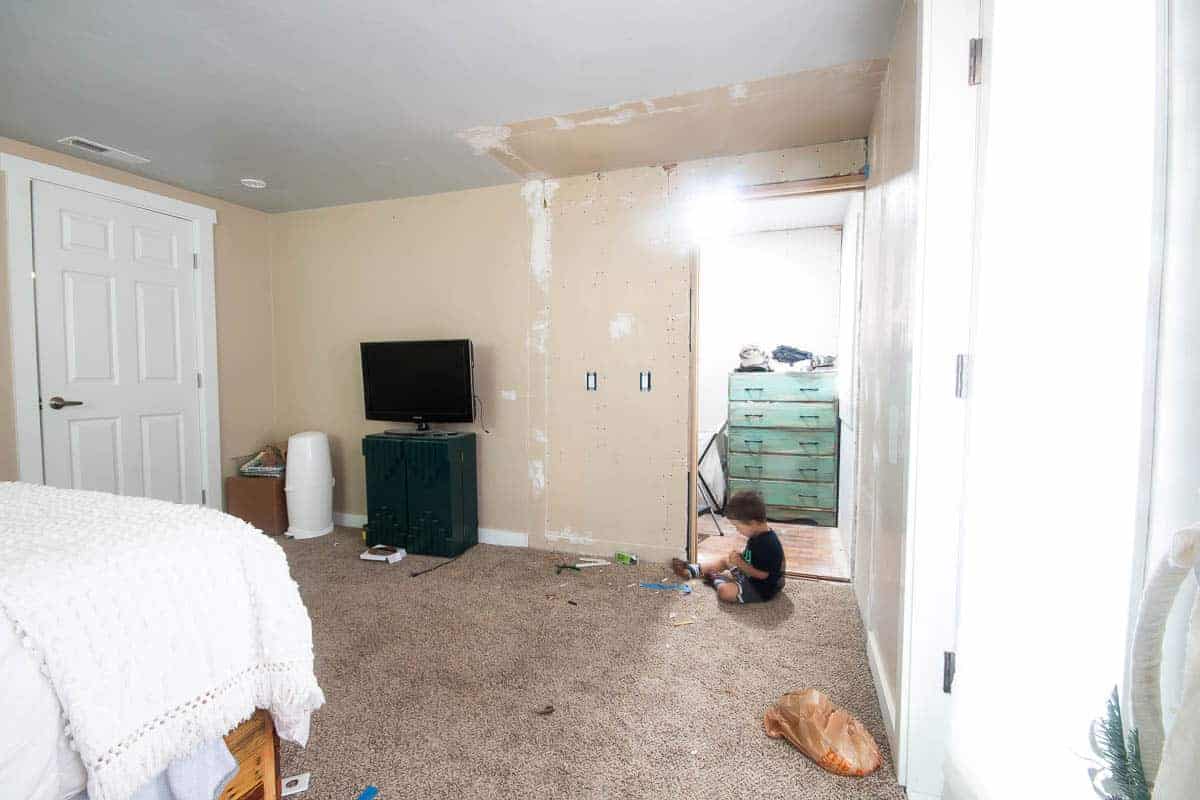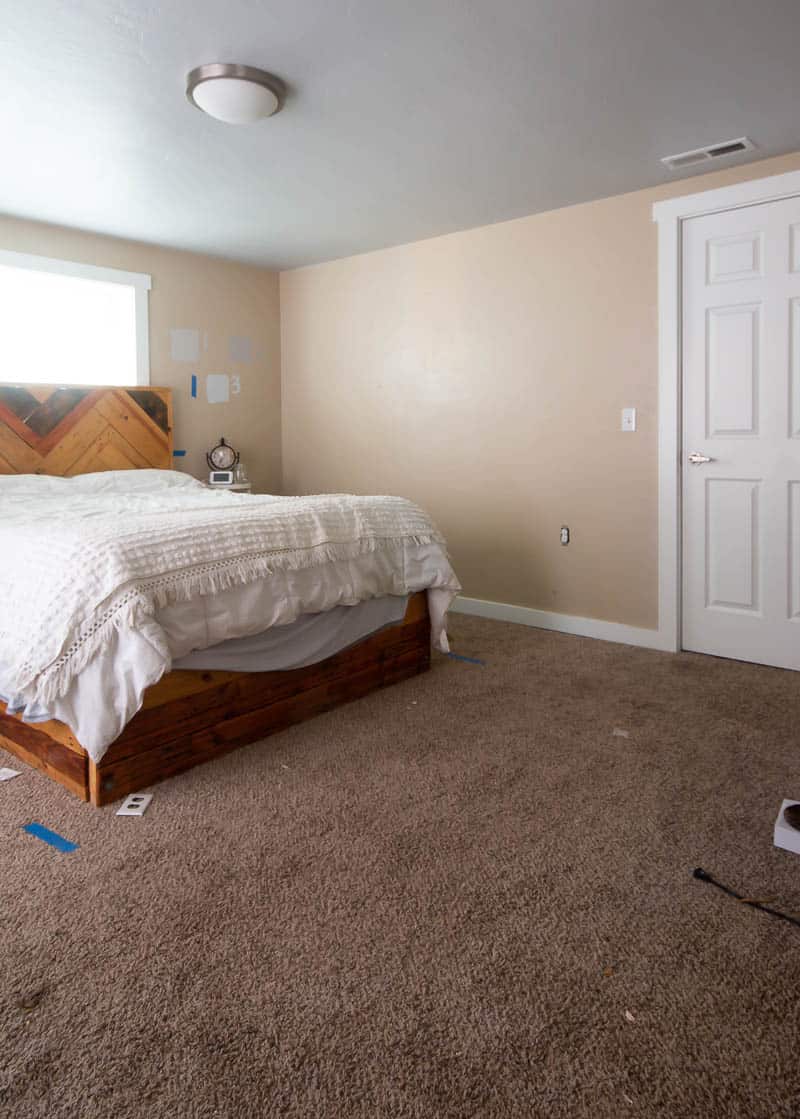 This post contains affiliate links, but nothing that I wouldn't wholeheartedly recommend anyway! Read my full disclosure here.
Types of hardwood floors
So before we get started and show you the hardwood flooring that we landed on, let's talk real quick about allllll the different types of hardwood floors, ok?
This article does a great job going in depth about all of the different options, but here's a quick summary of the types of hardwood floors.
Solid hardwood
Obviously, this is type of hardwood flooring is made from solid wood. It is installed with a nailer and sometimes glue too.
You can get your solid hardwood flooring in the wood species of your choosing. Oak is definitely the most common option for hardwood flooring (that is what we used).
You will also need to choose if you hardwood flooring comes finished (stained and sealed before installation) or unfinished (which needs to be sanded, stained if desired, and sealed after installation). Obviously unfinished is cheaper, but installation will take longer.
Engineered hardwood
On the flip side, this type of hardwood flooring is manmade with thin layers of compressed wood, resin, and polymers, and then topped with a layer of real hardwood. It's a good option because it's easy to install (snaps together).
Laminate flooring
Laminate flooring is technically not hardwood flooring because there's no wood involved, but it is made to look like wood. It is made from fiberboard compressed together and then there is a picture of wood grain on the top.
It is a very popular option because it is cost effective and easy to install. The options out there nowadays are very durable and look very realistic.
Non traditional types of hardwood floors
Bamboo is a fun option
Cork is also another non traditional option, but is more expensive
What hardwood flooring we used
Now remember, our goal was to match the original hardwood floors that are in the rest of our house (Quinn's room and the hallway). So we really didn't have a whole lot of options.
The closest match was Red Oak Unfinished Hardwood Flooring in what is called "Utility Shorts" size or "Utility Grade" flooring.
What are utility shorts?
When it comes to cheap hardwood flooring, utility shorts are bundles of the "bottom of the barrel" essentially. Utility grade or utility shorts is cheap hardwood flooring…the cheapest of the cheap.
According to Lumber Liquidators (which is where we purchased our flooring), utility grade flooring:
…"will have defects, knots, open knots, missing tongues, machine burns, splits in the wood and short pieces (12″-8″). Sold as is-no warranty, no returns, no cancellations."
Utility grade flooring may also be called rustic grade, cabin grade or #2 common.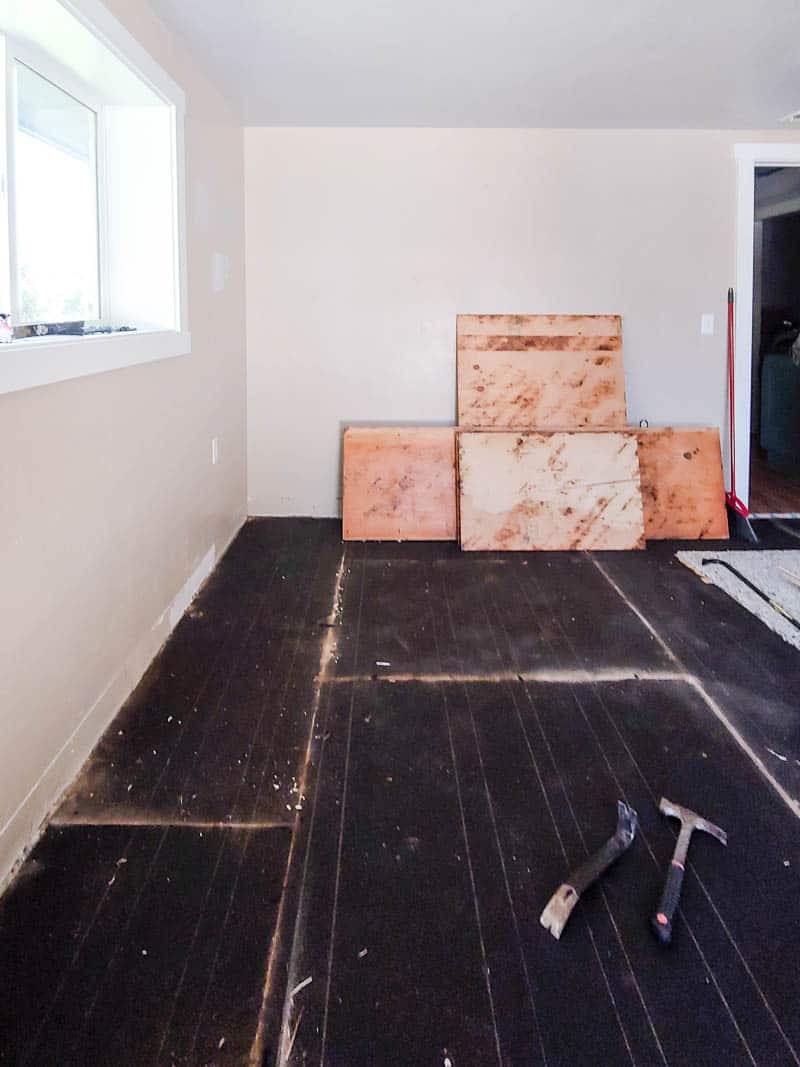 Why we used utility grade hardwood floors (aka cheap hardwood flooring)
Now, let's be clear….we didn't choose to use utility grade hardwood floors JUST to save a buck. We definitely saved a lot of money because the flooring we bought was only 99 cents per square foot (WHAT?!).
The other reason we went with the utility shorts was the size of the pieces. The utility grade flooring comes in shorter pieces, unlike regular hardwood flooring which comes in longer runs.
Our original hardwood flooring is made up of shorter pieces, which probably means they were trying to save a buck when they were building the house back in the 1960's.
The only way to get the shorter pieces is to purchase cheap hardwood flooring in the utility short bundles.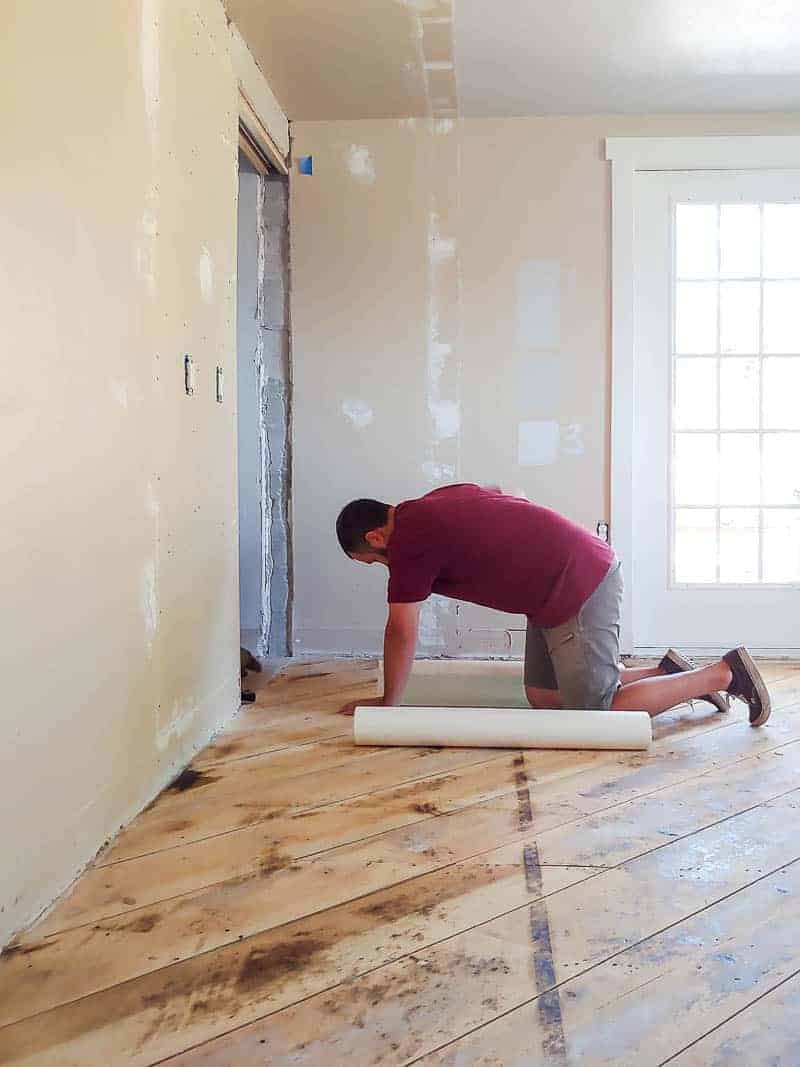 Pros of using cheap hardwood flooring
The most obvious pro of using cheap hardwood flooring is the cost. I seriously didn't even know it was possible to buy hardwood flooring around $1 per square foot!
The other pro (and maybe this just applies to us) was that it was a perfect match for our original hardwood flooring, which was our goal.
Cons of using cheap hardwood flooring
The first con of using cheap hardwood flooring was the amount of waste in the bundles. We were expecting some pieces to be ruined with knots or splits, etc. But it ended up being WAY worse than expected.
I would estimate that we had about 40% that was completely unusable, which was definitely a bummer. We've included some helpful hacks that we picked up for installing cheap hardwood flooring below that will help you save a lot of the damaged pieces.
The second con of using cheap hardwood flooring was the extra time it took to go through the bundles and inspect each piece, sort and organize into like-size piles and work around the damaged pieces while installing.
4 helpful hacks for installing cheap hardwood flooring
1. Tape the bottom of knots and holes in cheap hardwood flooring
There will be some knots with holes in the hardwood floor pieces that go all the way through the boards. If they were small enough (say….smaller than a quarter), we would still use them. But before we installed those pieces, we put piece of packing tape on the bottom underneath the knot. This was the prevent any of the floor finish from running all the way through.
It worked pretty good. There were some pieces that didn't work and the finish just ran through….but there's another trick for those ones….
2. Fill gaps and light colored holes with DIY putty for hardwood floors
We made our own putty by mixing floor finish and sawdust collected from the sander after the first pass. After you mix to a peanut butter like consistency, you can apply with a putty knife to fill any gaps and knots in the cheap hardwood flooring.
It will be a natural color that closely matches your flooring because it is made from the sawdust, which is perfect for any gaps between flooring pieces and light colored holes.
3. Add dark wood stain to the DIY putty for dark colored knots in hardwood flooring
Here's the thing… knots are naturally darker in color than the rest of wood…so the DIY putty made with sawdust and floor finish looks pretty silly in the dark knots. It didn't look natural at all.
To make it look more realistic, we added a dark wood stain to the DIY putty and then added it to the holes and knots. It looked SO much better!
4. Work around the damage
The truth is that when you are working with cheap hardwood flooring, there will be a lot of pieces that are damaged. The key is how to work around the damage to still be able to use the pieces.
For pieces that are damaged on one end, you can use them on the sides of the room. (which will be cut flat along the wall). Just cut the damage off and then cut to the correct size to fill in the space til you get to the wall.
For pieces where the tongue and groove is damaged, you can use them on the top and bottom of the room (which will be cut flat along the wall). Remember also that the baseboards will cover about 1/2 inch.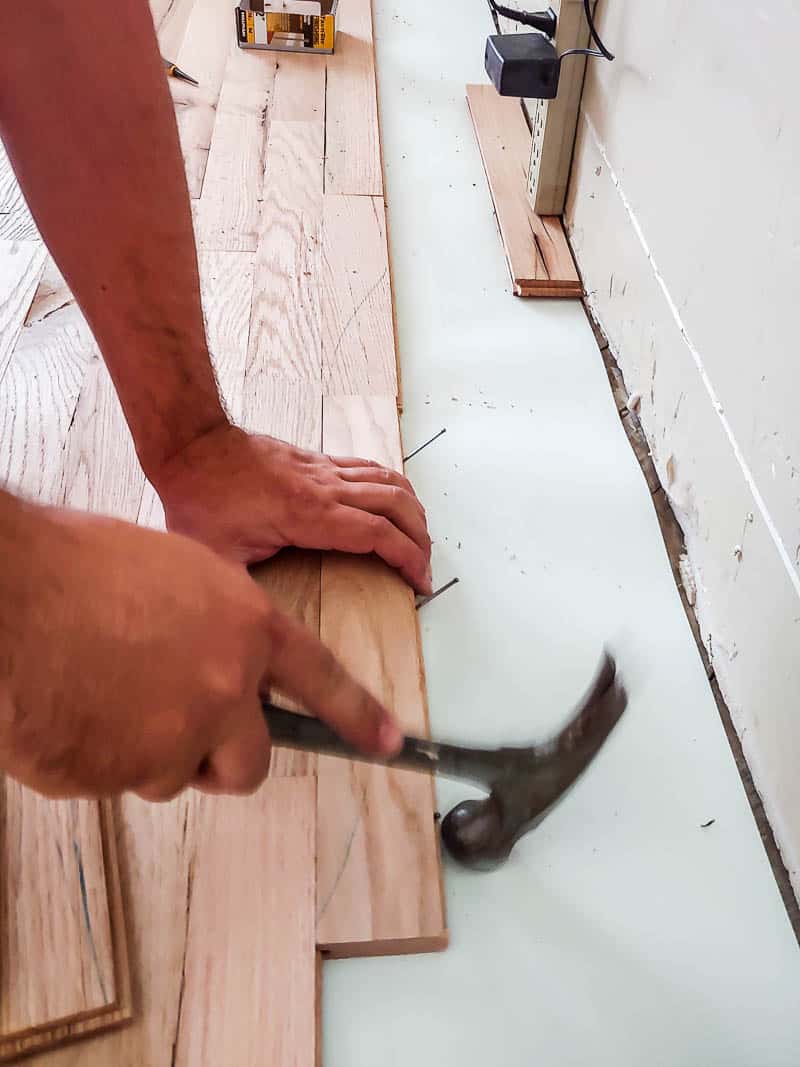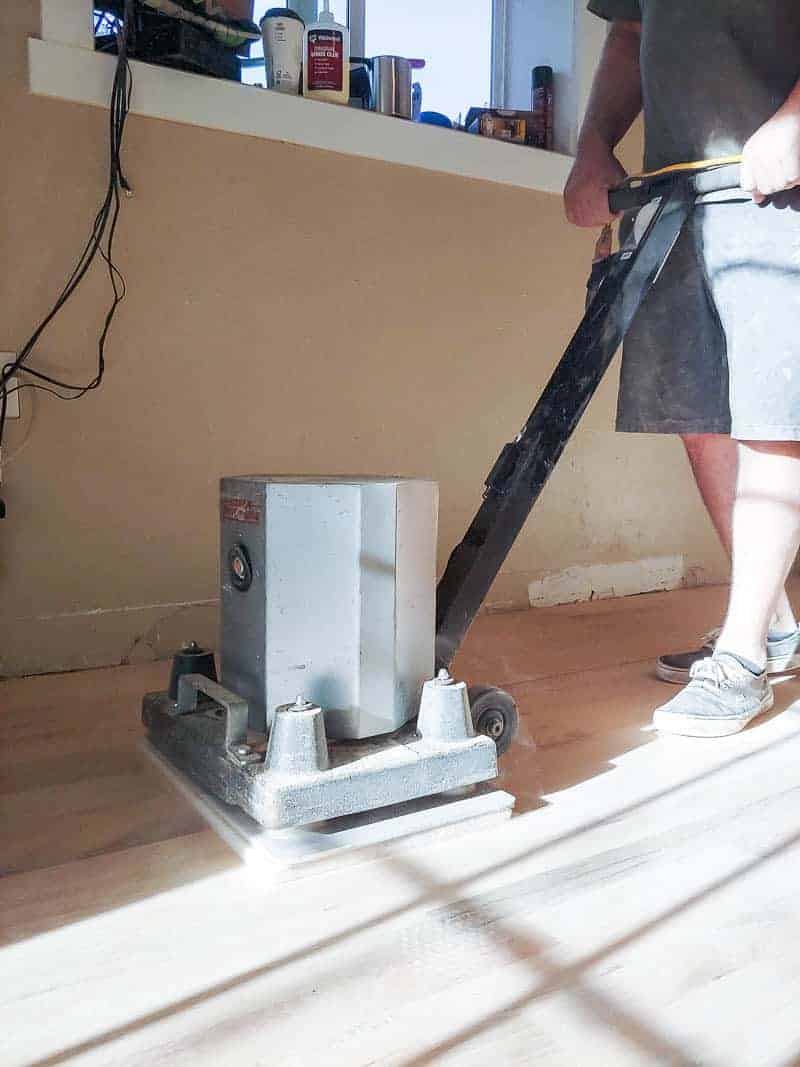 Now, are you ready to see how to install hardwood floors?
We put everything together in a video for you to see the whole process of how to install hardwood floors.
Be sure to turn the sound up because there's a voiceover that describes every step of the wood floor installation process.
If you love DIY videos, be sure subscribe to our YouTube channel so you don't miss the next one!
Supplies for hardwood floor installation
After Photos: Our new cheap hardwood floors in the master bedroom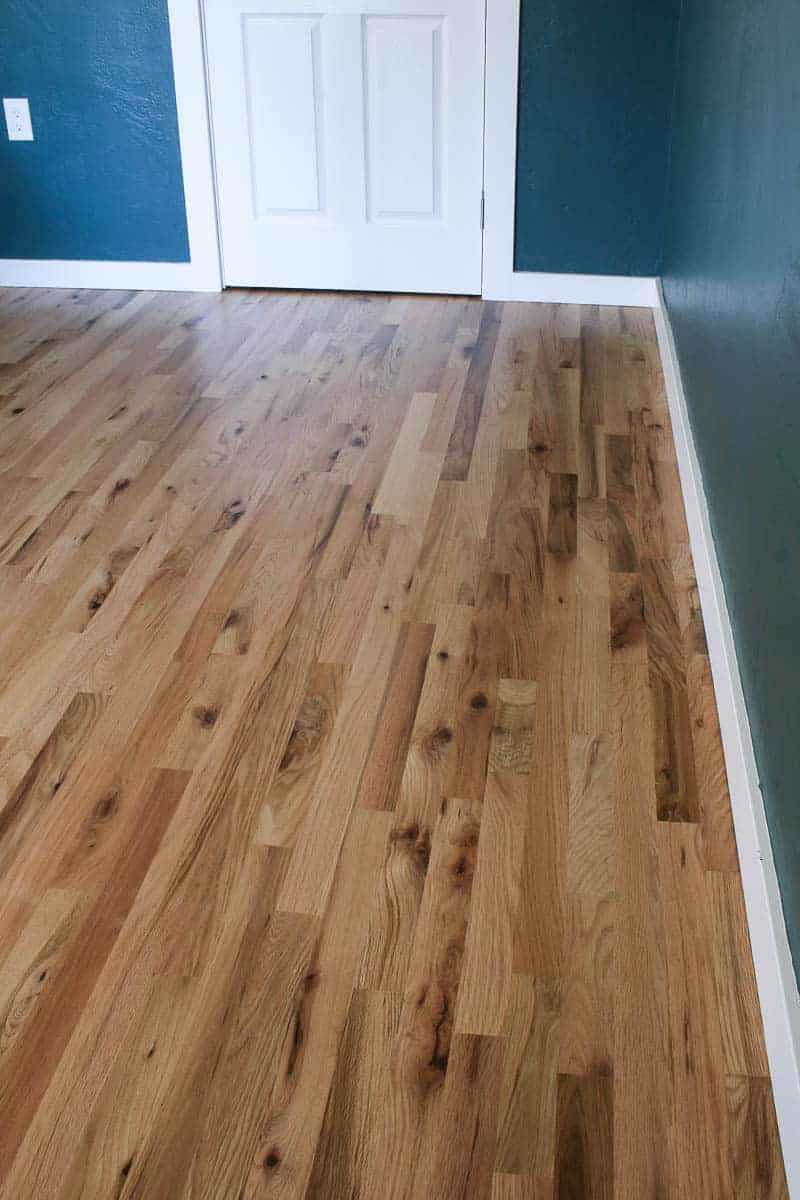 I don't know about you, but I am pretty freakin' obsessed with our new hardwood flooring. Even though we were working with cheap hardwood flooring, which was more work and took longer, it turned out AMAZING.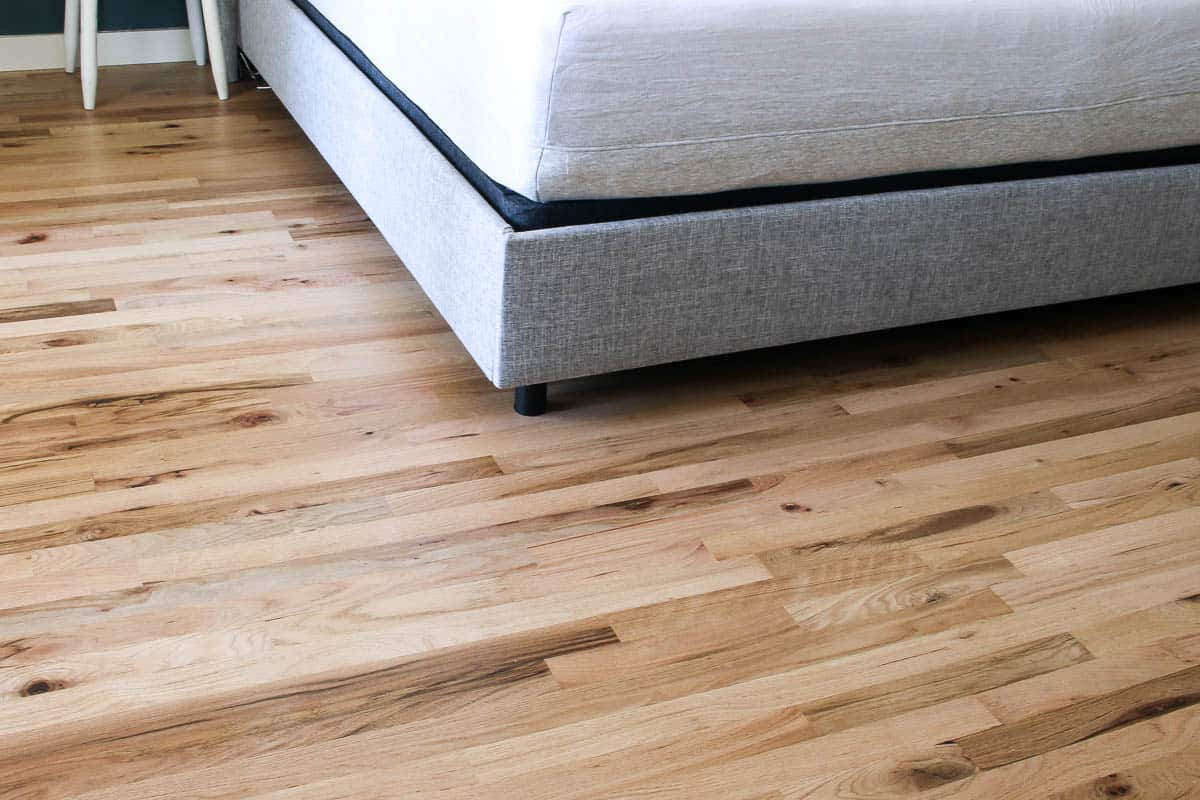 It matches our original hardwood flooring to a T, which was kinda the whole point, right?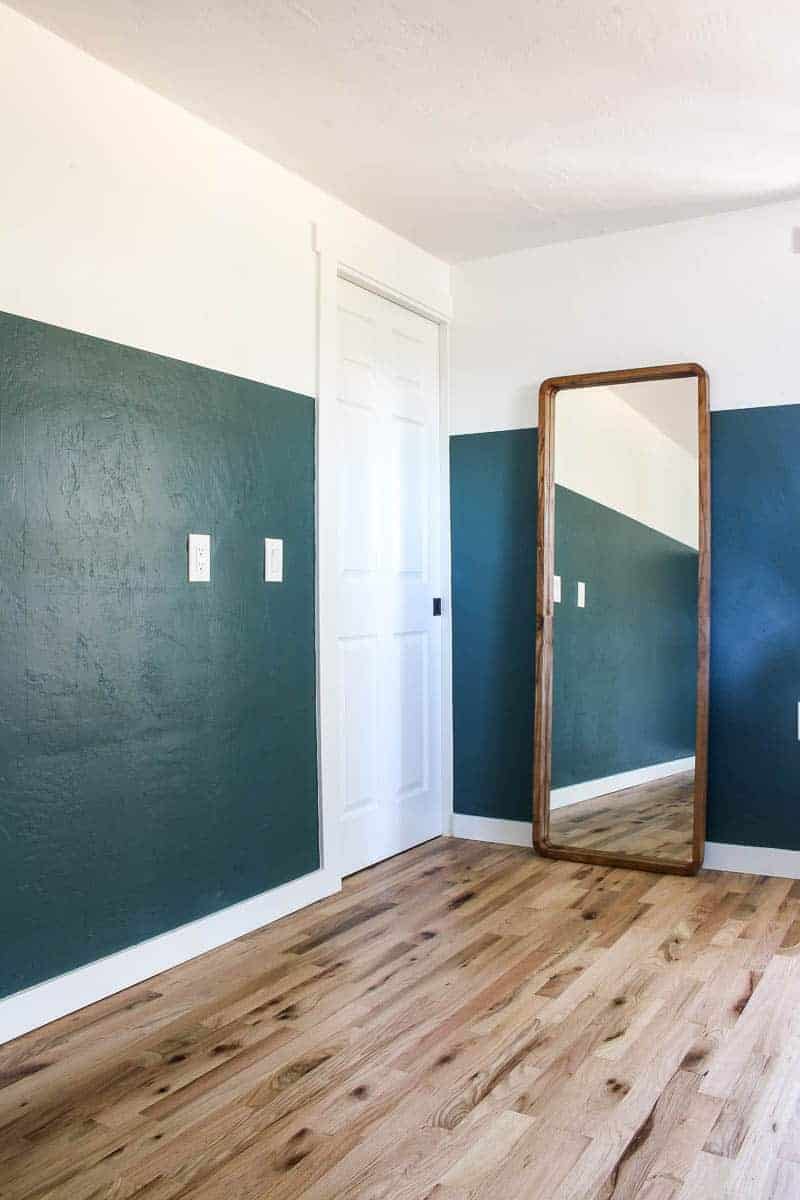 I'm also SO freakin' obsessed with our two tone walls in here, which we recently finished too! Check out the full tutorial for the two tone walls here!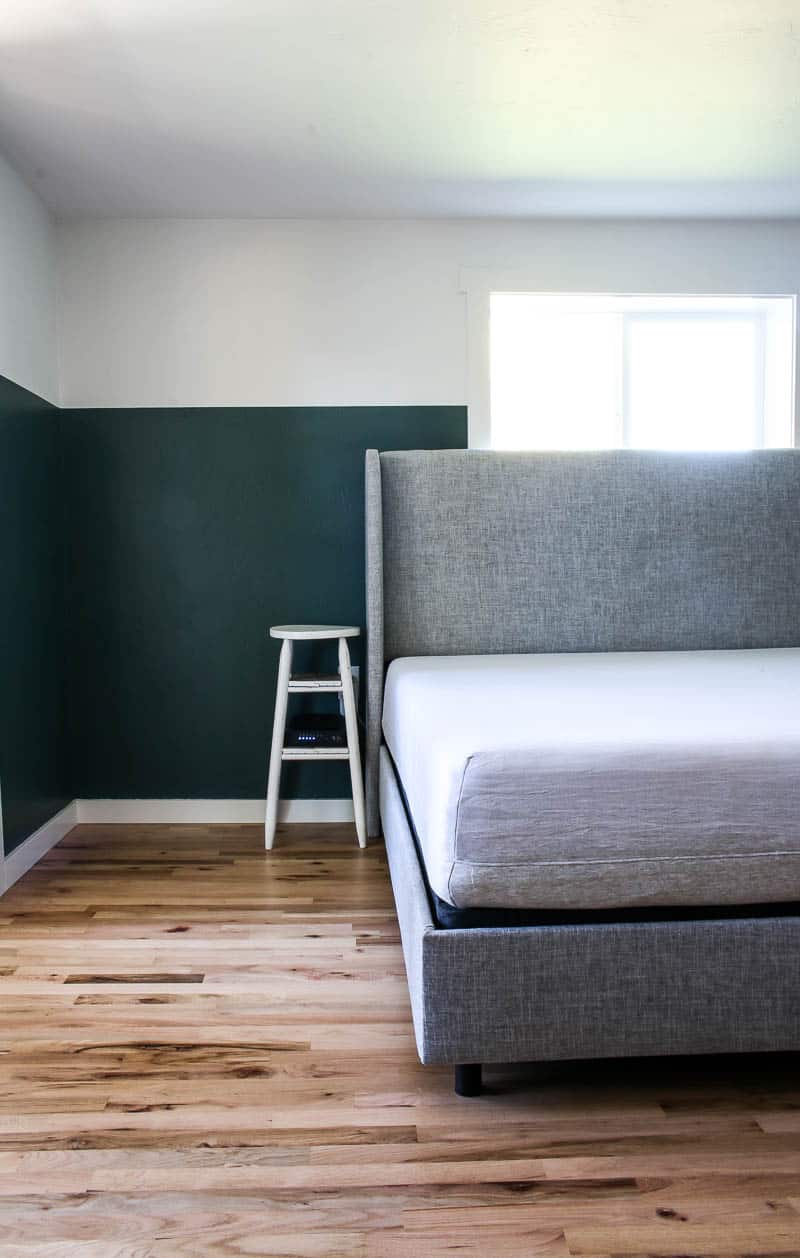 Would you ever give cheap hardwood flooring a shot in your house?
Let us know in the comments below!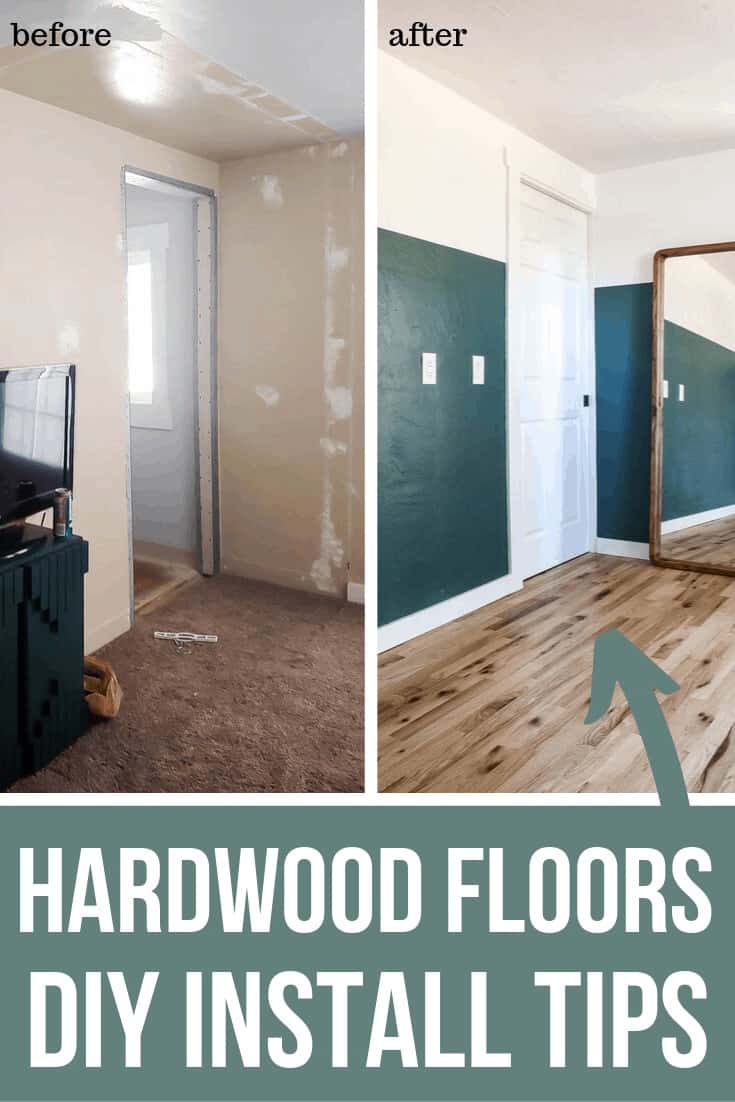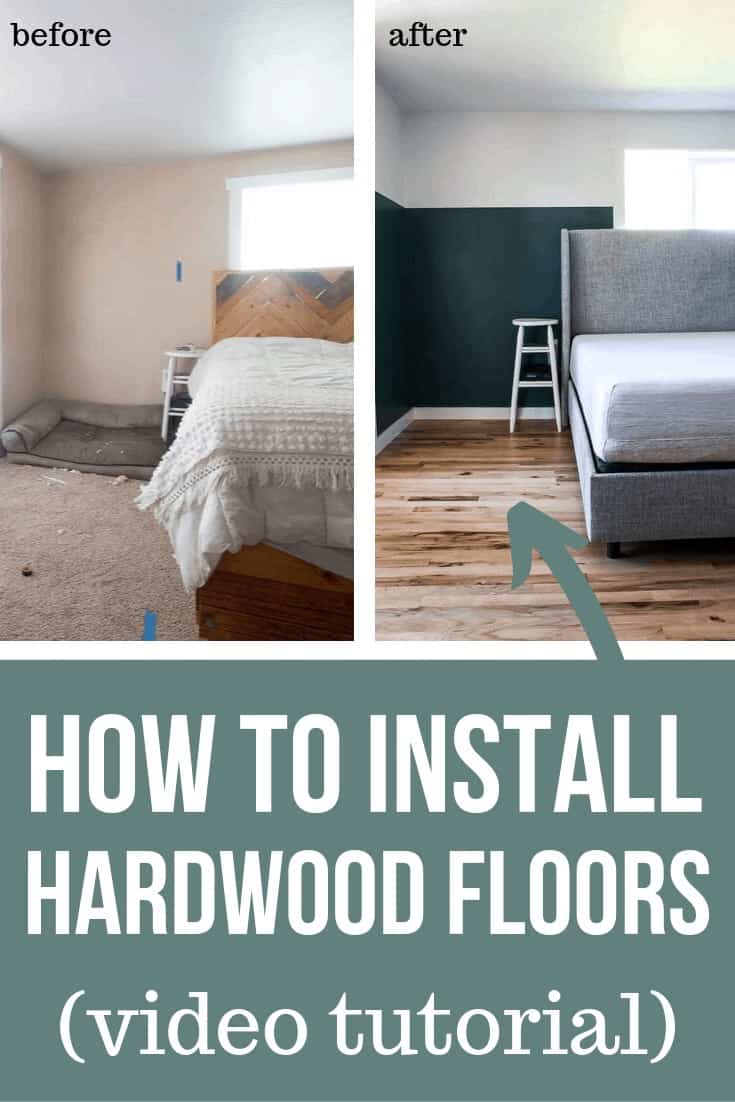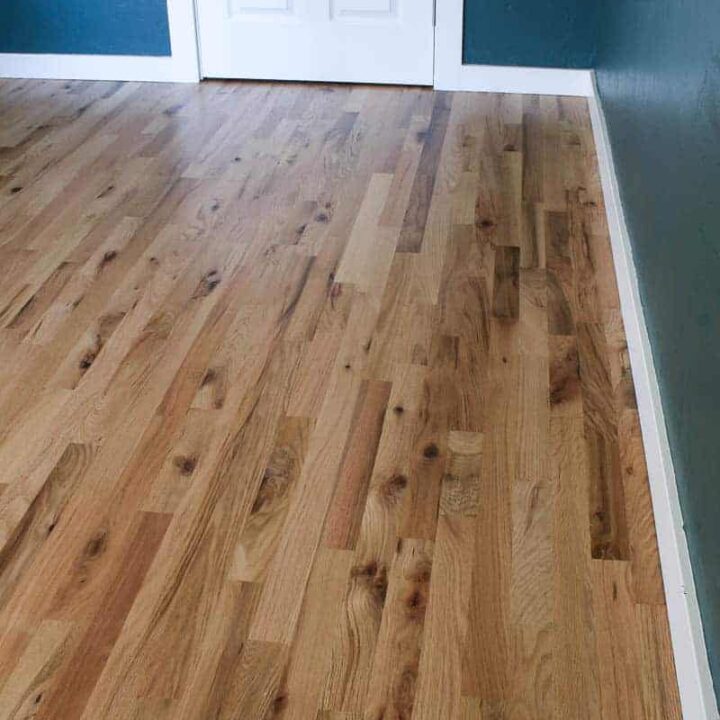 How To Install Hardwood Flooring
Learn how to install utility-grade cheap hardwood flooring, with DIY install tips and tricks and notes on the different kinds of hardwood flooring you can choose from.
Materials
Tools
Crow Bar
Square Buff Sander with 36, 60 and 80 grit sandpaper
Instructions
Remove old flooring.
Add vapor shield underlayment.
Go through bundles of hardwood flooring and discard damaged pieces and sort by size.
For the first couple of rows of hardwood flooring on the edge of the room, you will need to use a hammer and nail instead the flooring nailer.
Use flooring nailer to install the hardwood flooring spacing out the nails about every 6 inches.
When it comes down to the last few rows of flooring in the room, you won't be able to use the flooring nailer again. Apply a small bead of wood glue to the edge and a hammer to set it into place. Finish it off with a finish nailer.
Fill any holes in the flooring. For the larger one we poured floor finish in the hole.
Use a square drum sander to start sanding with 36 grit sand paper (eventually working your way up to 60 grit and finishing with 80 grit at the end).
After your first pass with the sander, grab some sanding dust and mix with floor finish to create a paste. This is used for any imperfections (gaps in between wood, scratches or holes).
For the larger knots that have holes and are naturally a darker color, you can mix in some dark wood stain to the paste so the filler is natural looking in the hole.
Continue sanding. We did three passes.
Clean all sanding dust with tack cloth. You want to make sure all saw dust to cleaned up before moving one.
Apply floor finish to hard to reach places like corners or around doors with a paint brush.
Apply floor finish to the rest of the floor with a wood block applicator and apply evenly. Be sure to start in a corner of the room where you won't have to step over to get out. We did about three coats of floor finish. Use 220 grit sandpaper in between coats and clean well with tack cloth.
Pay attention to your floor finish's instructions to see how long you will need to stay off of the floor for drying/curing.
Notes
We found it most efficient to go through the bundles of hardwood flooring and sort them by size in piles. Then we laid out several rows of flooring in a design that we were happy with where the seams didn't match up. Once they were all laid out, you could quickly go to town with the nailer.