Looking for a beautiful dark wood stain? From dark walnut to black, we've found some of the best dark wood stain colors for your next woodworking project. These Minwax stain colors will completely transform any project!
We use wood stains on so many woodworking projects around here. We've even discovered a few different techniques to customize the stain color for our projects, which brings about a whole new level of versatility.
While all the beautiful colors are certainly great, the thing I love most about these dark wood stains is that they hide dirt well. With kids running around, that's always a big win!
Table of Contents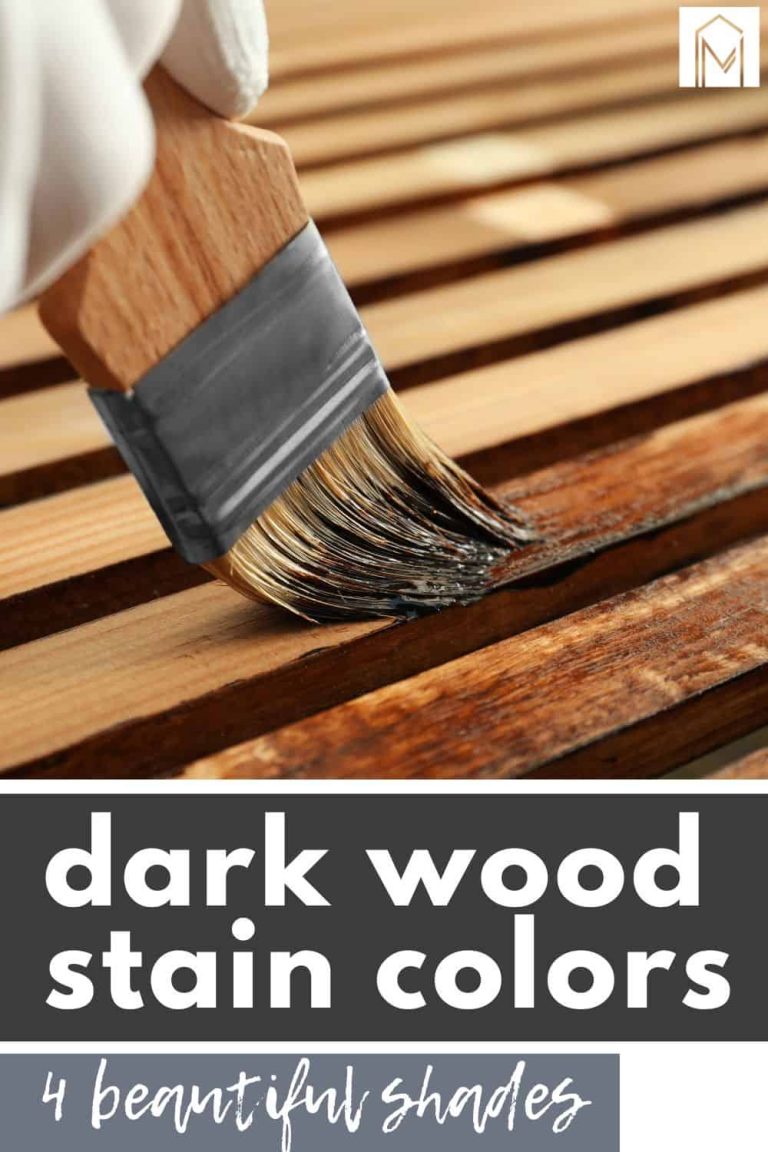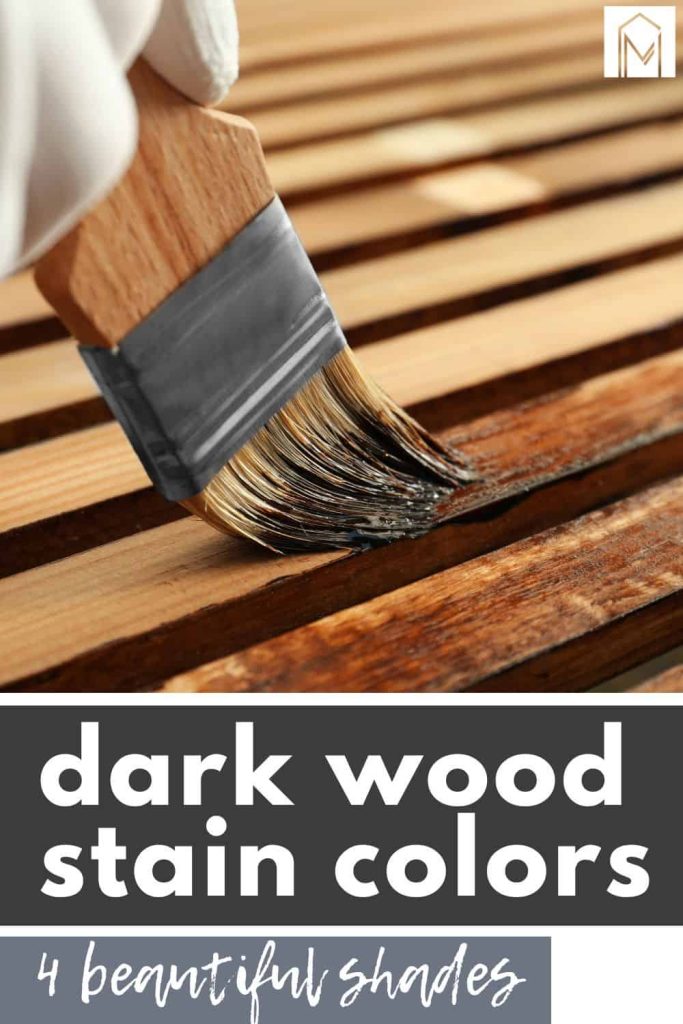 This dark wood stain color guide contains affiliate links, but nothing that I wouldn't recommend wholeheartedly. Read my full disclosure here.
The thing to remember about any type of stain is that different stain colors will translate differently depending on many factors. The type of wood, oil stain vs. gel stain, lighting in the room, wall colors, and even the surrounding decor items will change the look and feel of a room.
I always recommend testing your stain color on a sample surface identical to or very similar to the surface you will be staining. This way, you can observe the way the color reflects with natural lighting, artificial lighting, the colors in the room, and different decor items. Plus, if you are also painting a room, testing the combo is critical before committing to any paint or stain color.
My best advice is to take plenty of pictures as you observe throughout the day. Add in different colors and pieces and see what suits your style best.
Dark Wood Stain Colors – 4 Beautiful Options
If dark wood stains are what you are considering for your next project, here are four different dark stain colors that we've used and loved throughout our home.
In this dark wood stain colors guide, we're going to be covering 4 beautiful shades of wood stain:
Espresso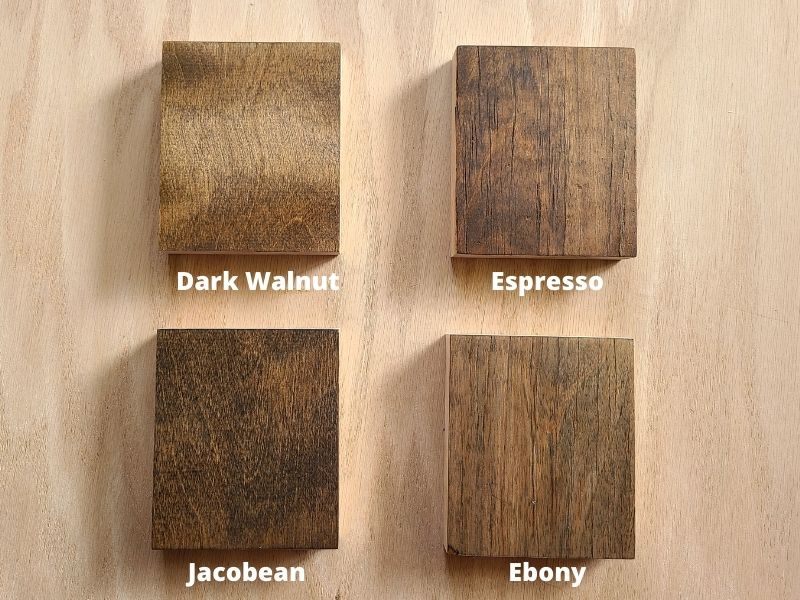 Dark Walnut Stain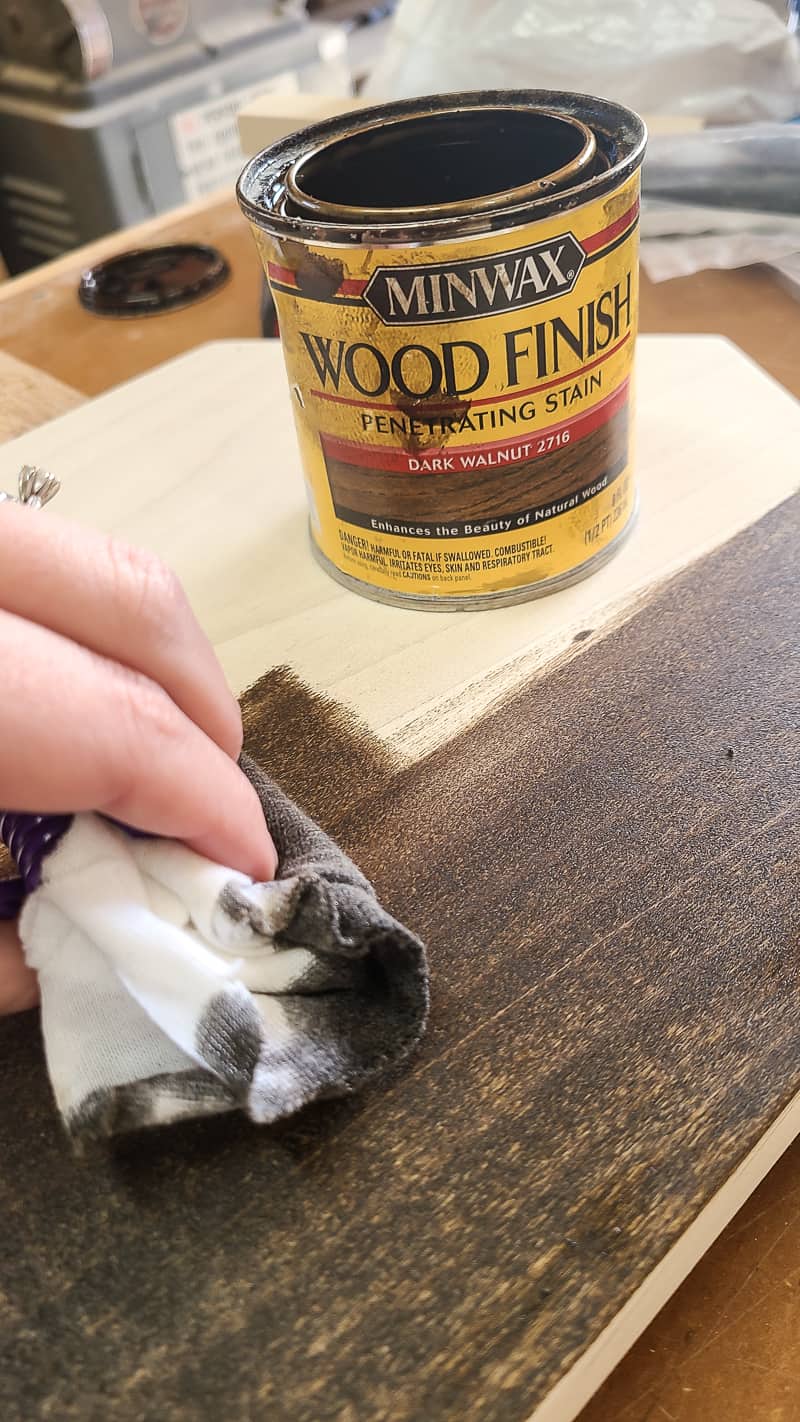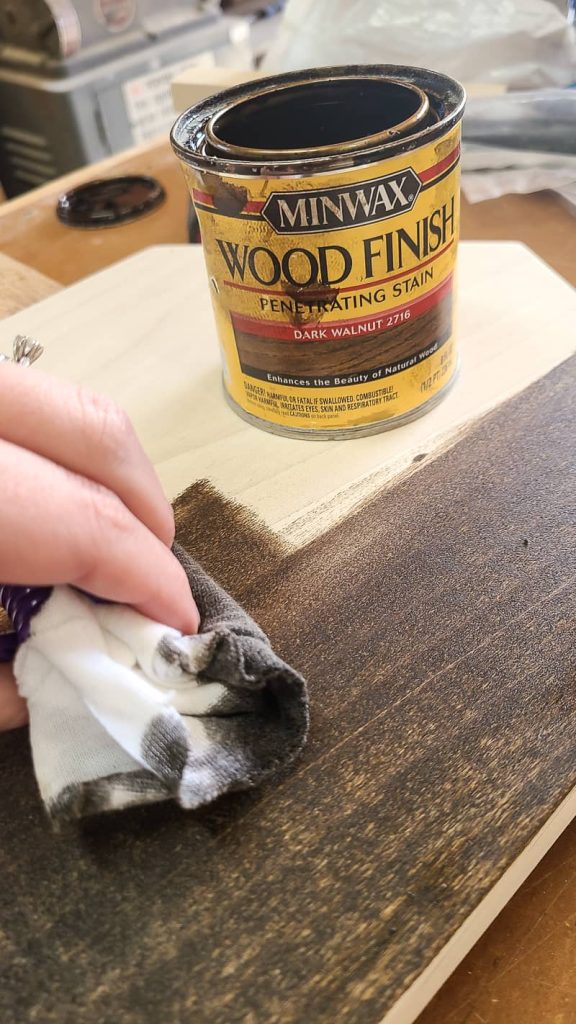 Dark Walnut is a classic stain color that complements any decor style. This dark brown shade enhances the natural wood grain and gives off major Restoration Hardware vibes!
This shade of dark brown is incredibly versatile and can be used on just about anything – from trim and molding to furniture pieces… even home decor items. Plus, this stain looks great with so many colors! Amp up the moodiness and pair it with dark hues like plums, blues, greens, and dark reds.
If a neutral style is more of your jam, lighter colors like off-white, light grays, and other neutral shades will add a nice contrast to the eyes.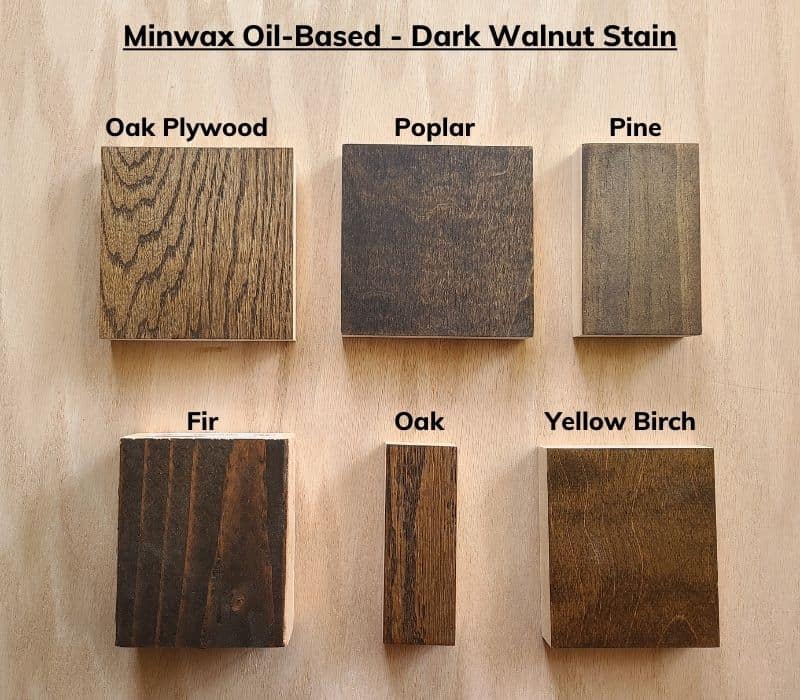 We've used this stain on a variety of projects, including this paint-over stain technique we used on our advent calendar and this cookbook stand to add a gray wash finish look.
Here are some other projects that we've used Dark Walnut stain on:
Want to learn more about this dark stain color? Read this complete overview of Minwax Dark Walnut.
Jacobean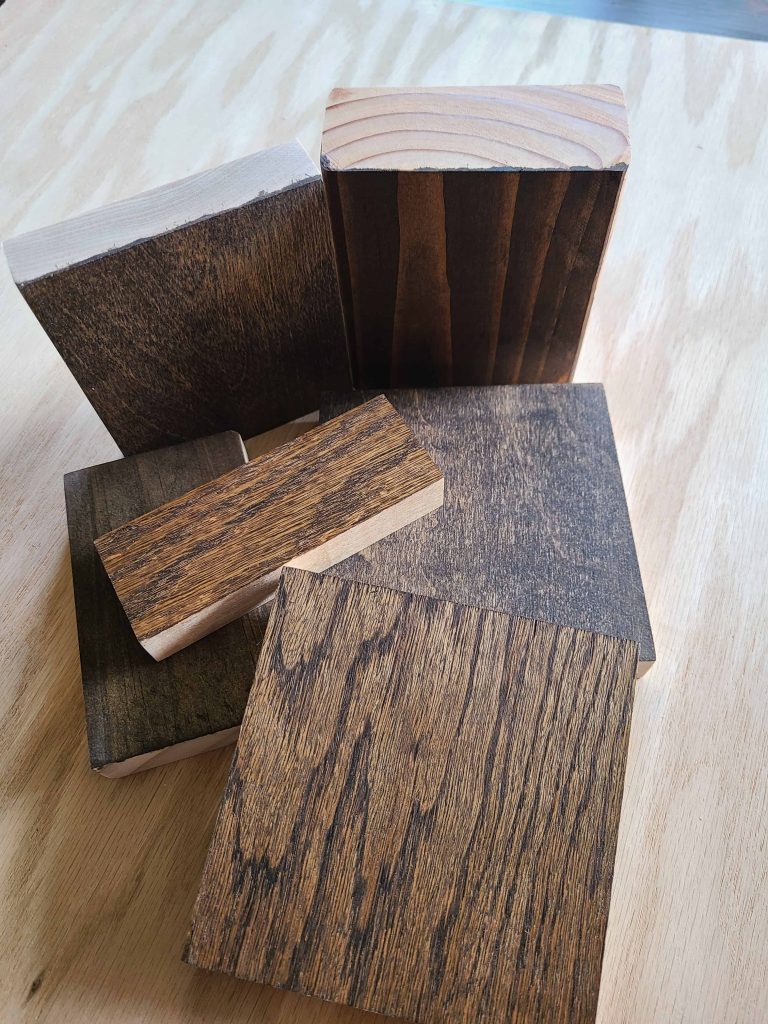 If you want to add rich, luxurious vibes to a room, Minwax Jacobean stain would be a stunning choice. This beautiful dark brown color is perfect for staining a piece of furniture or a DIY accent piece for a timeless and classic look.
We recently used Jacobean dark wood stain on our DIY towel rack for our guest bathroom. Paired with the walls, which are painted with Behr Sculptor Clay & the wainscoting panels, which are painted with Behr In The Moment – it looks amazing!
This deep shade adds an element of approachable sophistication but would still work with any decor style, including boho, farmhouse, industrial, modern, and traditional.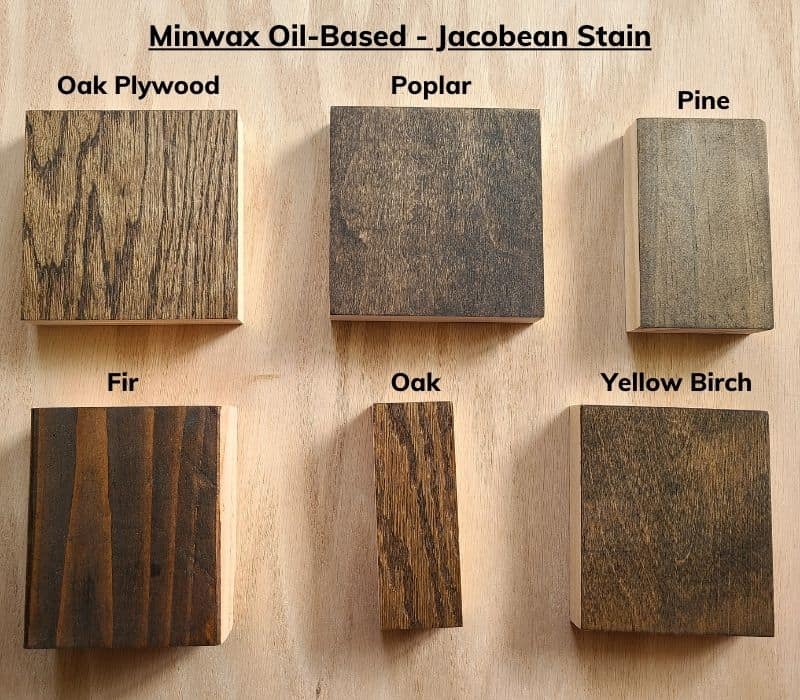 Unless you are going for a dark and moody vibe, I recommend sticking to neutral paint colors, like shades of whites and light grays. Darker hues like Midnight in NY, Black Bamboo, Graphic Charcoal, and Meteorological might be too intense when paired with Jacobean.
Want to learn more about this dark stain color? Read this complete overview of Minwax Jacobean.
Espresso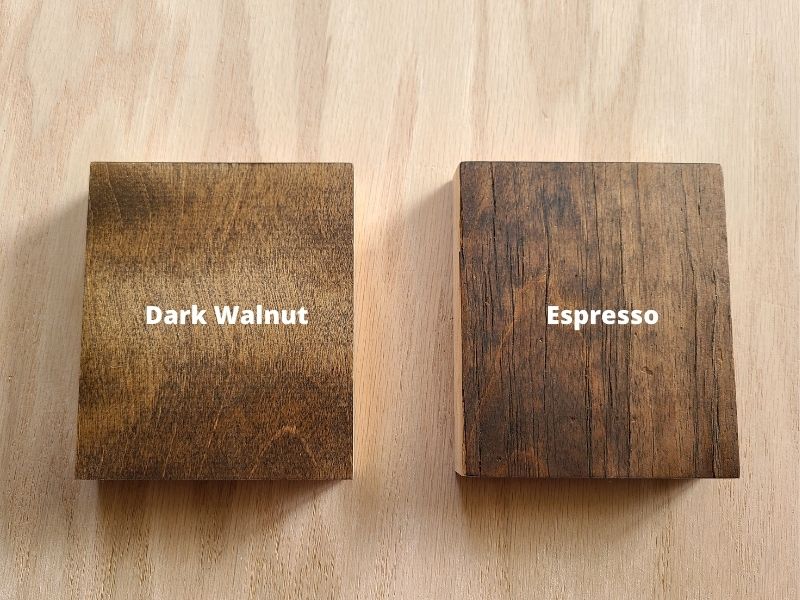 Minwax Espresso is a dark brown stain color that gives off warm, comforting, soothing effects to any room. It's the perfect balance between Jacobean and Ebony. In fact, because of the depth of the color, Espresso is often mistaken for black.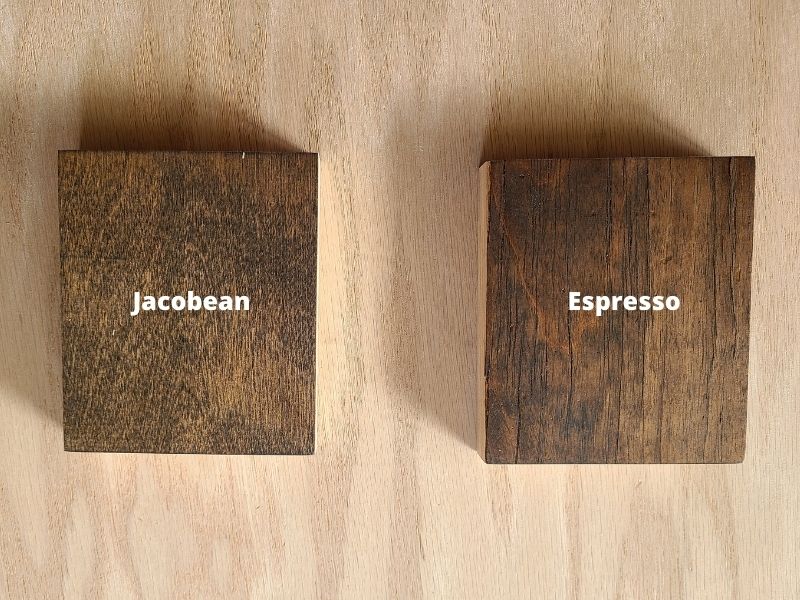 Espresso wood stain is a stunning choice for flooring but is also a show-stopper on tables, chairs, doors, trim, cabinetry, and more. The rich, chocolatey hues enhance the ambiance of any room for a classy, elegant aesthetic.
If you are going for a cozy, farmhouse vibe, don't let the depth of this wood stain deter you. Lighter, neutral shades offer a nice contrast to the dark wood stain. If moody, speakeasy-style vibes are the goal, pair Espresso stains with darker paint colors.
Ebony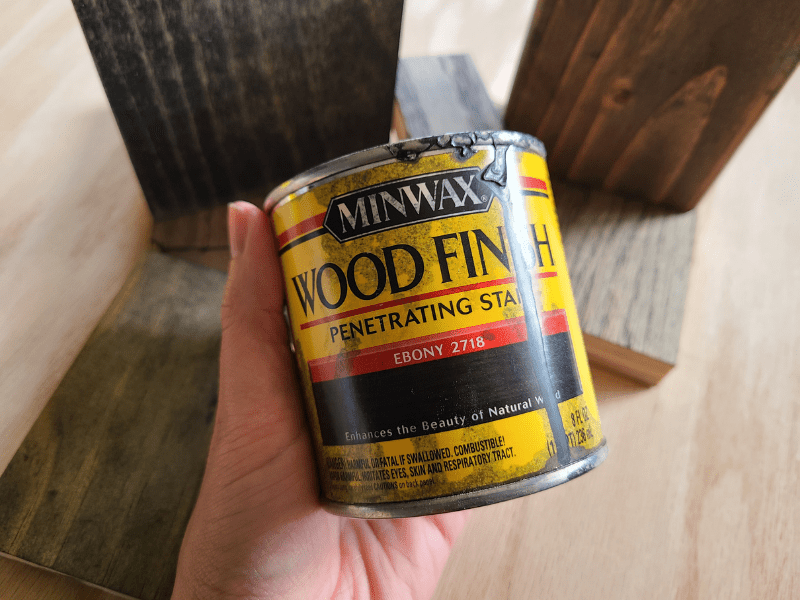 Minwax Ebony is a grayish-black wood stain that instantly intensifies the vibe of a room. While Ebony isn't exactly a standard stain color in home decor, it's still comfortable enough for our family home.
This blackish-gray shade reminds me of an upscale furniture store with sophistication and elegance. Because this is such a deep, bold stain color, we've only used this in our kitchen for our banquette bench.
I do love how it plays so well with different wood grains, paint colors, and even other shades of stain. Don't be afraid to mix different shades and wood grains!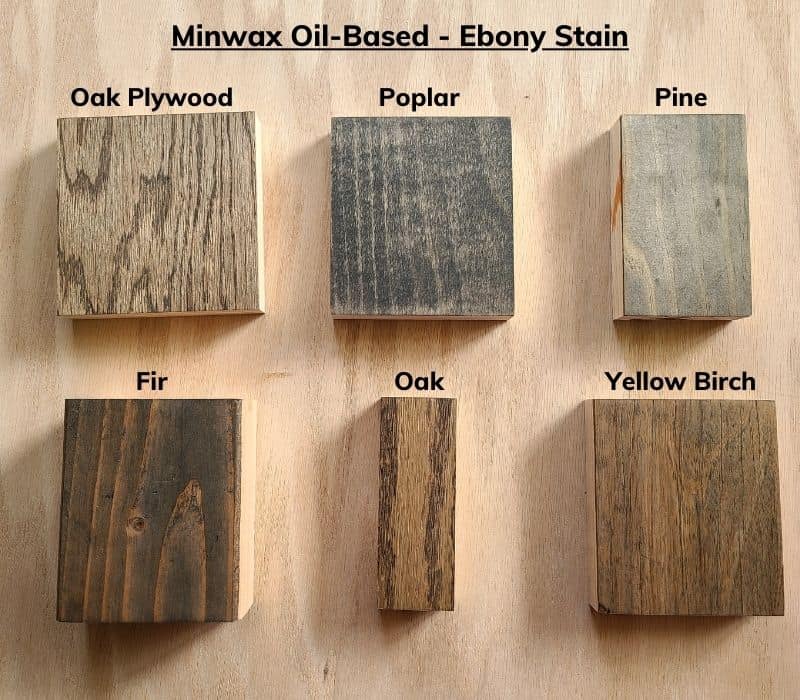 Ebony stains look great with lighter paint colors like seafoam greens, whites, creams, and other neutrals. You could also intensify the mood with richer, darker colors, too. If you choose to use darker shades alongside Ebony stain, make sure there is plenty of natural light so the room doesn't feel too closed in.
If you need to reduce the intensity of this dark stain color, try this gray wash paint-over stain technique.
Want to learn more about this dark stain color? Read this complete overview of Minwax Ebony.
Dark Wood Stain Color FAQs
What wood stain is the darkest? 
Depending on the brands, Ebony or Espresso wood stain colors are the darkest shades.
How can you stain wood darker?
To darken the stain, you can sand the surface with coarse grit sandpaper, and apply another coat of stain. Using coarser grit sandpaper will add larger sanding scratches than fine grit, making more room for the pigment to adhere.

If you are staining from scratch, leave the stain on the wood longer before wiping it off, but use caution to avoid leaving it on too long. Any wood stain that dries on the surface will get gummy and is hard to remove.

Alternatively, applying a coat of polyurethane will also darken the stain as it dries.
Does the second coat of stain darken wood?
The second coat of stain will produce a darker shade, but it will slow down the drying process of the stain and prolong the project.
What happens if you leave a wood stain on too long?
Leaving stain on a wood project too long will create a blotchy finish. Even after it dries completely, it will be tacky and sticky to the touch. For a deeper tone, leave the stain on the wood for 5-10 minutes before wiping away the excess.
Can you put a dark stain over a light stain? 
Applying a darker stain over a lighter stain is super easy and works really well. You do not need to completely sand away the old stain color.

All you need to do is lightly sand the surface so the new stain color can adhere well. 
Are you supposed to stir wood stain?
You should always stir your stain! As the container of stain sits undisturbed, the color pigments can settle at the bottom of the can. Stirring the stain redistributes the pigments so the color goes on evenly without splotching.
Which of these dark wood stain colors will you choose? Instead of only using one color stain or wood grain, mix it up! Combining different shades of stain colors and different types of wood in a room makes home improvement fun! Use your creativity when it comes to incorporating these different elements into your whole house color scheme.