Minwax Dark Walnut stain is a beautifully rich color that's stunning on any woodworking project. With just one coat, this rich stain will enhance the wood's natural grain for a beautiful result! If you're considering using an oil-based stain for your next project, this guide is for you!
Dark Walnut is a classic favorite of ours. It's a dark-brown shade that enhances the natural wood grain. We always have this on hand because it's incredibly versatile and always leaves us with a stunning result. Plus, it gives off major Restoration Hardware vibes!
We use stain for so many things these days. Staining DIY projects and wooden decor items brings about a whole new element of versatility. It's no longer reserved for hardwood floors and furniture. Wood stain can be applied to furniture, doors, trim, molding, cabinetry, decor items, and more.
This review contains affiliate links, but nothing that I wouldn't recommend wholeheartedly. Read my full disclosure here.
Today, I'm sharing this amazing, rich wood stain with you that I love – Minwax Dark Walnut. This is available as oil-based and water-based. For this post, we will review the oil-based version of Minwax Dark Walnut. It is moody, rich, and goes so well with many paint colors.
Take your project from bare and unfinished to rich, moody, and sophisticated with just a single coat!
Minwax Dark Walnut Stain Overview
Minwax Dark Walnut is an oil-based stain that enhances the wood's natural beauty. You can use this stain on just about anything – trim and molding, furniture pieces, and even decor items. One coat of this really kicks the vibe up a notch.
We've used this stain on a variety of projects. You can even use a paint-over stain technique as we did with our advent calendar and cookbook stand for a gray wash finish.
Here are some other projects that we've used Dark Walnut stain on: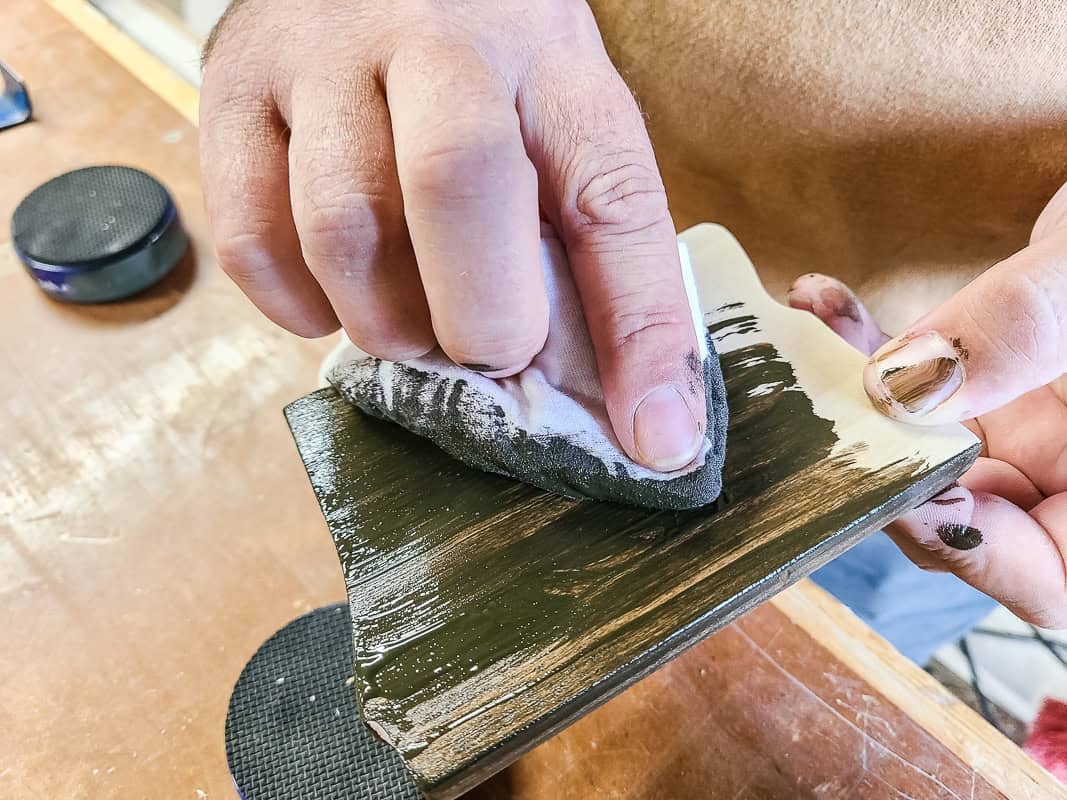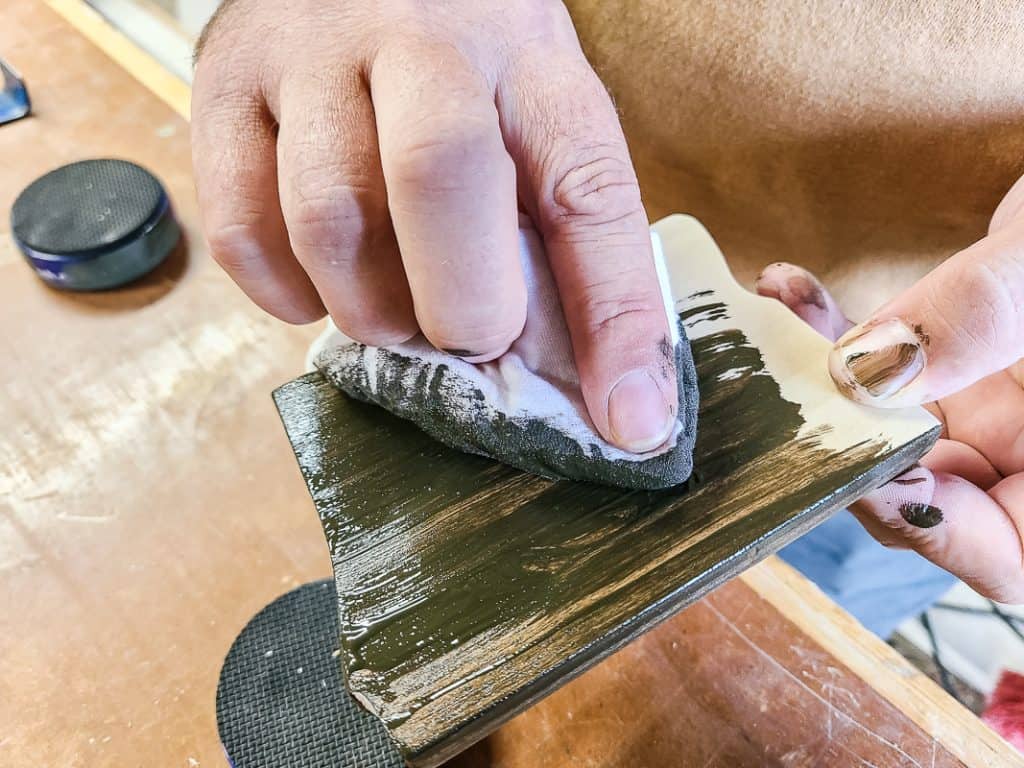 Is there a difference between Dark Walnut oil-based and water-based stain colors?
The difference between Dark Walnut as an oil-based stain and a water-based stain is apparent when viewed side-by-side.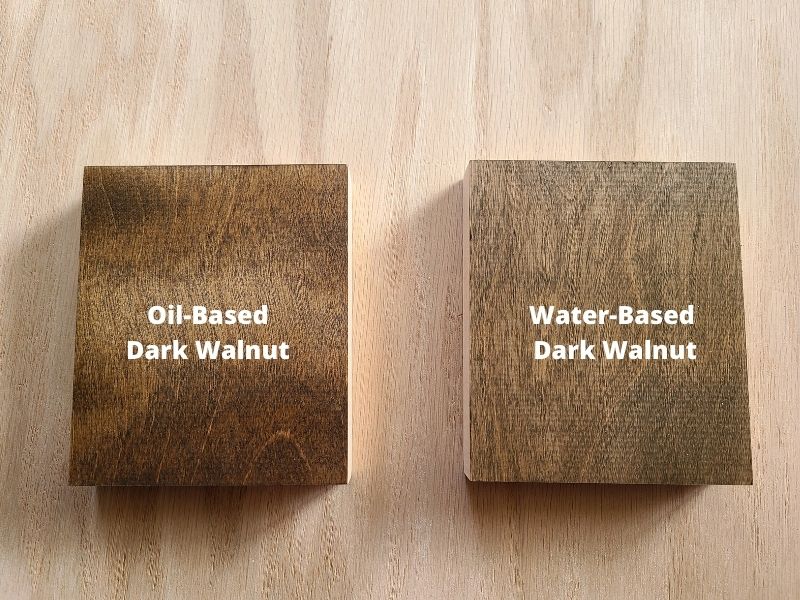 The water-based version of Minwax Dark Walnut is rich and dark brown. It showcases the wood grain beautifully and a single coat is dry in an hour. It's also much thicker for an easier application.
The oil-based version of Minwax Dark Walnut has a slightly yellower tint. While the wood grain still shows through, the color isn't as rich as the water-based version.
However, it's important to note that the type of wood you are using will significantly impact the way the stain takes to the surface. Additionally, applying polyurethane will also influence the shade of the final result.
Will the stain get darker with polyurethane?
Oil-based polyurethane can dramatically change the color of stained and unstained wood. When applied to water-based or oil-based wood stains, oil-based poly will continue to darken the wood and stain as time goes on.
Using polyurethane also adds a yellow or amber tint that gets stronger over time.
Oil-based poly is best for darker types of wood that are warm enough to hide the yellowish-amber hue.
Water-based poly will remain clear for the lifetime of the project, so it's safe to use over light woods like maple without worrying about yellowing.
Wondering which to use? Here's a guide that explains the difference between polyurethane and polyacrylic.
Is dark walnut stain cool or warm?
Because of the purple-ish and black undertones, Dark Walnut falls within the cool color group. Also, it's important to note that the undertones and tints will vary depending on the type of wood you use.
Dark Walnut Stain Undertones
It's hard to pinpoint the precise undertones for stain colors as they change based on the natural grain of the wood.
With that said, we did several tests with the oil-based Dark Walnut on different types of wood as pictured below. Dark gray and black undertones were prevalent on each type of wood.
As with any paint or stain color, the lighting and other items in the room will greatly impact the look and feel. Keep that in mind as you are considering this color and decide on what kind of vibe you want for the whole room.
How do different types of wood look with dark walnut stain?
Like with paint colors, it is always a good idea to do a test stain first. You can easily do this on a piece of scrap wood that's the same type of wood you are using.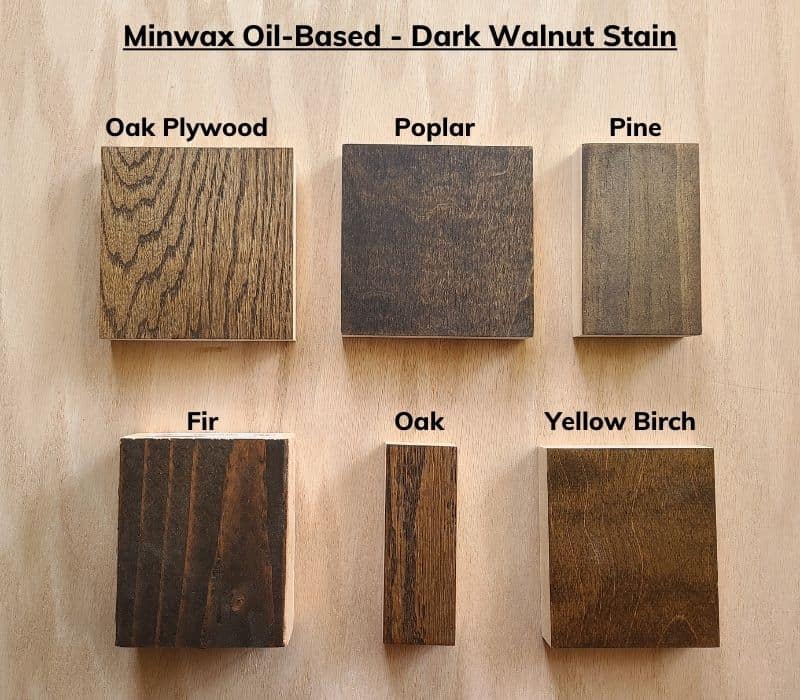 We tested the oil-based version of Dark Walnut on oak plywood, poplar, pine, fir, oak, and yellow birch.
Oak Plywood
Believe it or not, plywood can be stained for a beautiful result!
For this example, this type of plywood was made with a veneer of oak – a hardwood. Hardwood plywoods are great options for staining (like we did with this banquette) because of the pretty wood grain.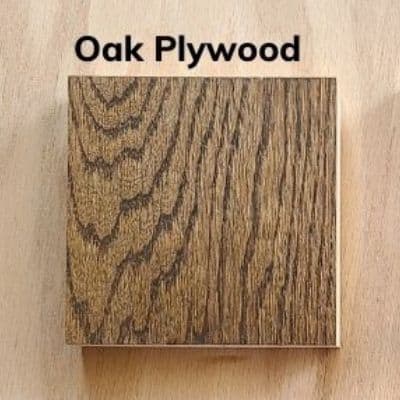 You can see that the wood grain shows through beautifully and the stain is a nice, neutral color that will match well with just about anything.
Projects with Oak Wood:
Poplar
Poplar isn't the most beautiful piece of lumber, but it is stable and durable (and usually pretty affordable).
Because of the lack of wood grain and slight green undertones, poplar was the least exciting piece of wood that we tested.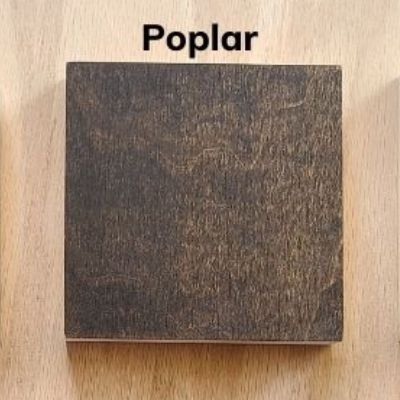 It's just kind of…underwhelming. If you are going for a high-end look, steer clear of poplar for staining.
Projects with Poplar Wood:
Pine
Dark Walnut completely changed the look of the pine wood. There wasn't much wood grain to enhance, but it would still look nice as a project. Pine definitely dried much lighter than the other types of wood we tested.
Pine is known for absorbing stains unevenly, especially with high-pigmented stains. Using a pre-stain conditioner can help combat this. Keep that in mind throughout the application process.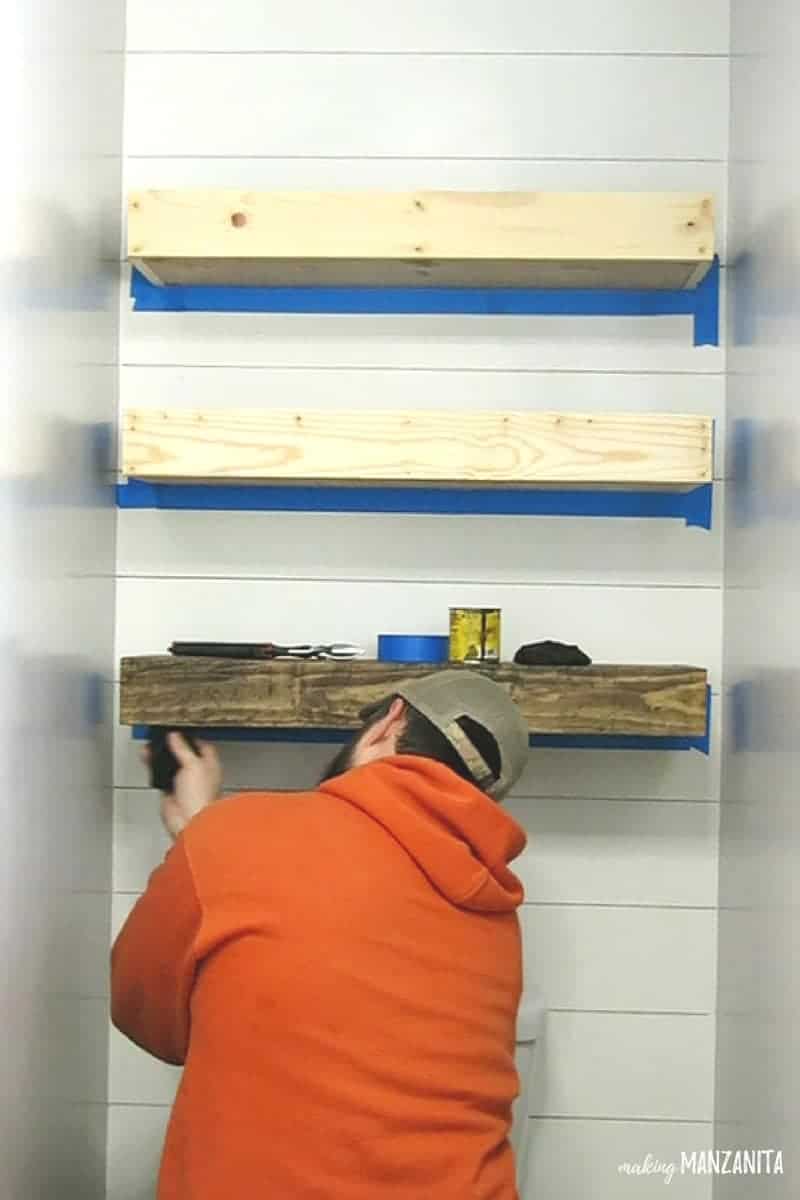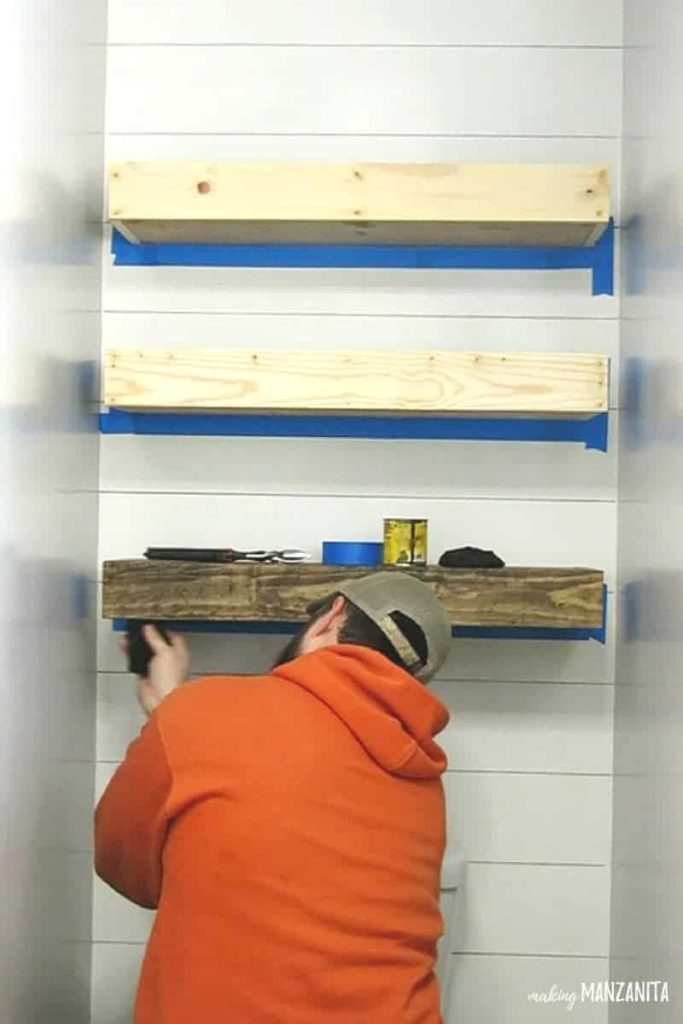 Projects with Pine Wood:
Fir
Fir gave us a beautiful result for this test! You can see the wood grains that really popped through after the stain was applied.
Normally, I would advise against staining fir because of the reddish-brown tint, but that played really well with the dark walnut stain.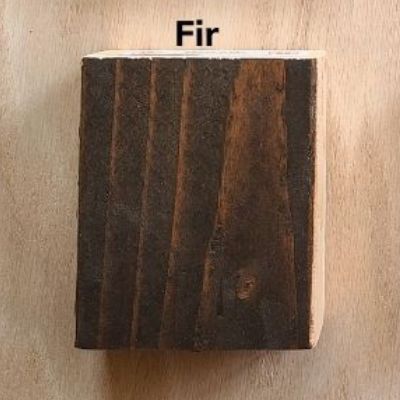 It's a great option for furniture making and is a super strong piece of lumber.
Projects with Fir:
Oak
Oak is a solid piece of lumber that's commonly used in furniture. The photo below shows the beautiful wood grain that pops through the rich stain color.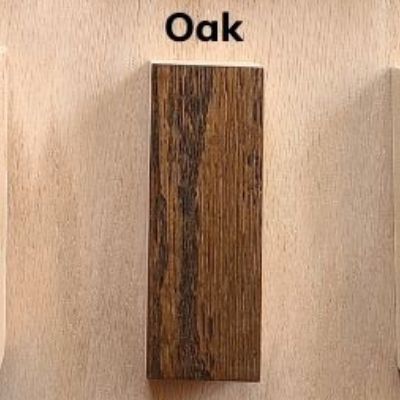 The combination of the dark walnut stain and the oak would make a beautiful desk or sturdy shelving.
Projects with Oak Wood:
Yellow Birch
Birchwood is one of the most popular hardwoods because it's easy to work with, affordable, and readily available. It's a favorite among woodworkers because it planes and sands to a smooth finish.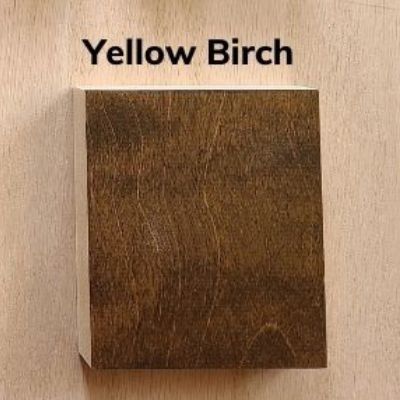 When stained or finished, birch produces a beautiful end product with subtle wood grains and nice coloring.
Projects with Birch:
Coordinating paint colors for Dark Walnut Stain
Dark Walnut stains look great with other dark colors, like plums, blues, greens, and dark reds.
Alternatively, lighter colors like off-white, light grays, and other neutral shades can pleasantly contrast the eyes.
Don't be afraid to mix different shades of stained wood and different types of wood in a room. It's fun to incorporate these different elements into your whole house color scheme.
Stain Colors Similar to Dark Walnut
There are several other dark wood stain colors that are very similar to Minwax Dark Walnut. They are so similar that it can be hard to tell the difference until you put them right up next to each other like they are pictured below.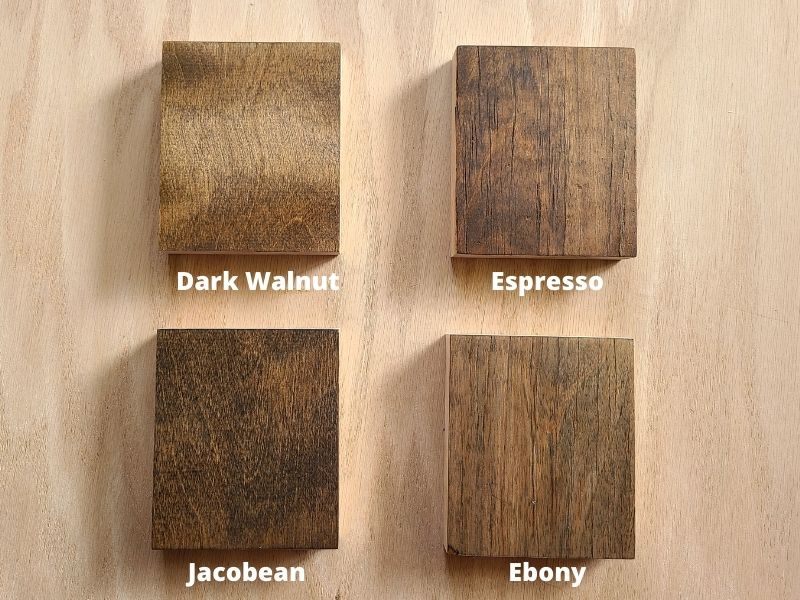 Is dark walnut or Minwax Espresso darker?
Espresso is darker than Dark Walnut with warmer brown hues and a slightly more red tone.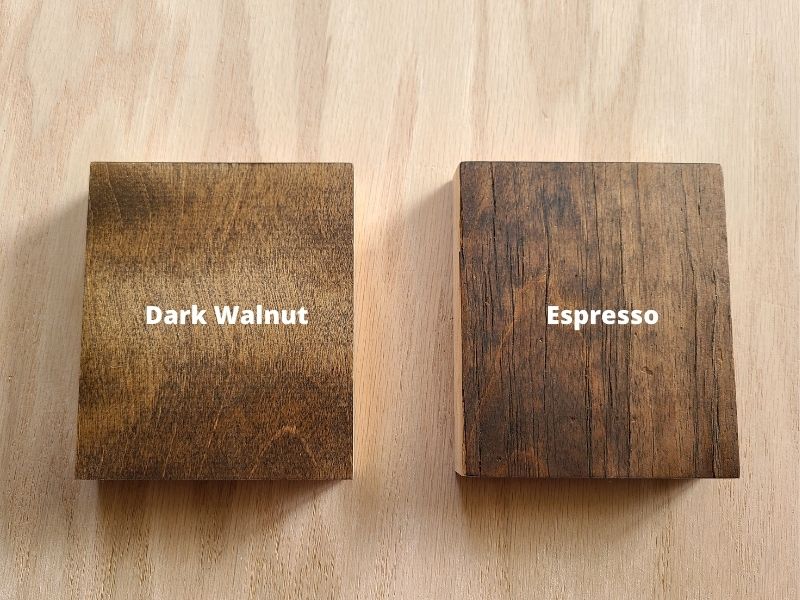 Is dark walnut or Minwax Ebony darker?
Ebony is considered a dark stain, but it is still lighter than dark walnut. It has more black and gray tones vs the brown tones found in dark walnut.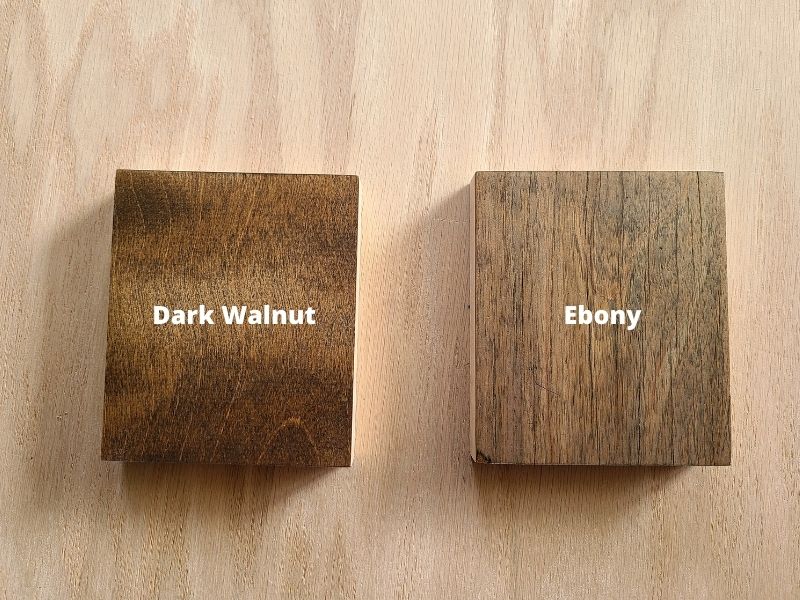 What's the difference between Jacobean and dark walnut?
Jacobean is very similar to Dark Walnut but a bit darker. Jacobean gives off a more rustic vibe than dark walnut.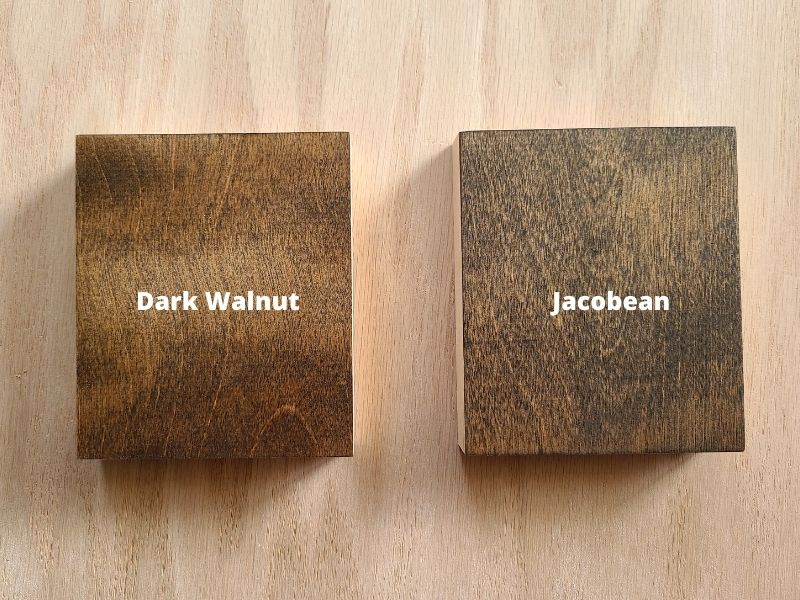 Additionally, Jacobean has a subtle hint of redness to the dried product. However, tints and undertones are also impacted by the type of wood used, which will vary with every application.
Minwax Dark Walnut vs. Varathane Dark Walnut
Minwax and Varathane are two leading brands in the market. They both make wood finish products – in fact, they both make a Dark Walnut stain color; however, the shades differ between them.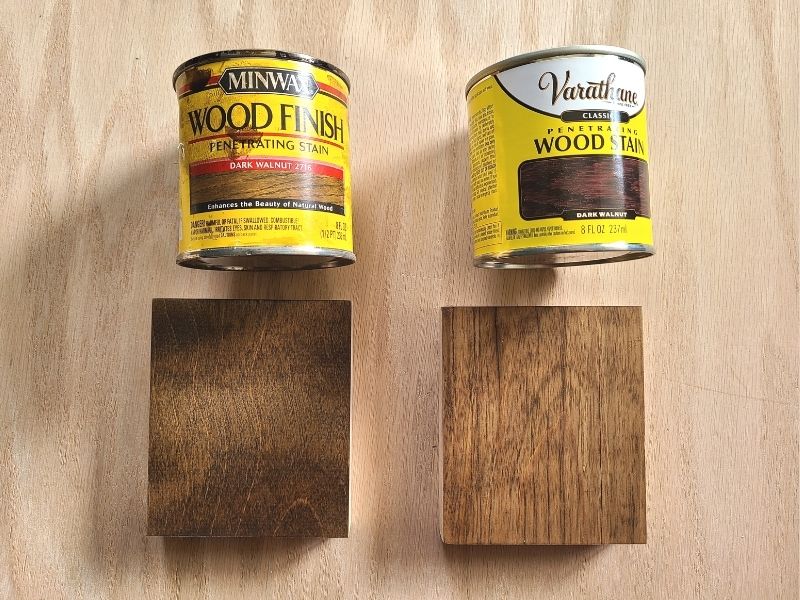 Arguably the most important difference between the two brands is the different shades of the same color. It's easy to assume they will be the same color after drying, but there are so many nuances between different brands. Take a look at the example below.
The photo below shows the same stain color from Minwax and Varathane. Can you see the contrast?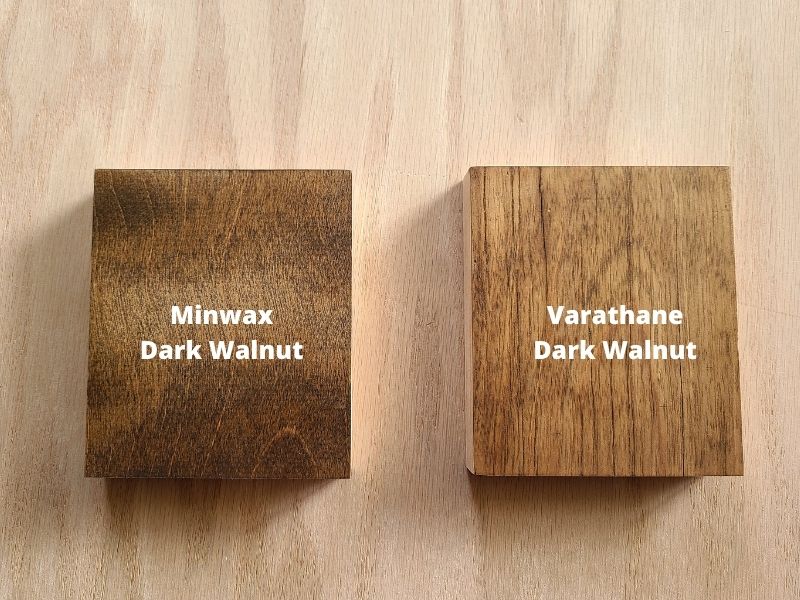 Minwax Dark Walnut is definitely a bit darker and richer than Varathane's version of Dark Walnut stain.
Both shades are very different from each other. If you were to stain half of the project with one brand and the other half with the other, your project would likely look splotchy and discolored. This is why it's so important to begin and finish a project with the same brand and color of the stain.
No matter where you choose to use this beautiful stain – furniture pieces, interior home accents, cabinetry, decor items, etcetera – this beautiful shade of Minwax Dark Walnut will level up your next woodworking project. With just one coat, this rich stain will enhance the wood's natural grain for a stunning result!
Do you have any other questions about Minwax Dark Walnut stain color?
Let us know in the comments below!