Minwax Ebony is a grayish-black wood stain that instantly intensifies the vibe of a room. The natural wood grain shows through beautifully on furniture, hardwood floors, and home decor items. If you are considering a deep-colored wood stain, this guide is for you!
Ebony isn't exactly a common stain color in home decor. It's a black-gray shade that adds total moody, sophisticated vibes to a room. While it's still comfortable enough for our family home, it reminds me of an upscale furniture store.
Gone are the days when wood stain was only for hardwood floors and furniture! Stains can be used for so many different projects, including rehabbing thrift store finds, like this magazine rack. Just about any type of wood stain can be applied to furniture, doors, trim, molding, cabinetry, decor items, and more.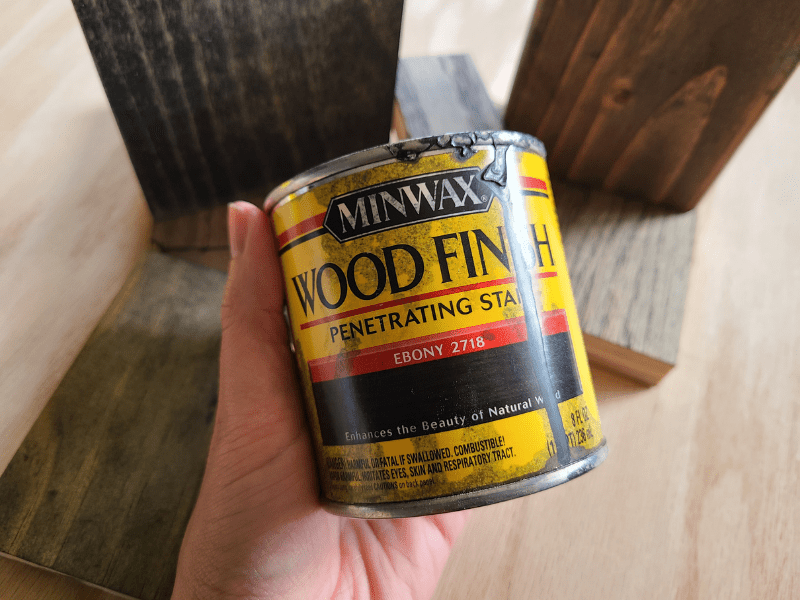 This Ebony wood stain review contains affiliate links, but nothing that I wouldn't recommend wholeheartedly. Read my full disclosure here.
Today, I'm sharing this amazing, rich wood stain with you that I love – Minwax Ebony. This shade is a beautiful, rich, intense color with so much versatility! All you need is a single coat to take your project to the next level.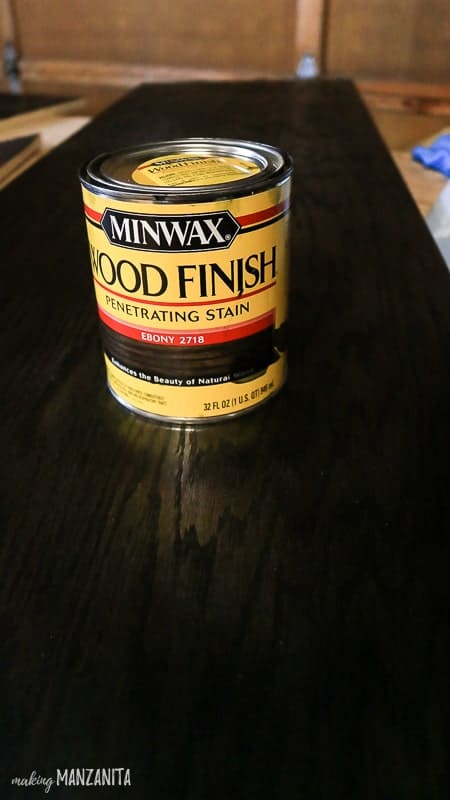 Minwax Ebony Stain Overview
Minwax Ebony is an oil-based stain that is ideal for staining unfinished wood furniture, cabinets, doors, trim, molding, and even hardwood floors.
We've used this stain on a variety of projects, like our super popular Banquette Booth Seating. I love how it plays so well with different wood grains, paint colors, and even other shades of stain.
Plus, a paint-over stain technique can reduce the intensity of the black-colored stain. We did this with a little bit of watered-down white paint for our advent calendar and cookbook stand for a gray wash finish.
Will the stain get darker with polyurethane?
Oil-based polyurethane can dramatically change the color of stained and unstained wood. When applied to water-based or oil-based wood stains, oil-based poly will continue to darken the wood and stain as time goes on.
Oil-based poly is best for darker types of wood that are warm enough to hide the yellowish-amber hue.
Water-based poly will remain clear for the lifetime of the project, so it's safe to use over light woods like maple without worrying about yellowing.
Wondering which to use? Here's a guide that explains the difference between polyurethane and polycrylic.
Is Ebony stain cool or warm?
Minwax Ebony has such intense, black and gray undertones, placing this shade within the cool color group.
Before beginning your project, I recommend testing the stain color on various types of wood so you can see how the undertones and tints will translate through each piece of wood. We did a test with this stain on 5 different types of wood. Those photos are below.
What are the undertones of Ebony wood stain?
Because each type of wood absorbs stain differently, it's difficult to pinpoint the precise undertones. There are many things that impact the appearance of undertones with stain and paint colors: natural wood grains, hardwood vs. softwood, moisture in the wood, etcetera.
With that said, we tested the oil-based Ebony stain on six different popular types of wood and the dark gray and black undertones were the common denominator.
As with any paint or stain color, the lighting and other items in the room will greatly impact the look and feel. Keep that in mind as you are considering this color and the vibe for the whole room.
How do different types of wood look with Ebony stain?
I always recommend testing stains and paint colors on a few different types of wood before starting any project. You can easily do this on a piece of scrap wood that's the same as you'll use for the project.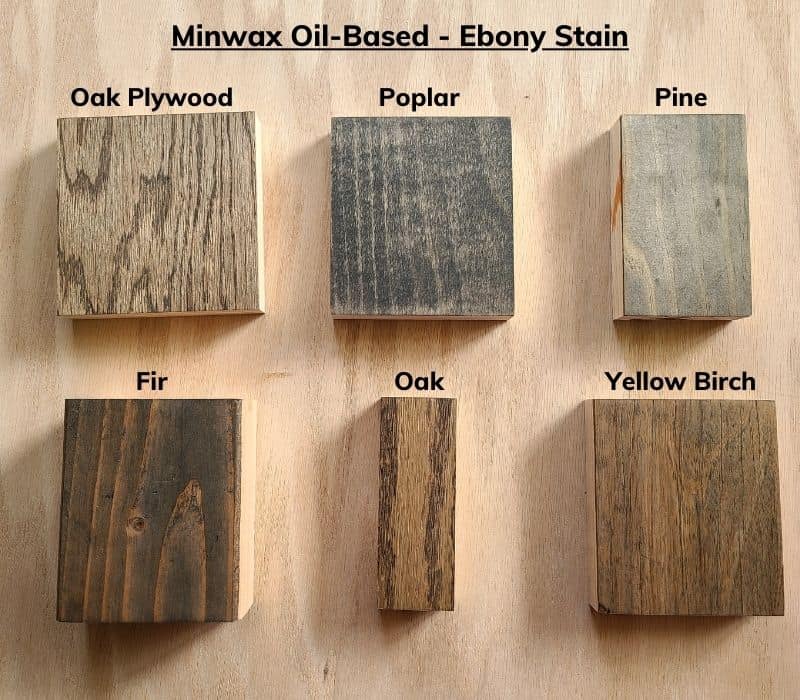 We tested the oil-based version of Ebony on oak plywood, poplar, pine, fir, oak, and yellow birch.
Oak Plywood
The lighter stained wood has been a popular trend lately, and it's beginning to grow on me. You can see here that the stain is showing as light and neutral and allows the natural wood grain to show through beautifully.
Oak plywood is made from oak, which is hardwood. Hardwoods are great options for staining (like we did with this banquette) because of the pretty wood grain and durability.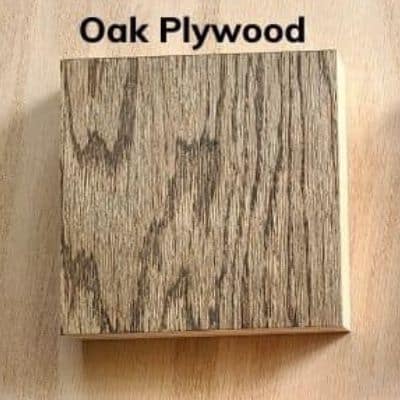 Related: Learn more about buying plywood in this guide!
Projects with Oak Wood:
Poplar
Poplar isn't known for its natural beauty, but it is a stable and durable piece of lumber that is typically fairly inexpensive.
Poplar usually does not take stain very easily and leads to a blotchy finish. Poplar isn't a type of wood that usually looks very good with stain, so most people end up using a natural finish or painting it.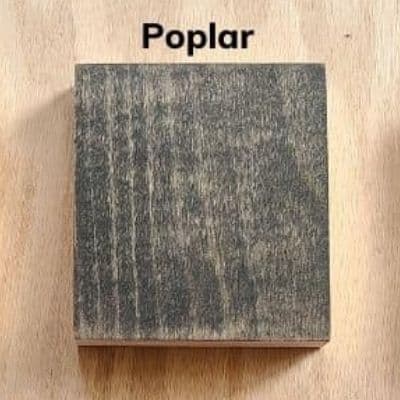 Because of the lack of wood grain, blotchiness, and slight green undertones, this was the least exciting test we did. The combination of the dark Ebony stain color and the lackluster wood grain was definitely underwhelming.
The stain looked almost worn-off and dull. I wouldn't recommend this combination if you are looking for a high-end look.
Projects with Poplar Wood:
Pine
Ebony completely changed the look of the pine wood. There was something about the way pine absorbed the blackish stain that resulted in a gray-washed appearance.
Because of the other stain tests, we knew that pine was going to dry much lighter than the other types of wood.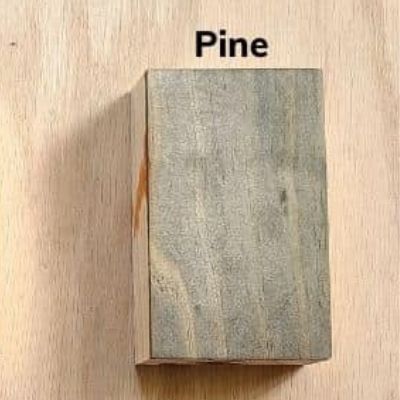 Like poplar, pine is known for absorbing stains unevenly, especially with high-pigmented stains. Keep that in mind during the application process. You can try to use a pre-stain conditioner before staining to combat this!
Projects with Pine Wood:
Fir
If you are into deep, richly stained pieces, fir and oil-based Ebony is the combination for you. Those beautiful natural wood grains really popped through the blackish stain.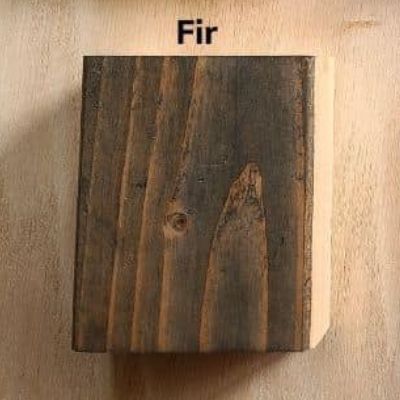 Now, fir has a reddish-brown tint so staining it can be a little tricky, but I love the stain and wood played together.
Fir is a great option for furniture making and is a super strong piece of lumber.
Projects with Fir:
Oak
Oak is a solid piece of lumber that's commonly used in furniture. In the photo below, you can see how the combination of the wood grain and stain produced different depths across the piece of wood.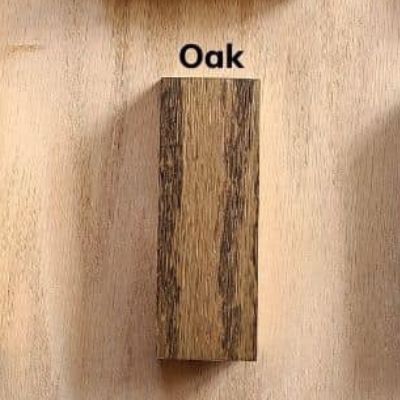 The natural wood grain that pops through the rich stain color would make a beautiful DIY desk or sturdy shelving.
Projects with Oak Wood:
Yellow Birch
Birch wood is one of the most popular hardwoods because it's easy to work with, affordable, and readily available. It's a favorite among woodworkers because it planes and sands to a smooth finish. Birch also cuts, glues, and drills nicely.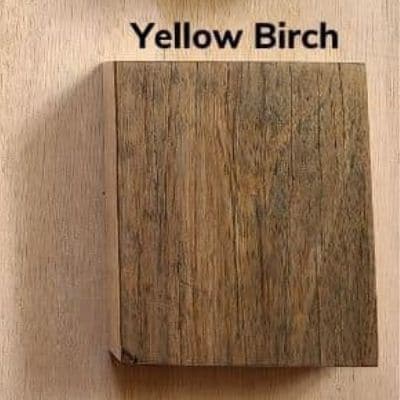 When stained or finished, birch produces a beautiful end product with subtle wood grains and nice coloring.
Projects with Birch:
Coordinating paint colors for Ebony Stain
Because this is such a deep, bold stain color, we've only used this in our kitchen for our banquette bench. We built this from oak plywood and it turned out beautifully.
After the addition of the banquette, there were a few different shades of stained wood and different wood grains in our kitchen in a room. So, don't be afraid to mix stains and wood types throughout your home's decor. It's fun to incorporate these different elements to make your style uniquely yours.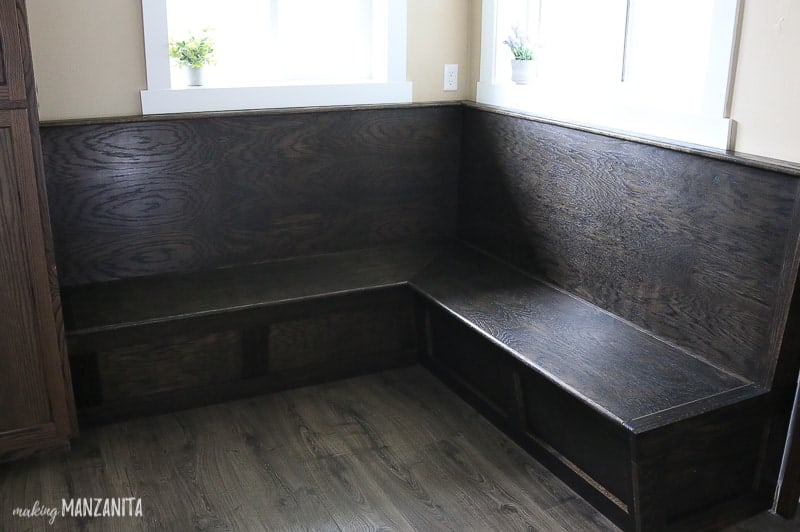 Ebony stains look great with just about any color. Lighter colors like seafoam greens, whites, creams, and other neutrals would really make this color pop in a room.
You could also intensify the mood with rich mustards, earth tones, and darker colors, too. If you choose to use darker shades alongside Ebony stain, make sure there is plenty of natural light so the room doesn't feel too closed in.
What stain colors are closest to Ebony?
Ebony vs. Jacobean
Ebony is a slightly lighter shade than Jacobean. Jacobean has a little more brown to it than Ebony.
Out of all of the other comparisons, Ebony and Jacobean are the two closest in color.
Ebony vs. Espresso
While Ebony is considered one of the darker shades, Espresso has a deeper and richer color with warmer brown hues and a slightly more red tone.
Ebony vs. Dark Walnut
Dark Walnut is definitely darker than Ebony. Ebony has more black and gray tones while Dark Walnut has more brown tones.
Where ever you use Minwax Ebony wood stain, be prepared for a totally different look! With just one coat, this rich stain will enhance the wood's natural grain for a stunning result.
Do you have any other questions about this stain color?
Let me know in the comments below!