When you are choosing between decking oil and decking stain, you've likely wondered what the difference is between the two types of stain. Understanding the benefits, disadvantages, advantages, and differences between decking oil and decking stain will help you make the right choice for your next project.
Whether you are restoring an old deck or sealing a brand new deck (or even sealing outdoor wood furniture), you want to be sure that you're choosing the best finish for the job.
Applying the correct sealant for your wood deck or outdoor wood furniture is one of the most important steps.
So if you're wondering whether you should use deck stain or deck oil, keep reading for an explanation!
This decking oil vs stain comparison contains affiliate links, but nothing that I wouldn't recommend wholeheartedly. Read my full disclosure here.
Recently, our backyard went through a huge transformation from drab and boring to a cozy patio and outdoor dining area. You can read all about those plans here. Check out the before and after pictures of our epic backyard makeover to see for yourself!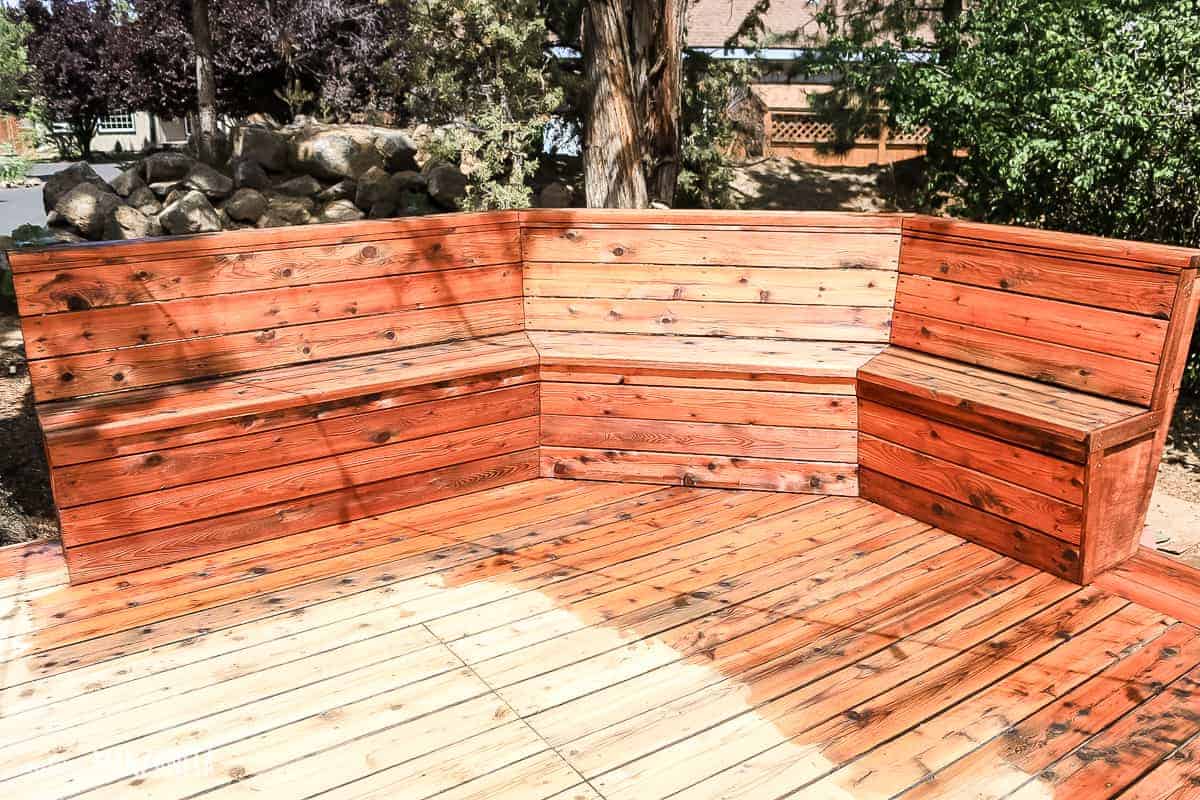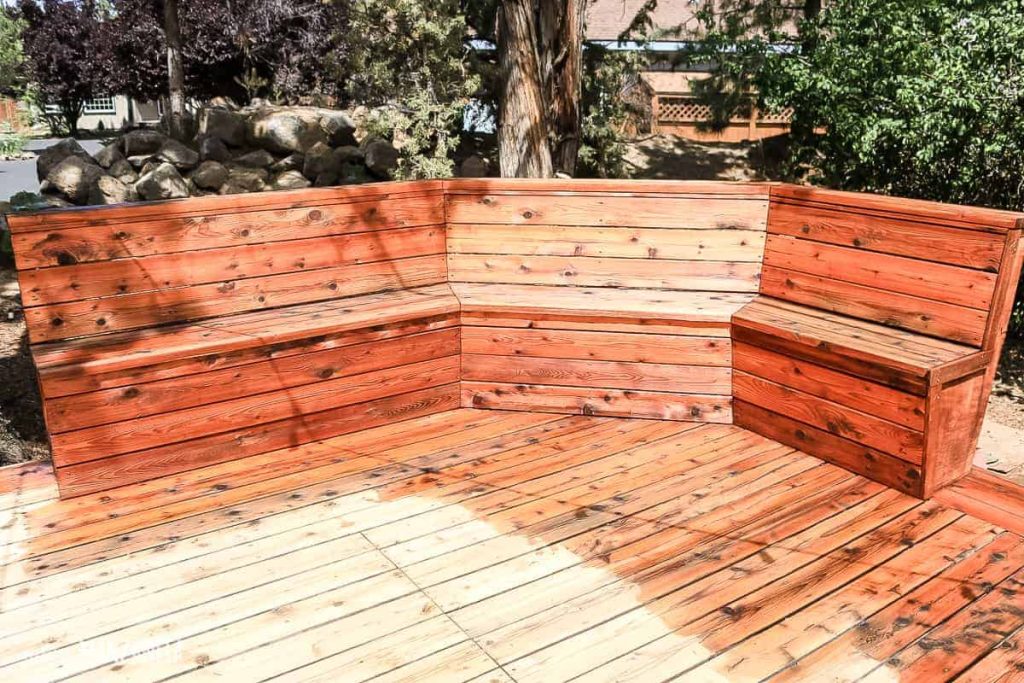 The deck was neglected for years and was in desperate need of TLC. More than one year later, it's still holding up beautifully.
If you are in the same boat, take a few minutes to learn how to restore a deck that's been neglected. You'll also learn more tips like choosing the best deck sealer and the best way to clean decking in the article.
How do you maintain a wood deck?
Regular deck maintenance should be done every year or so. Depending on the climate where you live, you might get away with prolonging your deck maintenance chores.
The humidity, moisture level, and weather conditions are a big factor when looking at how a refinished deck holds up over time and even how it absorbs the stain or oil.
We live in a drier climate (we're technically located in a high desert climate), so we don't have much exposure to extreme humidity or moisture, so we can stretch our maintenance timeline a smidge.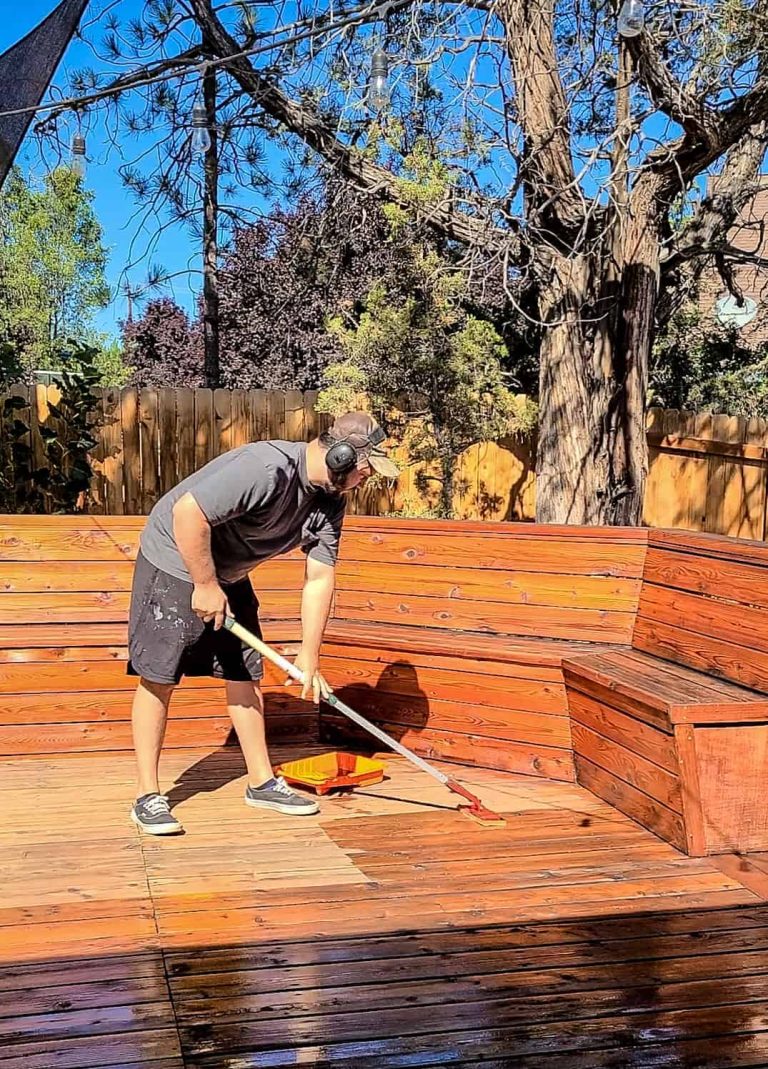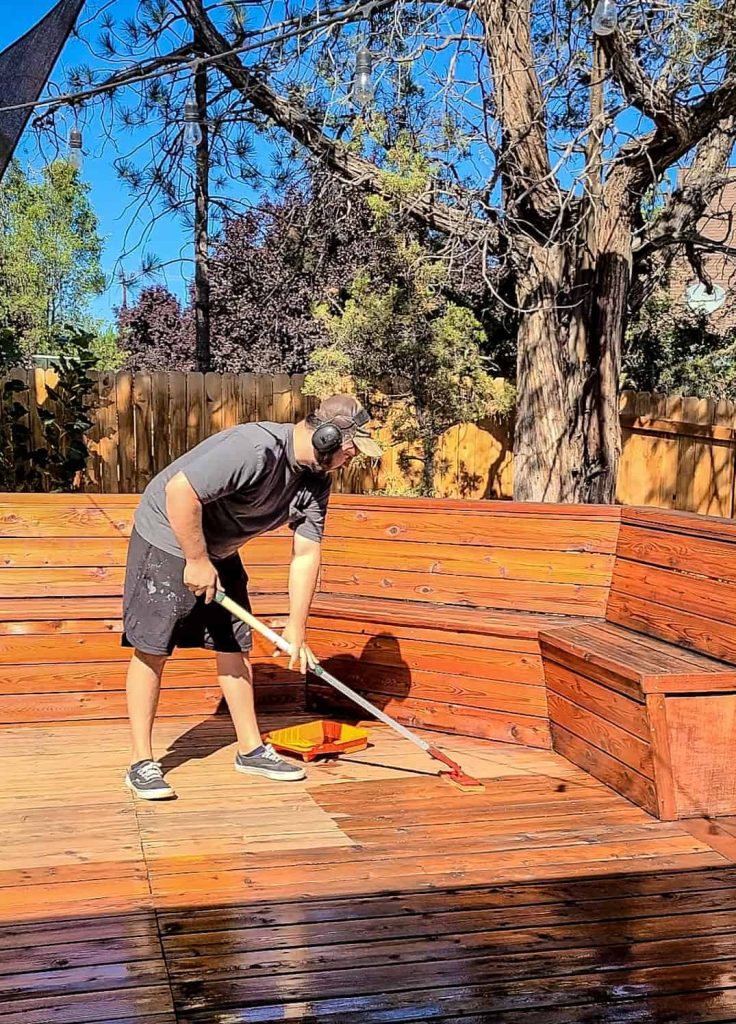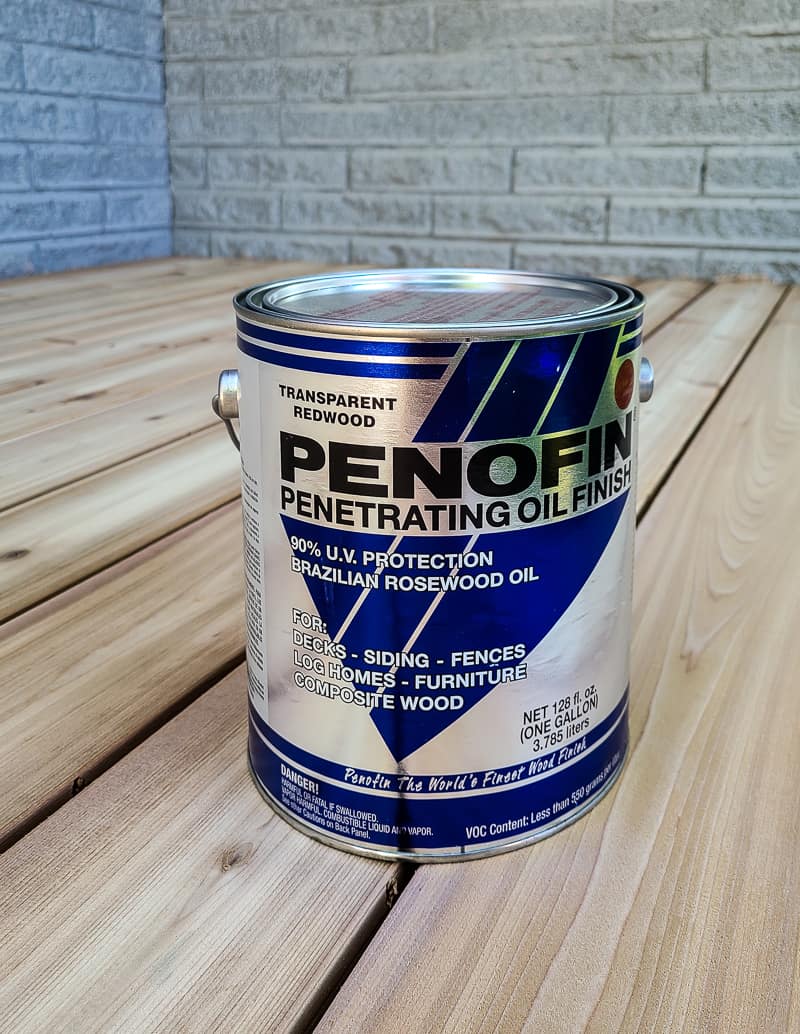 In the past, we've used this Penofin oil for our decking. We love this oil because you don't have to sand or strip the previous layers of oil when it is time to maintain and reapply once you've refinished it!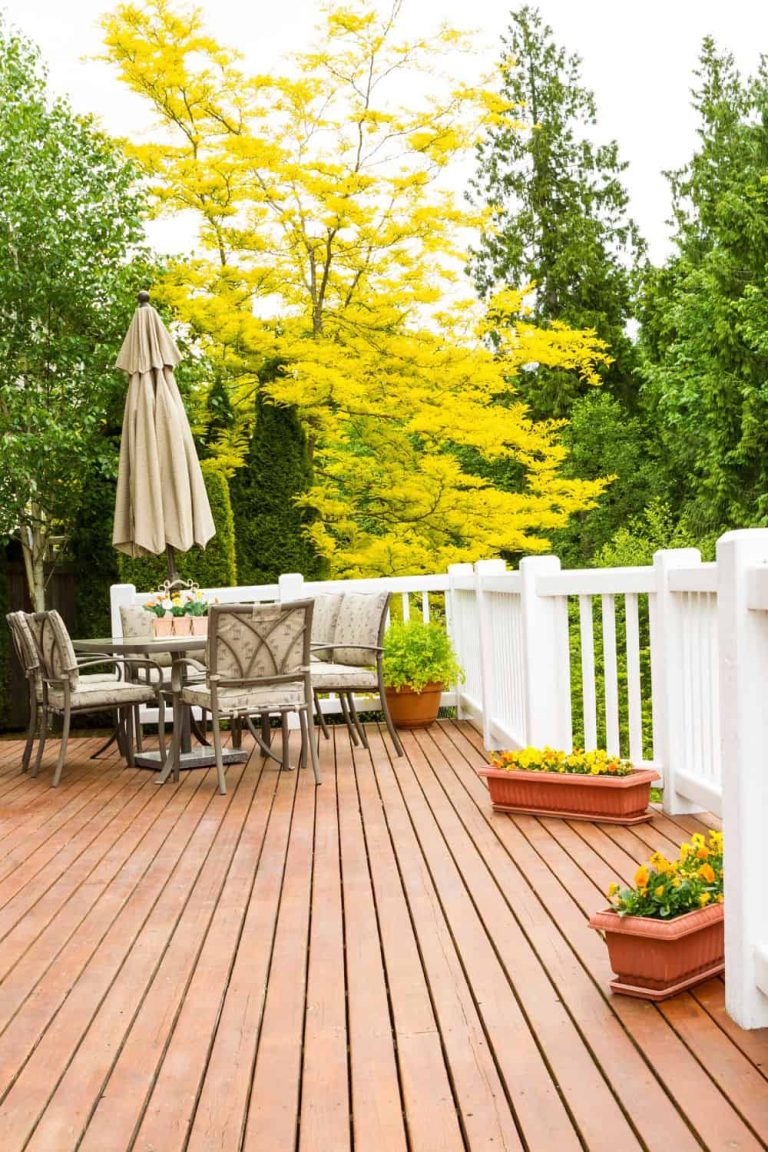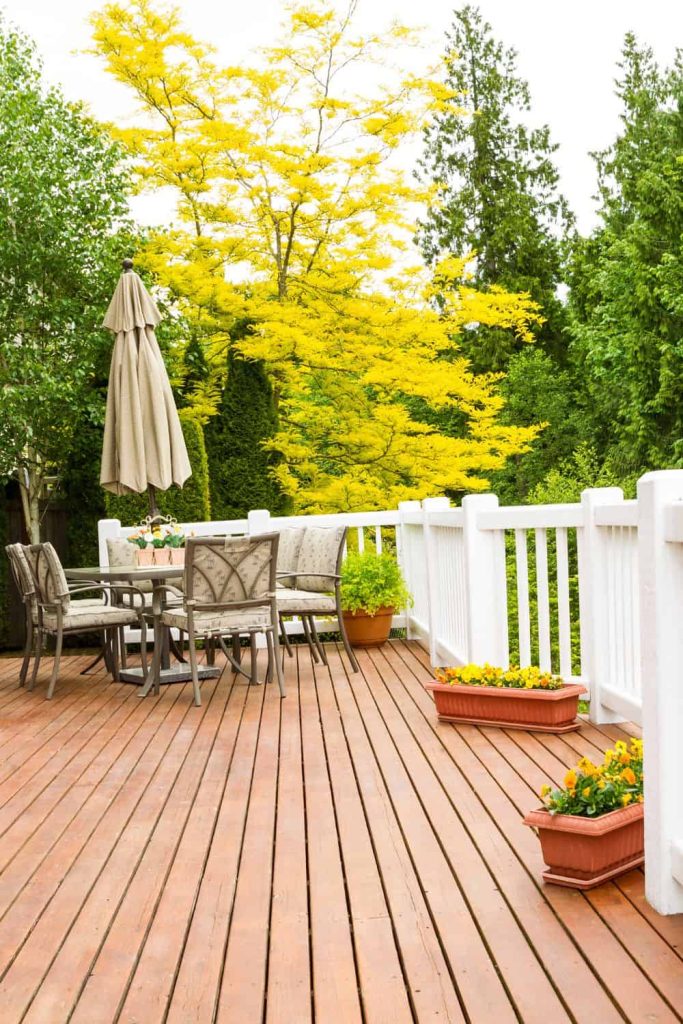 So, how do you know if decking oil or decking stain is better for your project? Let's jump in!
Decking Oil vs. Decking Stain: What's the Difference?
When choosing between a stain and oil, it really boils down to personal preference, how you want the end result to look, and how much time and energy you want to put into the maintenance.
Generally speaking, a stain will completely change the color and appearance of the decking wood. Stains come in a variety of colors and tints, which will appear different as it's applied to different types of wood.
Decking oil will simply enhance the appearance of the wood while maintaining the integrity of the natural wood grain.
While applying a deck stain is a great way to transform an outdoor space, decking oil is better for durability and protection.
Overall, the biggest difference between decking oil or stain is that decking oil is a penetrating finish and stain is a surface-laying finish.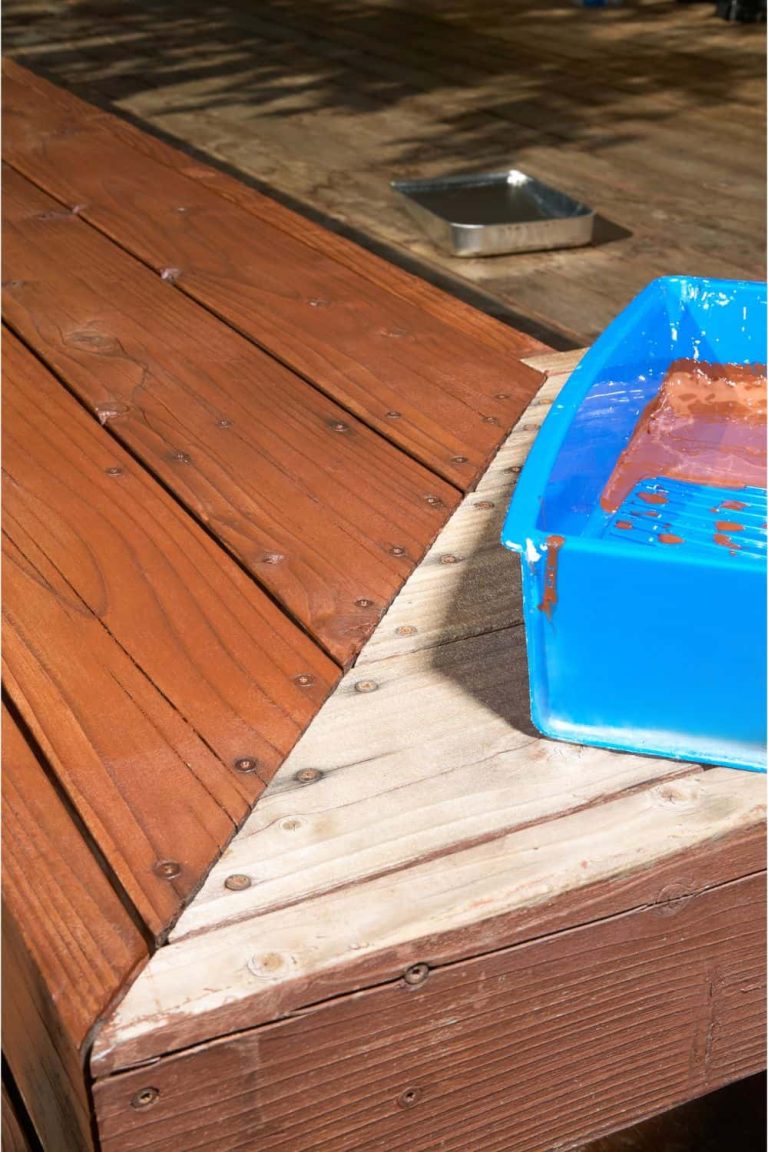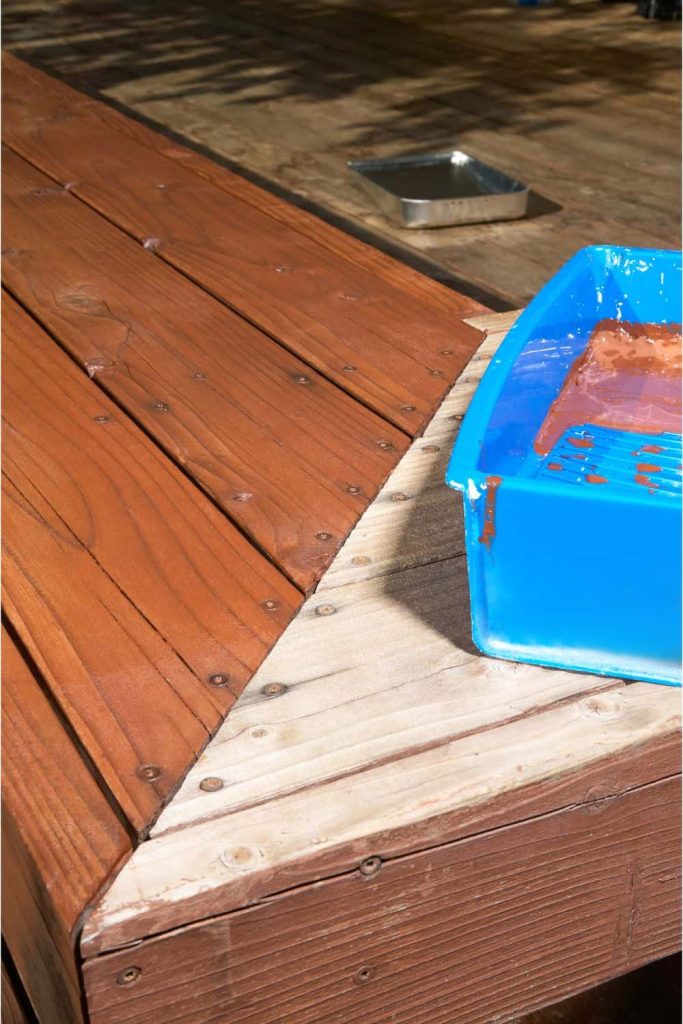 Decking Oil Overview
Decking oil is used to protect the wood from moisture, weathering, and UV exposure. Available in clear and colored, decking oil preserves the natural features of the wood and nourishes the wood as the natural oils fade over time. It's also worth noting that darker-colored oils provide better UV protection than clear.
Unlike wood stain, oil is not designed to change the overall appearance or color of the wood; however, the wood can sometimes darken slightly after the oil has been applied. I really like the way decking oil allows the wood grain to show through unlike other surface sitting stains and deck paints.
Decking oil can either be oil-based or water-based. Keep in mind that when you're working with an oil-based product, clean-up will need to happen with mineral spirits vs soap and water, which can be used for water-based products.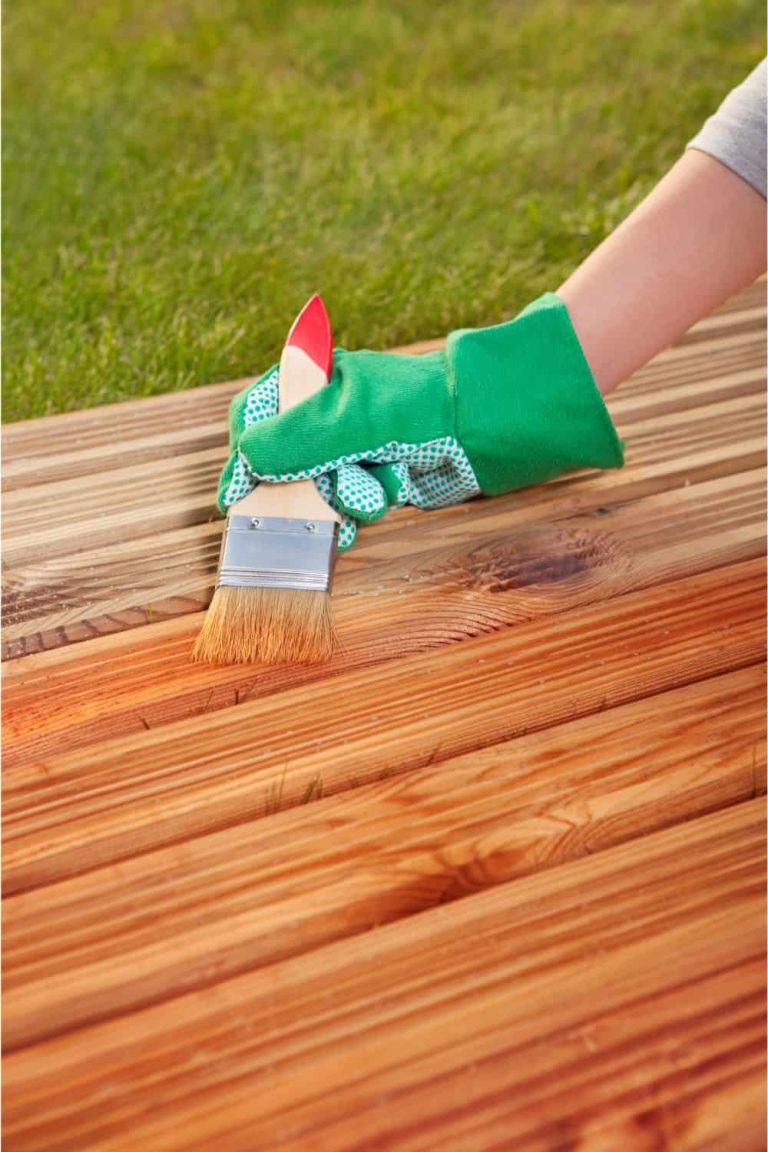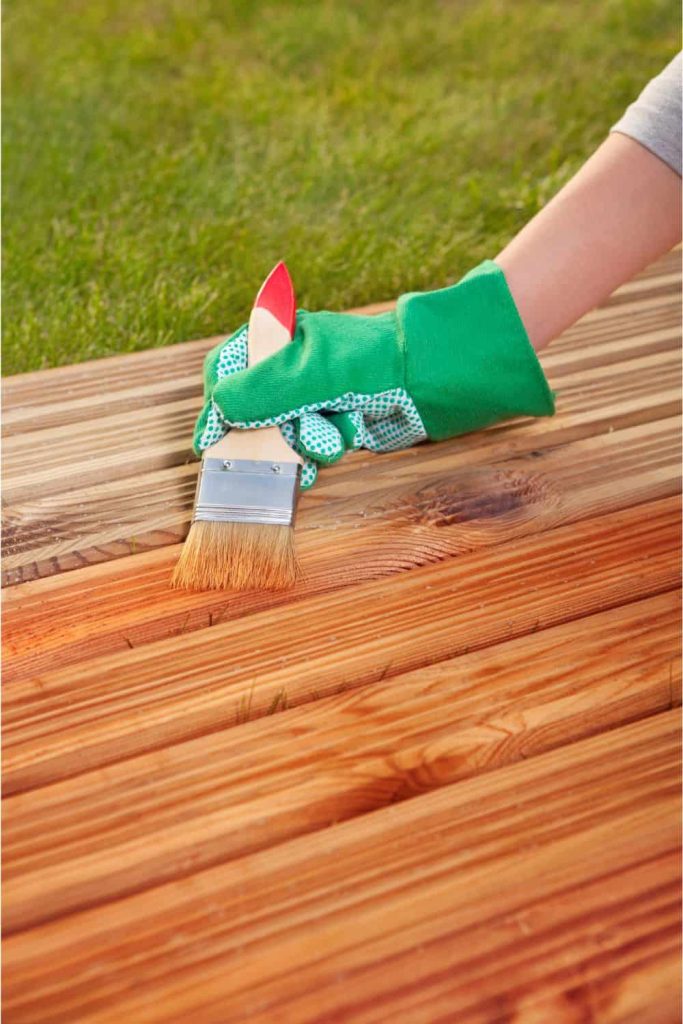 Applying decking oil to a deck is a relatively easy process to master and can protect the deck from warping, splitting, and cracking as the wood ages. We explain two methods of applying decking oil here.
Just like with other home improvement projects, regular maintenance is required to keep your deck looking fresh. We recommend a regular application of deck oil about once per year, no matter what application method you choose.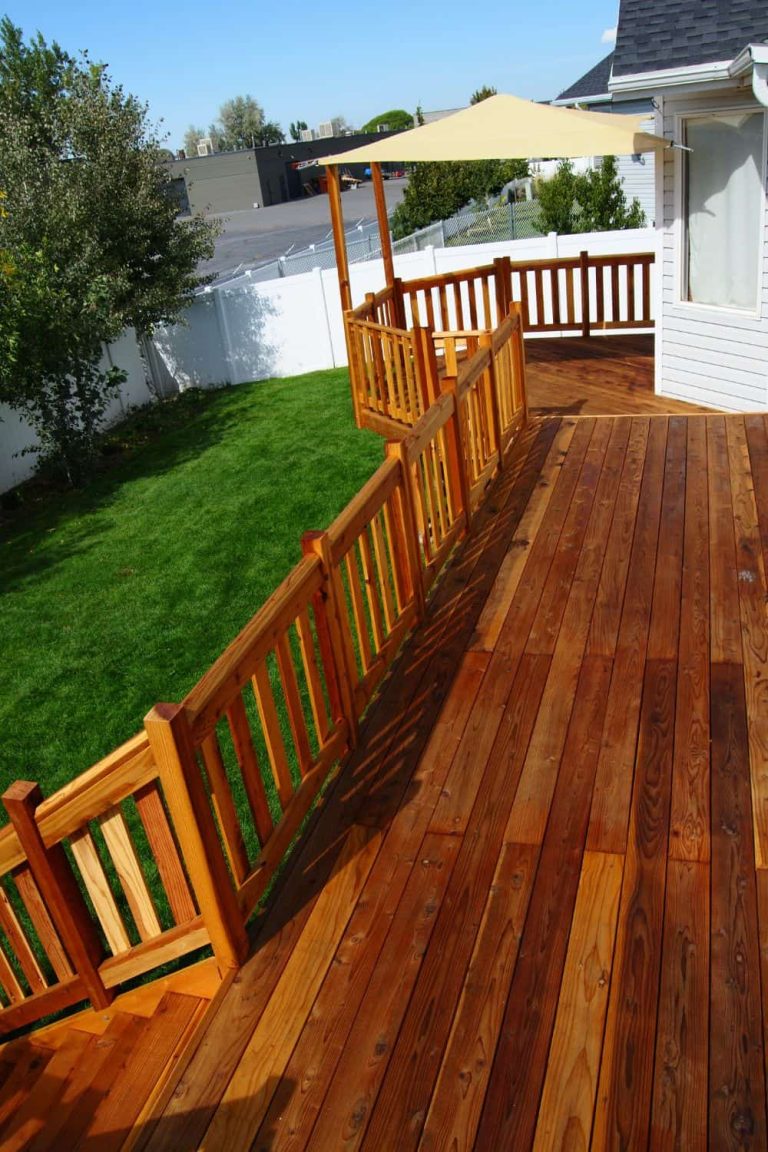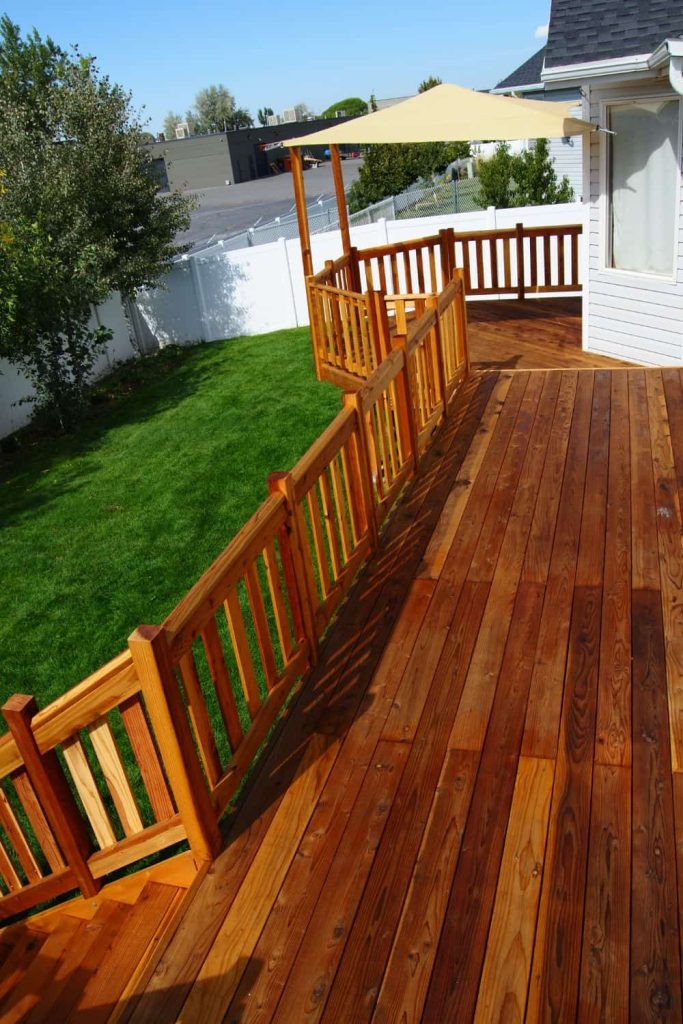 Decking Oil Pros
The great thing about decking oil is that it's easy to apply and maintain and comes in a variety of colors. Plus, there's no need to strip the decking boards when you need to add a maintenance top coat or repair a small patch.
The thing that's really great about decking oil products is that it sets quickly and is dry within about 4-8 hours.
While I wouldn't recommend using the deck to its fullest extent for at least 24 hours, it is rainproof and ready for light foot traffic after it has dried.
Unlike stains and paints, decking oil won't crack and peel away from the wood's surface. Plus, it also adds traction to the wood, making your deck less slippery when water or moisture is present – another advantage over decking stain or paint.
Because decking oil can be applied in thinner layers, you will get a lot of mileage from one can without sacrificing coverage. The thinner consistency allows the naturally uneven texture of the wood to "poke" through which provides better grip and traction potential.
Decking Oil Cons
While you can apply decking oil to any type of wood, it's best to steer clear of exotic hardwoods like mahogany, beechwood, bamboo, and any "colored" woods.
The downside to applying decking oil is that it cannot be restained or painted over later. Instead, the decking boards must be stripped of existing coats and allowed to weather before applying stain or paint. Otherwise, the oil will prevent the stain or paint from sticking to the wood.
Also, it's important to note that the natural coloring of the wood and decking oil could result in a slightly darker color when dried. Much of this depends on the amount of sun exposure, type of wood, and color of the decking oil.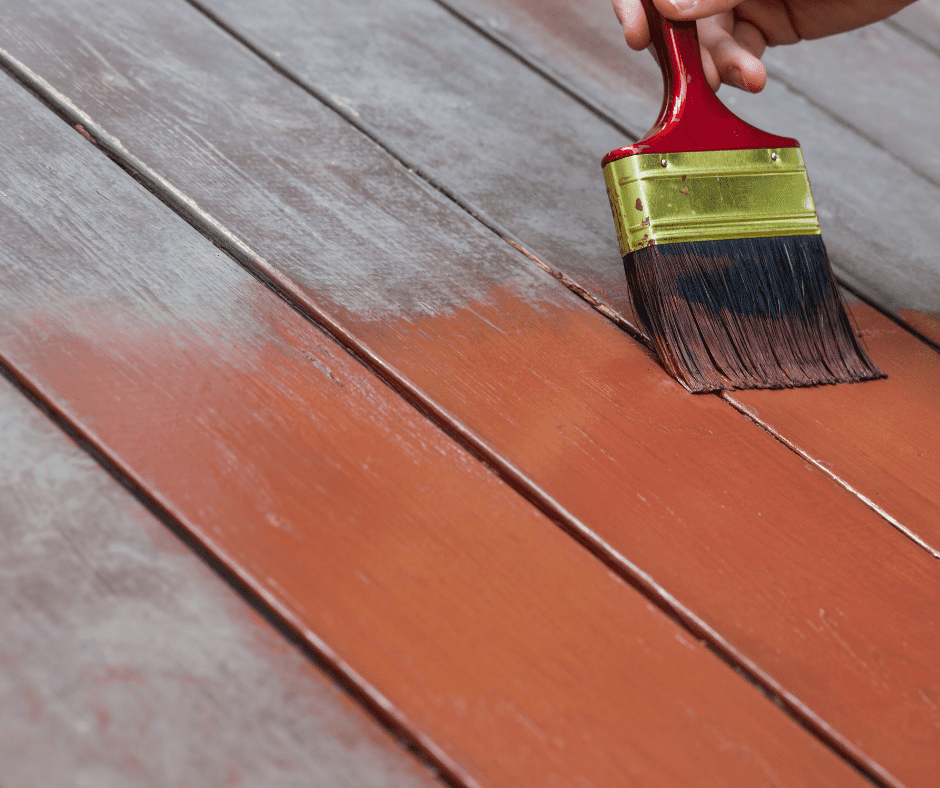 Deck stain overview
Decking stain is a little different from decking oil. Stain is a varnish-like product that coats the surface of the deck. It acts as a barrier between the wood and debris that can damage the wood, protecting the decking boards from sun, rain, mold, algae, and other elements.
Stains come in a wide variety of wood shades and are easily applied with a paintbrush. Stains highlight the natural wood grain while enhancing the overall appearance of the boards.
This product is designed to change the color of the wood. Depending on the type of stain you select, the finish will be either transparent (you can see wood grain totally), semi-transparent (you can see some wood grain), or solid (you can see no wood grain).
Much like decking oil, we recommend restaining every year for maintenance. Ultimately, this depends on how the boards and the stain hold up as it's exposed to the elements (like UV rays, water, mildew, and more).
There are two types of stains you will find at home improvement stores: water-based stains and oil-based stains.
Water-based stains: When applied, this stain sits on top of the wood rather than penetrating it. This type of stain dries much faster than oil-based. Plus, removing the stain from brushes and hands is a piece of cake with only soap and water.
Oil-based stains: This type of stain penetrates the wood, while letting the wood grain still show through. It's also easy to reapply and touch up when needed. Since it's solvent-based, you must use mineral spirits or other chemicals to remove the stain from your hands, tools, and applicators.
Pros of Using Decking Stain
The great thing about using a stain is that it can totally change the look of the wood completely. It's great for revitalizing a neglected outdoor space or changing the look and feel. If you have an unattractive shade of wood with a pretty grain, staining is a great option!
Much like decking oil, stains also act as a protective barrier between the wood and sun exposure and other elements.
Additionally, stains are quick-drying and easy to apply. The space is ready for light foot traffic in a matter of hours.
Cons of Using Decking Stain
One of the main things I don't like about using stains is that it does crack and peel after so much wear and tear.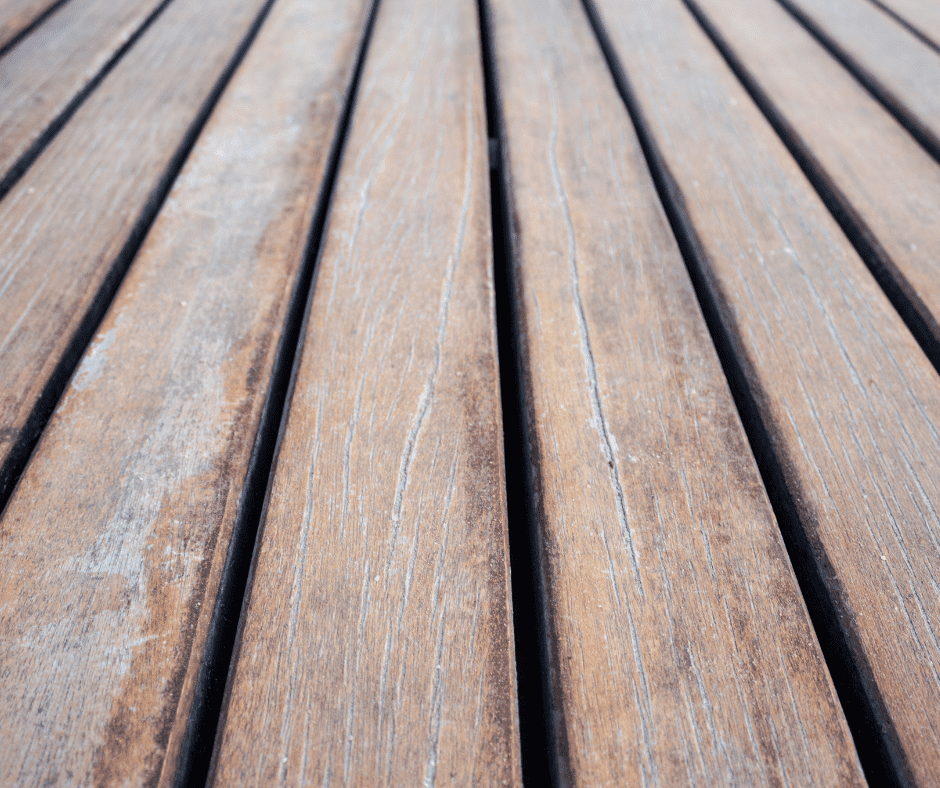 Rather than decking oil, which generally, just fades over time, stain looks much worse as time goes on with the cracking and peeling.
Just know that excessive moisture, super heavy foot traffic, and dragging furniture across the surface can all take their toll on the lifecycle of the deck stain.
If you are using stain to refinish a deck that has been previously oiled or stained, lots of elbow grease will be in your future! Even though it's quick-drying and easy to apply, it can be a grueling task. The decking will need to be completely stripped regardless of the type of sealant previously used.
First, you will need to pressure wash the deck to remove any and all decking oil present. You can't skimp on this process as any remaining oil may repel the fresh stain. It can also be a challenge to strip grooved decking with all the nooks and crannies.
If the boards were previously oiled, it's a good idea to allow the decking to weather for about 3-6 months. This process just prolongs the entire project and exposes the wood to the weather elements, making the deck super vulnerable to damage and discoloration.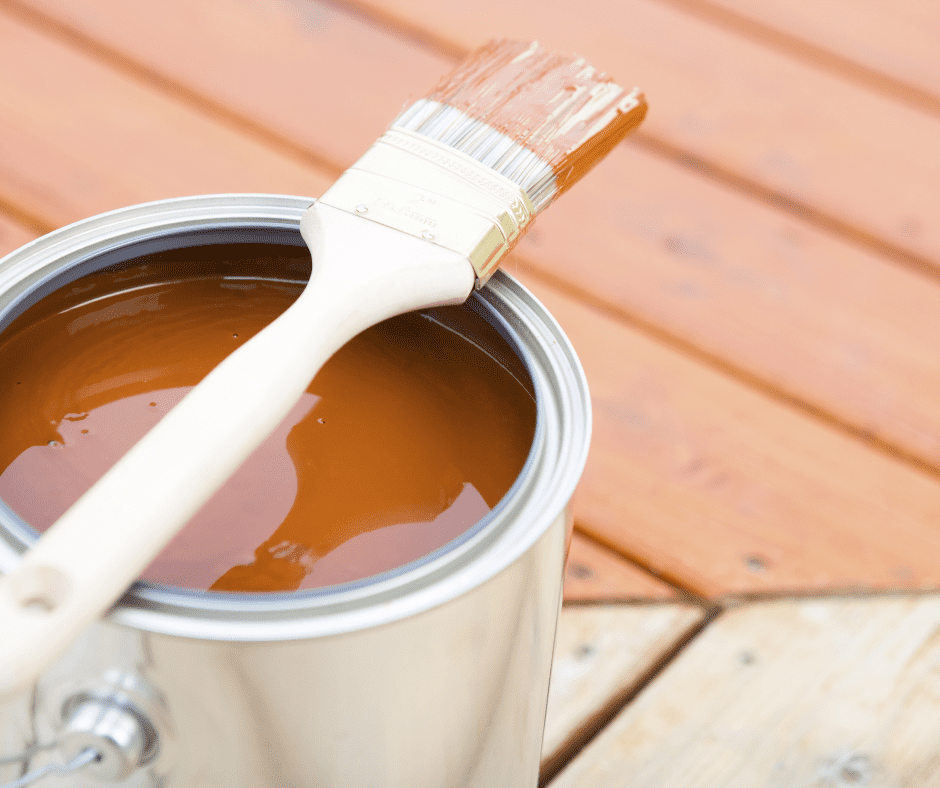 Tips for applying decking oil or stain
Before you begin stripping your old deck or applying anything to your new deck, do your homework on what type of finish will do best in your climate. Weather is a huge factor in the amount of effort required to maintain a deck. Choosing the wrong product will only create more work for yourself.
We have lots of tips and tutorials on how to refinish a deck, different methods of applying sealant, and plenty of other information to walk you through these processes.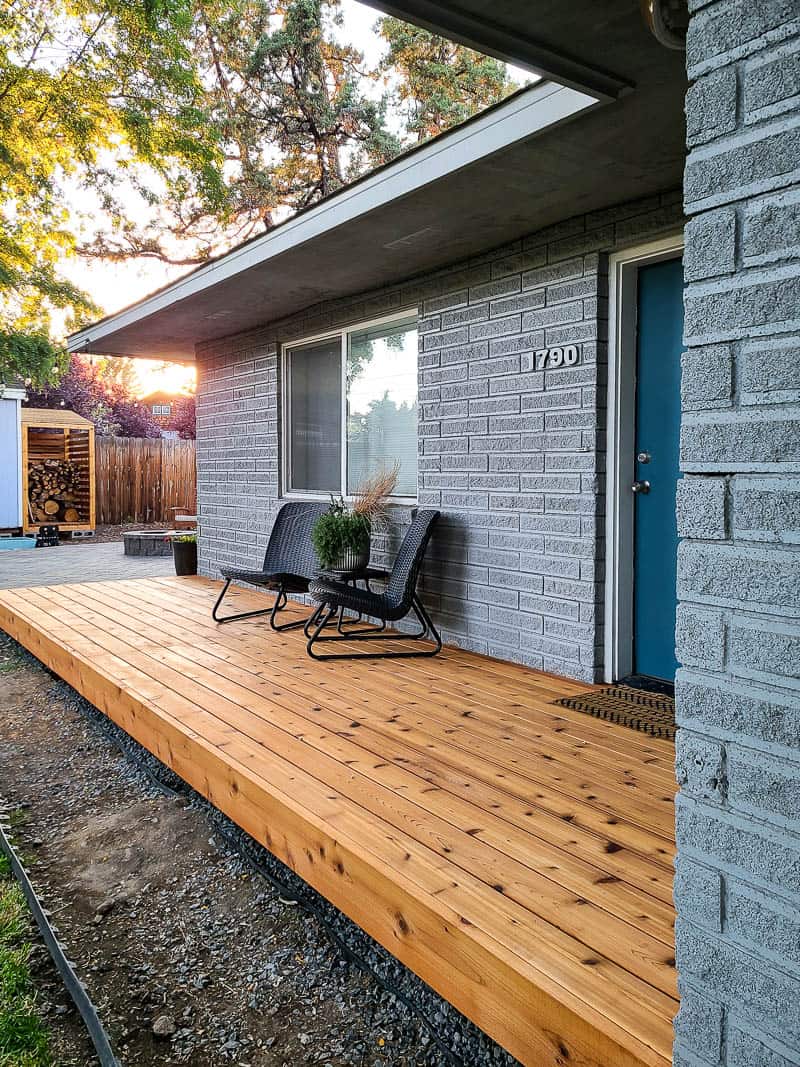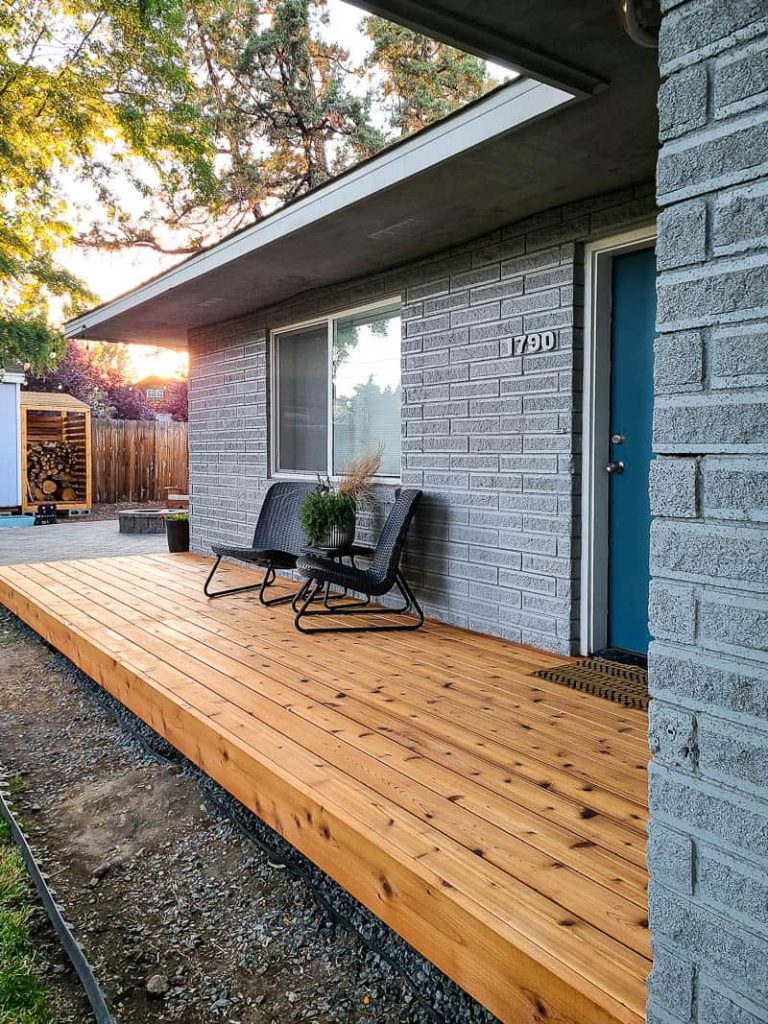 There's a lot involved in a project like this, but below are the basic steps to applying a decking oil or stain.
Clean the deck. You will need to clear the deck of everything. Sweep, pressure wash, move furniture and plants, and anything else from the surface of the deck.
Read instructions on the sealant. No matter what tutorial you follow, the instructions specific to the product you are using are paramount. Follow them carefully. This will tell you how to apply the product correctly, how much to use, and other important information.
Stir the product well. Some of the products will settle on the bottom of the container. Make sure you give it a good stir before using.
Test the sealant. Before you commit to spraying half your deck, do a test on a small part of the deck and allow it to dry to see the full effect.
Check the weather. For the best results, apply sealants during mild weather for a better finish and faster drying time. Applying these products in cold, hot, or rainy conditions will affect the way the sealant and wood work together.
If you take proper care of your deck, your outdoor space will last through many seasons.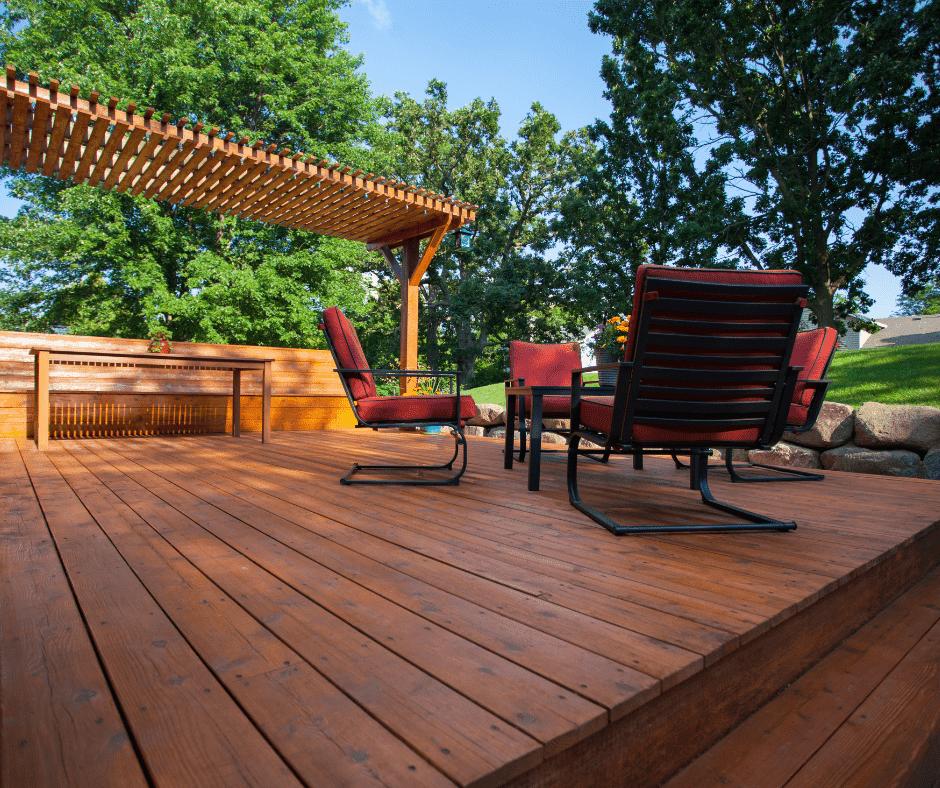 Overall, the biggest difference between decking oil or stain is that decking oil is a penetrating finish and stain is a surface-laying finish.
Oil will penetrate into the wood to provide deeper protection and still allows the wood to "breath". Oil will fade over time, but should not crack or peel. Oil does not need to be sanded down to be reapplied.
Stain sits on the top of the surface of the wood and provides stronger surface protection and barrier, but wood is not allowed to "breath". This means that stain will crack and peel over time. Stain needs to be sanded down to be reapplied.
Do you have any other questions about using decking oil or decking stain?
Let us know in the comments!