If you are planning a modern farmhouse tile project like a kitchen or bathroom, you're going to love these farmhouse tile ideas!
LOOKING FOR HOW TO TILE A BATHROOM FLOOR? Hop over to this post for the full tutorial!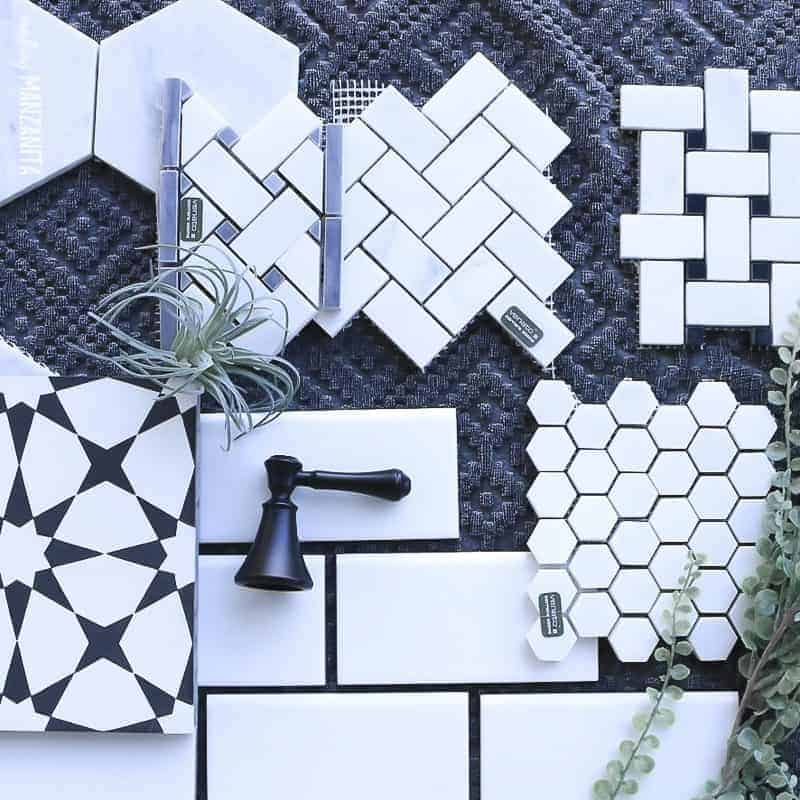 When I was making the design plan for our modern farmhouse bathroom, one of the most exciting design choices was the tile flooring.
I'm kind of obsessed with the look of white carrara marble, so I knew I wanted to go with something like that. But the fun part was selecting a shape and size of the farmhouse tile.
There are so many options nowadays for tile flooring that it can be a little overwhelming. So I've got done the hard part for you. I've narrowed it down to 9 great options for modern farmhouse tile!
This farmhouse tile post contains affiliate links, but nothing that I wouldn't wholeheartedly recommend anyway! Read my full disclosure here.
You're going to love these modern farmhouse tile ideas!!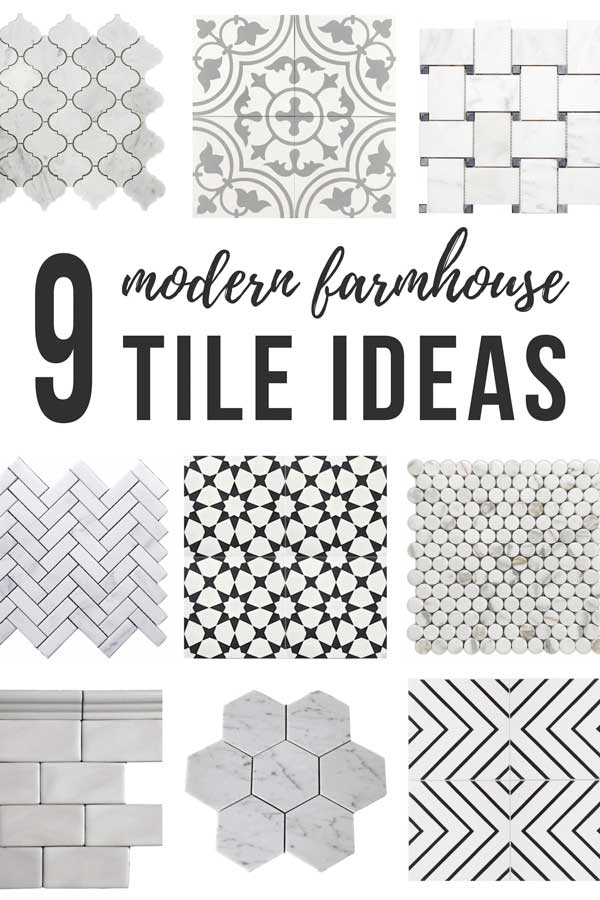 The arabesque shape of this marble farmhouse-style tile brings in a traditional feel to this tile choice. I also love the gray flecks in this marble option.
These are handmade authentic cements tiles with a gorgeous pattern that fits right in with the modern farmhouse style.
You seriously can't go wrong with something classic like a basket weave pattern for your farmhouse tile. I like the look of the gray dots, rather than the starker contrast of black.
The subtle variation of the marble look on this small herringbone pattern brings in a great texture!
I just LOVE the interesting pattern to this farmhouse tile!
We incorporated it into our shower niches in this bathroom (see reveal here) and another version of the same pattern but in gray in our master bathroom (see reveal here).
Also, see how we used the leftover tiles with this DIY wood tray & DIY laundry hamper.
The veining of the gray and gold in this marble is gorgeous, right? The penny tile is another very classic tile pattern that you can never go wrong with!
This is subway tile, but with a farmhouse twist. There's a handcrafted look to it that brings in a well-worn and almost vintage feel that goes hand in hand with the modern farmhouse style. This would look so cool installed as a kitchen backsplash!
The hexagon shape puts the modern in modern farmhouse! And I absolutely love the light gray look of this marble collection. This one was the winner for us and we incorporated into our bathroom!
Learn how to tile a bathroom floor here and see how the boho bathroom turned out here! (Also check out these fun DIY marble coasters we made with the leftovers here!)
Last, but not least, is a cement tile with super fun and very modern pattern. I love the contrast of this one!
Aren't they all amazing?! I know…how did I ever decide between all of these modern farmhouse tile ideas?
---
Tile Shopping Tips: How to Pick the Perfect Farmhouse Tile
Here are some tips if you are deciding on the tile for your home renovation project.
1. Definitely order tile samples.
Even if you are purchasing your tile in person, rather than online as we did – samples are crucial when selecting tile. It is so helpful to be able to hold the tile samples up to your furniture, paint, decor, and even other coordinating tile.
In our boho farmhouse bathroom, we're planning on a whole wall of subway tile above the vanity and the entire shower will be white subway tile as well.
This definitely became a factor when we were deciding on the farmhouse tile for the flooring. I wanted something with a unique shape, design, and size to complement the white subway tile, so it was important to hold the tile samples next to the subway tile before ordering.
2. Order 10%-20% extra tile.
After you measure the space that you'll be tiling to get your square footage, add 10% – 20% to the number to plan for waste.
10% more if you're picking up tile in store
+5% if you're ordering online because some may get damaged while being shipped
+5% if you're a beginner and this is your first time attempting to do tile floors because you'll probably make a mistake or two along the way
3. Pay close attention to tile pricing metrics.
Some stores will have prices listed per square foot and some stores will list the tile per piece. Be sure you're paying close attention when comparing prices so you can compare apples to apples.
---
Ready for our week 4 update of our modern farmhouse bathroom renovation??
First of all, let me remind you that we're sharing the renovation as part of the One Room Challenge, which is a bi-annual event where hundreds of bloggers join together to renovate one room in their home and share about it over 6 weeks. Be sure to check out all of the rooms getting renovated here.
If you're just joining us, be sure to go catch up on all of our One Room Challenge posts:
It's been a slow-moving week since we finished the tile floors (which was 2AM the day of our update last week!).
If you remember last week, I mentioned that we were in the middle of a big deadline because we had to get the vanity installed on Thursday before the countertop company came to measure the same for the template.
Well, we made it. Woohooo…it was a doozy though.
Now, the countertop people are coming back out tomorrow morning with the finished countertop to install. Keep an eye on my IG stories for some sneak peeks tomorrow!
Yesterday we did make some more progress on the other items. We got the shower niche installed, so that will get tiled next week!
We also started installing the flange for the toilet (and discovered some measurements were off, yikes). So we are making some more adjustments to the flange so we will be able to install the toilet soon.
We also purchased everything else we needed for the bathroom. I had been doing some major procrastination while I finalized some design choices, which were really stumping me!
I had originally ordered some square bathmats from Target and while I loved them, the size just wasn't right for the vanity. So after searching HIGH and LOW, I finally discovered that a lot of Magnolia's rugs are sold in a size that works with our double vanity – 2'3″ x 3'9". Although the one I got is no longer sold, here's a bunch more in that same size.
We were looking for a narrow vanity light to go above the mirrors and everything I was finding was 20"+. I finally found one that I liked from Amazon, but when I went to order it, there was only one left. I did a quick Google shopping search and saw that several other retailers sold it. No big deal. When I proceeded to actually order it from the other retailers, they were ALL on back order 3-4 weeks, which just ain't happening for One Room Challenge (BTW I ended up using that original vanity light in our budget bathroom and we shared all about the install process with this installing vanity light tutorial). After over one week of searching, I decided to start over from scratch. I decided on these new two light vanity lights from Amazon that I love. And the best part? They were in stock and arrived quickly. Whew.
---
Here's the full to-do list for our modern farmhouse bathroom renovation:
---
Huge thanks to our official sponsors of this renovation!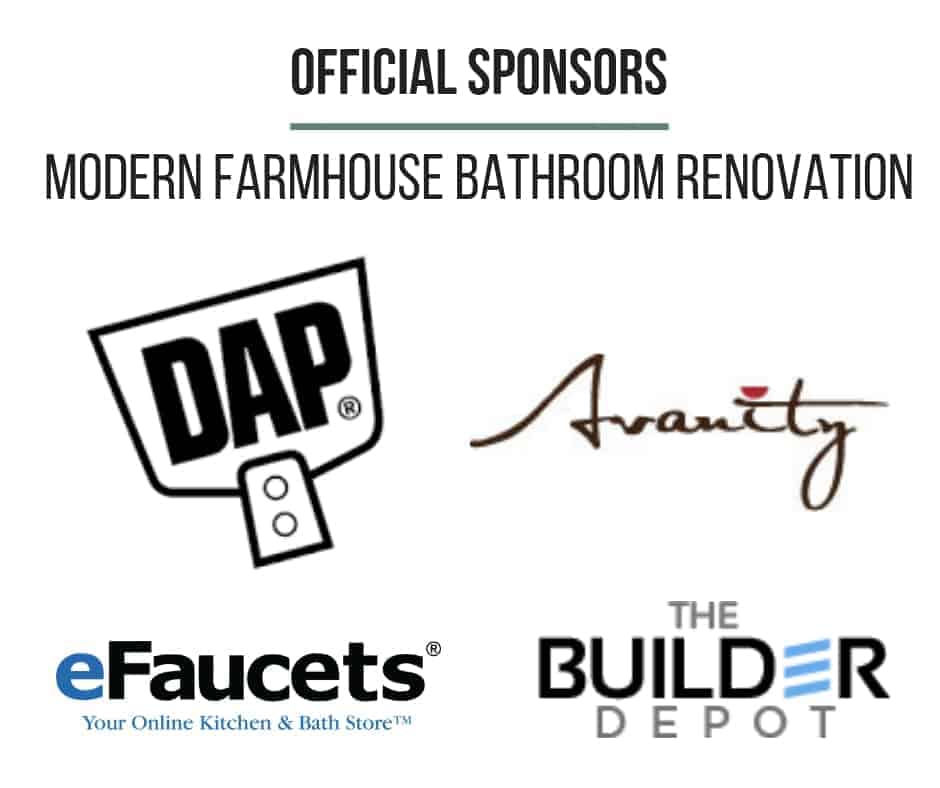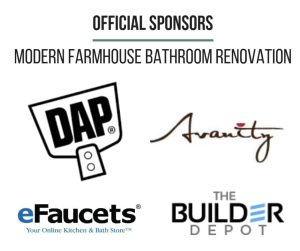 Dap | Avanity | The Builder Depot
Want more behind the scenes looks at our modern farmhouse renovation?
If you want tons of behind-the-scenes update on our modern farmhouse bathroom One Room Challenge renovation, the best place for you is my Instagram Stories!!
If you want to catch up from the beginning, head over to my Instagram profile and click on the "New Bathroom Build" highlights button. Be sure to follow our account to see you can see the day-to-day updates and help us out with decisions like these below…
Our IG followers helped us already by giving us feedback on dividing walls for water closets and the floor tile options!