If you are planning a modern farmhouse tile project like a kitchen or bathroom, you're going to love these ideas! This article also features a step by step tutorial for how to tile a floor, which is a project that even a beginning DIYer can take on.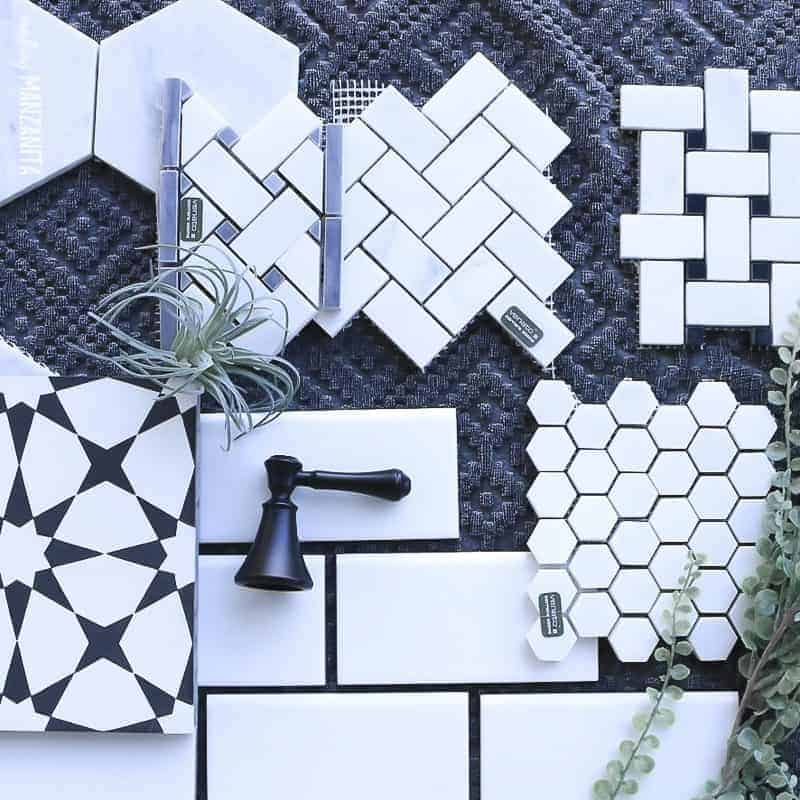 When I was making the design plan for our modern farmhouse bathroom, one of the most exciting design choices was the tile flooring. I'm kind of obsessed with the look of white carrara marble, so I knew I wanted to go with something like that. But the fun part was selecting a shape and size of the farmhouse tile.
There are so many options nowadays for tile flooring that it can be a little overwhelming. So I've got done the hard part for you. I've narrowed it down to 9 great options for modern farmhouse tile!
This farmhouse tile post contains affiliate links, but nothing that I wouldn't wholeheartedly recommend anyway! Read my full disclosure here.
You're going to love these modern farmhouse tile ideas!!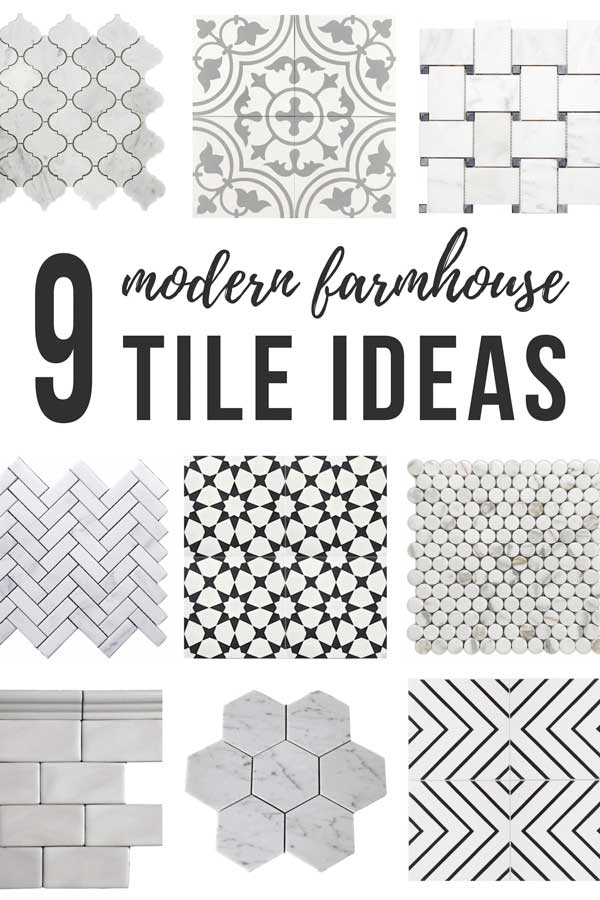 Carrara Arabesque Baroque Marble Tile | Tulips Gray Fleur Cement Tiles | Gray Dot 2″x3″ Basketweave
Herringbone Honed Mosaic Tile | Atlas Black Cement Tile | Calcatta Gold Honed Penny Round Tile
Handcrafted Antique White Tile | Carrara Hexagon Marble Tile | Maze Labyrinth Handmade Cement Tiles
Aren't they all amazing?! I know…how did I ever decide between all of these modern farmhouse tile ideas?
Here are some tips if you are deciding on tile for your home renovation project.
Definitely order tile samples! Even if you are purchasing your tile in person, rather than online like we did – samples are crucial when selecting tile. It is so helpful to me able to hold the tile samples up to your furniture, paint, decor, and even other coordinating tile.

In our modern farmhouse bathroom, we're planning on a whole wall of subway tile and the entire shower will be white subway tile was well. This definitely became a factor when we were deciding on the farmhouse tile for the flooring. I wanted something with a unique shape, design and size to complement the white subway tile.
It was crucial to hold the tile samples next to the subway tile before ordering.
---
Wondering how to tile a floor?
Selecting the tile is the fun part, but once you have your farmhouse tile, you've gotta learn how to tile a floor! Before you learn how to tile a floor the space needs to be prepped so you aren't dreading the entire process. Since you probably already decided to tile your floor, you'll need to get all the proper materials for the bathroom floor tiles you selected.
Supplies for installing bathroom floor tiles:
Bathroom Floor Tiles (of course)
Level
Thin Set Mortar (be sure it is the right kind for your bathroom floor tiles)
Grooved Trowel
Grout (be sure it is the right kind for your bathroom floor tiles)
Rag
Rubber Grout Float

Ensure level & clean floors
Before you get started, remove any debris and dust.
You need to make sure your floor is absolutely level. You are spending a lot of time putting in your bathroom floor tiles and if your space isn't level you can expect to spend the same amount of time redoing the floor, which would be a major bummer.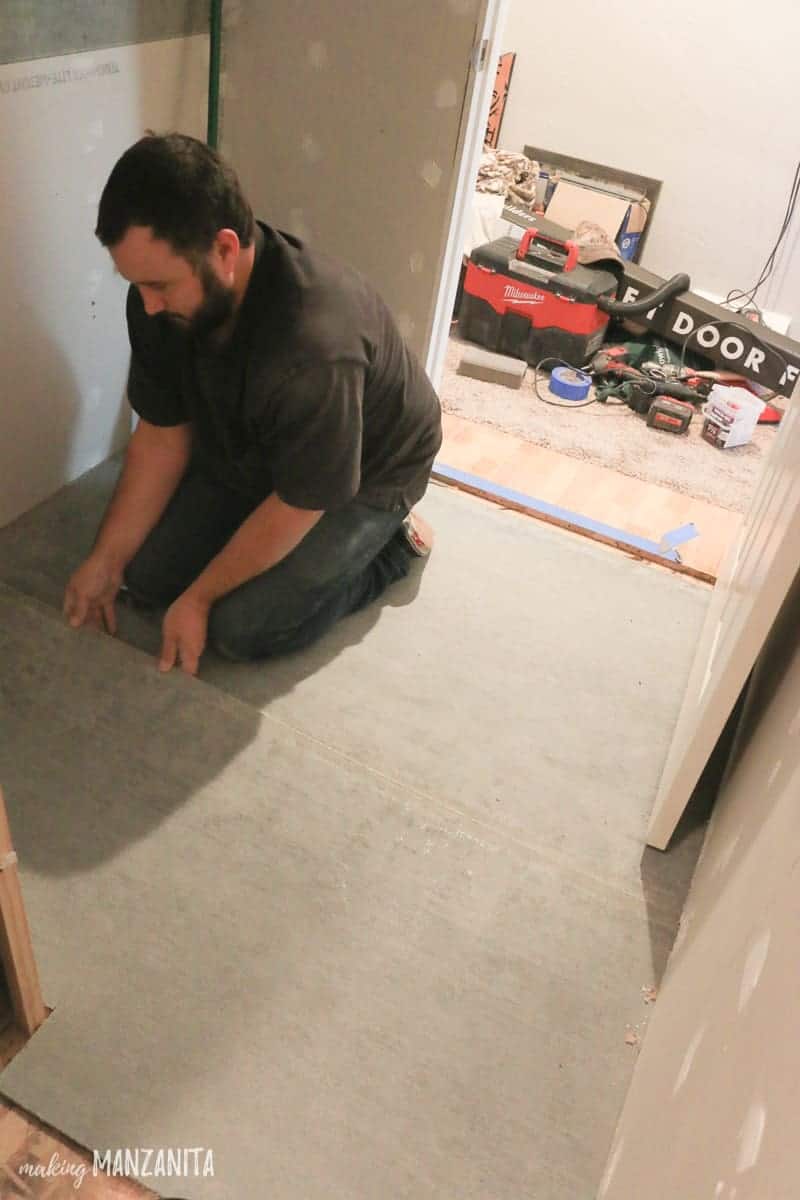 Lay WonderBoard
The bottom layer when laying bathroom floor tiles is concrete backer. We used
1/4" WonderBoard
laid directly onto the subfloors to provide a stable surface for installing tile floor. Secure with
cement board screws
drilled into the joists.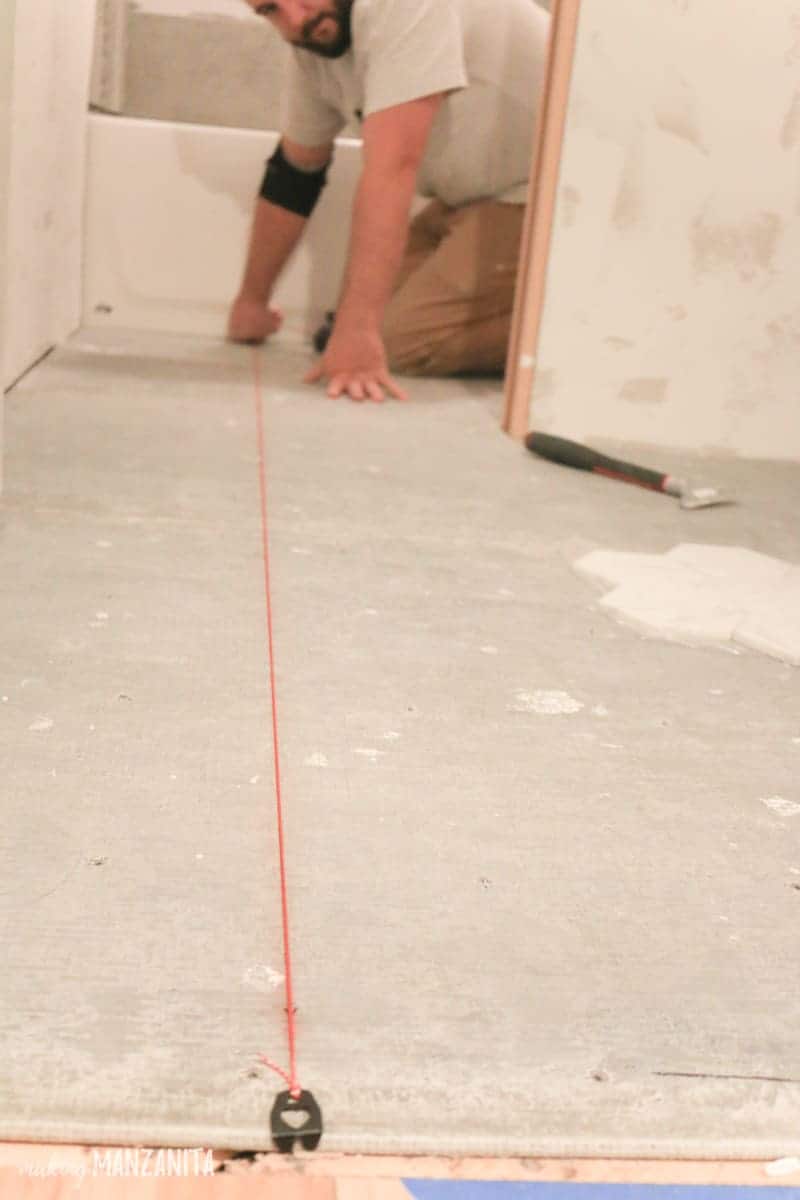 Line up tile placement
Measure the middle between two walls and make a mark. Repeat for the other two walls. This will get you a mid point that you'll want to start your tiles from.
Tile looks best with long and straight runs. So measure the distance from the mid point to the longest wall. Take that measurement and make marks on opposite sides of the longest wall and snap a chalk line.
Repeat with a perpendicular wall so you make a cross on your floor with chalk lines. This will be where you place your first tile to make sure everything else is nice and square.

Lay out bathroom floor tiles
Lay out your bathroom floor tiles along this line starting at the cross you made with the chalk lines. Go from one end of the room to the other. Make any adjustments based on potential traffic on grout lines and to ensure you don't have small tiles cuts on either end.
If you are working on this project alone, we would recommend laying out your entire tile project and make all your cuts first. This is called "dry fitting". You will not have time to mortar, measure, and cut tiles to fit as you go alone.
Don't forget to use spacers when you are dry fitting the bathroom floor tiles.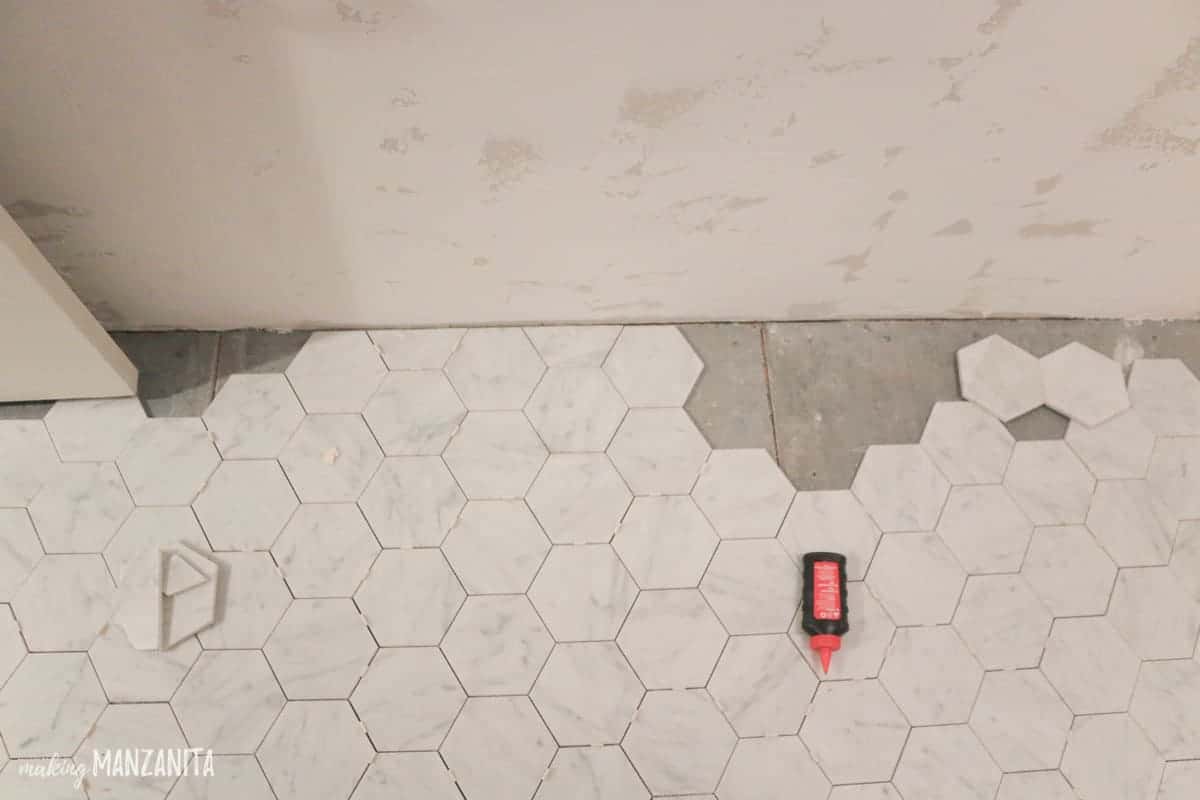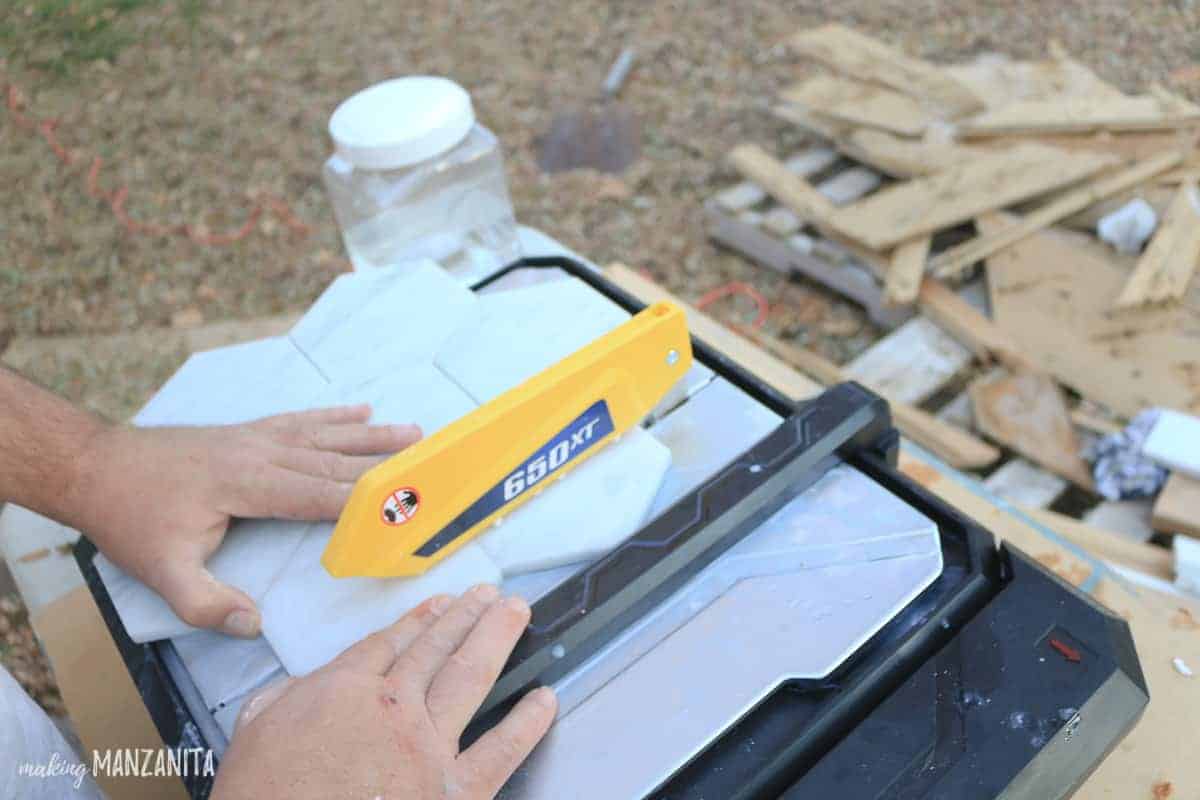 Cut any edge pieces as necessary with a tile saw.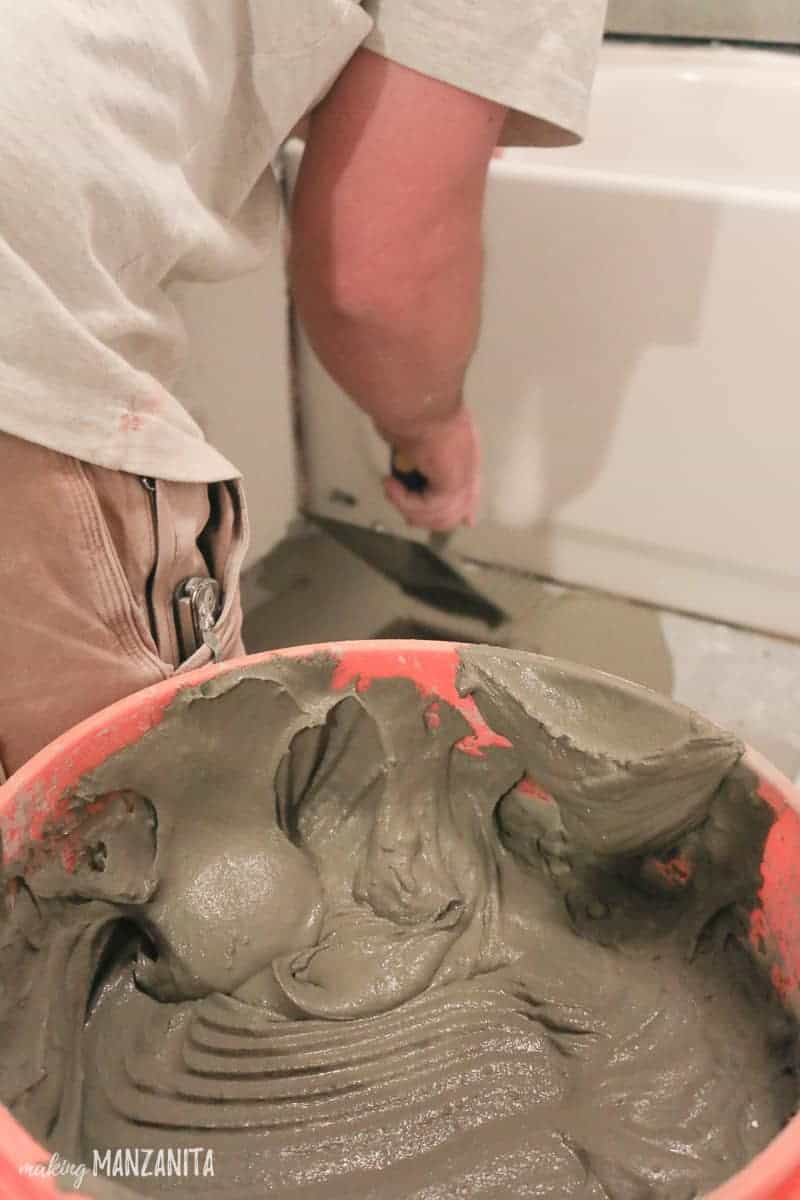 Mix up thin set mortar.
Go to your pantry and pull out that jar of creamy peanut butter. This is the consistency your mortar should be when you go to lay your tile. Follow the instructions on your mortar to get it mixed properly.
Also, be sure to grab a bucket of water and a sponge/rag so you can clean the mortar and bathroom floor tiles as you go.

Start laying bathroom floor tiles
With mortar mixed and bathroom floor tiles cut and laid out, it's time to start installing your floor.
Start by removing tile where your chalk cross is, lay down your mortar with a grooved trowel held at 45 degrees. Make sure your first piece on the floor absolutely square by using your chalk lines. Any flaw here is going to show up in the rest of your design.
Mortar dries pretty quickly so only lay enough for about 2-4 feet of one row at a time.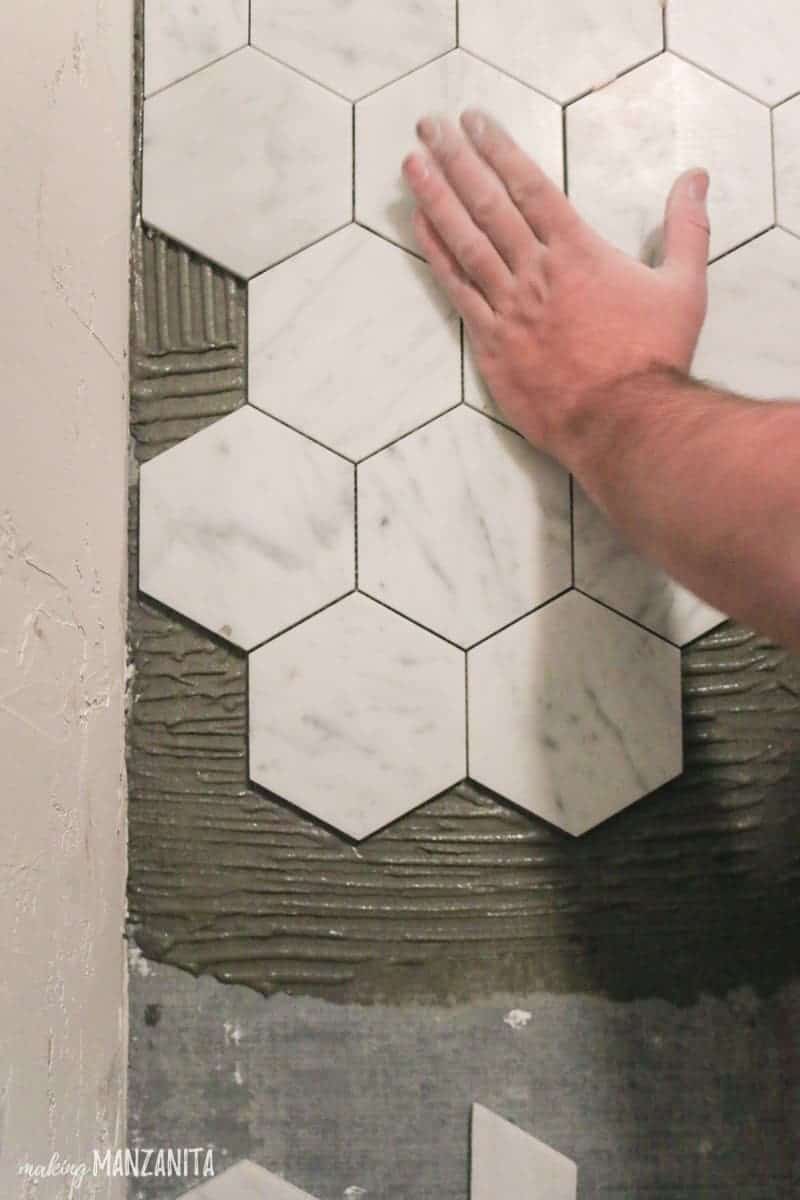 Gently set the floor tile down on top of the mortar and with even pressure, push down the tile with an ever so slight twist to work out any air bubbles.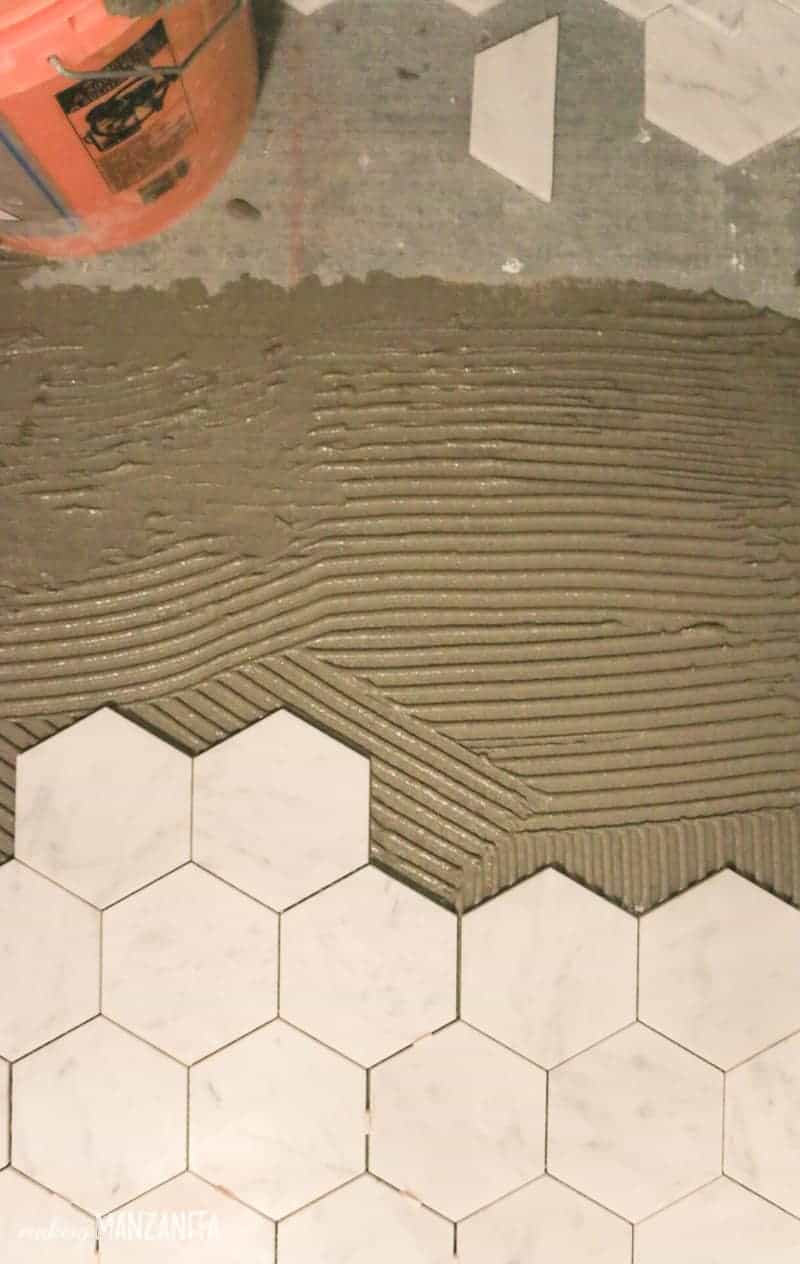 When setting your bathroom floor tiles try to get them as close to the other tiles as possible, then add tile spacers and adjust for a tight fit.
You'll want to be sure you are leveling the edges of the tile to its neighboring tile with a level and a rubber mallet.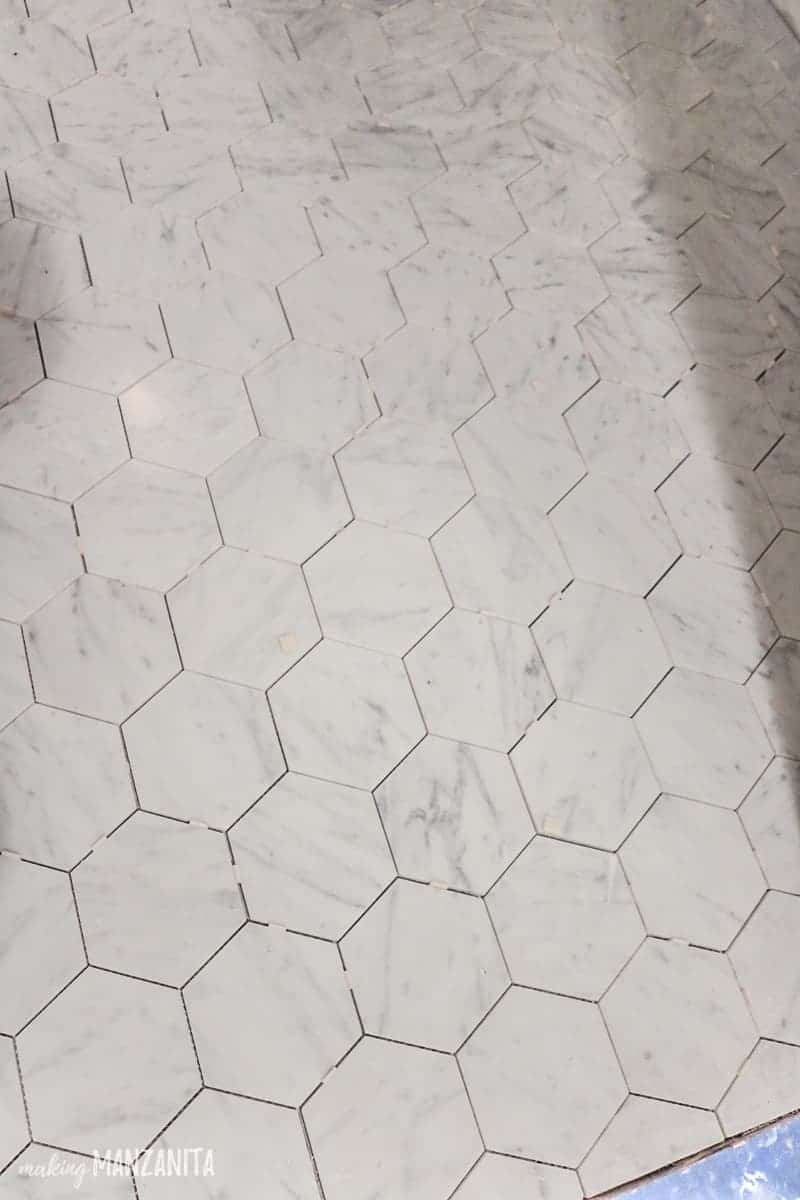 Wait 24 hours before grouting bathroom floor tiles
Close off the area and wait a full 24 hours before you step back on the floor to grout.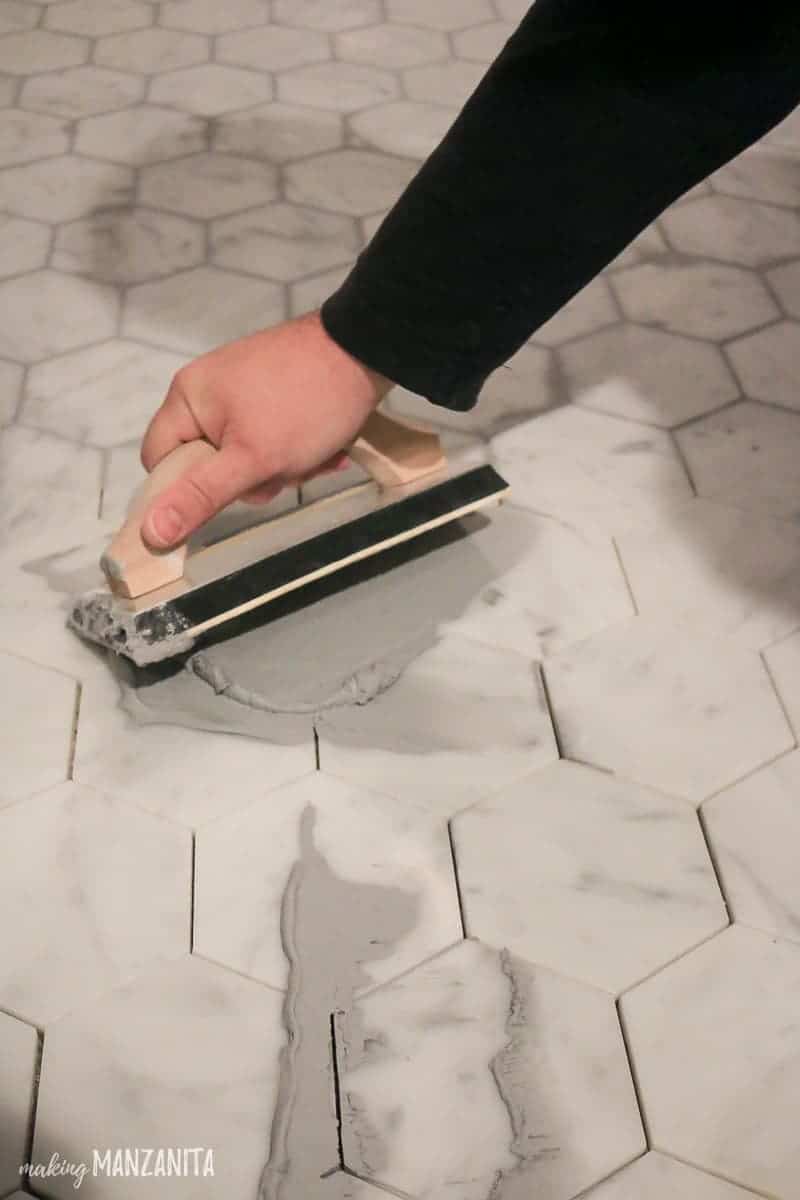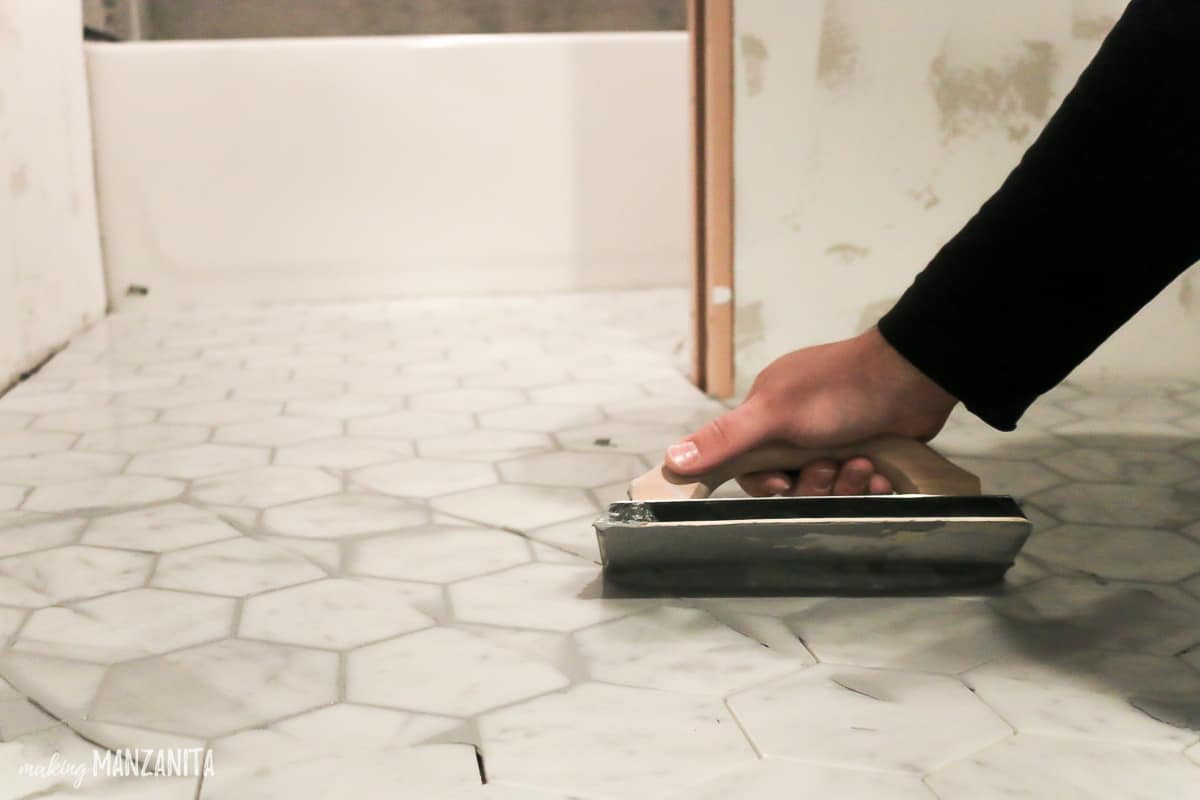 Apply grout to bathroom floor tiles
Mix up your grout and start glopping it onto the tiles. Work in small sections and spread grout over tiles with a rubber gloat held at 45 degrees. Work the grout into all of the bathroom floor tile joints.
Wash tile surface
Wait about 20-30 minutes and then use a damp sponge to rinse away any "haze" left on the grout. Be sure the sponge is well squeezed so you don't get too much water on the tile. Repeat until the tile is clean.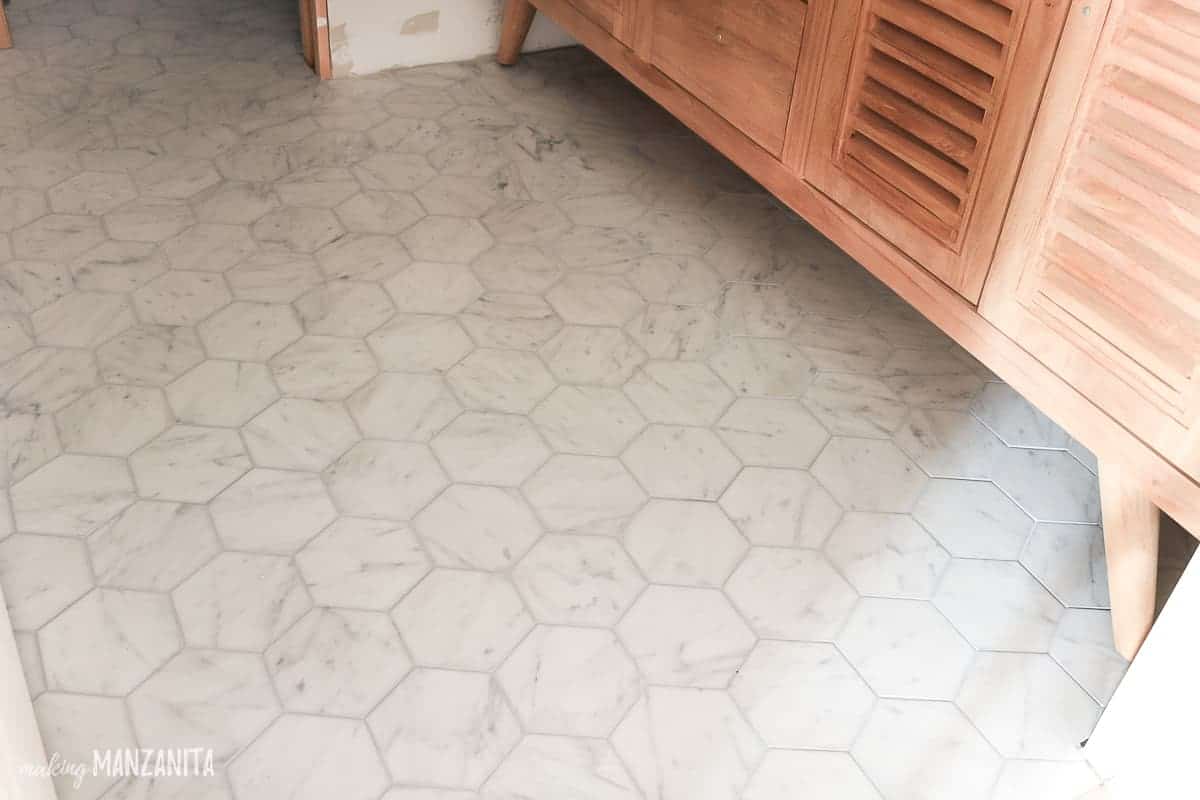 Celebrate
Once all your tiles are laid, spaced, level, and grouted….you can celebrate! You did it!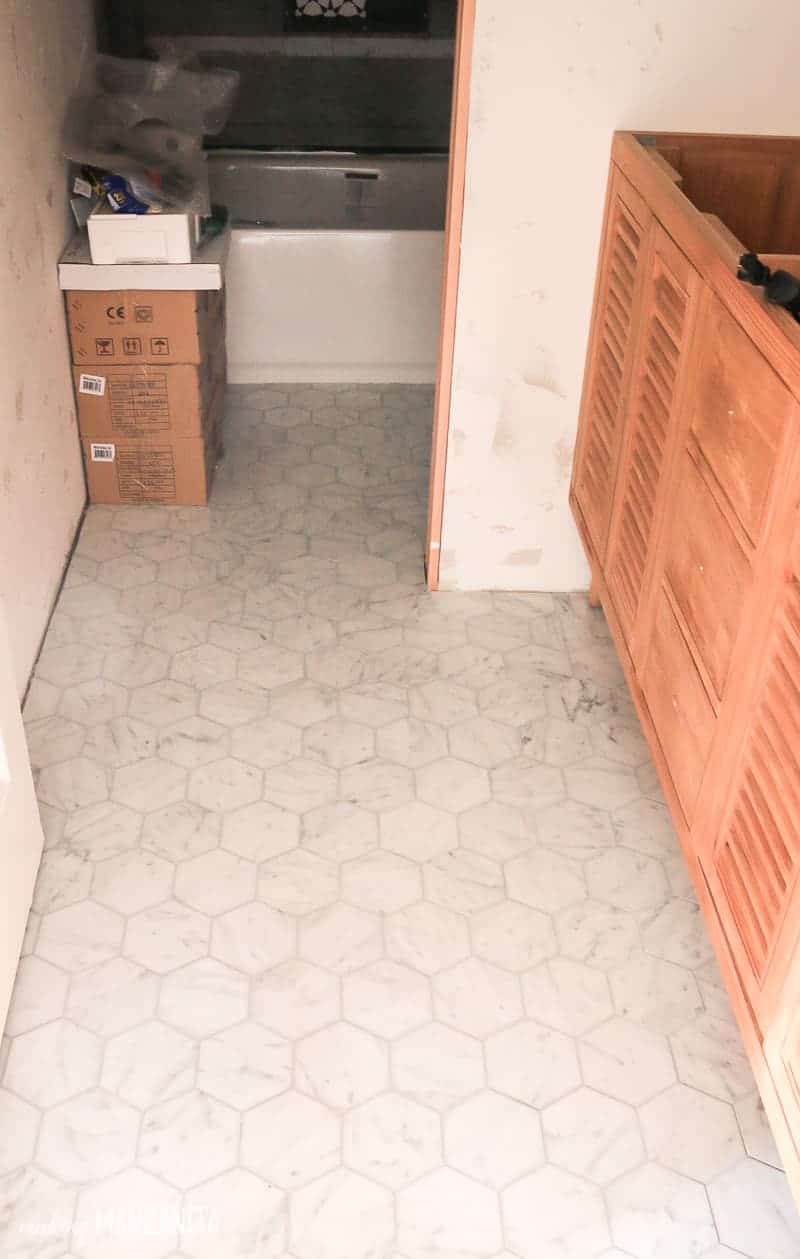 Tile flooring is a project that may seem a little overwhelming, but it's really fairly simple. Hopefully this step by step tutorial for how to tile a floor was helpful for you to learn everything you need to know if you're going to do it yourself.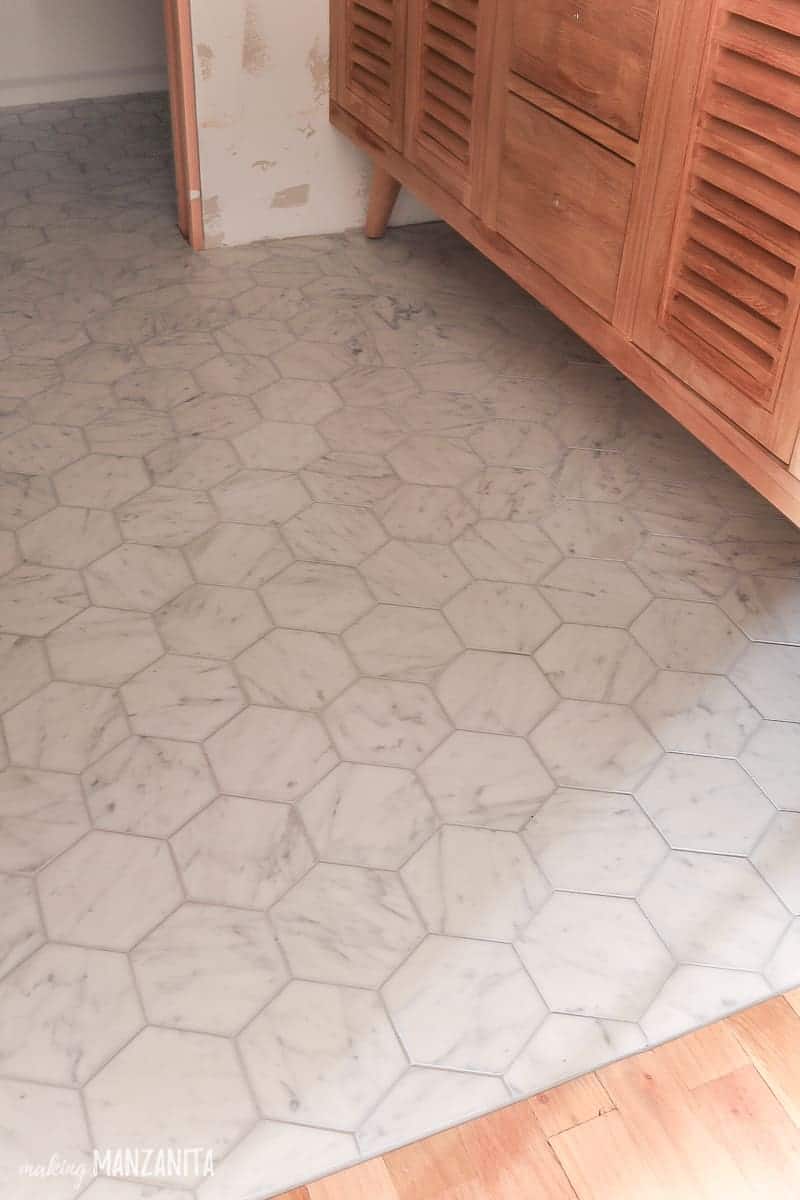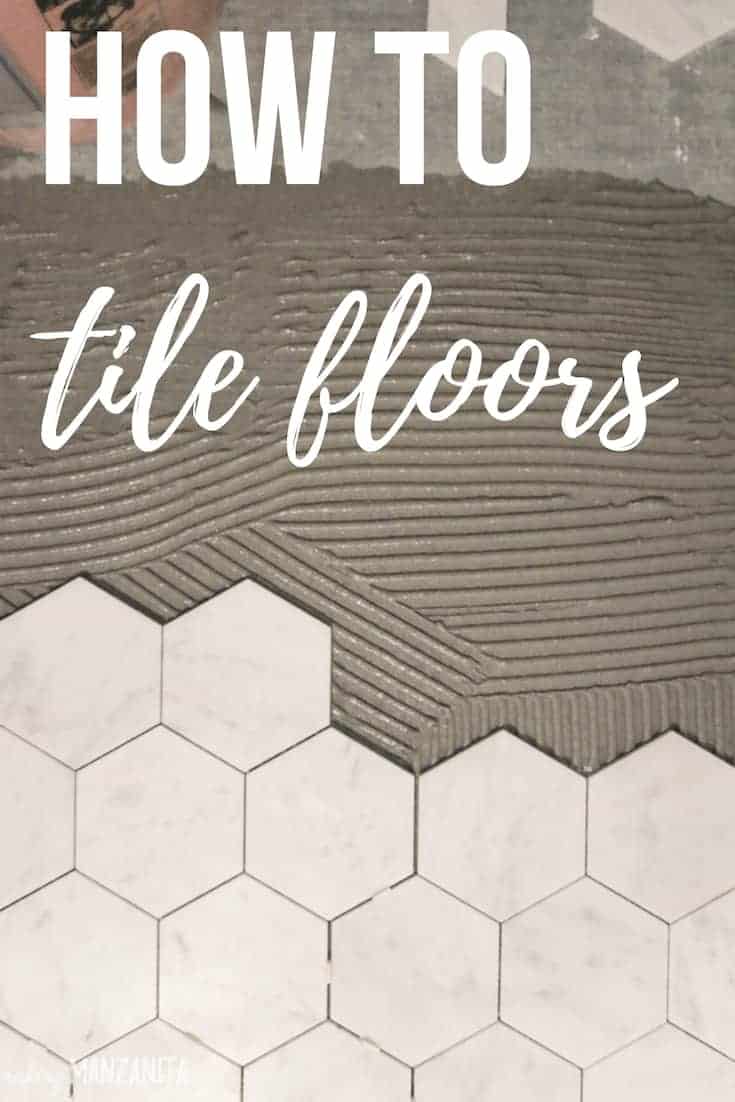 ---
Ready for our week 4 update of our modern farmhouse bathroom renovation??
First of all, let me remind you that we're sharing the renovation as part of the One Room Challenge, which is a bi-annual event where hundreds of bloggers join together to renovate one room in their home and share about it over 6 weeks. Be sure to check out all of the rooms getting renovated here.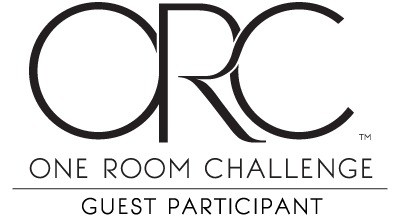 If you're just joining us, be sure to go catch up on all of our One Room Challenge posts:
It's been a slow moving week since we finished the tile floors (which was 2AM the day of our update last week!). If you remember last week, I mentioned that we were in the middle of a big deadline because we had to get the vanity installed on Thursday before the countertop company came to measure the same for the template.
Well, we made it. Woohooo…it was a doozy though.
Now, the countertop people are coming back out tomorrow morning with the finished countertop to install it. Keep an eye on my IG stories for some sneak peeks tomorrow!
Yesterday we did make some more progress on the other items. We got the shower niche installed, so that will get tiled next week!
We also started installing the flange for the toilet (and discovered some measurements were off, yikes). So we are making some more adjustments to the flange so we will be able to install the toilet soon.
We also purchased everything else we needed for the bathroom. I had been doing some major procrastination while I finalized some design choices, which were really stumping me!
I had originally ordered these square bathmats from Target and while I do love them, the size just wasn't right for the vanity. So after searching HIGH and LOW, I finally discovered that a lot of Magnolia's rugs are sold in a size that works with our double vanity – 2′ x 3'9". I ordered this one from Pier 1.
We were looking for a narrow vanity light for above the mirrors and everything I was finding was 20"+. I finally found one that I liked from Amazon, but when I went to order it, there was only one left. I did a quick Google shopping search and saw that several other retailers sold it. No big deal. When I proceeded to actually order it from the other retailers, they were ALL on back order 3-4 weeks, which just ain't happening for One Room Challenge. After over one week of searching, I decided to start over from scratch. I decided on these new two light vanity lights from Amazon that I love. And the best part? They were in stock and arrived quickly. Whew.
---
Here's the full to-do list for our modern farmhouse bathroom renovation:
Build walls Learn how to build a wall here!
Install electrical
Rough in plumbing
Install exhaust fan/light in water closet
Installed insulation
Build divider wall for water closet
Install pocket door on divider wall Learn how to frame a door in a wall here!
Install bathtub drain
Hang dry wall
Hang wonderboard on walls & lay on floors
Texture dry wall
Lay tile floors
Seal tile floors
Grout tile floors
Install vanity
Install toilet flange
Install countertop
Paint ceiling
Paint walls
Tile surround in shower
Tile wall behind vanity
Install trim & baseboards
Install vanity faucets
Install toilet
Add vanity lights
Hang bathroom lights
Install bathroom accessories
Make DIY wall art
Hang shelves above toilet
Decorate!
---
Huge thanks to our official sponsors of this renovation!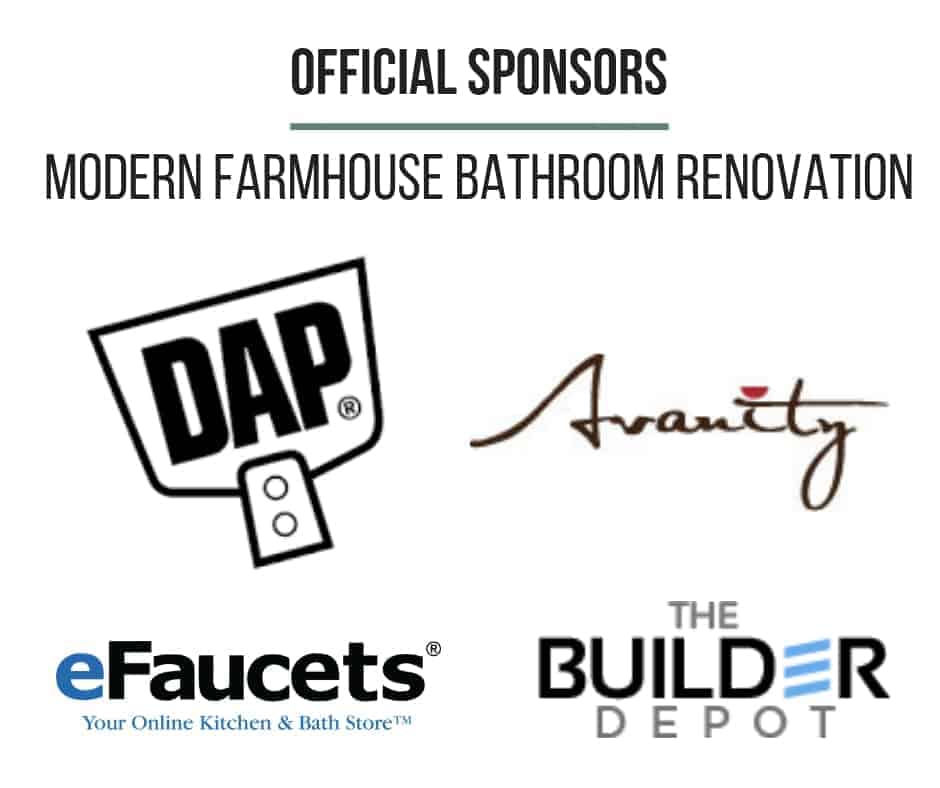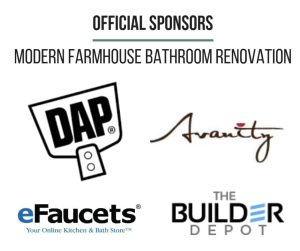 Dap | Avanity | The Builder Depot
Want more behind the scenes looks at our modern farmhouse renovation?
If you want tons of behind the scenes update on our modern farmhouse bathroom One Room Challenge renovation, the best place for you is my Instagram Stories!! If you want to catch up from the beginning, head over to my Instagram profile and click on the "New Bathroom Build" highlights button. Be sure to follow our account to see you can see the day to day updates and help us out with decisions like these below…Our IG followers helped us already by giving us feedback on dividing walls for water closets and the floor tile options!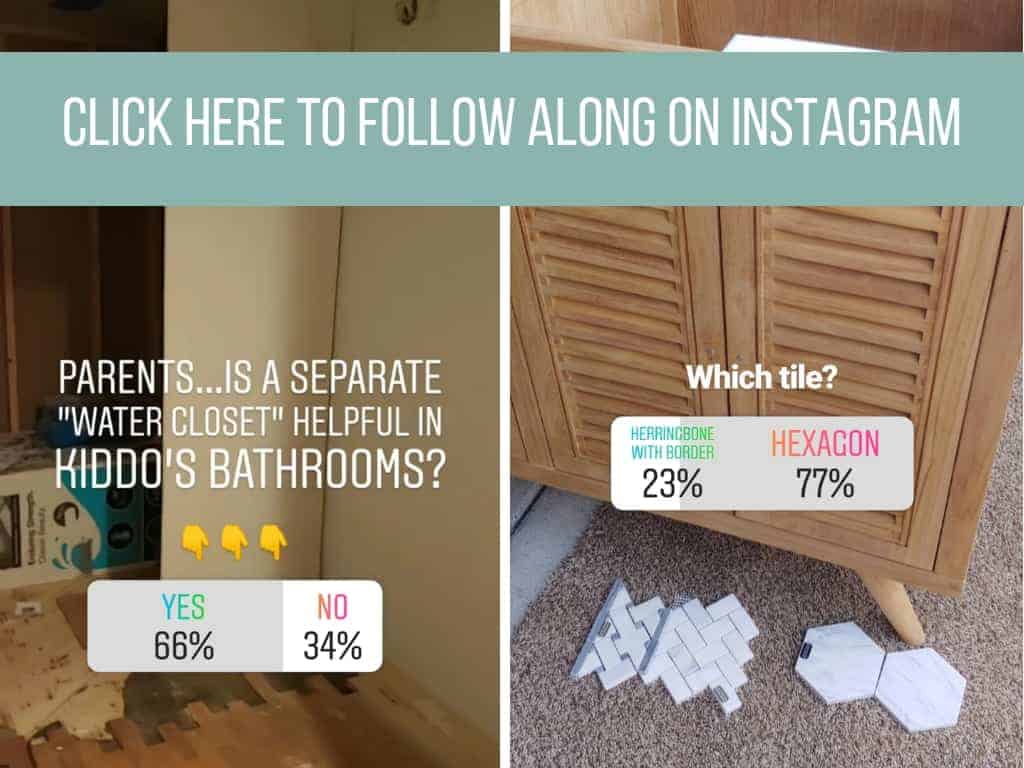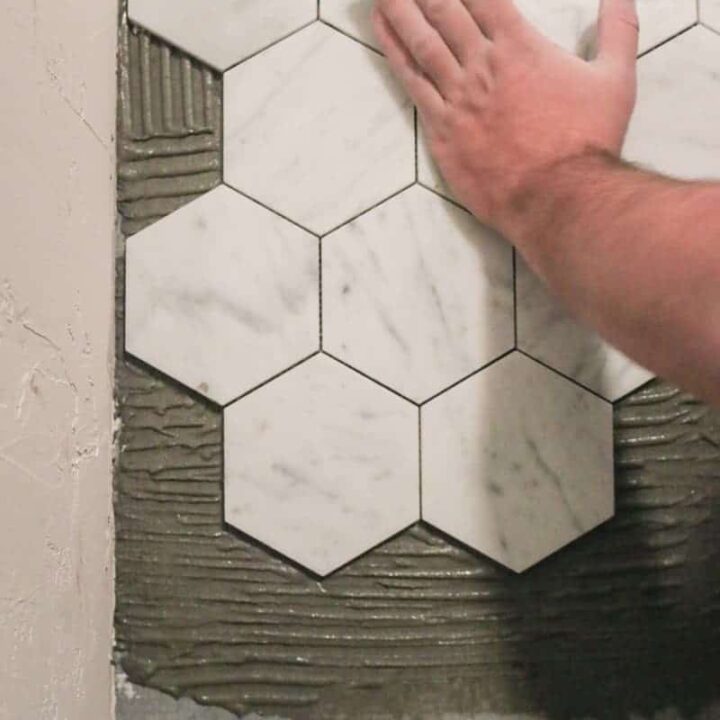 How To Tile Floors
If you are planning a modern farmhouse tile project like a kitchen or bathroom, you're going to love this tutorial for how to tile floors! This is a project that even a beginning DIYer can take on.
Tools
Level
Grooved Trowel
Chalk Line
Rag
Rubber Grout Float
Instructions
Ensure level and clean floors.
Lay wonderboard.
Line up tile placement.
Lay out bathroom tile floors.
Mix up thin set mortar.
Start laying bathroom floor tiles.
Wait 24 hours before grouting bathroom floor tiles.
Apply grout to bathroom floor tiles.
Wash tile surface.