There are so many different types of tile to choose from: ceramic, porcelain, cement, glass, stone, and more! It can be super overwhelming when you go to select tile for your renovations. Learn the differences and the uses in this article!
Selecting tile for a home improvement project is probably one of the most exciting choices to make….but it can also be the most overwhelming. There are so many different types and styles of tile to choose from ceramic, porcelain, cement, glass, stone, and more!
Not to mention, some tile materials are better suited for backsplashes than floors and vice versa. With so many options, styles, and applications, it's always a good idea to have a basic understanding of what's available before heading to the hardware store. Trust us on this one!
This types of tile article contains affiliate links, but nothing that I wouldn't recommend wholeheartedly. Read my full disclosure here.
5 Different Types of Tile for Home Renovation Projects
Whether you are tiling a bathroom floor, installing new shower tile, or simply updating your kitchen with farmhouse tile, having a basic understanding of what your options are will prevent home improvement overwhelm!
Is there a difference between floor tile and shower tile?
Floor tile is made thicker harder to withstand foot traffic, hold furniture, appliances, etcetera, and usually has some added texture to prevent slips and falls.
Any tile that is suitable for floors will be suitable for shower walls; however, glazed ceramic or porcelain is ideal for shower floors.
1. Ceramic Tile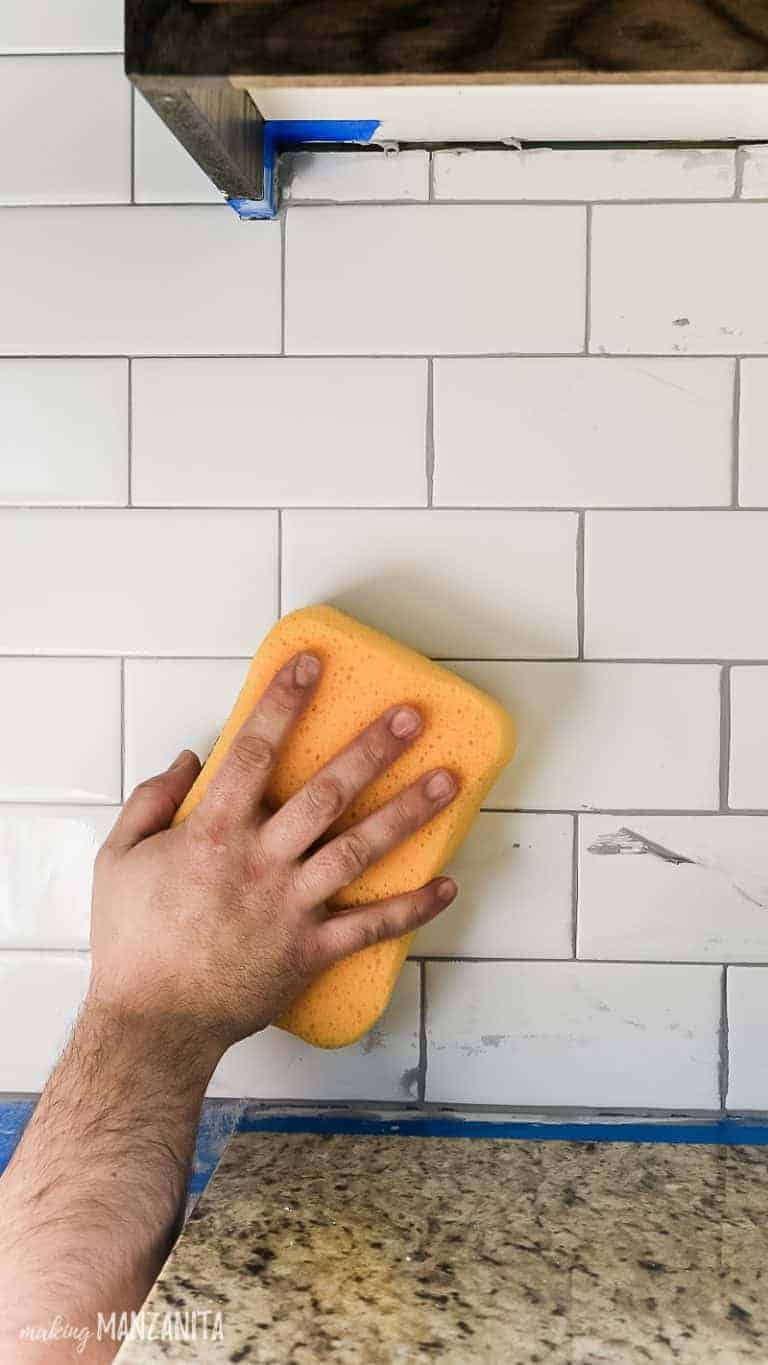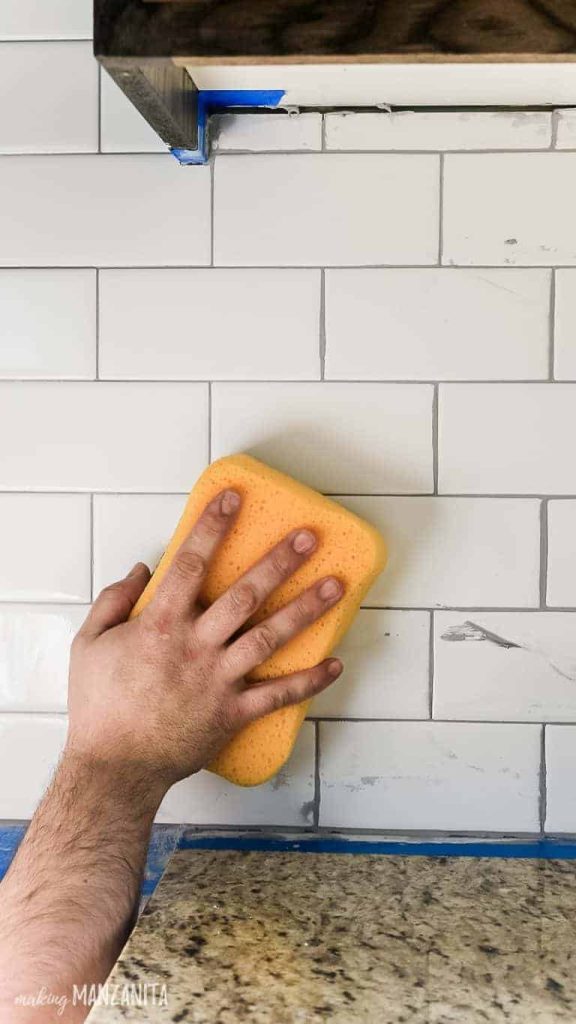 Basically, ceramic tile is the workhorse of the tile world. Ceramic is one of the most common types of tile on the market with a ton of options to choose from. Most commonly, ceramic tile is used in kitchens and bathrooms, including showers.
Ceramic is durable, lightweight, and affordable – all of which contribute to its popularity. Because this type of tile is lightweight, it's easier to cut with a wet tile saw and work with as a beginner's project. Regardless, don't skimp on a good tile saw. It is worth the investment!
There are millions of ceramic designs, shapes, and sizes to choose from! And because it's one of the more affordable tile options, replicating an expensive-looking design for a quarter of the cost is easy to accomplish.
Some of the most popular ceramic designs include subway tile (like this classic one we used in our kitchen on the backsplash), mosaic, beveled, octagon, matte…the list goes on! Ceramic is also available in large format tile sizes, which speeds up the installation process.
Ceramic is also closely related to porcelain tile and can be used in many of the same applications. However, because ceramic is slightly more porous and has a higher water absorption rate, it should not be used outdoors. Both options, however, are excellent choices for a bathroom or kitchen.
How can I tell if my tile is ceramic or porcelain?
We get it, it's confusing. If you just moved into a new home and you're trying to figure out what type of tile you have – here's a quick test to determine the difference between ceramic and porcelain tile.
Porcelain tiles will have low water absorption. If you place a drop of water onto the side of the tile, it will absorb into the tile within a minute or less if it's ceramic. On a porcelain tile, the liquid will remain on the surface for several minutes or until it evaporates.
2. Porcelain Tile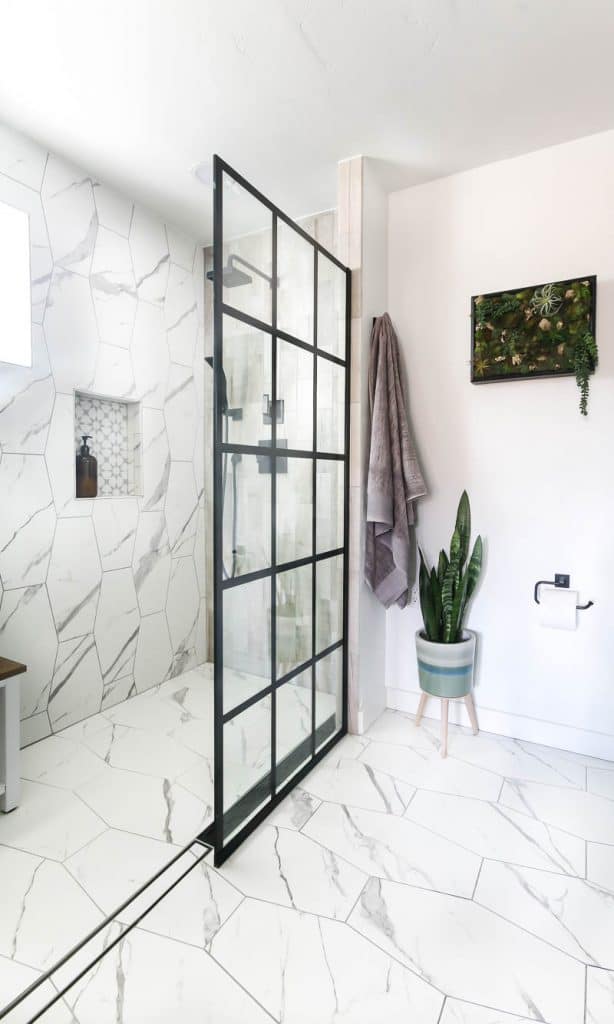 Porcelain tile is a close sibling to ceramic. Both types of tile are durable and great for high-traffic areas. Although, porcelain tile is hands-down the toughest tile on the market!
Porcelain is slightly more expensive than ceramic but still budget-friendly. Because it absorbs less water, porcelain tile is a little better for high moisture areas, like bathrooms and showers, and can be used indoors and outdoors.
Much like ceramic tile, porcelain also comes in a variety of shapes, styles, and colors. It's a great way to create a more expensive look as an alternative to marble, granite, or other luxury stones. We absolutely loved this porcelain large format tile we incorporated into our master bathroom renovation.
3. Cement Tile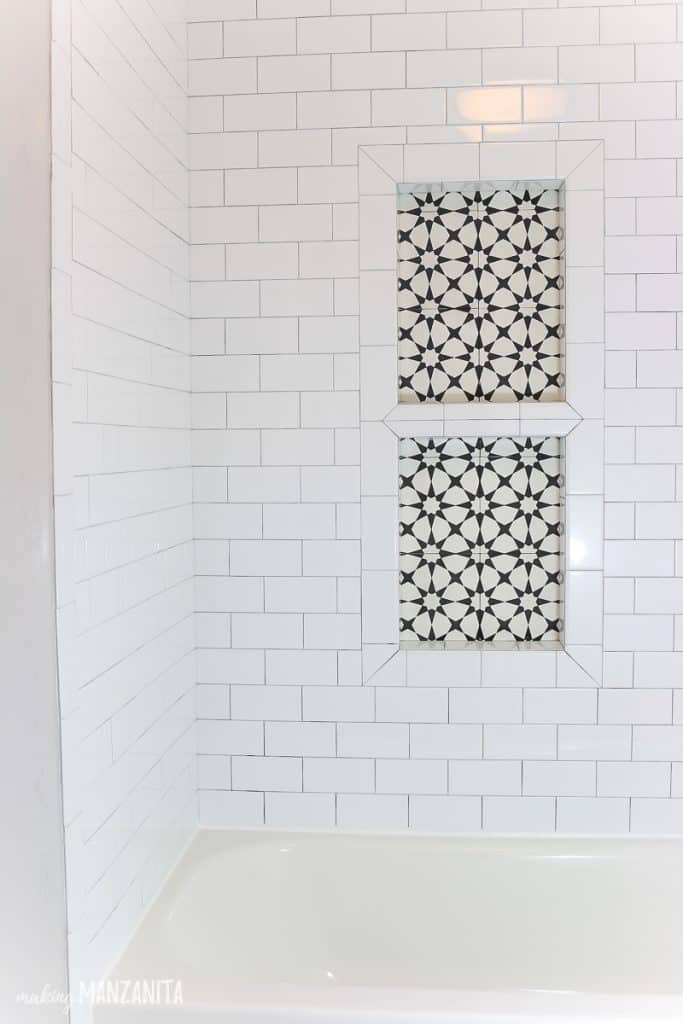 The trend has hit Pinterest recently and doesn't seem to be going anywhere! Cement tiles are temptingly beautiful and come in so many creative patterns and colors. While they add a certain element of style to a room, it is arguably the most high-maintenance tile option.
Truthfully, cement tile is one of the most finicky options on the tile market and definitely requires the most maintenance. Because of its extremely porous surface, it stains very easily and needs to be sealed and maintained regularly.
Cement tile is a good option for exterior walkways, pool decking, patios, and other outdoor spaces. While the cement tiles are extremely durable and won't give in anytime soon, we recommend keeping these tiles to low-traffic areas or where aesthetics aren't of the highest importance, like a mudroom, furnace rooms, work areas, etc.
The good thing is that the gorgeous cement tile patterns are now made in more durable options – like porcelain or ceramic. So you can get that fun cement tile look with the durability of a better tile (and usually a cheaper price too)! Check out the fun accent tiles I used in the shower niches in our master bathroom – they are actually porcelain!
4. Glass Tile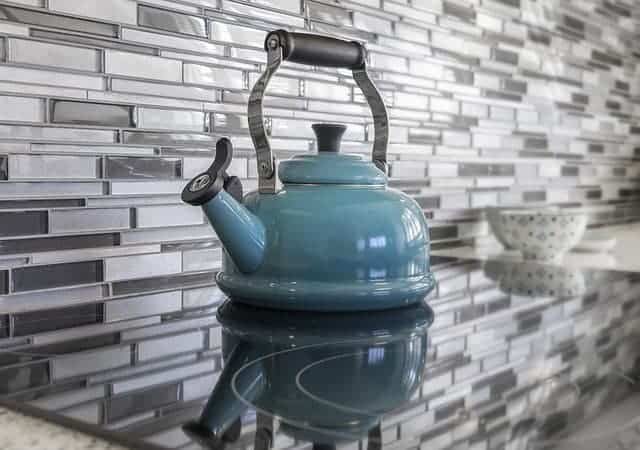 Most commonly used along the wall as a backsplash, glass tiles give a beautiful aesthetic to any home's kitchen or bathroom. Typically, glass tiles are not used on floors as the tiles chip easily.
Made in shapes beyond the typical 4-by-4 inch format, glass tiles are available in just about any color, pattern, and shape you can think of. The options are practically endless!
The great thing about modern-day glass tiles, especially for a backsplash, is that they come in mosaic sheets for easy installation. They are slightly more expensive than other backsplash tiles but give your space a beautiful, contemporary appeal.
Additionally, glass tiles are easy to clean with an all-purpose cleaner and are stain-resistant. They are a great option for moisture-dense areas, like bathrooms, as they are mold and mildew resistant.
5. Natural Stone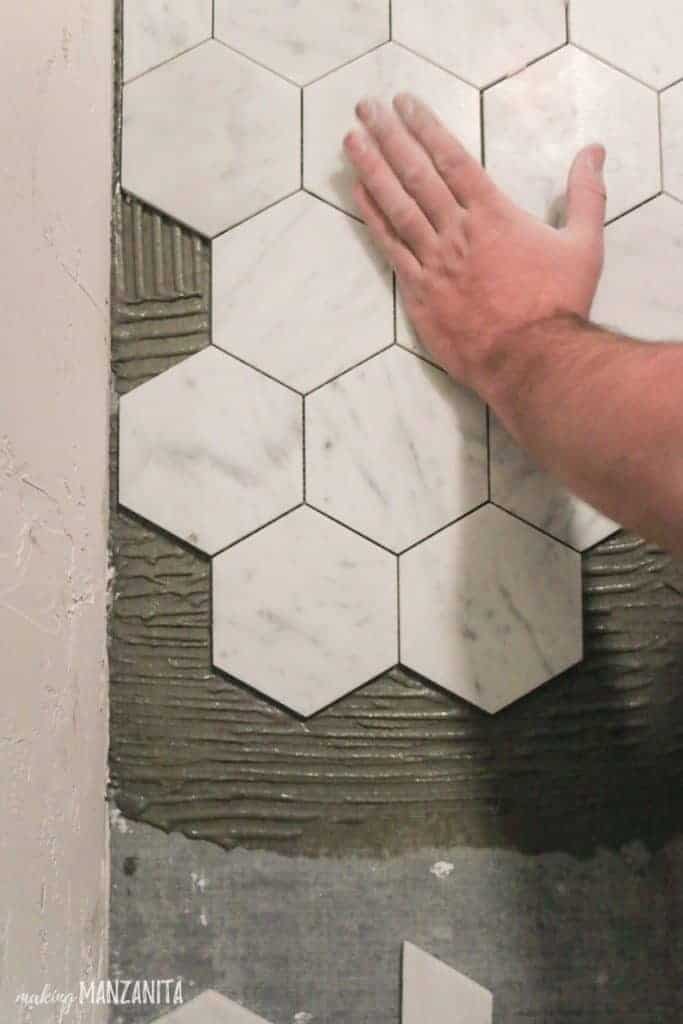 Natural stone tiles are the alpha and omega of luxury tiles! There is a wide variety of styles, colors, and shapes to choose from to provide a luxurious aesthetic to any room.
Natural stone tiles are susceptible to staining and need to be sealed immediately after installation. There are some sealers that last for the lifetime of the stone, but it is recommended that you reseal every 1 to 2 years as a part of your maintenance routine.
Depending on the type, each natural stone has its own recommended uses:
Granite, as the least porous, works in all areas of the house including the kitchen.
Marble, limestone, and travertine are the most porous and not recommended for kitchen countertops as they are more likely to stain and harbor food bacteria, but work well for walls, flooring and bathroom countertops.
Slate is one of the stronger natural stones and can hold up through climate and temperature changes and can be used outdoors.
Because natural stone isn't man-made, many sources recommend you purchase a little more than necessary because of the differences in each tile. If you have a few leftover pieces, you can always repurpose them into coasters!
Sizes of Tiles for Home Remodeling Projects
While there are common standards for tile sizes, it's important to understand how the different sizes change the overall look of a room.
For example, the larger the tile, the larger the room will appear. Additionally, using mosaic tile in a smaller space could give the room an overwhelmingly "busy" feeling with the different colors and small shapes.
Large Format Tile
As mentioned above, the larger format tiles measure more than 15" on any side and can make a smaller space appear larger, like a bathroom or closet.
There are a lot of things to consider when installing large format tile, so make sure you do adequate research on your space before you begin.
Benefits to large format tiles:
Faster installation
Large format tile makes the room appear larger
Fewer grout lines means it easier to clean and maintain
Smooth and seamless look
We would highly recommend referring to our guide on large format tile. It will tell you everything you need to know, along with the pros and cons!
Mosaic Tile
Mosaic tiles are small pieces of tile that are held together on a sheet with mesh backing.
Mosaics can come in many different shapes and can be made out of glass, porcelain, stone, and more. These are very small tiles, usually about 1-2 inches in diameter.
Because they are held together on a sheet, it's easy to install many tiles at once rather than many small tiles individually.
Mosaic designs can range from monochromatic to unique patterns with many colors. Some shapes include octagon, round, triangular, square, and subway style.
As you can see, choosing the right type of tile is a thoughtful process that can be overwhelming at times. Having a basic understanding of the different types of tile will make your next home improvement process one you can be proud of!
What is your next tile project?
Let us know in the comments below!