The big day is finally here! You're going to be shocked at the transformation of this modern farmhouse bathroom reveal with boho vibes. This bathroom renovation has it all – classic white subway tile, boho shower curtain, modern black accessories, oil rubbed bronze and rich wood tones. See how we transformed this room in just 6 weeks.
[ Full source list for this modern farmhouse bathroom is at the bottom for your convenience ]
I still remember the first time we walked into this house. There were parts of it that we loved….parts that were so-so…and parts that simply did not make sense. I remember saying to Logan…"well, THIS is why it's been sitting on the market so long."
One of the biggest things that didn't make sense in this home was that there was only one bathroom on the back end of the house (to be intended for three bedrooms to share, including the master). The Realtor that was selling the house confirmed that one of the main reasons people were passing was the lack of en suite bathroom.
So when we were walking through the house that first time, we knew some major things needed to change about the layout…including adding another bathroom to the home so the other one could be converted into a master bathroom (something that we'll probably tackle next year sometime). You can read all about our renovation plans in this post.
Want to see our other renovation projects? Check out our full home tour here!
If you're hopping over here from the ORC website (or if you're new here) – welcome! Making Manzanita is all about making your house a home you love. My hubby and I (with our two small kiddos in tow) are renovating our 2nd fixer upper. We love teaching our readers everything we learn along the way. Our style is modern farmhouse with some major boho vibes, which you'll see reflected in this bathroom. Enjoy!
This modern farmhouse bathroom reveal contains affiliate links, but nothing that I wouldn't wholeheartedly recommend anyway! Read my full disclosure here.
Once we purchased the fixer upper and moved in, first things first – we needed to create an additional bedroom for our little baby on the way. We focused on that build first (you can see all the posts about the nursery so far here & don't worry, the big nursery reveal is coming soon!).
Since we moved into this house, we've turned this 2nd living room into a nursery, master walk in closet (which still needs to be finished) and now an extra bathroom that will be used by the kiddos.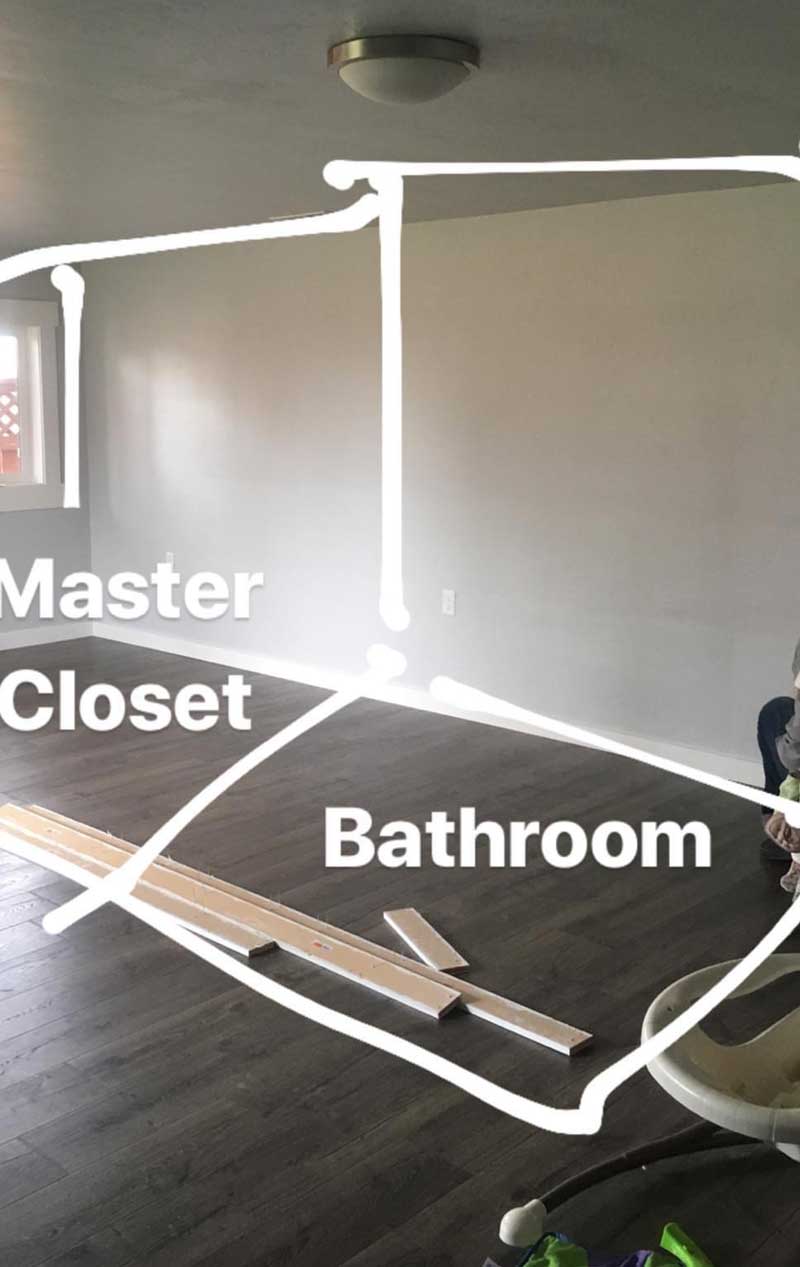 When we were building the nursery, we simply built the walls for the "future" bathroom and used it mostly as storage closet until we decided to tackle this modern boho farmhouse bathroom as apart of One Room Challenge.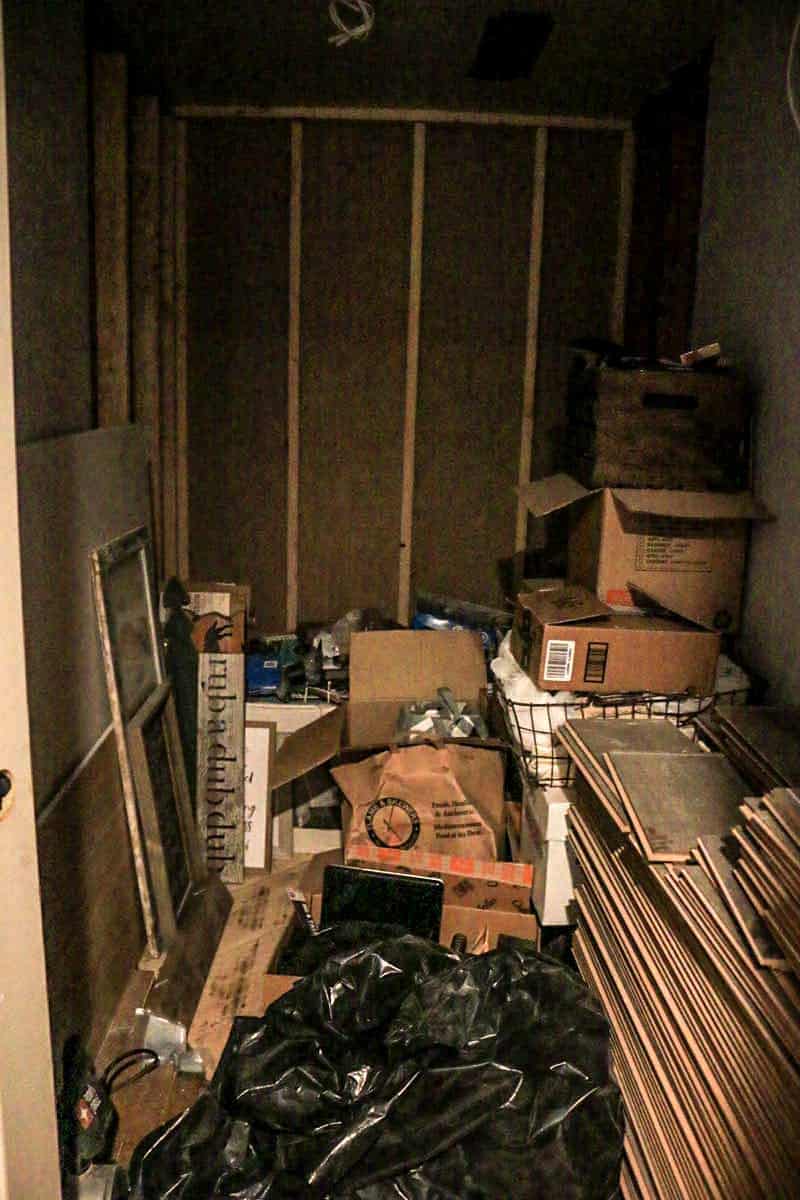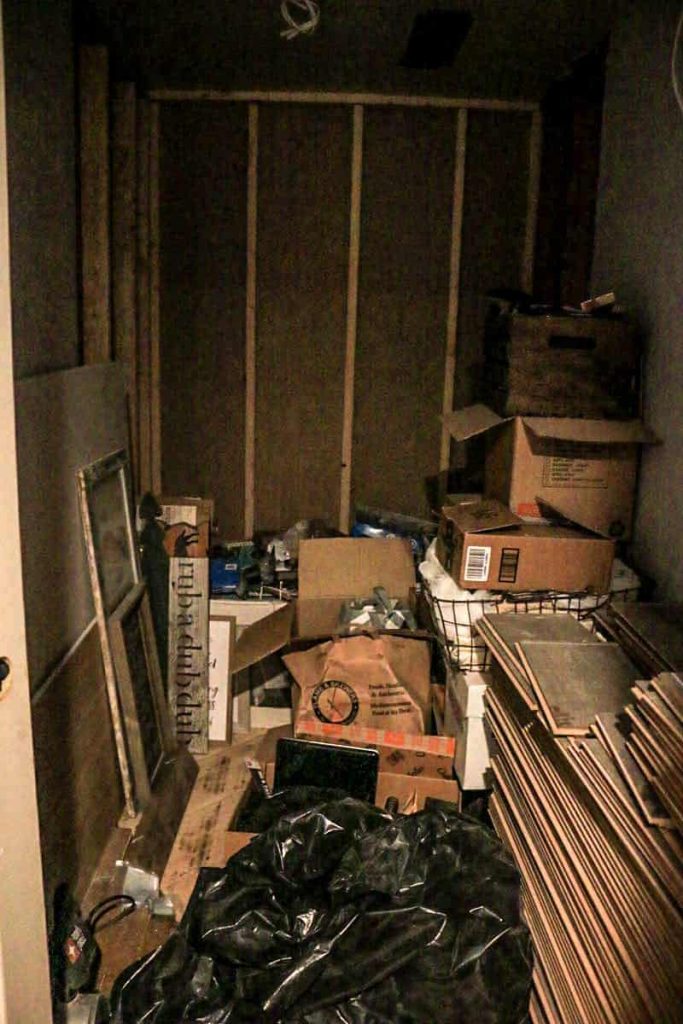 We didn't know really know what we signed up for when we decided to complete this modern farmhouse bathroom as apart of One Room Challenge, but we knew there was some level of insanity involved. If you don't already know, One Room Challenge (or affectionately known as "ORC) is a bi-annual event where hundreds of bloggers join together to renovate one room in their home and share about it over 6 weeks. Be sure to check out all of the rooms that got renovated as apart of ORC here.
If you're just joining us, be sure to go catch up on all of our One Room Challenge posts:
Warning…as with most room reveal posts, this post is very photo heavy…I've done my very best to narrow things down for you. Just so ya know, I went from 349 pictures to 29. So you should be proud of me.
Before we jump into things, I just wanted to take another chance here to be sure to give a BIG thank you to our amazing sponsors. We had so much fun working with these awesome companies on this modern farmhouse bathroom renovation.
Dap | Avanity | The Builder Depot
Now when we started ORC just 6 weeks ago…this is what the bathroom looked like…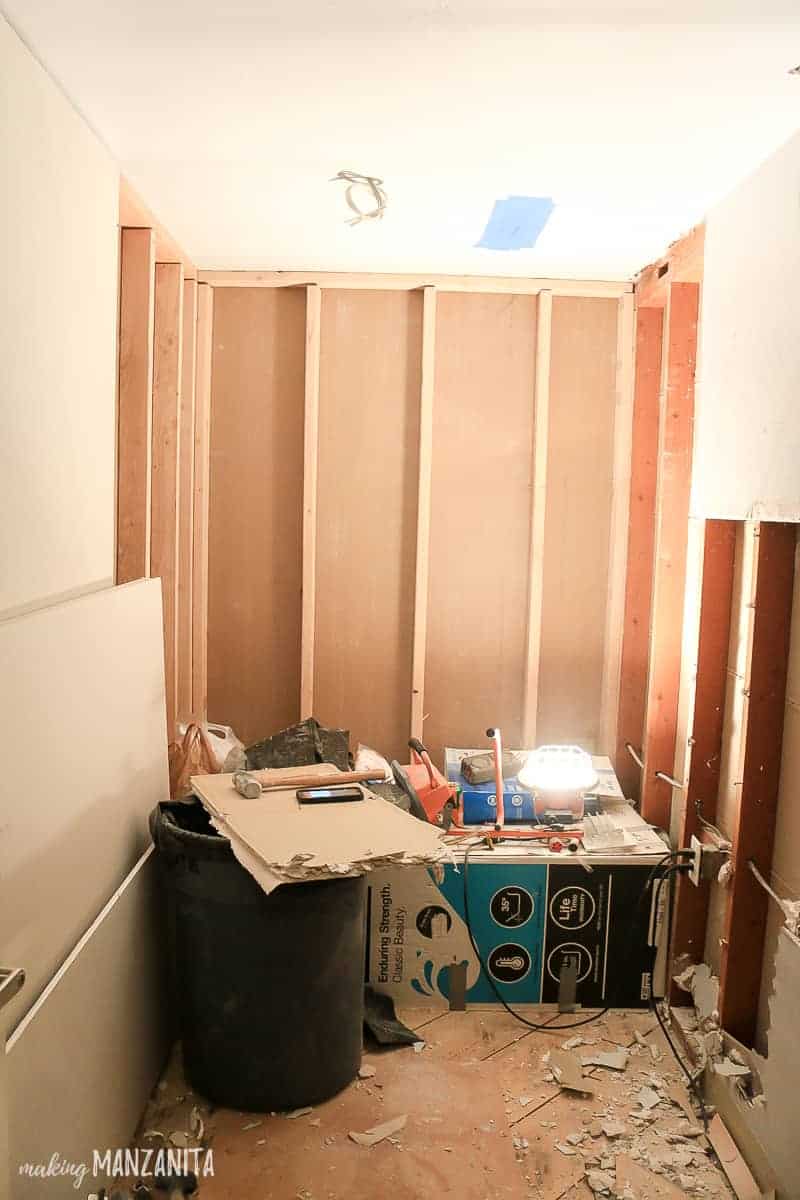 …oh, the horror. Right? If you want to see more "before" pictures, check out Week 1's post.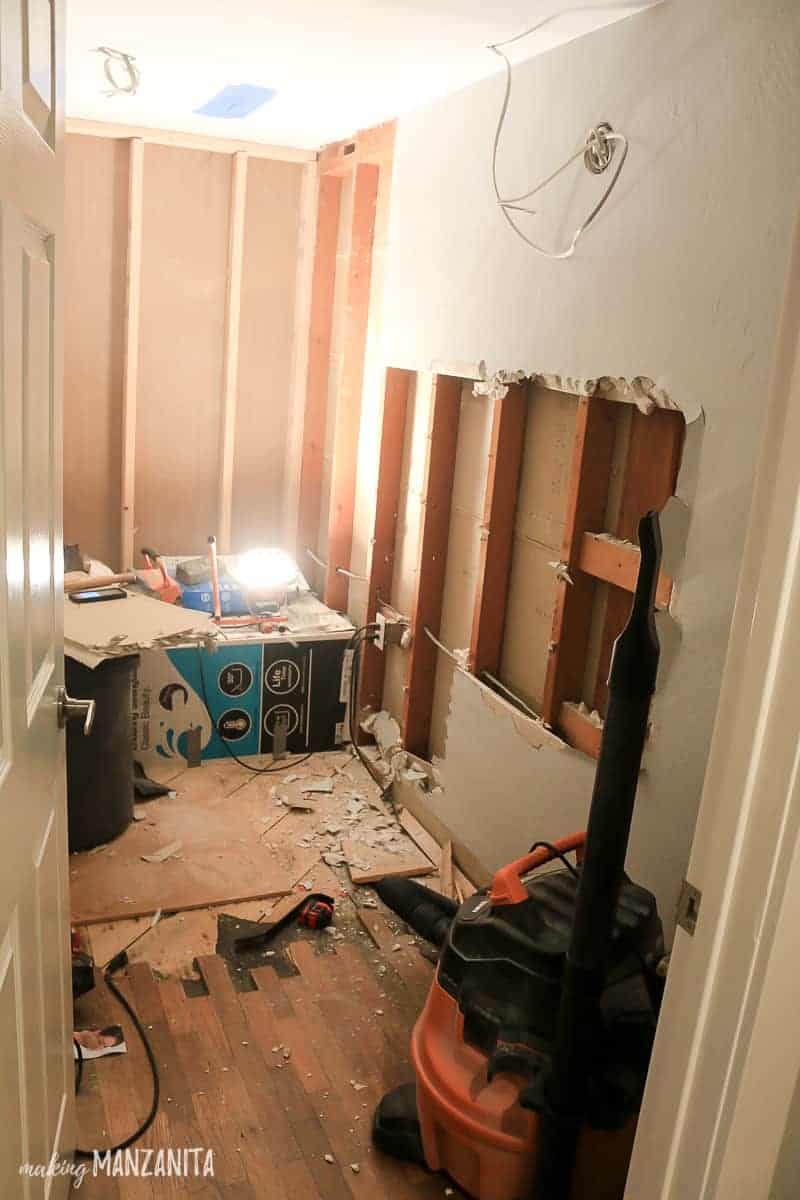 Now…are you ready to see what our modern boho farmhouse bathroom looks like today??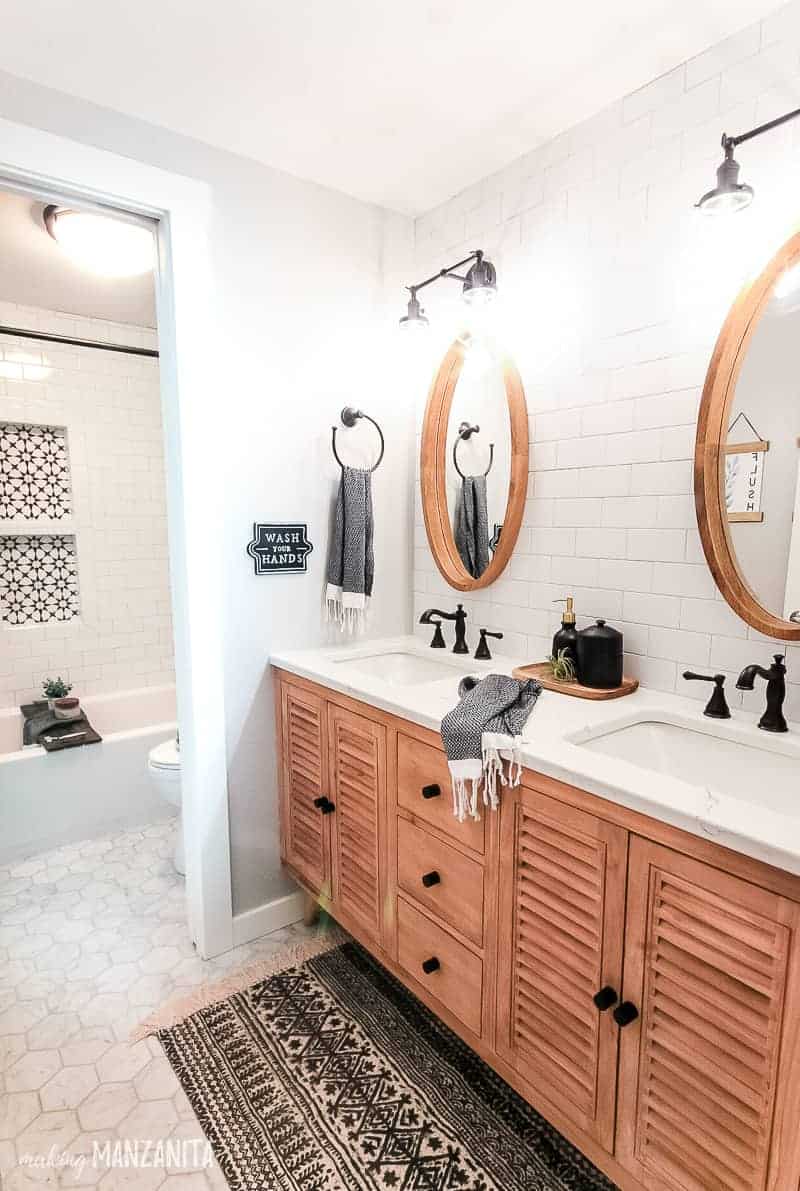 Holy frijoles, am I right?!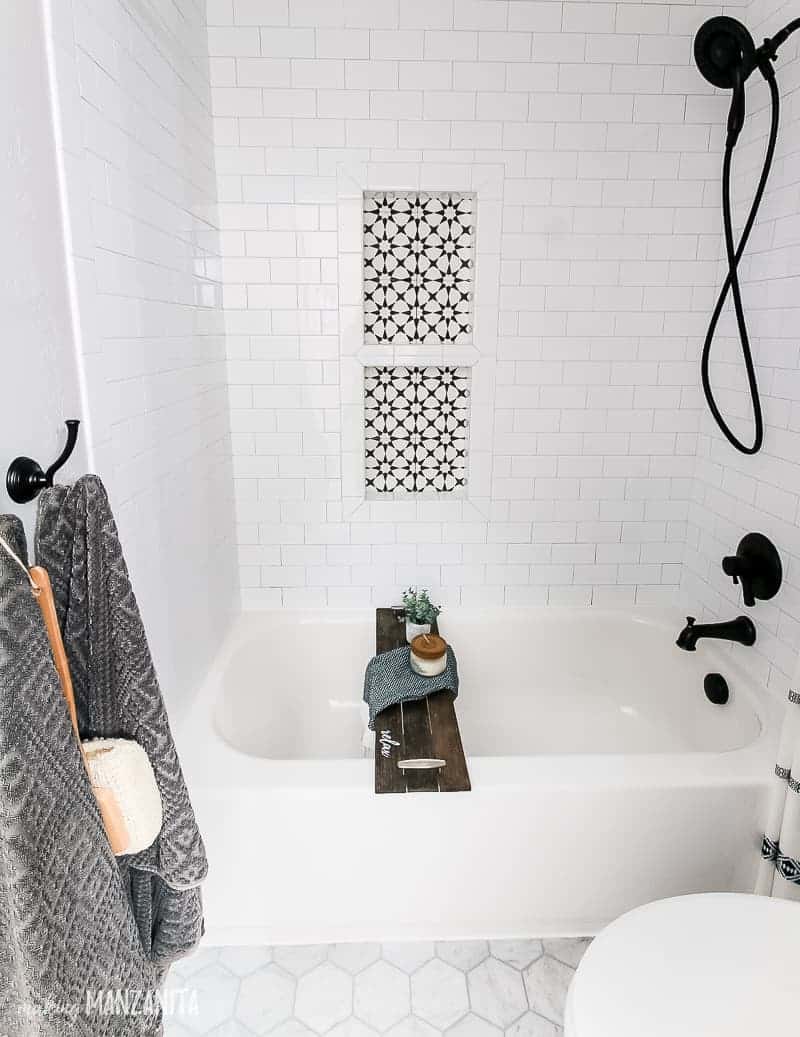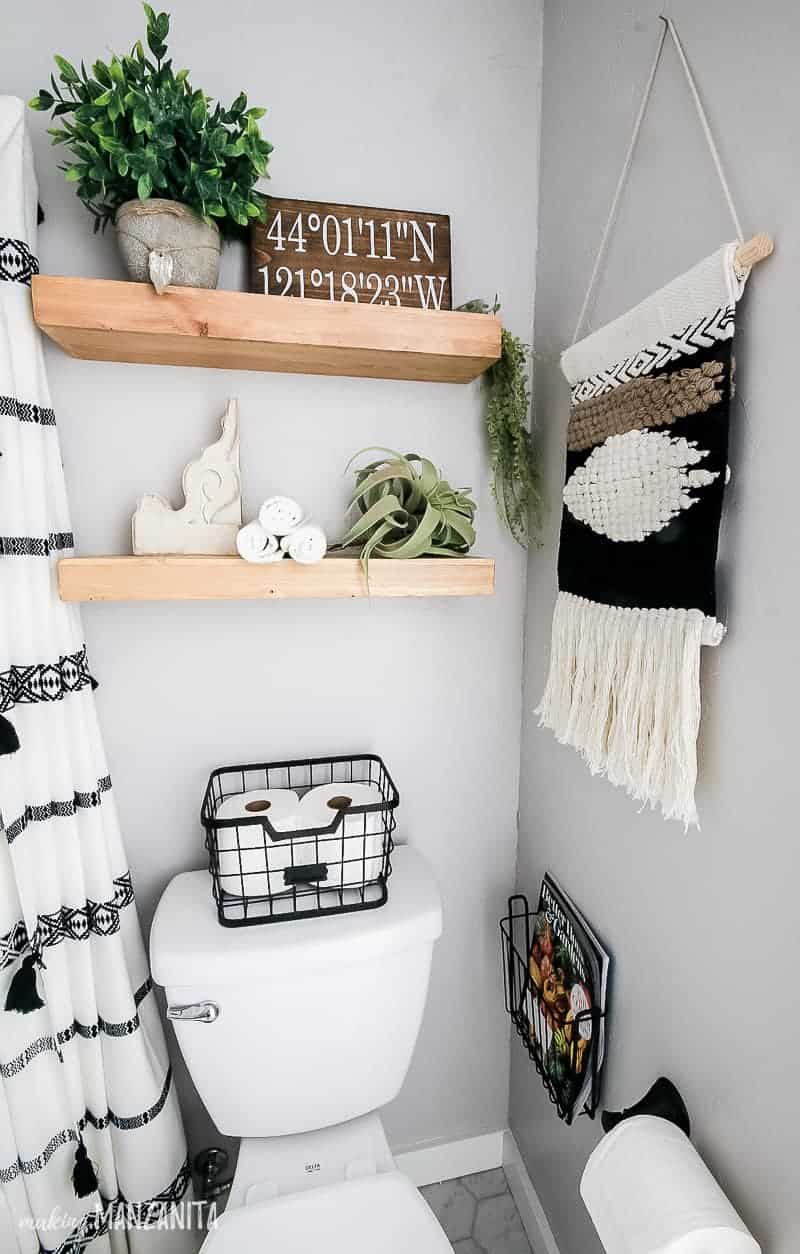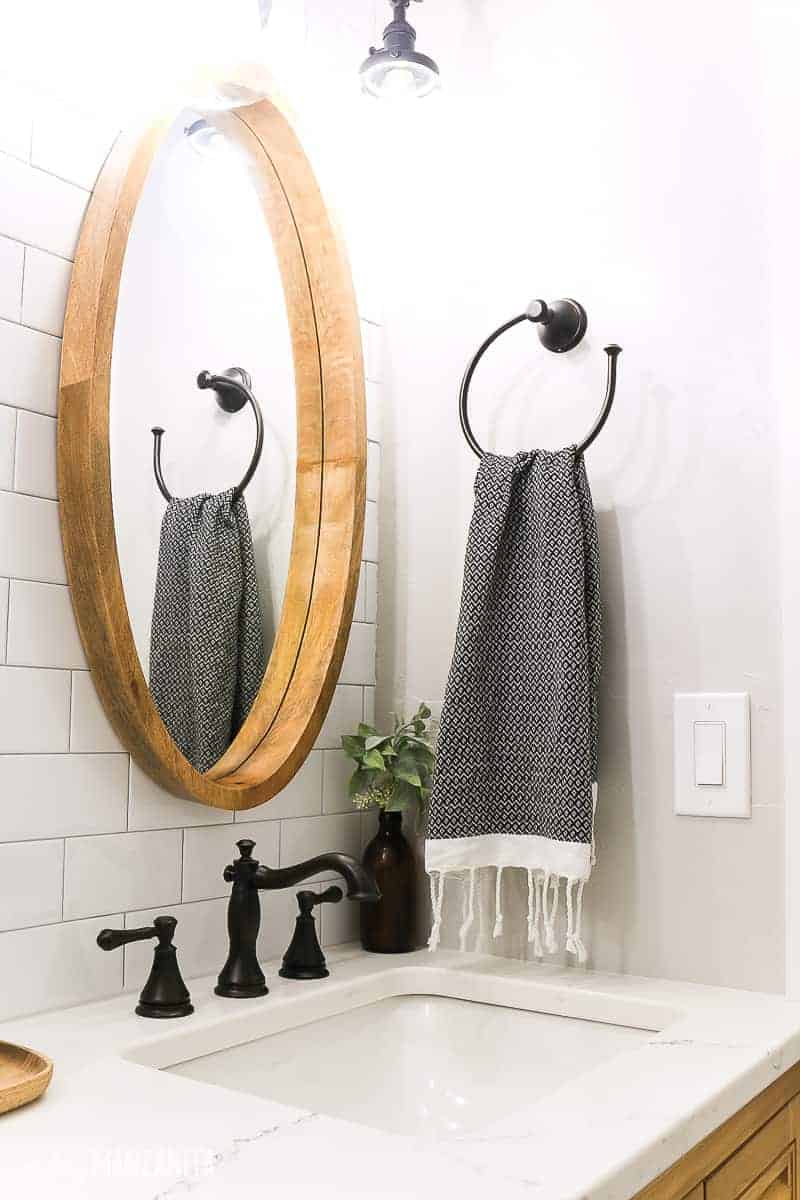 Oval Mirror | Sink Faucet | Hand Towel | Towel Ring
I can't even believe it myself.
This bathroom art adds the perfect farmhouse touch!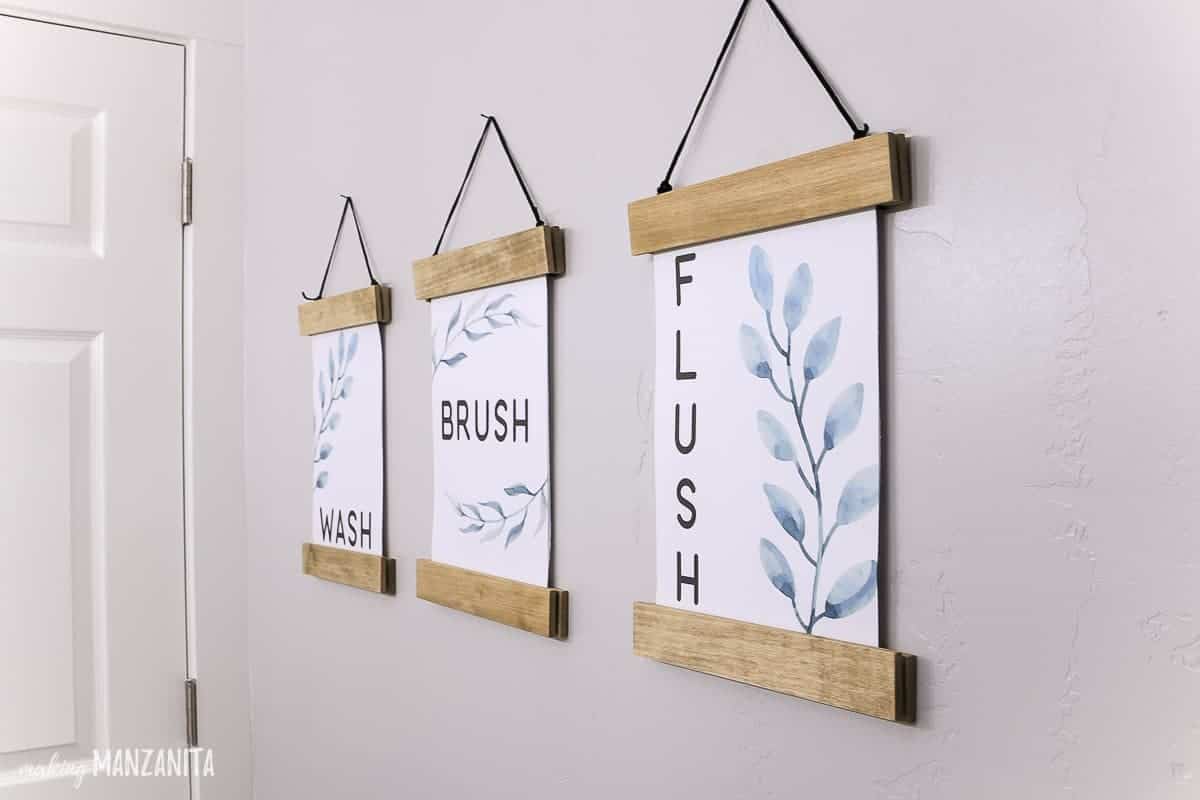 FREE printables & DIY tutorial for wood frames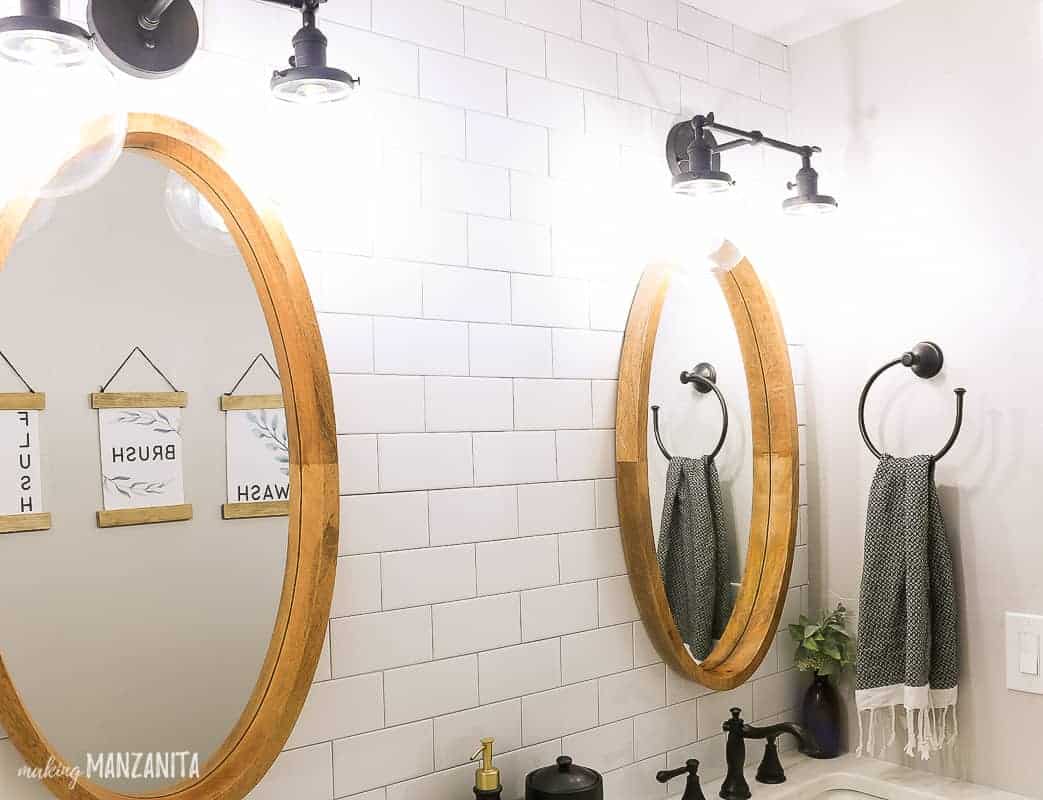 White Subway Tile | Tile Grout | Vanity Lights
What is even more crazy is that all of this happened in six freakin' weeks! Like…what!??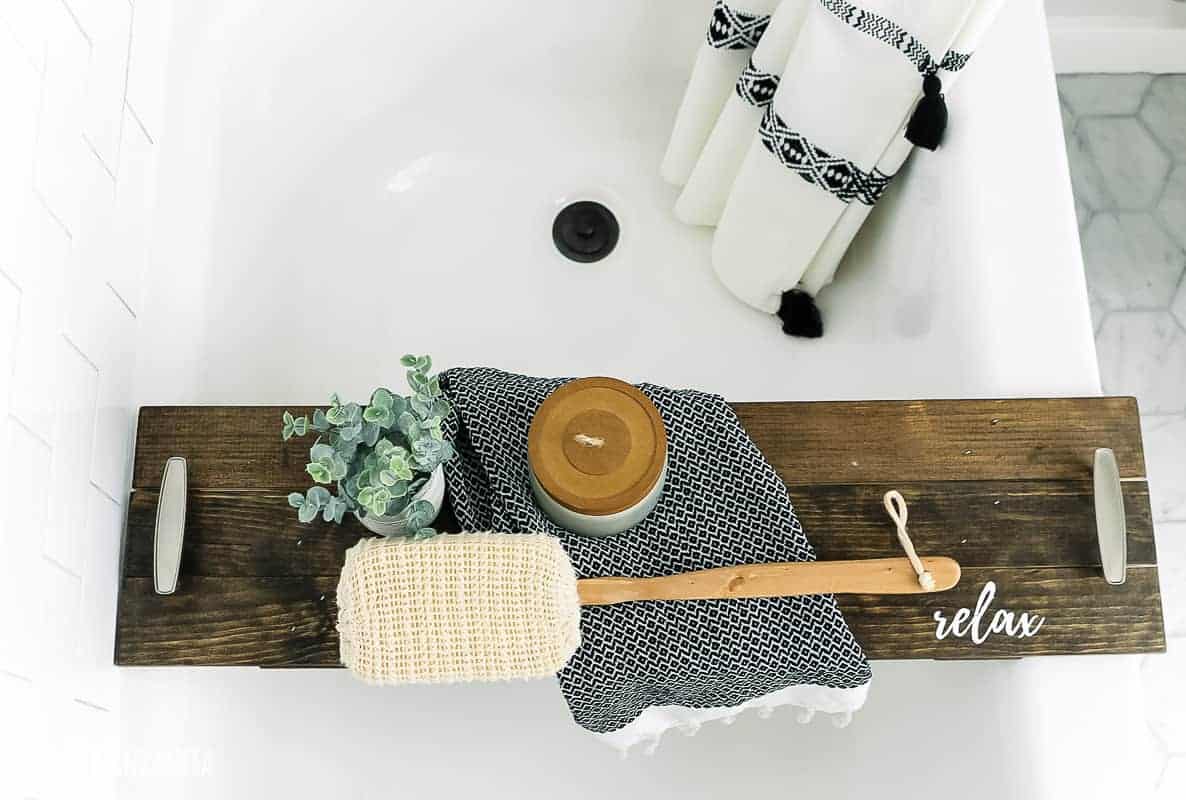 Bath Tray | Sisal with Handle | Towel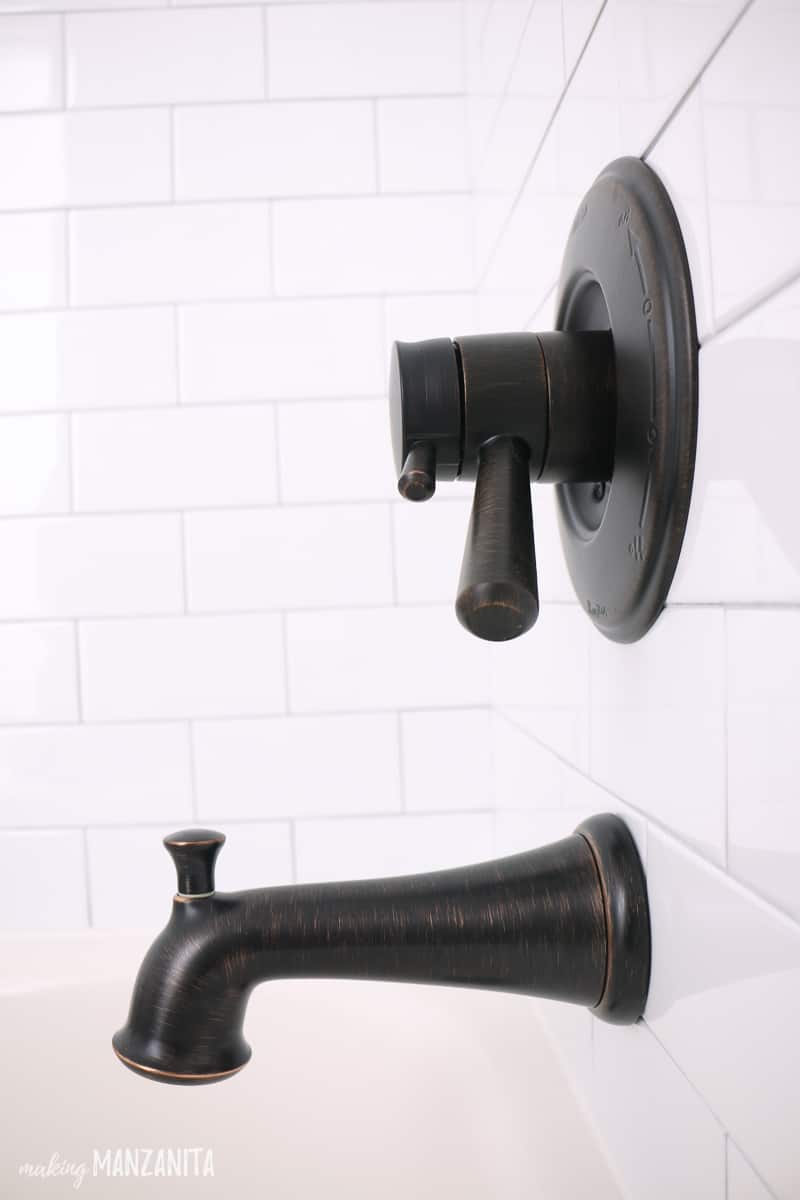 Even though we did our best to try to stay organized during this renovation (read: how to stay organized while renovating), there were times that I seriously doubted that we were going to finish on time.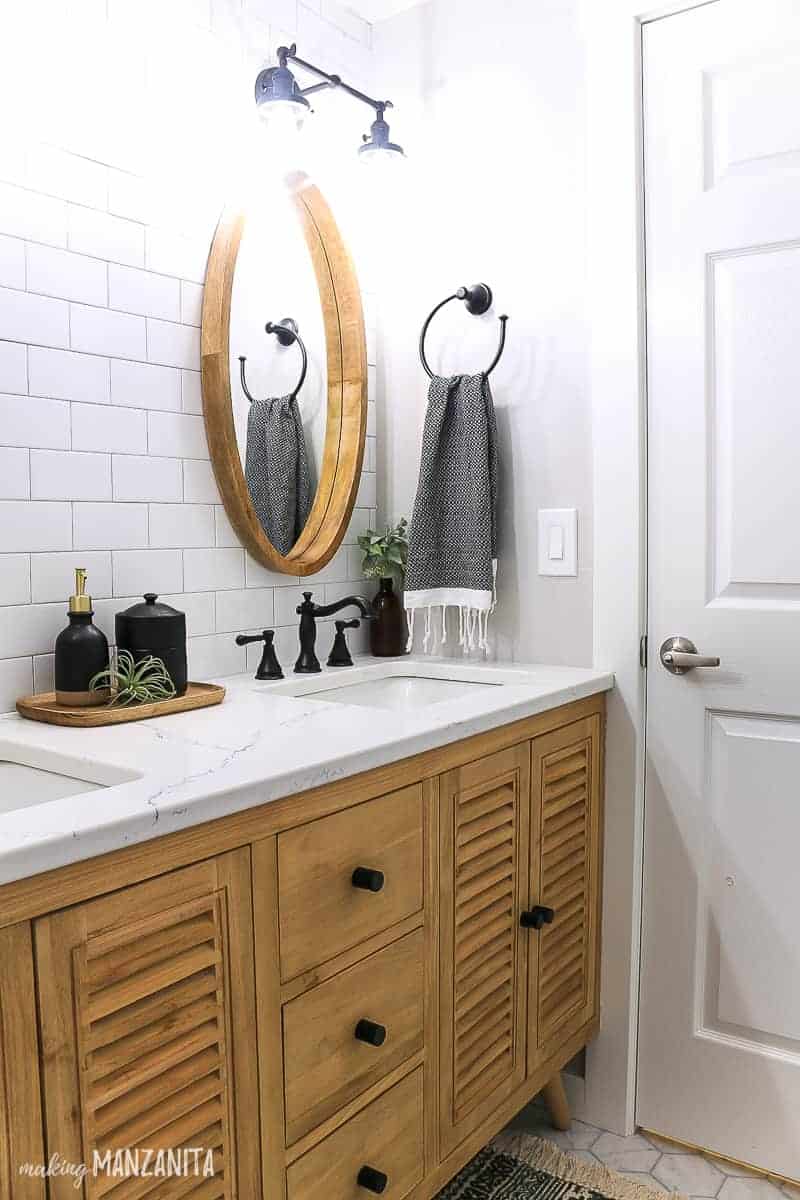 It took countless nights working until 2 or 3 am, a million gallons of coffee, 50+ energy drinks, way too much fast food and pizza, an endless loop of cartoons for the kiddos, and the rest of the house being in complete and utter shambles….but WE ARE DONE!
Check out these amazing boho farmhouse style bathroom accessories!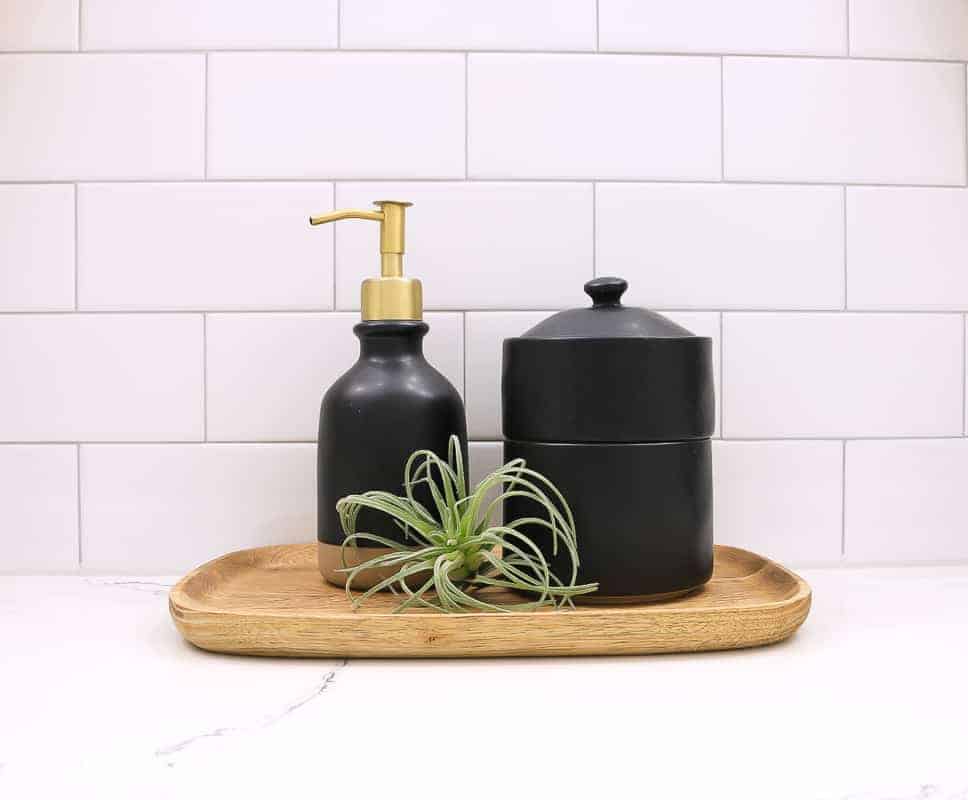 Soap Dispenser, similar | Bath Canister, similar | Air Plant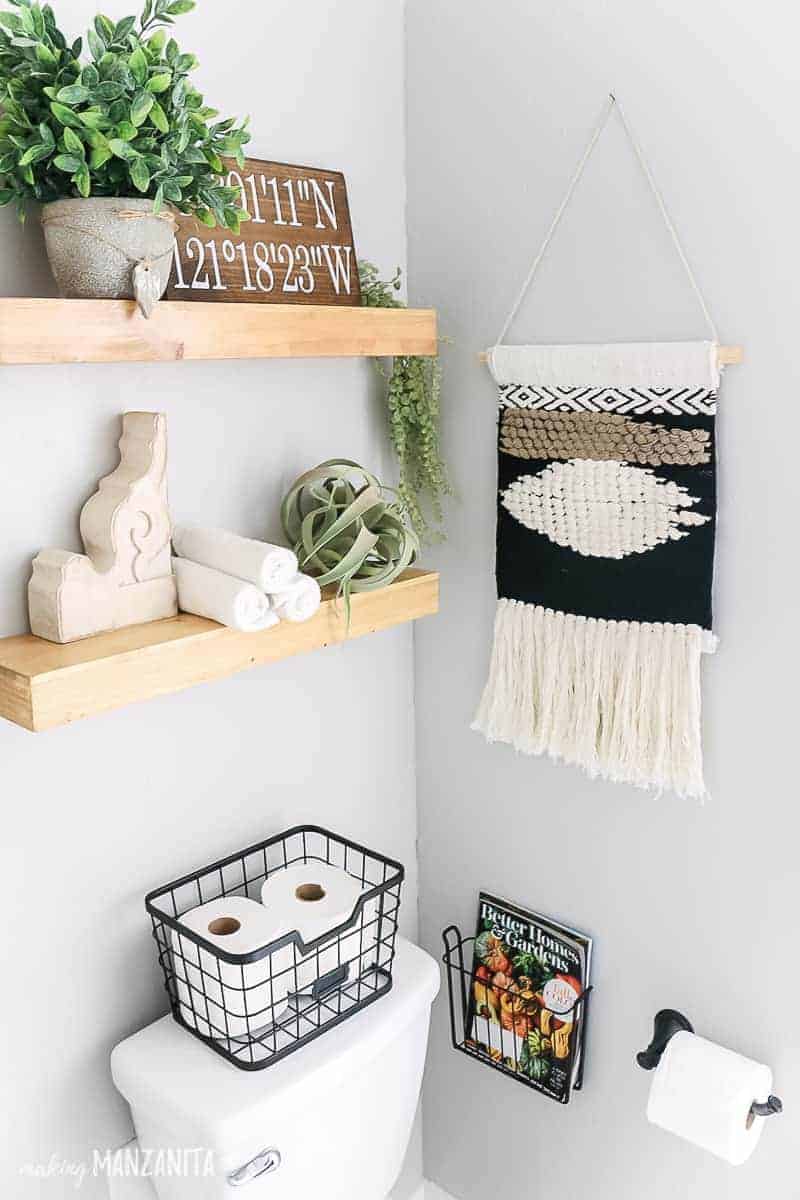 Floating Shelves | Corbel, similar | Wire Basket (for toilet paper) | Wire Basket (for magazines)
This One Room Challenge experience has been so draining and rewarding all wrapped up in one.
It was down to the wire, but I'm so glad that we signed up for the challenge because it forced us to work on the bathroom with a deadline in mind and most importantly, make decisions quickly.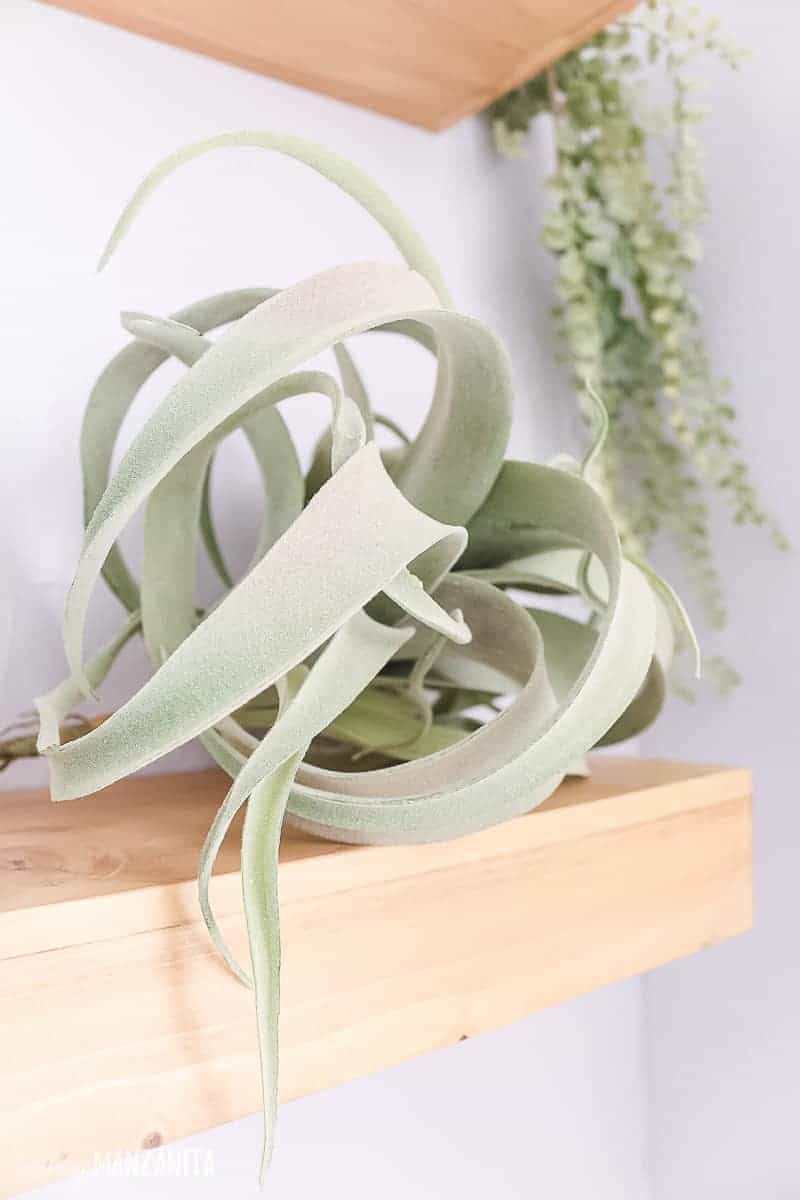 I don't know about you, but I tend to really overthink decisions…specifically design decisions. But since we had to act quickly, I couldn't agonize over things like paint colors.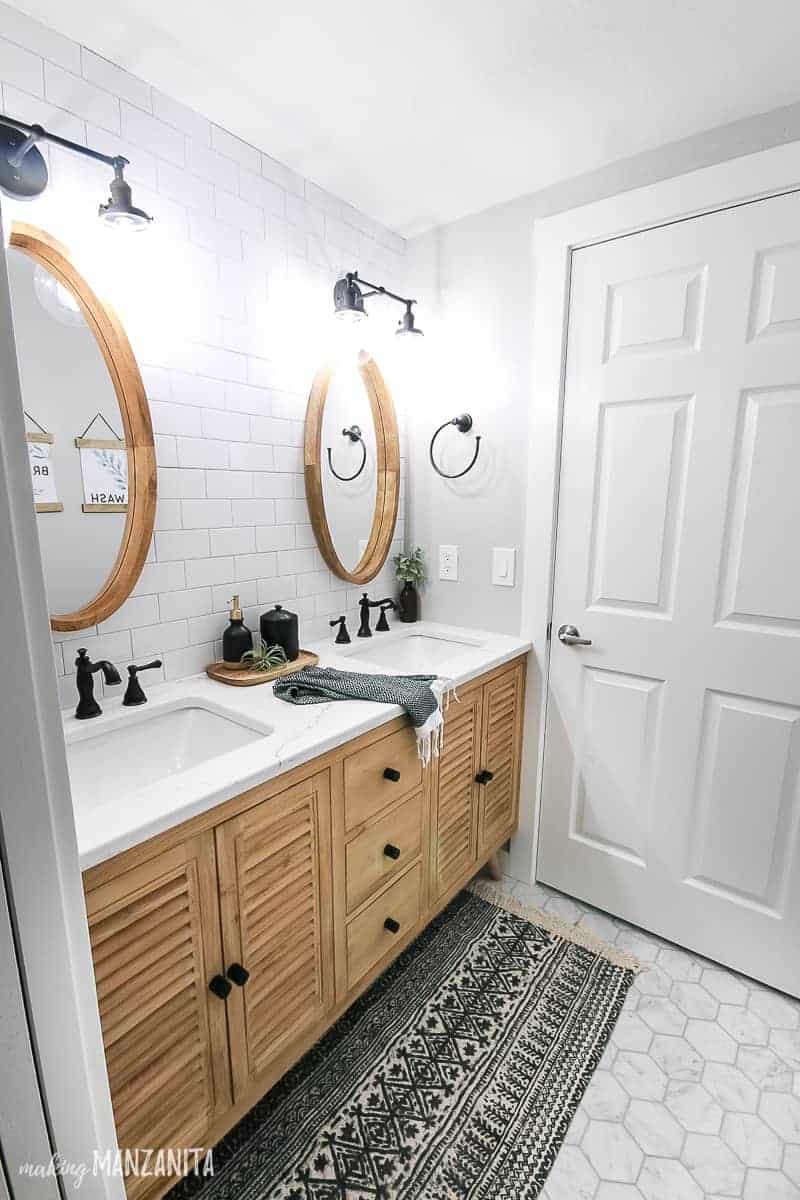 Marble Floor Tile | Rug (no longer sold, here's similar size options)
Not to say that decisions like paint colors aren't important, but I decided to go with this light gray paint color that I know we loved because we're using it in other places in our home too – as a part of our whole house color scheme.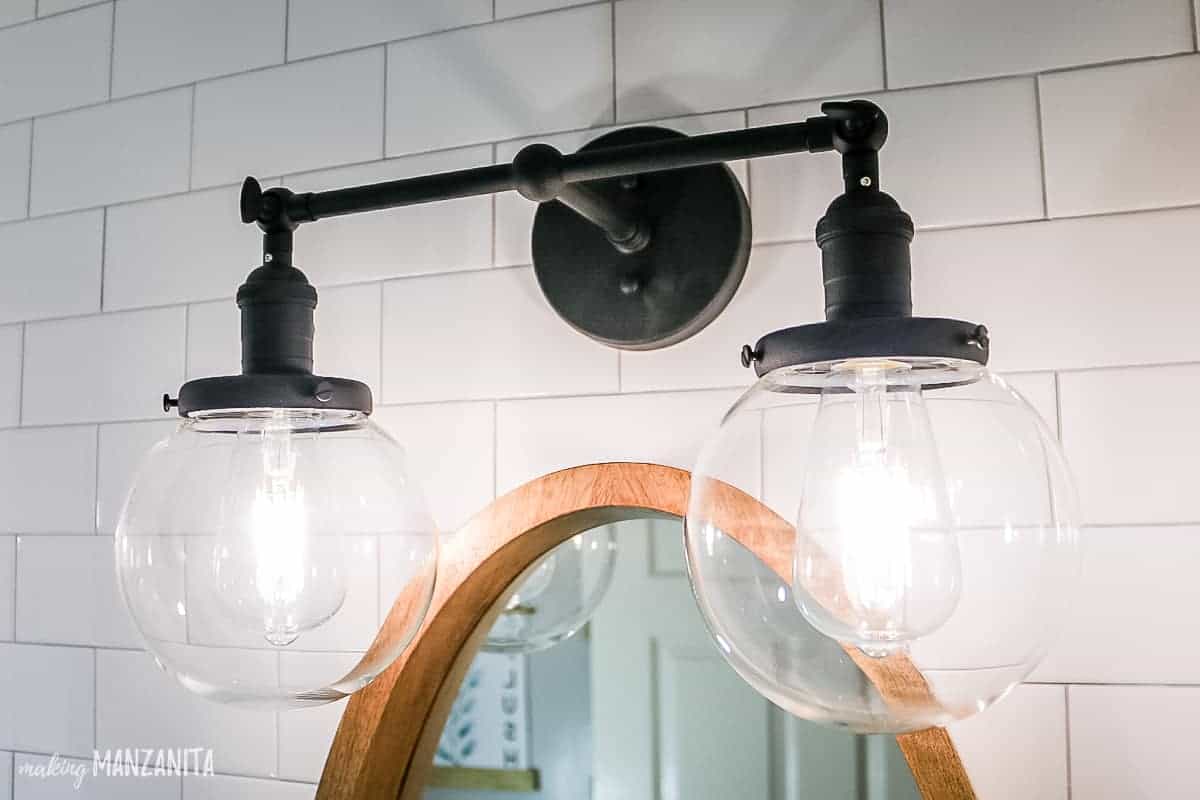 The vanity lights were one of those decisions that took a while. I mean, originally the decision was quick…I ordered these lights on Amazon. I
loved the budget-friendly price, the fact that they had three lights (no windows in this bathroom) and the narrow design (which was one of the most important things because the space is pretty small). There was only one left on Amazon and I needed two.
I did a quick Google search and saw there were a handful of other online retailers that sold them and didn't think I had anything to worry about.
So I ordered it….then went to purchase the 2nd one from another shop. The day after I placed the order for the 2nd one, I got an email that it was on backorder and would be 4-6 weeks.
So I canceled it….and ordered it from another shop….
Do you want to guess what the email the next day said? Yep, 4-6 weeks. So I decided to call it a day and look for something new.
I love the ones we ended up getting! The clear glass globes are my favorite, they really bring a modern feel to the farmhouse bathroom.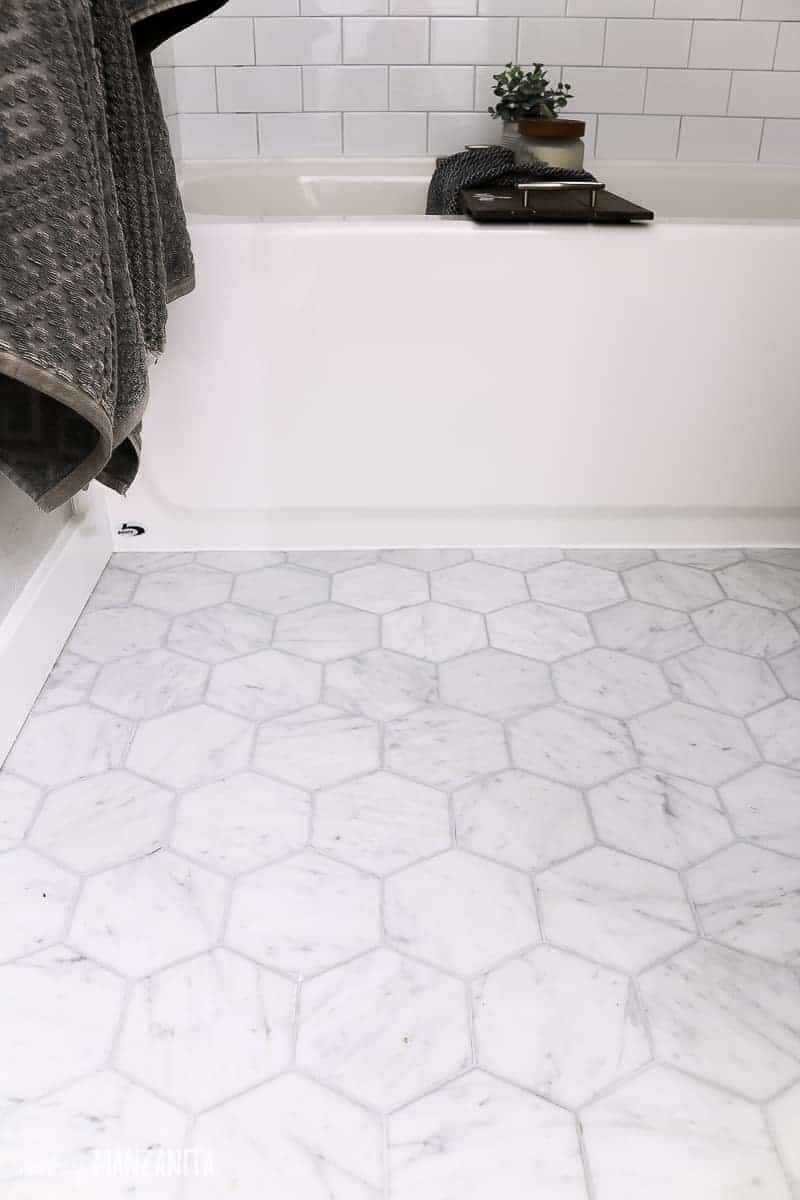 Marble Hexagon Tile | Floor Grout | Learn how to tile a floor
I'm fairly obsessed with white carrara marble, so I knew I wanted to incorporate into our farmhouse bathroom somehow. The floor tile was the perfect place! The hexagon shape brought in the modern look.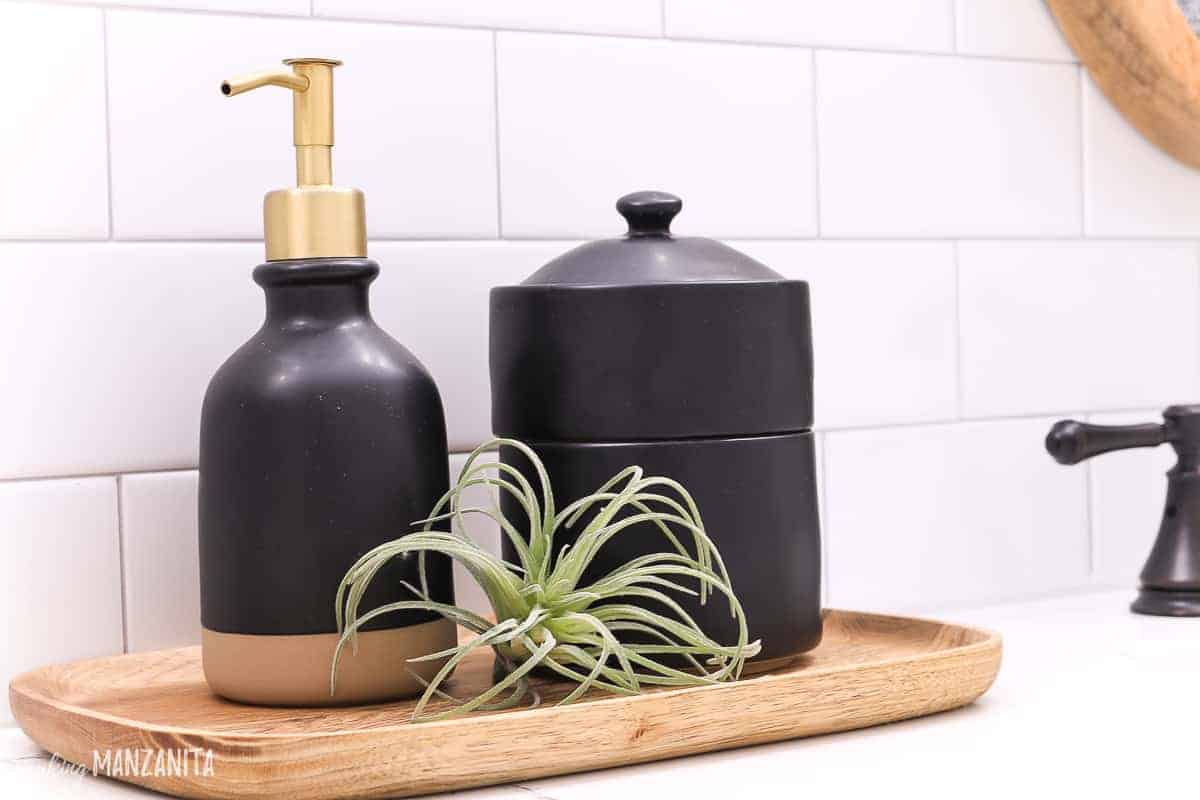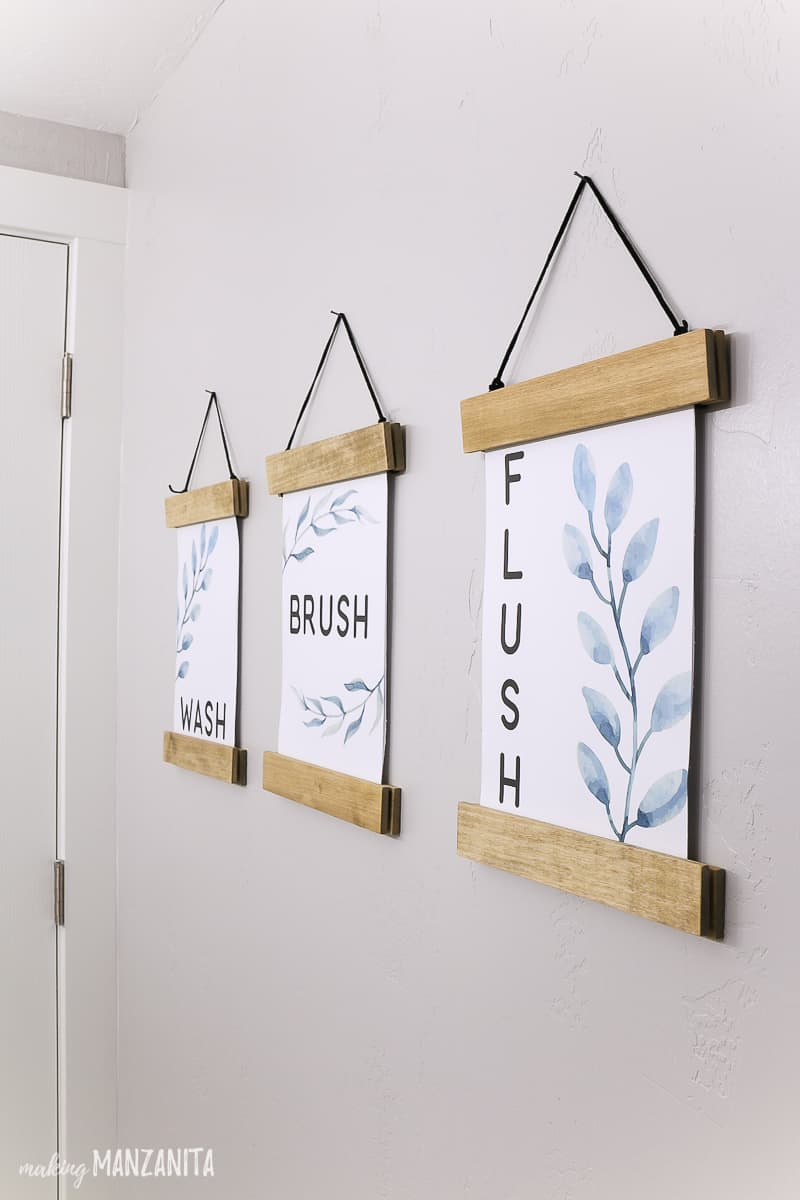 These wood frames were seriously SO easy to make. Check out the full tutorial here and grab these free printable downloads for the wash, brush and flush signs!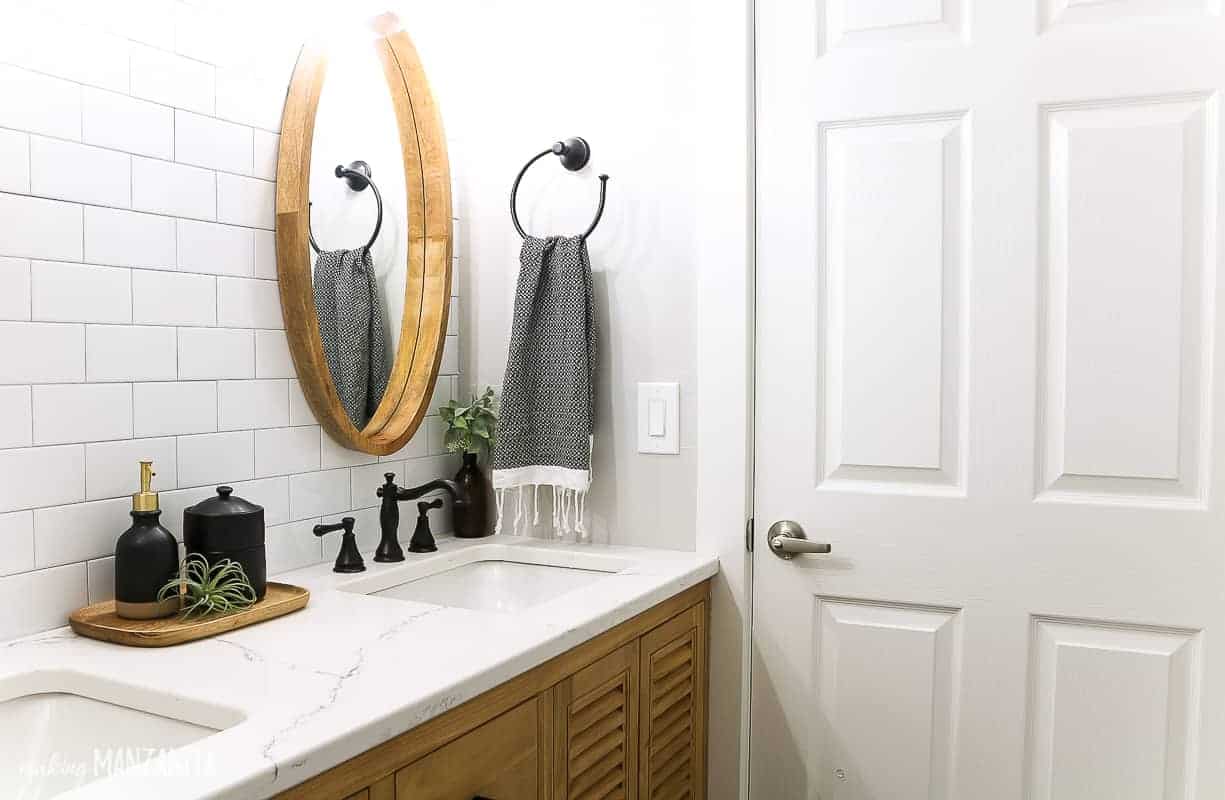 I love the bright, white look of the farmhouse bathroom brought in by the classic white subway tile and light quartz countertop.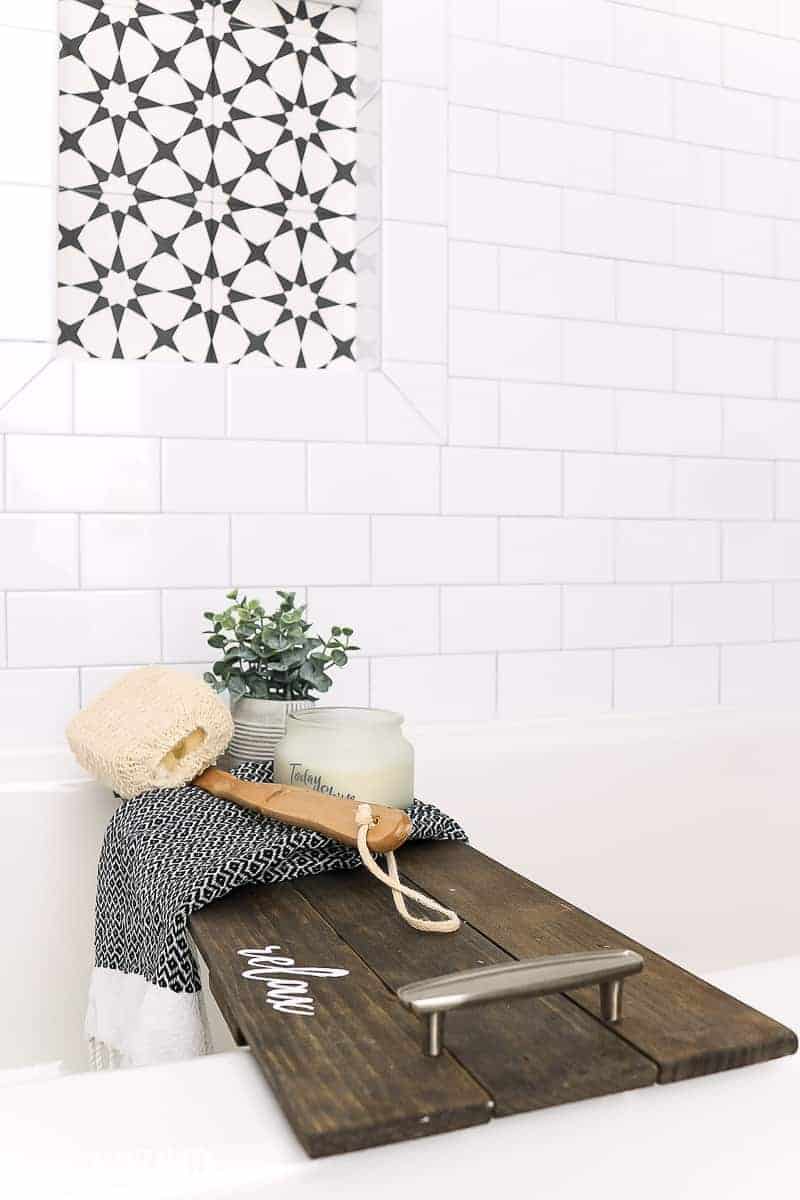 Cement Tile (in niche) – Check out what we did with the leftover tiles here!
Check Out More Before & Afters of Our Boho Farmhouse Bathroom Renovation
Let's take another look at those before and afters…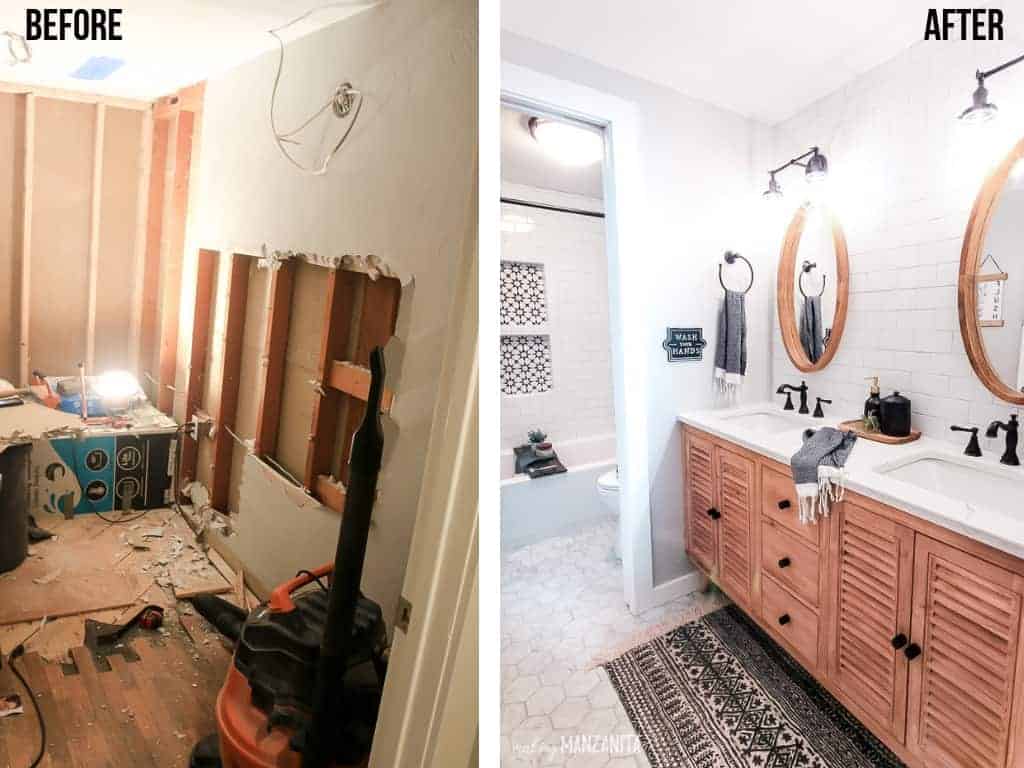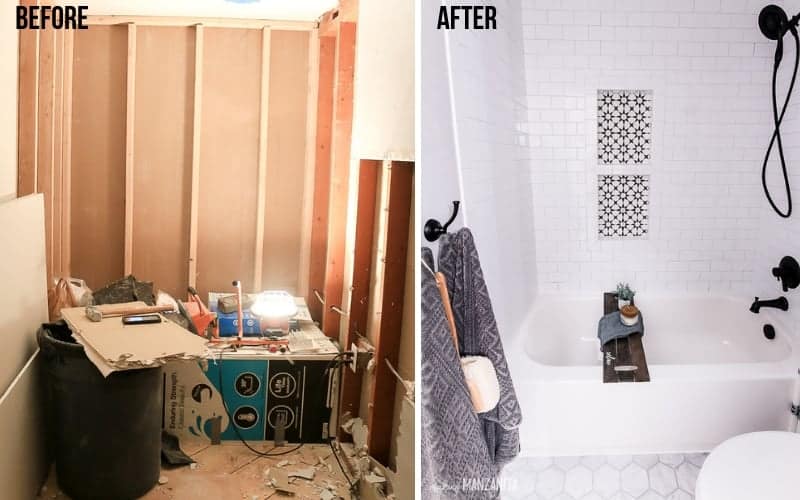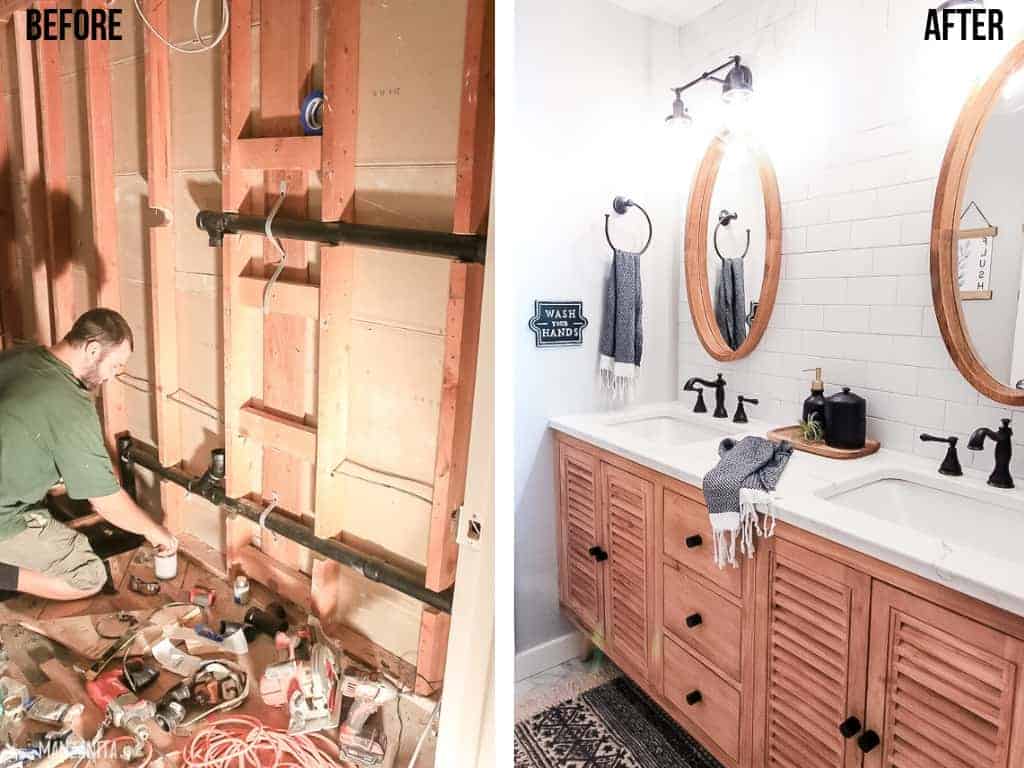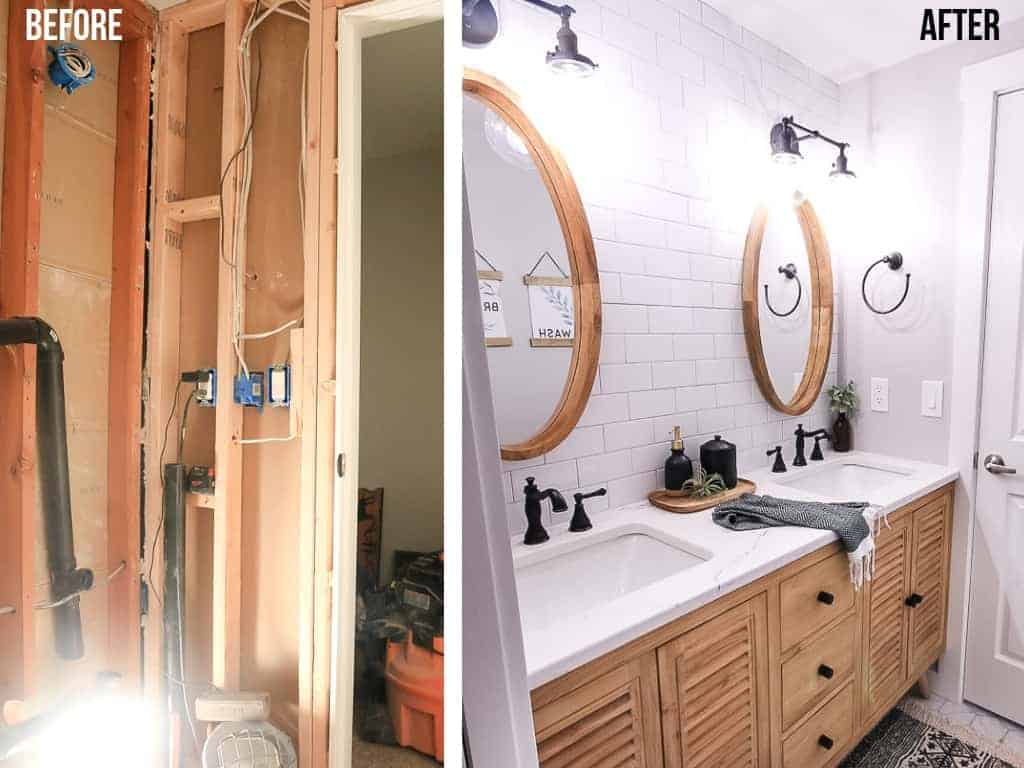 Source list for this modern farmhouse bathroom renovation:
---
And because, if you know me, you know that I'm a list person. Let's just take a look at everything we've done.
Here's the full to-do list for our modern farmhouse bathroom renovation:
Build walls Learn how to build a wall here!
Install electrical
Rough in plumbing
Install exhaust fan/light in water closet
Installed insulation
Build divider wall for water closet
Install pocket door on divider wall Learn how to frame a door in a wall here!
Install bathtub drain
Hang dry wall
Hang wonderboard on walls & lay on floors
Texture dry wall
Lay tile floors Learn how to tile a floor here!
Seal tile floors
Grout tile floors
Install vanity
Install toilet flange
Install countertop
Tile surround in shower Read lots of shower tile installation tips here!
Tile wall behind vanity
Install trim & baseboards
Paint walls
Install vanity faucets
Install toilet
Add vanity lights
Install bathroom accessories
Make DIY wall art
Hang shelves above toilet
Decorate!
---
Huge thanks to our official sponsors of this renovation!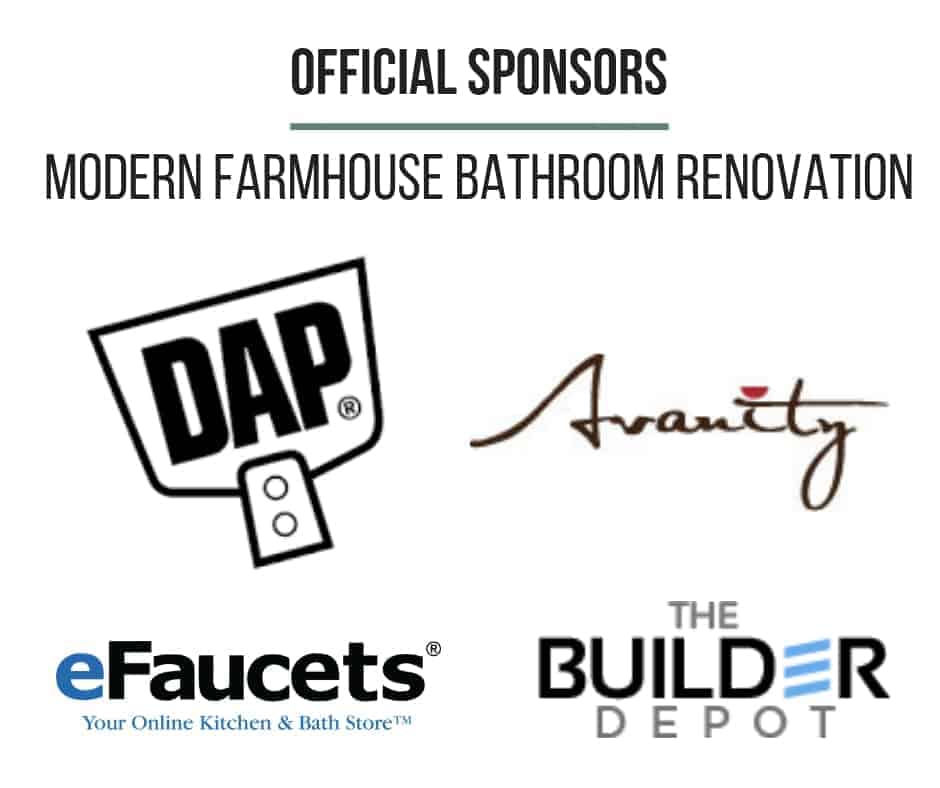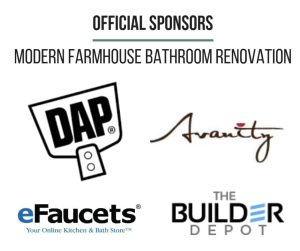 Dap | Avanity | The Builder Depot
Want more behind the scenes looks at renovations?
If you want tons of behind-the-scenes renovations and DIY life, the best place for you is my Instagram Stories!! If you want to catch up from the beginning of the bathroom renovation, head over to my Instagram profile and click on the "New Bathroom Build" highlights button. Be sure to follow our account to see you can see the day-to-day updates and help us out with decisions like these below…Our IG followers helped us already by giving us feedback on dividing walls for water closets and the floor tile options!