Are you installing a shower niche in your bathroom and wondering what the ideal shower niche height is? Read for the answer and some other shower niche design tips and tricks.
I love me a good shower niche. In fact, we've added a shower niche in both of the bathrooms we've renovated in this house.
Check out our kid's bathroom with a "double-decker" two-shelf shower niche and the matching "his and her" shower niches we added in our modern master bathroom.
I honestly don't think that I would ever intentionally design a shower without installing a shower niche.
Otherwise, you're stuck hanging up a clunky shower caddy on the showerhead or with tons of bottles all lined up along the edge of the bathtub or on the floor of the shower…no thanks.
Time to say goodbye to shower caddies and hello to an intentional, functional, and fun storage solution for shampoo bottles and bathroom items.
This shower niche height article contains affiliate links, but nothing that I wouldn't recommend wholeheartedly. Read my full disclosure here.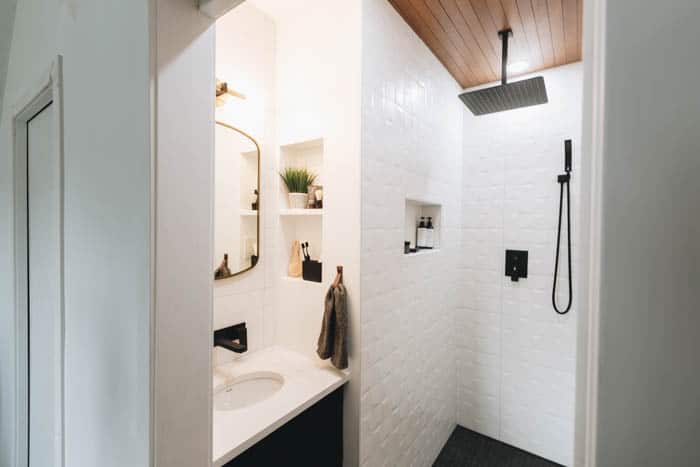 What is a shower niche?
Let's start with the basics. What is a shower niche, anyway?
A shower niche is a shelf in the shower wall that is built into the tiled wall to hold shower items. It is an open space recessed on the shower wall in between the wall studs.
They are so convenient in showers for storing bottles of shampoo and conditioner, along with razors and more.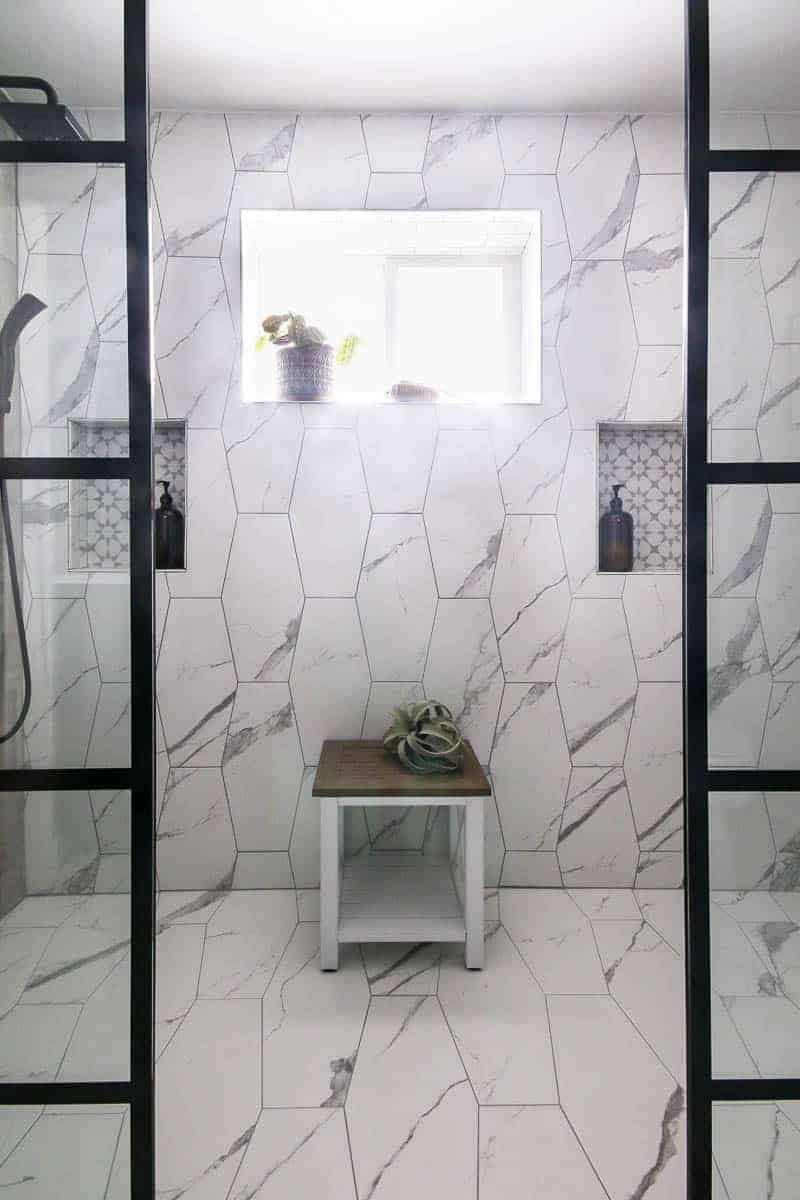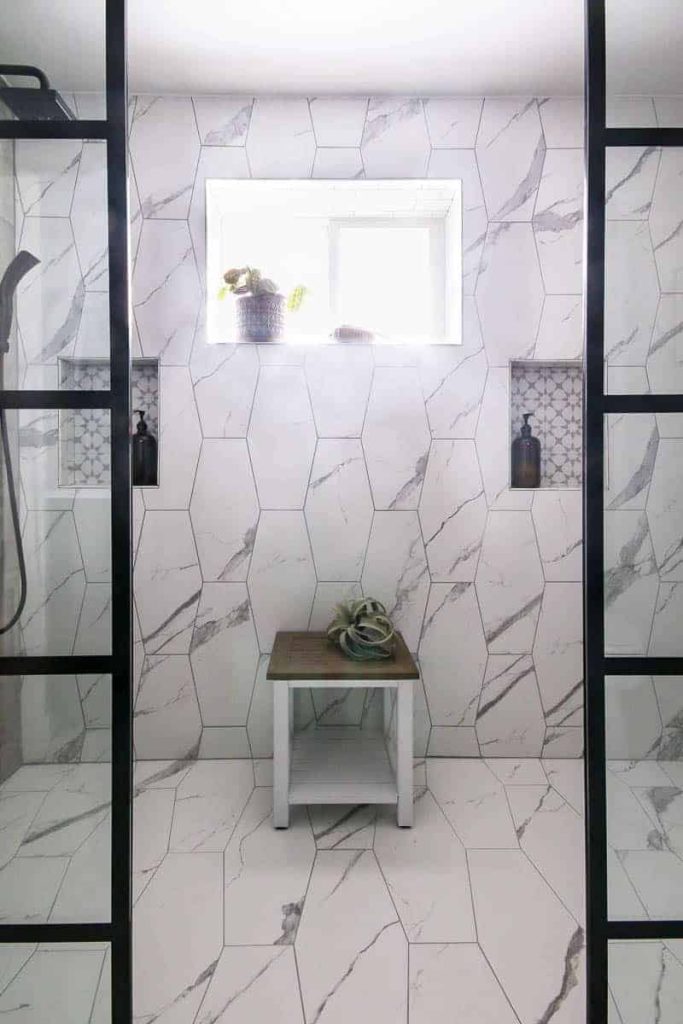 What's the ideal shower niche height?
When you're installing a shower niche, you'll have to make a decision on how high up the shower wall to install the shower niche. Although there is no "right" answer here to the shower niche height question, it all comes down to personal preference.
Most people would say that they prefer their shower niche to be placed anywhere from elbow height to eye height when standing. This translates to roughly 38″ to 60″ from the ground on the average adult.
This height makes it easy to quickly grab bottles of shampoo in the shower without having to reach up or bend down.
Reasons to have a higher shower niche
There may be some unique reasons why you would want to have a shower niche that is higher than the recommended 38″ – 60″. For instance, you share the bathroom with your kids and you want to keep sharp objects (like razors) away for little hands.
Having the shower niche installed a little on the high side will avoid water splashing into the niche, which can cause it to become dirty or have water intrusion/mold issues.
Always be sure that your shower niche is installed correctly with waterproofing and the tiles on the bottom of the niche angeled outwards so water doesn't puddle. We also prefer (and recommend) using a pre-fabricated shower niche like this.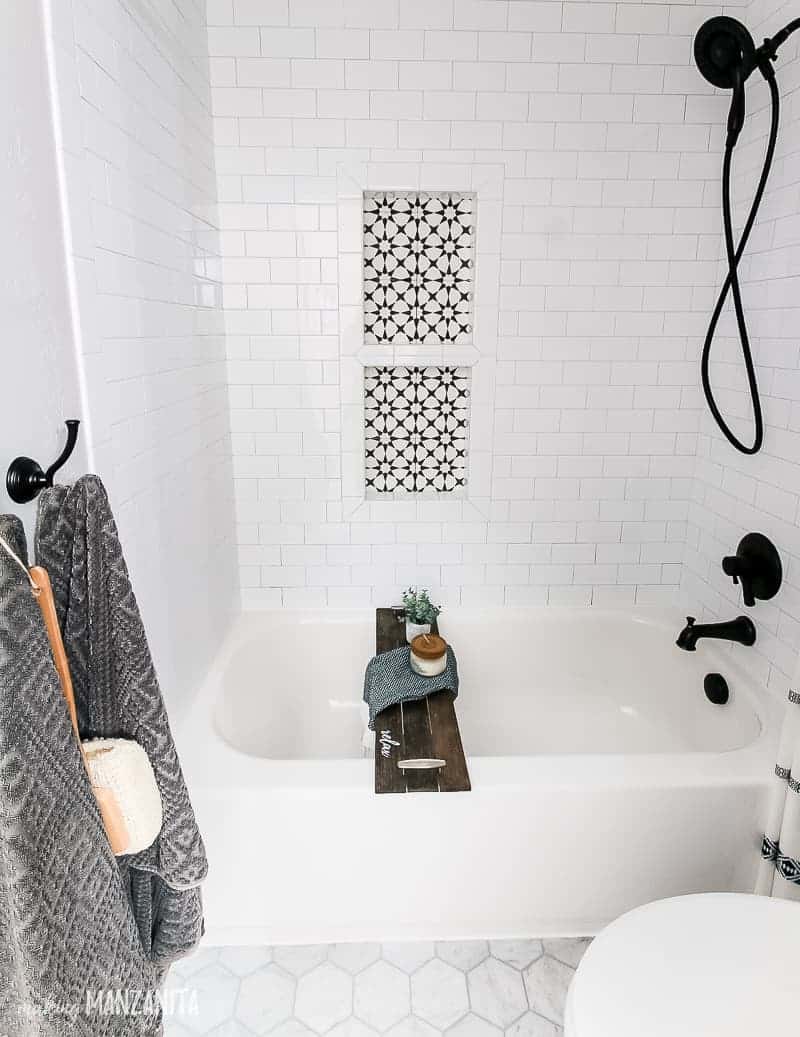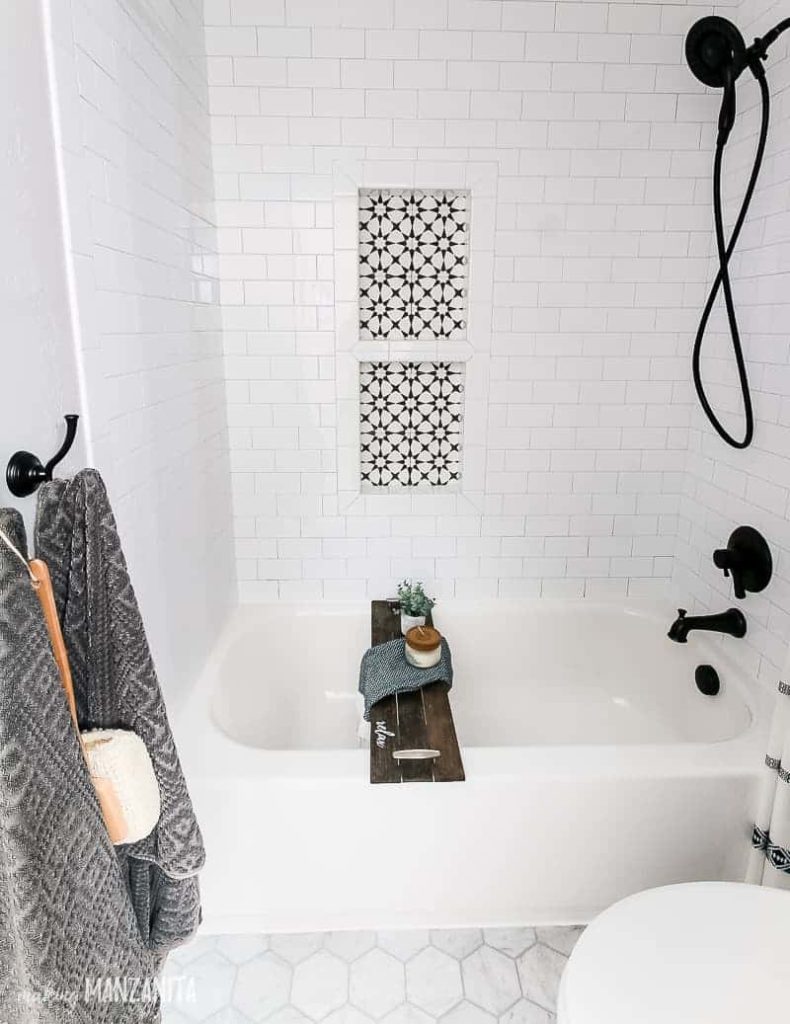 Reasons to have a lower shower niche
There are a few, very good, reasons why you may want to install your shower niche a little lower.
If you are installing the shower niche in a bathroom with a bathtub, you maybe want it to be a little lower so that you can still access the bottles in the niche while in the bathtub without having to stand up. The ideal height for a shower niche in a bathtub is 25″ – 30″.
If smaller kids use the shower independently, you may be it to be installed a little lower so they can reach the bottles of shampoo easily.
Shaving Ledge Height
Lastly, this one is for the ladies! If you are wanting to use the shower niche as a place to set your foot while shaving your legs, you definitely want it to be installed lower.
If you are wanting to use the niche as a shaving ledge, the bottom should be roughly 12″ to 18″ from the ground.
Alternatively, you can add a very small little niche that is made JUST for shaving!
Instead of a shaving ledge in our "his and her" shower in our master bathroom, we found a waterproof shower table that is perfect for sitting in the middle of the shower and being used as a footrest when shaving legs.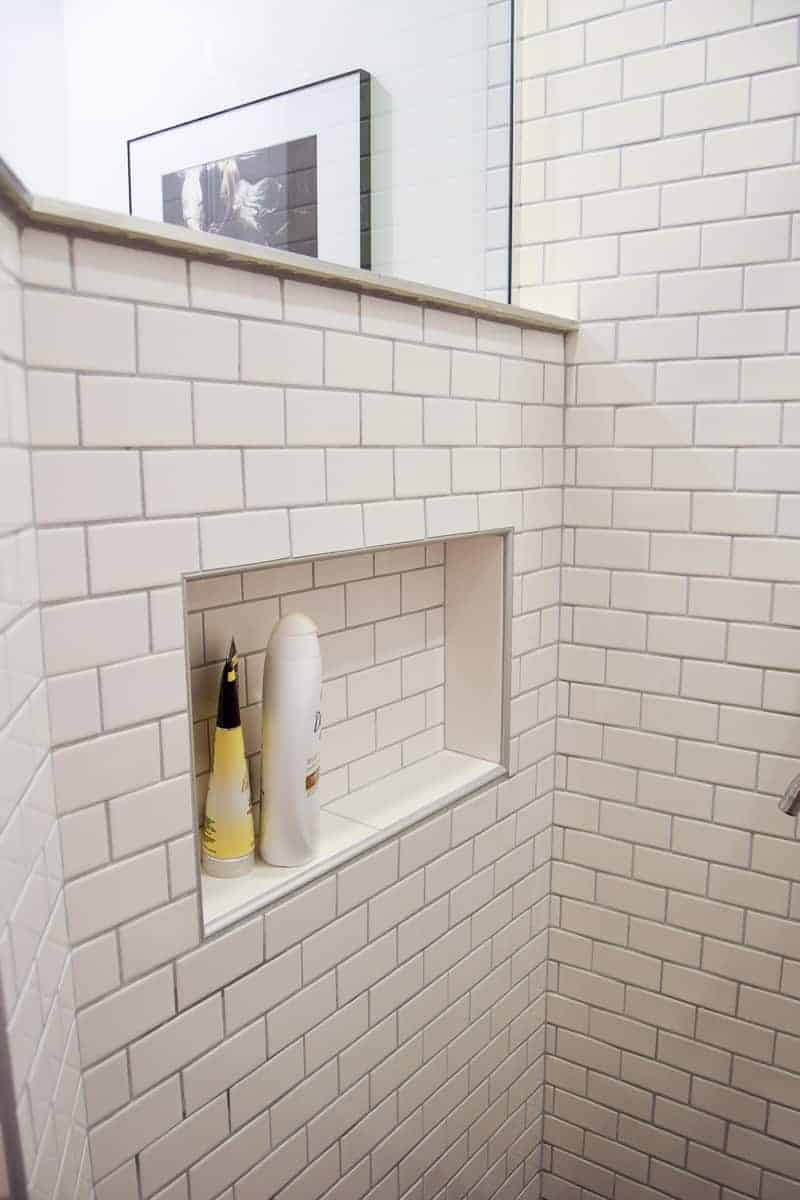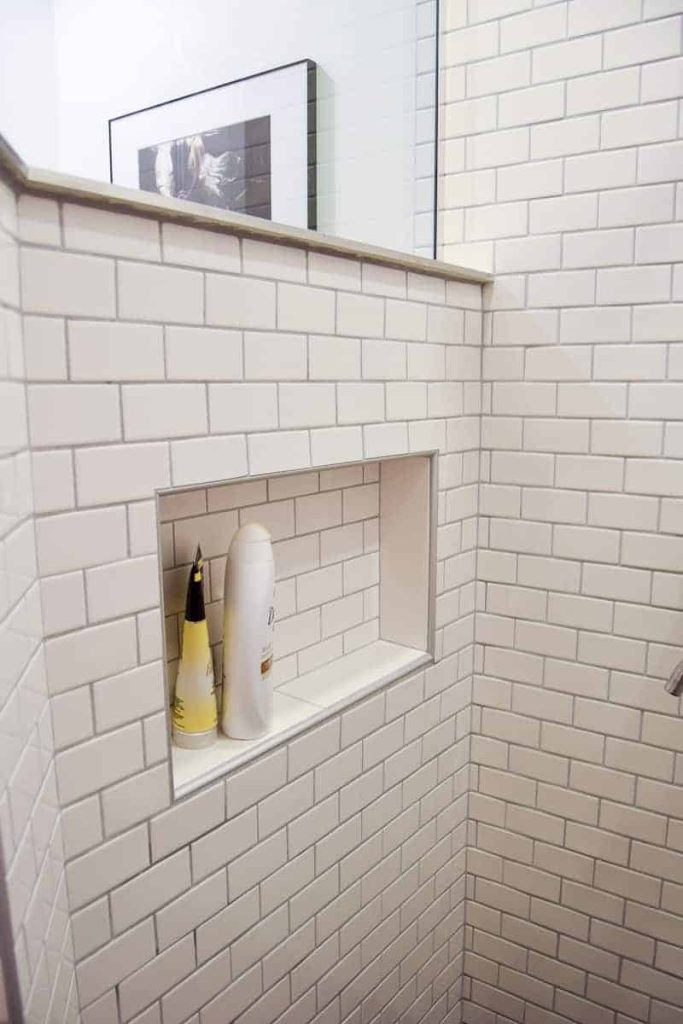 How big should your shower niche be?
Installing a shower niche that is too small is not even worth the effort. Your shower niche definitely needs to be large (both deep and tall) enough to hold the bulk-sized large bottles.
The average height of most shampoo bottles is between 7″ and 9 1/2″. However, the larger pump bottles can range from 9 1/2″ to 10 1/2″. I would recommend a shower niche minimum size of 12″ – 13″.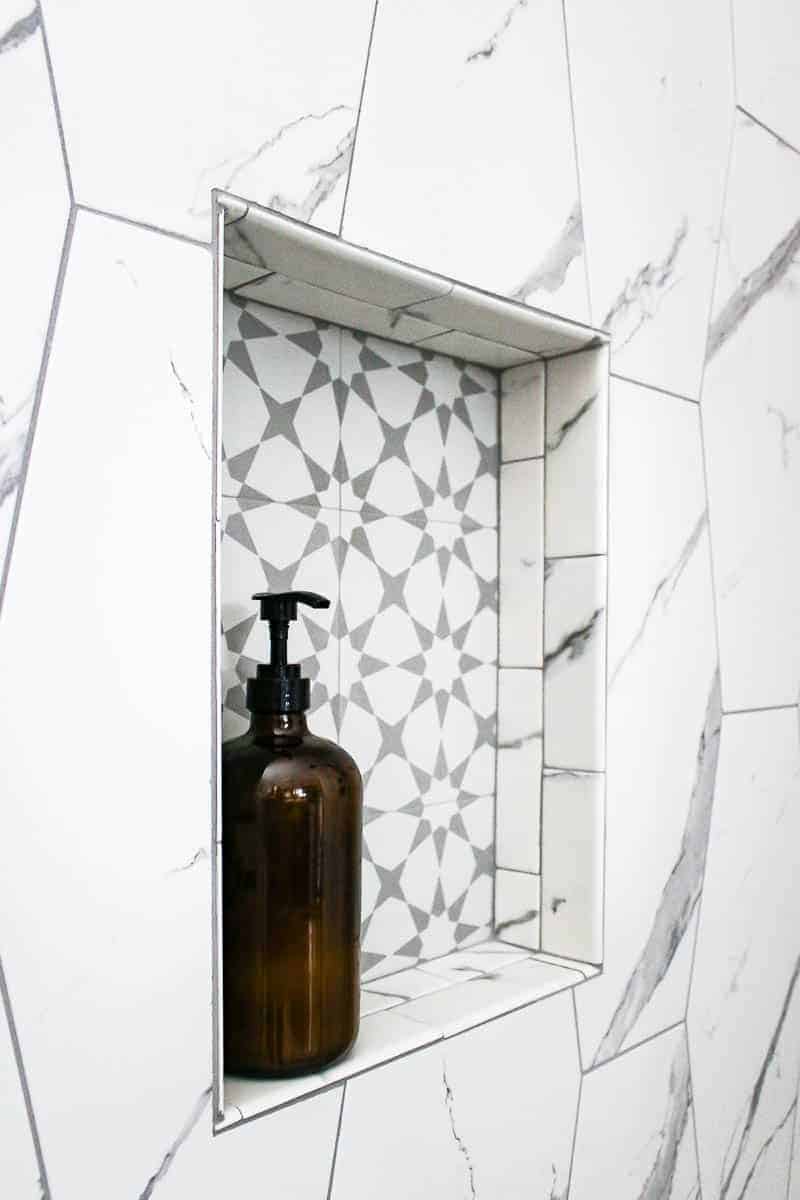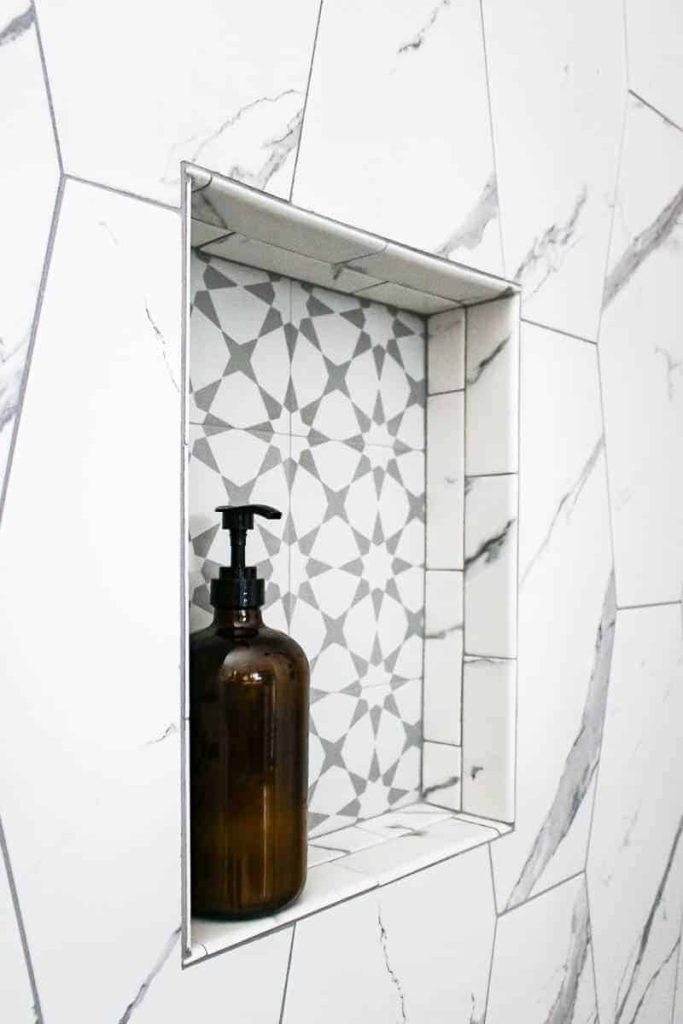 Cons of shower niches
Although I don't really agree, there are definitely people that don't like shower niches. Here are a few reasons why someone may not want to install a shower niche:
From a design perspective, some say that shower niches break up the beautiful field of tile and they don't like the look.
Most shower niches feature accent tiles that contrast with the other tile in the shower. In general, accent tiles tend to look "dated" faster than other more classic designs. If you're worried about this, you can choose to use the same tile in your shower niche and make sure the breaks of the edges of the niche match up with tile lines.
Some complain that once the shower niche is full of bottles and bathing items, it just becomes an eye sore full of clutter.

To combat this, you can transfer (or decant) your items to glass amber bottles, like this. That's what I do and I love the cohesive look.
You can also strategically install the shower niche on the same wall as your shower door so it is hidden from view, unless you are in the shower. This way the niche becomes more of a storage area than a design feature in the shower.

Depending on where the niche is installed, water could puddle on the inside and grout can become damaged and/or dirty quickly.

Don't install the niche in a place where the shower head will spray directly into it.
Remove the bottles and clean the niche regularly.
Be sure to install the bottom tiles so they are pointed down and out so the water runs out. Check out our shower niche installation tips here.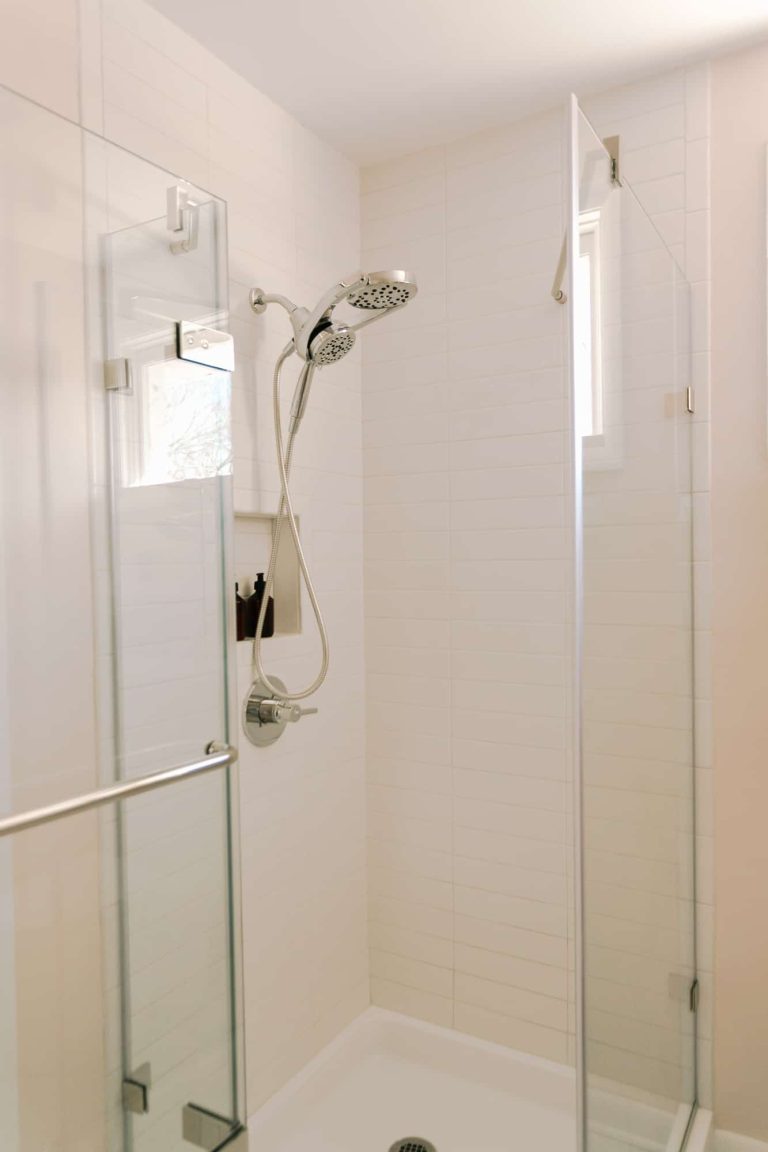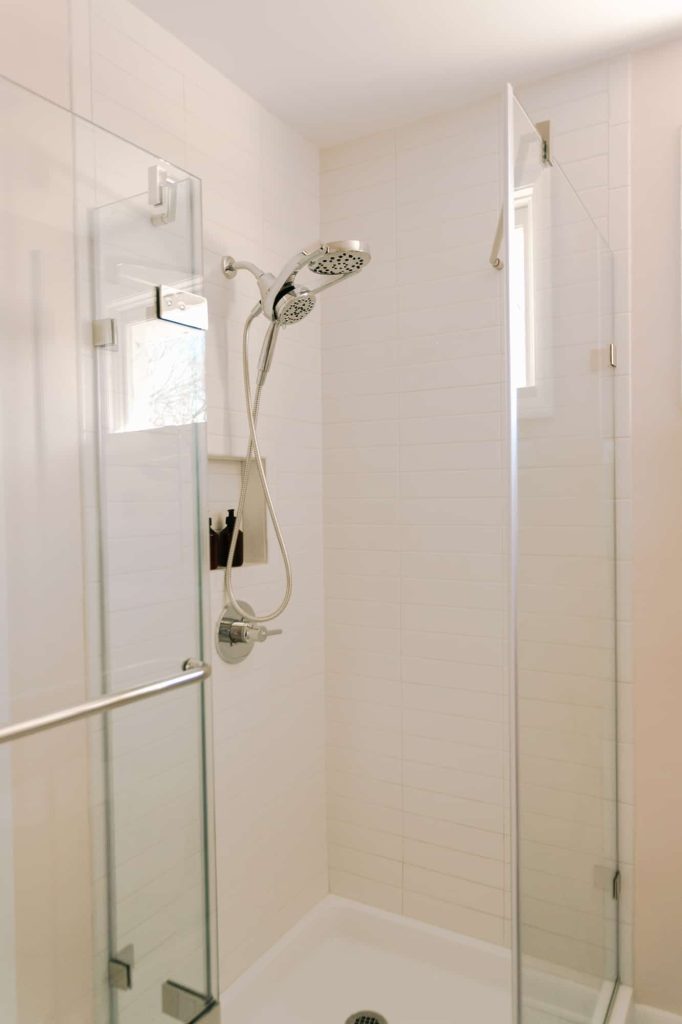 To sum it up, there is no industry standard for how high your shower niche should be installed. But the range is between 38″ and 60″ from the ground. However, there may be several reasons why you may prefer your niche to be installed higher or lower within that range.
Regardless of what height you decide on for your niche, we recommend that it should be large enough to hold bulk-sized bottles of shampoo for convenience. This means that the niche should be a minimum of 12″ tall.
Shower niches are beautiful, convenient, and functional and will always be a staple in the bathroom renovations that we design!
What are your thoughts about shower niches? Love 'em or hate 'em?
Answer in the comments below!