Are you going to be doing DIY tile renovations with a wet tile saw? Learn from our mistakes! Here's why you shouldn't buy a cheap tile saw!
This post contains affiliate links, but nothing that I wouldn't wholeheartedly recommend anyway! Read my full disclosure here.
One of the reasons we love sharing what we learn while renovating is that you can learn from our mistakes. It's kind of like this….mistakes aren't so bad when you can learn from them right, but what about if you can AND thousands of others can learn from them!
Those are some pretty valuable mistakes. And today we're going to share with you a little regret we have when it comes to this bathroom renovation.
When we were buying the supplies for our bathroom renovation last year, we did NOT want to spend a lot of extra money on a tile saw. When you are shelling out thousands of dollars on a big renovation project like this, you'll do anything to save a buck, am I right?
So, in the nature of keeping things budget friendly – we purchased a $90 tile saw (this one to be exact!)
However, it's actually something that we regret. And here's why.
Looking back, we would have definitely either invested in something higher quality or rented a better saw for cutting tiles.
Even though we don't plan on doing a ton of tiling during our renovation (probably just our tile shower in the bathroom, the tile flooring, and the kitchen backsplash that we recently shared), we could have turned around and sold a more expensive tile saw on Craigslist after we were done to get some of the money back.
Why you shouldn't buy a cheap wet tile saw
The problem with cheap tile saws is the small basin, which recycles the water. Since the basin is so small, it fills up with gunk, stone shavings, etc. very quickly. That makes the tile harder to push through at a steady pace. The tiles literally start "jumping" as they move over chips. 
And this is what was happening to us…
Spoiler alert: it sucked, big time.
With a bigger, better tile saw – you'll likely get: 
a larger platform / workspace
a hose that hooks up to the basin to give you fresh water rather than recycled with the basin
last, but not least, there will likely be a bigger blade – which makes it easier to cut and will last longer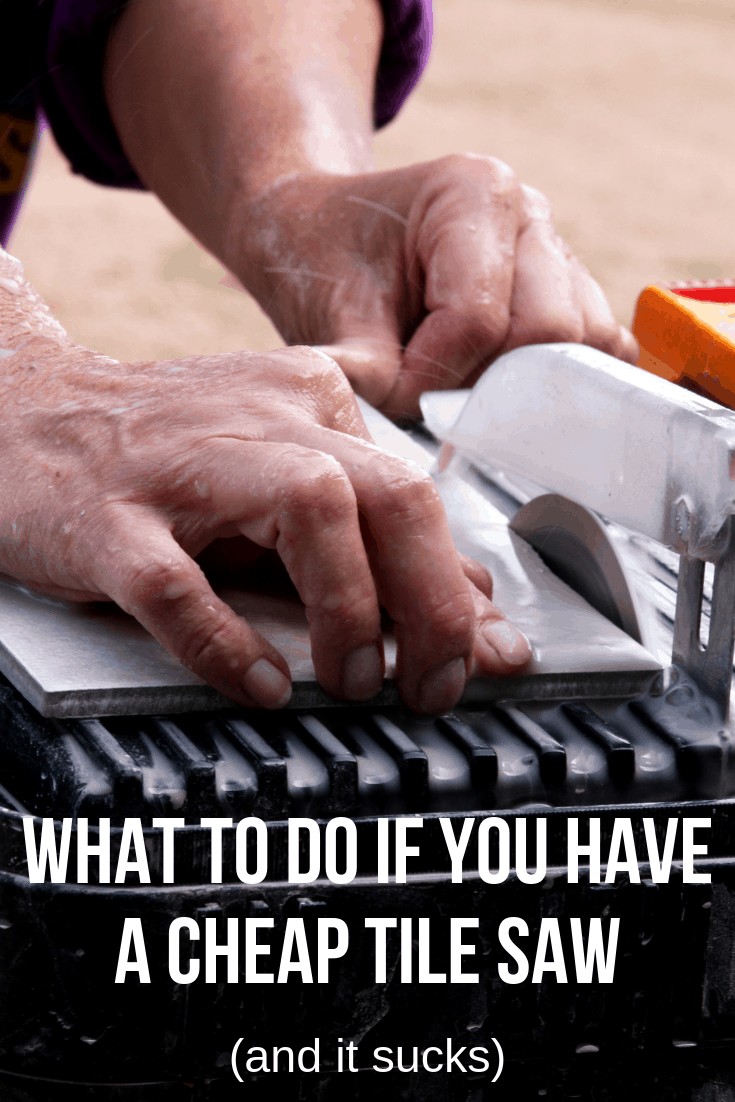 What to do if you have a cheap tile saw
If you're in the same boat as us and already have a cheap tile saw (lets all put together for a sec….now moving on), here are some tricks we learned:
Do your cutting outside so you can pour new water over the whole wet tile saw frequently to keep things clean.
Go sloooooowwww…

Slow and steady wins the race!!! If you're using a cheap tile saw, you need to take extra care when cutting tile and go REALLLLLY slow to prevent chipping.
 

If your tiles do start chipping, try going slower.
If your tiles are STILL chipping and you're moving at a snail's pace, try changing out your blade.
If you do run into chipped tiles, you can sand the edges down a bit with a sanding stone or diamond file. But trust us, this isn't fun. We did this because it was literally the middle of the night and we couldn't run to the store for a new blade! Remember we were on a tight timeline for One Room Challenge.
To prevent corners and the top layer of ceramic from chipping when using the tile saw, try starting the cut with the tile upside down and cut in about 1/2". Then take the tile out, flip it over and finish the cut all the way through.
When it comes down to it (and if we had to do things again), we would not buy a cheap tile saw. If you are renovating, chances are that you are spending a lot of time and money on your project.
Buying a better tile saw is an investment that will pay off later – whether it is just being able to work faster on this first project or whether you will use the saw again.
If you are really persistent about not buying a more expensive saw for tiling, we would definitely recommend looking into renting something instead.
Many big box home improvement stores or local tool rental shops will have wet tile saw options available for you. 
Ok….so, someone please tell me that this mistake of ours is going to do some good here. Have you learned from our regrets?
What is one thing you regret about your renovations? 
Let us know in the comments below!