Need a good place to put your mail and hang your keys? Use our free woodworking plans to make this DIY mail and key holder! This mail and key rack uses a teak wood round for a modern and sleek look and has a shelf to put your mail.
Thank you to Kreg for sponsoring this DIY mail and key holder! All opinions are entirely my own. This post also contains affiliate links, but nothing that I wouldn't recommend wholeheartedly. Read my full disclosure here.
Looking for a unique idea for a key holder that hangs on the wall? Learn how to make a key rack with a place to organize your mail as well.
This easy DIY mail and key holder is made out of teak wood round and a birch shelf that is made with a small piece of scrap wood.
Table of Contents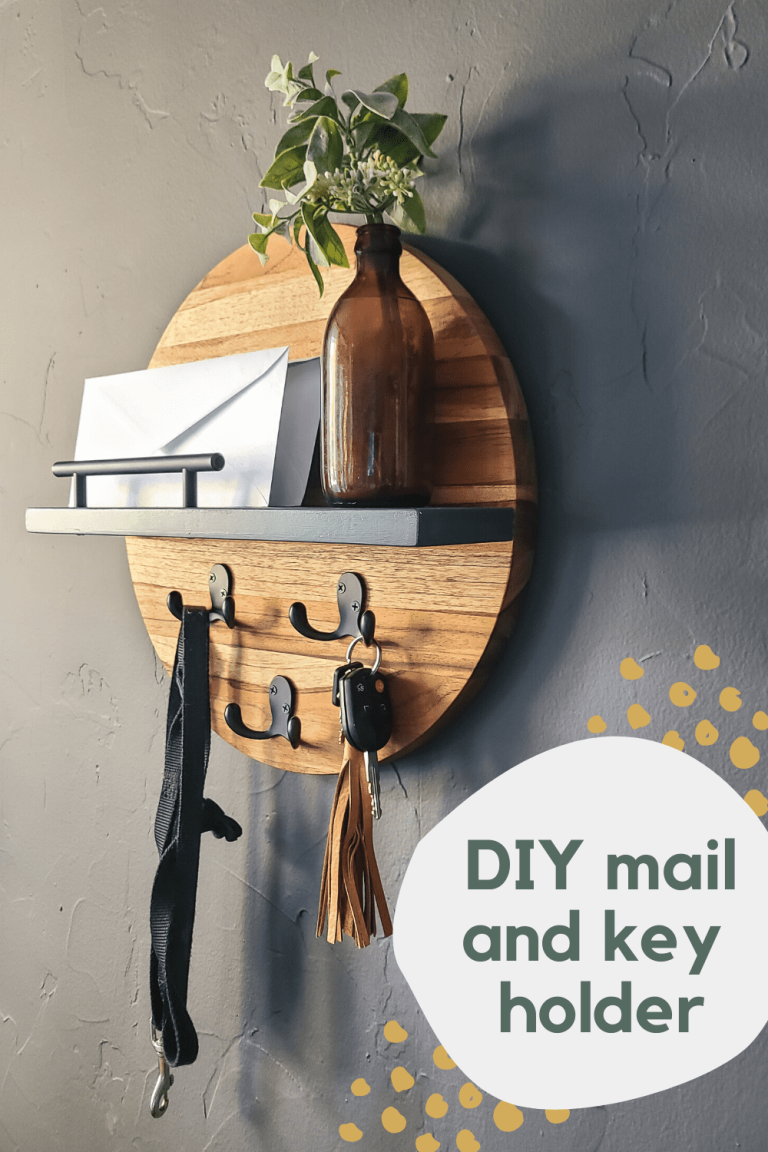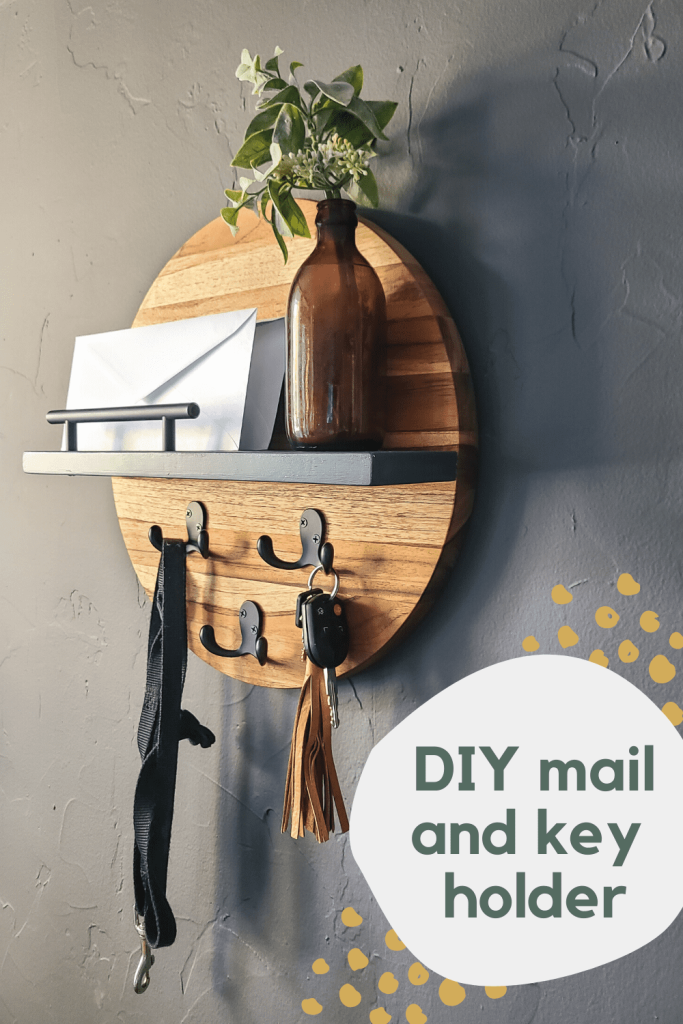 I'm always on the hunt for things we can make for homemade Christmas gifts and this project was just that! We're making this DIY mail and key holder for someone special on our Christmas list and I think they will love it.
We saved a ton of time and energy on this woodworking project by incorporating a pre-made ready-to-use teak wood round for the base of the key holder.
Teak is a beautiful type of wood for woodworking and looks amazing when shined up with teak oil.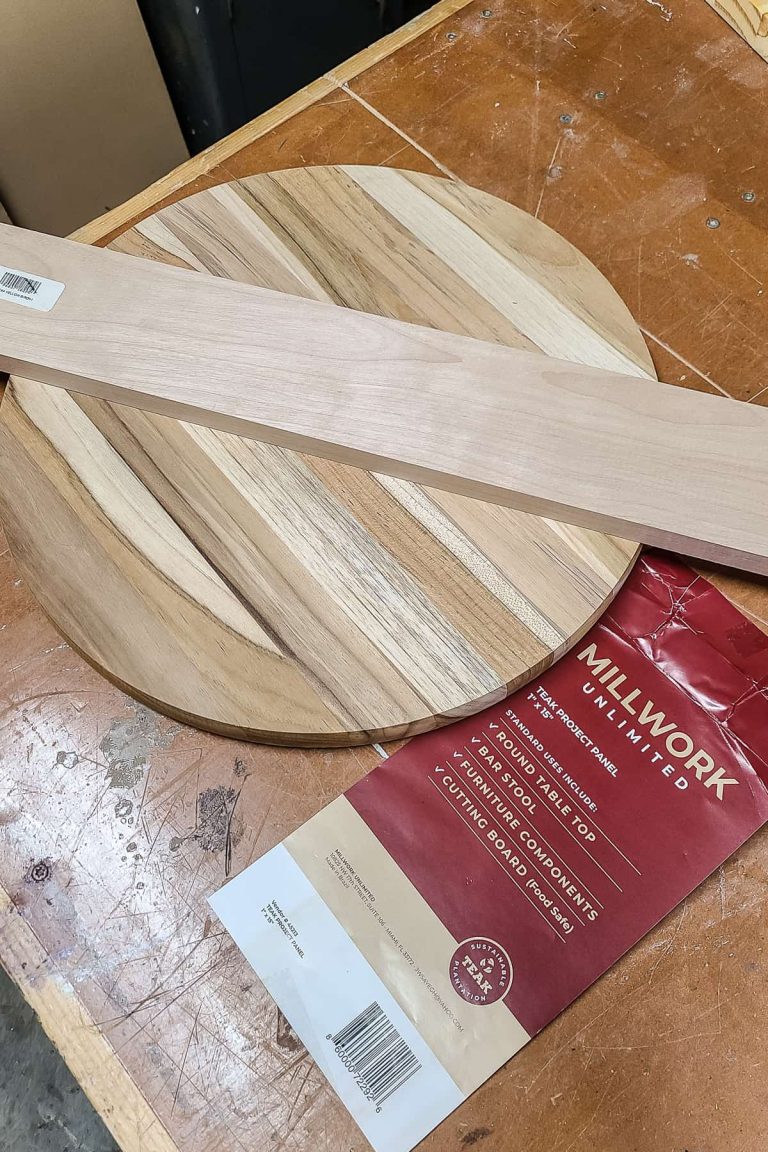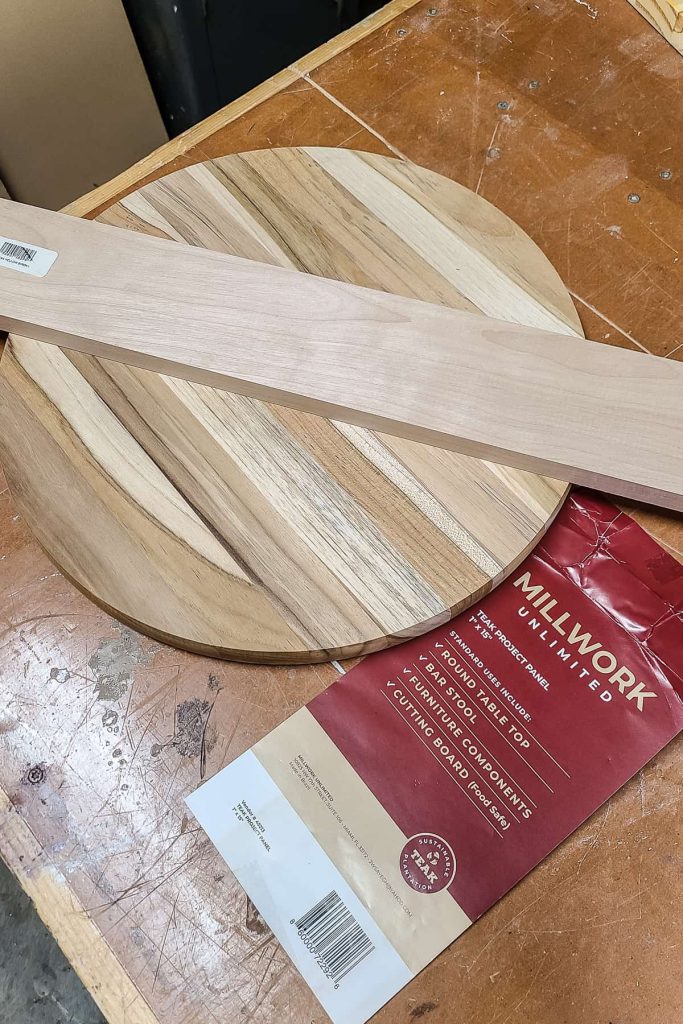 Alternatively, you could cut your own wood round…but I wanted to make this project very beginner-friendly so it is accessible even if you're just getting started with woodworking!
Kreg 720PRO Pocket Hole Jig
If you've been following Making Manzanita for a bit, you know that we are big fans of the Kreg pocket hole system.
We built tons of projects using our original K5 Pocket Hole Jig, we even have a super detailed guide and video about how to use it that you can check out here.
In 2021, Kreg released brand new pocket hole systems that replaced the K4 and K5, and the upgrades are pretty awesome.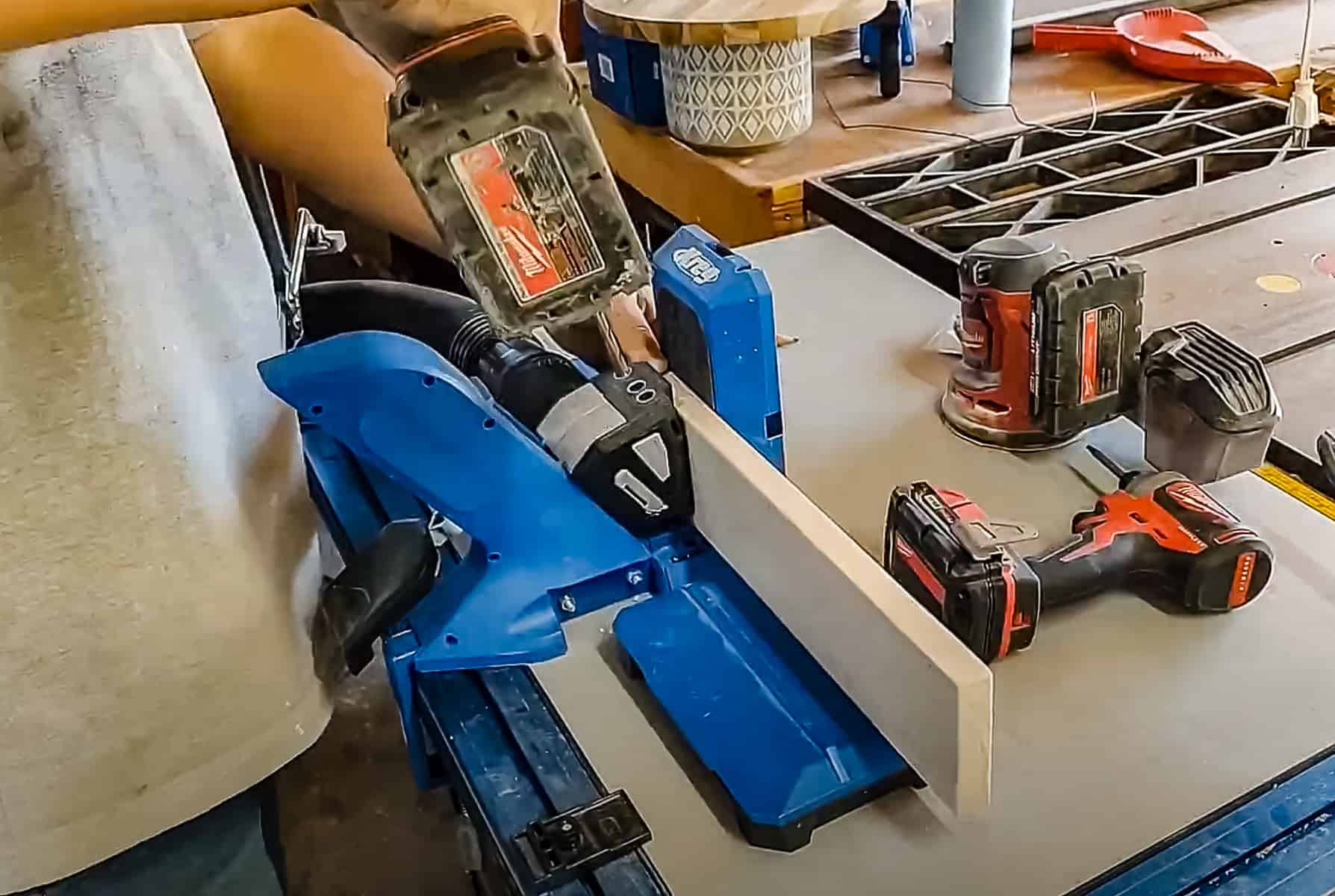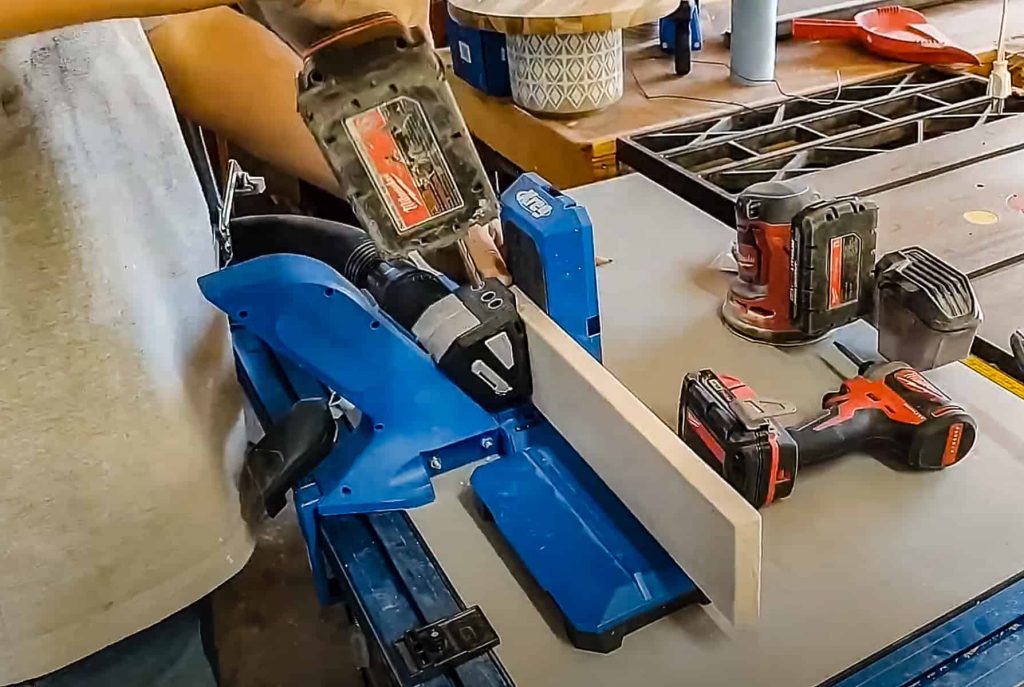 The new 720PRO (which we were using for this DIY mail and key rack) and the 520PRO (which replaced the smaller K4 system) were improved a ton, the most noticeable change being that they are easier to set up and use – score.
My favorite new feature of 720PRO and 520PRO is the clamp that you don't have to adjust anymore. You just clamp it down and it automatically adjusts to match the thickness of your wood, so cool, right?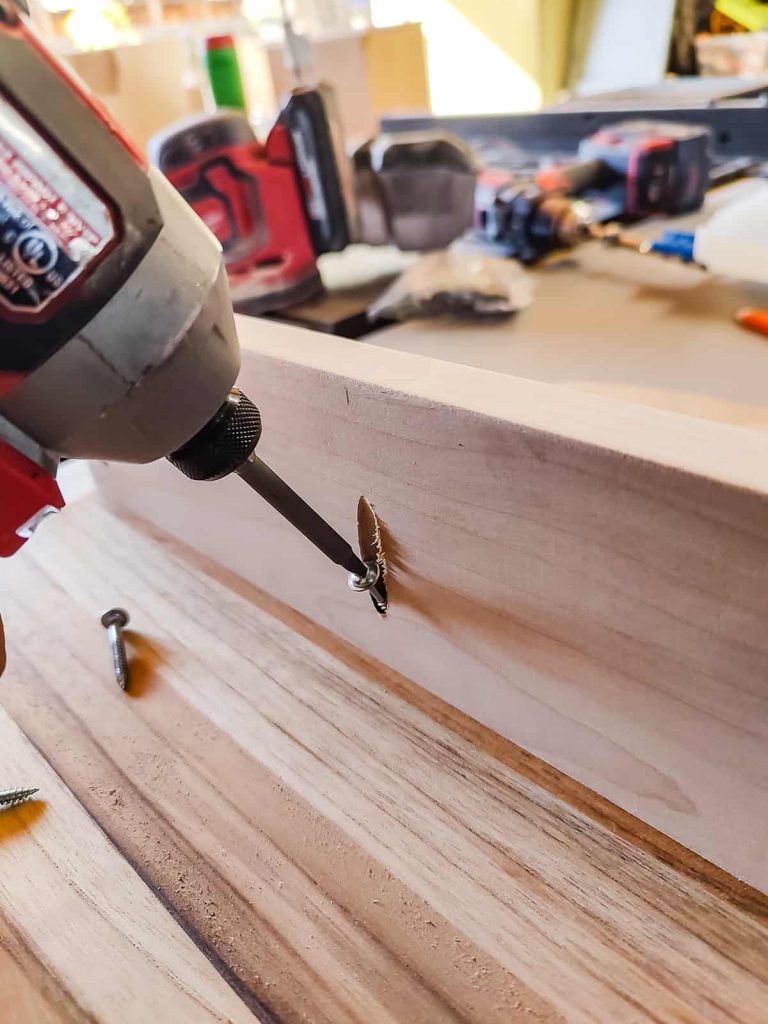 Pocket hole joinery is definitely one of the easiest ways to join wood in woodworking projects. It's our favorite hidden weapon for beginning woodworkers!
Want to learn more? I wrote a super detailed guide & created a video all about how to set up your Kreg 720PRO Pocket Hole and use it, so be sure to check that out too!
We teamed up with our friends Kreg again for these DIY mail and key holder plans and are sharing them online for free, now available on KregTool.com!
Kreg's website is chocked full of so many easy-to-follow FREE woodworking plans! I promise that you are going to find so much inspiration while you're there! It is a goldmine!
Related – Projects that use a pocket hole jig
DIY Mail and Key Holder: Video Tutorial
If you love DIY videos, be sure to subscribe to our YouTube channel!
Ready to see the finished DIY mail and key organizer?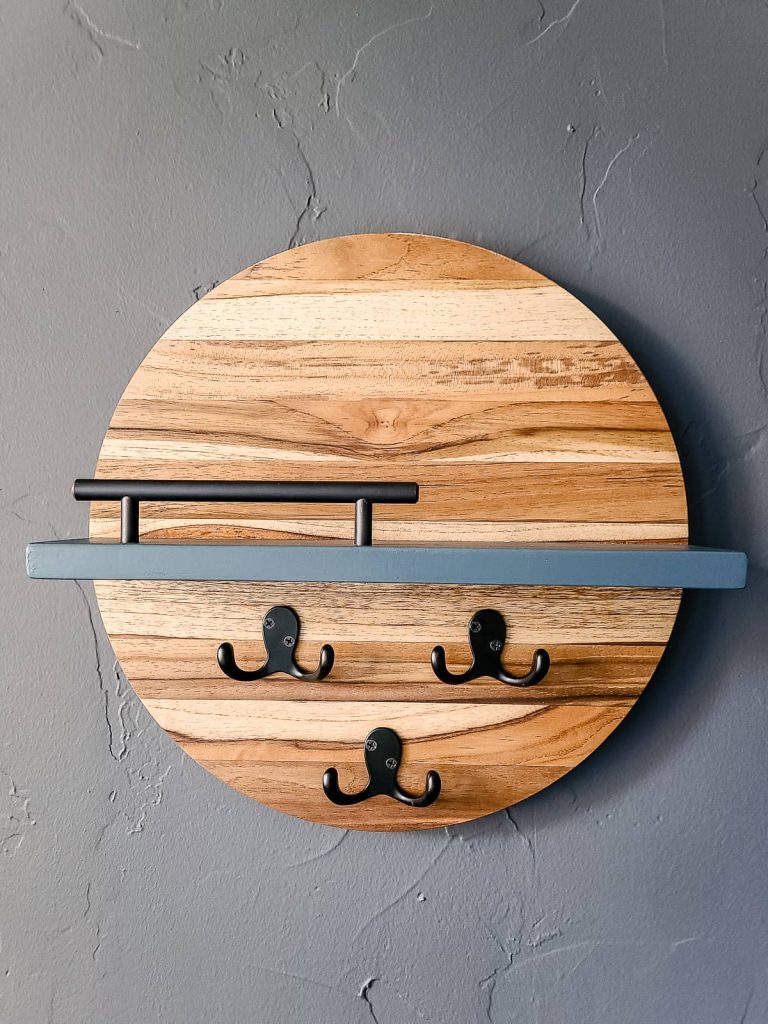 I love how our key rack and mail shelf turned out! The circular look of the teak wood round brings in a modern look that looks sleek and unique.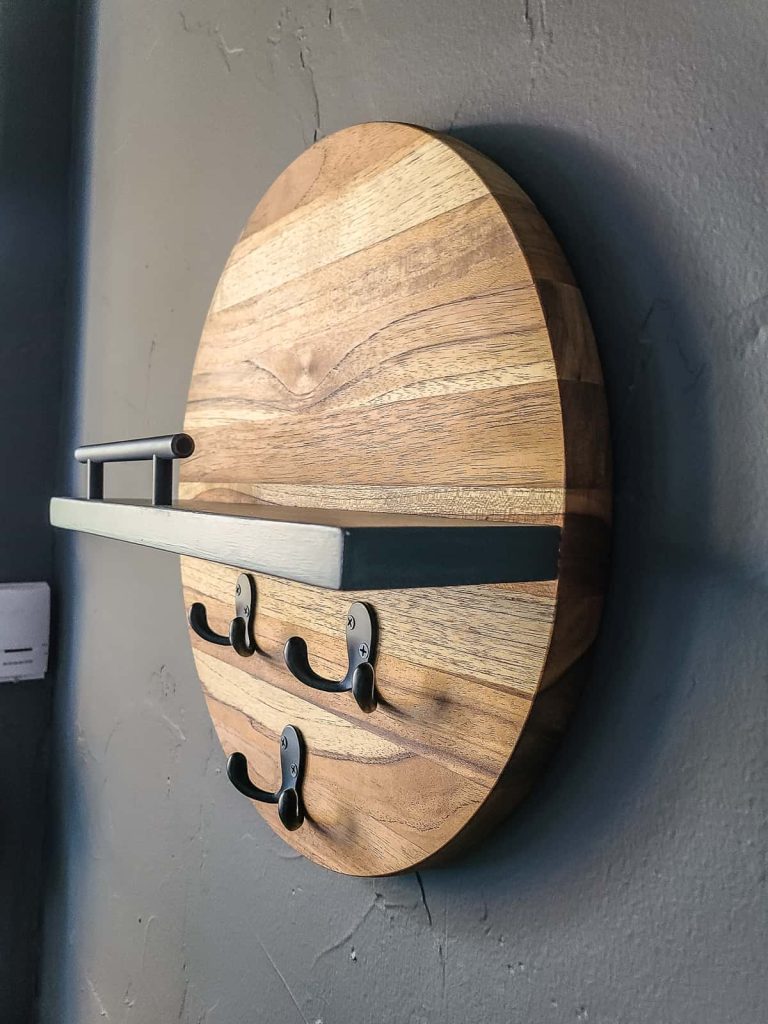 We added three sturdy two-prong hooks to the bottom half, so there are over 6 places to hang keys. You can also use the hooks to hang up dog leashes, coats, hats, and more.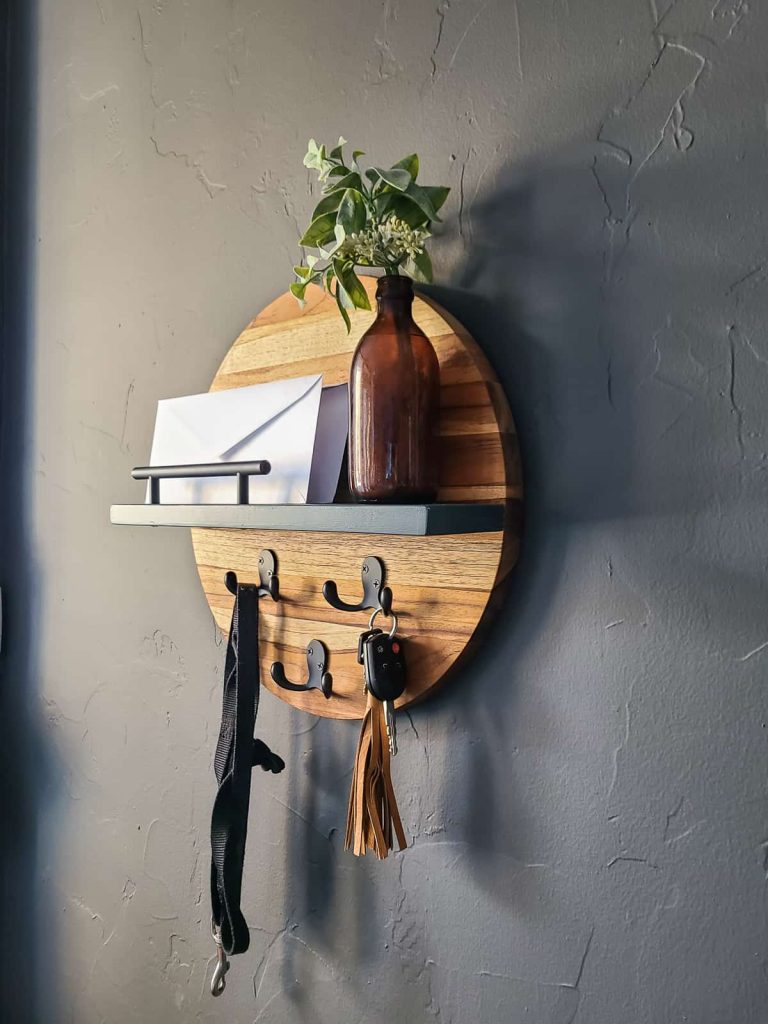 We installed a drawer pull to the shelf as a place to hold mail, similar to how a similar drawer pull holds the cookbook in place on this cookbook stand we made.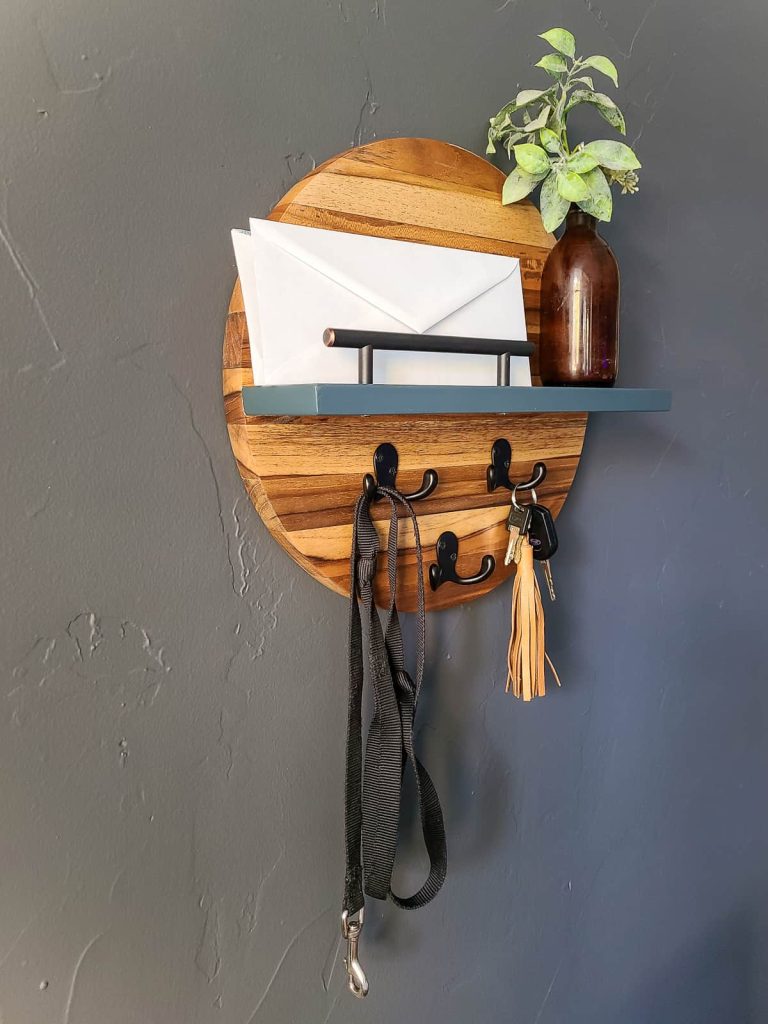 Instead of organizing your mail, the shelf could also be used to hold sunglasses if you prefer.
There's plenty of room on the shelf next to the drawer pull to add a vase, picture frame, or any other type of decor you'd like.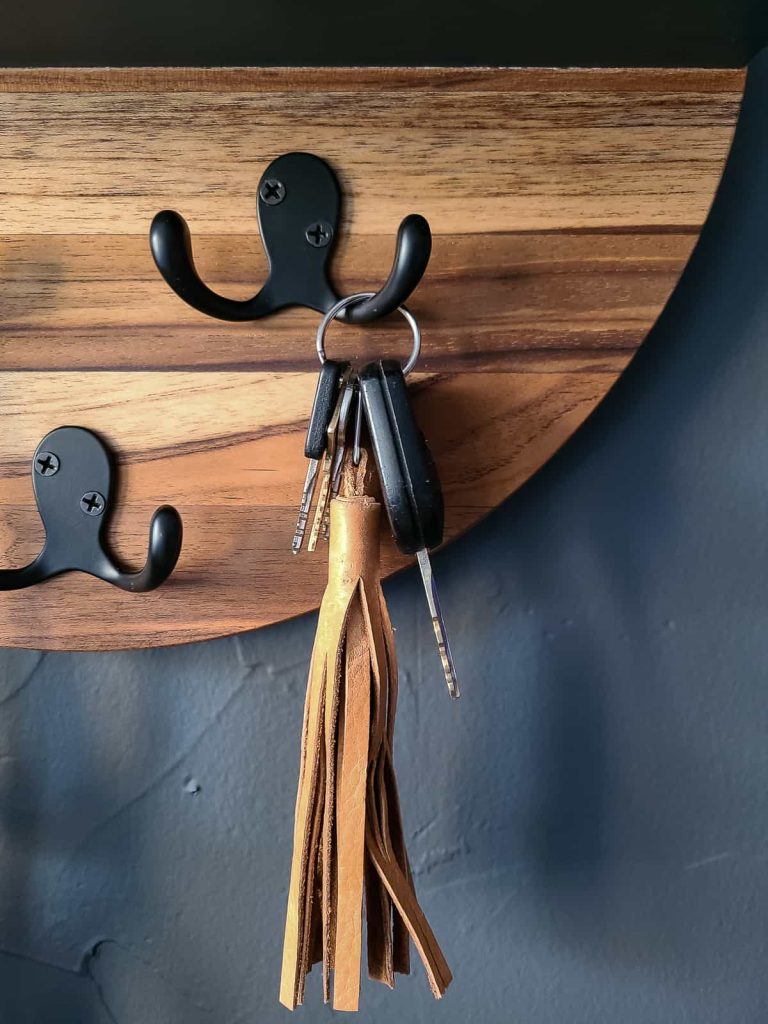 If you want to build this wooden wall-mounted mail and key organizer, we've done all the hard work for you! All you need to do is hop over to Kreg's website and check out the full tutorial.
At the bottom of the tutorial on Kreg's website, you'll also see a link to download the woodworking plans (for free) to get all of the detailed measurements and a cut list!
Would you use a mail and key holder like this in your house?
Let us know in the comments below!