Choosing the right paint color for the job is a daunting task. But recently, BEHR created the BEHR Designer Collection, a palette of tried and true paint colors to help DIYers, like you, recreate designer-worthy projects. These are some of BEHR's most popular paint colors, ranging from smooth whites and creams to classic grays and bold accent colors. Learn more about these paint colors from their latest collection.
When choosing a paint color, you might find yourself overwhelmed. There are seriously SO MANY options when you go to the home improvement store and stare at the huge wall of paint swatches.
So you may find yourself researching the "best Behr white paint" or "best Behr neutral paint colors". With BEHR's Designer Collection, all of that has been done for you!
Table of Contents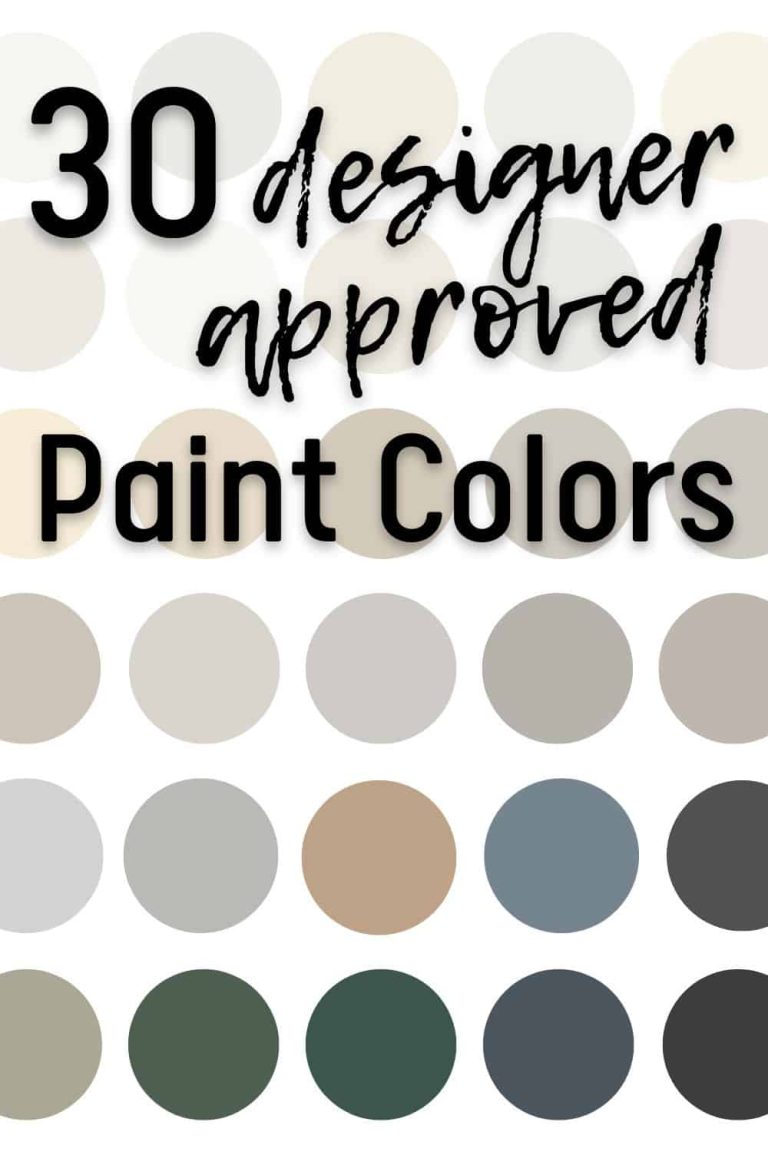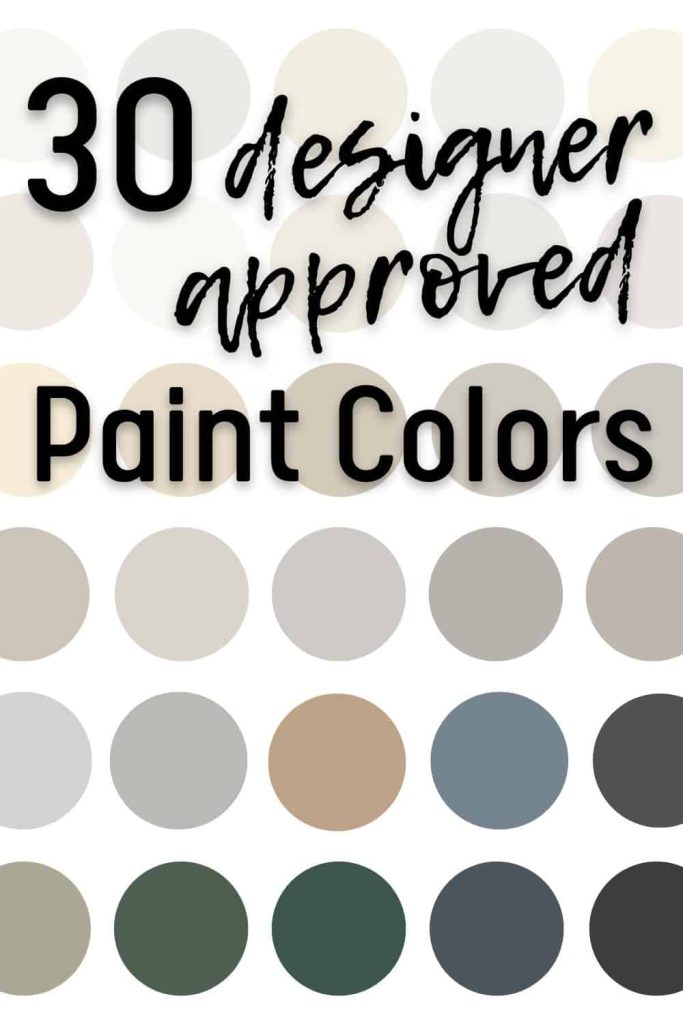 This color palette is the alpha and omega of paint color lists. Finally a set of fool-proof paint colors for your home!
The BEHR Designer Collection features 30 of the best-selling and most popular BEHR paint colors. We've even used a few of these in our whole house color scheme.
The Collection was created by design professionals as a way to suggest Behr's top options for those who want classic colors that also work with the latest design trends.
Plus, just about every single color would play well with any other color from the palette, which I think is a major bonus. Now, it's simply plug-and-play…that's expert advice I can really get behind!
This BEHR Designer Collection guide contains affiliate links, but nothing that I wouldn't recommend wholeheartedly. Read my full disclosure here.
Designer Approved Neutral & Accent Paint Colors from BEHR
This hyper-curated color palette includes 30 top white, neutral, and a handful of accent colors that are most recommended by professional designers all to help DIYers (like you!) create beautiful homes with unique styles.
Here is the complete palette of the best BEHR neutral paint colors designer-approved paint colors (with color codes!) from BEHR:
Best BEHR White & Cream Paint Colors
Neutral-based paint colors serve as the anchor for many homes. With the best of Behr's creams and whites, you instantly have a blank canvas for your space!
Pair any of these shades with a bold accent color (like green) for an on-trend look or with a semi-neutral gray for a calming, soothing atmosphere.
Incorporate different patterns, textures, and decor items unique to your style to create the perfect space for you.
You can never go wrong with these classic, timeless paint colors.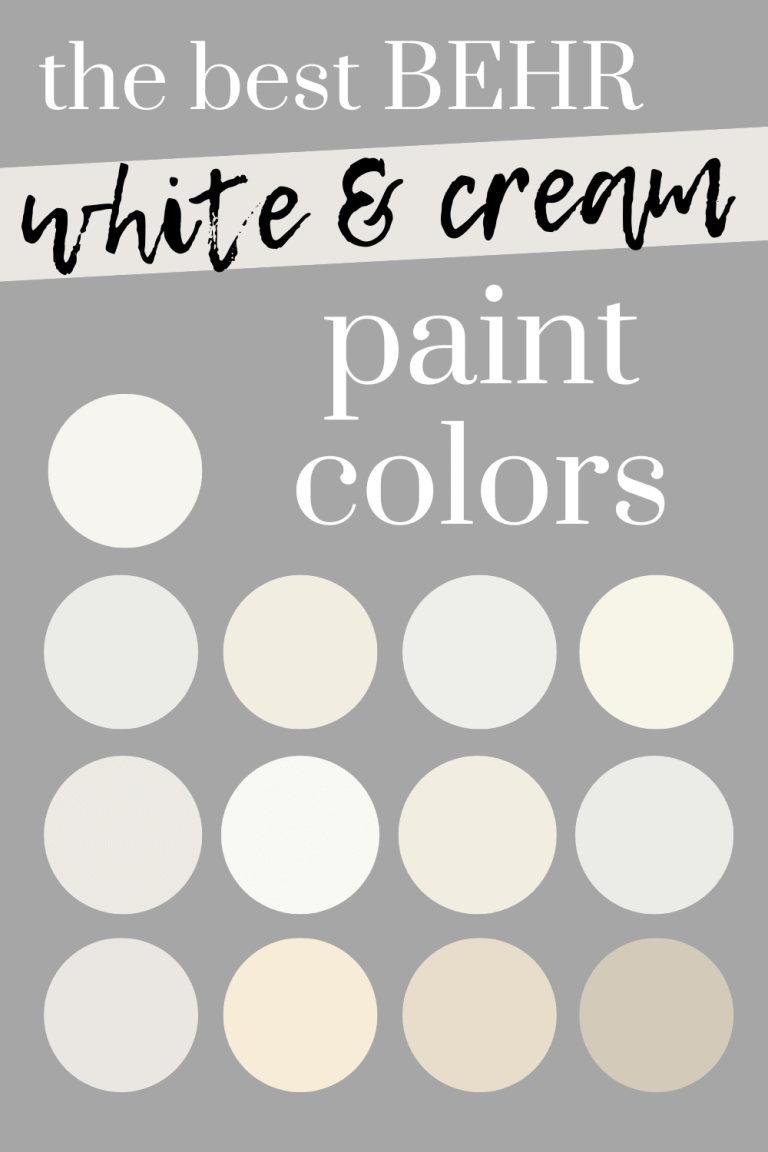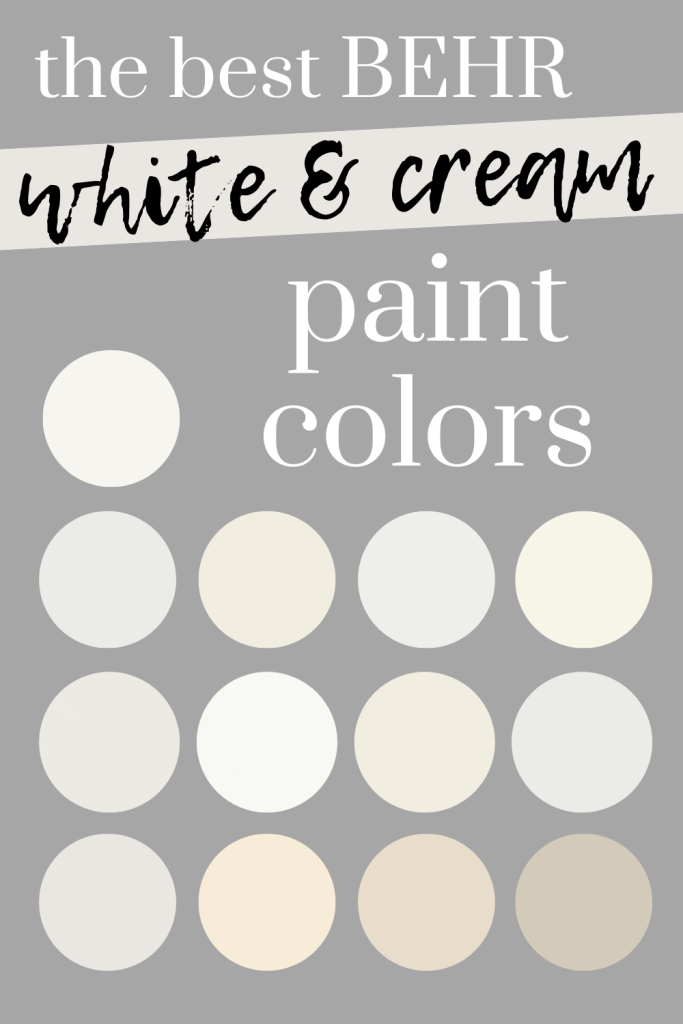 Here are Behr's best white and cream paint colors:
Whipped Cream: Light and fresh, this shade adds a little bit of playfulness to your home. This paint color will lighten up any small room and reflect plenty of natural light. This color is very similar to Benjamin Moore's Chantilly Lace, which is very popular with designers and bloggers.
Statement White: Make a statement with this bold, white paint color. This sophisticated shade would be the perfect backdrop for a formal living area or dining room.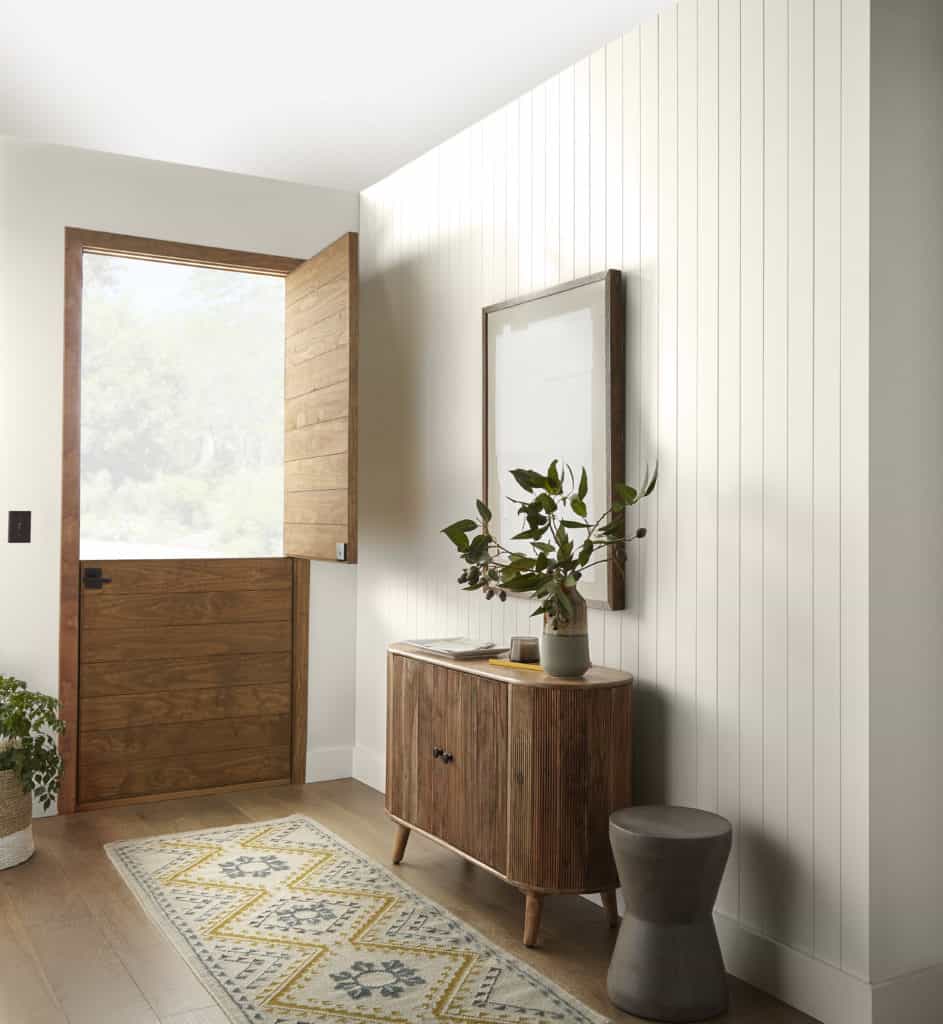 Blank Canvas: With this shade, anyone can be an artist! Named Behr's 2023 Paint Color of the Year, Blank Canvas is the ideal shade for limitless possibilities in any home.
Winter White: Frosty, icy vibes! This cool white color gives off just a hint of the lightest gray for a polished and refined atmosphere.
Natural White: An elegant shade of cream! Like a classic eggshell color, this shade of white is warm and comforting to the eyes. It's the perfect shade to blend with bold accent colors and textures.
First Snow: This gentle shade of creamy white is fresh, soft, and powdery – just like the first snow of the season.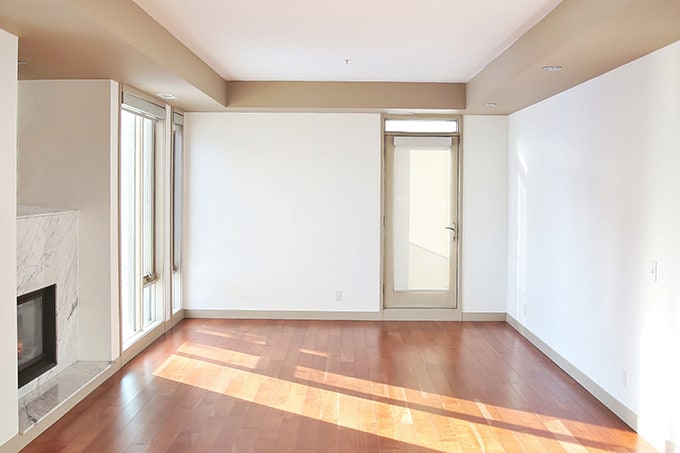 Ultra Pure White: Just like the name, this shade of white is sharp, crisp, and classic! It's the perfect paint color to use as a blank canvas.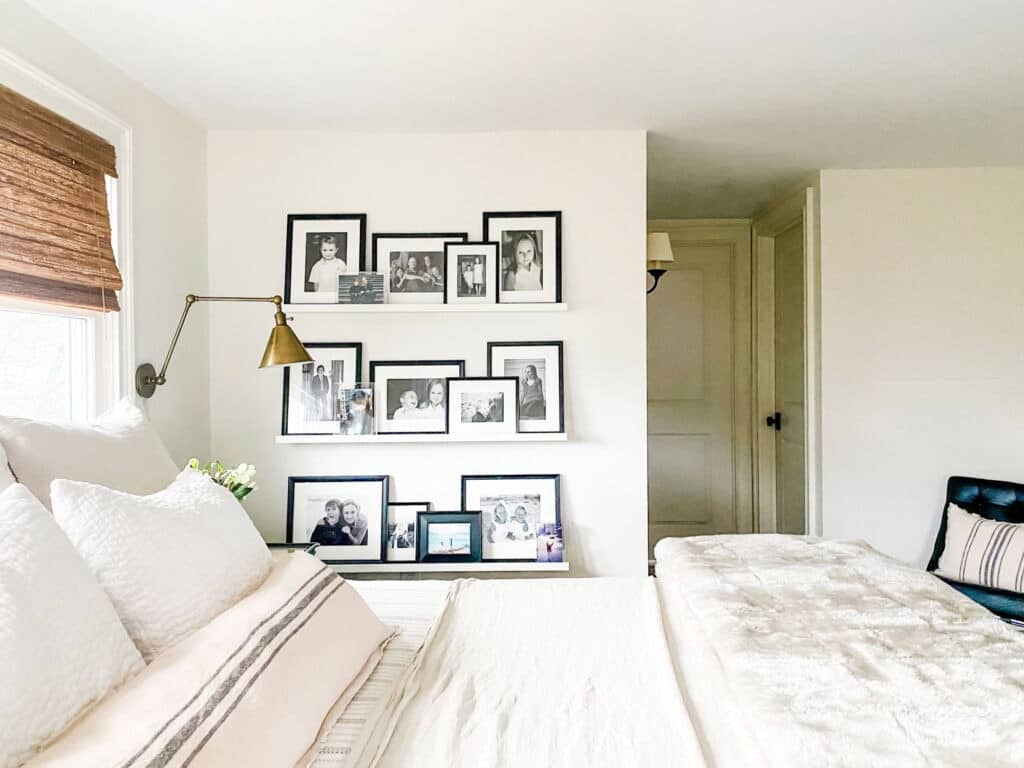 Swiss Coffee: Frothy and warm like foam on a latte! This creamy shade is the perfect color for painting on trim (baseboards and window trim) and doors because it hides a lot! It has great warm undertones.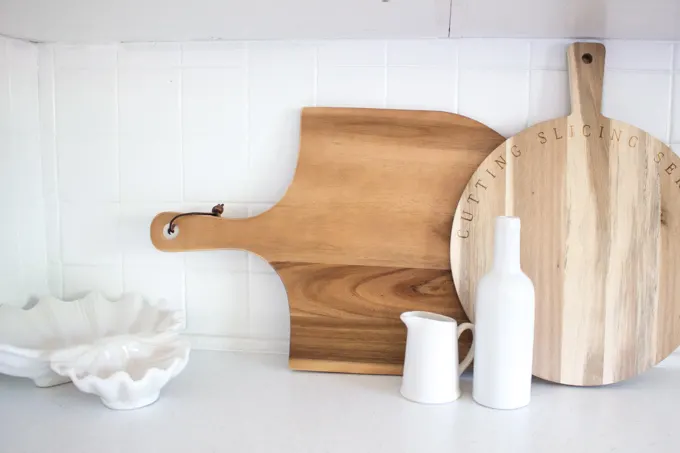 White: Pure and simple, this is the classic shade of white. With subtle hints of blue, this cool white paint color adds tranquility and serenity to your space. It works great with coastal styles.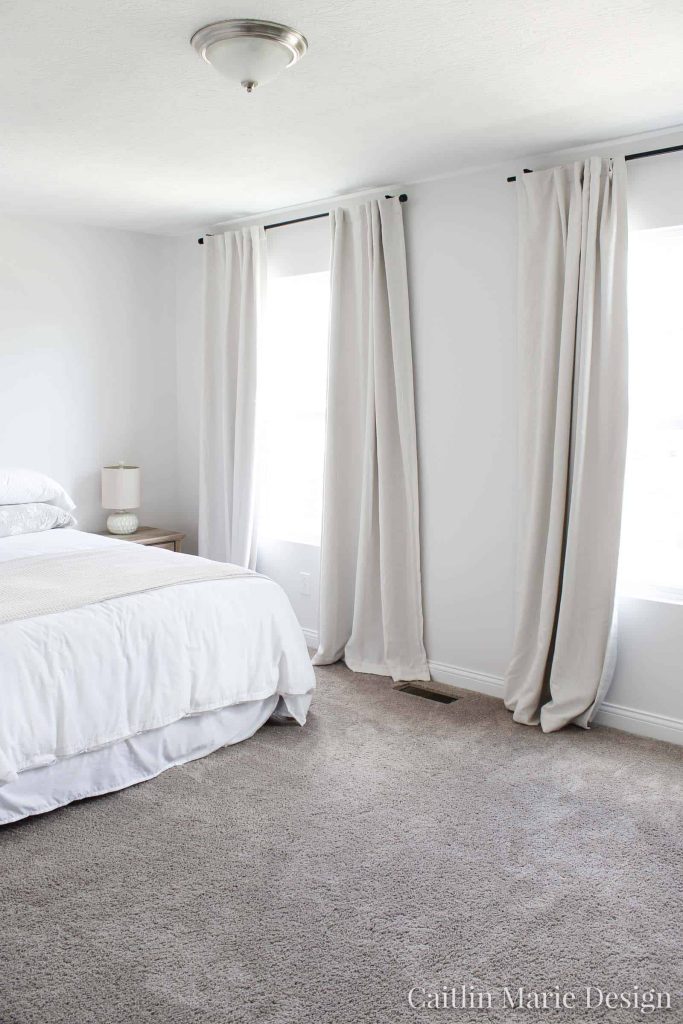 Cameo White: This pearly white paint color is charming, simple, and perfect for any room in your home.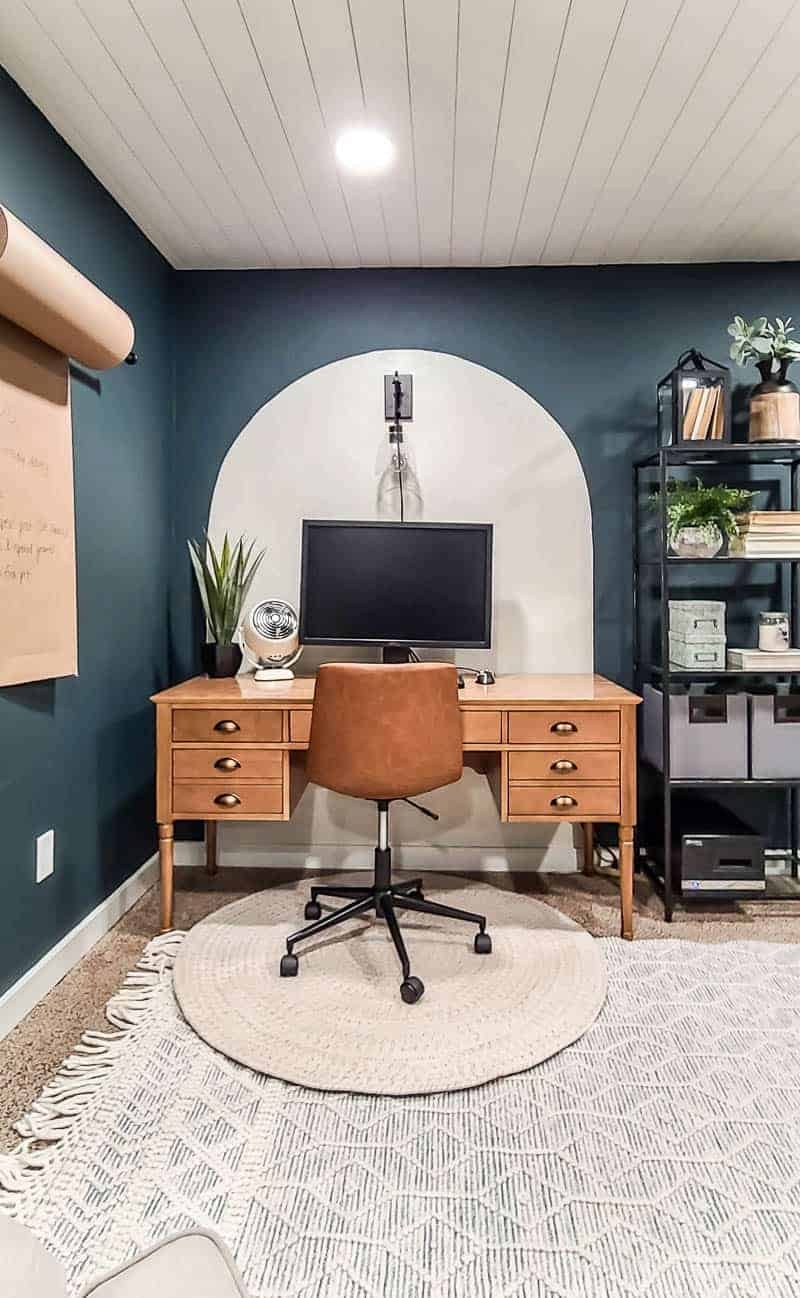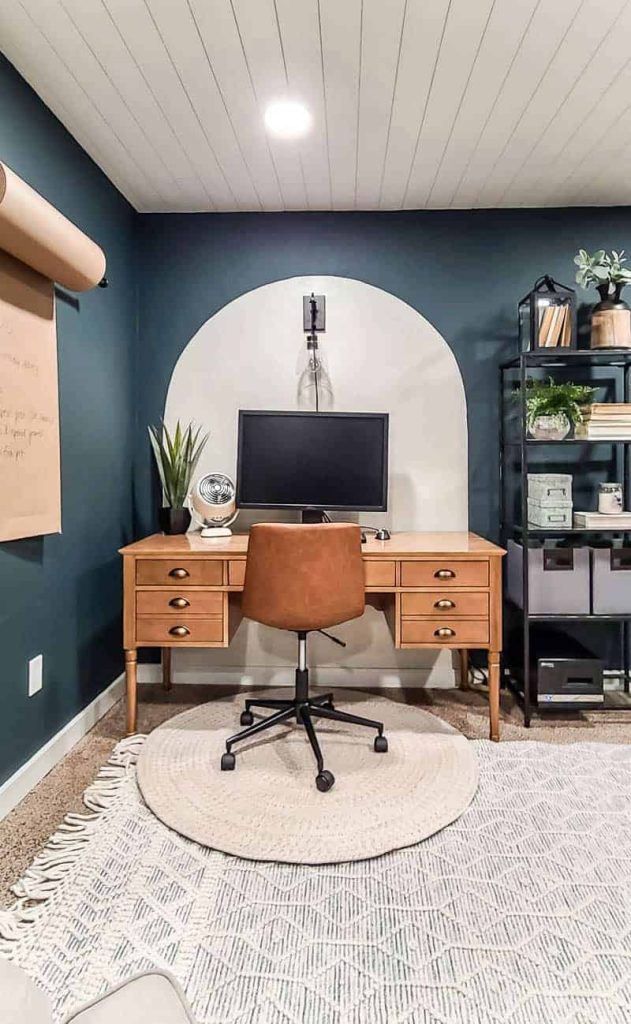 Linen White: This warm and inviting shade of soft white with warm yellow undertones adds a soothing touch to any room. We used this when we painted arches on the wall in our modern boho office.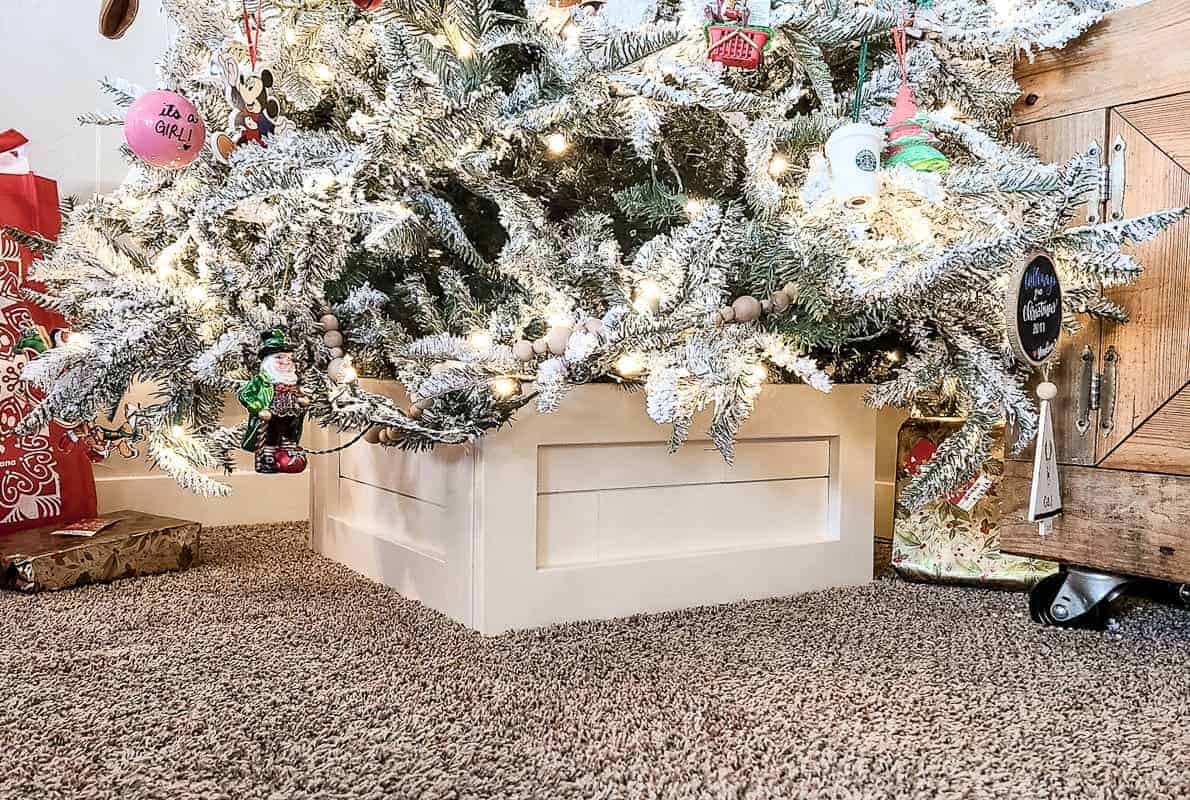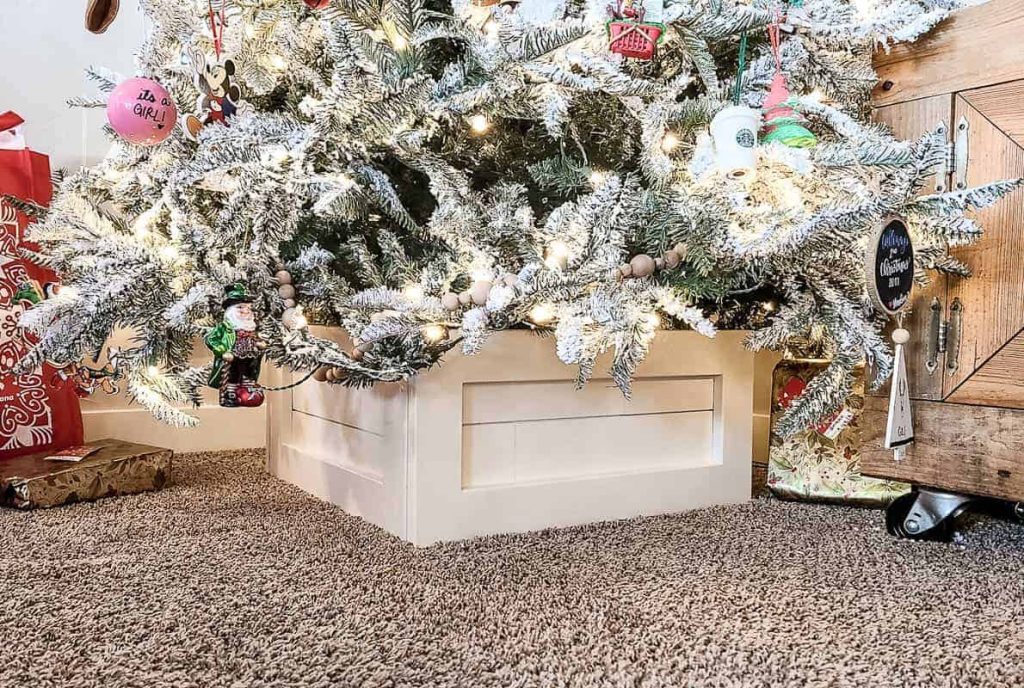 Antique White: With subtle hints of beige with warm undertones, Antique White adds a soft glow to the walls. We used this on our DIY Christmas tree box stand and it looks great!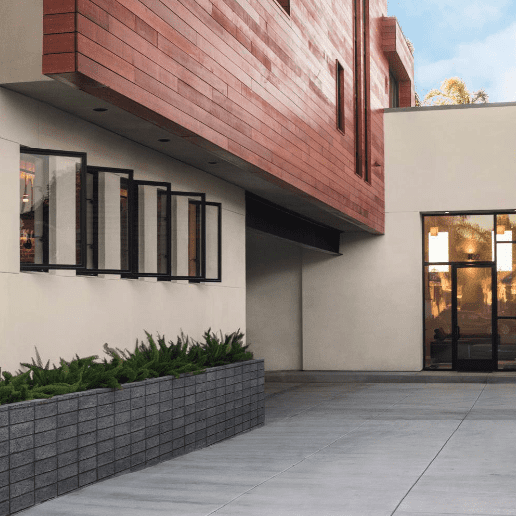 Even Better Beige: This warm and distinctive shade of beige is a versatile neutral that's not your average beige paint color. If you've ever heard of the super popular Sherwin William's Accessible Beige, this is BEHR's version of that as a comparable color.
Best BEHR Gray Paint Colors
Gray walls gained major popularity in the last several years. Now, they are considered a classic.
There are so many different variations of gray: Light gray. Dark gray. Green gray. Blue-gray. Warm gray. Cold gray. Soft gray. Pale gray. Silver gray. Greige.
If you're wanting to incorporate gray walls into your home, you're likely completely and utterly overwhelmed with ALL of the options. So, the next time you're on the hunt for a gray paint color, refer back to this list from Behr's expert designers.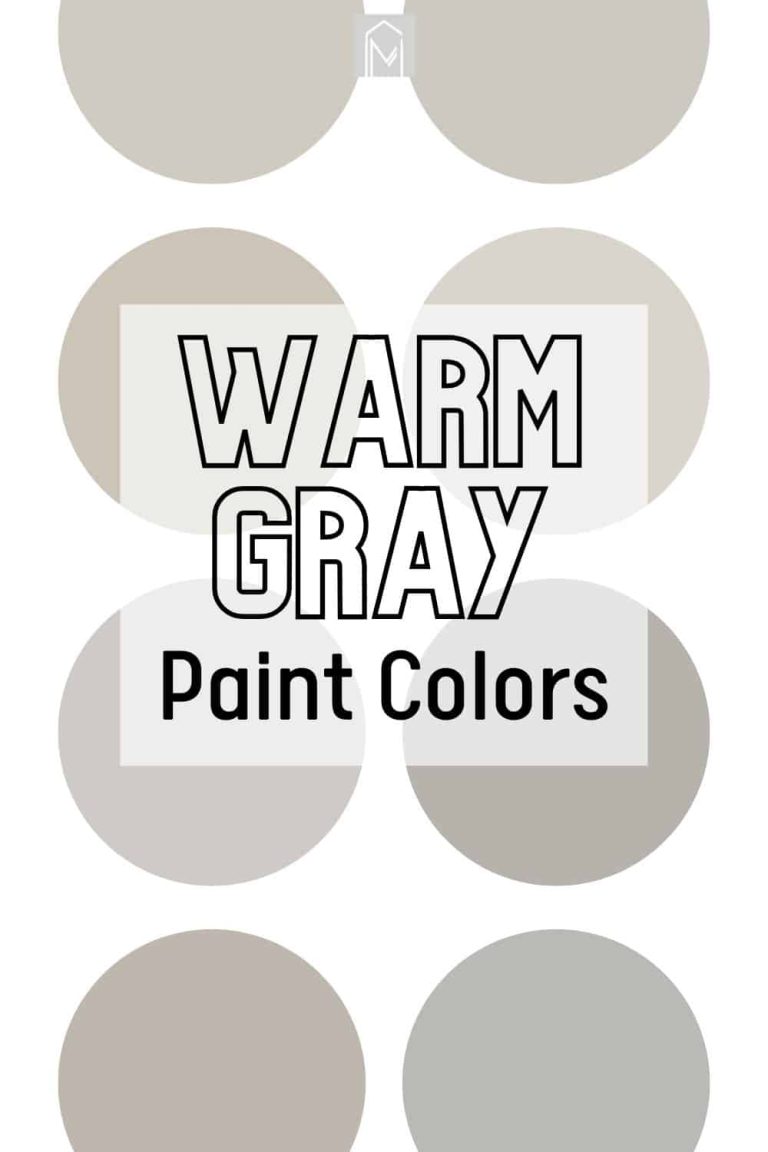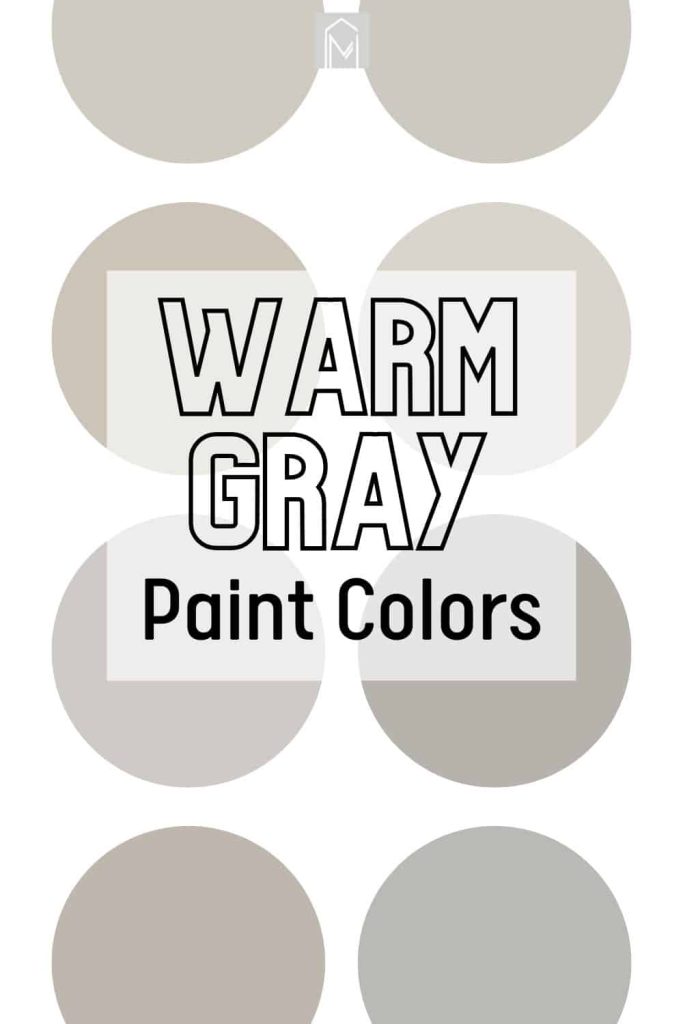 Here are Behr's best gray paint colors:
Tranquil Gray: This taupe-gray shade creates stillness and harmony. It's gentle on the eyes and the perfect paint color for creating a tranquil space. This gray paint color is very similar to the trendy Sherwin-Williams Agreeable Gray that designers and bloggers swear by.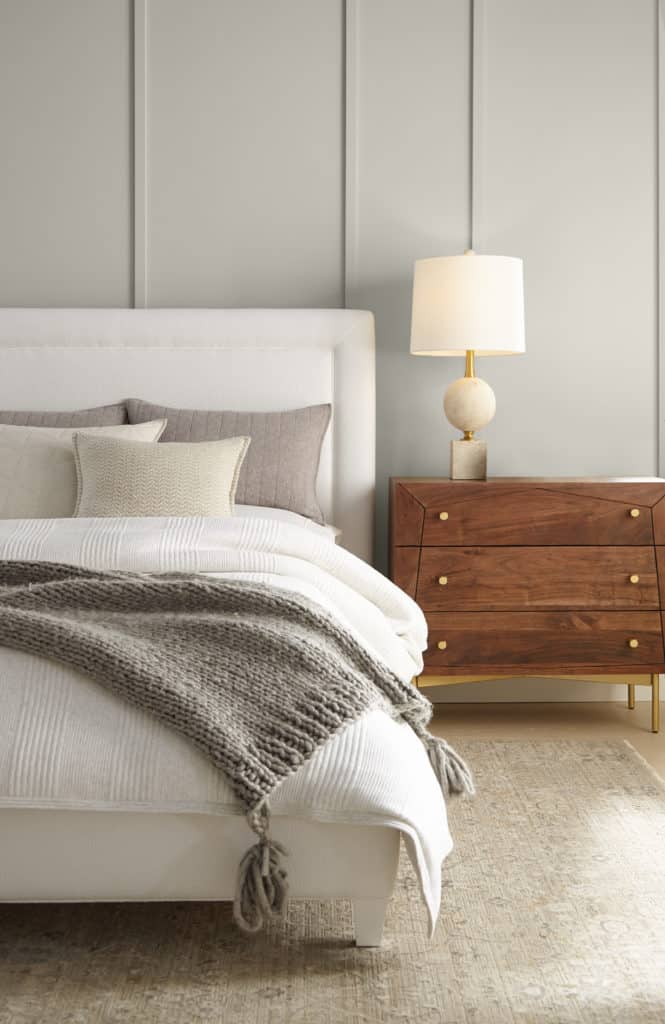 Gratifying Gray: This shade of gray brings complete satisfaction. It's the perfect medium-gray that is comparable to Sherwin-Williams Repose Gray.
Vintage Pewter: This brownish-gray is a blend of old and new. This is an excellent choice for a neutral paint color.
Dove: As a chameleon color, this shade can waffle between a creamy white neutral and a light gray (also known as "greige"). This soothing paint color is uplifting, peaceful, and gentle.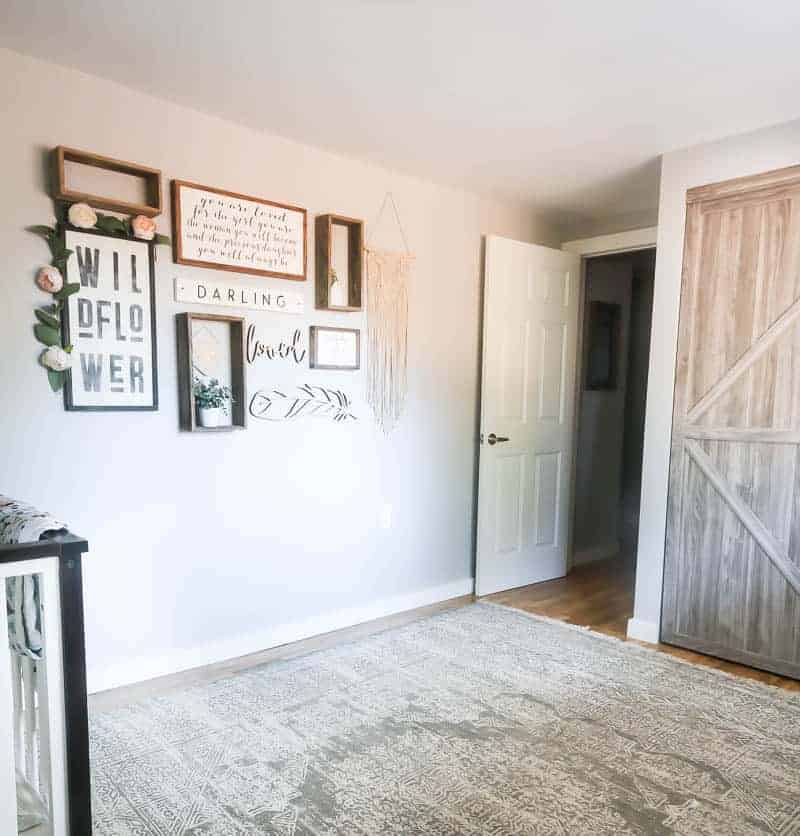 Chic Gray: Chic Gray is warm, and inviting, and adds a cozy touch. We have this warm, sophisticated gray color painted on the walls in Quinn's little girl nursery, our modern farmhouse bathroom, and laundry room.
Greige: This stone gray is a blend of gray and beige. In case you are on the fence, this is the perfect solution.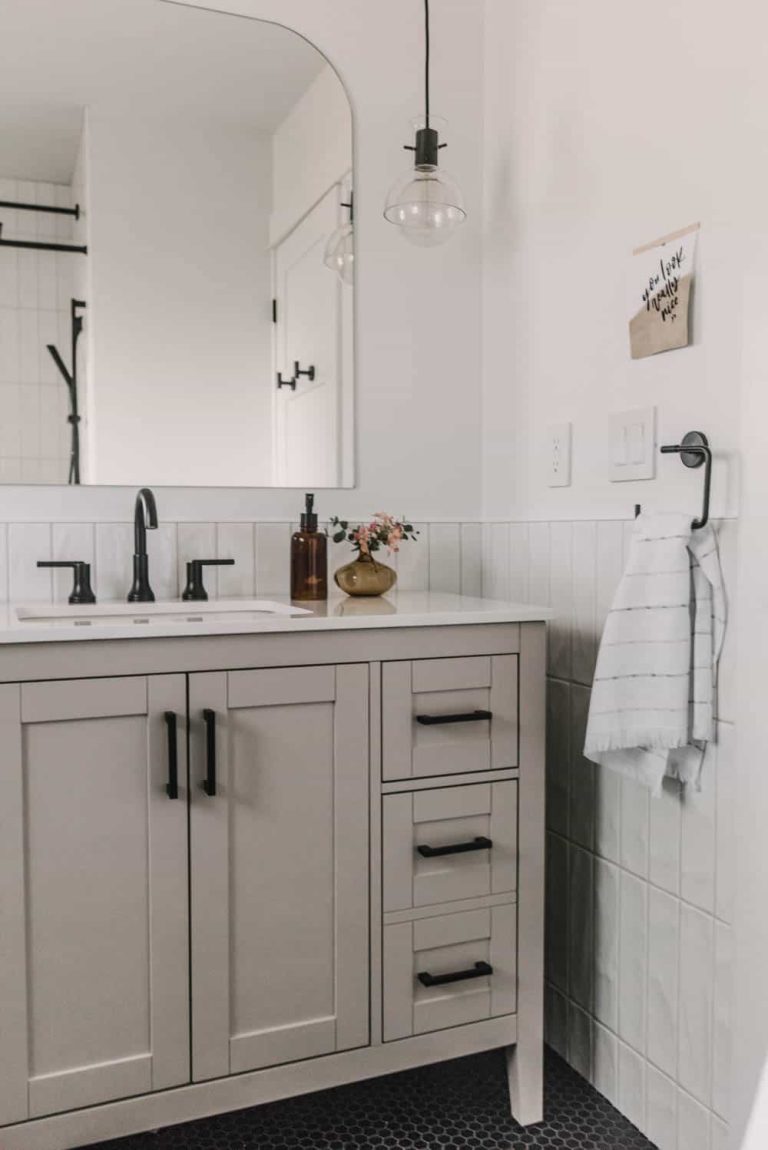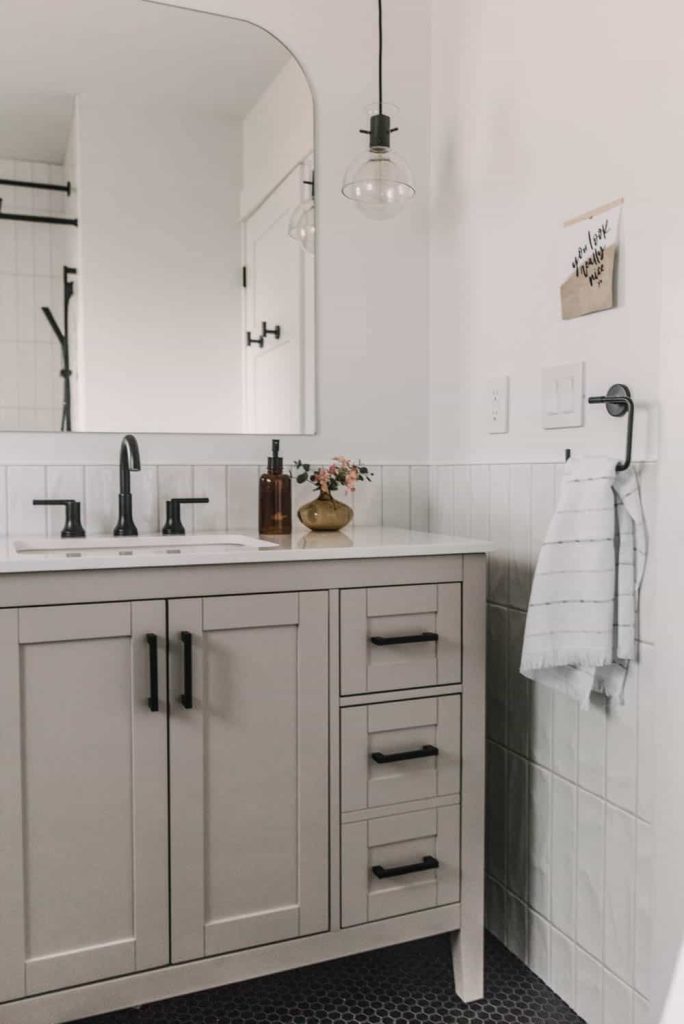 Grey Mist: Calm and tranquil, Grey Mist is a soft greige color that would blend well with lighter neutral colors and textures, as well as bolder accent colors for a sophisticated look.
Platinum: This light gray paint color is true gray. It's soft and soothing. It is a dove gray with a silvery-green undertone. Depending on the light source or time of day, it may appear as a shaded gray on the walls.
Classic Silver: Classic Silver is a popular light gray paint color that is the traditional gray. Behr even called this color their "truest gray" in this article where they describe it as "the perfect balance between warm and color gray."
Best BEHR Darker Accent Colors
There's nothing moodier than a big, bold, accent color. I love accent colors on a single wall (like a dark shiplap wall), kitchen islands, dining furniture, DIY wainscoting, and more. It's a great way to incorporate a bolder color that you wouldn't typically use on all four walls.
We did this in our son's room, with a mountain mural wall, using a neutral paint color as a base and incorporating darker shades within the mural design. We also used a similar technique with two-toned walls in our master bedroom.
These darker accent colors add major drama, emphasis, and really liven up any room.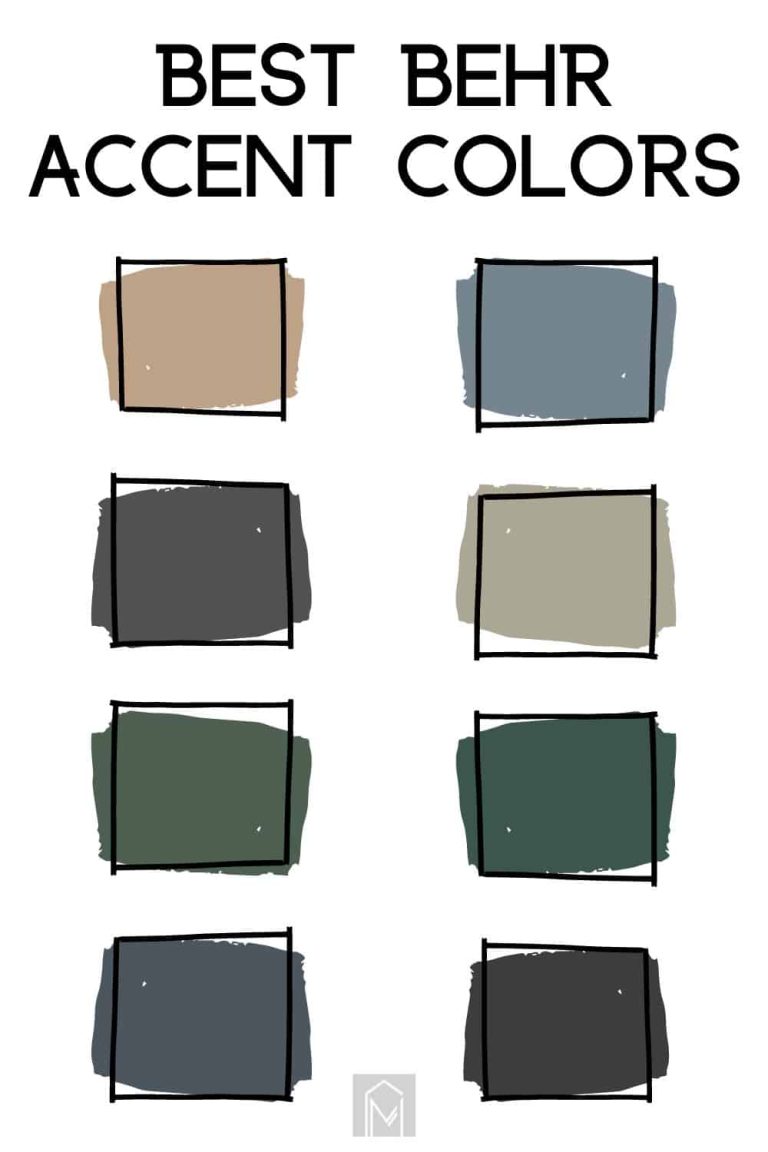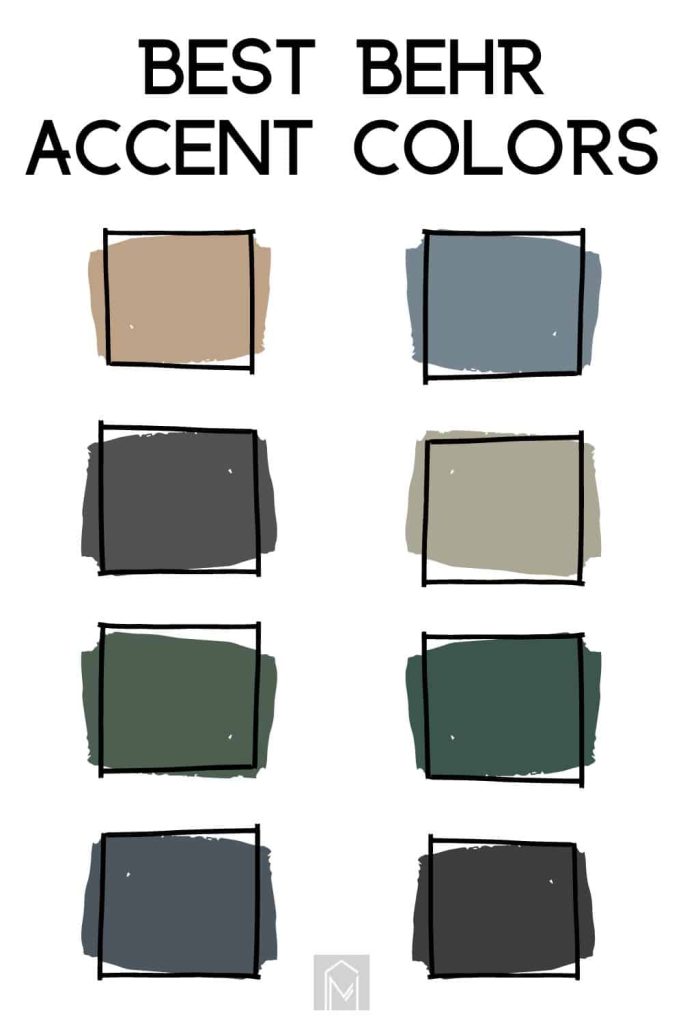 Here are the hottest accent colors in the BEHR Designer Collection:
Basketry: A unique shade of khaki, this color brings about feelings of comfort and homey-ness to any room. It is a warm brown with an orange tone. It reminds me a bit of a muted terracotta color, kind of like the one I used on this painted vase. This color is like an instant "welcome home".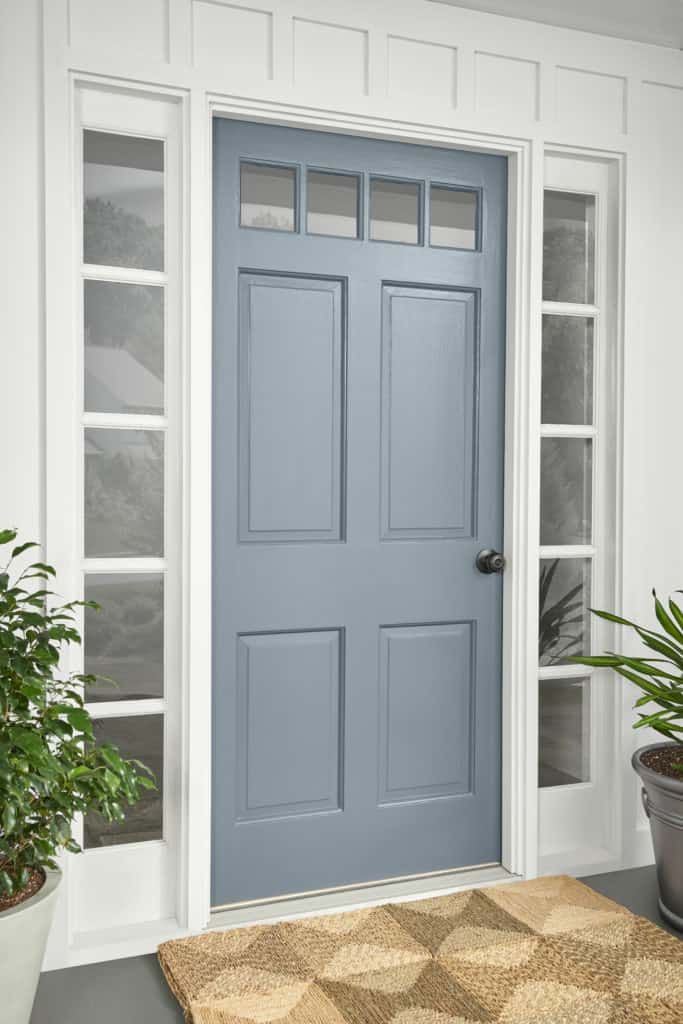 Adirondack Blue: This grayish dusty shade of blue is stately, calming, and echoes refined sophistication. This would be a beautiful accent color on a kitchen island or accent wall.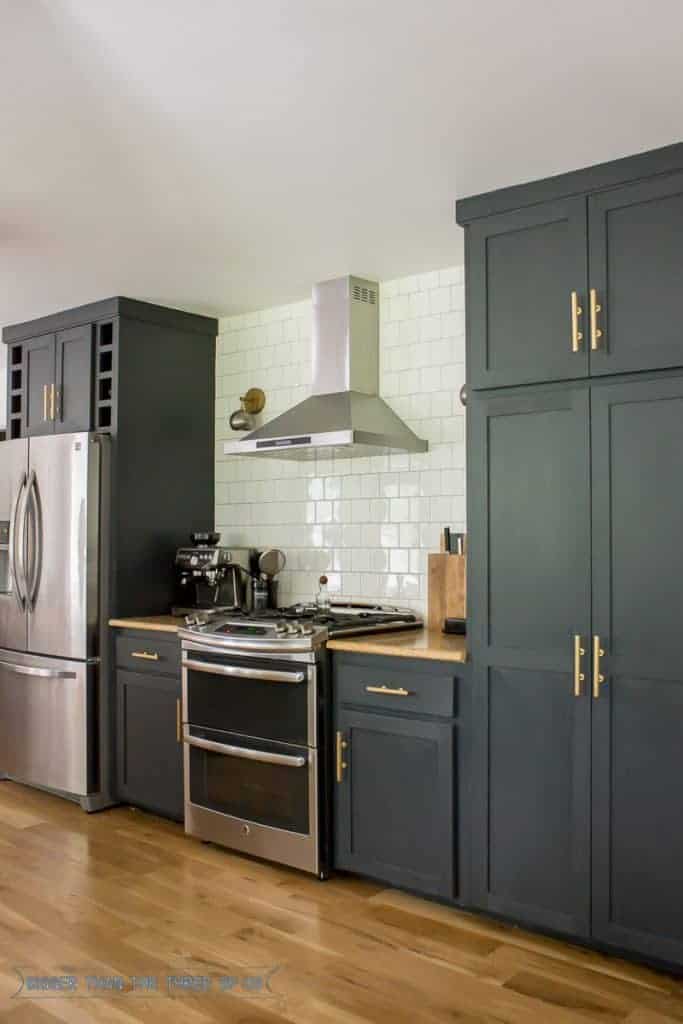 Cracked Pepper: It's a dark punchy color that adds a nice spice to any room. This rich gray shade instantly brings any space to life.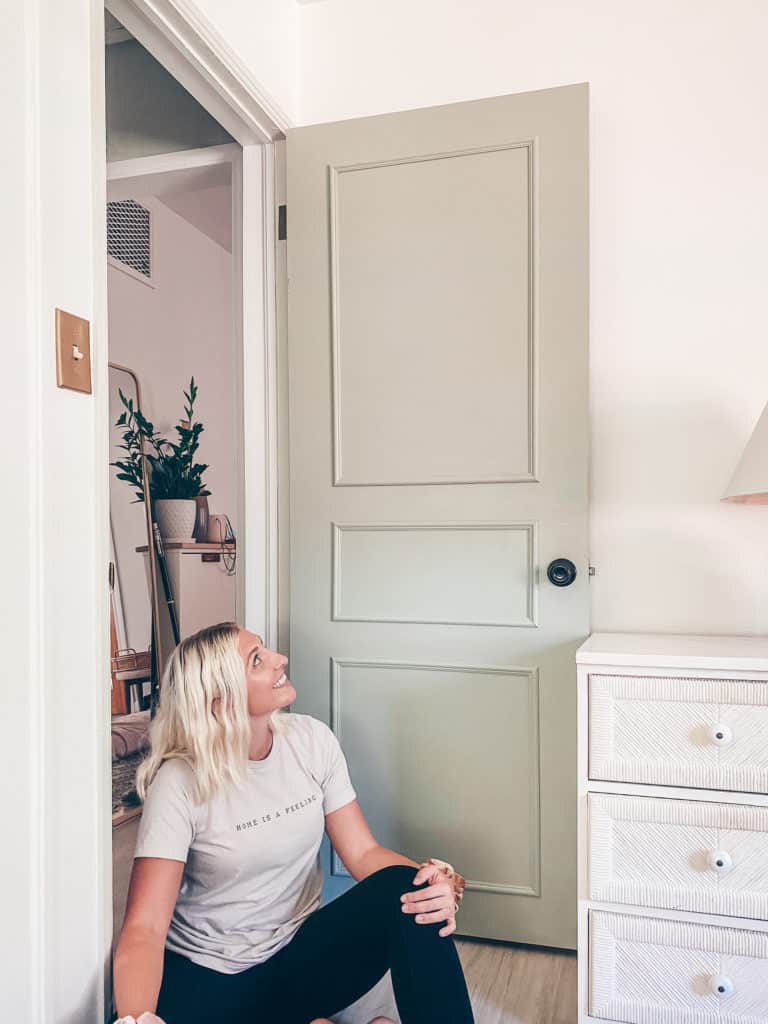 Jungle Camouflage: This relaxed gray-green is limitless and versatile. It can transform any room into a casual space or a more formal setting with a single coat!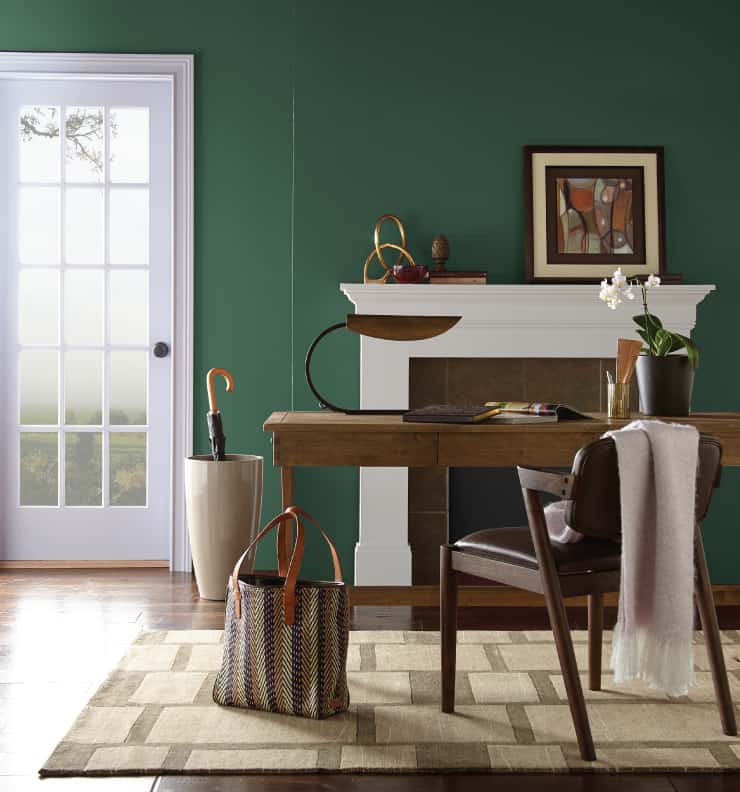 Vine Leaf: As a beautiful, bold green, this garden-inspired hue adds tranquility and calmness to any space.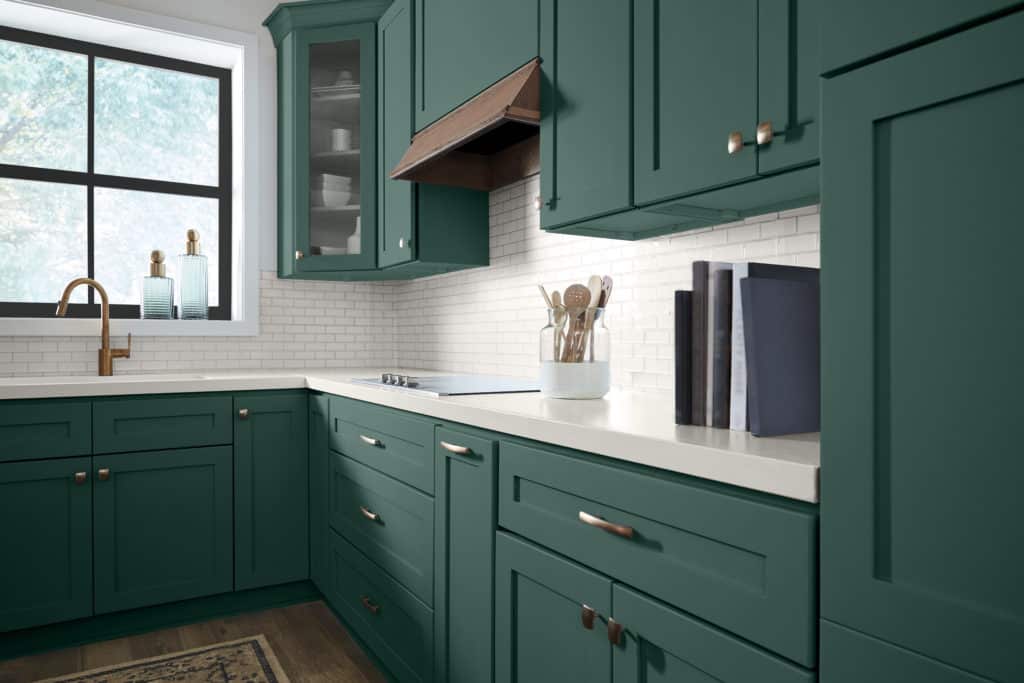 Dark Everglade: Dark Everglade is a blackish-green shade of paint that is reminiscent of coastal mangroves and rich wetlands. This would be a stunning accent color!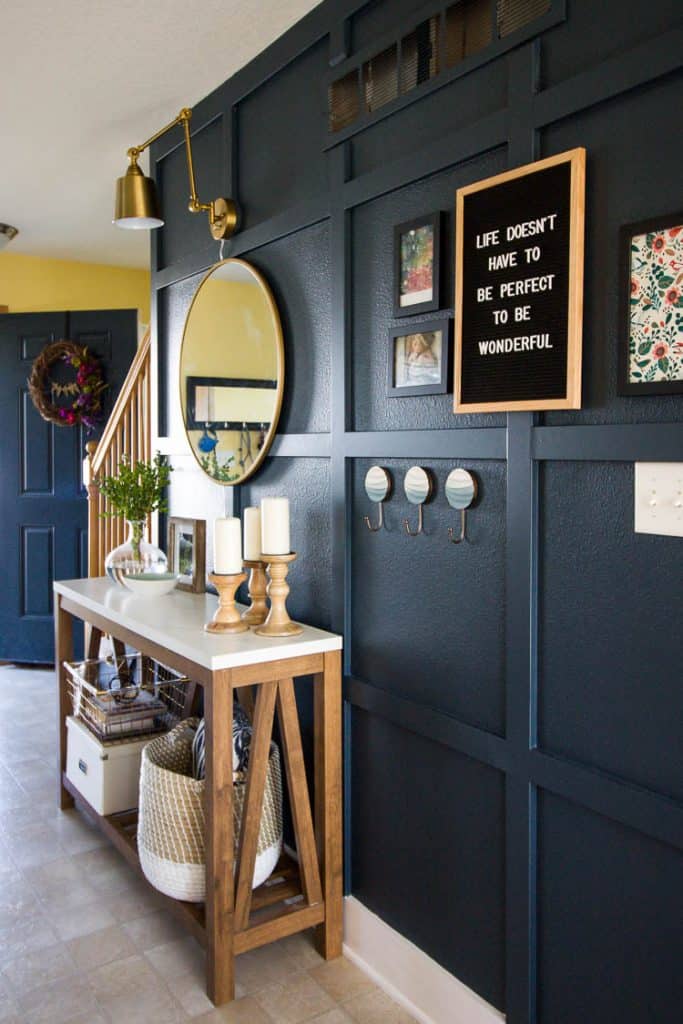 Midnight Blue: Midnight Blue is a deep blueish-gray with a hint of black that echoes serenity and restfulness.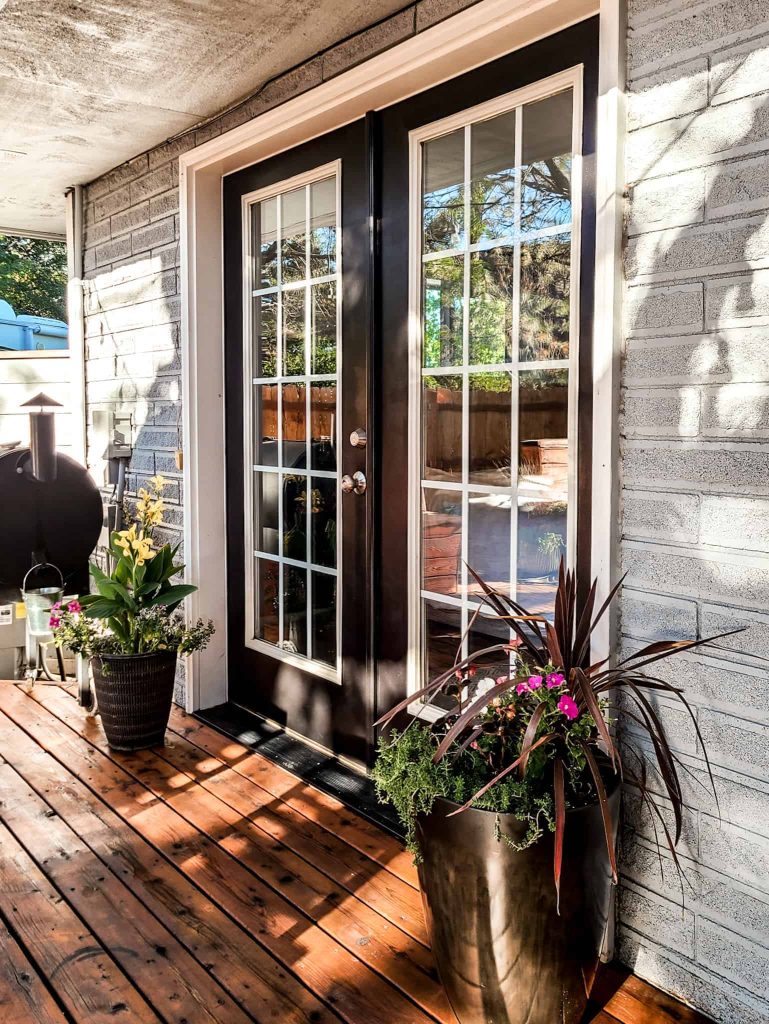 Black: As deep and rich as a color can get. While unexpected, Black is a timeless color that adds depth and character to any room. Use this as an accent color on a wall or kitchen island or use it outside! We have this color painted on our french doors at the front of our house and on the back deck, on the trim of these DIY planter boxes, and on our outdoor vertical garden.
Choosing the right paint color that's timeless and on-trend can be quite overwhelming. With the Behr Designer Collection, there are endless combinations for the most beautiful and stylish space you can make your own.
What is your favorite color in the BEHR Designer Collection?
Let us know in the comments!