Wondering what colors are trending for 2023? Here's every color of the year 2023 from popular paint brands including Behr, Sherwin-Williams, HGTV Home by Sherwin-Williams, Benjamin Moore, Glidden/PPG, Valspar, and Better Homes and Gardens.
Every fall the popular paint brands announce their colors for the next year, which reflect their predictions of color trends. We took a look at each color of the year 2023 from popular brands below.
Although it is pretty hard to predict the future, the paint pros have years of experience spotting trends and they feel pretty spot on to us!
This color of the year 2023 roundup contains affiliate links, but nothing that I wouldn't recommend wholeheartedly. Read my full disclosure here.
What are the 2023 color trends?
As soon as the colors of the years were announced for 2023 from the major paint brands, like BEHR and Sherwin-Williams, you can start pulling out some similarities between the color palettes to determine what the 2023 color trends will be.
Nature-inspired colors rule: From the clay tones in the deserts to the lush greenery in the forests, we see several nature-inspired colors featured as colors of the year.
Vintage vibes are in: Whether you are simply adding more vintage decor to your home or choosing colors that feel more vintage and historic, it is clear that vintage vibes are trending right now. Vintage colors generally are more muted and less saturated, feeling a bit like the popular photo filters or looking to be faded with time.
Calm is key: After the craziness of our culture over the last few years, it is clear that everyone is craving one feeling: calm. It is proven that green, blue, and certain shades of white reduce stress and are calming colors. Calmness and peace inspire several of the colors of the year announced for 2023.
Let's jump into the first color of the year – BEHR paint!
BEHR's Color of the Year for 2023: Blank Canvas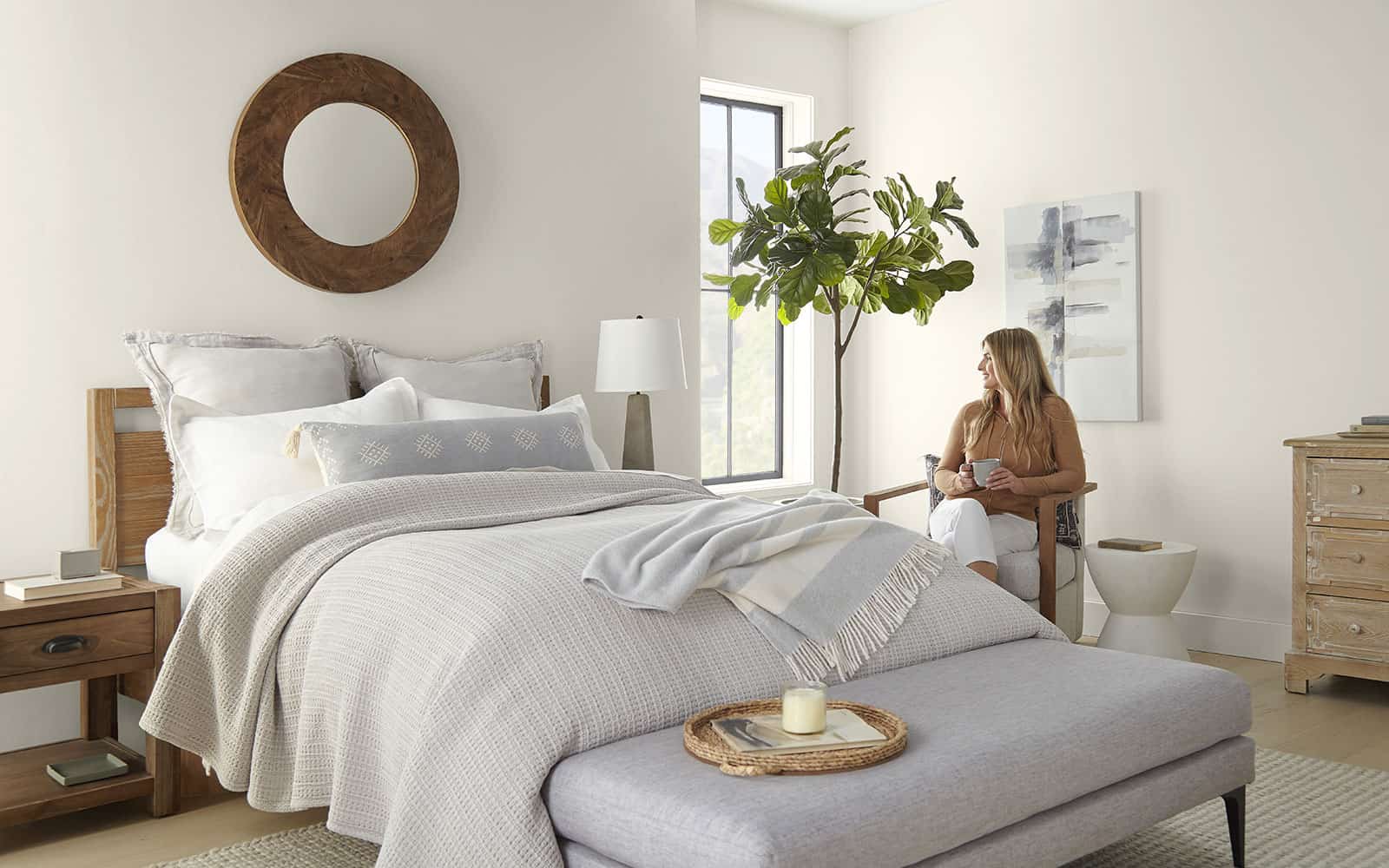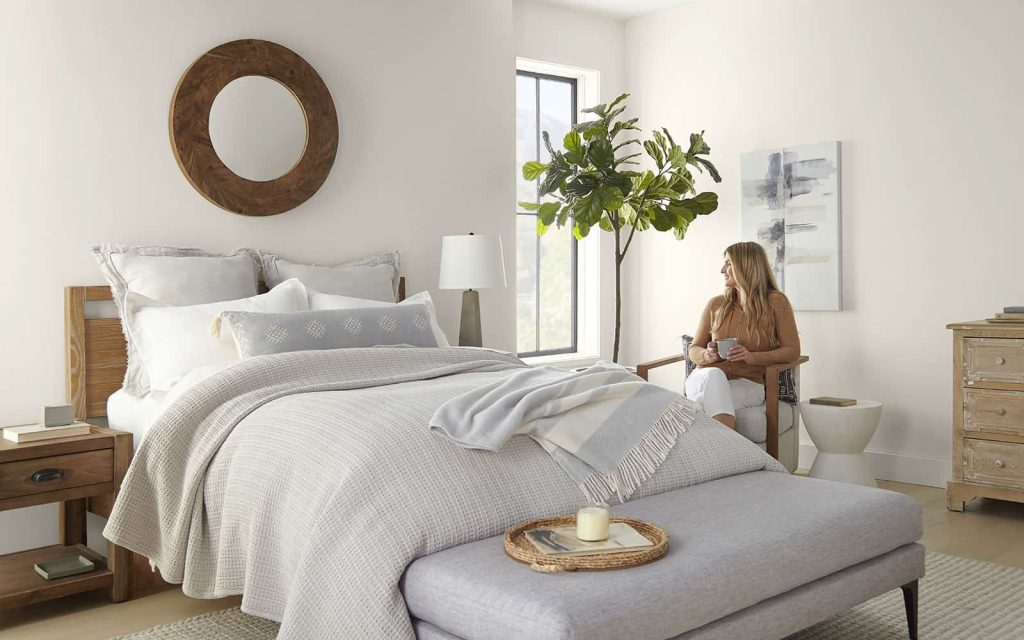 Behr announced their COTY for 2023 in September 2022 as Blank Canvas (BEHR DC-003), which is a part of the Behr Designer Collection. If you haven't heard the Behr Designed Collection is a set of 30 fool-proof paint colors for home. I have a post coming soon where I've rounded them all up with photos here so you can check them out.
Blank Canvas is described by Behr Paint in a press release as "a hopeful and welcoming warm white that offers limitless design and decor possibilities." We definitely agree!
Behr further explained that their research study showed that homeowners are craving white paint colors with 70-77% agreeing that white makes them feel positive and focused, lowers their stress levels, promotes relaxation, and creates a sense of calm.
If you're wondering where you can purchase your own sample of Blank Canvas from BHER, keep in mind that BEHR paint is only sold at The Home Depot.
Blank Canvas: Paint Color Stats
Brand: Behr
Color Code: DC-003
RGB: 241 237 225
Hex Value: #F1EDE1
LRV: 84
Sherwin-Williams' Color of Year for 2023: Redend Point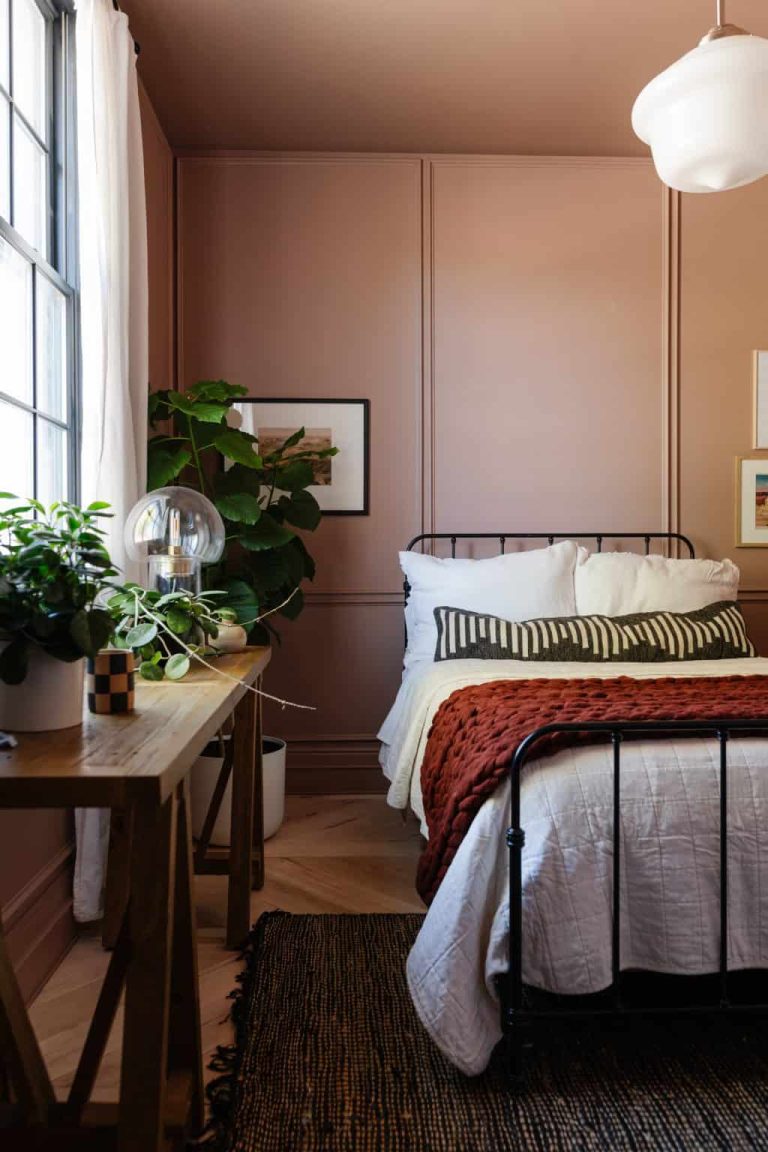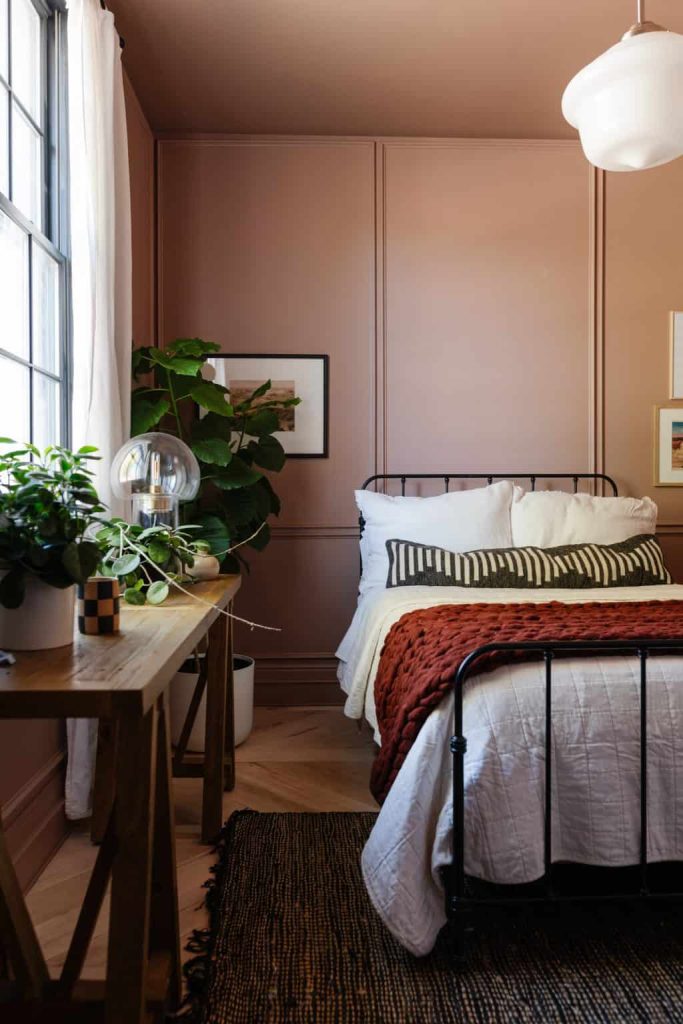 Sherwin-Williams' Color of the Year, Redend Point, "brings home warmth and intrigue" that is reminiscent of desert sands, terracotta clay, and warm, earthy hues.
Although this paint color definitely has pink undertones, it pulls more mauve or terracotta or even a rusty beige when painted on walls.
One of the coolest things about SW's color of the year is that they have partnered with Etsy for a curated collection of home accents and accessories that work well with Redend Point. Check out the full curated Etsy collection here. I think my favorite are these blush linen napkins.
To purchase Sherwin-Williams paint, you'll need to go to a local Sherwin-Williams paint store or you can also buy your SW paint online.
Redend Point: Paint Color Stats
Brand: Sherwin Williams
Color Code: SW 9081
RGB: 174 142 126
Hex Value: #AE8E7E
LRV: 30
HGTV Home by Sherwin-William's Color of the Year for 2023: Darkroom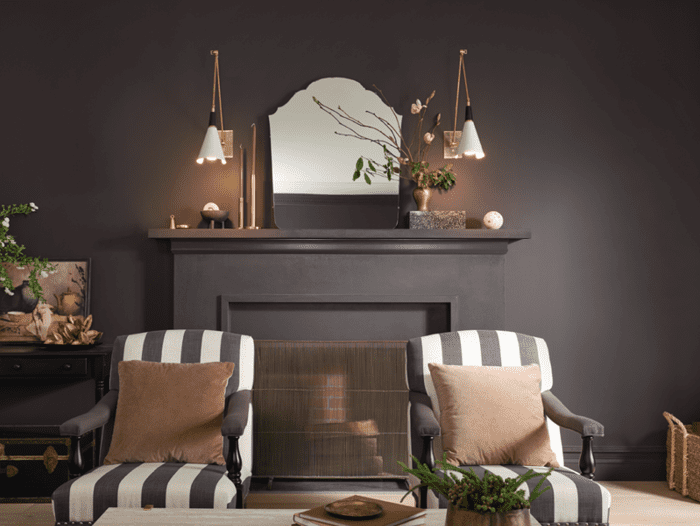 The HGTV Home line by Sherwin-Williams announced an entire color collection called "The Vintage Homestead Color Collection". The brand ultimately narrowed it down to one COTY from the collection, which is Darkroom, which reminds me a bit of this dark and moody color we have painted in our living room.
The entire collection features colors that are calm and nostalgic with vintage vibes, including a pretty mustard yellow, sage green, dusty blue, and more.
The star of the show, however, is the color of the year…Darkroom. It is an "alluring black [that] is a classic for heritage interiors, yet modernly retro for a throwback-inspired aesthetic". Its name is definitely on point because it certainly will darken up any room it is painted in. If you love moody vibes, you're sure to love this dark paint color.
If you're wondering where HGTV Home by Sherwin-Williams paint is sold, it is available exclusively at Lowe's.
Darkroom: Paint Color Stats
Brand: HGTV Home by Sherwin Williams
Color Code: HGSW 7083
RGB: 68 62 64
Hex Value: #443E40
LRV: 5
Benjamin Moore's Color of the Year for 2023: Raspberry Blush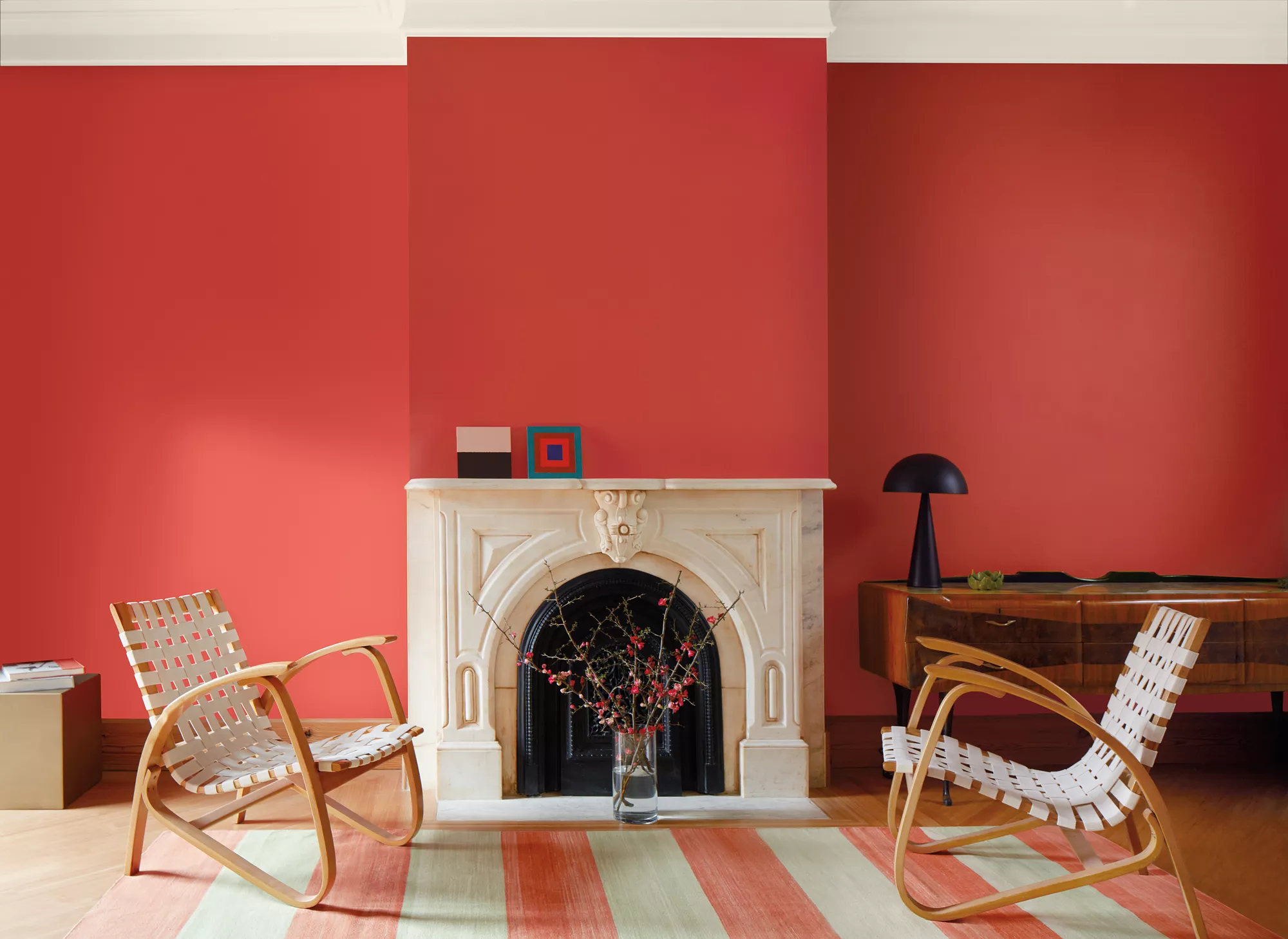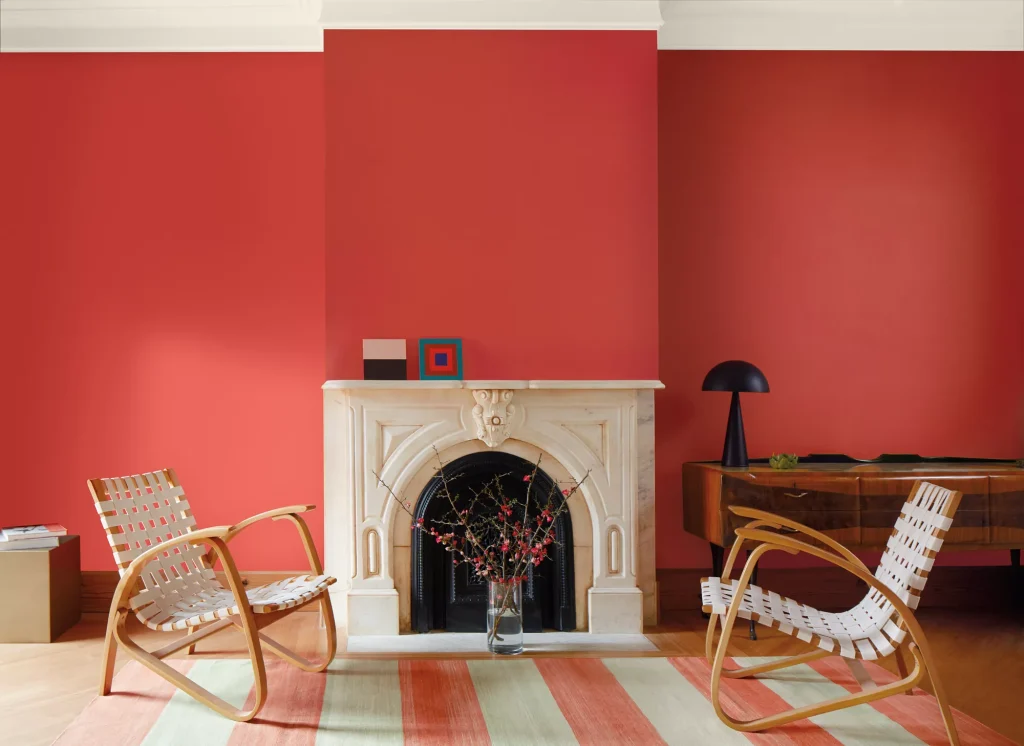 Benjamin Moore was the last of the major paint brands to announce their 2023 color of the year, which is Raspberry Blush. It is described by BM as "a vivacious shade of coral tinged with pink, Raspberry Blush enlivens the senses with an electric optimism."
It is very bold, that's for sure. It reminds me of a super saturated version of Sherwin William's Redend Point.
Along with their COTY announcement, they included an entire palette of 2023 color trends with 8 colorful hues. Something unique about the Benjamin Moore color choices is that they all seem to be bolder and more saturated, whereas the other paint companies had little more muted colors.
Raspberry Blush: Paint Color Stats
Brand: Benjamin Moore
Color Code: 2008-30
RGB: 210 95 87
Hex Value: #D25F57
LRV: 21
Glidden's / PPG's Color of the Year for 2023: Vining Ivy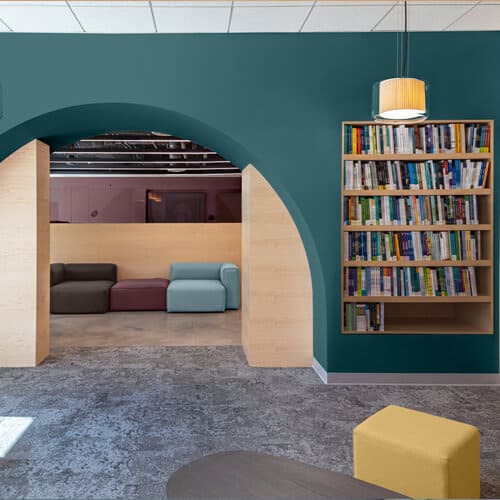 Glidden / PPG went with a very colorful shade of aqua called Vining Ivy. PPG describes the color as "an enchanting deep aqua representing contemporary and traditional styles, perfectly marrying a touch of the past and a taste of the future."
I love the description on Glidden's website as well: "This "bluish-greenish-something-in-betweenish" color serves up versatile vibes, making it an on-trend addition to any room. No matter if you think it looks more blue or more green, either way, it's a vibe."
So true. it's the perfect combination of blue and green – two colors that I love for interiors.
The other 2023 color trends released from Glidden are fairly similar to the collection by HGTV Home by Sherwin Williams. They curated gorgeous warm colors like mustard yellow, terracotta rust and clay colors, dusty blues, and beige tones.
To purchase Glidden / PPG paints, head to The Home Depot or a local PPG paint shop. Check out the color of the year for sale at The Home Depot here.
Vining Ivy: Paint Color Stats
Brand: Glidden (a part of PPG)
Color Code: PPG1148-6
RGB: 75 115 120
Hex Value: #4B7378
LRV: 15
Valspar's Colors of the Year for 2023: Collection of 12 Colors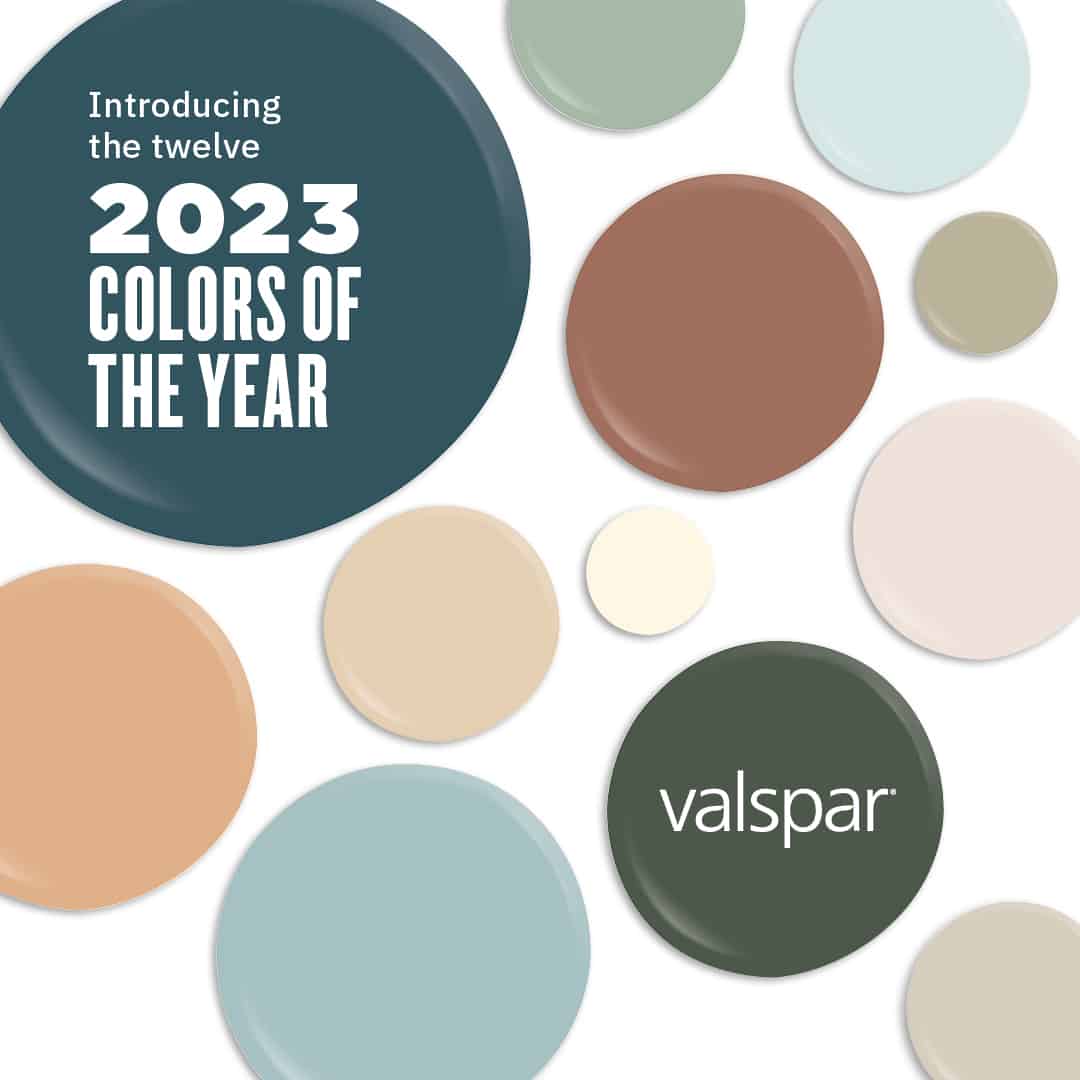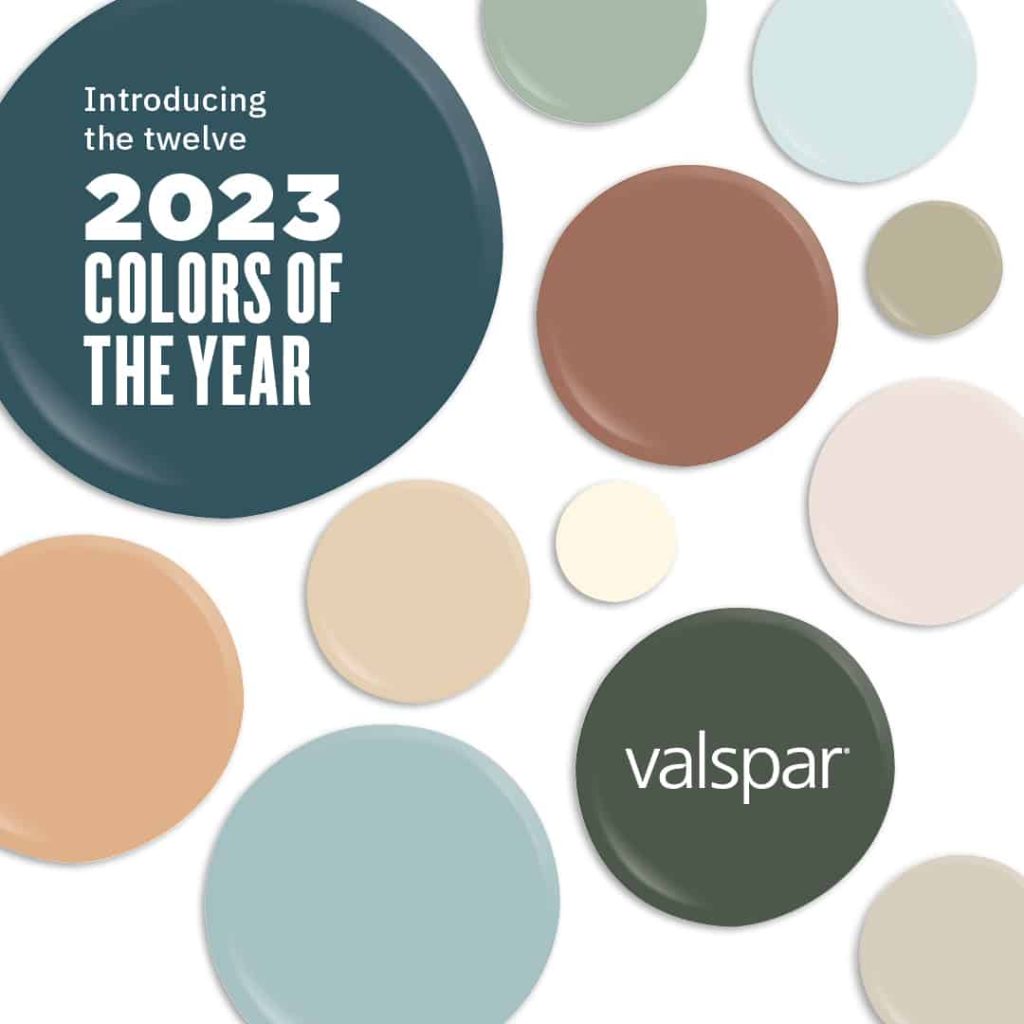 Valspar did something a bit different this year and stuck with an entire collection of 12 colors instead of choosing just one color of the year.
Their colors of the year include a handful of neutrals, some pastels, and a couple more muted desert-y tones. Ironically one of the colors, Southern Road, is an almost exact match to Sherwin Williams' Redend Point.
If you want to purchase Valspar paint, keep in mind that it is sold at Lowe's and other independent Valspar retailers.
The Valspar 2023 Colors of the Year include:
Better Homes & Gardens' Color of the Year for 2023: Canyon Ridge
BH&G Paint, which is sold at Walmart, announced that their 2023 color of the year is Canyon Ridge. This color is pretty similar to SW's Redend Point. So I'm sensing some major trends for colors next year. It is ALL about this terracotta clay color.
Nicole notes: "The great thing about Canyon Ridge is that it can pair really well with very neutral colors such as tans and whites. It also looks natural with terra cotta elements and live greenery for a modern southwest feel. But it can also stand its ground with other bright colors such as pinks and turquoise to really create a fun environment."
There are so many beautiful color trends happening right now in the world of interior design. Whether you're a fan of the muted sage greens and warm tones, like terracotta, or craving something more neutral, like a creamy white or moody black – there's a color of the year for 2023 that you're to love.
Which of the popular paint brand's colors of the year is your favorite?
Let us know in the comments below!