Are you loving the footed bowl trend? Make your own easy DIY pedestal bowl in just 5 minutes for less than $5!
Is it just me or have you been seeing the footed bowls or pedestal bowls everywhere? They are all over Instagram and if you look at stores, you'll find several options.
I, for one, am loving the look! One of the best things about the whole footed bowl thing is that they can be used in SO MANY different ways in your home. I have a list of 8 things later down in this article of ways to use a pedestal bowl in your home, but I'm sure I could think of more if you gave me some time.
When I was aimlessly wandering the aisles of Walmart, I came across these two plastic bowls and instantly thought of this cheap and easy craft project!
Yep, I'm making my own DIY pedestal bowl with these. And it is seriously going to take me less than 5 minutes and cost me under $5. You just can't beat that, right?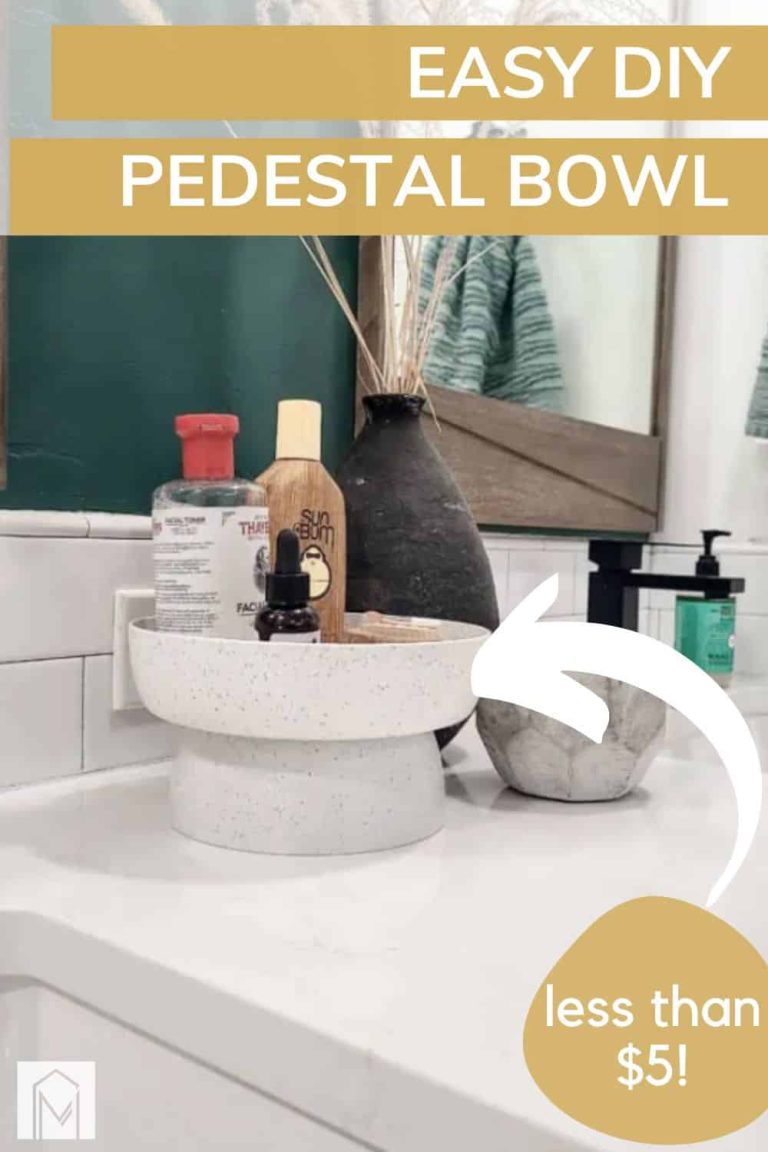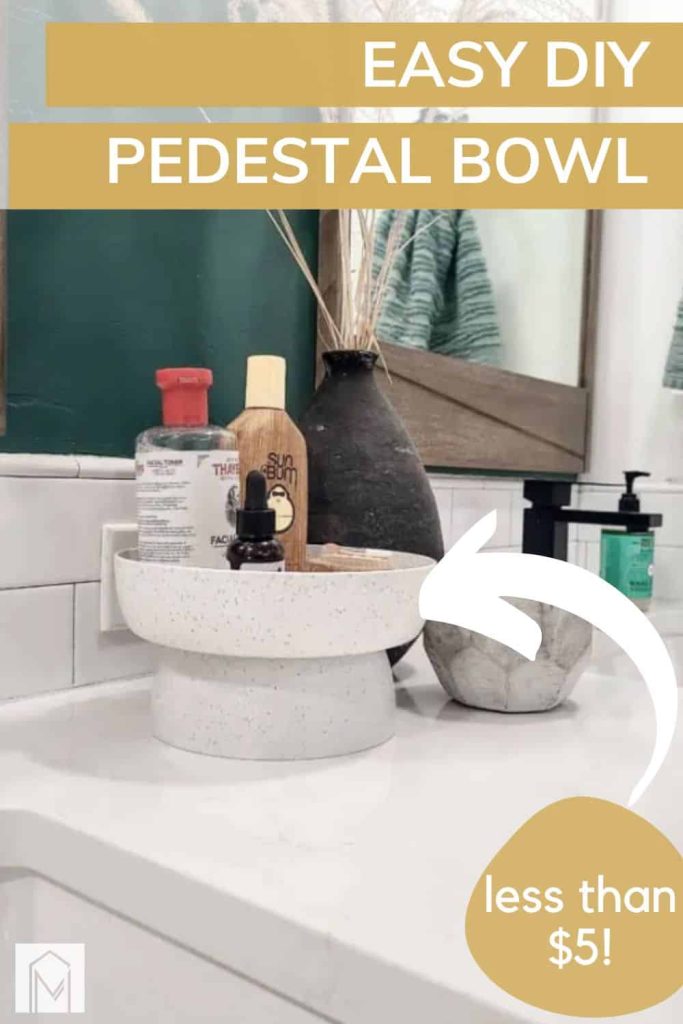 This DIY pedestal bowl tutorial contains affiliate links, but nothing that I wouldn't recommend wholeheartedly. Read my full disclosure here.
Before Pictures – 2 Plastic Bowls
Alright, are you ready to see these two plastic bowls transformed into a cute and trendy decorative bowl?
DIY Pedestal Bowl – Video Tutorial
If you love DIY videos, don't forget to subscribe to our YouTube channel!
Supplies needed for DIY pedestal bowl:
Smaller bowl (also from Walmart, but can't find it online, urgh!)
Museum putty (you could also use hot glue or RapidFuse for a more permanent hold)
Step 1: Buy bowls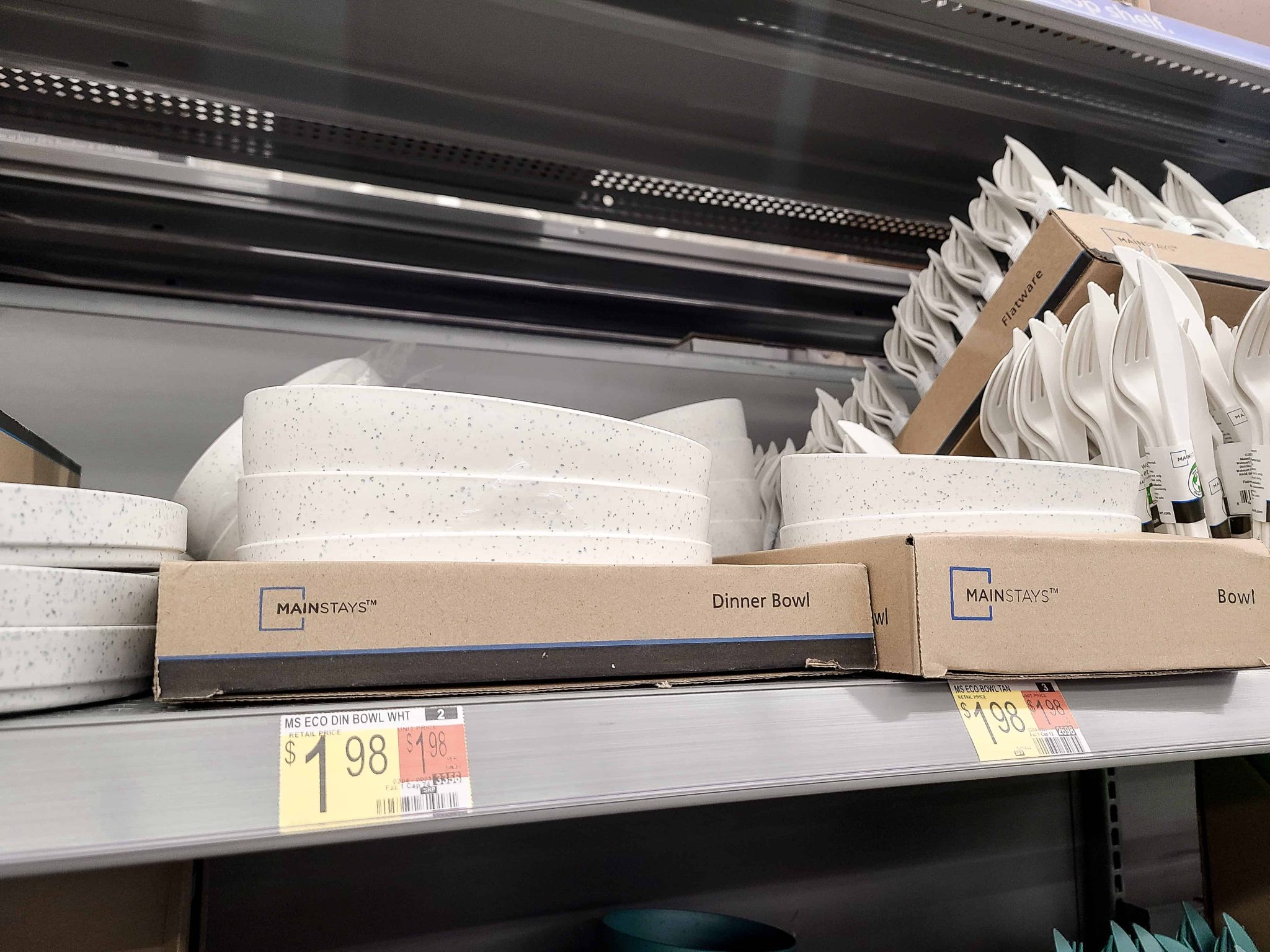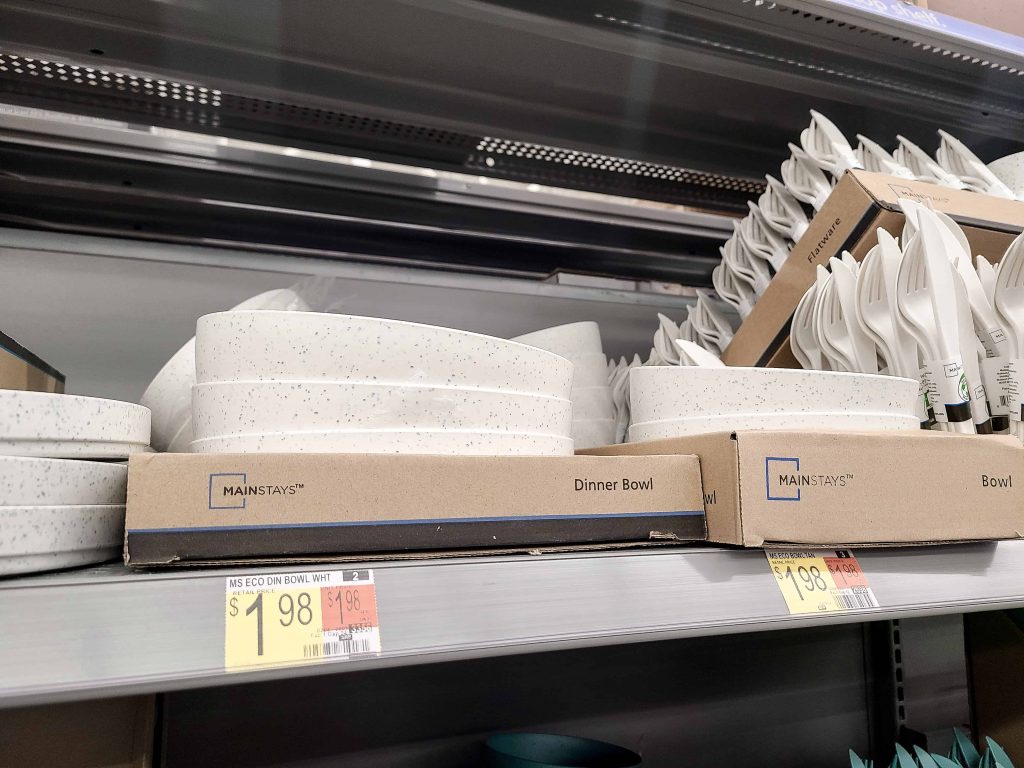 You'll need two bowls to make a pedestal tray. I got these plastic ones from Walmart. They are plastic and only $2! Glass or ceramic bowls would work too, but it probably wouldn't be as cheap!
I like the asymmetrical look of having the two bowls be different sizes with the large one on the top. However, you could totally make this DIY pedestal bowl with two bowls that are the same size too! It would just have more of an hourglass shape.
If you wanted to mismatched bowls or something you find at the thrift store, that would work too! You would just want to spray paint everything the same color after you attach the two bowls together. A fun textured spray paint, like this, would be perfect on this!
Also if a slightly different look, you could also use a cup for the bottom layer of the tray. This would make it look a bit more like a pedestal. Keep in mind that the higher the tray is raised, you risk it tipping over when you put anything in it (especially if you're using lightweight plastic bowls, like me).
Step 2: Attach two bowls together
There are so many different ways that you can attach the two bowls together. For a permanent hold, use a hot glue gun and hot glue sticks or my favorite super strong super glue, DAP Rapid Fuse.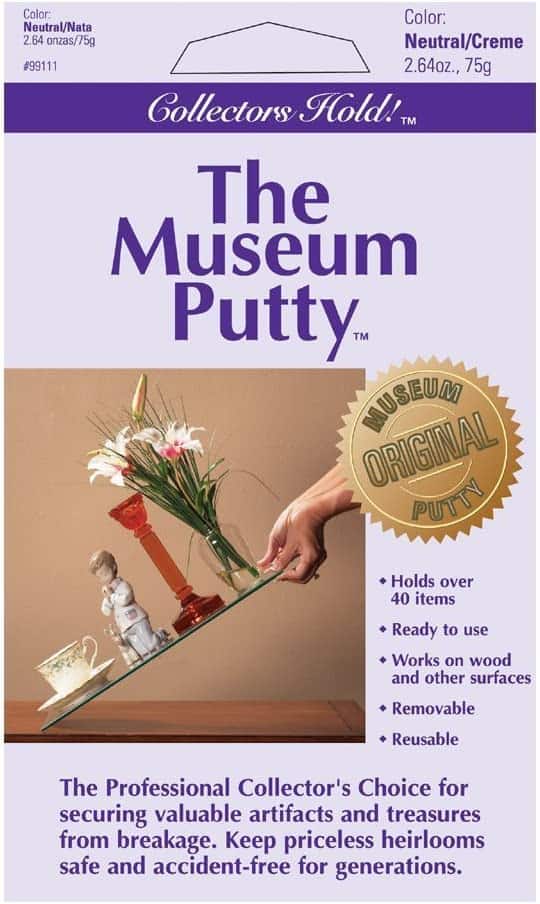 But the stronger hold isn't completely necessary if you're still using the footed bowl as decor. So I decided to use Museum Putty. You can just use a few small little balls of putty on the bottom side of the smaller bowl. Center it and press it into place on the bottom of the larger bowl.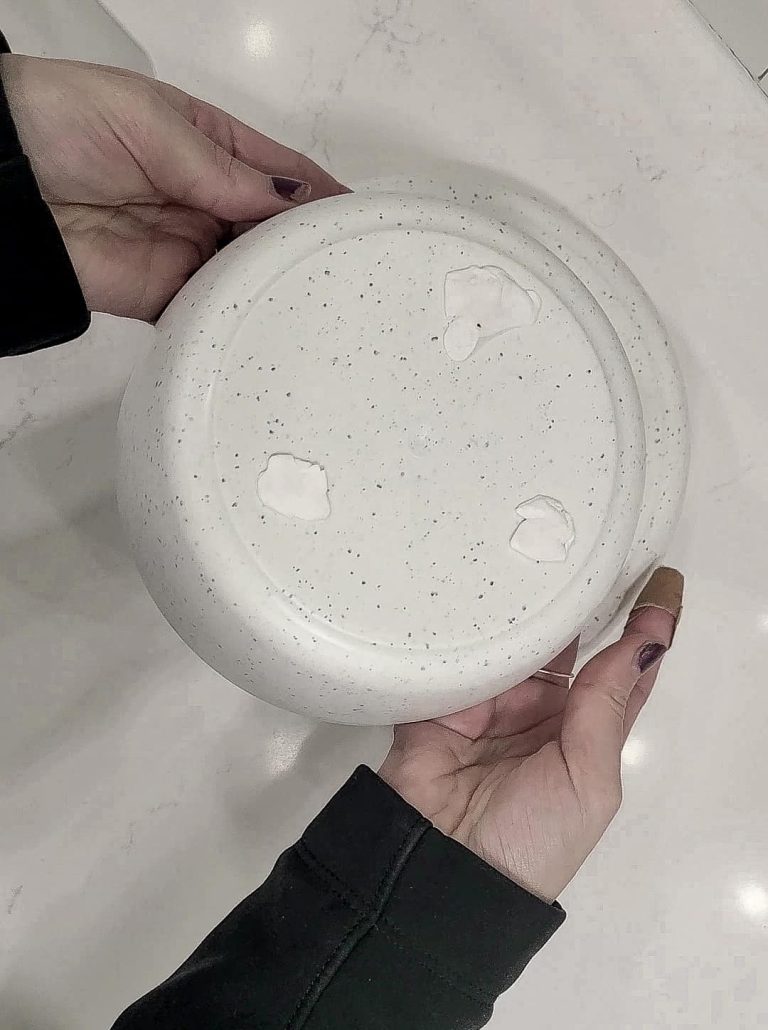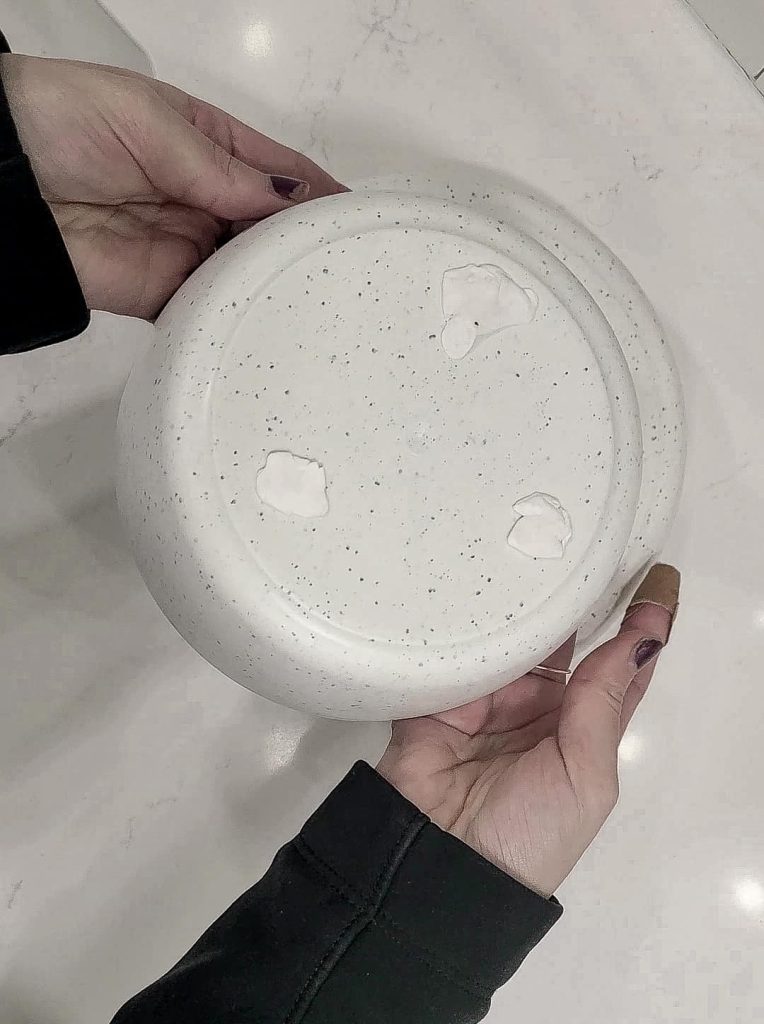 The Museum Putty is removable and doesn't leave any residue. So if you decide later that you want to use the bowls in a different way, you totally can!
Another thing that Museum Putty is totally great for is small bathroom organization! It is perfect for holding your drawer baskets and organizers into place so they don't move around when you open and close the drawers.
Step 3: Style your footed bowl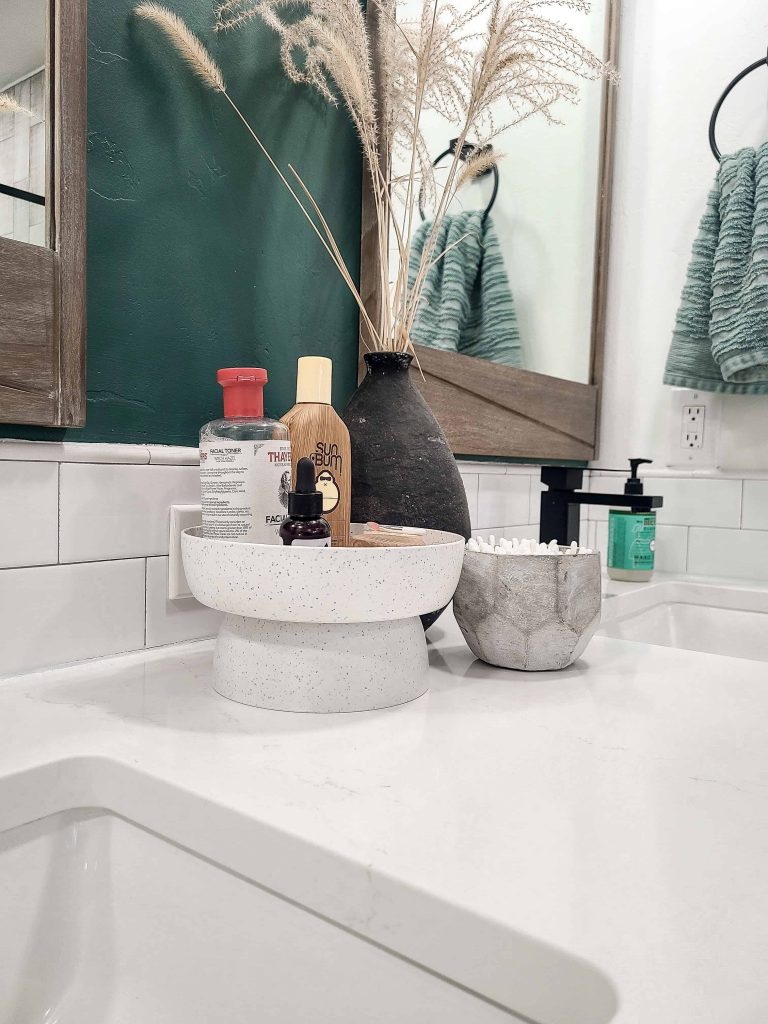 Lastly, the fun part is styling your bowl! I opted to use it as a vanity tray to round up all of my everyday essentials.
I find that if I have the items for my morning and nightly routine out on the counter visible (rather than hidden away in a drawer), I'm much less likely to skip them!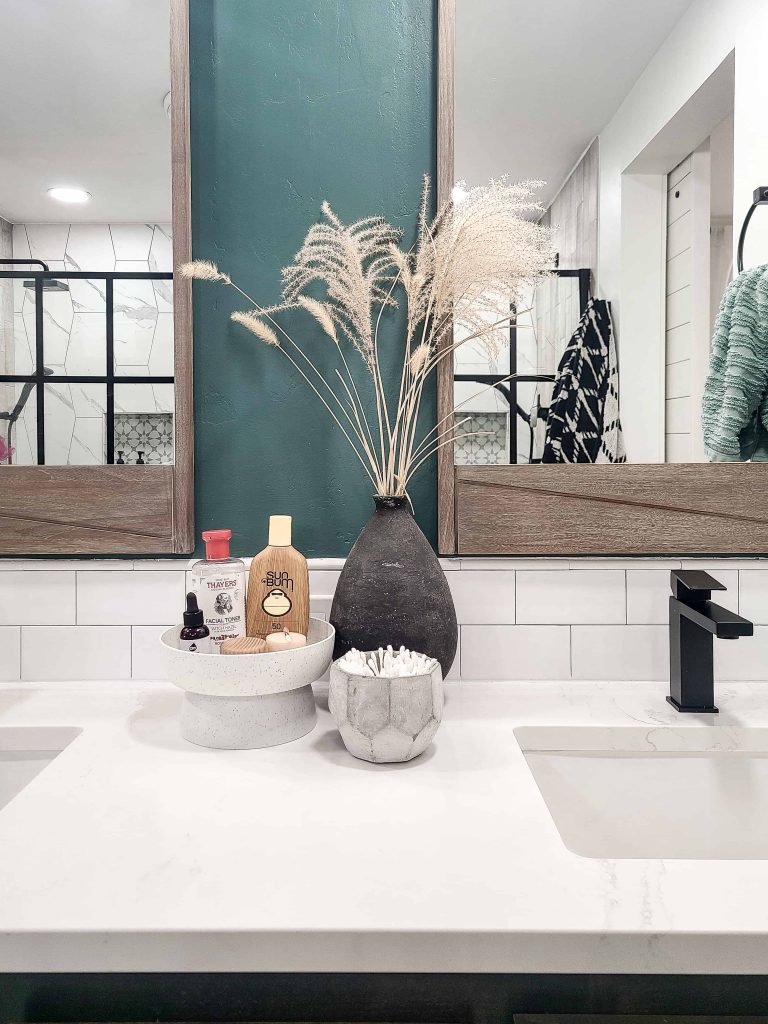 It looks great in our master bathroom on the countertop alongside the DIY aged vase that I made a couple of years ago with some pampas grass!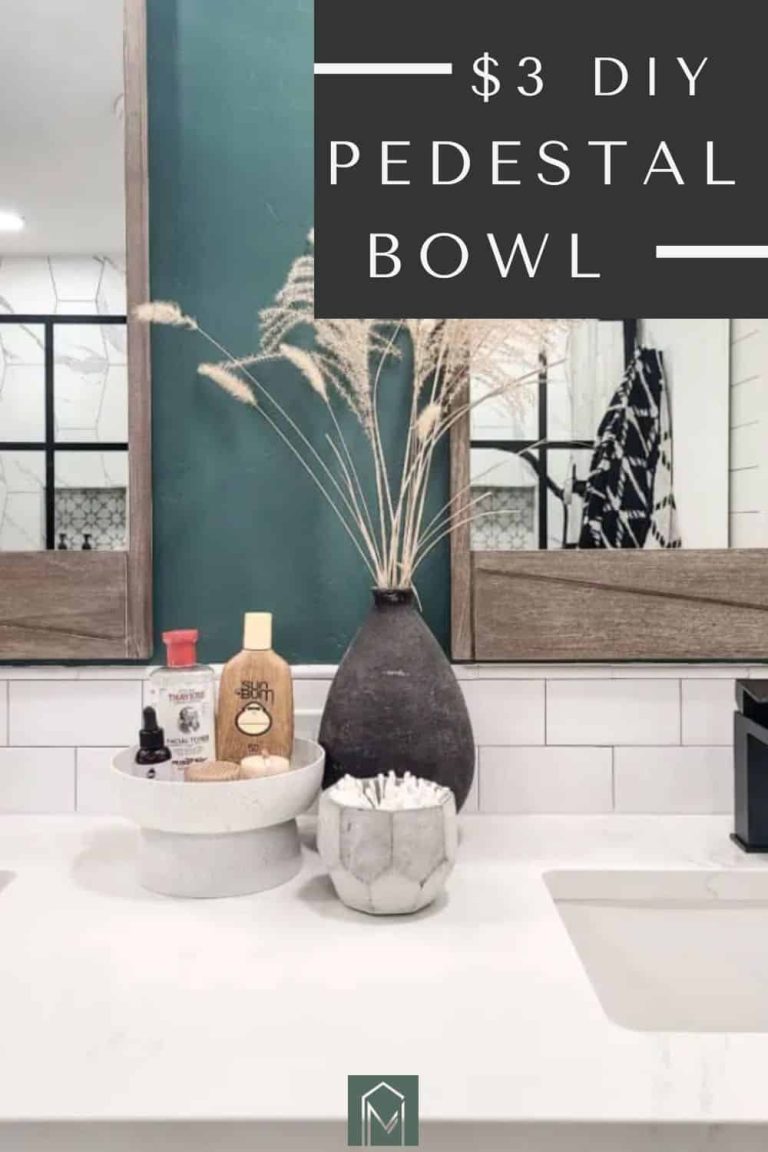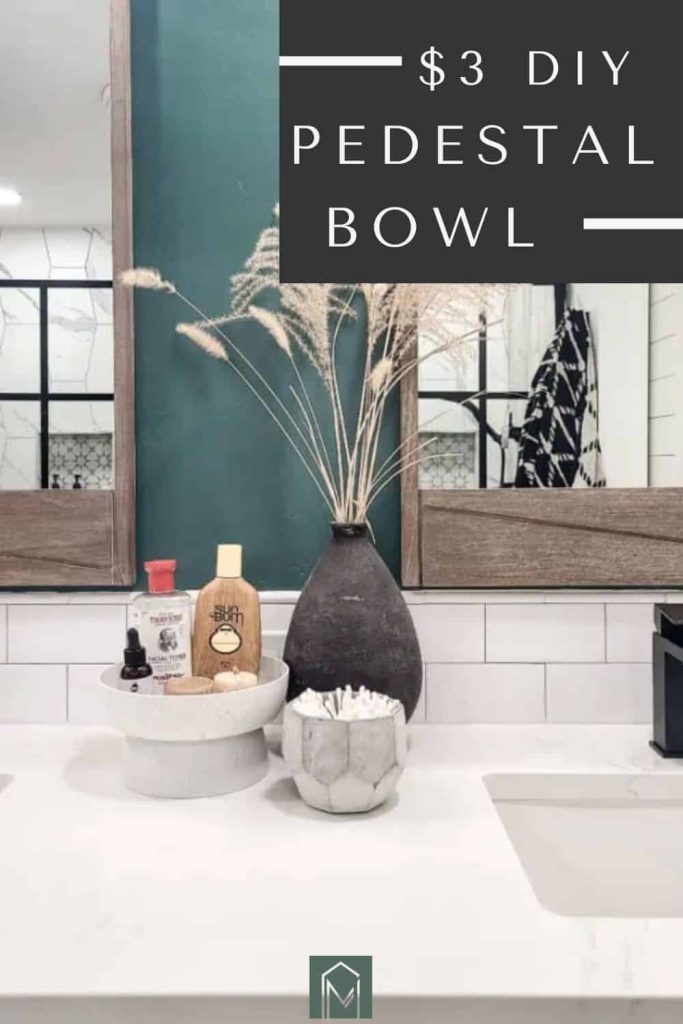 What to do with a pedestal bowl in your home
There are SO many ways to use footed bowls in your home. They are so dang versatile!
You can use the pedestal bowl as:
Vanity tray for your bathroom countertop to roundup everyday essentials <– that's how I'm using our DIY pedestal bowl
Coffee table tray for your living room to decorate or as a spot to keep the TV remote (are we the only ones ALWAYS looking for the remote?)
Fruit tray for your kitchen island or kitchen table
Shelf decor for open shelves (fill it with something like a wood bead garland or not)
Planter for real or faux plants (or put moss in the bowl!)
Centerpiece for dining room table
Candle stand
Console table decor (or for something functional, like holding keys)
Want to buy a footed bowl instead?
If DIY is not your jam, no worries. Since the footed bowl, pedestal bowl thing is a trend, that means that there are a lot of great options available for sale!
The higher-end retailers and the more budget-friendly stores have decorative bowls. Here are some of my favorite ones that I found while searching!
So what do you think? Are you going to buy it or DIY it?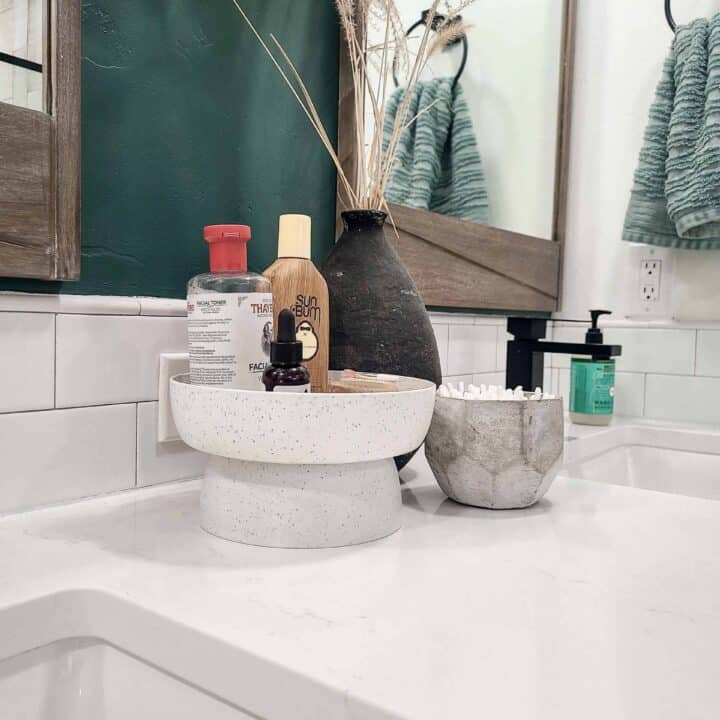 How to make an easy DIY pedestal bowl in 5 minutes
Are you loving the footed bowl trend? Make your own easy DIY pedestal bowl in just 5 minutes for less than $5!
Instructions
Buy bowls
Attach two bowls together
Style your footed bowl