Do you have a small bathroom? Have no fear! With a little bit of creative organization and storage solutions, you can get your tiny bathroom organized. Get inspired with these 25+ genius small bathroom organization ideas!
I think everyone would agree that if they could use more space in any room of their house it would probably be either their bathroom or their kitchen. It is true that having a small bathroom is tricky and can be pretty frustrating.
The tough part is that there are so many things that we need to keep stored in our bathrooms. From towels to makeup, hair tools, and extra toilet paper rolls – so many things!
But what you really need is some creative storage ideas and smart small bathroom organization ideas! And I've got both for you today!
Before we jump right in, let's start by addressing the obvious. You can't get started organizing your small bathroom without a really good decluttering session. Start by decluttering the bathroom.
Get rid of the items you no longer need, use, or like. You'll be surprised with just how much room you free up in your tiny bathroom simply by cleaning and decluttering!
Table of Contents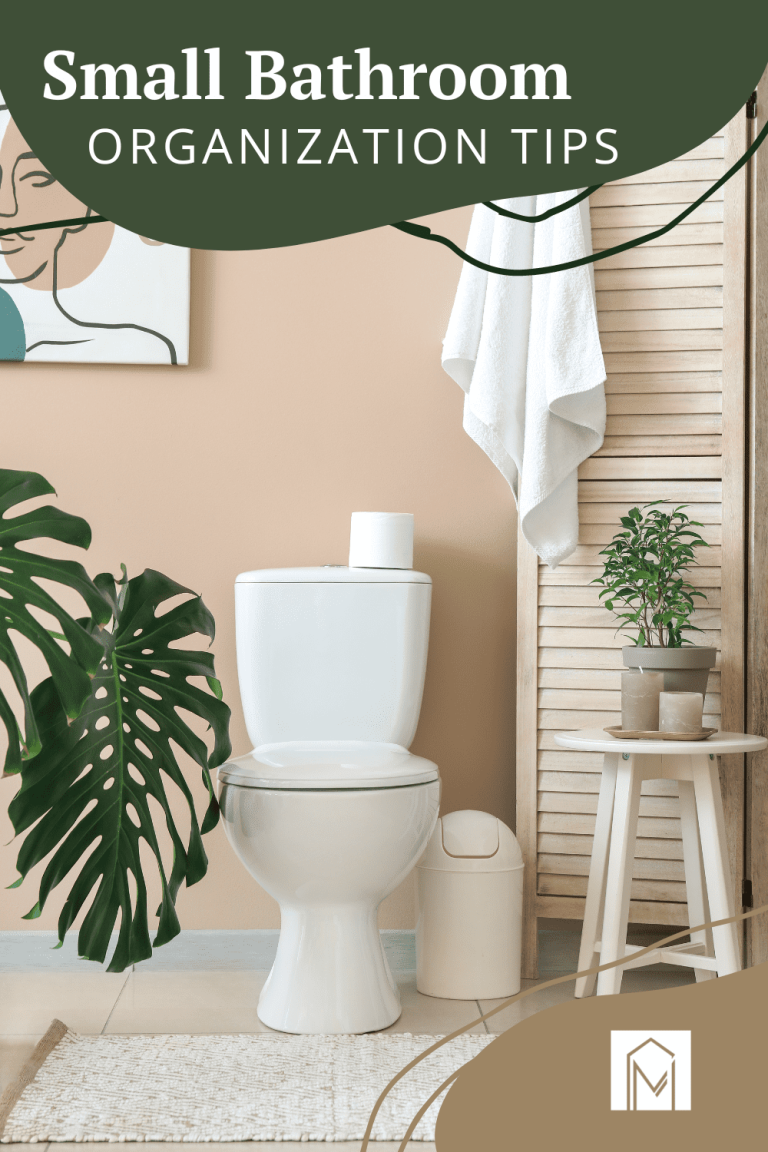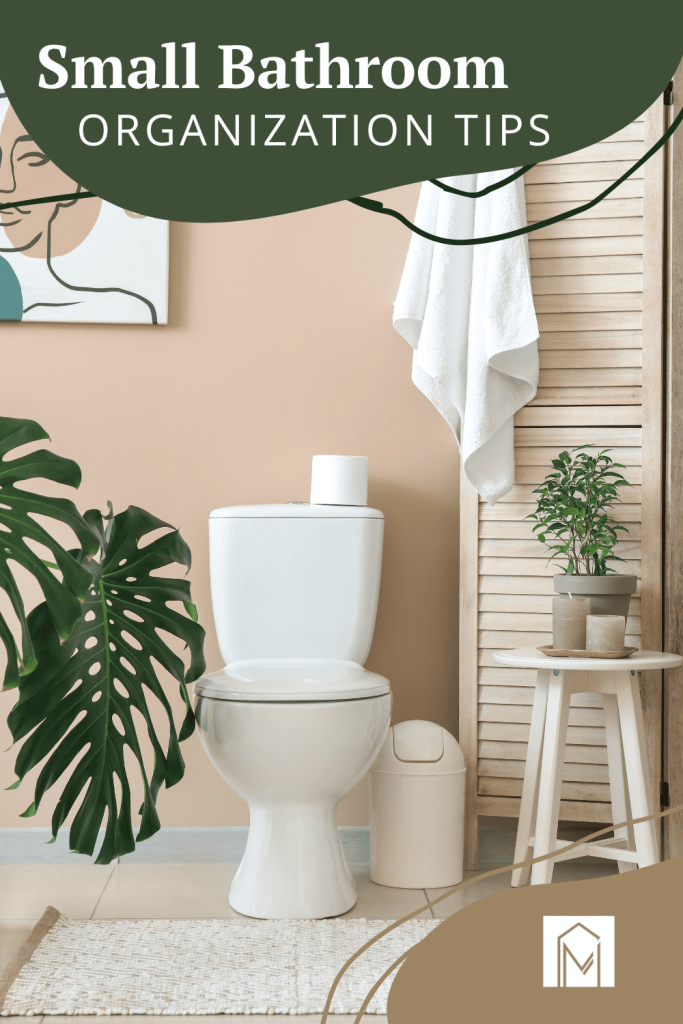 This small bathroom organization guide contains affiliate links, but nothing that I wouldn't recommend wholeheartedly. Read my full disclosure here.
Vertical Storage Ideas For Small Bathrooms
Install shelves, hooks, and baskets to make use of all of the vertical space in your small space.
But don't let it stop there…you definitely want to wall mount everything you can in your bathroom. This will help you free up counter and floor space in your bathroom and take advantage of your wall space by purchasing wall-mounted fixtures.
Here are some things that you can wall mount in your bathroom:
Medicine cabinet: extra points if you can also get one with a mirror on the front
Toilet paper holder: most bathrooms have wall-mounted toilet paper holders, but if you're still using a stand-alone toilet paper rack, ditch that and go for something on the wall or the side of your bathroom vanity instead
Soap dispenser: this is a must if you're working with a pedestal sink
1) Use the side of your bathroom cabinet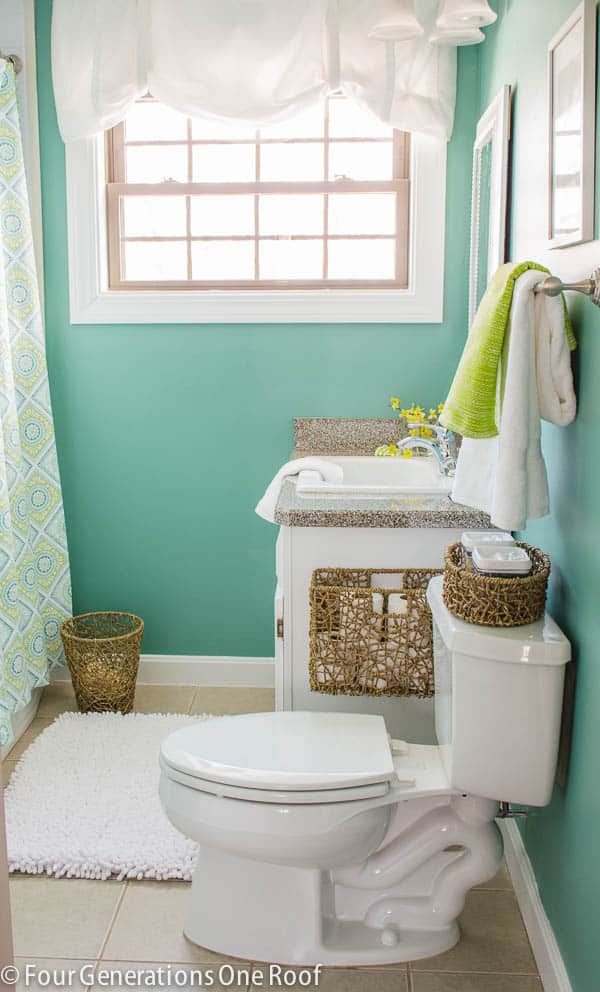 Take advantage of the vertical space on the side of the bathroom vanity cabinet! I love this idea of hanging a basket next to the toilet for extra toilet paper rolls in this Bathroom Makeover, brilliant!
2) Put your towel bars on the back of your door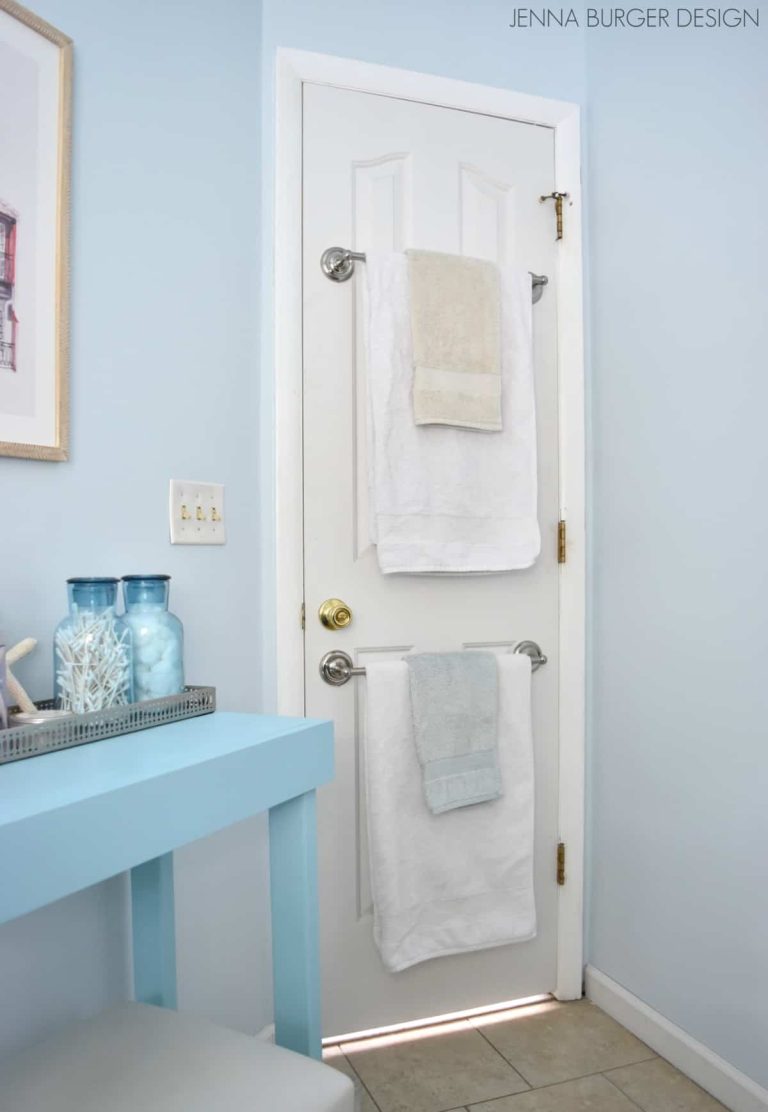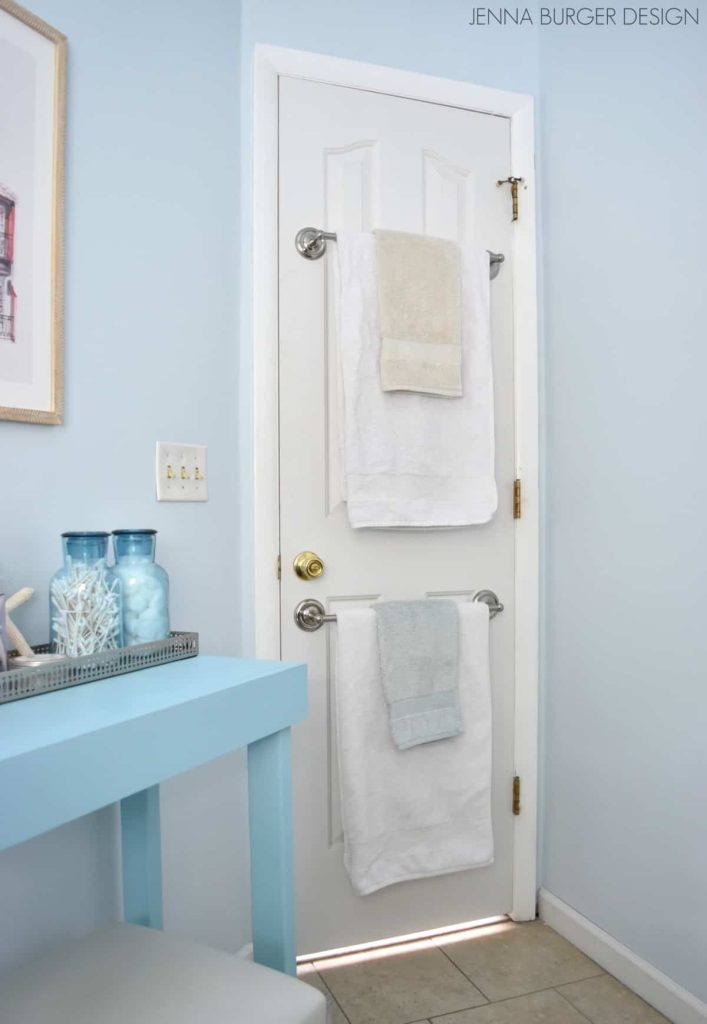 No wall space for towel bars? Use the back of the door!
Even if your doors are hollow-core, you can still put your towel bars there if you follow along with this back-of-the-door towel bar tutorial from Jenna Burger Design.
3) Put shelves above your toilet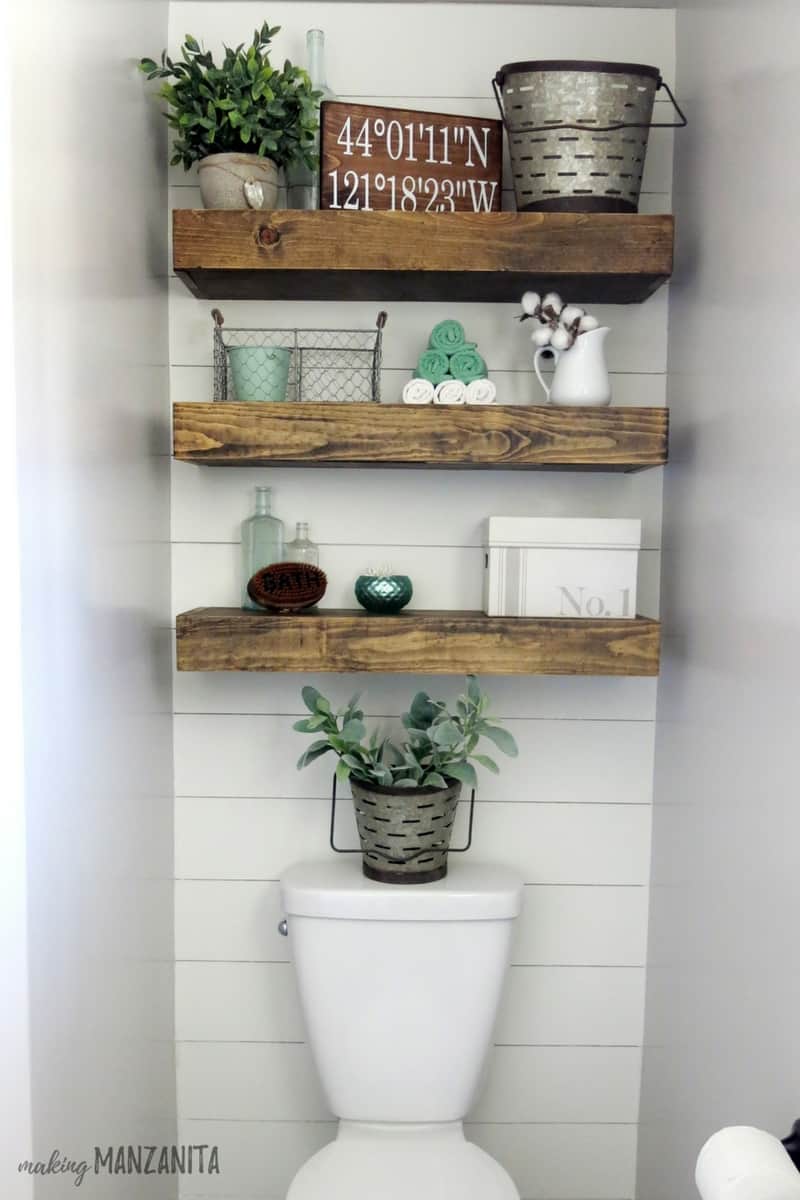 There's usually always space above your toilet, so don't forget about that valuable space! See how we added these floating shelves above the toilet in our farmhouse bathroom.
These bathroom shelves can be a great spot for everyday items, like extra hand towels, rolled-up washcloths, Q-tips in a small jar or bowl, feminine products in a concealed bin, and then more! Use the shelves above eye level for things you won't use as much, like a bin of medicine or extra toilet paper rolls.
Related Reading: Check out this post if you're looking for more storage above toilet ideas and this one if you're looking for bathroom shelving ideas!
4) Wall-mount your soap dispenser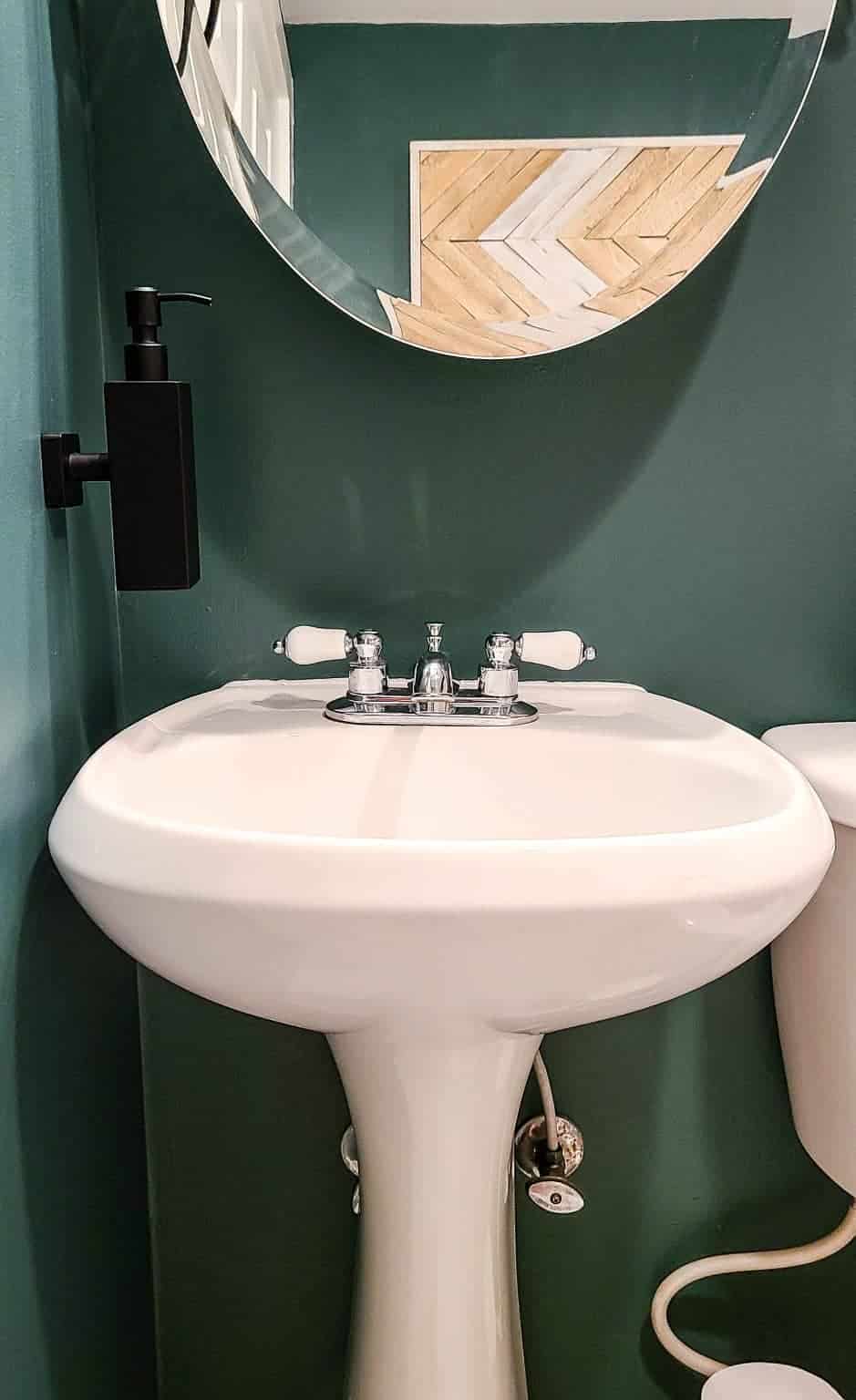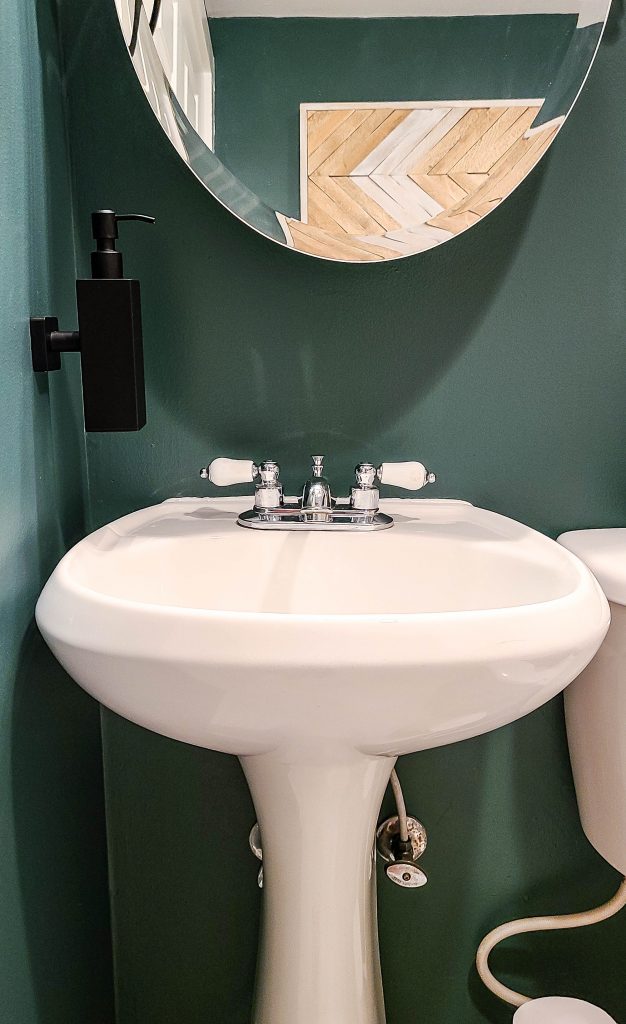 Let's face it, you're probably working with limited counter space as it is in your tiny bathroom, right? Where are you supposed to set that cup of coffee while you get ready every morning?
Install a wall-mount soap dispenser, like this, to take back your counter space. I love this modern black one we have mounted in our guest bathroom.
5) Add a wooden divided box to the wall above your sink
This old wood-divided box makes great storage for the bathroom when hung above the sink as featured on Itsy Bits and Pieces here.
You could probably find something like this at a thrift store, just make one yourself with reclaimed wood.
6) Make your own wall-mounted rack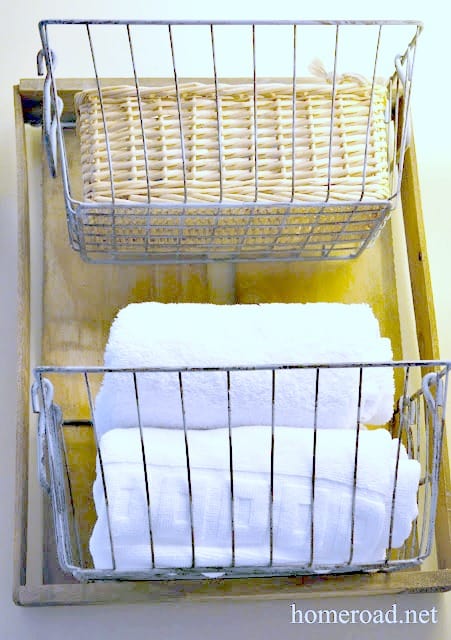 Homeroad uses some wire baskets and an old wooden crate to make this fun wall shelf for extra bathroom storage. In her article, she also shows off this great driftwood over-the-door shelf and ladder tower storage, and more creative small bathroom organization ideas!
7) Add storage above your bathroom door
Don't forget to look high and low in your bathroom when you're on the hunt for more places to store items in your bathroom, like above the door. You can build an over-the-door shelf, like this one from DIY Danielle!
8) Make DIY mason jar organizer for your bathroom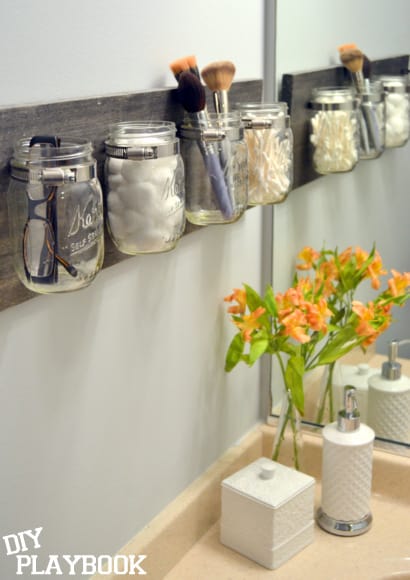 Every bit of reclaimed counter space is helpful. This DIY mason jar organizer takes the storage up to the wall, rather than on the counter.
The DIY Playbook does a great job showing you how to make this fun DIY project. It is a great place for small things – like Q-tips, cotton swabs, makeup brushes, and glasses.
9) Don't forget about storage space in the walls between studs.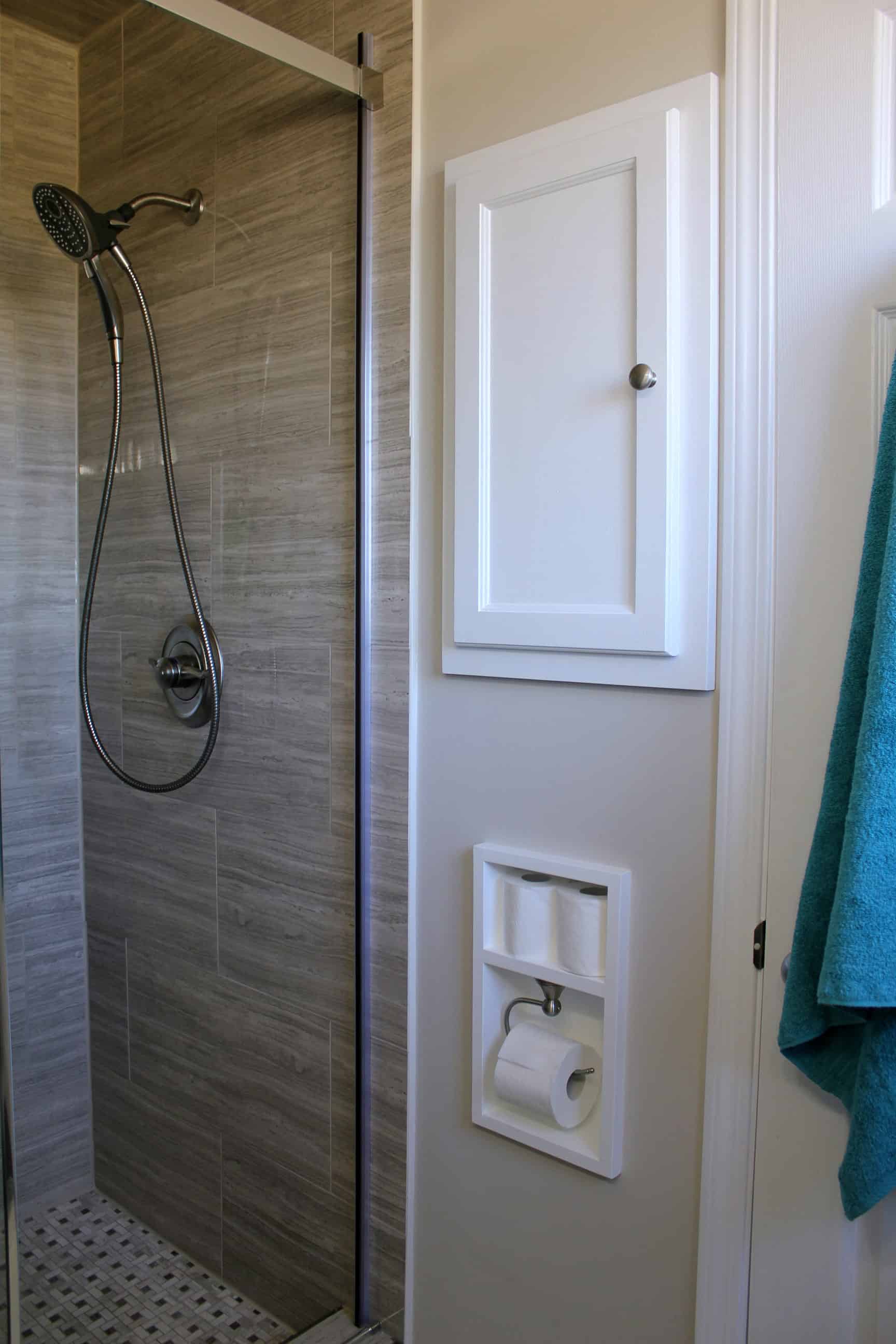 Turtles and Tails show us some creative storage ideas on this Bathroom Renovation Reveal, but these are two of my favorites. I love the built-in medicine cabinet and toilet paper holder.
10) Build a towel shelf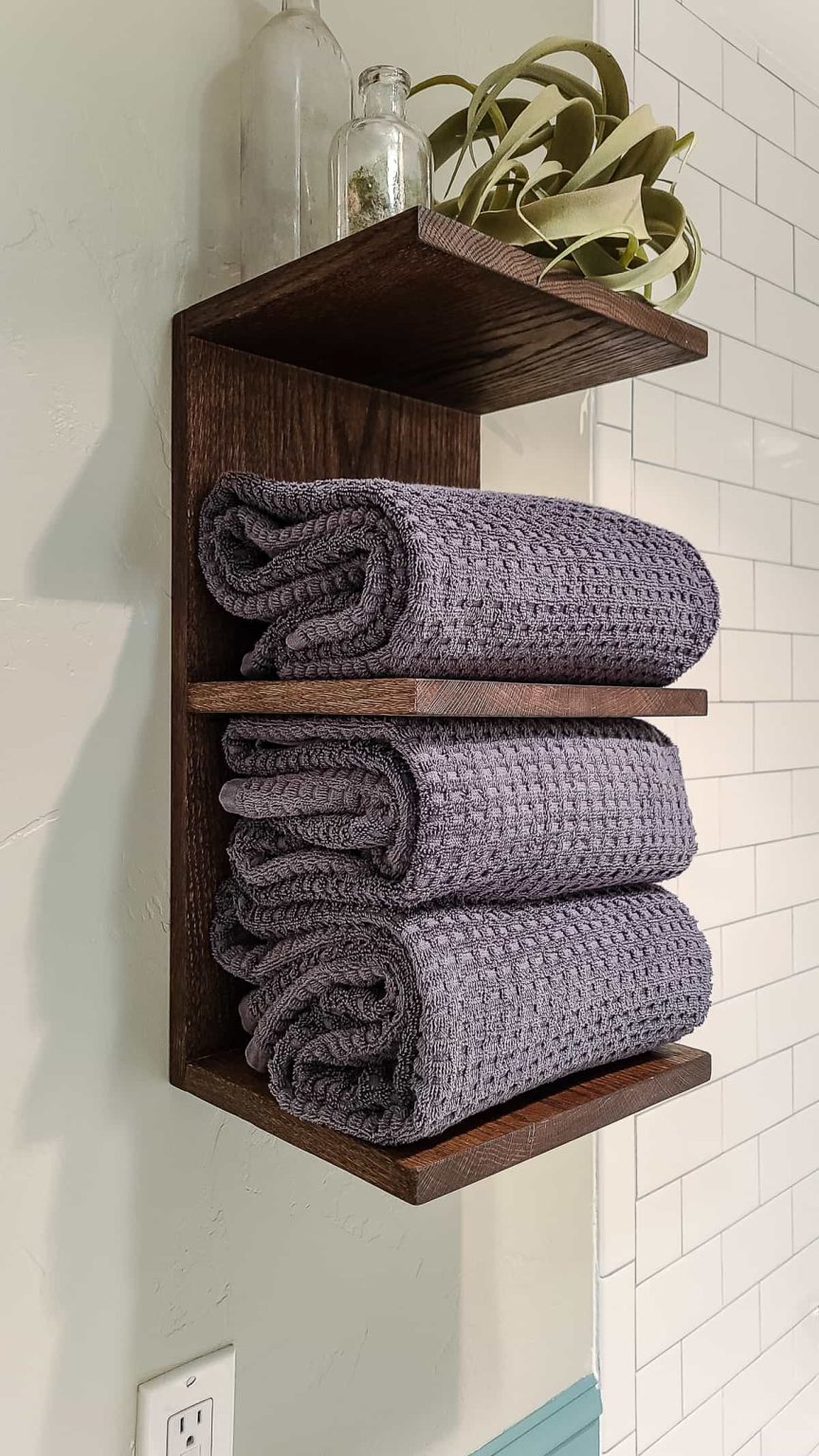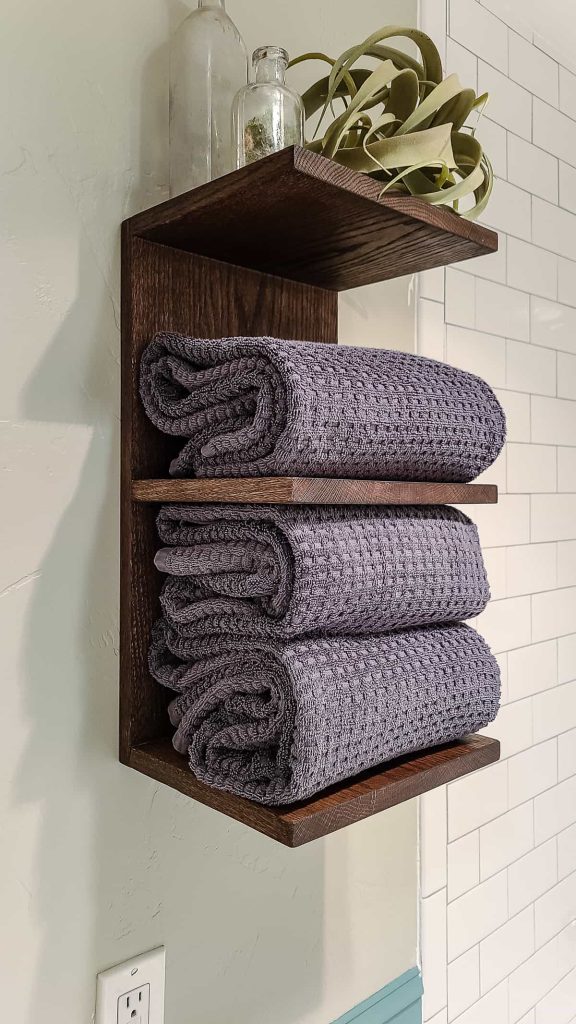 Keep your extra towels folded neatly on this wooden DIY towel rack that you can mount above the toilet. The good news is that this is a super easy woodworking project and we have the woodworking plans available for you for FREE!
11) Use a mirrored medicine cabinet with storage
Everyone has a mirror in their bathroom, so you might as well make it functional for you by using a mirrored medicine cabinet. I love how sleek and modern this bathroom mirror is.
Pro Tip: Install the medicine cabinet recessed into the wall if possible!
Under-sink storage ideas for small bathrooms
Under your bathroom sink is one of the best places to add creative storage and organization. You definitely want to use every square inch of space here.
Take advantage of all the space under your sink by using under-sink organizers or containers to keep your cleaning supplies, extra toilet paper, backstock, hair and beauty tools, and other items out of sight.
12) Take advantage of the inside of your cabinet doors with these door-mounted toothbrush holders.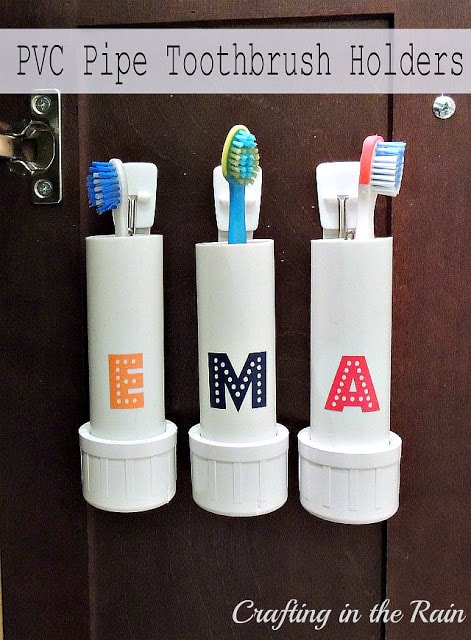 Crafting in the Rain shares a great tutorial on how to make these fun PVC Pipe Toothbrush Holders for the inside of the cabinet door. Labeling them allows you to designate a spot for each kid's toothbrush in this shared kid's bathroom.
13) Add clear stackable bins and lazy Susan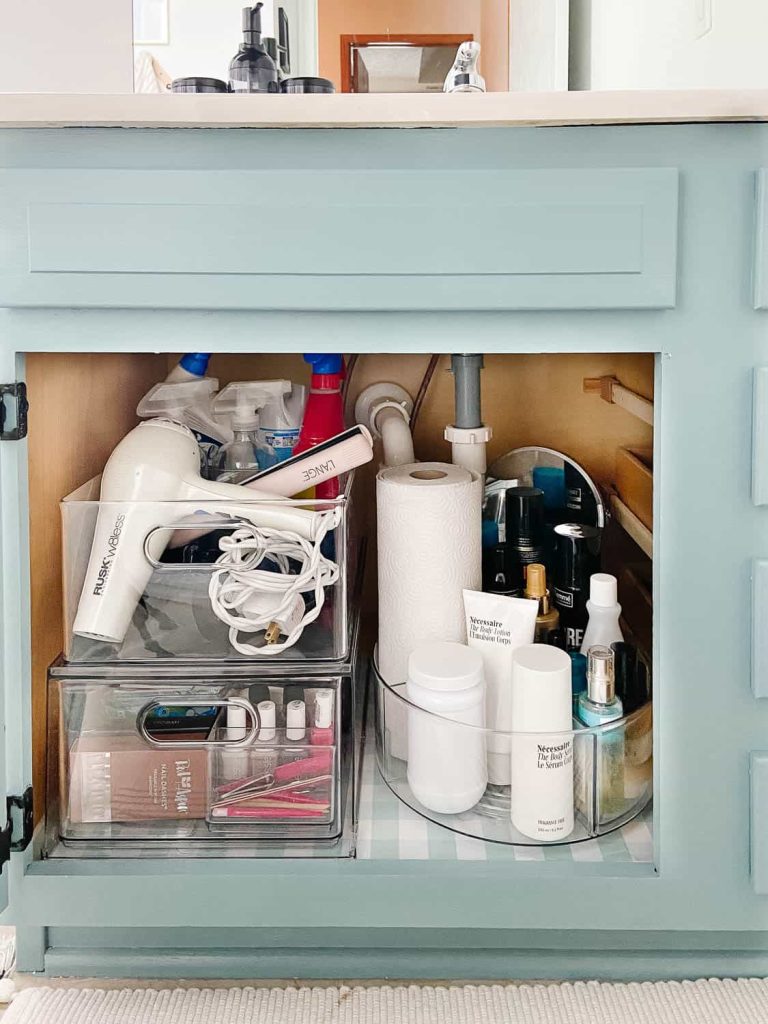 I love how Emily has her under-sink organized with these clear storage bins and especially the lazy Susan one that spins! She's definitely taking advantage of every space in that cabinet.
14) Always layer your storage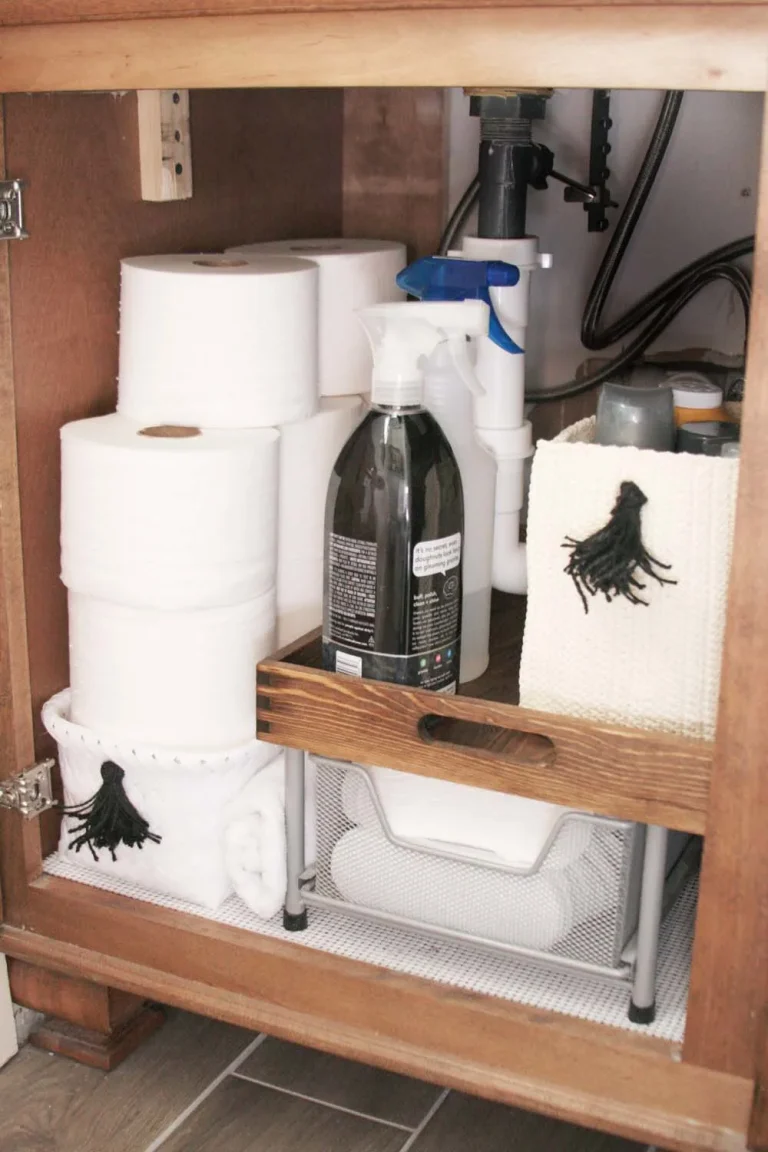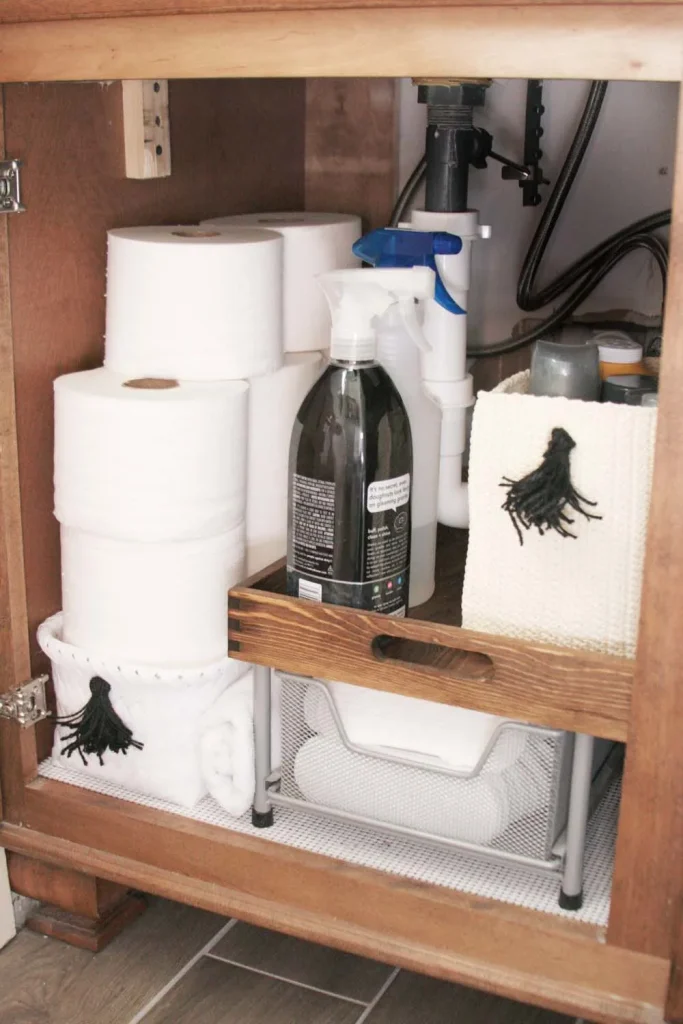 Craftivity Designs reminds us in this article full of easy bathroom organization ideas to always layer our bathroom storage under our sink. She had this metal drawer, but it didn't have a top to it so she couldn't stack anything on top.
She found an unfinished wood tray at the craft store and it was the perfect fit! After staining it, it was a great place to put another layer of storage with baskets.
15) Add a caddy to the inside of the cabinet door
Take advantage of the often unused space on the back of the bathroom cabinet door by installing one of these Command caddies. They are perfect for holding cleaning supplies or hair products.
And I love that if you don't need them anymore you can easily remove them with no damage!
16) Use slide-out bathroom organizers that attach to the inside edge of the bathroom cabinet
Get the containers up off of the ground under your sink in the bathroom and install them on the inside edges of the bathroom cabinet. I love these ones that slide out.
17) Add a mat underneath the sink to protect the cabinet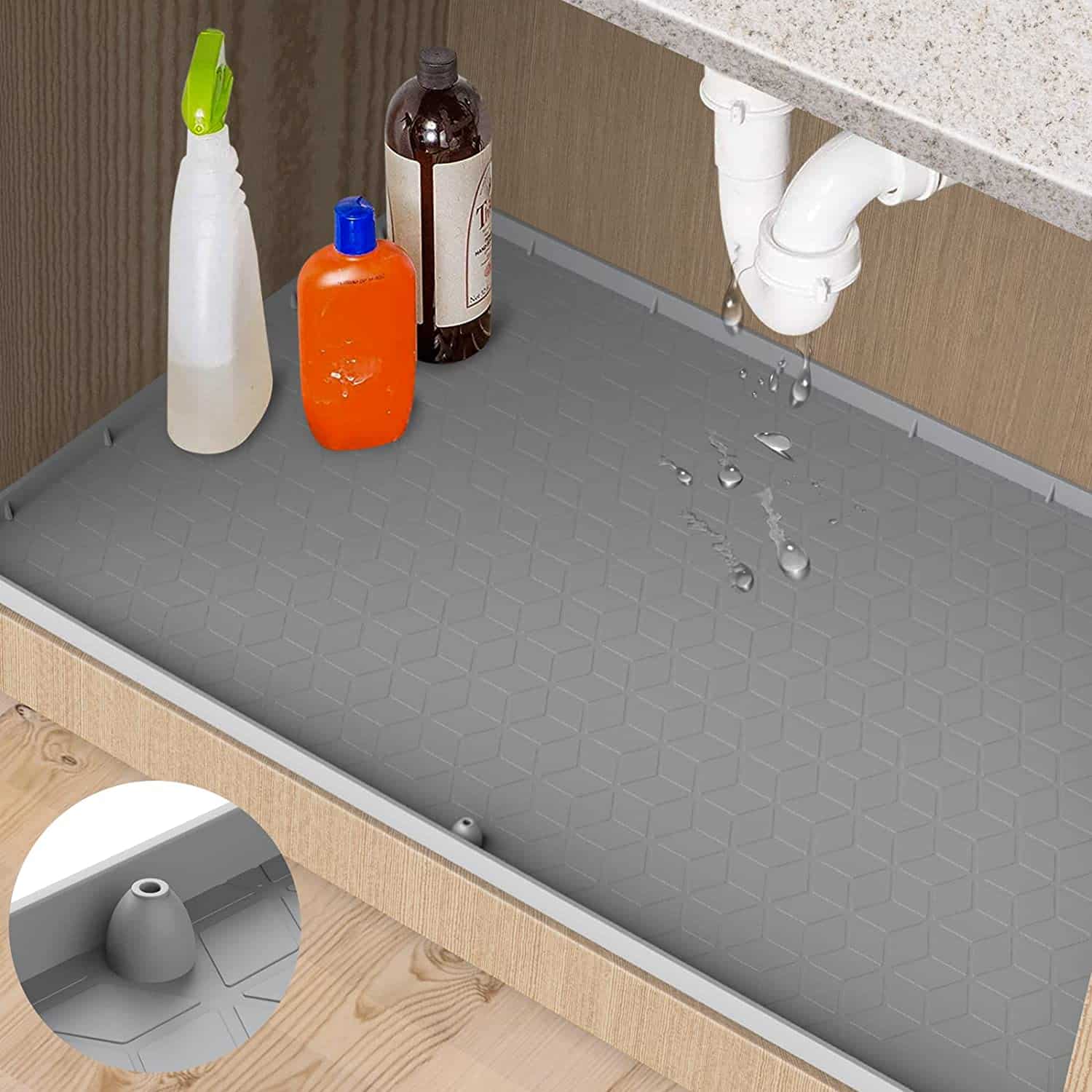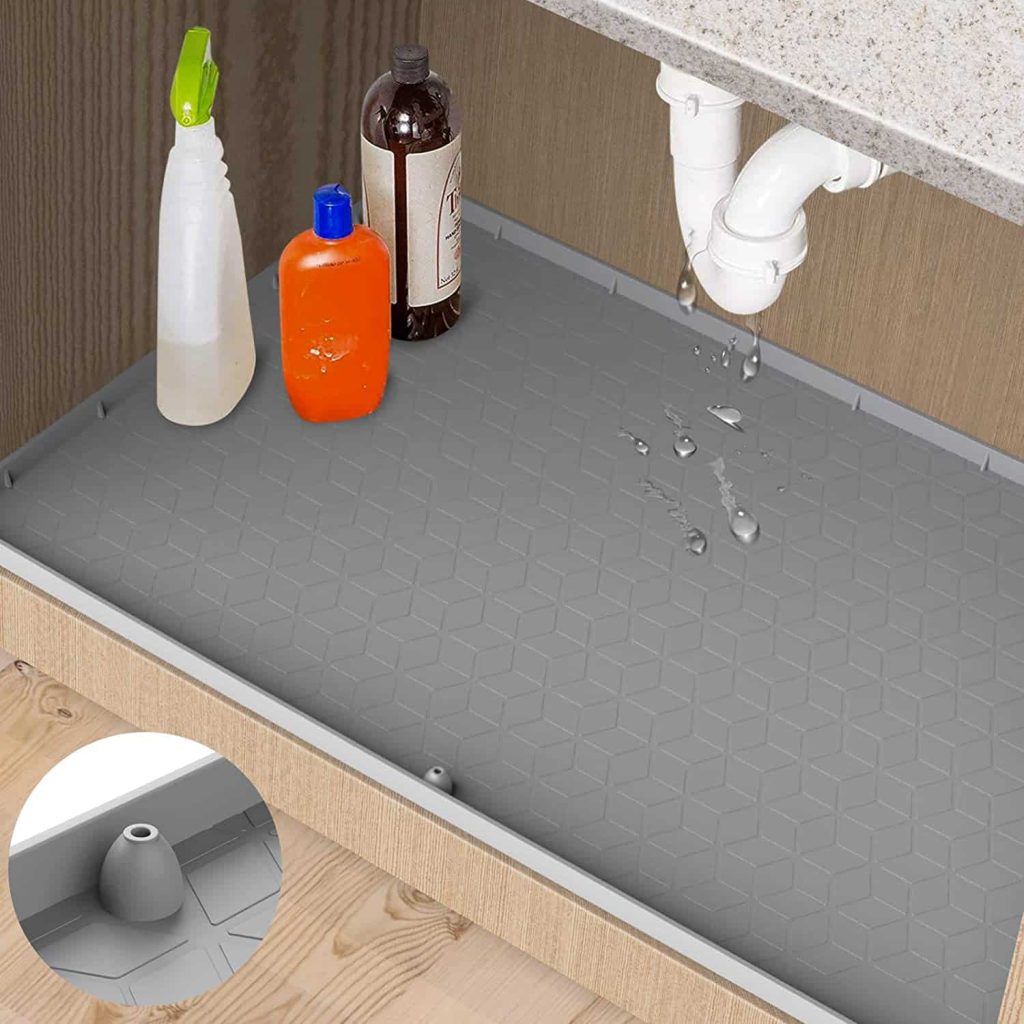 Protect the cabinet underneath your bathroom sink with a silicone mat, like this.
Tips for bathroom storage containers
18) Invest in clear storage bins
Using clear, stackable storage containers, like these drawers, to organize things like makeup, hair accessories, cotton balls, and skin care and hair products is always a good idea.
I love clear containers because you can quickly and easily see what is inside each bin and how much you have left.
19) Or use budget-friendly Dollar-Tree bins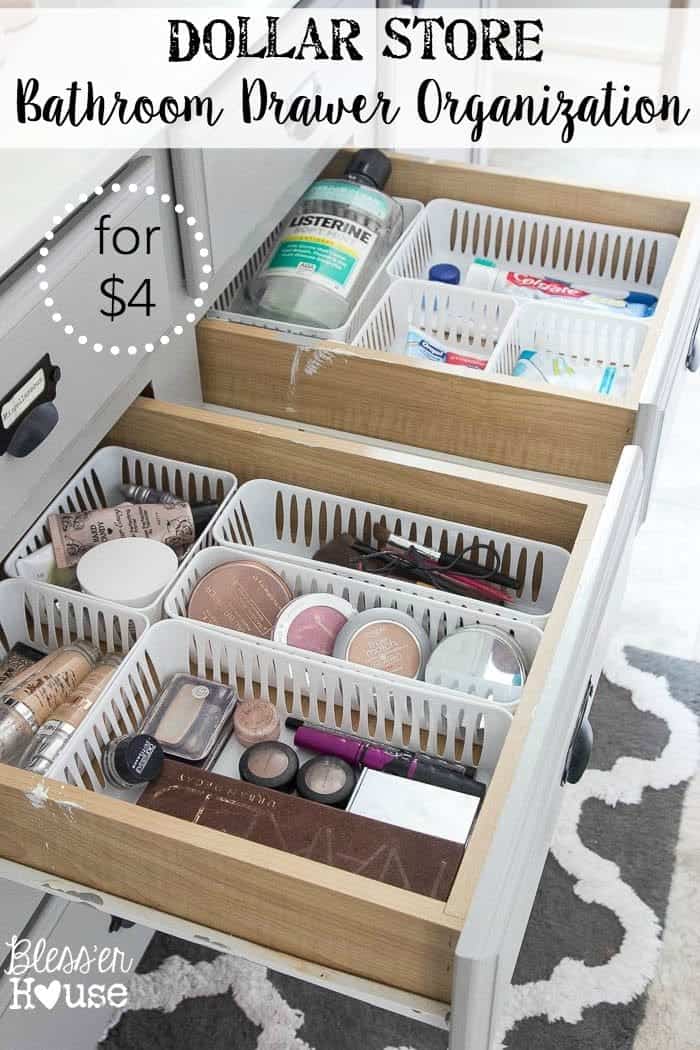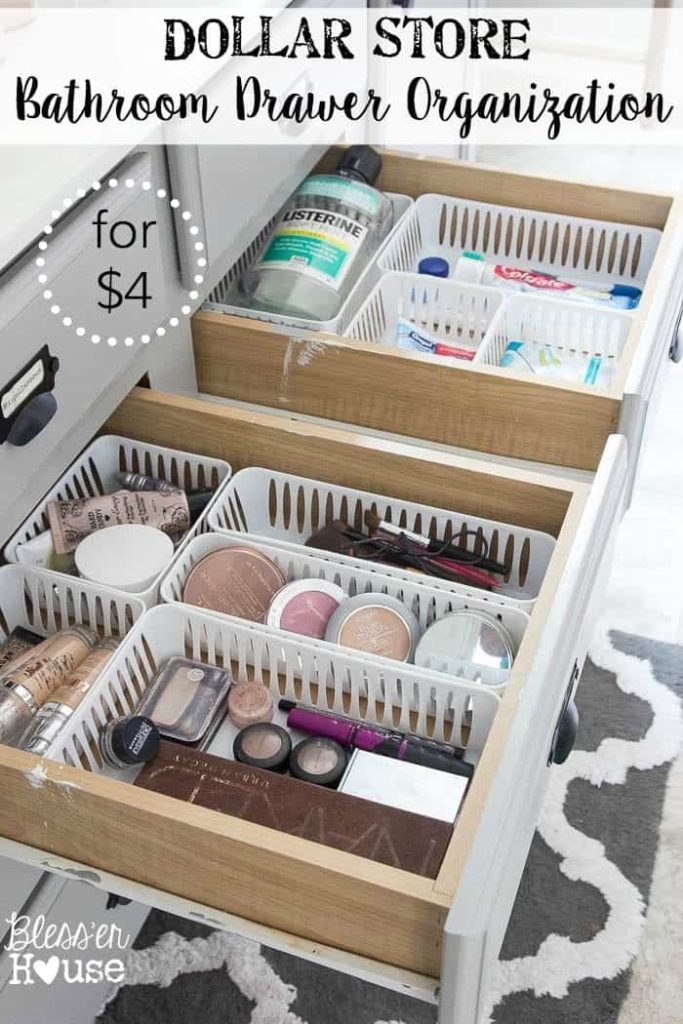 If you don't have the budget to go buy new clear bins, no worries. You can still make a huge difference in your small bathroom by using budget-friendly bins from the Dollar Tree, like Bless'er House did here for $4, or just using what you already have around your house.
20) Use Museum Putty to keep drawer bins stay put
This stuff is AMAZING! I love using Museum Putty to keep the storage bins and drawer dividers in our bathroom drawers secured. It also works great for keeping things secured on picture ledge shelves too!
No more sliding around when you open and close the doors! Just put a little dot of this putty on the bottom side and push it into place. It is removable (with no marks left) and reusable.
Do you have clear bins? Then use Museum Gel instead because it is clear!
Keep frequently used items out for easy access
Store the things you use the most within easy reach. This includes things like towels and products you use every day.
21) Carral everyday items with a round vanity tray on countertop
I like to keep a small tray, like these ones, on my vanity for the items I use every day as a part of my morning and night routines.
You may want to add a vanity tray to your bathroom if you have the counter space to spare. Having these skincare and beauty products out where I can see them is the best way to remind me to take the 5 minutes and use them!
22) Make a DIY 3-tiered tray for your counter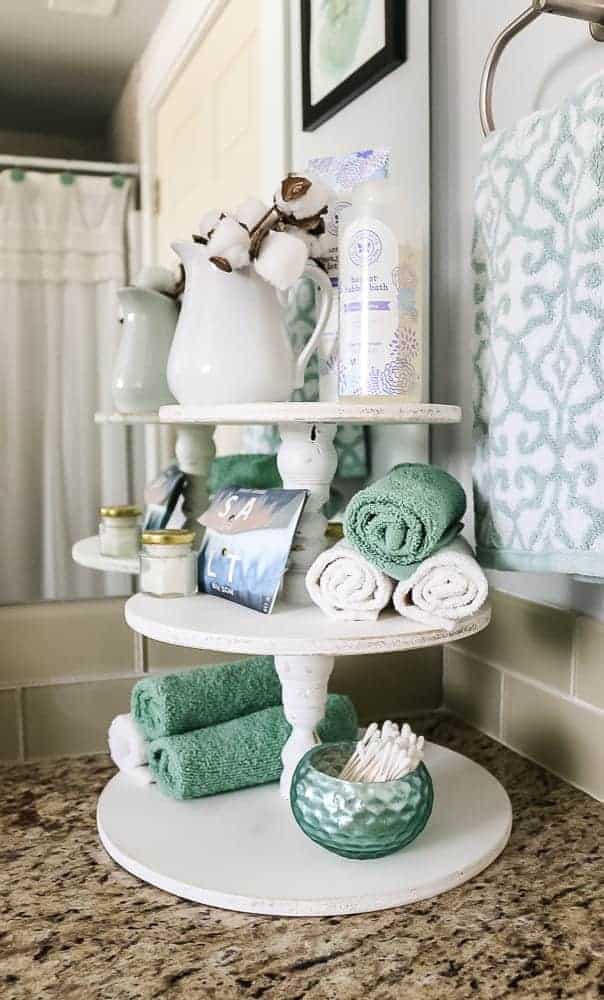 You could also make a DIY three tier stand like this for your bathroom countertop. It's perfect for holding rolled-up towels, bath salts, lip scrub, and a small container for q-tips.
BONUS TIP – Add bathroom storage jars to your countertop or shelves. Check out these gorgeous bathroom storage jars and canisters for more inspiration!
Door and wall hooks for organizing small bathrooms
This is just another example of being really efficient and using space on your bathroom wall for storage. You can hang towels, robes, and hand towels on hooks either placed on the wall, the back of your door, or even the top edge of the shower door.
23) Use over-the-door hooks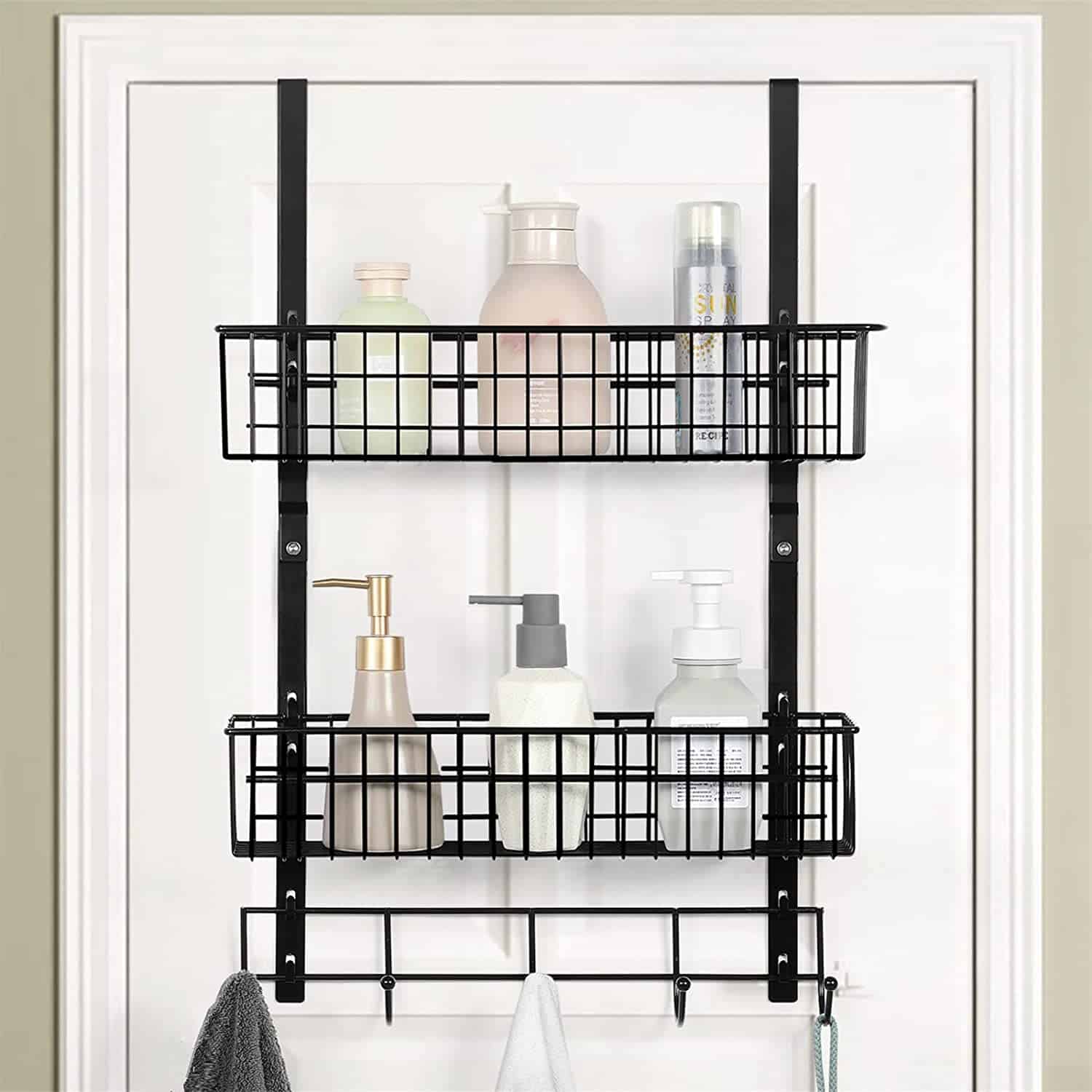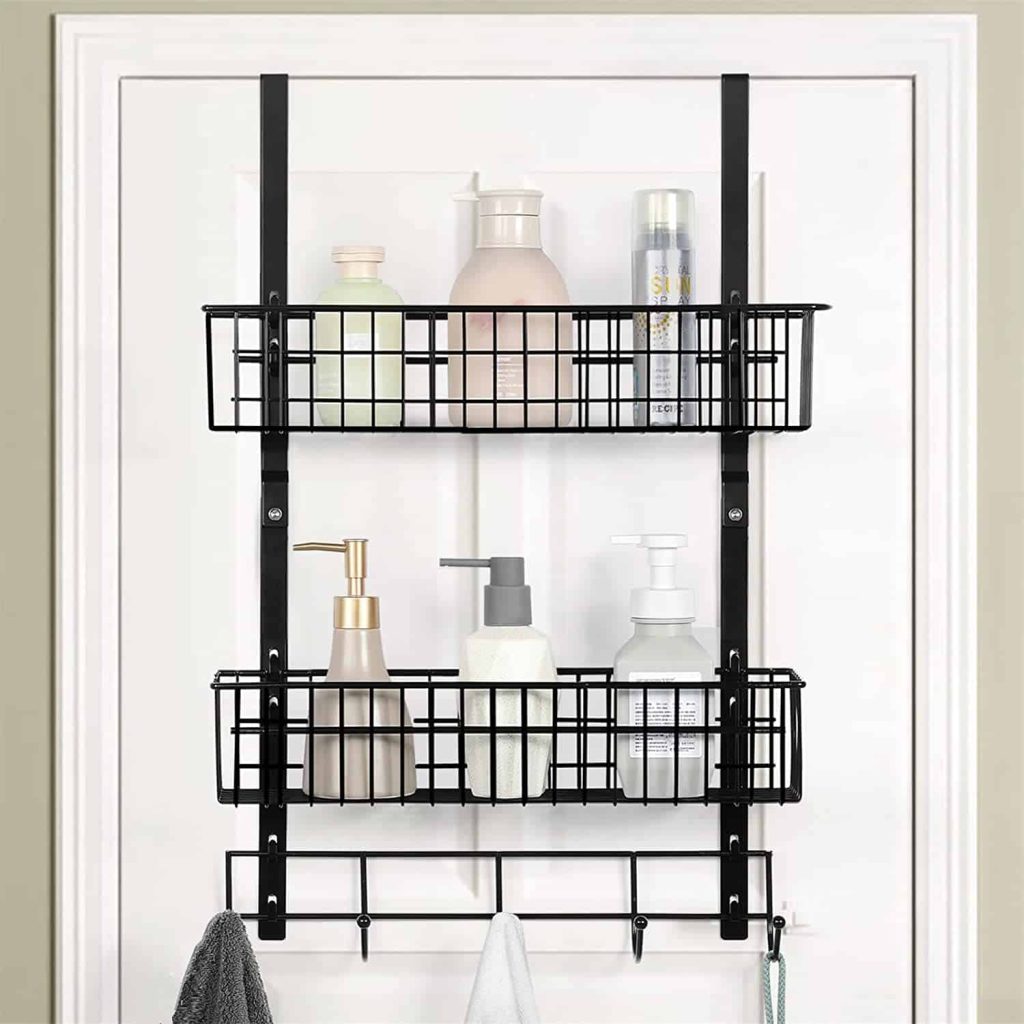 I love these over-the-door hooks for towels or robes with wire baskets for additional storage space!
24) Towel hooks over towel bars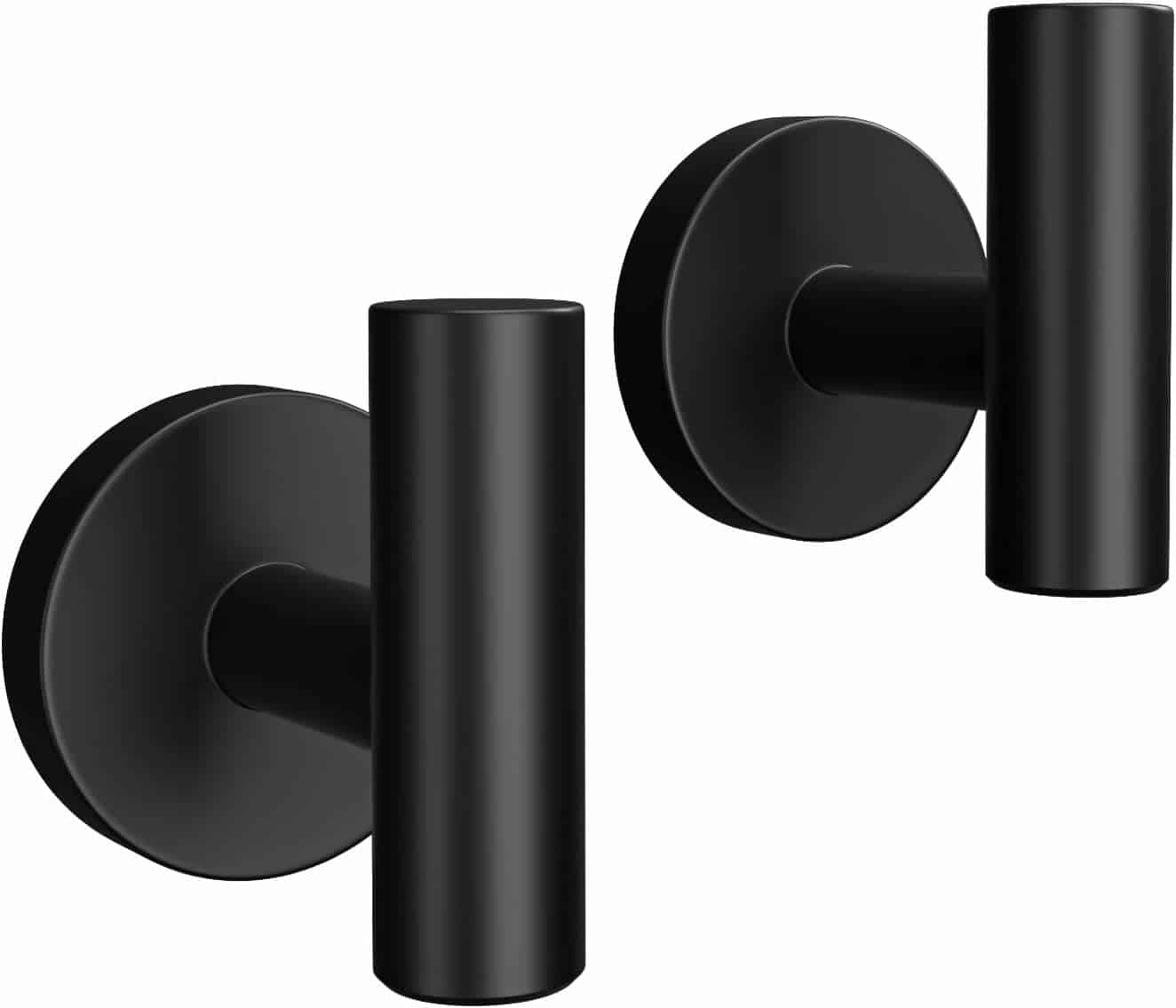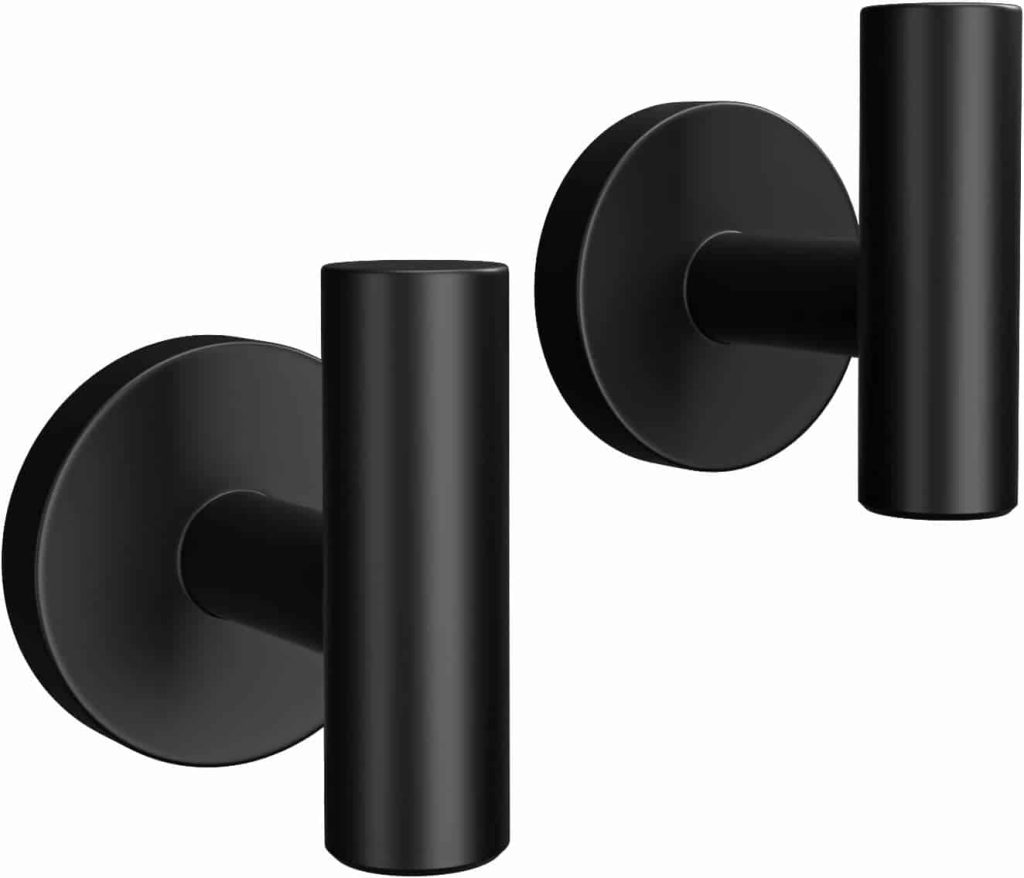 Using hooks, like these, is much more efficient than keeping the linens folded up in your bathroom cabinets or drawers. Hooks also take up way less room than towel bars.
25) Add hooks to the top of the shower door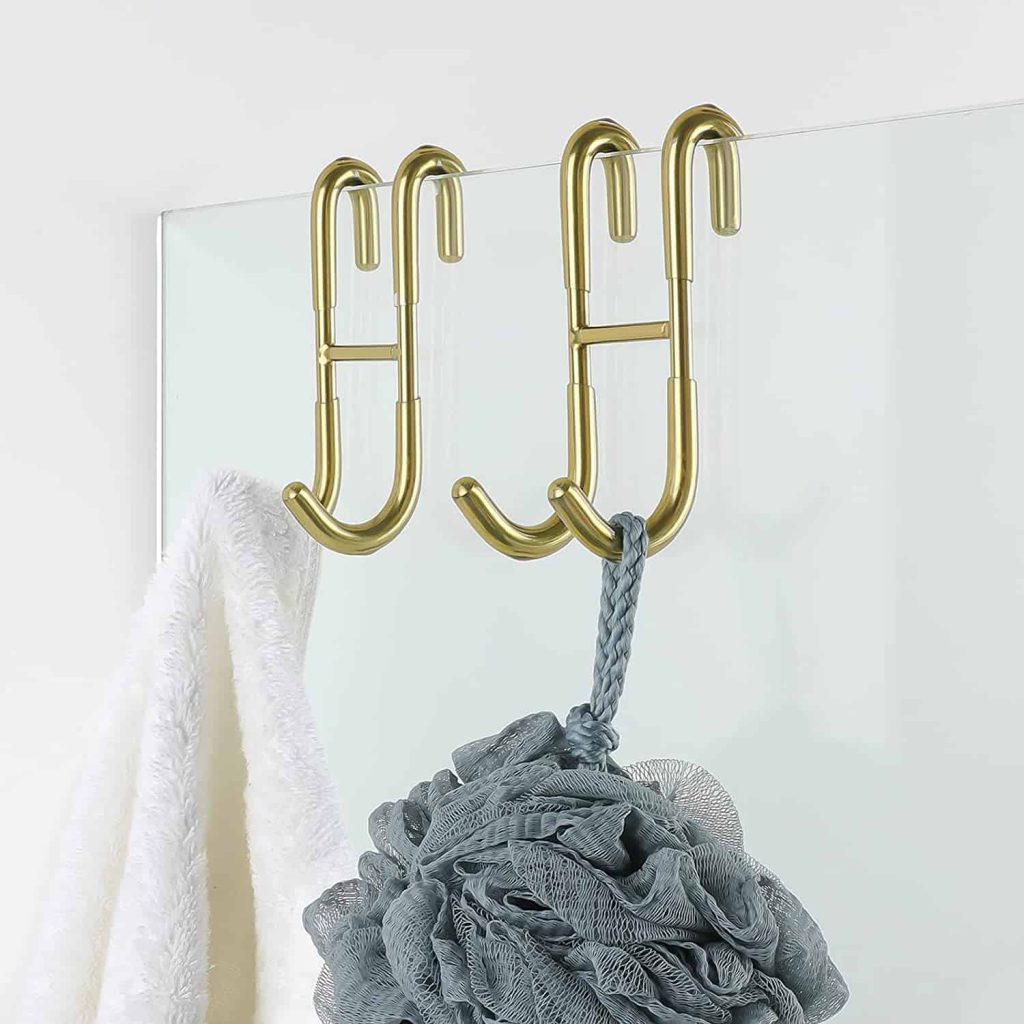 These hooks simply sit on the top edge of the shower door to add extra storage for towels or loofahs.
Having a small bathroom is definitely an inconvenience, but there are tons of different ways to keep small bathrooms organized. It is all about taking advantage of every space possible, like on top of the door frames, inside wall studs, and on the walls.
Which of these small bathroom organization ideas is your favorite?
I'd love to hear them in the comments.
*This article was originally published in January 2016 and last updated in February 2023.*