Thinking about buying the Samsung Bespoke Gas Range and wondering if it is worth the money? Check out this honest review of the range after using it for more than one year.
Renovating a kitchen is so much work. From paint colors on the kitchen island to tile backsplash options, there are SO many decisions to make! Then you also need to make a bunch of decisions about new appliances.
Today we're going to give you an honest review of the oven that we installed in our kitchen about a year ago – the Samsung Bespoke Gas Range.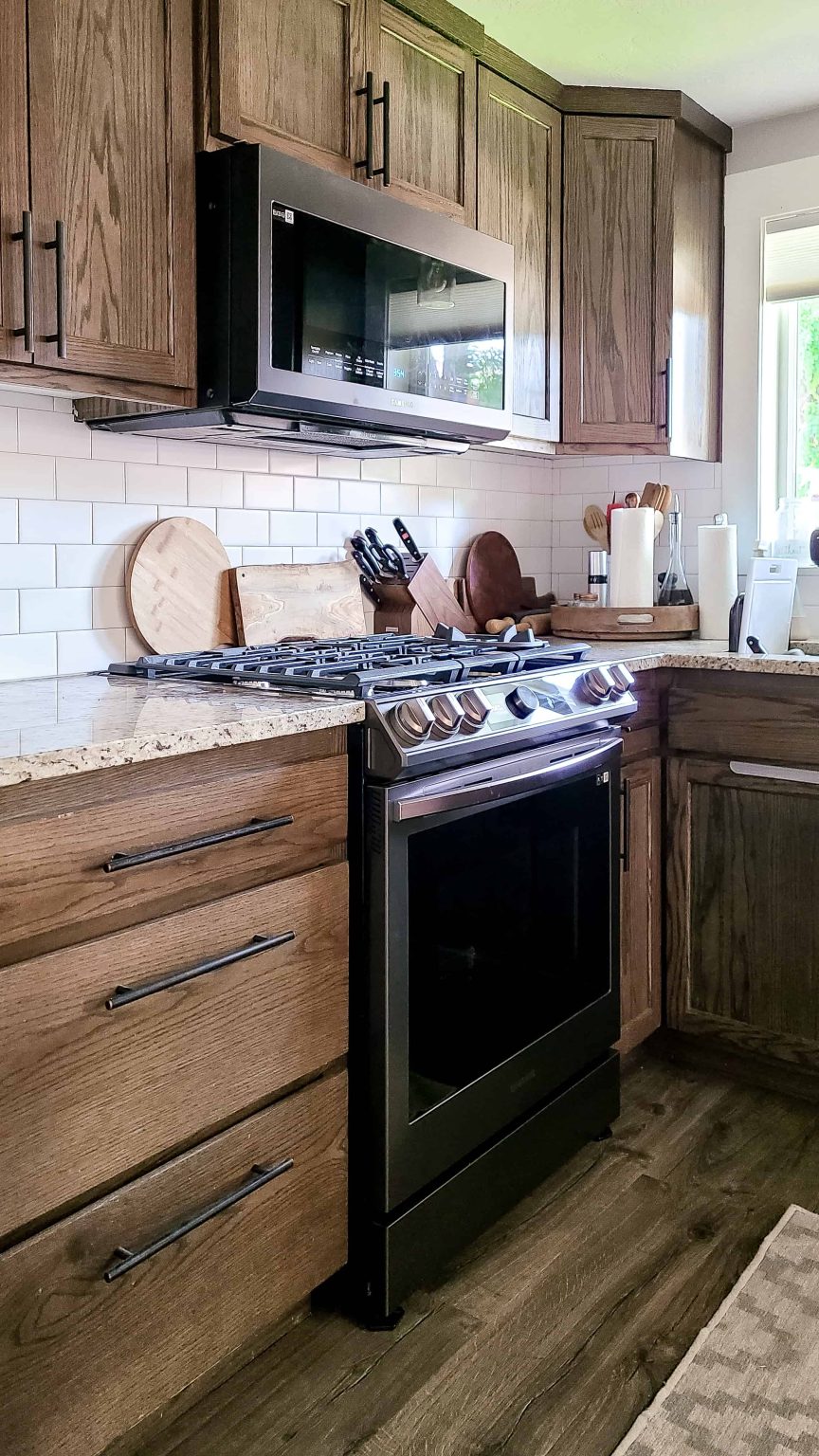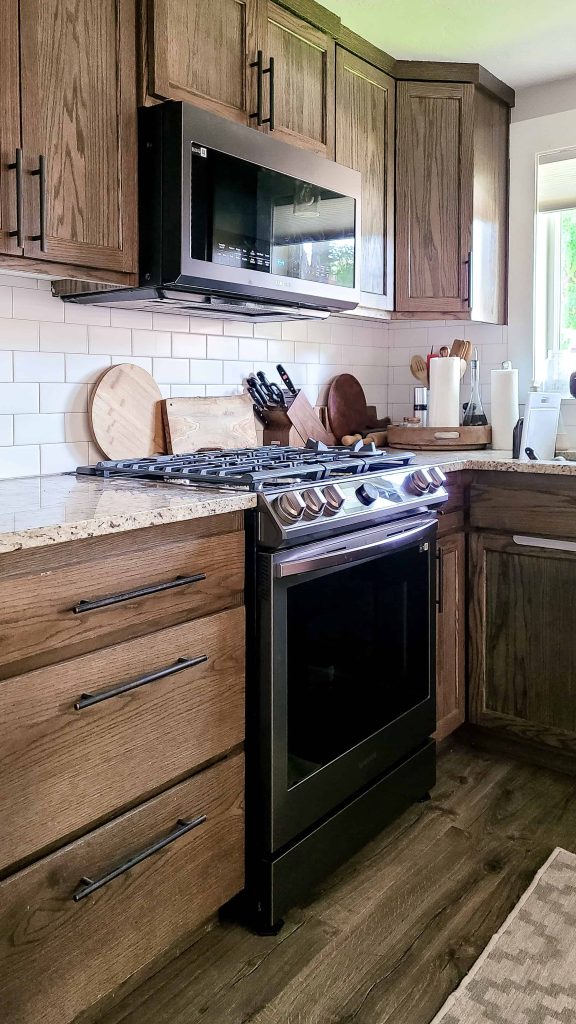 This review of the Samsung Bespoke Gas Range contains affiliate links, but nothing that I wouldn't recommend wholeheartedly. Read my full disclosure here.
Full Disclosure
We wanted to be honest upfront here and start with the fact that we had the pleasure of working with Samsung on a marketing campaign for Pinterest and we were gifted the Samsung Bespoke Gas Range as part of that collaboration.
We were not, however, paid to write this review. We're writing this because we genuinely think it will help you make a decision about whether or not to buy the Samsung Bespoke Gas Range.
We've had the Bespoke Smart Slide-In Gas Range for over a year now, so we think we've had plenty of time to test the different features. There are some things that we love, some things that we don't care for, and some things that we don't use as much as we thought we would.
As always, this is a completely honest review of the product. Our opinions are always our own!
In this review, we're gonna break it down for you, discussing the pros and cons, the features we enjoy, and the ones we don't use as much as we thought we would. We'll even give you our honest opinion on whether this range is worth splurging your hard-earned cash on. So sit back, relax, and let's dive into the Samsung Bespoke Gas Range!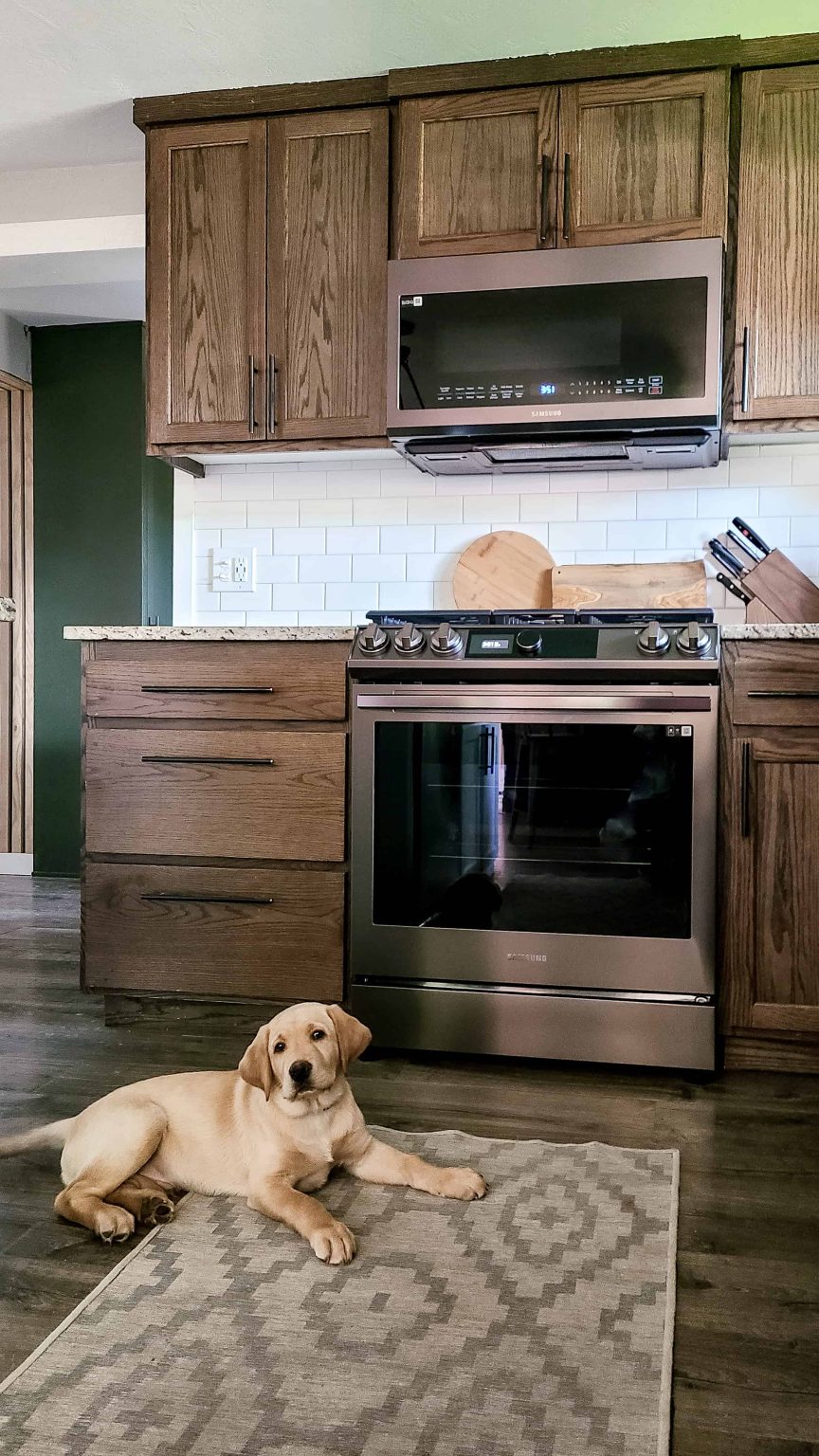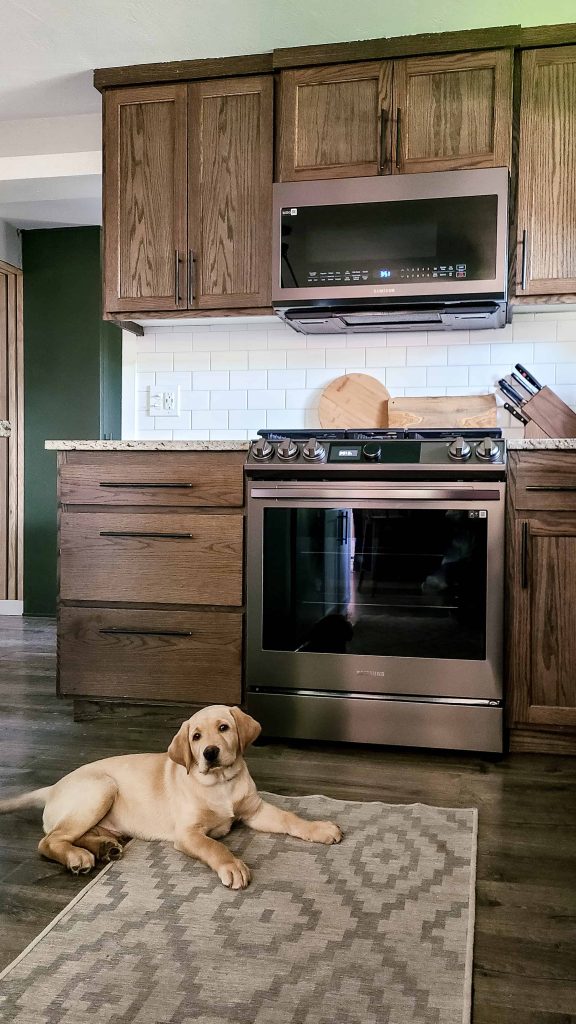 Samsung Bespoke Gas Range: Features
5-Burner Cooktop
One burner is BTU dual ring brass power burner
Burner made just for simmering, which is great for letting simmer pots sit at a true simmer for hours (however this burner is really just made for simmering and not much else)
Reversible Cast Iron Griddle
Connects with the SmartThings app and has wi-fi connectivity
Unique cooking modes like Bread Proofing Mode, Air Fry Mode, and, my personal favorite, Dehydrator (more on that below)
The oven can be used as a powerful convection oven
Built-in temperature probe allows you to monitor the internal temperature of meats while cooking
Self Cleaning System
Illuminated knobs
Large capacity oven with 6 cubic feet of oven space for large dishes (like big casserole dishes) or roasting pans, although I didn't notice a huge size difference from my old oven
Control by voice with Samsung Bixby, Amazon Alexa, or Google Assistant
Beautiful finish choices (ours is called Tuscan Steel, other options are black stainless steel, stainless steel, navy steel, and white glass)
Special fingerprint resistant finish
2-year manufacturer's warranty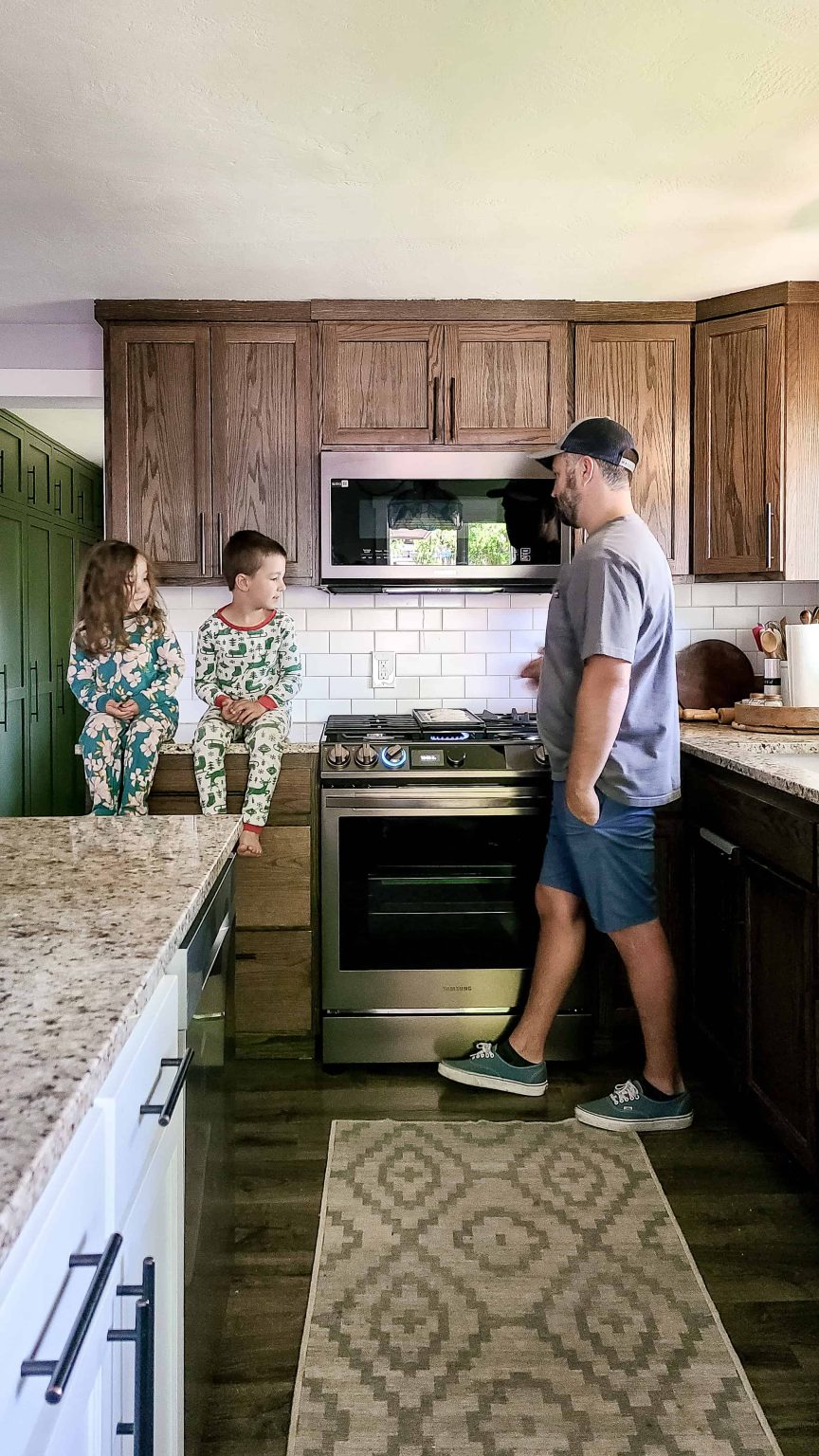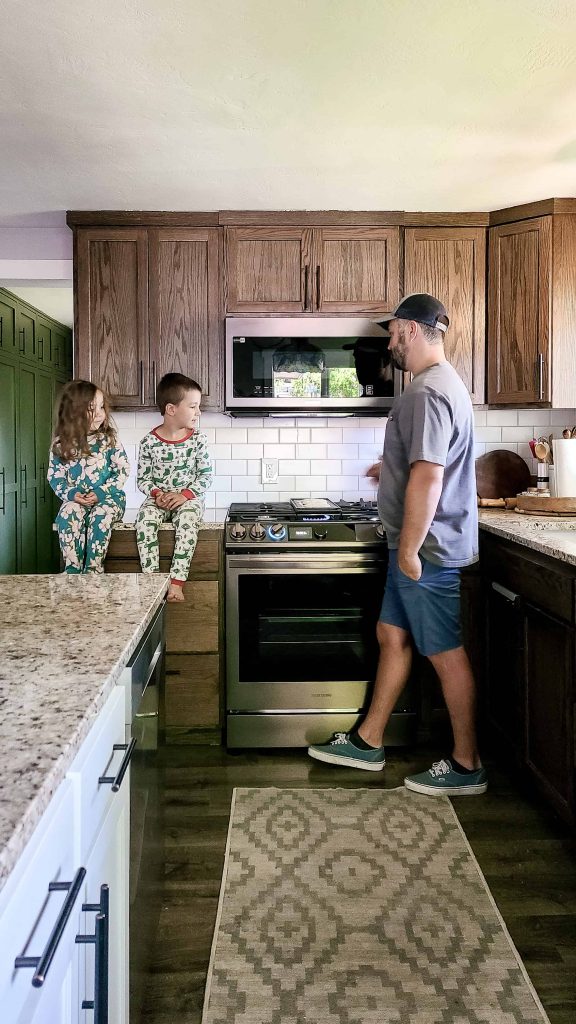 Pros (my favorites)
Illuminated knobs are an important safety feature
Surprisingly, I think the illuminated knobs may be my favorite feature of the Samsung Bespoke front control slide-in gas range. I know it seems simple, right? But I've found it to be an irreplaceable safety feature. At a quick glance, you can see exactly which knobs are turned on. This can be great if you forget that you left a burner on simmer when you were done cooking dinner.
There's been a time, or ten, that I've reached up into the high cabinet above the microwave and accidentally pushed in on one of the knobs with my hips, just enough to turn it on slightly (allowing the gas to start coming through, yikes). I'm thankful that I instantly noticed the knob that was accidentally turned on because the knob was lit up. All ovens should have this feature!
Dehydrator is great
I have an amazing dehydrator, the Excalibur electric food dehydrator. And I love it.
But we don't have the space to keep it out all the time, so when it isn't in use it is in our garage. It is kind of a hassle to get it in and out of the house so I only get it out a few times a year when I have a lot of dehydrating to do.
However, with my garden, I'm usually drowning in fresh herbs throughout the summer. I can't use them fast enough, so I end up drying a lot of them to use over the winter. I'm able to quickly pop in a tray of fresh herbs from the garden and dehydrate them in the Samsung range in a matter of hours. All you have to do is use the included air fry tray, which allows the air to circulate around the things you are dehydrating. I absolutely love the dehydrator feature and use it ALL THE TIME!
The power burner boils water lightning fast
This is the most powerful burner I've ever worked with. The dual ring burners will boil water impressively fast and are great if you need to sear meat at a high temperature.
I even put it to the test in a short video where we tested the regular burner versus the power burner to see if it was actually faster at boiling water. The normal burner took about 9 minutes to come to a boil. The power burner boiled the water in about 4 and a half minutes – half the time!
Built-in meat temperature probe helps take the guesswork out of dinner
This meat temperature probe is amazing! You stick it into the middle of the meat that you're cooking and put the other end of it in the little spot in the top right corner of the oven. It will automatically tell you what the temperature is. You can set it to your target temp and it will ring when it was reached it!
No more opening the oven door a million times to manually check the meat temp (meanwhile letting all the warm air out of the oven). This is super helpful when cooking whole chickens, hams, and roasts.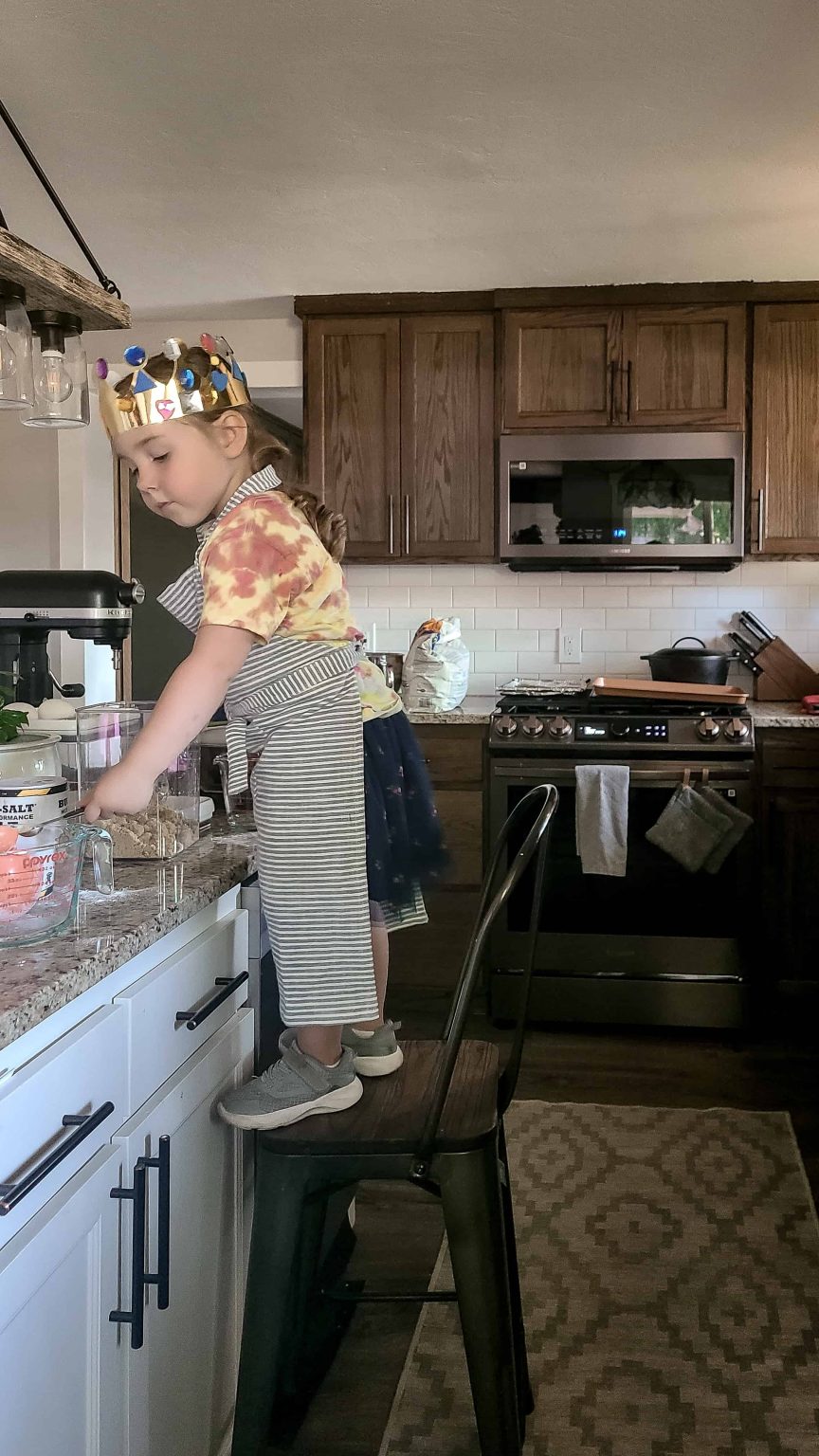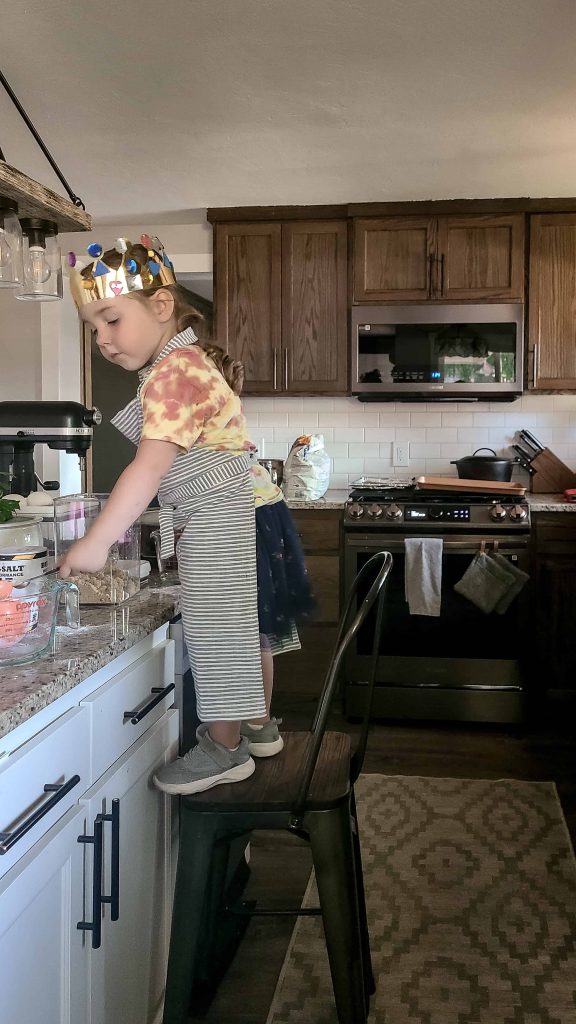 Unique exterior design
I absolutely love the look of our Bespoke appliances in Tuscan Steel. It is beautiful! We also got a matching microwave, which we're loving. The new color is unique and doesn't look just like everyone else's kitchen appliances!
The color choices for the Samsung Bespoke appliances have a more premium look. There are other new options as well, like the Bespoke white glass if you're looking to brighten up the look in your kitchen.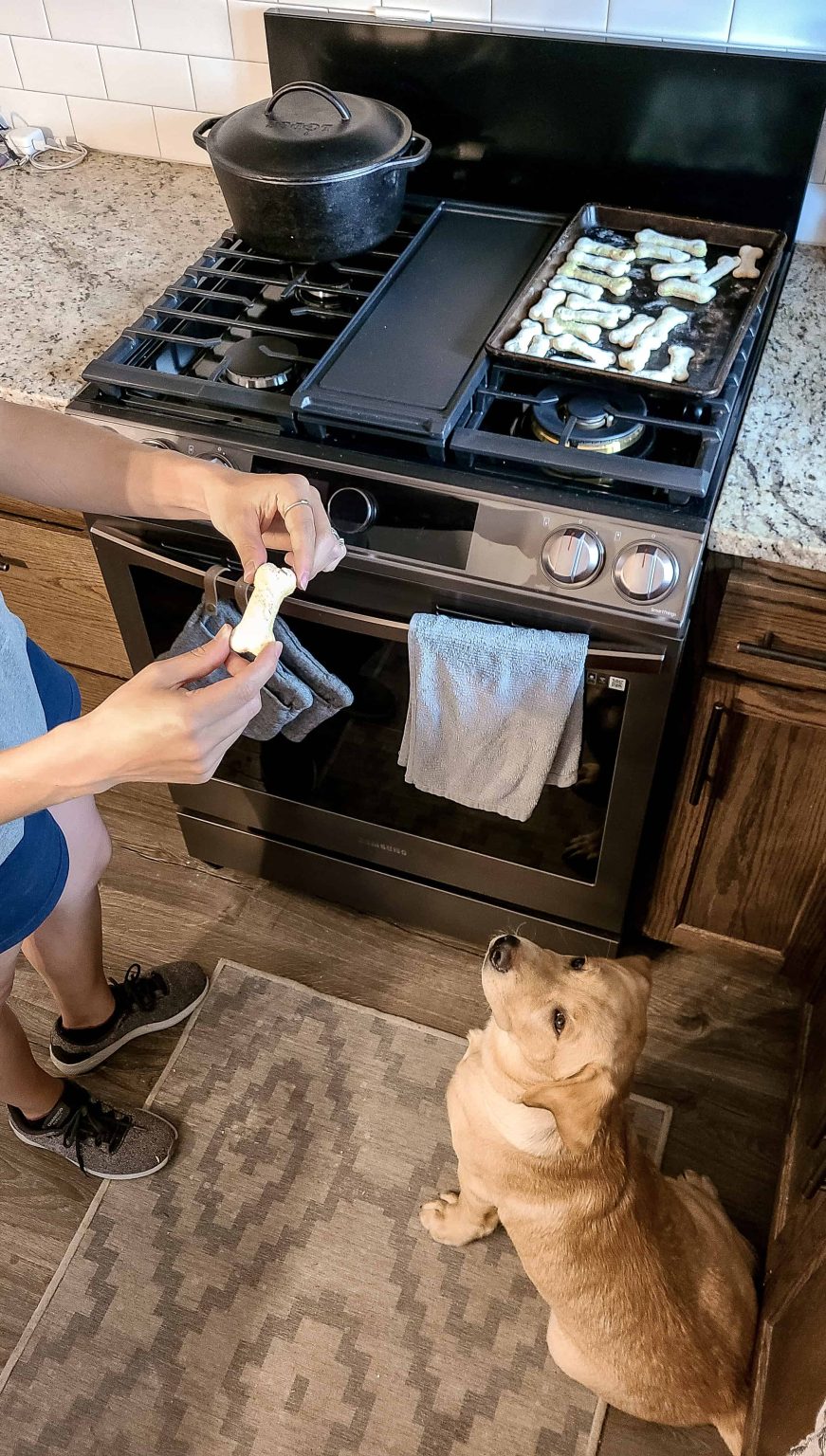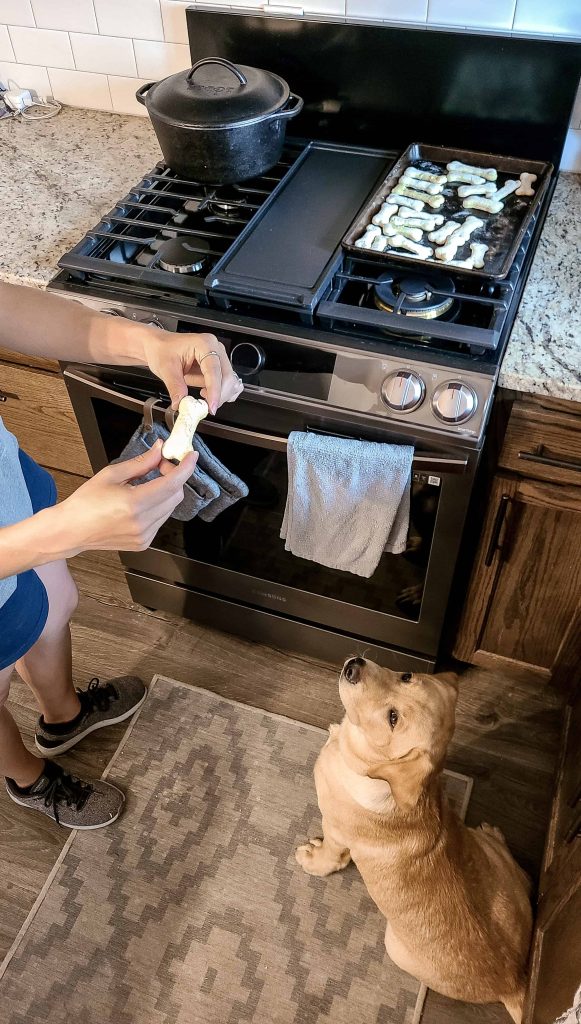 Cons
The knobs on the front can't be removed for cleaning
I think the biggest con for me for the Samsung Bespoke Gas Range is that the knobs on the front cannot be removed for cleaning. They can be difficult to clean around.
The front Smart Dial control panel seems to get pretty dirty pretty quickly! Although it's a nuisance, it's a pretty minor inconvenience.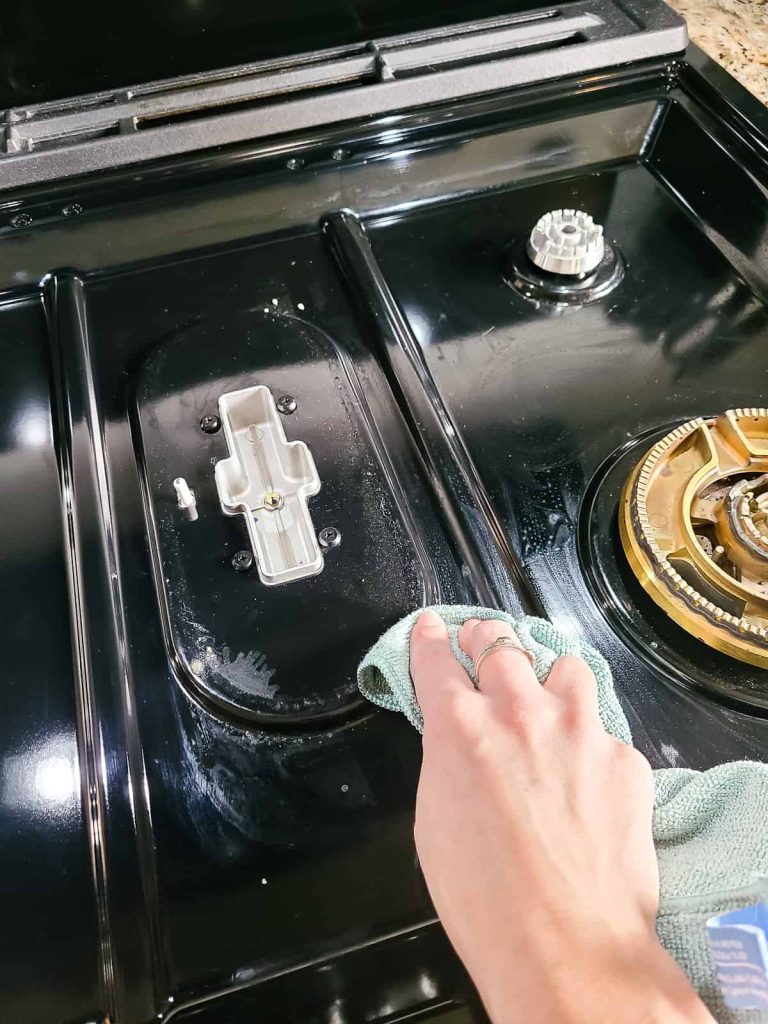 Cooktop is harder to clean (compared to an electric glass top)
Compared to my old electric glass-top oven, I find that the gas cooktop is kind of a pain to clean. I think I prefer the ease of the glass top oven being able to quickly wipe down the surface vs having to remove the grates to clean the gas range.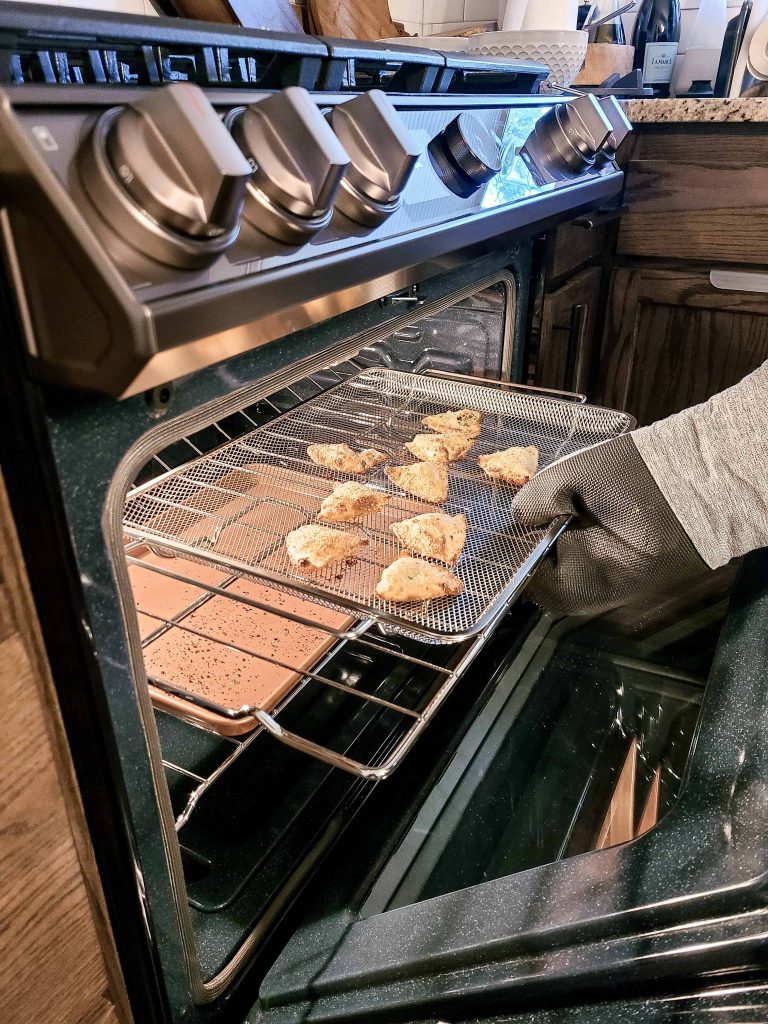 The built-in air fryer doesn't work the same as a countertop air fryer
I've had my friends and family rave about using air fryers, so I was excited to learn about the built-in air fryer mode on the Samsung Bespoke Gas Range. However, after using it a few times we've determined that it doesn't work exactly the same as a separate air fry appliance.
The food we cook using the built-in air fryer requires a considerably longer heat time to crisp up food than the small countertop air fryer. It still does eventually get the food crispy but isn't in "minutes" as you can do with the small air fryers.
We do enjoy the feature because we don't have the space to store a countertop air fryer in our kitchen so this is the next best thing. We use the feature most often when cooking frozen Dino nuggets and frozen chicken strips for the kiddos. We do also make this air fryer raviolis too which are pretty amazing!
The bottom drawer is not as tall as some other ranges
One thing that I found frustrating was that the bottom drawer, which I use to store baking sheets, muffin tins, and the air fry tray, is not as tall as the bottom drawers on other ovens we have owned. I can't fit near as many things down here.
However, after doing some decluttering, we got rid of some things to make it work. Not a huge deal, but thought I would mention it.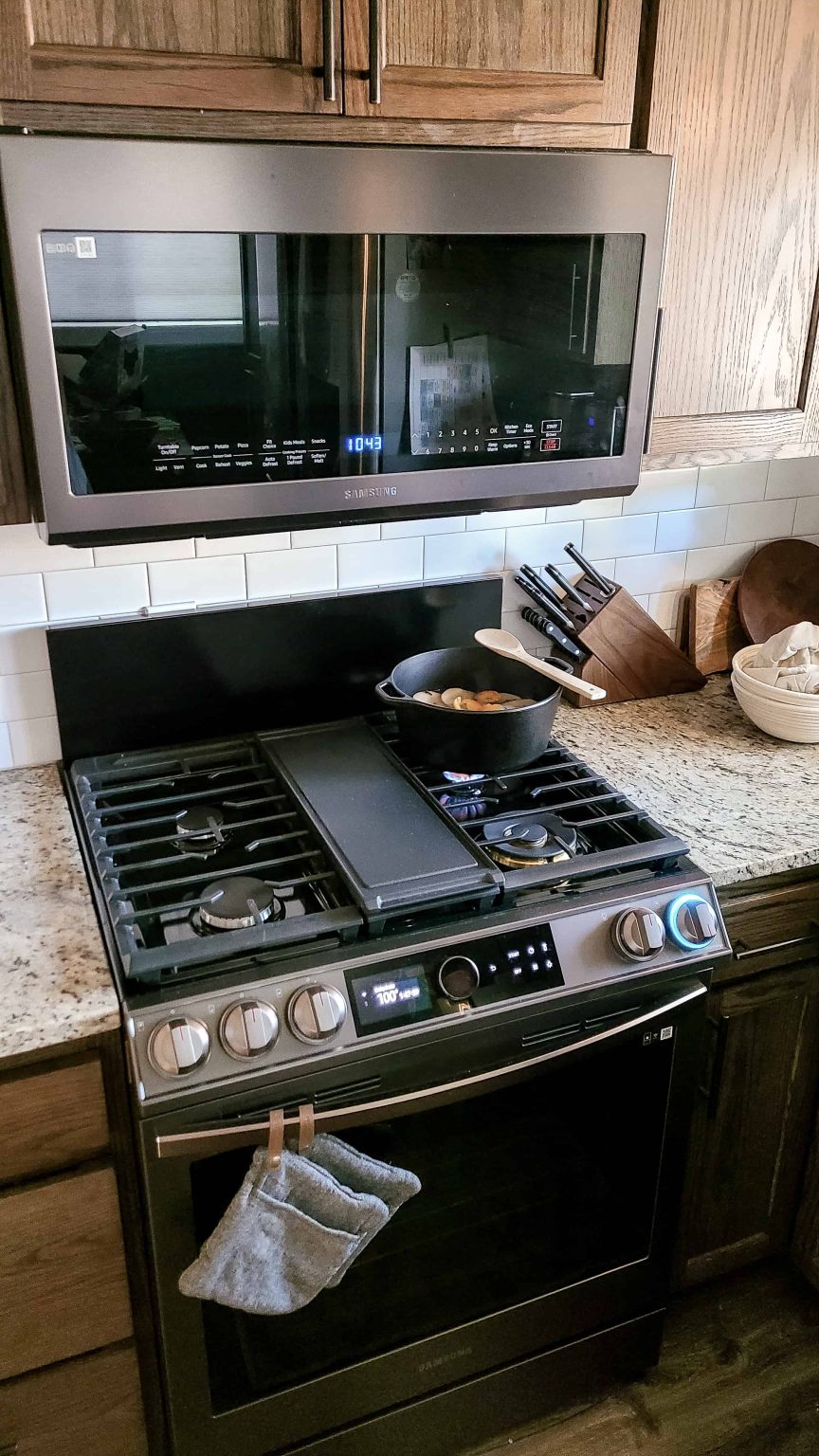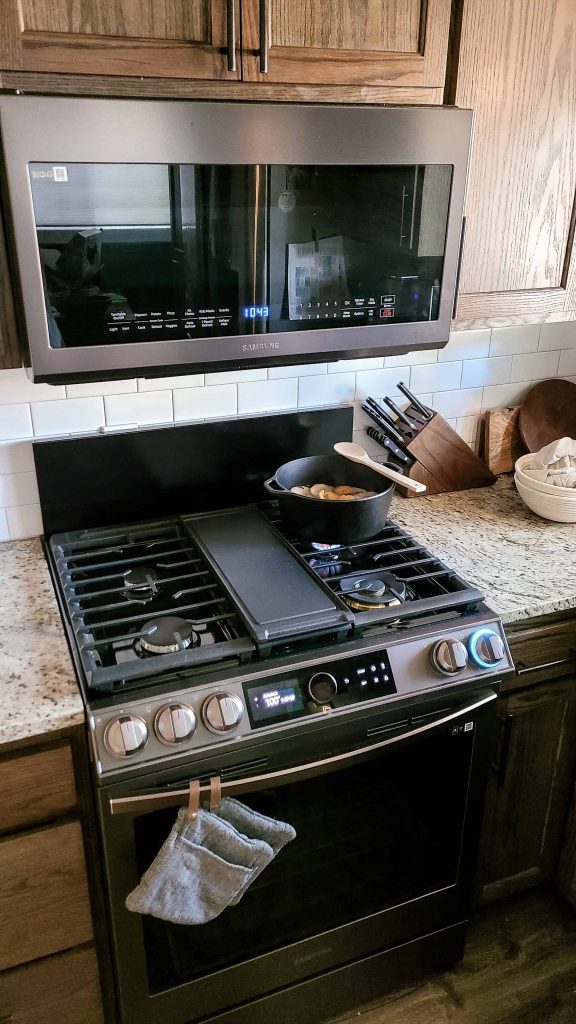 Features I don't use as much as I thought I would
Convection oven: I guess I should really start playing around with this feature and I'm not quite sure why I haven't. I guess I'm scared to use it and burn my food because I know that it will cook the food faster because of the hot air circulation. Any tips on how to accurately adjust the cook time for convection, send them my way! I think this feature would definitely save time, but, as you can tell, I'm a little intimidated by it and don't use it as much as I thought I would.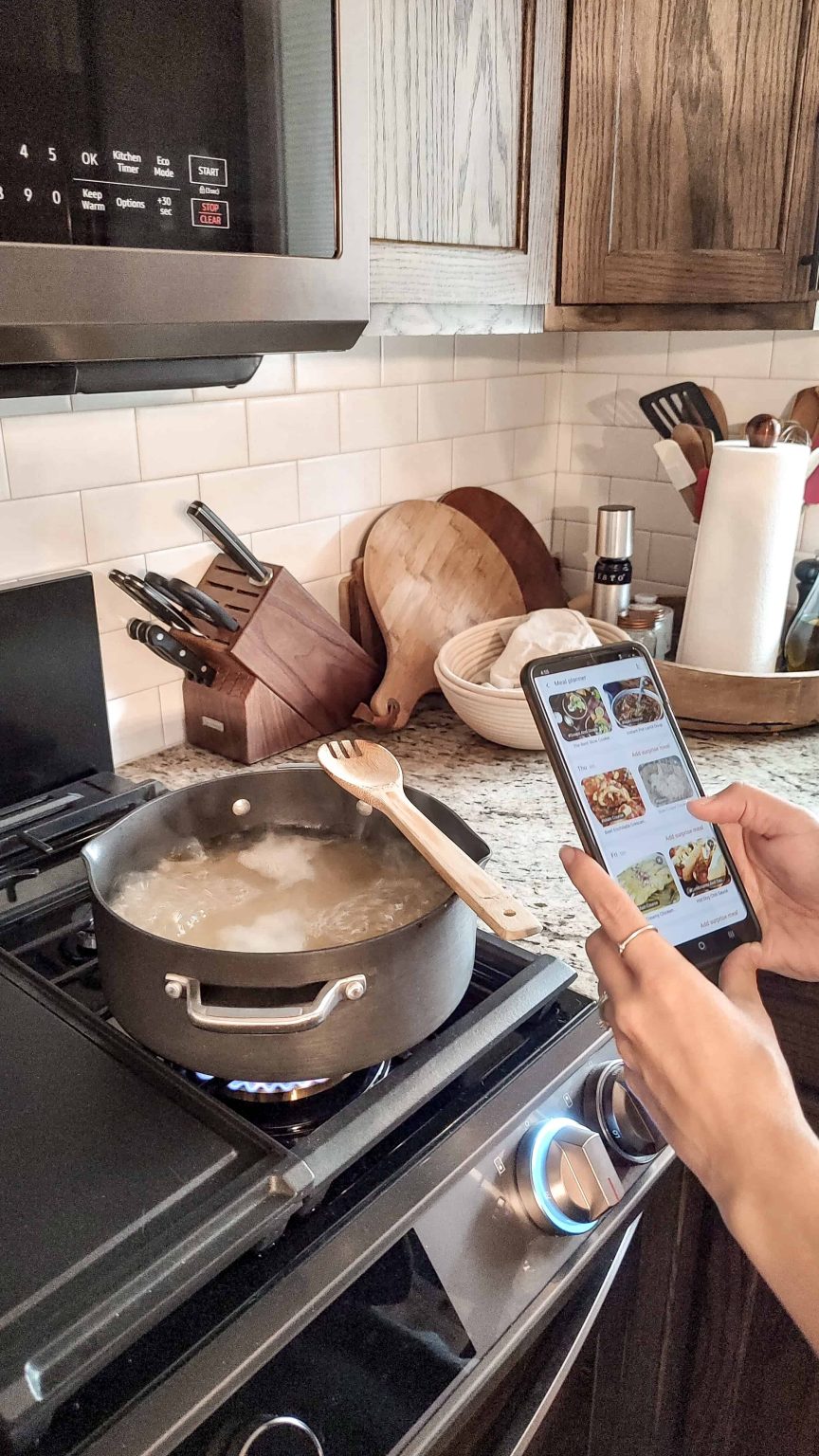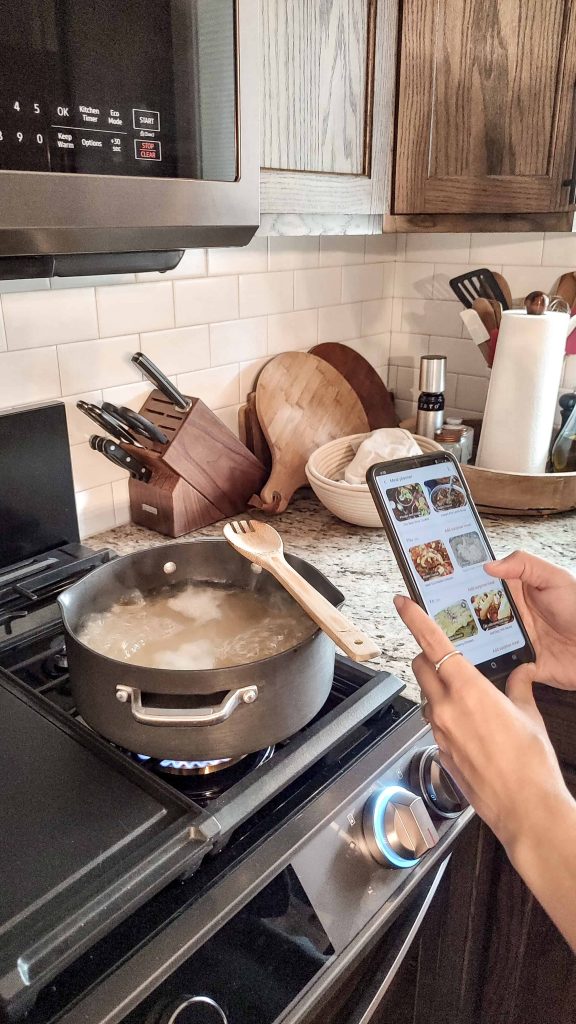 SmartThings cooking app: I used the app a few times when we first installed the oven. It is great to find new meal ideas and allows you to send the cooking instructions to your oven. I also like the features where you can enter the ingredients you have and it will give you recipe ideas. However, I found it hard to keep track of the recipes there along with the other places that I used to do meal planning (Pinterest, cookbooks, and my command center). Some of the recipes there listed the ingredients in Grams, so I found it hard to convert them to US measurements, so I could use them. I do like the fact that I can check how much cooking time is remaining from my phone (saves me a trip into the kitchen to look) and I get a notification when the pre-heating is done in case I missed the bell. You can also see/change the temperature of your oven from your phone, which comes in handy. However, I don't use the meal planning features on the app as much as I thought I would.
Cast iron griddle/grill: I thought we would love using this, but we haven't used it much. It isn't super easy to clean and it is relatively small so you can't really cook much on it at one time.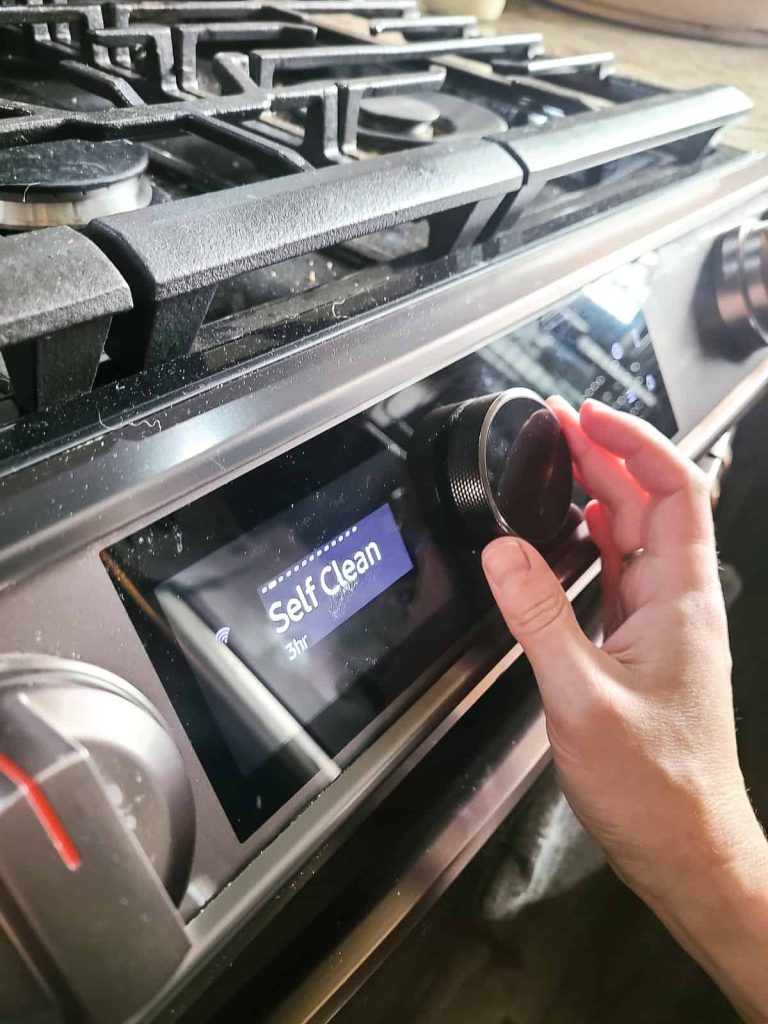 Self-cleaning system: Even after running the interior cleaning process, I still needed to do quite a bit of scrubbing to get the inside of the oven clean, especially the inside of the oven door. I detailed the entire process in this article about how to clean a gas oven!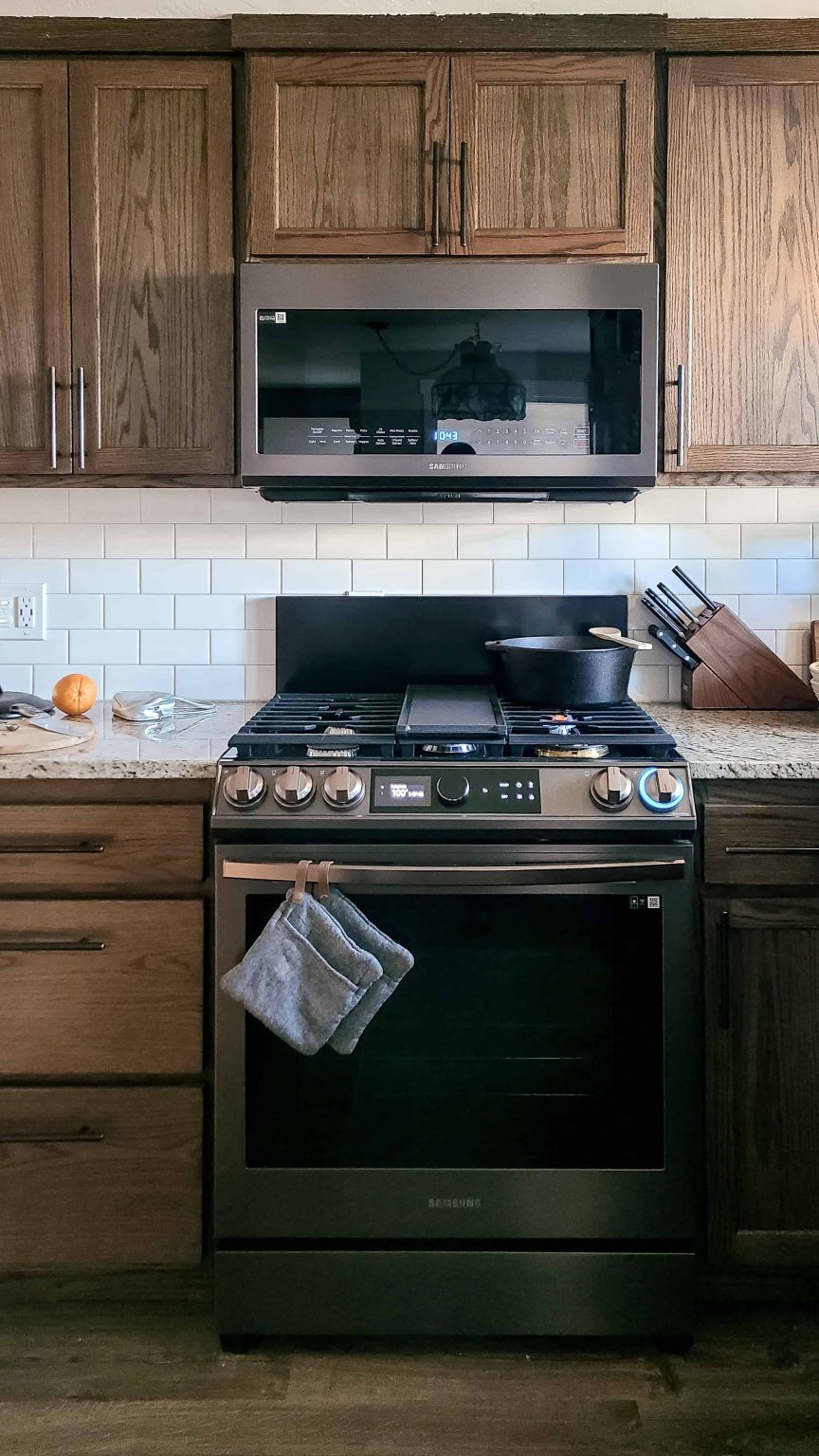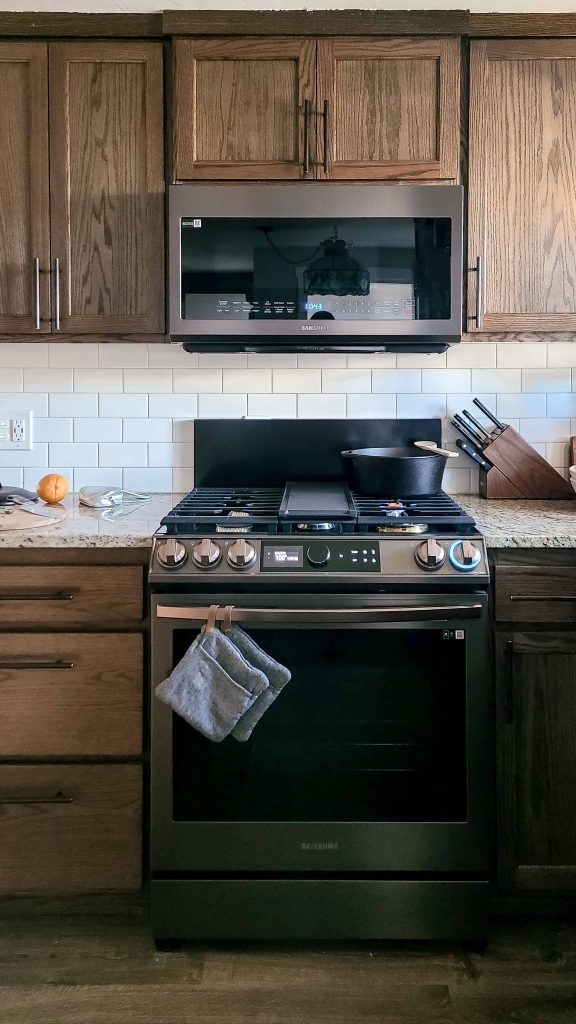 Honest Review: Is It Worth the $?
Let's be honest here. The Samsung Bespoke Gas Range is one of the more expensive options out there. Samsung has a couple of other less expensive models out there that have similar modern features (air fry, dehydrator, smart capabilities, etc) like this one or this one.
If you don't need the air fryer feature, you could go with this option for several hundreds of dollars cheaper. You still get most of the features, like the Dehydrator, smart capabilities, and cast-iron griddle. Just has no air fry mode and doesn't come in the Tuscan Steel color, which brings me to my next point…
The real clincher here on price and options is if you are dead-set on the Tuscan Steel color, which is only made in a few of the higher-priced models – like the Bespoke. Even on the models that have the Tuscan Steel color, it seems to be much more expensive in that finish when compared to the other more-standard options, like stainless steel.
If you're shopping for new appliances and made it to the end of this article, you're probably trying to figure out one thing. Is the Samsung Bespoke Gas Range worth the extra money? If you're going to use all the features that make it unique and you care about wanting something unique for the outside of the oven (like the Tuscan Steel or White Glass instead of just normal stainless steel), then I would say yes.
If you don't think you'll use the high-tech features and are fine with a standard finish on the outside, then you can go with a cheaper model (like one of the ones I linked above).
However, we do highly recommend Samsung products for appliances in general. It's pretty much all we buy over here. From our fridge, dishwasher, microwave, and oven to our washer and dryer… all Samsung. I guess you could say we're kind of brand snobs in that way. 🙂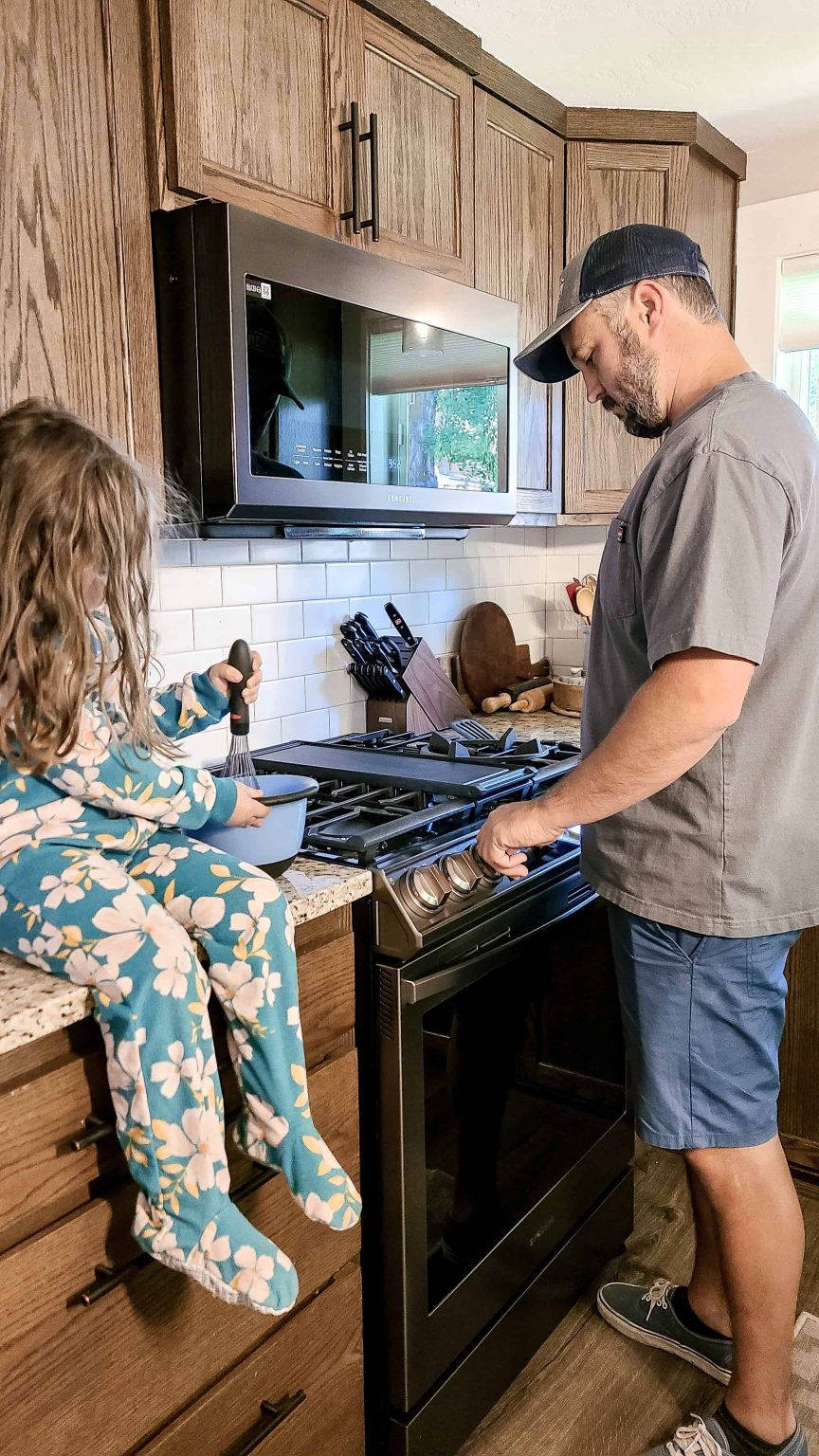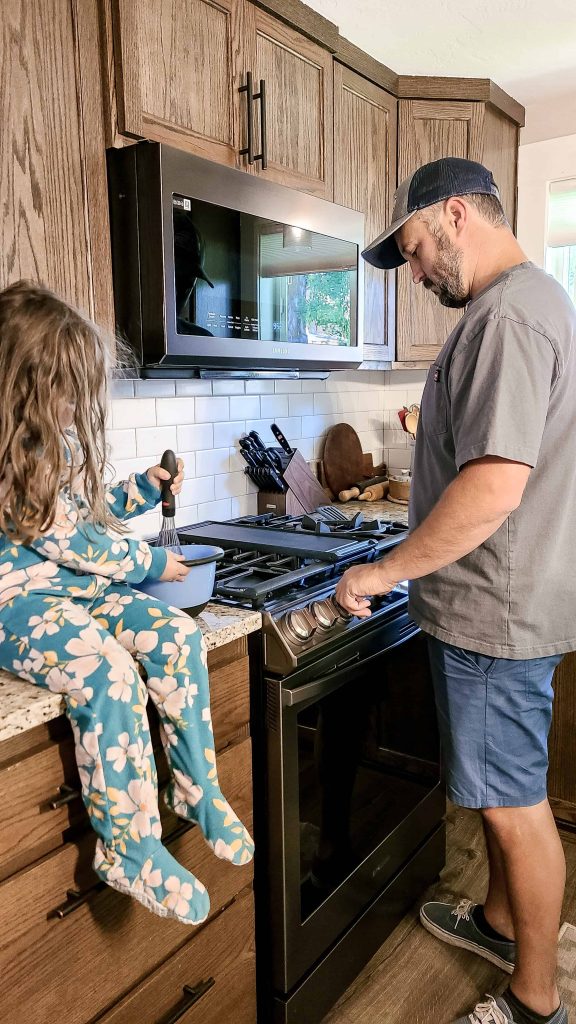 To wrap it all up, the Samsung Bespoke Gas Range has been a game-changer in our kitchen. We love showing off the features when we have guests over. It's impressive capabilities and sleek design always impress others.
While it has its strengths, such as customizable options and precise cooking capabilities, there are a few features that might not get as much use as anticipated. However, after carefully weighing the pros and cons, we believe that the Bespoke Gas Range is definitely worth the investment if you're shopping for a new Range for your kitchen.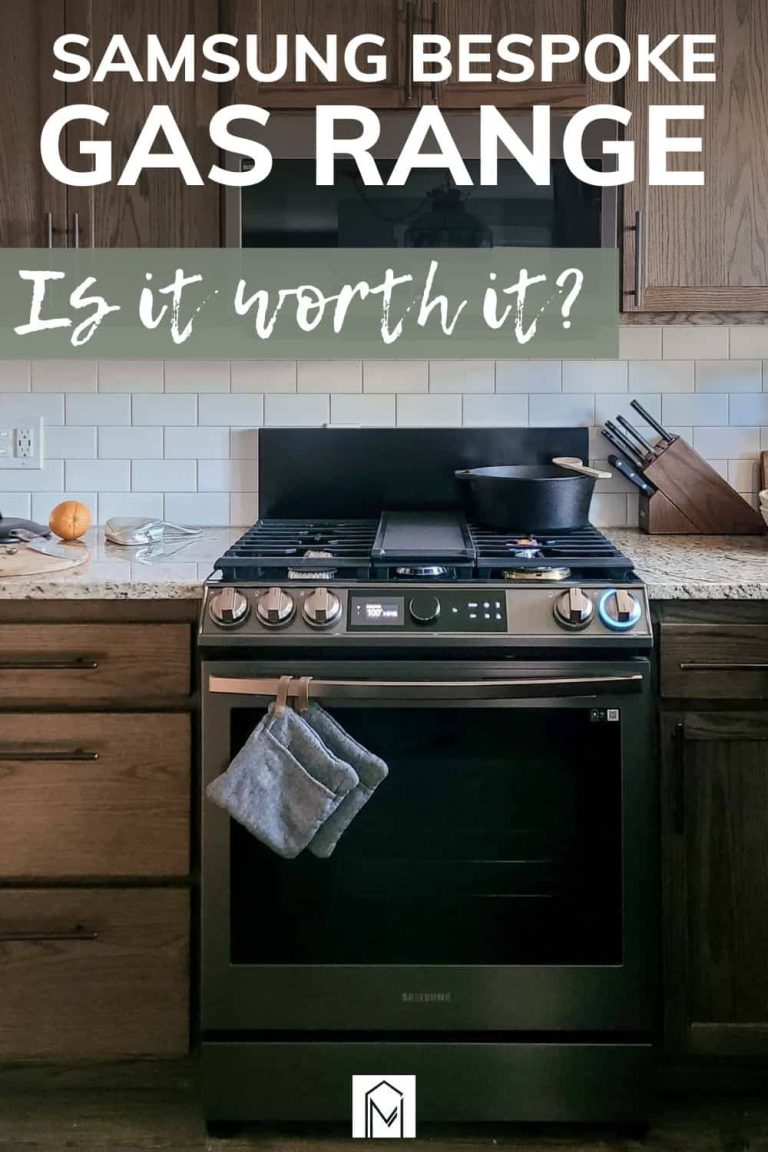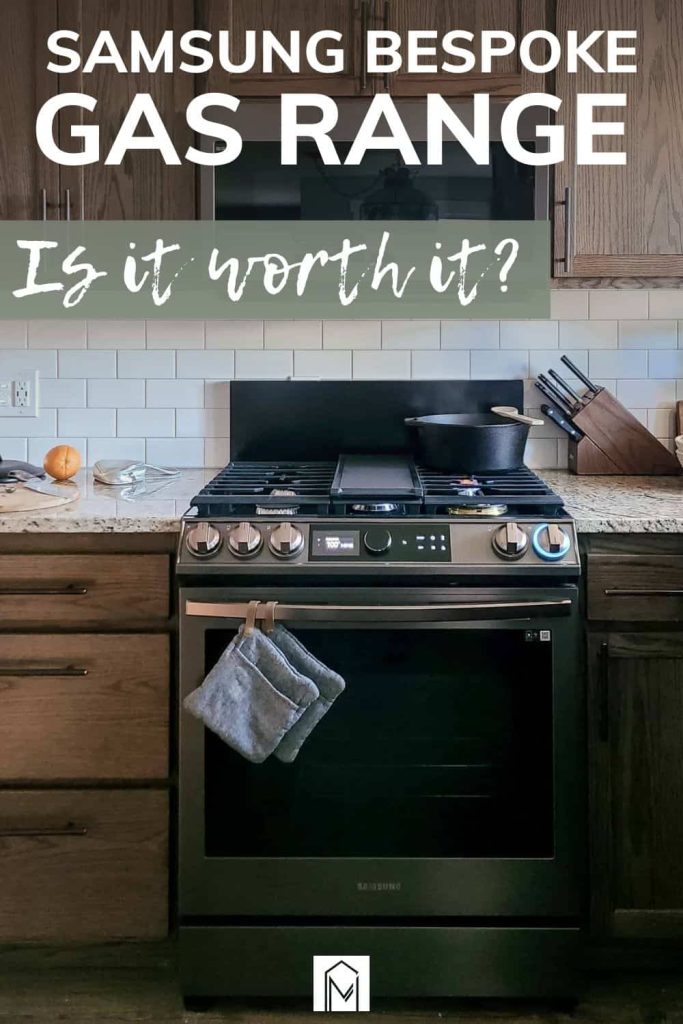 Do you have any other questions about this oven?