If you've always dreamed of having booth seating or a corner storage bench in your breakfast nook, you're in luck. You're going to love this detailed tutorial for how to build a banquette bench in your kitchen!
Thank you to Columbia Forest Products / PureBond Hardwood Plywood for sponsoring this banquette bench project! All opinions are entirely my own and based on my honest experience. This post also contains affiliate links, but nothing that I wouldn't wholeheartedly recommend anyway! Read my full disclosure here.
We moved into a new fixer upper at the start of the new year. The first time we came and looked at the house when we were contemplating purchasing it, we talked through all of our different renovation ideas for over an hour (to read all about our renovation plans for this home, you've gotta check out this post).
To be honest, we felt a little bit like Chip and Jo walking through the house…."knock this wall down here"…"open this wall up"… It was so fun. It's really exciting to see some of those big ideas taking shape now.
One of those ideas that we both agreed on right away was installing a banquette bench in the corner of the breakfast nook. We thought it would add some character to the kitchen and provide some extra storage. We plan to install a dishwasher in the kitchen island, so we know that we're going to be losing some cabinet storage, so the extra storage is definitely needed.
Here's what the corner of the breakfast nook looked like before we built the banquette bench. Isn't it just calling for an update?!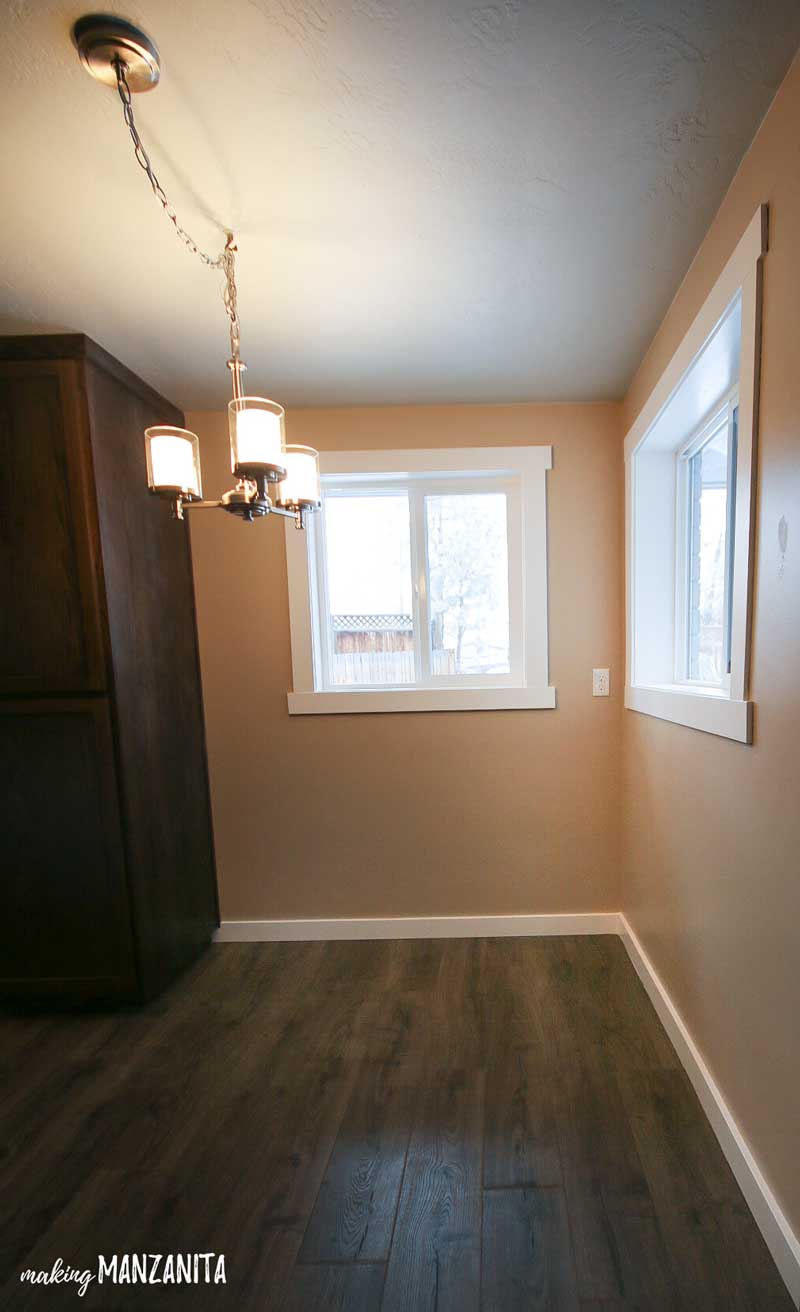 Logan did a great job making my vision come to life with this banquette bench. I described what I was thinking and showed him a few inspiration photos and he came up with this killer design.
One aspect of the build that complicated things a bit (but nooooo regrets) was the angled back and angled base of the bench. We went back and forth a lot about this before deciding to angle both the back and the base. We wanted the booth seating to be comfy.
As our little ones grow up, I imagine sitting here for family dinners, toddler craft time, and working on my laptop while kiddos play in the backyard…Comfort was key, which is why we decided to angle the back and the base (for your feet). We also plan to make custom cushions and build a custom sized table for the banquette eventually.
A big thank you goes out to PureBond Hardwood Plywood for sponsoring this fun DIY project. We were thrilled with the quality of plywood for the banquette bench, which is something that is definitely important if you're going to be trying to match kitchen cabinets and staining rather than painting. Here's a quick informative video to tell you more about Why PureBond?
Supplies for banquette bench:
Measuring tape
2x4s (we used approximately 20)
Hammer
Stain and Poly Applicators (we used old t-shirt rags)
Table saw
2 and 4 ft levels
3/4 Oak Trim in varying widths
Step 1: Measure space and plan your banquette bench
This step is so obvious, I know! But it doesn't hurt to mention that the planning (and measuring) portion of building your banquette bench is one of the most important parts. You've heard the saying "measure twice, cut once"…this couldn't be more true!
Having a good plan for the banquette bench for your kitchen is where you need to start. All of the dimensions you'll see in this banquette bench tutorial are customized to our specific kitchen, so you'll need to adjust accordingly.

Step 2: Remove baseboards.
The baseboards in the corner of your kitchen will need to be removed in order to install your corner bench seating. The best way to remove baseboards is to run a utility knife along the top of the baseboard where your caulk line is. Next, use a pry bar and hammer to get it behind the baseboard and pry it off of the wall.
Step 3: Build interior framing.
The interior framing of the booth seating is built using 2x4s. These provide the major structural support for the bench. Once these are installed, the plywood will attach directly on to the framing. Also, this is a great option for those of us who can't assemble the entire project in a garage or workshop and bring in to install.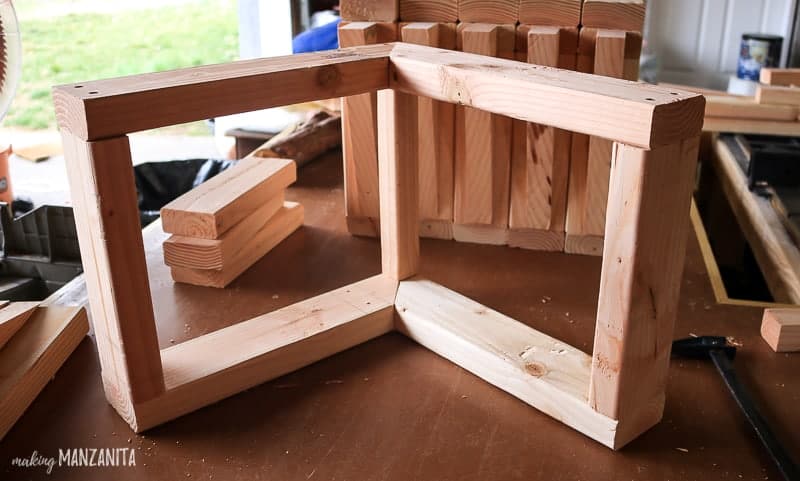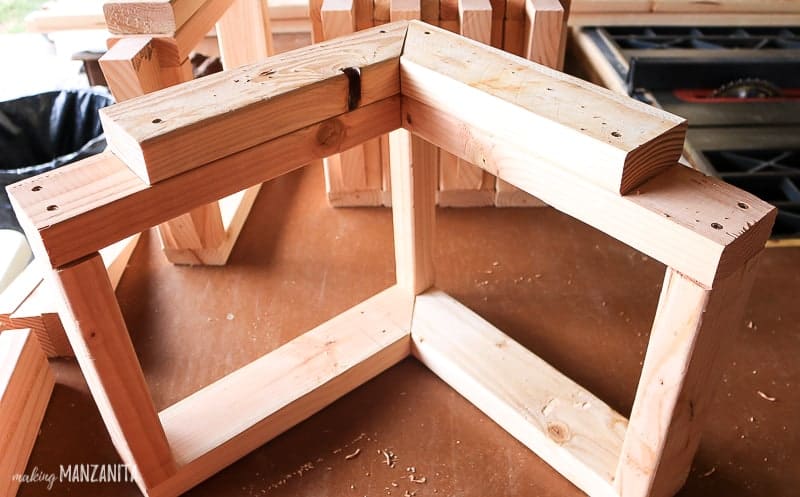 There are two brackets that fit together in the corner to form a box.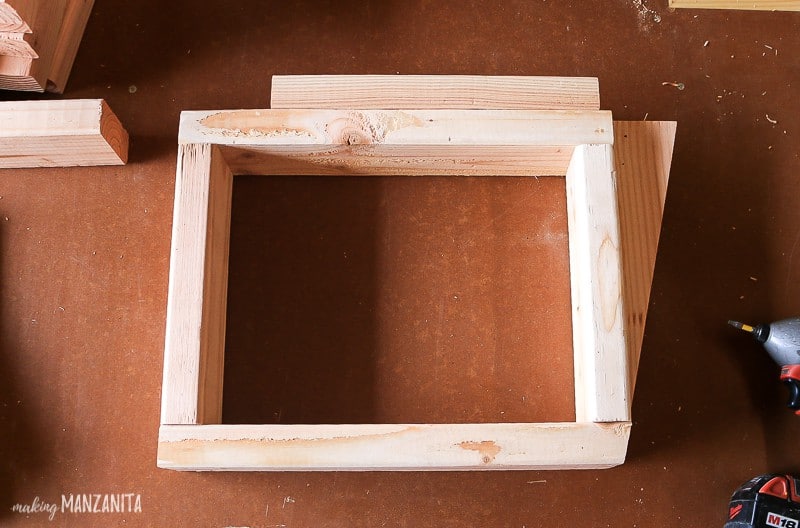 The other four brackets go along the wall.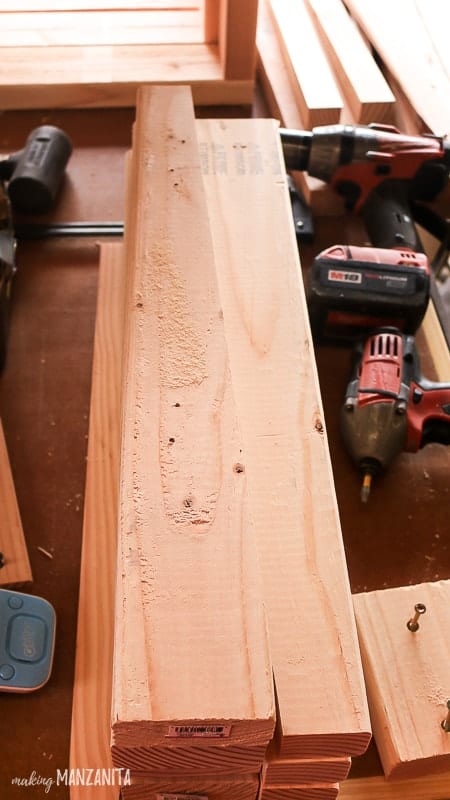 Step 4: Build back of banquette bench framing.
The 2x4s for the framing on the back of the bench are angled at approximately 5 degrees. To get these cuts, we built a jig for the table saw. After the angled 2x4s are cut, you can screw into the bottom framing.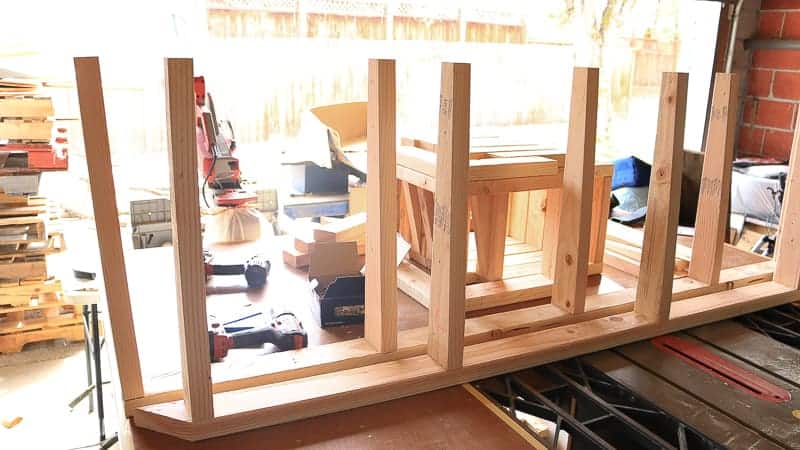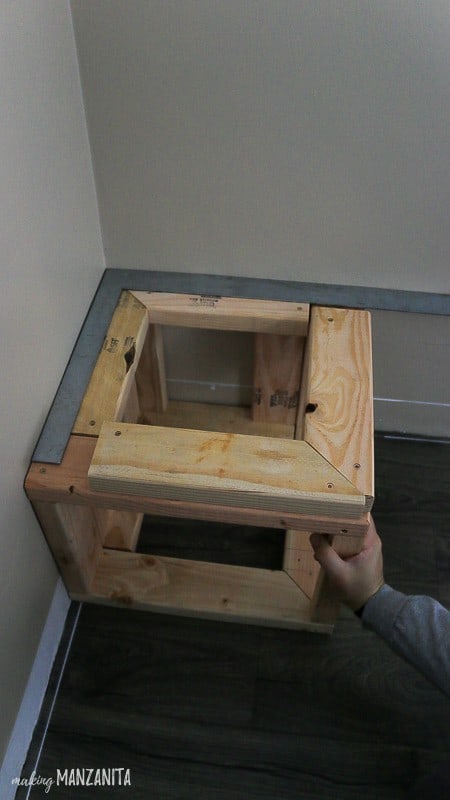 Step 5: Install interior and back framing.
Start with the corner framing brackets. They should fit together to form a box in the corner of your breakfast nook.
If you're lucky, your corner walls will be nice and square. But, we can speak from experience after living in two fixer uppers that were built in the 60's and 70's….not all walls are square. We were pretty fortunate that this particular corner of our kitchen was relatively square…whew!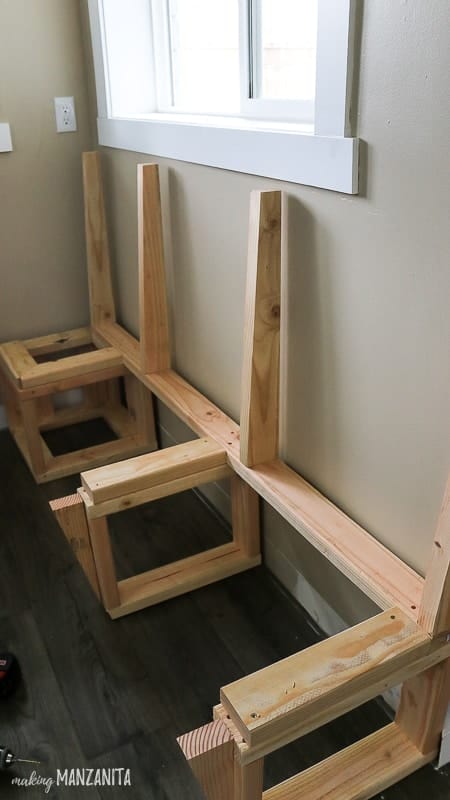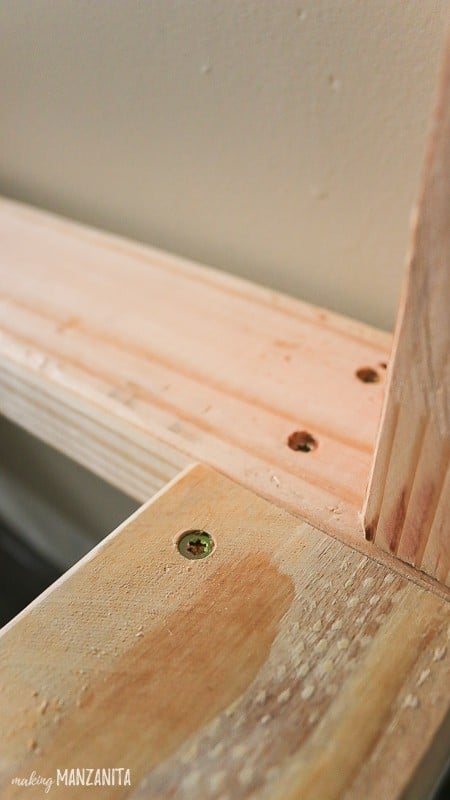 Set your other framing brackets on the edges of the bench and in the middle of each wall. Next, you can set the back of the bench framing pieces in along the walls. Then, screw the back framing into the interior brackets.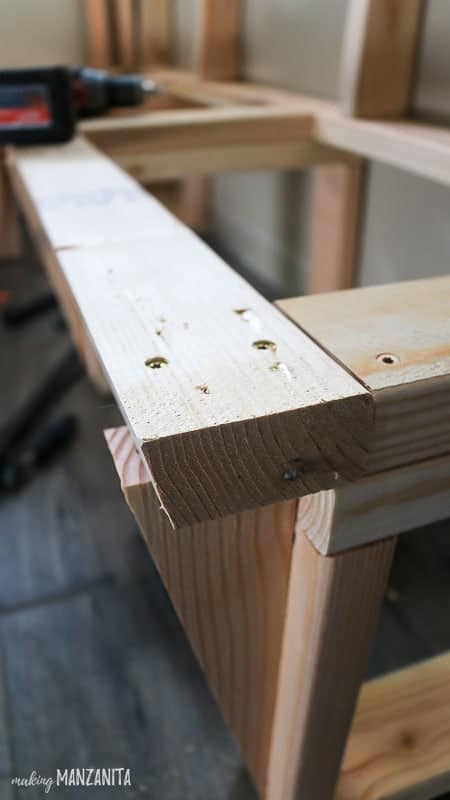 Step 6: Cut & install front piece to the framing.
This 2×4 is attached to the front sides of the framing brackets and locks everything together in place. They are joined with two 45 degree miter cuts so they help keep your project square as you assemble all the necessary parts.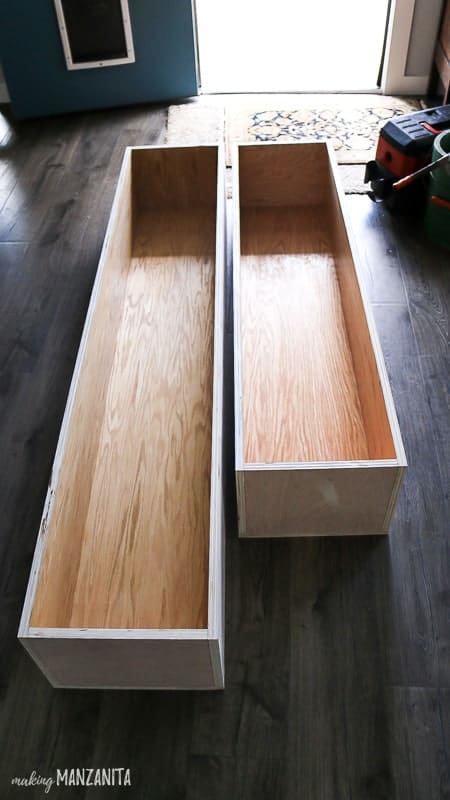 Step 7: Build and install plywood interior boxes for storage.
The storage boxes that go inside the framing can be built from plywood panels to provide storage inside of the bench. Build them to size so they will be able to slide into the brackets easily. Give yourself at least 1/8" or so wiggle room so you don't have trouble sliding them into the brackets. Seal one side of the panels with wipe on polyurethane so the inside of the boxes are sealed. Assemble the boxes with a little bit of wood glue and clamps before securing with a nail gun.
The other option we considered was to drop in boxes between the 2×4 frames to have a cleaner look. We opted for more storage space and built the slide in boxes.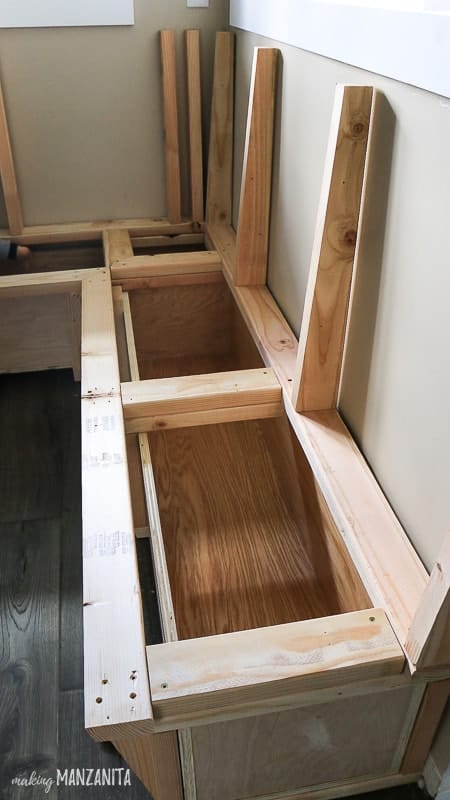 Next, slide the boxes into the interior framing.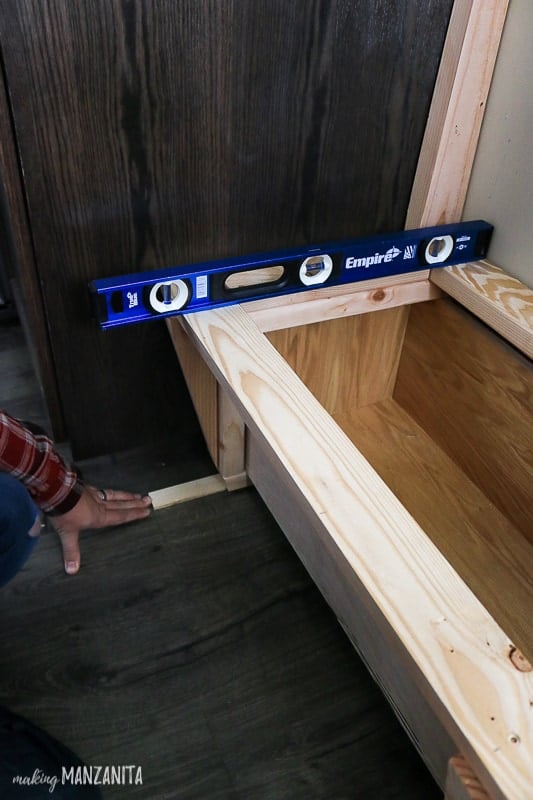 Step 8: Level bench.
It would be awesome if all flooring was perfectly level, but that just hasn't been the case in any of the homes we've owned. You definitely want to check to see if your framing is level before moving on with this banquette bench build.
Set a level on the top of the bench framing and add wood shims under the banquette bench on the floor until each support bracket is nice and level.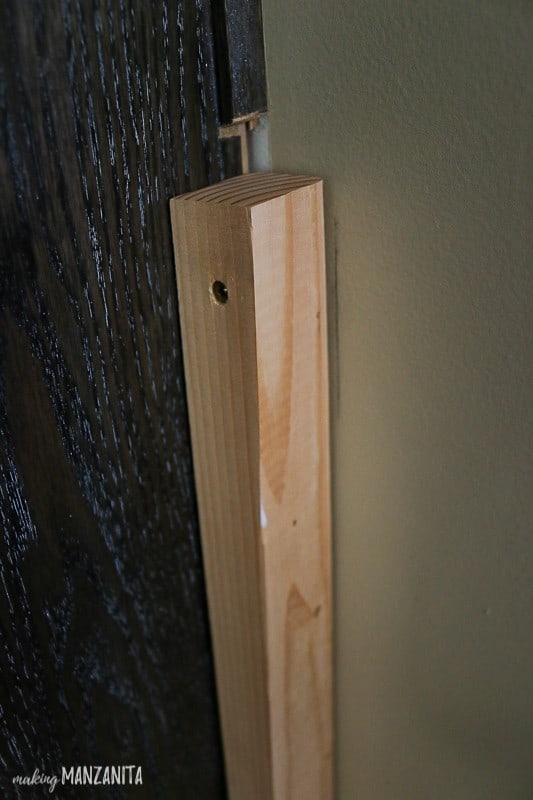 Step 9: Attach back to wall.
Using wall anchors and #9 construction screws, attach each back support piece to the wall. Be sure to make sure they are level and straight before screwing them into place.
Step 10: Cut plywood panels for corner storage bench.
This is where having a drawn out plan is going to come in handy for you. Remember measure twice (or five times), cut once.
You'll want to cut out the plywood panels that attach to the front of the bench (down where the feet will go), the seat of the bench, the back of the bench, as well as the side of the bench. Since we had a lot angles on our banquette bench, Logan did a few test cuts using small pieces of scrap wood to make sure the angles were right before cutting everything on the table saw.
Once the panels are all cut, you should bring them inside and set them in place to make sure everything is perfect before moving on. This is called "dry fitting".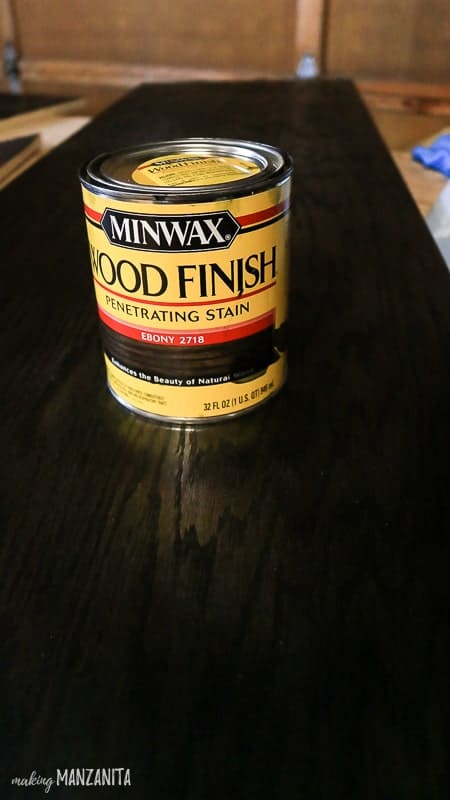 Step 11: Stain and seal plywood panels.
Once the panels are good to go, you can bring them back out to your garage or work area to stain. We matched the stain for our kitchen cabinets, which ended up being this stain. We tested tons of different stains and combinations on some scrap plywood pieces before finally finding one that worked!
It is incredibly important to be as detailed as possible when matching stain. We had to "pop" the grain with a damp rag, stir the stain when applying the first coat, and lightly stain the second coat. Be sure to write down your process or else you'll end up having mismatched stain from piece to piece.
Use a staining rag to rub the stain on the plywood panels and wipe off excess with a dry rag. We had to wait about 6 hours for the stain to soak in and dry before rubbing on the polyurethane to seal the panels. This mostly because it was cold and raining outside. We used fans and heaters to offset the weather at the time of the project.
We did 2 coats of poly and lightly sanded with 0000 wire wool in between coats of poly. If you don't sand down the "nibs" and smooth the brush marks between coats of poly, your finish won't be very smooth.
Step 12: Install front panels to bench.
Now it's time to start installing the panels to the bench and it will really start coming together! First, add some wood glue where the panels will touch the brackets. Then clamp them into place and levels with wood shims on the floor. Lastly, screw the panels into the interior framing in several places using construction screws. Be sure to only screw where your trim will cover the screw holes.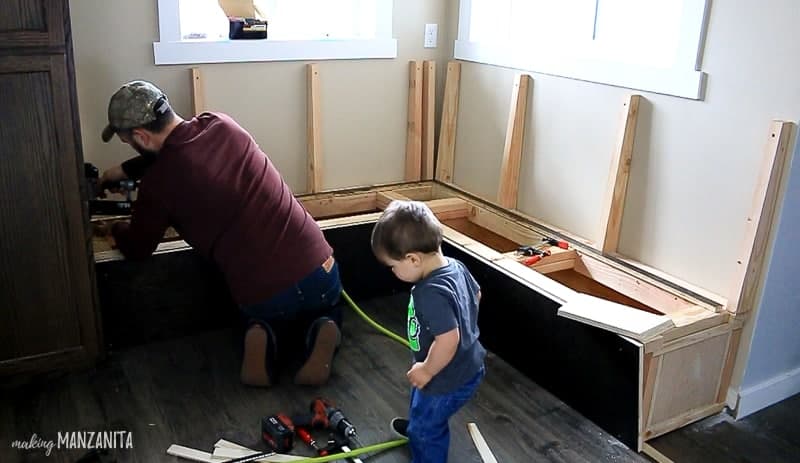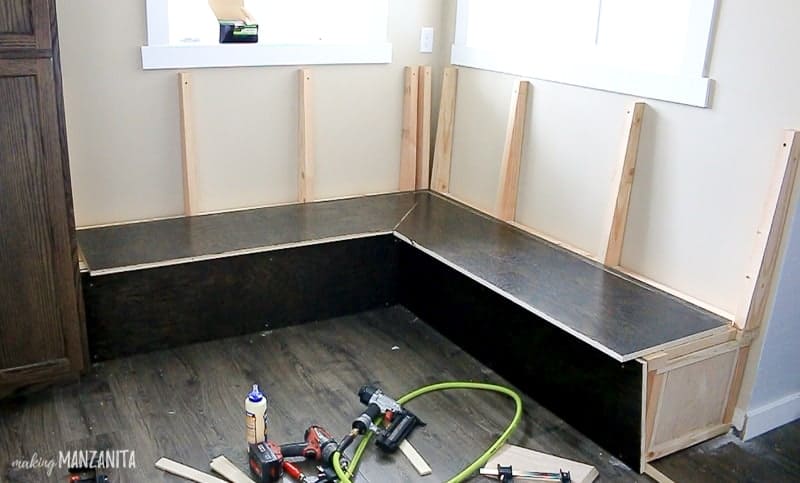 Step 13: Install bench seat.
The panels for the bench seat should now be cut so there is a small strip about 3/4″ (thickness of the plywood) deep on the back to provide space for the seats to open. You can install this piece first on the back of the bench by applying wood glue and then screwing it into place on the framing. Next, the front portion on the bench seats can be set into place (they will be attached later with the hinges).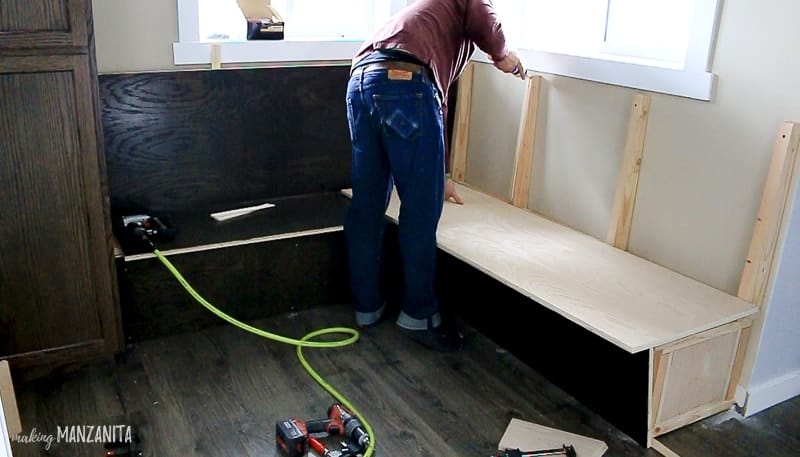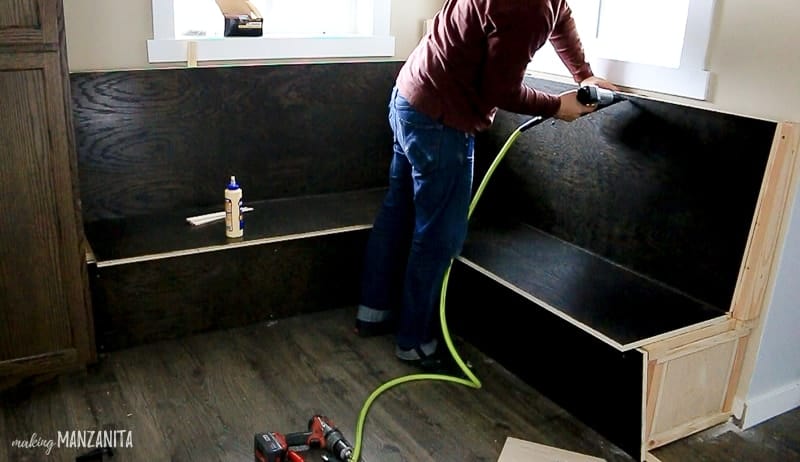 Step 14: Install back panel to bench.
Next up, you can attach the back panels to the bench. First apply some wood glue to the support panels and then set the plywood panel on to the back and secure by using 1 1/2" brad nails. We used brad nails because the putty marks will be very small and unnoticeable at the end of the project.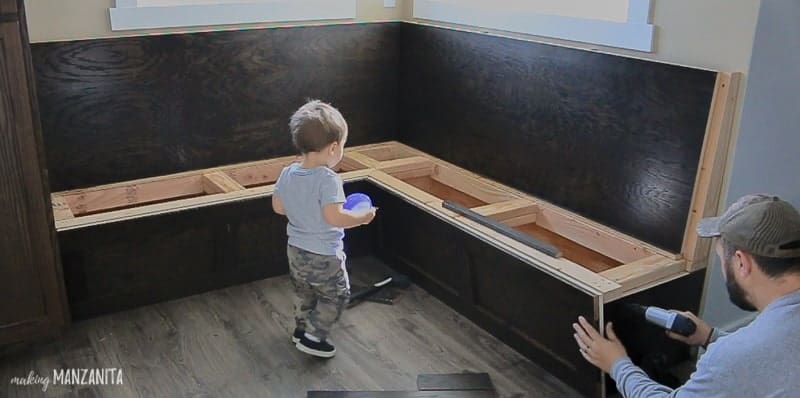 Step 15: Install side panel to bench.
The last panel to install is the side panel. You can attach this in the same way with 1 1/2" brad nails.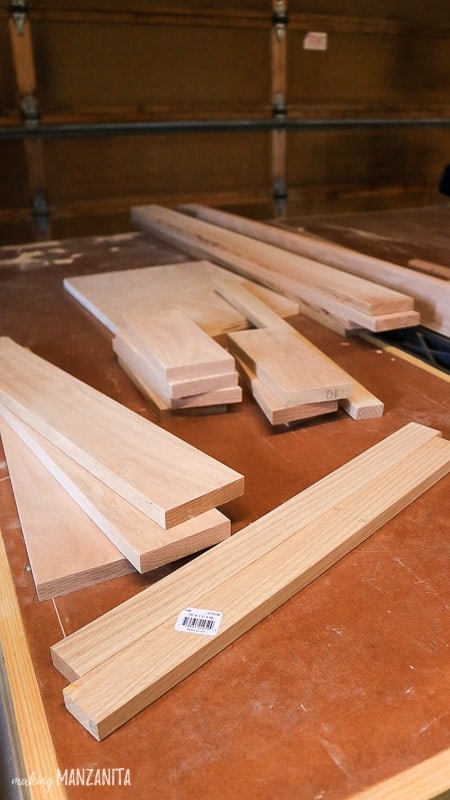 Step 16: Cut trim pieces.
We decided to add trim to the bottom of the bench for visual interest and texture. You could also add them to the back of the bench if you wanted, but we plan on adding cushions later, so we didn't do that. The trim pieces are made with 3/4 inch oak trim in various widths.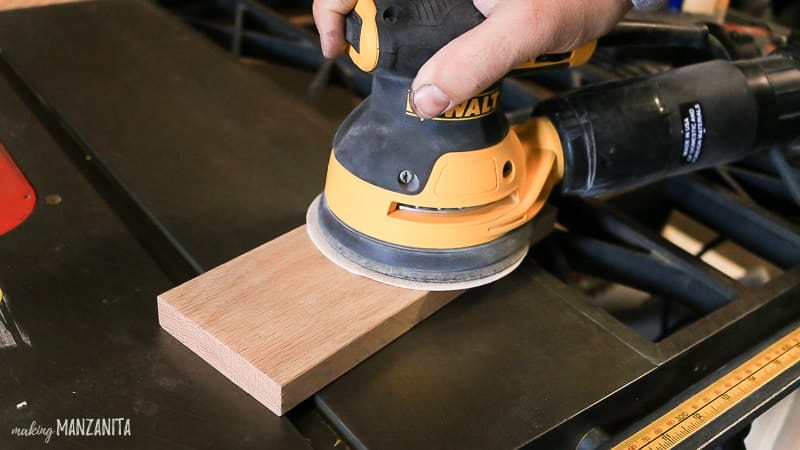 Step 17: Sand, stain, and seal trim pieces.
Once all of the trim pieces are cut to size, you can lightly sand, stain and then seal them with polyurethane. Be sure to test some scrap pieces first. Solid oak trim will take stain different than the plywood. You may need to tweak your process to account for this. Also, be careful when staining the end grains and sides of your trim. They really soak in the stain!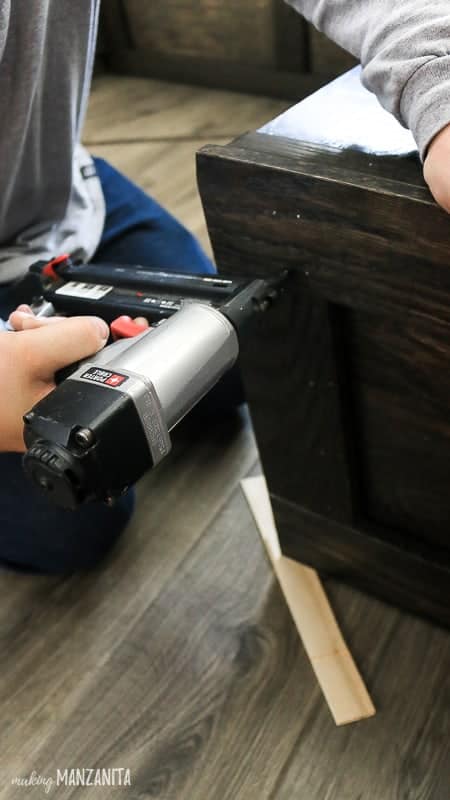 Step 18: Attach trim pieces.
The trim pieces are attached using 1 1/2" brad nails. It really starts to come together when the trim pieces are attached. Don't they make a big difference in this banquette bench?!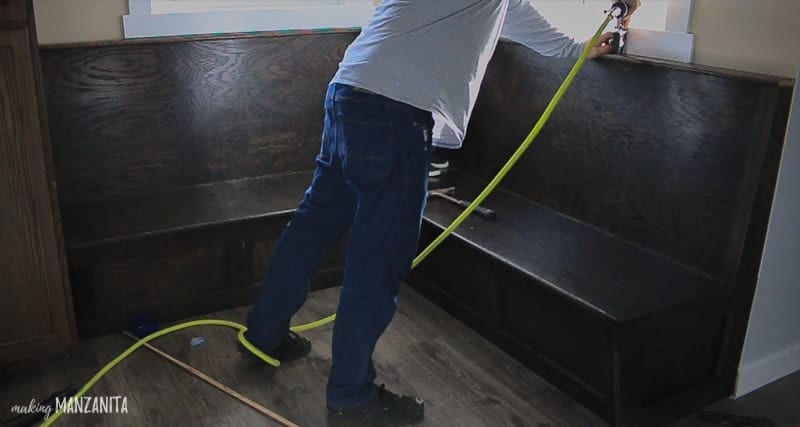 Step 19: Cut and install top trim piece.
To really finish things off nicely, we added a top trim piece that slightly overhangs on the back of the banquette bench. This piece was routed so it is rounded on the front side. Similar to the other trim pieces, you'll want to stain and seal these with polyurethane before installing.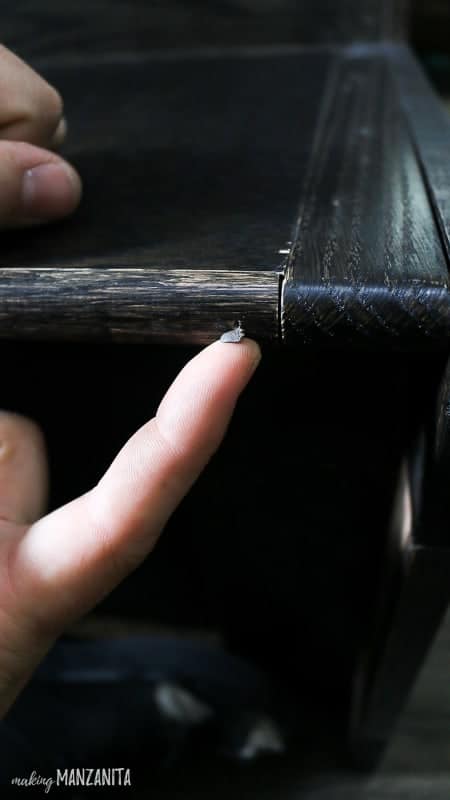 Step 20: Putty holes.
Using wood putty that matches your stain, fill in all holes with wood putty.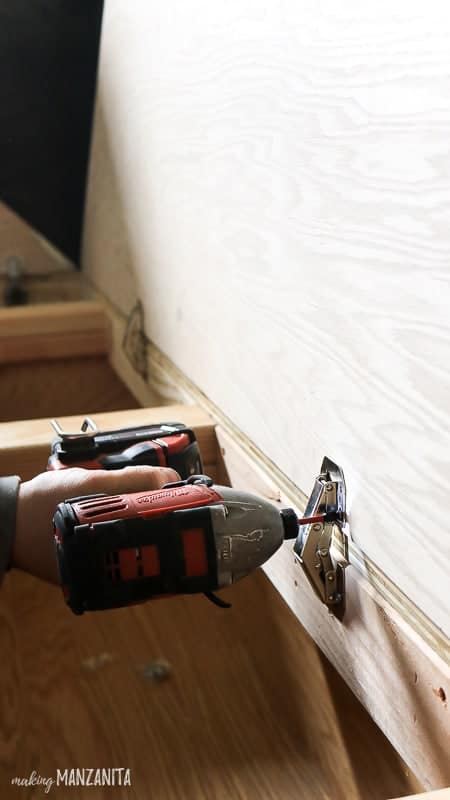 Step 21: Add hinges.
Last step is to get that bench seat attached with hinges to make it a corner storage bench with lifting seats. Remember, the seat of the bench is only sitting on top and hasn't been attached quite yet. We used these cabinet hinges to make sure the bench seat lifts. Don't get upset when fitting your hinges. You'll need to make a few adjustments to get your bench seat opening and closing properly.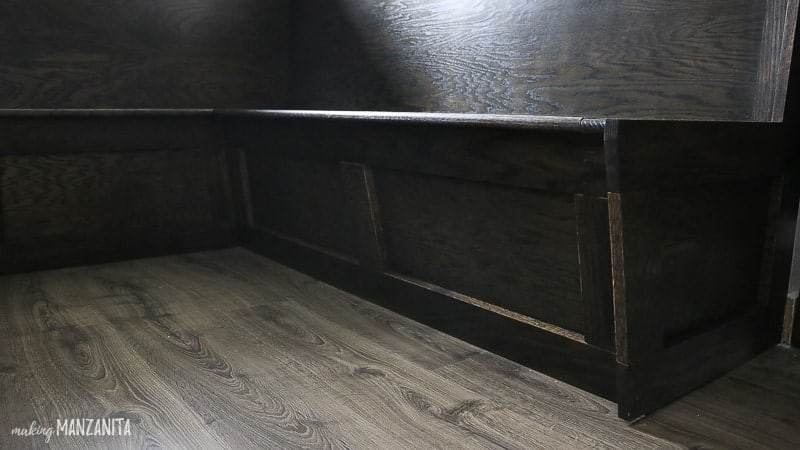 That's it!! I'm obsessed with how it turned out! The corner seat really adds soooo much to our kitchen, don't you think?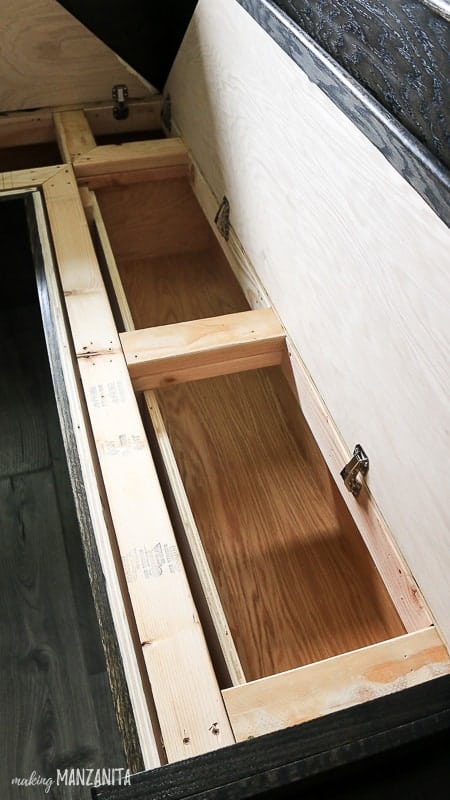 I'm so glad that we decided to stain the banquette bench to match our kitchen cabinets, rather than paint it. The stain really brings out the beautiful texture in the grain of the oak veneer plywood panels we used from PureBond Plywood.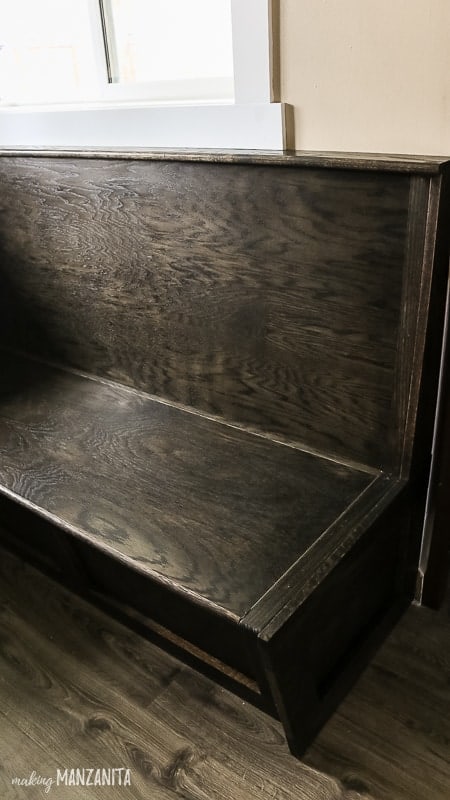 We've already started to move some things into the kitchen corner bench and take advantage of the extra storage. It will be perfect for small kitchen appliances that aren't used all that often (like our bread machine and meat grinder) as well as extra glassware and table linens.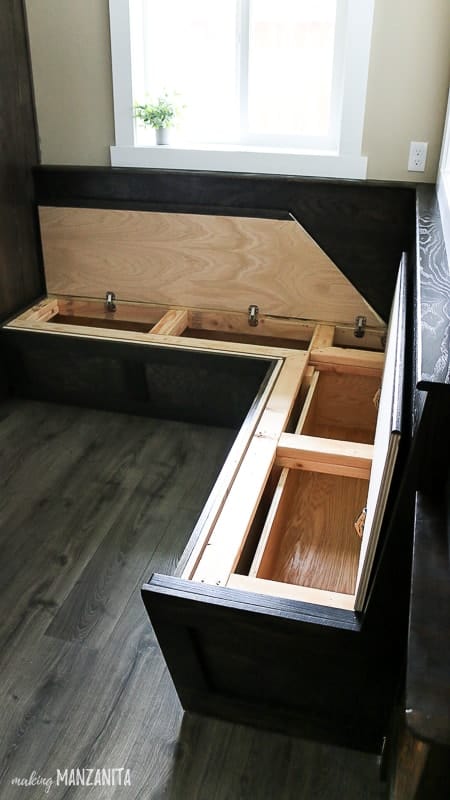 If you follow along on our Instagram stories, you know that we've changed our focus to wrapping up our little girl's nursery, our master closet expansion and new bathroom, so building a table for this area will have to wait a bit. I think I'm going to grab one off of Craigslist for now so we can start sitting at our kitchen corner bench!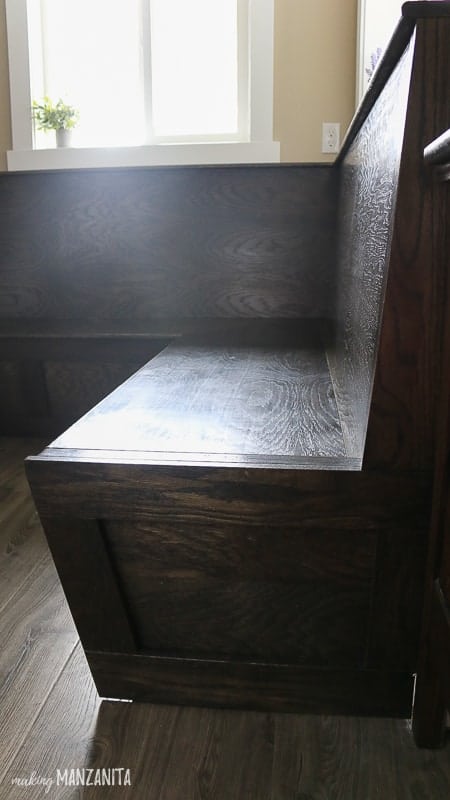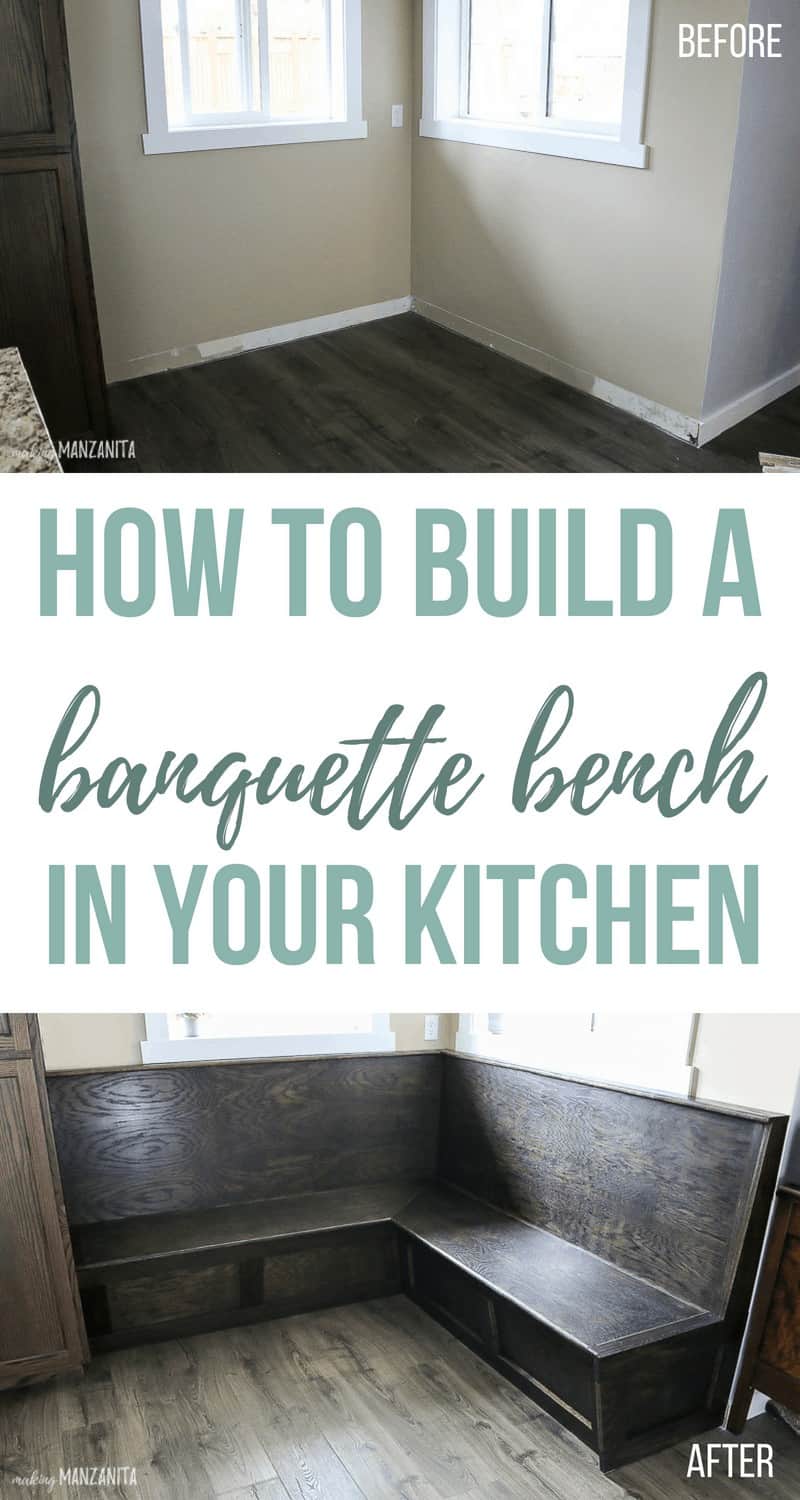 What's your favorite project you've ever made from plywood?
Let me know in the comments below!!