If you're looking for a fun way to display and store blankets in your house with a modern farmhouse style, you're going to love this simple tutorial for a DIY blanket ladder! It's so simple and inexpensive to recreate this for your home.
It's finally time to start working on some fun DIY projects for our little girl's nursery, which is why we're sharing this adorable baby blanket ladder!
She's just a few weeks away from saying hello to the world and I'm so excited about her nursery, which is slowly coming together in my mind.
I can't wait to share all of the fun plans with you soon, but for now, I will say that we are going with a modern farmhouse theme with some definite boho vibes.
If you remember from our post sharing all of our renovation plans (or if you've been following along on my Instagram stories), you know that we have to completely build out the walls of her nursery…which we started this last weekend.
Safe to say that we're a still long way away from decorating, but I couldn't help myself to work on some simple DIY projects for her room, like this DIY blanket ladder for baby blankets.
As I've been dreaming of a baby girl's room, I was planning some functional decor items….which are always a necessity for me.
Especially in nurseries, I think it's important to make sure you have your storage bases covered…think ahead about where you will store clothes, shoes, diapers, books, toys, and….baby blankets…..enter the DIY baby blanket ladder!
My inspiration for this blanket ladder comes from a blog that I love following…Hey There Home! I stumbled upon this DIY blanket ladder tutorial on Pinterest. You can check out her full tutorial for her blanket ladder here.
We followed her tutorial pretty closely, but changed the size a bit (ours is taller), the stain (used something darker), and slightly adjusted some of the steps in the tutorial.
Related – more farmhouse style decor pieces for your home:
This post contains affiliate links, but nothing that I wouldn't wholeheartedly recommend anyway! Read my full disclosure here.
Supplies for farmhouse baby blanket ladder:
How to make a farmhouse-style baby blanket ladder:

Step 1. Cut wood pieces
The first step is to cut the wood down to size. You'll need:
2 pieces at 6 feet
5 pieces at 18"

Step 2. Sand wood
Grab your sander and lightly sand all edges of the wood pieces. This is especially important for baby blanket ladders so you don't put a stag in those soft swaddle blankets.
We used 150-grit sandpaper with an orbital sander, but you could also use a hand sander or even a sanding block if you don't have a sander.

Step 3. Mark wood
Next, mark the placement of the rungs on the long 6-foot pieces. We left 18" from the bottom and then spaced on rungs 12". There should be about 4.5" remaining at the top.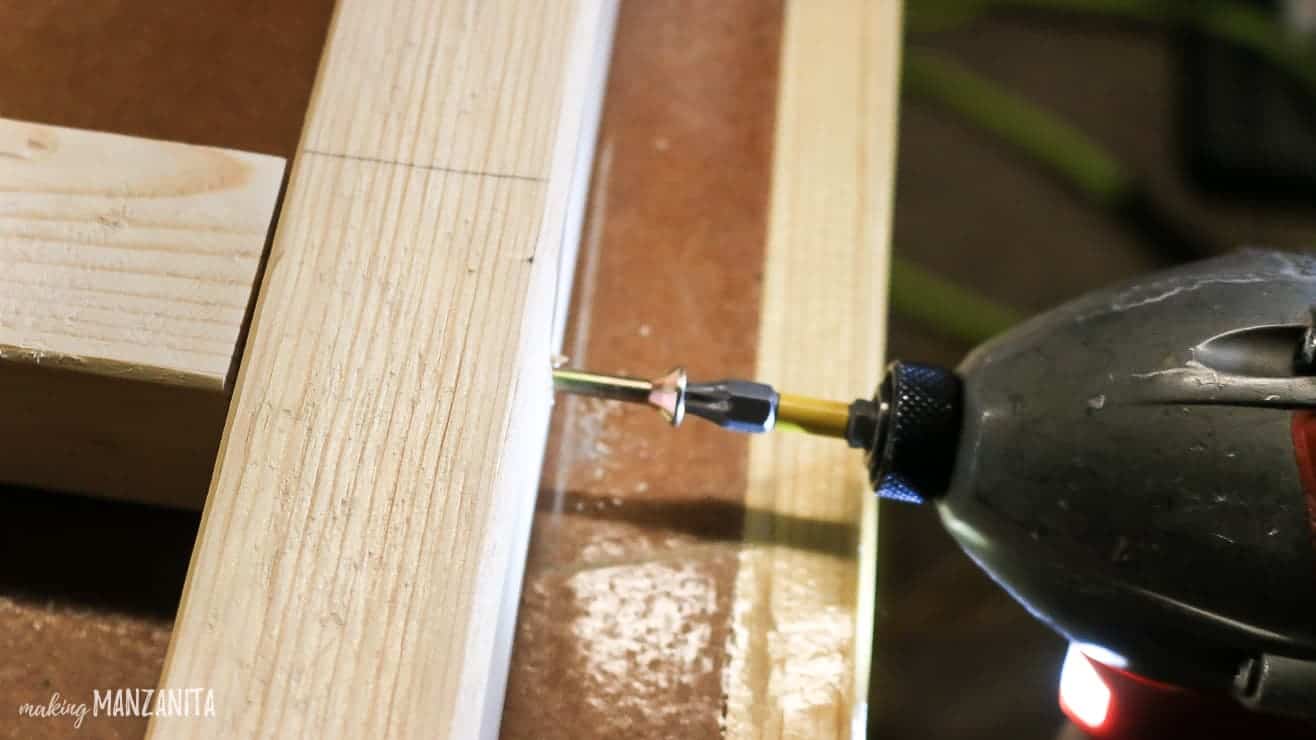 Step 4. Attach rungs
Add a small drop of glue to the ends of the 18" pieces and clamp them into place at your marks. Let dry for a few minutes.
Unclamp and screw each rung into place with 2 1/2" self-drilling wood screws on each rung from the outside.
This blanket ladder was built before the days that we had a pocket hole jig. If we were to redo the ladder today, we would definitely use pocket hole joinery instead!
Step 5. Putty screw holes
Take some wood putty and fill in the holes where you've drilled the screws in. We used a wood putty in the same shade as the stain we were going to apply, but you can also get stainable wood putty that will change color when you add the stain.
If you are using stainable wood putty, it must dry completely before adding the stain. Otherwise, you can start staining pretty quickly after you add the putty.
Related Reading – Learn the difference between wood putty and wood filler here!
Step 6. Stain
Using a staining rag (or an old ripped-up tee shirt or even a foam paint brush), wipe on the stain. Wait 24 hours for the stain to dry completely.
Step 7. Seal
After the stain is dry, seal with a wipe-on poly.
If you're trying to decide whether to use polyurethane vs polycrylic for your project, check out this article with an overview of each.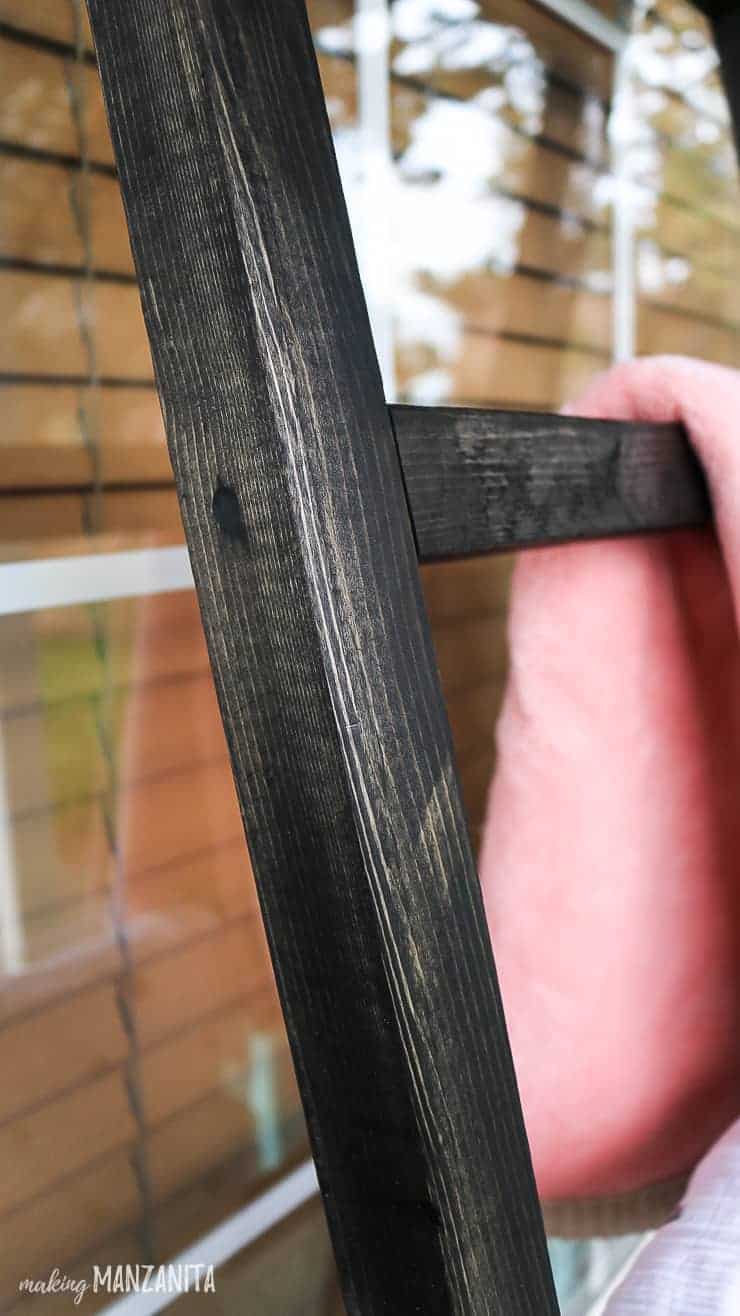 Easy as that!! Outside of the drying time, it didn't take more than 30-40 minutes to make this blanket ladder. It's going to look so awesome in our little one's modern farmhouse nursery.
I love that it will not only provide some aesthetic appeal with a farmhouse style, but it is functional and will hold her baby blankets.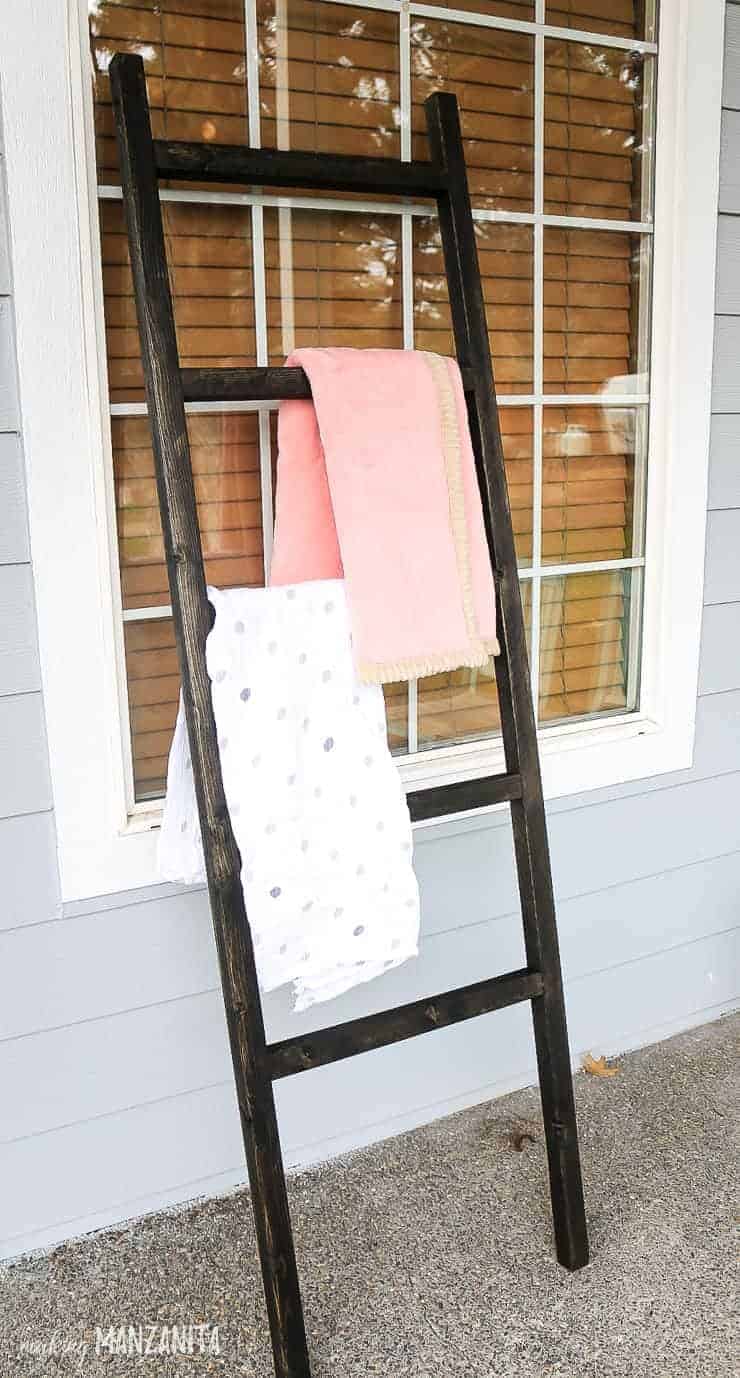 Blanket ladders have been all the rage for years now and I can't believe we waited this long before building one. It was sooooo simple to make and I love how it turned out.
Blanket ladders sell for hundreds of dollars and we only spent less than $8 on the wood for this.
We had all of the other supplies for the blanket ladder on hand. But, even if you had to buy everything needed for this project, you'd only have to spend less than $40 (and you'd have a lot of extras left over).
I'm so glad that we decided to check this simple project off the to-do list after we were inspired by Corey's post.
Stay tuned over the next several months as we continue to work on our little girl's nursery!
What was the last DIY project that you did that was inspired by something you found on Pinterest (or an awesome blog)?
Let me know in the comments below!
Want to see more of our modern farmhouse nursery??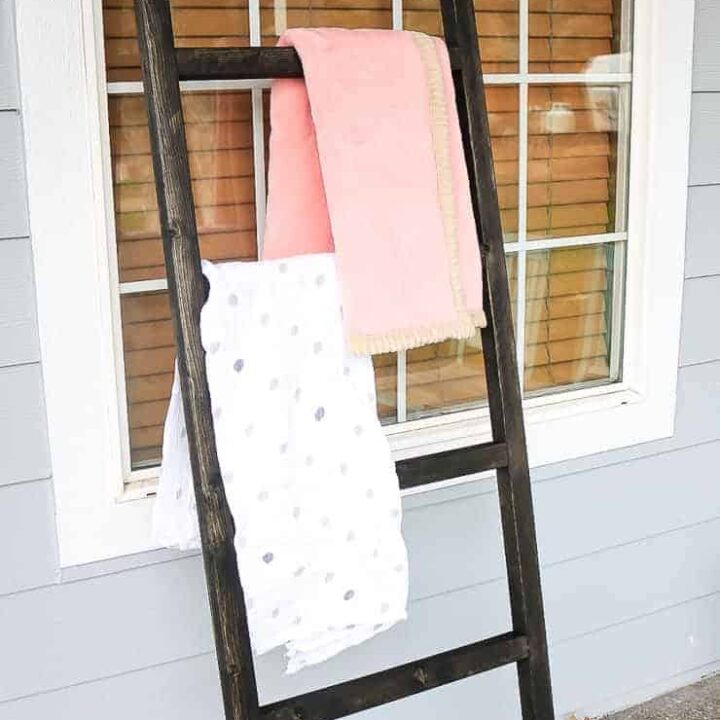 How to Make Baby Blanket Ladder
If you're looking for the perfect farmhouse-style decor element, check out this wood baby blanket ladder! Display cherished baby blankets and keepsakes with this easy farmhouse-style DIY.
Instructions
Cut wood pieces.
Sand wood.
Mark wood.
Attach rungs.
Putty screw holes.
Stain.
Seal.