If you love finding ways to create some incredible pallet wood projects, these 10 unique pallet ideas are perfect for your creative side!
Admit it, the use of pallets for DIY projects is intriguing. We've all seen those amazing pallet wood projects in our friend's homes and have felt instantly drawn to wanting to recreate that same look as well with some recycled pallets. It's the classic tale of "from trash to treasure", right? Trust me when I say that creating an amazing piece of decor from used pallets is absolutely possible and something that ANYONE can do. If you have a bit of time and an inkling of creativity, you're already well on your way to creating your first amazing pallet project. Here are 10 pallet wood projects that you should give absolutely give a try!
This post contains affiliate links, but nothing that I wouldn't wholeheartedly recommend anyway! Read my full disclosure here.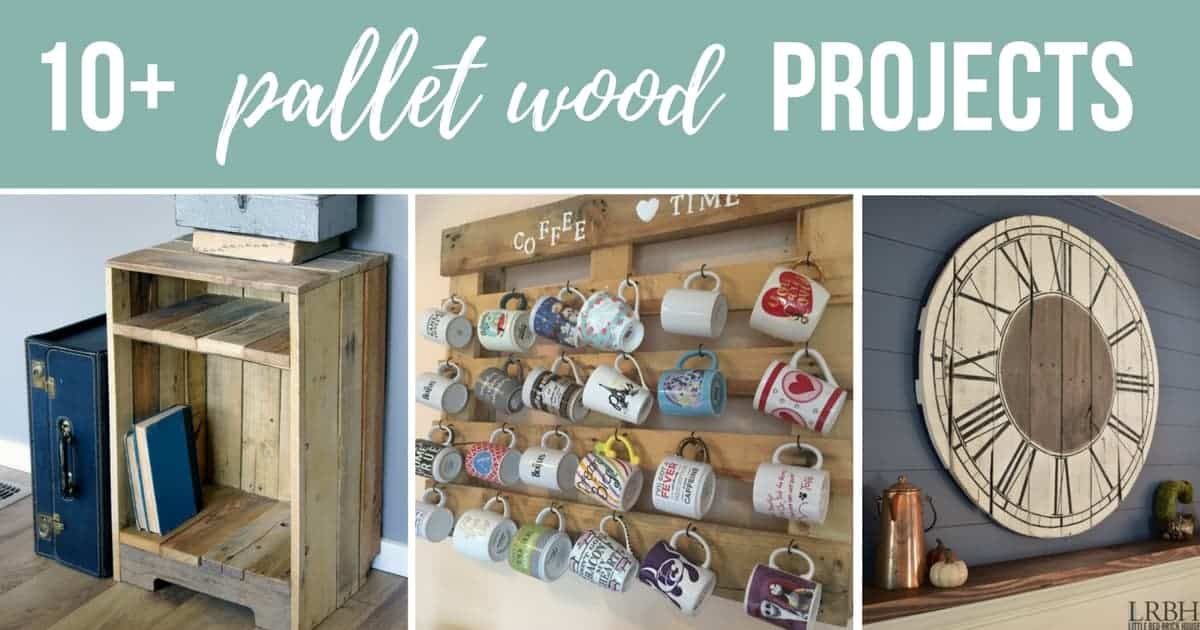 If you love farmhouse decor, then this DIY farmhouse sign is a must. Not only it is simple to DIY, it adds a unique element to your home decor that is sure to catch the eye of your guests instantly.
Photography is all about capturing that perfect picture, right? With this DIY backdrop, you hold the key to creating the backdrop of your dreams, all within a super simple budget!
Having trouble finding that perfect side table to match your rustic home decor? Why not just go ahead and make your own? With this pallet wood side table, you can create it to look exactly how you want it to.
Don't limit the creativity on where you can create in your home to implement those unique pallet ideas. This adorable pallet bookshelf is perfect for any child's room to keep those books nice, neat and tidy.
If your kitchen is anything like mine, there always tends to be a lack of cabinet space available for our ever-growing collection of coffee mugs. Seriously, we filled an entire vintage dresser with all of our mugs (check it out in this post about our coffee station). With an awesome pallet coffee cup holder like this, you don't have to worry about limited space for the mugs!
Traveling is a passion of so many, so why not create a fun recycled pallet project that can showcase all your travels? With this pallet board state map, you can proudly showcase your travels and your creativity, all in one!
With the summer months approaching, now is the time to start thinking about your garden. Are you lacking in space like I am? Creating a pallet herb garden has never been easier than with this simple DIY project! Follow the directions, and you'll have some delicious herbs to enjoy very soon!
Keep in mind that creating fun pallet projects doesn't always have to be for indoor furniture items, but can also include outdoor projects as well. This pallet porch swing is the perfect pallet wood project to ring in the summer!
Looking for a way to spruce up a bit of that home decor? With this super simple roman numeral pallet clock, you'll be taking charge of your decor options and starting out with a win. It's unique, fun and inexpensive – all big reasons to give it a go!
Used pallets are also a great way to cover those eyesores on the outside of your home. If your air conditioning unite needs a face lift, why not create this pallet AC cover to make it look a bit more appealing? It looks great and keeps that AC hidden as well.
If you're looking for pallets, you can usually find them for free either on Craigslist or just by asking around at some local businesses or grocery stories. Once you do get your hands on some pallets, try a few of these pallet wood projects to see if you can create something that you'll love adding to your home.
Have fun in creating something unique and one-of-a-kind, and let is be displayed for all to see. You never know, your pallet projects may be quite the inspiration for others to start upcycling items throughout their home as well.