If you're looking for inexpensive furniture, build your own with pallet wood. I love this side table with rustic style.
We love pallets. Like…really love pallets. We have used pallets to build most of the furniture in our home (including our bed and this nifty AC cover)… True story, I had to talk my husband out of building a pallet couch. So, when we needed a side table in our living room next to the recliner…we turned to pallets, of course. I love how this pallet wood side table with rustic style turned out.
We always have a steady stream of pallet wood in our scrap wood pile, so we literally spent NO money building this pallet wood side table.
This fun DIY table was my crafty destash project of the month! I love this day every month seeing what all of the other bloggers have come up with using just the supplies they already have in their craft rooms (or garage in my case)!  It always gives me so much inspiration to use up some of the supplies we all have sitting around!
Related posts – my pallet wood projects:
This pallet wood side table post contains affiliate links, but nothing that I wouldn't wholeheartedly recommend anyway! Read my full disclosure here.
Supplies for pallet wood side table with rustic style: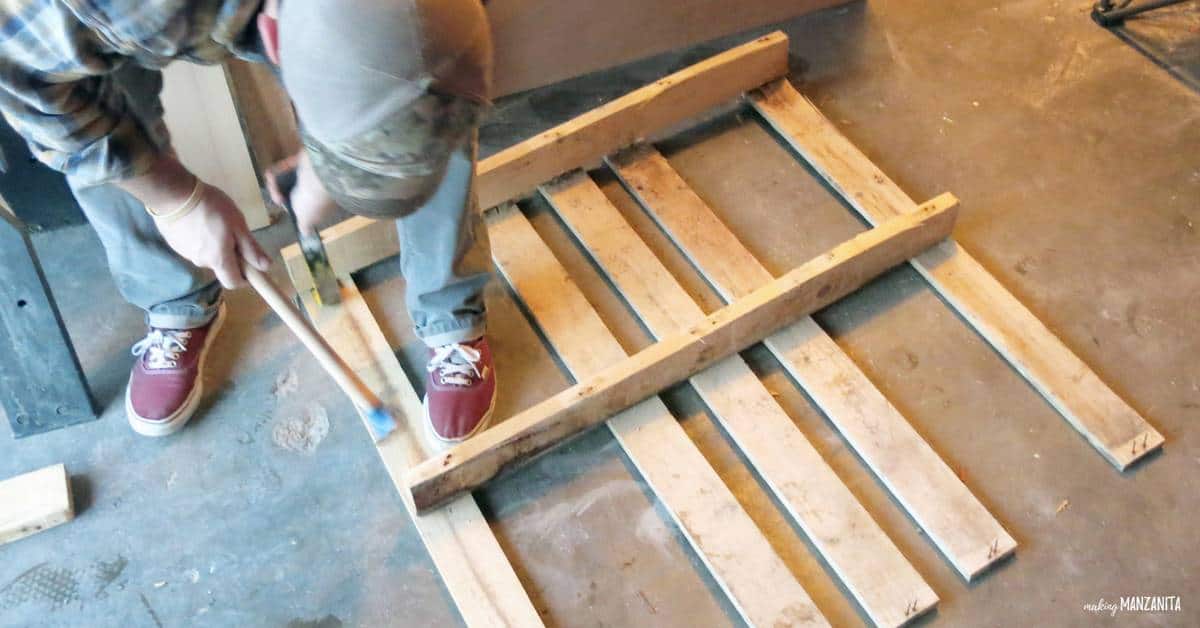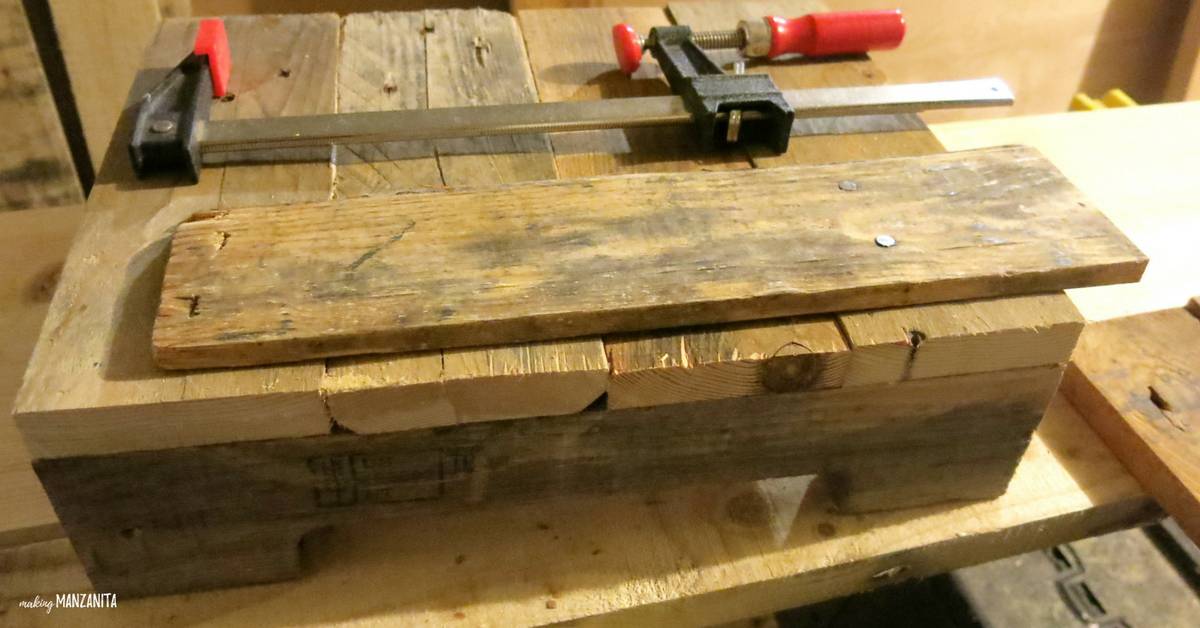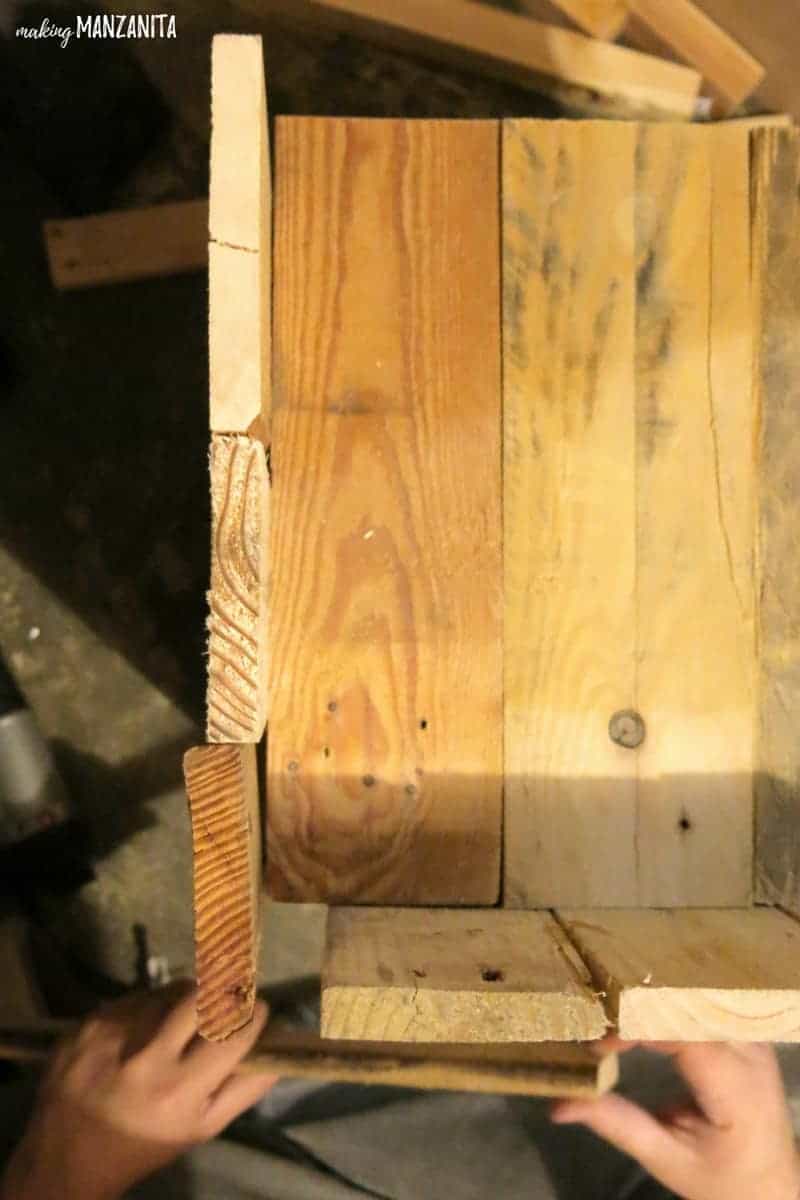 Here's how we made this pallet wood side table with rustic style:
Dismantle pallet. We typically use our handy Pallet Buster to take apart pallets in combination with a crow bar (shown above). We also lightly sanded the pallets after taking them apart. This helps remove any loose pieces or splinters.
Build base. We created a platform base for the table by making a square and then covering the top with pallet wood planks.
Attach side walls. We cut all of the pallet wood planks down to the same size and wrapped them around the base and nailed in at the bottom.
Build and attach shelf and top of the pallet wood side table. We added a shelf about 5-6 inches from the top. To do this, we drew a light pencil line around the table, cut the pallet wood down to size, held them in place and nailed from the outside. We added pallet wood planks to the top of the shelf and nailed them on around the edge from the top.
Seal the pallet wood side table. We rubbed on a finishing wax.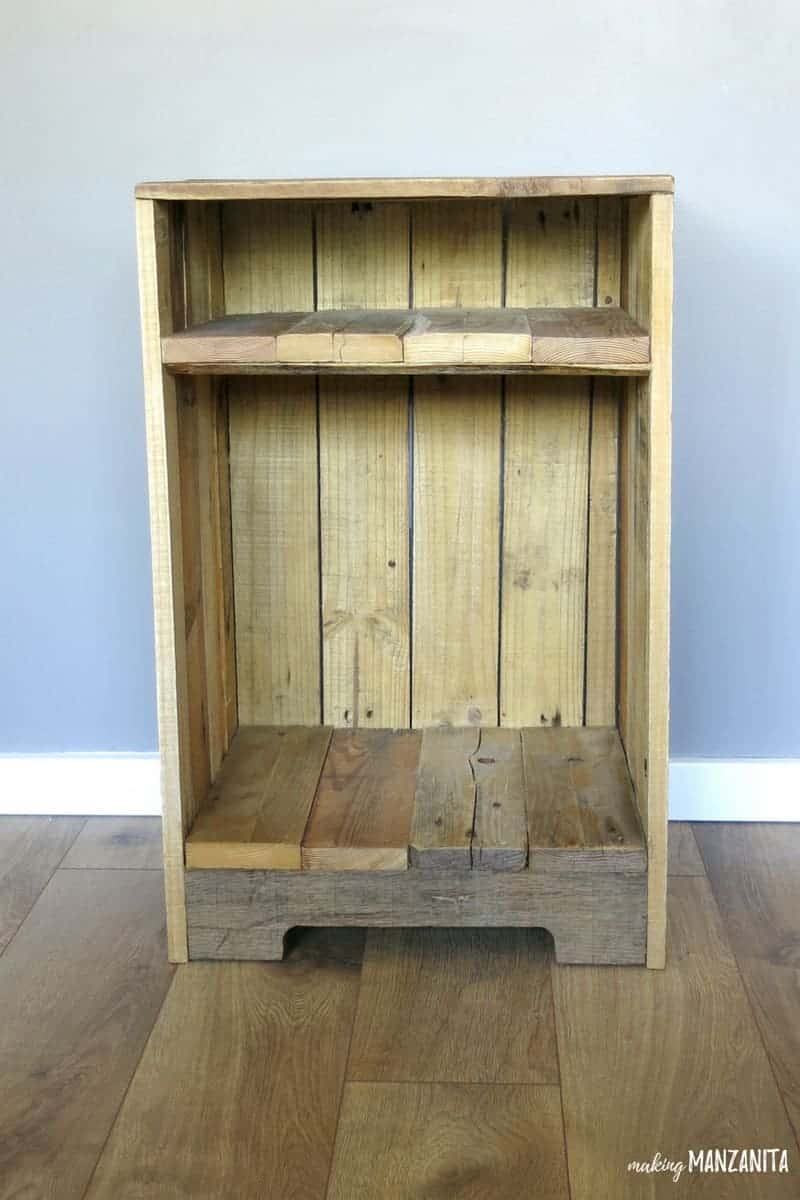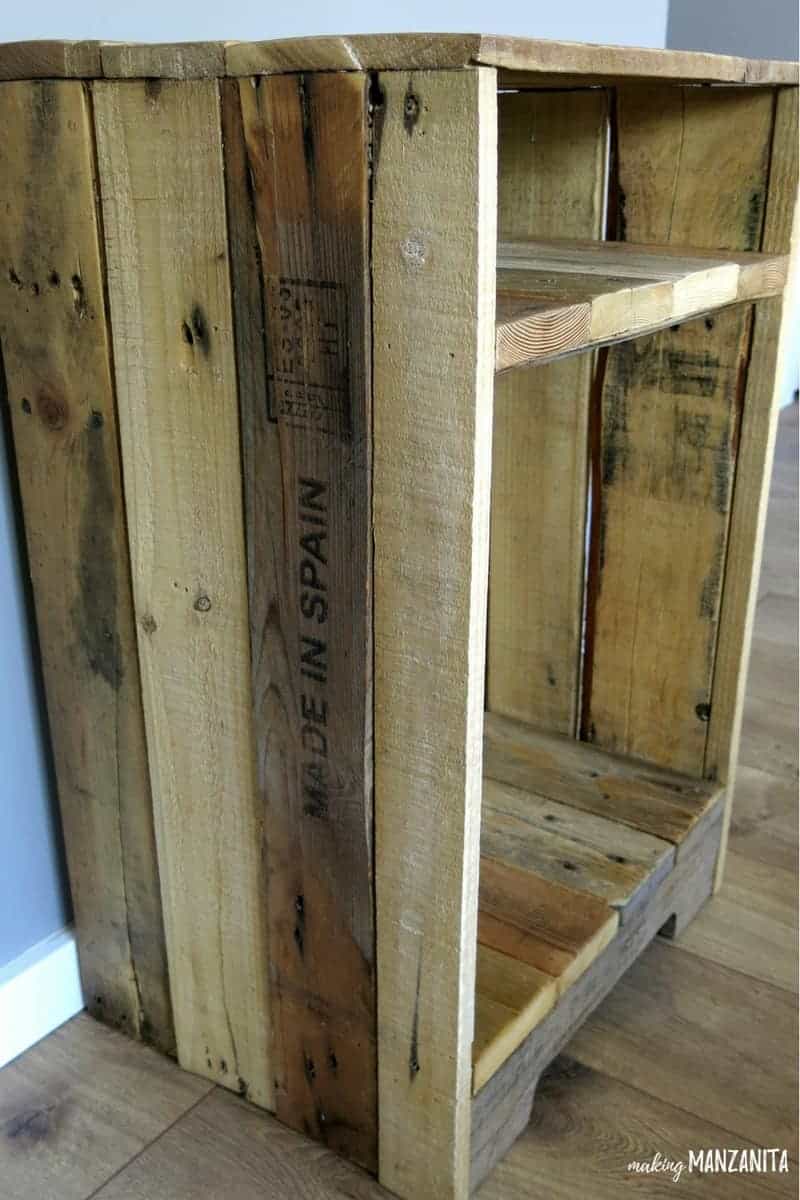 Isn't that just the cutest little pallet wood side table you've ever seen?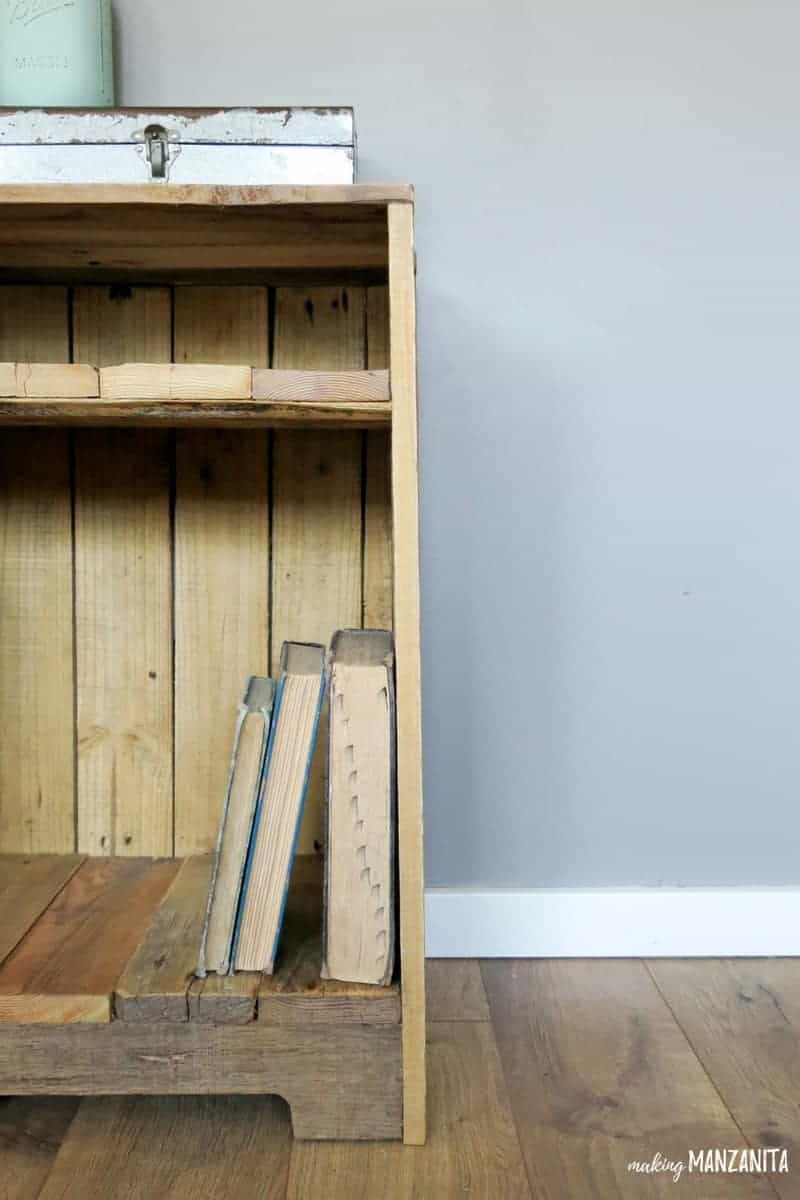 Building pallet furniture is a great way to create budget friendly, unique pieces for your home. My favorite part about building pallet furniture is that no one else in the world has this side table… ok well, maybe if you follow our pallet wood side table tutorial you'll have a very similar table ! Hehe. But every pallet is so different so you'll likely end up with something that looks a bit different.
You can customize this pallet wood side table to fit in with your home. The wood can be painted, sanded and stained and just left natural like we have done.
I had some fun staging this little pallet wood side table when I was taking some pictures for new inventory in my Etsy shop, Manzanita Exchange. P.S. That vintage metal tool box, vintage suitcase and books will all be available soon!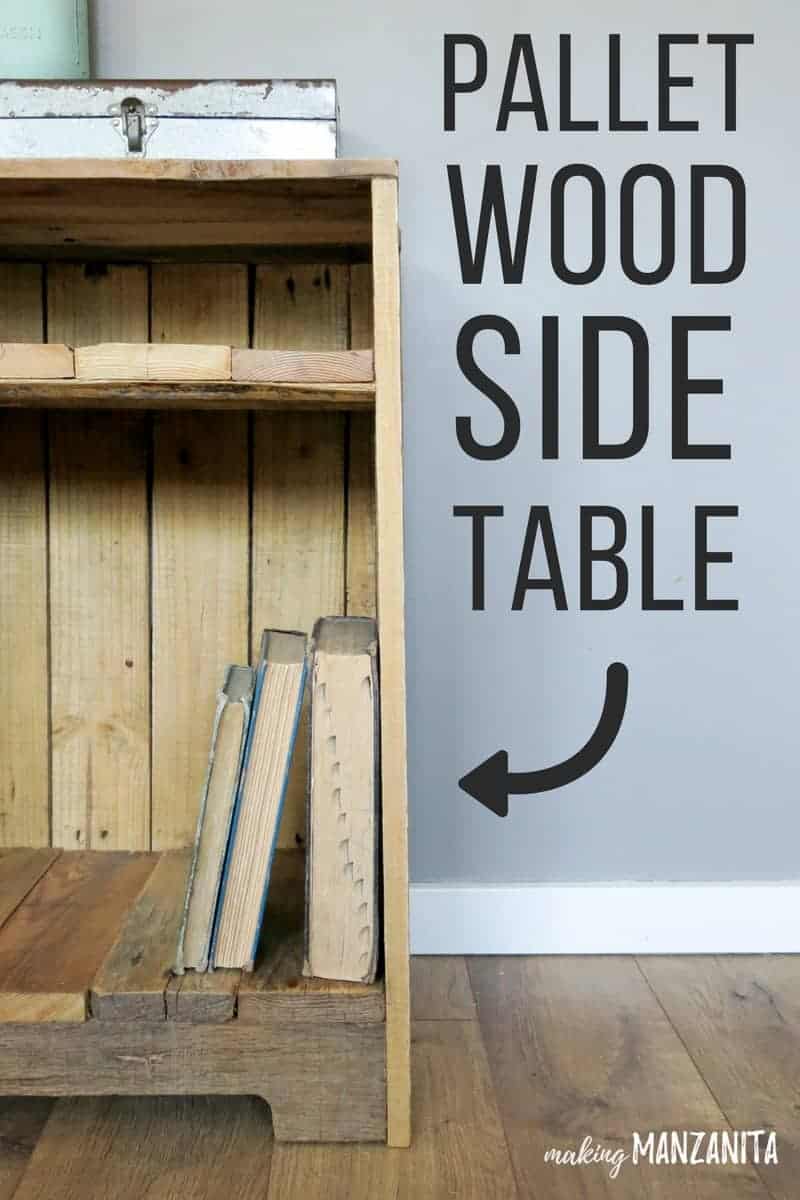 Have you ever used pallets to build furniture ?
Let me know in the comments !!