Finding lumber for your next woodworking project can be a challenge. Learn how to find free or cheap wood with these creative options. If you don't have much wood in your scrap pile and you're ready to bring a new project to life, these ideas can save you tons of money.
If you're anything like us, you use your scrap wood for many different kinds of projects. With the costs of lumber soaring, purchasing brand new pieces of wood isn't always ideal. Plus, we've seen lumber inventories plummet recently.
We're doing all we can to try to keep lumber costs down over here, which means getting creative on the type of wood we're using for our woodworking projects! We've found a few options that have helped us find the lumber we need and we are sharing those with you today.
Besides discounted lumber from the hardware store, you can find free or cheap wood through networking groups, neighborhood contractors, and other avenues you may have not thought of.
The next time you have a woodworking project in mind, check out these options for finding free or cheap lumber.
Working with Scrap Wood
While free or cheap is always a fun find, it's important to note that salvaged materials aren't all created equal. The scrap pieces you find here and there are great for smaller projects, but if you are working on a full-scale lumber project, like a wood deck or other structure (like a new interior wall), it's best to buy a fresh supply of brand new lumber to ensure quality.
Plus, you know what the lumber is and if it has been exposed to weather elements, paints, stains, and other things that may affect the quality. Better safe than sorry!
Where to Find Free or Cheap Lumber: 9 Ideas
Think of finding cheap lumber as an adventure. Don't hold the expectation that you will find the perfect pieces on the first search.
Using scrap means being flexible in your vision of the finished product. Hopefully, by checking in these 9 different locations for free and cheap wood, you'll find materials that are usable for your next woodworking project.
Search the Web
Surfing the web is probably the easiest way to begin your search for free wood.
In many cases, sites like Craigslist, LetGo, and Facebook Marketplace have plenty of people offering up their lumber for free or reduced prices. Also, check home renovation Facebook groups located in your area for freebies, too.
Cruise the Neighborhood
It's funny: when we don't have a project in the works, it seems like we always see roadside piles of old furniture or building materials. These are great sources for extra pieces!
People are always putting old coffee tables, dressers, and broken furniture on the roadside for pick-up. Remember, these items can be easily disassembled, sanded, painted, stained, and repurposed.
Many times you'll see items put out on the side of the road with a "free" sign on it. When we lived in a bigger city, San Diego, the alleyways in-between homes in neighborhoods were always great places to find free things that people put out for the taking.
When you are searching, be mindful of another person's property as you are looking through the trash pile. In fact, it may be best to check with the homeowner to see if they mind you searching and taking. Regardless, don't leave trash strewn everywhere. Leave the area the same or better than when you found it.
Additionally, yard sales are great for pouncing on at the end of the day. In many cases, you can help them by taking the furniture that they would otherwise have transported to a thrift store.
Thrift Stores
Thrift stores are an excellent place for finding furniture for cheap lumber. Since you will be sanding and recreating, the condition really doesn't matter.
In many cases, large dressers cost as little as $25-$50, which could help you with a really big project! Smaller coffee tables and side tables are usually around $10, depending on their condition.
Demolition and Remodeling Sites
If you really want to beef up your scrap wood pile, demolition or remodeling contractors could be a big win!
You can make arrangements with contractors by providing a trailer that they can load up as they are doing the demolition, and then return to pick up the materials when they are through. Be specific about what you are and are not willing to take from the site.
Of course, never sift through materials on any construction site without permission.
Additionally, save pieces from other demo projects you complete yourself. Create storage space in your garage and sort the pieces accordingly.
New Construction Sites
New construction sites can be a great source for finding free materials, especially scrap wood. In most cases, new build contractors have no use for scraps, so they are happy if you take it off their hands.
Of course, ALWAYS ask before taking anything from a construction site. Don't assume it's not needed or available for the taking, and NEVER step foot on a site if the construction team is not present.
Use Plywood
Another way to cut corners with your woodworking project is to use plywood as an alternative to real wood. We did this with the slat wall in our living room. We cut down sheets of plywood to look like real pieces of oak hardwood.
Originally, we planned on using oak boards but when we realized it was going to be almost $700, I knew I had to pivot. Instead of using hardwood, we ripped down large 4' x 8' sheets of plywood into 1 1/2" wide strips. We cut the sheets down, sanded, sealed, and installed them. In total, we saved about $500!
This goes to show you just how much money you can save by thinking outside the box. Plus, you can't even tell it's plywood.
Use MDF Wood
The same can be done with MDF wood. MDF acts a lot like real wood once it is painted but is much cheaper than the real deal. We've used MDF in many places throughout our home, including our baseboards.
Other projects with MDF include an indoor barn door, hallway cabinets, board and batten accent wall in the nursery, wooden Letters for walls, and the trim on our mudroom locker doors. It's a great solution for building low-traffic, painted, décor-focused items around your home.
Discounted Lumber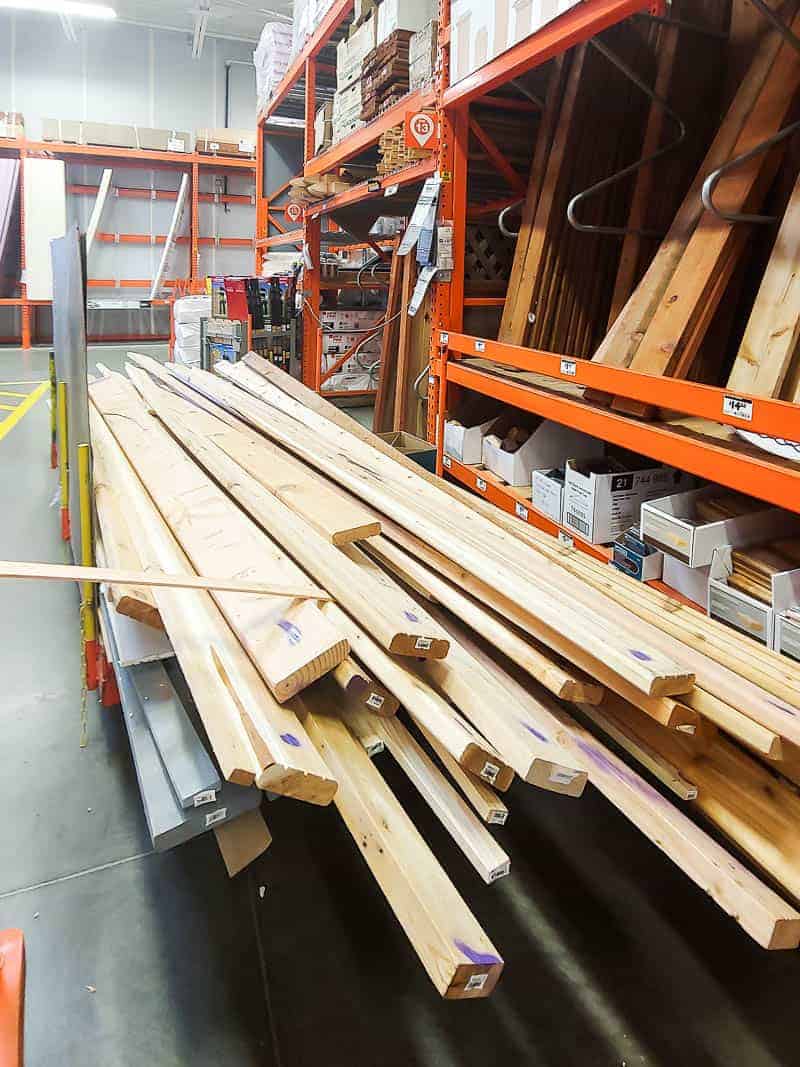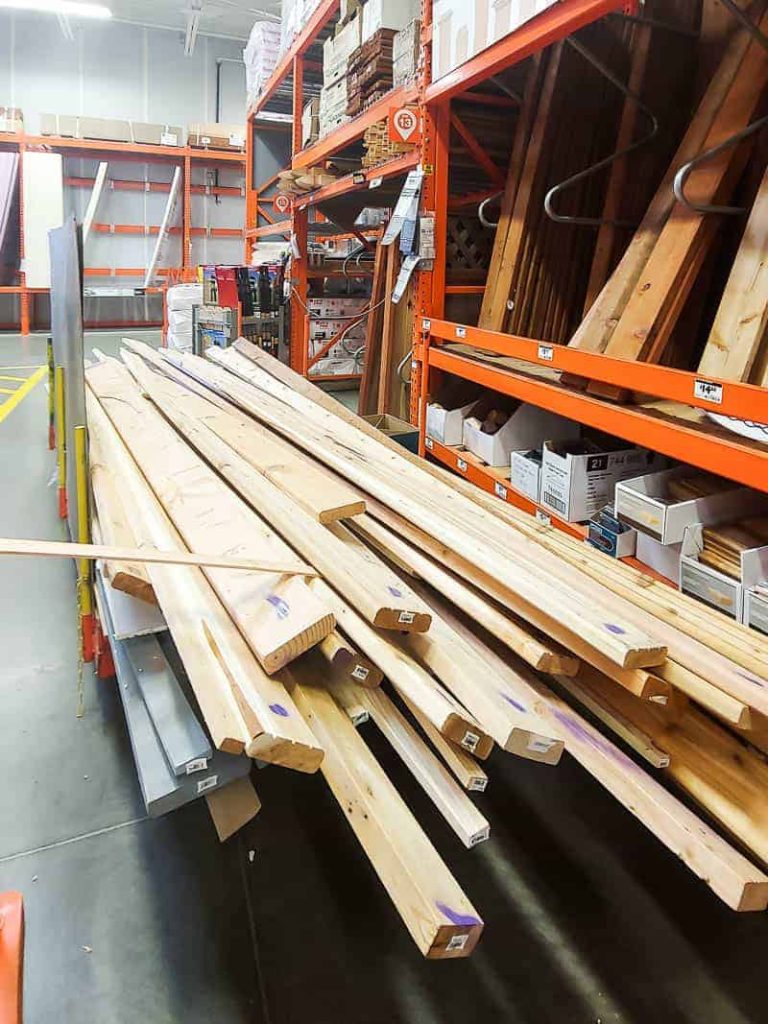 Much like stores have clearance racks, big-box home improvement stores have discounted lumber or "cull" lumber.
If your store has a discounted wood section, it will likely be in the very back of the store. Cull lumber is typically marked with purple spray paint at the end of the board to distinguish it.
These pieces of lumber are usually damaged during transport, returned by contractors or customers, or from canceled orders.
Cull lumber is usually damaged in some way, so be sure you know what to look for before purchasing.
Minor imperfections and damage are usually easy to work around, but warping and splitting could impact larger projects.
Lumberyard Bundles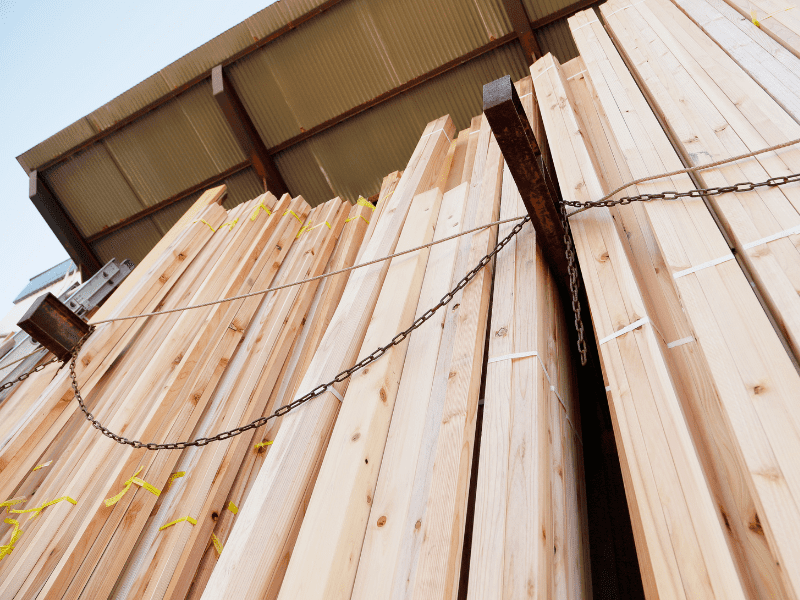 Lumber yards are also an option for finding cheap or free wood. But, if you aren't exactly sure what you're looking for, you could end up leaving more overwhelmed than when you arrived.
Most lumberyards will lump similar types of wood together and sell them as bundles, just to get rid of the material faster. It can save you a lot of money! Going this route could mean you come home with a lot of lumber, so keep this in mind when you are planning.
It would be good to arm yourself by knowing exactly what you need for your project and the sizes of lumber. Planning ahead is easy when you are using a woodworking plan for your project. Lumber sizes can get confusing so make sure you are up to speed on the different lumber dimensions before buying.
With lumber prices rising, you have to get creative when it comes to finding your wood for projects. By checking in these 9 creative locations, you'll be able to find cheap or, in some cases, even free lumber for your next woodworking project.
At the very least, you'll probably be able to find more wood to add to your scrap pile to save money on your next small woodworking project.
Is there anywhere else you've been able to find cheap or free wood?
Let us know in the comments below!