If you are a new woodworker, you may have noticed that the dimensions of wood sold are not the actual lumber dimensions. Yep that's right, your 2×4 actual size is not 2″ x 4″. Understanding the differences between nominal vs actual lumber will save you a lot of frustration and even money. This lumber size chart should help!
Heading to a home improvement store, like The Home Depot or Lowes, to purchase lumber is already intimidating for many. Believe me, we've been there!
With all the different types of wood to choose from and things to consider when you're buying lumber, there can be a lot of confusion for a beginner.
What makes it even MORE confusing is the fact that the for 2×4 actual size is not 2 inches by 4 inches and a 1×2 is not 1 inch by 2 inches. Say what?!
I would imagine there are a lot of people get confused when they try to figure out lumber dimensions, so I thought I'd break it down and lay out the differences and how they can affect woodworking projects.
You will walk away with a comprehensive understanding of the different measurements of lumber and how to buy the right measurements with confidence after reading this article.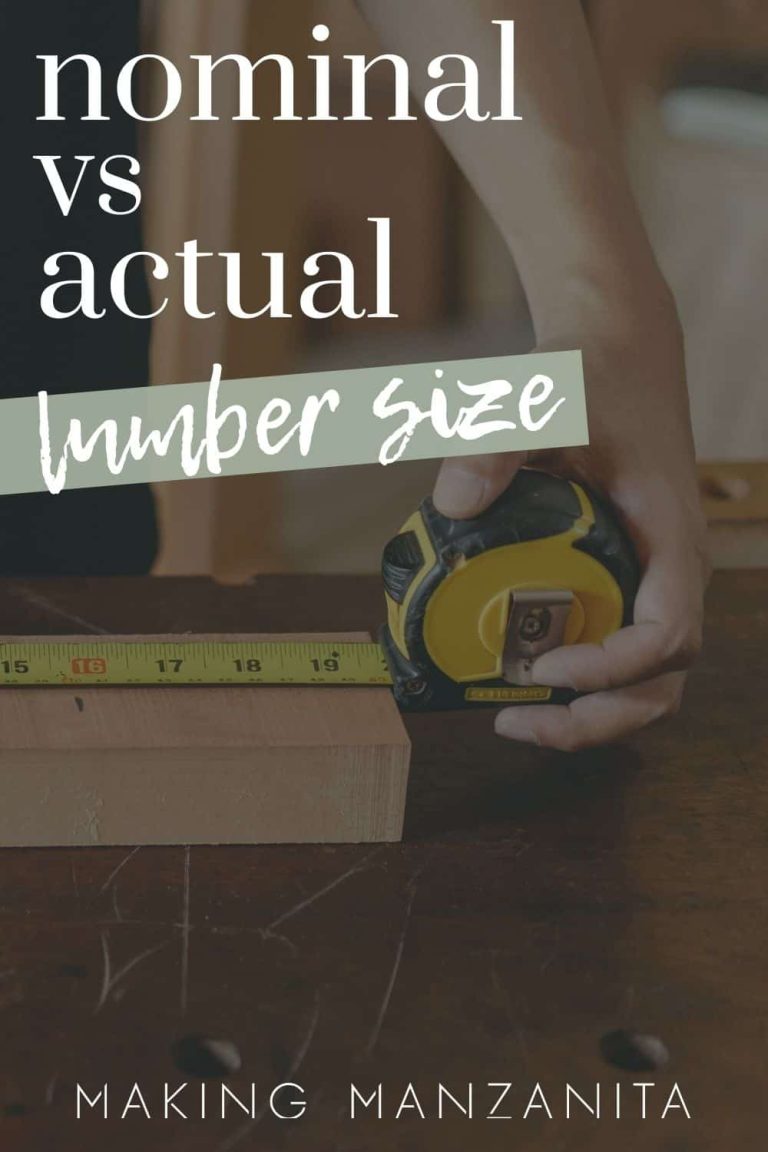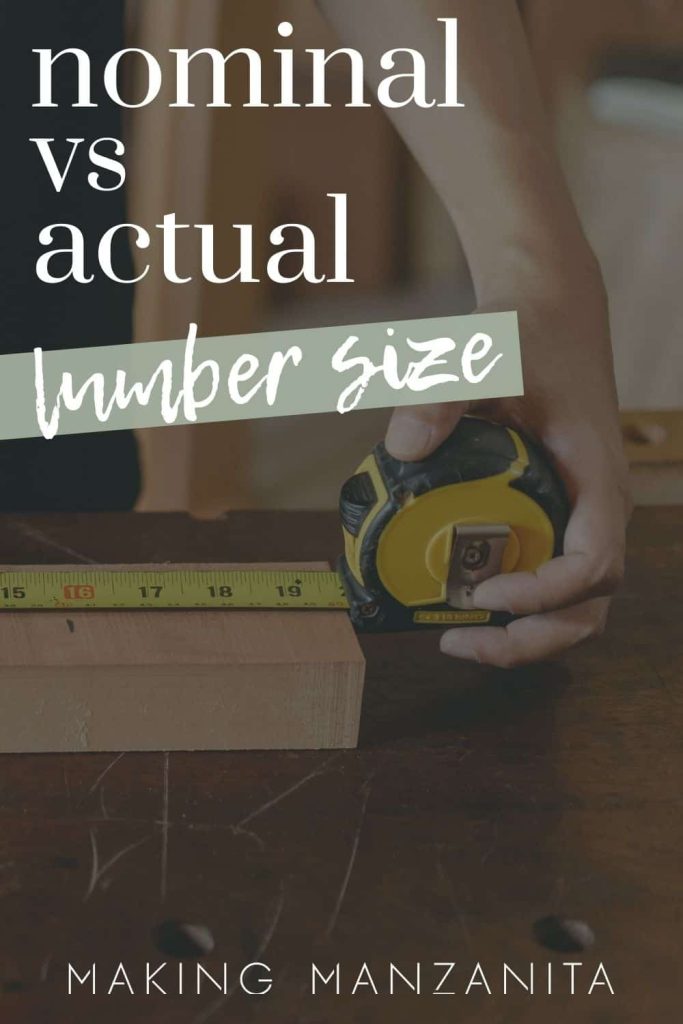 Nominal vs actual lumber dimensions
Having a good grasp of the differences in lumber dimensions will ensure your project runs smoothly and efficiently. Otherwise, you will be in a spiral of confusion, frustration, and spending the extra money to fix your mistakes.
First, it's good to note that there are a few nuances in terminology.
Here are three terms to keep in mind as you read this article:
Dimensional lumber: Lumber that is cut and sold at a specific width and depth. These are the 2x4s, 1x2s and the like that are sold at lumberyards and big box home improvement stores.
Nominal size: Refers to the name of the lumber size before planing (ie: 1×2 or 2×4).
Actual size: Refers to the actual dimensions of the lumber after planing and surfacing the lumber.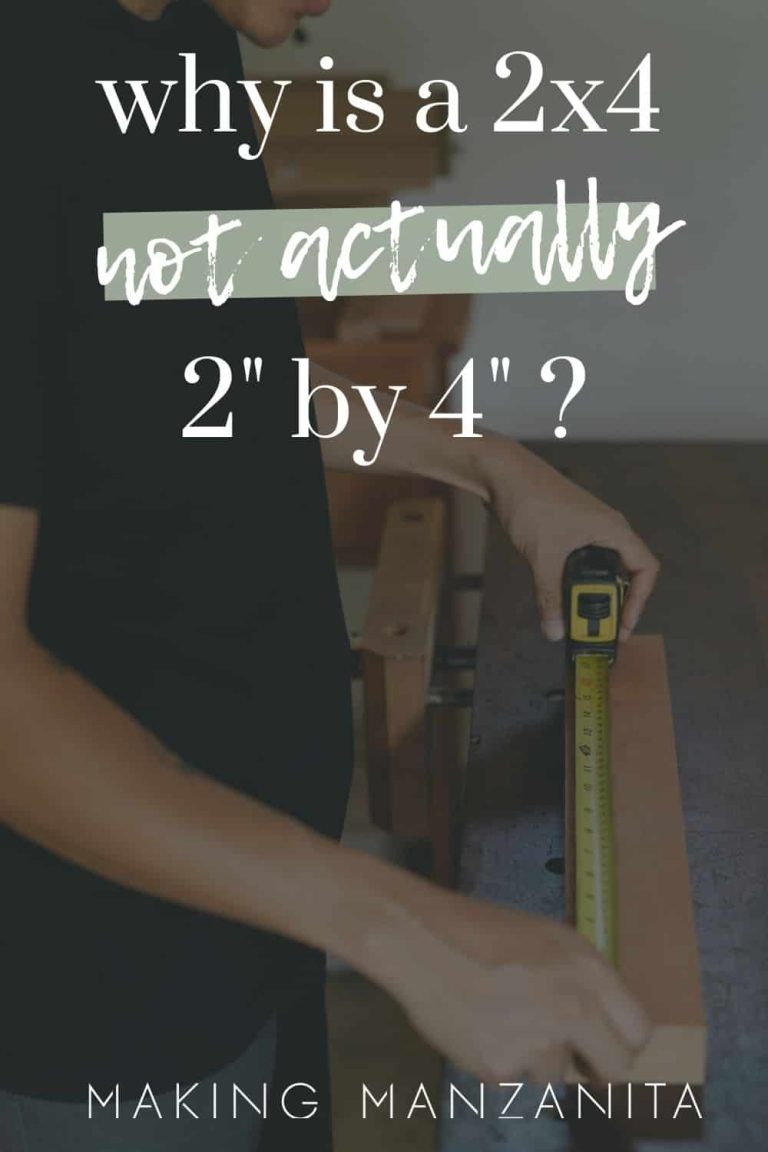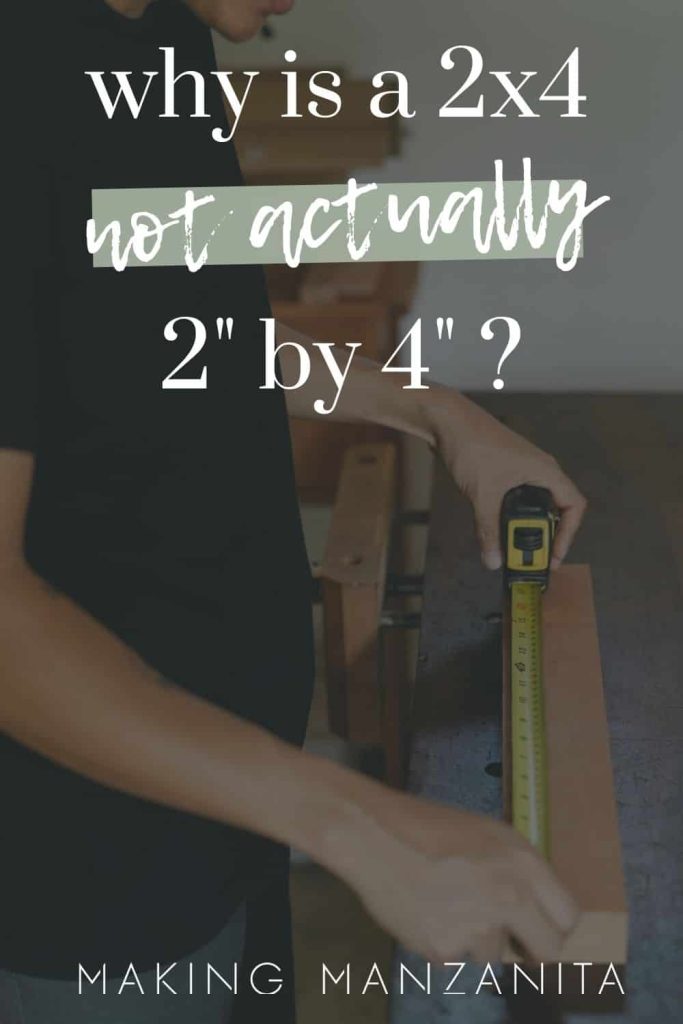 Why are actual lumber dimensions different?
The nominal names that we're familiar with (1×2, 2×4, 1×12, etc). refer to the wood size before it has been planed smooth (or surfaced) and squared up on all four sides. There is also some shrinkage that occurs as the wood dries out, both naturally and from the kiln.
Hardwood vs softwood lumber sizes
To make things more complicated, hardwood sizing standards are different from softwood standards. If you're confused if your lumber is a hardwood or softwood, be sure to check out this article for clarification.
Hardwood Lumber Dimensions: Hardwood lumber is sized based on how many sides are surfaced, or smoothed (to remove saw marks).
Hardwoods are rarely sold in standard dimensions, like softwoods, but are sold in board foot or in quarters.
Softwood Lumber Dimensions: Softwood lumber is measured in a number of different standard sizes.
There are so many different specifics to mention, but let's stick to the basics for now.
If all of this is still a little muddy, don't worry! Generally, any associate at a lumberyard or home improvement store will have a full understanding of the individual nuances between measurements and the different types of lumber. You can even bring a copy of your woodworking plans and measurements, and they will guide you in the right direction.
What is the difference between nominal vs actual lumber sizes?
Now, here's an explanation of the difference between nominal and actual lumber sizes.
Nominal Lumber Sizes
Nominal lumber refers to the name of the dimension. The nominal measurements are the board's size before it has been planed smooth on all four sides.
After it has been planed, smoothed and kiln dried, the board will come in at a slightly smaller size which is measured as the actual lumber size.
For example, common measurements, like 2×4, are simply a name that refers to lumber dimensions, but the cross-section dimensions of a piece of lumber are almost always slightly larger than the actual dimensions.
In reality, a 2×4 actual size measures 1-1/2 inches by 3-1/2 inches.
Actual Lumber Sizes
Actual lumber sizes are pieces of lumber that are cut to standard sizes and refers to depth and width, but not length.
Actual lumber is sawn, planed, and smoothed, and it's generally made ready for many applications. It's also the most common lumber for building as it's ready to use and universally consistent in sizing.
For example, a 2×4 actual dimensions measure 1-1/2 inches by 3-1/2 inches. The actual size of a 2×4 is a ½ inch smaller than its nominal dimensions.
Keep in mind that the actual size of a piece of lumber is anywhere from ¼ inch to ¾ inch less than the nominal size.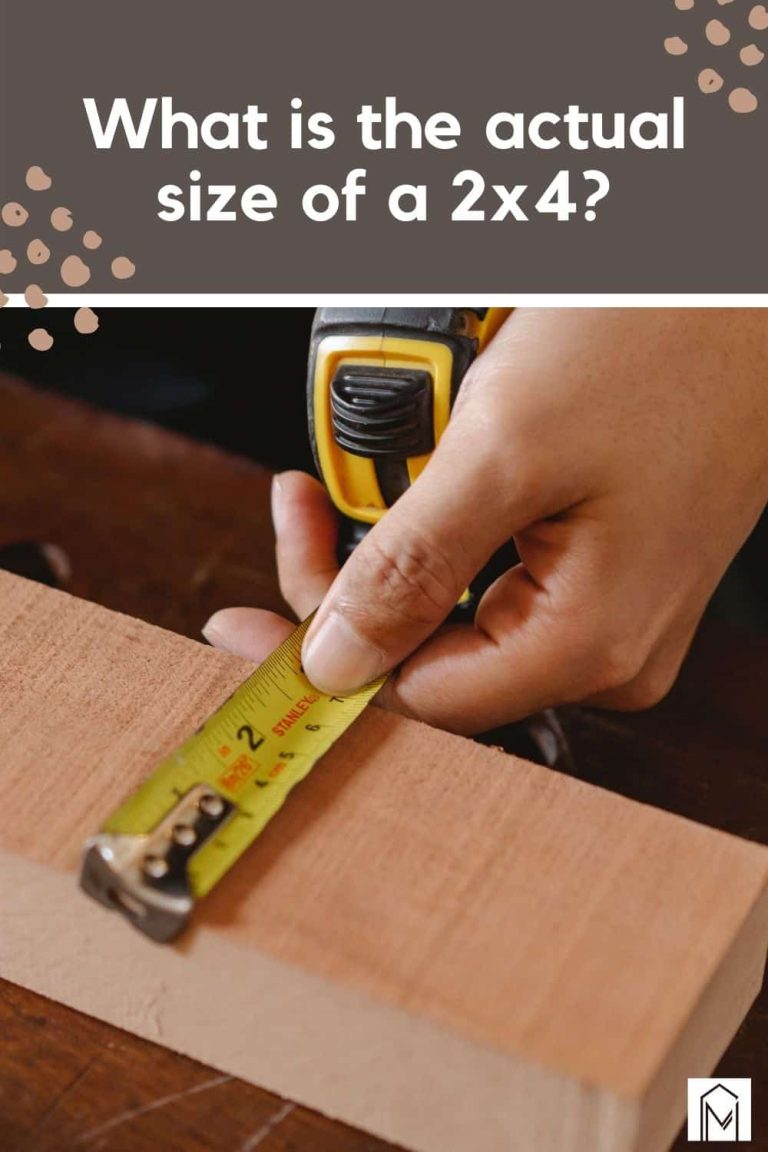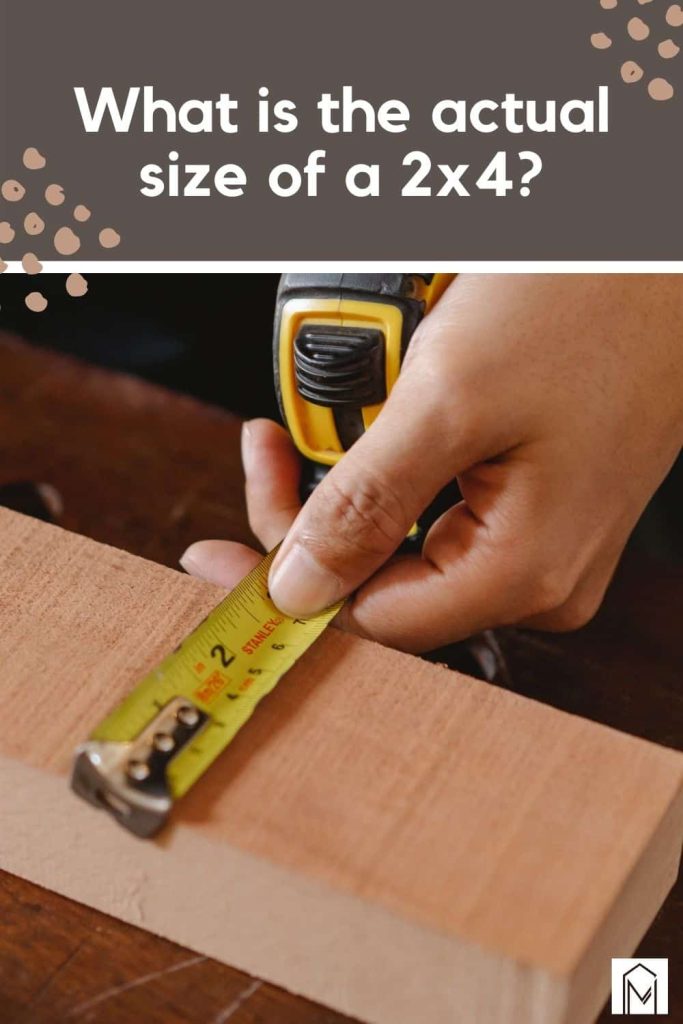 Lumber size chart
Learning the actual lumber sizes that correlate to nominal lumber dimensions is the key to successful woodworking projects. The lumber size chart below will help you know what to buy and how to properly plan your project.
| | |
| --- | --- |
| Nominal Size | Actual Size |
| 1X2 | 3/4" X 1 – 1/2" |
| 1X3 | 3/4" X 2 – 1/2" |
| 1X4 | 3/4" X 3 – 1/2″ |
| 1X6 | 3/4″ X 5 – 1/2" |
| 1X8 | 3/4″ X 7 – 1/4″ |
| 2X2 | 1 – 1/2" X 1 – 1/2″ |
| 2X4 | 1 – 1/2″ X 3 – 1/2″ |
| 2X6 | 1 – 1/2″ X 5 – 1/2″ |
| 2X8 | 1 – 1/2″ X 7 – 1/4″ |
| 4X4 | 3 – 1/2" X 3 – 1/2″ |
And just like that, you're a pro!
Next time you go to store to buy lumber, you'll be ready to buy the right size for your project because you know not that nominal vs actual lumber dimensions are different! Using the size chart can help you make sure you're buying the right amount of wood for your next project!
Do you have any other questions about lumber?
Let us know in the comments below!