If you are looking for 4th of July Decor for your home or front door, you're going to go love this ribbon flag DIY hanging.
I love the 4th of July. Next to Christmas, it's my favorite holiday. There's something special about a day filled with festivals, family, parades and sunburns. Then it's followed with a night filled with BBQ and fireworks….all while celebrating America! Sounds pretty awesome, doesn't it?
One thing that I am trying to get better at doing this year is making DIYs and decorating for the seasons.
Some of you may think it is silly to decorate for seasons other than Christmas, but I love having the decorations changed around every so often.
The holidays feel so much more special when there are little reminders around your house. I'd love to hear what you've been DIYing lately for 4th of July Decor! Let me know in the comments below.
Last July, I was a bit of a hot mess with a newborn in tow. I didn't get my 4th of July Decor done until LITERALLY the week of the 4th, but I shared it with you anyway because you can be patriotic all year round, right?
Today's ribbon flag DIY is part of the monthly Craft Room Destash Challenge, which is always one of my favorite projects every month. I bet you have a lot of these supplies sitting around in your craft room too!
I mean, who doesn't have a branch from outside and some fabric and ribbon laying around!? You can help clean up your craft stash by making this fun 4th of July decor.
Related Posts – My Other Craft Room Destash DIYs:
This post contains affiliate links, but nothing that I wouldn't wholeheartedly recommend anyway! Read my full disclosure here.
---
Let's jump right in and make this DIY ribbon flag!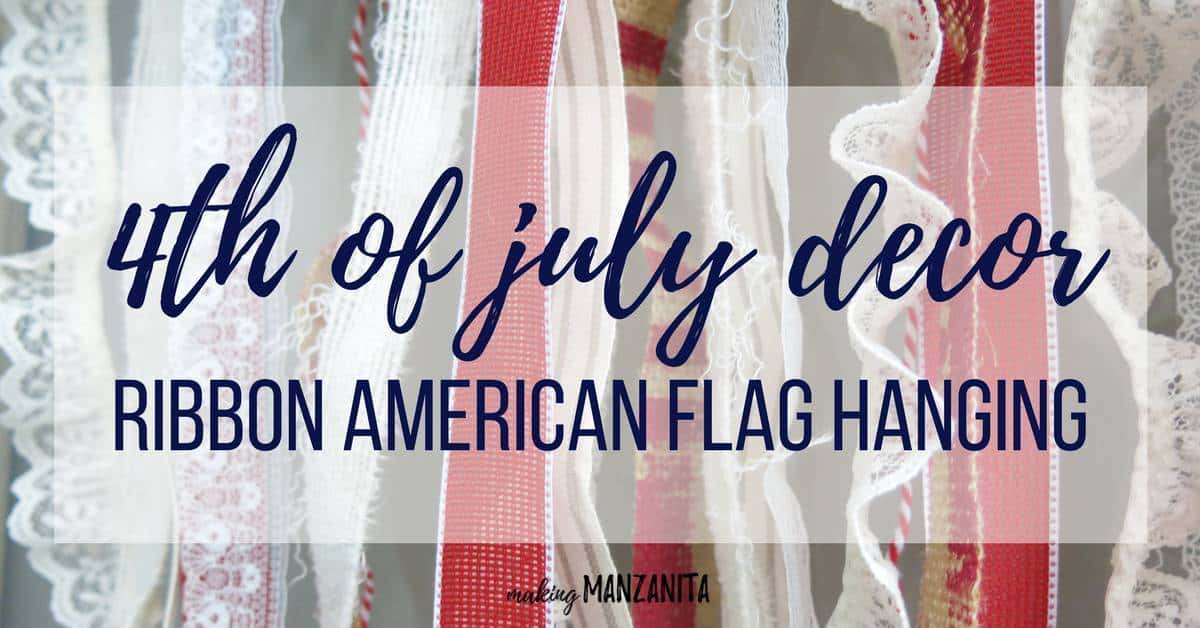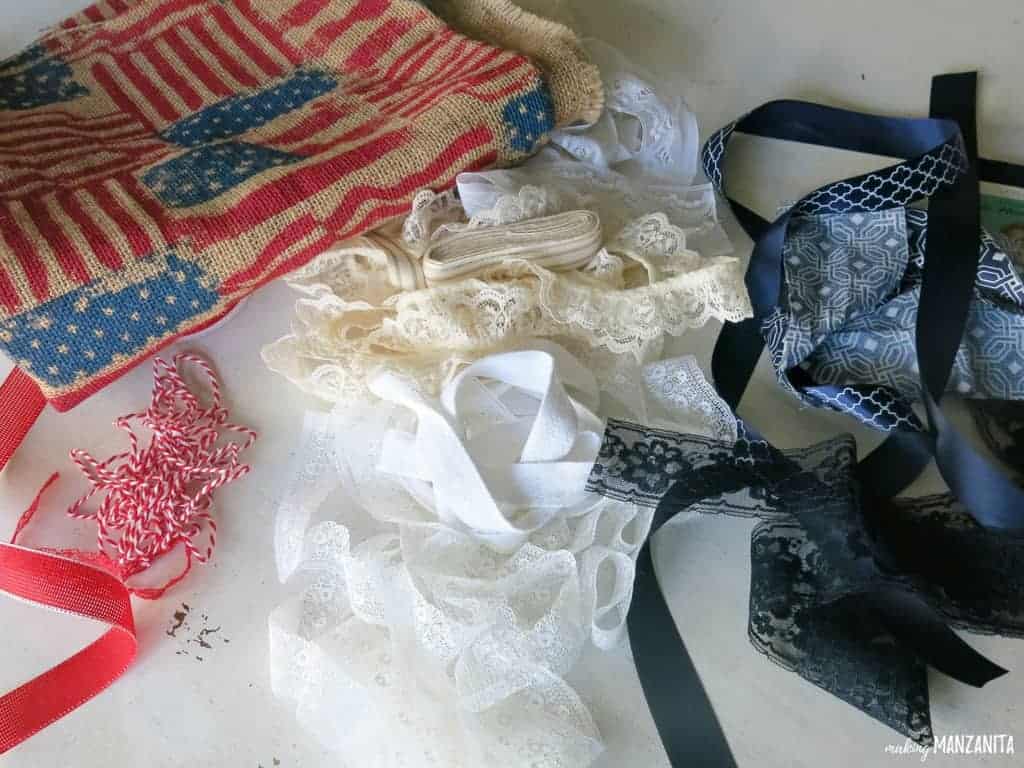 Supplies needed for this DIY American flag ribbon hanging:
Scraps of flag print burlap (or red burlap) – you'll need less than 1 yard

I got my cute flag print burlap at a thrift store for 50 cents a long time ago. I haven't be able to find anything like it online, so you could alternatively use red burlap or even ripped red fabric if you can't track something down like I used.

White ribbon or strips of white fabric
Various pieces of blue ribbon or fabric
Scissors – love these ones for cutting ribbon and fabric
Twig or wooden dowel – 15 inches wide
How to make a 4th of July DIY American flag ribbon window hanging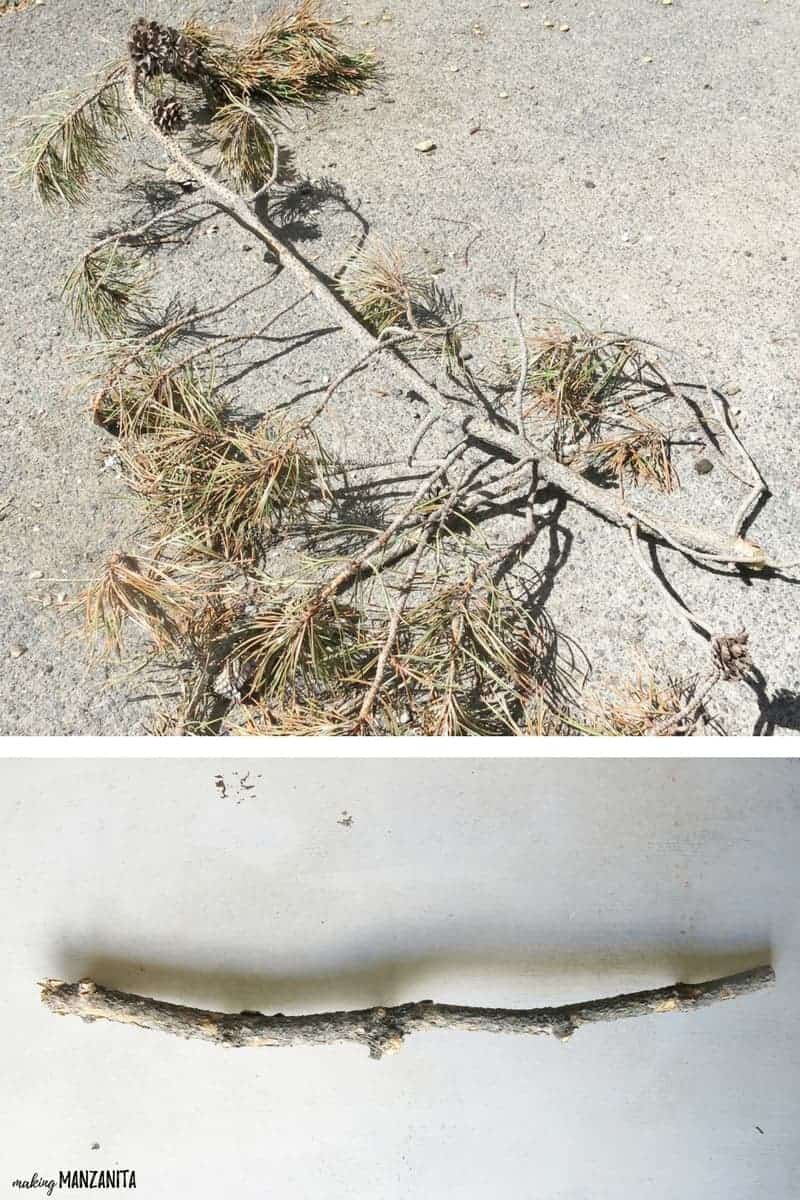 Step 1: Prepare the twig
We had recently cleaned up some of the trees at our house, so we had a pile of twigs and I just found one that was relatively straight.
I took my pruning shears and cleaned up the twig a bit by snipping off all of the side branches.
Then I cut it down to a size of about 15 inches wide. After that, I rubbed the twig down with a rag to get all of the loose bark off before taking it inside the house.
If you are using a wooden dowel, you'd obviously skip this step. Just cut the dowel down to size.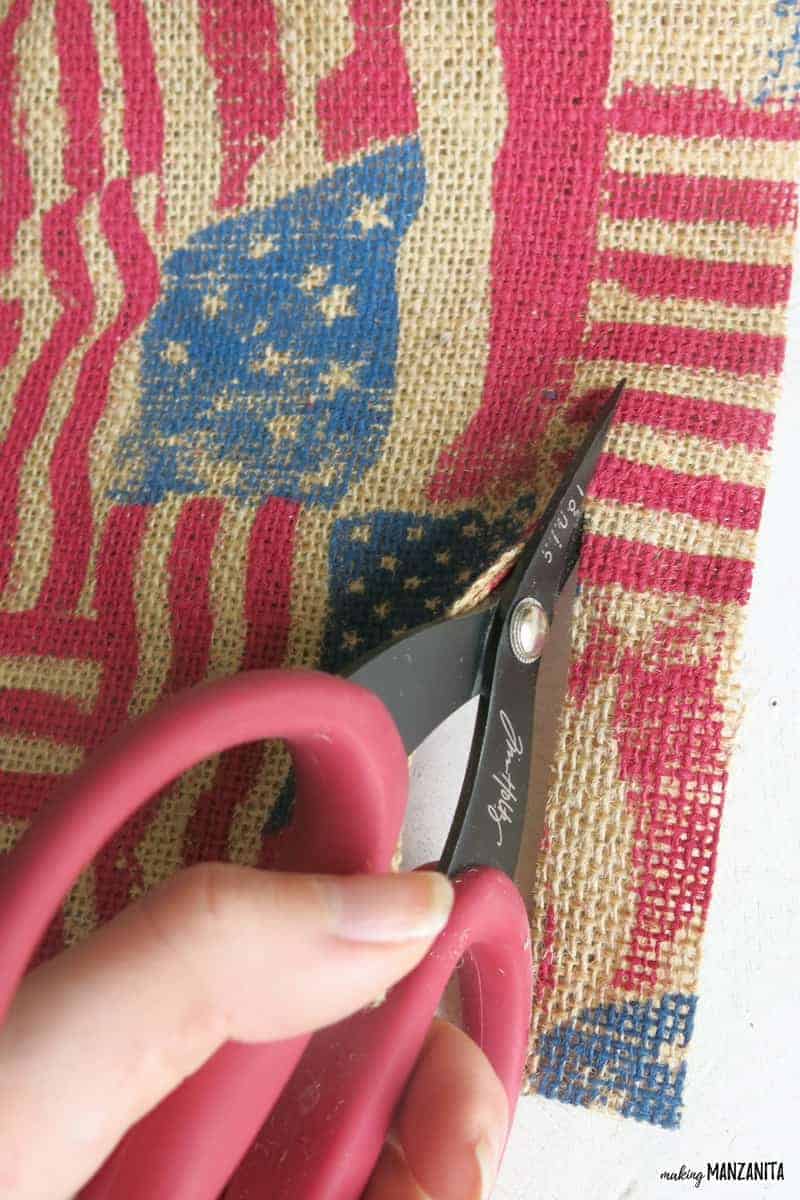 Step 2: Cut burlap
I started by cutting my burlap down into strips. I didn't quite know how many stripes my flag was going to have so I played this part by ear. When it was all said and done, I had 5 strips on the "rag" flag.
I cut the burlap about 1 inch wide. To make a ribbon American flag hanging the same size as mine, you will need strips at least 17 inches long.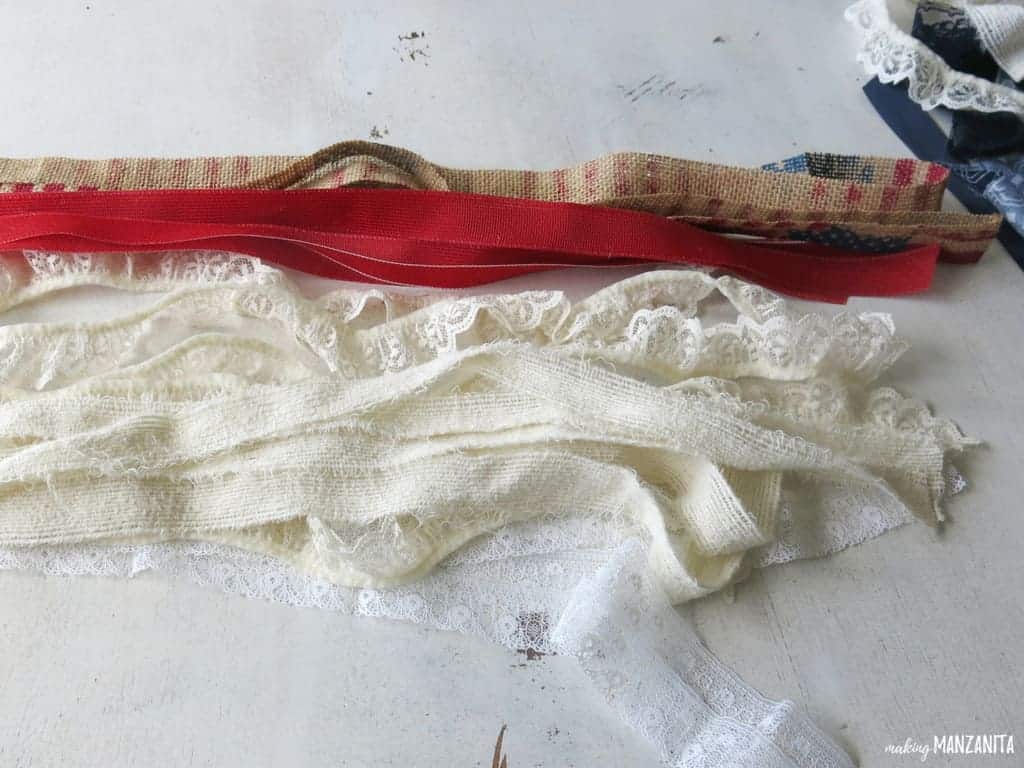 Step 3. Continue cutting ribbon and fabric
I continued cutting down my fabric strips and ribbon to about 17 inches long and started making a pile.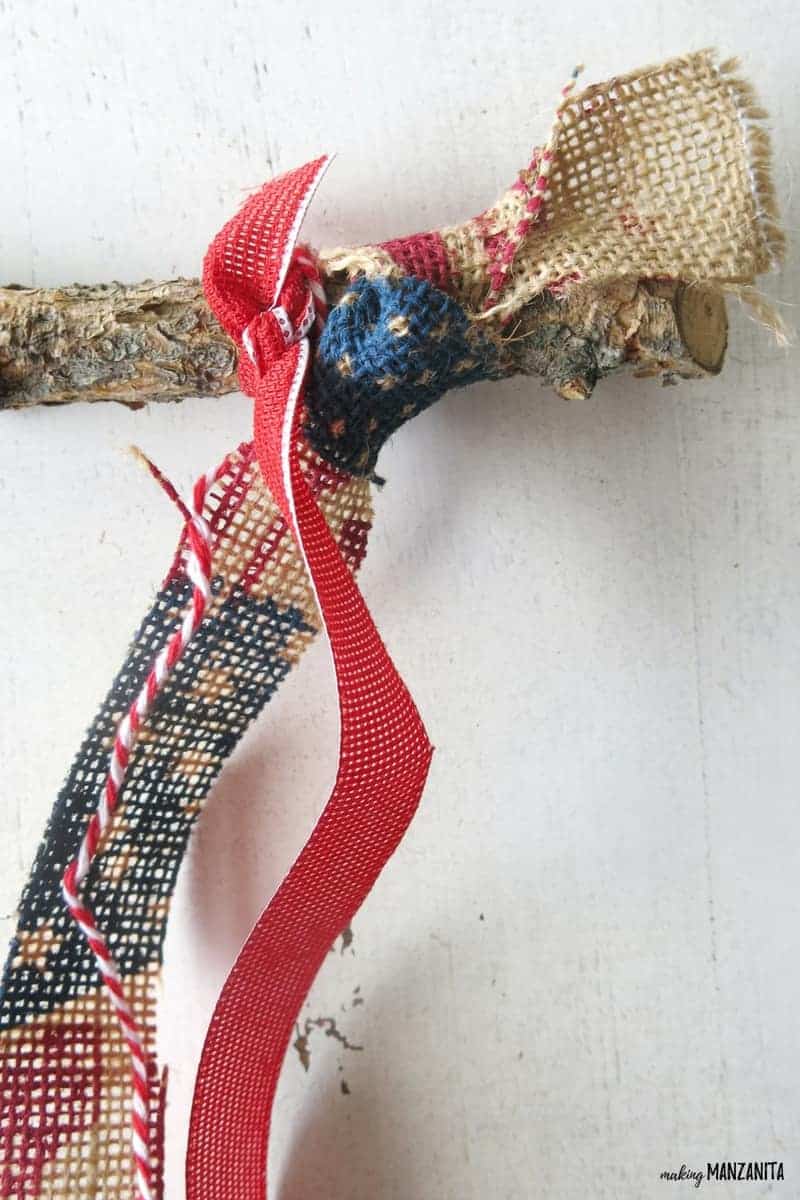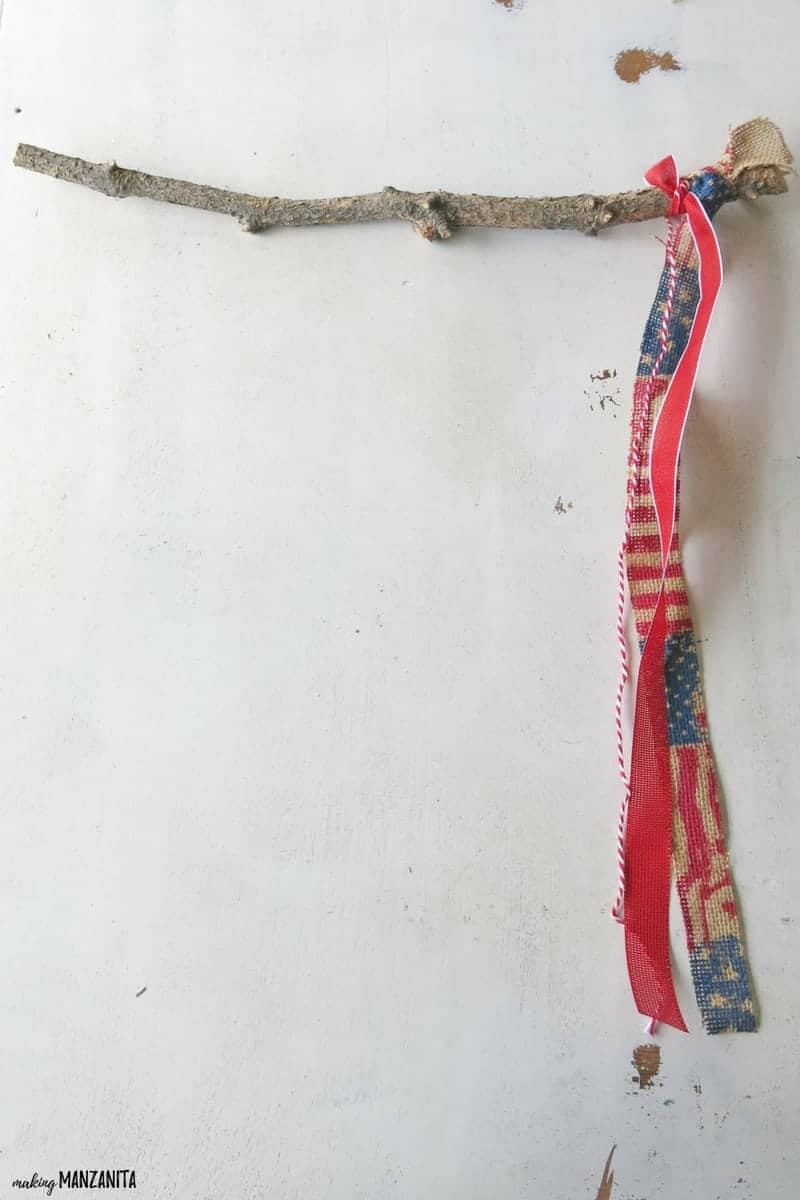 Step 4. Tie strips to twig.
Seriously guys…yes, this 4th of July decor really IS this simple. You just start tying the strips of burlap, twine, ribbon, and fabric to the twig.
I did about 3-4 different shades of red and white, alternating in stripes as I made my way across the twig.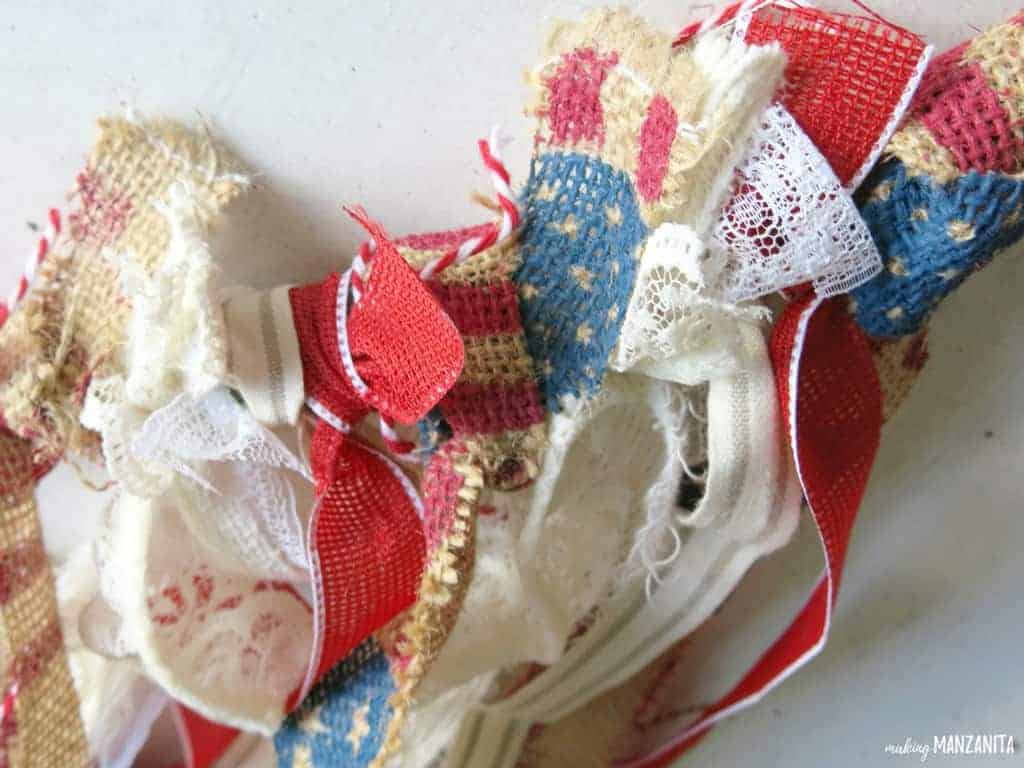 If you are trying to make this a certain size, remember you will lose about 2 inches of length at the top of the ribbon where you tie it on.

Step 5. Add blue ribbon.
Once you've made it all the way across the twig with the strips of red and white ribbons, you can add in the blue. I just chose some simple navy ribbon and lace that I had on hand. Remember this is all about using what you have so you can clean up that craft supply stash!
I tied the blue ribbons right in on tip of the red and white that were already there. Then I cut them down to size, so they formed a square (about 6 inches or so).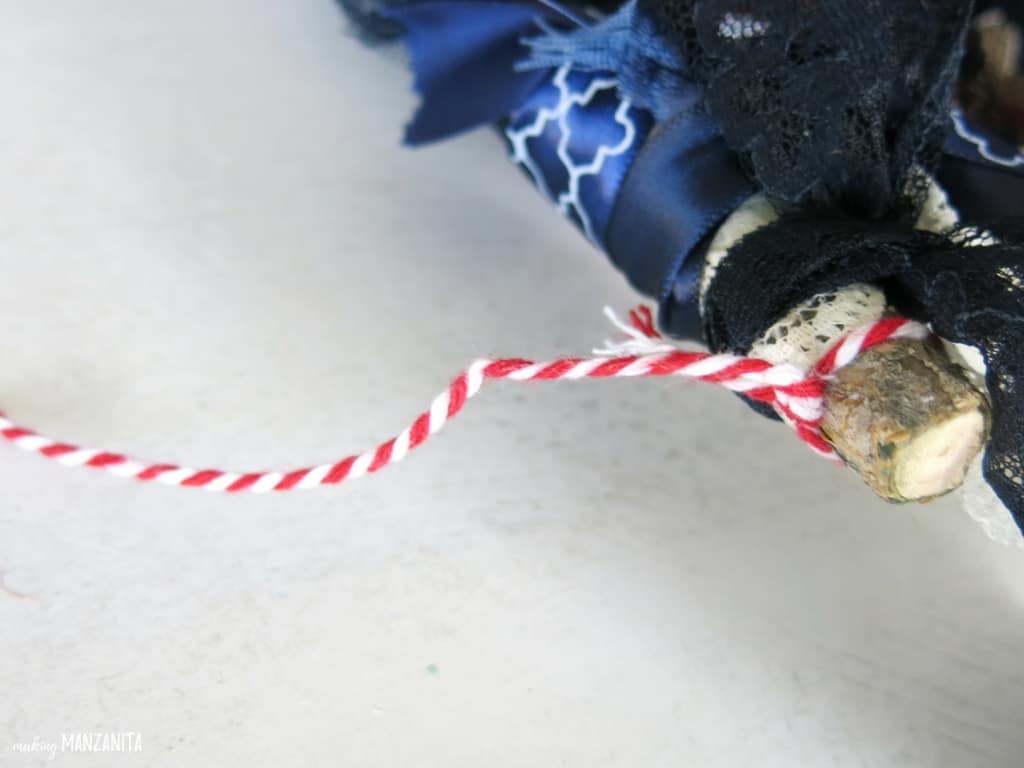 Step 6. Add twine hanger.
The hanger so was simple. I grabbed my red & white baker's twine, cut it down to about 30 inches long, and tied the ends on each side of the flag hanging.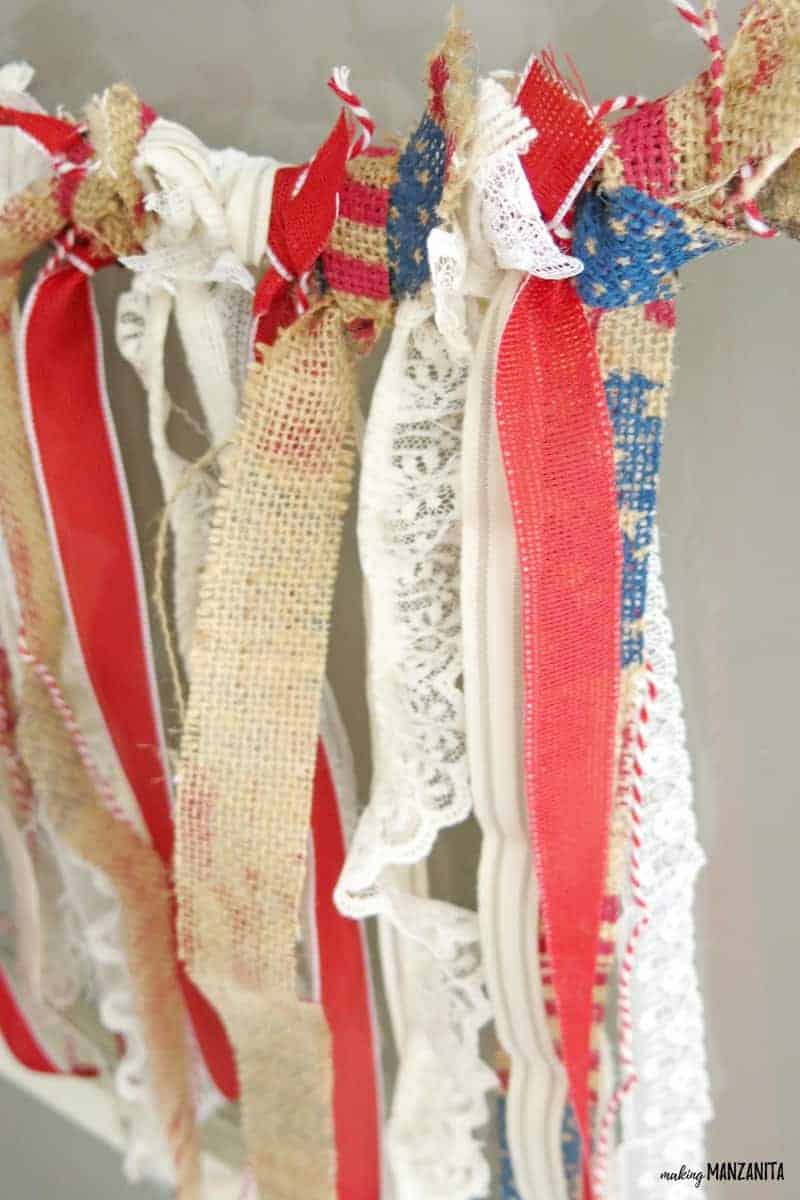 These vintage windows are hanging on each side of our main living room window and I feel like they've been missing a little something. I had an idea in mind, but until I am able to get that DIY done, these adorable little ribbon American flag hanging will be making this little corner happy.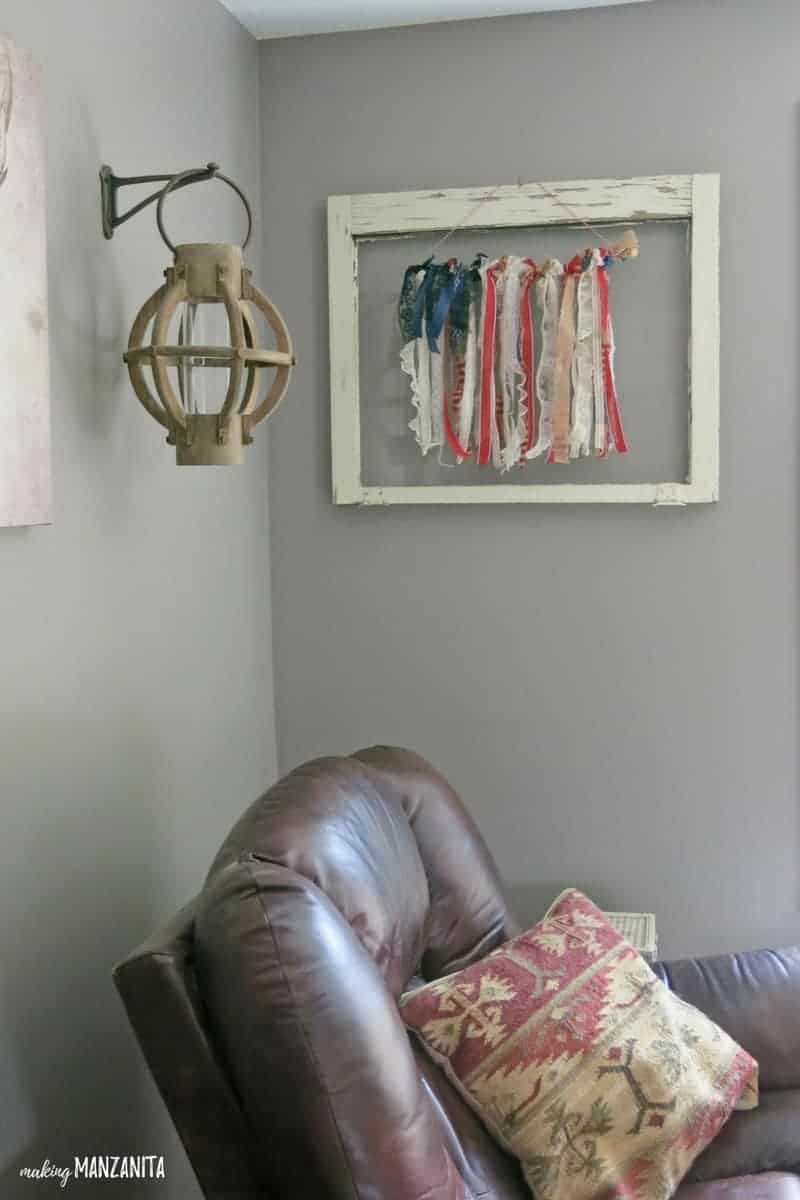 I think this USA rag flag would look awesome hanging on your front door as decoration for the 4th of July too! But I just love my bright and cheerful garden hose wreath too much to take it down right now.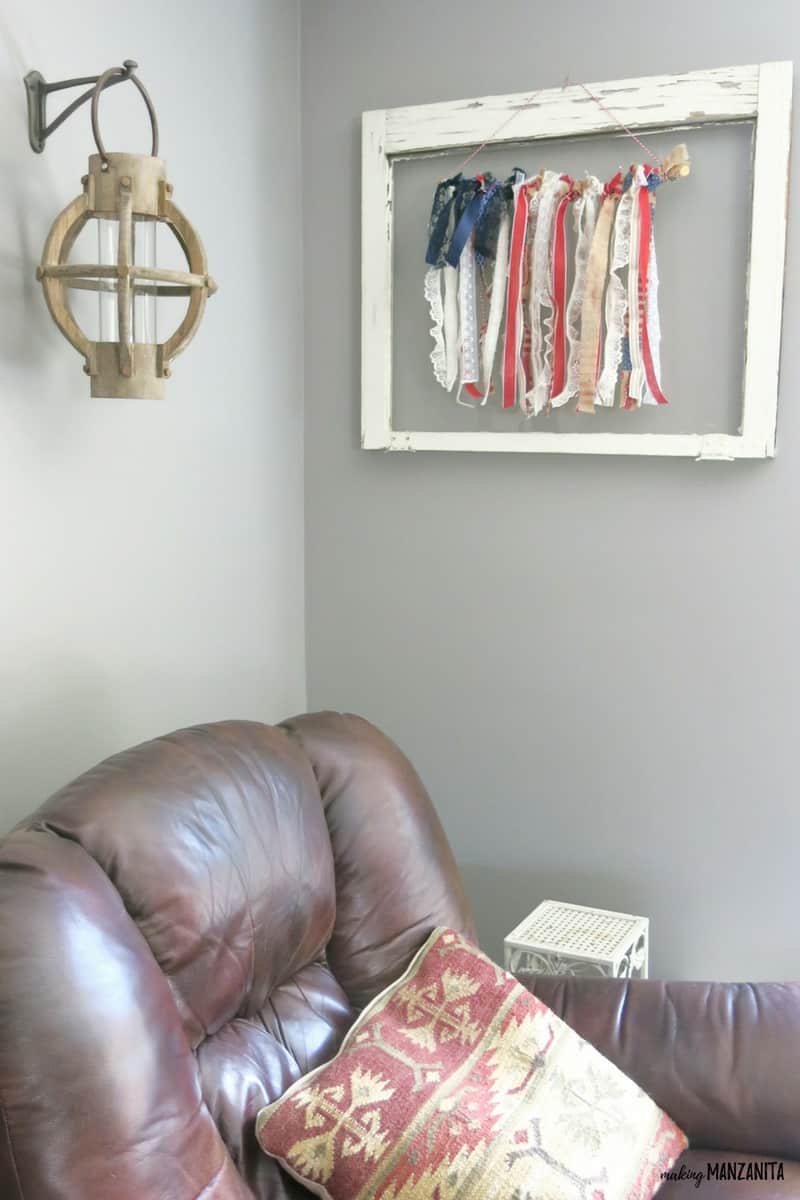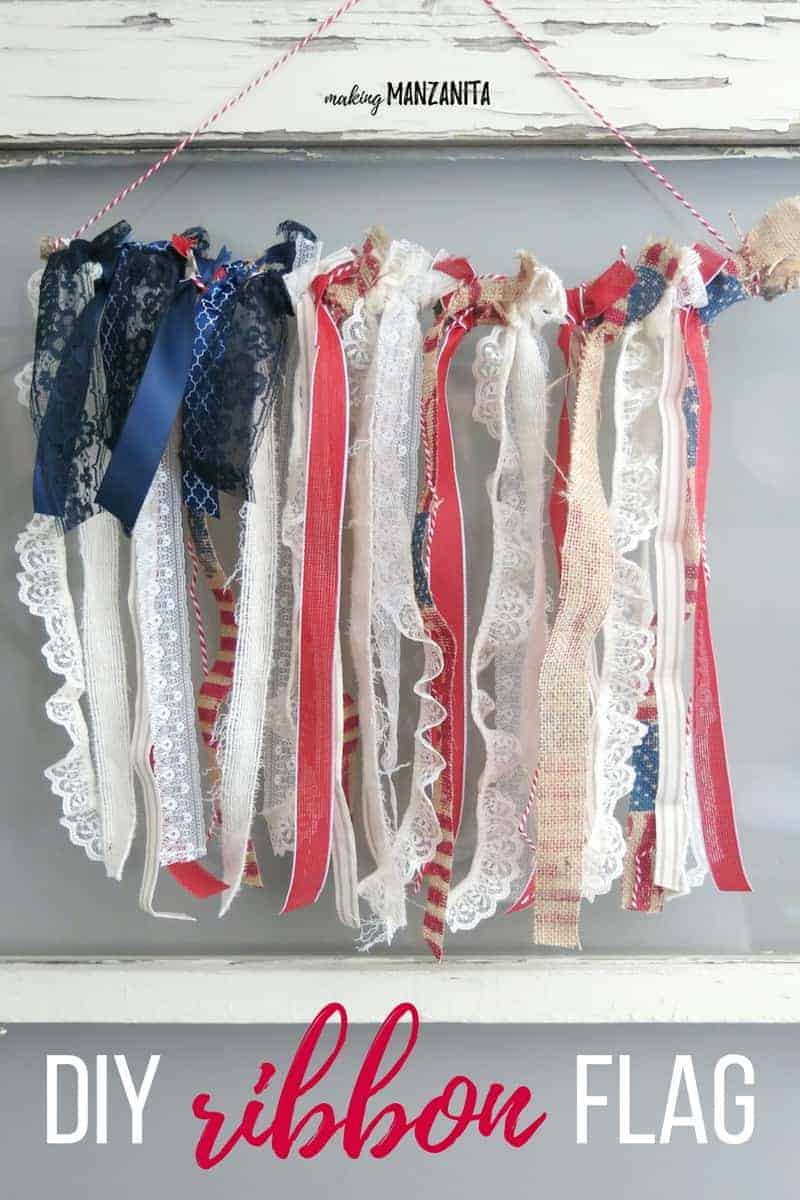 What are your plans for the 4th of July?
Let me know in the comments!
---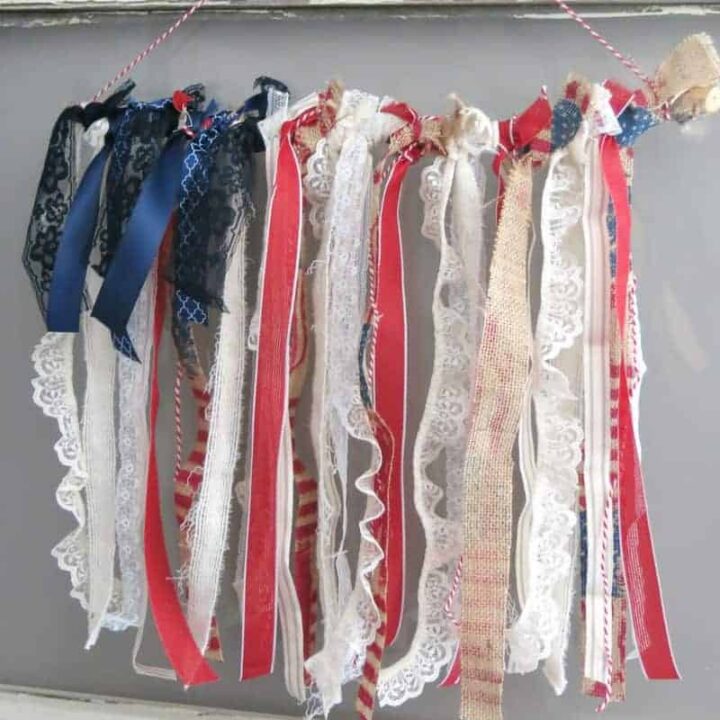 How to Make A DIY Ribbon Flag
If you are looking for 4th of July Decor for your home or front door, you're going to go love this DIY American flag ribbon hanging. It's simple and quick, perfect for some Patriotic home decor.
Materials
Scraps of flag print burlap
Twig or wooden dowel – 15 inches wide
Instructions
Prepare the twig.
Cut burlap.
Continue cutting ribbon and fabric.
Tie strips to twig,
Add blue ribbon.
Add twine hanger.