This bright and colorful Summer wreath made with a garden hose is the perfect addition to your front door during the Summer season! And you'll be shocked how easy it is to recreate this summer wreath.
Are you guys ready for summer?! I sure am! My front door was in need of some color to go along with my bright and cheerful Hello Sunshine wood sign I made last week.
When I started thinking about what I wanted for a summer wreath, I knew that I wanted something colorful, creative and cheerful (I swear I didn't plan that alliteration!).
When we were wondering about the outdoor section at our local Habitat for Humanity ReStore, I spotted a bunch of old garden hose wreaths and VOILA! My summer wreath made with a garden hose was born.
This summer wreath made out of a garden hose was made for the monthly challenge that I am thrilled to be apart of – the Thrift Store Upcycle group. If you caught me on Hometalk's Facebook page with a LIVE video on Sunday, you saw me make this and my Hello Sunshine wood sign. You can find the video at the bottom of this post!
Related Posts – check out my other thrift store upcycles:
This summer wreath post contains affiliate links, but nothing that I wouldn't wholeheartedly recommend anyway! Read my full disclosure here.
The Rules:
Upcycle an item(s) from a thrift store, resale store, or garage sale into a new piece of decor.
There's no monthly theme.
There's no budget to stick to.
Meet the Hosts
Amanda | The Kolb Corner    Kim | Made in a Day
Maureen | Red Cottage Chronicles    Pili | Sweet Things
Debra | Shoppe No. 5    Marie | DIY Adulation    Sue | A Purdy Little House
Chelsea | Making Manzanita    Ann | Duct Tape and Denim    Karen | Dragonfly and Lily Pads
Kathleen | Our Hopeful Home   Megan | C'mon Get Crafty
Victoria | Dazzle While Frazzled    Shirley | Intelligent Domestications    Angela | Simply Beautiful by Angela
    Michelle | Our Crafty Mom    Jeannee | Shepherds and Chardonnay
Jennifer and Vicki | 2 Bees in a Pod    Ali | Home Crafts By Ali    Denise | My Thrifty House
Make sure you follow our board on Pinterest for more upcycled decor inspiration!
---

Are you ready to see this Summer wreath tutorial??

Supplies for summer wreath:
Garden hose (I got mine from our local ReStore, check your thrift store before buying!)
4-5 faux flower stems
2 different colors of ribbon (here's a similar yellow ribbon & blue ribbon)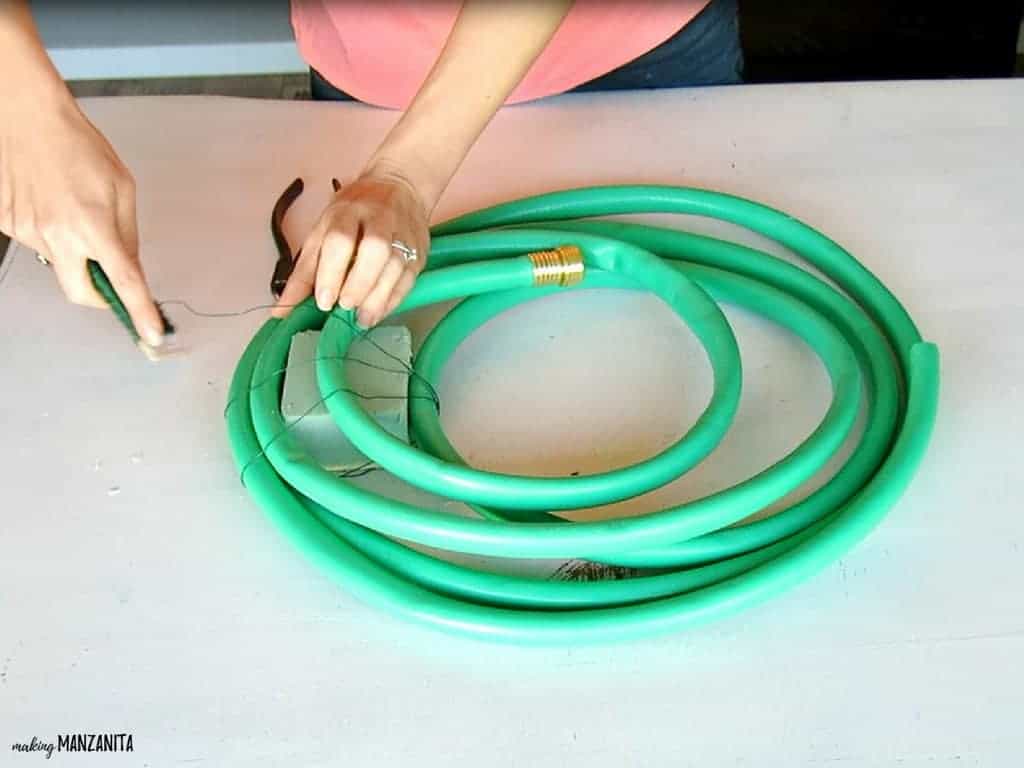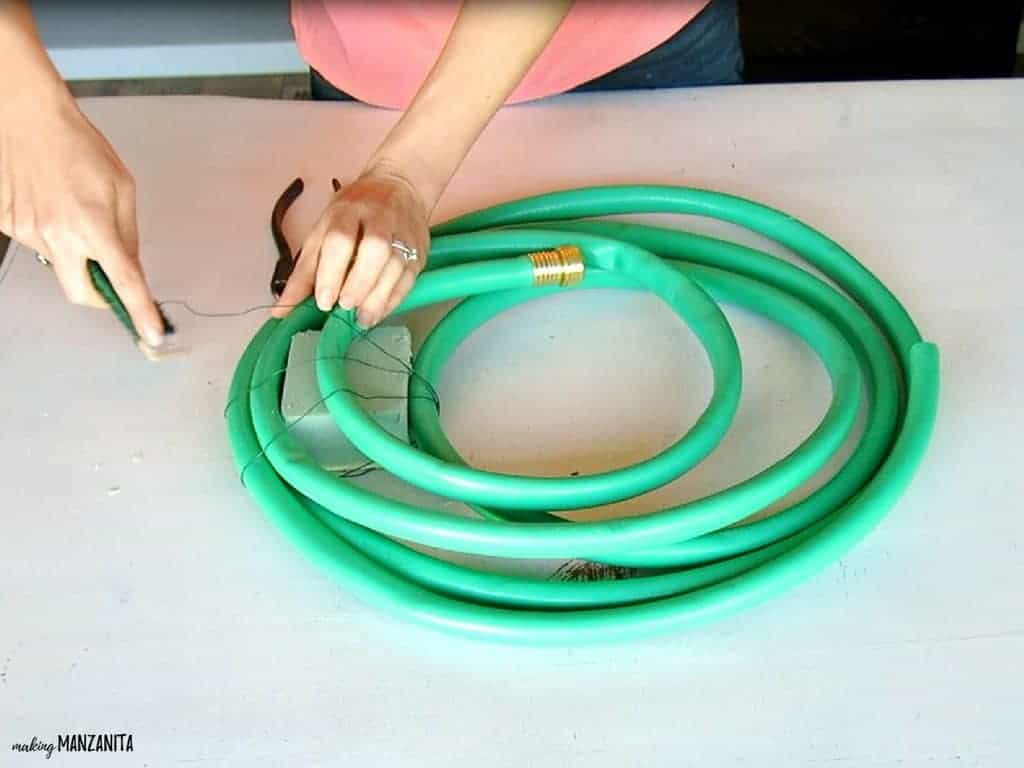 Step 1. Attach foam block to garden hose.
The first step to creating this summer wreath is to attach the foam block to the garden hose. The foam block I used was approximately  3.5" x 3" x 2".  I coiled the garden hose into a circle shape and then maneuvered the hose around the block so it could lay flat. Once you have it arranged right, you can wrap and tighten the floral wire around a few times to keep everything in place.
Quick tip: If you've got a wild hose and having trouble getting your hose into a wreath shape, you can secure it in a few different spots with zip ties.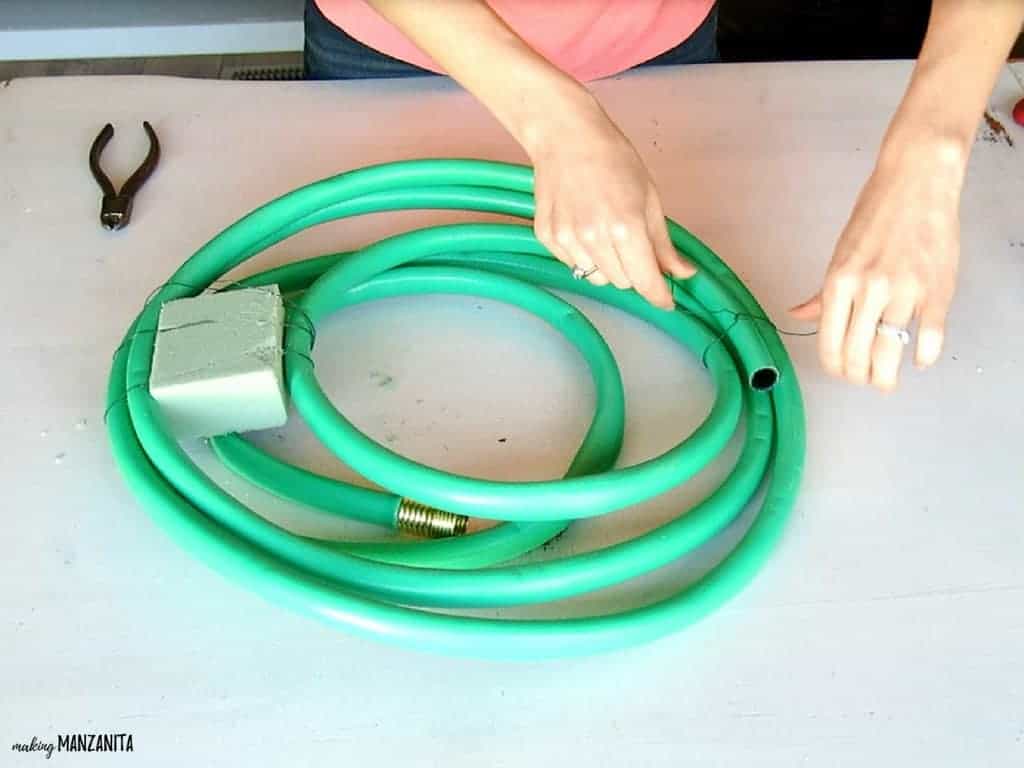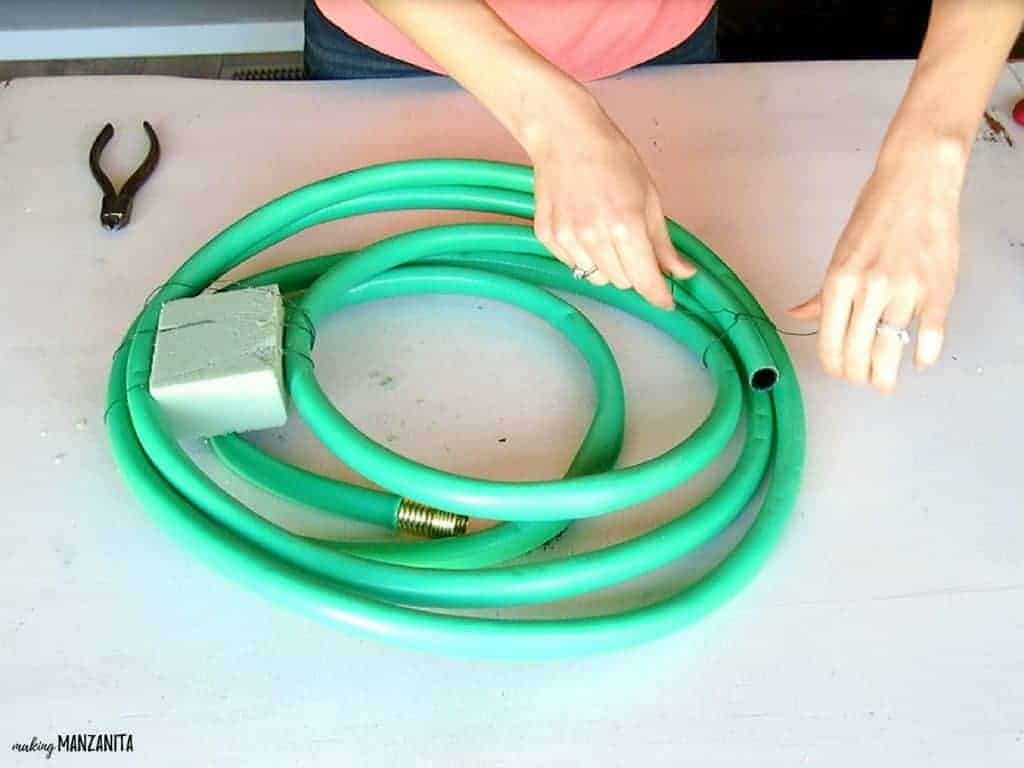 Step 2. Secure the opposite side of the hose with floral wire.
I added a little bit of floral wire to secure the side opposite of the floral foam block. I'm not positive that this was necessarily required, but I felt better but adding the little extra bit to secure the garden hose wreath.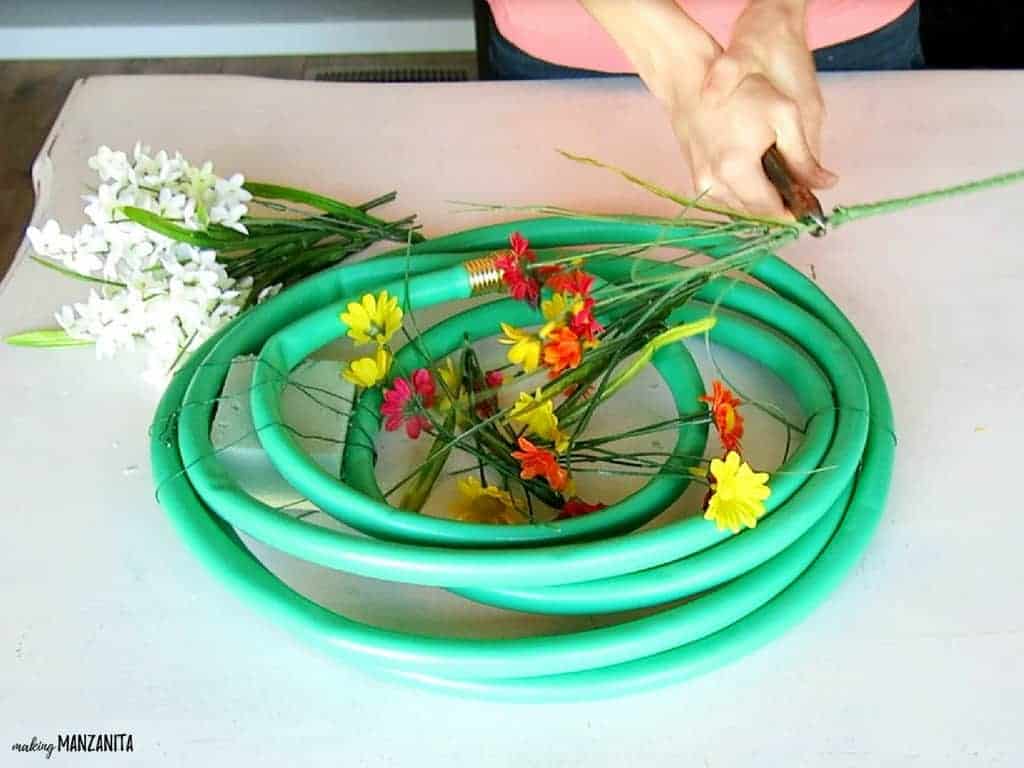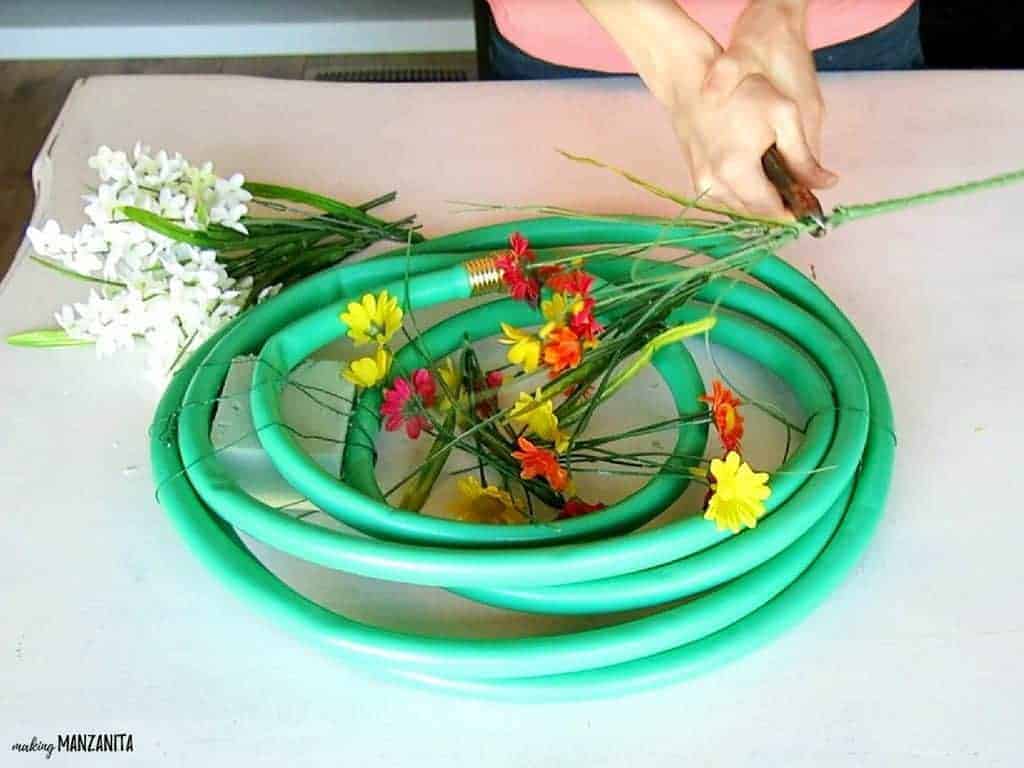 Step 3. Remove flowers from stems.
Using wire cutters, you will snip the flowers from the stems. Leave about 3 to 6 inches of stem behind the flower (at various lengths), which you'll be sticking into the floral foam block.
The flowers you purchase may be more or less full than the ones I used. I ended up needing about 4 full floral stems taken apart. Mine were purchased from Dollar Tree and Michael's.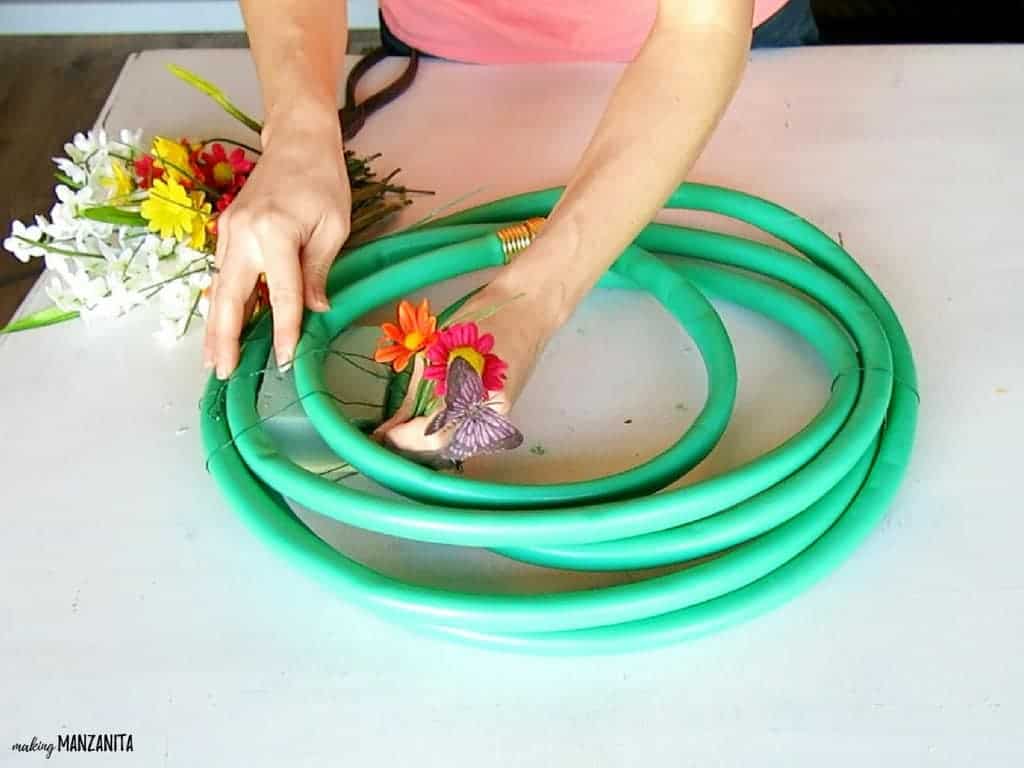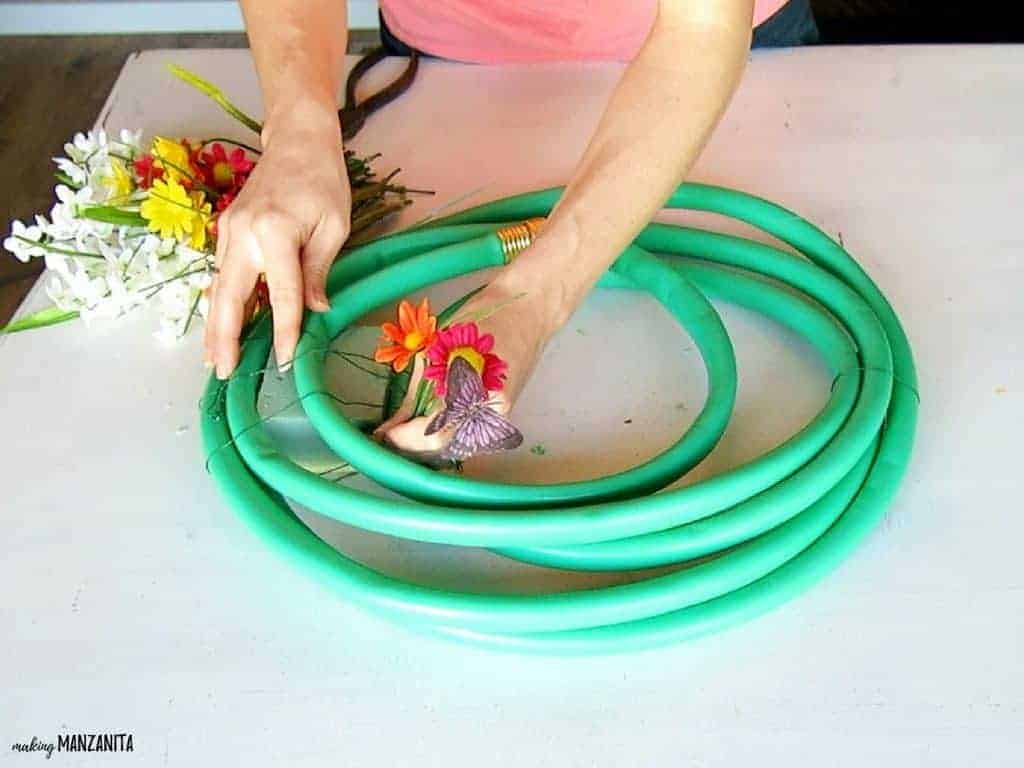 Step 4. Add flowers to foam block.
This is the fun part, where the summer wreath starts coming together and takin' its shape! Start adding in the flowers into the foam block. Keep them pointed upwards and then fanning out from the foam block.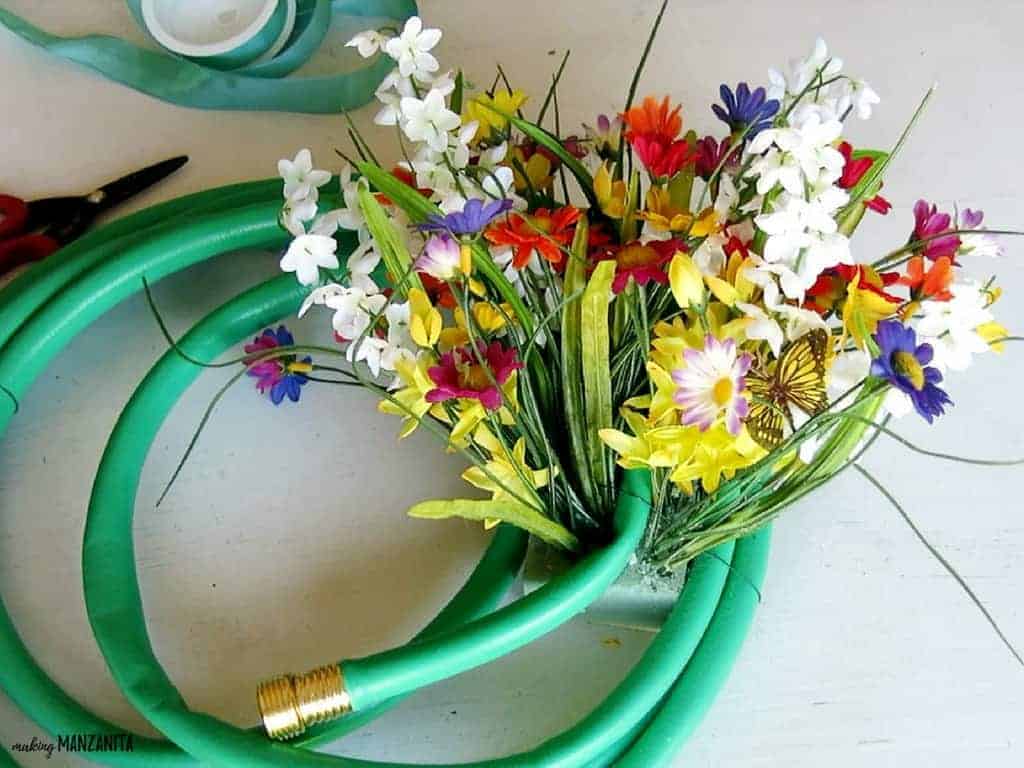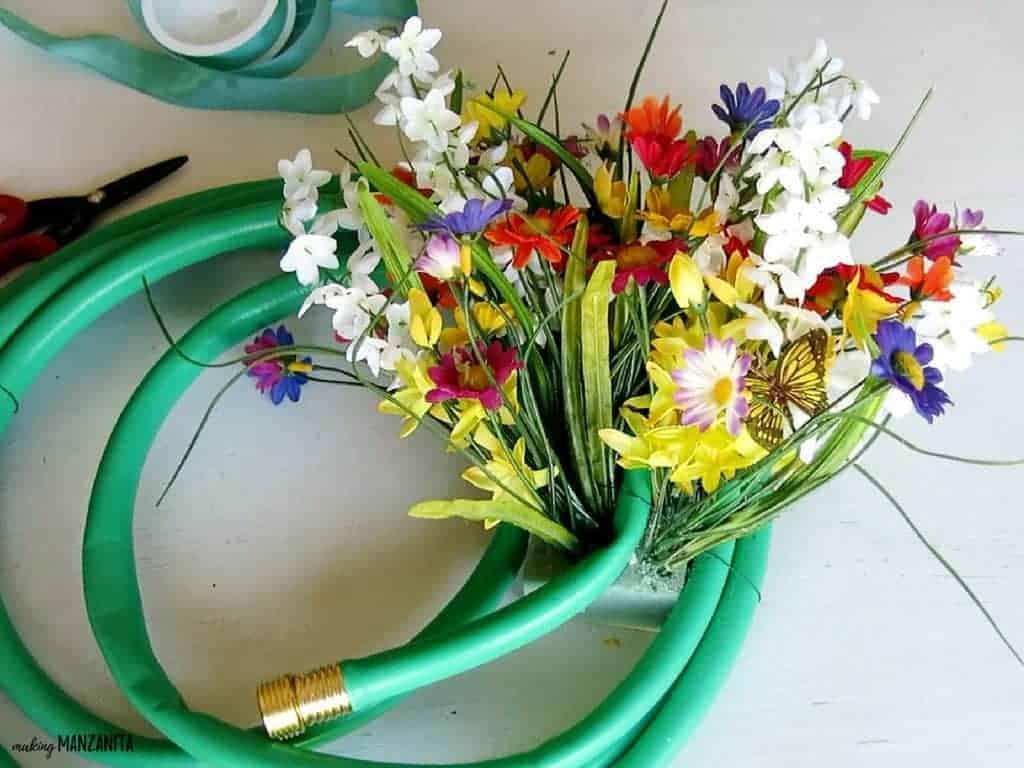 Continue adding in the flowers to the floral foam block, filling in all of the spaces on the block. Don't forget about the edges and the top of the foam block.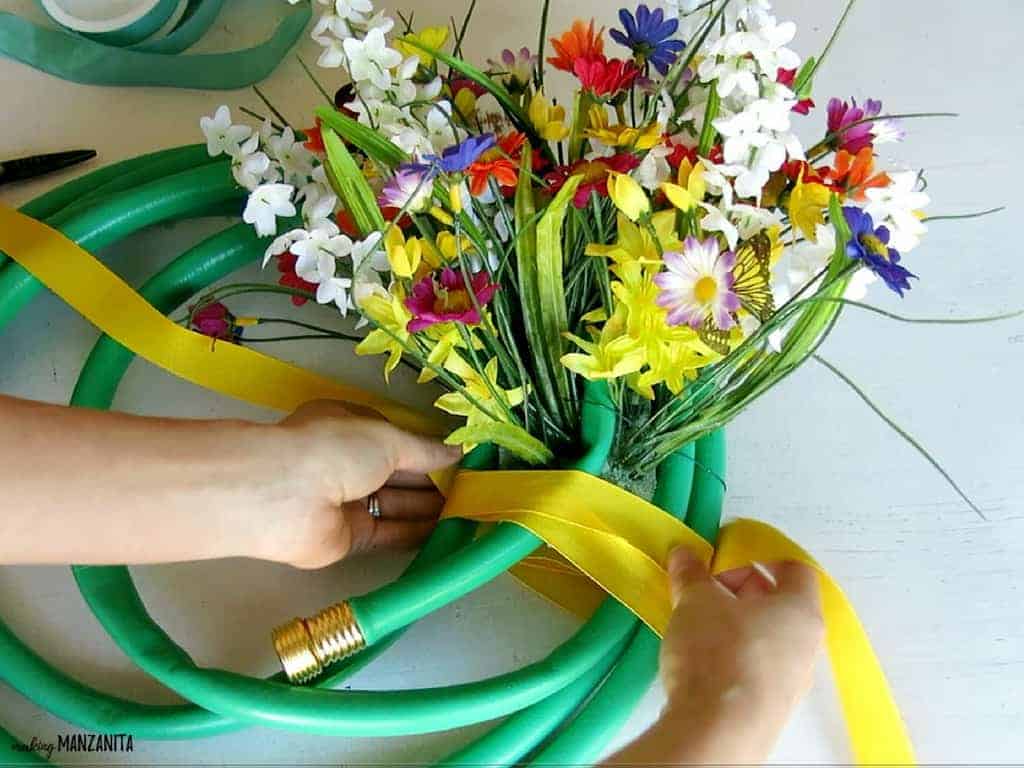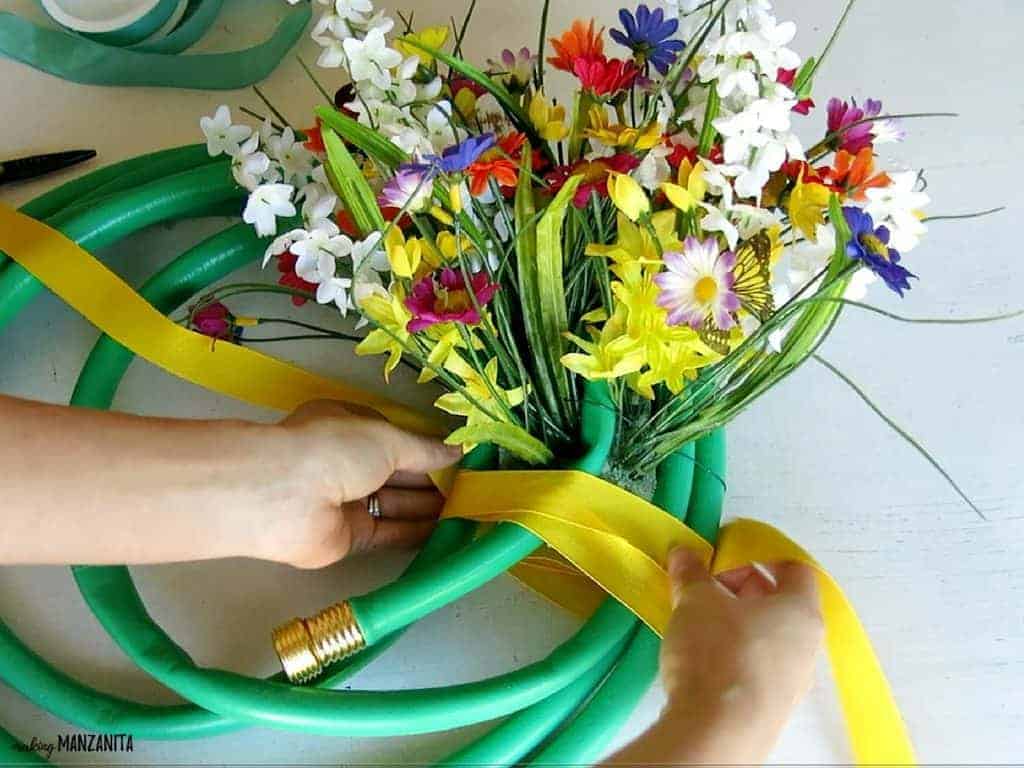 Step 5. Tie ribbon around the bottom of the foam block.
Once you get all the flowers in the block, you'll be left with the hideous bottom of the block. I was thinking about covering this with moss. I purchased the moss, got the hot glue gun all warmed up and everything and then changed my mind!
I am always doing that in the middle of DIYs. I decided to change it up and wrap the yellow ribbon around the garden hose wreath a few times to cover the bottom of the foam block. The yellow ribbon I used to wrap around the block was approximately 100 inches long.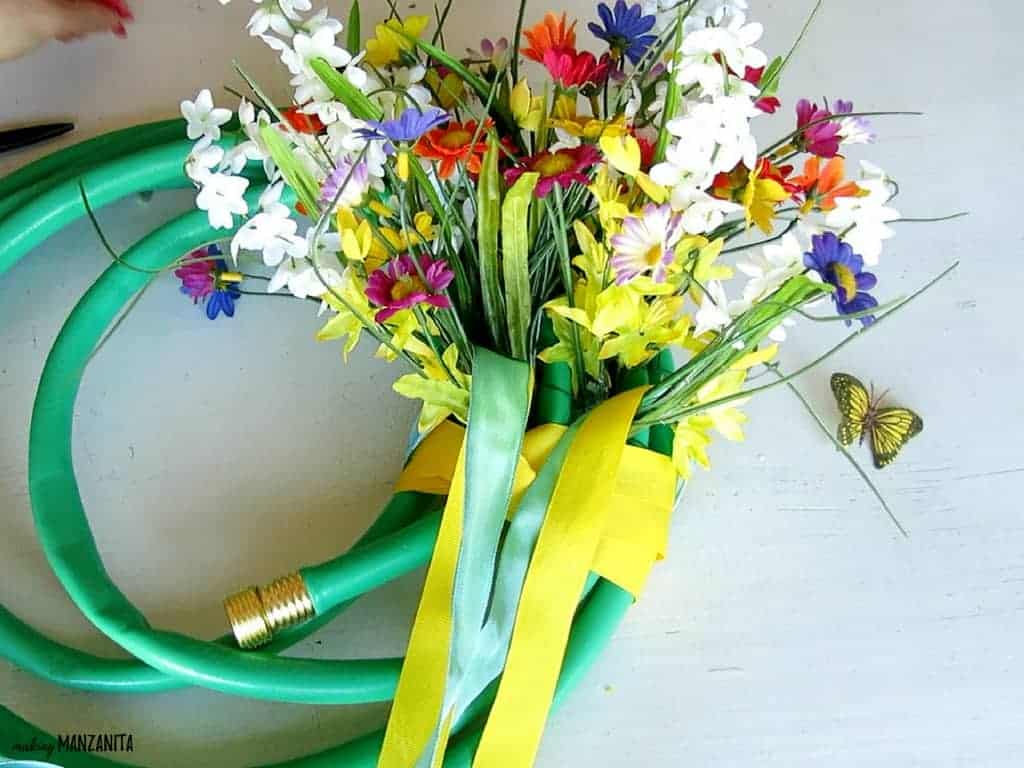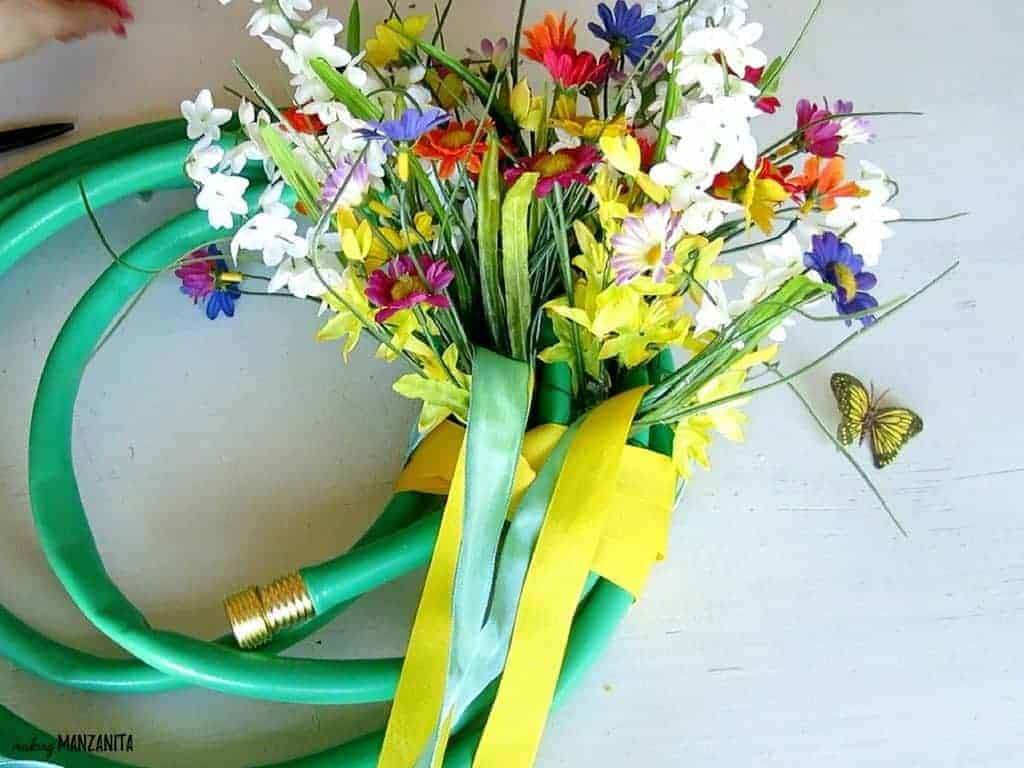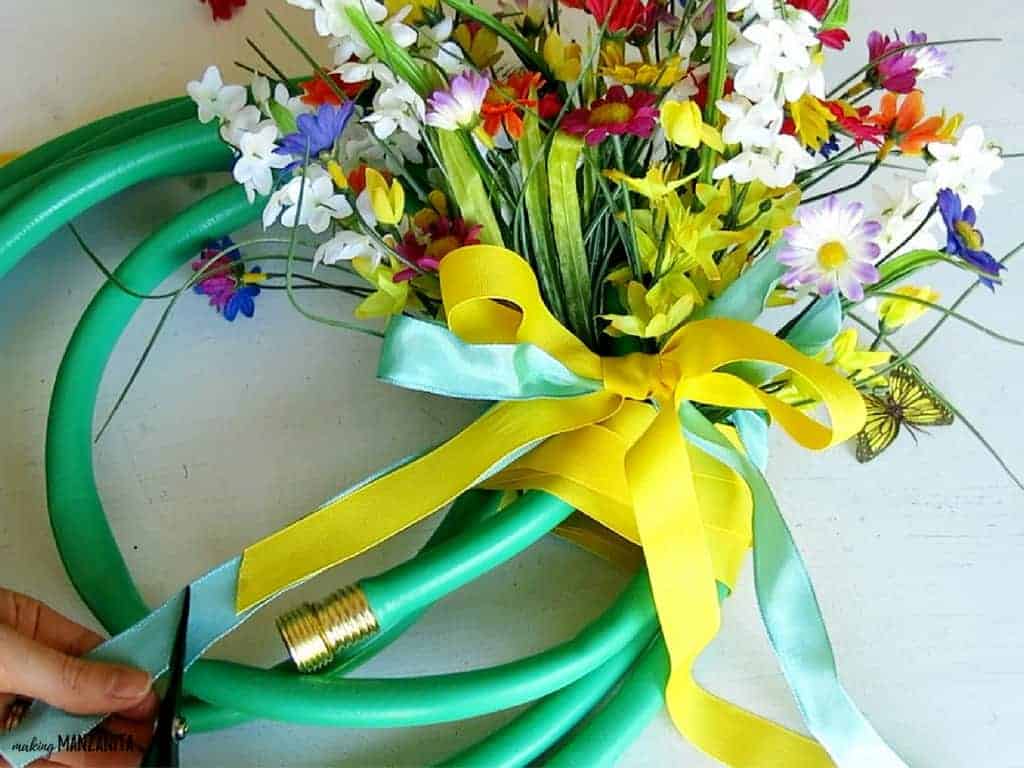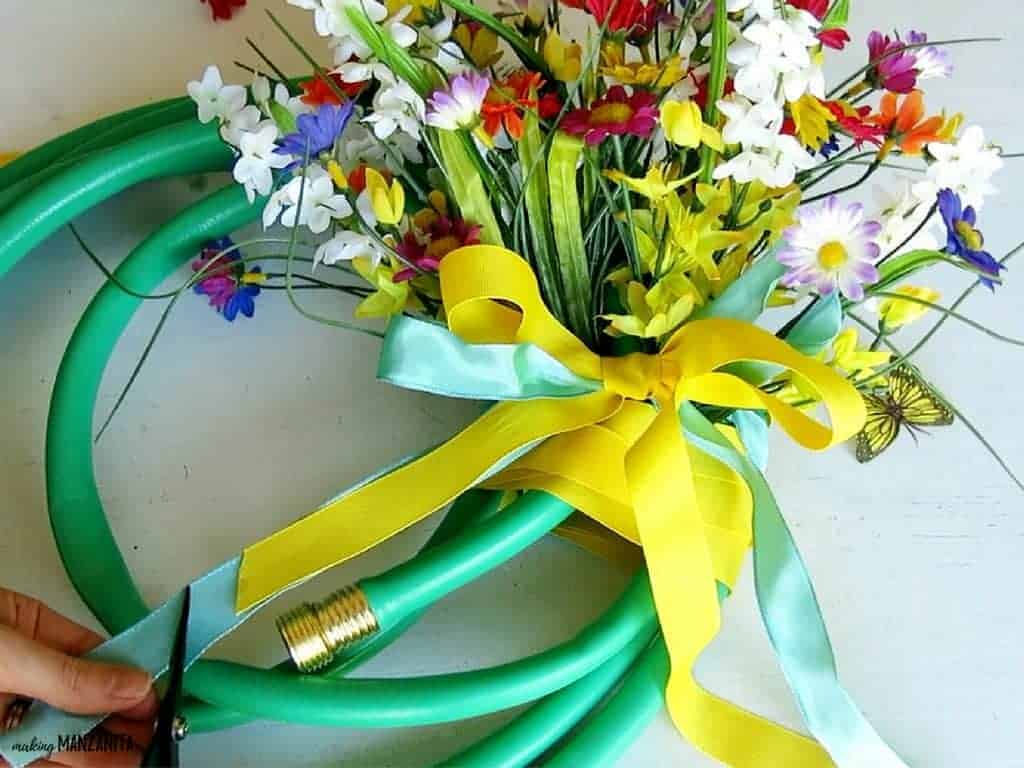 Once I covered the block entirely with the yellow ribbon, I added in the blue ribbon for a little extra color. I brought both of the ends of the ribbon up and over a bit of the flowers on each side and then tied a bow.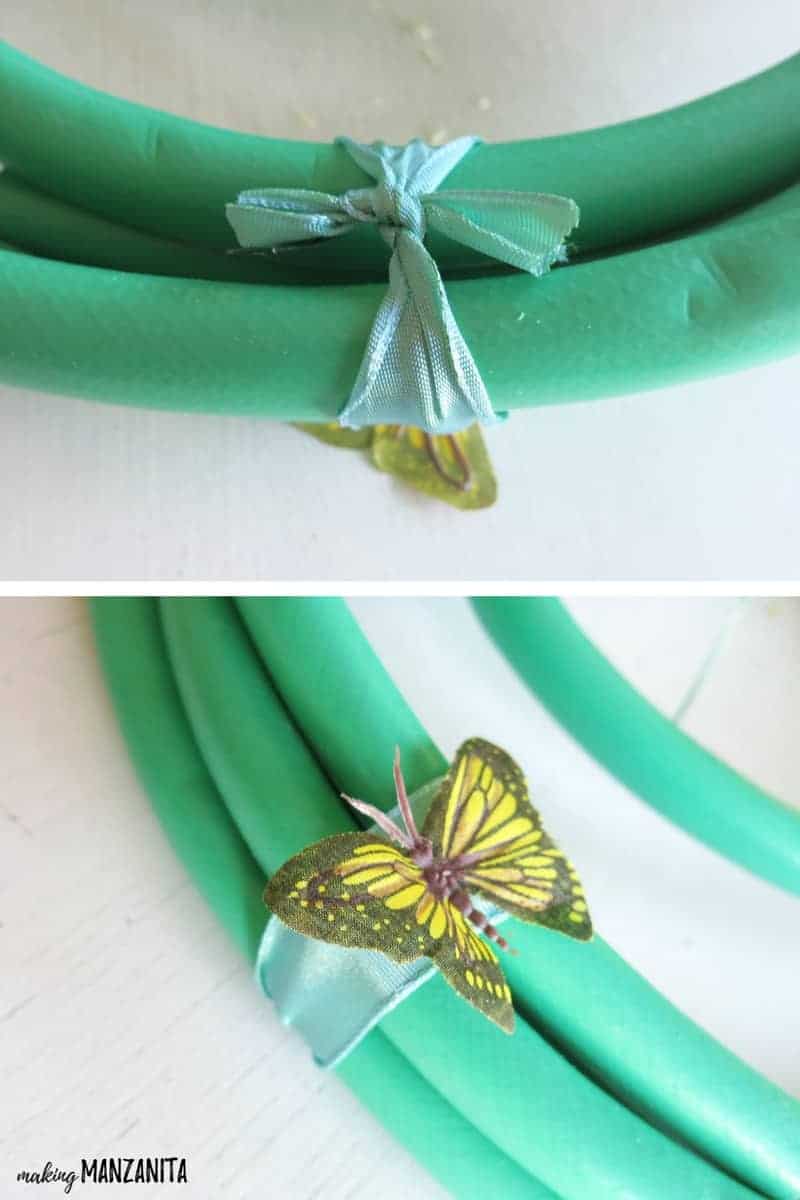 Step 6. Cover wire tie with ribbon.
Remember that floral wire we added back in Step 2 to give the garden hose wreath a little more durability? I covered the wire tie with bit of the blue ribbon. Then I glued on that adorable little butterfly that fell off one of the flowers!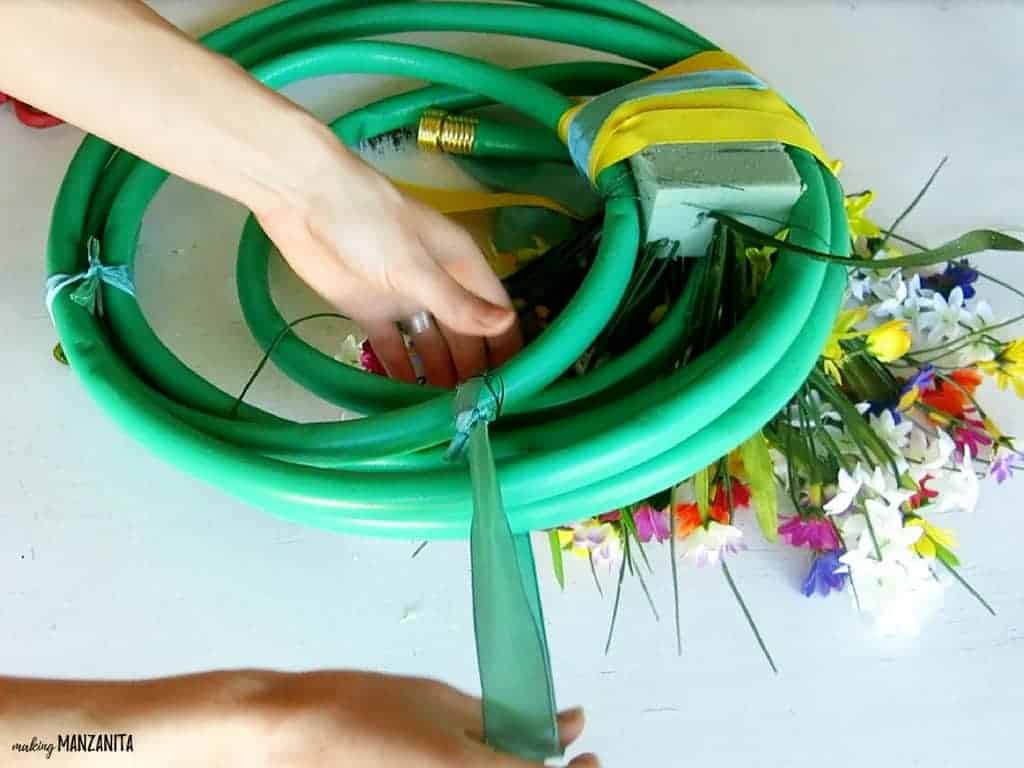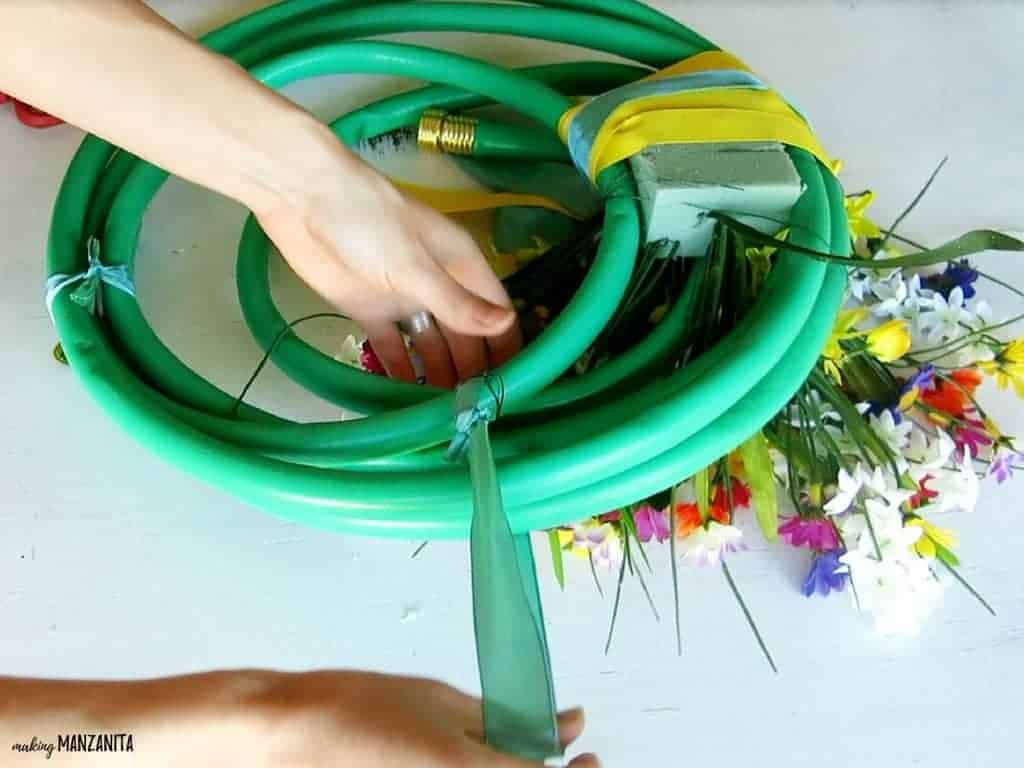 Step 7. Add ribbon loop to the top of the summer wreath.
Lastly, I finished off this summer wreath by tying some ribbon to the top of the wreath as a hanger.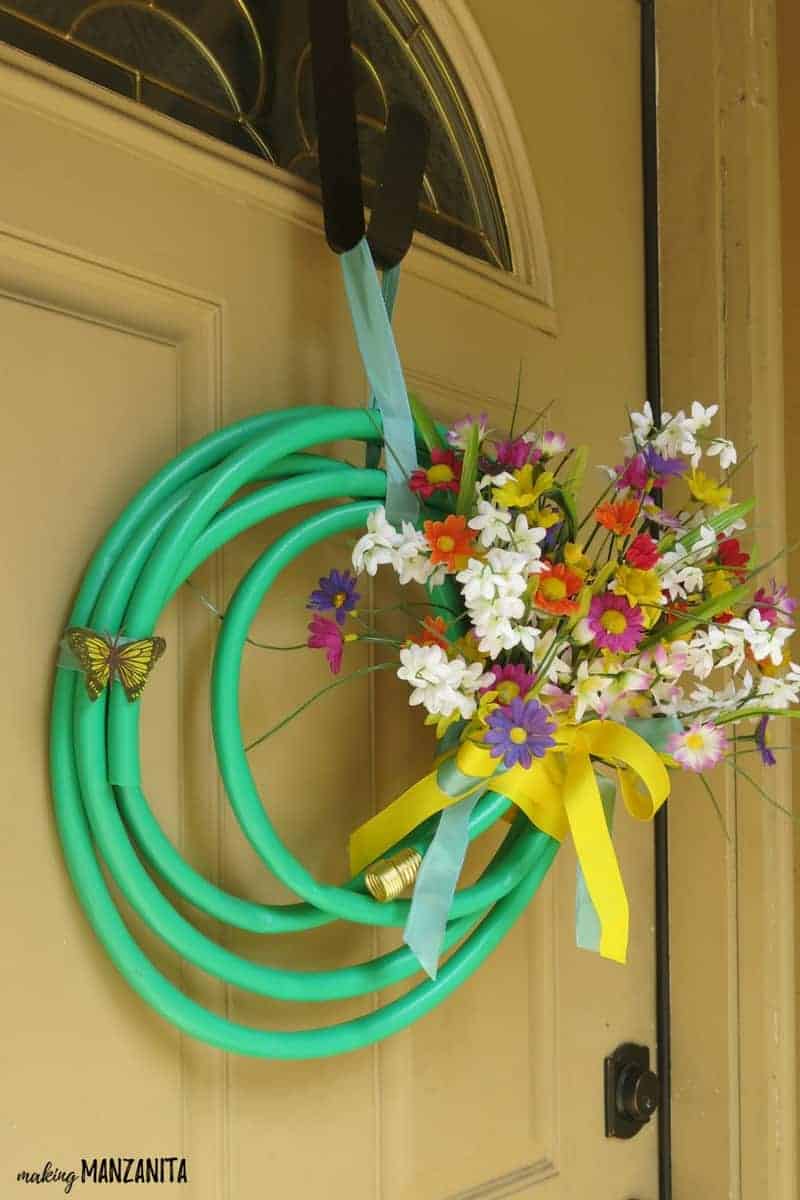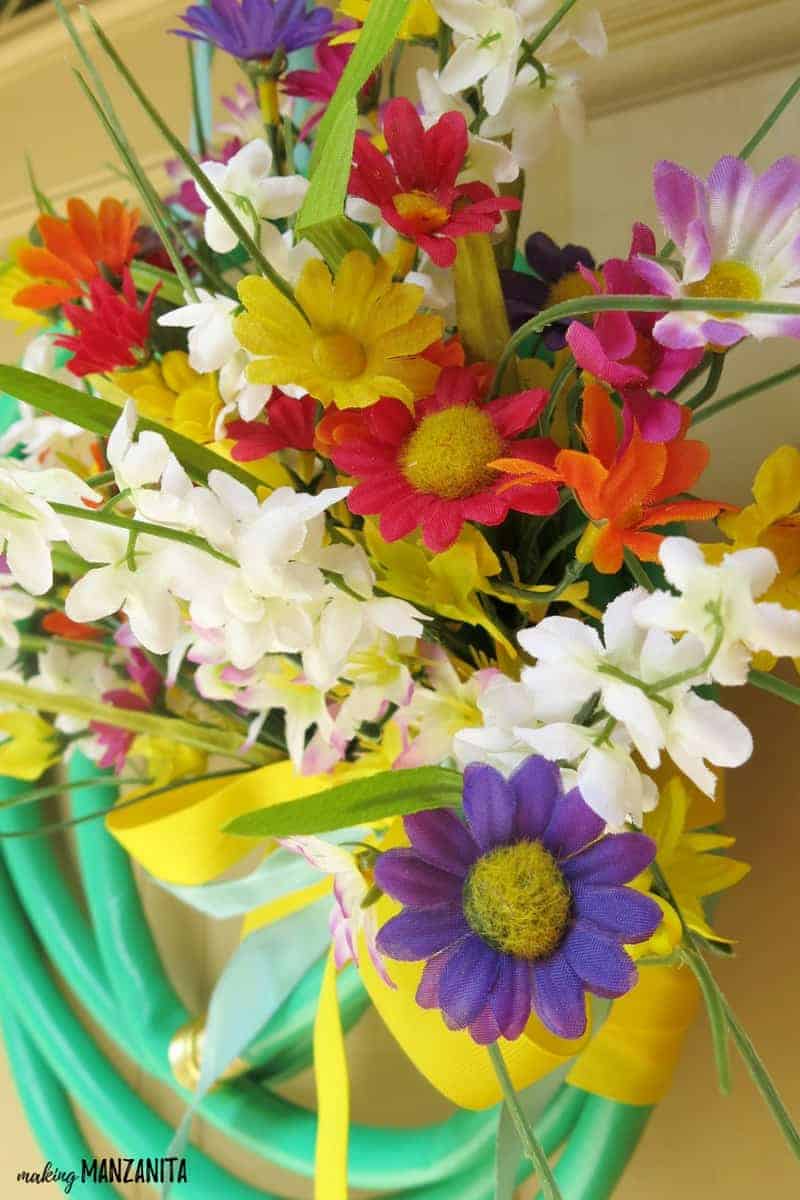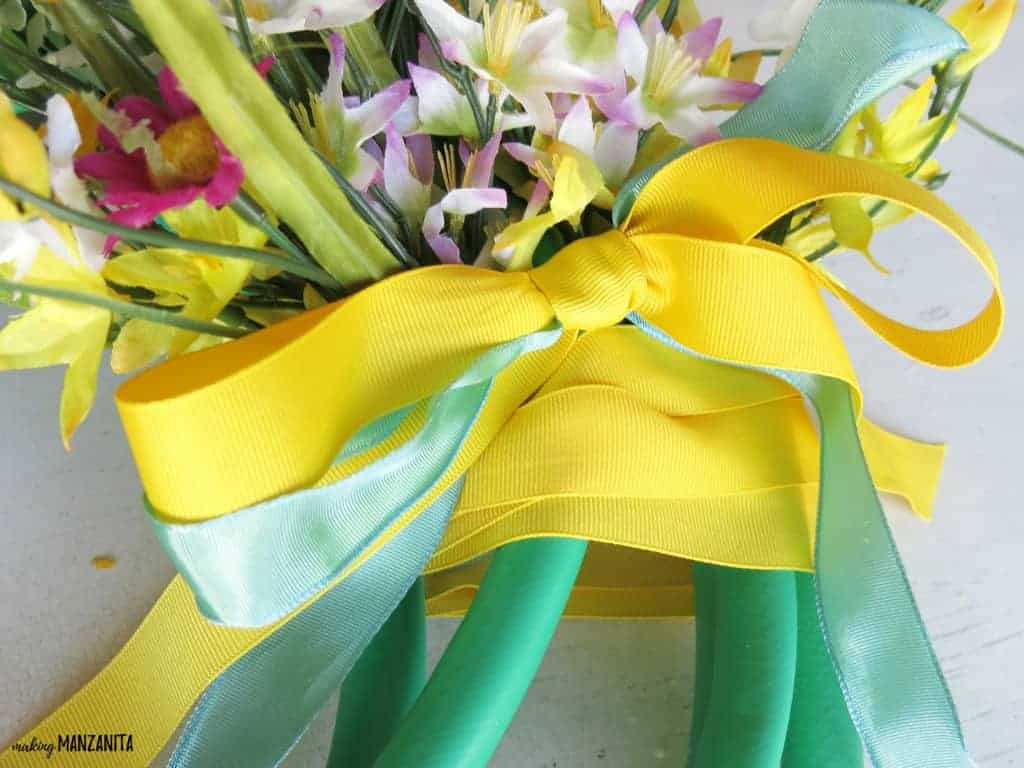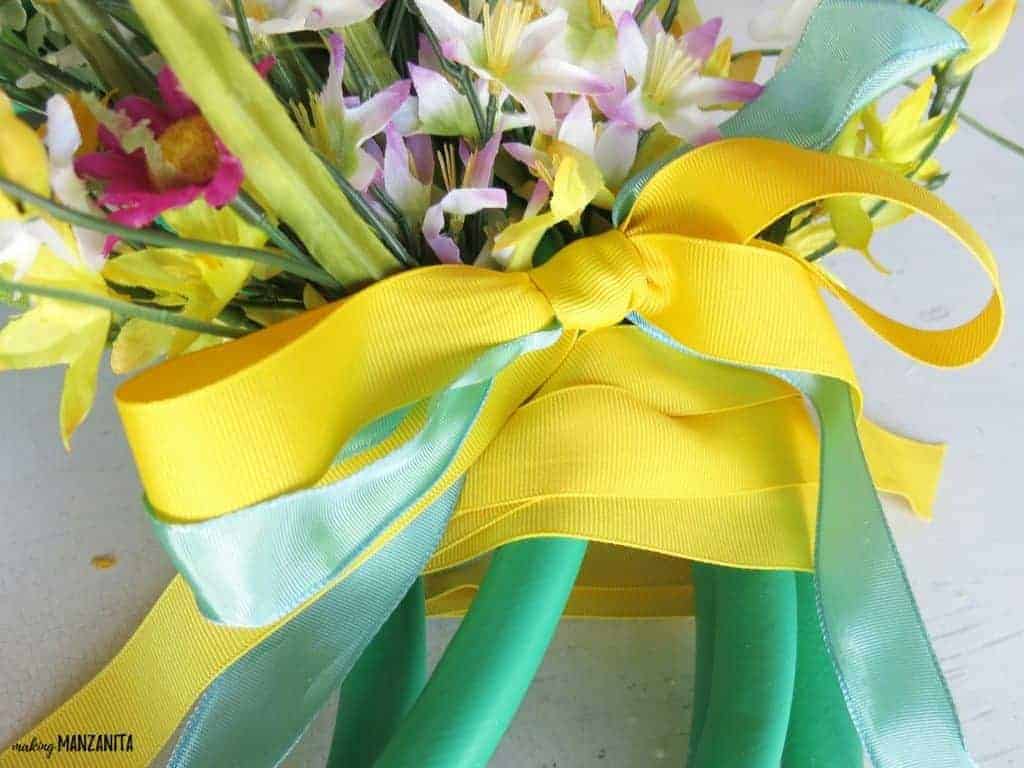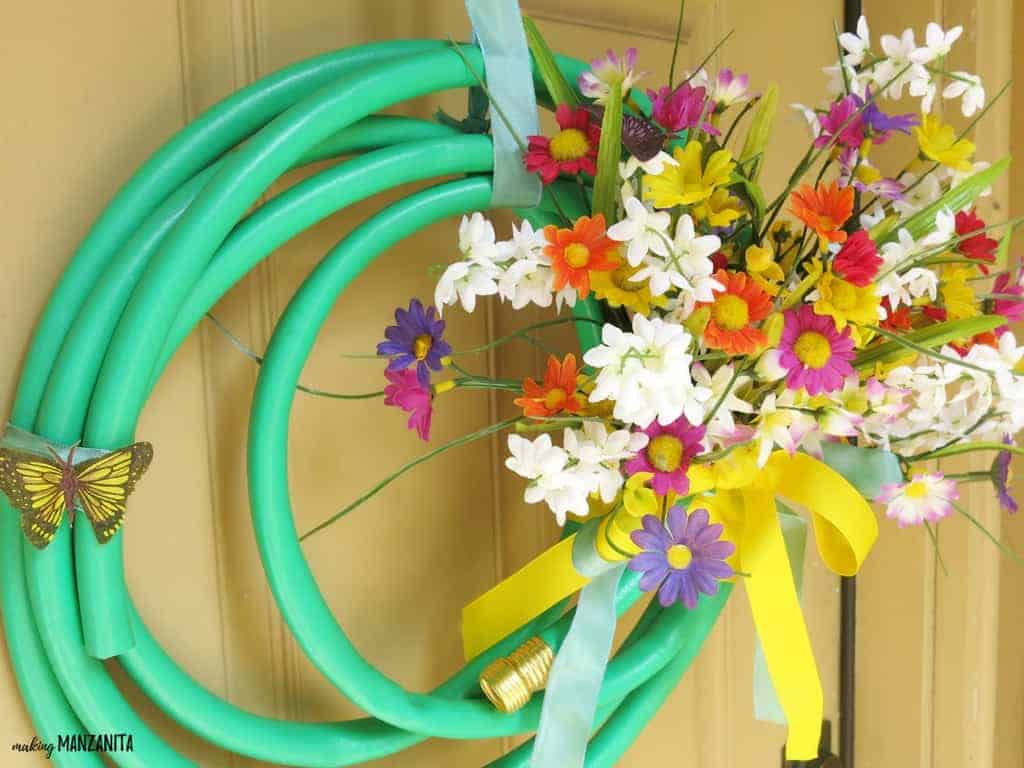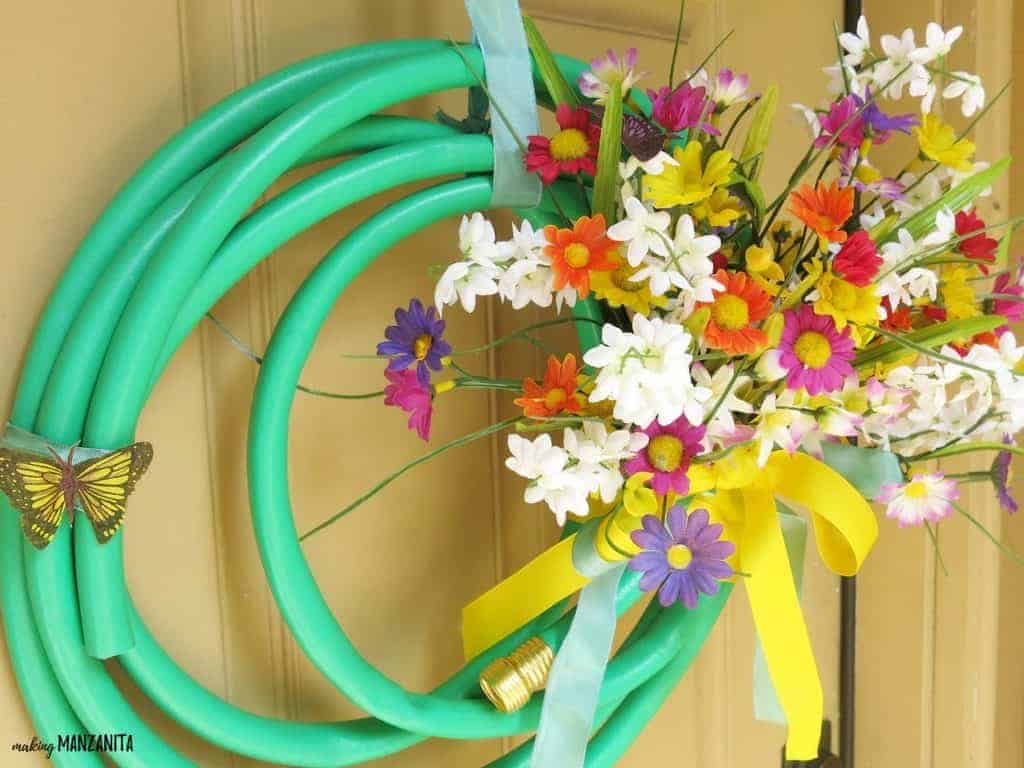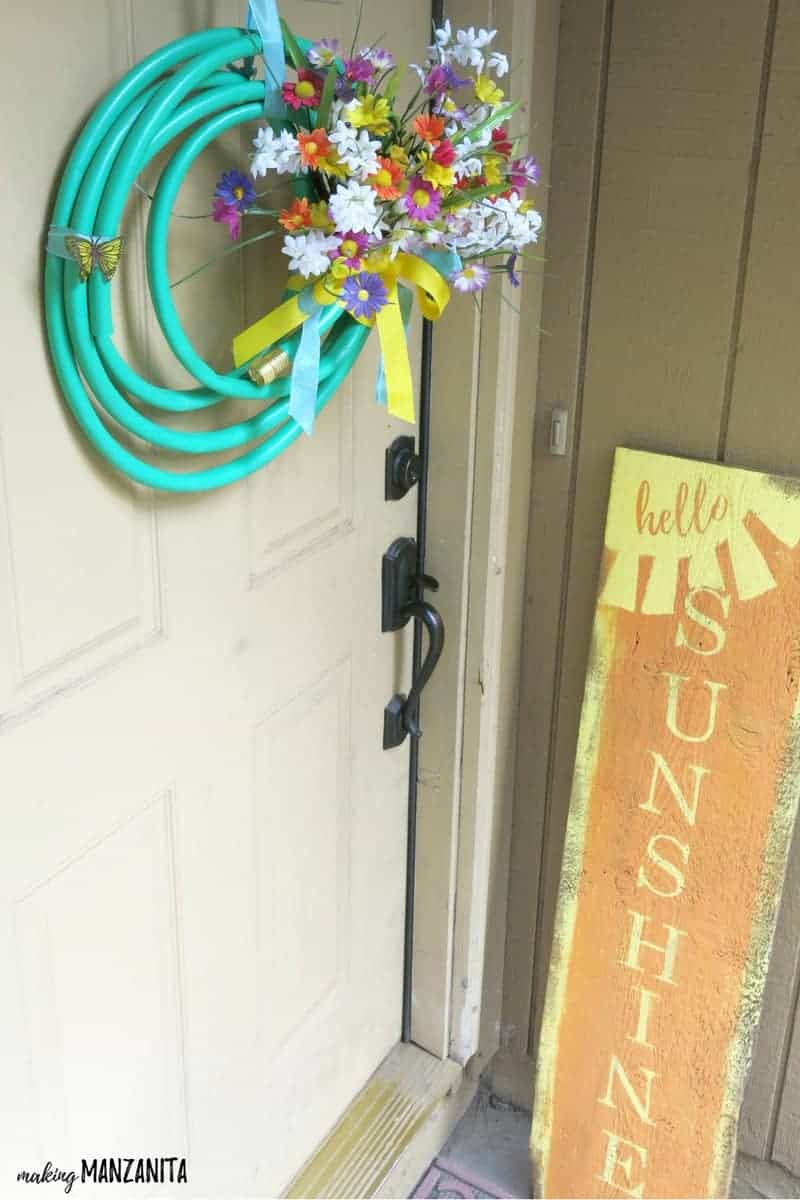 I love the touch of color that the summer wreath made with a garden hose added to my front door. It pairs great with my Hello Sunshine Wood Sign, don't ya think? It seriously makes me smile every time I walk in the door.
I'll be counting down the days until summer because I can't wait for BBQs and warm summer nights. How do you decorate your front door for summer? Have you ever made a wreath from a garden house?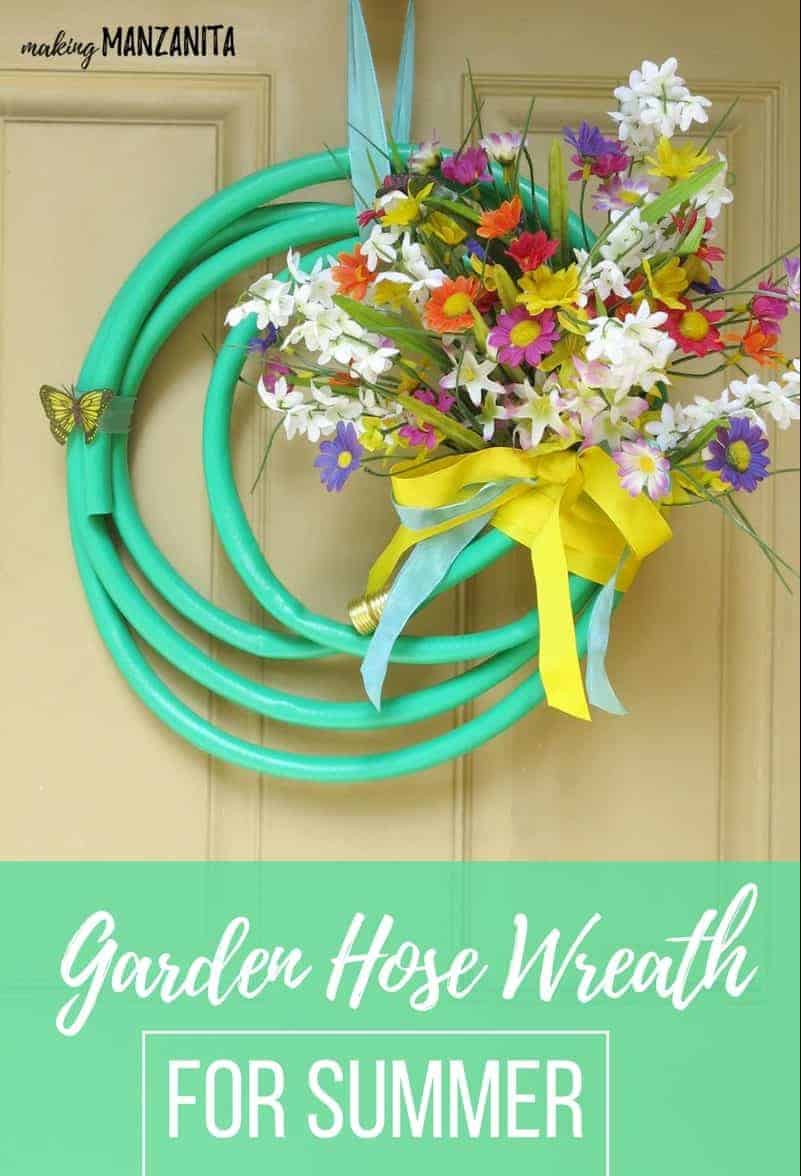 Here's a video recap of the LIVE video demo for this and my Hello Sunshine wood sign.
---
And now for more thrifty goodness!
Check out what my fellow upcyclers created below!