If you're renovating, chances are there will come a time when you need to install a prehung door. This how to install a prehung door tutorial is just for you! Whether it's a door that you're adding to a wall or just that you are replacing old, tired doors with something new – it is totally a doable DIY project for any home owner!
Thank you to DAP for sponsoring this how to install a prehung door tutorial! All opinions are entirely my own. This post also contains affiliate links, but nothing that I wouldn't recommend wholeheartedly. Read my full disclosure here.
If you are researching how to install a prehung door, you'll probably find a bunch of different ways to go about installing. The truth is that as long as your frame is square and the door shuts nice and tight at the end, you've done a good job.
You'll see in this video that Logan dry fits the prehung door first, then refits, and continues to makes small adjustments for the prehung door and frame to make sure it is a snug and square fit. So don't worry if your door doesn't shut perfect on the first try.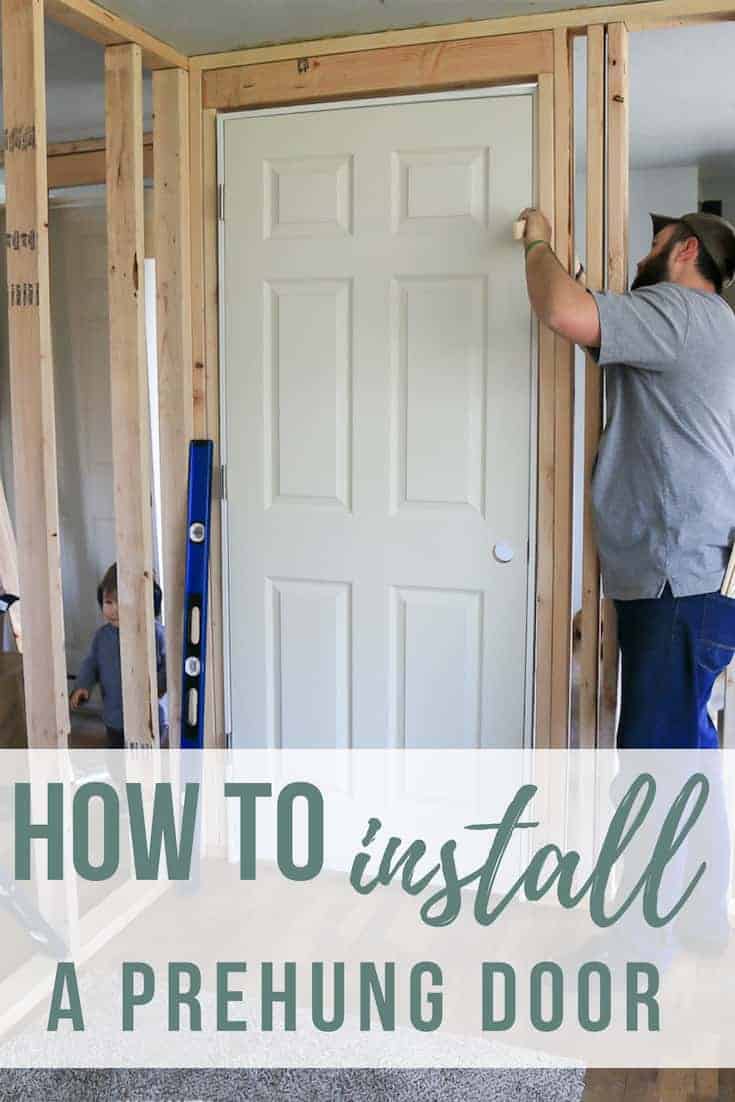 After the door is hung that it is essential to trim it out and, of course, caulk. Caulking all trim in your home provides a smooth finished and professional look because it covers any gaps between the trim and wall making it look completely seamless.
I'm so glad to be a partner with DAP because they are company that we come back to time and time again while we're renovating. If you're heading to Home Depot for renovating supplies, I know the choices can be seriously overwhelming…but after lots of trial and error, we've found that there are a few brand names that we can always trust…DAP is one of them, that's why I am so excited to collaborate with them for fun posts like this tutorial for how to install a prehung door (and our recently finished board and batten wall in the nursery and informative posts like one with the strongest super glue for fixing things around your house and shower tile installation tips and tricks)
Below you'll find the detailed steps for how to install a prehung door and a full supply list, but first I've summed everything up in a quick video. If you love videos, be sure to subscribe to my YouTube channel so you don't miss another DIY video.
Supplies for this tutorial on how to install a prehung door: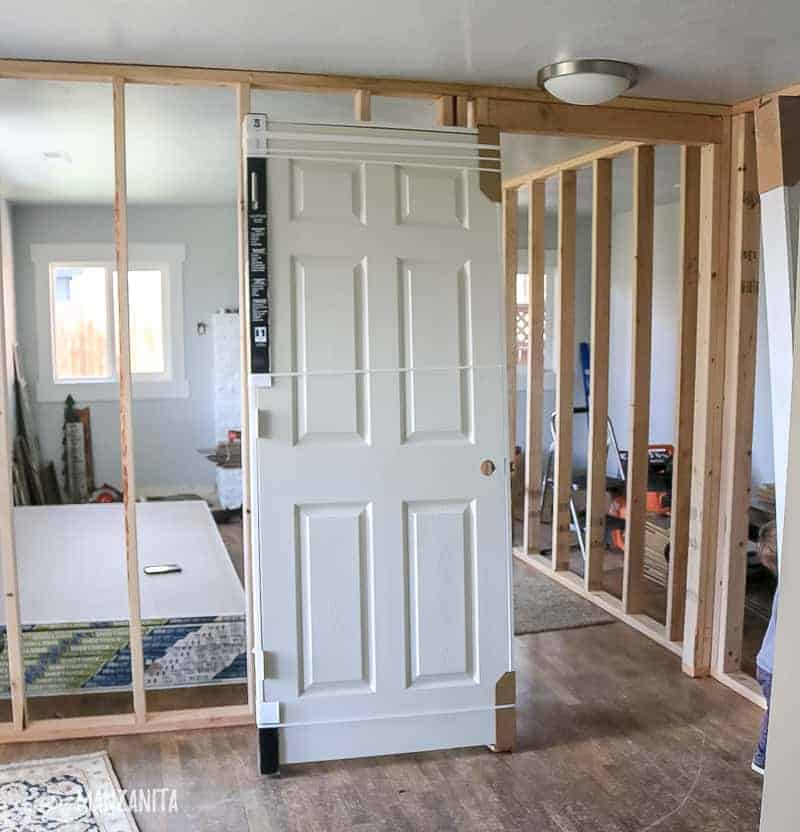 Step 1: Prepare to install a prehung door.
First, check the rough opening you are going to install the prehung door in.

Before you even begin installing you need to be ultra sure that the door and frame will fit.
Distance from the sub-floor should be 82 1/2″ tall and the width of the door you chose plus 1 1/2 inches.

When hanging a prehung door over your finished floor, like we did, you'll have to cut the door frame down so the bottom of your door is nice and tight.
Now is the best time to make a change to your framing if needed.
Once your rough opening is right, and square, it is time to install a prehung door.
Further Reading – If you are also doing the framing for your door in the wall, you definitely need to read this article on framing a door! 
Step 2: Dry fit your prehung door.
Grab the biggest level you have and some wood shims.

We recommend at least a 4 foot level for this home improvement project. Anything smaller and you might find that its possible to level 2 parts of your frame differently.

Once you have the big level, dry fit your door into the frame and see how it fits.

Dry fitting just means putting your pieces together before you attach anything.

When you dry fit, you might find that your prehung door is too far off the floor like we did and need to trim the frame. Make any adjustments you'd like before you commit to screwing in your frame.

Step 3: Shim and level prehung door on the hinge side.
After these adjustments to the door frame, start by shimming and leveling the hinge side of your prehung door. Keep the other side of your frame off the studs by at least a 1/2 inch so you can make adjustments later.
The frame (also called jamb) of your prehung door is going to be 4′ 9/16″, which accommodates your stud and drywall on either side when the wall is finished. So the center of your jamb needs about a half inch on either side of the stud when you are hanging your prehung door. That 1/2 inch gap is filled with wood shims, which are perfect because you can adjust them just as you need.
Step 4. Shim top of door.
Start from the top down and be sure that the top of your jamb doesn't flex or bulge when you add shims. Shim the gap at the top of the door.
Step 5. Shim and level door on the opposite side.
Now that your hinge side is hung and level both inside and out, it is time to move to the other side and repeat the process.
Before you shim and level the other side of the door, shut it first. When you shut it, the top of the door should fit snug and not hit the jamb.
Next you can continue adding shims and level the rest of the prehung door down to the floor.
Don't be mad if the door doesn't shut perfectly. Continue making your adjustments with your shims and screws until you get that snug fit you are looking for.

Step 6. Break shims flush.
Since the door and frame are in and square. Break off your shims flush with your wall studs.
Our wall didn't even have drywall because we were building it from scratch (further reading – read how to build a wall here), so if you're the same boat you definitely want to hang your drywall as close as you can to the door frame. Then tape and texture your drywall.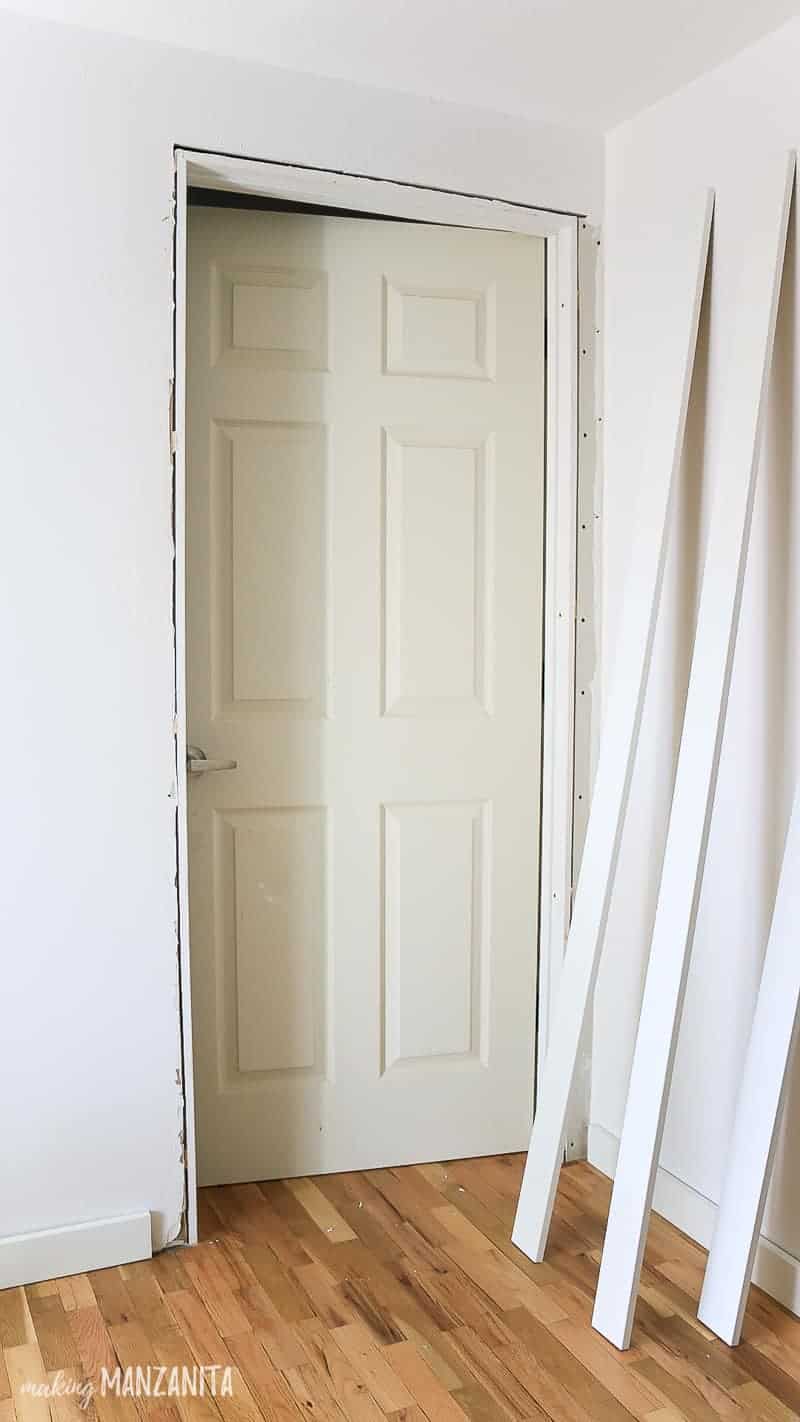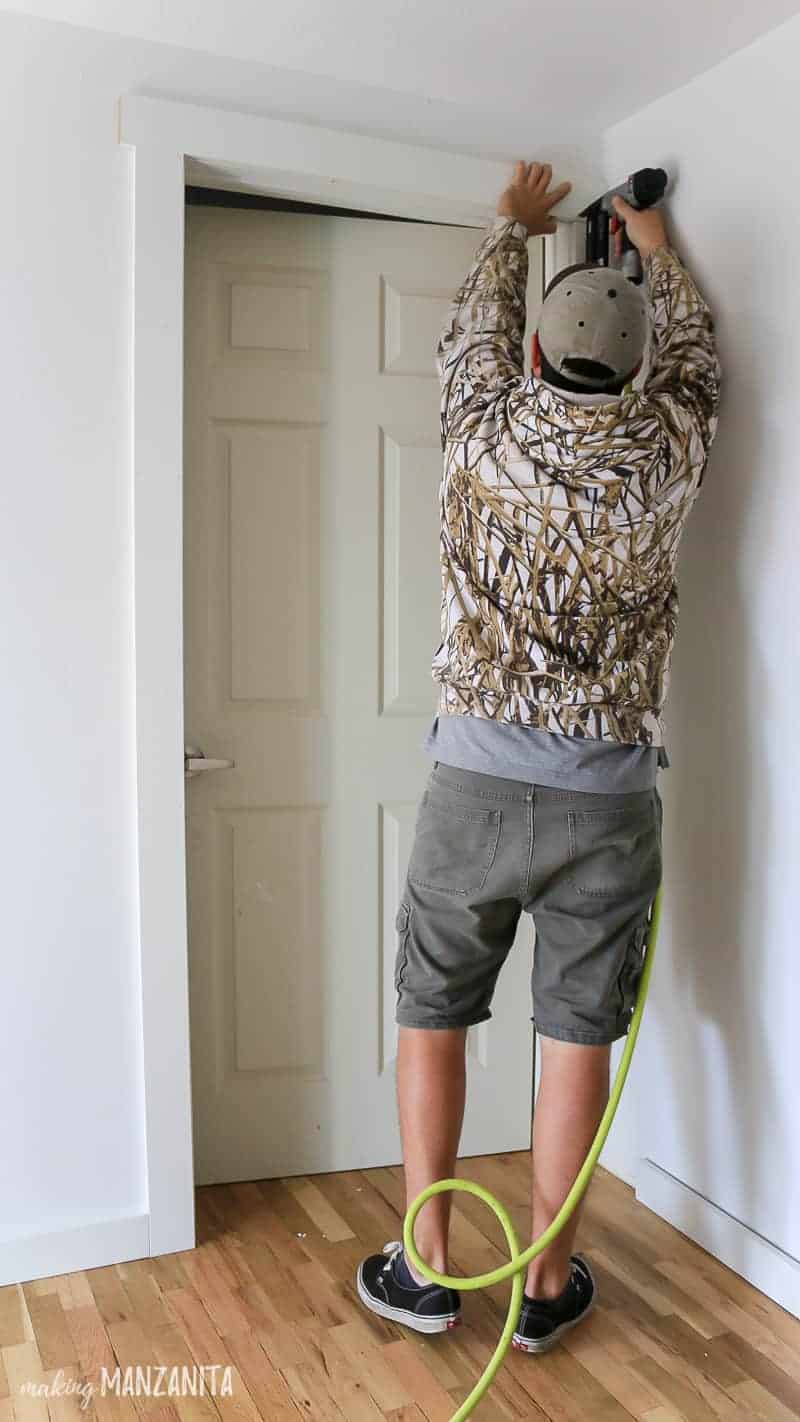 Step 7. Add trim around door.
Now you are going cut your desired trim down to size and put it around your door.
I would recommend choosing trim that matches the rest of your home for consistency.
When attaching the trim around your door, be sure to leave about a 1/4″ lip showing on the door frame. This way you'll be able to caulk to hide any gap and you won't interfere with the door closing easily.

Step 8. Caulk door trim.
Get your caulking gun and DAP Alex Flex Premium Molding & Trim Sealant. Open up the tube with a small opening at first. Cut the tube spout at a 45 degree angle, then take the spike on your caulking gun and stab down the hole to break the seal holding in the caulk. You are now ready to caulk your door frame and trim.
Run a thin bead of caulk along your door frame and along your door trim.
Be sure to clean them up with your finger and don't use too much caulking.
If you're having troubles with your finger sticking, wet it slightly.
Be sure to wait for your caulk to be paintable (for DAP Alex Flex, it's only 30 minutes!) before painting.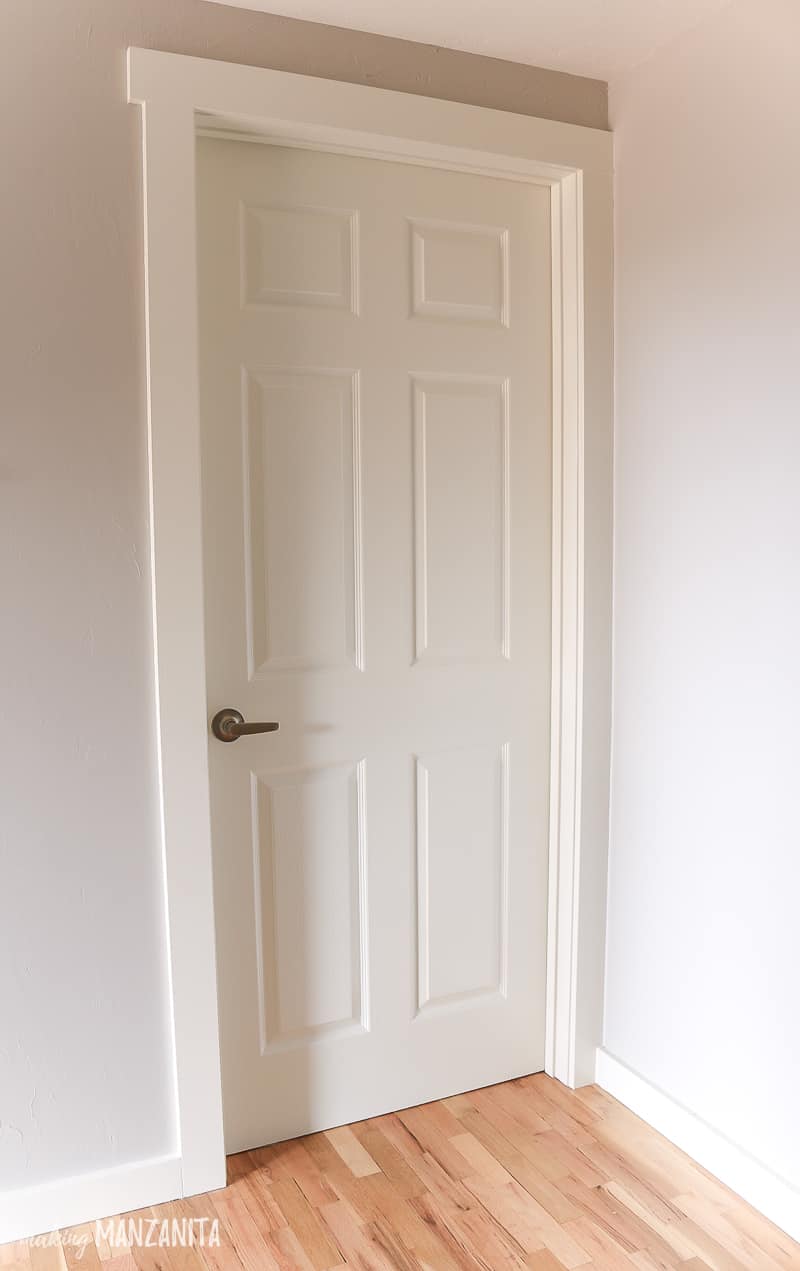 If you're renovating, chances are there will come a time when you need to install a prehung door. Whether it's a door that you're adding to a wall or just that you are replacing old, tired doors with something new – installing a prehung door is totally a doable DIY project for any home owner!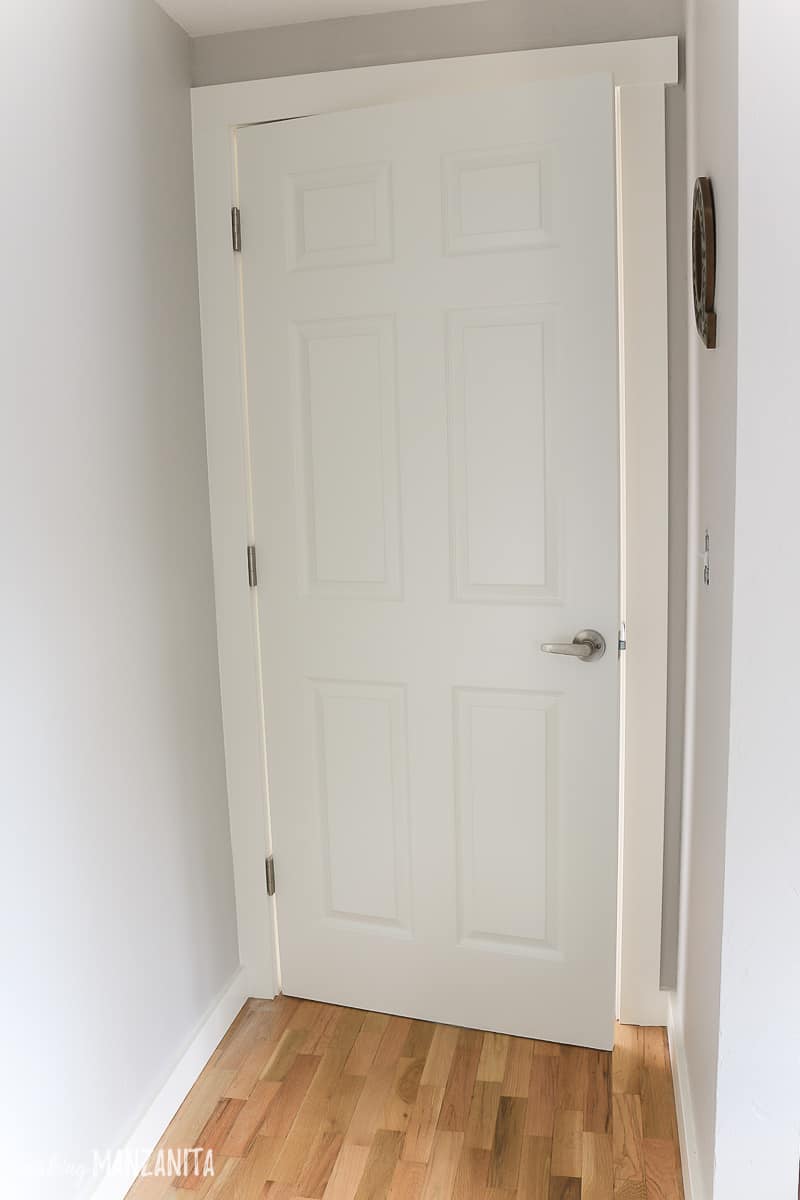 If you were wondering how to install a prehung door, hopefully this tutorial helped you out! Start by dry fitting the prehung door first and refitting. Continue to make small adjustments to make sure it is a snug and square fit. Take your time to avoid frustration. Once your door is hung, attach your trim and caulk all joints and corners where the wall meets the trim.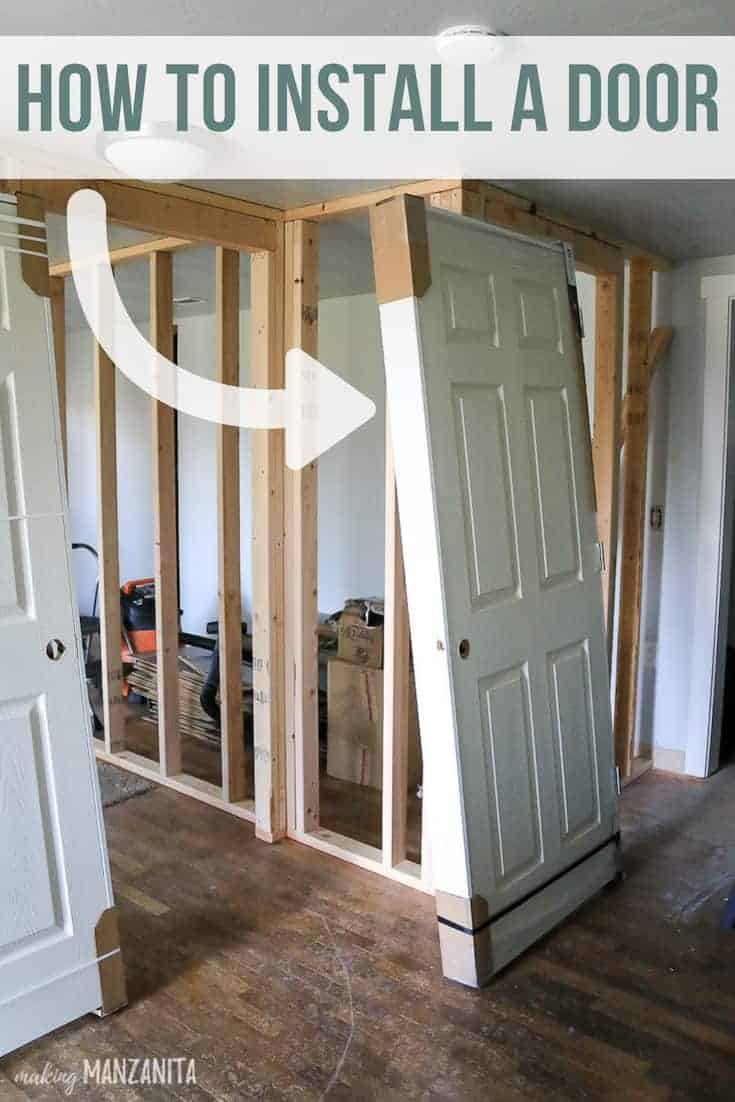 Have you ever installed a prehung door? How did it go?
Let me know in the comments below!!
---
Want to see more of our modern farmhouse nursery??