Cords are a huge eye sore, right? If you're looking for a simple way to hide wires, this one's for you. Here's how to hide wires with a mid-century side table.
There is nothing more hideous than a huge pile of wires in a beautifully decorated room. You spend all of your time and energy getting the room just right, but you can't easily control where the outlets are or where your cable plugs in.
You're probably here because you are looking for a simple way to hide your wires. Because, I mean…just look at this mess.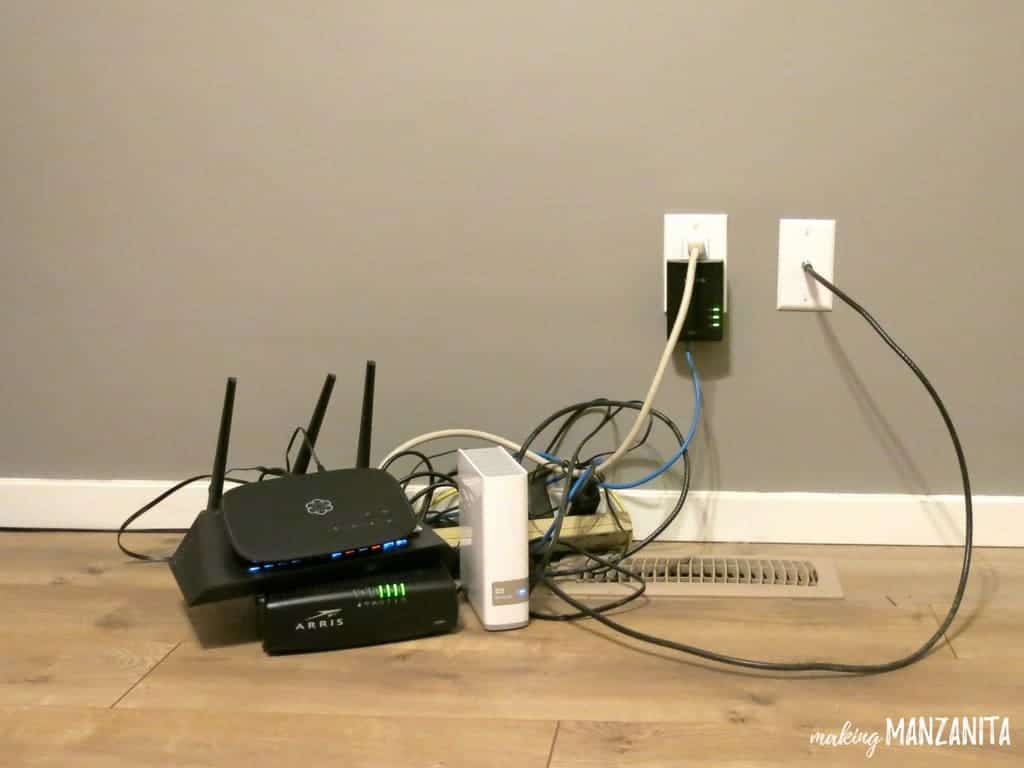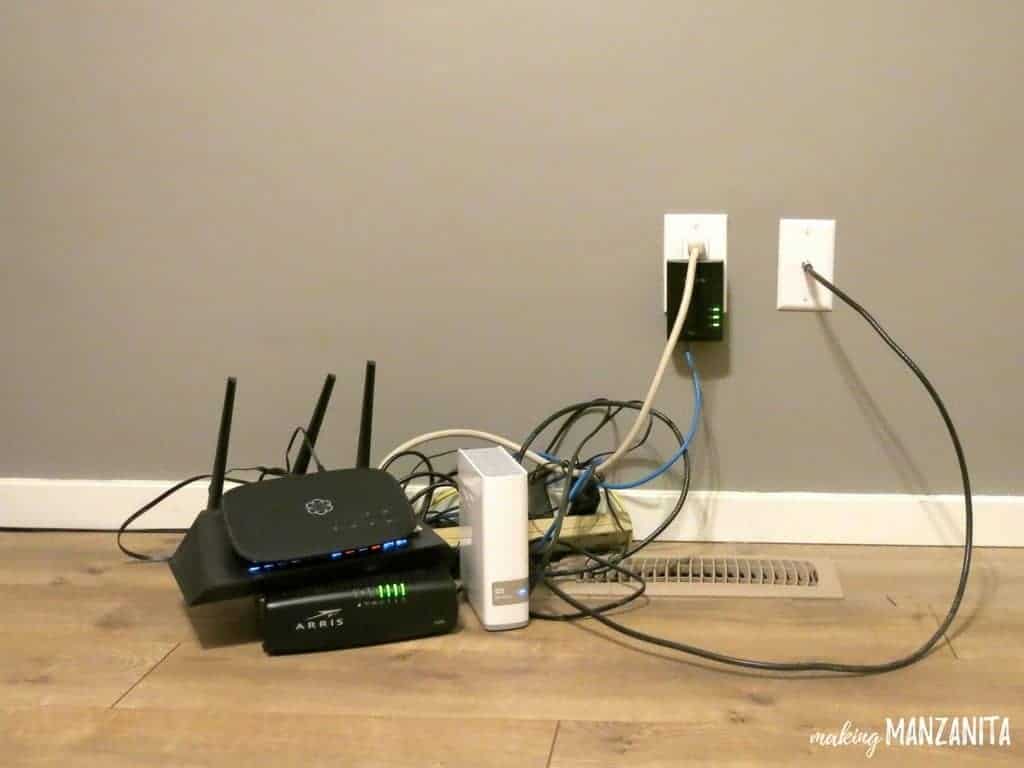 This post is part of my fun monthly challenge for thrift store upcycles. I got the base for my fun mid-century table at the thrift store. You'll be shocked how I upcycled it to solve a major problem – how to hide wires!
If you love DIY videos, be sure to subscribe to my YouTube channel!
Related – check out my other thrift store upcycles:
The Rules:
Upcycle an item(s) from a thrift store, resale store, or garage sale into a new piece of decor.
There's no monthly theme.
There's no budget to stick to.
Meet the Hosts
Amanda | The Kolb Corner    Erlene | My Pinterventures    Kim | Made in a Day
Dru | Polka Dot Poplars    Maureen | Red Cottage Chronicles    Pili | Sweet Things
Debra | Shoppe No. 5    Marie | DIY Adulation    Havalah | Sisters, What
Chelsea | Making Manzanita    Ann | Duct Tape and Denim
Molly | Just a Little Creativity    Ashley | 3 Little Greenwoods    Kimm | Reinvented
Kim | Farmhouse Made    Victoria | Dazzle While Frazzled    Sara | Twelve on Main
Chelc | Inside the Fox Den     Michelle | Our Crafty Mom    Jeannee | Shepherds and Chardonnay
Jennifer and Vicki | 2 Bees in a Pod    Lora | Craftivity Designs
Ali | Home Crafts By Ali    Denise | My Thrifty House    Kathleen | Our Hopeful Home
Jeanie | Create & Babble    Michelle | Michelle James Designs
Make sure you follow our board on Pinterest for more upcycled decor inspiration!
---
This post contains affiliate links, but nothing that I wouldn't wholeheartedly recommend anyway! Read my full disclosure here.
Here's my solution for how to hide wires
I needed a solution because I couldn't have mess in my beautiful new marble & gold themed office. If you are stuck trying to figure out how to hide hideous electrical wires, I have a super simple and adorable DIY solution for how to hide router cords.
You'll never guess what I upcycled from the thrift store to make this mid-century side table. Here it is…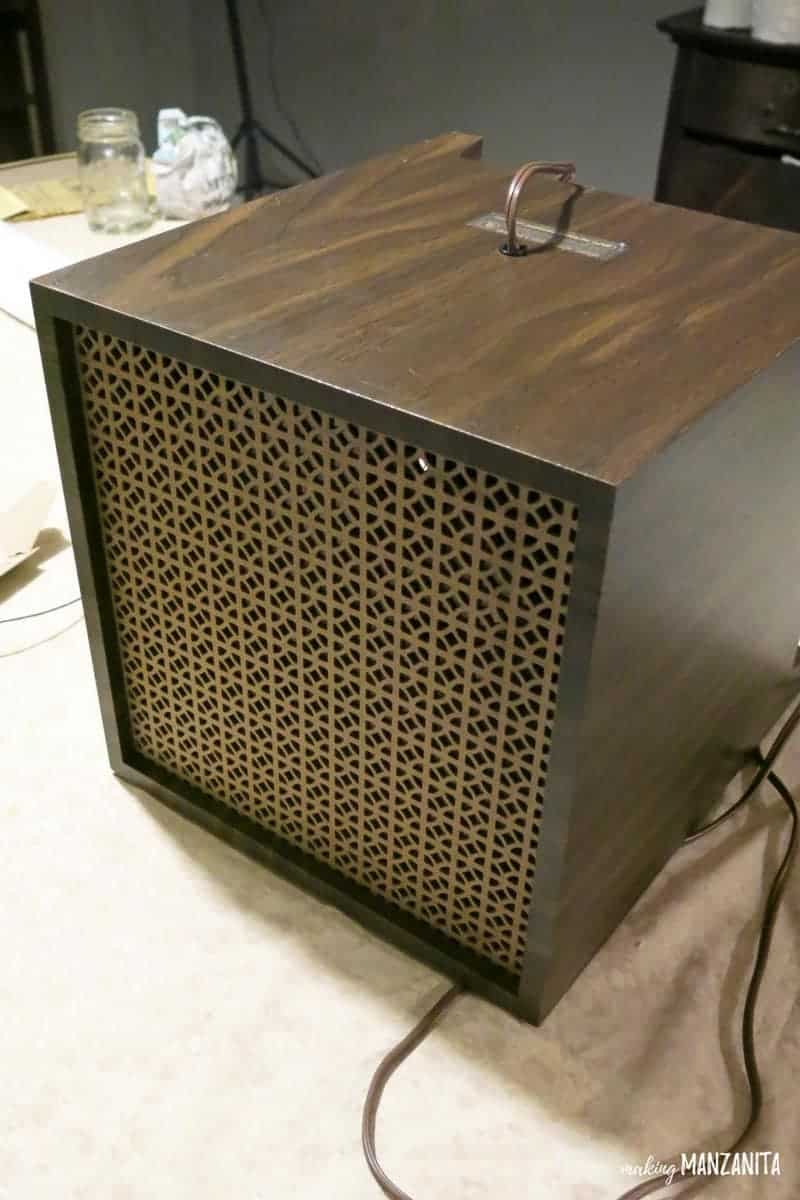 You're still probably confused, right?! What the heck is that!? 
Well, I had no idea either. I just knew it was the perfect size and even better it had that front panel with holes for ventilation, which is a necessity if you're going to be creating your own table as a solution to the how to hide wires dilemma.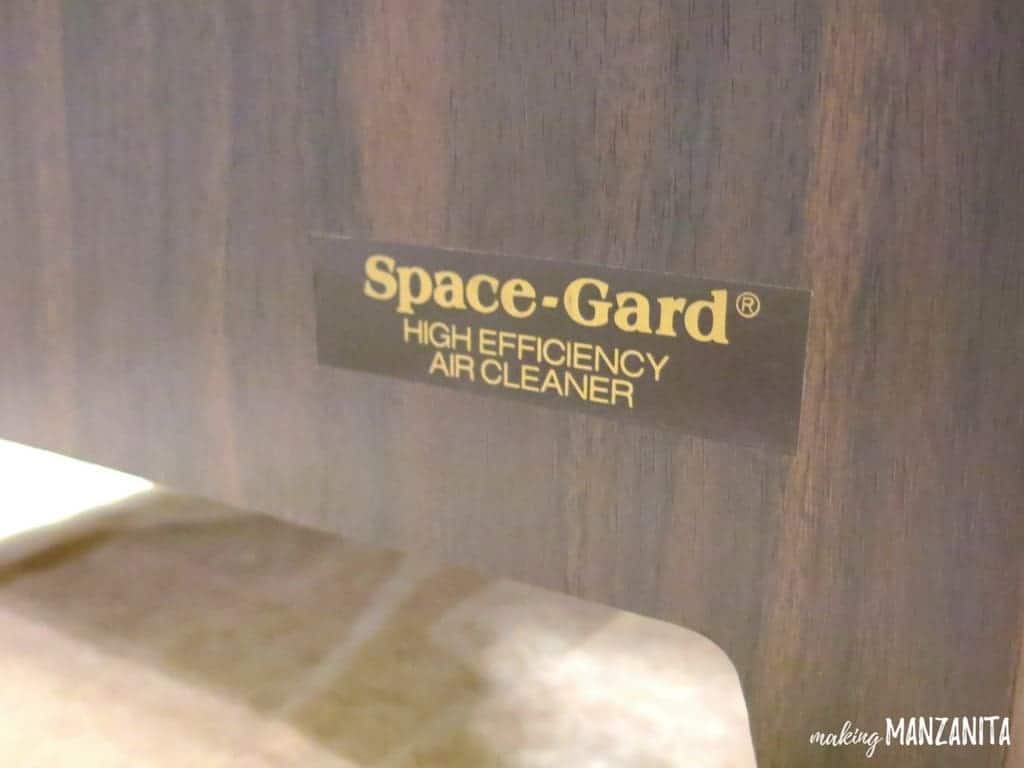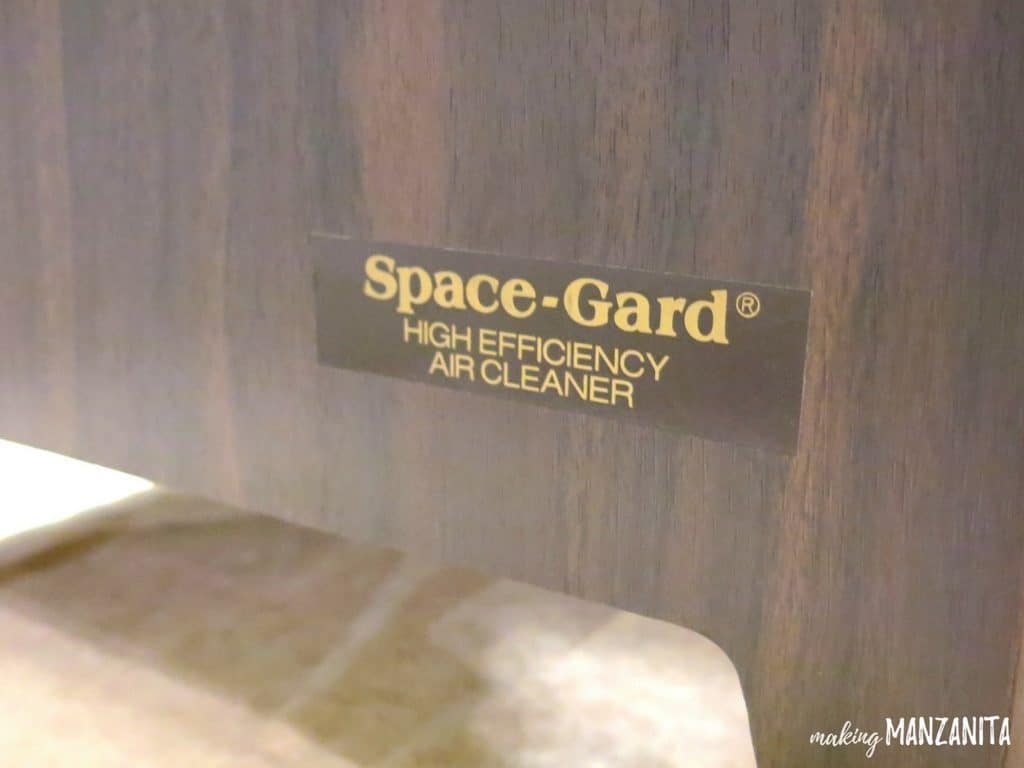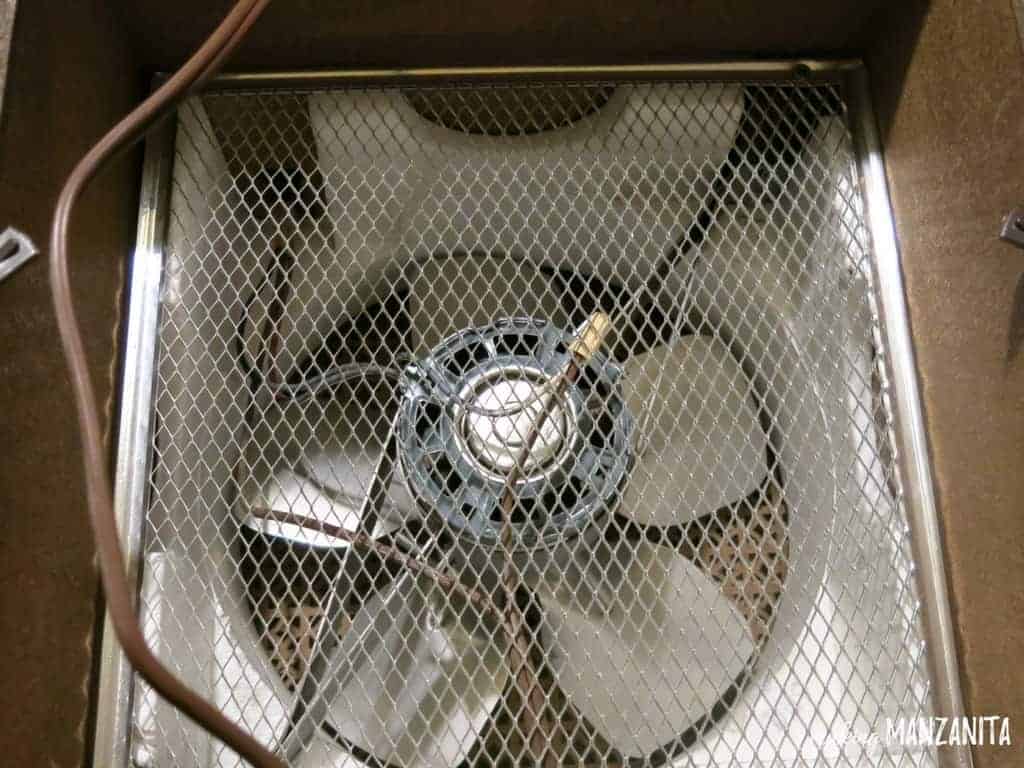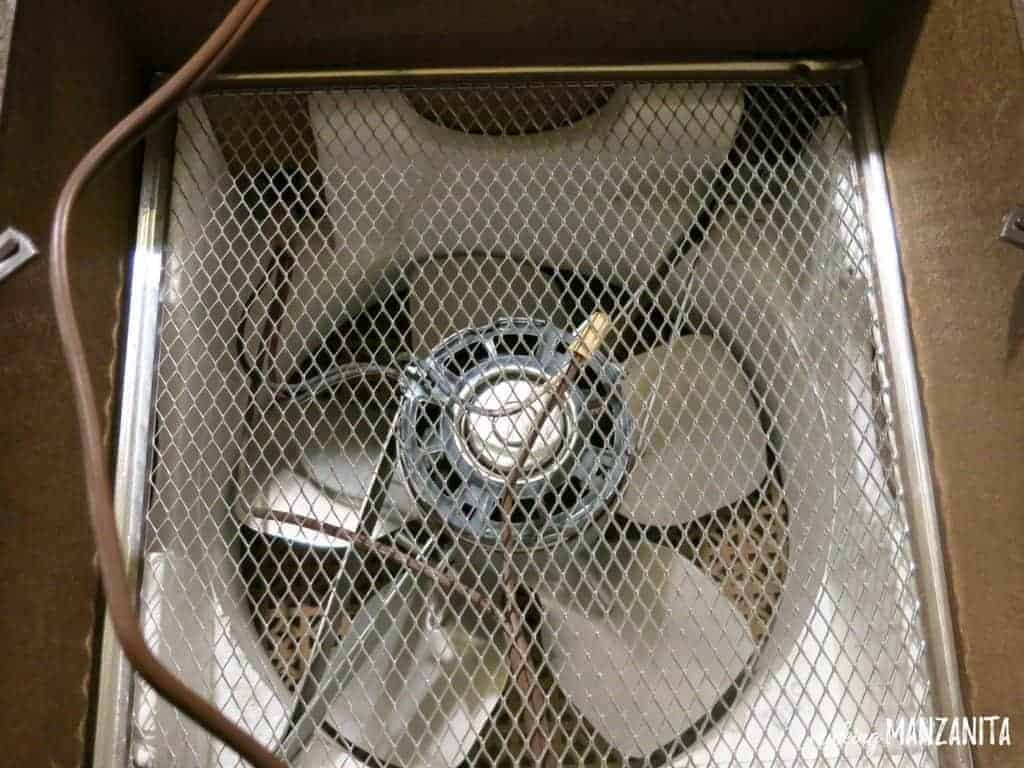 Turns out it is a really old school air cleaner. I'm guessing that's kind of like a modern day air purifier. Regardless of what it was, what is was going to be is even better.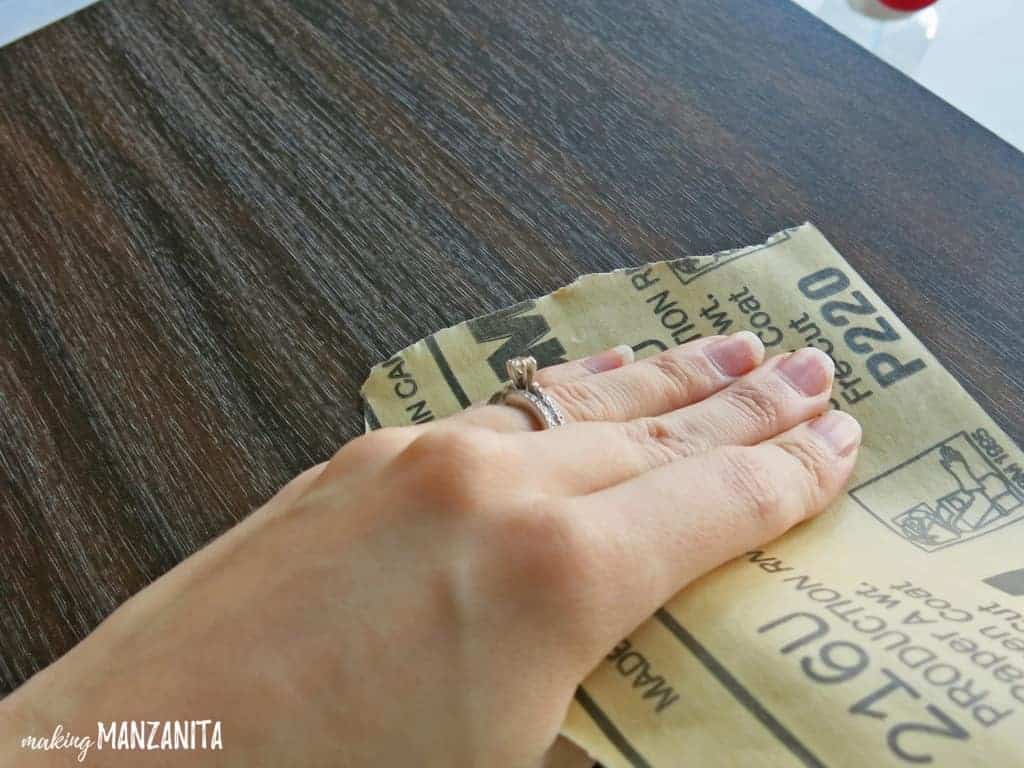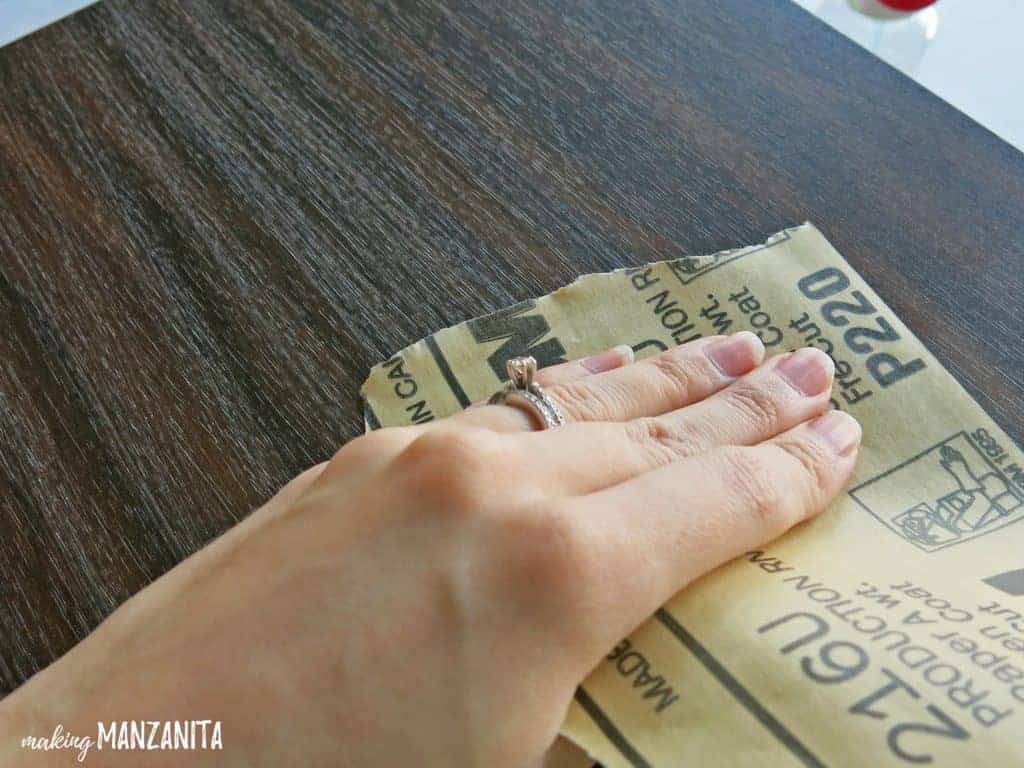 Step 1. Lightly sand.
Since I knew I was going to painting this with spray paint, I gave it a quick and very light sand with a fine 220 grit sandpaper.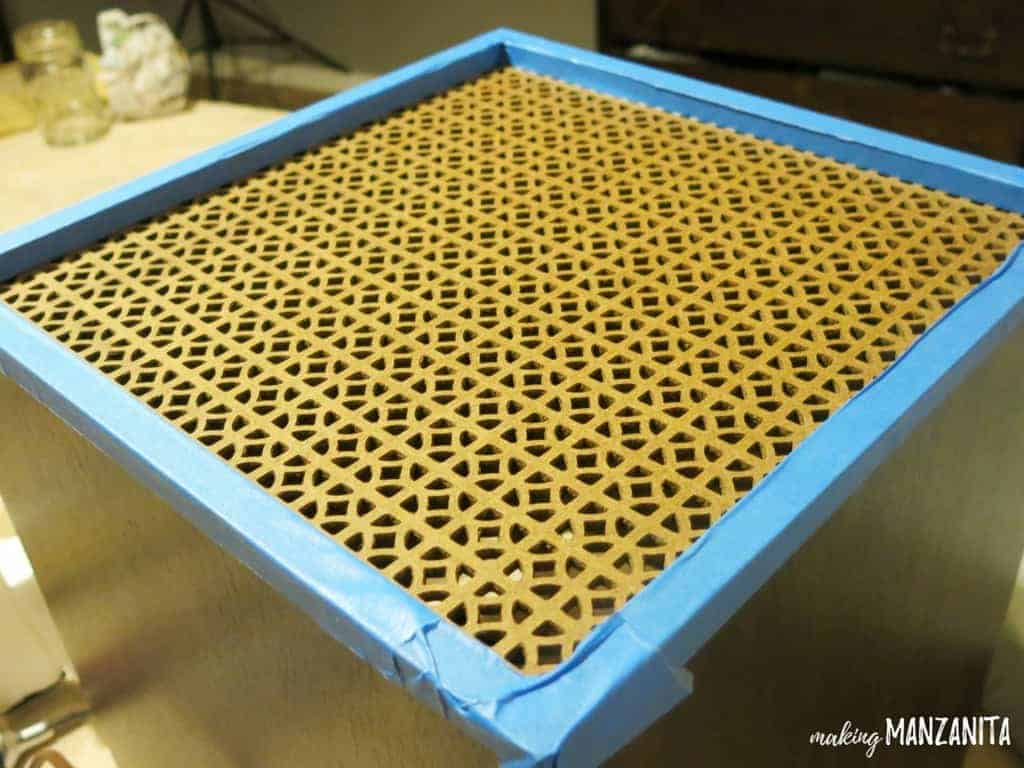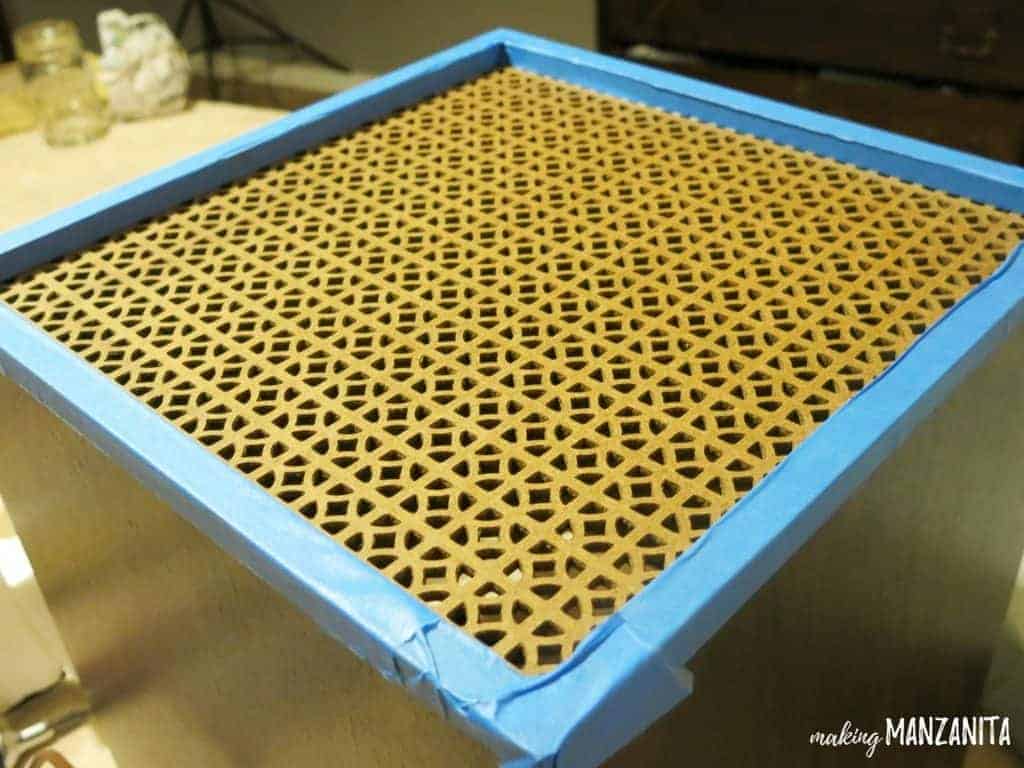 Step 2. Tape off and spray paint front.
Next I used painter's tape to tape off the edges of the front around the panel. I followed up by giving the front panel a few coats of gold spray paint. Remove the tape when finished.

Step 3. Tape off front and spray the rest of the box.
Since my office was marble, white, gold and mint green – I wanted to keep the box with a simple white and gold theme. I chose white spray paint for the main color. We did about 4 coats after covering the front panel with plastic and tape.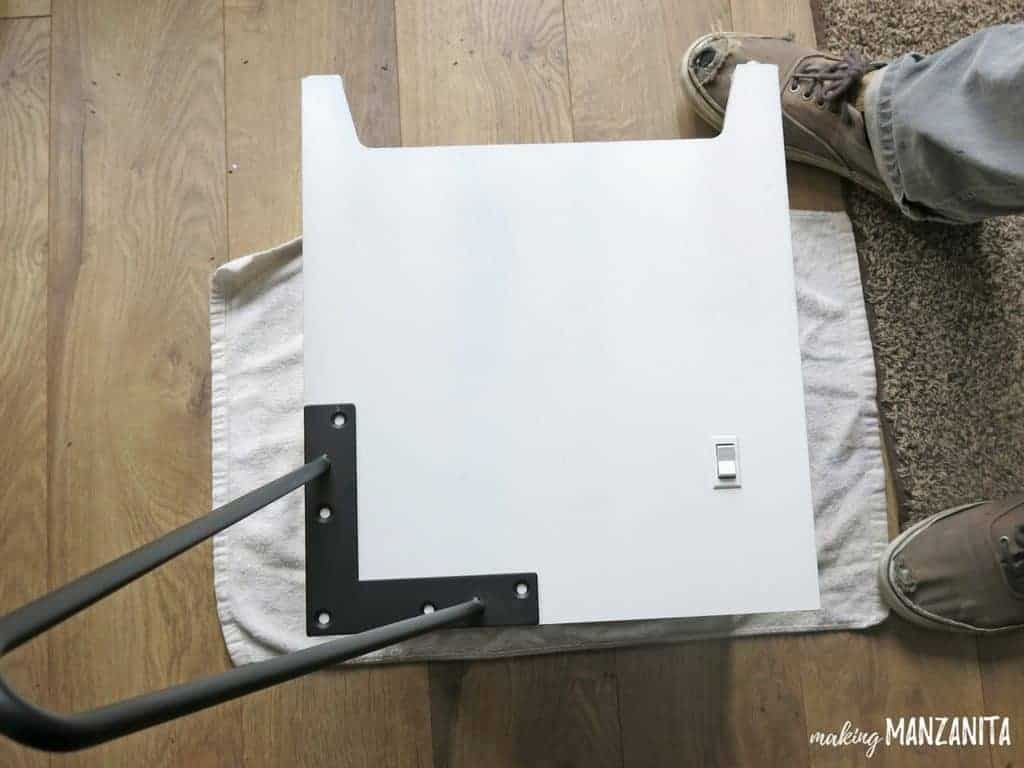 Step 4. Add legs.
This is where it really started coming together. I had been itching to do a DIY with hairpin legs because I just LOVE them. I knew they would fit in perfect in my modern office. We added the four hairpin legs on the bottom corners of the table.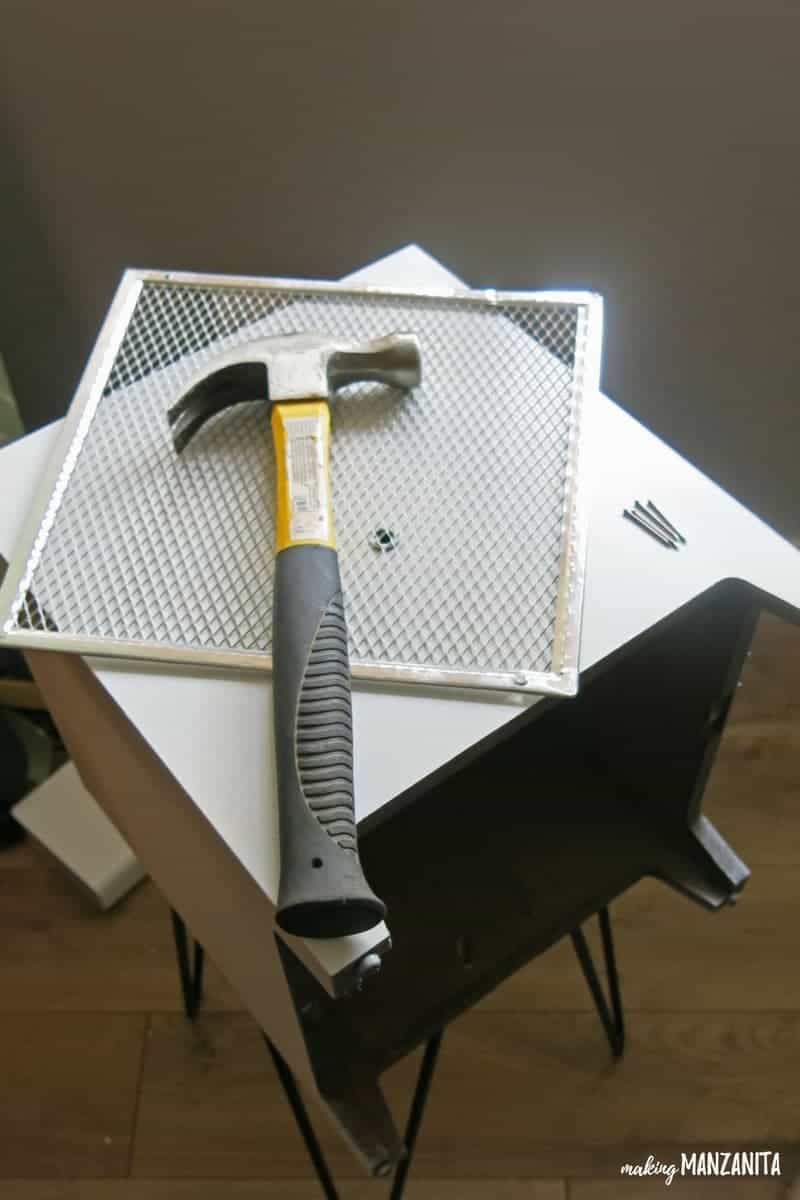 Step 5. Add wire grate as a shelf.
Once I got to this point, I started trying to fit everything back into the little box. And I was really struggling to make it all fit. Then I remembered that little wire grate that I removed when I was deconstructing everything. Ah ah! We need a shelf! Even better, a shelf that allows the air to circulate in the box. We attached the shelf by resting it on some nails on all four corners of the box.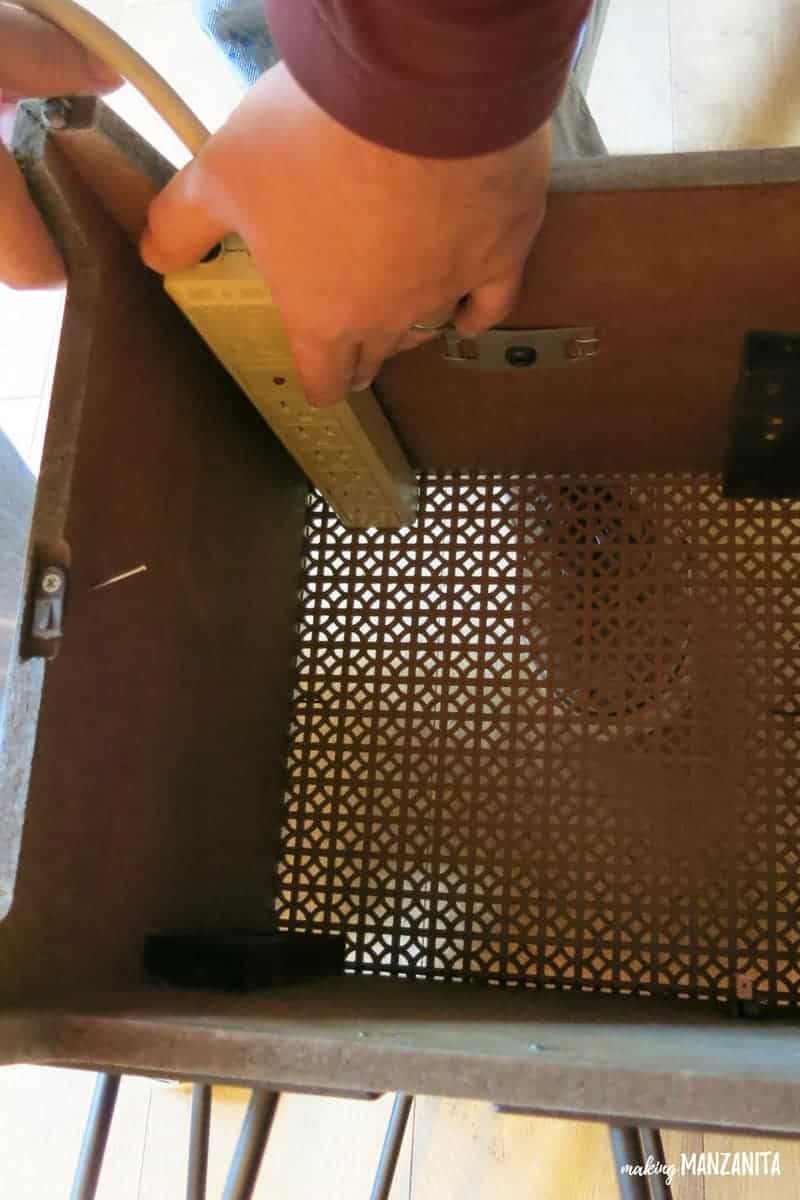 Step 6. Secure power strip.
We added the power strip up into the top corner of the box.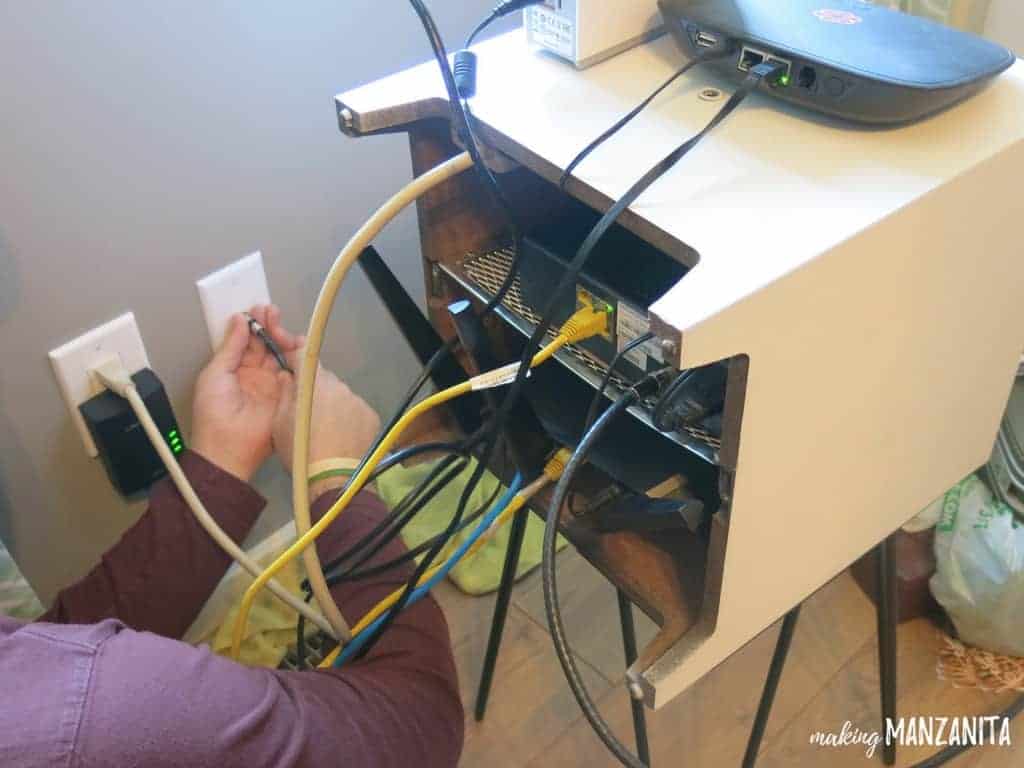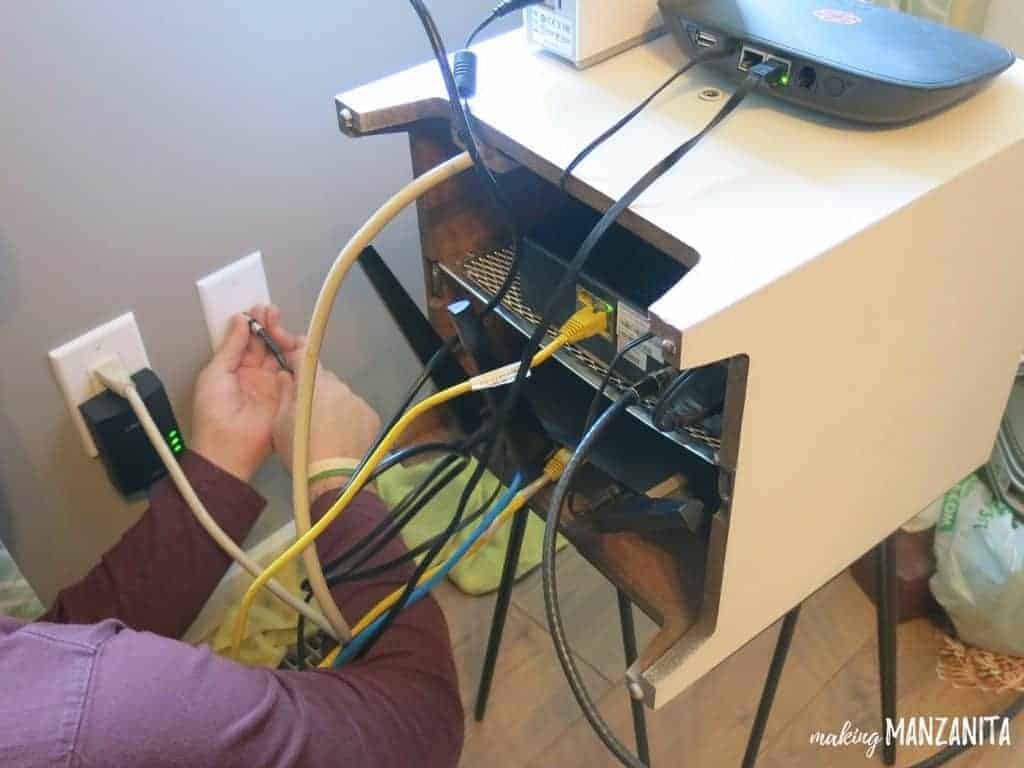 Step 6. Add your gear.
Luckily I have my designated "IT Manager" to do this part for me, hehe. I started getting lost with all the cords. He stepped in and got it all plugged in the right way.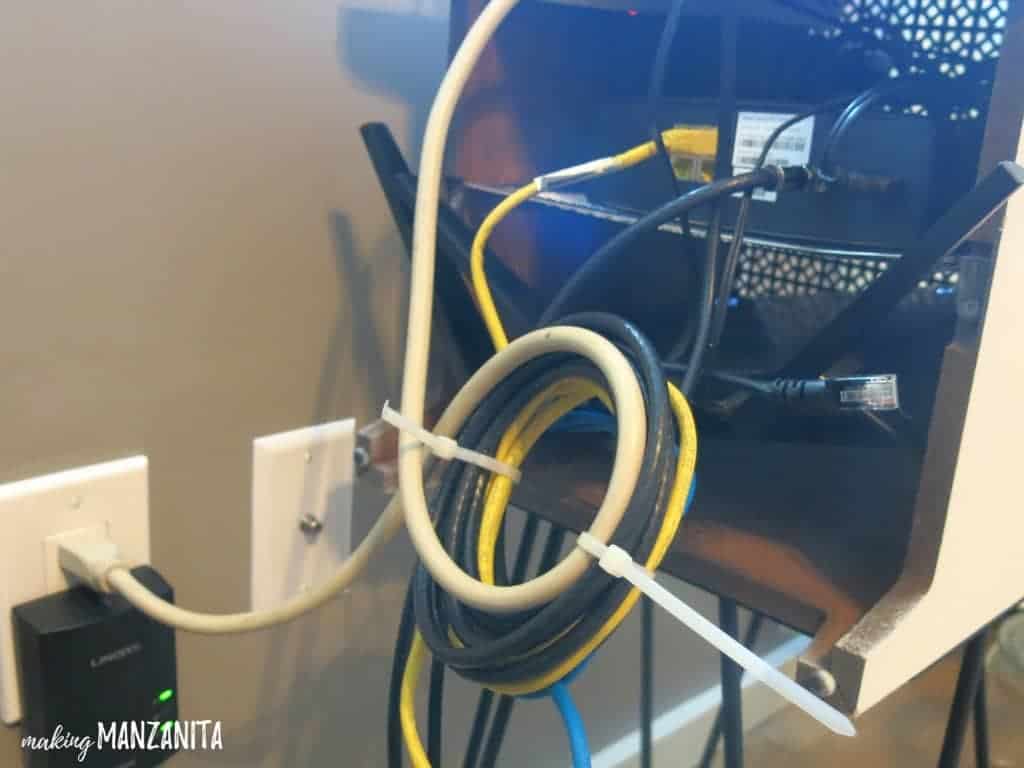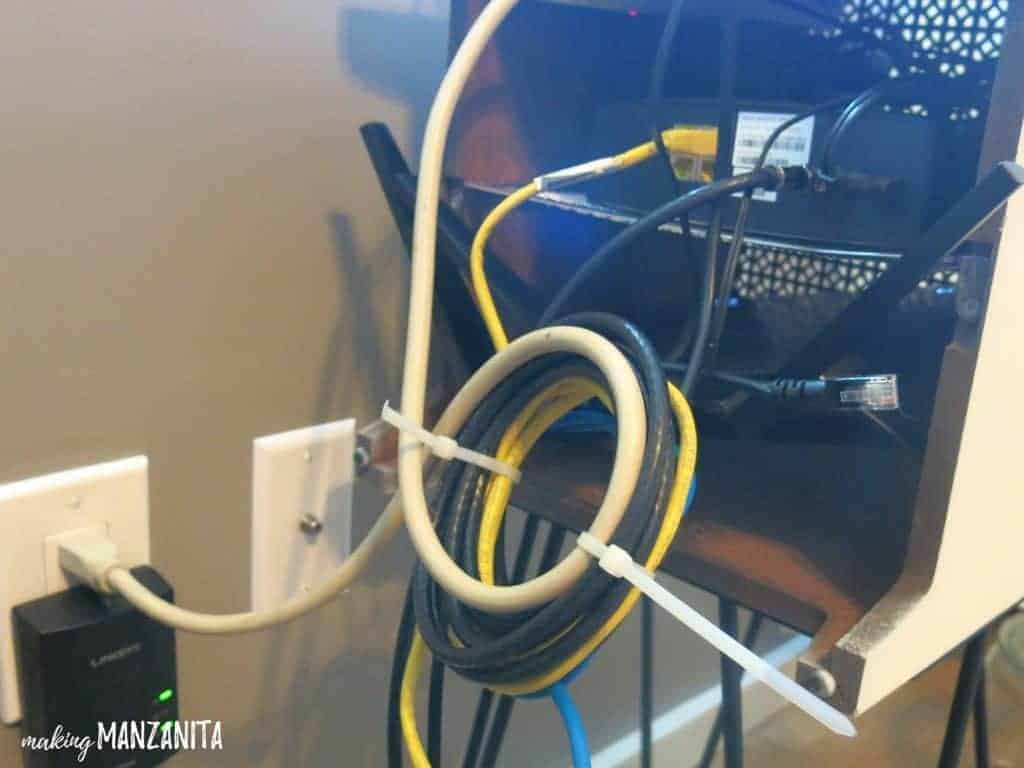 Step 7. Organize the cords with zip ties.
The best part of this solution for how to hide cords is the pretty organized cables that you end up with. Maybe you're not Type-A like me, but that organized circle of cords makes my heart flutter.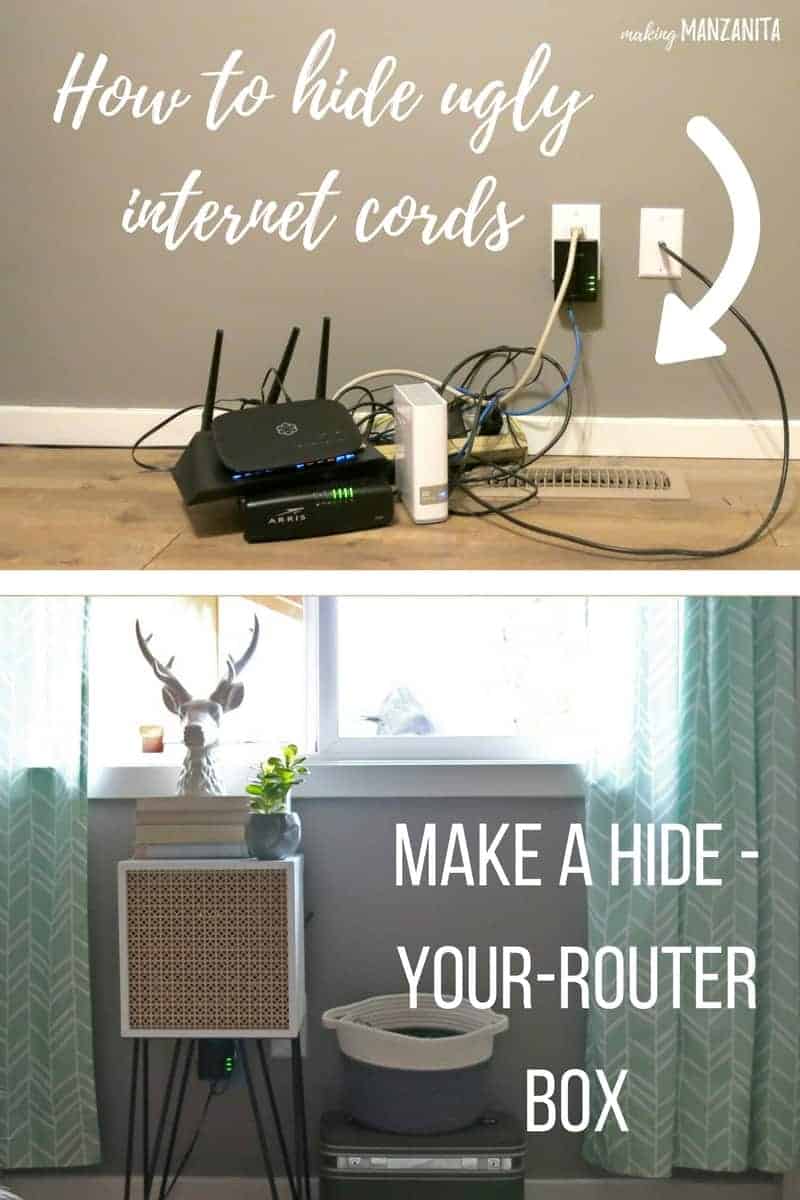 I love my little mid-century side table, my perfect solution for how to hide wires. My marble and gold office is able to stay clean and pretty without the hideous mess of the electrical cords.
Do you have a bunch of electrical wires in your house that need hiding? Whatever type of contraption you come up with (heck, maybe you can find an old school air cleaner too!?) just remember to make sure your solution on how to hide cords has plenty of air circulation. I'd love to see what you dream up!
How do you hide wires in your house??
Let me know in the comments !!
---
And now for more thrifty goodness!
Check out what my fellow upcyclers created below!