Do you love the boho look and giving thrift store finds dramatic makeovers? You'll love today's DIY project. See this DIY magazine rack makeover come to life with cane webbing!
Thank you to Arrow Fastener for sponsoring this DIY magazine rack makeover! All opinions are entirely my own. This post also contains affiliate links, but nothing that I wouldn't recommend wholeheartedly. Read my full disclosure here.
Have you ever seen something in the thrift store that you almost got but then didn't? And then, once you get home, you keep thinking about it. A few days go by, and you keep thinking about it.
This wooden magazine rack was one of those things. I had seen it, almost got it, and then regretted not buying it.
Luckily for me, and for you, it was still there the next time I went back! When I saw it the second time, I knew it was fate. This magazine holder was just destined for me, right?
The second time I saw the wooden magazine rack, it was also 50% off. So I didn't waste any time! I snatched it right up and brought it home for just a couple of bucks!
Wooden Magazine Holder Makeover: Before Pictures
I knew exactly what I wanted to do for this DIY magazine holder makeover. I wanted to dramatically change the color to something darker – like black. And I also wanted to go give it a boho look with some cane webbing added to the inside panels.
The transformation came to life pretty quickly and was super easy! Grab your thrift store find and follow along with this step-by-step boho magazine rack flip!
Supplies Needed for DIY Magazine Holder Makeover
Vintage wooden magazine rack (I found mine at a thrift store for a couple bucks)
Black gel stain (or paint)
Painting rags
Scissors
Step 1. Sand and Stain (or Paint) the Magazine Holder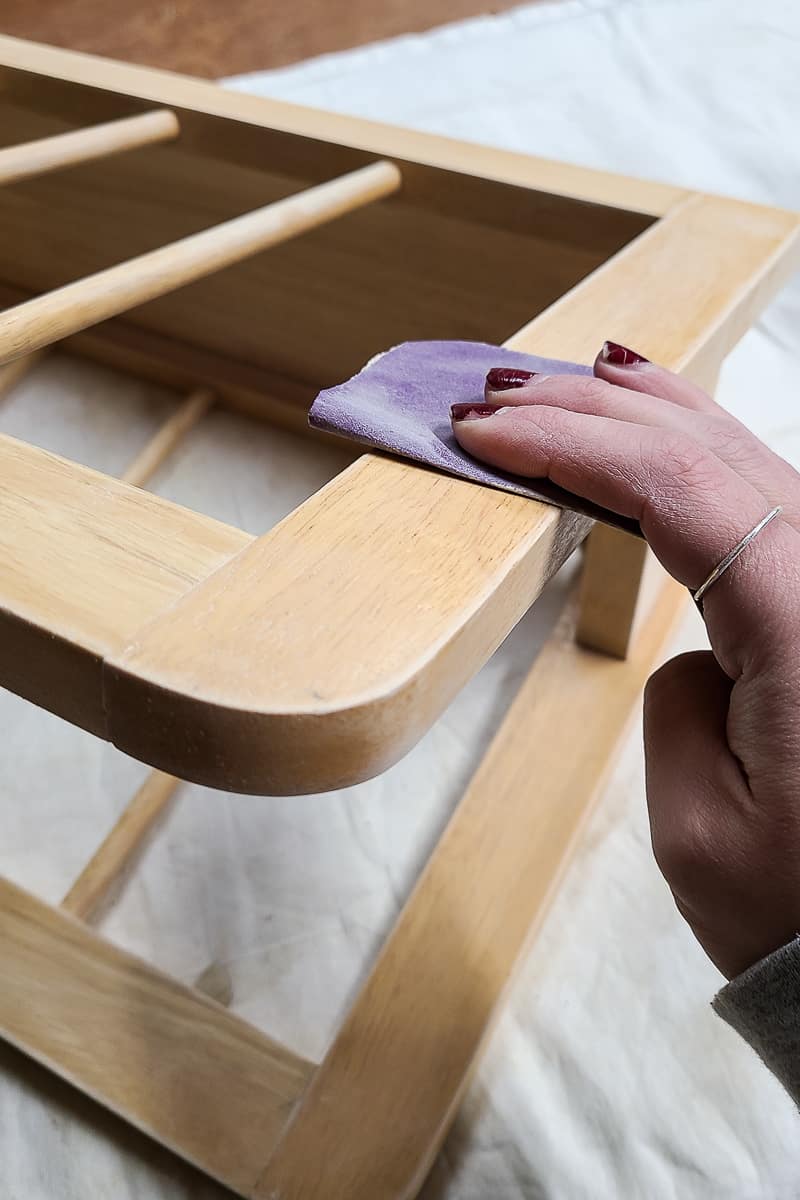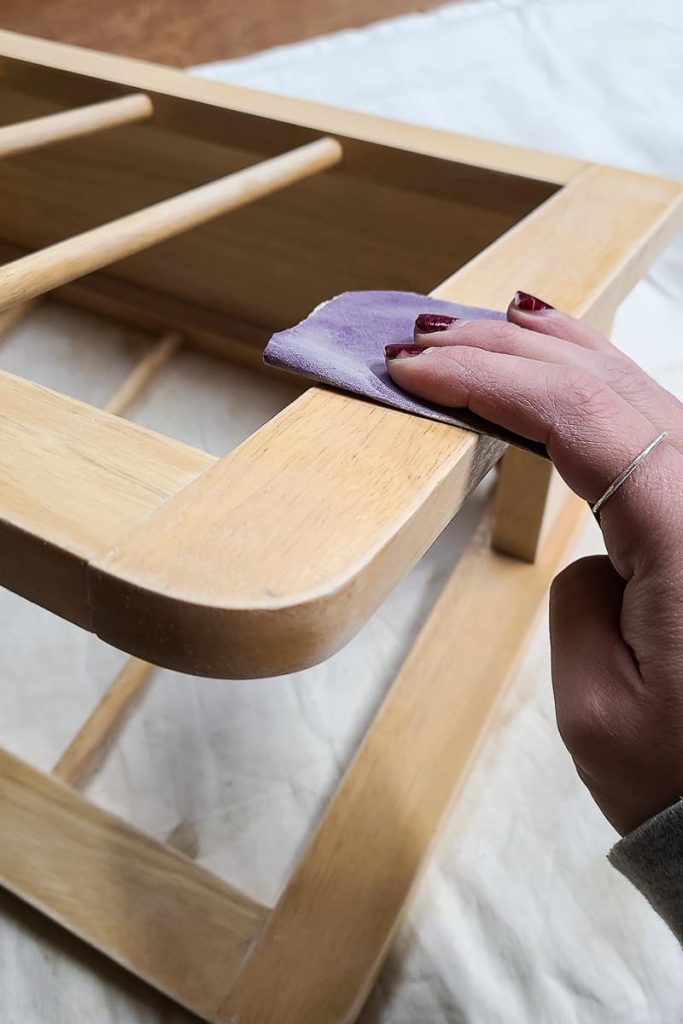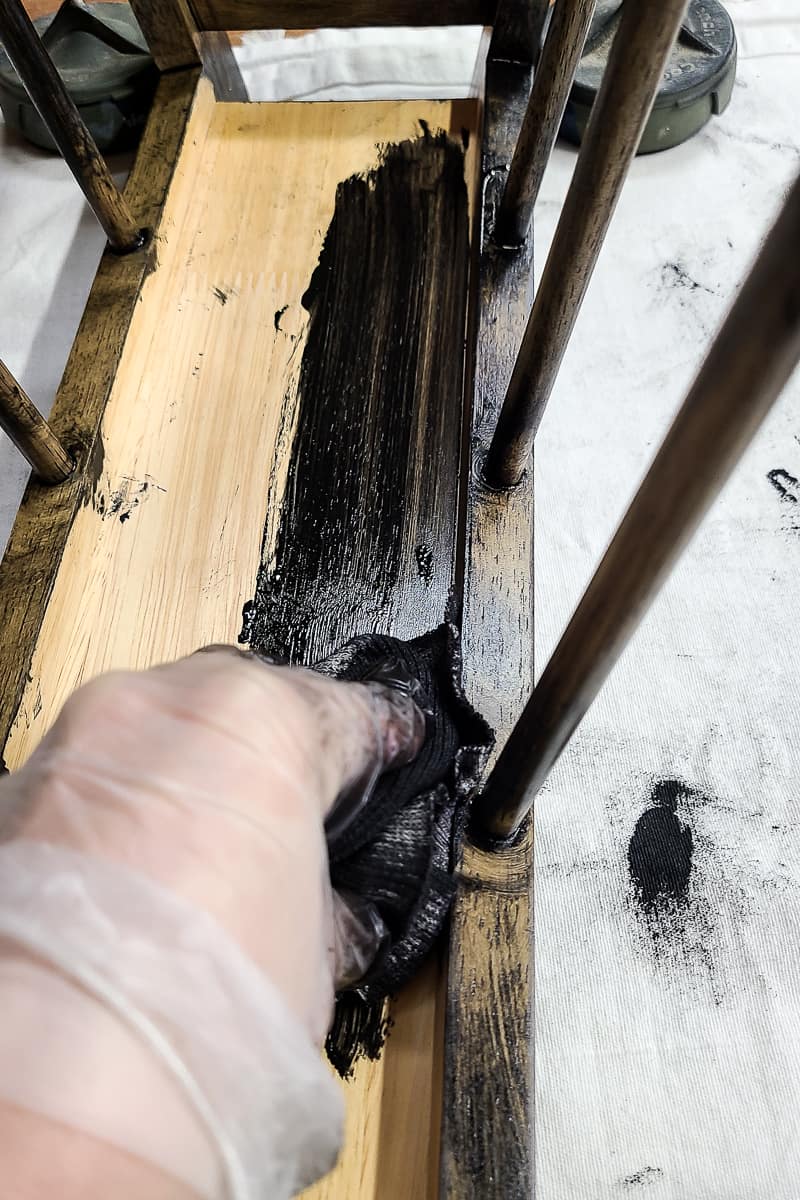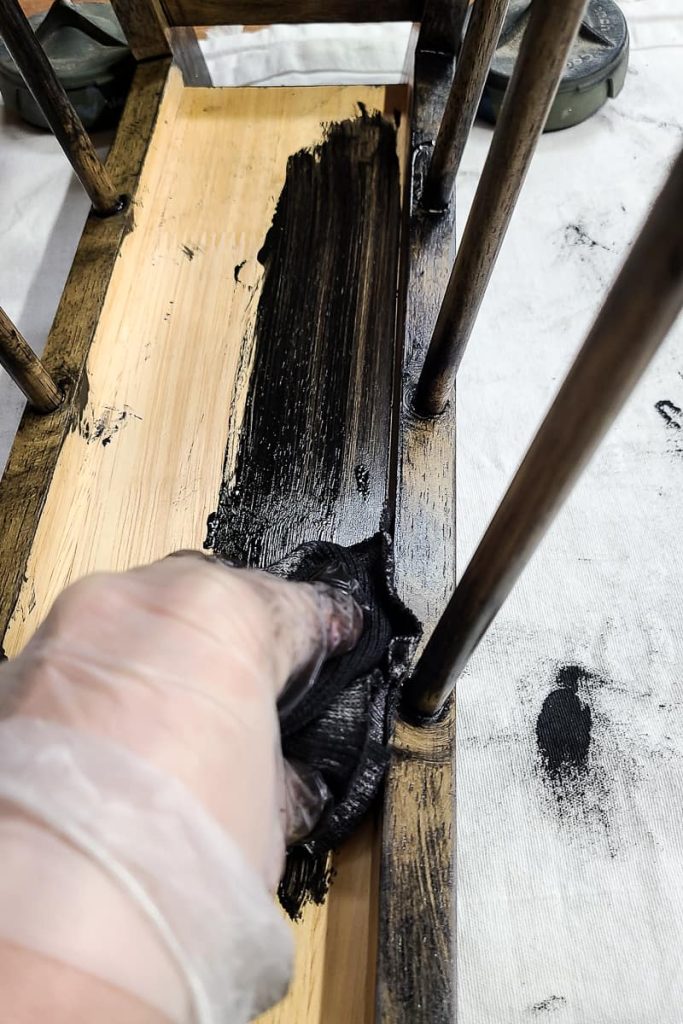 To give the magazine holder a dramatic makeover, you can either paint or stain it. A dark color, like black, allows the lighter cane webbing to have a fun contrast.
I opted to go with a black gel stain on this project. Gel stain is great for refinishing thrift store items that have an existing finish, like this magazine rack. The great thing about Gel stain is that you don't need to sand off the entire existing finish when applying gel stain because it is a surface-laying stain.
I have a deeper-dive article on how to use gel stain, but here are the general steps:
Sand piece lightly by hand with 220-grit sandpaper
Wipe all sanding dust off
Open a can of gel stain and stir well with a paint stain
Using a paint/stain rag, wipe the gel stain laboriously in the direction of the grain
Let it sit in place for 3-5 minutes
Wipe clean with a new dry lint-free rag
Recoat after 8-10 hours
Let dry 24 hours before sealing (more if it is still tacky)
I used 2 coats of this black gel stain and I love how it turned out. I like that you can see some of the wood undertones, including the grain of the wood. You wouldn't get this if you painted it!
Step 2. Seal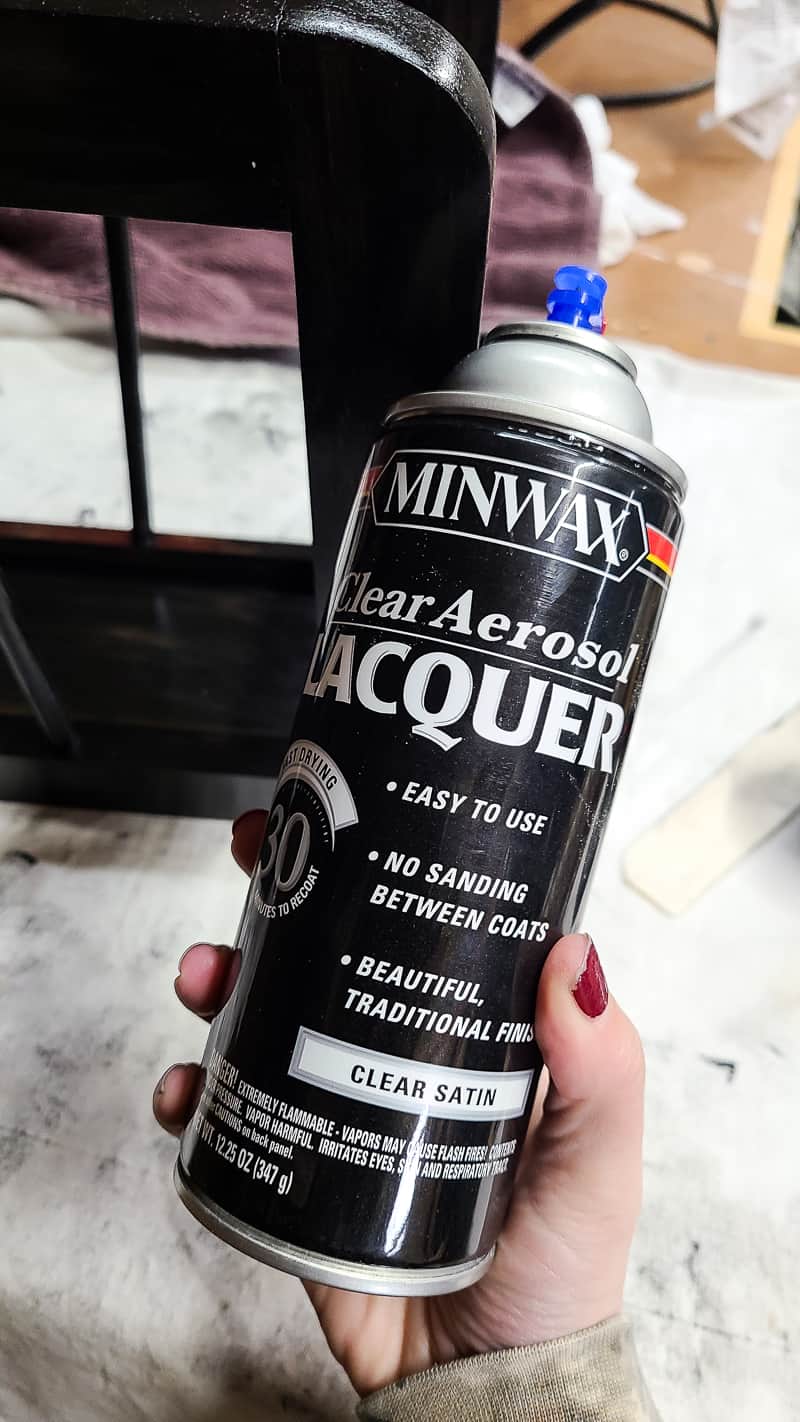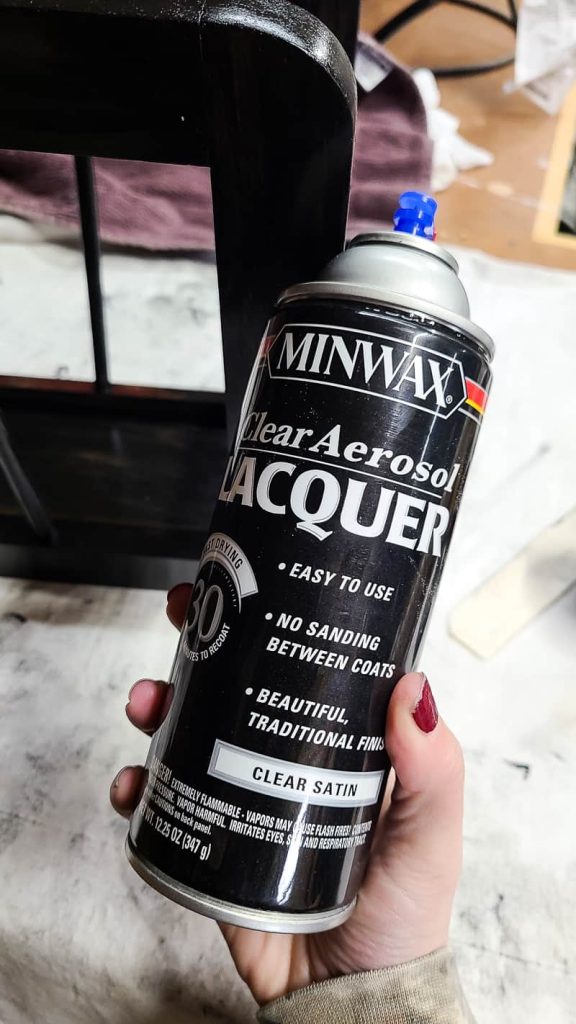 Even though the gel stain has a bit of shine to it, don't be fooled. You still need to seal it.
I used this clear lacquer sealer and applied a few light coats. Let dry 24 hours before handling.
Step 3. Soak the Cane Webbing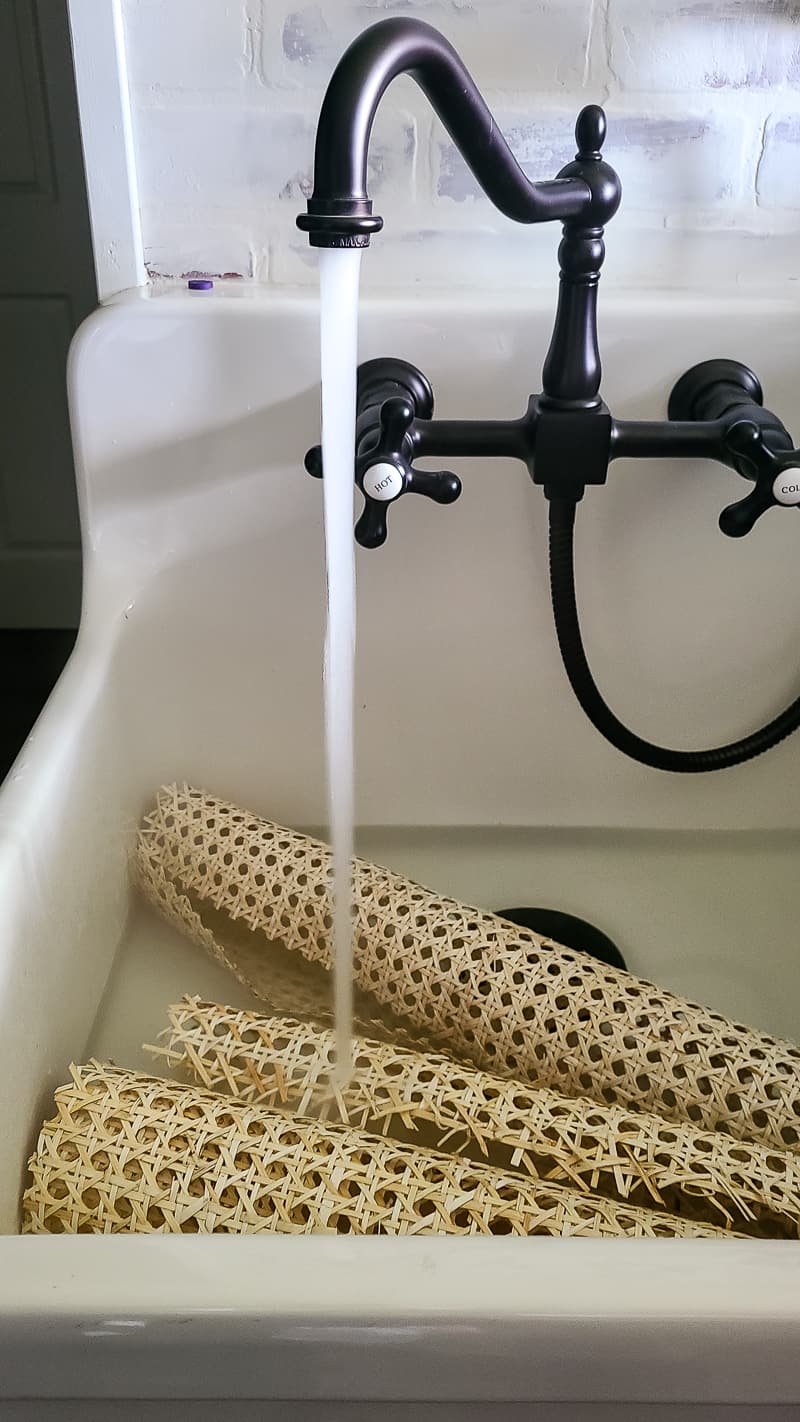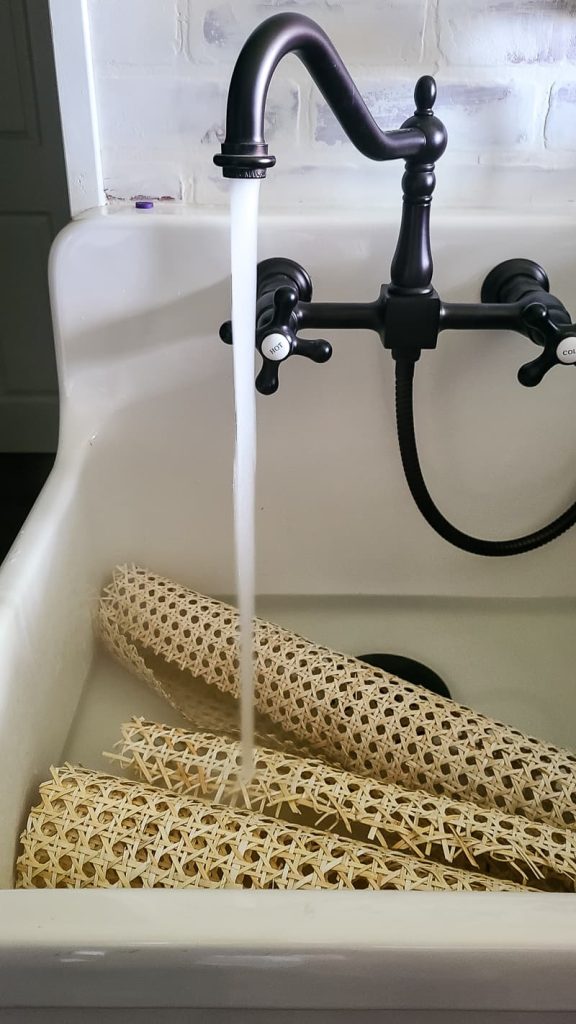 Start by allowing your cane webbing to soak in water for 30 minutes to 4 hours. This allows the webbing to expand in the water. Then you attach it to the magazine holder while damp, so when it dries, it will contract and the cane webbing will be nice and taut.
Step 4. Attach the Cane Webbing with a Staple Gun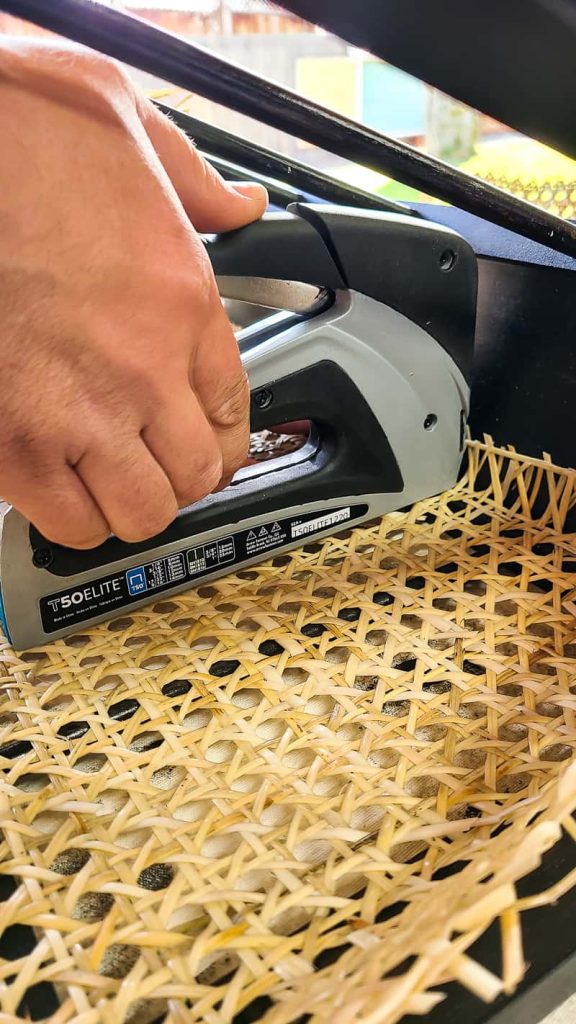 You'll probably need two people for this part. Using the Arrow T50 Elite staple gun start attaching the cane webbing to the inside sides of the magazine rack.
Have one person hold the webbing in place and the other staple it into place along the edge. Add a staple very close together – 1/2″ to 1″ apart for a secure hold.
Cut off the excess cane webbing with scissors or a utility knife. You'll probably need to go back with a little more gel stain to cover any scratches from the scissors afterward to touch up.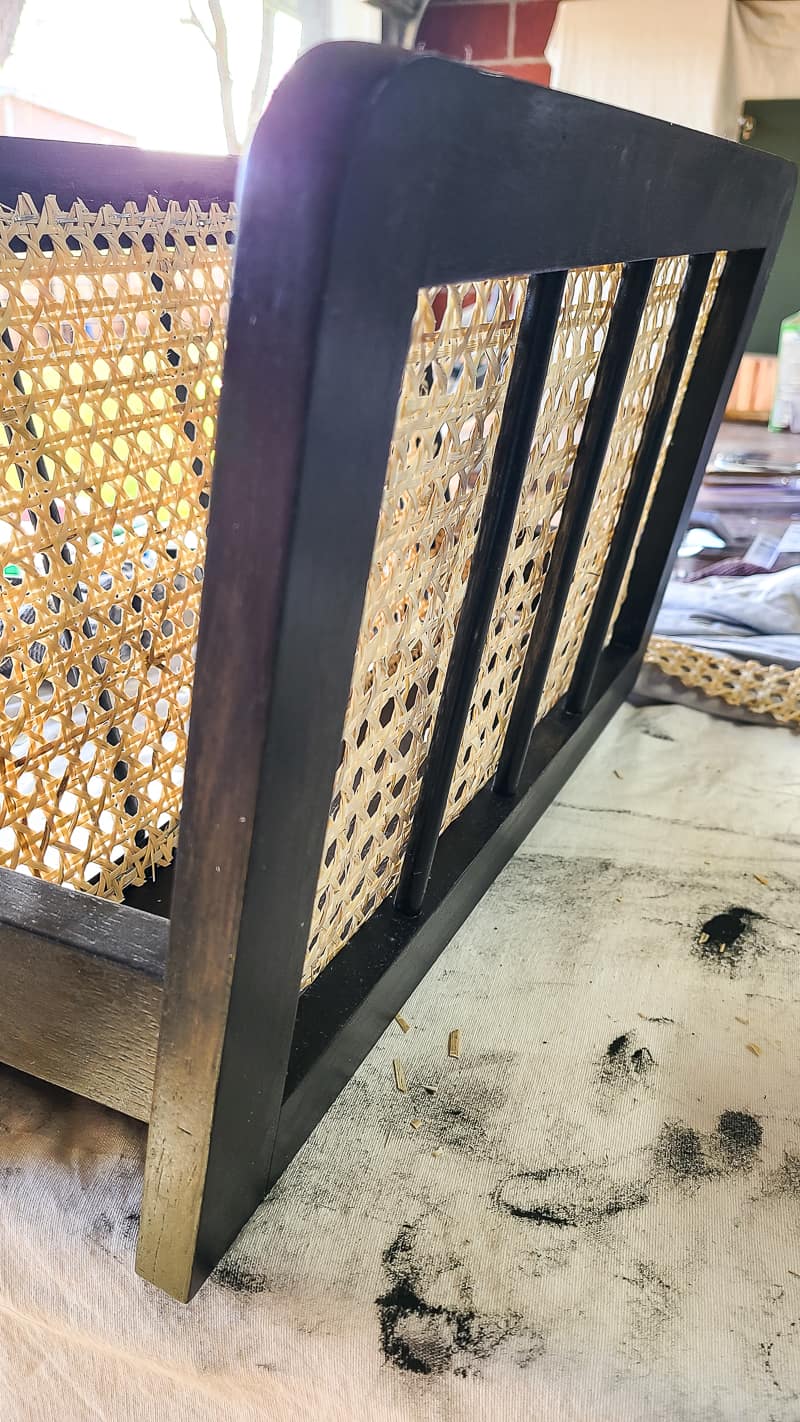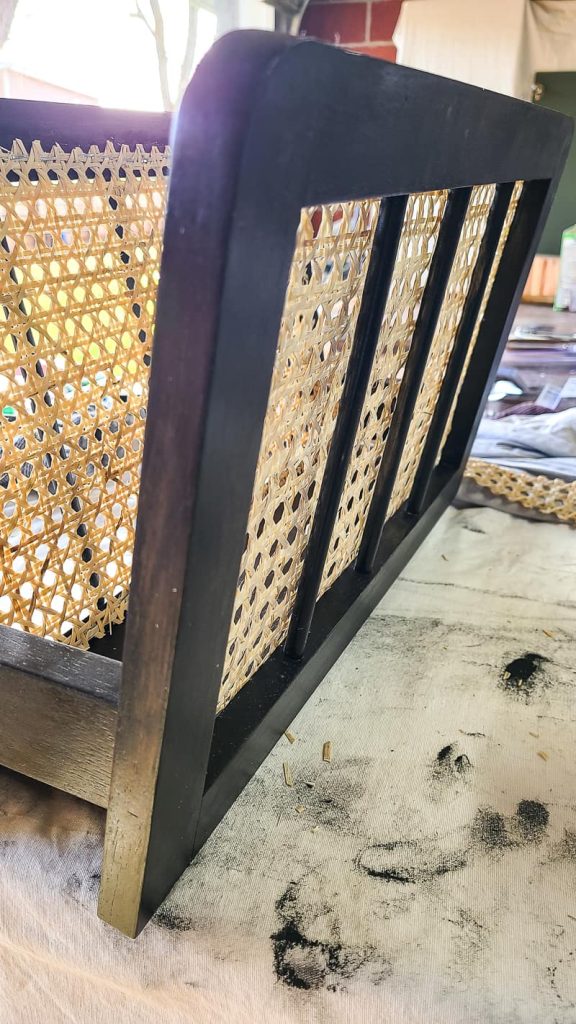 I love how this DIY magazine holder makeover turned out. Such a dramatic transformation, don't you think?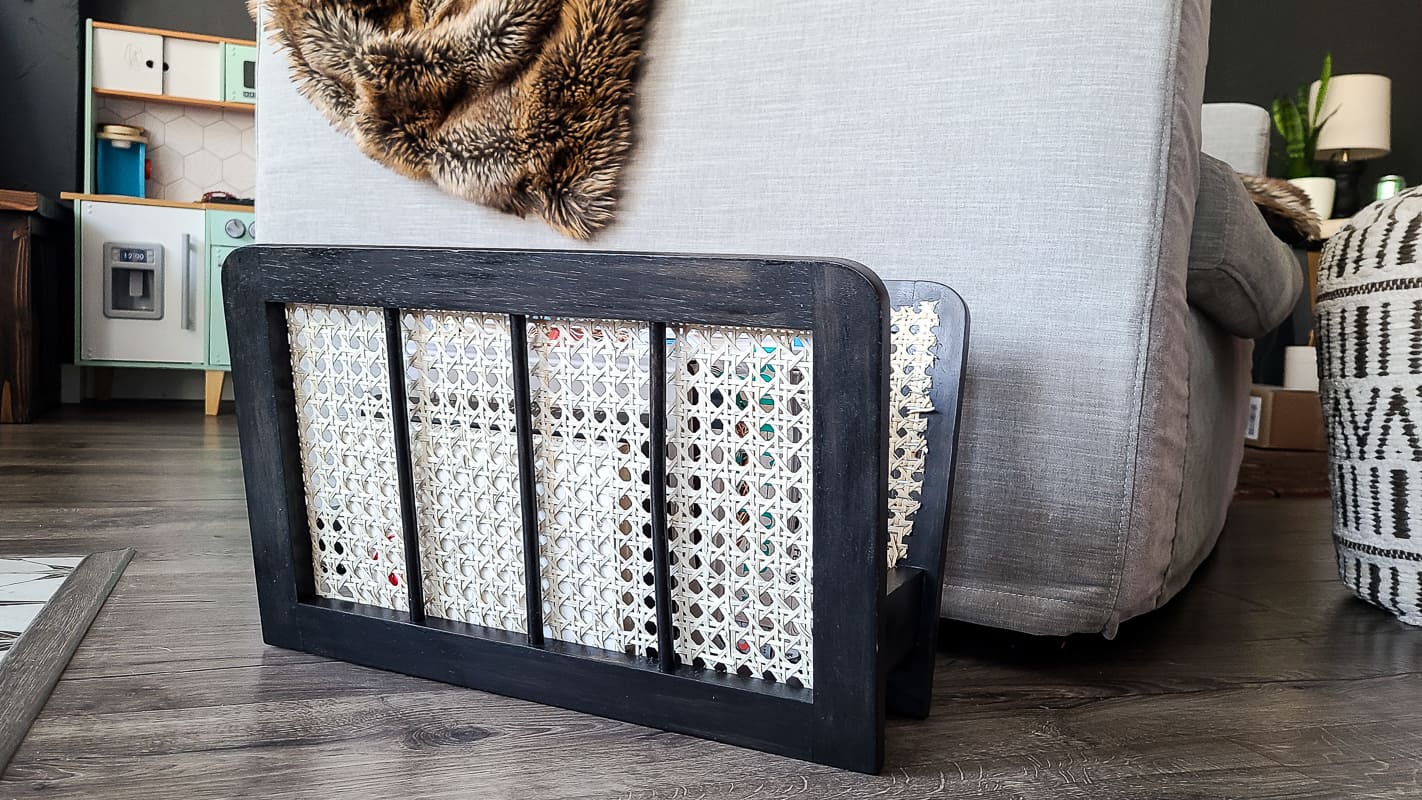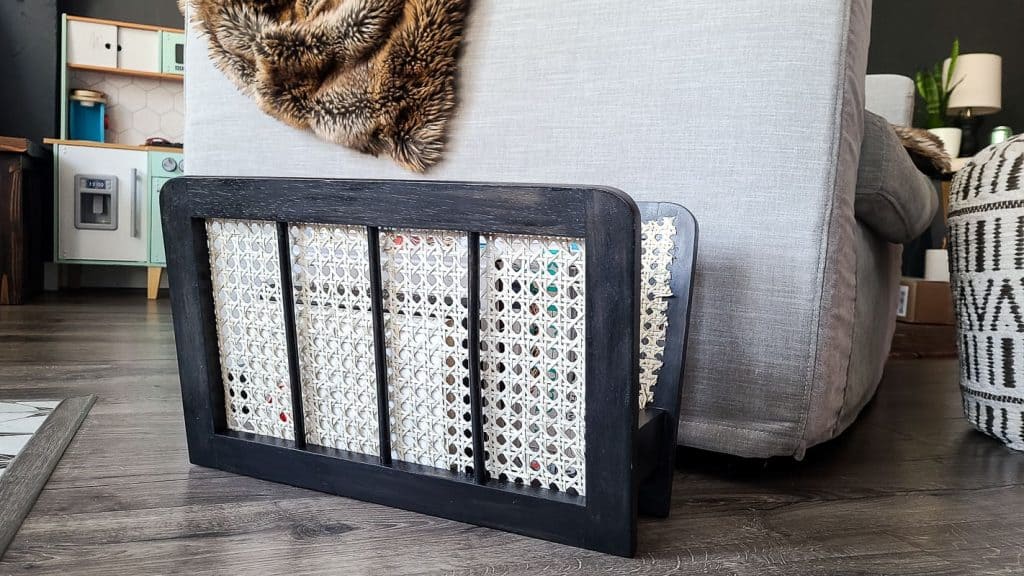 It goes perfectly in our modern boho living room, but I can't decide whether I should keep it here or put it next to the armchair in our boho home office. What do you think?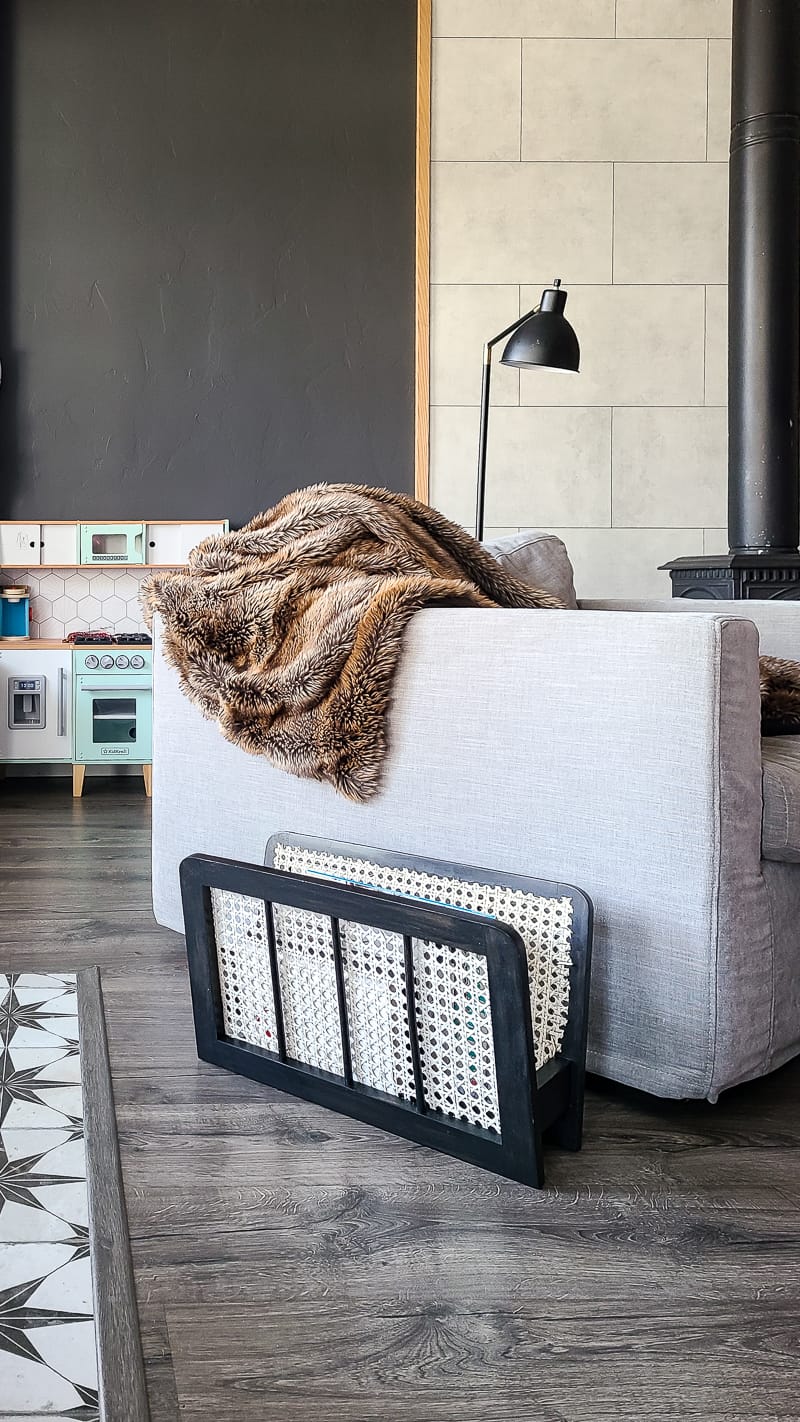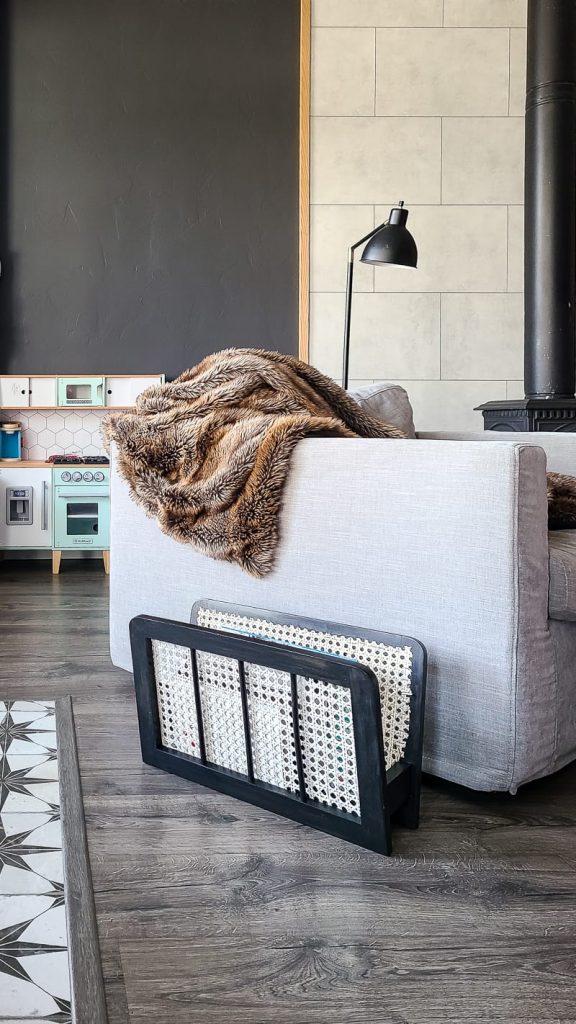 I loved getting another chance to work with one of my favorite materials – cane webbing! This is the third project we've done with cane webbing. We also built this DIY cane headboard and a bedside table with cane accents in Quinn's room.
Rattan and cane webbing furniture is one of those quintessential boho textures that I just can't get enough of. It is so easy to incorporate into DIY projects and thrift store makeovers like this with the simple use of a staple gun, like the Arrow T 50 Elite!
Let's take one more look at this dramatic before-and-after comparison of this DIY magazine holder makeover!
What would you like to add cane webbing to with a staple gun?
Let us know in the comments below!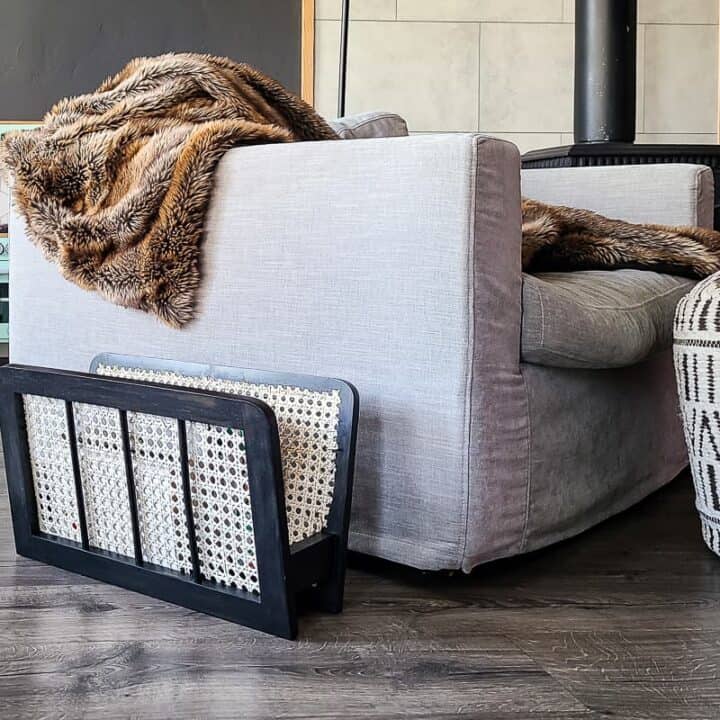 DIY Magazine Holder Makeover
Yield:
1 magazine makeover for a boho look
This simple DIY magazine holder makeover brings new life into a thrifted piece! You only need a few supplies for this quick and easy DIY.
Materials
Vintage wooden magazine rack (I found mine at a thrift store for a couple bucks)
Painting rags
Scissors
Instructions
Sand and apply gel stain to the magazine holder. Apply 2 coats waiting until it's dry in between coats.
Apply a few light coats of clear lacquer sealer and allow to dry before handling.
Soak cane webbing in water for 30 minutes to 4 hours.
Attach cane webbing to the magazine rack using a staple gun.
Trim off any excess cane webbing and you're done!