Do you love the layered doormat look and want to give your front door area a mini-refresh? Learn how to choose the right size layered front door mats and mix and match styles with this guide!
Combining a small rug underneath your door mat is a newer style, but it's definitely here to stay. I noticed layer door mats popping up everywhere a few years ago and they have only grown in popularity.
Layering front door mats is similar to adding a good area rug to a room to ground the space or adding a mat around a picture in a frame. It's a simple and subtle shift, but it is substantial.
You'll be amazed what a huge difference it makes when you add a little rug underneath your welcome mat at your front door.
But chances are that you're probably going to buy the doormat and / or the layering rug online, right? And much like buying art for a gallery wall, it's really hard to judge the scale of the sizes when purchasing online (that's why I used this little trick for planning gallery wall layouts).
So I'm going to not only give you some great options for layered door mats, but get super detailed with the sizes you'll need to buy for both the doormat and the layering rug.
This layered doormats guide contains affiliate links, but nothing that I wouldn't recommend wholeheartedly. Read my full disclosure here.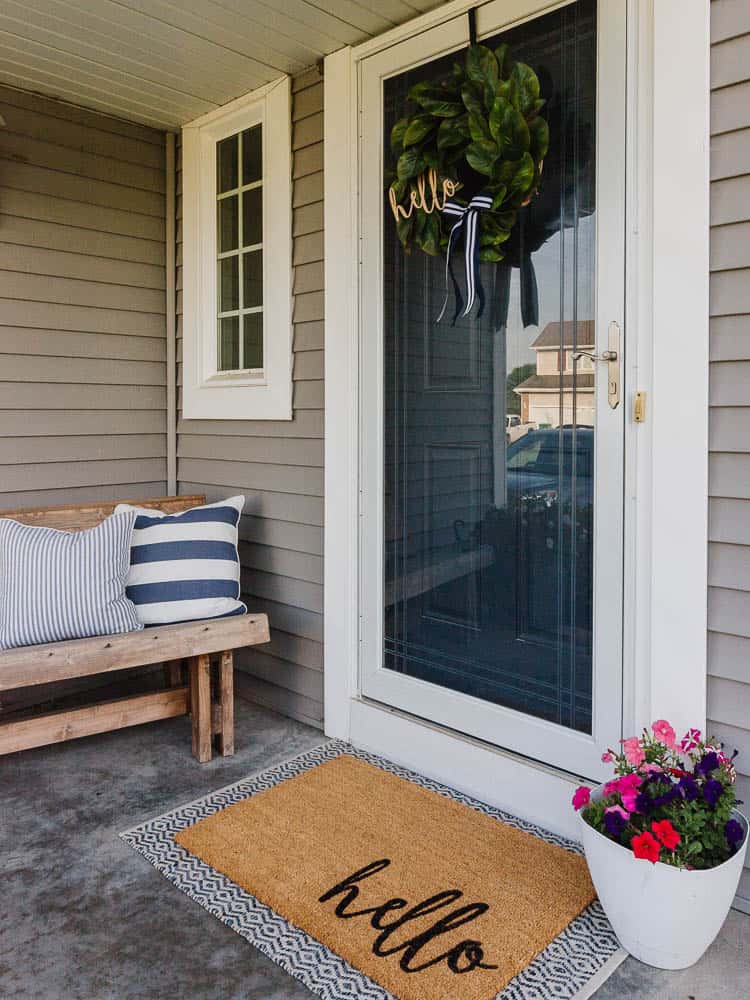 What size are doormats?
The most commonly found doormat size is 18″ x 30″, which is 1′ 6″ x 2′ 6″. If you are looking for cute welcome mats at big box stores, like Target – most of them will be 18″ x 30.
However, you'll also find a good selection of oversized doormats that are 2′ x 3′ or 24″ x 36″.
What size are front doors?
Front doors range in size from 30″ to 36″ wide generally. Double french doors are typically 60″ wide.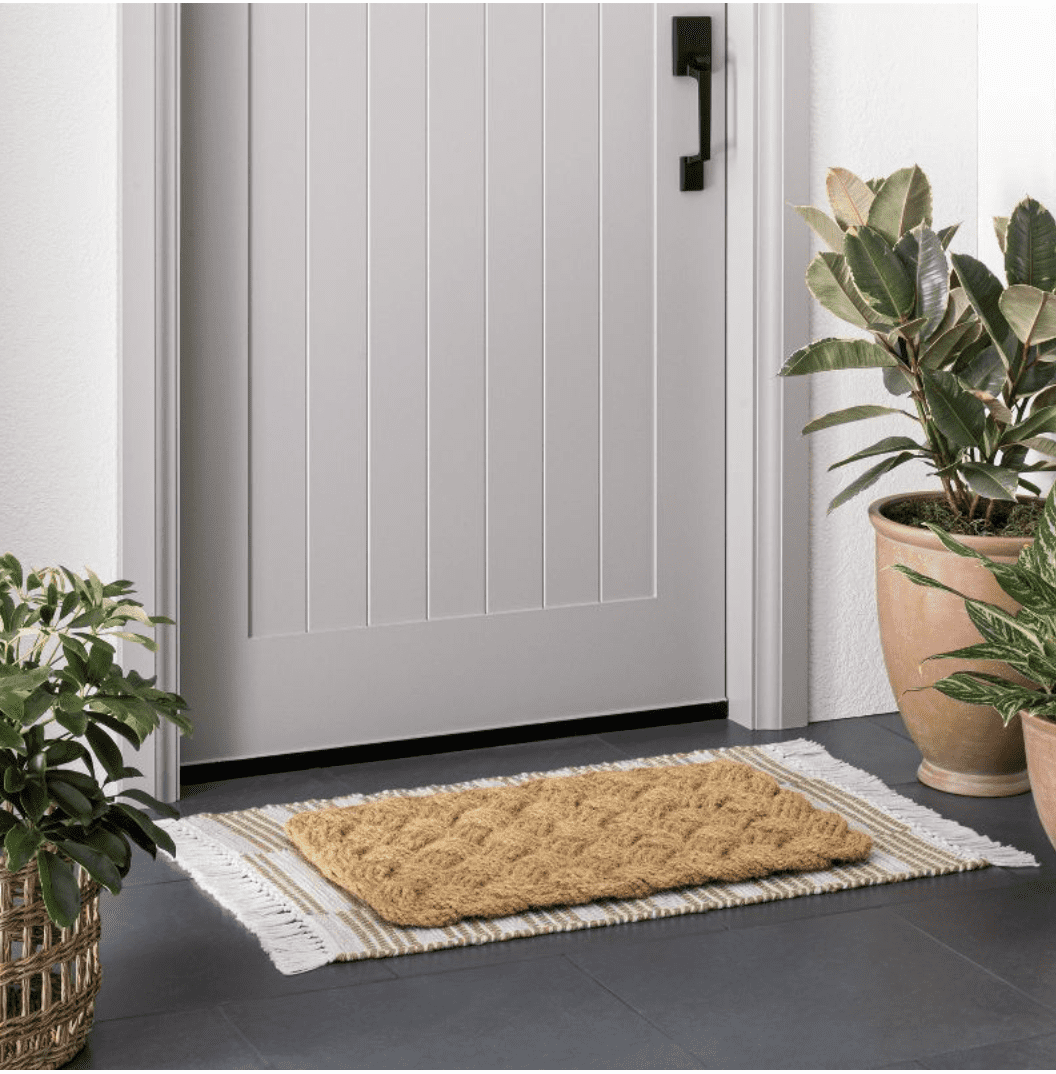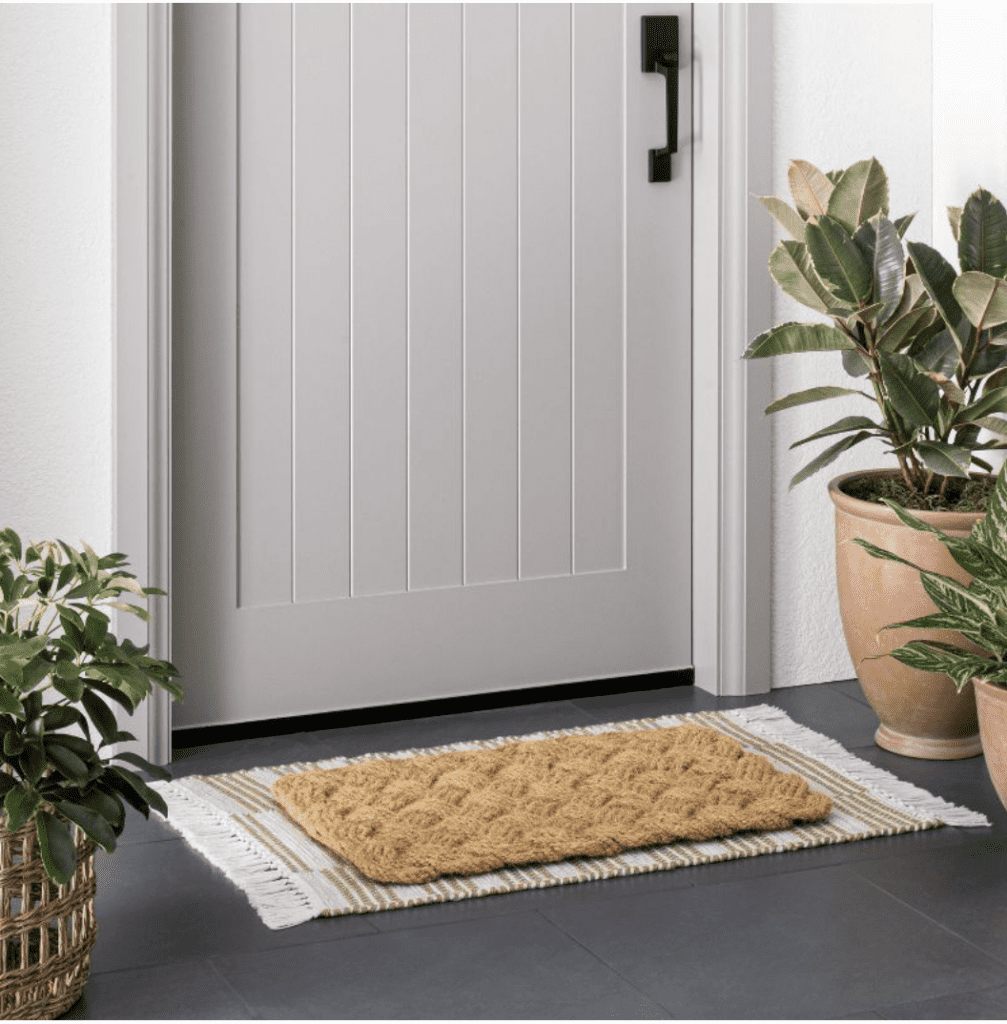 Layered doormat sizes
When you are choosing your layered front door mat sizes, start by measuring your front door. Typically you want the doormat & layered rug combination to be equal to or larger than your front door width.
18″ x 30″ (1'6″ x 2'6″) Doormat + 24″ x 36″ (2'x3′) Layering Rug
For a single front door that is 36″ or smaller, combining a standard size 18″ x 30″ doormat with a 2×3 rug is perfect. The bottom layer will be roughly equal to your front door.
24″ x 36″ (2′ x 3′) Doormat + 36″ x 60″ (3′ x 5′) Layering Rug
If you have a larger front door with sidelights that is more than 36″ wide, you'll want to go with a larger layer rug combination. The best size for this is a 24″ x 36″ (or 2×3) doormat paired with a 3×5 rug.
Layering doormats: how to mix and match
Start by figuring out the correct size combination for your front door.
Choose your favorite doormat in the correct size. Scroll down for my favorites!
Don't be afraid to mix it up for the seasons. Doormats wear out pretty quickly and they are usually inexpensive, so they are easy to switch out a few times a year.
Select a layered mat with good contrast. If you're choosing a light-colored doormat, go for a darker layered rug. If you're going with the dark doormat, select a lighter layering rug.
Play around with different combinations before you buy by saving the product photos and putting them together on your computer screen.
If the weather is harsh in your area or your porch is not covered, consider getting a layered rug that is deemed to be an "outdoor rug", which is generally more durable than the cloth ones.
How to do a layered doormat for double doors
If you have double doors for your front doors, like me, finding the right size doormats can be tricky! You have a few options if you want to do a layered doormat for double doors.
For the top doormat, you can either choose a standard size (18×30), oversized (24×36), or even an extra-wide doormat that is made just for double doors!
For the layered rug underneath, you'll want something that is at least 5″, which is the typical width of double doors.
---
18″ x 30″ (1'6″ x 2'6″) Doormat Ideas
Because 18″ by 30″ doormats are the most common size, it's very easy to find great doormats in this size for layering. Here are some of my favorite styles.

24″ x 36″ (2′ x 3′) Layering Rug Ideas to go with 18″ x 30″ Doormats
The standard size 18″ x 30″ doormat is a little small looking when you set it in front of your door. But it looks more substantial when you add a layered 2′ x 3′ rug underneath the doormat. Here are some great options!

---
24″ x 36″ (2′ x 3′) Doormat Ideas
As mentioned earlier, although the standard size of door mats is 18″ x 30″, you can still find oversized 2×3 doormats if you go searching for them specifically. But I've done some of the hard work for you here and rounded up some great options for 2×3 doormats below.
These 2×3 doormats can be paired with 3×5 rugs if you want to get the layered doormat look for your front door.

36″ x 60″ (3′ x 5′) Layering Rug Ideas to go with 2′ x 3′ Doormats
3×5 is a very common rug size, so it is relatively easy to find stylish 3×5 rugs to layer under 2×3 doormats. I've rounded up some of my favorite ones here.
The 2×3 doormat paired with a 3×5 layered rug underneath is great in front of double doors or french doors.

Which of these layered welcome mat combinations is your favorite??
Let us know in the comments below!