If you are looking for an easy to way to instantly improve curb appeal of your home, consider painting garage door! It's a simple way to refresh the exterior of home. Here's some helpful tips for painting garage door.
If you've been following along, you know that we've been working on giving the exterior of our home a little face lift with a brand new paint job. After we got the new exterior paint on the house and finished the trim, the old dingy garage door stuck out like a sore thumb.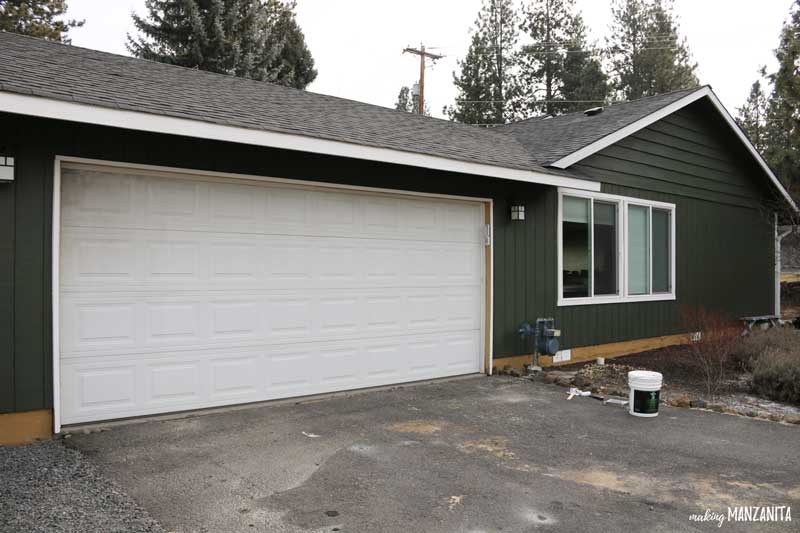 Even though we wash layers of dirt and grime off of the garage door with a pressure washer, it was still riddled with years of yuck that was never going to come off.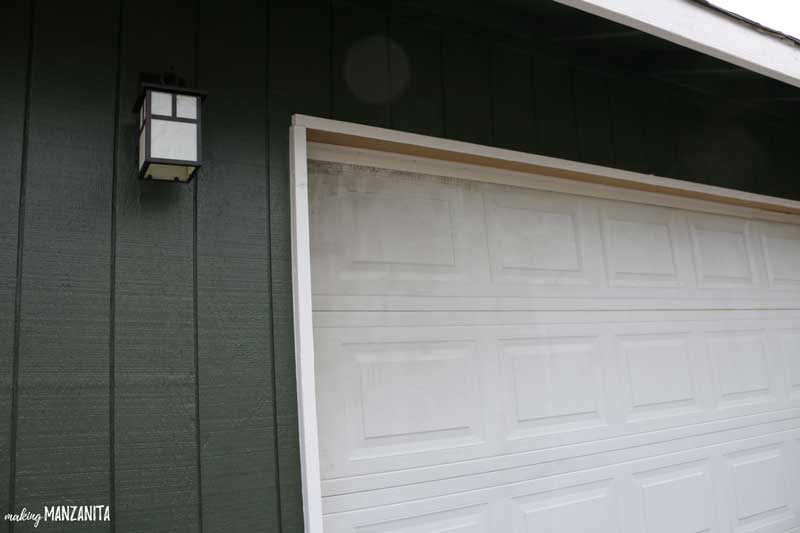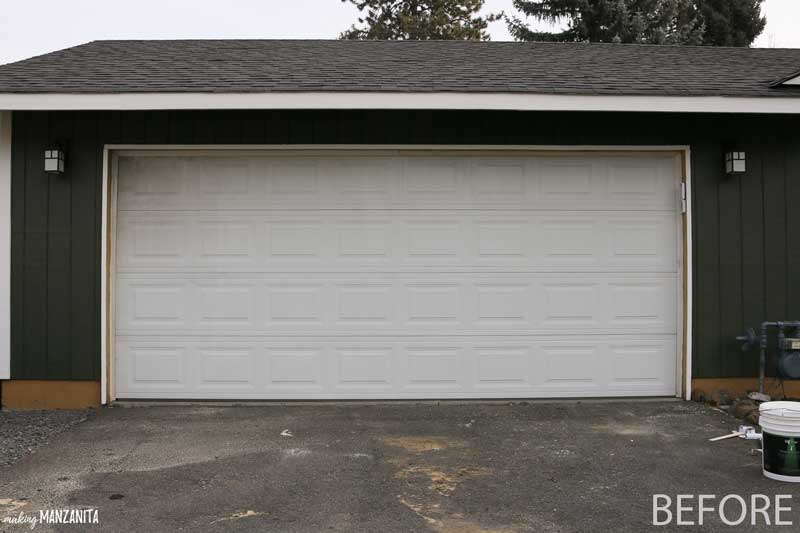 Painting our garage door is an easy way to instantly improve curb appeal of your home. We chose to give our exterior a refreshed look with a simple white garage door in the same color as our trim. Alternatively, you can paint your garage door the same color of your exterior paint color and even an accent color (like I did with my fun front door color!)
Update: See below for a video about how to paint your home's exterior!!
Related – Other Exterior Painting Posts:
This post contains affiliate links, but nothing that I wouldn't wholeheartedly recommend anyway! Read my full disclosure here.

9 Tips for Painting Garage Door:
Be sure to give your garage door a nice cleaning before starting to paint. We used a pressure washer to clean the entire exterior of our home before we start painting (one of the 9 things you need to do before you paint the exterior of your home). If you don't have a pressure washer handy, you can give your garage door a good scrubbing with soap and water before painting garage door.
Choose a warm day when painting garage door. It's best to paint on an overcast day if possible. Avoid painting garage door in direct sunlight.
Use a 4 inch roller make it easier to paint in the smaller nooks of the panels of the garage door.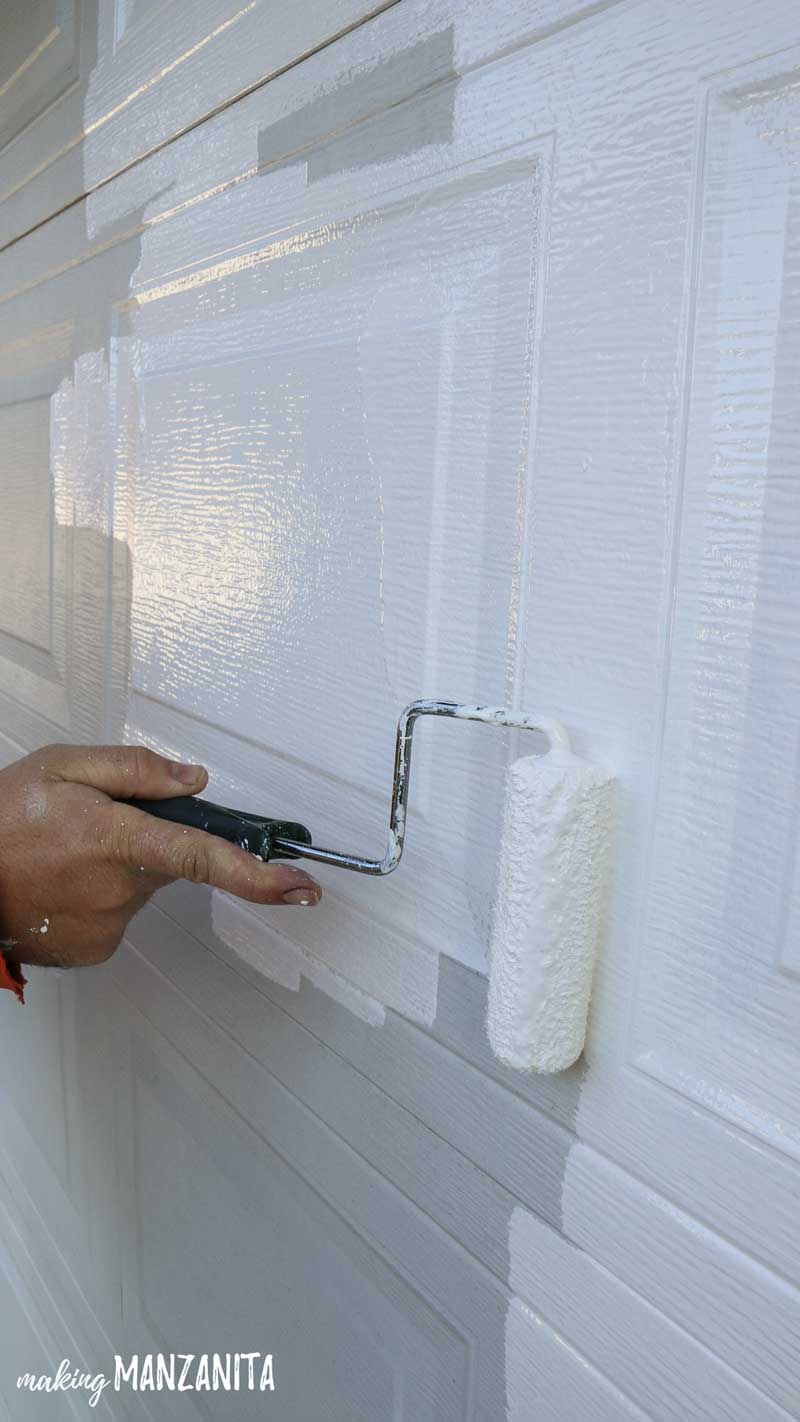 Put a grid in the paint bucket. This allows you to get more paint on roller, so you can work faster.
I recommend using a high quality exterior paint, like the Behr Marquee line, which required only one coat of paint for us. A high quality paint will also be more resistant to fading and stains. We also didn't need to use a primer because the Marquee line is a paint + primer.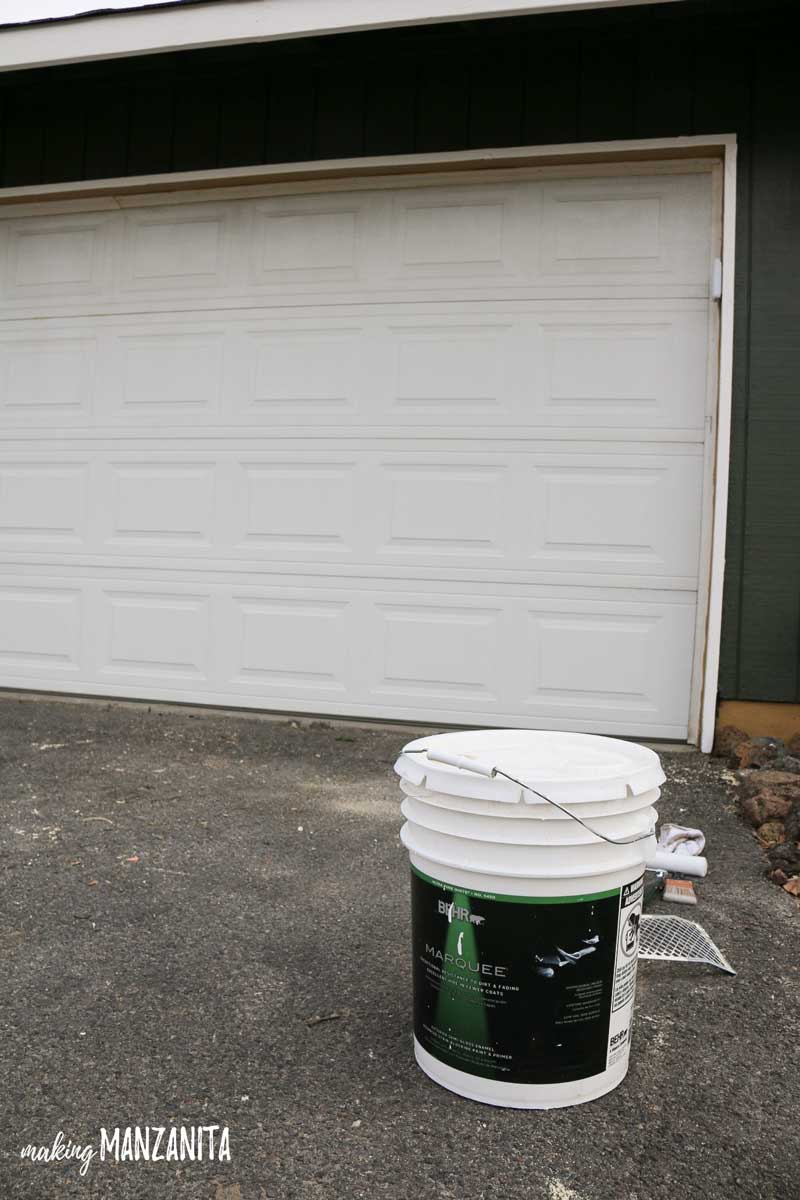 If you're only painting garage door, a quart should be enough paint if you're using a high quality line that requires one coat. When in doubt, one gallon of paint will be more than enough.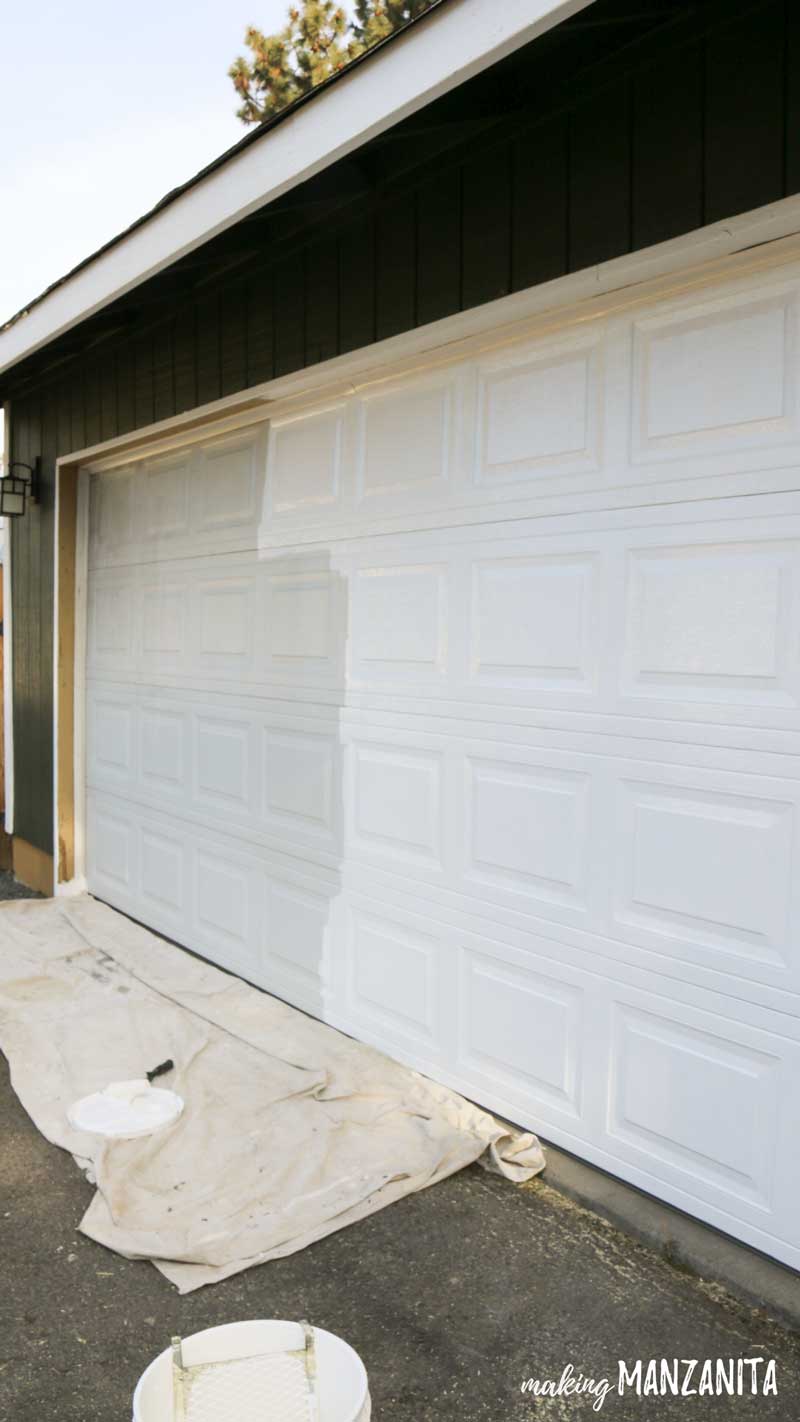 We painted the trim the same color as the door, so we didn't have to worry about this. But if you are going to paint the garage door trim a different color, paint the trim first and let it dry fully. Next, use painters tape to cover the trim before painting garage door.
Lay down a drop cloth below you while painting garage door to protect driveway from any spills or splatters.
Open up the garage door shortly after painting. This will help the panels not stick together as they dry. Leave the garage door open while it dries.
Are you ready to see our painted garage door transformation?
Remember, here's what we started with. An ugly, grimy garage door…yuck.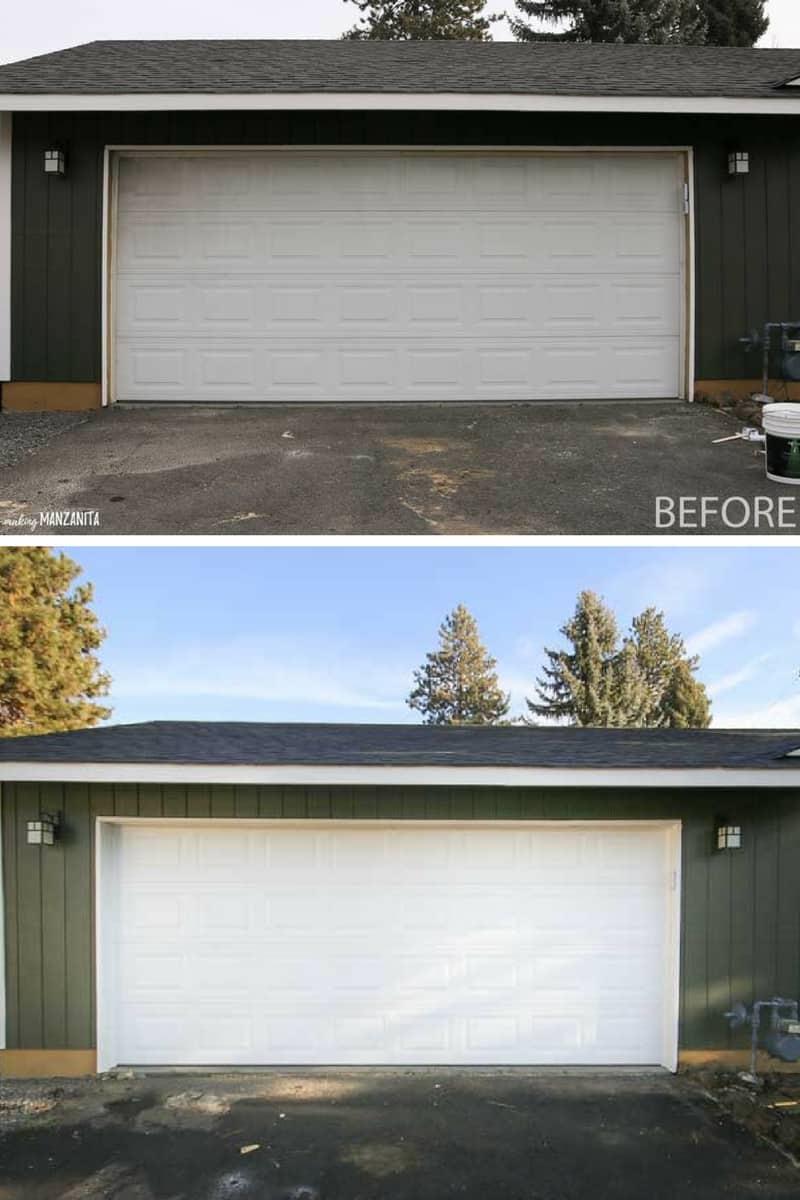 And here's what it looked like when we were all done painting garage door.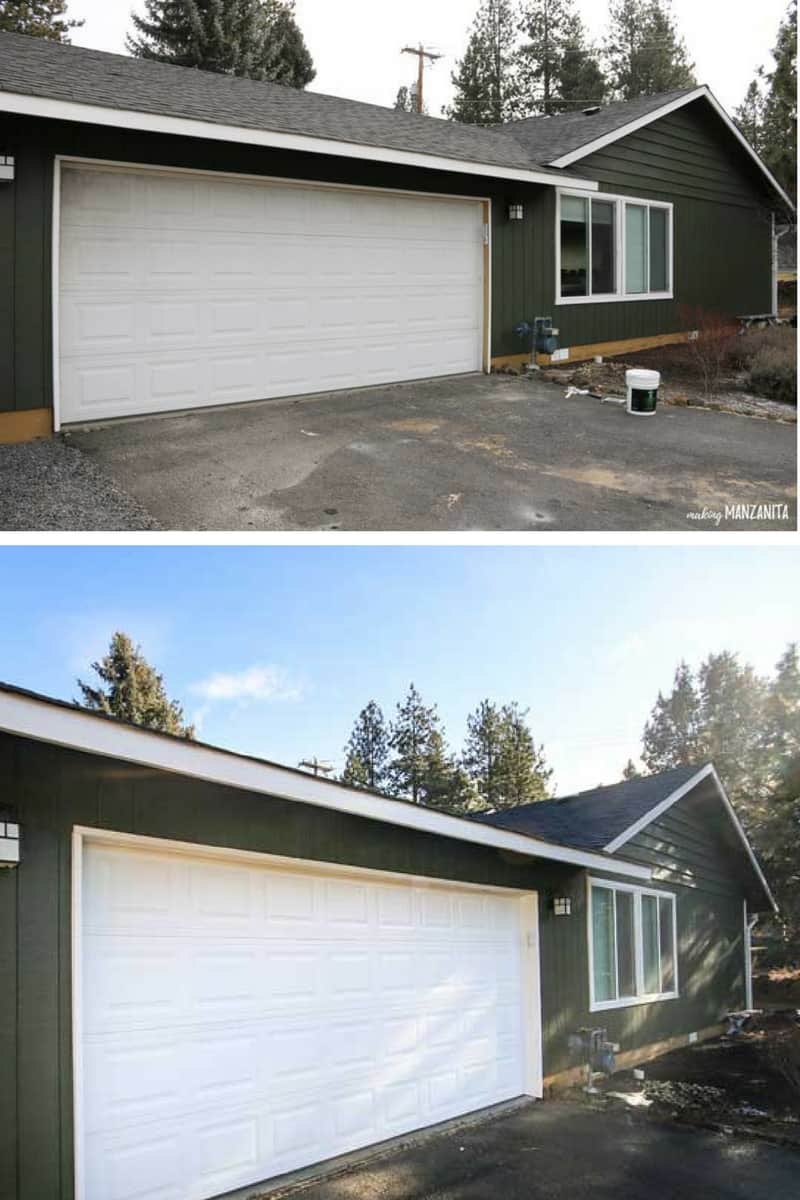 What a dramatic exterior transformation, don't you think?  It was such an easy way to instantly improve curb appeal of our home.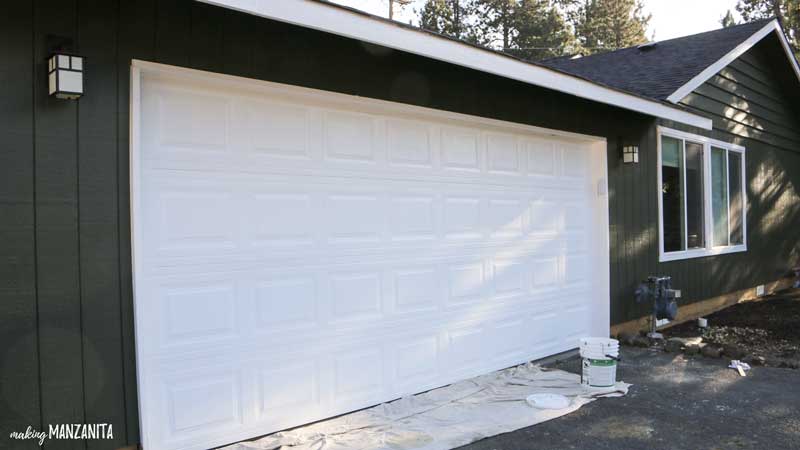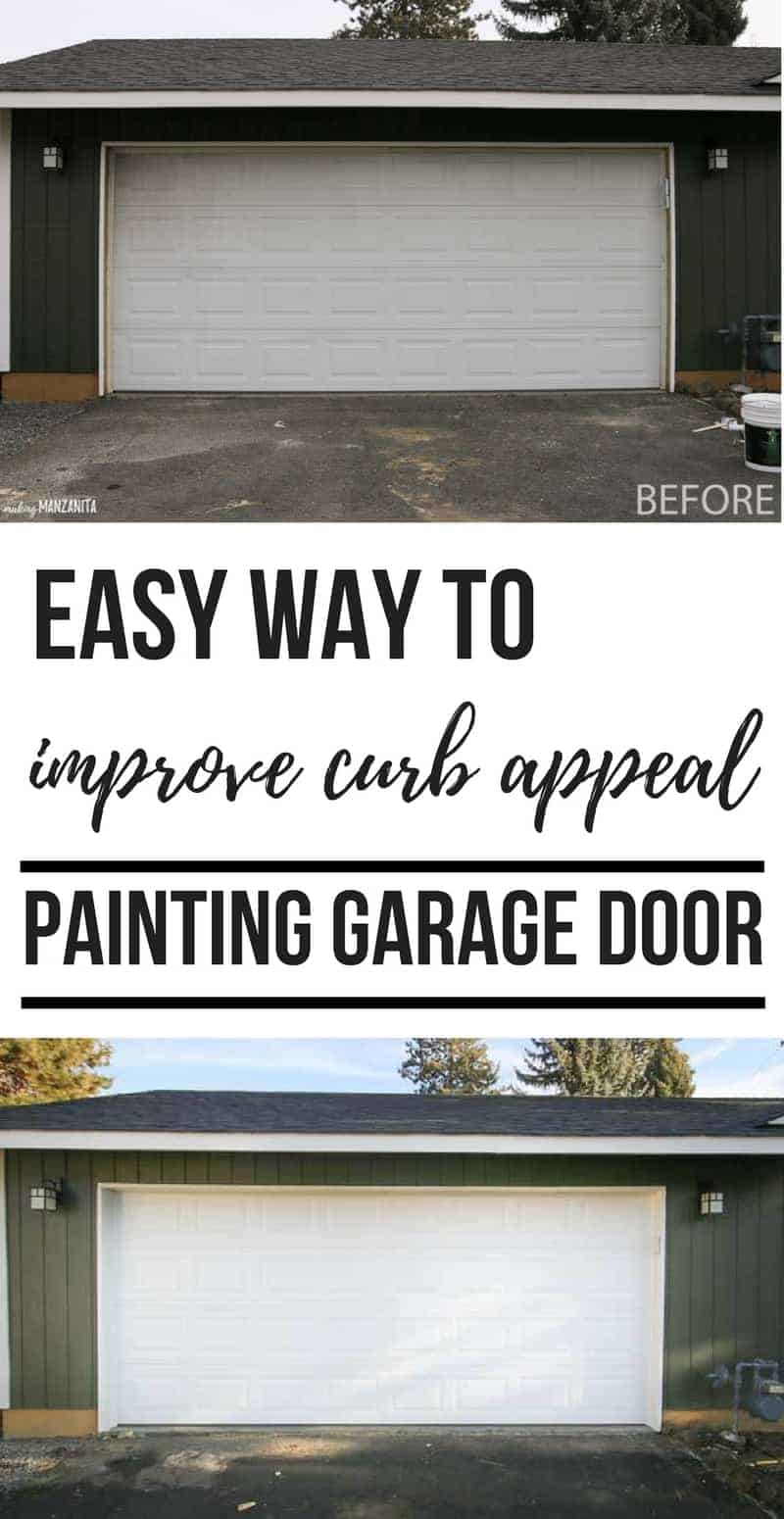 What color would you paint your garage door??
Let me know in the comments below!!
---
Source List for Painting Garage Door:
---
Ready for more exterior painting tips?
Check out this short video to see us painting garage door in action and for some other helpful painting tips. For more videos, check out my videos page.