Looking for scrap wood projects? This easy DIY wall art project is the perfect solution to fill in an empty space. With scrap wood, I created this piece of wall decor with plywood and wood shims. Learn how to do this easy project with this step-by-step tutorial.
Do you have that one spot in your house that needs to be filled with…something? For us, it was our guest bathroom.
During it's recent makeover, there was still this one spot that was calling out for a unique piece of wall art, and that's where this piece landed – just above the vertical shiplap installed during the renovation.
With as many projects as we do, we always have an excess of scrap wood, so I figured this was the perfect opportunity to put it to good use.
The pattern is already set for you, so all you need to do is follow these steps and the video tutorial for this super easy project!
Wood Shim Wall Art Video Tutorial
If you love DIY videos, be sure to subscribe to our YouTube channel so you don't miss the next one!
There are so many different DIY art ideas that can turn scrap wood pieces into beautiful works of art. You can make frames, wall art pieces, floating shelves… just about anything that will add pizzazz to a boring corner.
This DIY wall art tutorial also contains affiliate links, but nothing that I wouldn't recommend wholeheartedly. Read my full disclosure here.
Supplies & tools needed for wall art DIY:
3/4″ plywood scrap
Teak oil
Orbital sander
Multi-tool
Paint brush
Square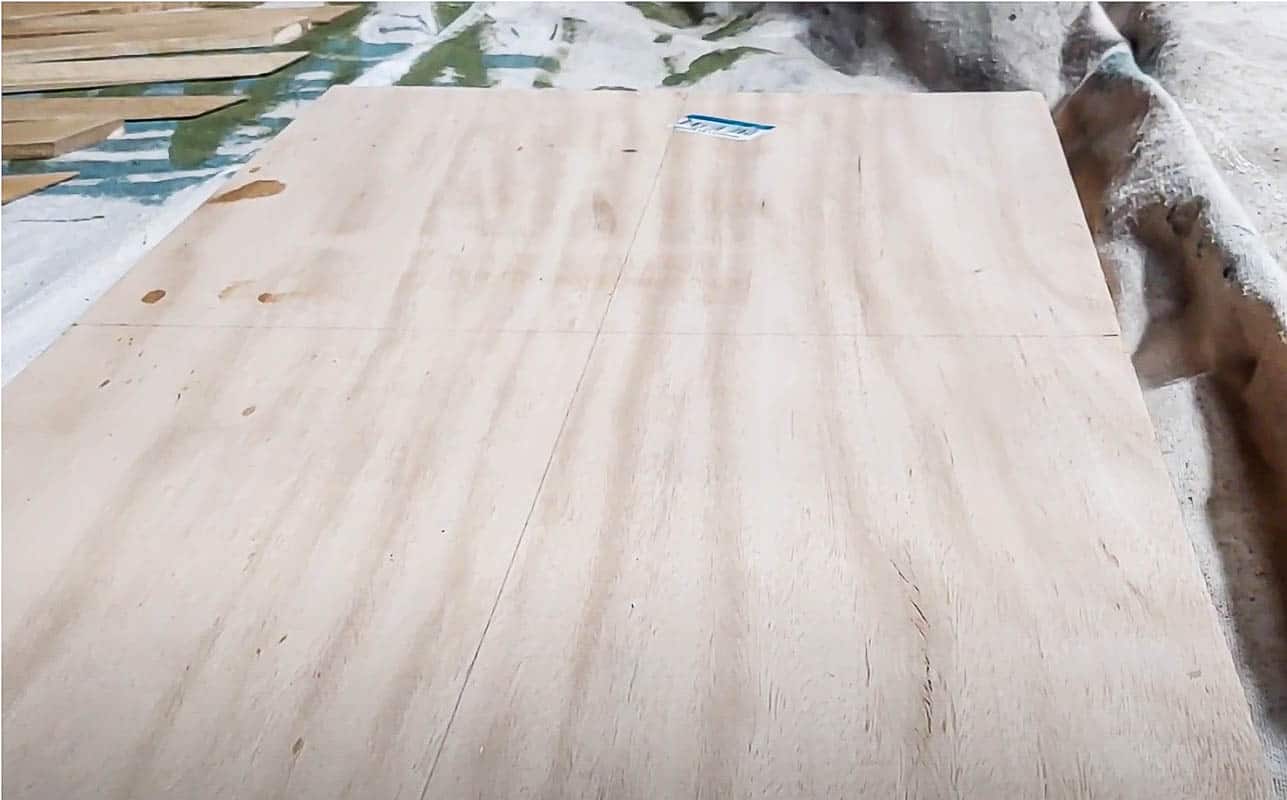 Step 1. Mark the center of the plywood board.
Every successful project begins with a center focus. Mark the middle of the plywood by drawing a "t" across the middle to find the center point.
This marks the center of the board and will help as you lay out the shims and progress through the project.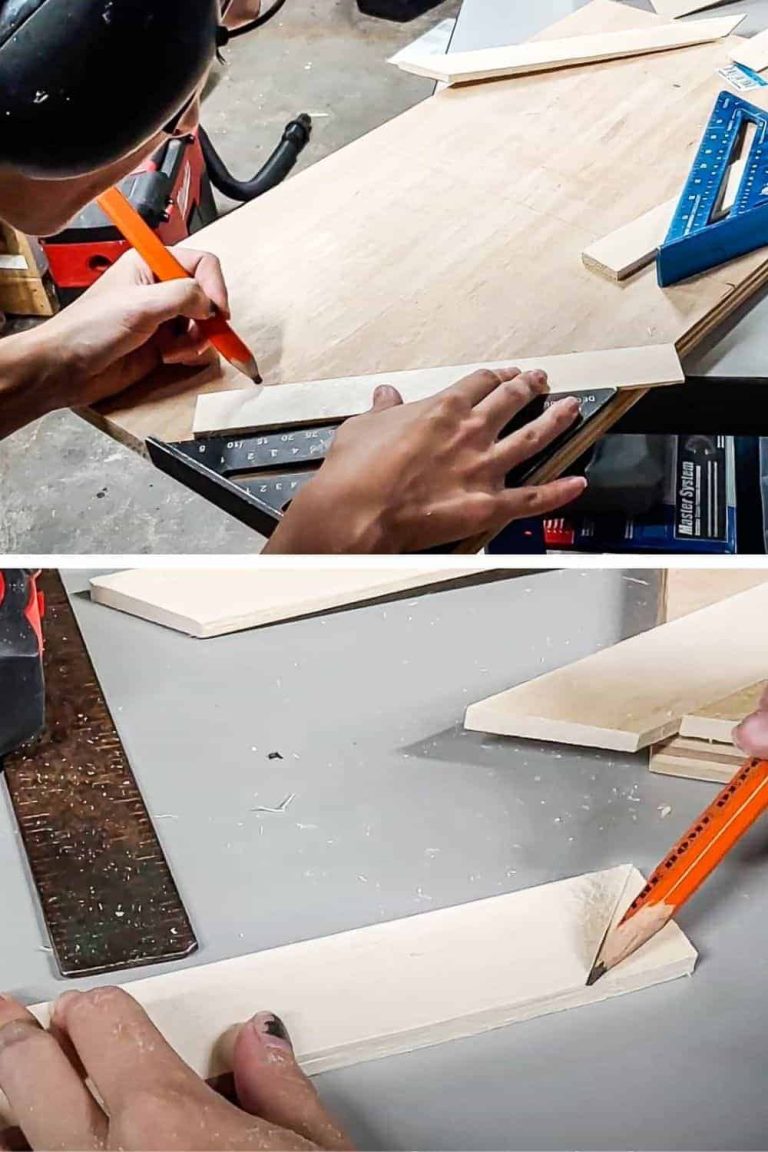 Step 2. Measure and mark the wood shims.
In this step, we are marking up the wood shims so you know where to cut them. You will mark where the center of the board meets the shim and where the shim overhangs from the adjacent edge of the plywood.
To do this, place a square tool in the bottom corner of the plywood board to create a 45 degree angle. Place the shim against the edge of the square, so the shim overhangs off of the edge.
Then, mark where the shim intersects the center line, and where the shim overhangs from the adjacent edge. Feel free to darken and fill in the lines to make cutting easier. These lines will serve as a cutting guide to create those clean 45 degree angles.
Using the first shim as a template, mark the rest of your shims and prepare your miter saw!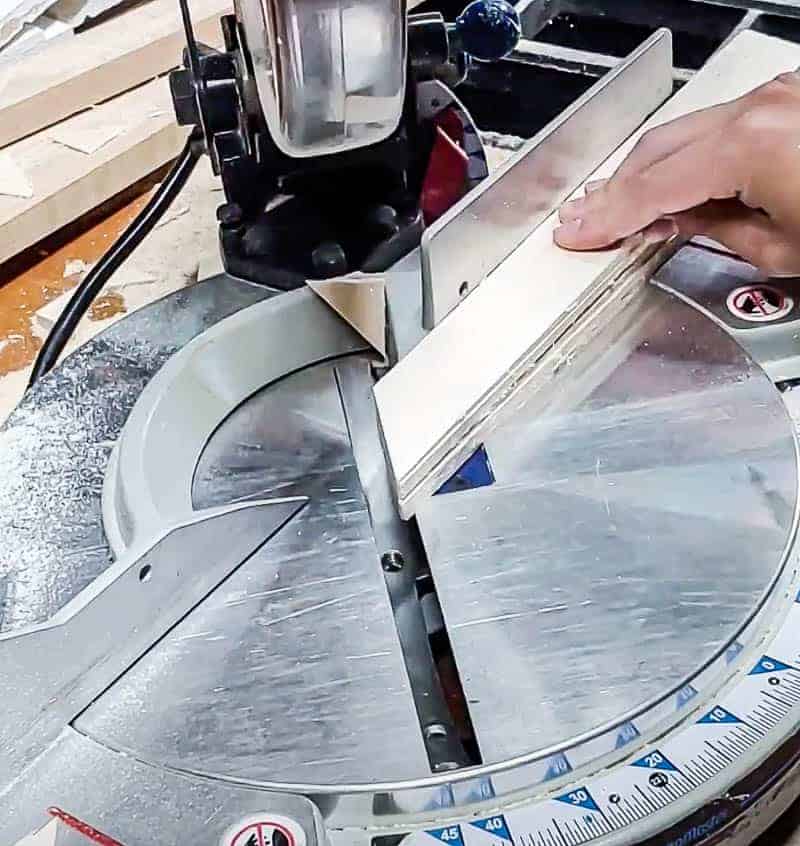 Step 3. Cut & sand the wood shims.
Using a miter saw, trim the shims using the markings you made in the previous step as a guide.
Then, lightly sand each shim, focusing on the corners, sides, and edges of each piece.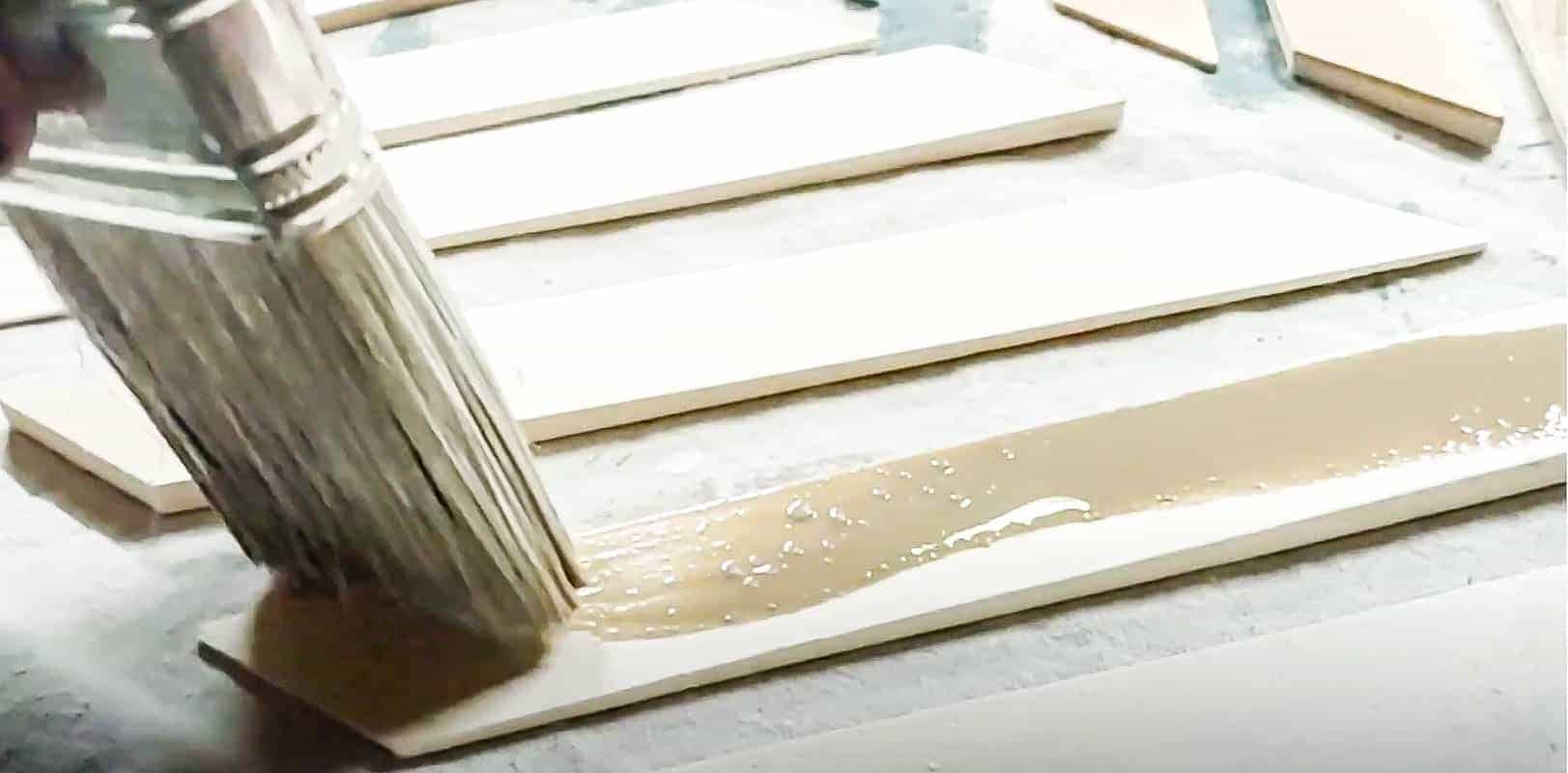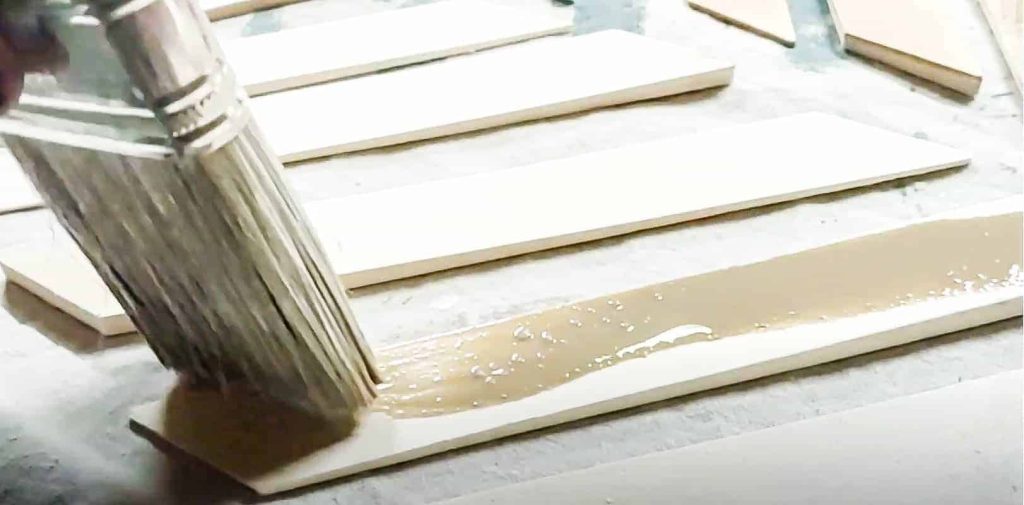 Step 4. Stain the shims.
Lay out all shims on a flat work surface.
Using a paint brush, brush on the teak oil stain in smooth strokes.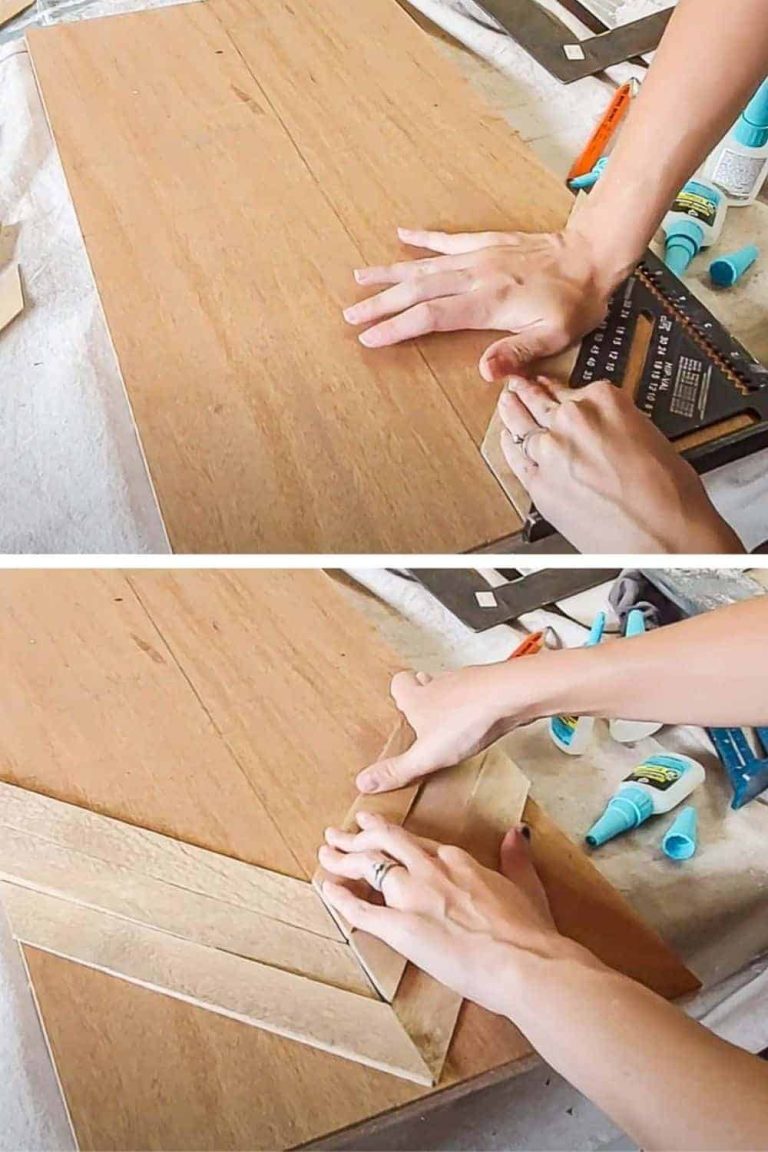 Step 5. Glue the shims in place.
After the stain has dried, glue the shims to the plywood board using Rapid Fuse Glue. Also, use the square tool as a guide to keep your shims straight and even on both sides of the board.
I recommend moving from one side to the other as you work your way up the plywood board.
This part is tricky because if just one shim isn't aligned, the entire board could look out of sorts, so take your time during this step.
With each shim, apply the glue and press for 30 seconds to make sure the board adheres to the board well.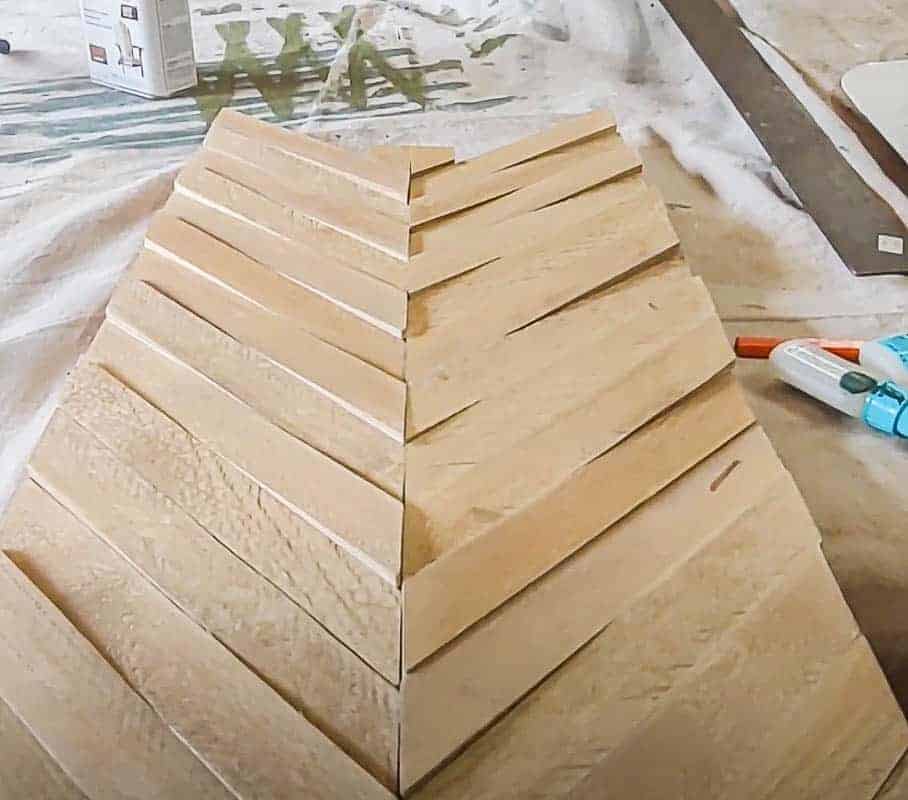 Your project should look similar to this one.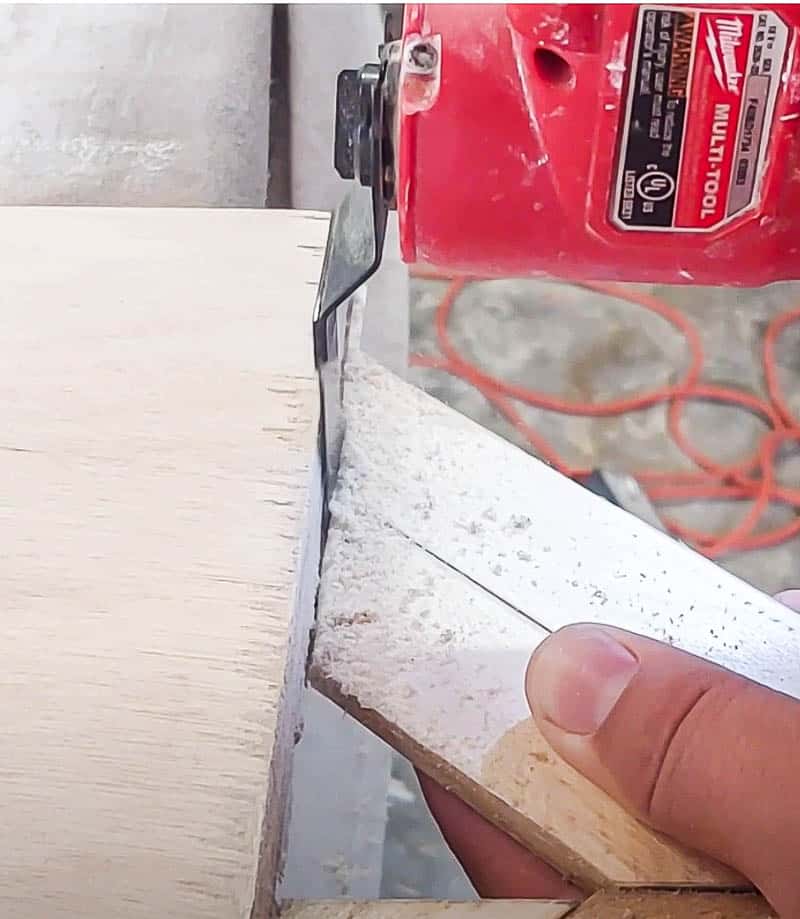 Step 6. Trim edges with a multi-tool.
Once the glue has dried and the boards are nicely adhered, trim the overhanging edges using a multi-tool.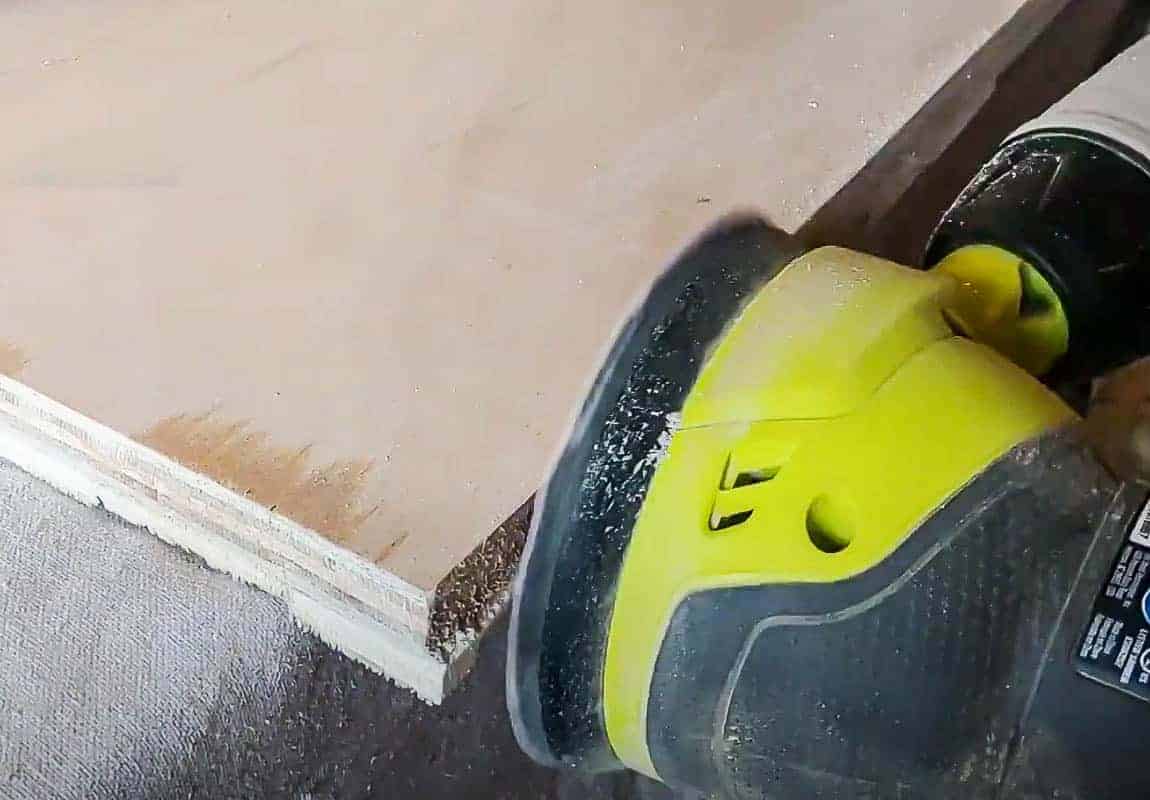 Step 7. Sand smooth.
Using an orbital sander, smooth edges, corners, and small overhanging pieces with an 80 grit sandpaper.
During this process, all of our shim boards remained intact on the plywood, which was really impressive considering we only used Rapid Fuse Glue and did not nail anything down.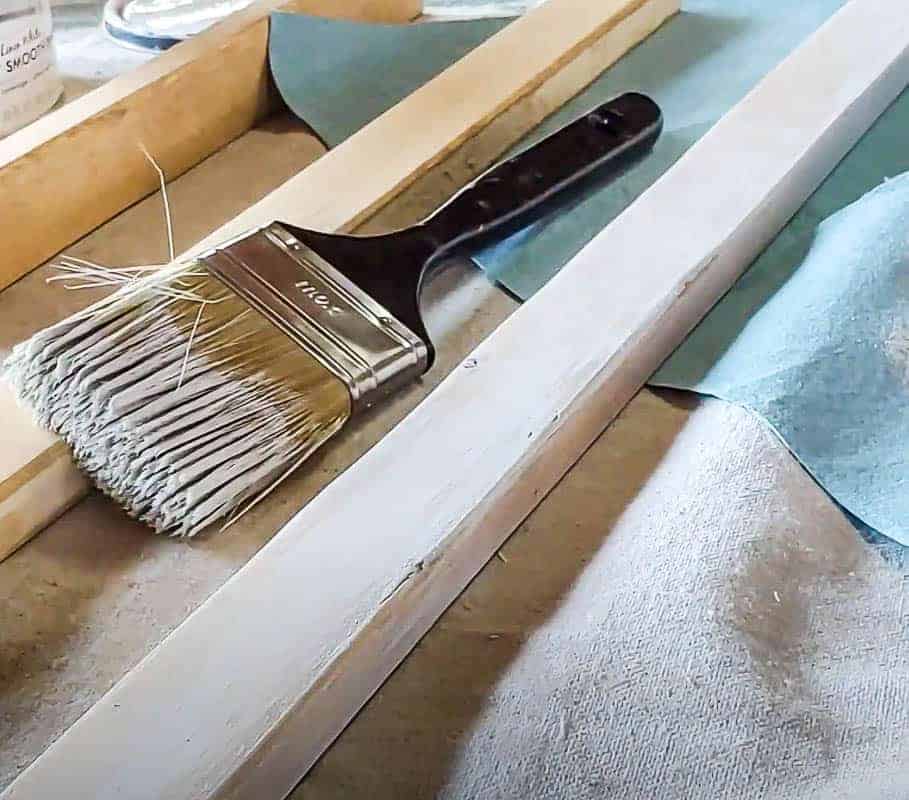 Step 8. Make the frame for DIY wall art with furring strips.
I used the same stain for the furring strips as I did on the shim boards.
First, you will want to stain the furring strips, allow them to dry, then paint them. For this project, I didn't want them "perfectly" painted, but to have a little of a distressed look.
In order to get the "worn" look, I used a technique called dry brushing. Dry brushing is a technique that uses minimal paint and simply brushes color on to the structure.
Using chalk paint, lightly dip a large paint brush into the paint and blot on a paper towel. Then, lightly brush the pain onto the boards. Be careful not to completely "paint" the boards, but to allow some of the stained wood tones to show through the paint.
Then, as it's drying, take a paper towel and rub over the boards to remove any excess paint.
Removing the extra paint gives it a beachy, distressed vibe.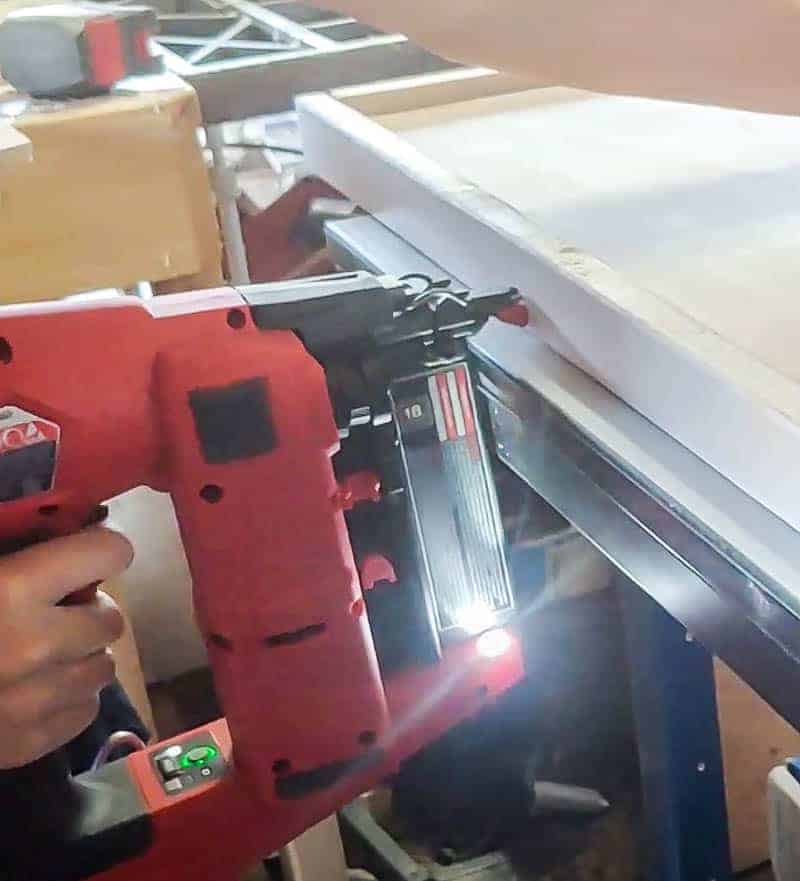 Step 9. Attach the frame with a brad nailer.
After the furring strips have dried, it's time to attach the frame!
Using a brad nailer, attach each furring strip to the plywood with the shim boards.
A brad nailer is better for this project than a finish nailer, because we want the nail holes to be less obvious.
Plus, this is not a heavy duty project that requires heavy gauge nails. If you're curious, here's more information on the similarities and differences of nail guns.
Then, lightly sand any rough corners if needed.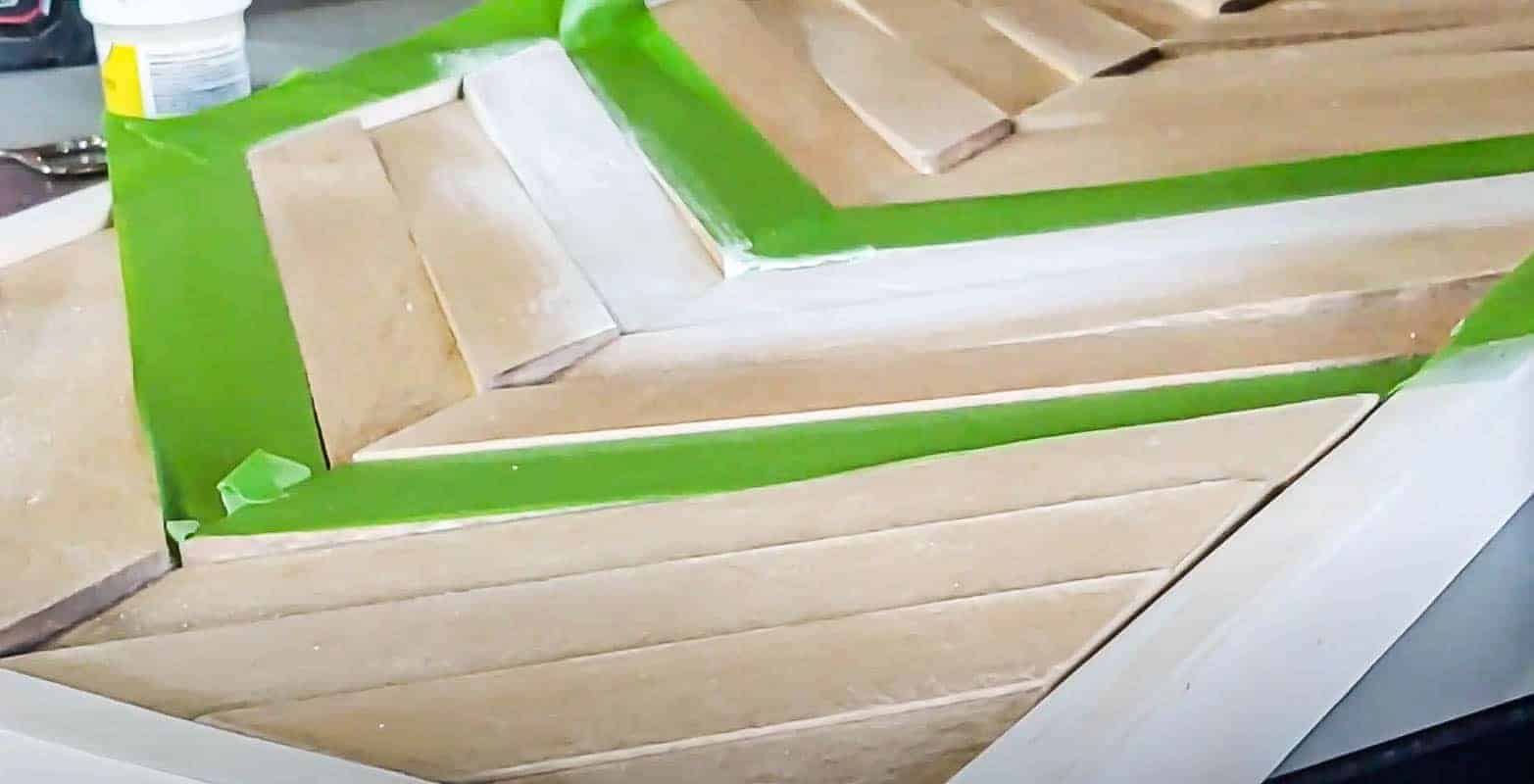 Step 10. Tape off and paint shims (optional)
To add your own unique style, you can tape off a few shims with painter's tape and apply paint or stain to the others for a contrasted look. I also like to use the dry brushing technique here, too.
Using a single paint color or stain would work well, too. It's completely up to you!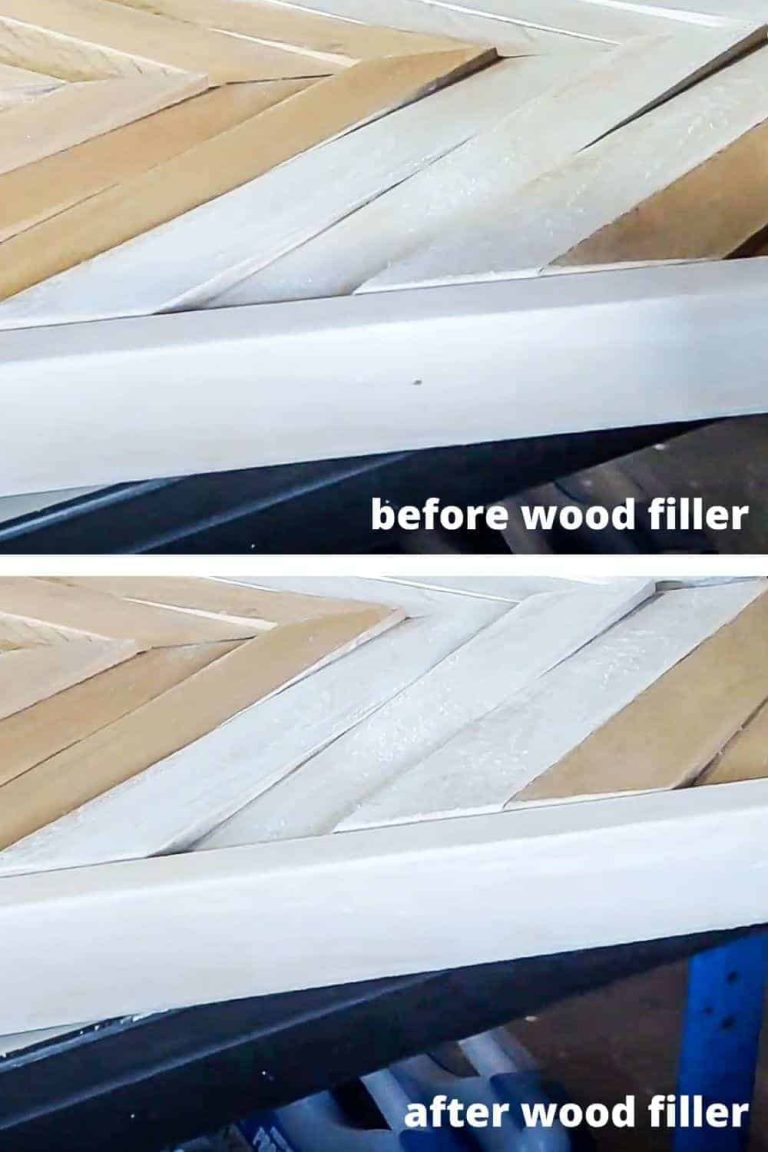 Step 11: Fill nail holes
As a final step, fill in the nail holes using Wood Putty. This small detail gives it a more finished and refined look.
See, what a big difference that makes?
Step 12. Seal.
Before you are ready to hang, seal your piece with clear spray sealer.
This sealant is super easy to use and will protect your work from moisture, splintering, and general wear and tear.
Now, you are ready to hang and enjoy your new wall art!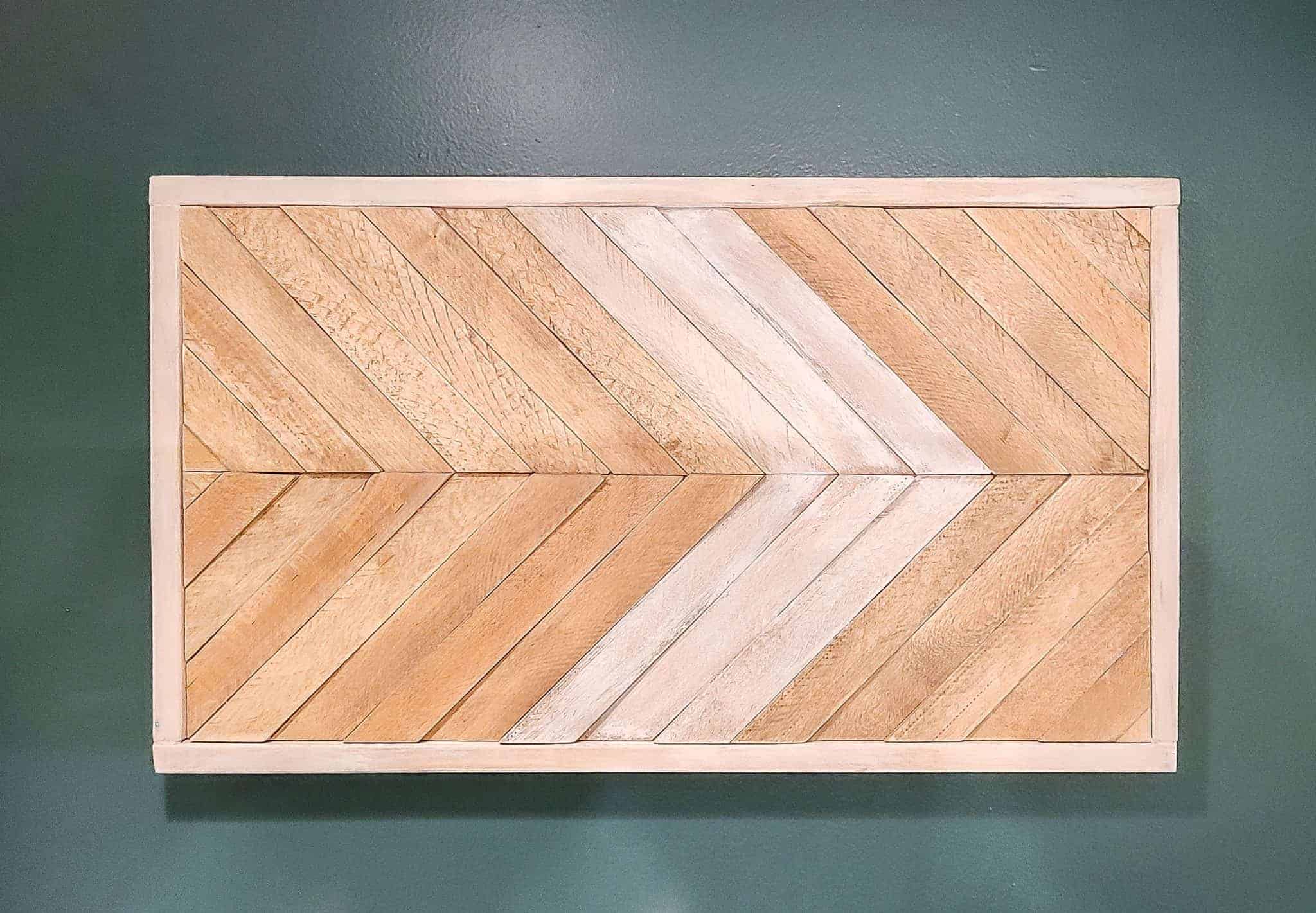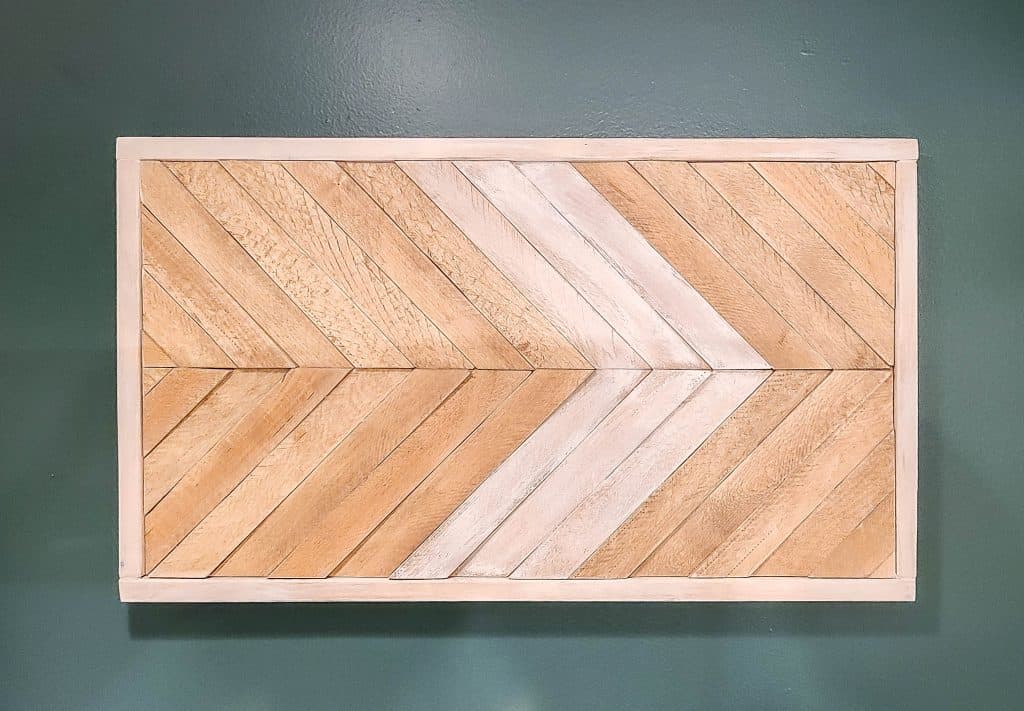 Creating wall art with scrap wood pieces is an easy way to decorate your home on a budget and with your own style. It's an instant update to your space! With these steps and the video tutorial, you can do it yourself.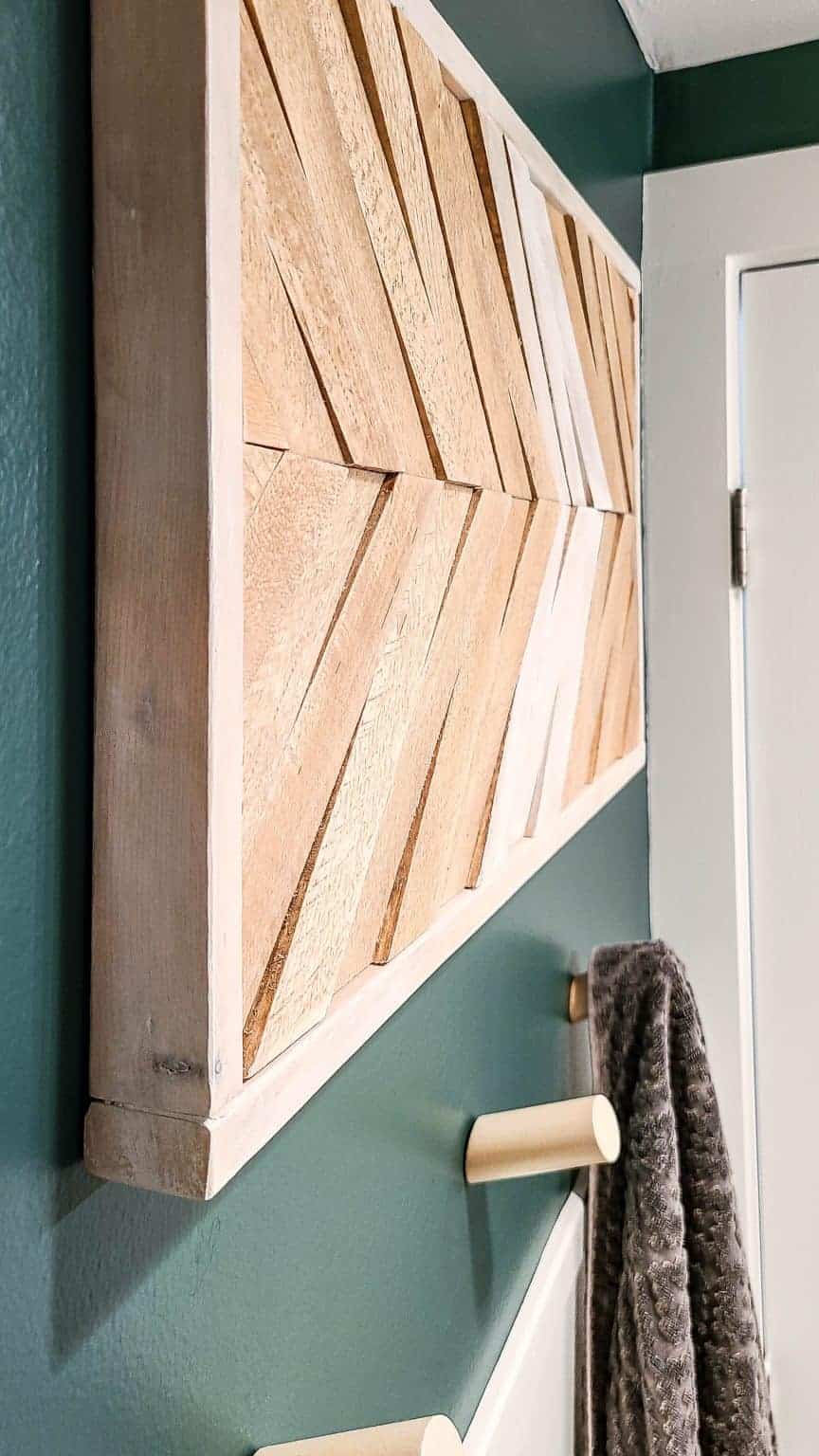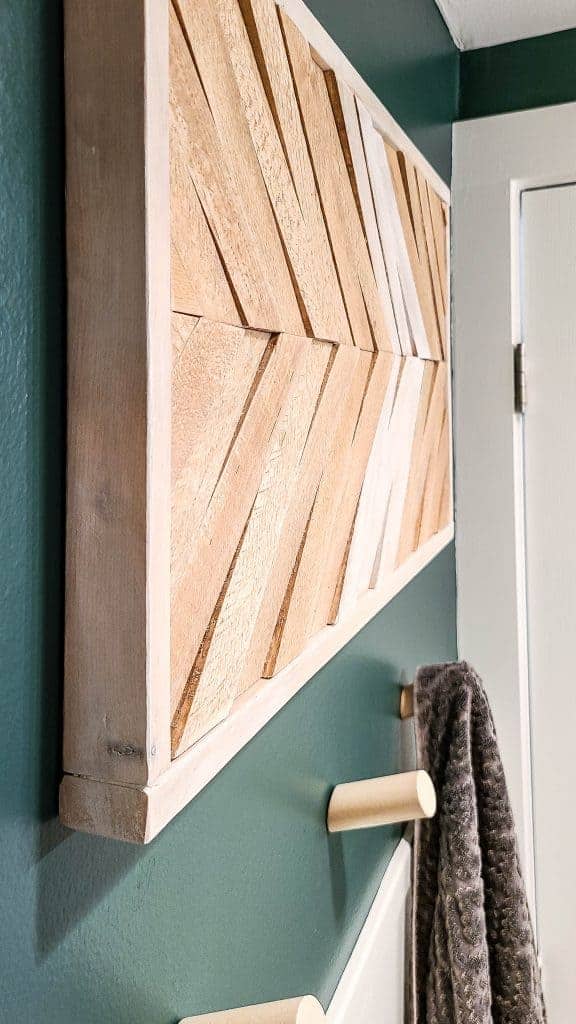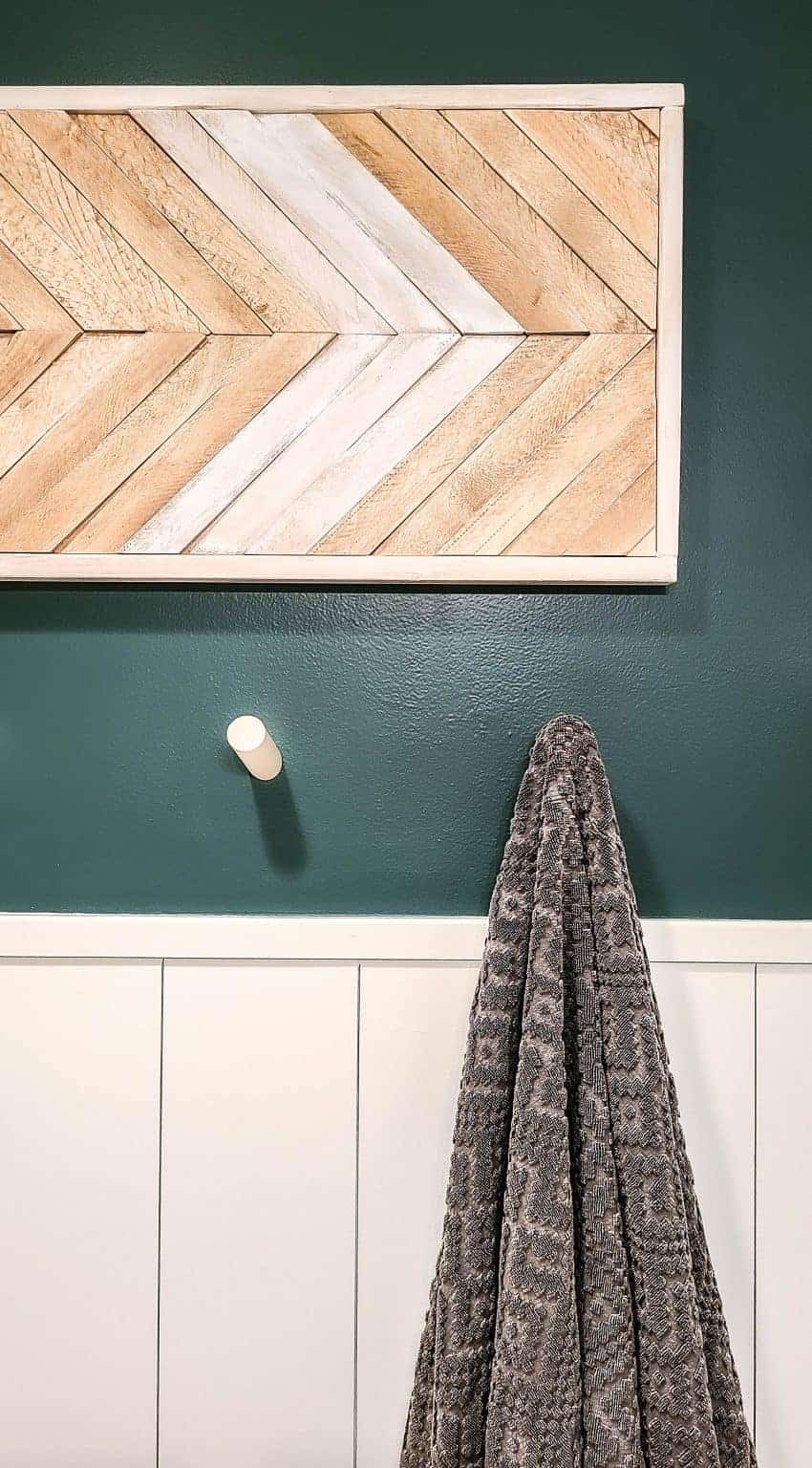 Where would you hang this scrap wood DIY wall art in your home?
Let us know in the comments below!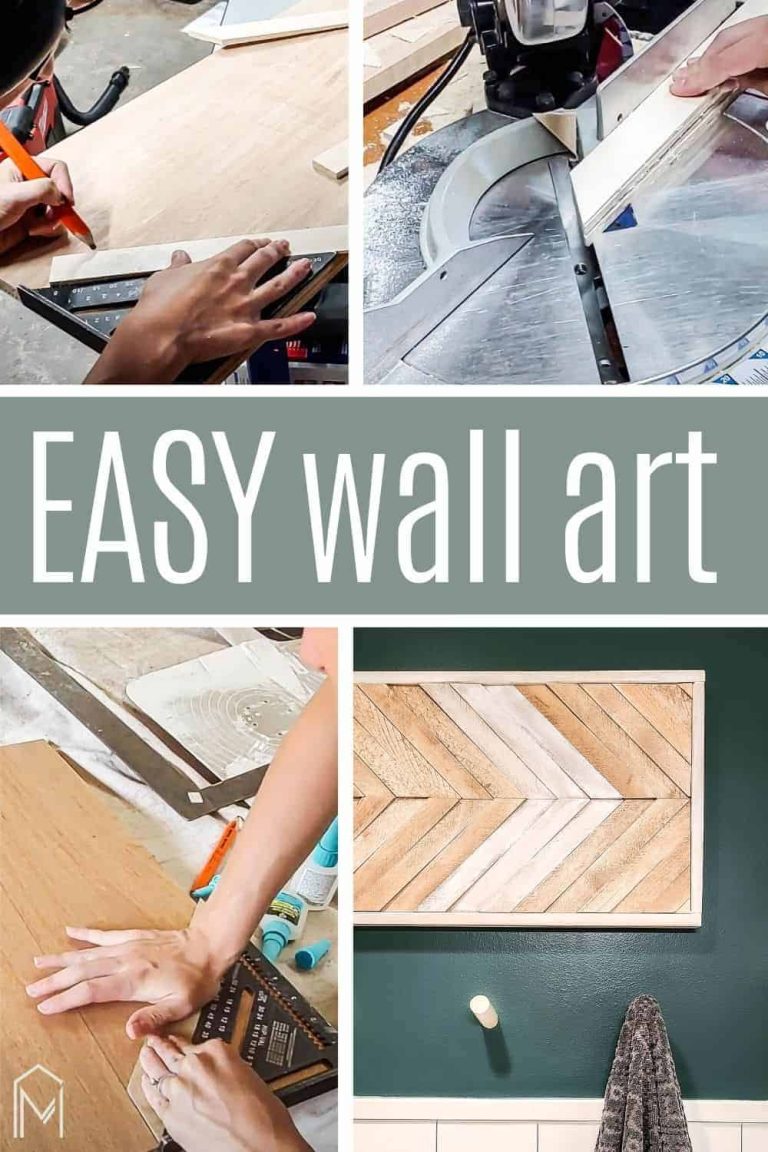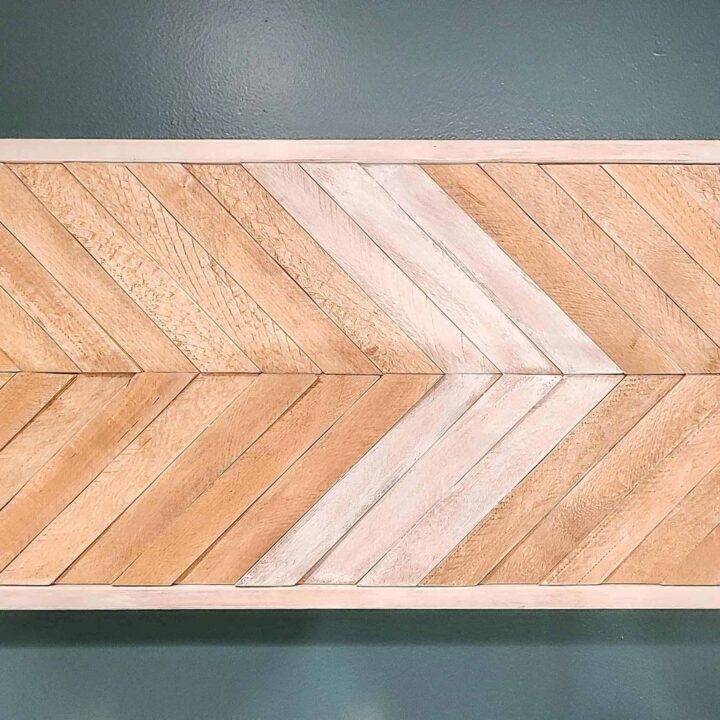 DIY Wall Art with Scrap Wood and Wood Shims
Materials
3/4" plywood scrap
Teak oil
Tools
Miter saw
Orbital sander
Multi-tool
Paint brush
Square
Instructions
Mark the center of the plywood board.
Measure and mark the wood shims.
Cut & sand the wood shims.
Stain the shims.
Glue the shims in place.
Trim edges with a multi-tool.
Sand smooth.
Make the frame with furring strips.
Attach the frame with a brad nailer.
Tape off and paint shims (optional).
Fill nail holes.
Seal.