If you need to give your bathroom a makeover, but want to do it on a budget…prepare to be inspired! We completed this budget bathroom makeover for less than $250. You won't believe these before and after pictures!
Full source list is linked at the bottom of post for your convenience !
This budget bathroom makeover contains affiliate links, but nothing that I wouldn't recommend wholeheartedly. Read my full disclosure here.
Logan and I surprisingly don't butt heads much about renovation projects and decor styles. But what we do consistently disagree on "phase 1 makeovers"…or what I like to call…making a room look better while we live with it and wait until we can fully renovate. Logan just sees it as wasting time and money on rooms that are going to change.
So sometimes I win and we spend a little time and money making things look better. And sometimes he wins and we completely ignore it until it is reno time. Like most things in marriage (and life)…it's a give and take.
Before Our Budget Bathroom Makeover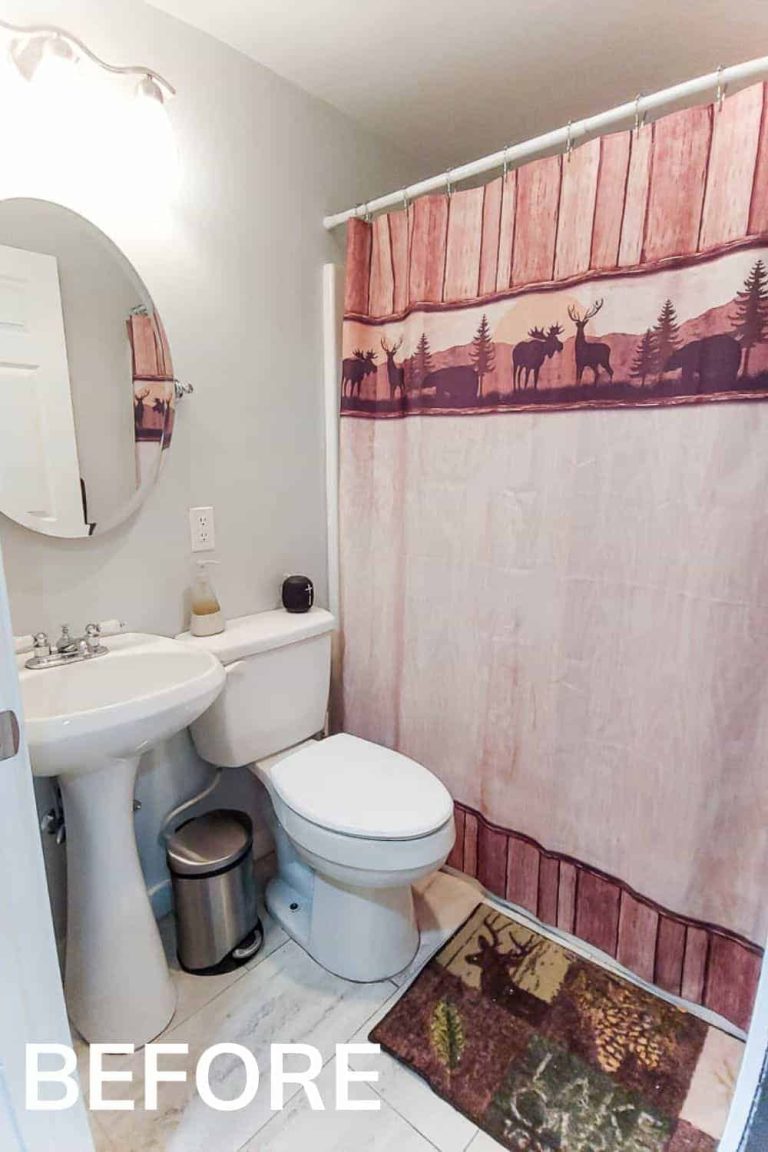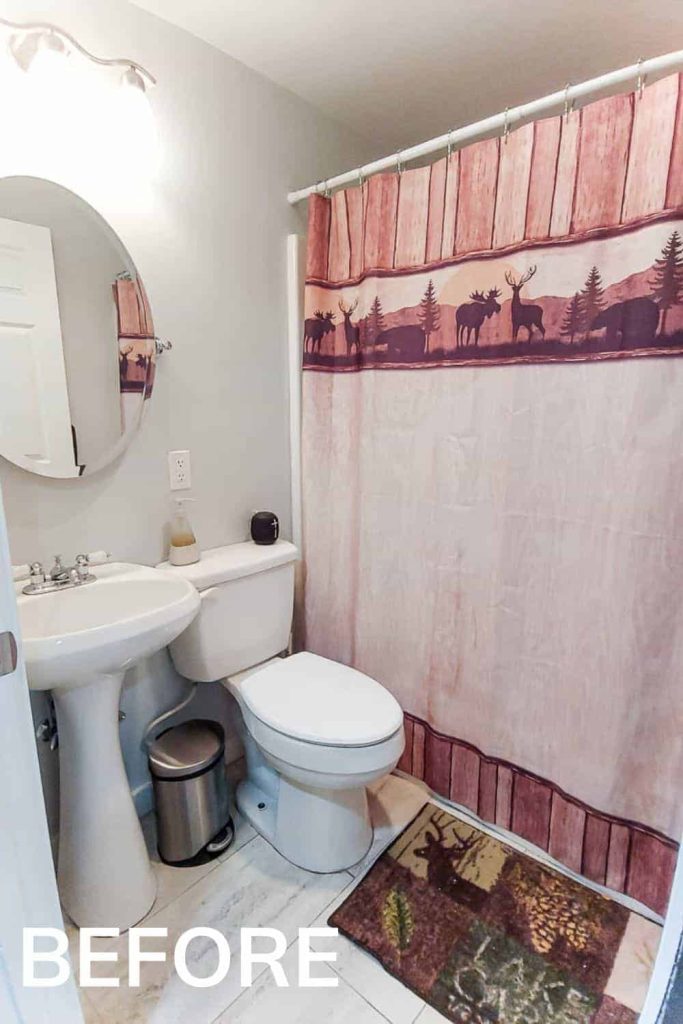 But this bathroom, oh my goodness….this bathroom was definitely something that I've let Logan win for probably a bit too long. We've been living in this house for about two and half years and I've hated it every second.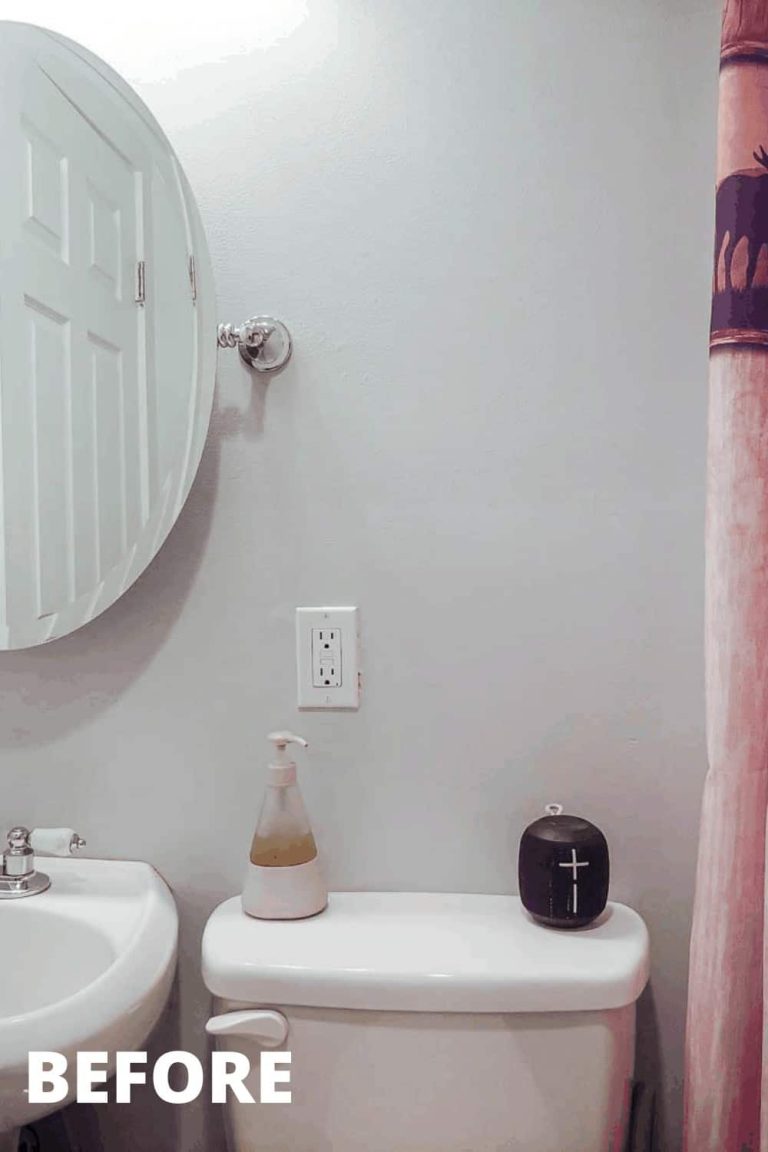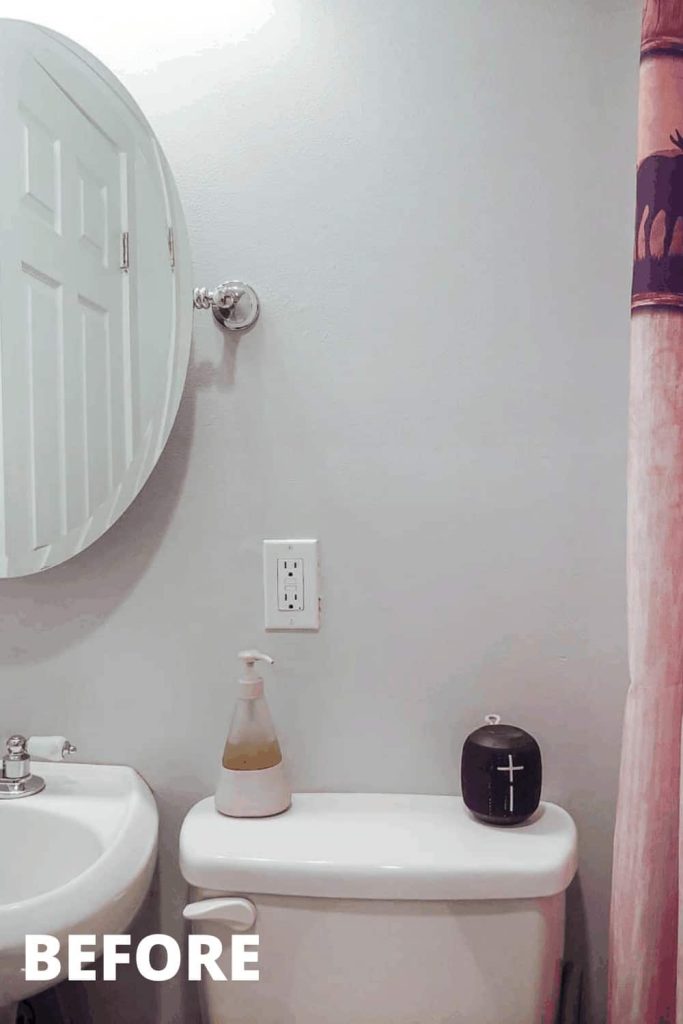 The baby blue wall paint was here when we moved in (and was repeated a few times throughout the house). I honestly think the flippers we purchased the house from just used leftover exterior paint from when they painted the outside of the house because it's the same color.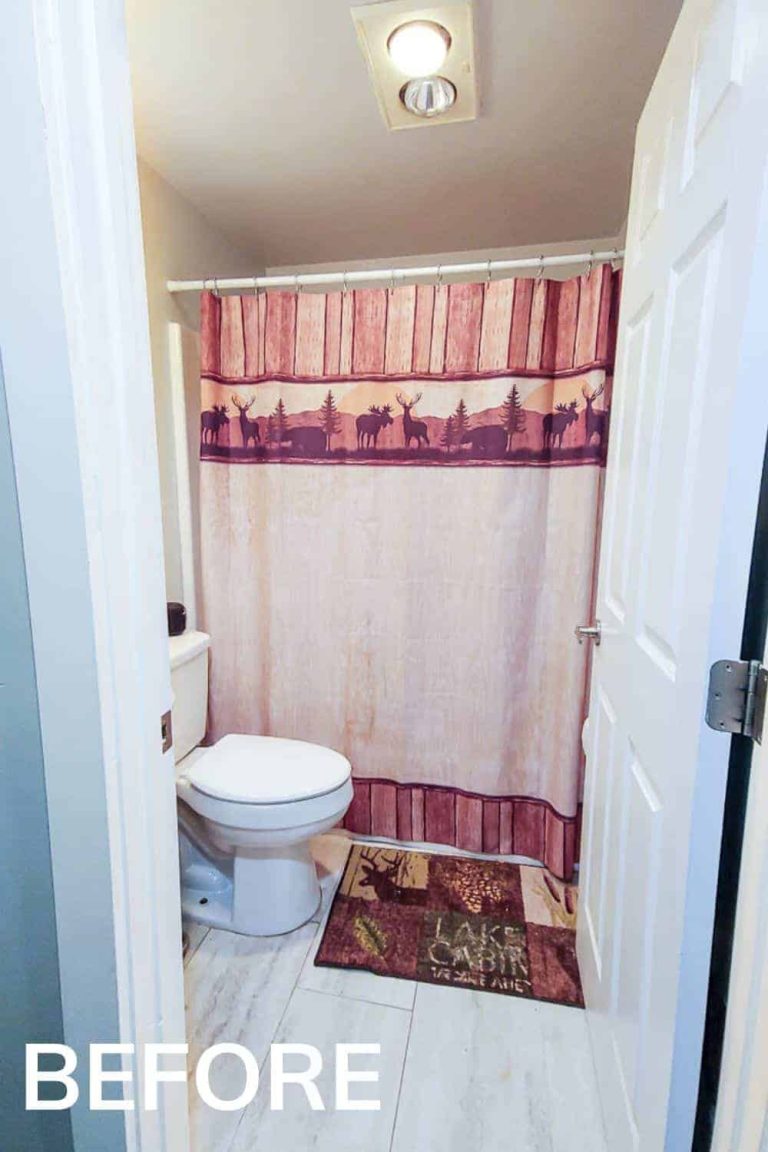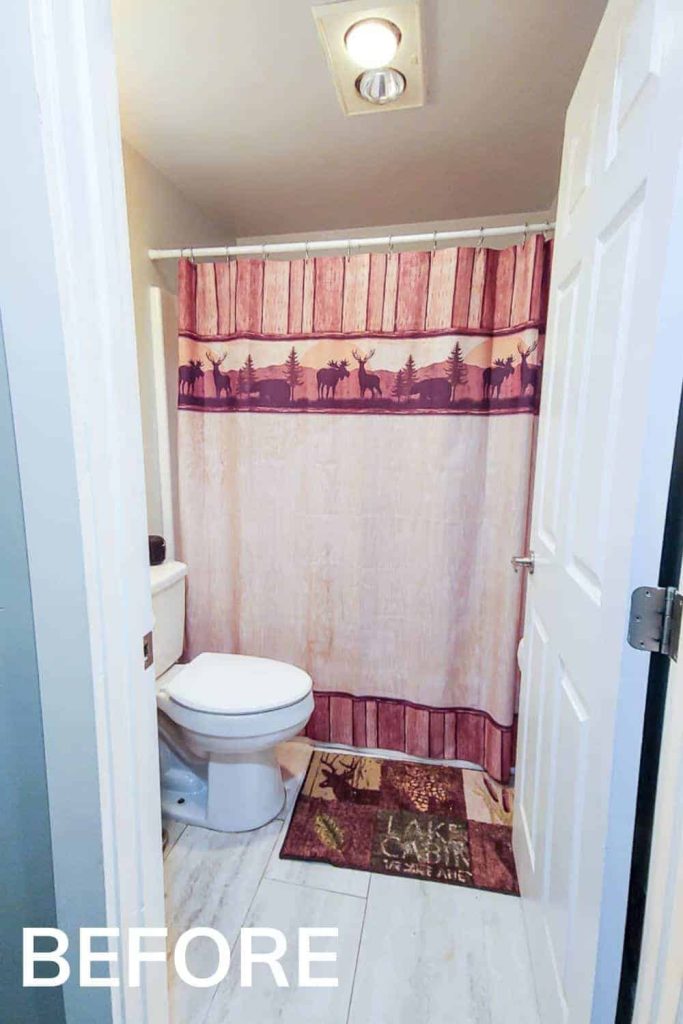 The decor is pretty hideous with a rustic cabin theme complete with a faded shower curtain and an equally horrible bathmat. We purchased this decor RIGHT after we got married, back in that honeymoon stage where I still trying to choose things that Logan liked…hence the cabin theme. Believe it or not, we actually had CAMO towels at one point (those are long gone now).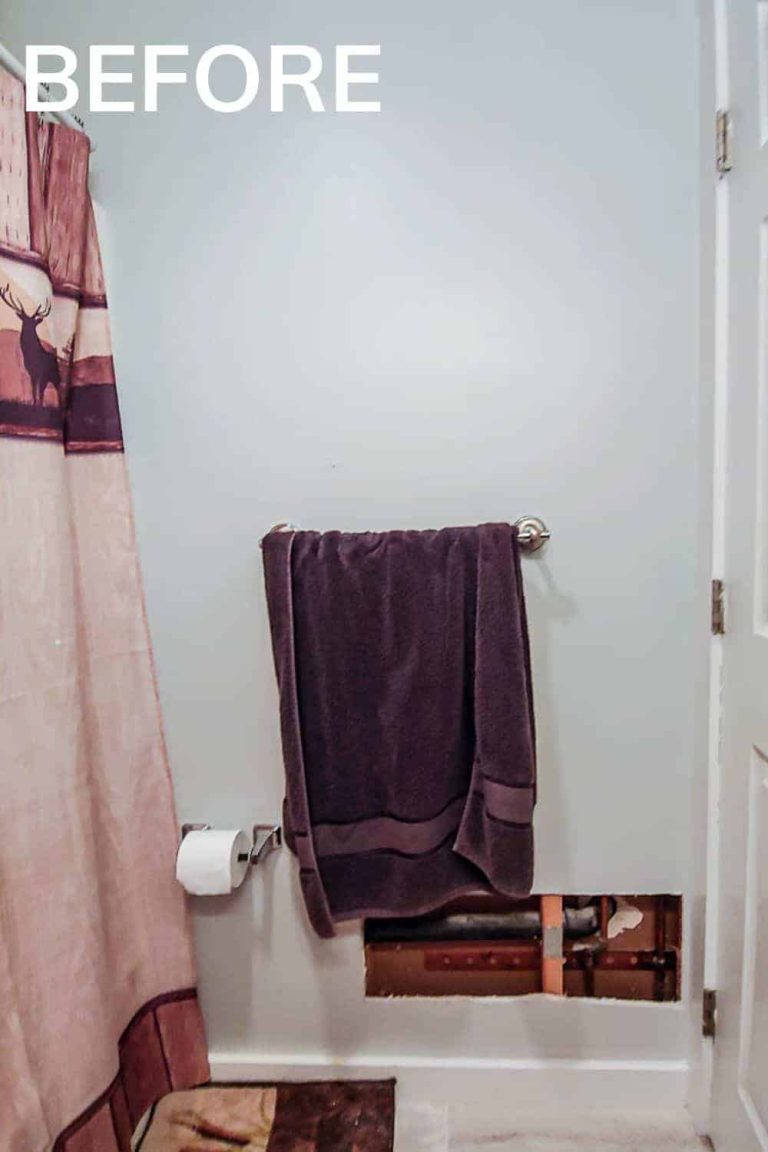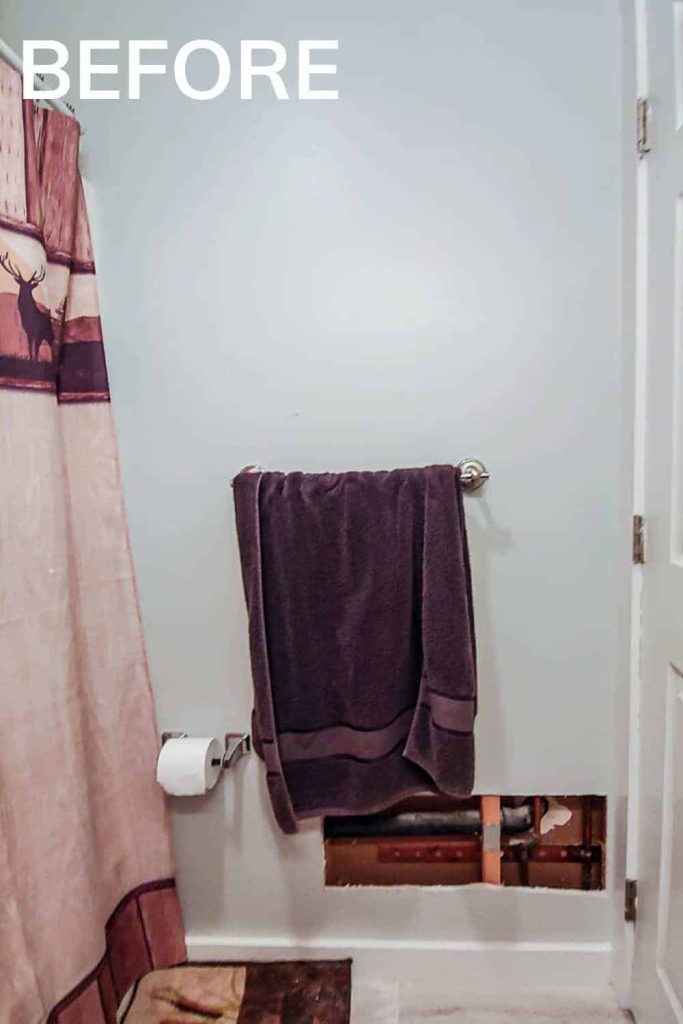 We didn't live very long with this big hole in the wall, don't worry! Haha, we had to bust into the wall when we were installing the farmhouse sink cabinet in our laundry room.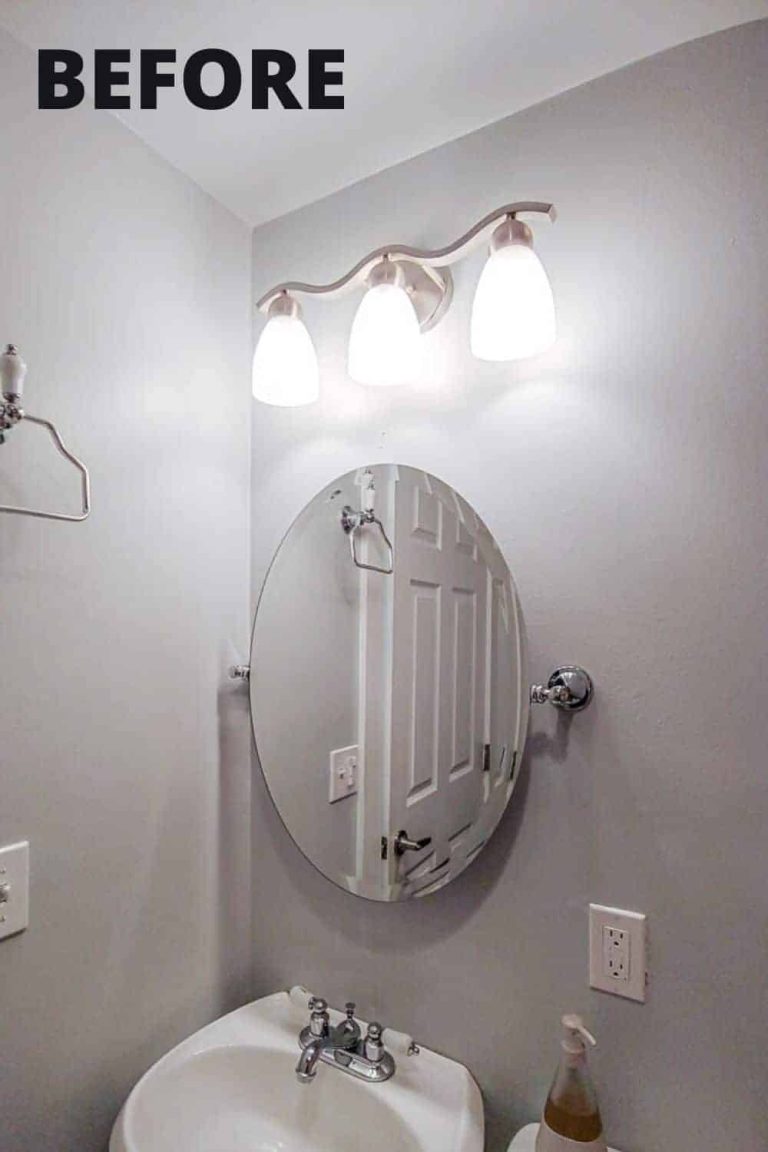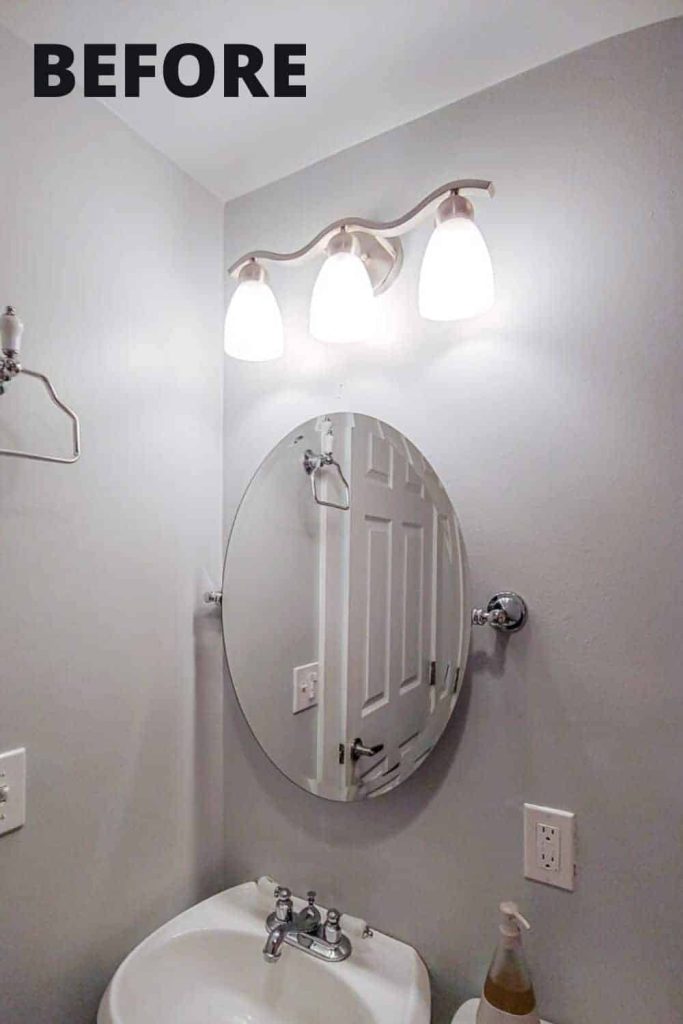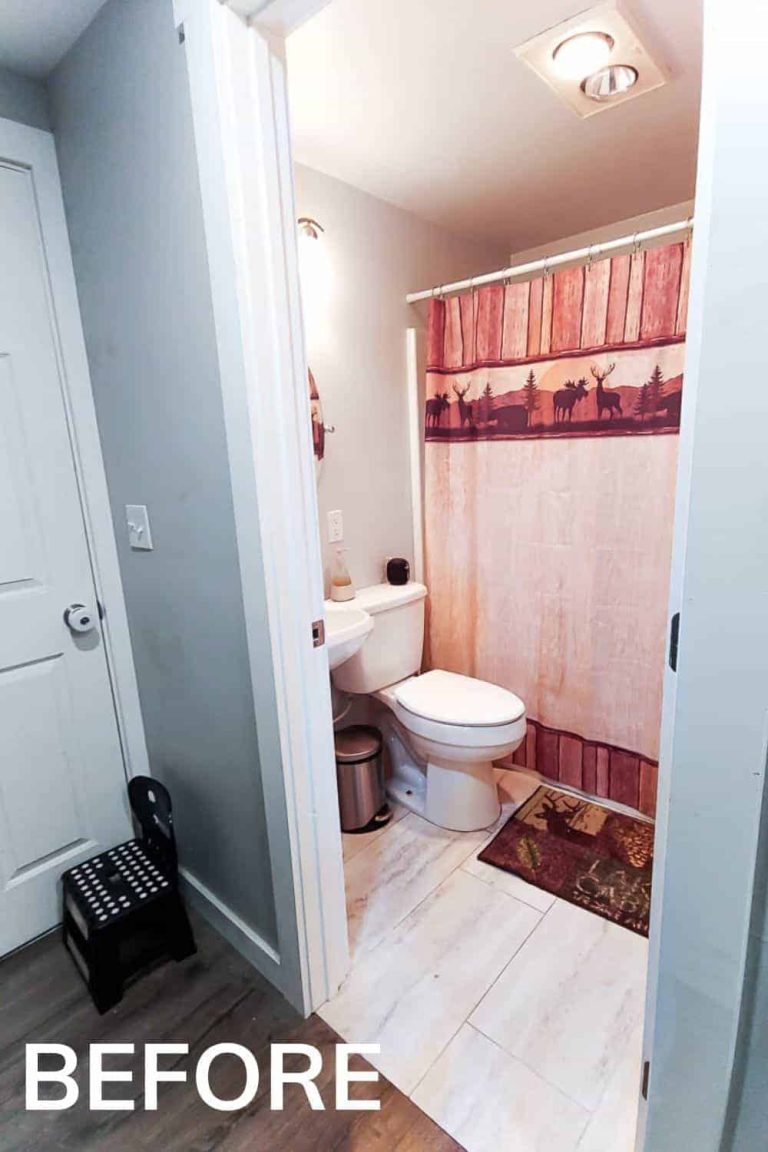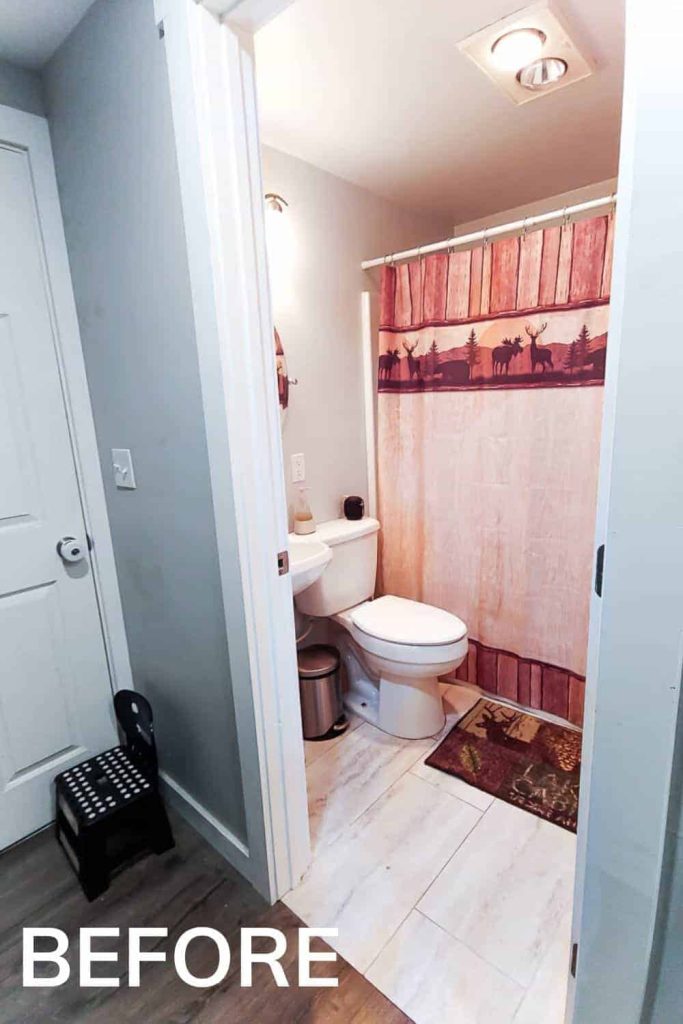 So here's where we were…
I was sick of this ugly bathroom. Logan didn't want to spend money on it because we really should probably do a full gut renovation of the space soon.
We agreed that we wouldn't replace any fixtures, keep costs at a minimum, try to use up supplies and decor that we had elsewhere and all in all do a mini budget bathroom makeover.
Buget Bathroom Makeover Step 1 – Install a DIY Vertical Shiplap Wall
So I got to work. First things first, I had to figure out what in the heck to do with the wall that had a big hole! We could, of course, have patched it and retextured the whole thing…which would have been kind of a pain.
Instead, we completely transformed the wall by installing DIY vertical shiplap that was seriously less than $50 in supplies (most of which we already had)!
TA-DA!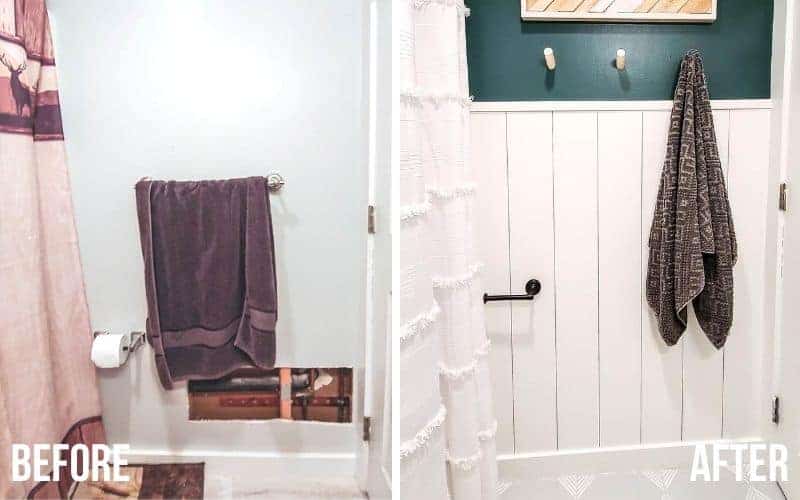 Buget Bathroom Makeover Step 2 – Painted Tile Floors
The next thing we definitely needed to address was the tile floors. The builder-grade boring tan rectangles had to go.
But again…I didn't want to spend the time or money to completely replace the tile flooring, so we tried something we've never done before!
We painted the tile floors using this awesome paint that is made JUST for floors! To top it off, I added a fun stencil design that although tedious, turned out AMAZING!
Don't you think?!?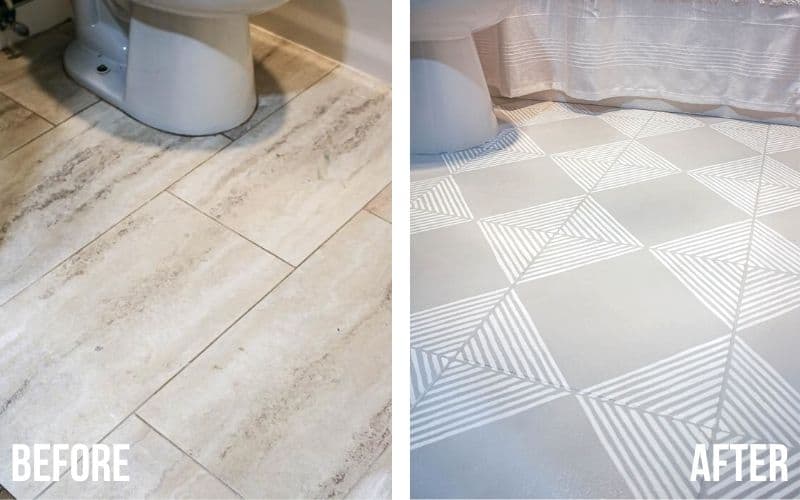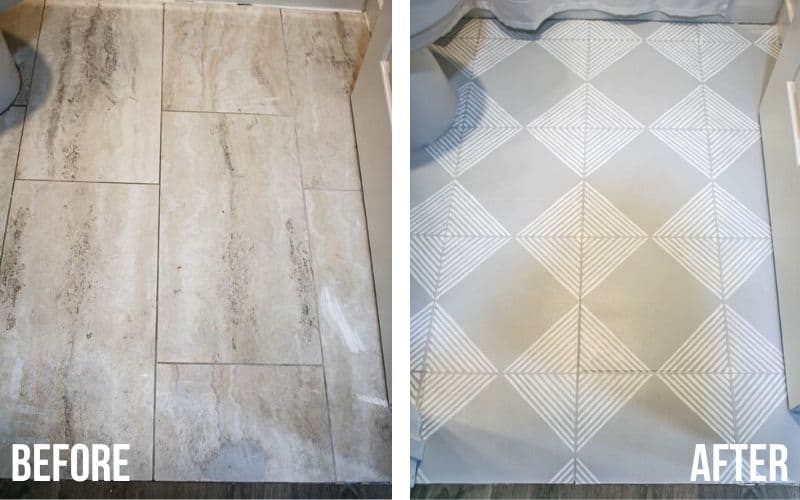 Buget Bathroom Makeover Step 3 – Hang DIY Wall Art with Scrap Wood & Wood Shims
Then we made this super easy and cheap wall art to hang above the towels and it's just perfect, don't you think?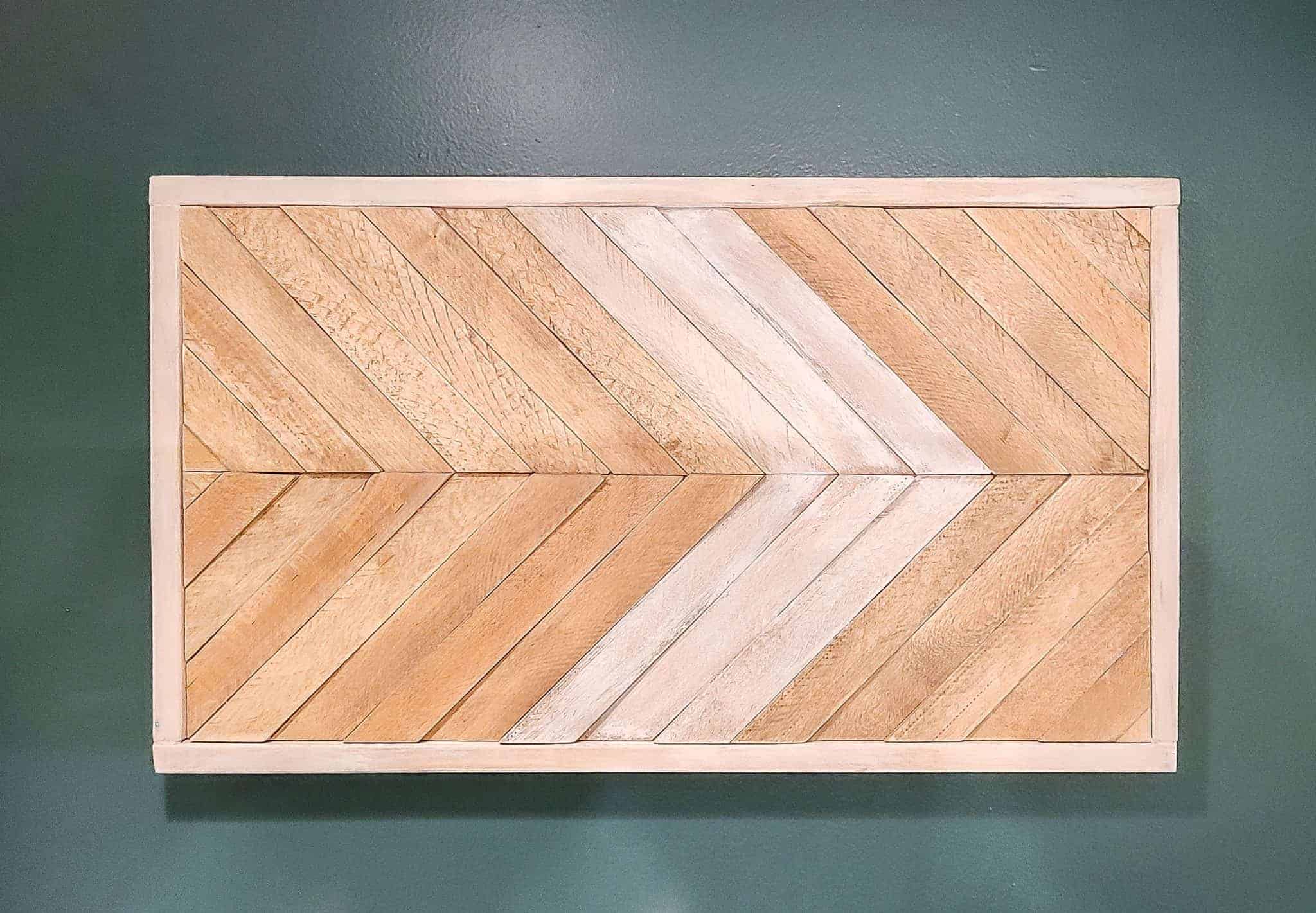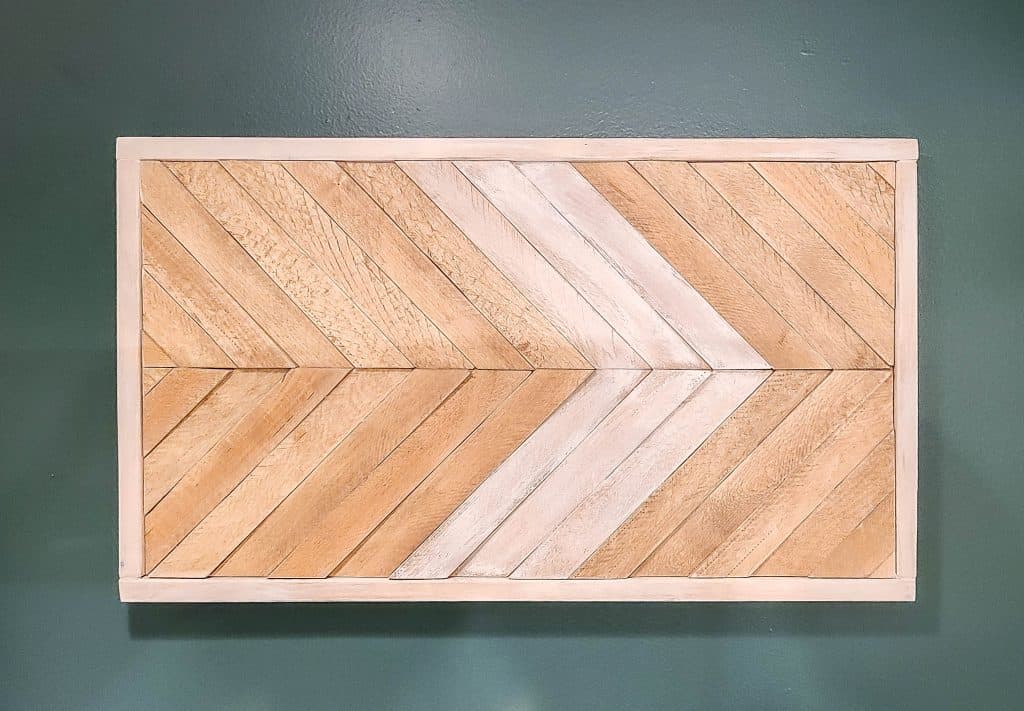 Watch the whole bathroom makeover process in this YouTube video!
If you love DIY videos, be sure to subscribe to our YouTube channel too!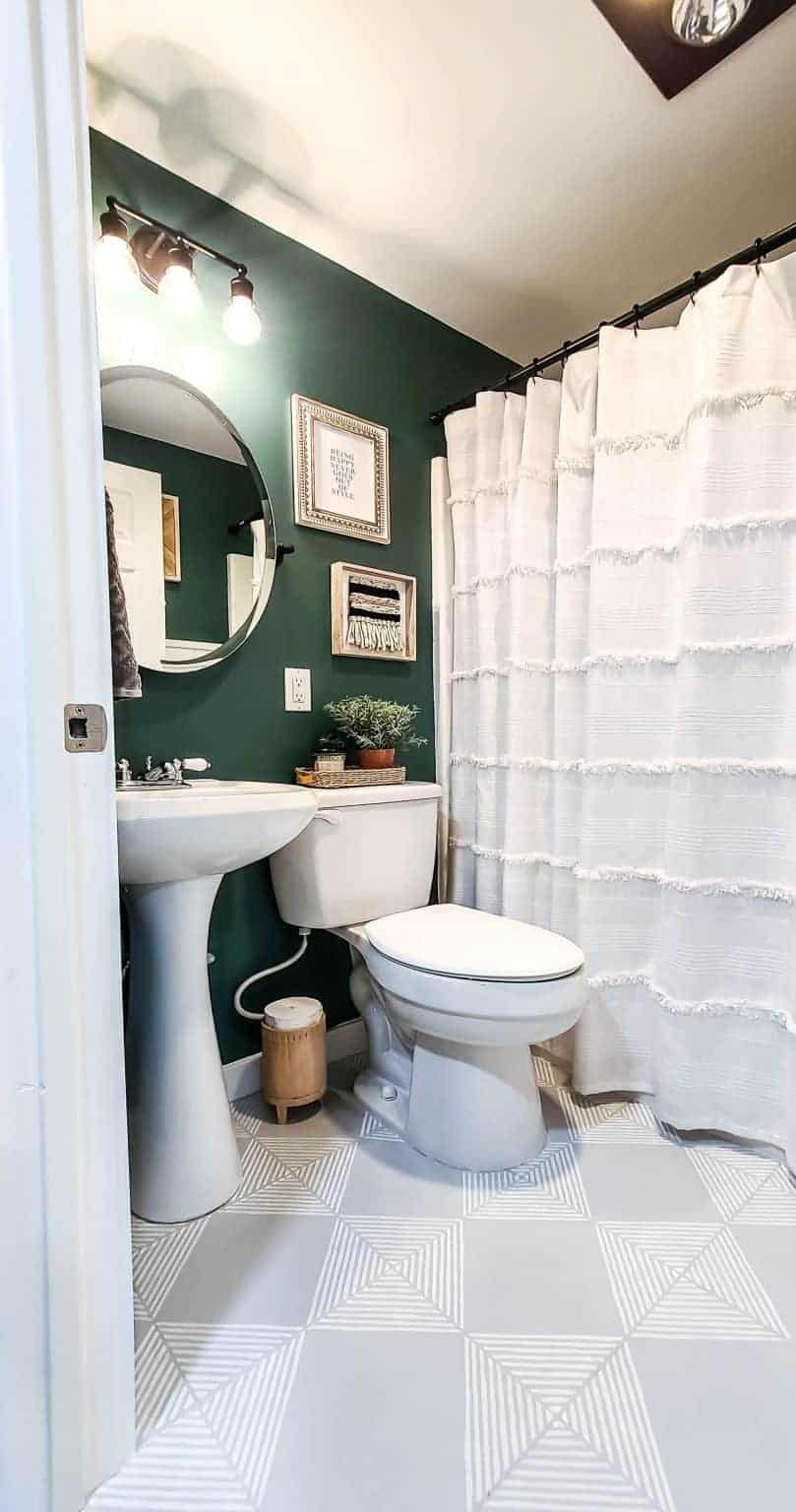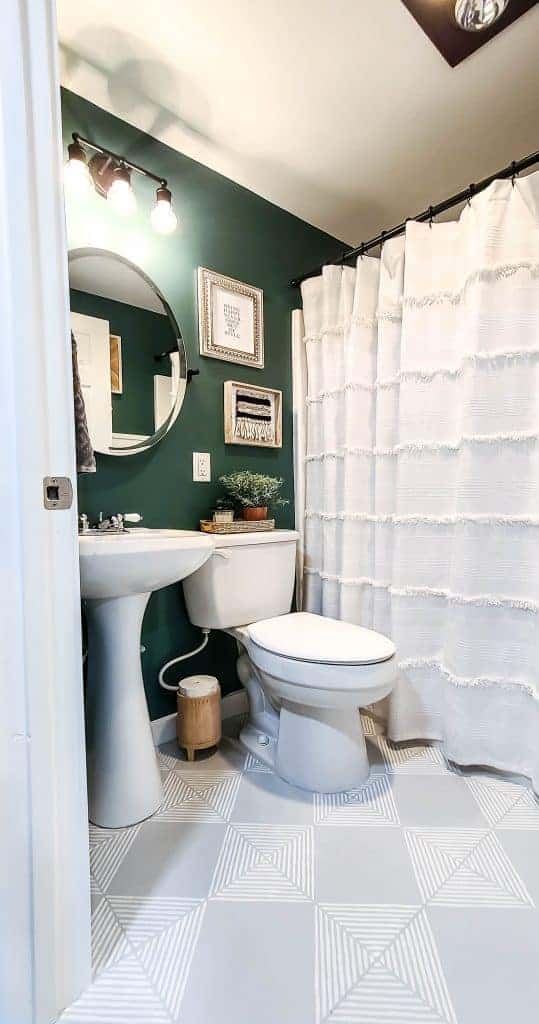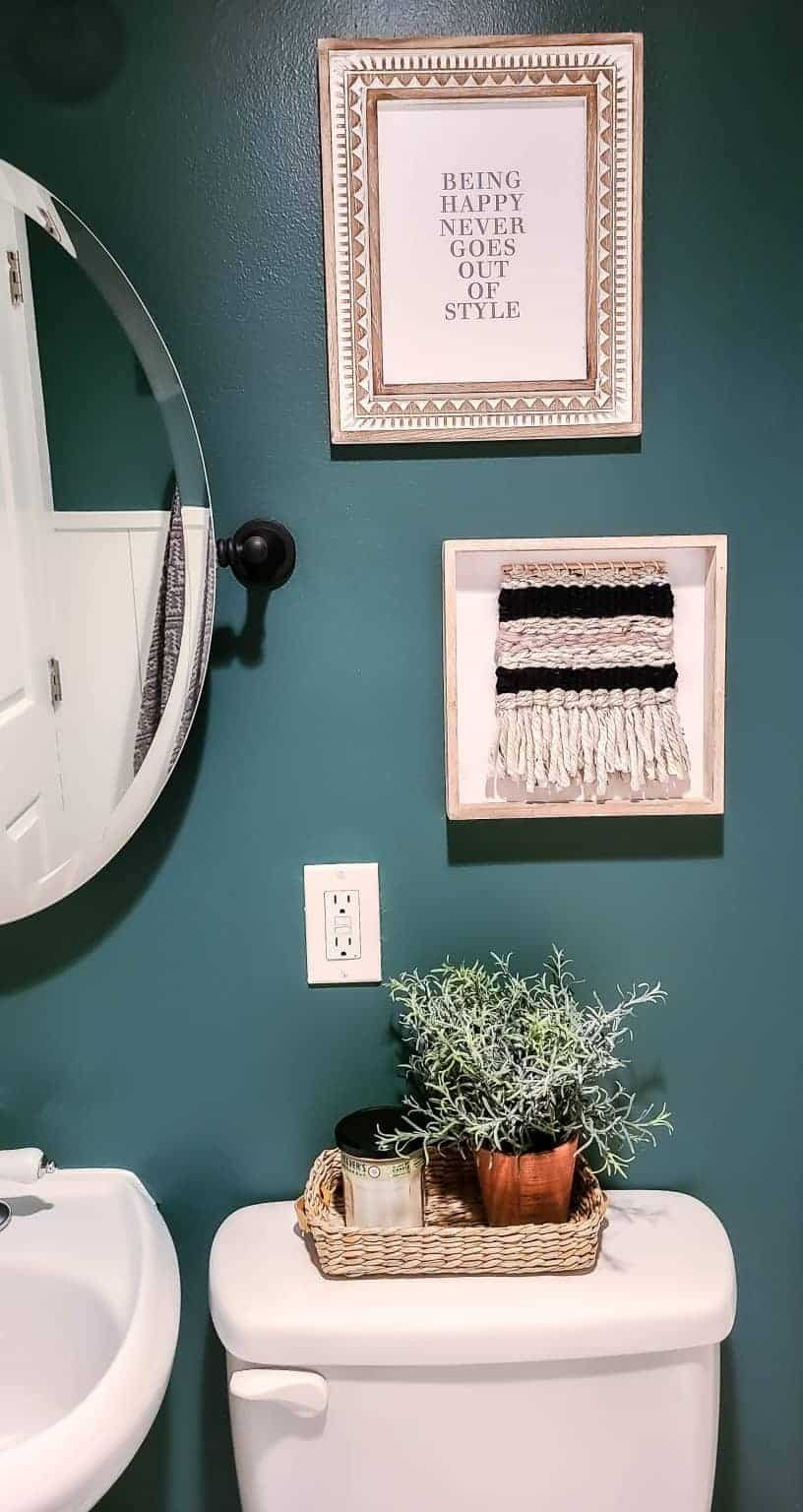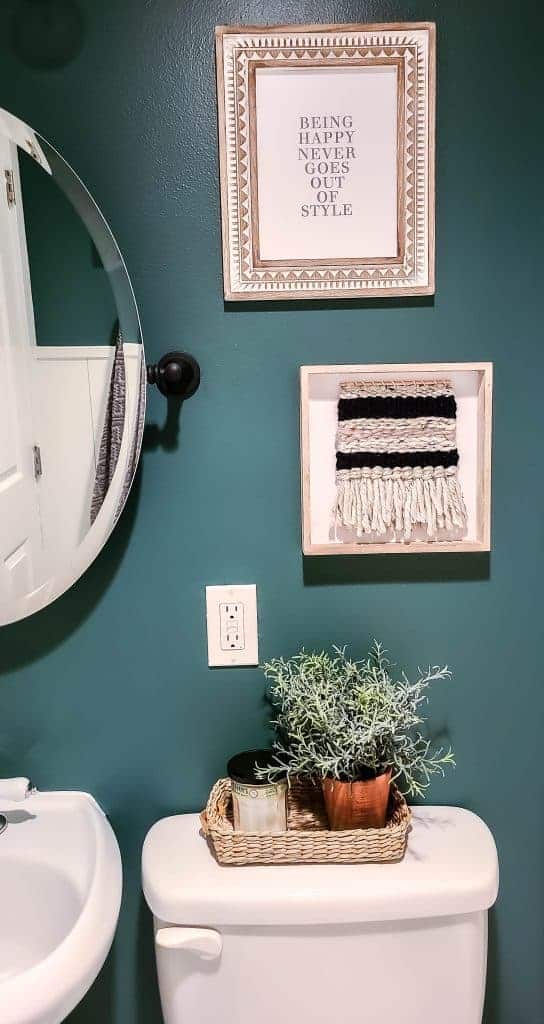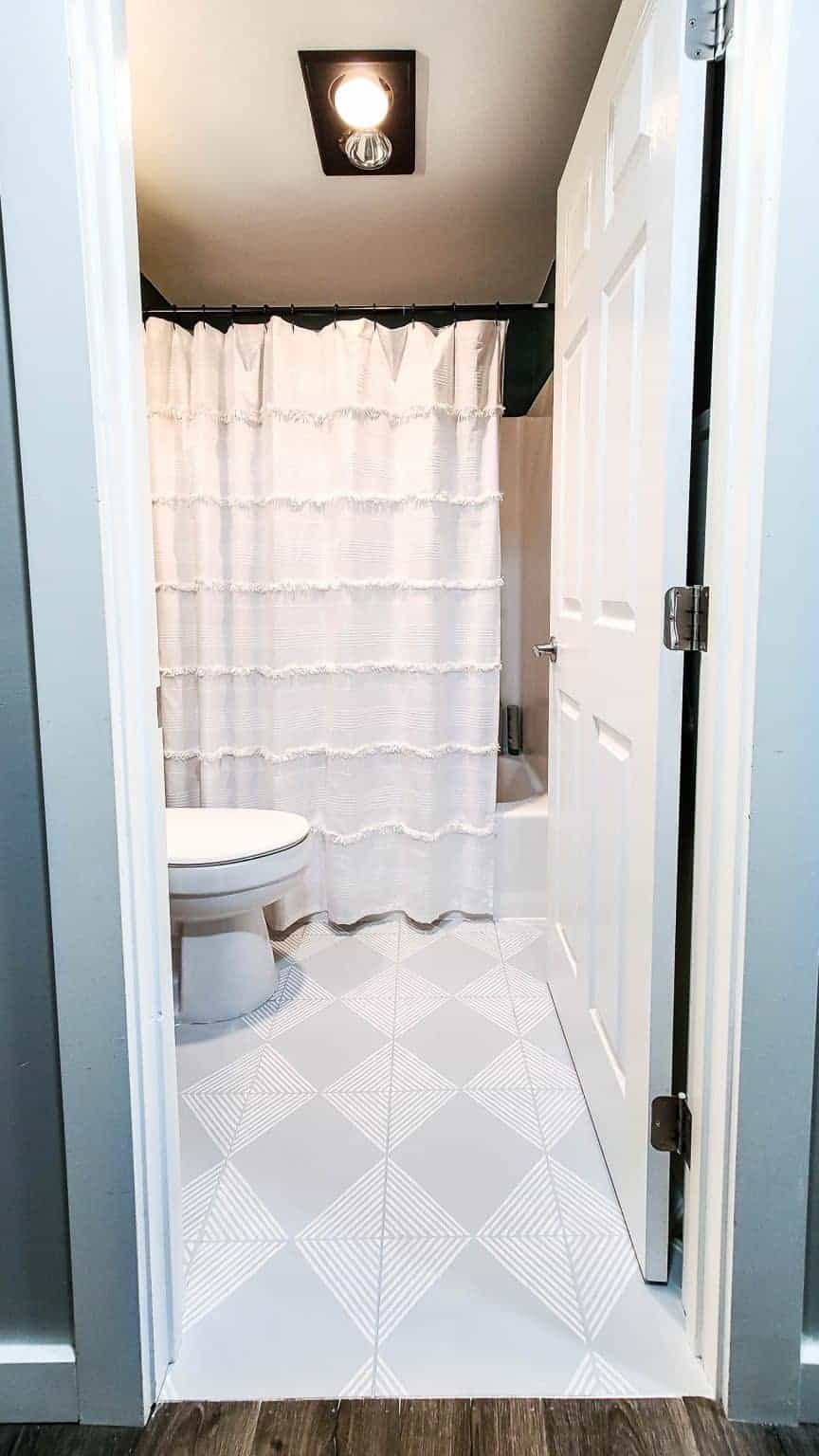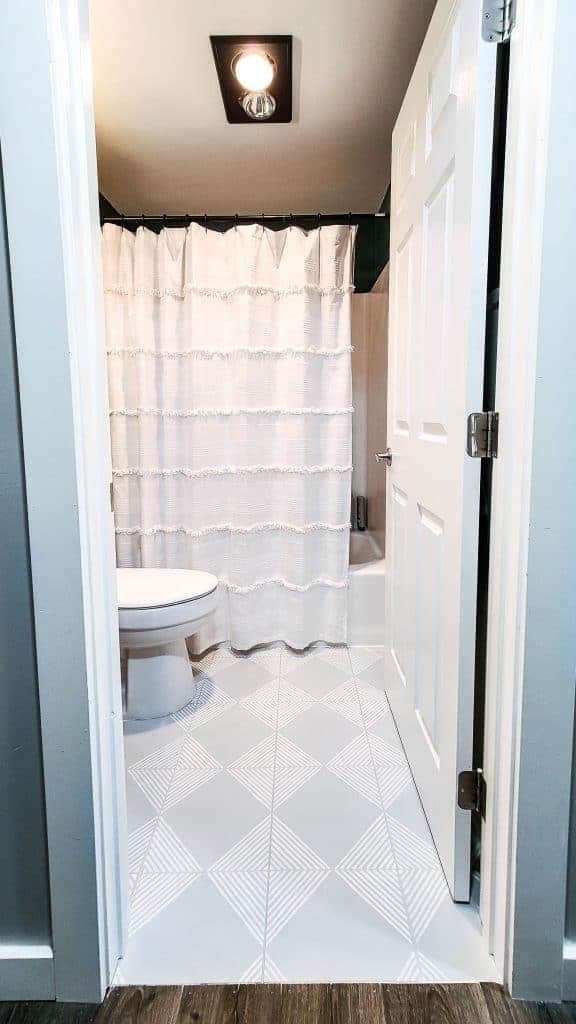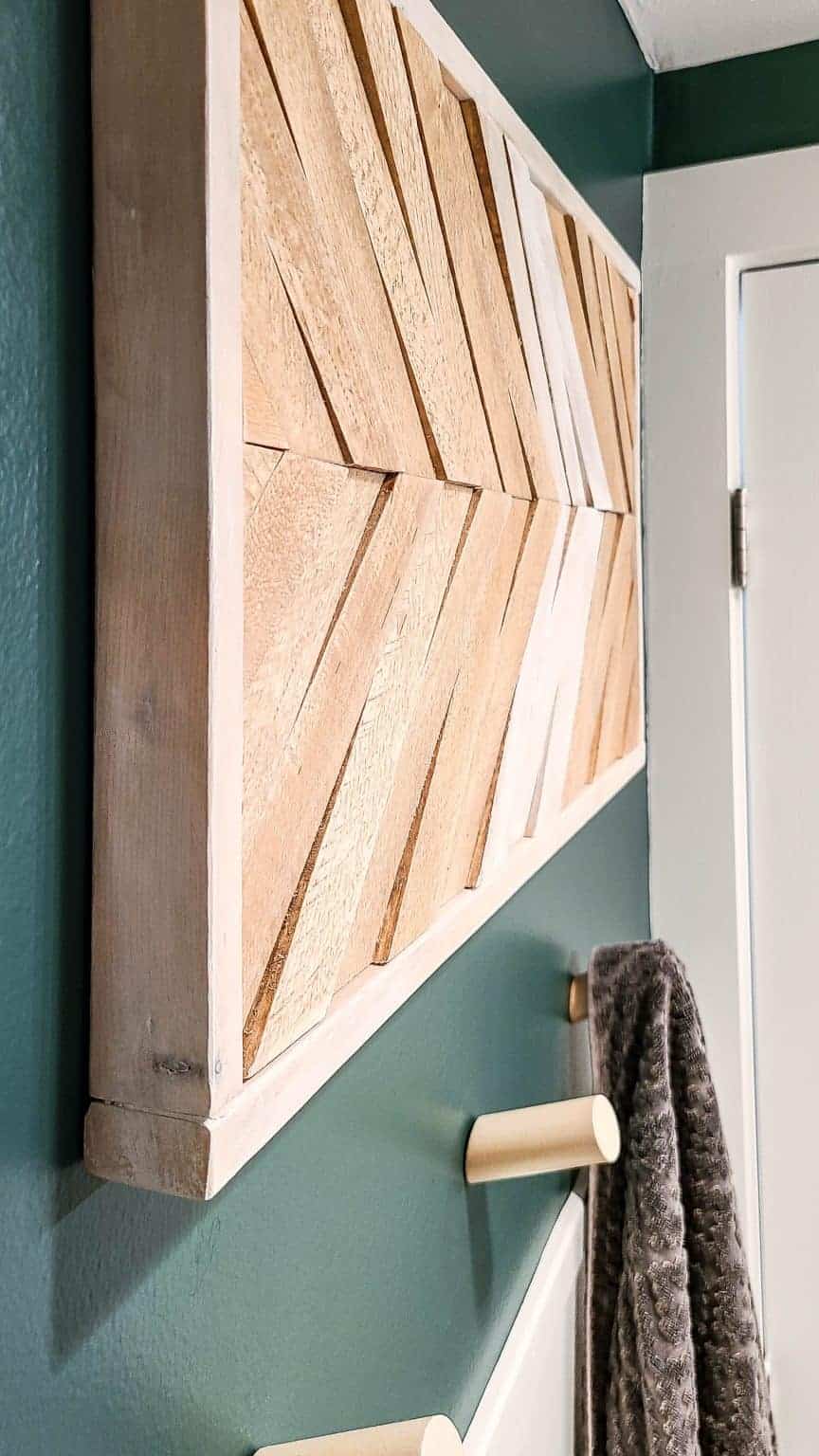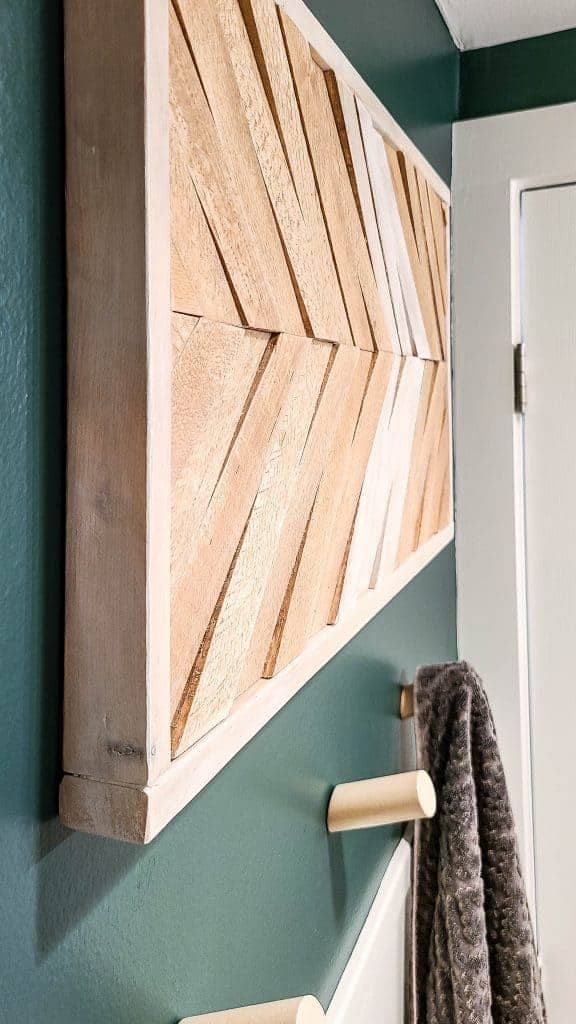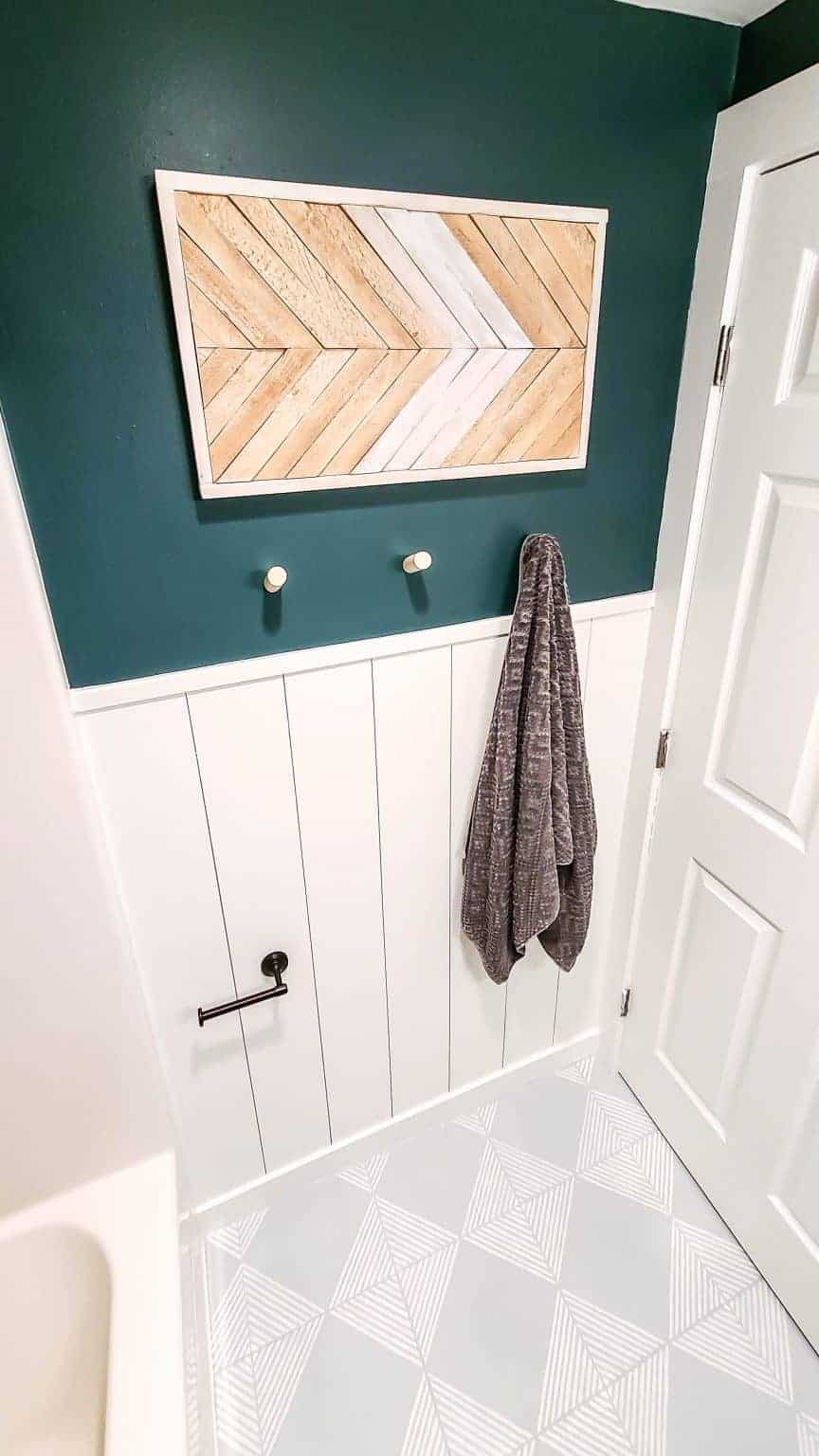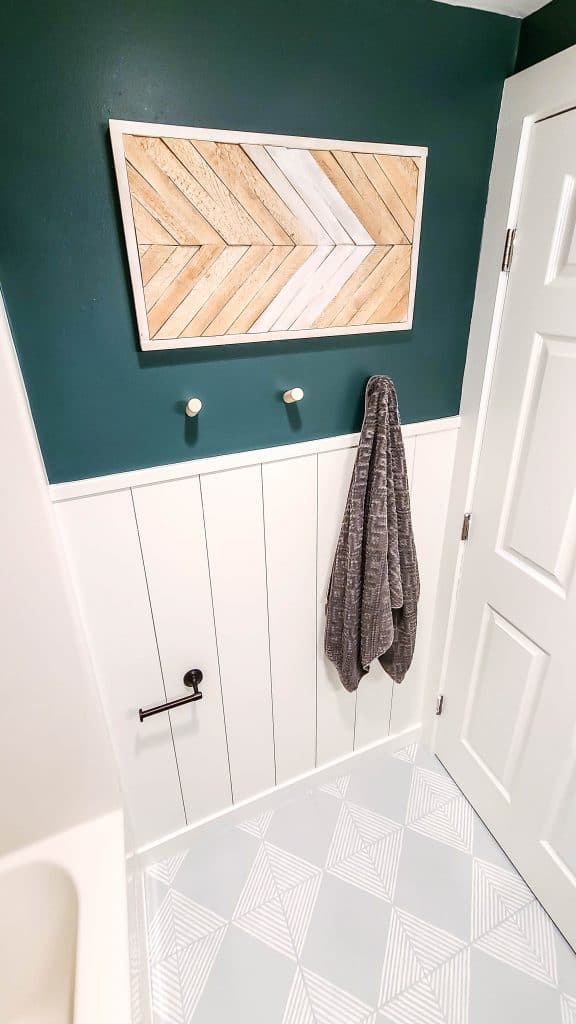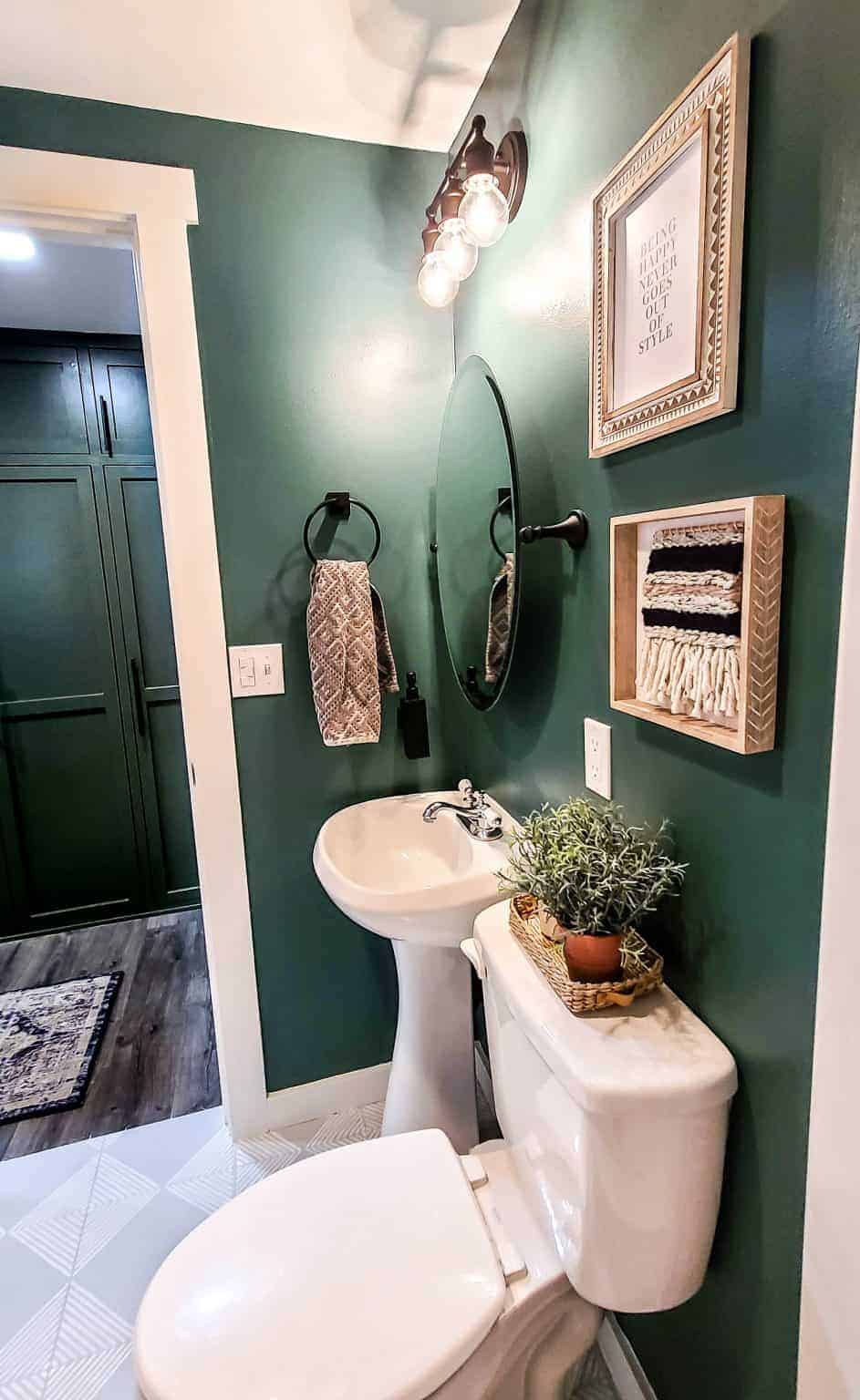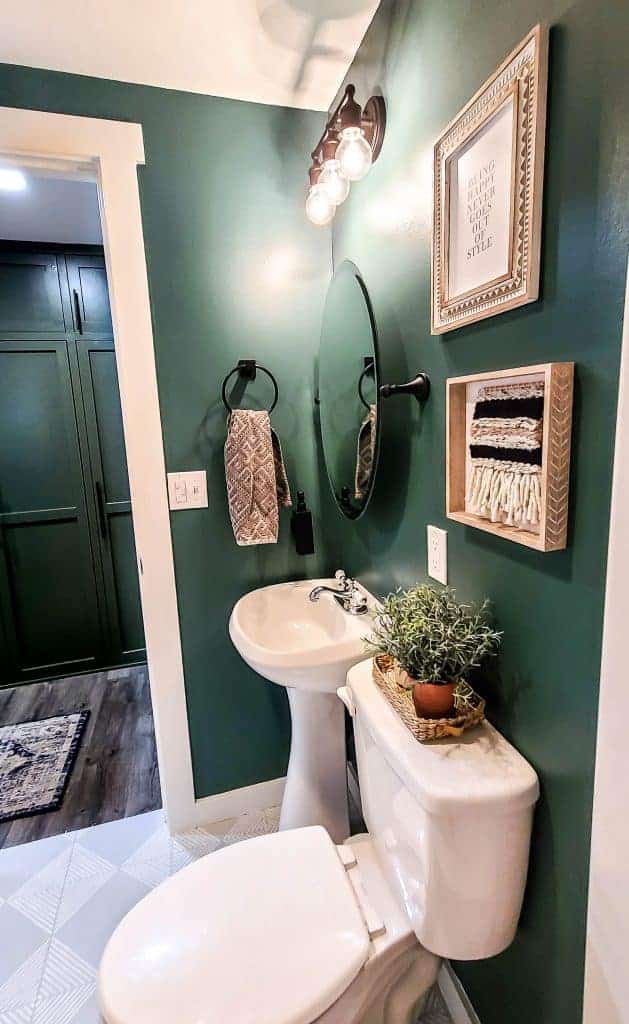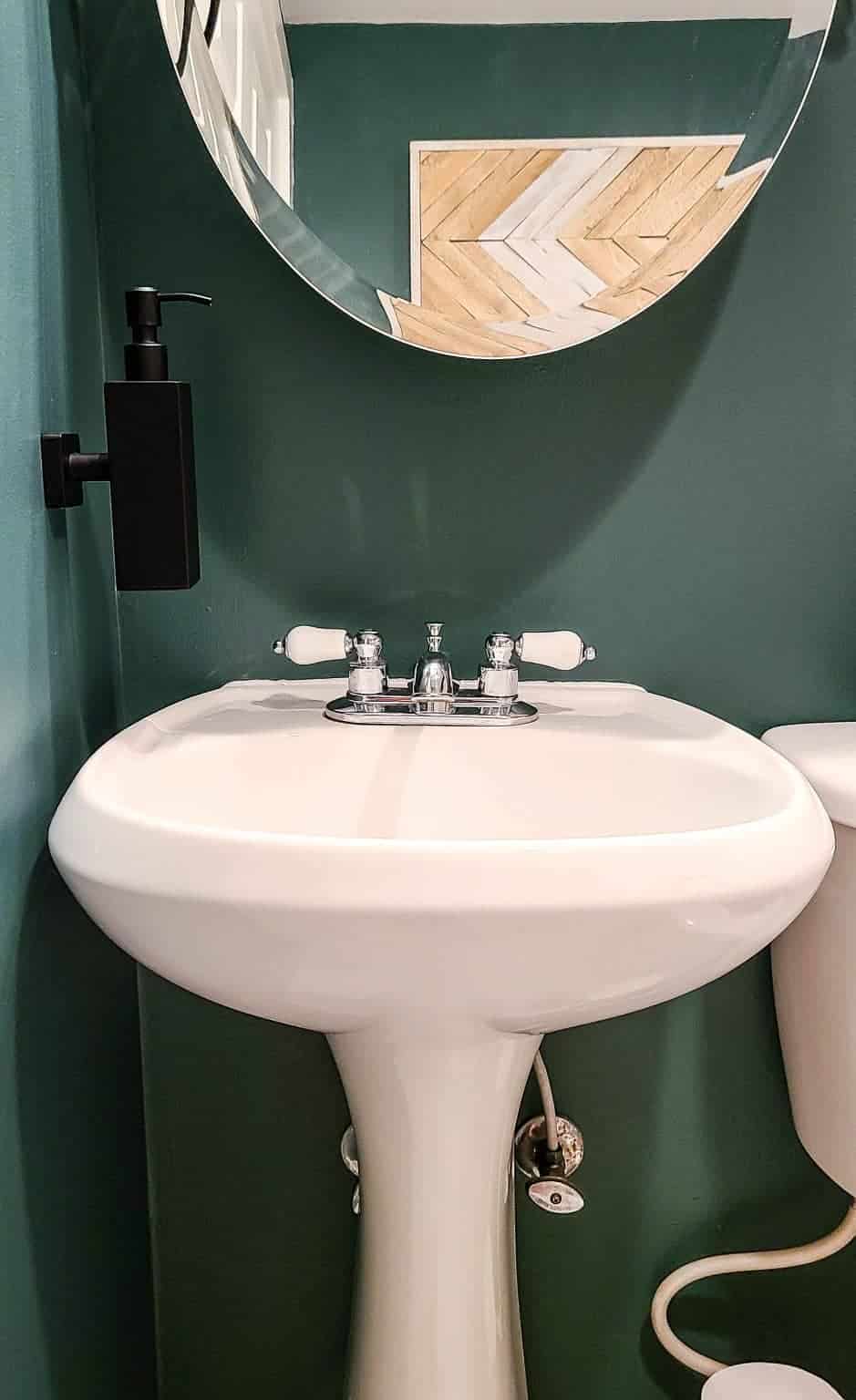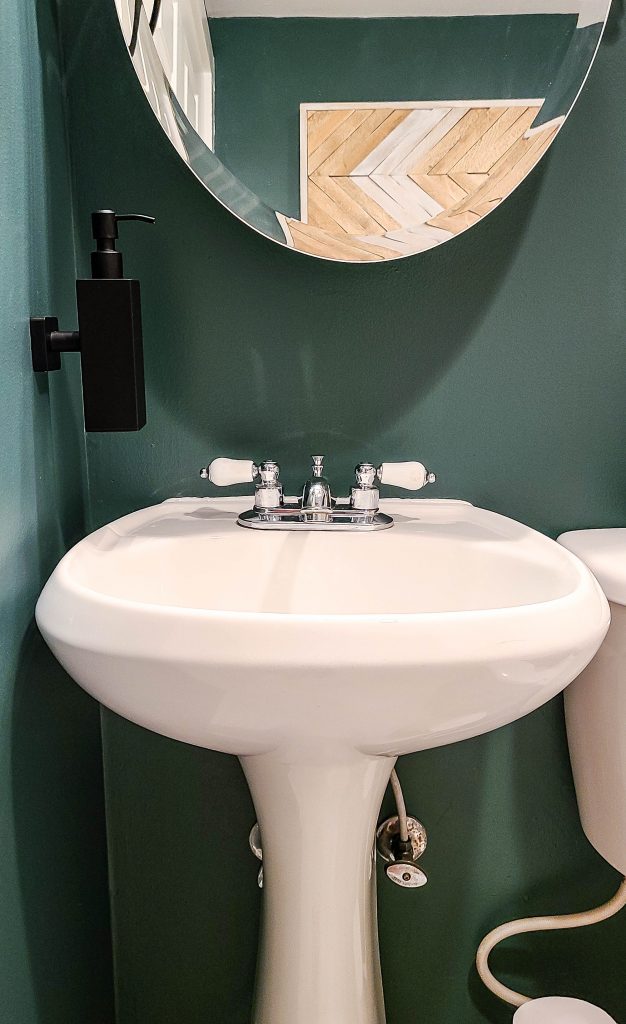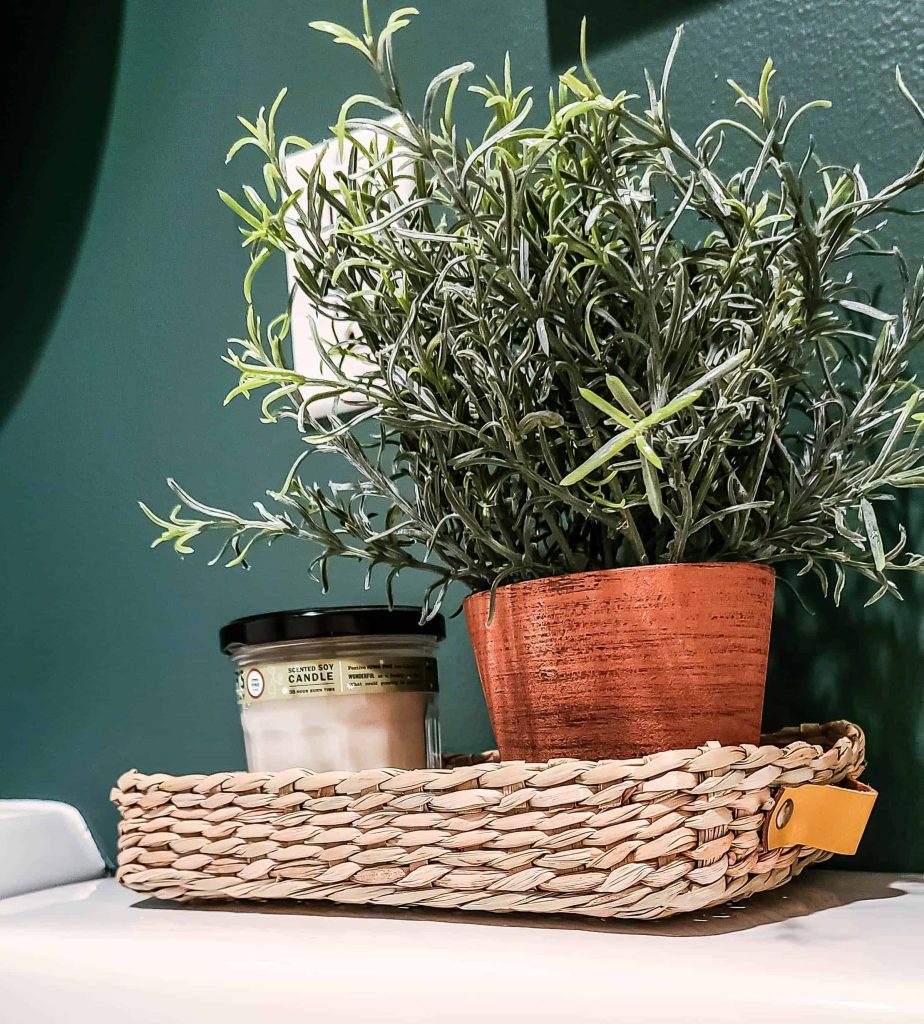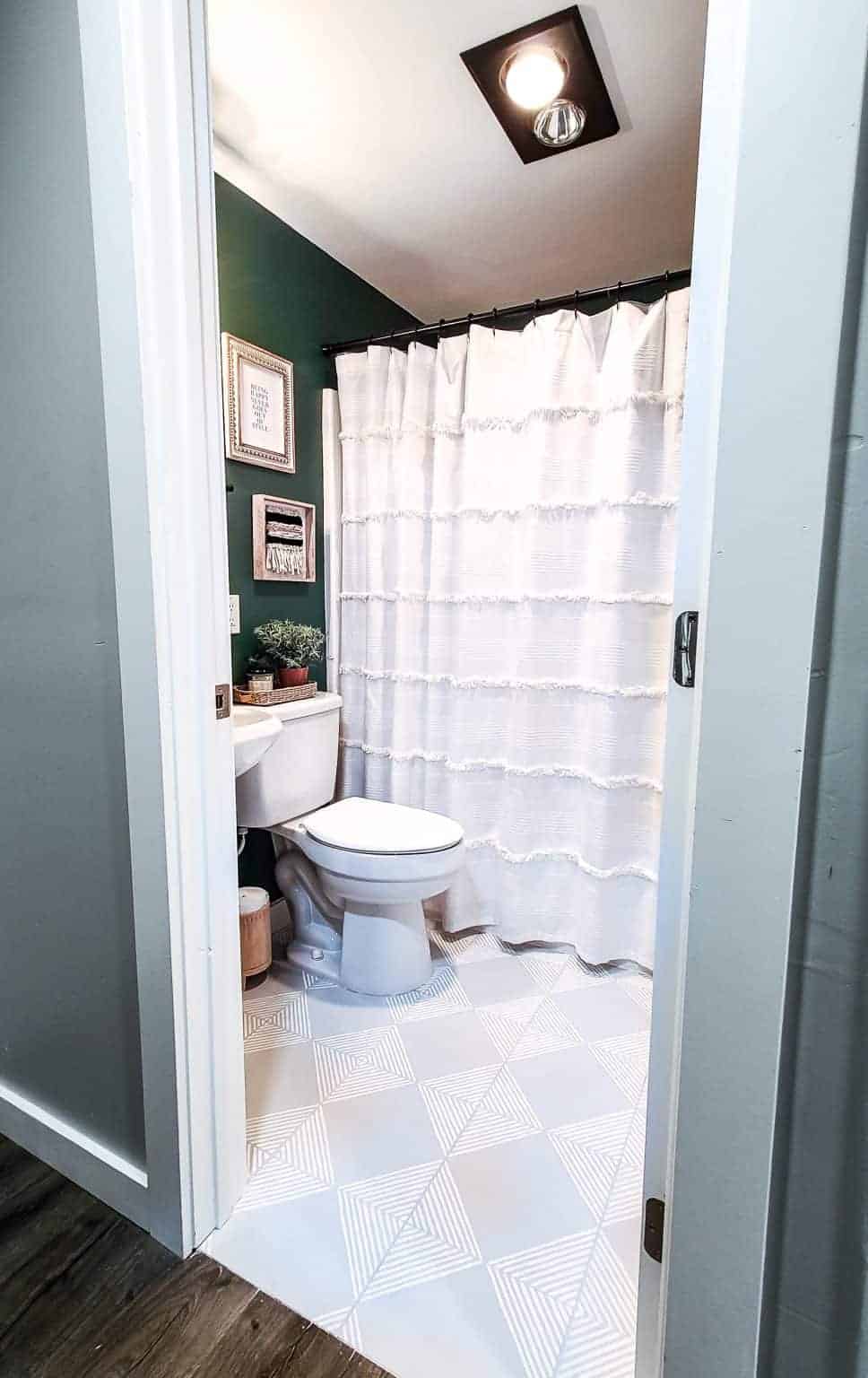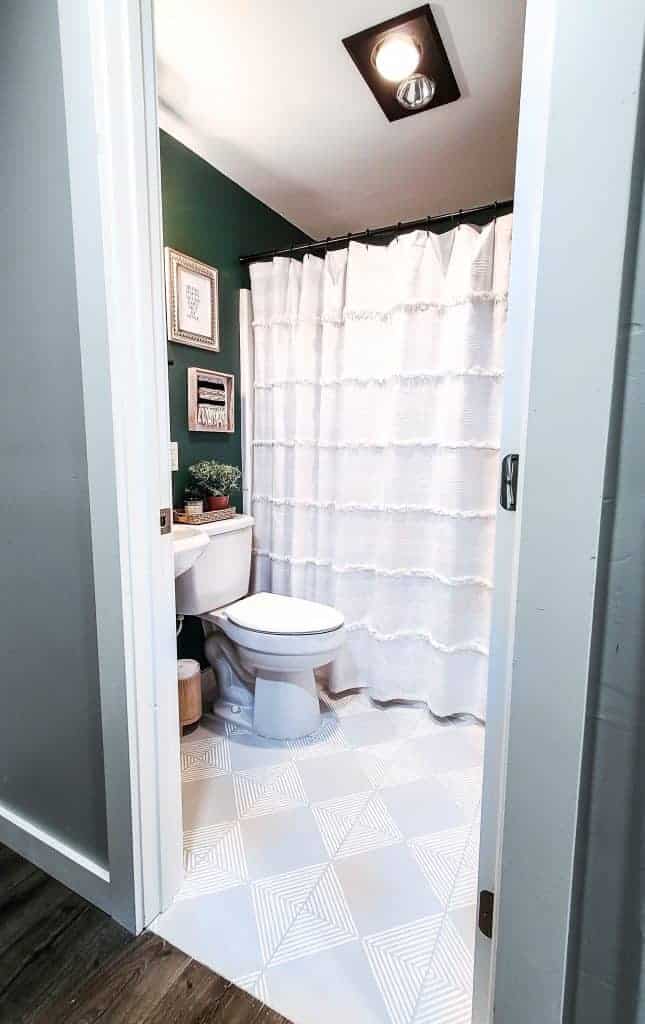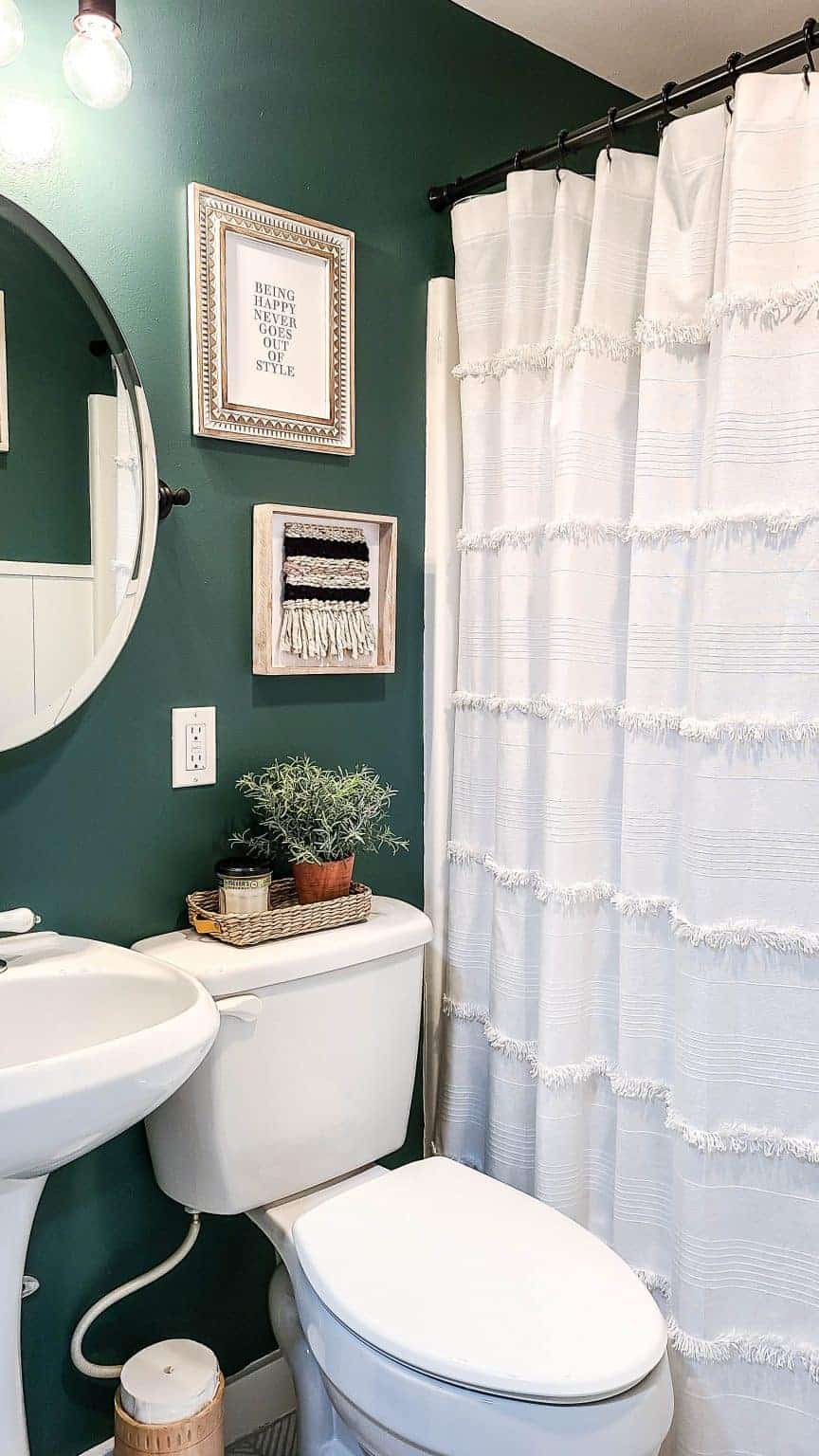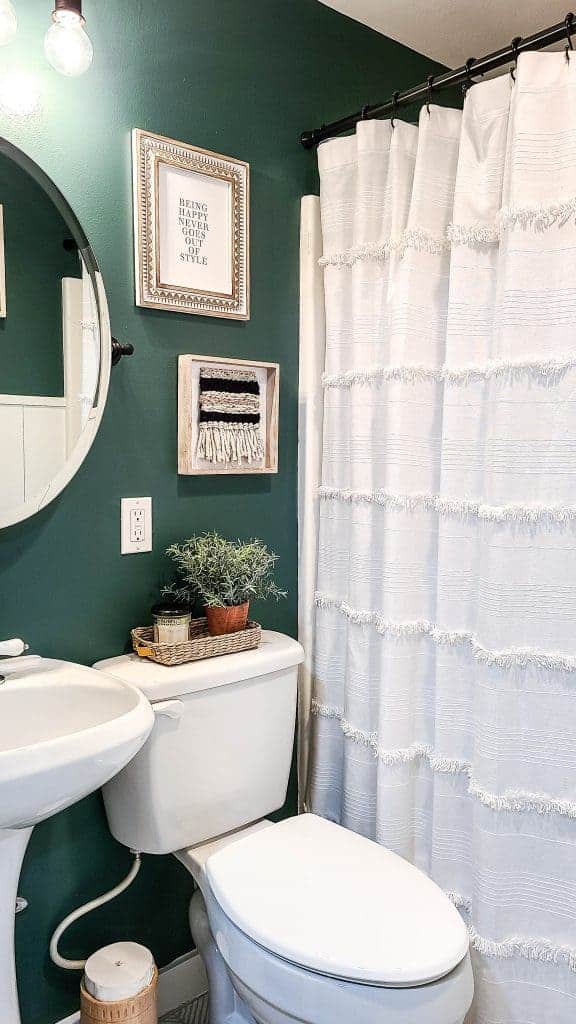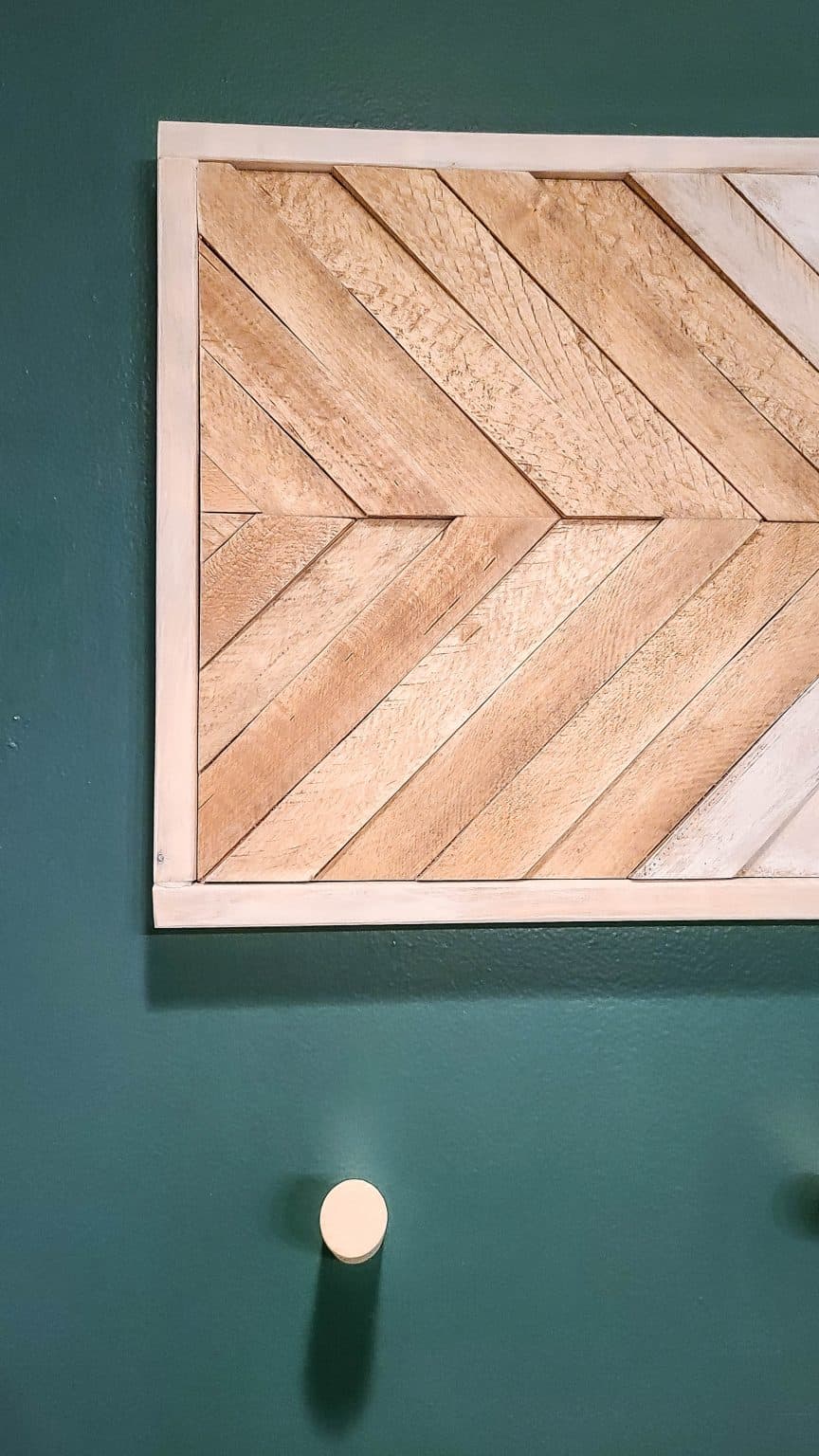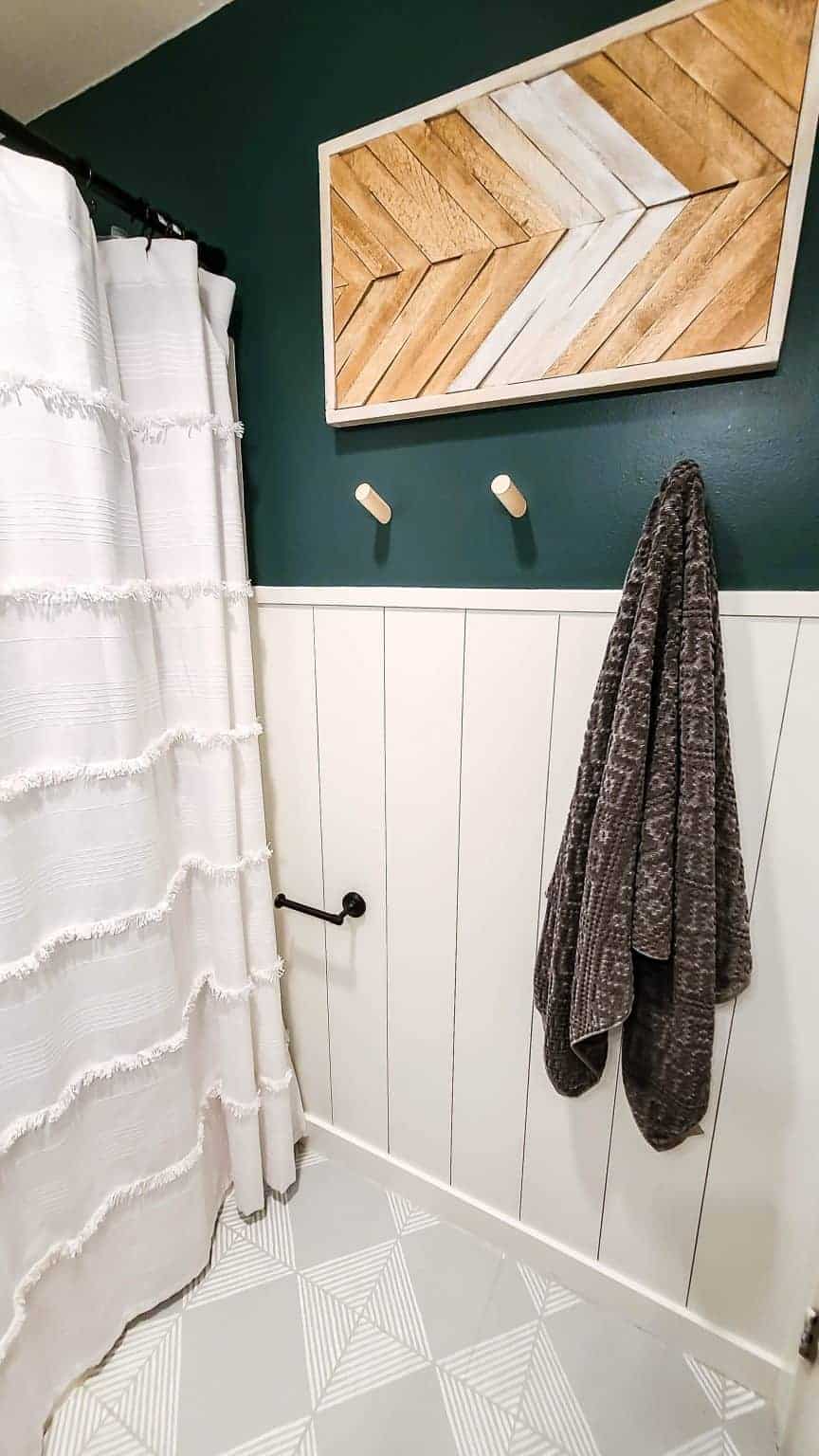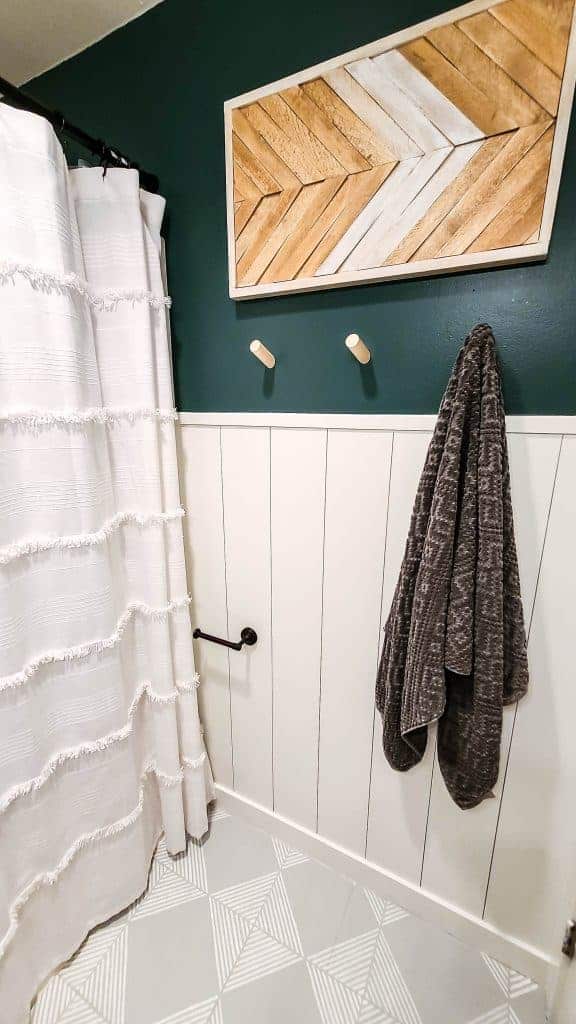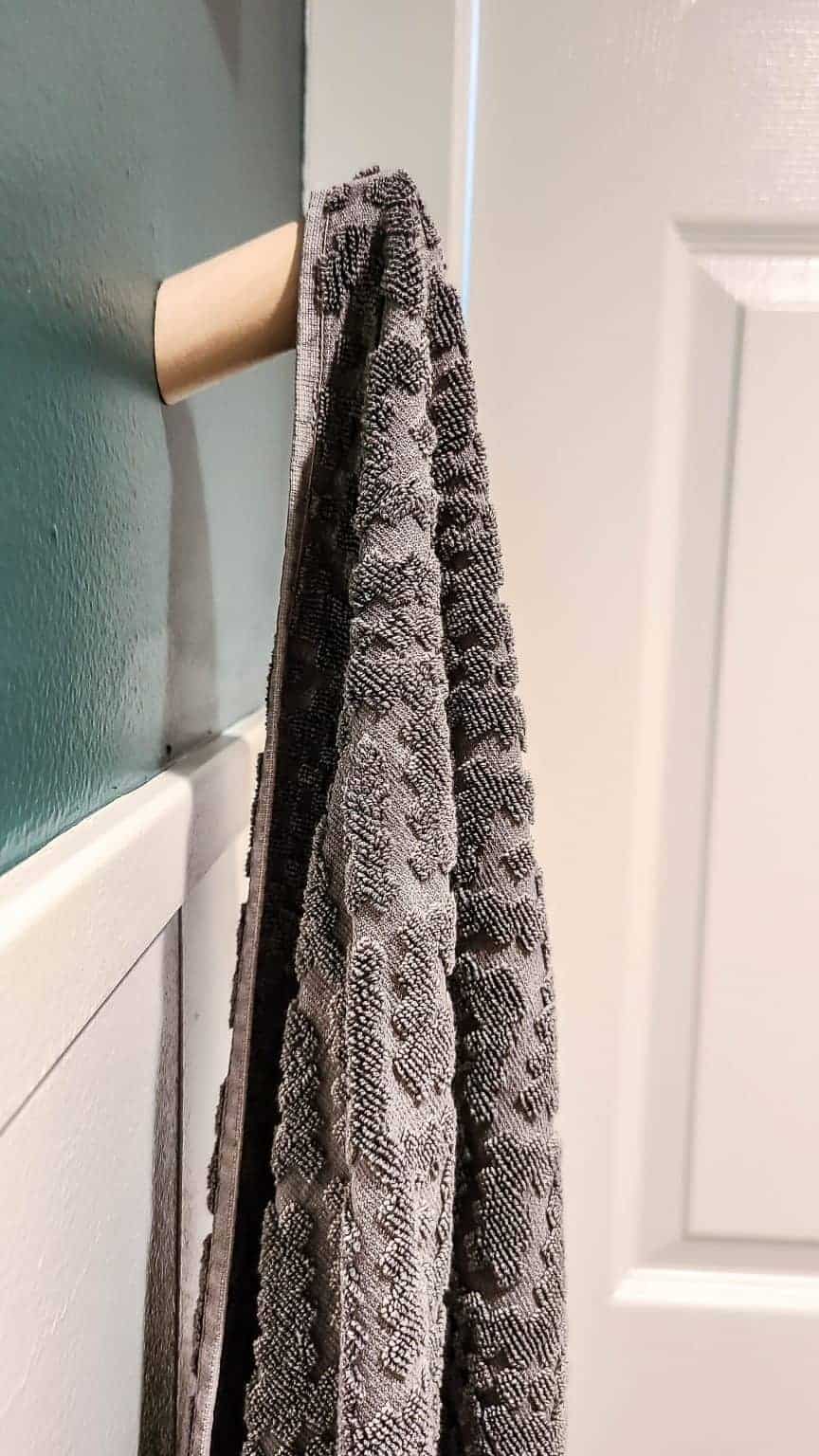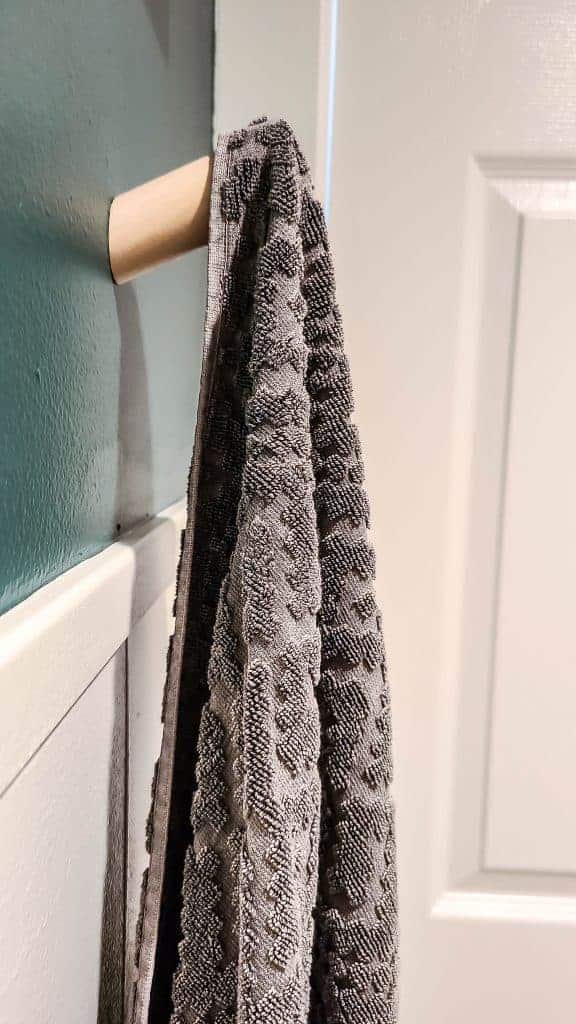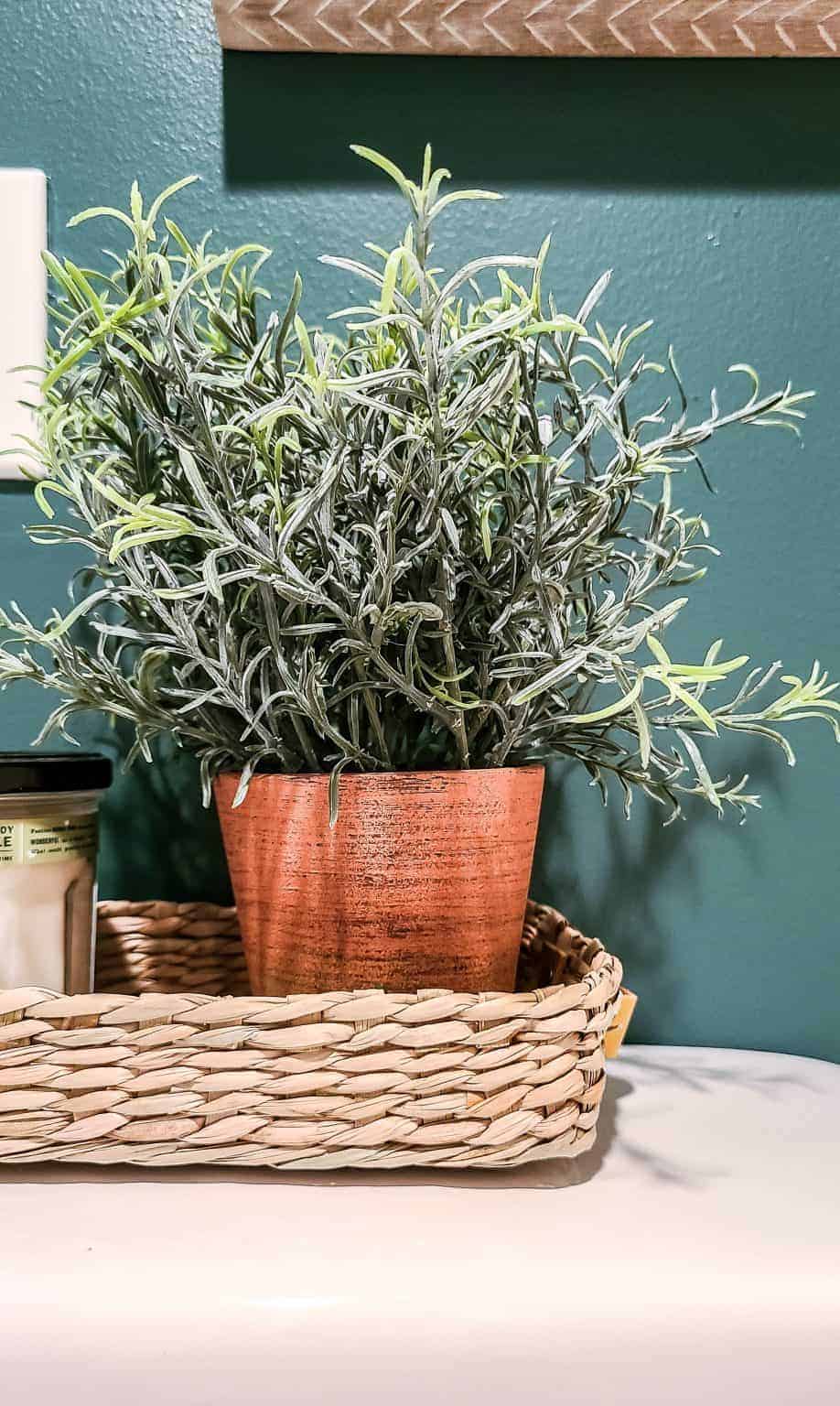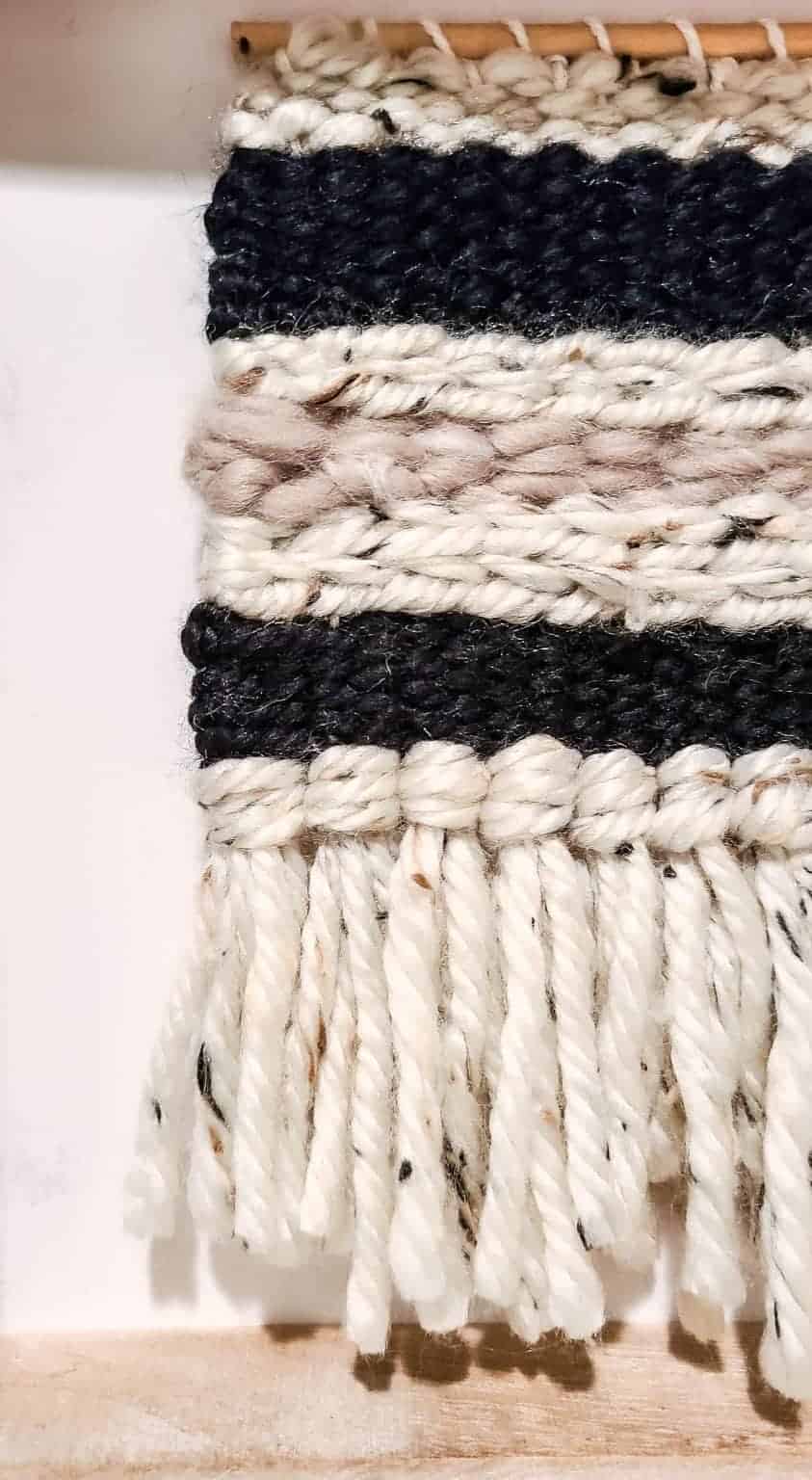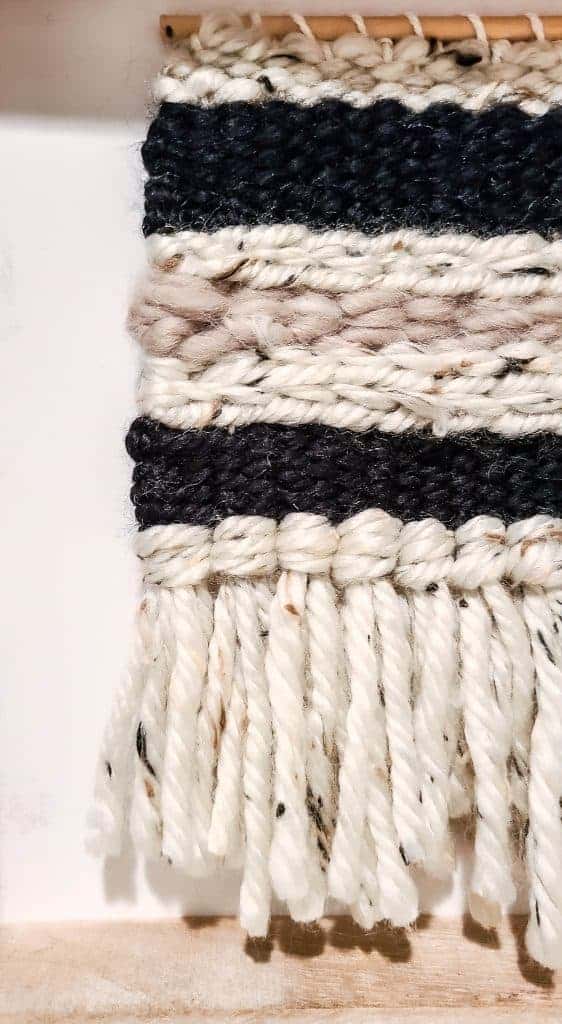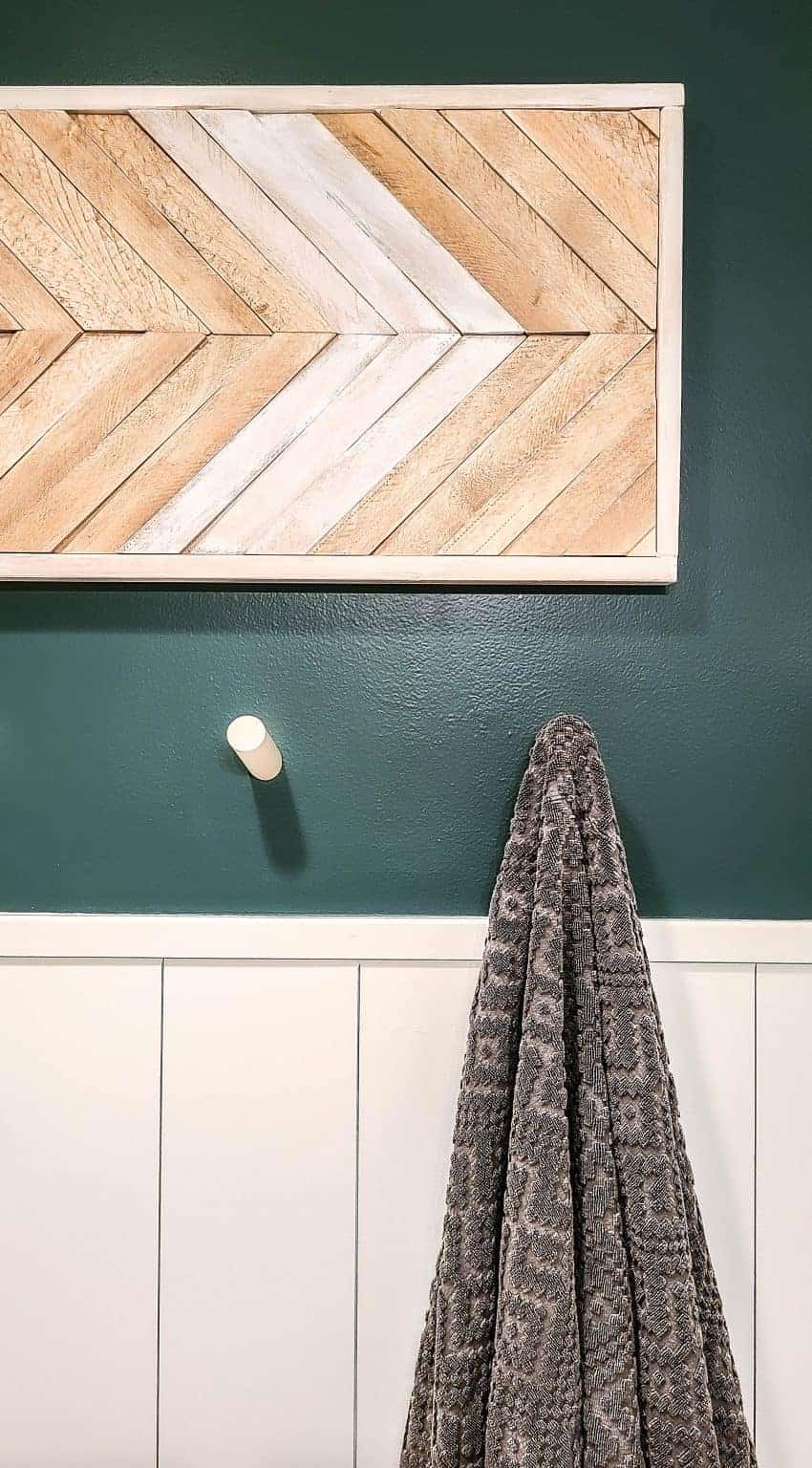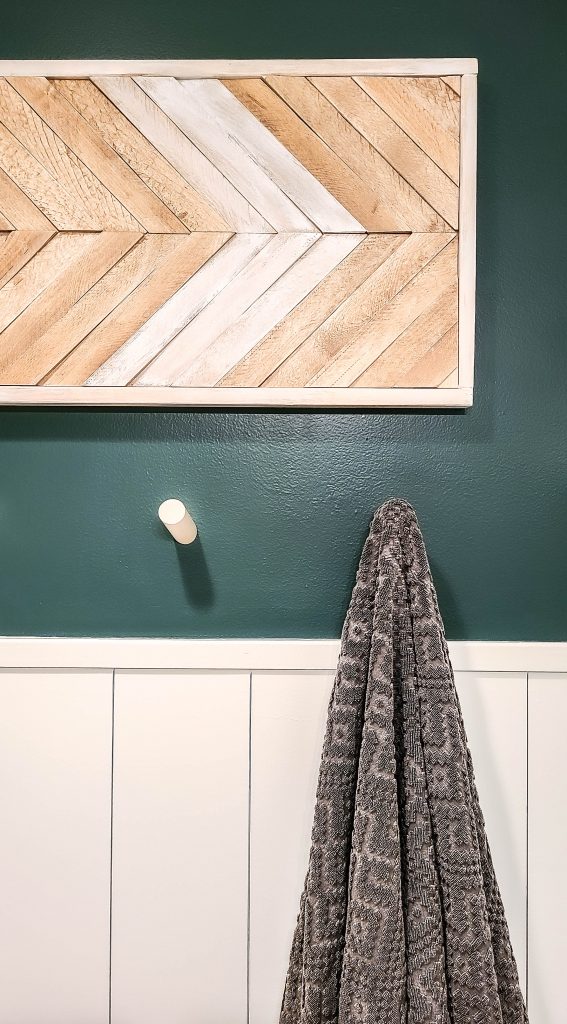 Buget Bathroom Makeover Cost Breakdow: What Does it Really Cost to Remodel a Bathroom?
| | |
| --- | --- |
| Vanity Light* | $51 |
| Light bulbs | $10 |
| Paint (2 gallons)* | $86 |
| DIY Shiplap – see full supply list here | $50 |
| DIY Floor Paint – see full supply list here | $100 |
| Basket on toilet | $12 |
| Faux plant (50% off) | $8 |
| Candle | $10 |
| Wooden container for extra toilet paper (50% off) | $14 |
| DIY wooden wall art (only needed to buy wood shims, rest was made with scrap wood!) – see full supply list here | $5 |
| Hand towel* | $13 |
| Bath towel* | $20 |
| Towel hooks | $18 |
| Shower curtain (60% off!) | $20 |
| Toilet paper holder | $17 |
| Towel ring* | $61 |
| Wall mount soap dispenser | $30 |
| Wall decor quote | $15 |
| Wall decor frame for woven hanging | $5 |
| TOTAL BUDGET BATHROOM MAKEOVER COST | $540 |
| OUR COST (subtracted things we already had) | $222 |
*We already had these things on hand, but for the purposes of coming up with a cost estimate for this budget bathroom makeover…we will assume you need to buy them
Budget Bathroom Makeover Room Sources
I'm SOOO happy with the budget-friendly makeover we did in this bathroom…now I'm just scratching my head a bit wondering why it took me 2 and half years, haha.
What about you….are you team wait-til-you-renovate or team make-it-better-while-you-wait???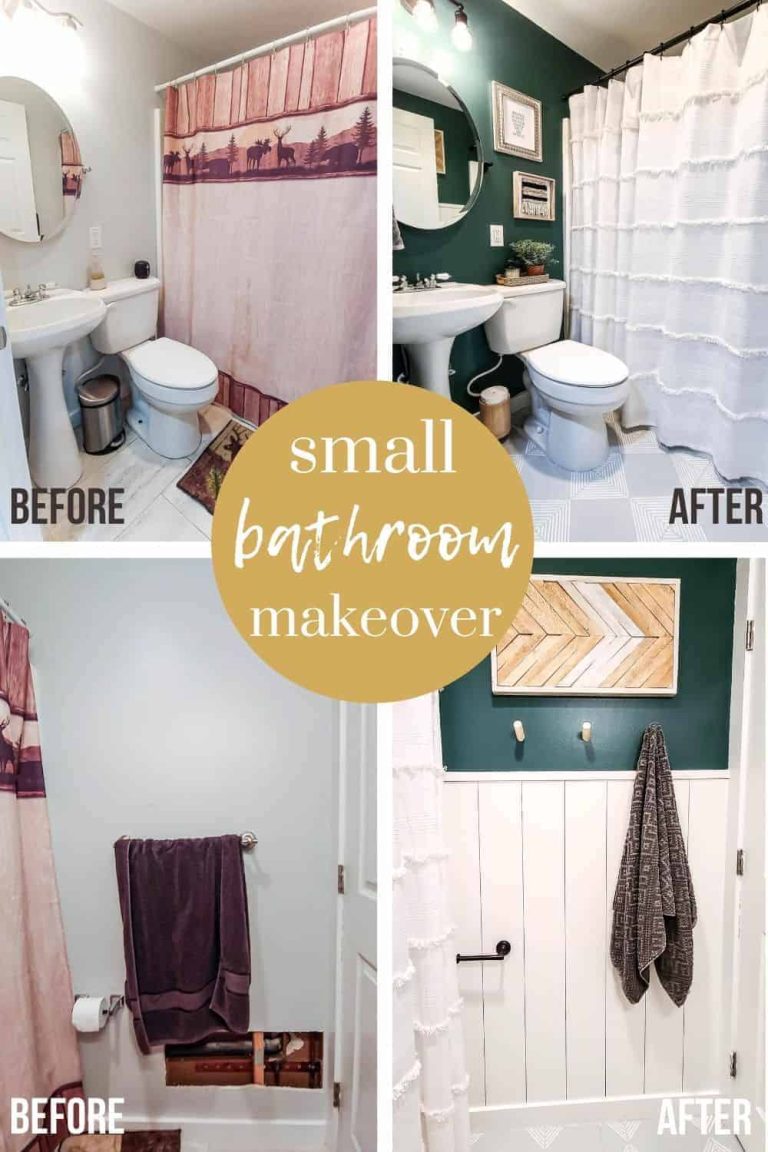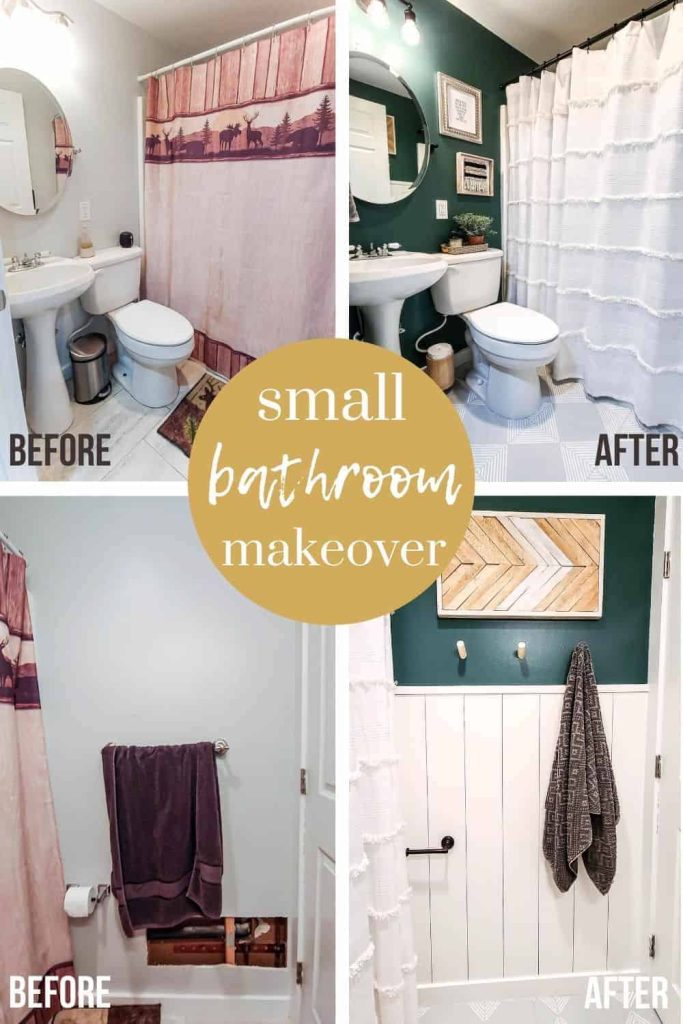 What was your favorite part of this budget bathroom makeover??
Let us know in the comments below!