Discover the secrets to selecting the perfect front door color for your gray house in our comprehensive article. Explore a variety of nine different hues, from bold and vibrant to subtle and sophisticated, and elevate your home's curb appeal with a front door that truly shines.
Today, we're tackling a common challenge: choosing the right front door color for gray houses. I've covered front door colors in previous articles about how to choose your front door paint color and then I rounded up several ideas in this article all about front door paint colors ideas.
We're narrowing things down today so single in on gray-painted exterior homes. Gray houses are very common, so it is no wonder that I get a lot of specific questions about gray exteriors. Gray homes have a certain charm and sophistication.
But finding the perfect front door color to complement that gray exterior can be a bit tricky. It's a decision that can enhance your home's overall aesthetic and create a warm and welcoming entrance for all who cross your threshold.
After all, your front door is like the smile of your house, and we want it to beam with pride! Don't worry, though—we've been in the renovation game for nearly a decade and we are here to help!
In this article, we'll explore various front door colors that work well with gray houses. Whether you prefer classic and timeless shades or want to go bold and eye-catching, we've got you covered.
We will show you nine different popular colors for your front doors and showcase inspiring examples of each color to ignite your creativity!
By the end of this article, you'll be armed with the knowledge and confidence to paint your front door, leaving your neighbors in awe and your guests eager to knock.
When choosing a front door color for your home, it isn't just about personal preference here. It is important to consider factors like your home's style, the surrounding landscape, and the overall vibe you want to create.
Psychology of color for front doors
I'm a big believer in the psychology of color, which I mentioned in my article about master bedroom paint colors and nursery colors.
So before we dive into the specific examples we have today, I thought it would be helpful to give you a brief understanding of the color psychology behind each of the colors we'll be showcasing today.
Here's a short description of the psychology of color for various hues that you can consider when choosing front-door paint colors for gray houses:
Black: Symbolizes elegance, power, and sophistication. It adds a touch of drama and can create a striking contrast against a gray house. Check out some of my favorite black paint colors here!
Brown (Wood Tones): Represents stability, warmth, and a connection with nature. It can create a welcoming and earthy vibe for your front door.
Yellow: Radiates happiness, optimism, and energy. A yellow front door can bring a cheerful and vibrant feel to your gray house.
Red: Evokes passion, boldness, and excitement. A red front door can make a strong statement and create a focal point for your home's entrance.
Orange: Symbolizes creativity, enthusiasm, and warmth. It can add a playful and energetic touch to your gray house's front door.
Purple: Represents luxury, creativity, and spirituality. A purple front door can add a sense of opulence and uniqueness to your home's exterior.
Pink: Signifies gentleness, romance, and sweetness. A pink front door can bring a soft and charming look to your gray house.
Green: Symbolizes harmony, growth, and renewal. It can create a calming and refreshing atmosphere for your front door.
Blue: Evokes serenity, tranquility, and stability. A blue front door can give your gray house a cool and peaceful vibe.
Remember, these descriptions are based on the general psychology of color, but personal preferences and the specific context of your home should also be considered when choosing the perfect front door color.
Let's dive in and discover the hues that will give your gray house the perfect finishing touch.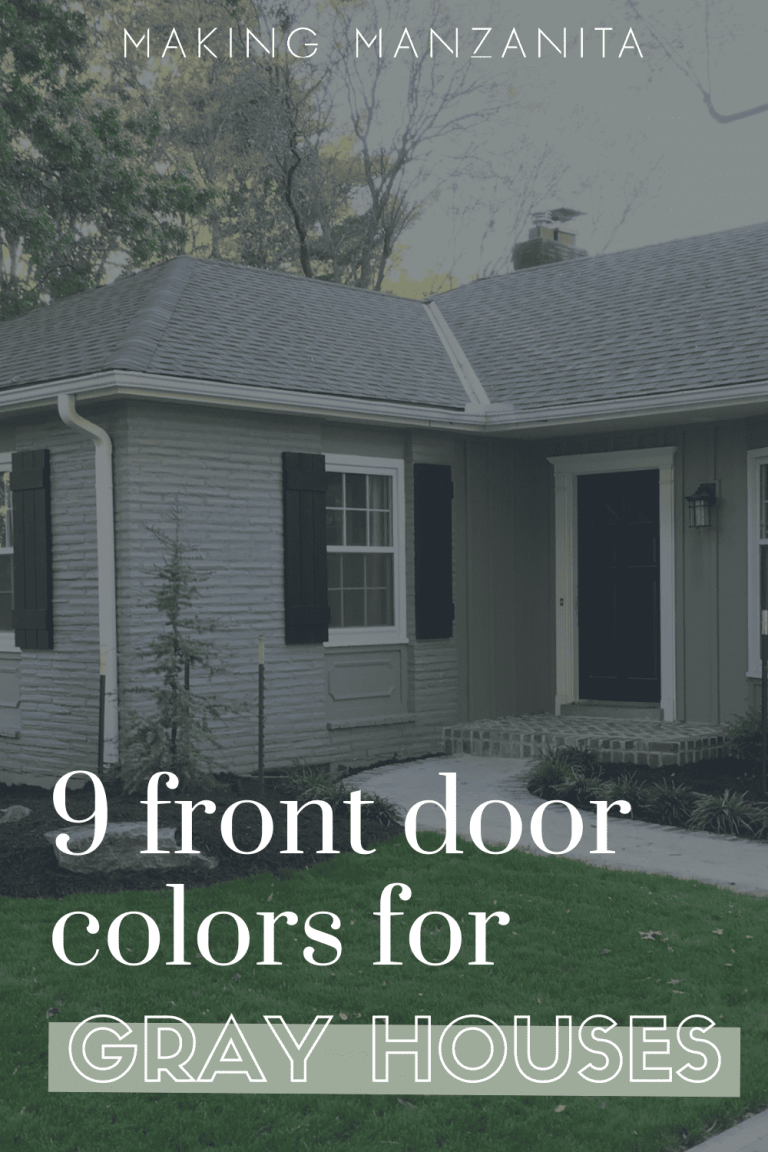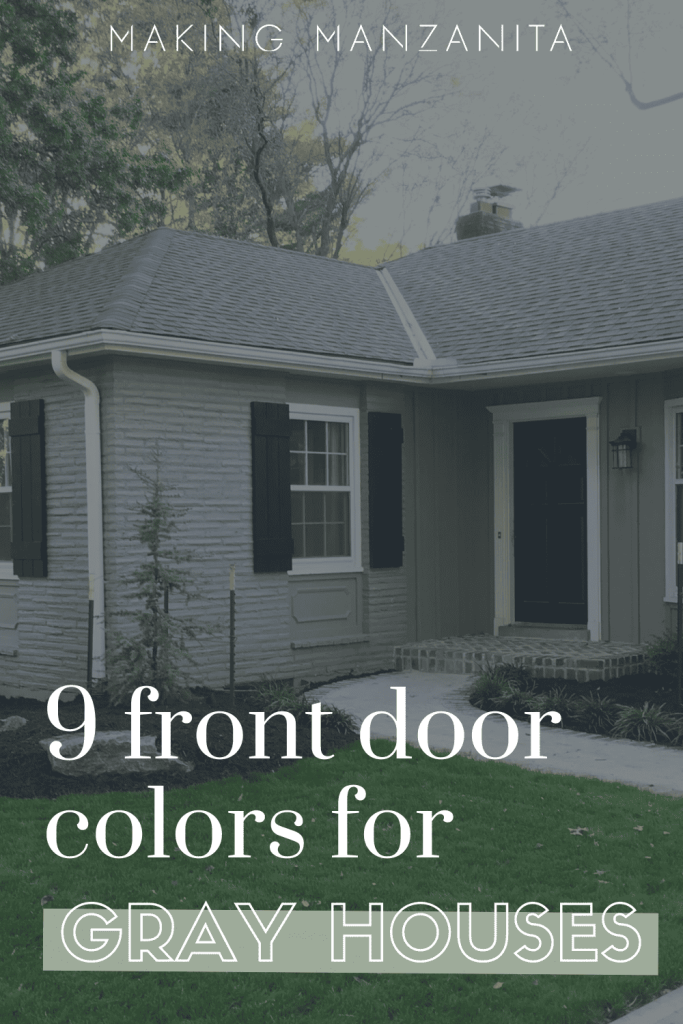 Black Front Door for Gray House
Black is definitely one of the most popular paint colors for front doors, regardless of the other paint colors on your home's exterior.
In fact, we painted our French front doors black a few years ago and I was shocked and what a huge difference it made (see how it turned out here)!
One of the great things about black is that it literally matches everything. So whether you have a light gray home or a dark gray home, black is a reliable option.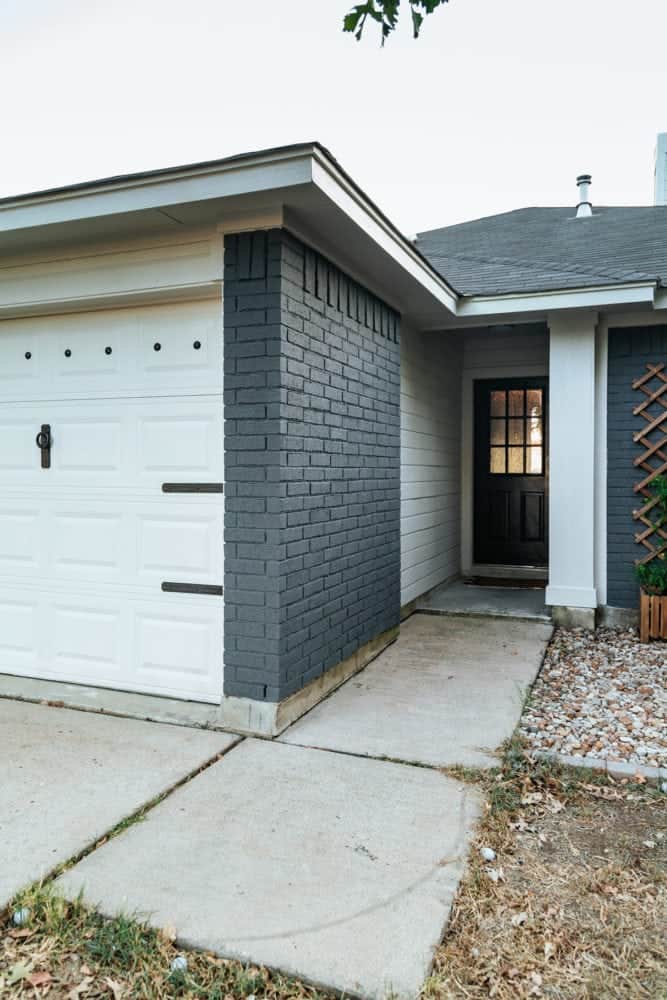 This brick house from Love and Renovations features darker shades of gray paint on the brick paired with a lighter gray color in the siding, trim, and garage door. The black-painted front door is a perfect complement to the neutral color palette here!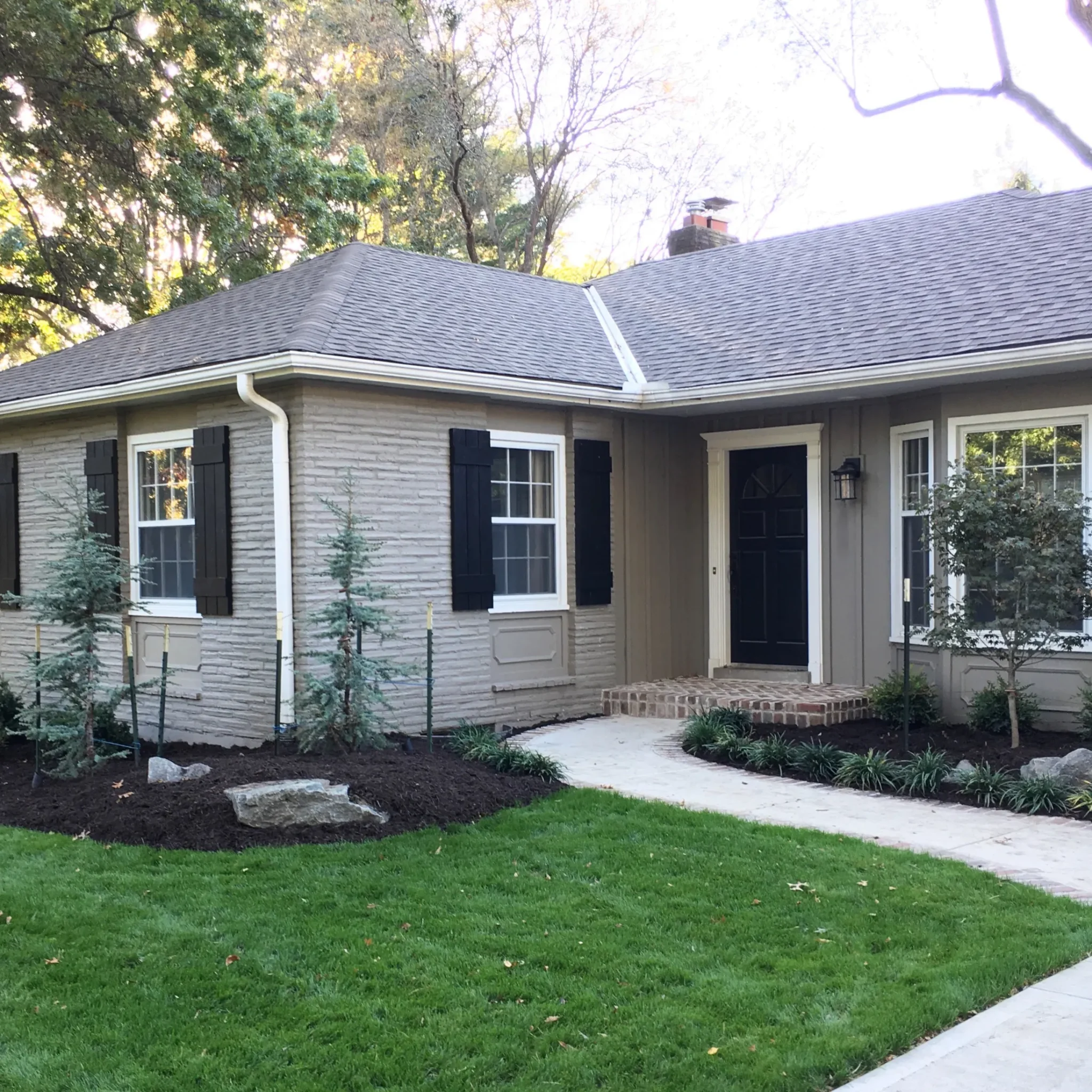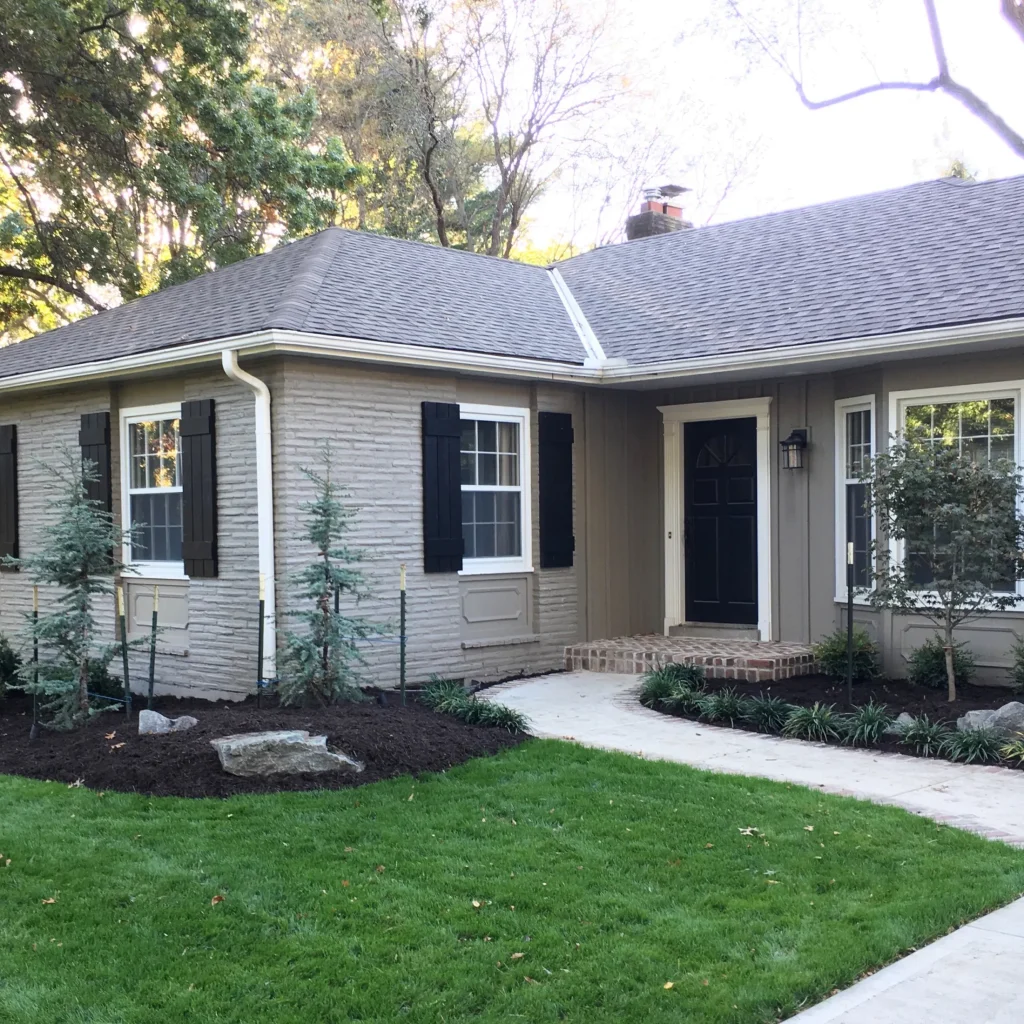 I love the look of this muddy gray paint color on this home with white trim from Mindfully Gray. The black door and shutters are a great complement. They completed a lot of other projects here to add to the curb appeal, like new landscaping, lighting, a walkway with brick pavers, black shutters, and more.
What a gorgeous craftsman-style front door with side lights. The black paint really makes it look beautiful. I love how the black exterior sconce lighting ties together with the black door to make everything look and feel cohesive.
Wood Front Door for Gray House
There is something so classic about a wooden front door with a gray house. It looks a little more high-end than a painted door in my opinion.
Even if you already have a door that has been painted, there are some very creative techniques for using paint to make your door look like wood. It is incredible!
From a distance, even a dark brown door that has been painted looks like wood at first glance.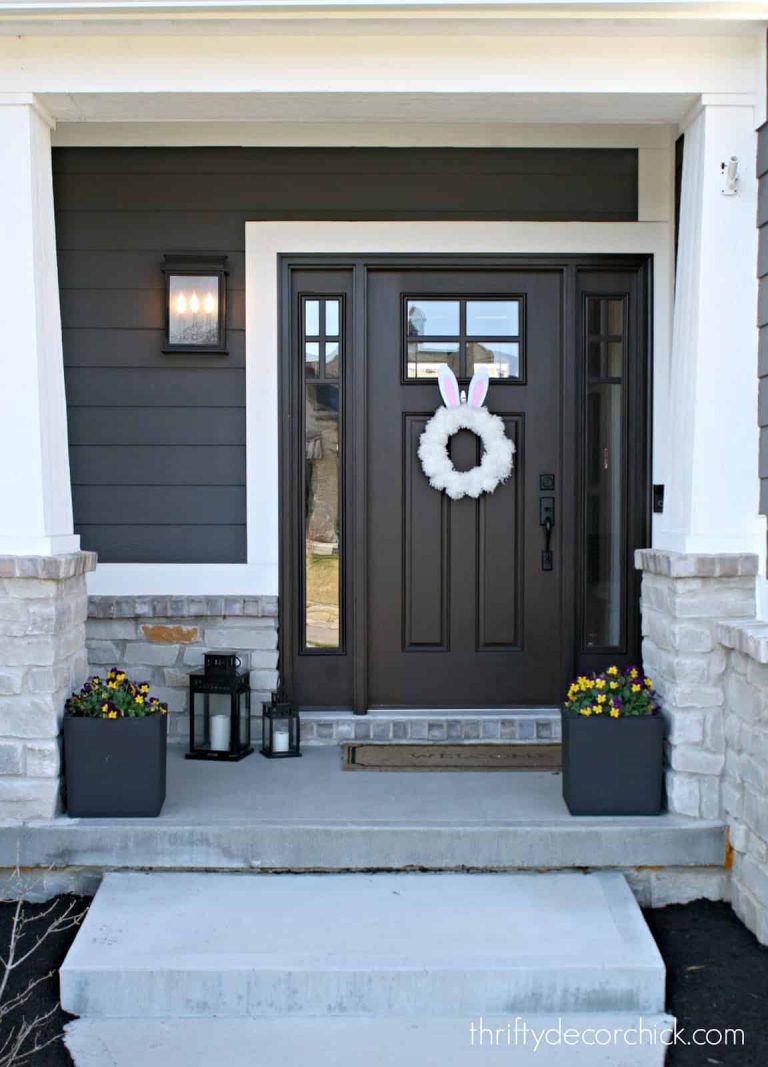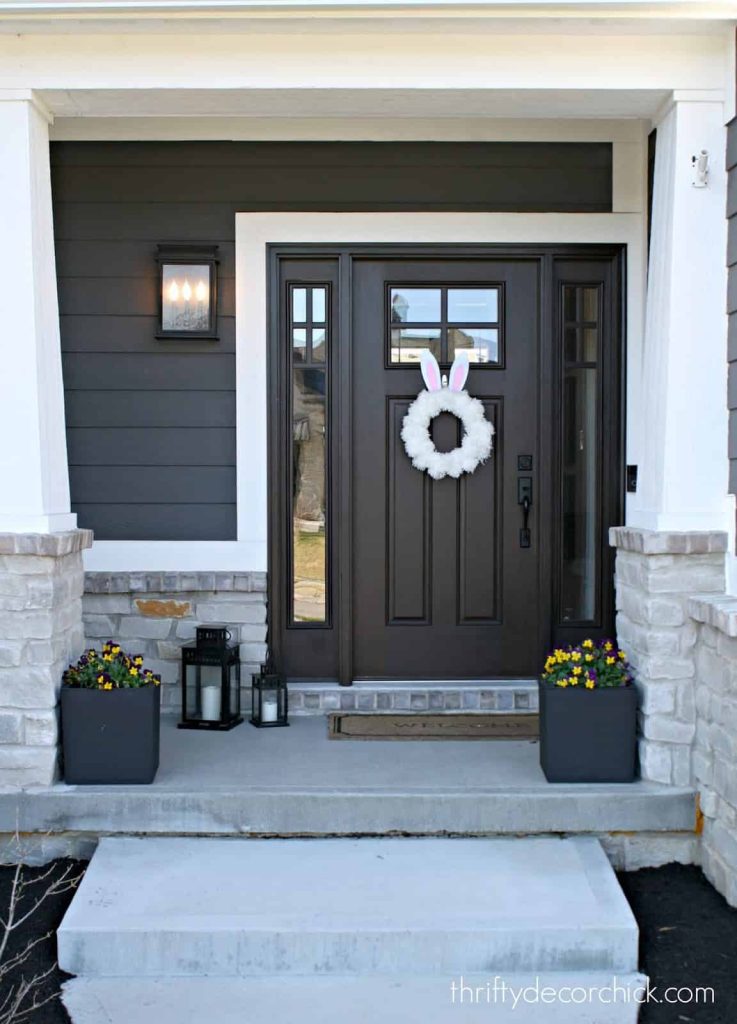 This regal-looking wood door with side light windows from Thrifty Decor Chick looks great with this dark gray siding and white trim. She incorporates a pop of color here and there with flowers in containers on the front porch and in window boxes under the windows.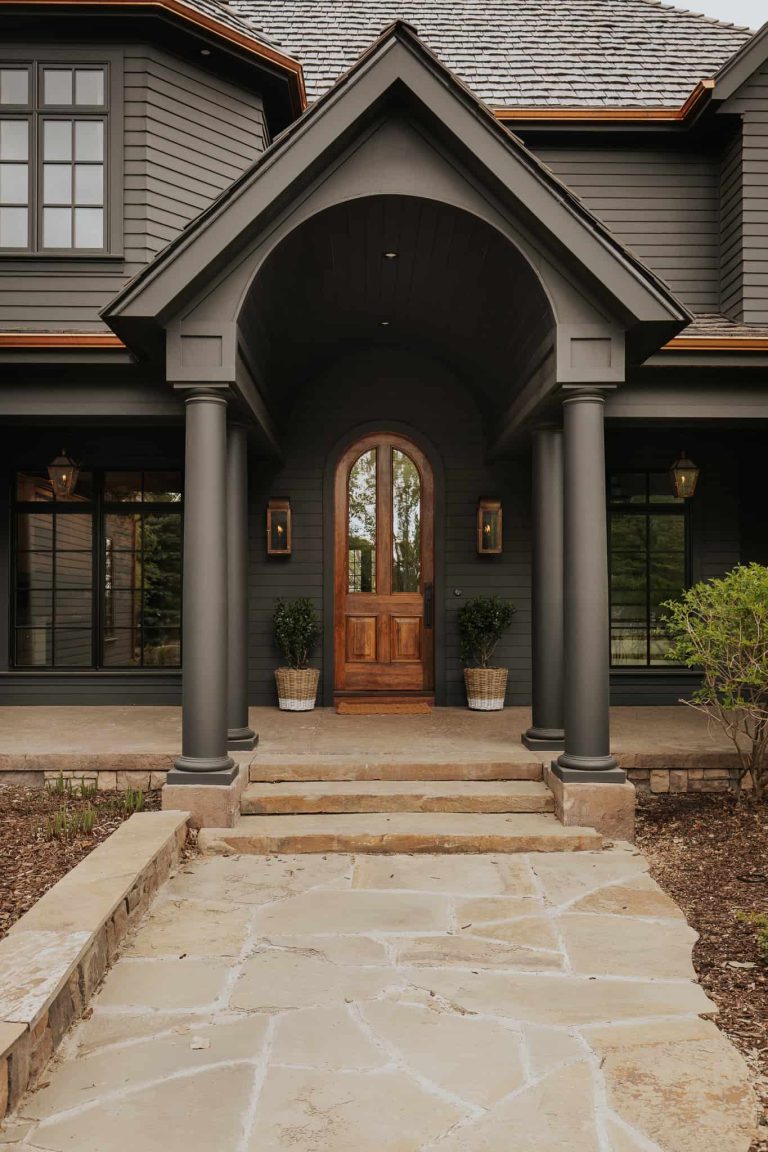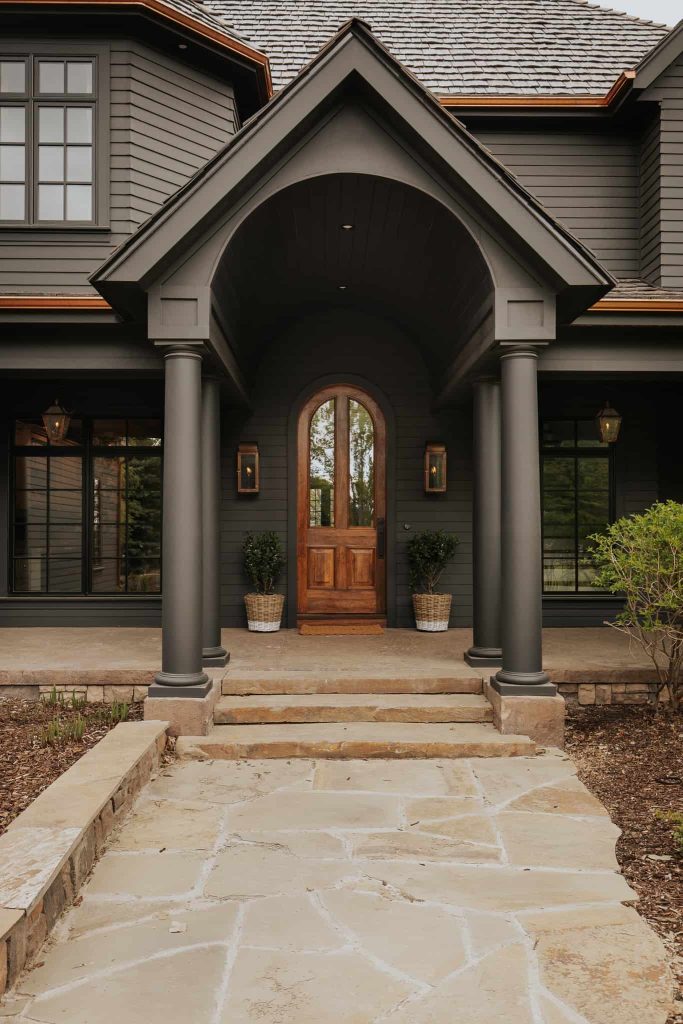 This dark and moody siding with copper gutters and exterior lights works so well with the wooden arch door on Chris Loves Julia's home. I love the color combination of the dark gray siding with the rustic old-world stone they have on their exterior as well. The wood door was a perfect choice here!
Yellow Front Door for Gray House
Yellow is bright and cheery if you're going for something with personality for your front door color. It is one of the most popular front door colors that we found when we were looking for what color combinations go well with gray exterior homes!
Bright colors tend to scare a lot of risk-averse homeowners, but yellow is one of the best front door colors for a gray house!
I love the look of this yellow front door along with the dark gray siding and white trim. The fun wreath, modern black light, and black mail slot all come together to make a good first impression.
This bright yellow door really stands out against the gray-blue home! It is very bright and cheering and brings life to the house to make a statement. Click over to see the before and after pictures for the full transformation. It's amazing.
Having a screen cover your front door is a very common thing, but the sad part usually is that it covers your fun front door paint color. Not on this house! They painted not only their front door yellow, but also the screen so it matches. It definitely makes it a focal point when you look at the house, don't you think? I also love the matching yellow porch swing!
This siding is a little more blue than gray, but we'll still count it! I love this really bright yellow front door. It matches perfectly with the yellow flowers planted in the front yard. Note to self: plant matching flowers for whatever front door color you choose!
Red Front Door for Gray House
A red door is another popular front door paint color choice for gray homes (actually any color home!). It may have something to do with feng shui, which says that red represents good luck and protection! A bright red door is definitely a great way to stand out and be seen!
Gotta love a quaint and cozy a-frame! This one with a red front door, gray siding, and white trim around the window frames is just perfect. The string lights are the perfect finishing touch for the exterior of your home.
This dark red door is the best choice if you are going for the classic look of a red front door, but not too sure about doing something really bright! Playing around with different shades of colors is always a good idea. I love this darker shade of red that kind of looks like dark cherry!
I love the caption on this post, which reads: "Gotta love a red door! Especially when it's paired with a cool-toned gray siding. A lot of people believe that the color of your door reflects your personality. A red door means that you are not afraid to be bold, you are fearless, and you are also a social butterfly." So true!
Orange Front Door for Gray House
Orange is a color that you don't see very often when it comes to front doors (or at all in interior design). When it comes to the psychology of color, which I'm big into, orange represents energy, enthusiasm, and excitement. An orange door will definitely draw attention in your neighborhood!
This orange-colored front door really shows off when it matches the fall-colored leaves on the tree out front during Autumn.
Purple Front Door for Gray House
Out of all of the colors, purple was the hardest for me to find on a gray house. So that probably means that it is unique, which I think is a good thing! The right shade of purple is very inviting, so I think it makes perfect sense for a front door color.
I love this shade of purple on these French doors paired next to this gray siding with charcoal trim. The yellow wreaths bring in the perfect amount of contrast.
Pink Front Door for Gray House
Pink and gray go together like PB and Jelly! There's something about the stark contrast of the soft and feminine warmth of pink with the strength and coolness of gray that just works, so it is no wonder that pink is a popular front door color for gray houses.
This pale pink door is the perfect way to add a little bit of color and character to this light gray house with white trim. It is a bit unexpected and adds a lot of visual appeal!
I love the look of this bright-colored pink door next to the dark siding. The basket with flowers on the front door is such a fun way to say "welcome" to anyone who enters.
Green Front Door for Gray House
If you know me (or you've seen my whole house color scheme), you know that I love green! It is one of my favorite colors for interiors and exteriors. Green is a great option for a front door because it adds a little pop of color, but also pulls in the natural elements of the outdoors.
This sage green color on this front door is the perfect welcome! It looks great with this gray stucco siding and white trim around the door. And I just love that cute little arch window above the door. It adds so much character to the front of the house!
This green front door is a little more muted and it is just perfect. I think it looks great paired with the light wood siding and white trim. Who knew light sage green was a great complementary color for a natural tone, like light gray? It looks amazing here as it is decorated for the holidays with the extra greenery layered in.
Blue Front Door for Gray House
Blue is a very peaceful color, so it is a great option for your front door color. This color especially works for beachy or coastal destinations! Blue is definitely one of the most popular front door paint colors, but you want to make sure it works well with your specific shade of gray.
Since gray exteriors can already pull a little cold (depending on your shade of blue), a blue front door is a great option! I love how this bright turquoise-blue door looks next to the white accents of the trim.
So, what do you think? What color are you going to choose to make your front door the envy of the neighborhood?
With just a little bit of paint, you can relevant your home's curb appeal and make a lasting impression with the perfect front door color for your gray house!
Remember, when it comes to choosing the ideal front door color, consider your home's style, the surrounding environment, and the atmosphere you want to create.
Whether you opt for a classic, subtle shade or a vibrant, attention-grabbing hue, the key is to find a color that complements your gray house and expresses your personal style.
Which is your favorite of these front door colors for a gray house?