This DIY Believe Christmas sign with farmhouse style was so easy to make! See how this old spindle and wood transforms into a cute BELIEVE sign to hang on the wall for your farmhouse Christmas decorations.
Decorating for Christmas is so fun to me, but the most fun I have all year is creating DIY Christmas decorations! I love adding a few pieces of handmade goodies to our collection of holiday decor every year.
This year I've had fun creating some new things like this Joy sign with wreath, rustic farmhouse advent calendar, and primitive mini Christmas tree.
This BELIEVE Christmas sign with farmhouse style is one of my favorite things that I made this year! I've had these spindles laying in my garage for way too long.
I picked them up this summer at our local Habitat for Humanity Restore for 50 cents each and I had NO idea what I was going to do with them, but I love spindles so I knew I would figure it out.
The months came and went. The sad spindles sat in our garage collecting dust. Please tell me I'm not the only hoarder person that does this!
When the Christmas season finally rolled around, I saw them sitting in the garage and was determined to find a fun use for them in our holiday decor.
I love seeing spindles incorporated into wall decor (like this adorable farmhouse gallery wall by my friend Sarah at Little Vintage Nest) so I knew I wanted to do something like a BELIEVE Christmas sign that could hang on the wall. I just love how turned out!
This Believe Christmas tutorial contains affiliate links, but nothing that I wouldn't wholeheartedly recommend anyway! Read my full disclosure here.
How to Make a DIY BELIEVE Christmas Sign: Step-by-Step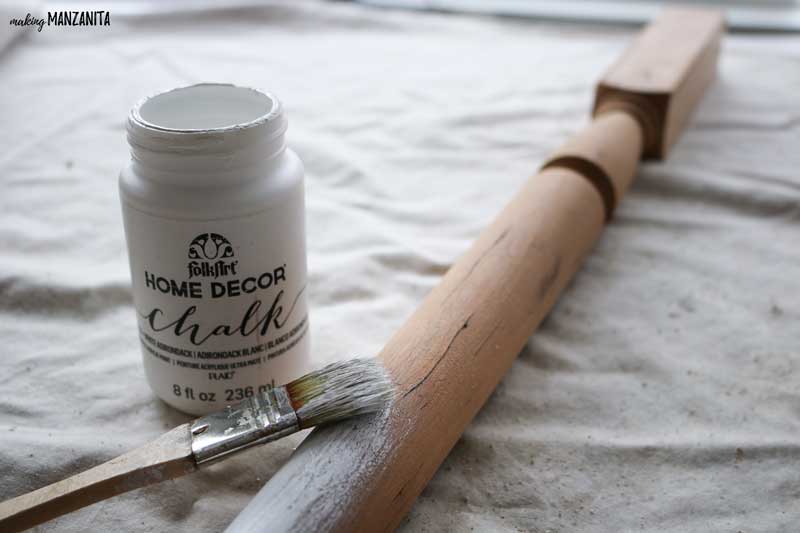 Step 1. Paint spindle white.
Start by painting the spindle white. I used this white chalk paint, which I love. I lightly brushed the chalk paint on in a thin coat with an old, ratty paintbrush. This way, I didn't have to go back and do distressing later. If you wanted a more clean look, you could do more coats of paint.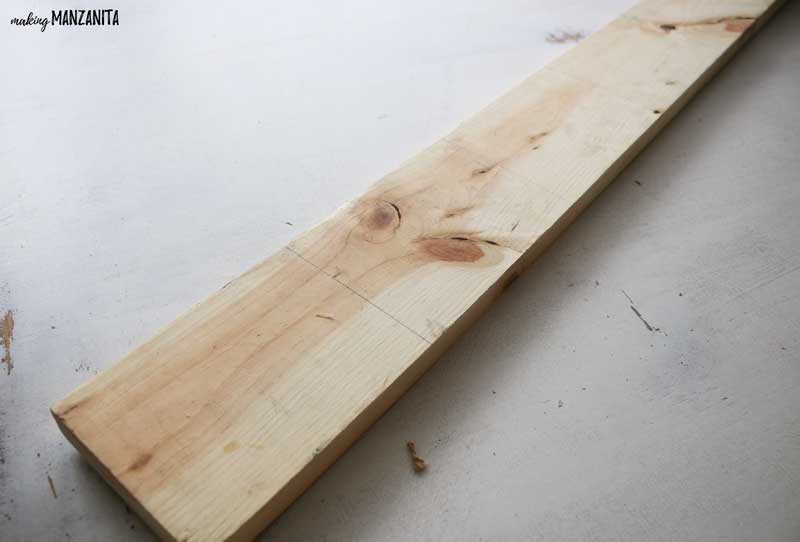 Step 2. Cut the wood.
Mark your board in 5-inch increments. You will need 7 pieces of wood that are 3.5" x 5" for the word we're spelling out on the DIY Christmas sign: BELIEVE.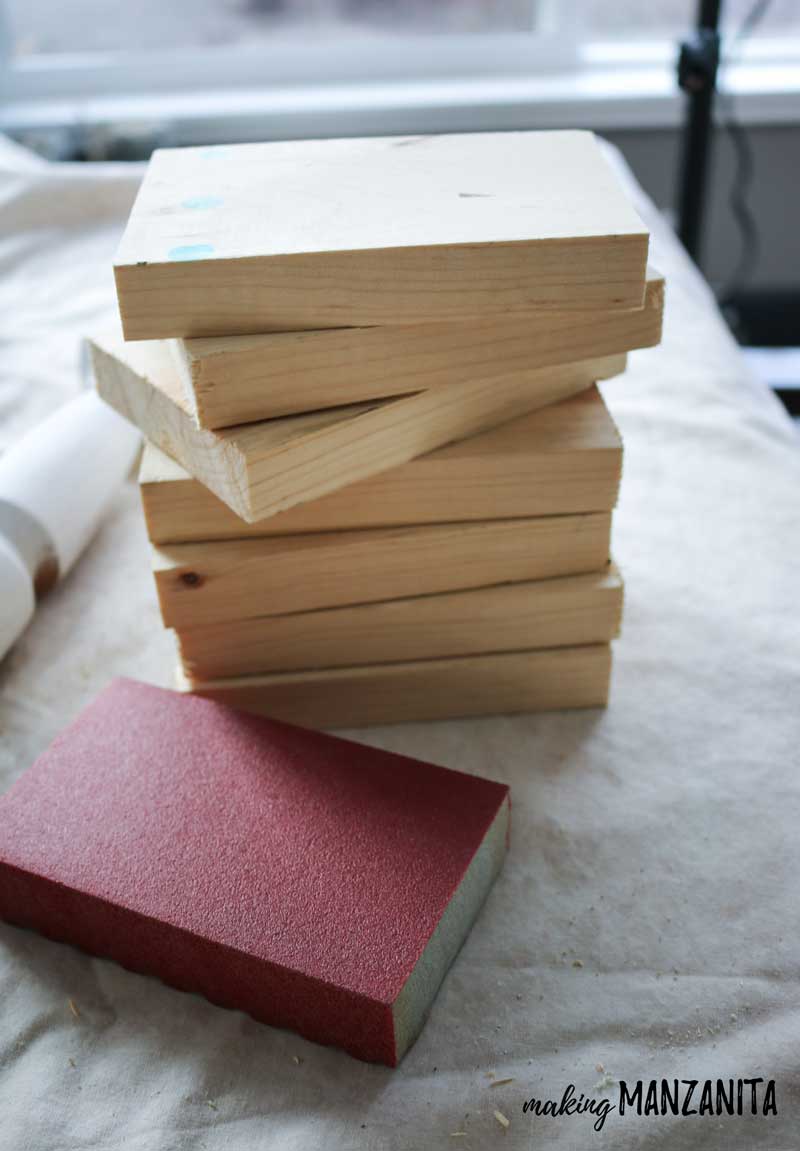 Step 3. Sand the wood pieces.
Next, lightly sand the wood pieces on both sides. Focus on the edges to make sure they are slightly rounded. I used a sanding block to do this.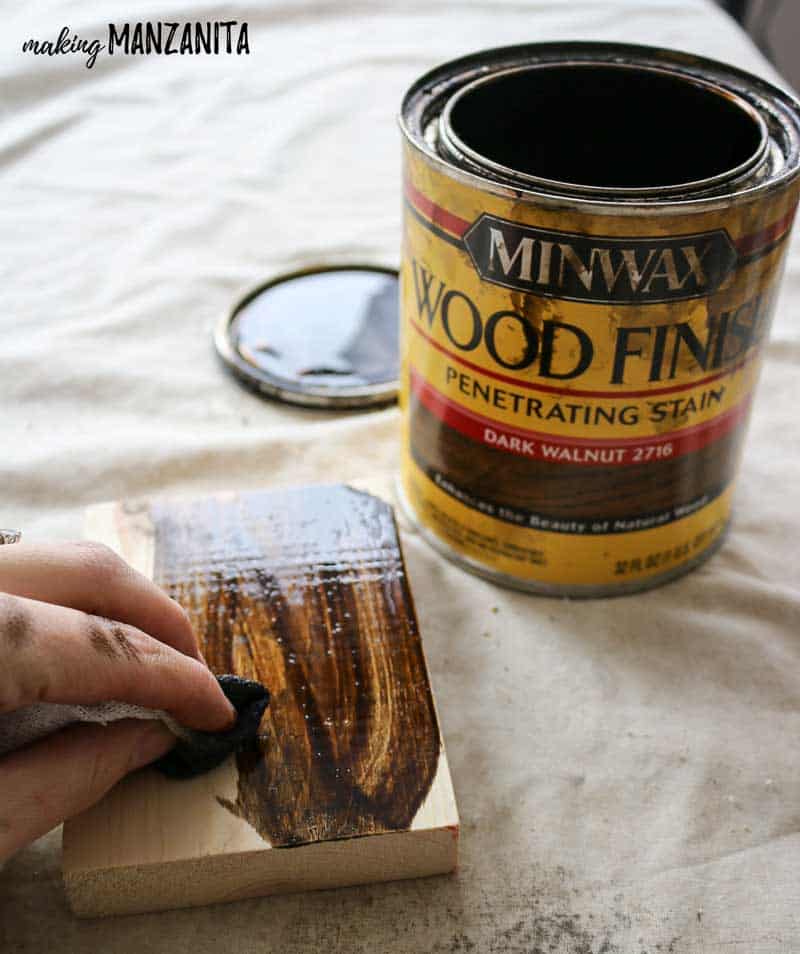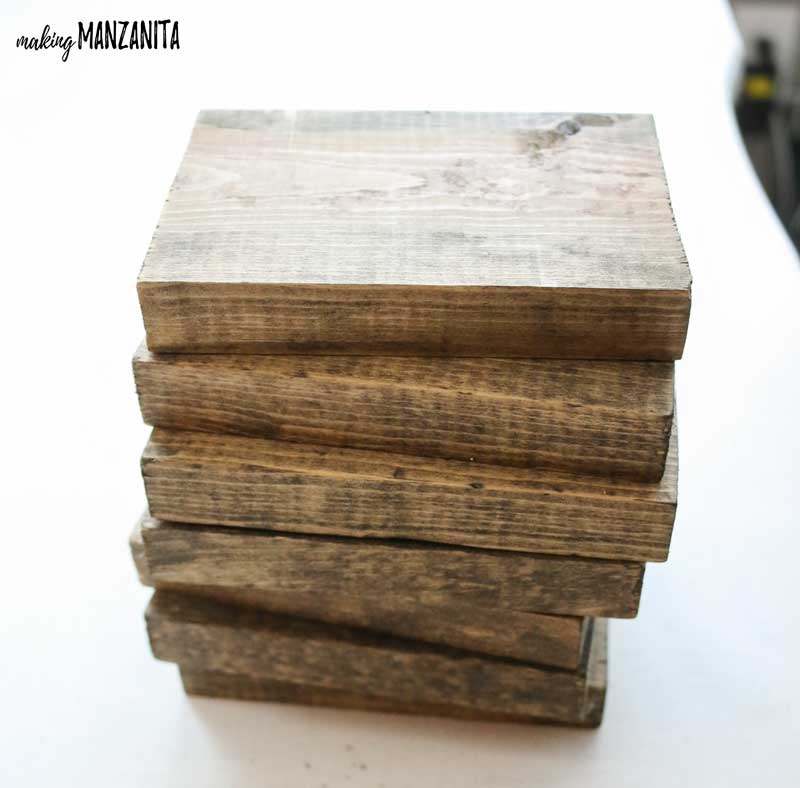 Step 4. Stain the wood pieces.
Using a dark wood stain, give the wood pieces a good staining on every side using a staining rag. Be sure to wipe off any excess stain from the pieces.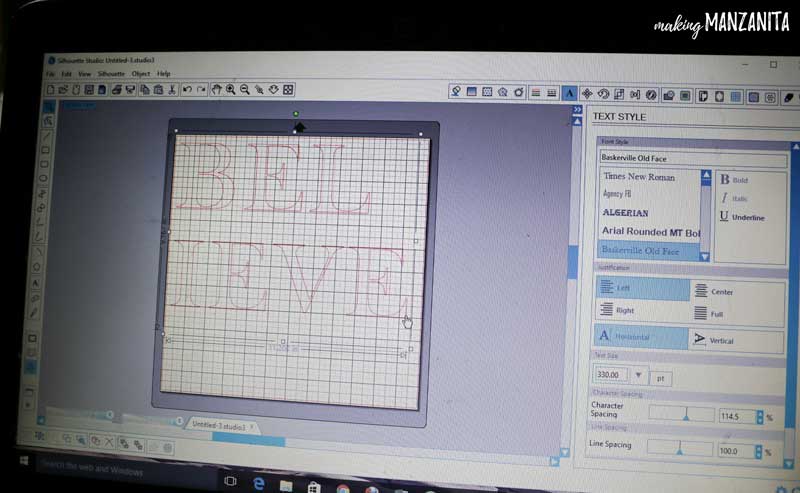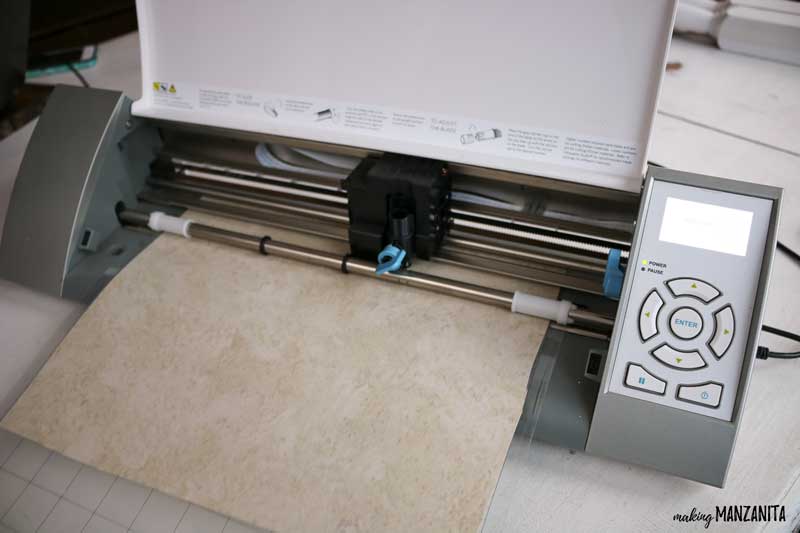 Step 5. Cut letter stencils.
Now, it's time to cut out the letter stencils. I used my Silhouette Cameo to do this. The specifications for the letter stencils I created are below for your reference:
Font: Baskerville Old Face
Font Size: 330
Cut Settings: Vinyl (no other changes were made)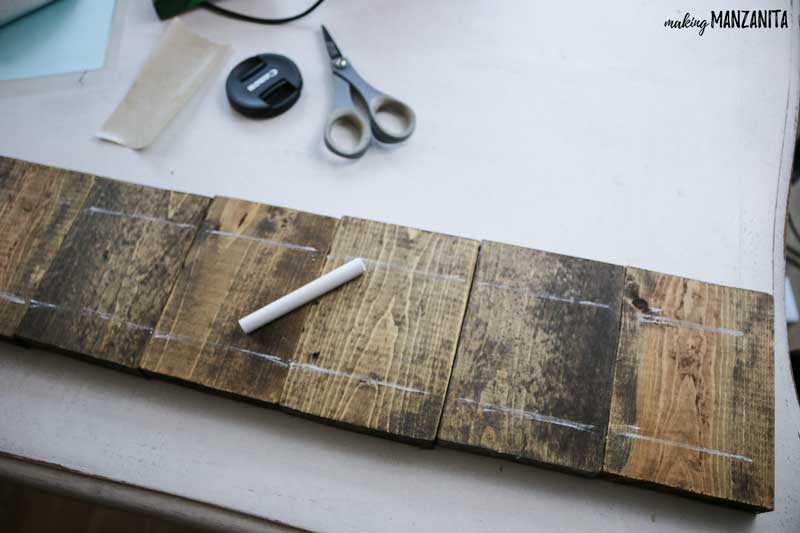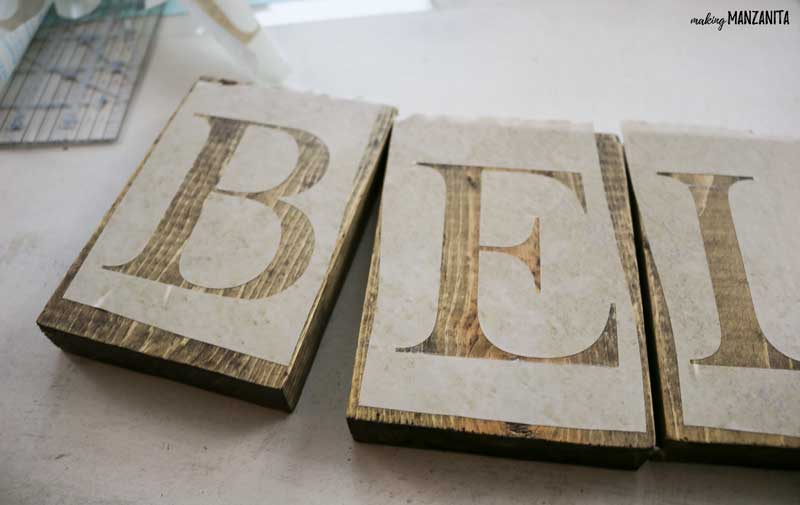 Step 6. Apply the stencils.
Layout all of your wood pieces in a row and mark with a piece of white chalk roughly where the tops and bottoms of the letters should be (depending on how large your stencils are). You want the letters to be in the middle of the wood pieces.
Step 7. A little trick to seal stencils (prevents bleeding!).
I've got a little trick up my sleeve that I use when applying the stencils so they don't bleed! It's definitely changed the way that I made signs and I want you to be able to make hassle-free signs at home too. Check out this post to get the full details on how to prevent your stencils from bleeding.
I also used this little sign-making hack on this DIY bottle opener, this fun DIY bathtub tray, this DIY farm sign, this DIY farm sign, this leather sign, and farmhouse centerpiece!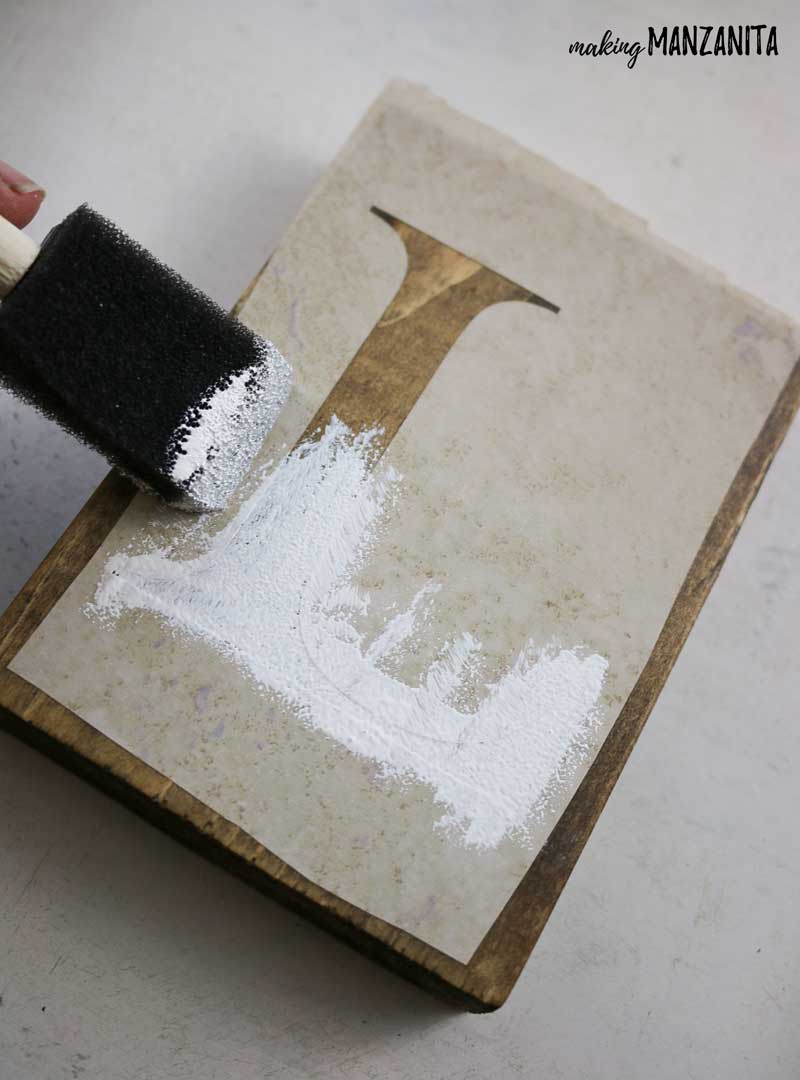 Step 8. Paint over stencils.
I always use acrylic craft paint and a foam paint brush to paint over my stencils. If you're wondering, yes I like the acrylic craft paint more than the chalk paint for the stencils. I think the acrylic paint has better coverage.
It works best if you are able to "pounce" directly over the stencil, rather than in brush motions.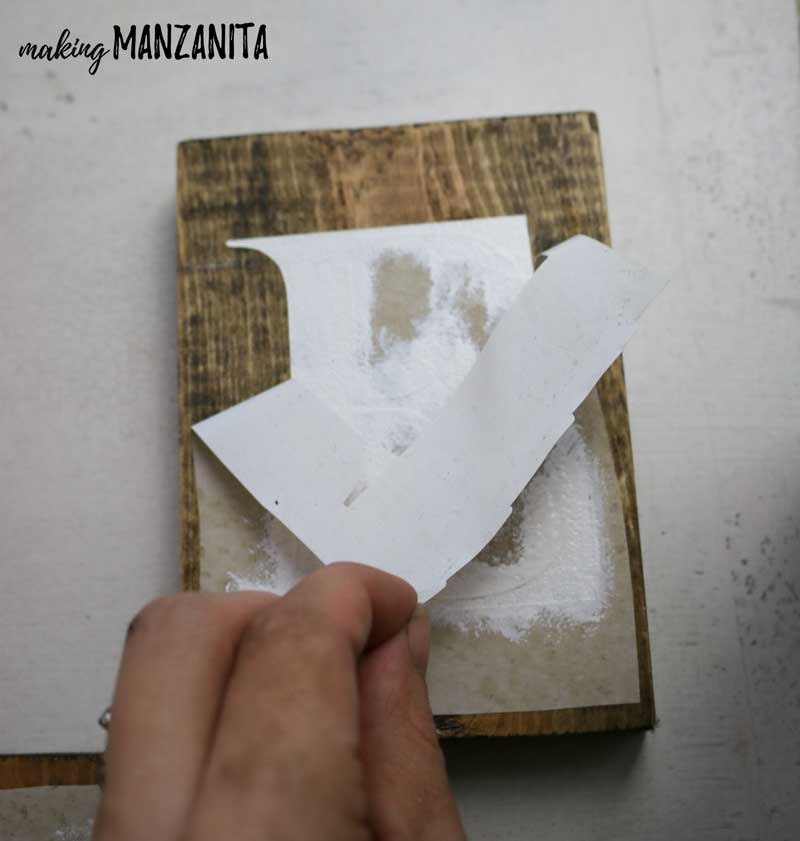 Once the paint is dry to the touch, you can pull off the stencils. Look at those nice crisp lines!
Step 9. Seal wood pieces and spindle.
Using a spray sealer, seal the wood pieces and the spindle. I love this sealer because it's really easy to use. You just spray it on like you would a spray paint.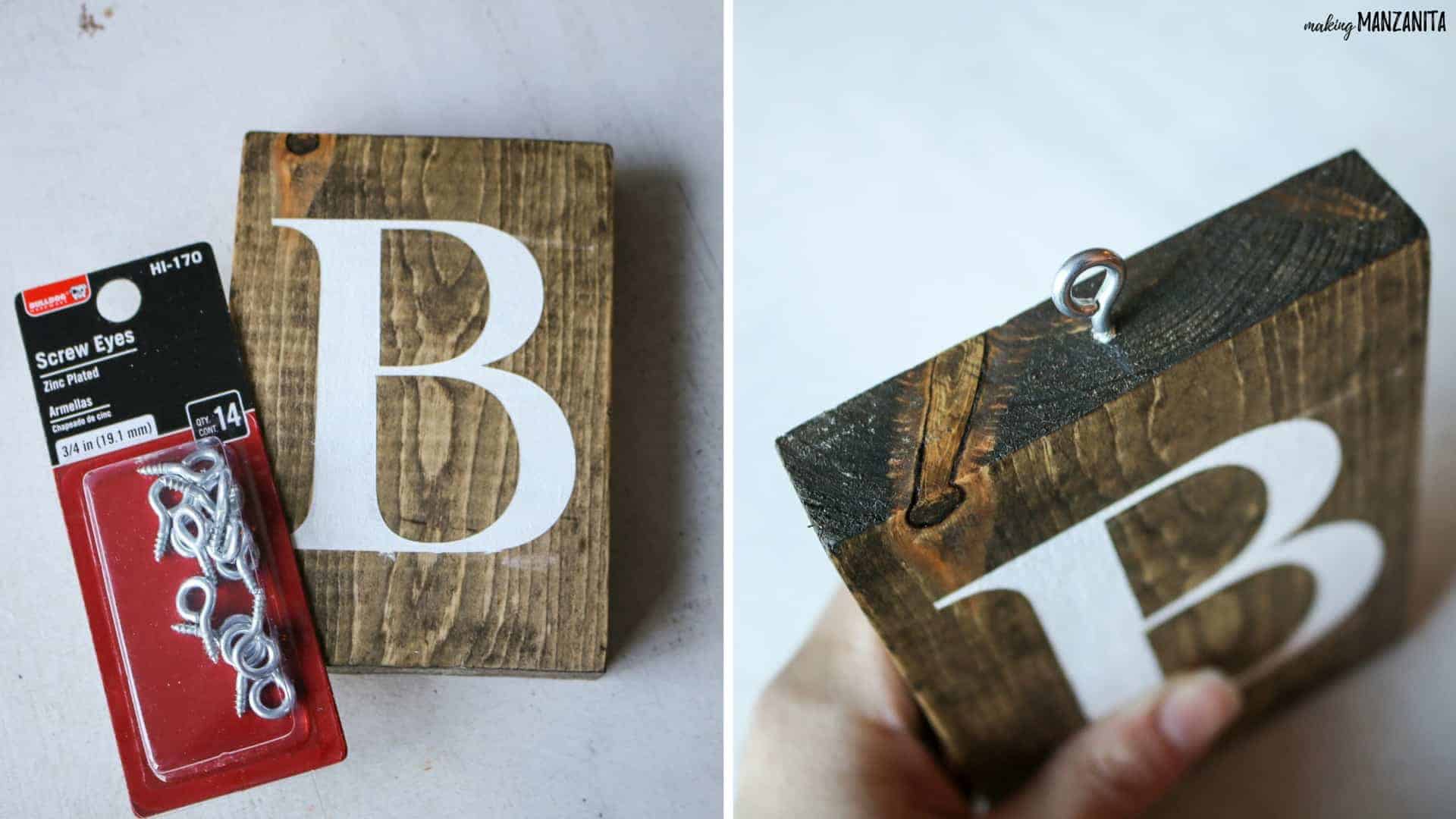 Step 10. Attach screw eyes to the top of wood pieces.
Mark the middle of the top of the wood pieces and screw in the screw eyes. I just did this by hand, but you could drill small pilot holes if you wanted. These will be used as your hangers for the ribbon.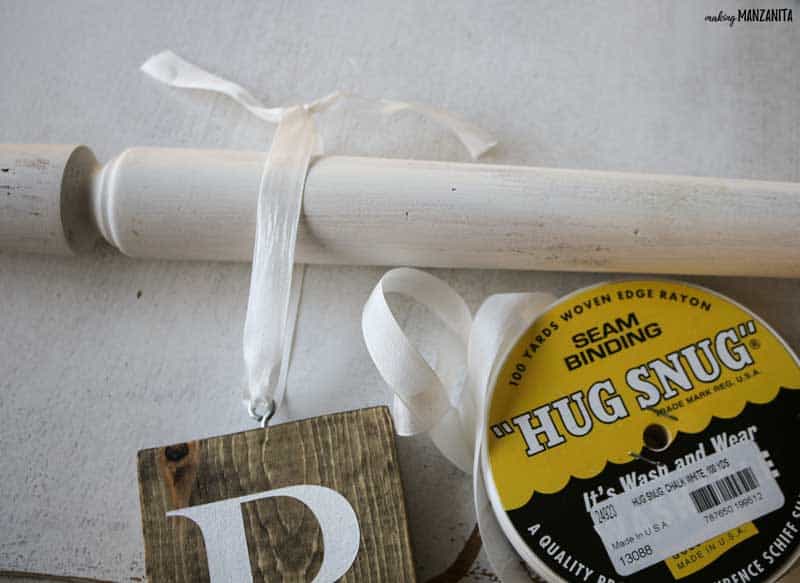 Step 11. Hang the wood pieces on the spindle.
Lastly, hang the BELIEVE letters on the spindle by looping white ribbon (like this seam binding I used) through the screw eye and tie a knot (or a bow if you want) on the spindle.
I made each letter have a different height to provide a little variety on my sign.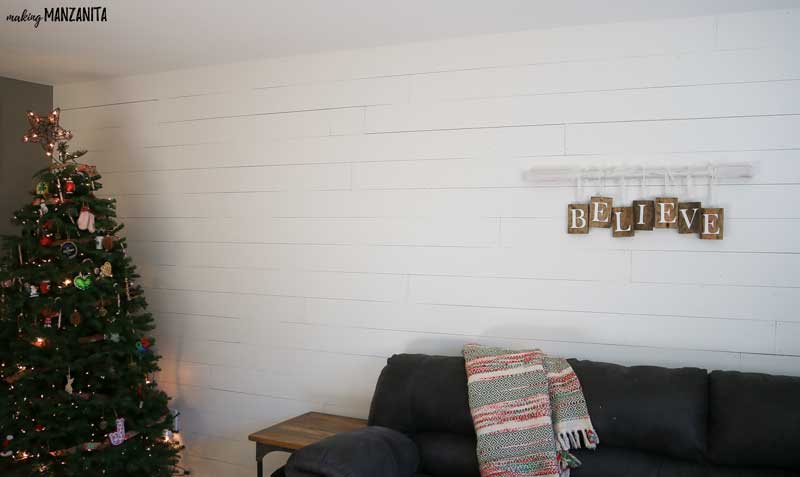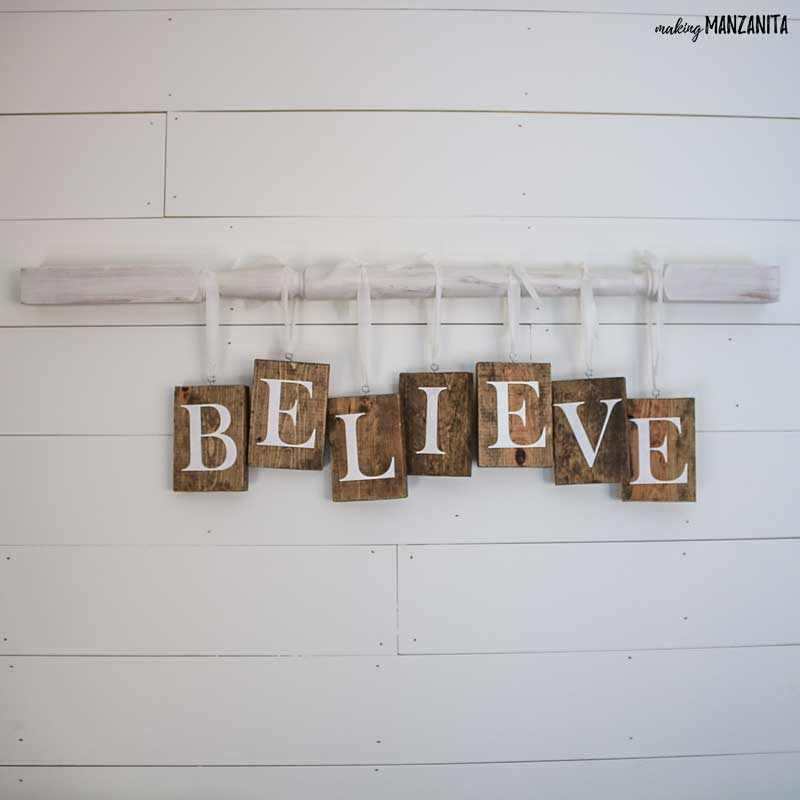 I'm loving how my DIY BELIEVE Christmas sign with farmhouse style turned out. It looks great on my new shiplap wall in our living room, don't you think?!
The farmhouse Christmas sign was so easy to make using mostly supplies I already had laying around the house and the garage. And the best part? I finally found a use for my little pile of spindles! 🙂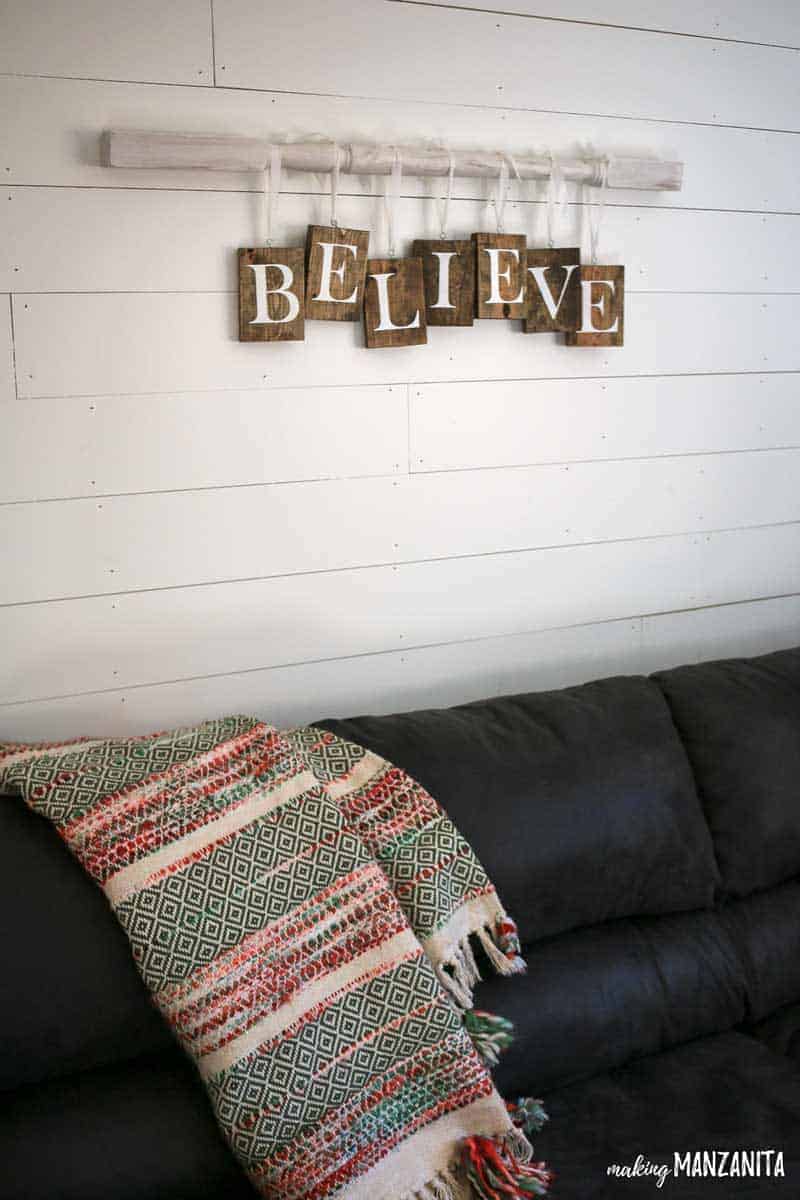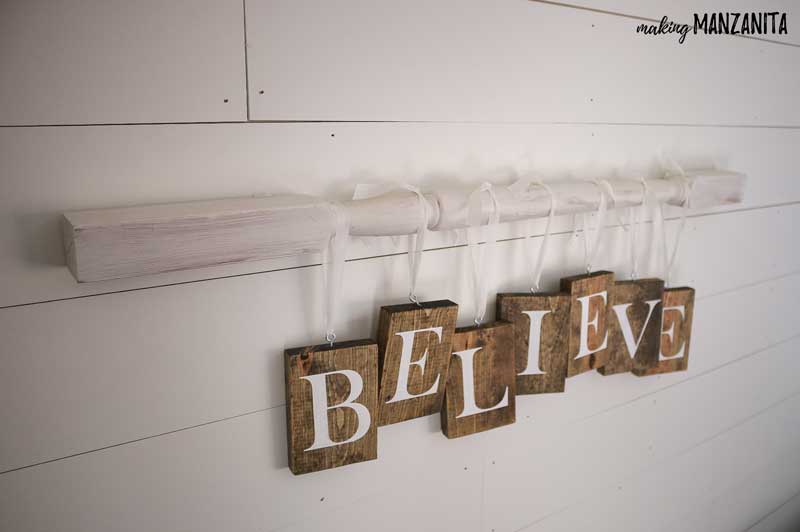 I'm thinking that I love the sign so much that I'm going to paint another word on the backside of the wood pieces that could be used all year round.
So, now I'm trying to think of a cute 7 letter word. My gut tells me WELCOME and put it near the entrance to our home. Any other ideas?!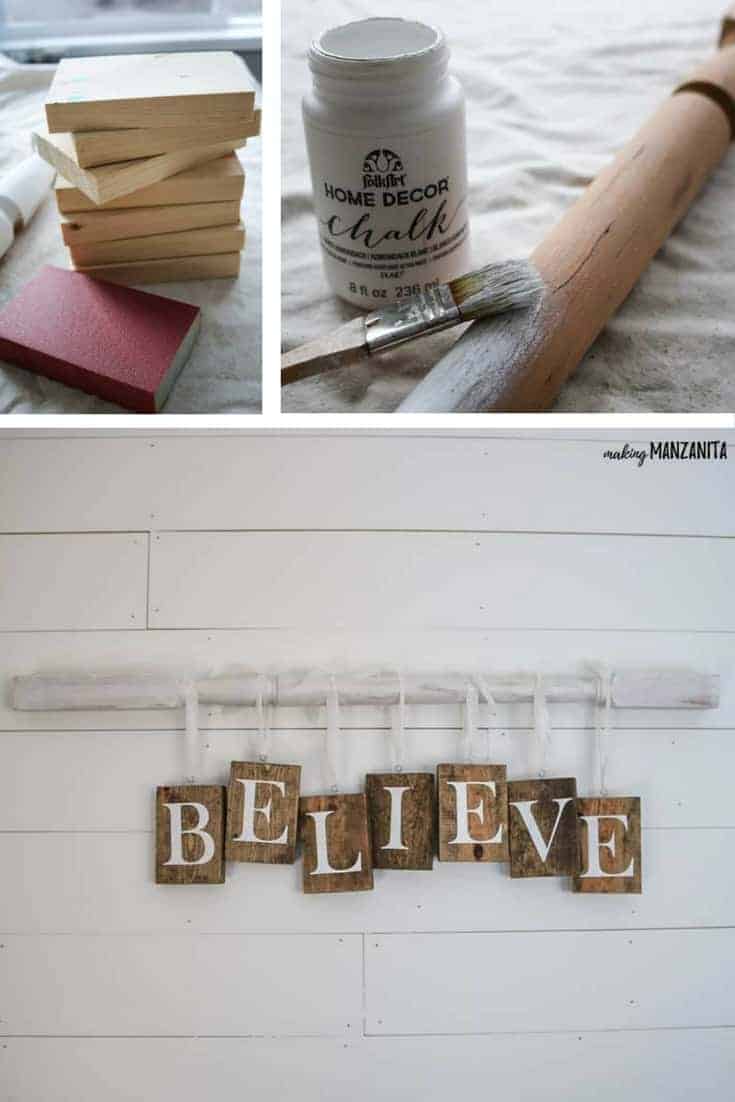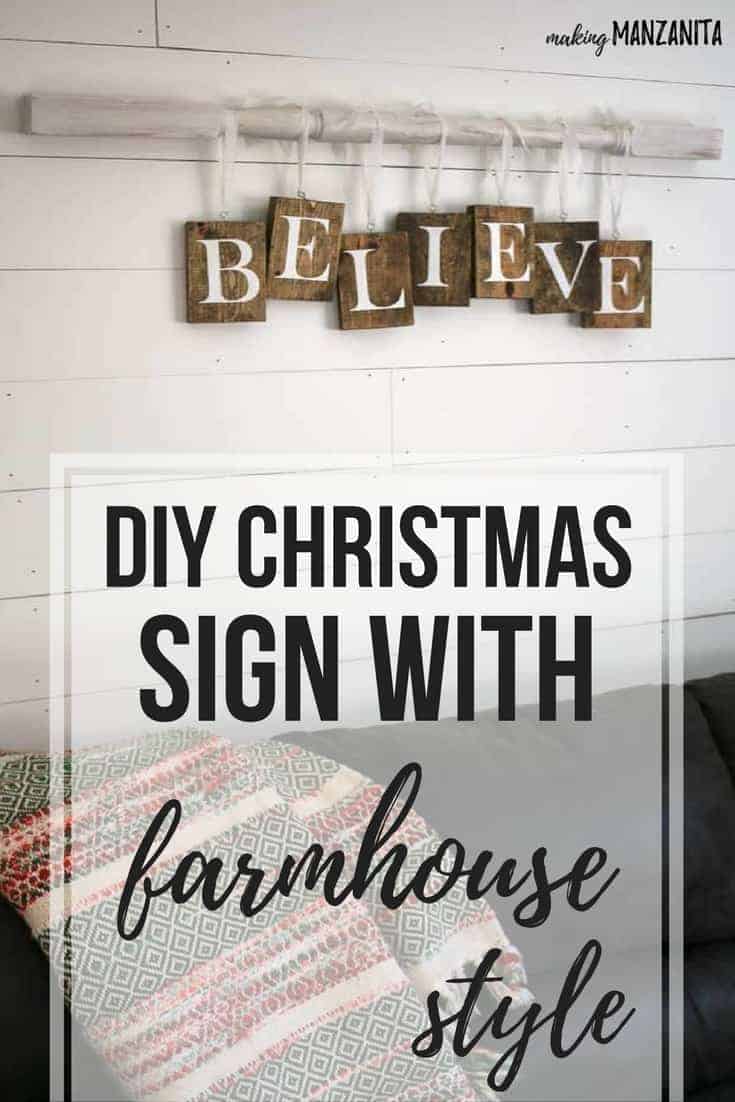 What would you paint on your DIY Christmas sign with farmhouse style??
Let me know in the comments below!
---