Want to add a little more Christmas charm to your kitchen this season? Why not hang mini wreaths on your kitchen cabinet doors? Learn the best way to hang the little wreaths and get in the Christmas spirit!
One seemingly simple thing that I've done the past three Christmas seasons is to decorate the upper cabinet doors in my kitchen! This simple look adds so much character to your kitchen and really makes your kitchen feel like Christmas.
When you're putting up your Christmas decorations, if you're anything like me, you're probably trying to figure out just how to decorate the kitchen for this time of year without adding too much clutter!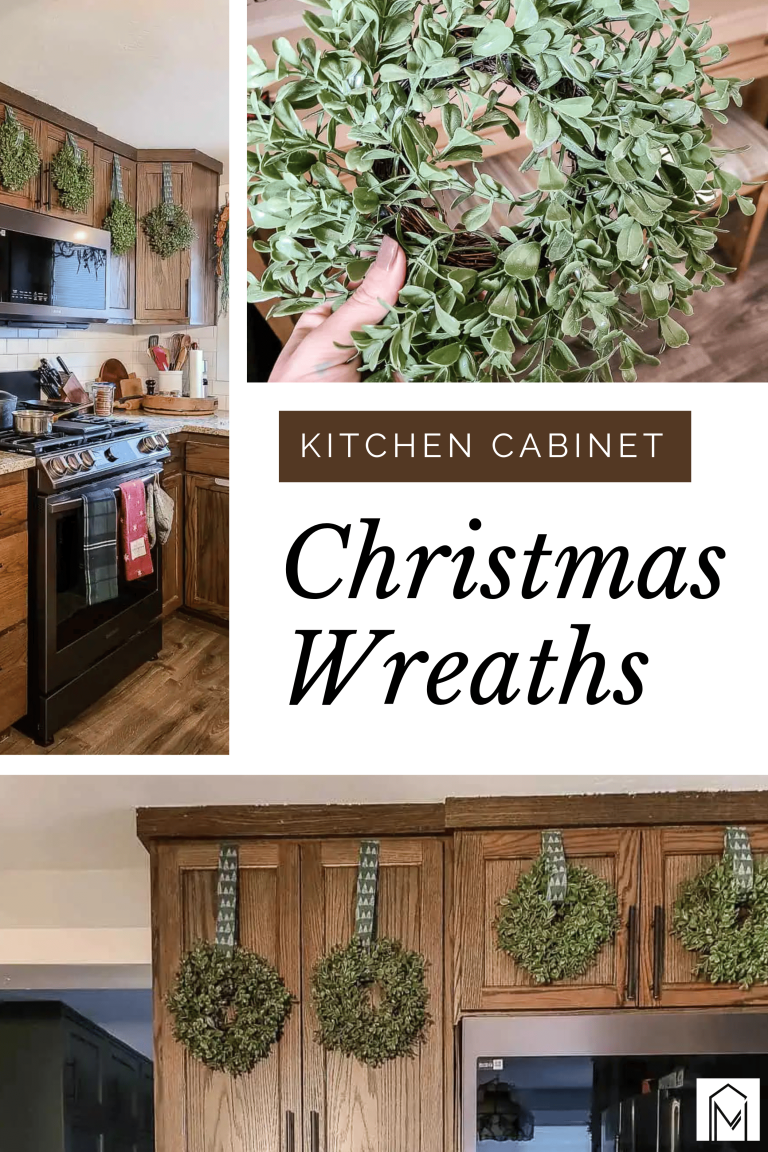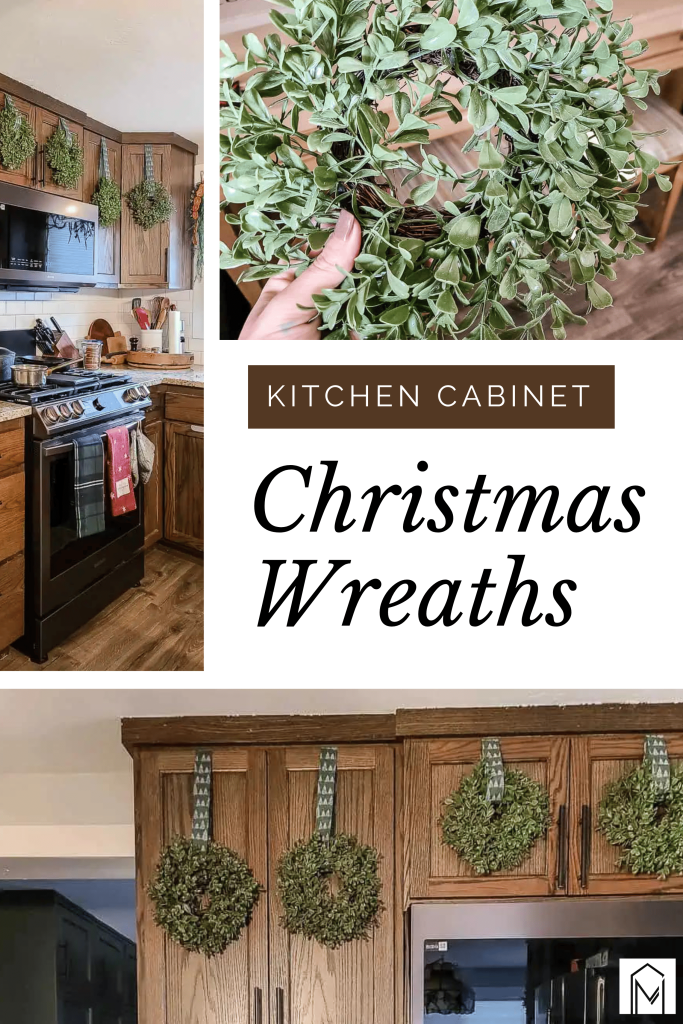 The kitchen really gets the tough end of the deal when it comes to Christmas decorations. The living room gets the Christmas tree, the stockings, and probably most of your Christmas decorations. The exterior gets twinkling Christmas lights and pretty front door wreaths. Even the bedroom can be easily decorated for the Christmas season with a holiday-themed throw blanket.
​Since we spend SO much time in our kitchen, adding a little Christmas spirit is always a good idea. In today's article, I'm going to show you my tried and true method of hanging small wreaths on kitchen cabinets. This method has worked over and over for us without fail!
It is a very easy way to add a fun focal feature and some holiday feel to your kitchen!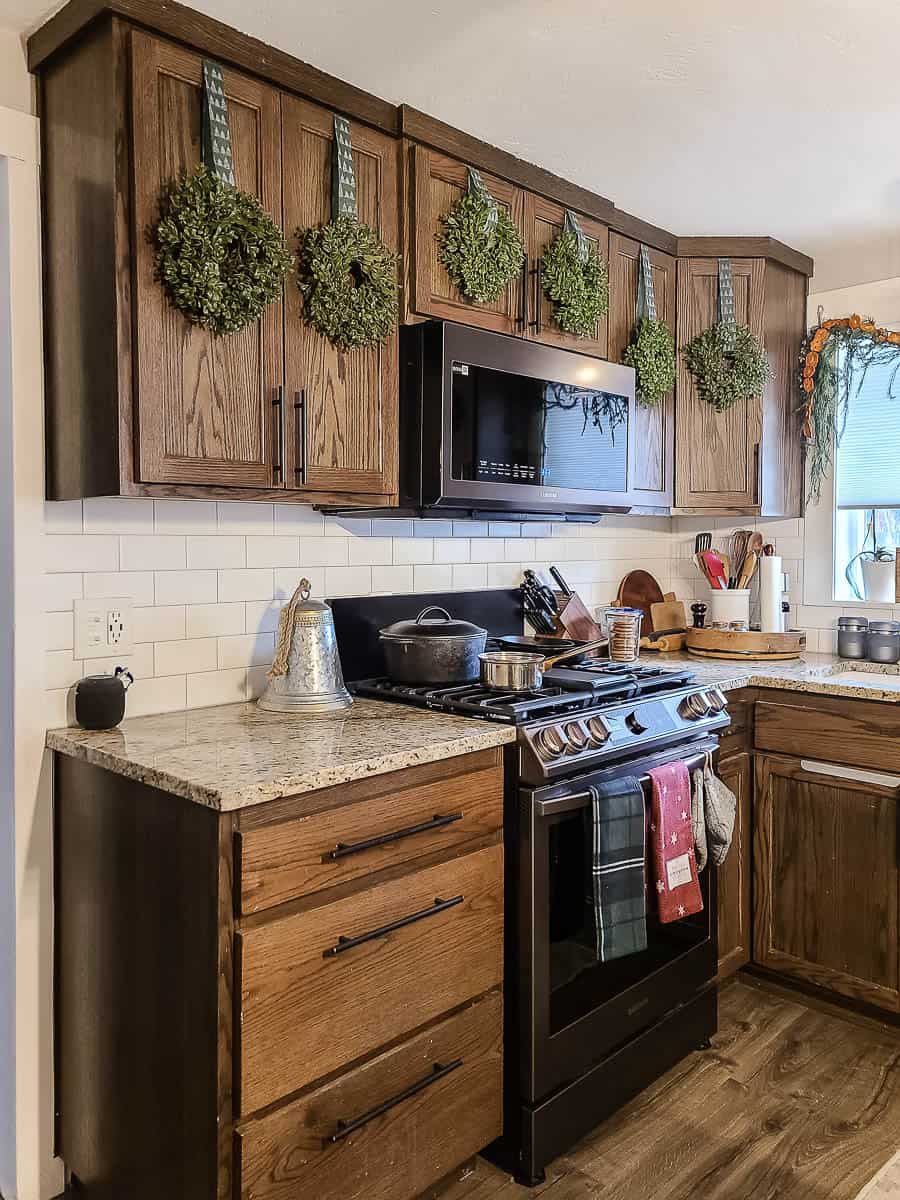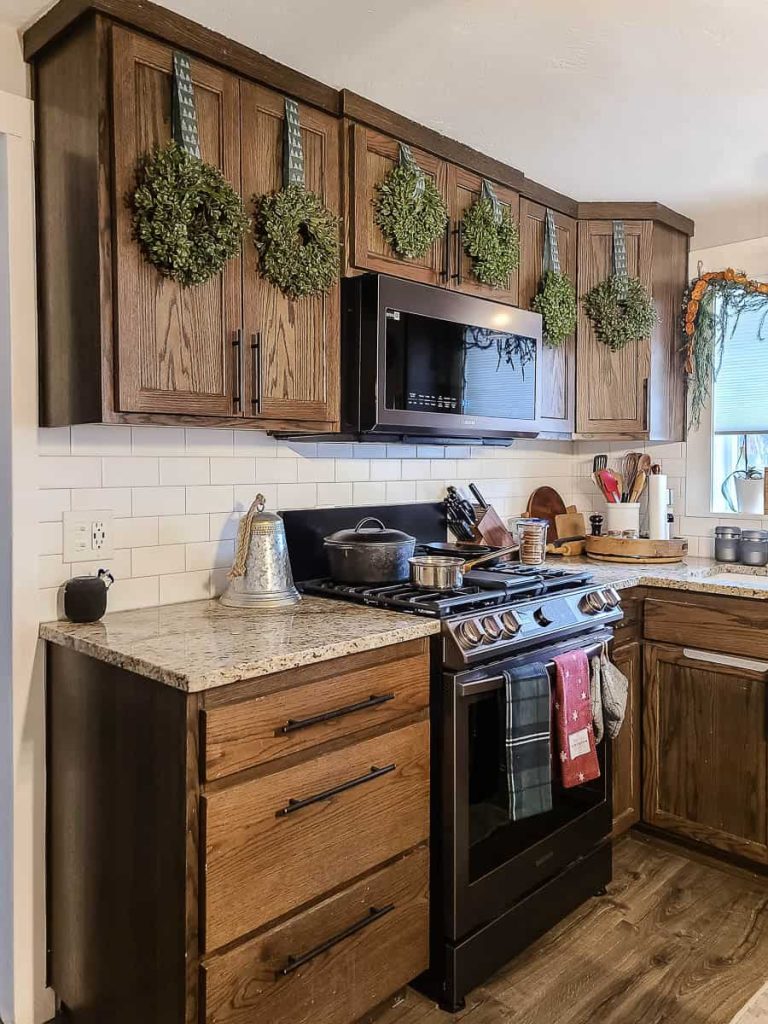 This how to hang wreaths on kitchen cabinets tutorial contains affiliate links, but nothing that I wouldn't recommend wholeheartedly. Read my full disclosure here.
How To Hang Wreaths on Kitchen Cabinets
Step 1. Figure out your ribbon length
The best way to figure out exactly where on the cabinet your wreath will go is just to go ahead and hang a mini Christmas wreath up (or have someone hold it up for you so you can look).
Step back and take a look. If you're happy with the height and look of the wreath, remove the ribbon and cut all of the rest of the ribbon you'll need to the same desired length.
Keep in mind that if you have cabinet doors of different sizes (like the small cabinet doors above the microwave), you'll probably want to have a couple of different heights of wreaths, and therefore a few different lengths of ribbon will be needed.
Step 2. Loop ribbon through the wreath
I usually loop the ribbon all the way through the smaller wreaths and bring both pieces up and back up over the top of the cabinet door. This gives it a nice and secure hold too!
However, if you want to use less ribbon, you can simply loop it through the wreath and then glue the end of the piece of ribbon to the backside of the other piece of ribbon with a hot glue gun.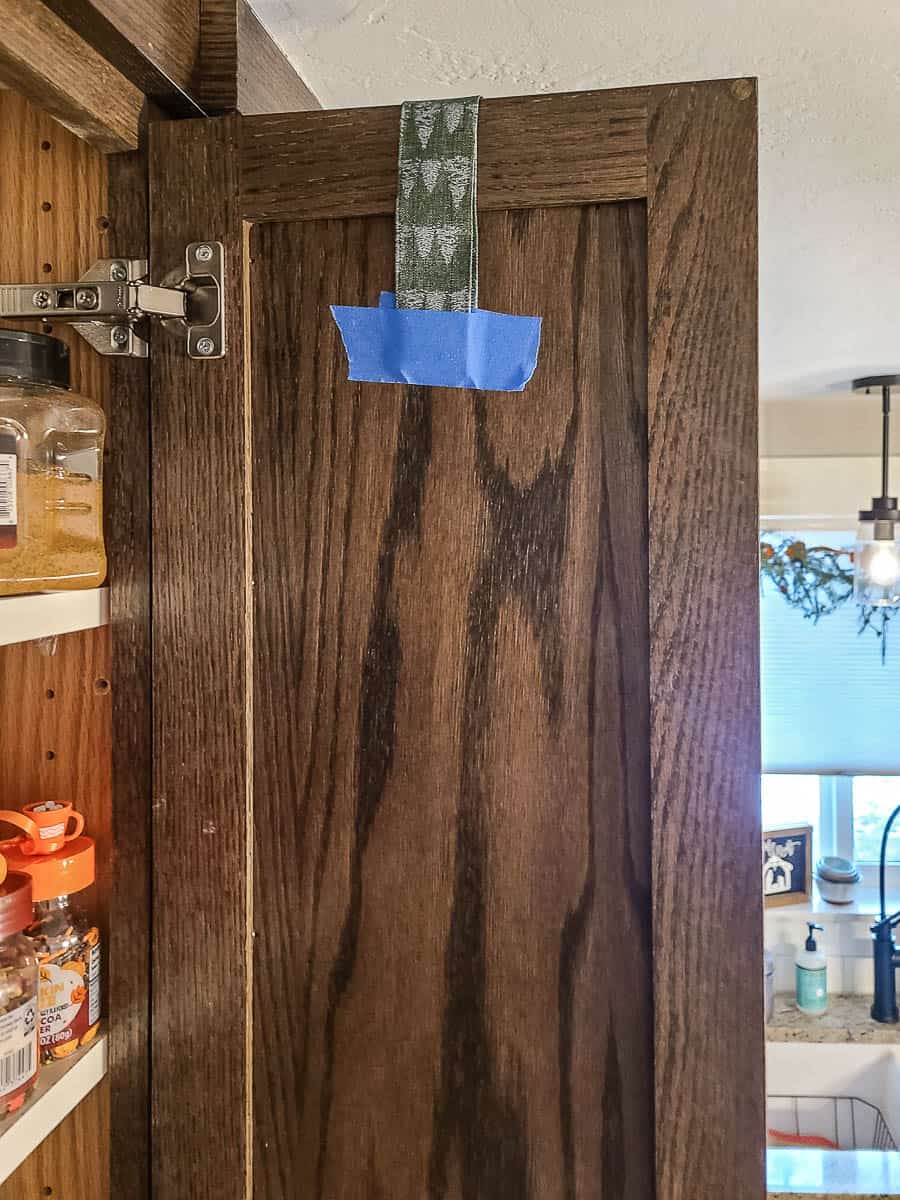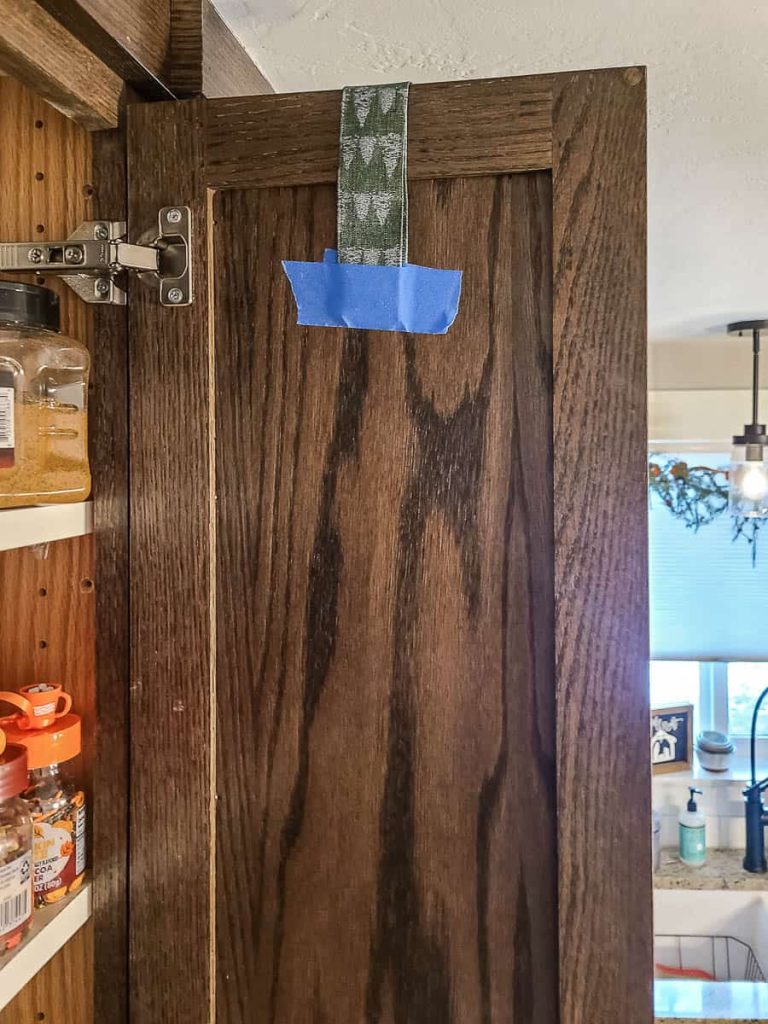 Step 3. Secure ribbon on the back of the cabinet door
If you are bringing both ends of your ribbon up and into the cabinet, secure both with their own piece of painter's tape for extra strength.
I personally think that the best way to secure the ribbon on the inside of your kitchen cabinets is with painter's tape. It is easy to find, affordable, easy to reposition, and doesn't leave anything behind when you remove it.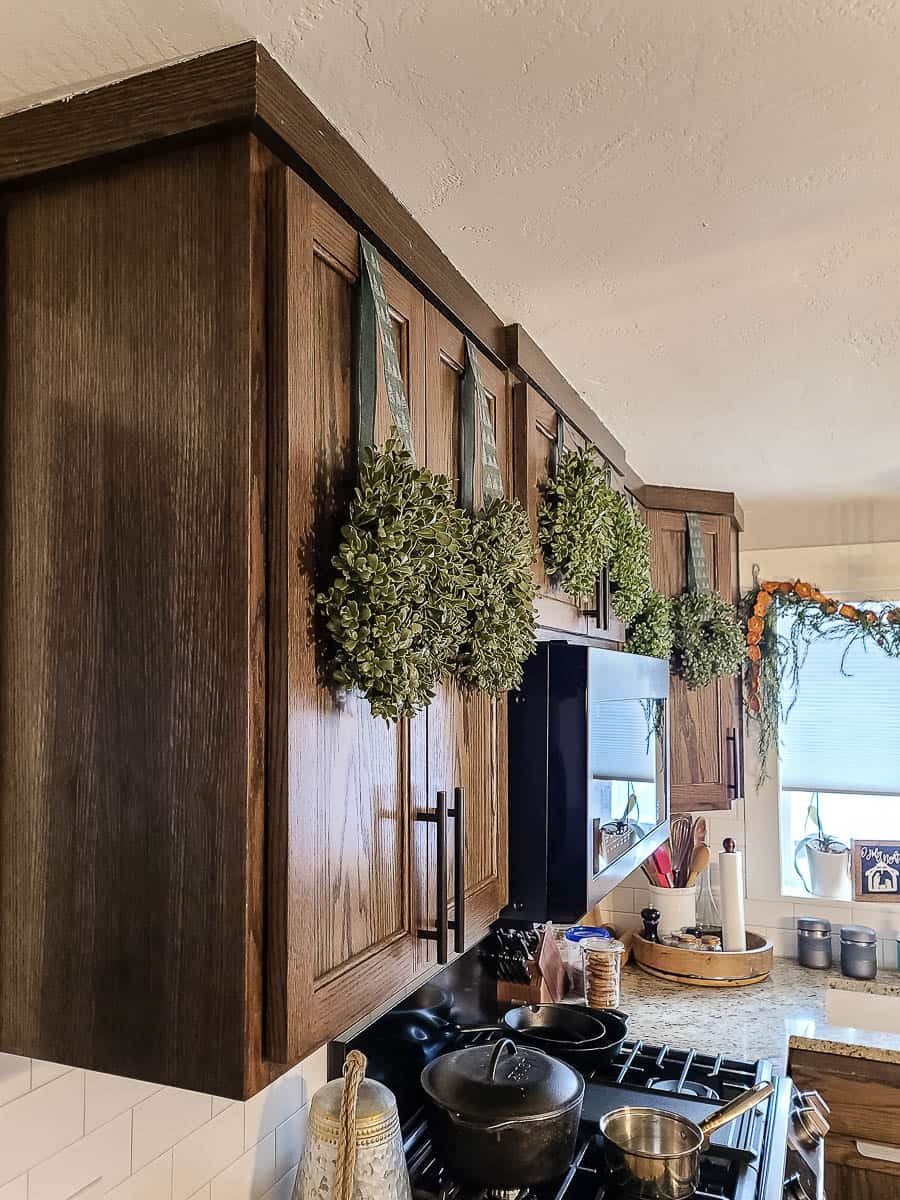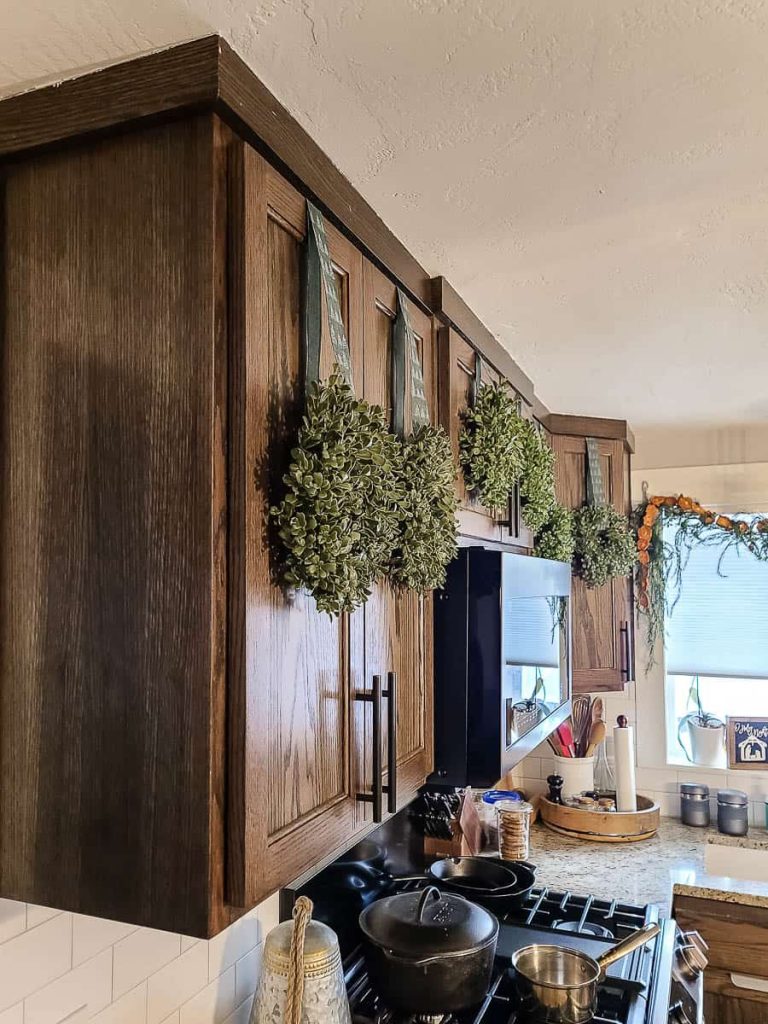 ​I usually have my kitchen cabinet wreaths up for 6-8 weeks during the holiday season and the painter's tape holds this entire time with no problem.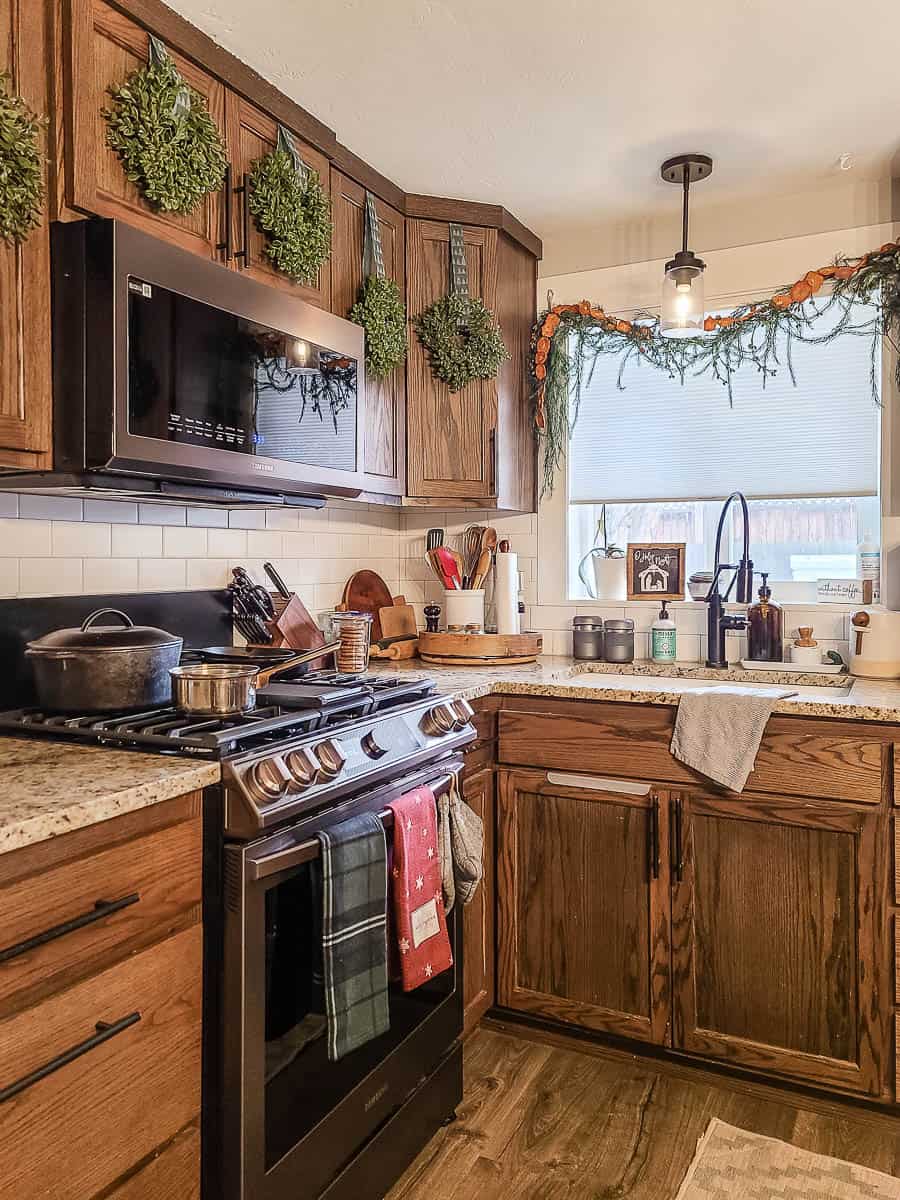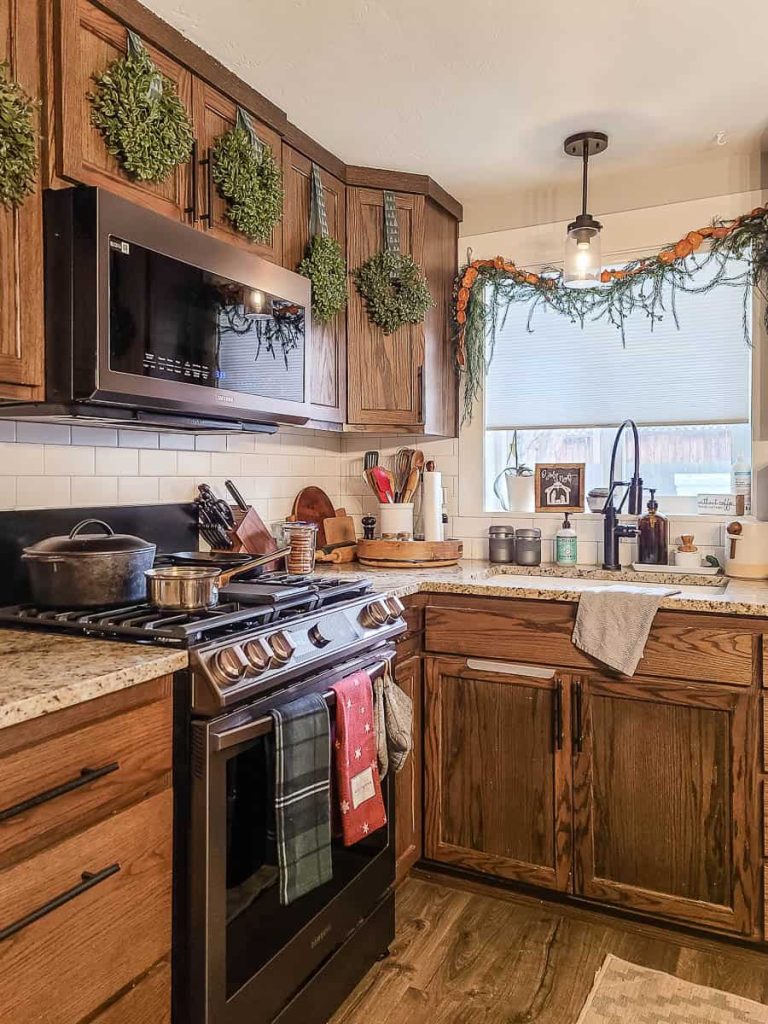 Other Ways to Hang Christmas Wreaths on Kitchen Cabinets
There is certainly nothing wrong with my painter's tape method of hanging wreaths on your kitchen cabinets. But if you're not into it and want to try a different method – here are some good options:
Duct Tape: For a stronger hold, you can try Duct Tape instead of painter's tape. But fair warning, I've never tried this method because I'm scared of having a sticky residue on the inside of my cabinet doors.
Mounting Putty: I love this Gorilla Glue mounting putty and I'm always so surprised how well it works for hanging things on the wall. There's no reason that this wouldn't work for attaching the ribbon on the inside of the cabinet. However, you'd probably only want to do this if you're using really lightweight materials, so it all depends on the weight of your wreath. But since it is reusable it is totally worth a shot! Maybe I'll try this method next year!
Command Picture Hanging Strips: I absolutely love the picture hanging strips, and they would definitely work very well for hanging kitchen cabinet wreaths. You would just want to attach one side of the command picture hanging strip to the inside of the kitchen cupboards and the other side to the edge of the ribbon and connect them together. But here's the thing, the command strips with the Velcro are pretty expensive, so I guess I'm just too cheap for this method!
Command Hooks: Now Command hooks are a little cheaper than the picture hanging strips, so this is a good method too! Either tie the ribbon in a knot or just cut a small slit in the ribbon where you want to attach it inside the cabinet and then install the Command hook upside down on the back of the door. Slide the cut slit (or knotted ribbon) into the Command hook and you're good to go. Since the hooks are completely hidden inside your kitchen cabinets, you could choose to leave them up all year long to make things easier when putting up your holiday decor. If you leave the ribbon looped around your wreaths too, you can use the same supplies year after year.
Thumbtack: Another way to get the ribbon attached to the kitchen cabinet is to attach it on the very top of the cabinet door with a thumbtack, where you can't see it. However, this will make a small hole in the top of the door (but it is in a spot where you would never see it, so not too sure how much that bothers you).
What Size Wreaths Should You Use on Kitchen Cabinets?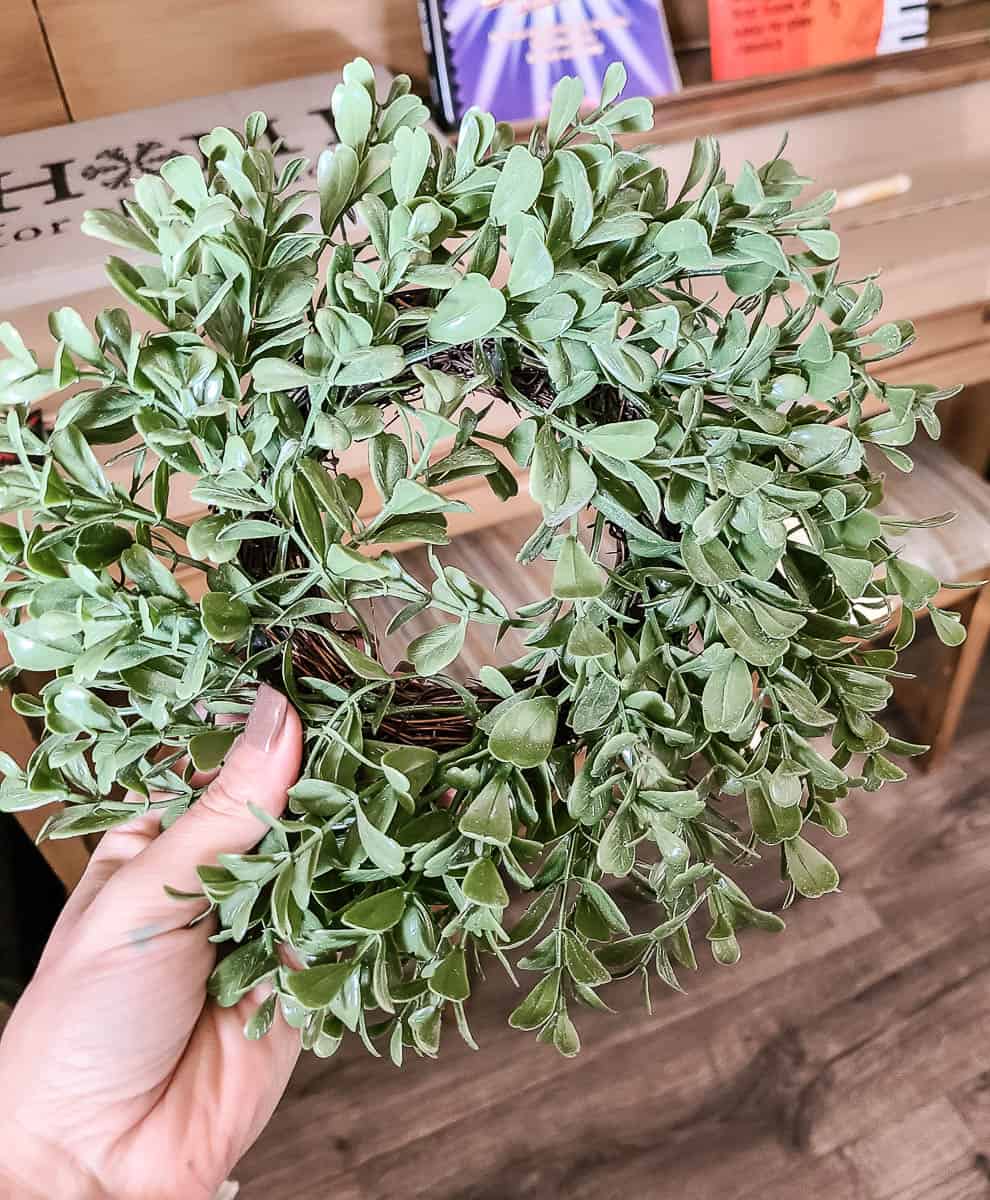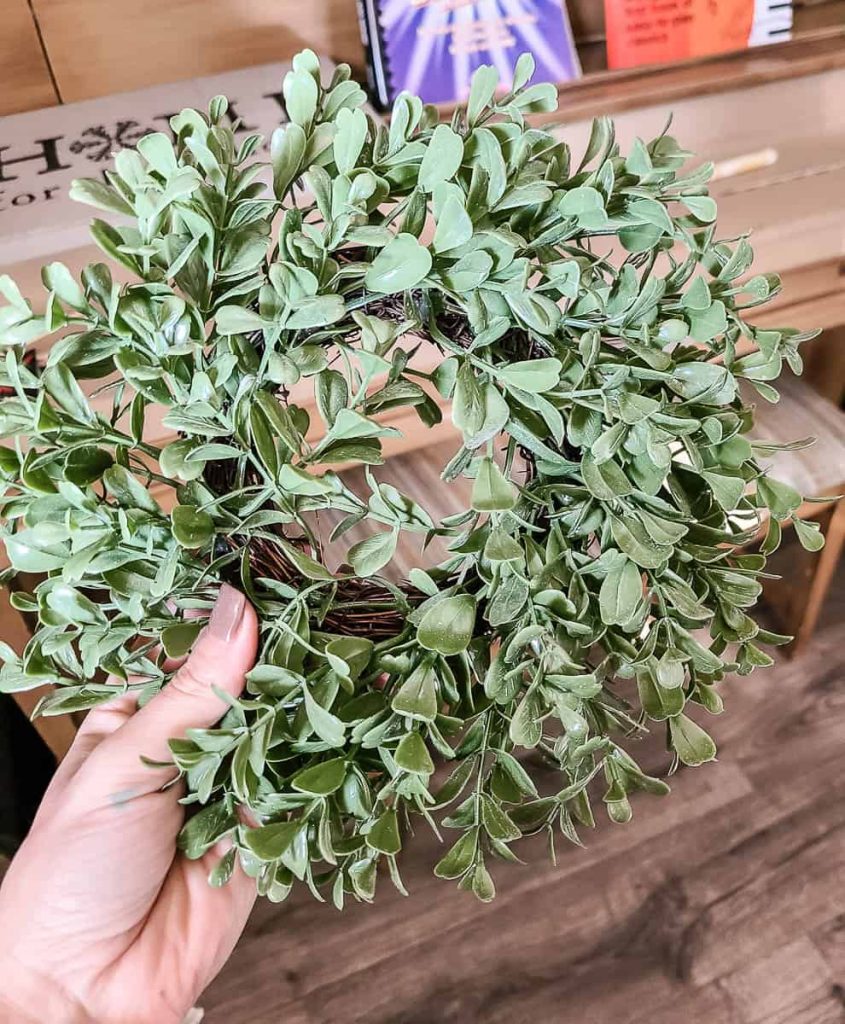 Most mini wreaths are somewhere between 9-14″ in diameter and this size is perfect for hanging on your cabinets and pantry door. For a reference point, most standard kitchen cabinet doors are anywhere between 12″ and 24″ wide.
Any smaller than that and they will probably look out of place and any larger and they will probably start getting in your way or feel cluttered.
The small faux boxwood wreaths I used in our kitchen are 10″ and seem to be the perfect size for me.
Ultimately, it's your kitchen, so go with what looks good to you. Trust your design instincts!
My Favorite Mini Wreaths
​Looking for the perfect mini wreath to hang on your kitchen cabinets? Here are some of my favorites!
Other Fun Ways to Decorate Your Kitchen Cabinets for the Holiday Season
Don't want to hang wreaths on your kitchen cabinets? No worries, here are some different ways to decorate your kitchen cabinets for Christmas!
Ribbon and Bows: One year I used Dollar Tree red bows that come with twist ties attached to the back of our upper cabinets. I added a red ribbon vertically across the kitchen cabinet door and secured the ends of the ribbon on the inside with painter's tape. I then added the bows to the ribbon by twisting the ties together.
Hang Garland: Use adhesive hooks to hang garlands along the top of your cabinets above the doors.
Wrap Them With Wrapping Paper: Wrap the entire cabinet door front with wrapping paper to make it look like a Christmas present.
Hang Mistletoe: Instead of hanging a wreath at the end of the ribbon, add a little bough of mistletoe on your kitchen cabinets!
Add Candy Cane: Add decorative candy canes hanging on the kitchen cabinets instead of a wreath.
Fill Mittens with Greenery: For an adorable and nostalgic look, fill knit mittens with greenery and hang them with ribbon or twine on your kitchen cabinet doors.
Add Lights: Twinkle lights can make your kitchen feel magical. You can either wind them around the garland or lay them on the top of the kitchen cabinets (if yours doesn't go all the way to the ceiling).
More Kitchens with Wreaths on Cabinets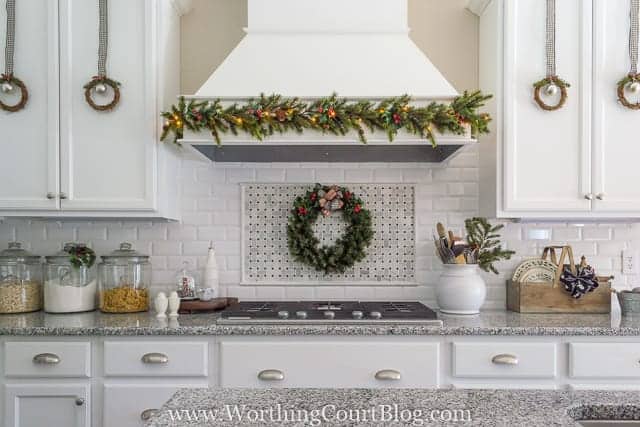 How cute are these mini grapevine wreaths with a little ornament hanging on these white-painted cabinets from Worthing Court Blog? I love the buffalo check ribbon used and the larger wreath hanging up behind the stove.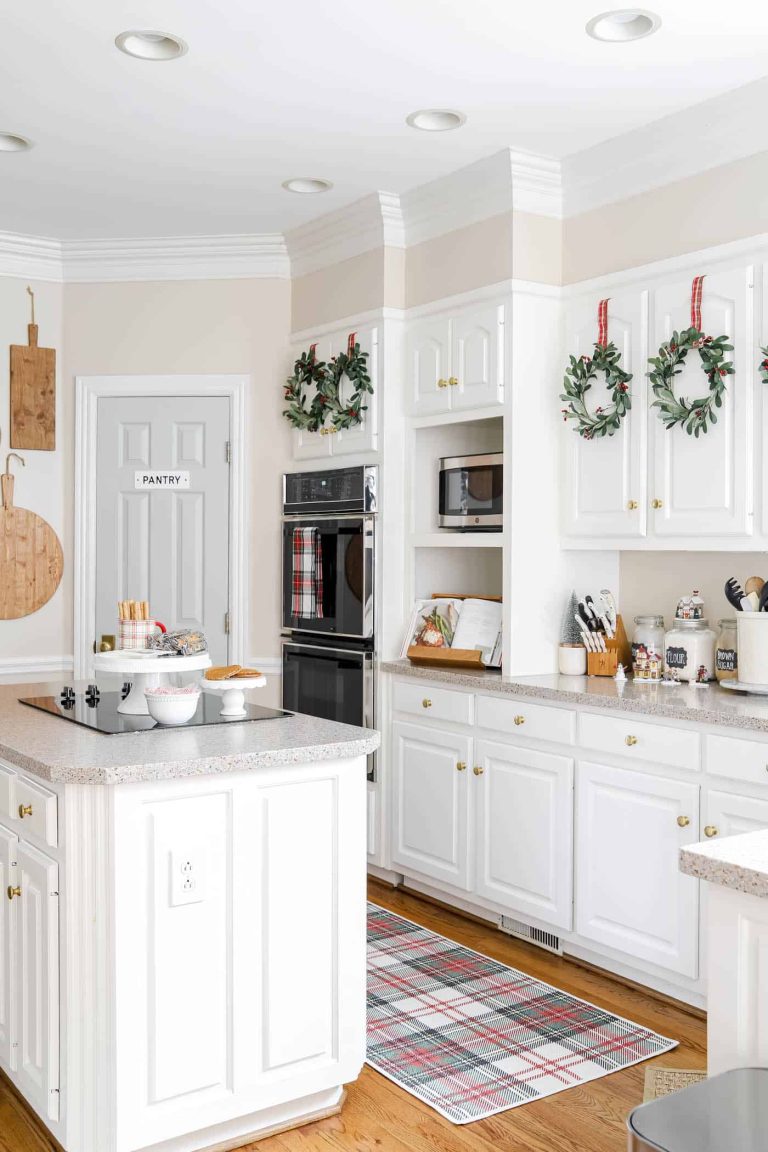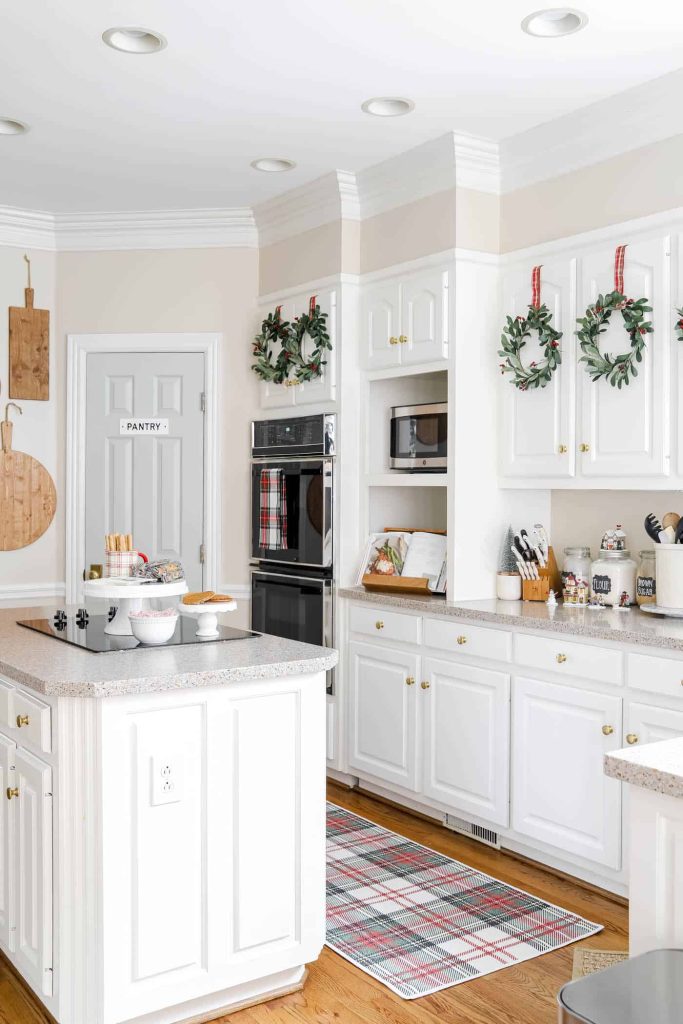 Love these wreaths from The Turquoise Home that are a little bit larger and have fun berries! Laura used the command hook method to hang her wreaths up, so check it out to see a closer look!
Hanging wreaths on kitchen cabinets is a super simple and easy way to add a little Christmas spirit to a room that is usually tough to decorate! Just take a look at this before and after comparison of our kitchen with and without the wreaths on the cabinets.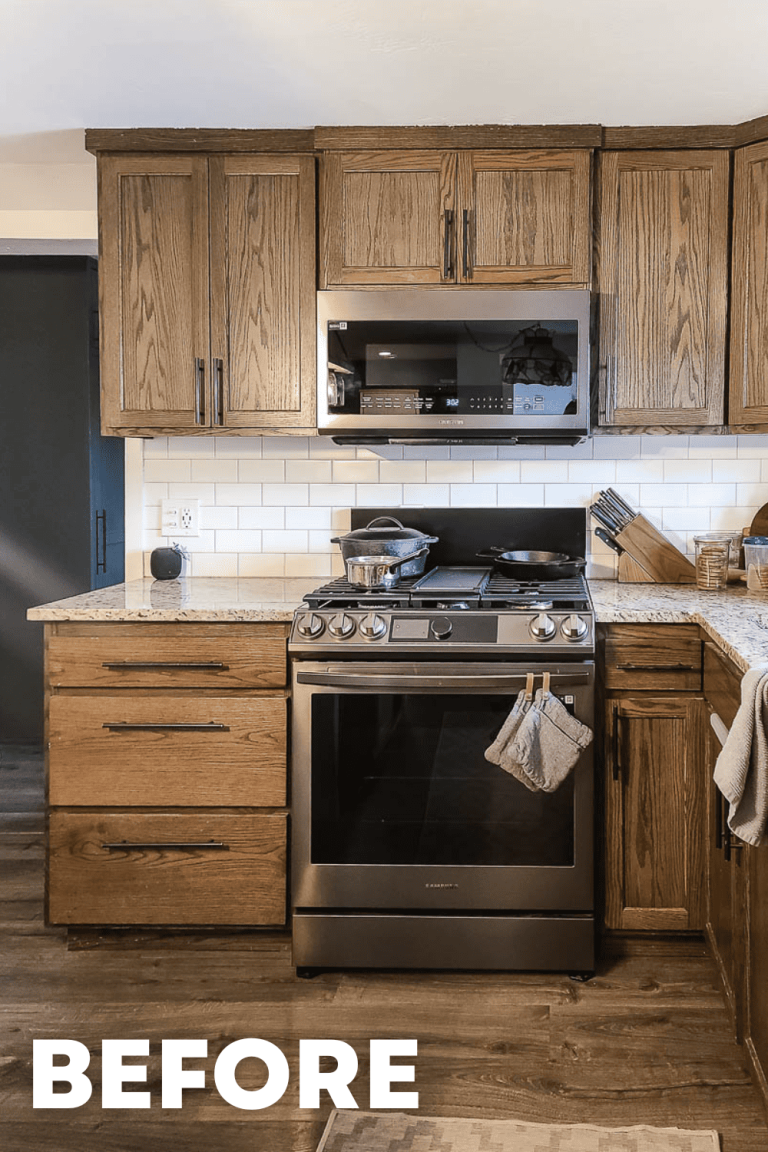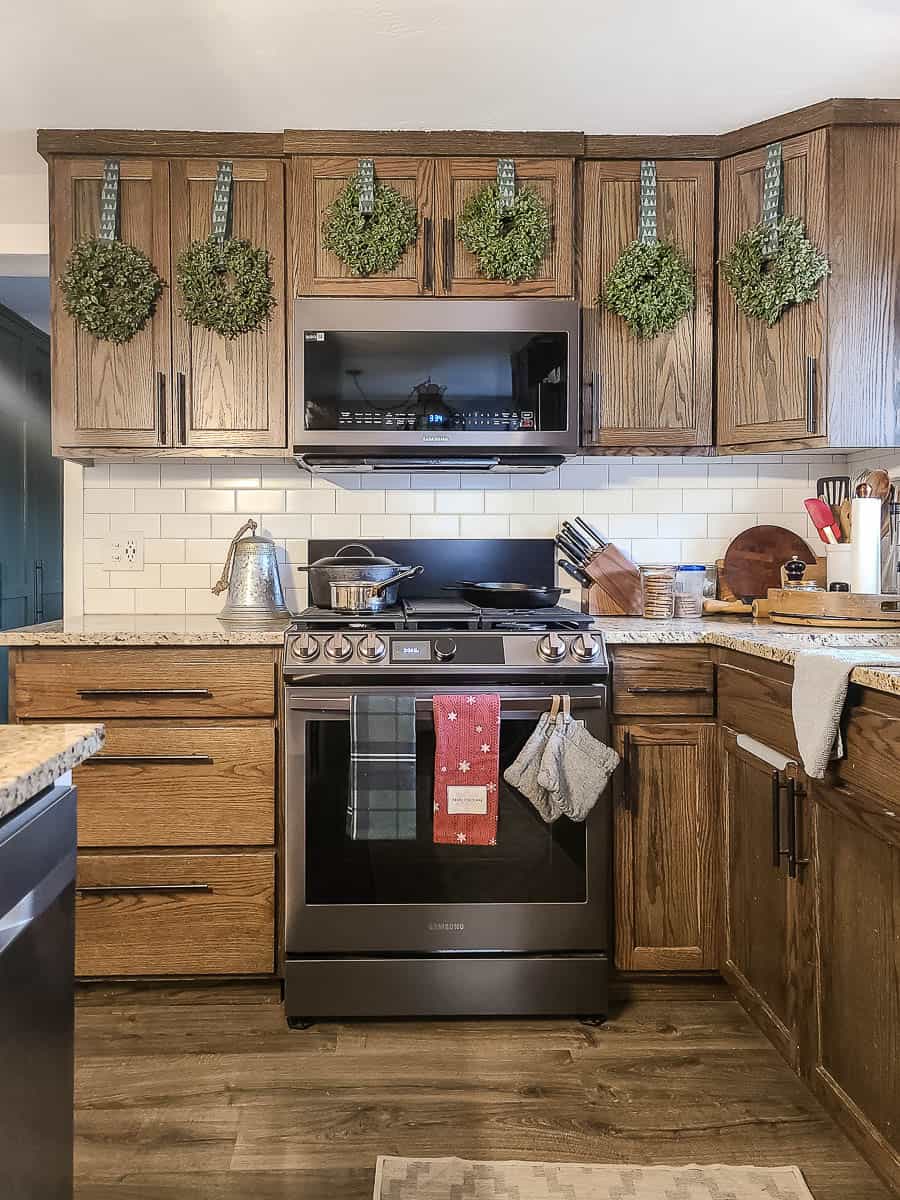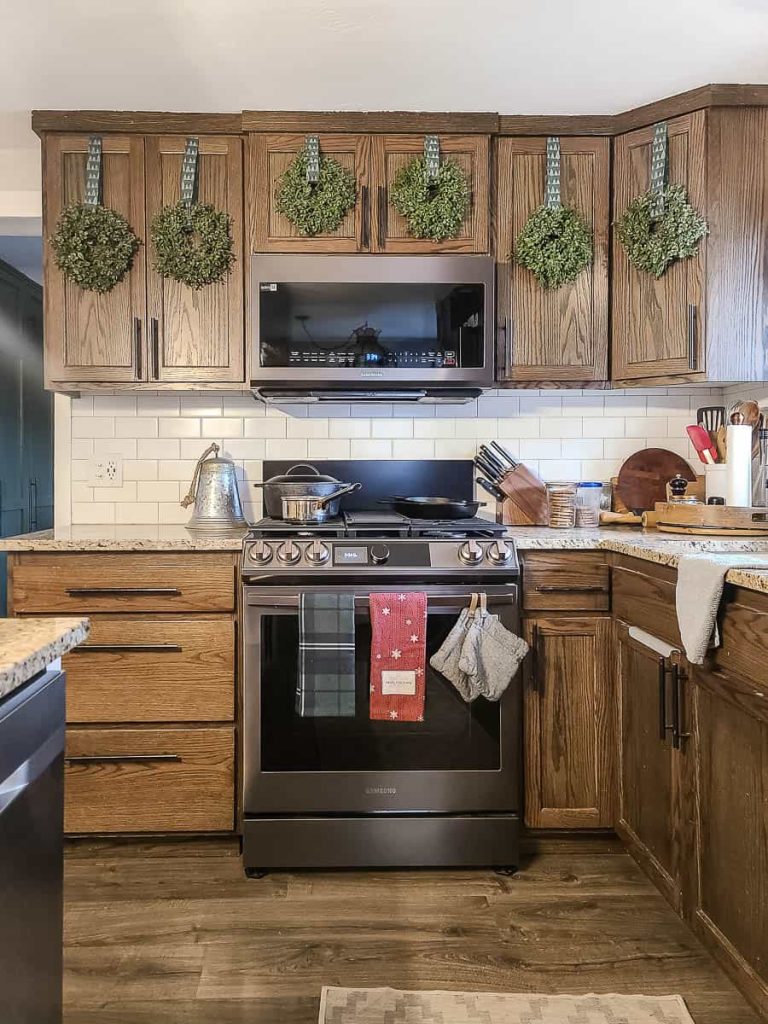 After years of experience, I've found that a little bit of painter's tape on the inside of the room to hold the ribbon in place is the best way to hang the wreaths on the cabinet doors.