Want to add more holiday spirit to your bedroom this holiday season? An easy way to decorate your bedroom for this Christmas season is simply swapping out your bedding! Try one of these cozy Christmas bedding ideas from Amazon!
Welcome to the most wonderful time of the year! As the holiday season approaches, there's nothing quite like the feeling of cozying up in a warm, festive haven. If you're ready to transform your bedroom into a Christmas wonderland, you're in the right place.
We're typically your DIY and home renovation buddies, and we understand the importance of creating a snug, inviting space during the chilly winter months. So, we've scoured Amazon to bring you the most enchanting Christmas bedding ideas that'll make your heart and bed glow with holiday cheer.
From flannel sheets adorned with charming holiday motifs to faux fur throws that promise extra comfort, we've got you covered.
Whether you're decorating your master bedroom, your guest bedroom, or your kid's room (a girl's room or a boy's room) for the winter season, any of the cozy Christmas bedding ideas will work well for any type of bedroom!
I've included both traditional red and green color schemes but also incorporated several options that have more of a neutral look with a lot of creams, whites, tans, and green, which I prefer for my boho Christmas decorations.
This was the first year that we went all out with decorations in our master bedroom. We added a tree, swapped out the bedding, and more. Check out the holiday decorated bedroom here!
This Christmas bedding ideas article contains affiliate links, but nothing that I wouldn't recommend wholeheartedly. Read my full disclosure here.
You can go with some obvious full of festive spirit, with a themed bedding set that looks like it is straight from the North Pole, full of candy canes or mini trees, or you can choose a more subtle nod for your festive look, with an extra cozy throw blanket layered up at the end of the bed and a plaid pillow or two.
So, grab a cup of hot cocoa, snuggle into your favorite blanket, and check out these coziest Christmas bedding options available on Amazon.
Let's deck the beds and make your dreams merry and bright!
Christmas Comforters, Quilts, or Duvet Covers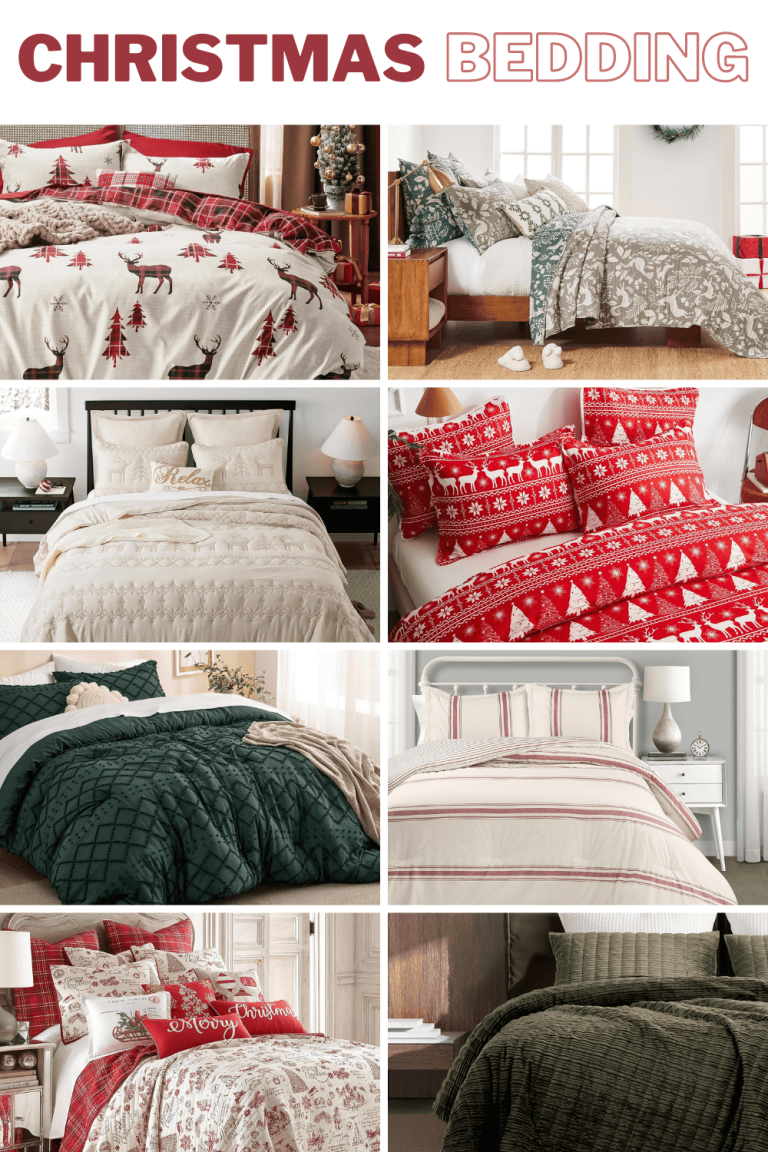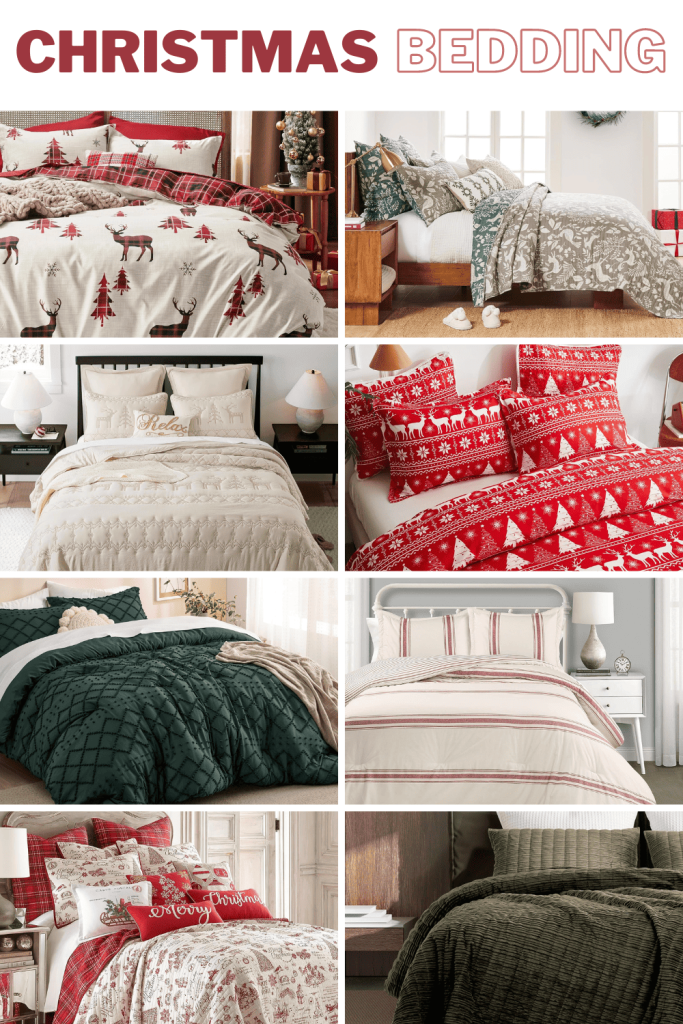 When it comes to holiday warmth and style on your bed, the quickest way to instantly bring in a festive mood is with new Christmas comforters, quilts, or duvet covers. From classic red and green patterns to whimsical designs, you can easily transform your bedroom into a festive retreat.
If you don't want to worry about storing the extra bedding all year long, go with a duvet cover that will simply go over your existing bedding for a festive feel!
What's the difference between a comforter, quilt, and duvet cover?
A comforter is a thick, fluffy, and often puffy bed covering filled with synthetic fibers, down, or a combination of both. Comforters come in various designs and are usually one piece, eliminating the need for additional layers like blankets.
A quilt consists of three layers: the top decorative layer, a middle layer of padding (usually cotton or polyester), and a bottom layer. Quilts are stitched together in a decorative pattern, which not only adds warmth but also creates a unique, artistic look.
A duvet cover is a protective shell that encases a duvet, which is a plain and fluffy white insert that provides warmth. Duvet covers are basically oversized pillowcases for duvets, and they come in a wide range of designs and materials. Duvets can also go right over a comforter. One advantage of a duvet cover is that it's easy to remove and wash! It is also easy to fold up and store when you're not using it (which comes in handy for Christmas bedding).
Shop Christmas Comforters, Quilts, or Duvet Covers
Just click the picture to see more details.
Festive Christmas Sheet Sets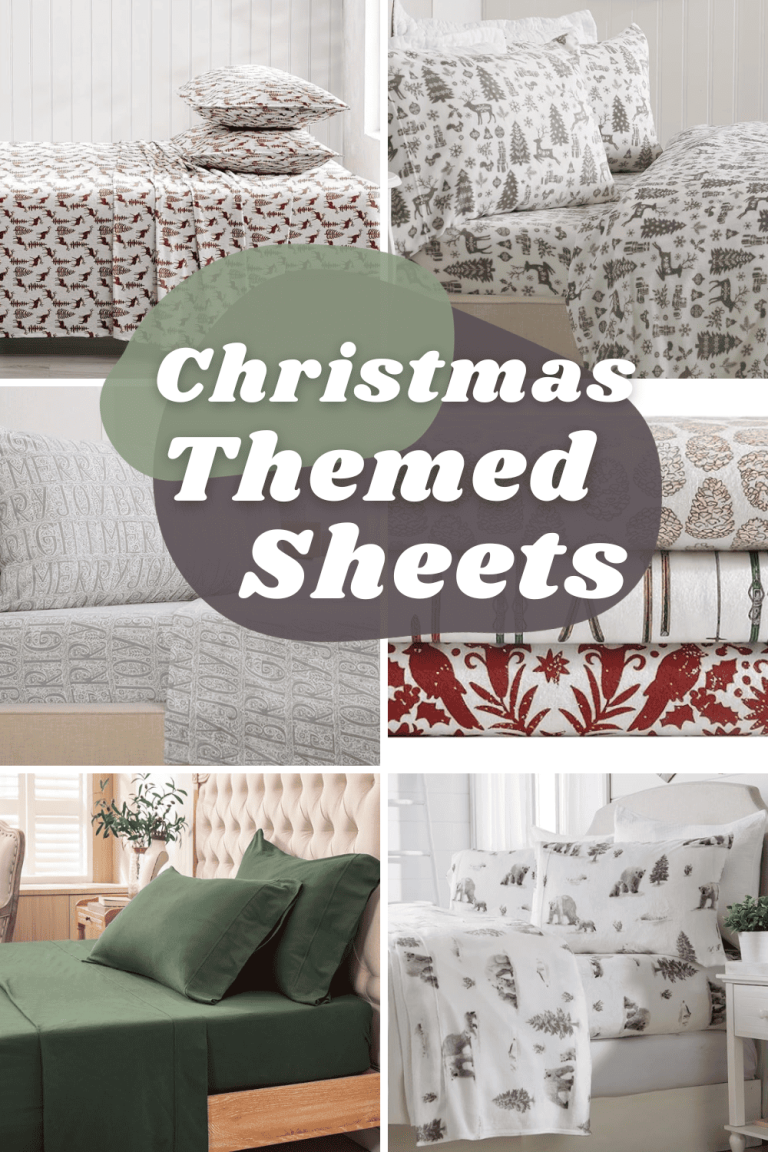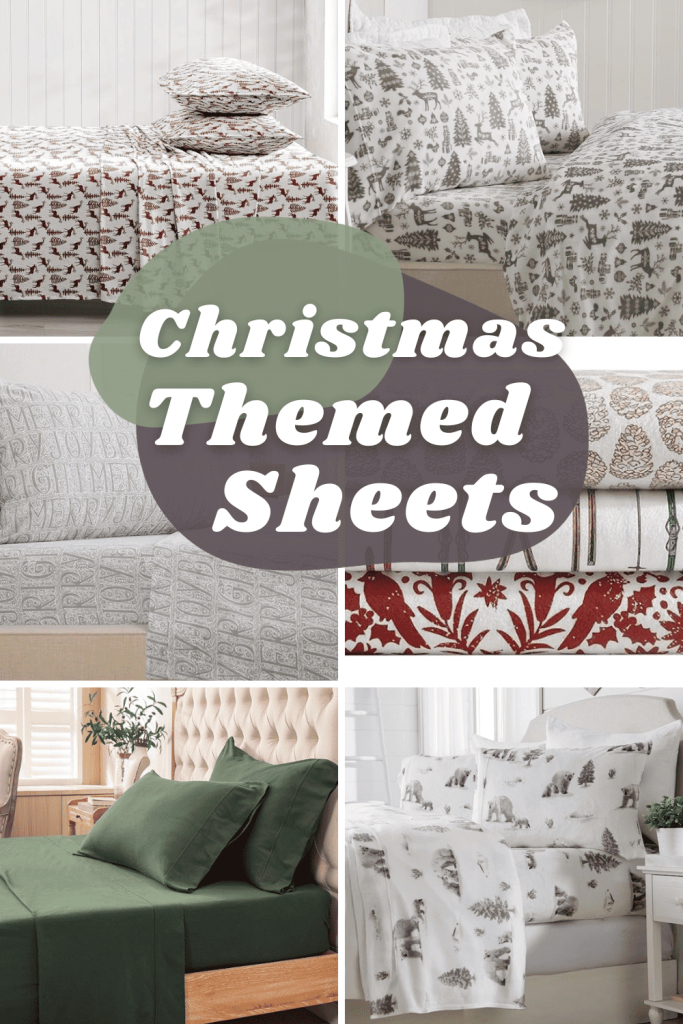 If you're not into changing your entire bedding for the time of year, no worries! A great way that you can still bring in that Christmas spirit is with Christmas sheet sets that feature delightful holiday patterns. Whether it's snowflakes, reindeer, or Santa himself, these sheets bring the holiday spirit right into your Christmas-themed bedroom, for cozy nights and festive mornings.
Pro Tip: Go with flannel sheets for some extra cozy vibes during the winter season. They bring extra warmth and comfort!
Shop Christmas Sheets
Just click the picture to see more details.
Pillow Talk: Christmas Pillows and Pillow Covers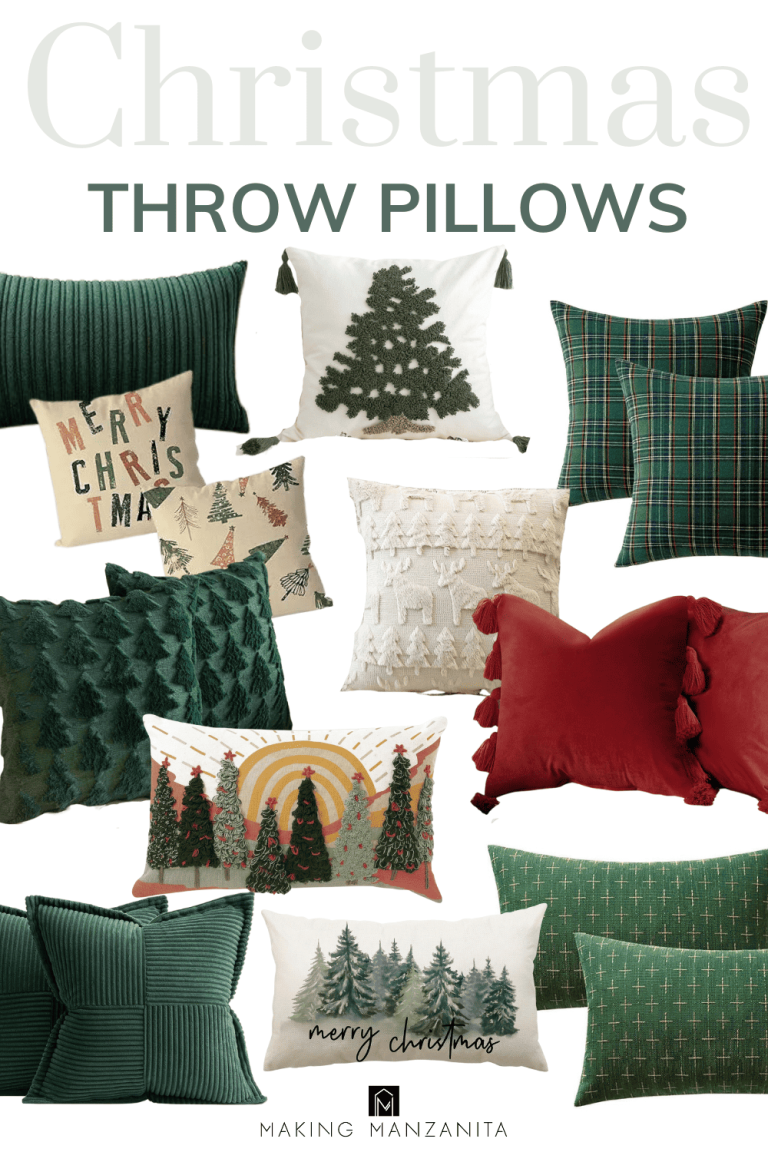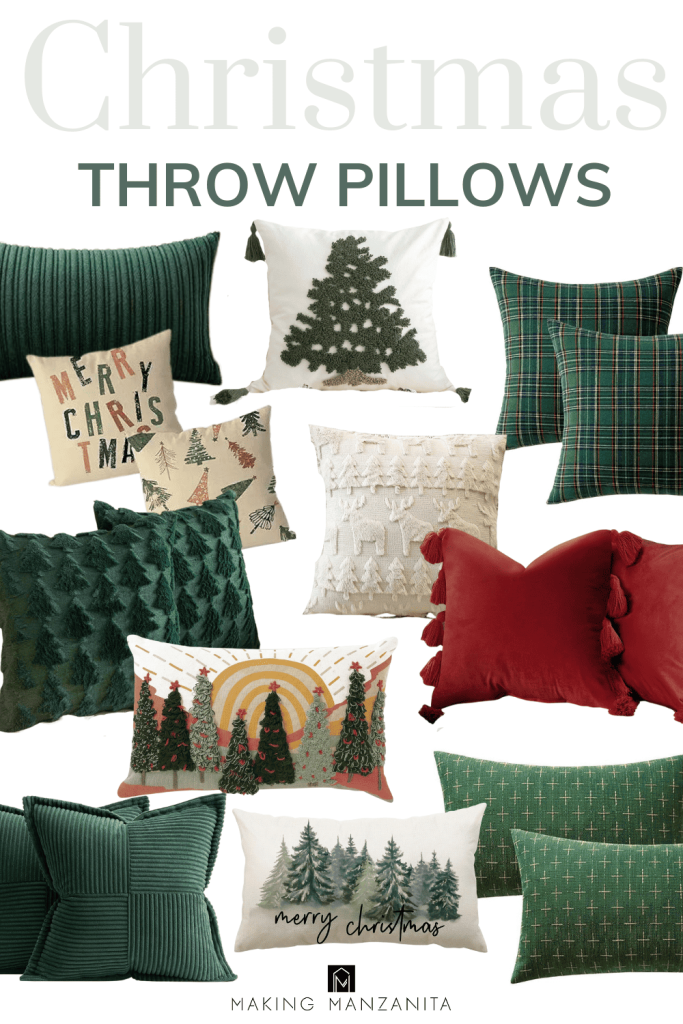 If this is your first year attempting to decorate your bedroom with festive decor, you may want to just start by adding decorative pillows to your bed. It is a pretty low investment and a fun way to add a little Christmas cheer to your bedroom.
If you don't want to think about how to store the festive pillows with your Christmas decorations, just buy pillow covers instead and you can put them right over the existing throw pillows you have! Then just take them off, fold them up, and store them in the boxes with the rest of your holiday decorations.
Shop Christmas Pillows for Your Bed
Just click the picture to see more details.
Holiday Throw Blankets for the Foot of Your Bed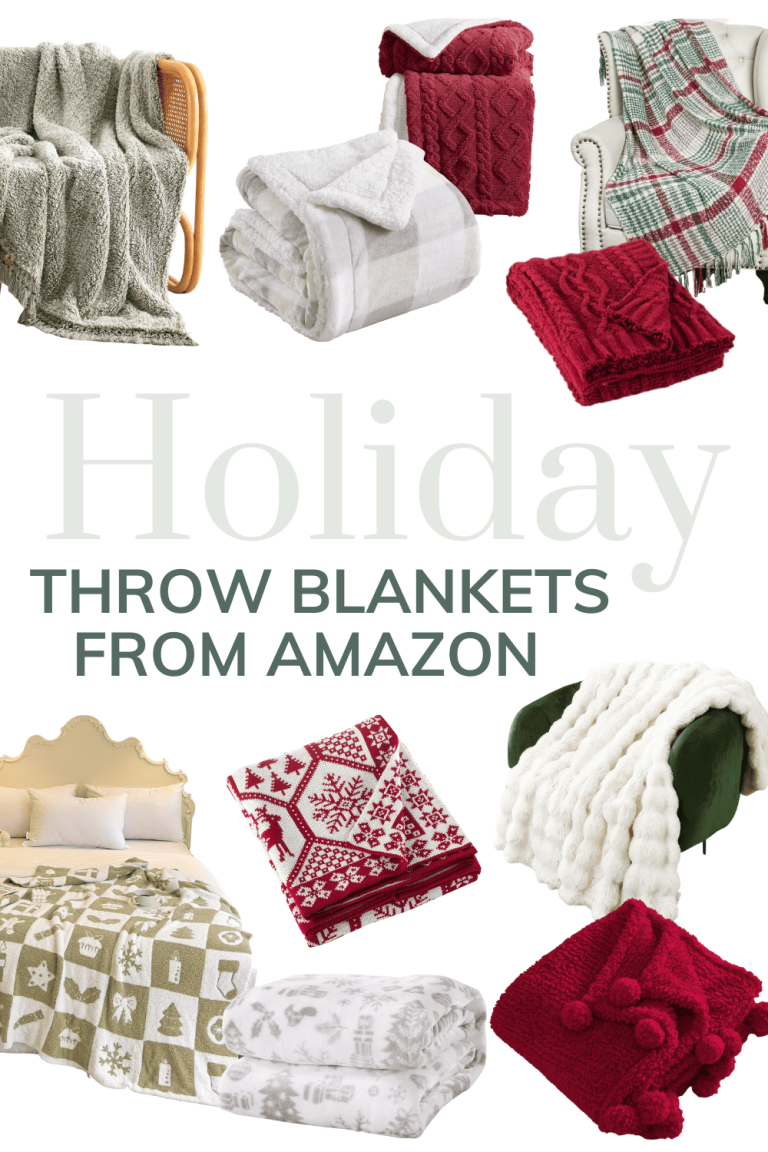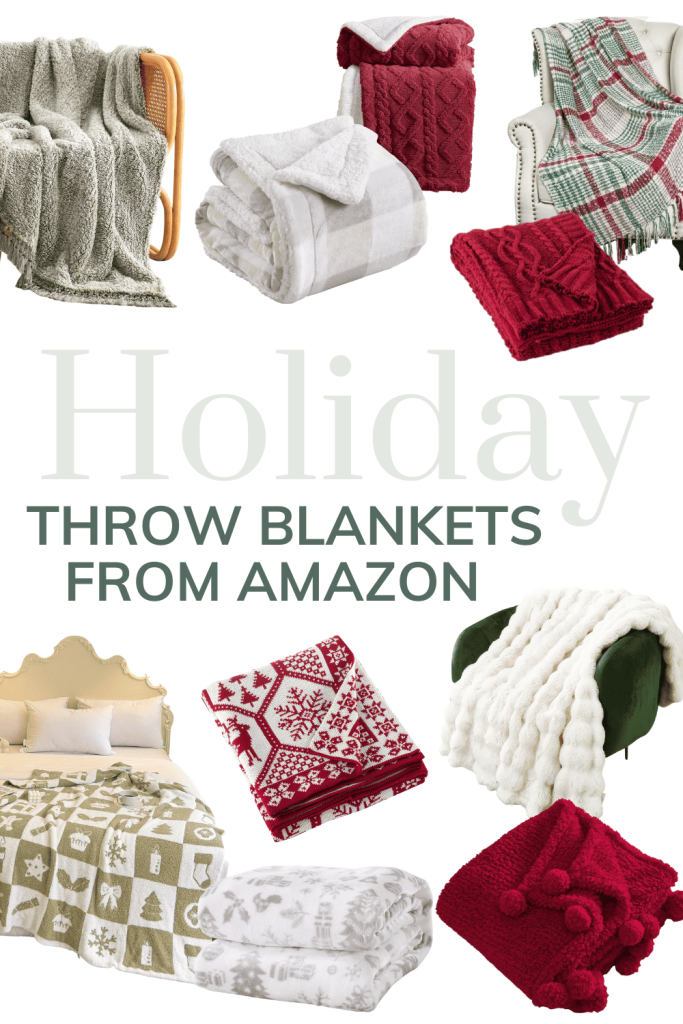 Cozy up with holiday throw blankets that belong at the foot of your bed. These plush and inviting throws not only keep your toes warm but also add a touch of holiday magic to your bedroom decor. I love all of these cozy throw blankets to complete your Christmas bedding ensemble.
Shop Christmas Throw Blankets
Just click the picture to see more details.
Other Easy Ways to Add Christmas Bedroom Decorations To Your Room
Don't want to just stop at switching up your Christmas bedding? Take it one step further with some of these easy ways to decorate your bedroom for the holidays!
Add string lights or fairy lights around your bed frame.
Hang a small wreath on your door or above your bed on the wall.
Add a small tree to your bedroom. Maybe try a flocked tree for extra cozy vibes?
Burn a festive candle.
Put fresh greenery from pine trees in vases on your bedside tables. It will make your room smell amazing!
As we wrap up, we hope you're feeling inspired to transform your bedroom into a winter wonderland. From Christmas comforters and festive sheet sets to adorable pillow covers and cozy throw blankets, Amazon has proven to be a treasure trove of holiday magic.
Remember, creating a festive bedroom doesn't stop at bedding. There are so many other easy ways to add Christmas decorations to your room, like twinkling string lights, holiday-scented candles, and personalized touches. After all, it's the season to be jolly, and your bedroom deserves its own dose of holiday cheer.
So, whether you're dreaming of sugarplums or just a good night's sleep, we hope these ideas have sparked your imagination. Merry Christmas!
Shop Christmas Bedding Ideas from Amazon
Just click the pictures to see more details!
Which of these Christmas bedding ideas was your favorite?
Let us know in the comments below!
Related: Want to see more Christmas decor??