If you love the modern boho style and you're looking for inspiration, you're going to love this modern boho bedroom mood board and reveal! The before and afters are shocking.
This post is sponsored by The Home Depot. All opinions are entirely my own. This post also contains affiliate links, but nothing that I wouldn't recommend wholeheartedly. Read my full disclosure here.
We are finally continuing to make progress on our master bedroom. If you remember back before we started the master bathroom renovation, we started renovating our master bedroom (which is attached to the new bathroom).
First, we replaced the old carpet with new hardwood flooring and then we repainted the walls with this two tone paint makeover. Also, as a part of our bathroom renovation, we built this DIY barn door that hangs out in our master bedroom.
Since we've been so busy on other renovations, the bedroom has kind of been put on the back burner…but now it's time to put our master bedroom back on our minds…front and center!
We're doing a modern boho bedroom style in here and it's turning out AMAZING so far. 
Want to see our other renovation projects? Check out our full home tour here!
We teamed up The Home Depot to give our master bedroom the love it deserves with new modern boho bedroom decor, bedding and furniture.
Also, side note…did you guys even KNOW that Home Depot carried gorgeous decor, bedding and furniture? That is right, they are WAY more than DIY supplies. Most of their decor and bedding products are only sold online, so hop over to their website and check it all out!
Ready to see our modern boho bedroom mood board ?
To get you inspired today, I'm sharing our bedroom mood board for our modern boho bedroom.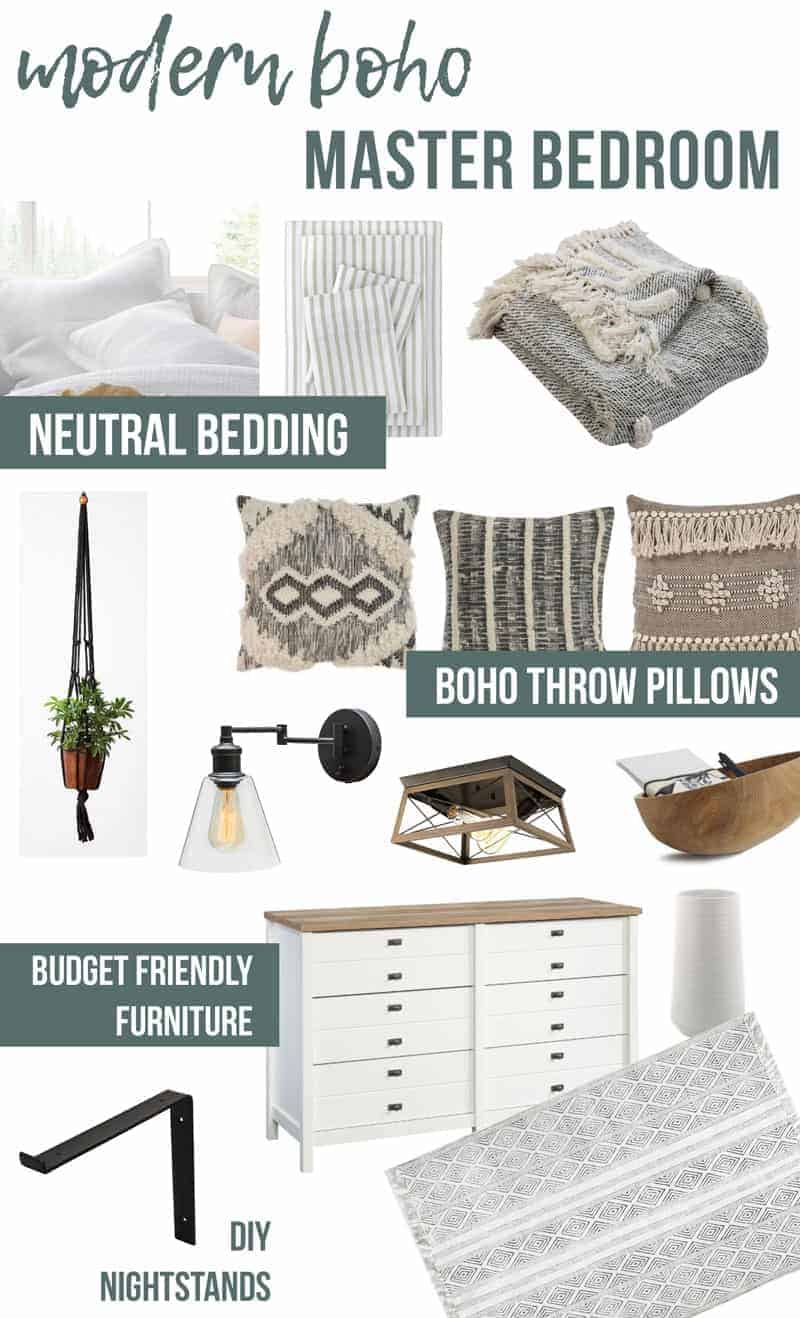 Source list for modern boho bedroom mood board:
We had a blast choosing the items for our modern boho bedroom. We've incorporated fluffy classic white bedding, contrasting boho pillows and a throw blanket, a pretty new dresser, plants, wall decor and more!
The full reveal is up on the Home Depot blog today with TONS of pictures – so go check it out.
Before pictures
Now before we jump into the after pictures with the pretty modern boho bedroom, let's take a trip down memory lane just to see how far we've come.
This is what the bedroom looked like right when we moved in.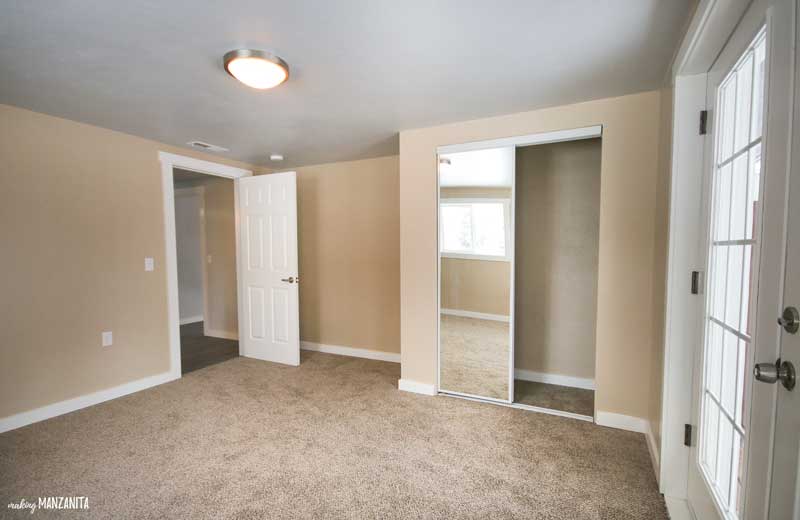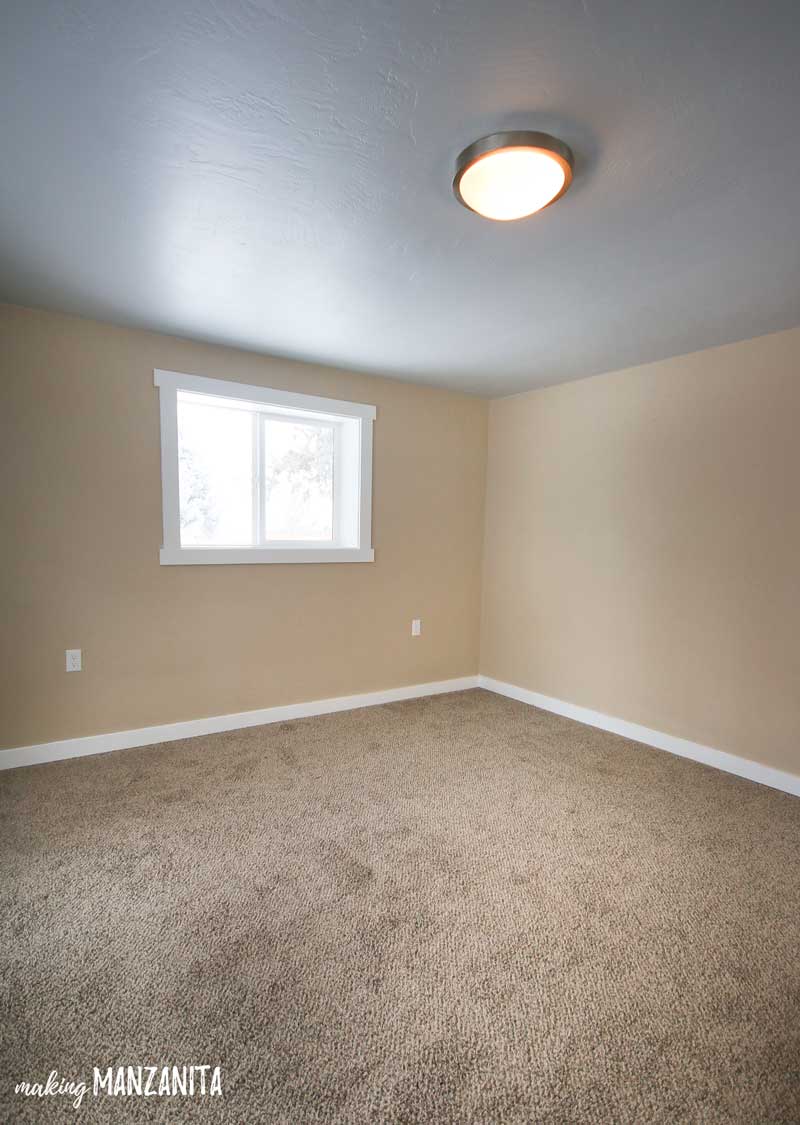 Pretty boring….tan walls, brown carpet, way too small closet.
Then we ripped out the closet to expand into a walk-in closet and pretty much neglected the room.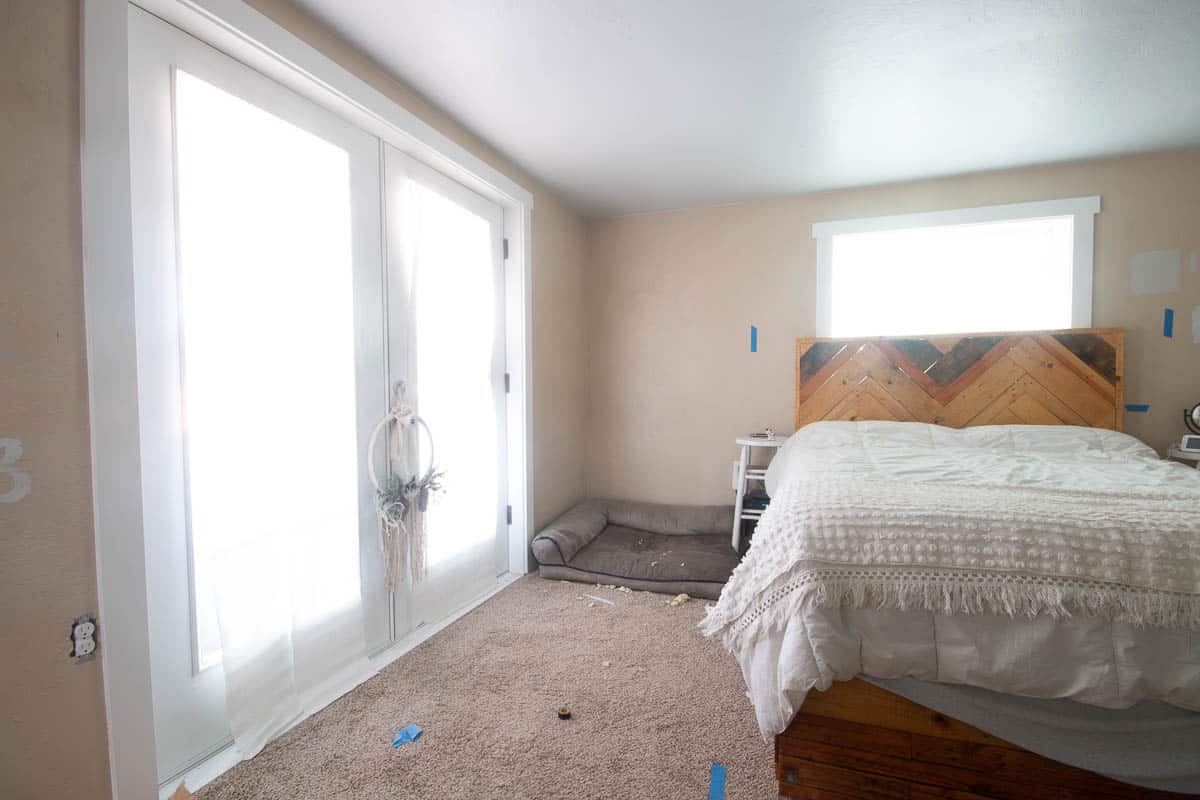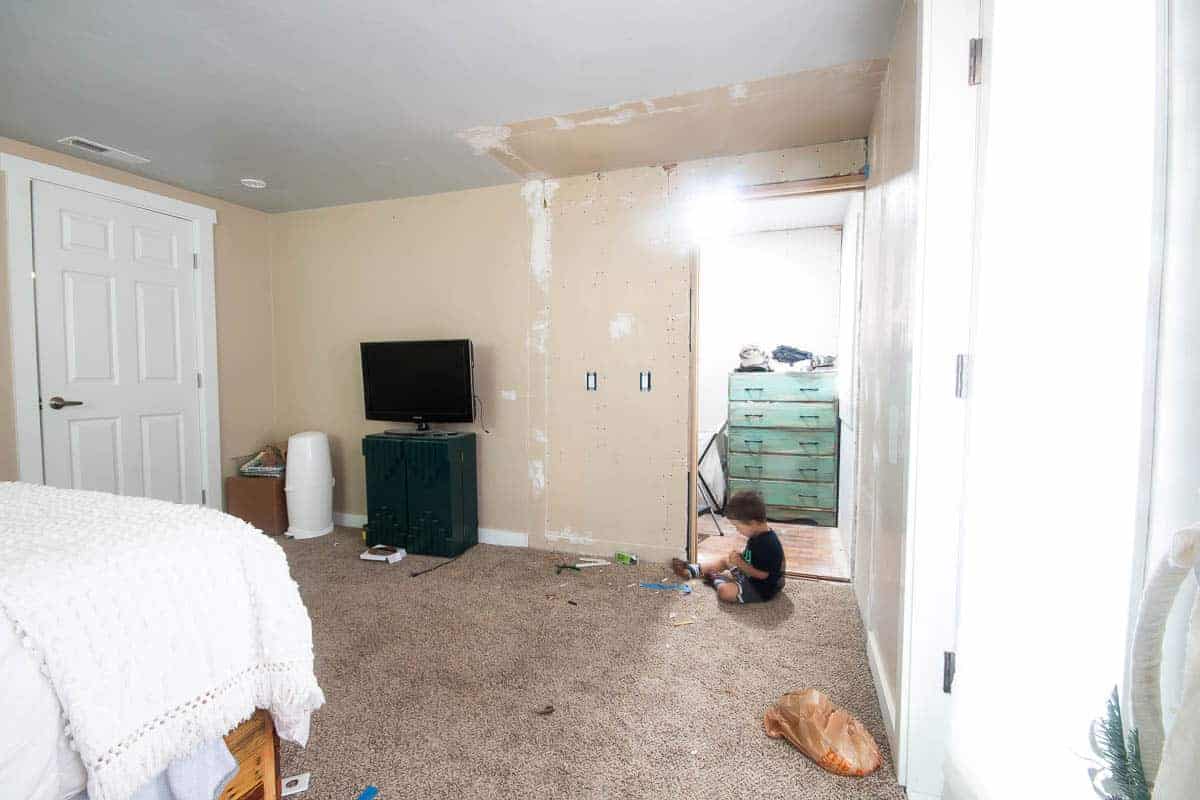 This is how we lived with it for WAYYYY too long (ahem…almost two years).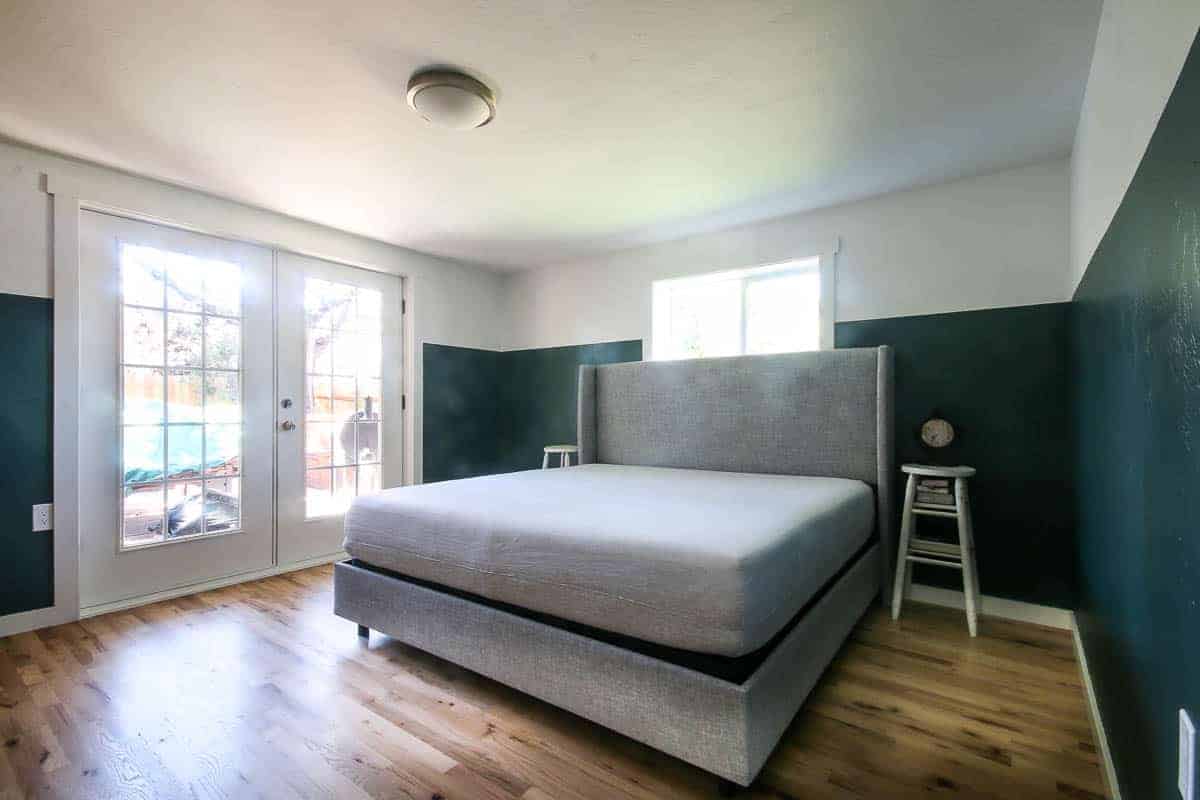 Then we finally got to work in here over the late Summer/early Fall this year with the new cheap hardwood flooring and two tone color block wall paint.
Things were getting better, but it wasn't until we added the new bedding and decor that things really came together and started to feel like home.
Are you ready to see our new modern boho bedroom??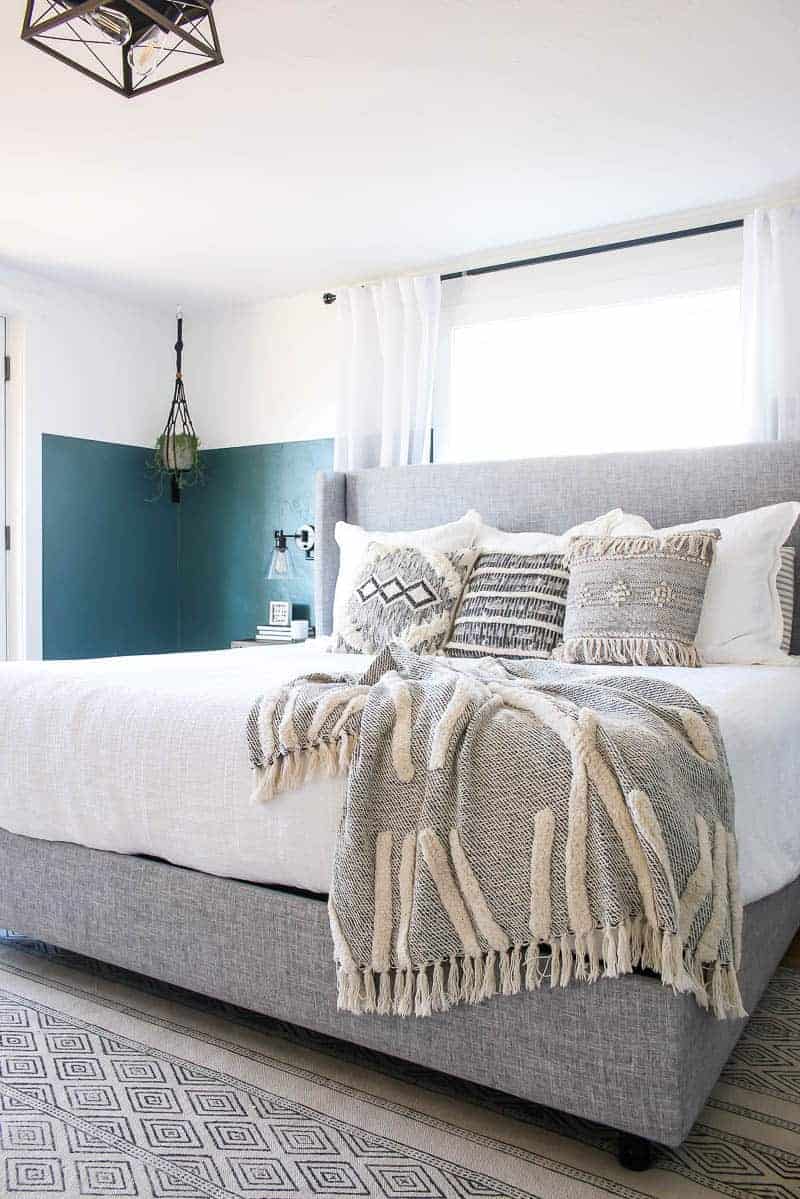 Oh my goodness gracious, right?!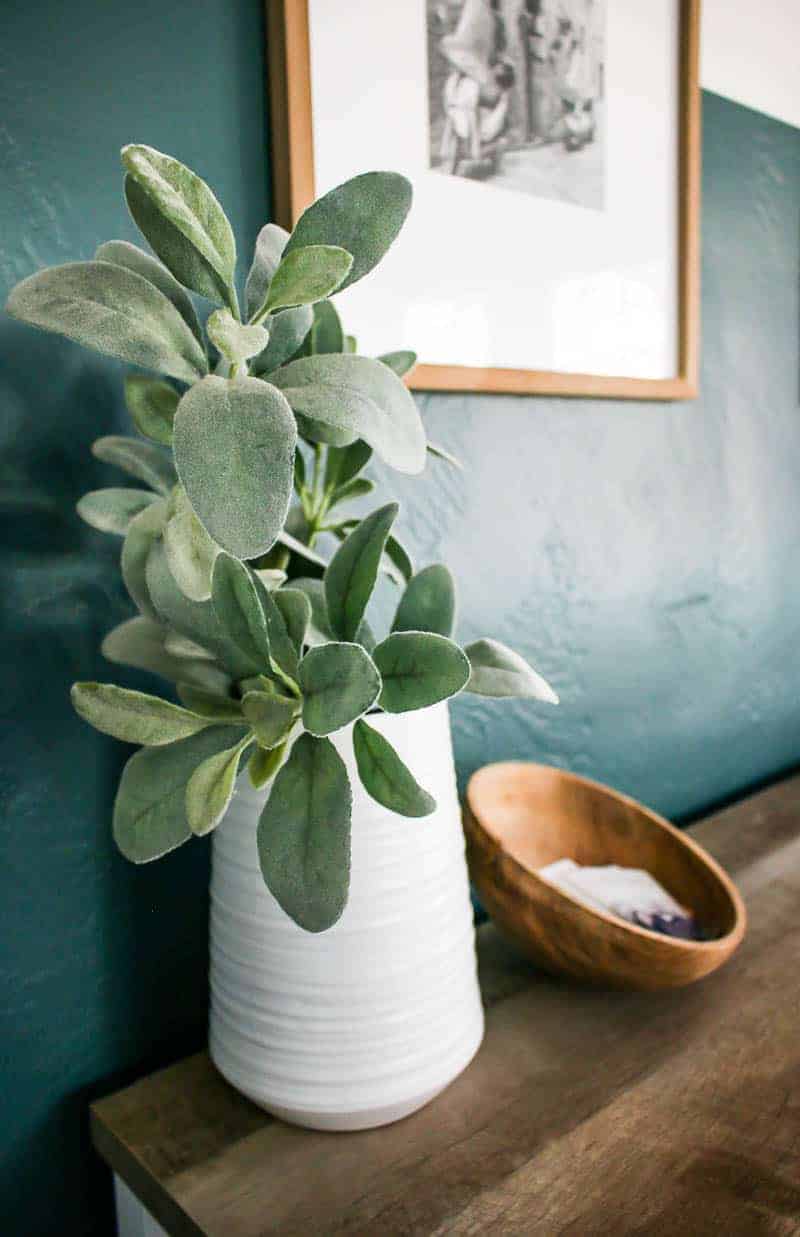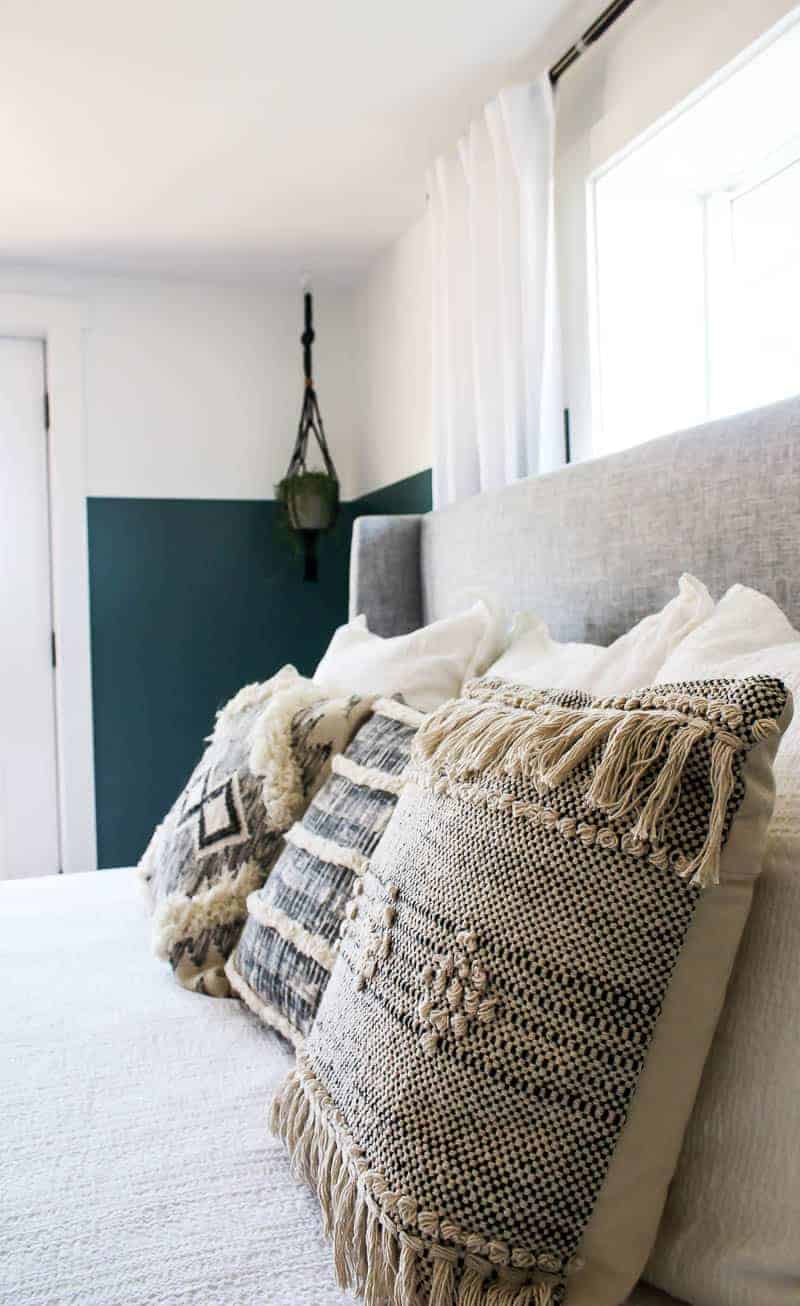 I can't stop staring at every last detail…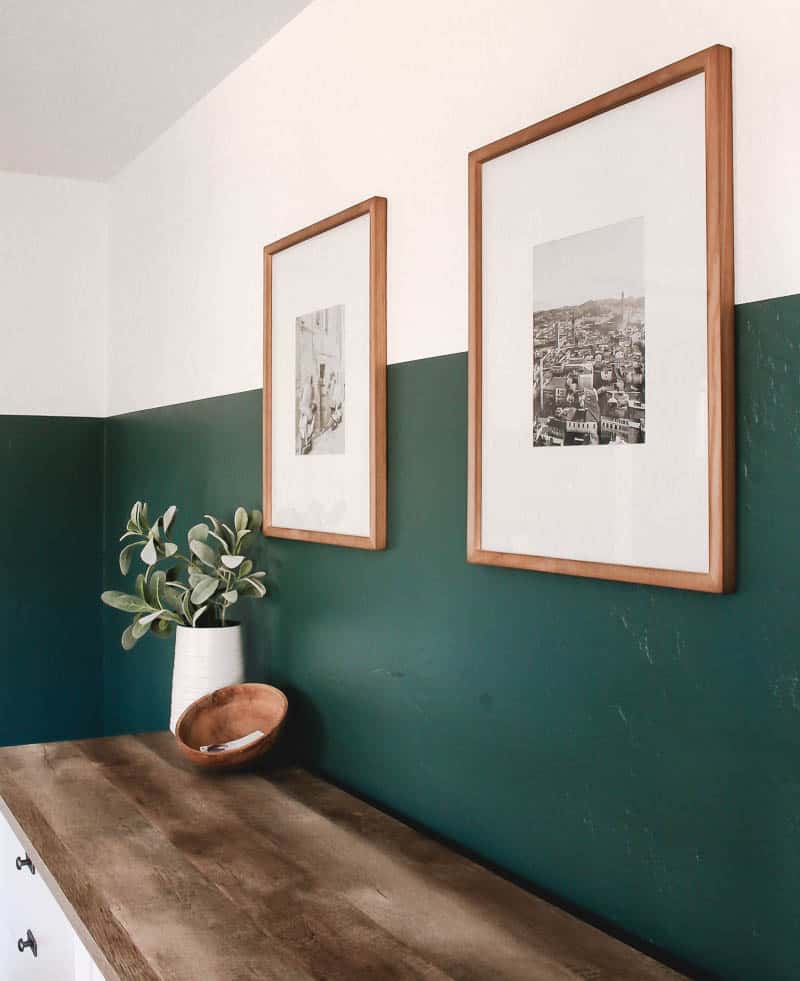 These frames are perfect for some simple black and white pictures with memories from our recent getaway to Italy. They also look great styled on these picture ledge shelves in our hallway.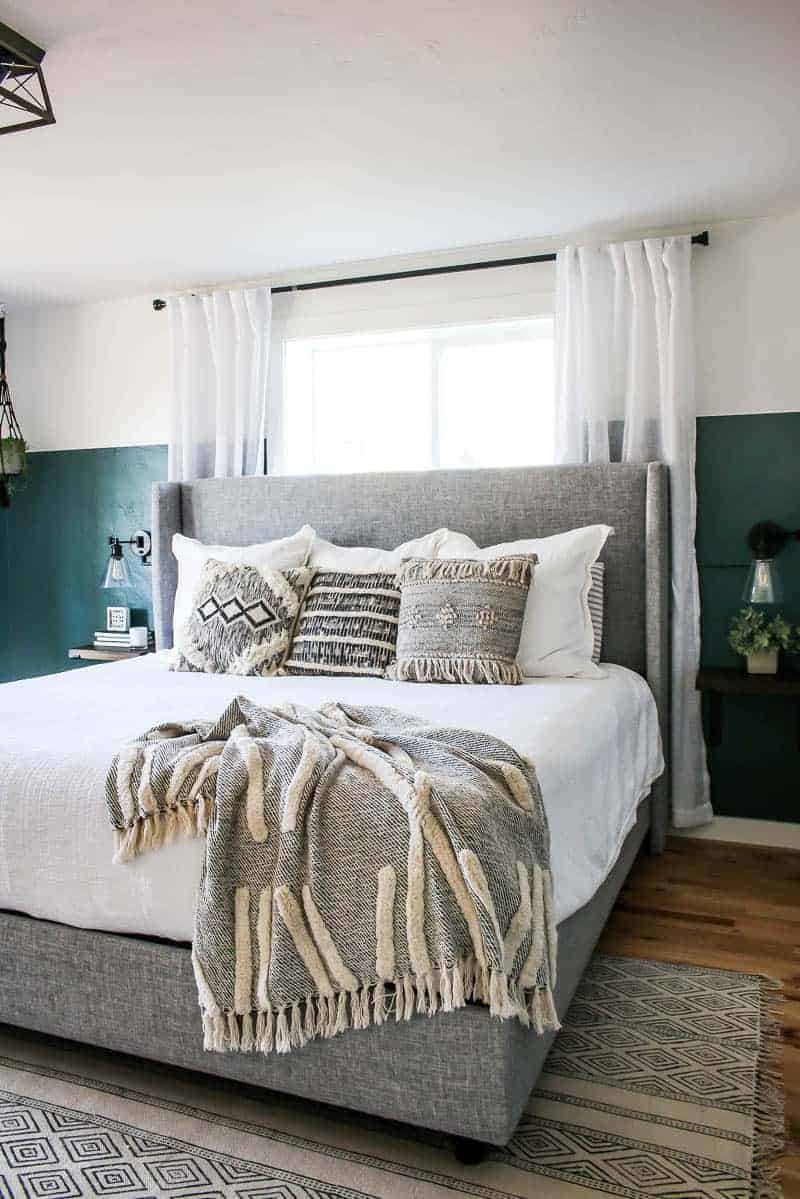 I was definitely struggling having the bed right in front of the window, but it turns out that curtains were the missing piece to really making it work!
Once we added these sheer white curtains and black curtain rod, they framed out the window and added some drama.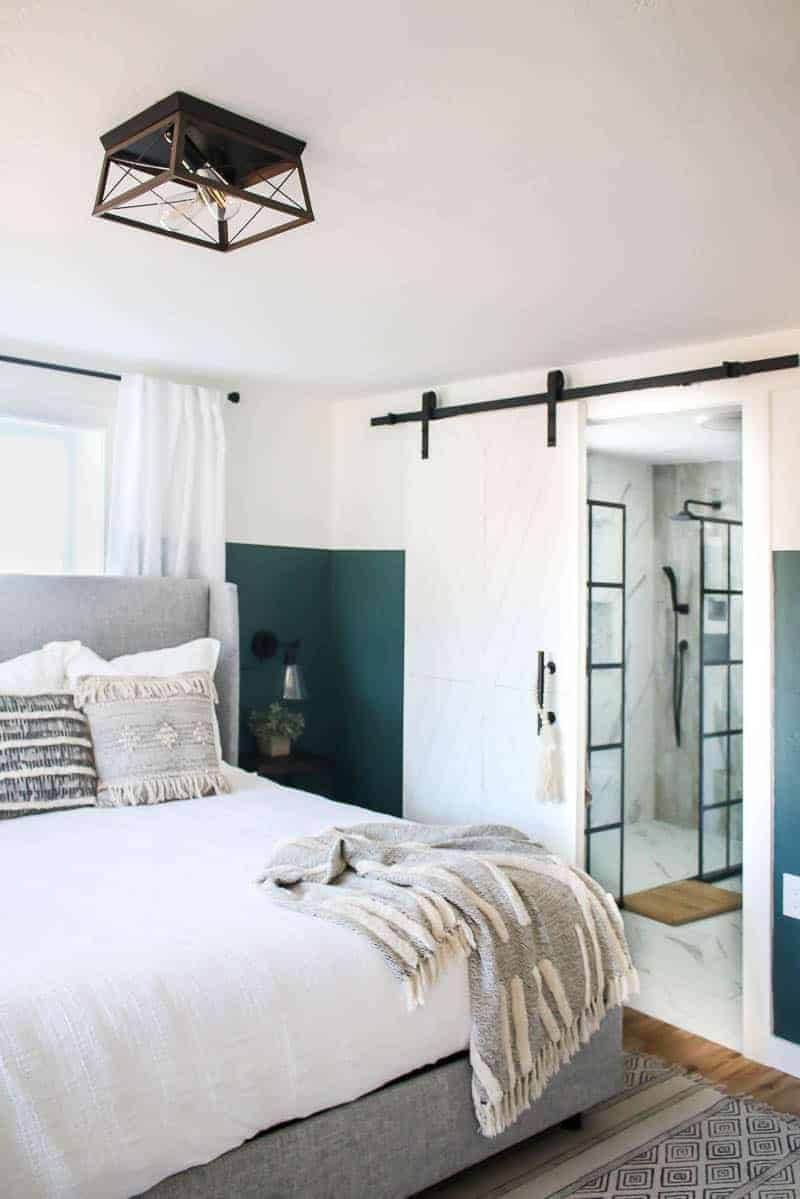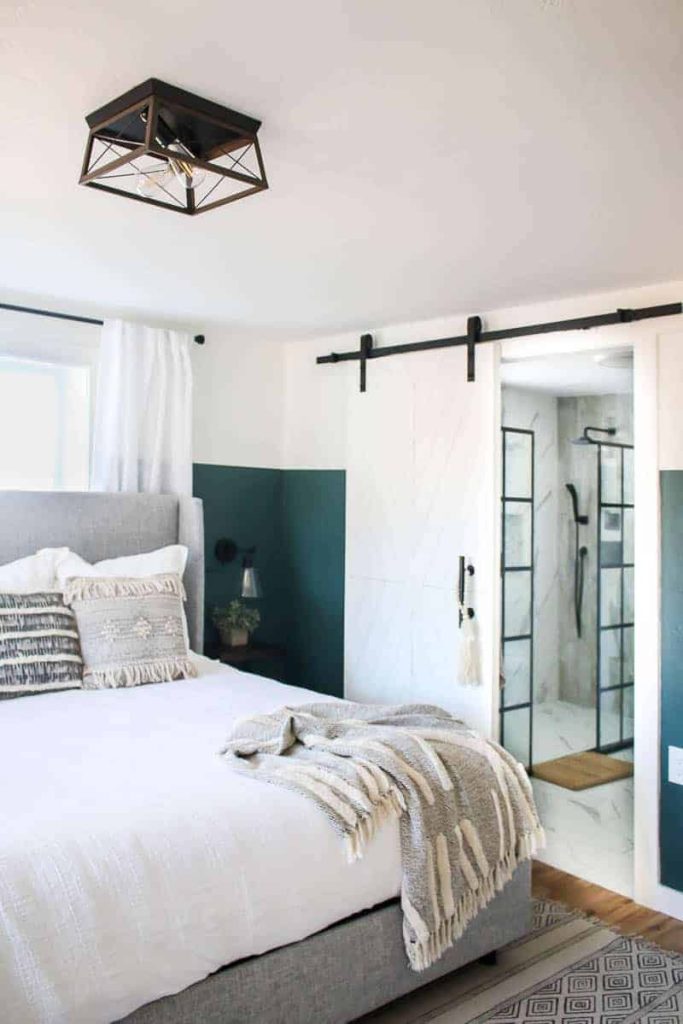 For the last few months, as we've worked tirelessly on this master bathroom renovation, I've been dreaming about the day when I have a super pretty view all the way from my master bedroom and past that barn door into our bathroom. This photo ties all of our hard work together and puts a nice little bow on it.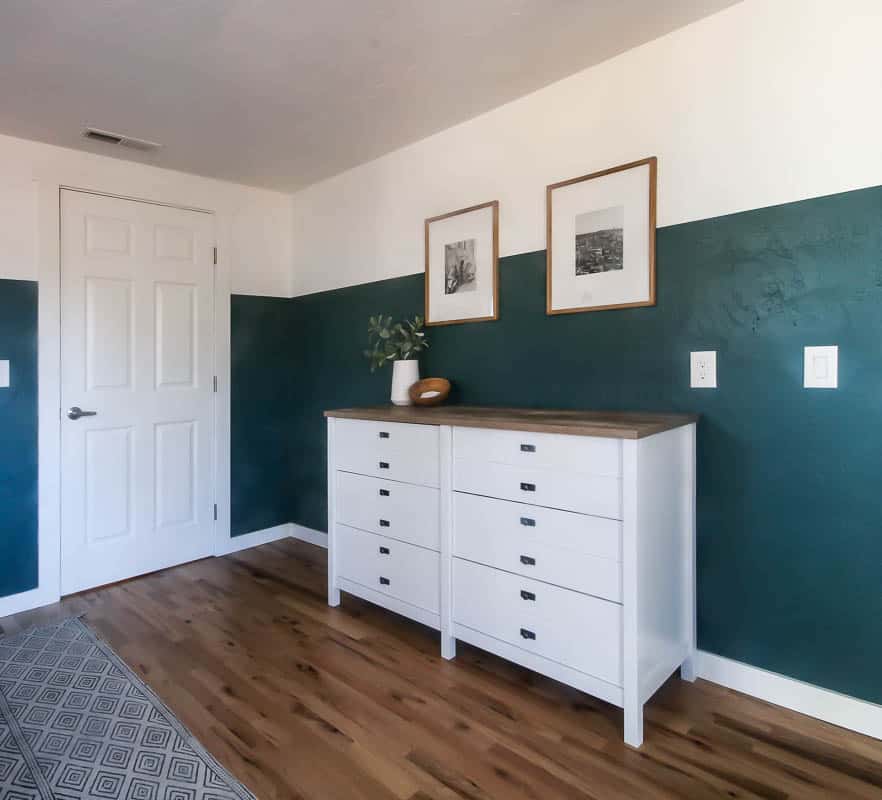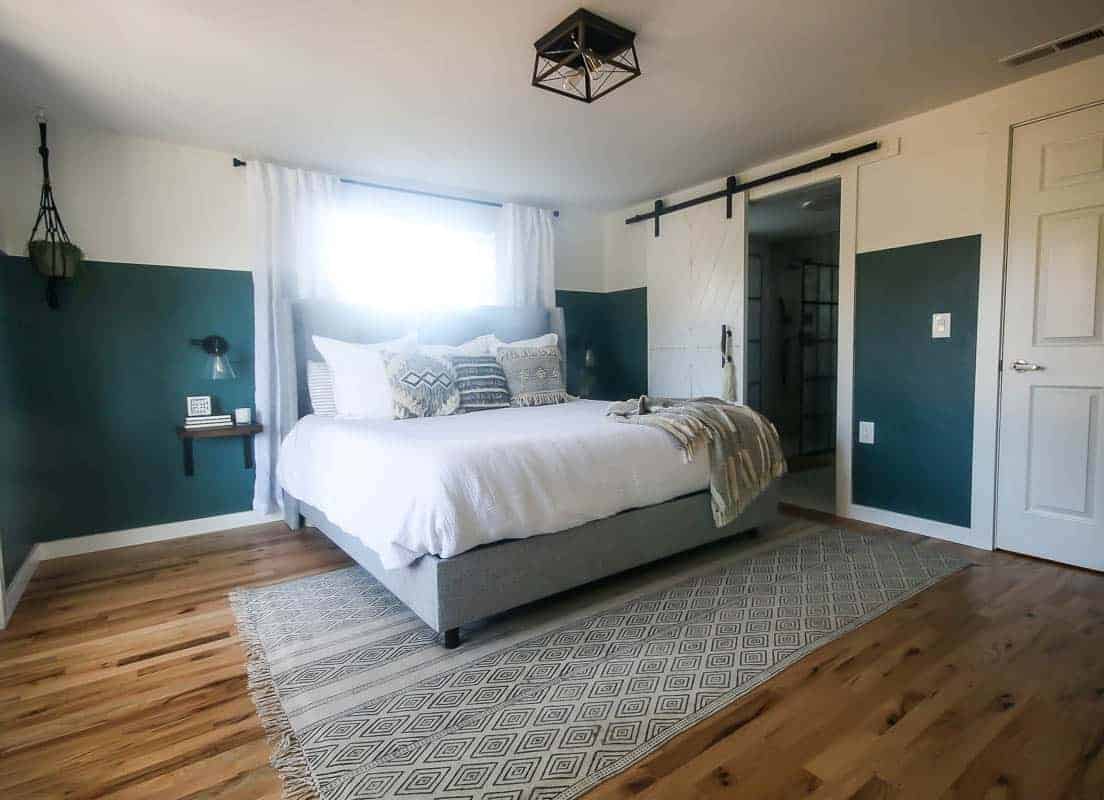 I just CAN'T BELIEVE this is my room where I get to lay my head down at night!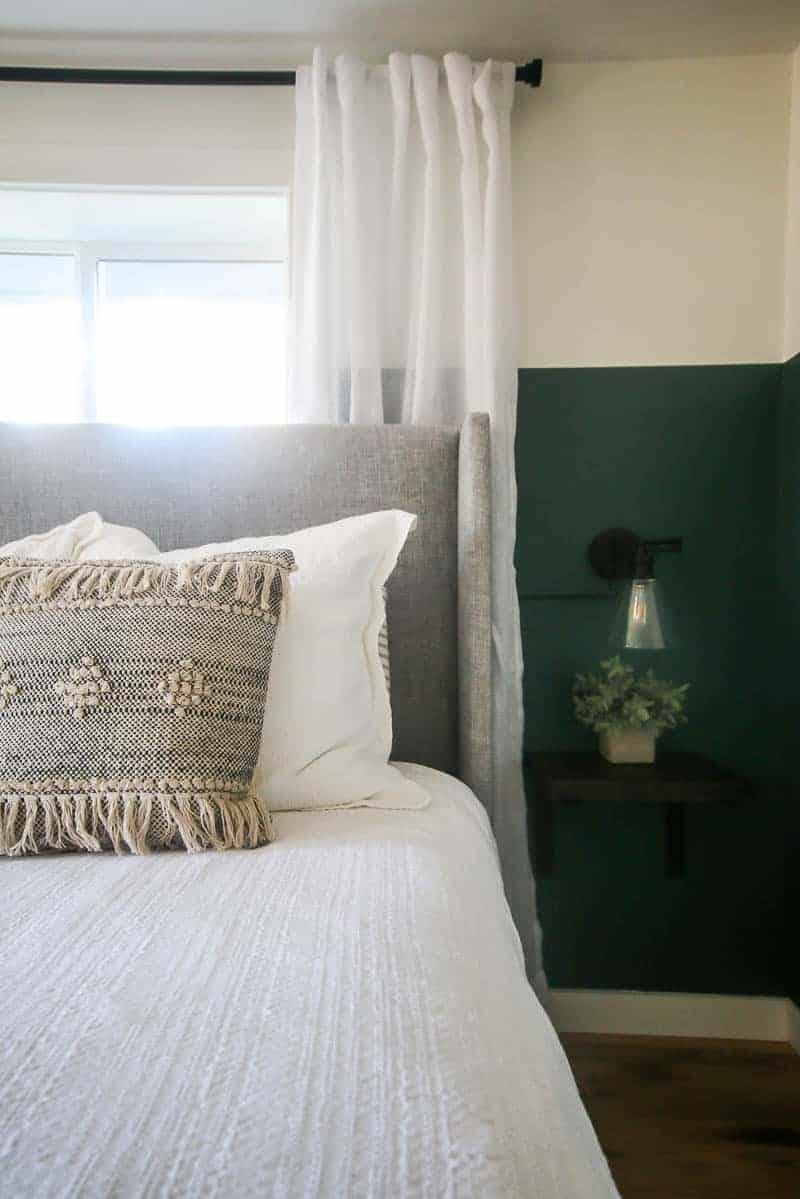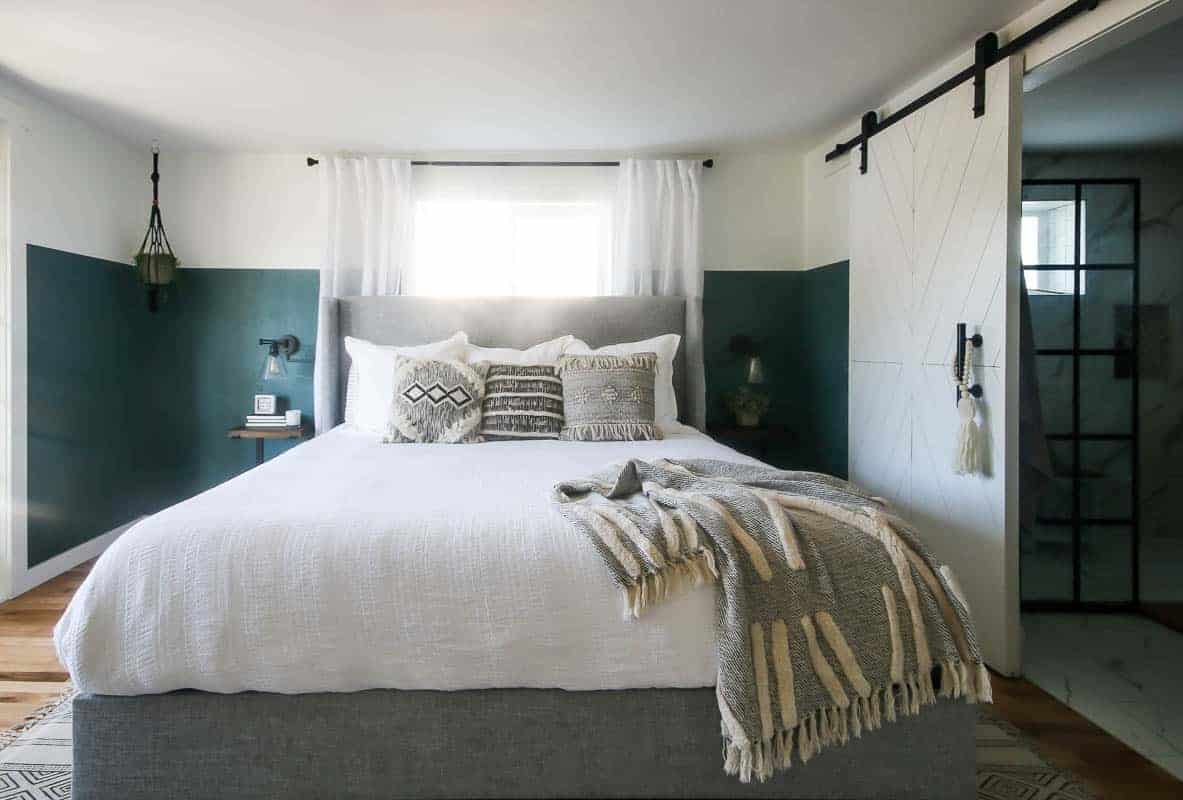 After months of waiting for the end result of our combined master bedroom / bathroom space, it's worth the wait people! The decor and bedding that we incorporated from Home Depot bring style and warmth into the bedroom.
I hope that you are inspired and ready to tackle decorating your master bedroom. Too often, we put off giving the master bedroom the thought that it deserves.
We tend to focus more on the spaces that are seen by guests, but it's so important to have a relaxing oasis at the end of your hectic days.
And just so we don't forgot HOW FAR we've come, let's take one last look at those before and after pictures!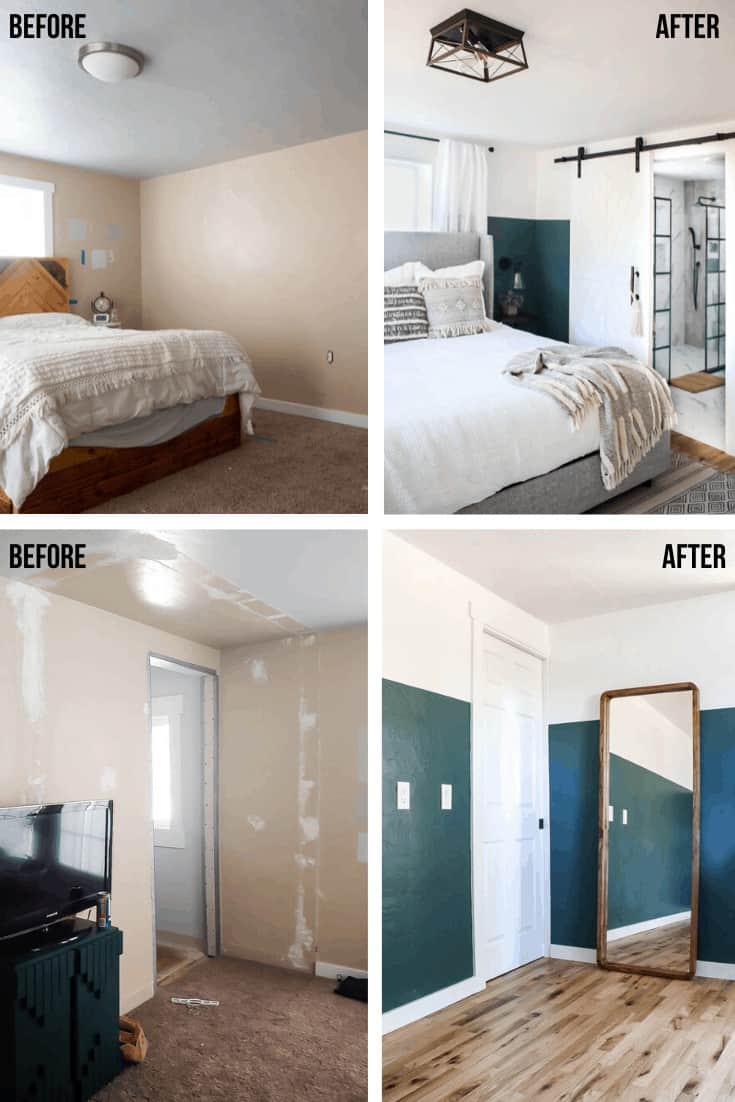 What's your favorite part about this modern boho master bedroom?
Let me know in the comments below!