Picture ledge styling can be a challenge, but here are a few ways you can get started. Picture ledges work almost everywhere in a home, and they are the perfect option to add visual interest and display artwork and photos.
If you are someone who is easily overwhelmed by home decor – specifically by arranging and decorating shelves, picture ledges can change that! These nifty ledges are very similar to floating shelves and can display many different items. They are a great way to decorate a house for cheap!
When you have several photos or art to display, most people opt for a gallery wall. While those are beautiful, they can require a big commitment with the gallery wall layout planning, frame matching, gallery wall styling, spacing, etcetera. There's a lot of nailing for the picture hanging, too.
Decorating with picture ledges is easy! Simply arrange the items the way you want, then switch up the wall decor up whenever the mood strikes – without adding or patching nail holes! Plus, you can save a few bucks and build a custom wooden picture ledge DIY with your own style and color.
Picture ledges are a great way to utilize vertical space, and, therefore, great for small spaces, awkward walls, or long hallways. You can finally display all of your really cool items that deserve to be seen!
Wondering where these shelves are in our house? They are in the hallway on the way to our master bedroom where we added this hallway cabinet for extra storage to a couple years ago!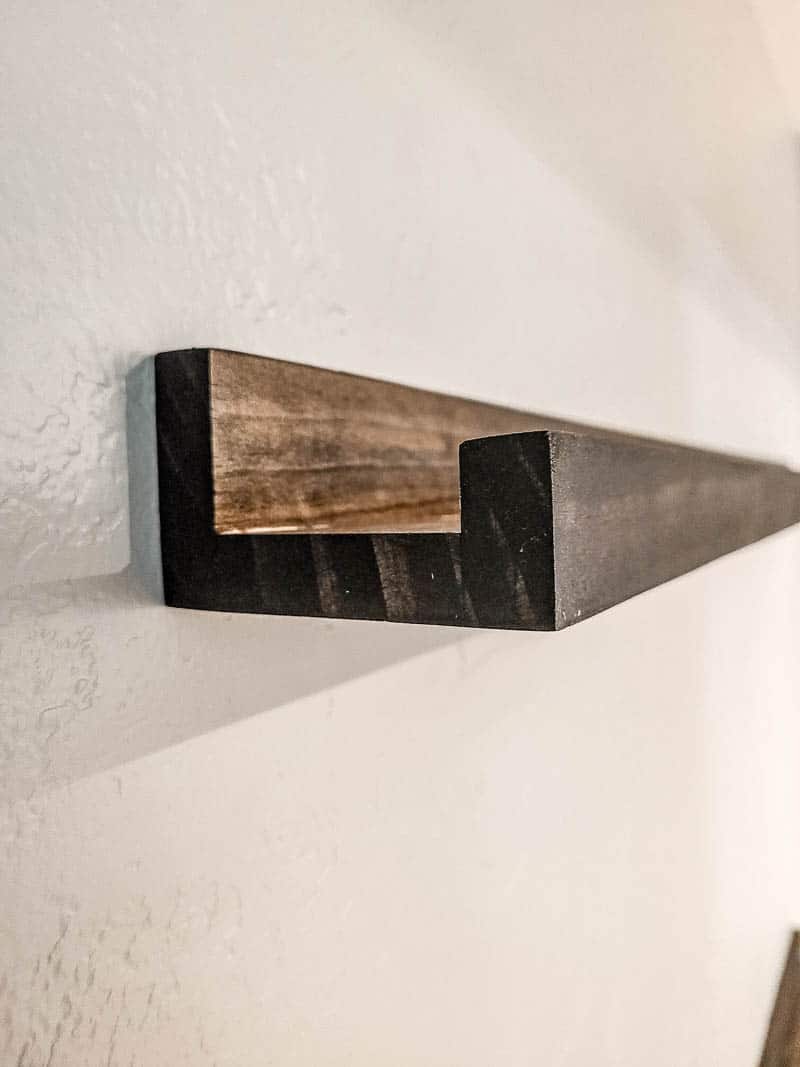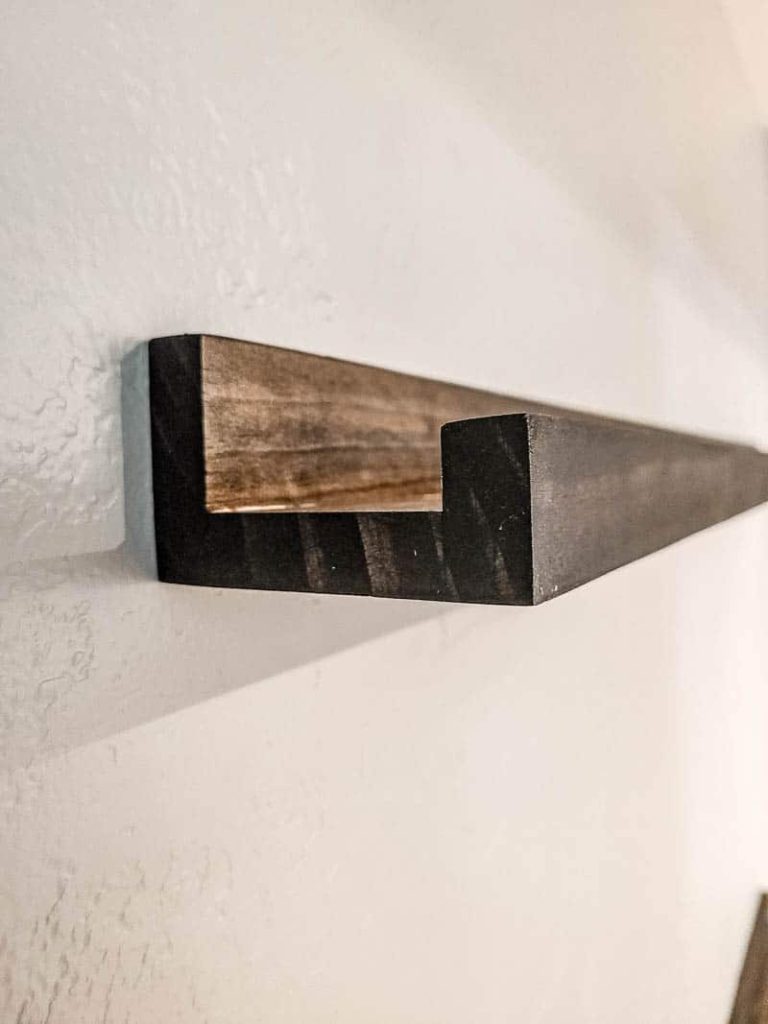 How to Decorate a Picture Ledge
A good rule of thumb for styling picture ledge decor: use a mix of art, family photos, books, trinkets, mirrors, vases, and other items to keep it balanced.
When decorating and playing with different pieces, I try to alternate with one piece of art, one photo, one graphic print, and one plant or trinket for each shelf. You will more than likely take away and add things as you go, but that's all part of the process.
This picture ledge styling tips article contains affiliate links, but nothing that I wouldn't recommend wholeheartedly. Read my full disclosure here.
How to secure items on ledge shelves
Like I said, the great thing about these shelves is that no nails are required for the decor. I recommend using a few velcro Command Strips to keep your arrangement in place.
After you have everything in its place, apply command strips to the wall where the frames will meet the wall and under any item that could topple over like we did with this painted vase. Then, apply the other part of the strip to the back of the frames and items where they overlap, like I did in the video below.
Use small, clear plastic command hooks on top of frames or tucked behind, to secure items like garlands or banners.
With the versatility these shelves offer, there are a lot of spaces where a picture ledge will fit. Generally speaking, the size of your picture ledge will be determined by the space you are decorating.
If it's a tight space, go for a smaller shelf with fewer items.
If it's a larger wall, go with longer shelves and larger items.
For taller spaces, don't be afraid to utilize vertical space and display taller items or add multiple shelves.
Decorating with picture ledges is a great way to fill in an empty space. Here are a few tips we've learned along the way.
Tip #1: Choose a color palette
Telling a "story" with the colors you choose will help your picture ledge decor come together easily and make it feel cohesive.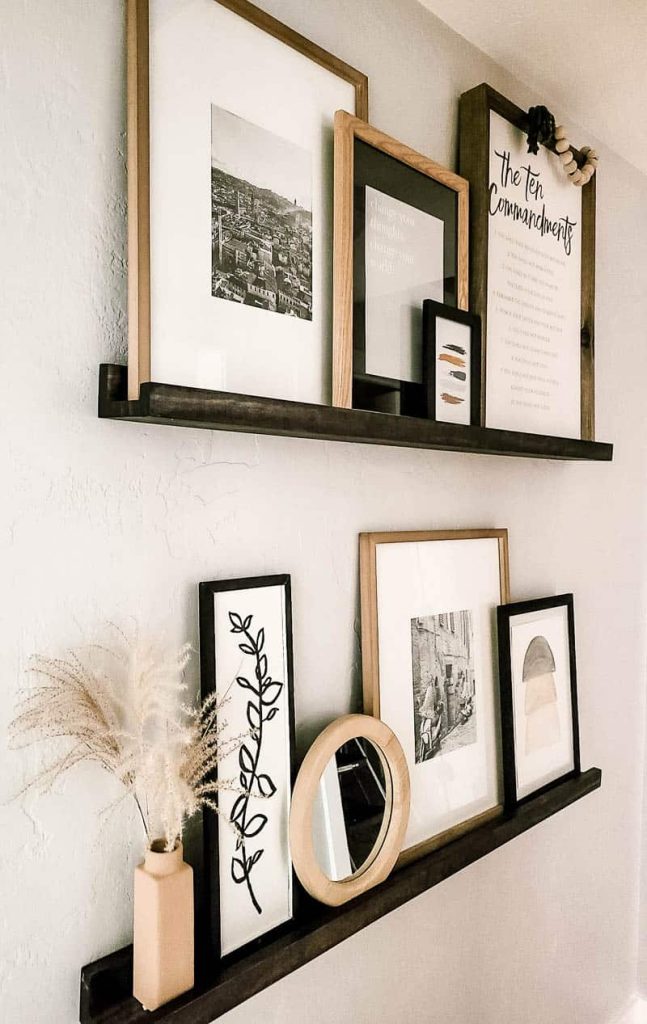 Start by choosing a color that's already incorporated into other places in the room. Pulling inspiration from the existing items in the room will create a cohesive look that blends well with the other decor.
Look around the room and consider furniture patterns, paint colors window treatments, and other decor items. Once you have this color scheme, you can begin crafting the "story" that brings the room together. With your complementary color, you can go all one color for a monochromatic look, use neutrals with a pop of that color, or bring in different shades and hues.
Just remember to keep it simple and don't overwhelm the eye with too many shades.
Tip #2: Use varying heights and sizes
As you are adding items to your shelf, bring in varying sizes and heights. For example, use a large 18×24 frame as the "hero piece", then layer smaller items around it.
This picture is a great example of using one or two focal points, then filling in the spaces with smaller items, like this painted vase and wood bead garland.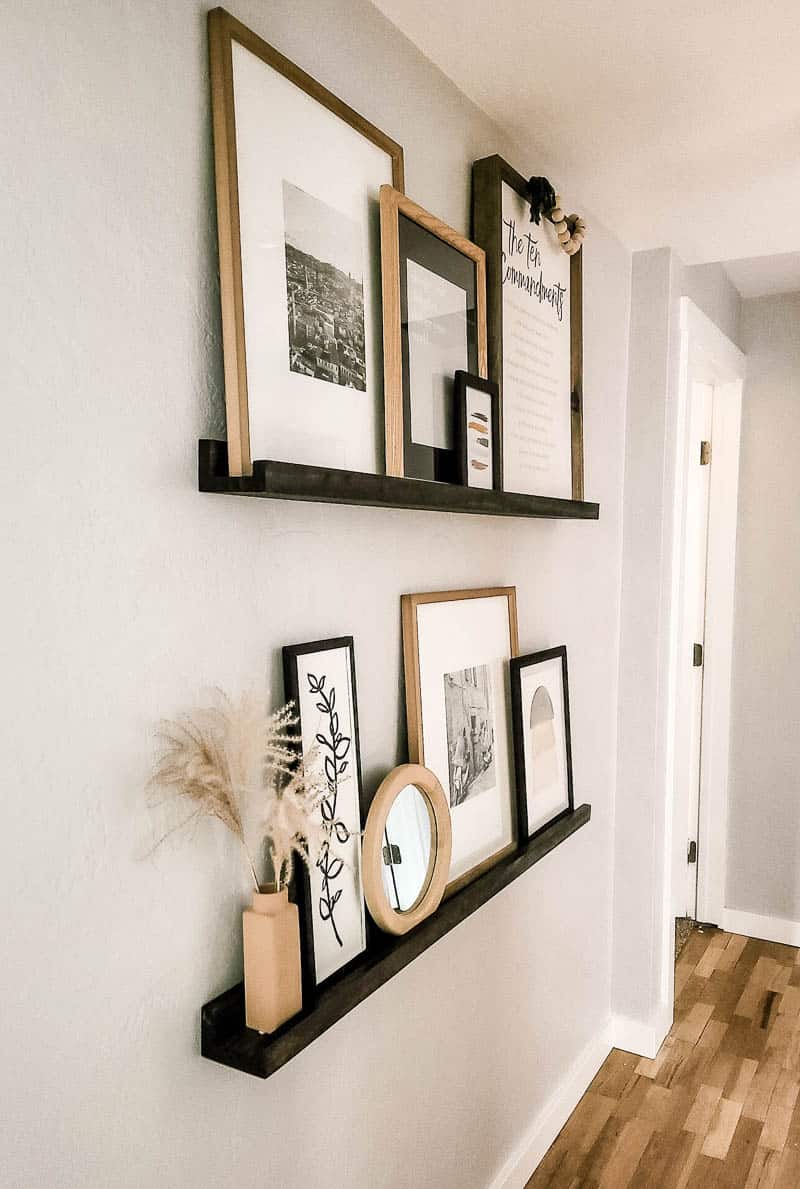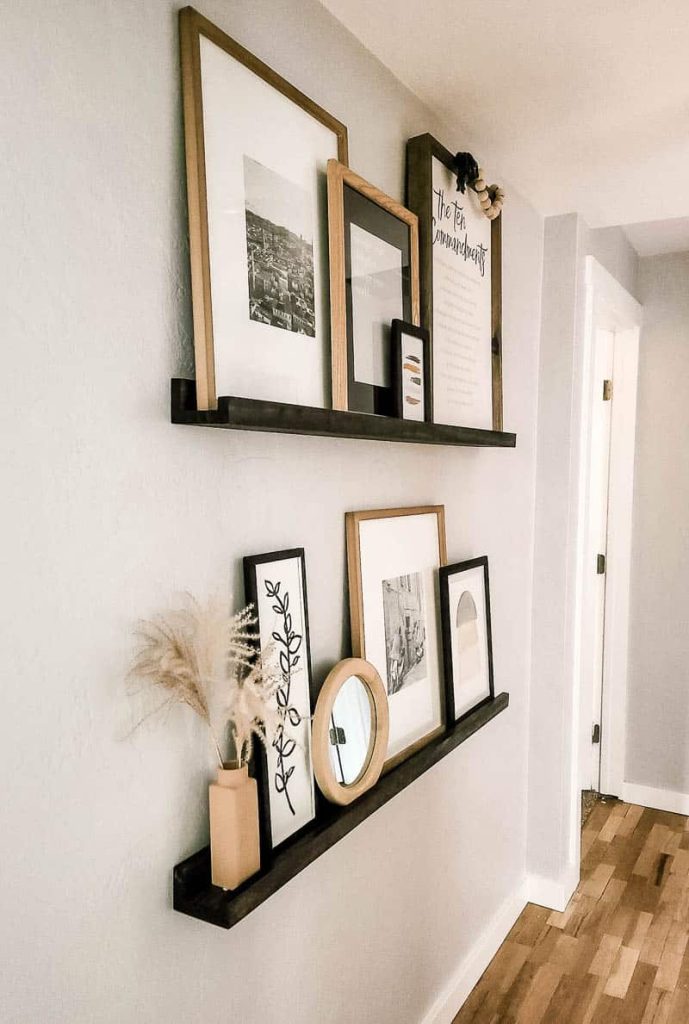 Plus, this is an excellent opportunity to display old family photos that may not be in a standard photo size. Because these sizes can be somewhat awkward to display on a grid gallery wall, these are excellent for filling in spots on picture ledges.
Tip #3: Make your own art
If you need "filler art", make your own! I love this option because you don't have to be super artistic, you just have to know what you want.
I needed to fill in a few spots on our ledges, so I created this abstract watercolor painting. It was so easy to make and I got to choose exactly the look I wanted! I used a thrifted picture frame that was way cheaper than a brand new one. Plus, I can repaint it whenever I choose to switch things up.
I also added a thrifted vase I repainted. It's amazing how baking soda and paint can transform an old ceramic piece into something so pretty!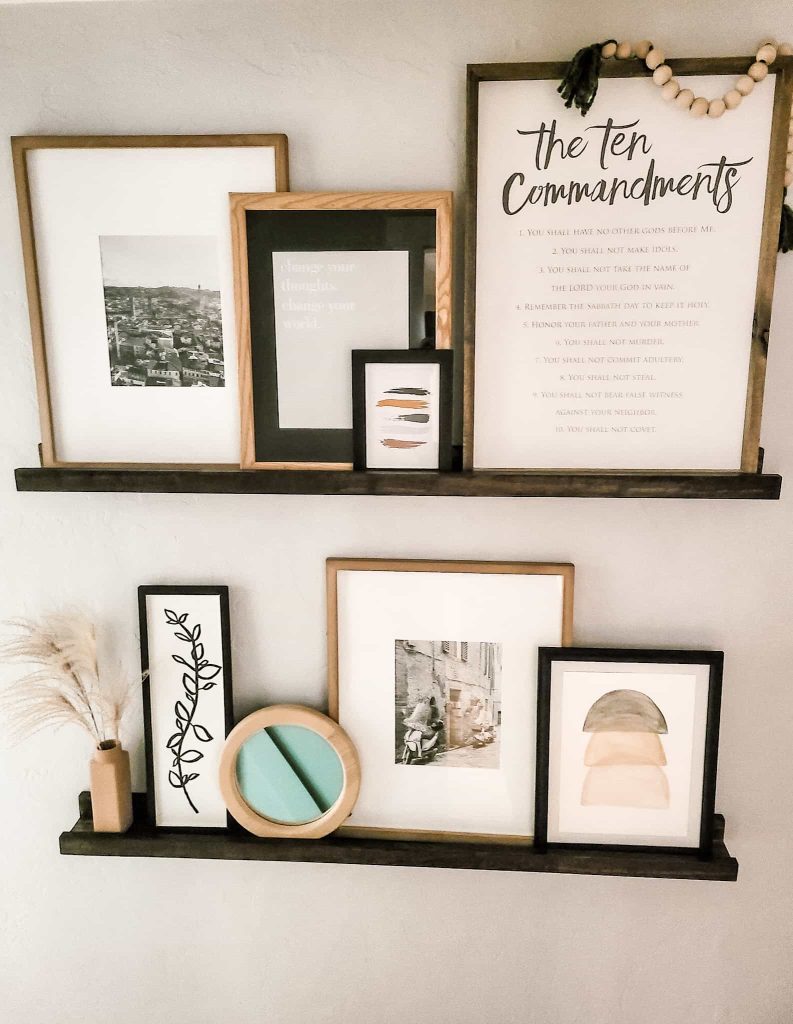 Tip #4 Use printable art
Printable art is a great way to fill in empty spaces or balance out the ledge. This just may be my favorite picture ledge styling tip, but you know what they say? Save the best for last!
There are so many awesome designs available to print online or you can design your own using software. My favorite place to find printable art is definitely Etsy, in fact I even have printable art available in our Etsy shop, including this Change Your Thoughts Change The World print that you see on our ledge shelves.
But even outside of my Etsy shop, there are SO many options for printable art of every style on Etsy and most are just $2-7! All you have to do is order it to the exact size you need, place in a frame, and display.
I love using these narrow shelves to display different pieces of artwork and decor in our hallway. They add so much character and modern boho decor style to an otherwise boring and blank wall.
Which of these picture ledge styling tips is your favorite?