Looking for a quick easy Spring home decor hack? Make a DIY moss bowl! They are perfect for decorating your coffee table, dining table as a centerpiece, or on your bookshelves.
When it comes to decorating your home for Spring, I'm all about MOSS! A couple of years ago I redecorated the shelving unit in our living room with several clear glass vases of moss, faux flowers in vases, and lots of vintage books. To take the moss theme even further, I cut out the word "grace" from sheet moss and attached it to a sign.
This year I wanted to use moss again in my Spring home decor, but wanted something a little more subtle. I whipped this little easy DIY moss bowl up in just a few minutes using a thrift store wooden bowl and leftover preserved moss from another project (this fun succulent wall decor in our modern bathroom).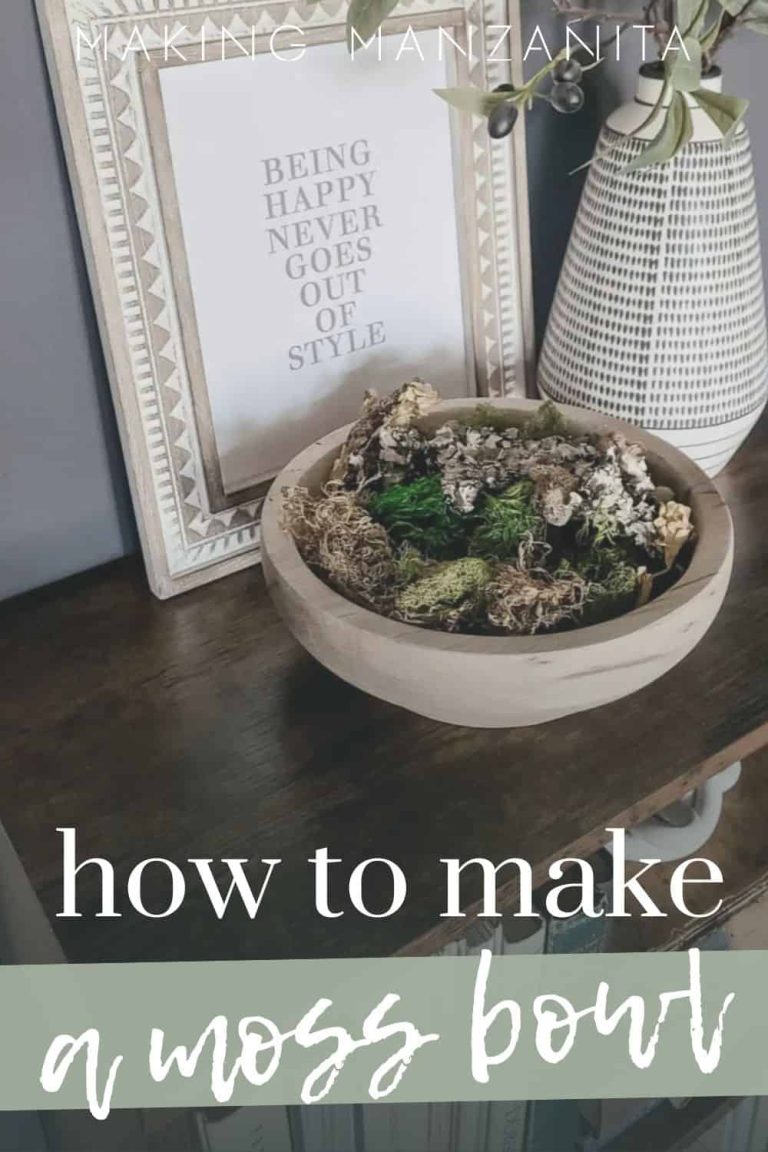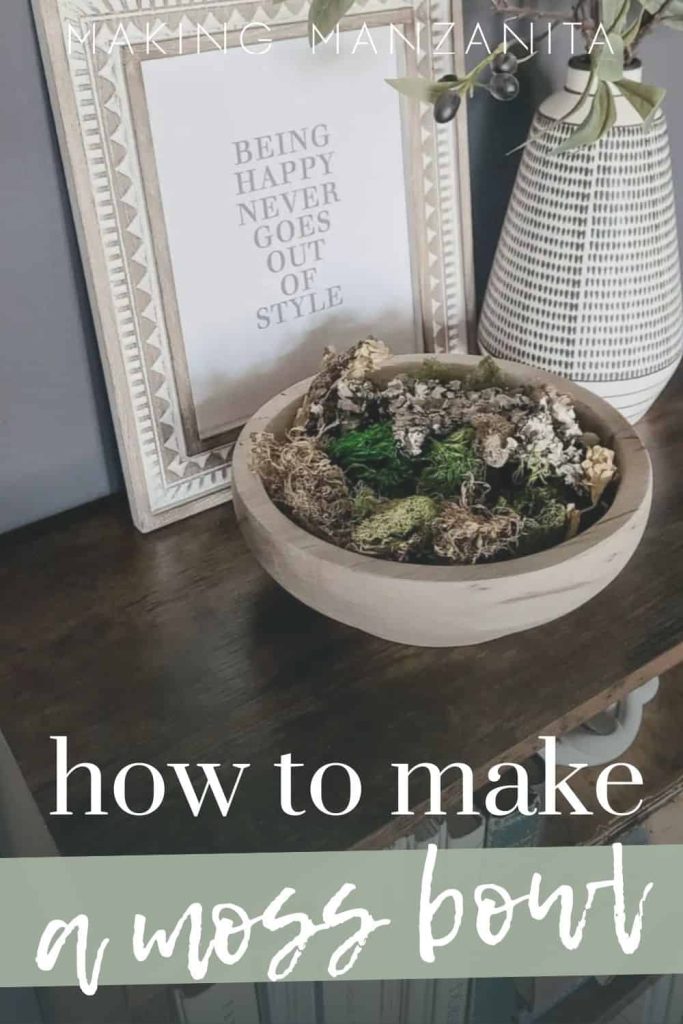 Before picture – wooden bowl from thrift store
I snagged this decorative wooden bowl from a thrift store several months ago for $4. When I first found it, I knew that I didn't love the shiny finish so I had plans to sand it all off.
A few months ago, I then attempted to make some DIY candles and used this bowl as a bass for the candle. That project was a failure and I never ended up sharing it. Not sure if it was the wax I used or the amount of fragrance I added, or the number of wicks I had (or a combination of all three), but there was major "tunneling" and it melted straight down. The good news is that the wax was really easy to simply pop out of the wooden bowl so I could reuse it for this moss bowl project!
How to make your own moss bowl – quick video tutorial
If you love DIY videos, don't forget to subscribe to our YouTube channel!
This DIY moss bowl tutorial contains affiliate links, but nothing that I wouldn't wholeheartedly recommend anyway! Read my full disclosure here.
DIY moss bowl – step-by-step tutorial
Supplies for DIY moss bowl
Step 1. Sand bowl (optional)
I love the combination of the raw wood look with the natural look of the moss, so using a wooden bowl is a great option.
You can very easily find these types of wooden bowls at thrift stores, but they almost always have a shiny finish or they have been stained a color that you don't love.
To get your thrifted wooden bowl down to the raw wood, you can sand it!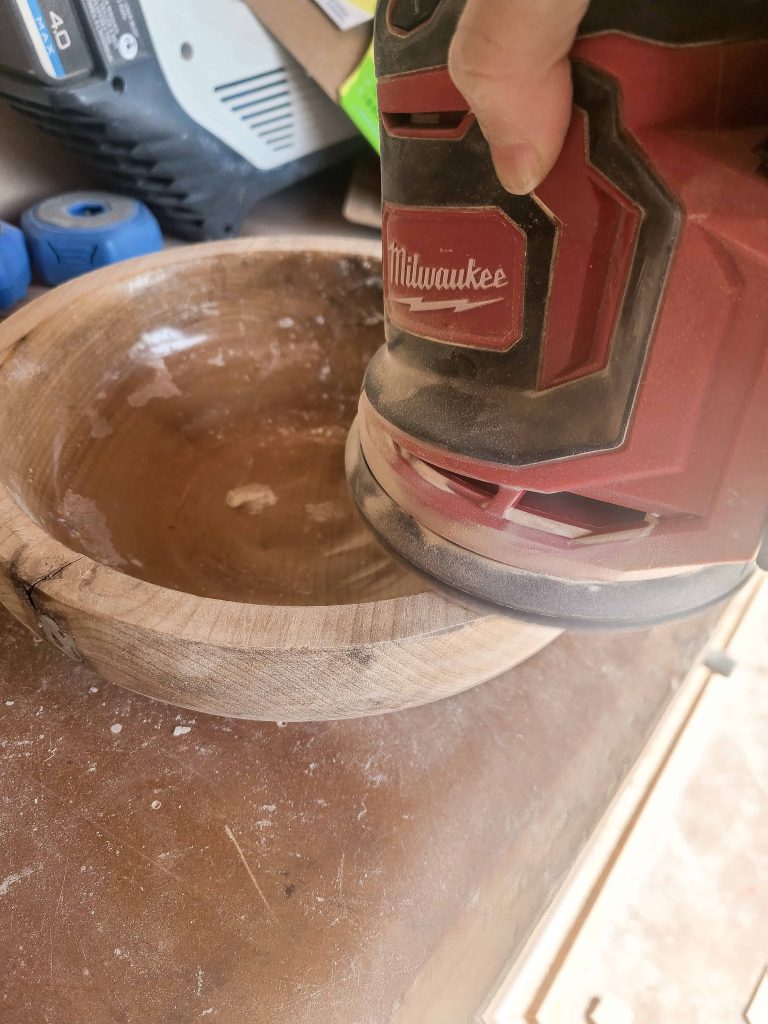 Use coarse 80-grit sandpaper and an orbital sander. Depending on the shape and size of your bowl, you may or may not be able to get into all of the nooks and crannies on the inside of the bowl. Whatever you can't get to with your orbital sander, just sand by hand.
Remember that the inside of your bowl is going to be covered with moss, so if you don't get the entire inside or the bottom of the bowl sanded, no worries!
If you're not using a wooden bowl or don't need to sand it down, the first thing (and only thing) you'll need to do before filling it is simply clean the bowl.
Step 2. Fill the bowl with moss
Yes, this easy project is really that simple! You just take the moss pieces out of the plastic bags and put them in the bowl.
If you want to use less moss (and cut the costs down), you can put something small on the bottom of the bowl to fill up some of the empty spaces. This is a great way to make the moss bowl cheaper. You can use small books (if they fit in your bowl) or crumpled-up plastic shopping bags as a filler.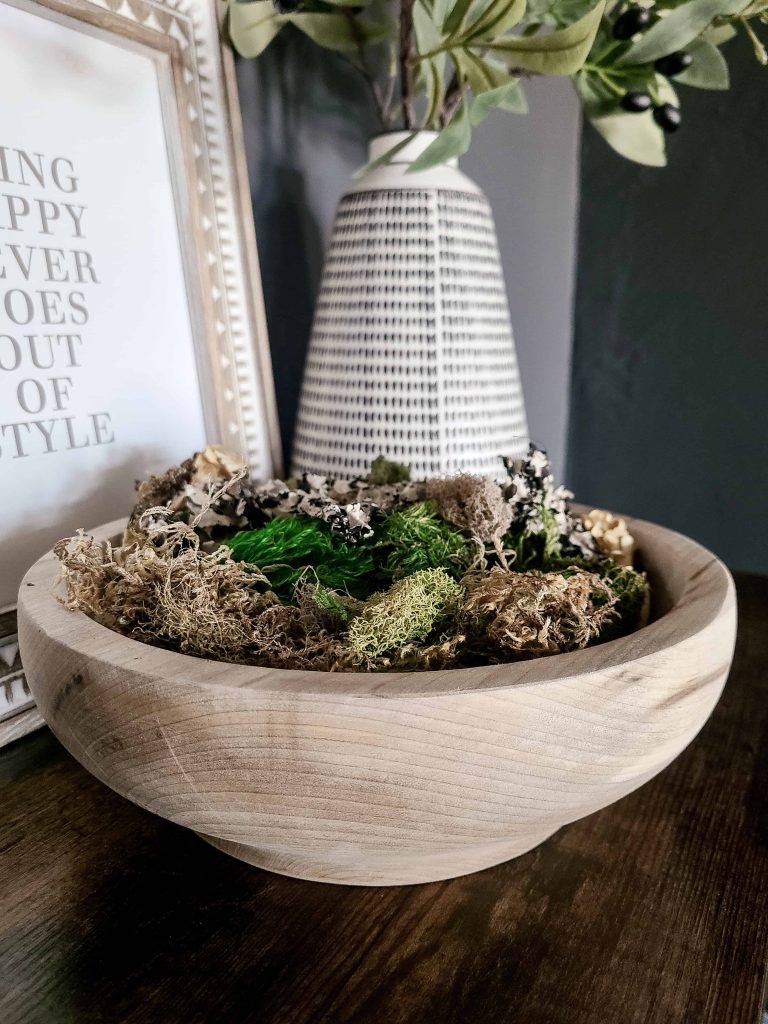 Then just put your bowl wherever you want in your home to style it! I added it to the top of our bookshelf cabinet in our living room.
You can also put the moss bowl in the middle of your dining table as a centerpiece! I have also seen moss bowls styled on kitchen islands or kitchen countertops, bathroom counters, coffee tables, and as shelf decor on bookshelves.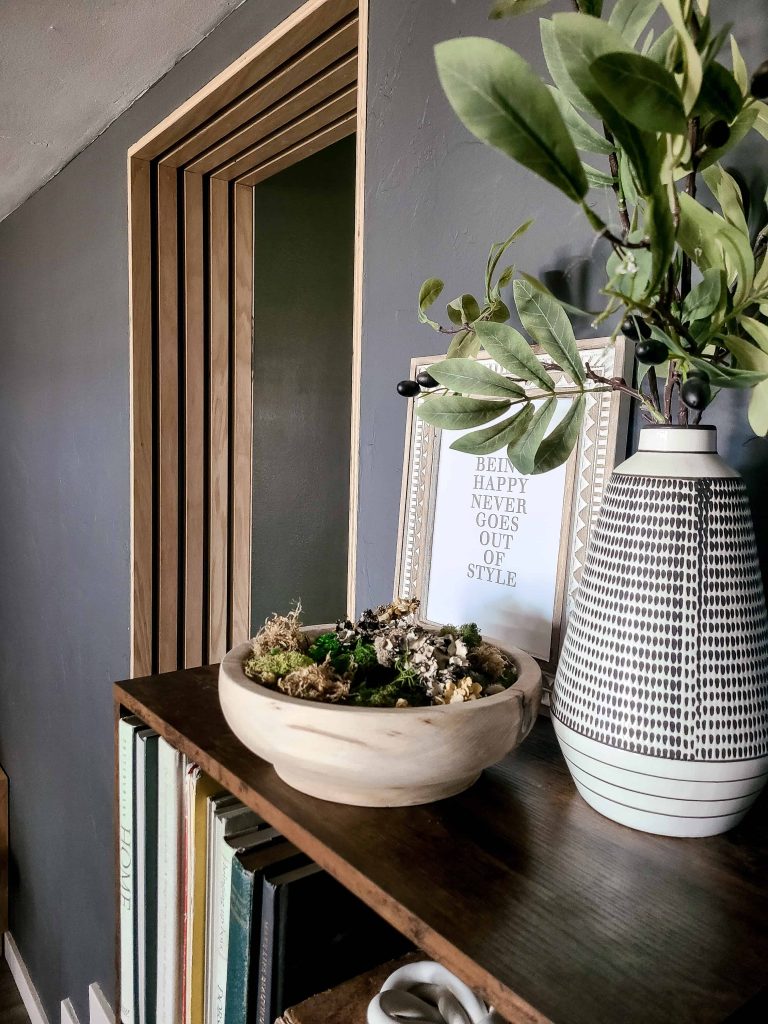 This fun moss bowl required ZERO maintenance! If you were using live moss or real plants for your bowl, you'd need to worry about keeping it watered, how to create adequate drainage, make sure it gets enough light, and how to keep the moisture in the air. In all reality, live moss really needs a lot of moisture to stay alive, so it is a hard plant to maintain as an indoor plant.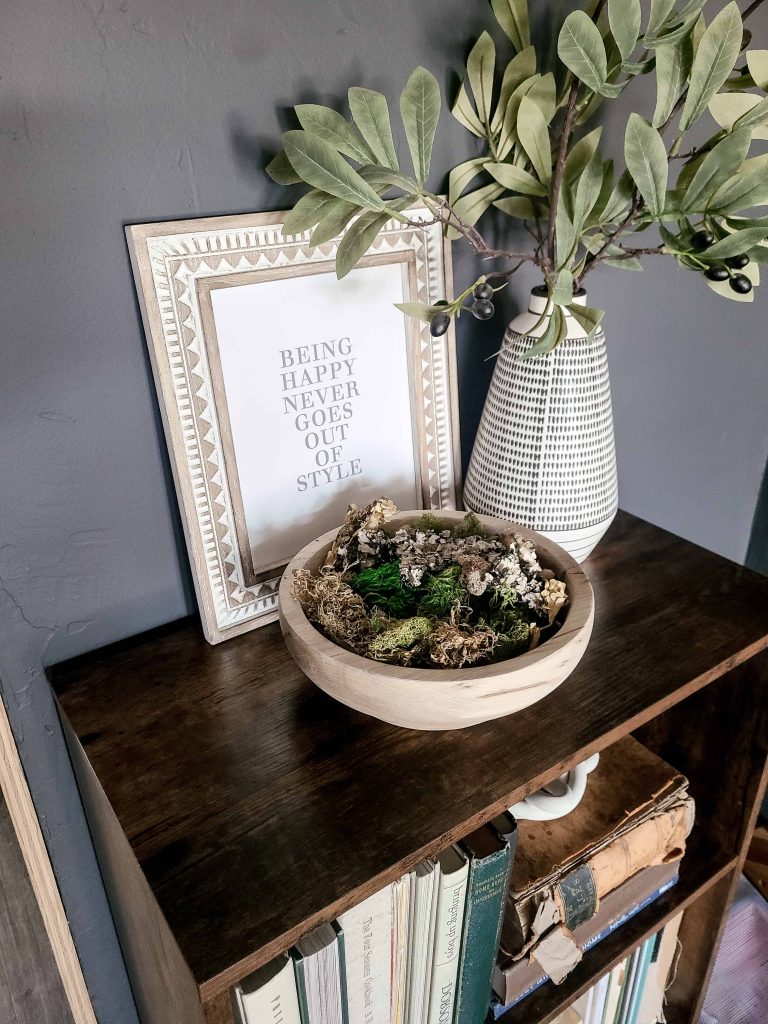 Ours uses preserved moss, so it is real moss that has been treated with non-toxic ingredients to preserve it. Preserved moss is no longer alive, so it doesn't require sunlight, water, or any other time of maintenance, which makes it a great material to use in moss bowls.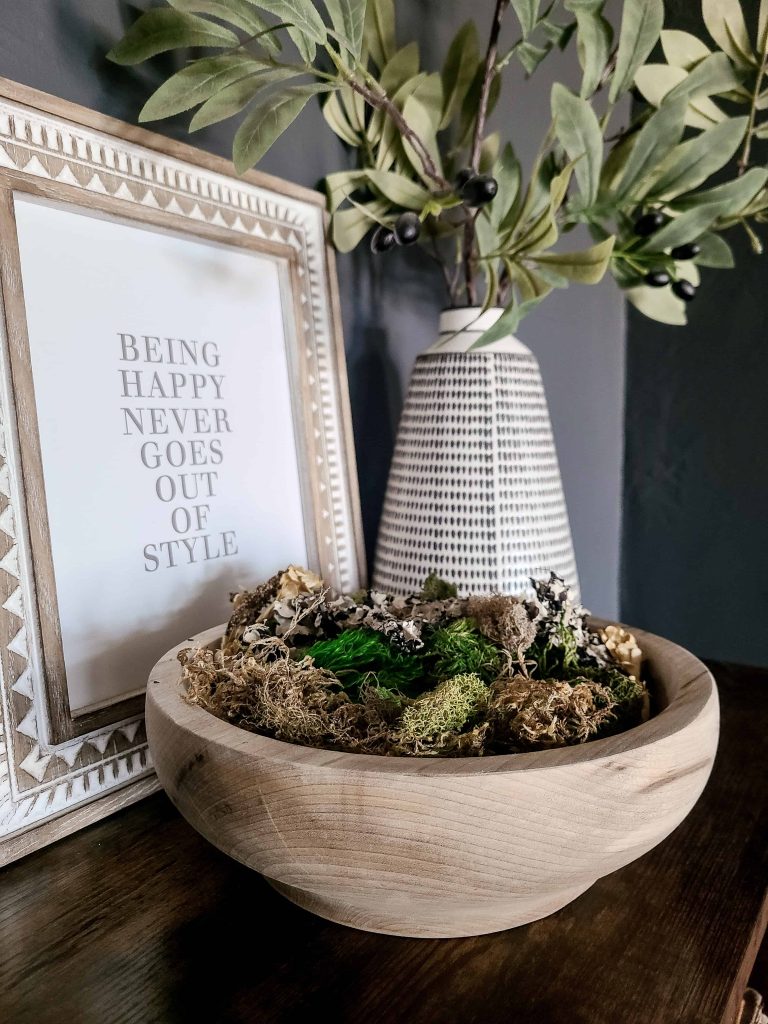 You can buy preserved moss in loose pieces (like we were using) or in sheets (which would be a little harder to work with for filling a bowl). You can also get moss rocks, like this, which would work perfectly in a bowl! Moss balls would also be a great filler for a bowl.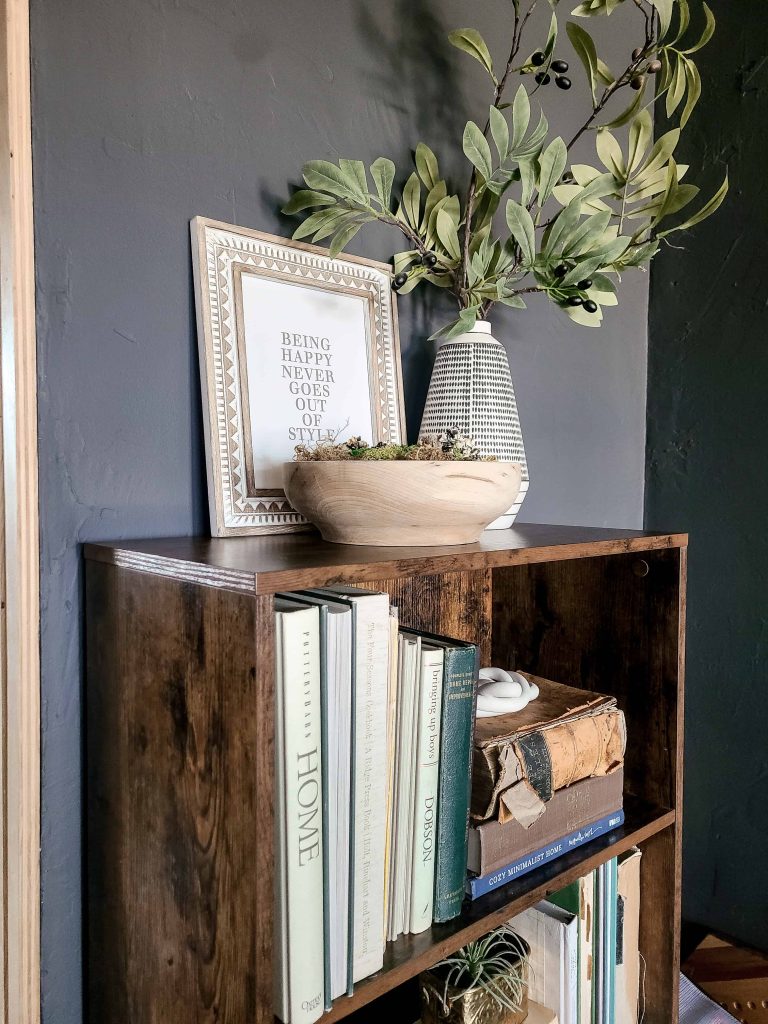 I love the look of several different types of moss, which I get from mixing a few different bags of mixed moss. In my moss bowl, I have bits of Spanish moss, reindeer moss in both white and green colors, forest moss, along with some lichen.
Would you rather just buy one?
Even though this project is SUPER easy, you may be the type of person that would rather just buy something to get the look instead of make it.
Here are some options that are available for purchase:

Are you going to make your own moss bowl? Let me know in the comments how it goes!
Related – If you're looking for spring inspiration, you'll love these posts too: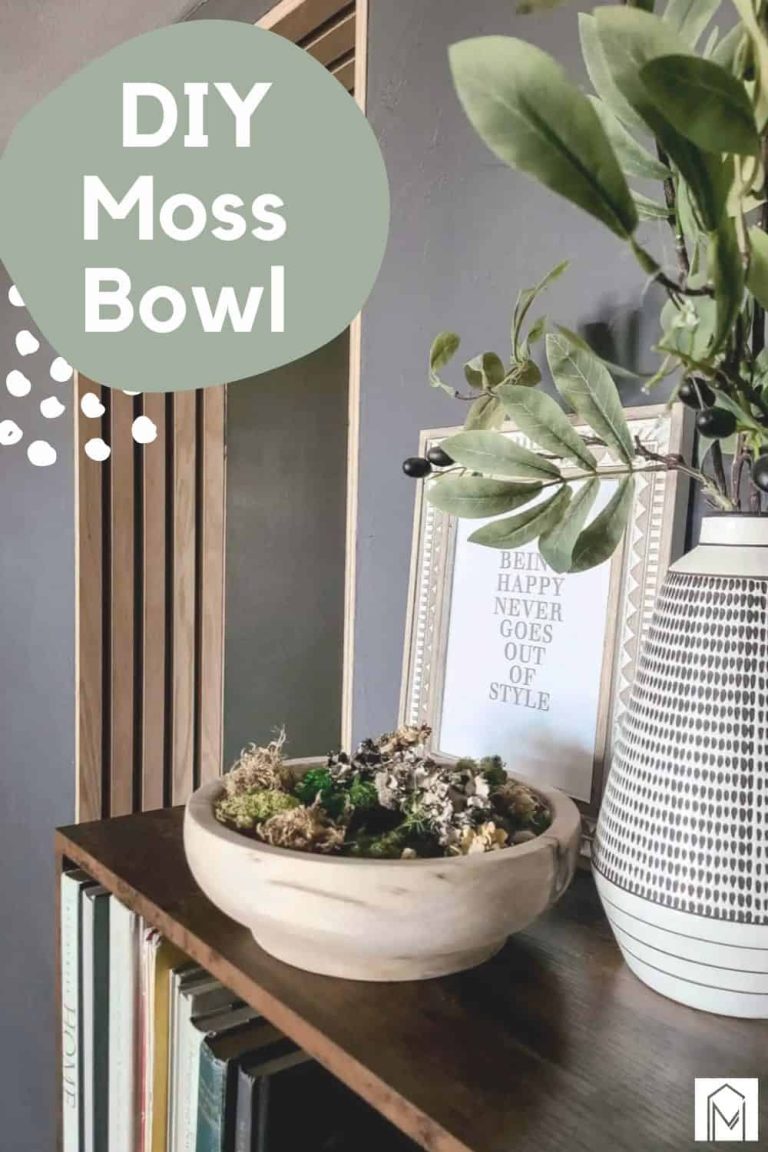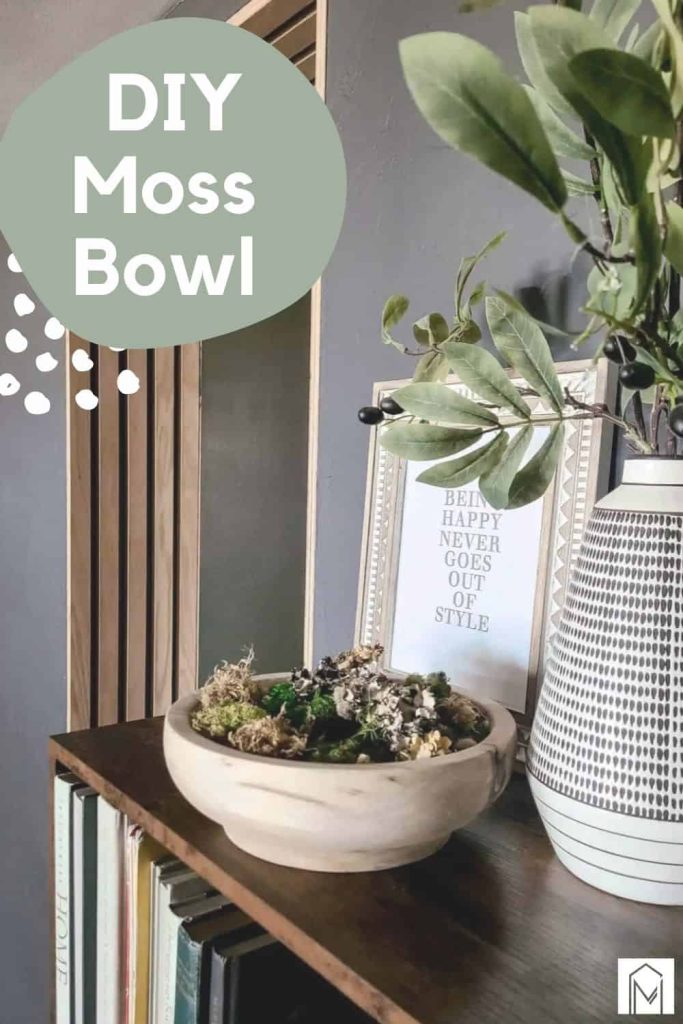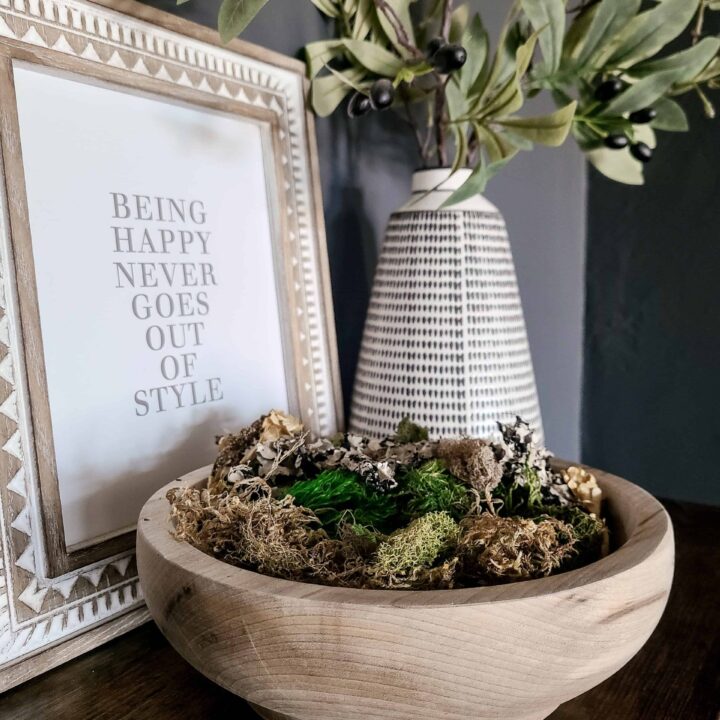 How To Make A DIY Moss Bowl
Looking for a quick easy Spring home decor hack? Make a DIY moss bowl! They are perfect for decorating your coffee table, dining table as a centerpiece, or on your bookshelves.
Tools
Instructions
Sand bowl
Fill the bowl with moss