Printables are such a great way to easily decorate for the seasons. If you're wanting to add a little spring cheer to your home, you're going to love this farmhouse spring art printable to easily decorate for spring!
I'm so excited to introduce you guys to one of my good friends, Cynthia from Home Beautifully. I've had such a fun time getting to know this girl the last several months through a mastermind group that we're in together…That means that once a week I get to see her smiling face (along with the other ladies in our group) and we talk about blogs and business!
I love Cynthia's gorgeous blog that is full of DIYs, decor ideas and lots of beautiful printables. When we were talking about what Cynthia could share with you, I dropped a little hint that you guys LOVE SOME FARMHOUSE. So she created this gorgeous spring art printable with farmhouse style just for you!
This post contains affiliate links, but nothing that I wouldn't wholeheartedly recommend anyway! Read my full disclosure here.
Related – Other Spring Posts You'll Love:
Take it away, Cynthia!
---
Farmhouse Spring Art Printable To Easily Decorate For Spring
Now that the cold weather's beginning to ebb away, it's time for what might be the best season of all: spring! And while the jury's still out on choosing the BEST season, you gotta admit that these warmer temps are nice after these cold months. With spring comes flowers blooming, birds chirping, and lots of gorgeous springtime decor.
Want to grab this gorgeous free spring art printable? Keep on reading!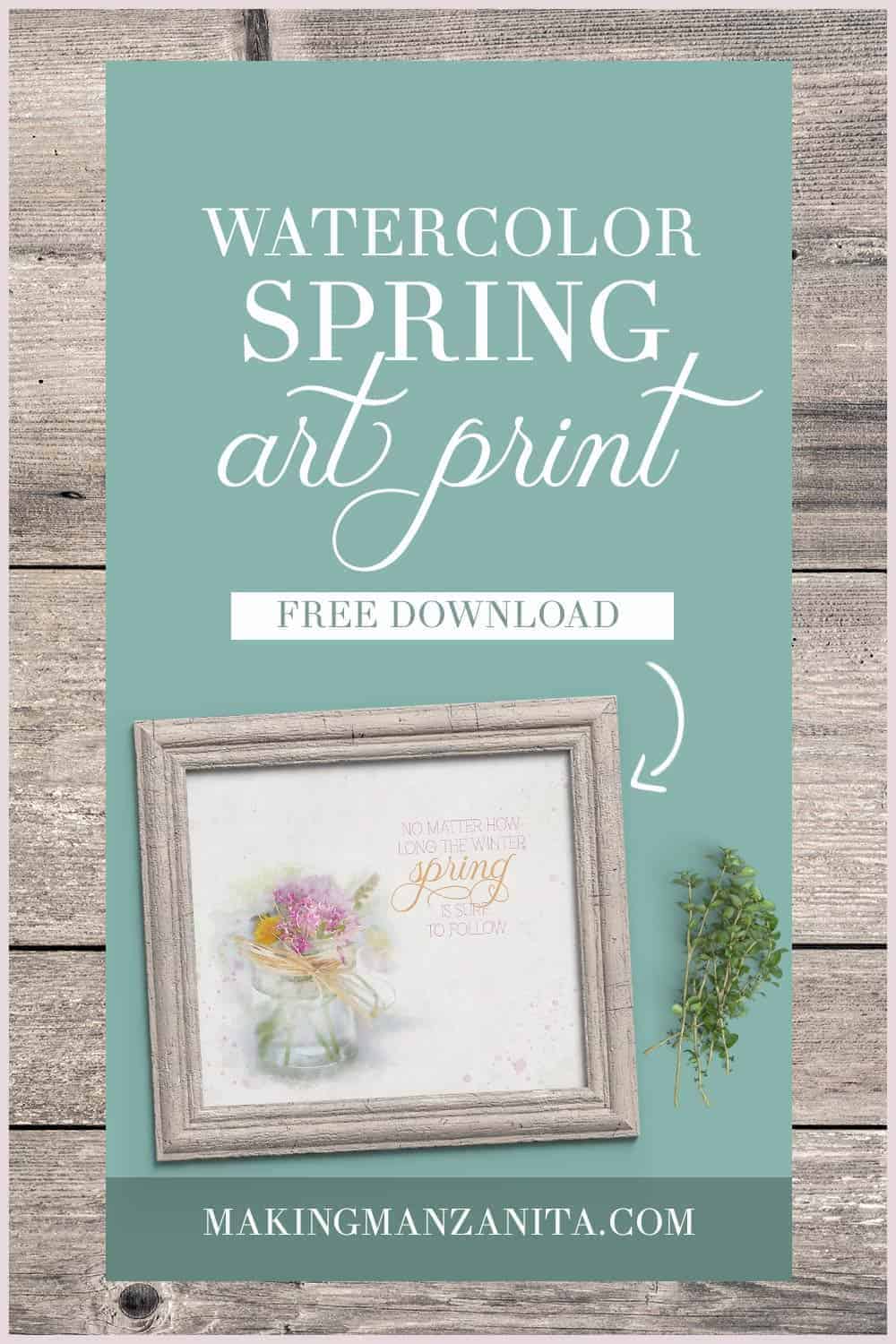 Hi Making Manzanita readers! My name's Cynthia, and I'm the sawdust loving mama behind the blog Home Beautifully. Over at Home Beautifully, we're all about easy DIY tutorials to create beautiful, organized homes. And we love doing it on a budget! So printable art is right up our alley. I'm thrilled to share with you this gorgeous spring printable for you to download.
Grab this Gorgeous (Free!) Watercolor Spring Art Print
This oh-so-pretty spring art printable is a digital watercolor. The print features a mason jar wrapped in twine, filled with hand-picked flowers. On the art printable is one of my absolute favorite quotes about spring. It says:
No matter how long the winter, spring is sure to follow.
I love this quote because it reminds me that everything has a season. And just like the seasons, life has a way of bringing joy (and flowers!) in time.
Hanging Your Free Watercolor Spring Art Print
This spring art printable is formatted as an 8 by 10-inch print. If you'd like, you can easily print this floral print at home on a color printer and trim it to size.
Or, for a few dollars, you can send this to your local office supply store or pharmacy to print. Easy!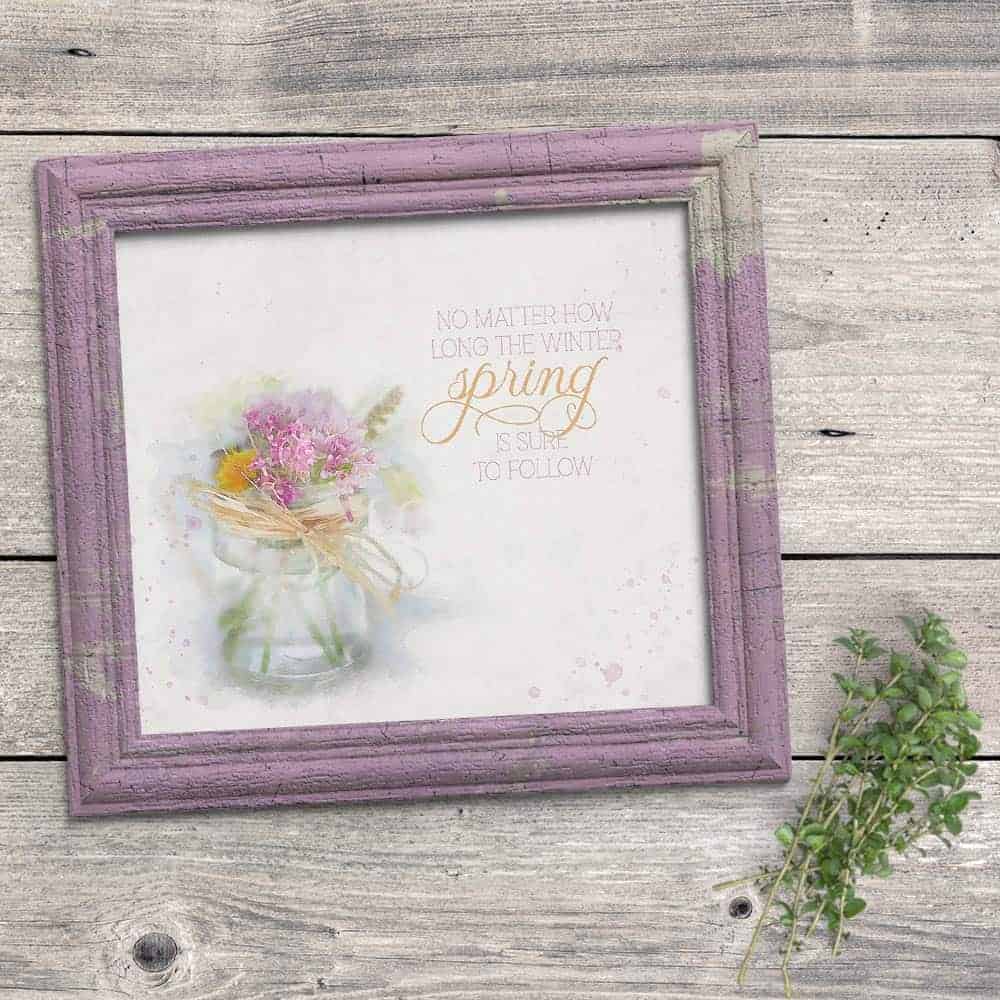 To frame your print, pop it into a cute, farmhouse frame, like these below. I'll include them below. Just click the frame to see the product.
Thanks so much for checking out this watercolor spring art print! I hope you love it as much as I do. Pop a comment below with ideas for other seasonal prints you may have. And let us know how you style it in your home!
---
Chelsea here again! I seriously can't wait to get that farmhouse spring art printed in our home, which is in desperate need for some spring decor. We're STILL working through getting moved in to our new fixer upper. We've got tons of renovating projects in the works right now, so things like pretty decorations will have to wait a tad. But, until then…things like free seasonable printables are SO easy to add some character to this place filled with boxes and projects.
If you loved this farmhouse spring art printable, you've gotta check out some of Cynthia's other awesome posts from her site, like these:
Free Downloadable St. Patricks Day Art