Are you looking for creative ways to decorate your home for spring this year? Then you're going to love these farmhouse decor ideas for spring!
I absolutely love springtime. There is something beautiful about the way the flowers bloom, color being everywhere after a long and cold winter, and the possibilities for adding a bit of personality to your home in your decor is a must.
Today, I'm going to share with you some of the best Spring farmhouse decor ideas that you've got to steal for your own home. You're going to love these ideas.
Related – If you love the farmhouse style, you definitely want to check out these posts:
Are you ready to see these 10 farmhouse decor ideas for spring that you've got to steal?!
This farmer's market crate from Making Manzanita (yep, that's me!) is perfect to feature your favorite flowers this spring! I absolutely love the complimentary color of the painted mason jars and how these flowers bring a happy spring feel to any room.
This thrifty $30 spring tablescape from Bless'er House screams farmhouse spring decor! I love how she incorporates everyday items into the tablescape like books, burlap and milk glass vases. Those are things you can find already around your house or at just about every thrift store. The baby's breath and fresh spring flowers really make this tablescape come to life.
I love how simple this spring banner from Green With Décor is to make. If you love the 10 cent books at your local library or thrift store, then you won't want to miss out on making this easy book page craft for your home. Meg does an amazing job at showing you step-by-step how to make this simple farmhouse style craft.
If you've got just 5 minutes, you've got time to make this simple spring wreath from Making It In The Mountains. You can customize it to fit with your existing home decor by choosing whatever type and color of flower. I also love how Kristi has it styled by hanging the cute wreath on the wood shutters atop of a dresser.
There is something wonderful that happens when you're able to add new life into one of your favorite pieces of furniture. Thea from That Sweet Tea Life shows us how to take an old piece of furniture and bring it back to life with some spring worthy colors with a perfect teal farmhouse fun look. You're going to love the accents she adds on and the other pieces of furniture she also shares for more inspiration.
Farmhouse spring decor is all about adding touches of greenery and flowers all around the house to bring life to everything after the winter whites. How cute is this rustic DIY planter made with book pages by the talented Sarah at Making Joy and Pretty Things?! It looks adorable on a wall shelf in her little one's farmhouse nursery with some faux flowers in it.
Dough bowls are a fundamental characteristic of the farmhouse decor style. I especially love how they look incorporate tablescapes. Worthing Court does a great job showing us how to create a spring centerpiece using a large wooden dough bowl and random florals and decor she had in her decor stash. Isn't it so cute?!
A fun way to plant (and show off) your herb garden this spring is with mason jars. Erin from Sometimes Homemade shows how to plant and prepare an herb garden in your own home. This would be perfect for any kitchen décor or porch, plus, you'll have the benefit of fresh herbs right at your fingertips.
A great way to add character to your farmhouse style home is to add in a few beautiful vignettes creatively placed on tabletops, coffee tables, mantels and even bookshelves. This spring vignette from AKA Design is so cute and simple. Shannon gives you some simple steps on how to create your own vignette in this post. She even is giving away this adorable Hello Spring printable too!
Wreaths are a great way to decorate seasonally. They are relatively simple and cheap to make and easy to swap out with the seasons. I love changing out the wreaths on our front door as the seasons change. This farmhouse style spring wreath from The Craft Patch is oh so cute! I love how unique the base of the wreath is. It resembles as antique tire.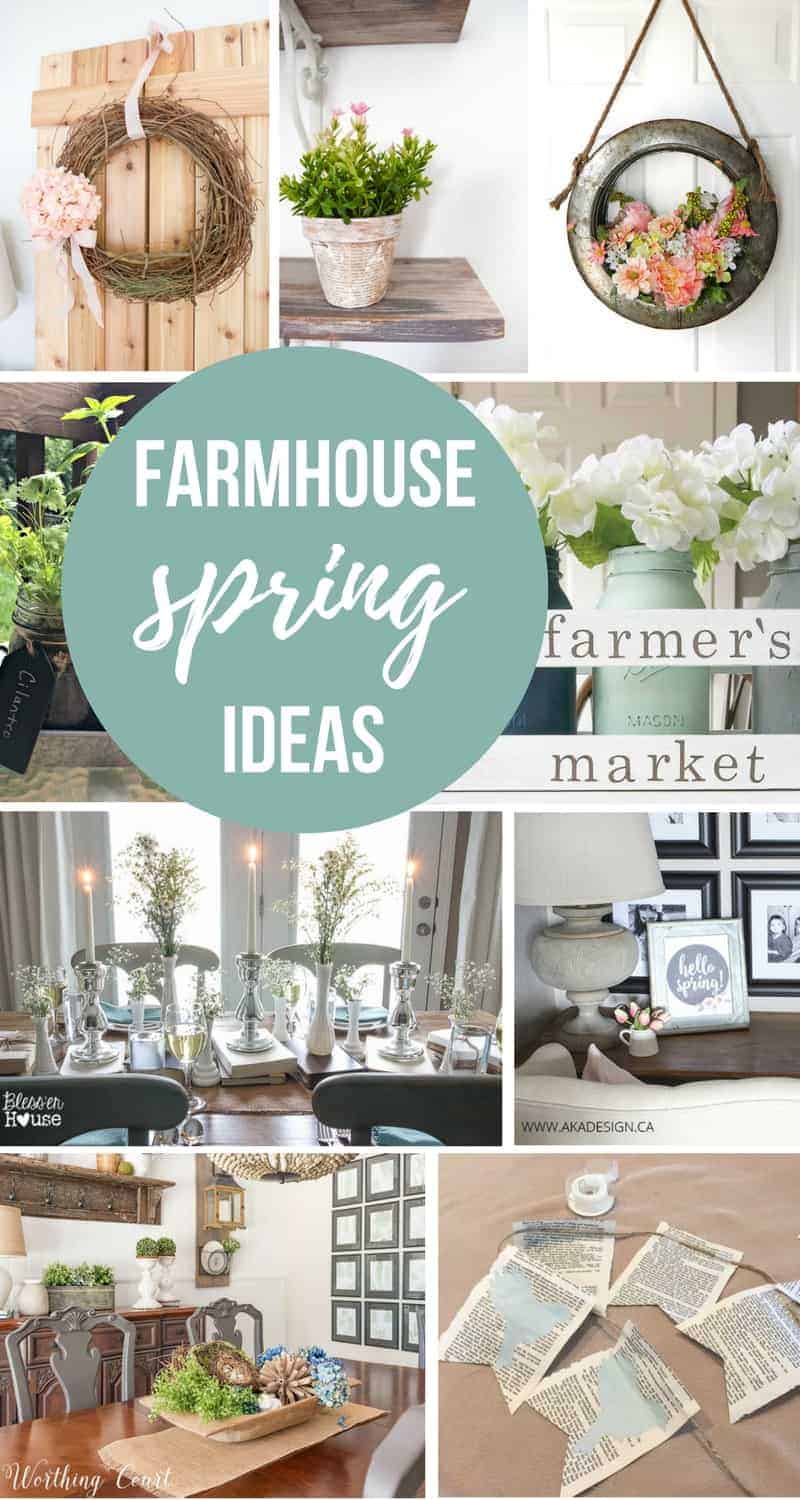 Spring really is all about fresh or faux florals and greenery everywhere you look. There are so many fun ways to incorporate some spring farmhouse decor into your home decor.
Whether you're looking to bring new life to a piece of furniture or add some rustic farmhouse decor to your front porch or kitchen, I hope you loved daydreaming about the possibilities of your home from this list of farmhouse decor ideas for spring.
Which one of these farmhouse decor ideas for spring was your favorite? What are you looking forward to decorating in your home?
Leave a comment below and let me know!!