It's time to decorate for fall! Get inspired with these inexpensive fall decorating ideas that are really simple and budget-friendly!
Whether you're ready or not…fall is officially here! I, for one, couldn't be happier. Fall is totally my favorite season! I'm totally soaking in all of this sweater weather (dreading the inevitable snow that will be here sooner than I want, I'm sure) and enjoying all of the cozy fall evenings.
One way to make fall a little more special is decorating for fall around the house.
I know what you are thinking… I don't have time to decorate my own home for the seasons.
That's why today's ideas for how to decorate for fall are super duper simple and really cheap!
Some are as easy as adding an extra throw pillow with fall colors to your couch or putting a fall wreath on your front door. I mean, seriously, does it get any easier?
These simple and inexpensive ideas for decorating for fall on a budget will only take a few minutes, but they will add so much coziness to your home…you'll be shocked at the way fall feels even more homey.
A lot of these cheap fall decor ideas are just easy fall crafts, but there are a few things that you can simply purchase and display. But don't worry – they are all inexpensive.
I know that when you are shopping for seasonal home decor (ok…let's get real…any home decor), you are looking for ways to stick to a budget…just like me.
Budget-friendly and simple? That's really the best combination when it comes to seasonal decor, right?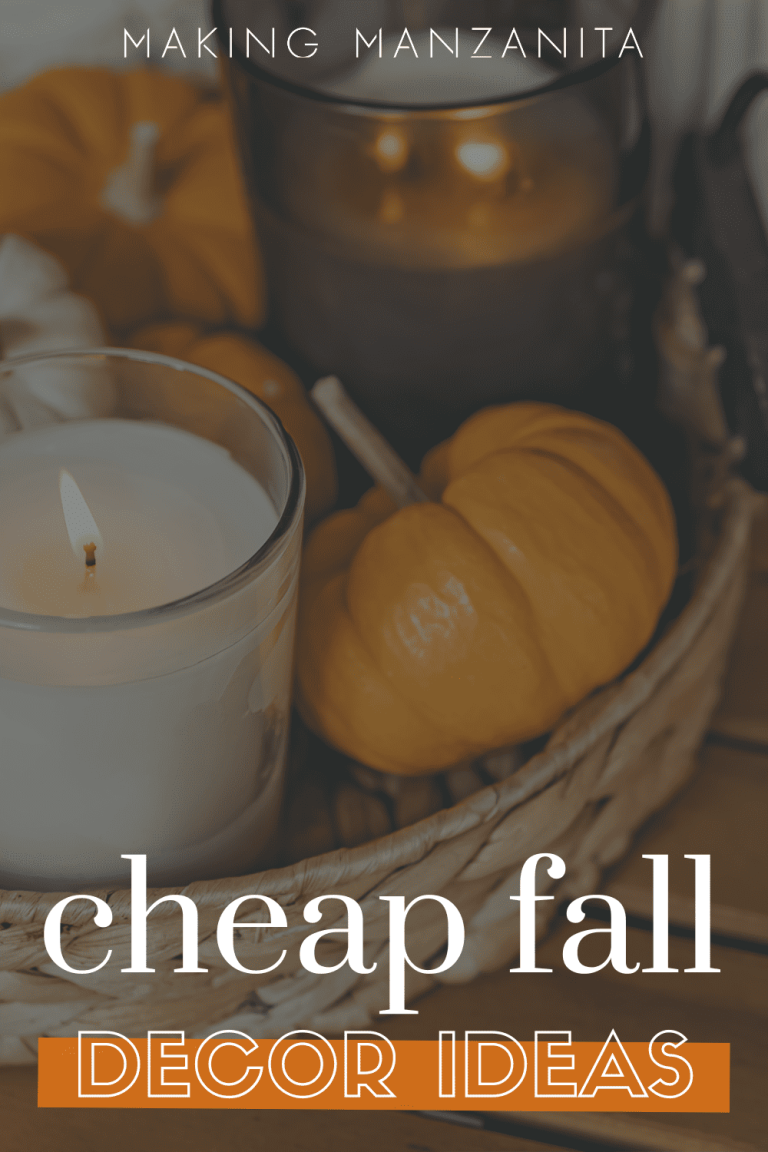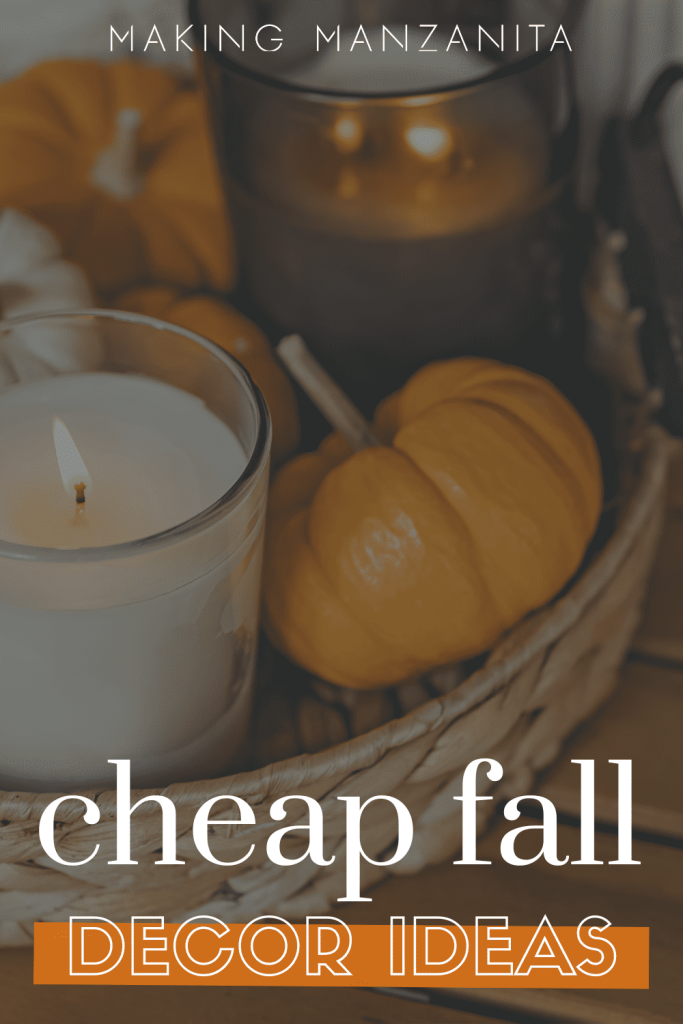 This article with inexpensive fall decorating ideas contains affiliate links, but nothing that I wouldn't wholeheartedly recommend anyway! Read my full disclosure here.
Add some cozy textures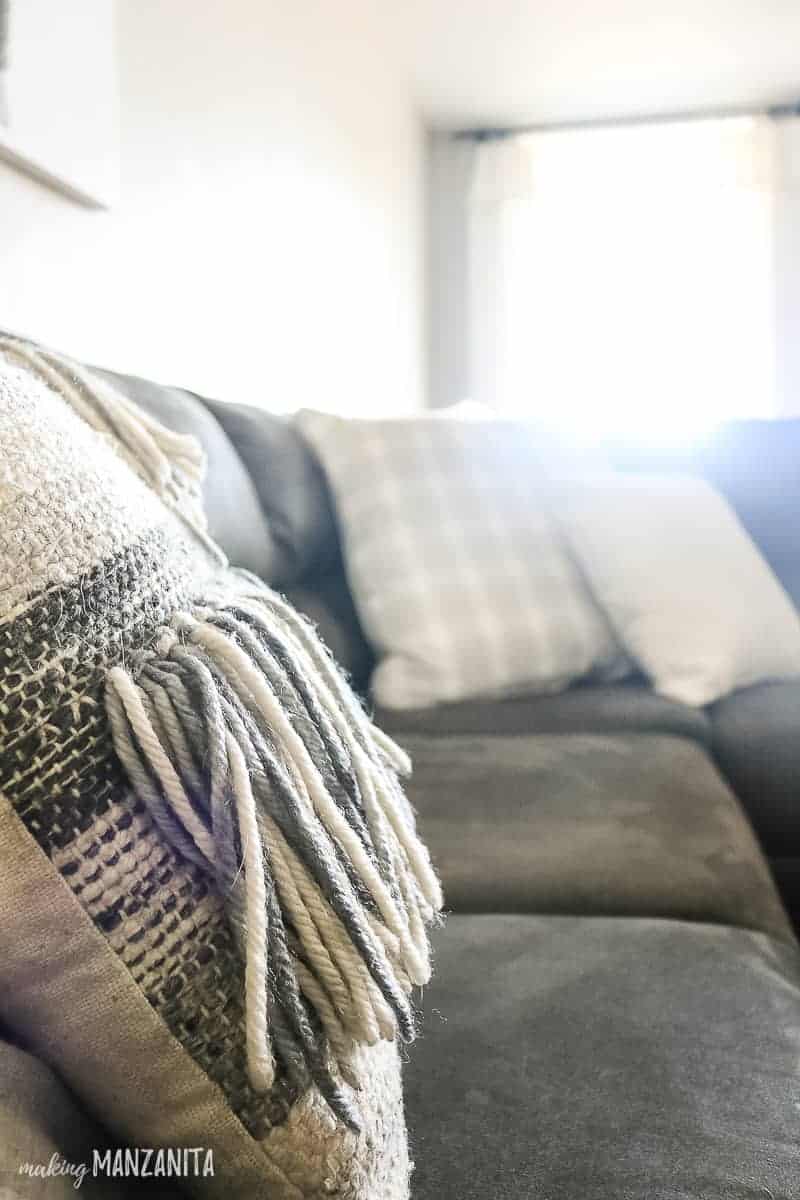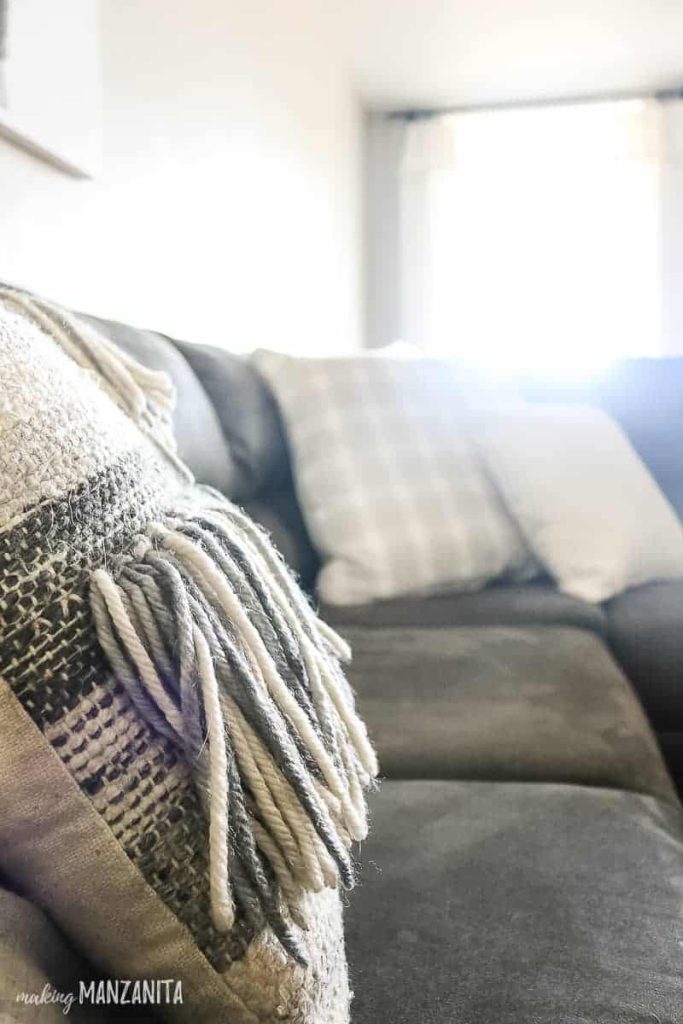 Whether it is wicker baskets holding extra throw pillows and blankets, a plaid throw blanket thrown over the corner of your sofa, or new pillow covers with tassels, velvet, or faux fur – you've got to incorporate some cozy texture into your fall decorations.
Use autumn colors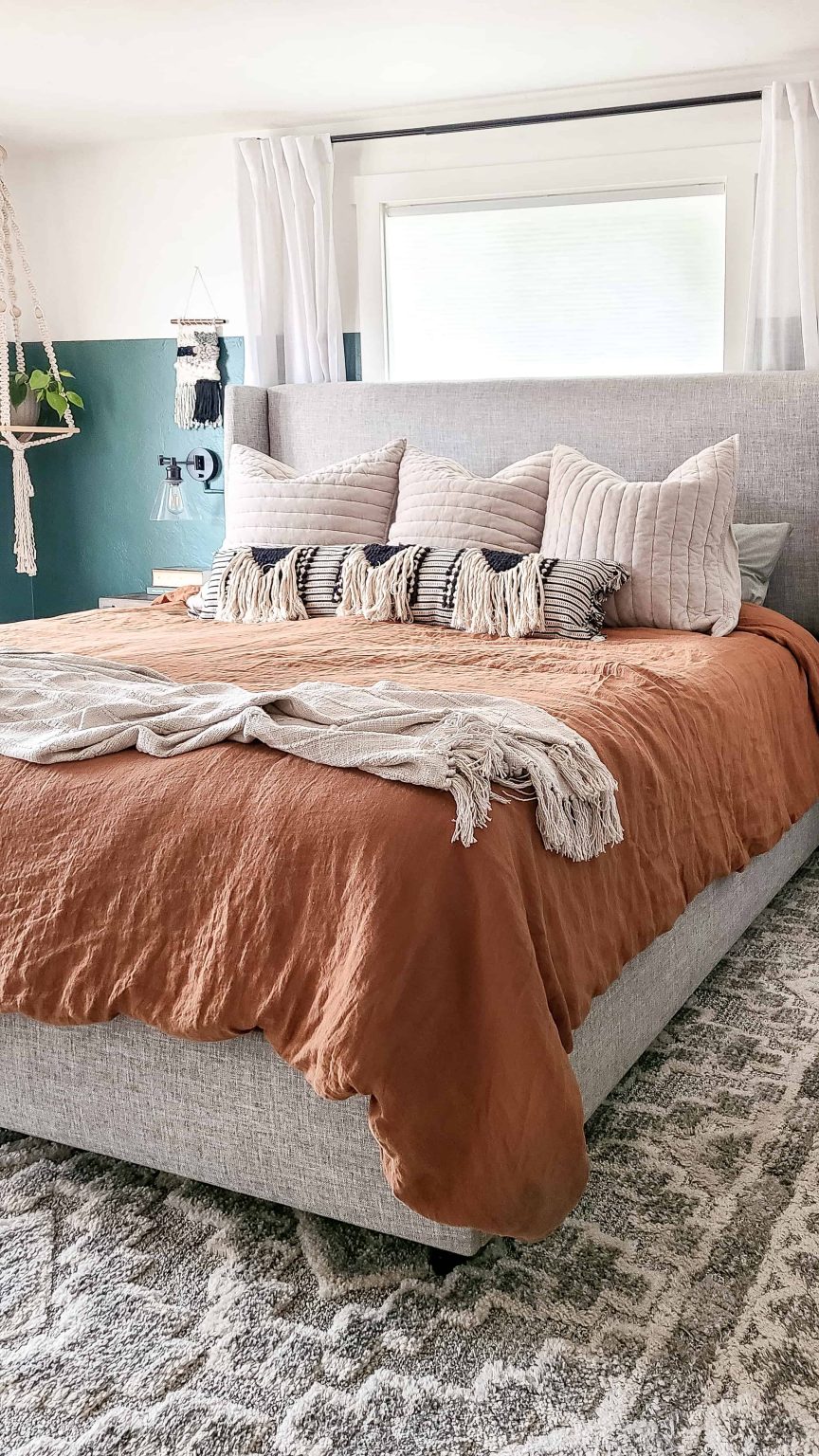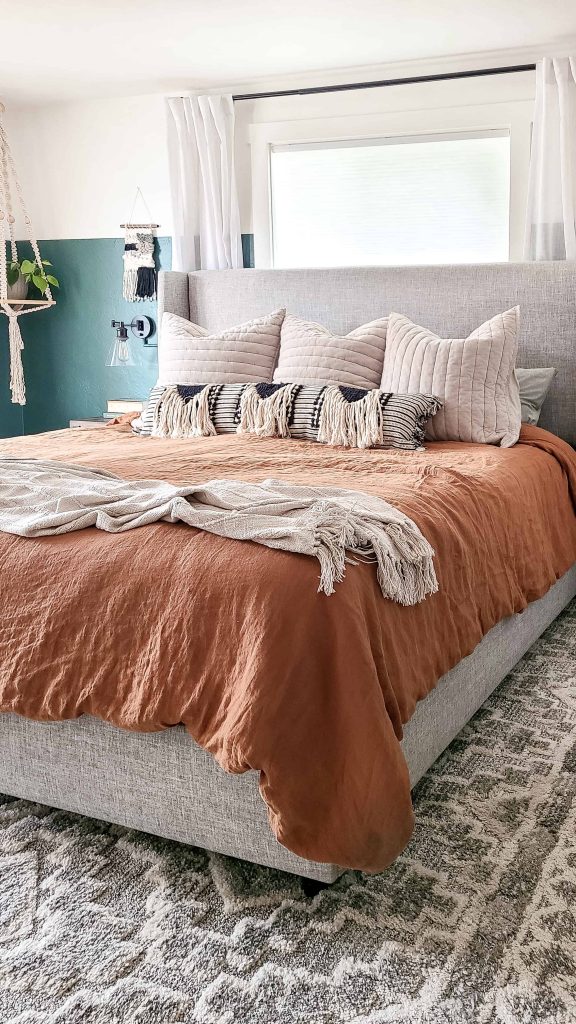 The easiest way to start getting your home ready for the harvest season is by using fall colors around your house. There are so many different ways to use a variety of colors.
You can swap out pillow covers on your living room throw pillows, throw a fall-themed throw blanket over the foot of your bed, add napkins or placemats in autumn colors at your dining room table, or even swap your area rugs with something in a fall-inspired hue.
Work on your home's smell
I know I've said it before, but one of the easiest ways to make your home instantly feel more cozy is with scent!
Autumn and fall scents are my personal favorite, so I usually stick with them all year long, haha! Yes, you may walk into my house and it will smell like pumpkin pie in May…just roll with it, OK? I like what I like.
Candles
The most obvious and inexpensive way you can make your home smell more like fall is with a candle from the grocery store. Put a yummy-smelling candle on your coffee table on a cute-footed tray and call it a day. There's something about the little flicker of the candle that makes it feel more like fall too.
Simmer Pot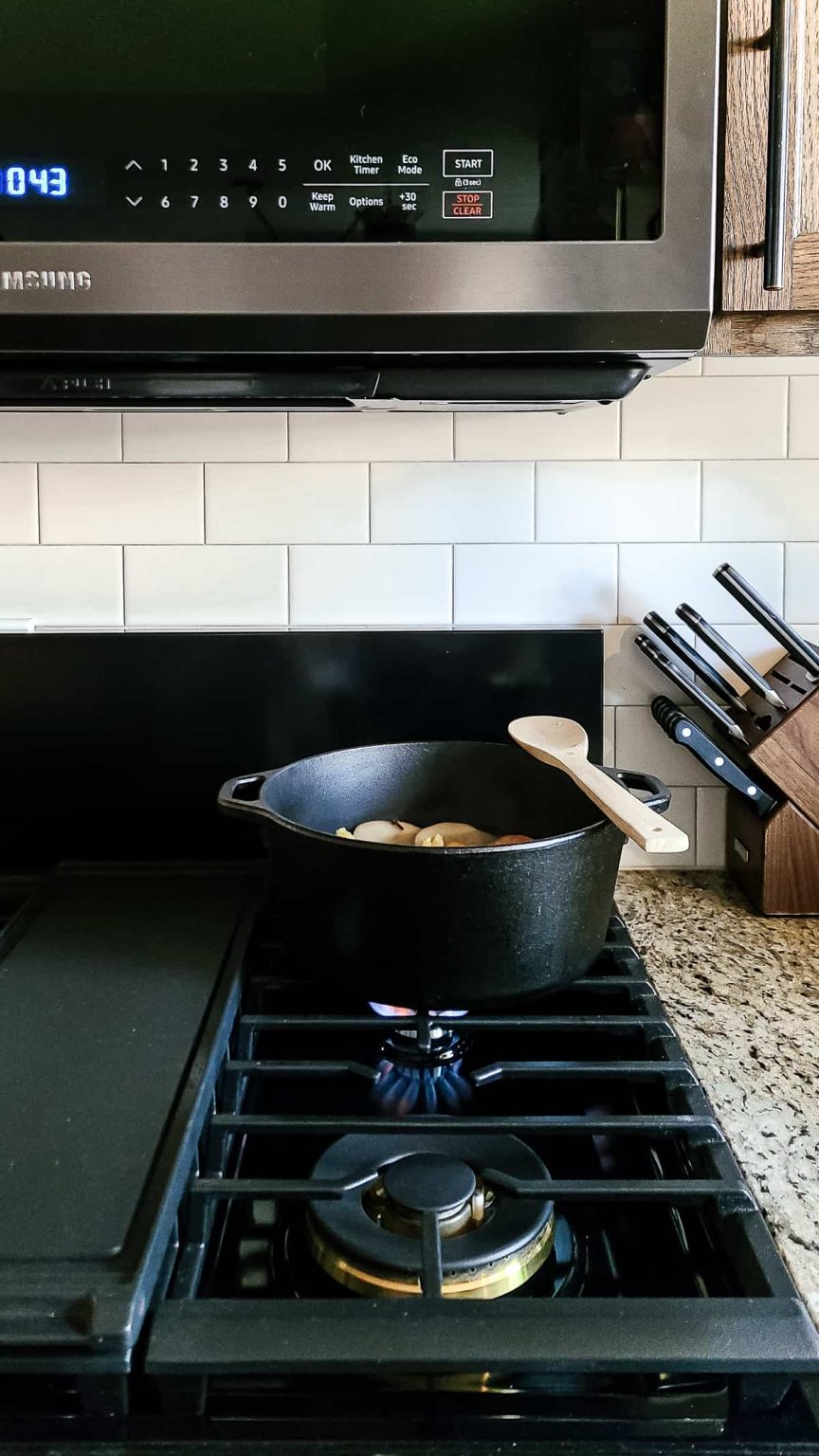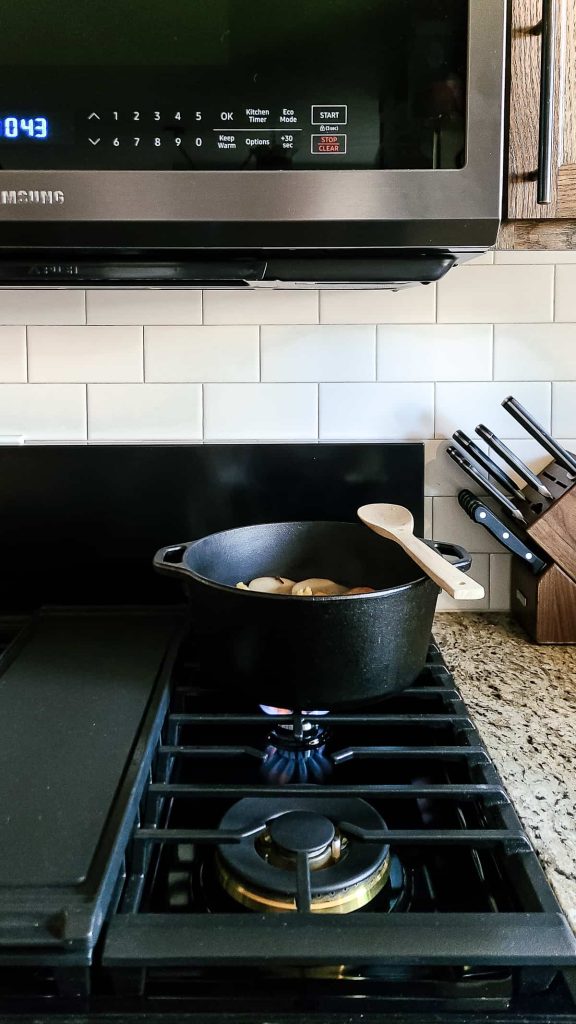 Another way to quickly and easily make your home smell amazing is with a fall simmer pot. Learn how to make your own fall-smelling simmer pot in this tutorial. It is WAY easier than you would think.
Stovepot Potpourri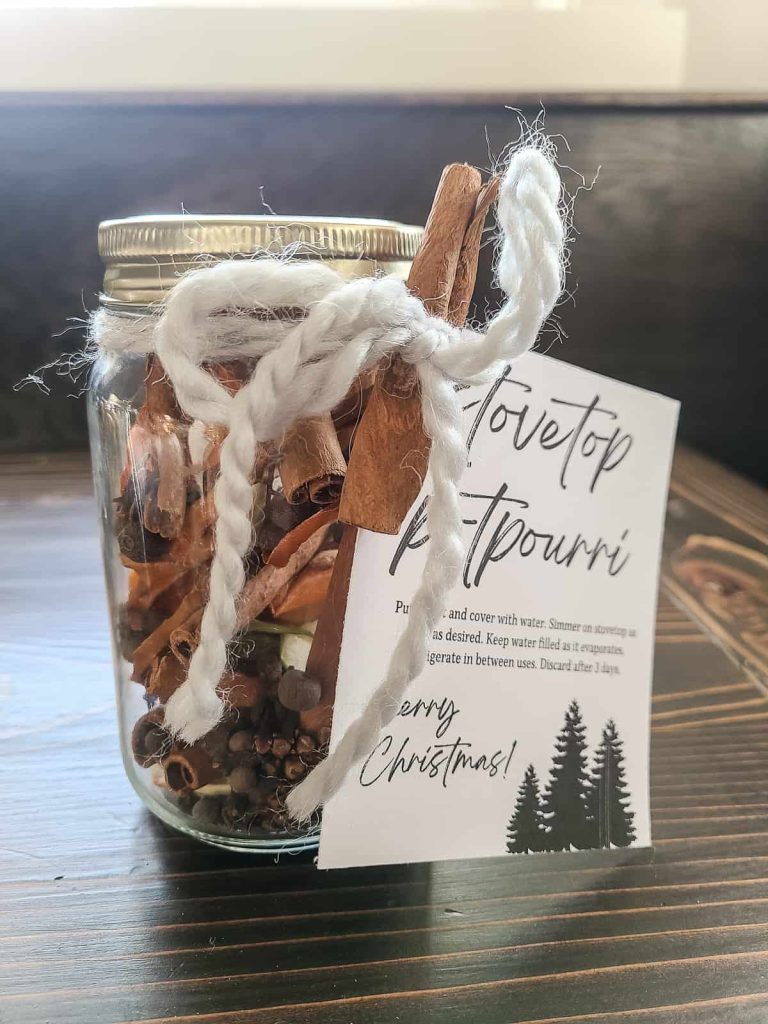 You can also make a stovetop potpourri mix in a dried format that is shelf-stable. This also makes a GREAT Christmas gift!
Diffuser
Lastly, you can use a diffuser with oils. I love this diffuser in our living room and use these amazing fall oils in it. I put about 7-10 drops in every time I fill it. And yes, you better believe that I use those oils all year long, haha.
Here are some great diffusers that don't look hideous:
Bring the outside in with natural elements
it is time to put the summer flowers away and bring in fall flowers and foliage!
The best way to get inexpensive decorations for fall is to simply go outside! You can grab leaves, pinecones, and branches for free! This is definitely one of my favorite ways if you're decorating for fall on a major budget.
Use real branches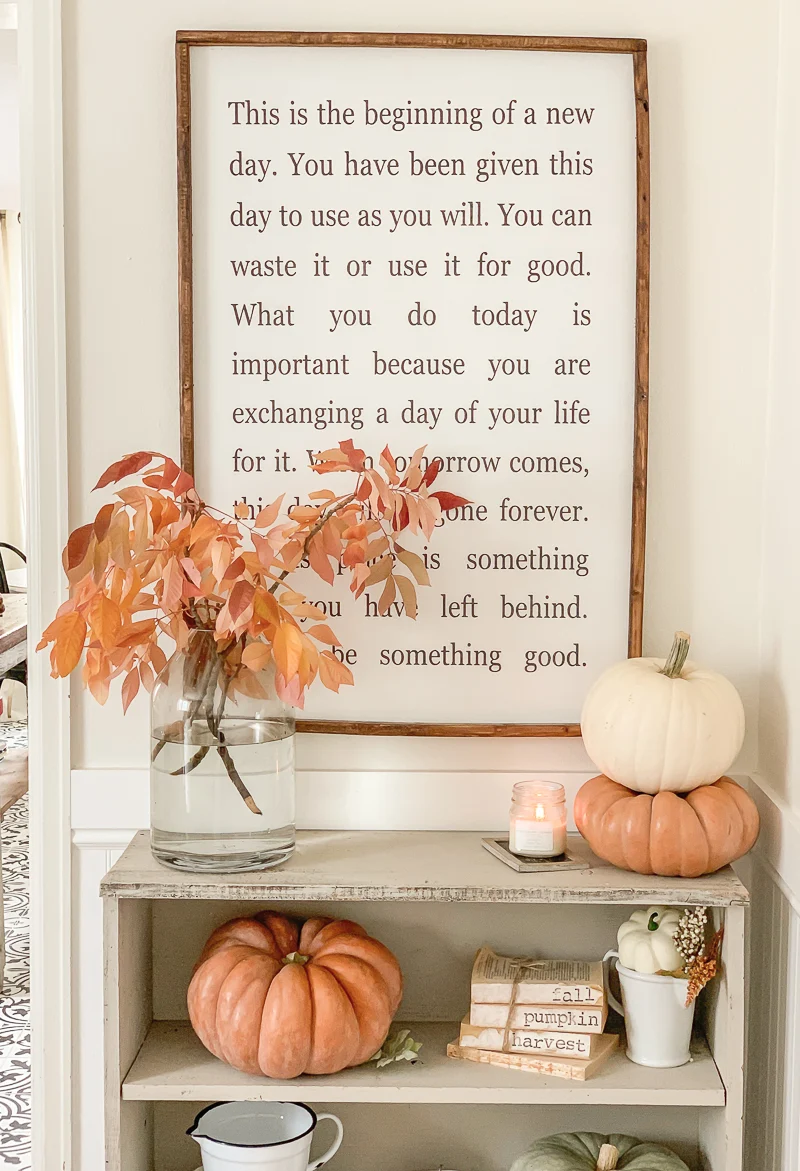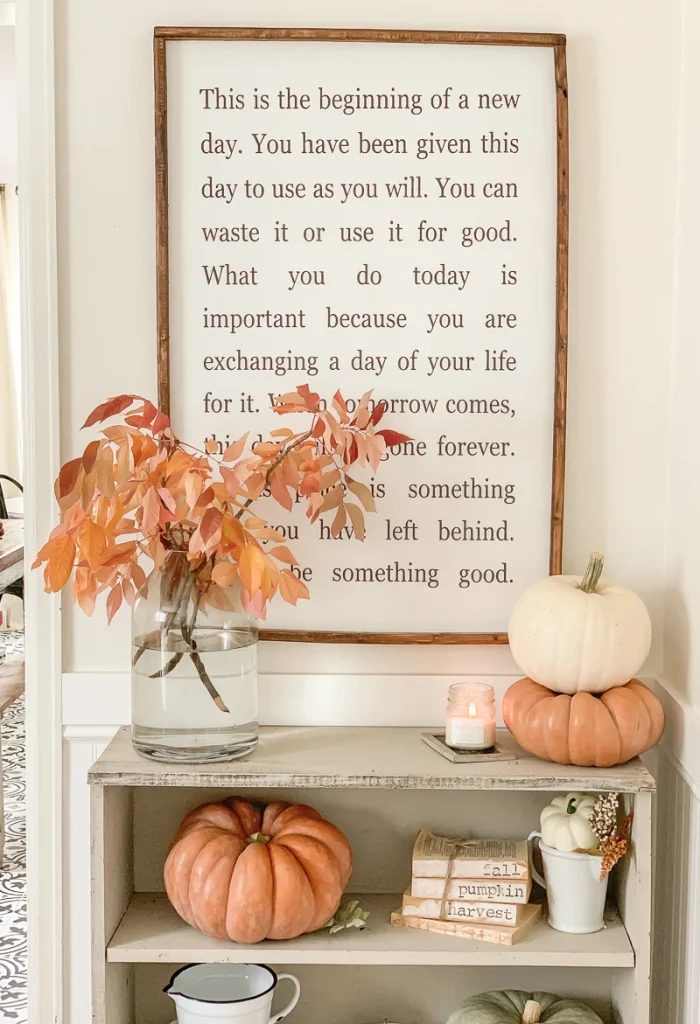 Yes, you read that right. REAL branches from the trees and bushes in your front or backyard. Whether they have fall leaves on them or they are bare, they make great fall decorations. I love this little vignette from Sarah Joy Blog with real branches in a vase with water.
If you don't have any good real ones outside, check out these affordable faux fall stems here.
Add pinecones
Pinecones are pretty easy to find outdoors and make for great fall decorations! A fun way to collect them would be to turn it into a little game with your family and give a prize to whoever can collect the most.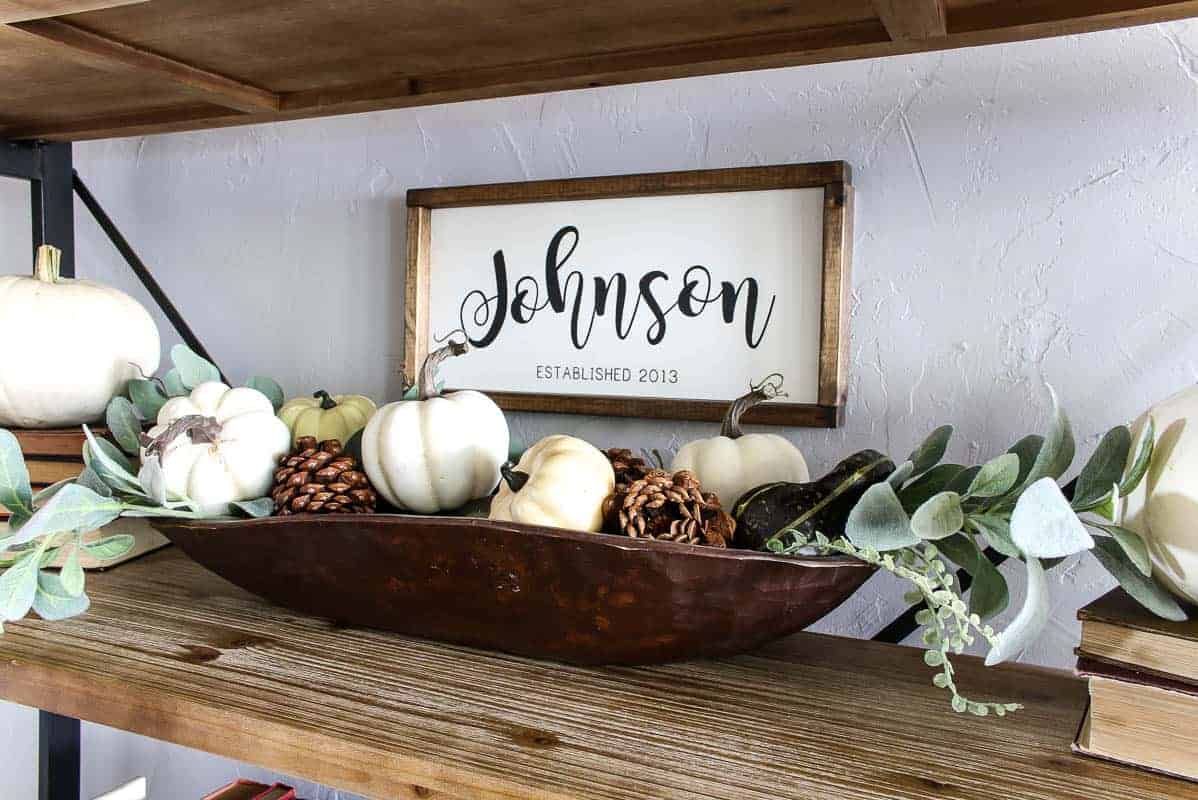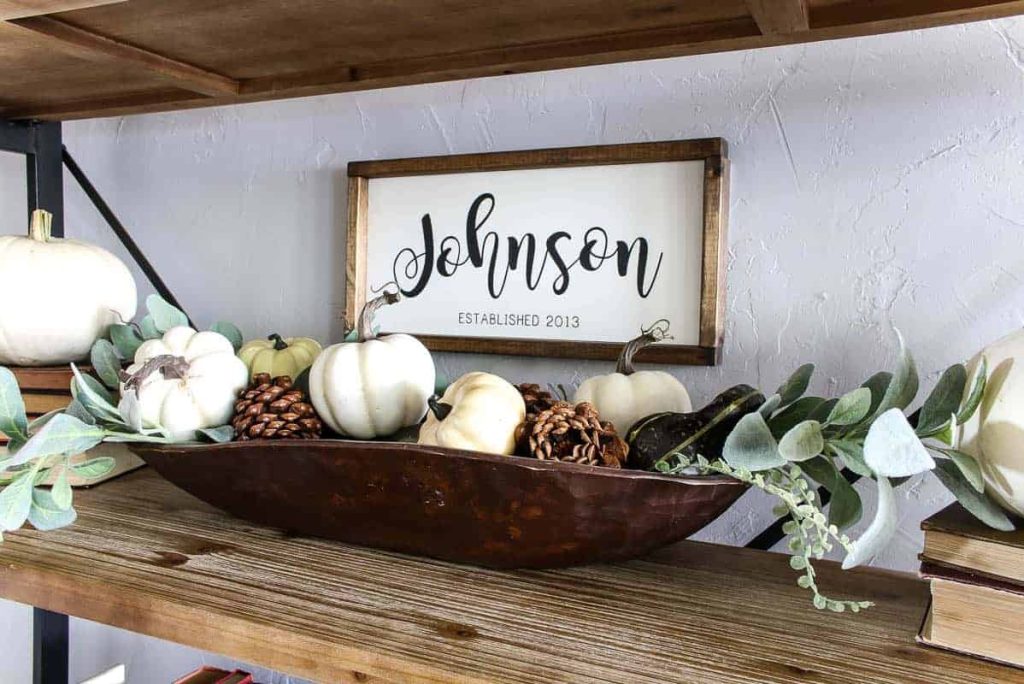 You can add pinecones to a wood dough bowl with a few mini pumpkins and greenery for quick and easy decoration.
You can also put a bunch of pinecones in a large clear glass canister. Couldn't get any easier, right?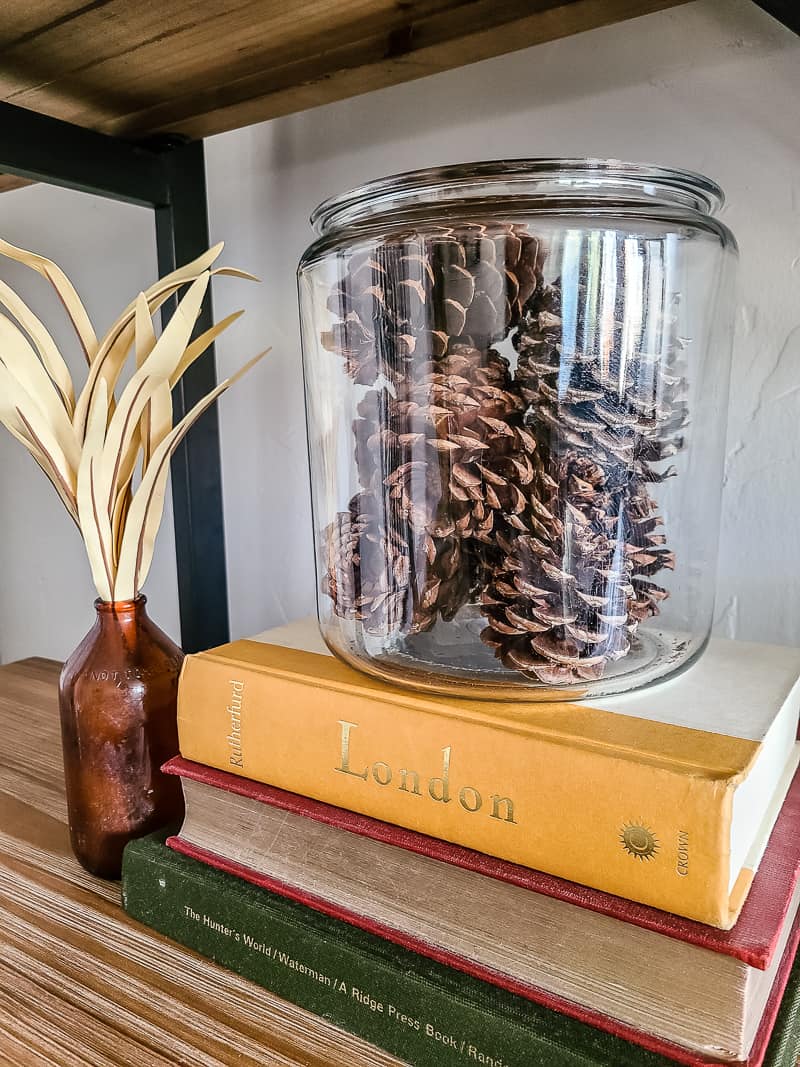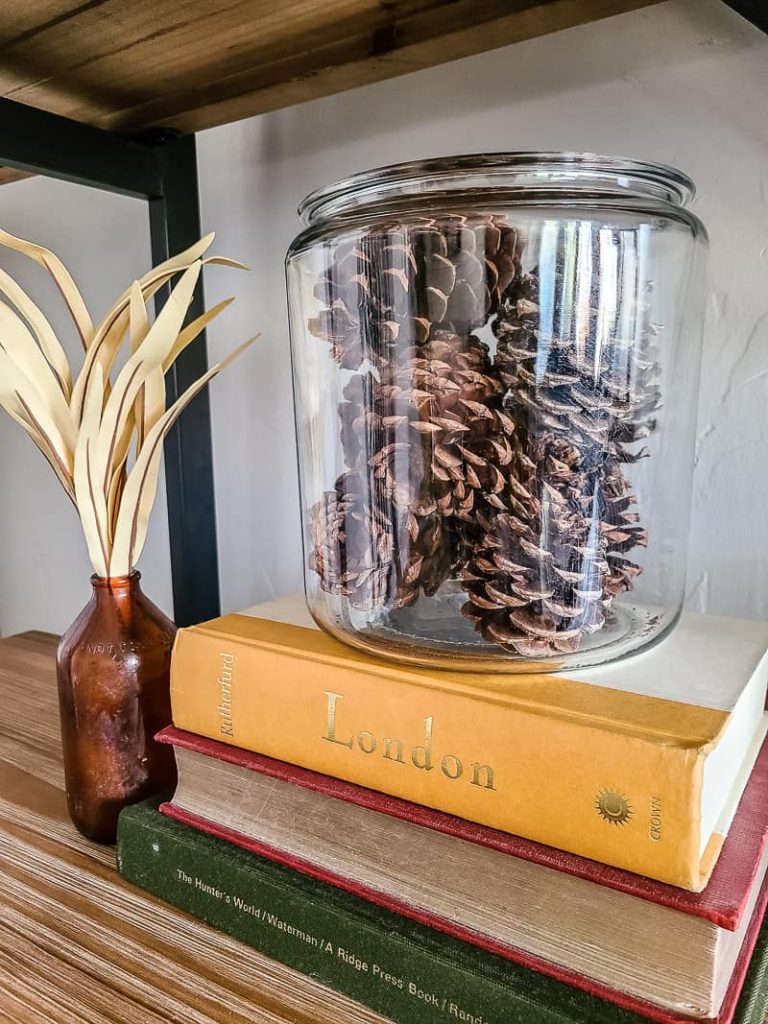 To take things one step further, you can buy scented pinecones to bring in some fall smells. We love the cinnamon ones! I usually buy a bunch in the Fall and keep them around through the holiday season.
Alternatively, you could just stick a few cinnamon sticks in with the pinecones for a quick and different way to still get the same result. Remember we're all about keeping things easy. Simple fall is the way to go.
Incorporate dried wheat and pampas grass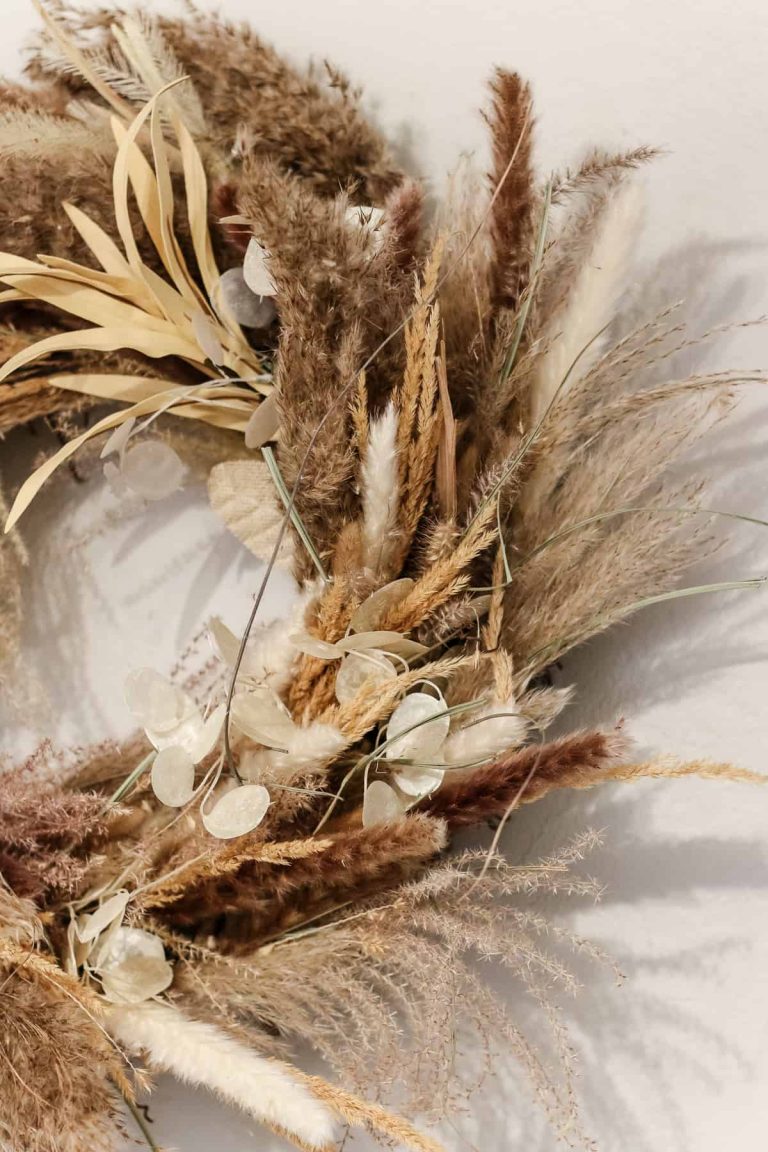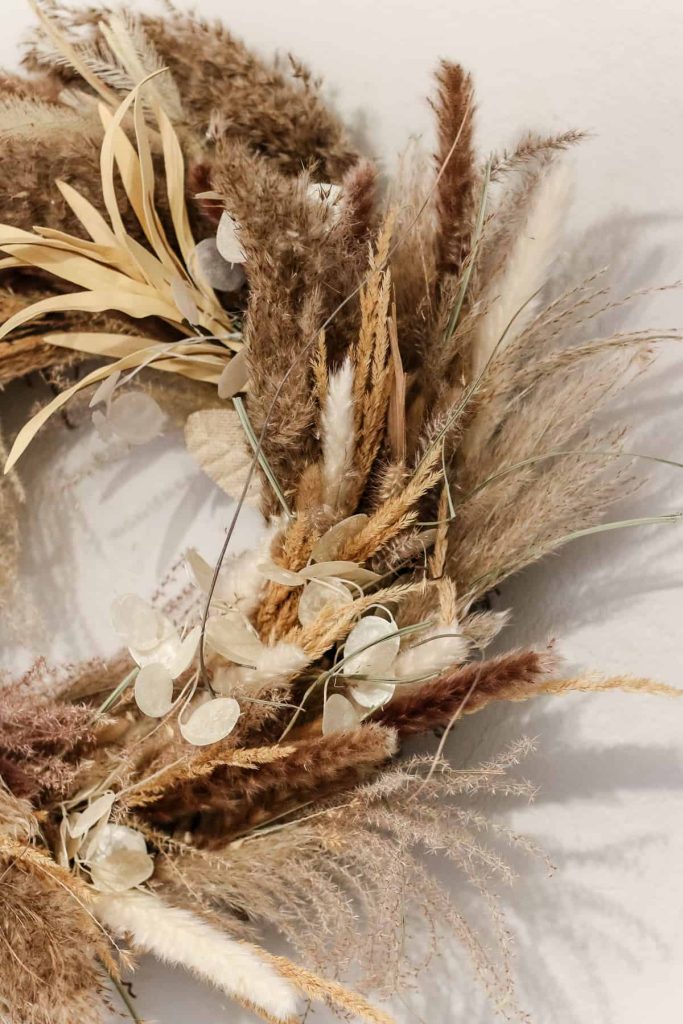 I'm obsessed with this boho pampas grass wreath I made for our hallway. It screams fall, but I definitely keep it up all year round. No shame in that 🙂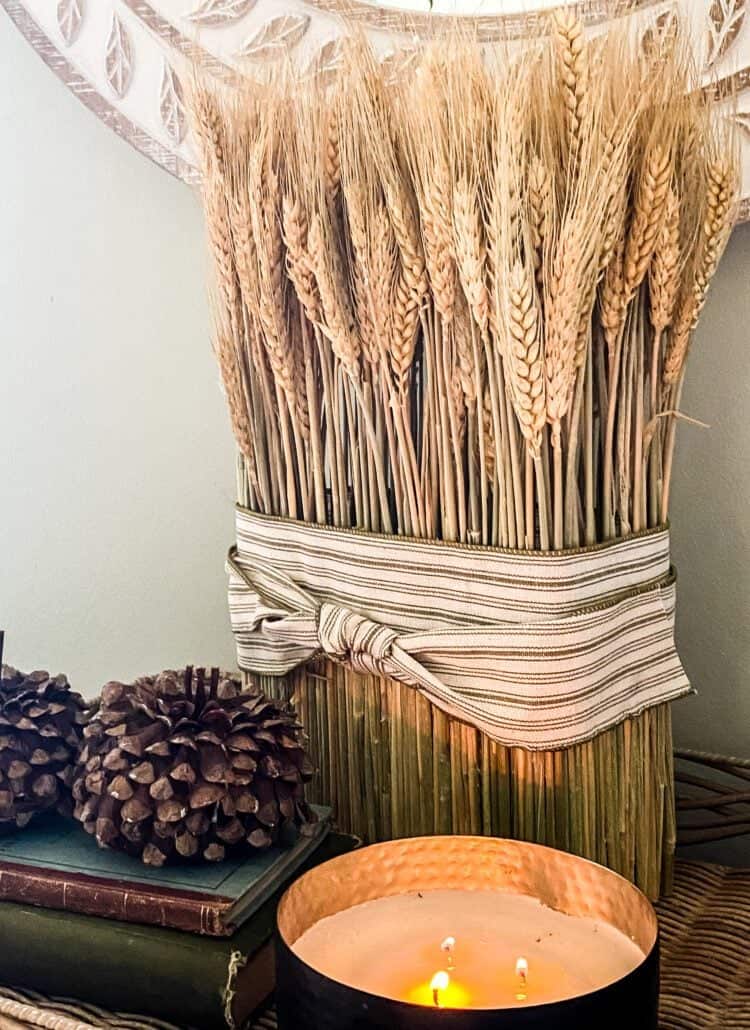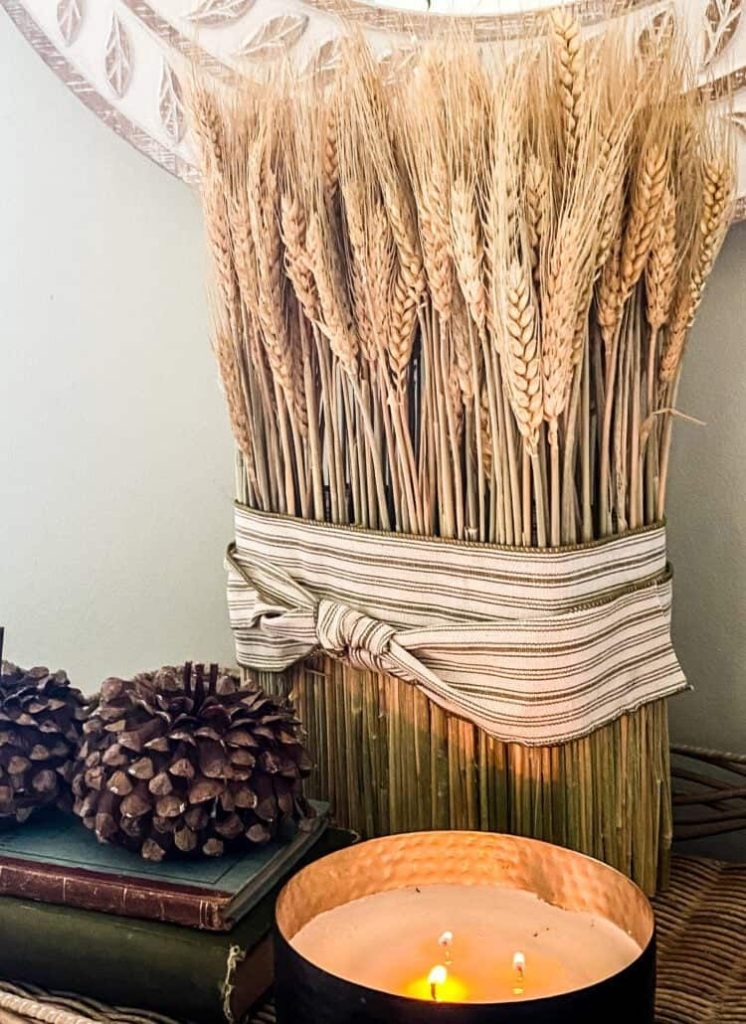 To incorporate dried wheat into your fall decorations, make this cute wheat centerpiece with floral foam as the base!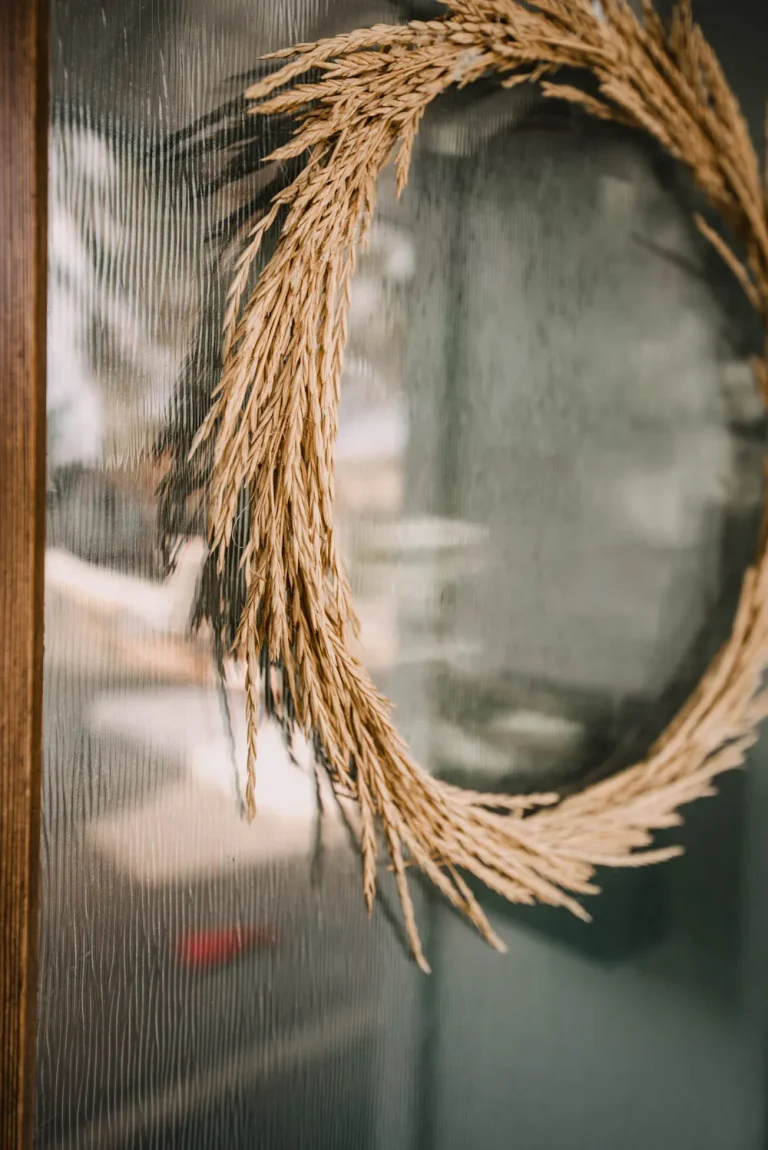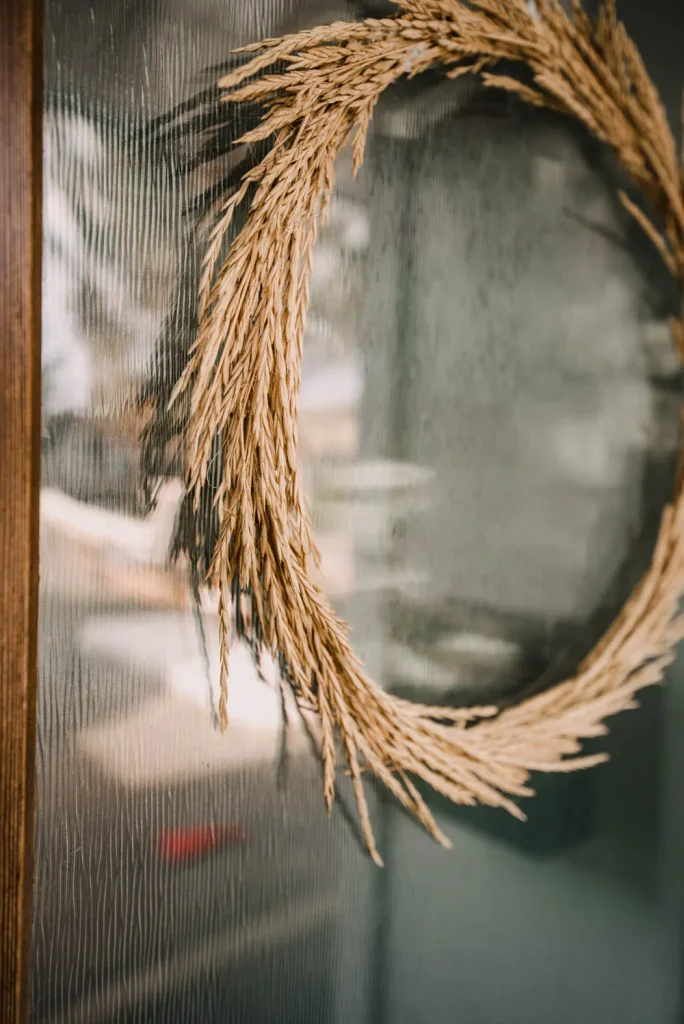 You could also make this simple and modern wheat wreath with fall grasses clipped outside and a Dollar Store hoop attached with hot glue!
Add feathers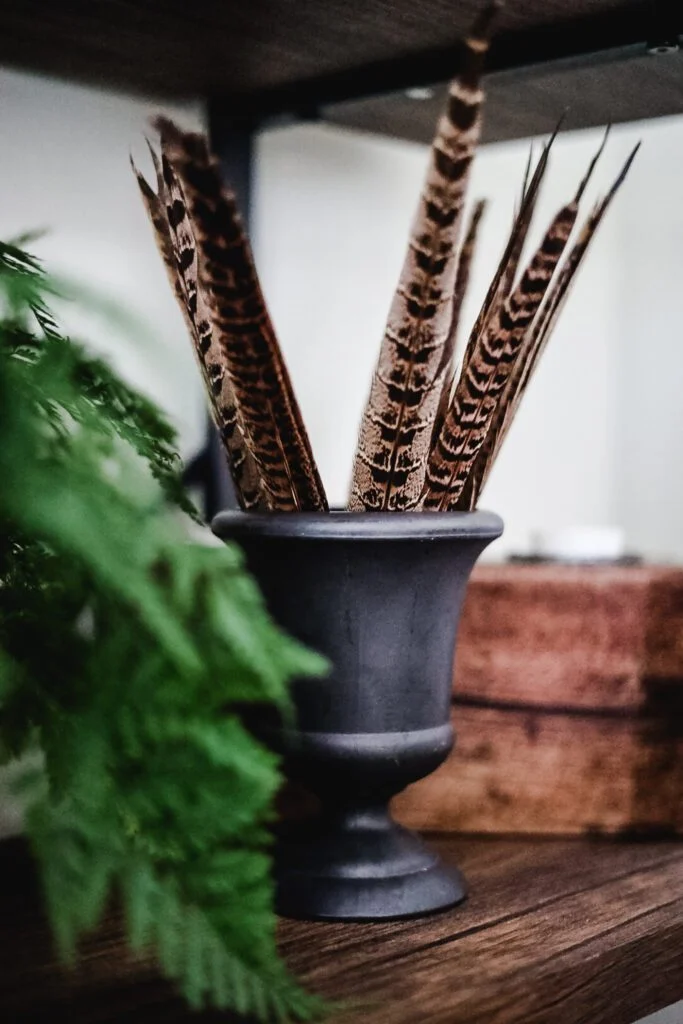 Although you may not be able to step outside and find feathers, they are still a natural element so I decided to add them here. I love how feathers look simply placed in a vase, like Jennifer did here! Such a quick and easy way to make it look and feel like fall!
Here are some great options for feathers for decorating:
Use corn stalks
You can typically find real cornstalks for sale at the grocery store or the pumpkin patch during the fall season. They make beautiful fall decorations whether you put them indoors or out on the front porch.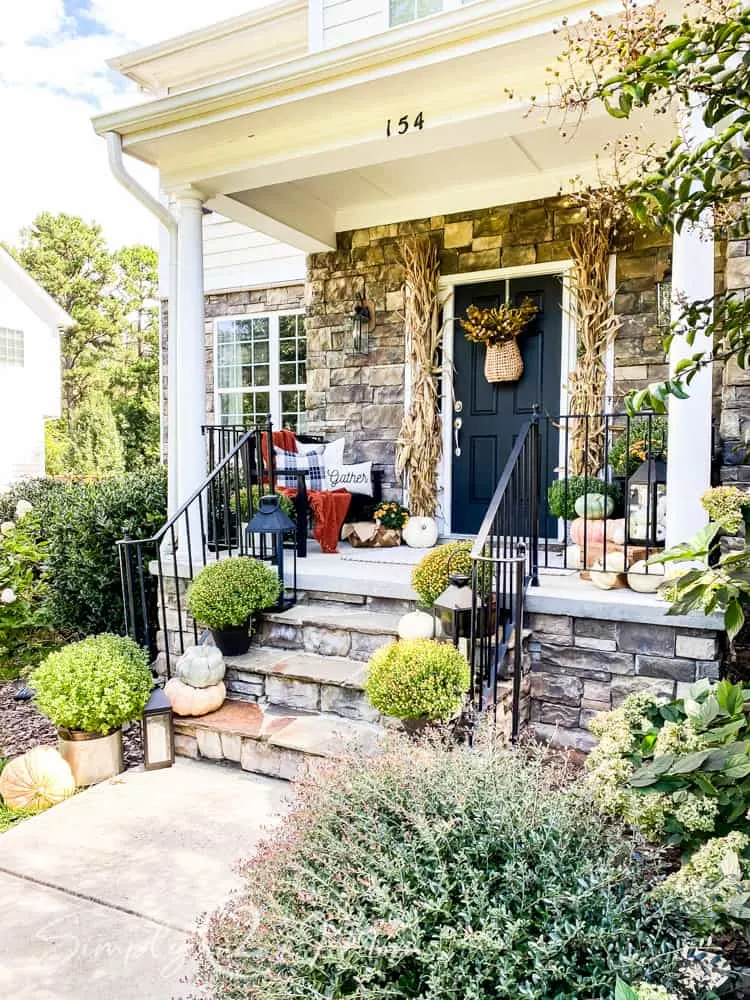 Even though this porch has a little something extra with all the fall decorations, imagine if it only had the cornstalks and a couple of pumpkins on the porch. It would still be cute and impactful right!?
Because corn stalks are so large, you really don't need much else when it comes to decorating your porch for fall. If you're looking for a simple project, just add a few cornstalks on each side of the door, a fall wreath on the front door, and a pumpkin on either side of the door. Boom. Done.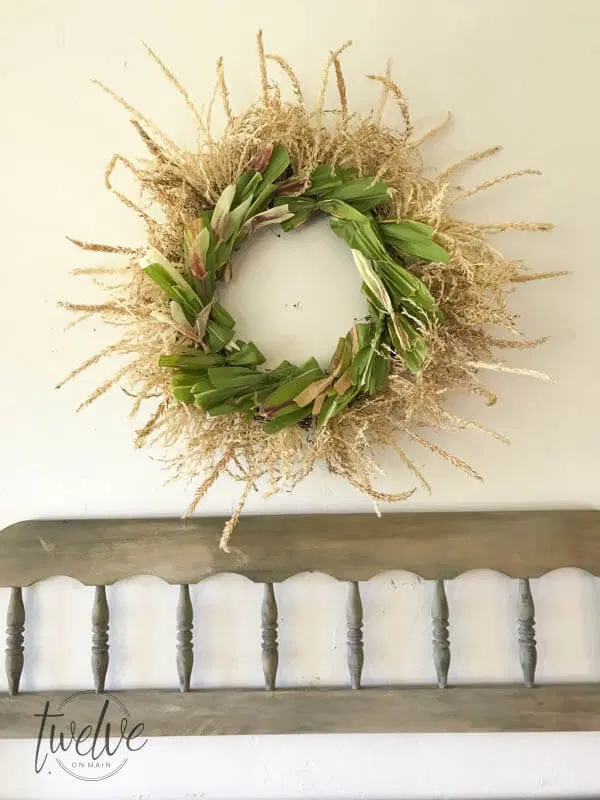 You can even turn cornstalks into a wreath, like this one!
Line your dining room table with real pumpkins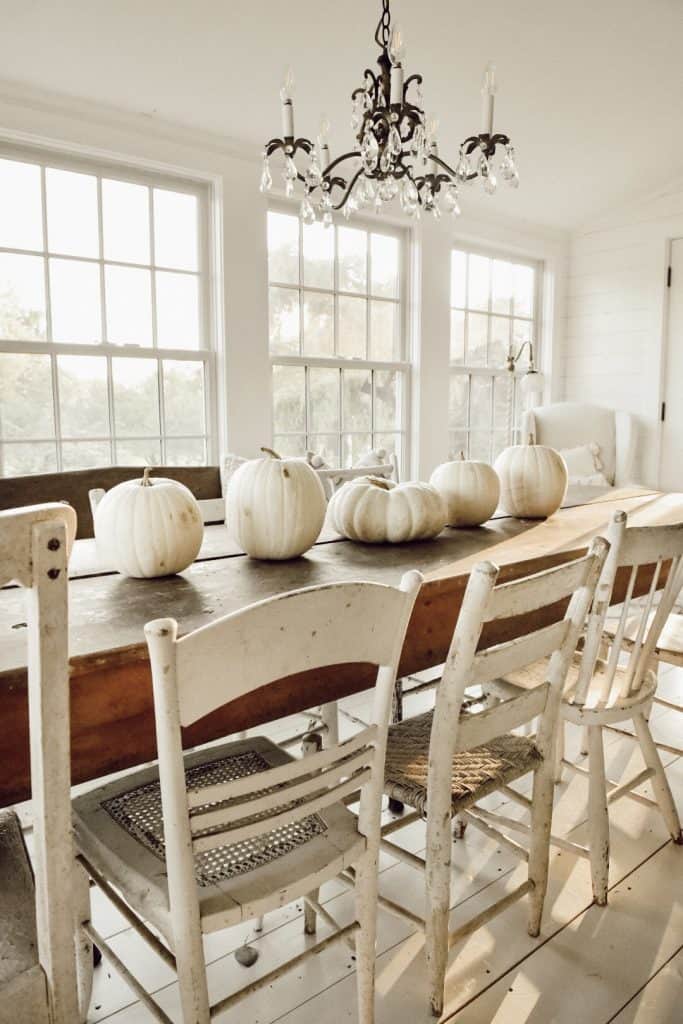 If you're struggling with how to decorate your dining room table for the fall, this idea is so dang simple.
Just grab some pumpkins from the pumpkin patch or grocery store and put them in the middle of the table, like Liz Marie did here. It looks amazing and requires literally no extra creativity or skill!
Make your own white pumpkin decor (2 ideas)
I have a thing for white pumpkins! They are one of my favorite things about fall. I have two super simple and easy ways to make your own decorations with them.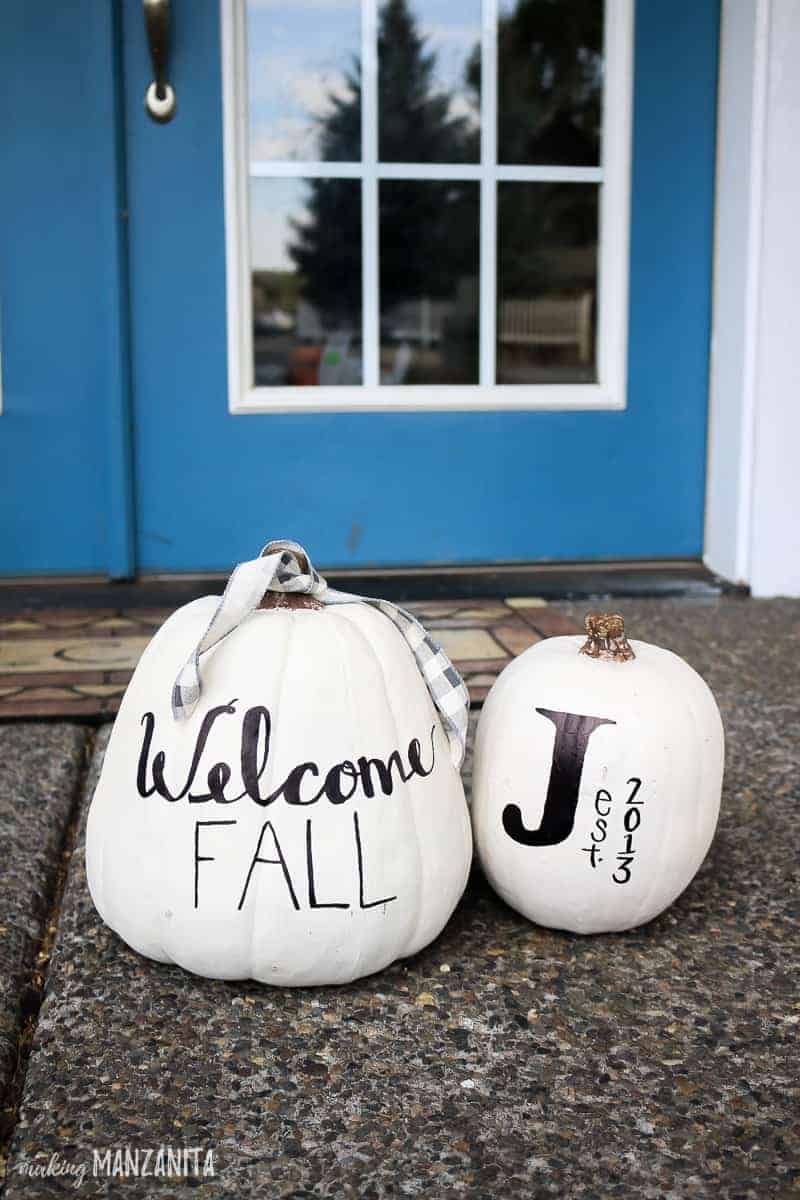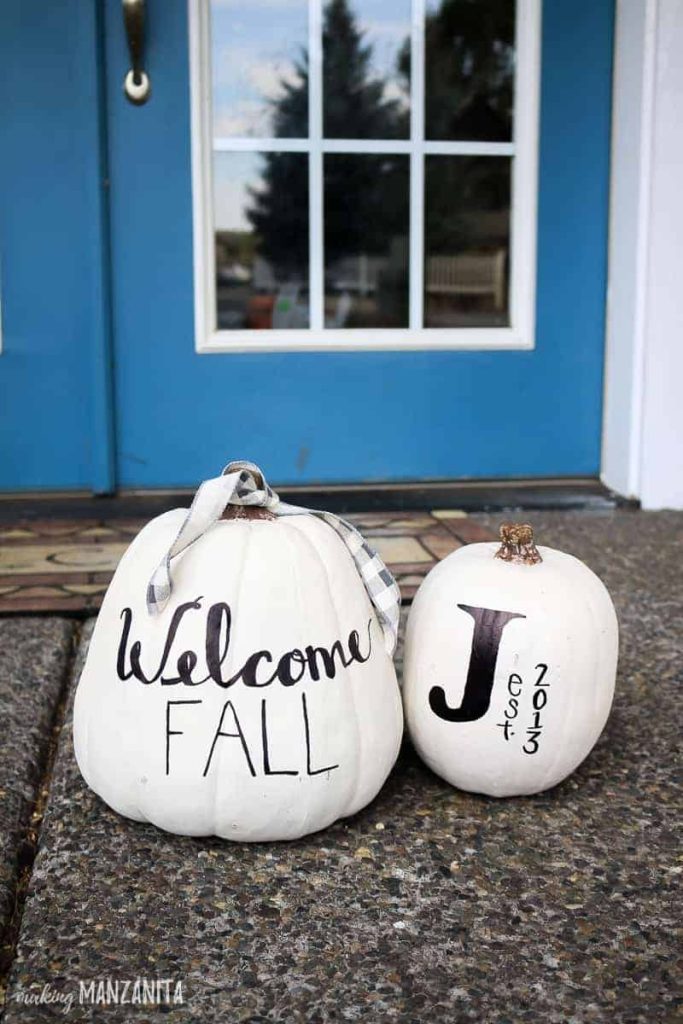 The first one is to decorate a faux white pumpkin (or spray-painted faux orange pumpkin) with a Sharpie. I sprayed these ones from the thrift store white and then decorated them with a marker.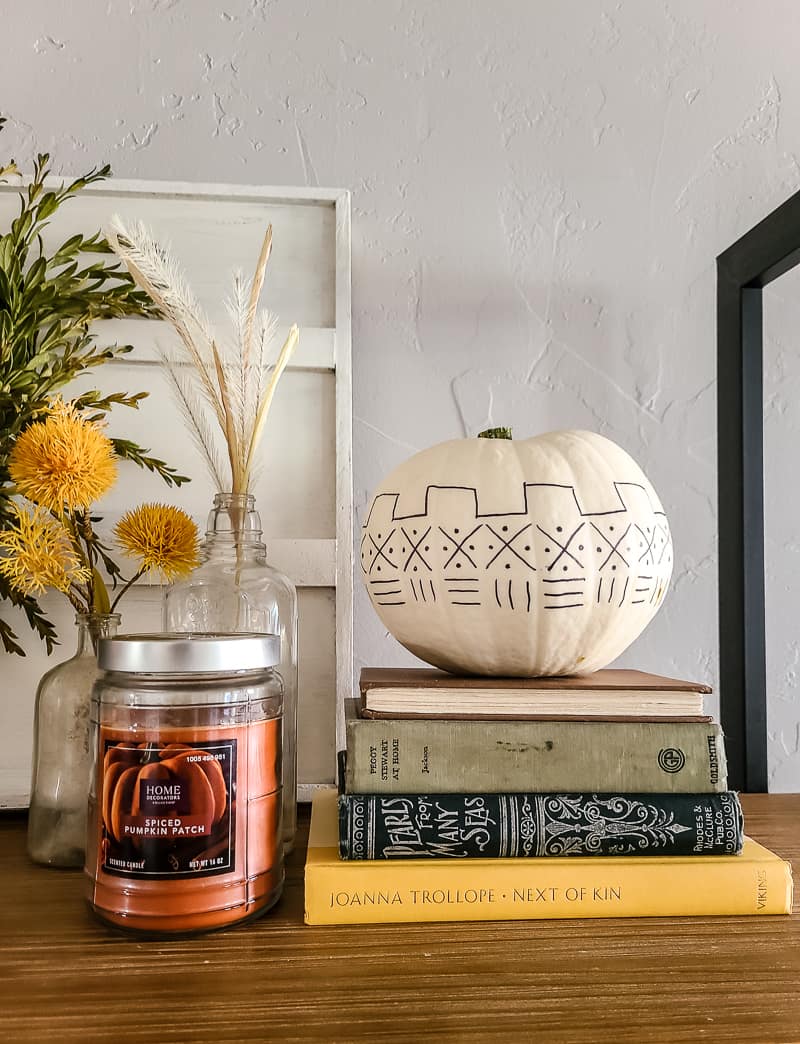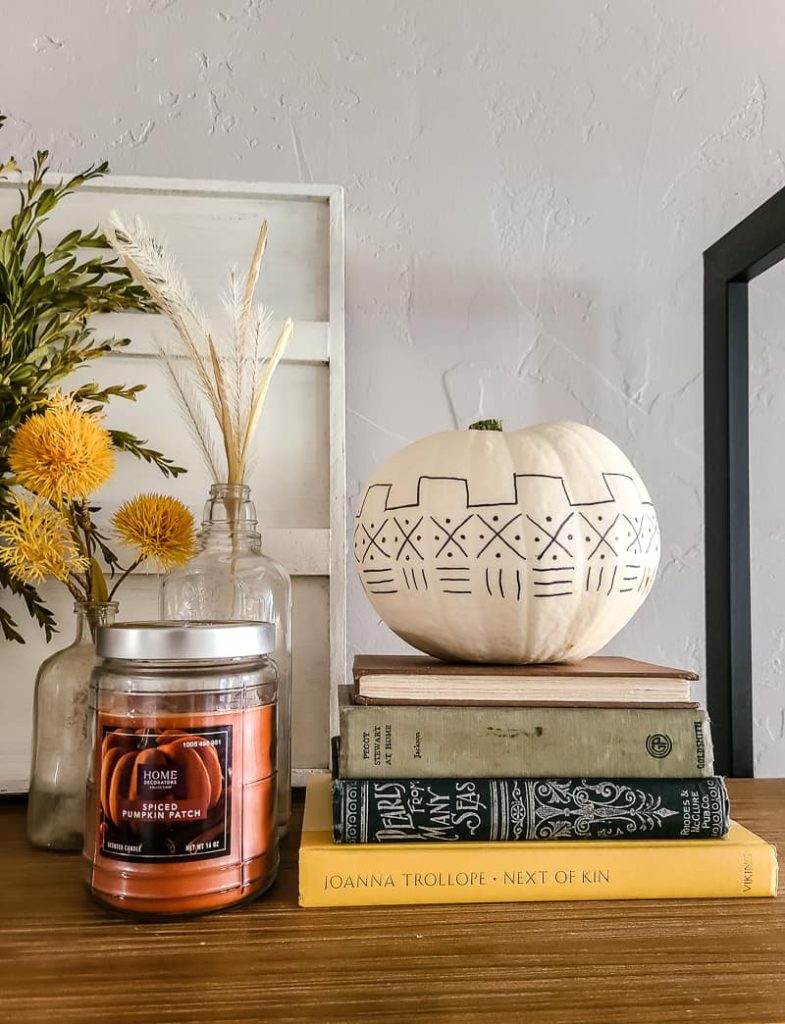 The next one also involves a Sharpie, but this time I made mudcloth patterns for a boho look. I also used real white pumpkins on this, but you could totally do the same thing with faux pumpkins.
Raid the Dollar Store mini pumpkins and paint them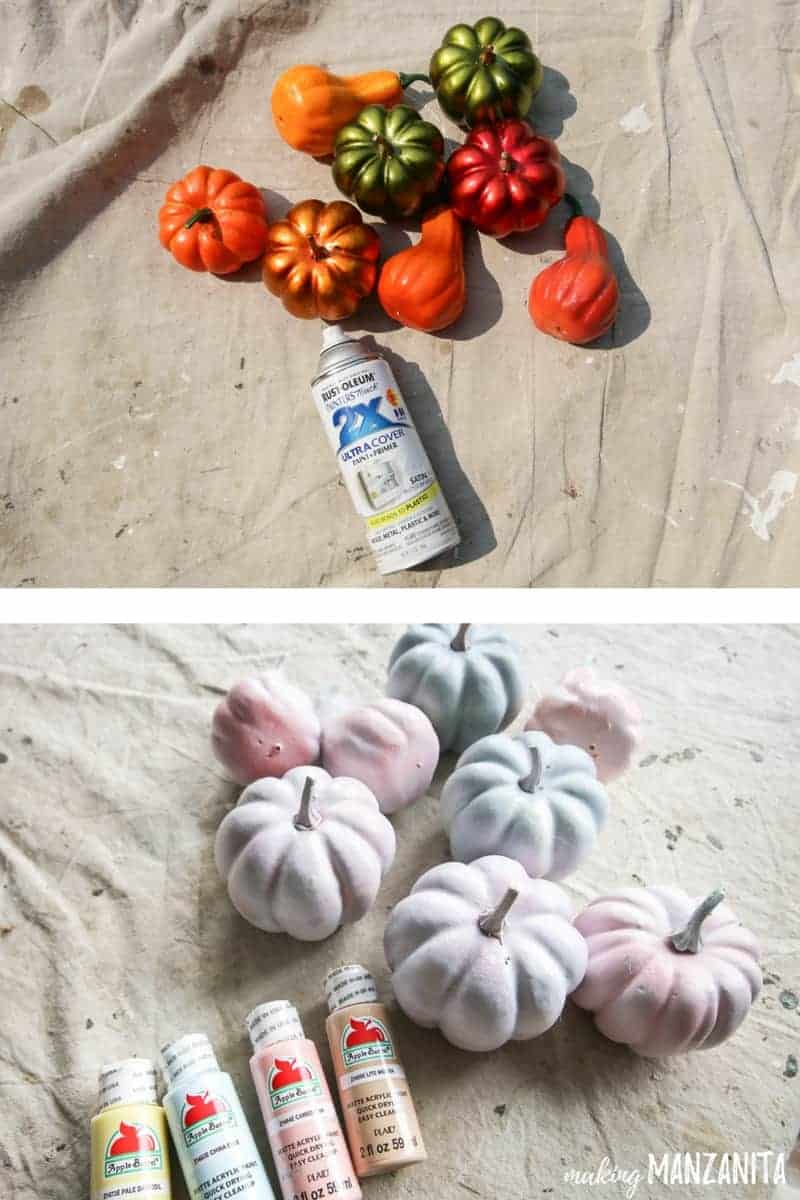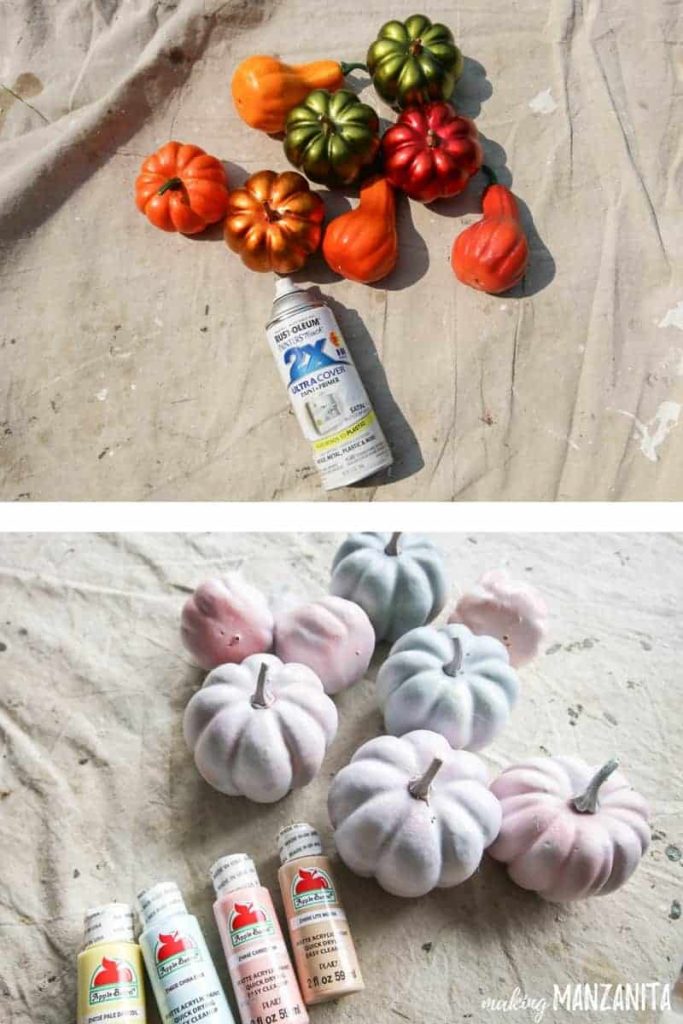 Dollar Tree always has a lot of mini pumpkins for sale during the fall season, but they are typically in the traditional fall colors.
If you want to make the miniature pumpkins fit in more with a muted color palette (or create your own color scheme, as I did with the pastels), you can paint them with acrylic craft paint! I primed them first before using pastel craft paints.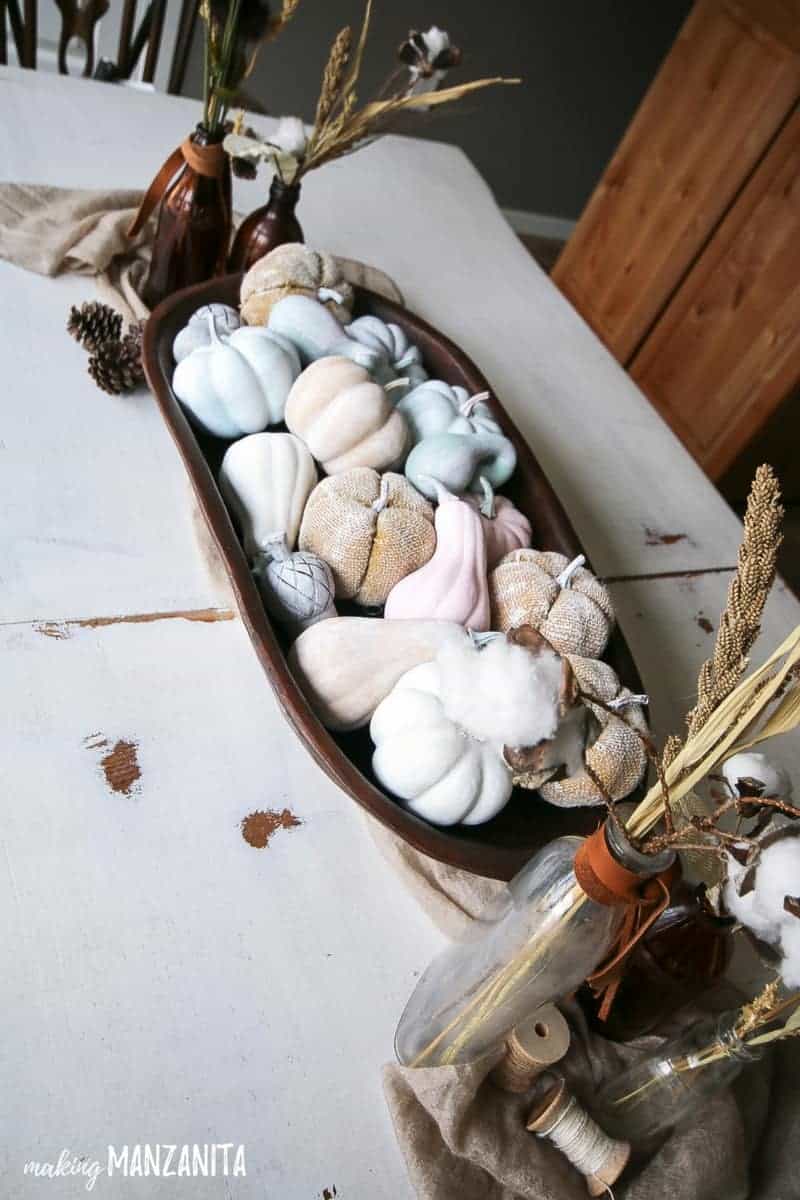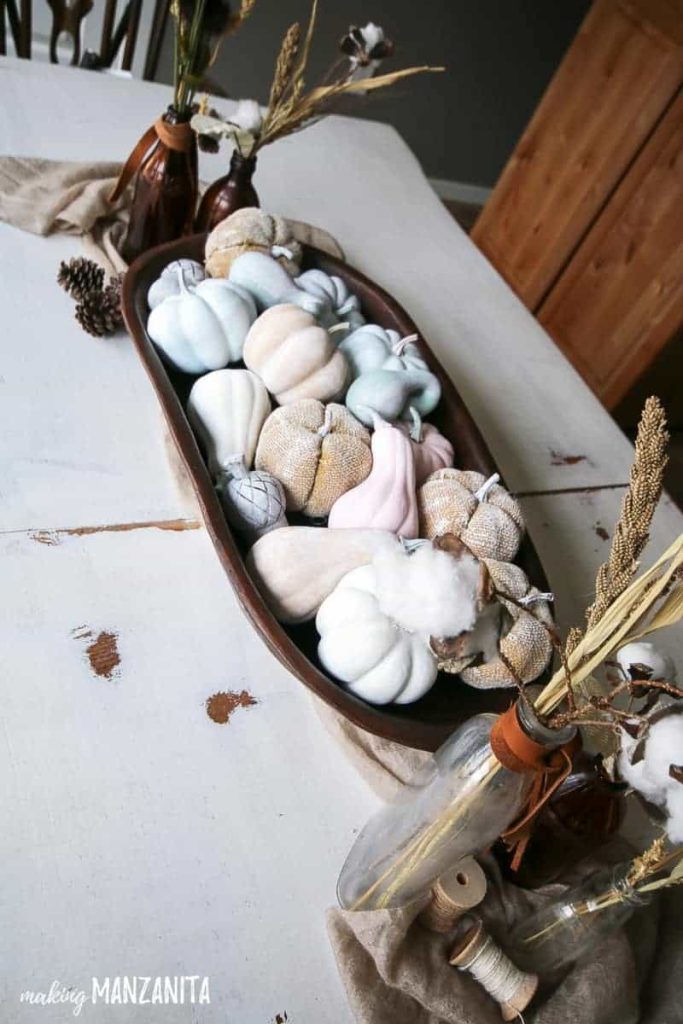 After I painted them, I used them in a wood dough bowl on this pastel fall tablescape!
Use vintage amber glass vases filled with faux fall foliage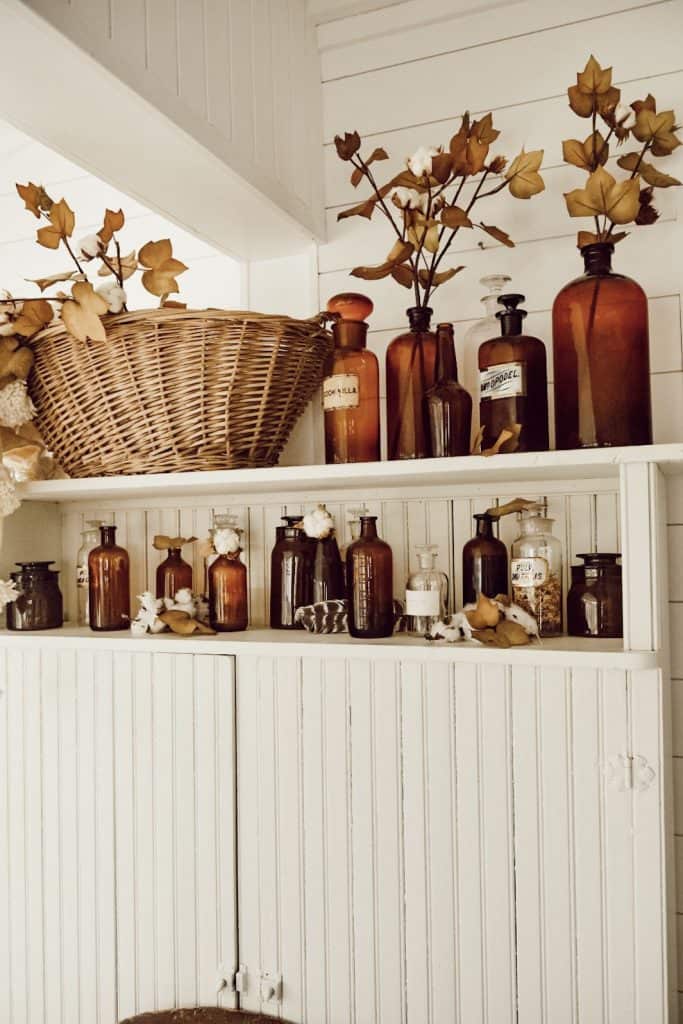 Start keeping your eyes peeled at yard sales, thrift stores, and flea markets for amber glass vases because they look SO great with faux leaves on a shelf, like Liz Marie did here! The amber color of the glass vase brings on that cozy fall vibe.
Switch prints in frames for Fall scenes or quotes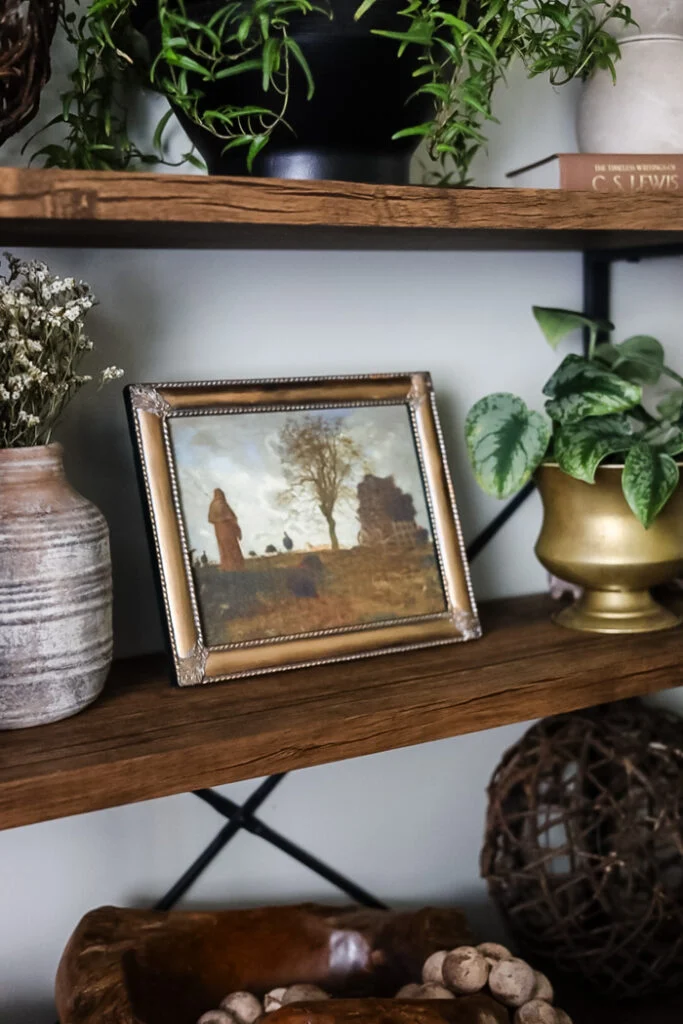 Did you know that you can download artwork and print it out yourself (sometimes completely for free)? It's a great way to get a unique look in your home instead of just grabbing the same framed print that everyone else has in their home.
And because it is so cheap (or free) you can easily afford to swap them out seasonally. Change out the prints in your frames to pictures of fall scenes, as Jennifer has done here.
Here are some gorgeous fall artwork that you can print: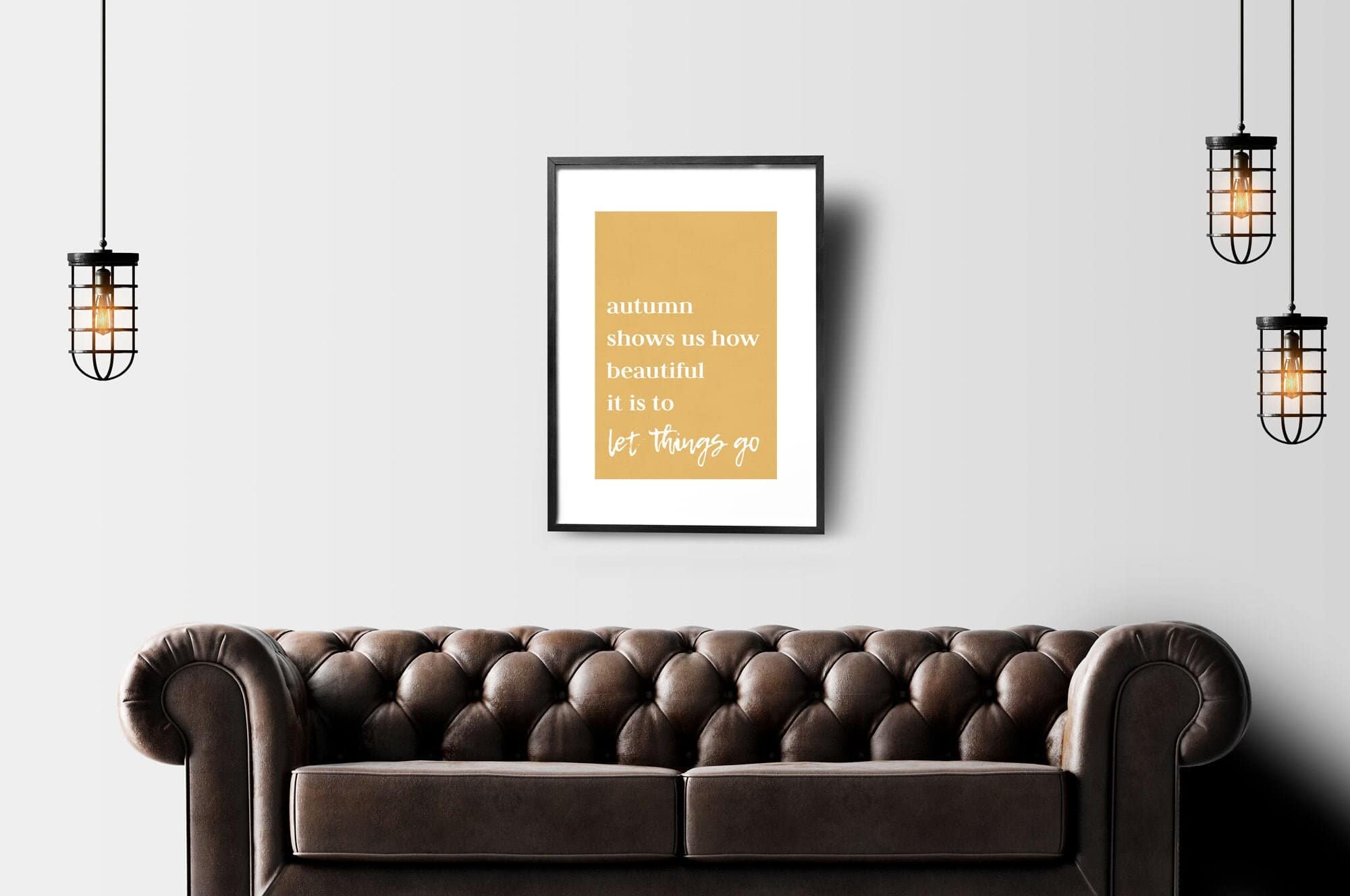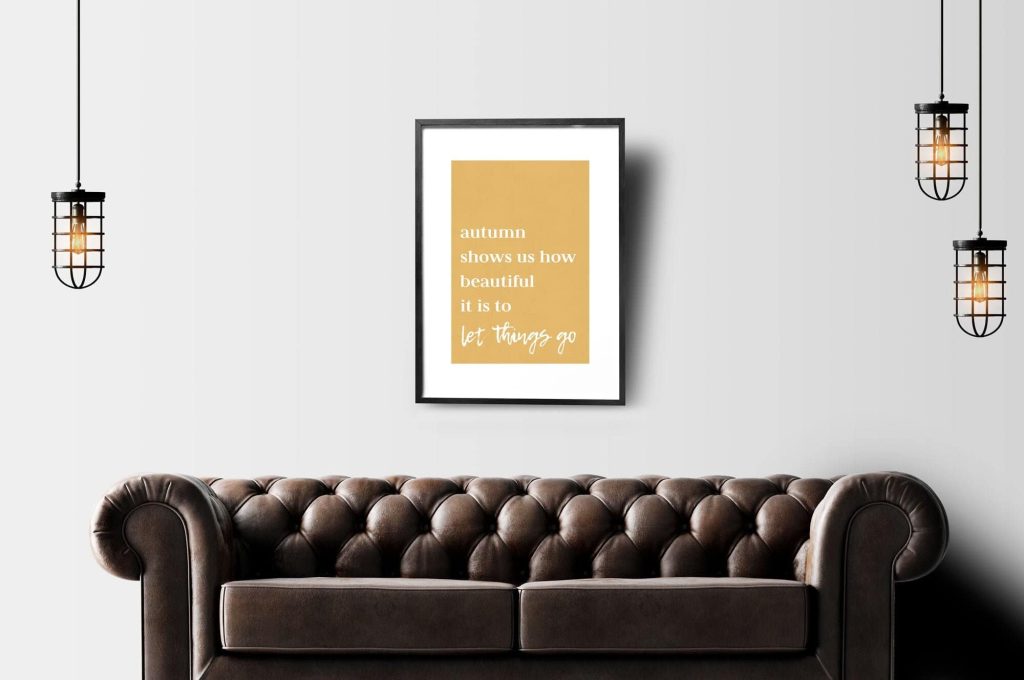 Printables are such a fun and simple way to decorate your home for fall. I created this one that says "Autumn shows us how beautiful it is to let things go." What a great reminder, right? it comes in 3 different colors so you can choose what works best for decorating your home!
Here are some great Fall printable quotes:
Draw a pumpkin on a chalkboard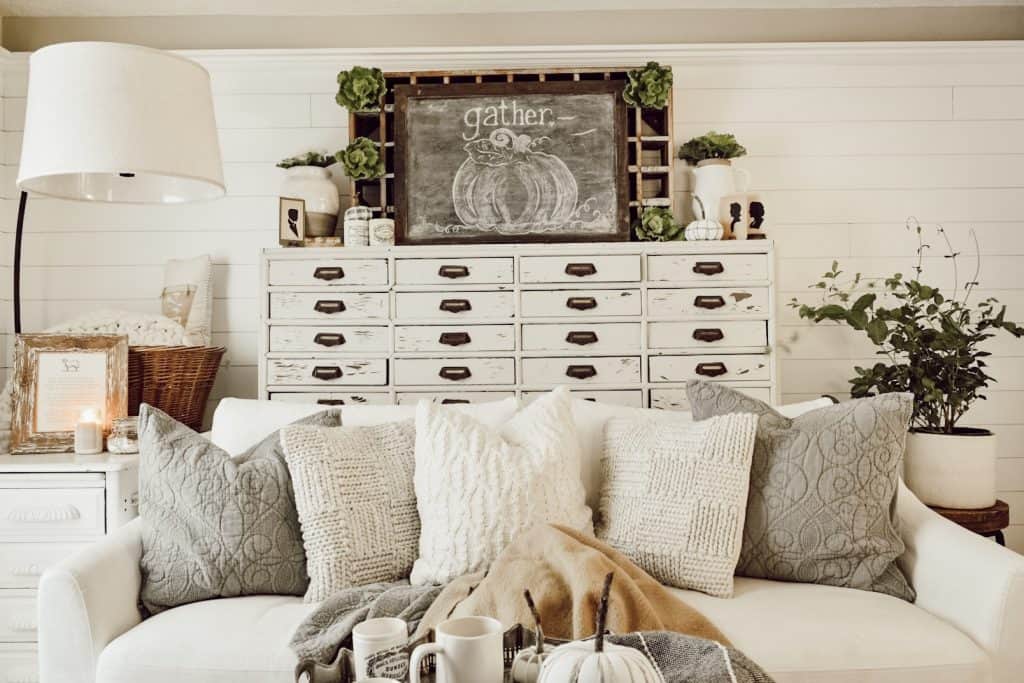 If you have a chalkboard around your house, sketch a pumpkin on it and hang it in the living room. It adds so much fun character to this gorgeous living room. Such a simple and easy way to make your room feel like fall!
Switch your throw pillow covers
Swapping out throw pillows (or just your throw pillow covers) is a really easy way to decorate your home for fall. Here are some budget-friendly options that are gorgeous!
Use book pages to make pumpkins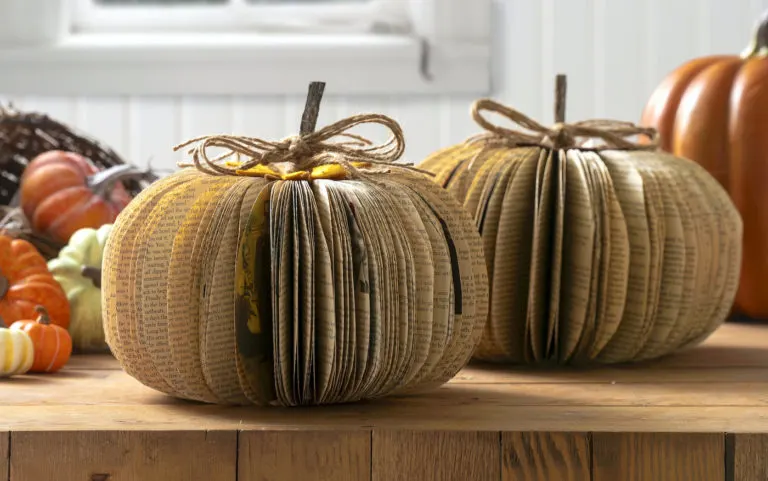 I've got a thing for vintage books and I love seeing them used in fun and creative ways. This little adorable book page pumpkin is perfect to decorate your home for fall.
Paint mason jars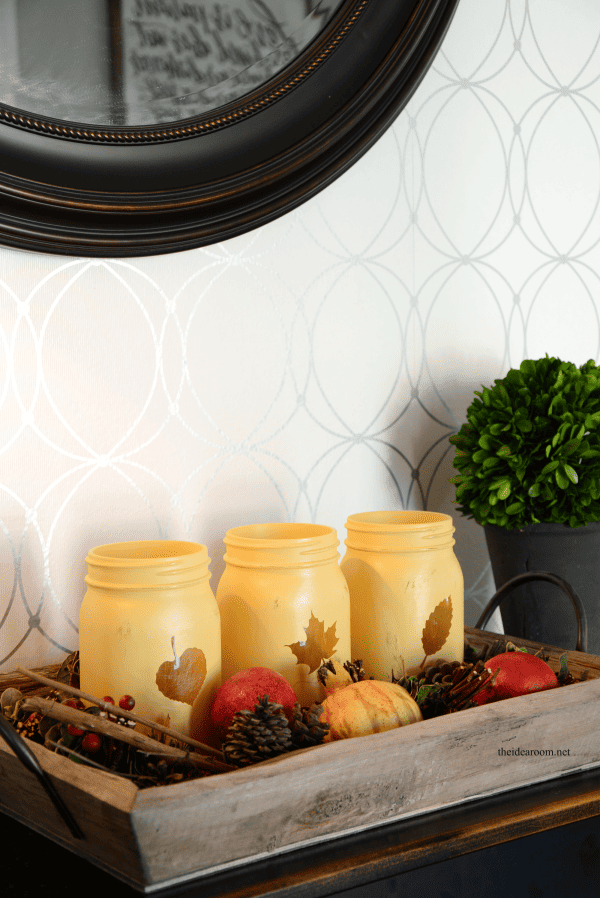 Gotta love me some mason jars!! You can completely transform mason jars with spray paint (or acrylic paint like I have done in the past for these painted mason jars). This is such an affordable way to make your own fall decorations for the changing season!
This fall-themed mason jar set turned out so adorable. It would look so cute on a shelf, as a centerpiece on your dining room table, or up on your mantle in your family room.
Put a fall wreath on your front door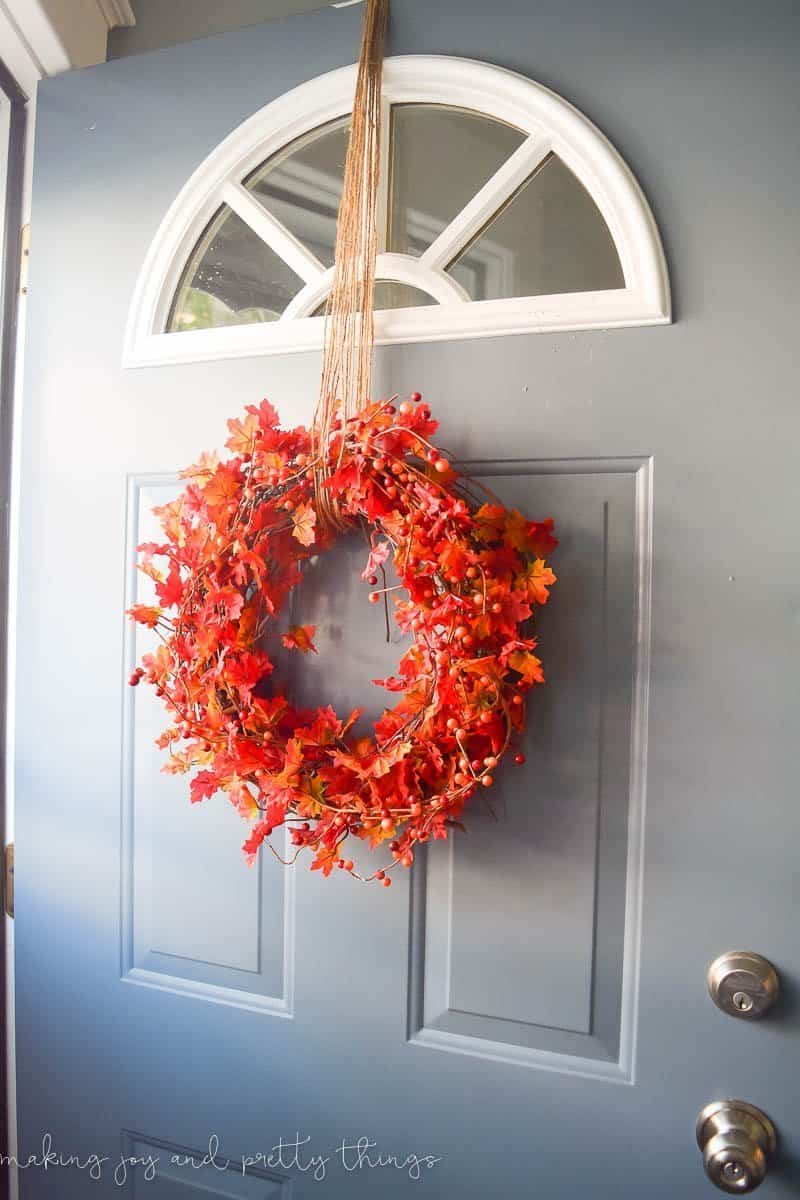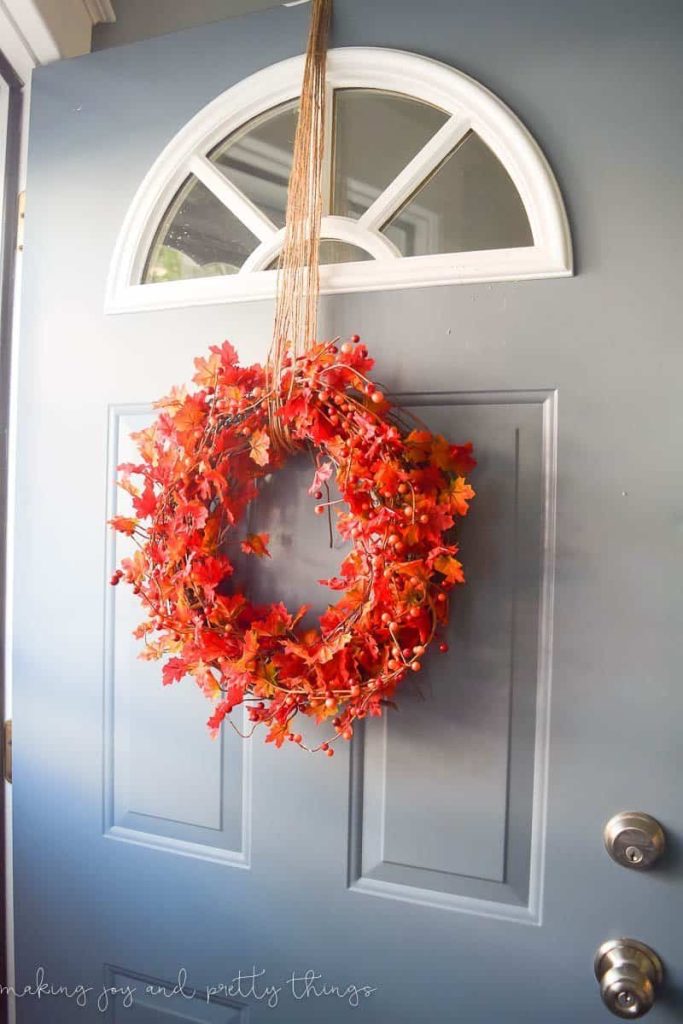 When you decorate your home for fall, you can't forget about the front door! Adding a fall wreath to your front door will greet your guests will style.
This traditional fall wreath is bright and colorful and super easy to make with just a few supplies, like a grapevine wreath and a fall leaves garland that you can easily find a craft stores!
Pro Tip: Grab your supplies after the fall season is over and make it for next year! This is one of my favorite little hacks for inexpensive fall decorating ideas!
​Invest in authentic-looking fake pumpkins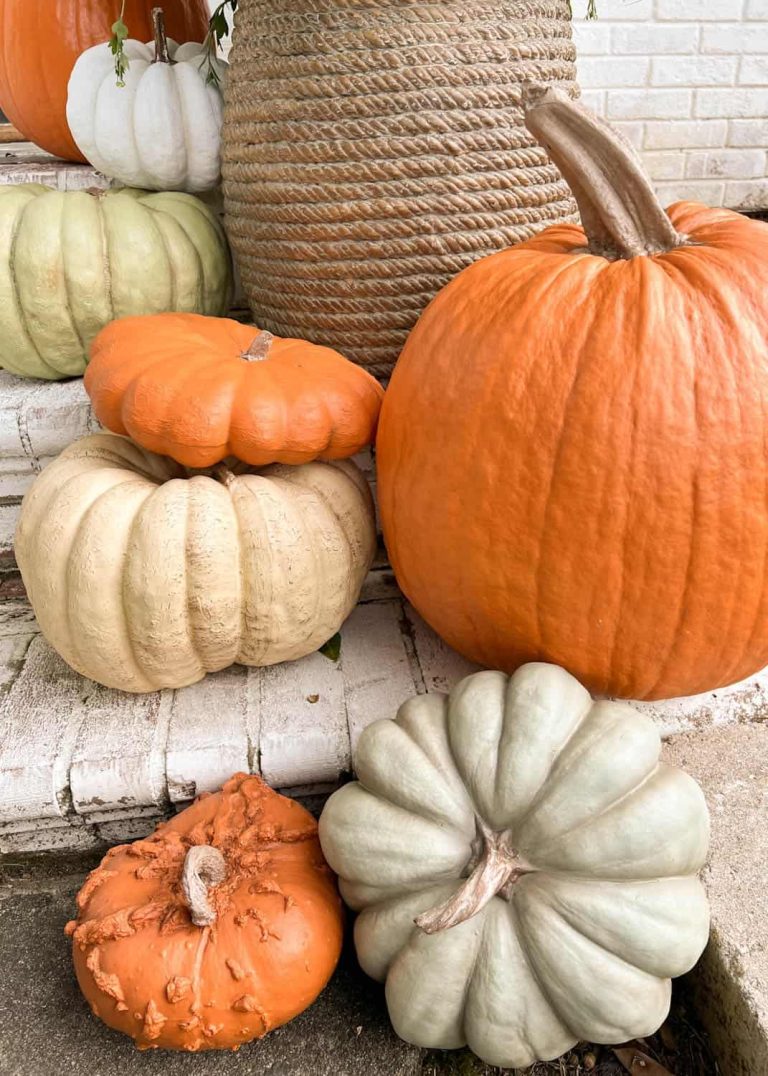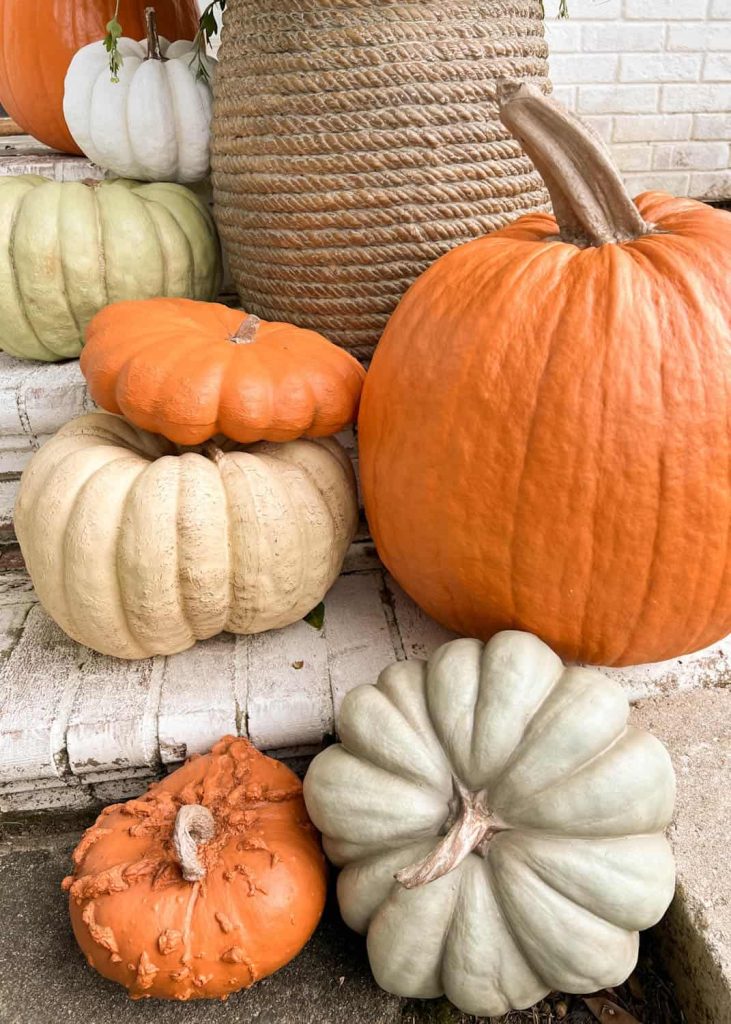 Okay, this one may not be SUPER budget-friendly, but here's the deal.
If you're into fall decorating (which, let's be honest, you probably are if you're reading this blog post), you're going to want to use pumpkins every single year. And you're going to want to use a whole lot of them. Inside on your shelves and mantel and outside on the front porch.
Just think about the years of real pumpkins that you've purchased and then thrown away a few weeks later.
What if, instead, you make the investment of purchasing fake pumpkins that look totally real that you can use year after year?
I can't believe that these pumpkins are actually fake because they totally look real. Don't you agree? She shares some great fake pumpkins and gourds in her article and there are options for every budget.
Hope you were inspired by some of these inexpensive fall decorating ideas! Adding fall decor to your home doesn't have to get super complicated or expensive! It can be as easy as putting out a cute wreath on your front door or using a festive printable in your fall decor.
What's your favorite of these inexpensive fall decorating ideas??
Let me know in the comments below!